White House Struggles With Naming Foreign Policy Achievements

www.nationalreview.com/corner/379993/white-house-struggles-naming-foreign-policy-achievements-joel-gehrke
All along, Obama's weakness has been the lack of a worldview. Problems are approached individually — unconnected to anything else — and often left to languish. We pivot to Asia…in a speech. We applaud the Arab Spring and promise hugs and kisses…in a speech. We call recent developments in Ukraine a success for U.S. policy, but Russia's seizure of Crimea stands. Sure, this was not Obama's fault, but it is not his success, either — and certainly not something to boast about…no more speeches. They no longer work because they are no longer believed. They are coming attractions for a movie that never opens and merely reminds us all — the world's bad guys most of all — of the president's intellectually chaotic and bumbling foreign policy. Fix the policy, then give the speech.

www.washingtonpost.com/opinions/richard-cohen-at-west-point-obama-tries-to-excuse-the-inexcusable/2014/06/02/80d92dfc-ea74-11e3-9f5c-9075d5508f0a_story.html
Along with just about everyone else, I was discouraged by President Obama's speech yesterday at West Point. What I feared the most and what I was most on the lookout for was a delusional denial that America's standing around the world has not been diminished during the Obama presidency. I don't wade into foreign policy much, but I do travel around the world a lot. I regularly interact with foreign leaders, business people and media. In my travels overseas, everyone who voices an opinion believes America is in decline and that Obama is weak. Obviously, they are not partisans, and they usually don't talk about America's decline with delight. Most are reacting with anguish and worry. The rest of the world relies on America more than this president seems to realize.
No one thinks America is stronger today than it was five years ago. Period.
…And was it just me, or did the president appear to be getting a very cool reception from the West Point audience? From watching a video of the speech, there appeared to be applause lines built in, but the audience wouldn't take the bait. The news coverage made it look like the president fell flat in front of the U.S. military. The White House will have to deny it, but the imagery was terrible. In politics, bad gets worse.
Obama essentially wants us to see infallibility in everything he does. He is completely uninhibited by reality, and no one appears to be challenging his biases. By denying the obvious, the president looks out of touch, compounds his own problems and accelerates America's decline.
MLN-SF
1:12 AM EST
Oh sure, and American was strong when they thought Iraq had WMDs. Then with Saddam gone, everyone thought America was strong when they completely misjudged how to manage Iraq in the aftermath. Oh, and don't forget everyone thought America was strong when we went about torturing folks. That really made America strong. Oh, and the financial crisis and housing bubble, that really made America strong. Then Bush made Guantanamo and created more enemies. That really made America strong.
What planet is Ed Rodgers on?
squid1
1:34 AM EST
Hey hey, look over there! It's GWB and he was bad, so that means our guy's allowed to be bad!
CarolAnn47
12:48 AM EST
As Ed could see if he read the comments, there is still a supply of simpering Obama sycophants.
MLN-SF
1:14 AM EST
Actually we support the manner in which Obama is making America strong in the eyes of the world. Ed Rodgers in on a different planet. He must be talking to a lot of empty suits.
William Starr
1:31 AM EST [Edited]
"making America strong in the eyes of the world" In polls, any county from E. Europe to Saudi Arabia to Asia…we have lost not only popularity (even compared to Bush) but legitimacy of actual leadership. Serious people and their countries with serious problems do not look to the US for serious leadership anymore.
Illinoistim
1:46 AM EST
Then you are one of those sycophants who believe such nonsense who are to be stomped on and shoved to the sidelines this november by the thinking electorate. He can sit in his office and make speeches for two more years. How anyone with a mind and a sense of awareness could support this poor excuse for a man — for a president — is something to marvel at. You know nothing of history or of what made this country what it was and is and will be once the child in the white house serves out his time.
www.washingtonpost.com/blogs/post-partisan/wp/2014/05/29/the-insiders-there-is-no-obama-doctrine/
No one can read the stories of individual veterans who suffered at the hands of the bureaucracy — like Edward Laird, a 76-year-old Navy veteran who lost half of his nose because he had to wait two years for cancer tests — without feeling helpless fury.
And those stories are certain to keep coming.
It's an especially dangerous scandal for President Barack Obama because it fits into an established narrative about his presidency: that he's a skilled politician and speech-maker but a lousy manager.

www.dispatch.com/content/stories/editorials/2014/05/28/obama-is-a-good-politician-but-a-lousy-manager.html
Clarence Page: Scapegoats won't cure VA's ills
Oklahoman Published: May 28, 2014
Of all the scandals and pseudo-scandals of which President Barack Obama has been accused, the Department of Veterans Affairs debacle is the most damaging for at least three reasons:
One, health care — including VA health care — was the signature issue of his election and re-election.
Two, the VA, for all its flaws, also is held up as a model by leading liberals and progressives of how effectively a gigantic government program can deliver quality health care directly to patients without passing through private providers or insurance companies.
That's mostly true. In April, for example, the independent American Customer Satisfaction Index found VA patient satisfaction to be 84 percent for in-patient care and 82 percent for outpatient. That's as high or slightly higher than the survey found for civilian hospitals for the third year in a row — and considerably higher than the survey's 66 percent satisfaction rate for federal agencies in general.
But the current scandal is not found in the VA's care as much as in the hurdles veterans have faced as they try to enter the system to receive that care. Most alarming are reports, revealed to CNN by a whistleblower, that about 40 veterans died while waiting for treatment at a Phoenix VA hospital.
Three, Team Obama can't say that the president wasn't warned, although White House press secretary Jay Carney seemed to try.
On May 19, Carney said in a briefing that the president learned about the Phoenix deaths from CNN. A day later, Carney walked that back, saying the issue of excessive wait times at VA hospitals is "not a new issue" to his boss.
Indeed it is not. Conservatives pounced on a memo reported by the Washington Times that the George W. Bush administration prepared for the Obama-Biden transition team. It warned that the VA should not trust the wait times that its medical facilities were reporting because mid-level officials were cooking the books.
Such are the problems that have turned into a major investigation of more than 25 VA facilities. Some Republicans have ballyhooed that memo as a political gotcha against Team Obama, while conveniently downplaying how much the problem also went unaddressed by Team Bush.
In fact, Government Accountability Office reports have been warning about the wait-times problem and the unreliability of the VA's reporting since at least 2001. Since then, wars in Afghanistan and Iraq have created a new wave of eligible veterans for which the VA system, strained by congressional funding cutbacks, was poorly prepared to handle. Congress unfortunately has been too reluctant to pay for this long-term human cost of wars they were so eager to support.
What is to be done? Calls for VA Secretary Eric Shinseki, a decorated veteran who lost part of a foot in the Vietnam War, to resign sound more like scapegoating — a familiar Washington ritual — than problem solving.
You could see that reflex at work in the administration's unimpressive announcement that Dr. Robert Petzel, the VA's undersecretary for health, resigned, even though he was about to retire in less than a month anyway.
"We don't need the VA to find a scapegoat," as a statement released by the Iraq and Afghanistan Veterans of America said. "We need an actual plan to restore a culture of accountability throughout the VA."
Indeed, step one must be for the Obama administration to figure out what happened in Phoenix and other facilities, hold the right people accountable and do whatever it can to help veterans currently waiting for services.
Congress and the administration should listen to experts on veterans issues like Linda Bilmes at Harvard's Kennedy School of Government. In congressional testimony, she called for replacing the existing system, which already approves 90 percent of claims from newly returning veterans, with one that approves all of them and then audits a representative sample afterwards to catch fraud.
That common-sense idea would take a giant step toward fulfilling the too-often broken promises that we, a grateful nation, make to veterans for their service. Everyone in Congress and the White House says they support our troops. It's time for them and the rest of us to show it.
Email Clarence Page at cpage@tribune.com.
TRIBUNE CONTENT AGENCY
http://newsok.com/clarence-page-scapegoats-wont-cure-vas-ills/article/4851472
V.A. Accusations Aggravate Woes of White House
By MICHAEL D. SHEAR and JONATHAN WEISMAN MAY 20, 2014
President Obama still has confidence in Eric Shinseki, the veterans secretary, a White House spokesman said Tuesday.
Credit Doug Mills/The New York Times
WASHINGTON — The White House fought on Tuesday to contain the growing political furor over allegations of misconduct at the nation's veterans hospitals as Republicans, eager to use the issue in the midterm elections, seized on the reports as new evidence that President Obama is unable to govern effectively.
Rob Nabors, the president's deputy chief of staff, will fly to the Department of Veterans Affairs medical center in Phoenix on Wednesday to assess the most damning reports — that government workers falsified data or created secret waiting lists to hide the long delays veterans faced before seeing doctors.
The president is also sending Denis R. McDonough, his chief of staff, to Capitol Hill on Wednesday to consult with the chairman of the Senate Veterans' Affairs Committee, Senator Bernard Sanders, independent of Vermont. Lawmakers are working on bipartisan legislation that would give veterans officials greater authority to fire those responsible at the department. The House is expected to vote on Wednesday on a bill, and the Senate is expected to hold hearings on the legislation soon.
Inside the White House, officials said that there was no political panic but that the issue was of serious, substantive concern — unlike, they said, a previous Republican uproar over extra scrutiny given to Tea Party groups by the Internal Revenue Service.
White House officials described Mr. Obama as eager for the results of an investigation into the allegations by the department's inspector general and a separate review of hospital practices being conducted by Mr. Nabors and Eric Shinseki, the secretary of the department. Jay Carney, the White House press secretary, declined to say when Mr. Obama might address the situation again publicly.
"He is not at all pleased with some of the allegations and will be extremely unhappy if some of them prove to be true," Mr. Carney said.
Republican lawmakers intensified their criticism of Mr. Obama, and some made it clear they intended to use the incidents at the hospitals as fodder for a broader political theme about incompetence in his administration.
"The election of President Obama ushered in a new era of big government and with it a renewed flurry of mismanagement," Representative Kevin McCarthy of California, the House Republican whip, said in a statement. "If the president truly did not know about these scandals and mistakes, we should doubt his ability to properly manage the leviathan government that he helped create."
Representative Eric Cantor of Virginia, the No. 2 Republican in the House, told reporters on Tuesday that Mr. Obama had not acted swiftly enough. He added that "it is time for our president to come forward and take responsibility for this and do the right thing by these veterans and begin to show that he actually cares about getting it straight."
The increasing reports of misconduct at numerous veterans hospitals other than Phoenix in recent weeks have prompted outrage among members of both parties demanding swift action. On Tuesday, Senator Richard Blumenthal, Democrat of Connecticut, repeated a call for the F.B.I. to pursue criminal violations.
"People are fed up and impatient," Mr. Blumenthal said in an interview. "So am I."
The incidents have also generated a new round of condemnation from the president's liberal pop culture allies, an indication that anger about the allegations has moved beyond the halls of Congress. On Monday, Jon Stewart on Comedy Central mocked the president's top officials, including Mr. Shinseki, for what he called tepid expressions of outrage and anger in recent days.
Reacting to Mr. Shinseki's declaration that he was "mad as hell" about the allegations, Mr. Stewart said, "Your 'mad as hell' face looks a lot like your 'Oh, we're out of orange juice' face."
As a candidate for president, Mr. Obama denounced delays and poor care for veterans at hospitals run by the Department of Veterans Affairs and vowed that his administration would address the backlogs and greatly improve care. He pledged in a 2008 campaign speech to build "a 21st-century V.A." and to confront what he called "the broken bureaucracy of the V.A."
But more than five years into his presidency, Mr. Obama has again found himself exposed to political danger by a bureaucracy that seems beyond his immediate control.
In responding to the allegations of delays at veterans hospitals, the Obama White House has embraced what has become a familiar public relations pattern in dealing with political crises: Administration officials declare their outrage as they urge patience while an investigation is completed.
The White House has also borrowed a page from its response to the debacle of the rollout of HealthCare.gov this past fall, when Mr. Obama sent a top aide to help repair the health care website and impose management discipline. By sending Mr. Nabors to assist Mr. Shinseki in his review, the White House is installing one of its own operatives to provide a direct pipeline of information to Mr. Obama.
So far, White House officials have waved aside calls for Mr. Shinseki to resign in much the same way they rejected calls for the resignation of Kathleen Sebelius, the secretary of health and human services, over the botched health care rollout. Mr. Carney said Monday that the president still has confidence in Mr. Shinseki.
Mr. Carney said the White House was supportive of the goals of legislation probably coming up for a vote on Wednesday in the House. The bill already has more than a half-dozen Democratic co-sponsors, including outspoken liberals such as Representative Peter A. DeFazio of Oregon, and is likely to pass overwhelmingly.
But passage of that legislation is not likely to stop Mr. Obama's critics in Congress — especially Republicans — from seeking to use the allegations at the veterans hospitals to their political advantage ahead of this fall's elections.
On Tuesday, Representative Jeff Miller, Republican of Florida, the chairman of the House Committee on Veterans' Affairs, criticized officials at the department as failing to respond adequately to a subpoena in the case. Mr. Miller said the committee had requested emails and documents from two dozen officials and had received only 200 emails from one department employee.
"I am quickly getting the impression the department does not want to fully cooperate in this matter," Mr. Miller said.
Several Democratic members said they feared that Republicans may be laying the groundwork for a push to privatize veterans' health care and dismantle one of the largest bastions of government health care in the United States.
Mr. Sanders, the Senate veterans panel chairman, said he was willing to work with Republicans to improve health care in the system, but he warned against using the allegations as a political weapon.
"I am going to do everything I can to prevent V.A. health care from being politicized," Mr. Sanders said.
He added: "We are talking about the lives of six and a half million men and women who have put their lives on the line to defend this country, who deserve to be treated with respect, not be made into a political football."
Cy L. Dallas
As a vet, none of this is surprising. The conditions in the Dallas VA (& systemwide) are deplorable, see:1.) Rated worst in America (Dallas), I've witnessed nurses play on Facebook while Vets wait for care.2.) In ICU, I've seen caretakers argue openly about "who's turn" it is to help dying older Vets.3.) It's generally gross, unkempt & unorganized– morale is very low. I've waited 12+ hours to be seen in ER.4.) It took me over 2.5 yrs to get a decision on my disability which was not complicated (from what I hear that's fast!).Is this all Obama's fault? Probably not. But like Walter Reed, the blame rolls uphill.Not sure it's a broader indictment on the future of the ACA (the ACA isn't taking over hospitals like the VA), but it does give serious pause; Obama needs to get out in front of this big time right now.
QXB MPLS, MN
I'm a veteran and I receive excellent care at the VA. In fact my experience has been that since I have Medicare plus U-care my PMD on the outside doesn't seem like his old attentive self. The VA on the other hand checks everything very thoroughly. I have had no extraordinary wait times.I also think that if I were the CEO of a tremendously large company/country – like the United States – I would realize that I can't oversee everything myself. In which case I would appoint people to committees or institutions to help me. I think the president did this. I would also have to be smart enough to understand that in institutions as large as the VA there might be some mistakes or even malfeasance. If that were the case then I would want it dealt with quickly when it was found out what exactly happened. That's what I see being done.
So I guess that I don't understand the scandal. I can just hear the president trying to explain – "Well I would have paid closer attention to the Ukraine, but I was busy going through charts at the VA.
Nelson austin, tx
As a doctor friend of mine said yesterday, the V.A. is not the only medical system that finesses some of the regulations put on them by non-clinical decision makers. I know for a fact that the degree of record keeping and redundant monitoring eats up a lot of clinical time in the V.A. system, time that could be used for quicker access for other patients. There is a fair amount of no-shows for appointments, too, which wastes the time of doctors and other providers of service. Congress needs to be funding the V.A. optimally instead of looking for ways to save money for the ultra wealthy. My son has recently come home from Afghanistan and, if he requires V.A. medical care at some time in the future, I would be grateful for him to have access to the clinic here in Austin, imperfect as it is.
Yoandel Boston, MA
Administration after administration has failed veterans. There are many reasons, but first and foremost, policy makers (all the way up to Congress and the Cabinet) have made it clear that cost containment is to be the top priority at the VA –therefore all claims of disability and illness are considered to be false when submitted, and most requests for care and therapy are "suspect" and only later adjudicated "upwards." This is tantamount as having your insurance bureaucrats say "prove to us you are sick" before access to a doctor is even granted.To excuse the policy we are told that if the VA assumed all claims to be true, and all sicknesses and complaints to be true, and then later examine them if appropriate –as it is done in the civilian realms– will tremendously increase costs.I say, let the costs increase –and let the money come from our defense budget even if it means *radically* shrinking our military footprint. Taking care of our veterans *is* the highest priority –over new weapons, over the bureaucracies at the Pentagon, over bases in foreign soil, contractors, or even maintenance of equipment and gear.
VMG NJ
I was in the Navy during the Vietnam War and there were problems with long waiting lines and poor service even then. It always seems to come down to a lack of funding to provide enough doctors, medical facilities, equipment, etc. This has been a long standing problem through both Democratic and Republican administrations. Two wars and multiple conflicts over the past forty years have added to the tremendous burden put upon the VA system. I'm not defending President Obama or the current chain of command in the VA, but this government; Republicans and Democrats must come up with the proper funding to care for our veterans or find a way to not go to war. If we don't take care of the vets when they return, you might not get a volunteer Army or Navy with enough numbers for the next conflict.
bruce Saratoga Springs, NY
As a physician having a long familiarity with local VA medical services, I am concerned that you are overlooking the well-predicted effects expected under the present sequester of the military budget. Yes, the VA budget was protected from a 2% across the board spending cut in August 2013. But so long as the VA is tied to the military (and the military budget is cut by the sequester, but we can't seem to cut spending on weapons development and procurement) there are adverse effects on VA Healthcare capabilities.In general, VA services were improving substantially under the Obama administration until recent issues have hampered care. No manager can produce good results if the information you are relying upon is being falsified. There's nothing wrong with the VA that couldn't be fixed if we had our spending priorities fixed.
blessinggirl North Carolina
Sadly, there have been problems at VA facilities since the Vietnam war. (See Born on the Fourth of July) Having worked as a headquarters attorney, the awful behavior at some hospitals arises from incompetent local administrators who play their higher ups. Higher ups have little interest in solving problems. Putting out fires has always been the management style.
Chad Winston Boise, ID
Unfortunately delays in care for our veterans isn't a new issue. I remember friends having similar issues when they came back from Viet Nam. That is continues even now is ridiculous but it is important that the story be told in proper perspective. In the current situation it goes back to those that put us in Iraq and Afghanistan and, like their total failure to consider the logistical aftermath in Iraq, so it was with a total failure to plan for the huge amount of veterans who would need treatment from those wars. This failure includes not only systemic issues at the VA but also funding issues under the responsibility of Congress. There is blame enough to put at the feet of Congress, the President, the VA, the DOD and many more. Talk has been "cheap" and we're going to fix what's broken we're going to need to involve all of the above and more to truly show our commitment to helping our veterans. Without a doubt this is something we owe not only our soldiers but ourselves. We're better than this, or at least we should be…

www.nytimes.com/2014/05/21/us/obama-faces-new-test-in-mismanagement-at-veterans-hospitals.html
Obama is President Passive over the Veterans Affairs scandal
It doesn't inspire great confidence that President Obama, on the day he finally decided to comment about excessive wait times for veterans' medical appointments, showed up late to read his statement.
…Obama said Wednesday that he doesn't want the matter to become "another political football," and that's understandable. But his response to the scandal has created an inherent contradiction: He can't be "madder than hell" about something if he won't acknowledge that the thing actually occurred. This would be a good time for Obama to knock heads and to get in front of the story. But, frustratingly, he's playing President Passive, insisting on waiting for the VA's inspector general to complete yet another investigation, this one looking into the Phoenix deaths.
…Obama doesn't need an IG to tell him "if" there has been mismanagement and misconduct. He needs only his eyes and ears.
WaveRider
5/21/2014 11:38 PM EST
Barry really needs to stop watching MSNBC. He would have become aware of this scandal long ago.
xthat
5/21/2014 11:01 PM EST
Obama has the same reaction for every scandal, "He's madder than hell" behind closed doors, it's George Bush's fault in public, and the Obama-faithful will co-sign his nonsense.
Rabbit hole
1:15 AM EST
As many have remarked here, Barack Obama has a strange habit of acting like somebody else has been president these past years. It's really odd. In his speech on the VA, the president said that he would not stand for things that he clearly and undeniably has stood for some years now, and swore that he would not tolerate that which has has been tolerating since 2009. He's been described as acting like a bystander to his own presidency, but it's more like he's a victim of it, as though the presidency were this terrible thing that just happened to him one day that he's now courageously dealing with.
www.washingtonpost.com/opinions/dana-milbank-obama-is-president-passive-over-the-veterans-administration/2014/05/21/4cc2d534-e12f-11e3-9743-bb9b59cde7b9_story.html
He KNEW! Obama told of Veterans Affairs health care debacle as far back as 2008
BananaCharger @ Old Hickory always laugh when I read some of the blog comments posted by "Veterans", I served six in the Corps, I could count on the fingers of one hand the number of liberals I met while serving, but there are hundreds, if not thousands, of "Vets" spouting the praises of the failed community organizer all over the web. Horse hockey!
TheFirstRule @ BananaCharger I concur, I was in the Navy for 22, and didn't know more than a handful. Of course, it is possible they were all in the Air Force
Jim Bowman @ TheFirstRule In your wet dreams swab. Most Vets are all on the same page where Obamao is concerned.
www.washingtontimes.com/news/2014/may/18/obama-warned-about-va-wait-time-problems-during-20/
Let's recap on this. Candidate Obama campaigned on this issue, and president-elect Obama and Shinseki were briefed on it during the transition, and VA officials had been warned as early as 2010 that wait-list fraud was still occurring. Congress has increased Shinseki's budget by 78% since the 2009 inauguration as demanded by Obama. Yet the White House claims to be shocked, shocked that this problem exists — and that the man to deal with it is the same man who let it fester for five-plus years while Congress poured money into his organization.
You don't have to be Green Lantern to address that issue. You just need to be a competent executive. Right now, we don't have that at the VA, nor at the White House either — and voters are starting to notice.
http://hotair.com/archives/2014/05/22/cbs-poll-voters-blame-shinseki-obama-for-va-scandal/
Press Release – Obama Campaign Announces National Veterans Advisory Committee
November 12, 2007
http://www.presidency.ucsb.edu/ws/?pid=91891
…Alas, in the case of Obama, "anger" and "frustration" are simply buzzwords that reflect the degree of the narcissism (it's all about him, no matter what the tragedy) and refusal to accept responsibility that plague this president. Obama's lofty view of himself proved to be inaccurate, and his grandiose vision of remaking the country and America's role in the world resulted in a string of foreign policy disasters. But the only one he should rightly be angry with is himself. A lot of Americans sure are.

www.washingtonpost.com/blogs/right-turn/wp/2014/05/19/obama-is-mad-dont-you-know
Grading Obama's Foreign Policy
MAY 17, 2014
SECOND terms are often a time when presidents, balked by domestic opposition, turn to the world stage to secure their legacy — opening doors to China, closing out the Cold War, chasing Middle Eastern peace.
But the global stage hasn't been a second-term refuge for President Obama; it's been an arena of setbacks, crises and defeats. His foreign policy looked modestly successful when he was running for re-election. Now it stinks of failure.
Failure is a relative term, to be sure. His predecessor's invasion of Iraq still looms as the largest American blunder of the post-Vietnam era. None of Obama's difficulties have rivaled that debacle. And many of the sweeping conservative critiques of his foreign policy — that Obama has weakened America's position in the world, that he's too chary about using military force — lack perspective on how much damage the Iraq war did to American interests, and how many current problems can be traced back to errors made in 2003.
But the absence of an Iraq-scale fiasco is not identical to success, and history shouldn't grade this president on a curve set by Donald Rumsfeld. Obama is responsible for the initiatives he's pursued, the strategies he's blessed and the priorities he's set. And almost nothing on that list is working out.
Start with Libya, the site of Obama's own war of choice. The consuming Republican focus on Benghazi has tended to obscure the fact that post-Qaddafi Libya is generally a disaster area — its government nonfunctional, its territory a safe harbor for jihadists, its former ruler's weaponry and fighters destabilizing sub-Saharan Africa. (Some of those weapons, for instance, appear to be in the hands of Nigeria's most-wanted kidnappers, Boko Haram.)
Then swing northeast to Syria, where this administration's stated policy is that Bashar al-Assad has to go, and that there is a "red line" — backed by force, if necessary — around the use of chemical weapons. Well, Assad isn't going; he's winning. And the White House's claims of progress on the chemical weapons front were undermined by Secretary of State John Kerry's acknowledgment last week that " raw data" suggested a "number of instances" in which Assad's government recently used chlorine gas.
The picture doesn't look better when you turn south or east. In the Holy Land, Kerry's recent push for Israeli-Palestinian negotiations ended in predictable failure, and in Iraq the caldron is boiling and Iranian influence is growing — in part, The New Yorker's Dexter Filkins suggested last month, because the White House's indecision undercut negotiations that might have left a small but stabilizing U.S. force in place.
Similar status-of-forces negotiations are ongoing in Afghanistan, and the backdrop is even grimmer: The surge of forces ordered by Obama (also amid much indecision) failed to replicate the success of Gen. David Petraeus's salvage operation in Iraq, and even with an American presence the Taliban are barely being held at bay.
As for the White House's major diplomatic projects, one — the "reset" with Russia — has ended in the shambles of the Ukraine crisis. A second, the opening to Iran, is still being pursued, with deadlines looming, and it's the administration's best remaining hope for a paradigm-altering achievement. But that hope is still a thin one (complicated, for instance, by Iran's continuing pursuit of ballistic missiles), and it's just as likely that Obama will have unsettled America's existing alliances in the region to very little gain.
As for the promised "pivot to Asia," let me know when it actually happens, and maybe I'll have something to say about it.
The point of this litany is not to suggest that all of Obama's decisions have been misguided (I sympathized with the decision to slip free of Iraq entirely, and I'm glad we don't have 50,000 troops occupying Syria), or that there's some strategic reboot that would clear all these problems up. In a world that's necessarily beyond an American president's control, even the wisest choices can lead to disappointing results.
But most presidents do win some clear victories. Not everyone gets to end the Cold War, but there's usually some diplomatic initiative that leaves a positive legacy (even Jimmy Carter had the Camp David accords), some military or humanitarian intervention (even George W. Bush had his AIDS-in-Africa initiative) that looks like a success.
Yet except for the killing of Osama bin Laden — an "except" that has to be qualified by Islamist terrorism's resurgence — if Obama's presidency ended today I have no idea what major foreign policy achievements his defenders could reasonably cite.
There is still time for it to be otherwise — for the administration to brilliantly exploit Vladimir Putin's possible overreach, or seal a lasting nuclear deal with Iran, or craft a strategy to soothe the nationalisms gathering on the Indian subcontinent and the Pacific Rim.
But recent events do not inspire much confidence. Instead, future defenses of Obama's foreign policy may boil down to just six words: "At least he didn't invade Iraq."
Kyle ReisingWatkinsville, GA
A charitable person would describe the omniscient view from Mr. Douthat's claimed perch astride the fence separating ideological camps as an illusion. A less charitable person might reference the course correction from the Bush years to inform themselves on the matter of foreign relations and Mr. Douthat's opinions as a delusion.The tools of war so popular in some views, when other people are bleeding for the effort, is akin to the fable of the chicken and the pig in providing breakfast. It is difficult to win the battle for hearts and minds of dead people killed over there, and there are repercussions over here when the tools of war return home to a VA that was inadequate before they were ill used.Mr. Douthat will have an entire three day weekend to reflect on the merits of gun barrel diplomacy. I suggest he find some survivors from Chosin Reservoir, Khe Sahn or Fallujah to help him climb down from his fence. I am confident the difference between his contributions and the commitment of the people being honored might become clearer after such conversation.
Eric New York
Obama needed to pick one or the other: realist or liberal internationalist. Instead, he has been the worst combination of both – too liberal internationalist to stay out and too realist to follow through. It's as though Obama involves the US in order to fail, with the consequential harms. Contrast to Bush, who after 9/11, committed to a liberal internationalist course in the tradition of Truman at the dawn of the Cold War, and followed through.
Bush was right on Iraq. The 'containment' of Iraq was broken and toxic. Freeing a noncompliant Saddam was out of the question. The Duelfer Report confirms Iraq was in broad violation. Bush properly applied the enforcement procedure he inherited from Clinton when Saddam failed to meet his burden of proof. Because Bush followed through, Obama inherited Iraq as an emerging strategic partner that offered, in Obama's words, "the promise of a multiethnic, multisectarian democracy…poised to play a key role in the region if it continues its peaceful progress." Obama pledged to "stand with [Iraq] as a steadfast partner", but like the rest of his foreign policy has failed to follow through. Obama lost Iraq.Obama simply needed to stay the course from Bush to win the war and build the peace, like Eisenhower stayed the course from Truman. Instead, Obama claimed Bush's liberal internationalist goals yet disclaimed Bush's rational, progressing means to achieve them, thus causing Obama's irrational foreign policy and regressing foreign affairs.
Walt San Diego This is a very objective and reasonable synopsis. To Serban, I disagree. Syria was bad but the major failing is more general and encompassing. More than his predecessors and with less surety, President Obama has tried to turn strategy into domestic political marketing points….before it was appropriate. He's undermined his own plans in doing so. We need better negotitators than Kerry and him, as the rest of the global pack catches up to us economically.It's more productive to analyze this administrations results on it's absolute merit, than the constant comparison to those that came before.
Dan Denisoff Poughquag, NY
When are the Obama apologists going to stop blaming Bush for everything? This is a failed Presidency on all front, both domestic bad foreign.
tagger Punta del Este, Uruguay
While I see much to criticize in Douthat's ideas in past writing, I think he has spoken truth in today's piece. I am a Democrat who was swept away by JFK in the 60′s (Peace Corps Volunteer, Colombia), and saw in Obama the possibility of a return to that earlier idealism and enthusiasm. I have been disappointed in the administration's failure to project an image of courage and determination in foreign affairs. It is not that I don't agree (like Douthat) that a retreat from the bluster and "action before reflection" mentality of the Bush/Cheney years was a wise course. It is that apparently, in many cases, the alternative presented by the Obama administration hasn't worked. Perhaps because the world has changed so drastically that this in inevitable. And perhaps I, we, should be acknowledging a new, foreign affairs paradigm in which the U.S. must accept the new forces at play and a revised role as the world's policeman.
fran soyer ny
Why do we even need an active foreign policy ? Seriously.Are we the greatest country in the world ?If we are, then thank the president for that, because we weren't the greatest ten years ago.If we're not, name the country that is and tell me what their foreign policy is. Articulate that country's foreign policy and tell me how we can emulate it, otherwise write about another topic.It sounds to me that you are just looking around the world for fights to pick, which is a lousy way to act, whether you are a country, or a op-ed writer, or a guy on the subway, or anybody.
Luce Indonesia
Yes, but if a Republican gets elected President in 2016, what would you see him do differently? Would you have him intervene in the Muslim global civil war? Or wouldn't you rather he continue Obama's approach to that?Fact is, the main danger point on the international scene is the Muslim civil war, with local fire points in various places. But if we are smart, whether Democrat or Republican, we should have learned from the Bush years, what England and the USSR already knew from experience, that we cannot get involved with that. We hopefully can contain it.This situation does not lend itself to big talkers and gunslingers, who are mostly in the GOP. Obama has done a good job. Just his being elected was a huge positive achievement for the whole world.
mickiHaifa, Israel The problem is that President Obama is trying to make clear decisions in a foggy environment where clarity is impossible. He's trying to make too many people happy and in the process is failing to make anyone happy.His proponents are looking for solid leadership and can't see it and his opponents are throwing disinformation at him which makes him look like Hamlet.
Gignere New York
TLDR – Ross would have done 90% of what Obama did on foreign policy, but because he is a Democrat Obama fails.

www.nytimes.com/2014/05/18/opinion/sunday/douthat-grading-obamas-foreign-policy.html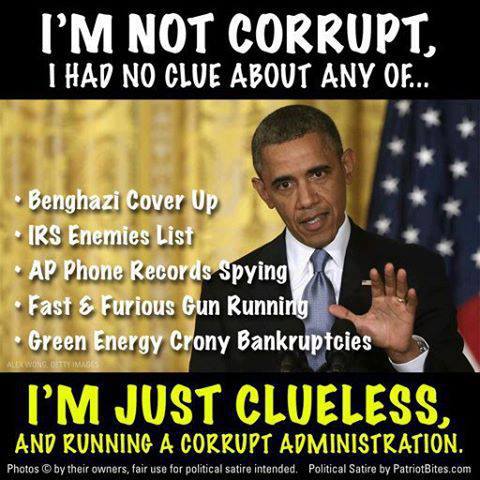 Victor Davis Hanson commentary: In administration, politics trumps ethics
Thursday May 22, 2014 5:35 AM
Veteran Affairs Secretary Eric Shinseki cannot get a handle on the recent scandalous treatment of veterans in VA hospitals, where more than 40 sick men were allowed to die without proper follow-up treatment. A cover-up allegedly followed. When the Walter Reed Army Medical Center scandal broke under the George W. Bush administration, heads rolled. So far, Shinseki seems immune from similar accountability.
Almost nothing that former Secretary of Health and Human Services Kathleen Sebelius promised before, during or after the implementation of the ill-starred Affordable Care Act came true. She also was cited by the U.S. Office of Special Counsel for violating the Hatch Act, as she improperly campaigned for Barack Obama's re-election while serving as a cabinet secretary.
IRS official Lois Lerner used the federal tax-collection agency to go after groups deemed too conservative. She invoked the Fifth Amendment to avoid telling Congress the truth.
Susan Rice, former U.N. ambassador and now national security adviser, flat out deceived the public on five television appearances about the Benghazi catastrophe. She insisted that the deaths of four Americans were due to a spontaneous riot induced by a reactionary video maker — even though she had access to intelligence fingering al-Qaida-affiliated terrorists as the culprits who planned the attack on the anniversary of 9/11.
Rice recently blamed Obama's foreign-policy failures on domestic political polarization. But that is best described as the give and take of democracy and was once thought to be our foreign-policy strength.
Former Secretary of State Hillary Clinton left office with American foreign policy in shambles. She has been unable to make the argument that a single initiative — reset with Russia, lead from behind in Libya, red lines on Syria, deadlines to Iran, complete withdrawal from Iraq, pressure on the Israelis, outreach to radical Islam and Latin American communist dictatorships — met with success.
Clinton infamously dismissed the lingering mysteries surrounding the Benghazi deaths with, "What difference at this point does it make?" She also refused, despite numerous entreaties, to place the now-infamous Nigerian terrorist group Boko Haram on a State Department terrorist watch list.
Eric Holder is the first attorney general to have been held in contempt of Congress. Aside from his divisive language (he called America "a nation of cowards" and referred to African-Americans as "my people"), Holder always seems to find himself at the center of scandals. He permitted the federal monitoring of Associated Press journalists. He green-lighted the Fast and Furious gun-running scam. He has failed to bring to account rogue IRS officials. Holder is the most morally compromised attorney general since Nixon appointee John Mitchell.
Do we remember former EPA Administrator Lisa Jackson? Her case was as unprofessional as it was surreal. Jackson fabricated for herself an alternate identity as a midlevel EPA employee. In communications, she used a fake email address and name, and then honored her own alter ego (" Richard Windsor") as a "scholar of ethical behavior." Who could have dreamed up such an unethical caper?
What has happened to NASA? We are currently trying to isolate Vladimir Putin for his territorial aggressions and yet beseeching the Russians to send our astronauts into space. Perhaps NASA Administrator Charles Bolden should not have boasted that one of NASA's "foremost" goals was "to reach out to the Muslim world" and "to help them feel good about their historic contribution to science, math and engineering." Americans might have preferred that Bolden stuck with rockets.
Former Secretary of Energy Steven Chu left under a cloud involving crony capitalists getting millions of dollars in green loans that produced nothing but failed companies. Former Labor Secretary Hilda Solis slipped out of office, battling accusations of Hatch Act violations and freebie rides on private jets from insider union friends. Former top officials such as Timothy Geithner, Peter Orszag and Larry Summers have given new meaning to the revolving door between Wall Street and the White House.
The common denominator?
In all of these cases, politics trumped ethics. Because Obama professed that he was on the side of the proverbial people, administrators assumed that they had a blank check to do or say what they wished without much media audit. The mystery is not whether some administration officials were incompetent or unethical or both, but whether there are any left who are not.
www.dispatch.com/content/stories/editorials/2014/05/22/in-administration-politics-trumps-ethics.html
For more than three years , President Obama has resisted advice from inside and outside his administration to abandon his passivity and do something to help Syria — not to send ground troops, the straw man his spokesmen regularly erect to fend off criticism, but rather to train and equip the rebels or to help patrol a safe zone for them to evade Mr. Assad's depredations. Mr. Obama's excuses have varied: Mr. Assad's downfall was inevitable with or without U.S. involvement; the rebels weren't deserving of U.S. help; anything the United States did would make things worse.

www.washingtonpost.com/opinions/us-inaction-on-syria-helped-make-it-a-hell-on-earth/2014/05/23/07da806c-e287-11e3-9743-bb9b59cde7b9_story.html
At West Point, President Obama binds America's hands on foreign affairs
www.washingtonpost.com/opinions/president-obama-in-his-west-point-speech-binds-americas-hands-on-foreign-affairs/2014/05/28/f3db48fe-e66d-11e3-a86b-362fd5443d19_story.html
President Obama Misses a Chance on Foreign Affairs
President Obama and his aides heralded his commencement speech at the United States Military Academy at West Point on Wednesday as a big moment, when he would lay out his foreign policy vision for the remainder of his term and refute his critics. The address did not match the hype, was largely uninspiring, lacked strategic sweep and is unlikely to quiet his detractors, on the right or the left.
…Mr. Obama's talk of the need for more transparency about drone strikes and intelligence gathering, including abusive surveillance practices, was ludicrous. His administration had to be dragged into even minimal disclosures on both topics. Just Tuesday, the administration said it wanted to make further deletions from a legal memo on drone strikes that a court ordered it to make public.
Mr. Obama's comments on China and Russia barely touched on how he plans to manage two major countries that have turned increasingly aggressive. Pledging anew to close the jail at Guantánamo Bay, Cuba, which Congress has blocked, was, at this point, little more than a reassuring gesture.
This was far from Mr. Obama's big moment. But since he has no office left to run for, what matters ultimately is his record in the next two and a half years.
www.nytimes.com/2014/05/29/opinion/president-obama-misses-a-chance-on-foreign-affairs.html