Two Top Cold War Spies Made The Same Troubling Prediction About Edward Snowden
www.businessinsider.com/ex-spies-say-snowden-is-working-with-russia-2014-5
The public justification given by Mr. Snowden for his actions was "I don't want to live in a society that does these sort of things"—surveillance of its citizens—"I do not want to live in a world where everything I do and say is recorded." So where does he choose to go? Russia. In a bizarre and perverse video statement in October, he said of America's intelligence techniques: "They hurt our economy. They hurt our country. They limit our ability to speak and think and live and be creative, to have relationships and to associate freely." This from a man who is snuggled up with Mr. Putin's henchmen.
Edward Snowden thinks of himself as a cyber-age guerrilla warrior, but in reality he is a self-publicizing narcissist. He did not find or expose anything illegal, nor did he exhaust all legal and constitutional options to express his reservations about the intelligence and security services. He did not attempt to limit any potential damage in making his point. He did not show that any agency activities were unreasonable in law. Let us not imbue his cowardice with higher motives. Let us not confuse his egotism with public service. Let's not call his treachery by lesser terms. Let us be clear about the intent and impact of his actions. Let us be clear to the American people and their allies about the threats they now face from enemies inside and out, terrorist and criminal. For once, let's say what we mean. Let us call treason by its name.
http://online.wsj.com/news/articles/SB10001424052702303603904579495391321958008
STOOGE
It is one thing to break an oath to keep U.S. secrets. The U.S. government persistently over-classifies material. Even if not all of Snowden's revelations were helpful, some leaks are necessary. But Snowden surrendered any remaining shred of dignity on Thursday. If he had any choice in the matter, he should have declined to appear. If he did not have a choice, he should have surrendered to the U.S. embassy before humiliating himself. If he could not do even that, he should have protested when it was his turn to play his part. Instead, he revealed his bankruptcy of principle.
http://www.washingtonpost.com/blogs/post-partisan/wp/2014/04/17/edward-snowdens-cowardice-on-russian-tv/
MAX HASTINGS: Snowden's clearly an anarchist and traitor. Those who endorse him are just as dangerous By MAX HASTINGS FOR THE DAILY MAIL
PUBLISHED: 18:26 EST, 7 April 2015 | UPDATED: 06:48 EST, 9 April 2015
Nearly two years ago, CIA traitor Edward Snowden fled to hoped-for sanctuary in Moscow, having begun broadcasting his employers' secrets like leaves on the wind.
Liberal newspapers in the West, headed by the Guardian in Britain and the Washington Post in the U.S., proclaimed him to be a crusader for freedom, because he revealed the scale of government electronic monitoring of all our lives.
He had alerted every terrorist on the planet to the methods used by intelligence services on both sides of the Atlantic to probe their plots.
He disgracefully even blamed a 'f***-up' by the newspapers involved for failing to redact sensitive operational details.
Almost everybody else — including security chiefs past and present, the Prime Minister and foreign and Defence secretaries from both main parties —have denounced Snowden for wreaking havoc with the cause of public safety.
Catastrophic
Sir David Omand, Britain's former intelligence supremo, described Snowden's revelations as 'the most catastrophic loss to British intelligence ever'.
One direct consequence is that Al Qaeda now publishes a manual instructing its supporters on how to evade government eavesdroppers.
Yet the Guardian has always insisted that Snowden 'performed a public service'. Meanwhile, a group of the type that Lenin used to call 'useful idiots' appealed for funds in London to raise a statue to him.
Snowden himself gave a solemn assurance that he had screened every document he released to journalists, to ensure that no information that might identify Western intelligence officers — and thus put their lives at risk — got into the public domain.
At the weekend, however, interviewed on American TV by British comedian John Oliver, the renegade admitted he has not read the material he blithely unloads. He merely 'evaluated' two million files stolen from the U.S. National Security Agency — about 68,000 of them from GCHQ, Britain's intelligence agency.
At a stroke, the traitor thus stripped away his own fig-leaf defence for his actions.
Snowden continues to publish batches of material: the latest, last week, addressed potential British disinformation techniques against Argentina.
Meanwhile, the controversy about his actions, and about the rightful limits of government eavesdropping, grows ever more fierce.
The United Nations Human Rights Council, spurred by Snowden's disclosures, has appointed a 'rapporteur' on privacy, and published a resolution deploring the 'negative input surveillance, when carried out on a mass scale, may have on the exercise and enjoyment of human rights'.
The Guardian applauded this as helping to establish the idea that 'freedom from excessive surveillance is a fundamental right'.
We can all agree that tyrannies, including Russia and China, exploit surveillance to strangle personal freedom. But it seems hard to argue convincingly that law-abiding British and American citizens suffer at the hands of their own intelligence agencies.
These secret organisations merely download vast quantities of 'bulk data' — phone and email traffic — and 'crunch' it in search of terrorist activity which we know is all too real.
By far the most important and effective weapon in monitoring those within our own societies who wish us harm — and there are thousands of them — is electronic surveillance. Intelligence officers say this is the only edge they have over extremists, when it is almost impossible to use agents to penetrate their cells.
The Guardian applauded this as helping to establish the idea that 'freedom from excessive surveillance is a fundamental right'
As a result of Snowden's revelations, U.S. internet service providers are cynically trying to cash in by aggressively marketing to any customer encryption techniques which defy government surveillance technology.
The big U.S. companies which used to co-operate closely with British intelligence agencies are now extremely wary of doing so.
Robert Hannigan, director of GCHQ, made an important speech last November in which he highlighted the manner in which, thanks to their wake-up call from the activities of Snowden, the jihadi terror group ISIS and other extremist forces have become highly security-conscious — using couriers instead of phones and emails and exploiting encryption.
Under pressure from the civil libertarians, big internet companies such as Google now strive to protect their customers without discriminating between the interests of the law-abiding and those of terrorists.
Hannigan says: 'Techniques for encrypting messages or making them anonymous which were once the preserve of the most sophisticated criminals or nation states now come as standard.'
Some apps proudly advertise themselves as 'Snowden-approved'. 'There is no doubt that young foreign fighters have learned and benefited from the [Snowden] leaks,' he adds.
The GCHQ director concluded that law-enforcement agencies need much more help and access than they currently receive from the U.S. service providers that dominate the net.
Many of us believe that they should get it. Privacy is not an absolute.
Governments throughout history have had to do unwelcome things to protect their citizens from harm.
In times gone by, the need was for the construction of a series of defence forts — Martello towers — on the Channel coast or anti-aircraft guns in London's Hyde Park. Today, different threats demand different remedies.
It is essential that the intelligence services act within the law and remain subject to Parliamentary scrutiny.
Grievous
As a citizen, I feel much less comfortable with the huge knowledge amassed by banks and online traders about every detail of our lives than with the idea of GCHQ or MI5 reading my emails or listening to my phone.
I am willing to take on trust that the intelligence services are on our side. They do what they do in the interests of our society. I certainly prefer to place my faith in their judgment than in that of the Guardian and Edward Snowden.
Indeed, the Commons' Intelligence And Security Committee agreed that the agencies had acted in a 'lawful, necessary and proportionate way'. What's more, Snowden blew the gaff about himself by refusing to accept the consequences of his own actions as a supposed 'champion of freedom', and staying to fight his case in a U.S. court.
Instead, he set himself up like a monkey perched on a stick on the Kremlin Wall, cavorting for the delectation of Vladimir Putin and his friends — and the grievous embarrassment of Britain and America.
The Russians are delighted by the mischief Snowden continues to make, as are other foes of democracy around the world.
This IT geek's recent actions and statements make nonsense of his claims to be a standard-bearer for human rights. He is, instead, an anarchist, delighting in the promotion of disorder in Washington and Whitehall.
Menace
The bad news is that he still holds many thousands more files that he will drip-feed into the market-place for ISIS, Al Qaeda and Guardian readers.
There always have been — and always will be — people such as him, who seek to cloak treason in the guise of a higher loyalty.
It is those who endorse and applaud them who are harder to understand, because they seem blind to the imperatives of protecting our society from the menace of Muslim extremism.
When the intelligence services say that Snowden has done substantial damage to their capabilities, most of us believe them.
Yet later this year, a cluster of civil liberties groups will challenge in court GHCQ's computer-hacking operations.
An independent review of anti‑terrorist legislation is due after the election and, in December 2016, last July's emergency legislation empowering the intelligence agencies to collect bulk electronic data will expire and require renewal.
Human rights lobbyists will agitate incessantly, meanwhile, for tighter curbs on surveillance.
If their campaign to make privacy an absolute succeeds, they will equate the protection of terrorists from scrutiny with that of law-abiding citizens.
Those of us who believe the intelligence services deserve our support in this argument must ensure that our voices are heard as clearly as those of the Snowden fan club.
Some small loss of privacy seems a fair price to pay for defence against the fanatics, who have already shed innocent blood enough.

www.dailymail.co.uk/debate/article-3029612/MAX-HASTINGS-Snowden-s-clearly-anarchist-traitor-endorse-just-dangerous.html
…Snowden's silence about the quasi-dictatorship where he has taken sanctuary is telling. It is yet more evidence, if evidence were needed, that he is not a whistleblower at all. It suggests that, instead of being a brave speaker of truths, he fears American justice, and not only American justice. It also suggests he is a hypocrite, with principles that he applies selectively against the democracy he has betrayed.
www.washingtonpost.com/opinions/snowdens-hypocrisy-on-russia/2014/02/07/23c403c2-8f51-11e3-b227-12a45d109e03_story.html
Terrorists are 'rubbing their hands with glee' after Edward Snowden leaks
Sir John Sawers, head of MI6, warns that terrorists are 'rubbing their hands with glee' after Edward Snowden leaks
www.telegraph.co.uk/news/uknews/terrorism-in-the-uk/10434196/Terrorists-are-rubbing-their-hands-with-glee-after-Edward-Snowden-leaks.html
The leaks from Edward Snowden, the American intelligence official, had weakened the already "fragile advantage" over potential bombers (Andrew Parker, MI5), causing a "sudden darkening" (Sir Iain Lobban, GCHQ). "Al-Qa'ida is lapping it up," said Sir John Sawers, head of MI6.
www.independent.co.uk/news/uk/home-news/intelligence-chiefs-break-cover-with-all-guns-blazing-8927286.html
Edward Snowden a 'strange guy', set for tough life, Putin says
AFP | Sep 4, 2013, 05.50 PM IST
http://timesofindia.indiatimes.com/world/europe/Edward-Snowden-a-strange-guy-set-for-tough-life-Putin-says/articleshow/22291772.cms?
Script: In this image made from video provided by RTR TV on Wednesday, July 17th, 2013, is Edward Snowden's handwritten application for asylum to Russia

www.dailymail.co.uk/news/article-2367295/Edward-Snowdens-Russian-asylum-request-handwriting-analysis-shows-hes-intellectual-desperate-paranoid.html
Revealed: Ed Snowden spent TWO days at Russian consulate in Hong Kong before he fled to Moscow
It was also reported that Cuba was instrumental in blocking Snowden's further travels too
Two days after Snowden landed in Moscow in June, Putin said that his choice of travel route and request for Russia's help was a 'surprise'
Edward Snowden Spent His 31st Birthday In The Russian Consulate In Hong Kong (pictured)

www.dailymail.co.uk/news/article-2402211/Russia-helped-Snowdens-escape-Hong-Kong-long-claimed-involved-marked-birthday-consulate.html
Rupert Cornwell
Thursday 1 August 2013
Putin's libertarian benevolence in this case has turned a chilly relationship with US ice-cold
Russia's granting of asylum to Edward Snowden may have ended nearly six weeks in airport limbo for the man who leaked some of America's most sensitive intelligence gathering programmes. But it has further poisoned the already severely strained relations between Moscow and Washington.
By allowing Mr Snowden to remain in Russia for at least a year, the Kremlin has effectively thumbed its nose at the US, which had demanded his extradition. Assurances by aides of President Vladimir Putin that the affair was "too insignificant" to damage ties will only have added to the anger of the Obama administration, despite an icy show of indifference to a man dismissed by the US president as a "29-year-old hacker."
In a first response, the White House said it was "evaluating" the value of a summit with Russia, a clear hint that it could scrap plans for President Barack Obama to meet Mr Putin in Moscow, ahead of September's G-20 summit in St Petersburg. Another casualty could be the scheduled meeting here later this month of the two countries' foreign and defence ministers. Foreign policy hardliners however were far less circumspect. Senator Lindsey Graham of South Carolina, a Republican national security spokesman, said the Kremlin's move "could not be more provocative," and proved Mr Putin's lack of respect for President Obama. It should be "a game changer" in the US relationship with Russia, Mr Graham said, as he urged a "firm response" from Congress and the administration.
Not of course that things were well between the US and Russia before the Snowden affair. Ties were severely strained when Congress passed the Magnitsky Bill, that placed some Russian officials on a watch list, and symbolised the US criticism of Moscow's human rights record. Mr Putin responded, pushing through legislation barring the adoption of Russian children by American families.
Even before that, the two countries were – and remain – at sharp odds on Syria, as Russia sent arms to the Assad regime and blocked substantial action by the UN Security Council. The once-envisaged Syrian peace conference, to have been jointly sponsored by Russia and the US, now seems a distant prospect. Even more distant is the attempted "reset" of relations by the previous Secretary of State Hillary Clinton. Most telling of all perhaps was the meeting between Putin and Obama at June's G-8 summit in Northern Ireland – a chilliness neither man concealed.
Whatever happens next, the Kremlin is likely to regard its handling of the case as a big success. For once Russia has been able to portray itself on the side of openness and individual rights. By his own admission, Mr Snowden would have preferred to have taken refuge in Latin America – Bolivia, Nicaragua and Venezuela had indicated they'd welcome him.
Apart from the difficulties posed by Mr Snowden's lack of a passport and his confinement in the airport transit zone, all three appeared to be having cold feet – giving nationalistic Mr Putin the opportunity to show that he was willing to defy the former superpower rival.
As it happens, Snowden's asylum comes as sympathy for his cause, if not his methods, is if anything growing here. Mr Obama held talks with a group of Senators worried about the NSA's seemingly unlimited data gathering.
That meeting came days after the Republican-controlled House – which might have been expected to take an uncompromising view of national security – only narrowly rejected a proposal to halt funding for the agency's controversial programmes, as libertarian Republicans made common cause with an overwhelming majority of Democrats.

www.independent.co.uk/voices/commentators/putins-libertarian-benevolence-in-this-case-has-turned-a-chilly-relationship-with-us-icecold-8742811.html
Edward Snowden Impersonated NSA Officials: Report

www.huffingtonpost.com/2013/08/29/edward-snowden-impersonated-nsa_n_3837459.html
Mr. Snowden's revelations may be a gift to the Chinese, because they shift the focus from China's covert activities to Washington's. And even American scholars say the Chinese have a good argument. "It is not true that 'unwritten rules' prohibit economic espionage," said Jack Goldsmith, a Harvard law professor and cyberexpert who served in the Bush administration. "Economic espionage is expressly prohibited by U.S. domestic law but is not prohibited by international law, written or unwritten, and it is widely practiced."

www.nytimes.com/2013/07/11/world/asia/differences-on-cybertheft-complicate-china-talks.html
A National Security Agency internal review of damage caused by the former contractor Edward Snowden has focused on a particular area of concern: the possibility that he gained access to sensitive files that outline espionage operations against Chinese leaders and other critical targets, according to people familiar with aspects of the assessment.
The possibility that intelligence about foreign targets might be made public has stirred anxiety about the potential to compromise the agency's overseas collection efforts. U.S. officials fear that further revelations could disclose specific intelligence-gathering methods or enable foreign governments to deduce their own vulnerabilities.

www.washingtonpost.com/world/national-security/nsas-snowden-case-review-focuses-on-possible-access-to-china-espionage-files-officials-say/2013/07/11/9ba0f004-e9a1-11e2-8f22-de4bd2a2bd39_story.html
Edward Snowden's long flight
What a whistleblower thinks a fellow whistleblower might have thought
1 JULY, by Peter Van Buren
As a State Department whistleblower, I think a lot about Edward Snowden. I can't help myself. My friendships with other whistleblowers like Tom Drake, Jesslyn Radack, Daniel Ellsberg, and John Kiriakou lead me to believe that, however different we may be as individuals, our acts have given us much in common. I suspect that includes Snowden, though I've never had the slightest contact with him. Still, as he took his long flight from Hong Kong into the unknown, I couldn't help feeling that he was thinking some of my thoughts, or I his. Here are five things that I imagine were on his mind (they would have been on mine) as that plane took off.
I am afraid
Whistleblowers act on conscience because they encounter something so horrifying, unconstitutional, wasteful, fraudulent, or mismanaged that they are overcome by the need to speak out. There is always a calculus of pain and gain (for others, if not oneself), but first thoughts are about what you've uncovered, the information you feel compelled to bring into the light, rather than your own circumstances.
In my case, I was ignorant of what would happen once I blew the whistle. I didn't expect the Department of State to attack me. National Security Agency (NSA) whistleblower Tom Drake was similarly unprepared. He initially believed that, when the FBI first came to interview him, they were on his side, eager to learn more about the criminal acts he had uncovered at the NSA. Snowden was different in this. He had the example of Bradley Manning and others to learn from. He clearly never doubted that the full weight of the U.S. government would fall on him.
He knew what to fear. He knew the Obama administration was determined to make any whistleblower pay, likely via yet another prosecution under the Espionage Act (with the potential for the death penalty). He also knew what his government had done since 9/11 without compunction: it had tortured and abused people to crush them; it had forced those it considered enemies into years of indefinite imprisonment, creating isolation cells for suspected terrorists and even a pre-trial whistleblower. It had murdered Americans without due process, and then, of course, there were the extraordinary renditions in which U.S. agents kidnapped perceived enemies and delivered them into the archipelago of post-9/11 horrors.
Sooner or later, if you're a whistleblower, you get scared. It's only human. On that flight, I imagine that Edward Snowden, for all his youthful confidence and bravado, was afraid. Would the Russians turn him over to Washington as part of some secret deal, maybe the sort of spy-for-spy trade that would harken back to the Cold War era?
Even if he made it out of Moscow, he couldn't have doubted that the full resources of the NSA and other parts of the U.S. government would be turned on him. How many CIA case officers and Joint Special Operations Command types did the U.S. have undercover in Ecuador? After all, the dirty tricks had already started. The partner of Guardian journalist Glenn Greenwald, who broke Snowden's story, had his laptop stolen from their residence in Brazil. This happened only after Greenwald told him via Skype that he would send him an encrypted copy of Snowden's documents.
In such moments, you try to push back the sense of paranoia that creeps into your mind when you realize that you are being monitored, followed, watched. It's uncomfortable, scary. You have to wonder what your fate will be once the media grows bored with your story, or when whatever government has given you asylum changes its stance vis-a-vis the U.S. When the knock comes at the door, who will protect you? So who can doubt that fear made the journey with him?
Could I go back to the U.S.?
Amnesty International was on target when it stated that Snowden "could be at risk of ill-treatment if extradited to the U.S." As if to prove them right, months, if not years, before any trial, Speaker of the House John Boehner called Snowden a "traitor"; Congressman Peter King called him a "defector"; and others were already demanding his execution. If that wasn't enough, the abuse Bradley Manning suffered had already convinced Snowden that a fair trial and humane treatment were impossible dreams for a whistleblower of his sort. (He specifically cited Manning in his appeal for asylum to Ecuador.)
So on that flight he knew — as he had long known — that the natural desire to go back to the U.S. and make a stand was beyond foolhardy. Yet the urge to return to the country he loves must have been traveling with him, too. Perhaps on that flight he found himself grimly amused that, after years of running roughshod over international standards — Abu Ghraib, Guantanamo, "enhanced interrogation techniques," "black sites" — the U.S. had the nerve to chide Hong Kong, China, and Russia for not following the rule of law. He certainly knew that his own revelations about massive NSA cyber-spying on Hong Kong and China had deeply embarrassed the Obama administration. It had, after all, been blistering the Chinese for hacking into U.S. military and corporate computers. He himself had ensured that the Chinese wouldn't turn him over, in the same way that history — decades of U.S. bullying in Latin America — ensured that he had a shot at a future in someplace like in Ecuador.
If he knew his extradition history, Snowden might also have thought about another time when Washington squirmed as a man it wanted left a friendly country for asylum. In 2004, the U.S. had chess great Bobby Fischer detained in Japan on charges that he had attended a 1992 match in Yugoslavia in violation of a U.S. trade ban. Others suggested that the real reason Washington was after him may have been Fischer's post 9/11 statement: "It's time to finish off the U.S. once and for all. This just shows what comes around, goes around."
Fischer's American passport was revoked just like Snowden's. In the fashion of Hong Kong more recently, the Japanese released Fischer on an immigration technicality, and he flew to Iceland where he was granted citizenship. I was a diplomat in Japan at the time, and had a ringside seat for the negotiations. They must have paralleled what went on in Hong Kong: the appeals to treaty and international law; U.S. diplomats sounding like so many disappointed parents scolding a child; the pale hopes expressed for future good relations; the search for a sympathetic ear among local law enforcement agencies, immigration, and the foreign ministry — anybody, in fact — and finally, the desperate attempt to call in personal favors to buy more time for whatever Plan B might be. As with Snowden, in the end the U.S. stood by helplessly as its prey flew off.
How will I live now?
At some point every whistleblower realizes his life will never be the same. For me, that meant losing my job of 24 years at the State Department. For Tom Drake, it meant financial ruin as the government tried to bankrupt him through endless litigation. For CIA agent John Kiriakou, it might have been the moment when, convicted of disclosing classified information to journalists, he said goodbye to his family and walked into Loretto Federal Correctional Institution.
Snowden could not have avoided anxiety about the future. Wherever he ended up, how would he live? What work would he do? He's just turned 30 and faces, at best, a lifetime in some foreign country he's never seen where he might not know the language or much of anything else.
So fear again, in a slightly different form. It never leaves you, not when you take on the world's most powerful government. Would he ever see his family and friends again? Would they disown him, fearful of retaliation or affected by the smear campaign against him? Would his parents/best friend/girlfriend come to believe he was a traitor, a defector, a dangerous man? All whistleblowers find their personal relationships strained. Marriages are tested or broken, friends lost, children teased or bullied at school. I know from my own whistleblower's journey that it's an ugly penalty — encouraged by a government scorned — for acting on conscience.
If he had a deeper sense of history, Snowden might have found humor in the way the Obama administration chose to revoke his passport just before he left Hong Kong. After all, in the Cold War years, it was the "evil empire," the Soviet Union, which was notorious for refusing to grant dissidents passports, while the U.S. regularly waived such requirements when they escaped to the West.
To deepen the irony of the moment, perhaps he was able to Google up the 2009-2011 figures on U.S. grants of asylum: 1,222 Russians, 9,493 Chinese, and 22 Ecuadorians, not including family members. Maybe he learned that, despite the tantrums U.S. officials threw regarding the international obligation of Russia to extradite him, the U.S. has recently refused Russian requests to extradite two of its citizens.
Snowden might have mused over then-candidate Obama's explicit pledge to protect whistleblowers. "Often the best source of information about waste, fraud, and abuse in government," Obama then said, "is an existing government employee committed to public integrity and willing to speak out. Such acts of courage and patriotism… should be encouraged rather than stifled as they have been during the Bush administration." It might have been Snowden's only laugh of the flight.
I don't Hate the U.S., I love it deeply, but believe it has strayed
On that flight, Snowden took his love of America with him. It's what all of us whistleblowers share: a love of country, if not necessarily its government, its military, or its intelligence services. We care what happens to us the people. That may have been his anchor on his unsettling journey. It would have been mine.
Remember, if we were working in the government in the first place, like every federal employee, soldier, and many government contractors, we had taken an oath that stated: "I will support and defend the Constitution of the United States against all enemies, foreign and domestic; that I will bear true faith and allegiance to the same." We didn't pledge fealty to the government or a president or party, only — as the Constitution makes clear — to the ultimate source of legitimacy in our nation, "the people."
In an interview, Snowden indicated that he held off on making his disclosures for some time, in hopes that Barack Obama might look into the abyss and decide to become the bravest president in our history by reversing the country's course. Only when Obama's courage or intelligence failed was it time to become a whistleblower.
Some pundits claim that Snowden deserves nothing, because he didn't go through "proper channels." They couldn't be more wrong and Snowden knows it. As with many of us whistleblowers facing a government acting in opposition to the Constitution, Snowden went through the channels that matter most: he used a free press to speak directly to his real boss, the American people.
In that sense, whatever the fear and anxiety about his life and his future, he must have felt easy with his actions. He had not betrayed his country, he had sought to inform it.
As with Bradley Manning, Obama administration officials are now claiming that Snowden has blood on his hands. Typically, Secretary of State John Kerry claimed: "People may die as a consequence to what this man did. It is possible that the United States would be attacked because terrorists may now know how to protect themselves in some way or another that they didn't know before." Snowden had heard the same slurs circling around Bradley Manning: that he had put people in danger. After the wars in Iraq and Afghanistan, not to speak of the war on terror, there is irony too obvious to dwell upon in such charges.
Flying into the unknown, Snowden had to feel secure in having risked everything to show Americans how their government and the NSA bend or break laws to collect information on us in direct conflict with the Fourth Amendment's protections. Amnesty International pointed out that blood-on-hands wasn't at issue. "It appears he is being charged primarily for revealing U.S. and other governments' unlawful actions that violate human rights." Those whispers of support are something to take into the dark with you.
I believe in things bigger than myself
Some of the charges against Snowden would make anyone pause: that, for instance, he did what he did for the thrill of publicity, out of narcissism, or for his own selfish reasons. To any of the members of the post-9/11 club of whistleblowers, the idea that we acted primarily for our own benefit has a theater of the absurd quality to it. Having been there, the negative sentiments expressed do not read or ring true.
Snowden himself laughed off the notion that he had acted for his own benefit. If he had wanted money, any number of foreign governments would have paid handsomely for the information he handed out to journalists for free and he would never have had to embark on that plane flight from Hong Kong. (No one ever called Aldrich Ames a whistleblower.) If he wanted fame, there were potential book contracts and film deals to be had.
No, it was conscience. I wouldn't be surprised if somewhere along the line Snowden had read the Declaration of the Nuremberg War Crimes Tribunal: "Individuals have international duties which transcend the national obligations of obedience. Therefore individual citizens have the duty to violate domestic laws to prevent crimes against peace and humanity from occurring."
Edward Snowden undoubtedly took comfort knowing that a growing group of Americans are outraged enough to resist a government turning against its own people. His thoughts were mirrored by Julian Assange, who said, "In the Obama administration's attempt to crush these young whistleblowers with espionage charges, the U.S. government is taking on a generation, a young generation of people who find the mass violation of the rights of privacy and open process unacceptable. In taking on the generation, the Obama administration can only lose." Snowden surely hoped President Obama would ask himself why he has pursued more than double the number of Espionage Act cases of all his presidential predecessors combined, and why almost all of those prosecutions failed.
On that flight, Edward Snowden must have reflected on what he had lost, including the high salary, the sweet life in Hawaii and Switzerland, the personal relationships, and the excitement of being on the inside, as well as the coolness of knowing tomorrow's news today. He has already lost much that matters in an individual life, but not everything that matters. Sometimes — and any whistleblower comes to know this in a deep way — you have to believe that something other, more, deeper, better than yourself matters. You have to believe that one courageous act of conscience might make a difference in an America gone astray or simply that, matter or not, you did the right thing for your country.
http://mondediplo.com/openpage/edward-snowden-s-long-flight
D-E-F-E-C-T-O-R-
Snowden is undermining his cause in the United States
By Dana Milbank, Published: July 2
Three weeks ago, Edward Snowden told the Guardian newspaper that "the sense of outrage" over the secret surveillance programs he had disclosed "has given me hope that, no matter what happens to me, the outcome will be positive for America."
But now that hope is being undermined by one man: Edward Snowden. The 30-year-old computer whiz seems all too concerned about what happens to him and entirely unconcerned about what harm he does his country in securing his safety.
At the start, Snowden's revelations to the Guardian and The Post promised to put him in the distinguished company of Daniel Ellsberg and others who exposed government wrongdoing. But rather than come home and face trial — giving the nation the debate he claimed to seek about assaults on Americans' privacy — he has allowed the story to become all about his life as a fugitive in Hong Kong and Moscow and his many asylum requests.
Along the way, Snowden teamed up with WikiLeaks, known for its indiscriminate dumping of classified material, and he has been revealing further government secrets that seem to serve no purpose other than embarrassing the United States and winning favor (so far unsuccessfully) with American rivals and foes. On Monday, a statement issued in Snowden's name by WikiLeaks accused President Obama of "political aggression" in opposing his asylum requests.
"The fixation on asylum is a huge distraction, and it contradicts what he was purporting to do," says constitutional lawyer Bruce Fein . That opinion should carry extra weight because Fein is representing Snowden's father, Lonnie.
In this capacity, Fein wrote to Attorney General Eric Holder last week to say the elder Snowden "is reasonably confident that his son would voluntarily return to the United States" if he had "a fair opportunity to explain his motivations and actions." Fein, an official in the Reagan administration, was a harsh critic of George W. Bush's warrantless wiretapping program and has described Edward Snowden as a "modern-day Paul Revere" for his initial disclosures.
But Fein agrees that the leaker is now harming his own cause. "What is happening is inconsistent with what he stated to [the Guardian's] Glenn Greenwald," Fein told me on Tuesday, "which is that he didn't do it for fame, glory and narcissism but to ask whether we are going to sacrifice our Fourth Amendment privacy rights for any claim of enhanced security our government makes. To that extent, he's undermining his goal." The legality of the National Security Agency's surveillance programs "is now a sideshow," Fein says. "If that's what he's about, this is an odd way to pursue it."
I still believe that Snowden was justified in leaking information about the NSA's snooping. The administration's collusion with the congressional intelligence committees had denied Americans the public debate they deserved about the trade-offs between security and privacy. "I do not want to live in a world where everything I do and say is recorded," Snowden told the Guardian in justifying the leaks. "That is not something I am willing to support or live under."
That was a noble sentiment, and his disclosures forced some lazy lawmakers to do their jobs, asking questions about the secret programs and proposing changes to the laws that authorize them. Had Snowden turned himself in, he would have found many defenders in his homeland; and if the government brought him to trial, the spectacle would have forced the national soul-searching Snowden claimed to be seeking.
Instead, he disclosed in China that the United States is hacking Chinese networks. He disclosed in Russia that the United States is spying on European allies. These aren't exactly shocking revelations, but neither are they the work of a patriotic whistleblower. Worse, if Greenwald and WikiLeaks founder Julian Assange are to be believed, Snowden has made copies of the files he took so that they can be published; that sounds less like the sort of selective leak that exposed the NSA surveillance than a flood designed to harm U.S. Security.
A spokesman for Russian President Vladimir Putin said Tuesday that Snowden had withdrawn his request for asylum there because of Putin's (dubious) requirement that Snowden stop doing damage to the United States. WikiLeaks announced Tuesday that he's still seeking asylum from 20 countries, including such bastions of freedom as China, Cuba and Venezuela.
"I do not expect to see home again," Snowden told the Guardian last month, "though that is what I want."
If so, and if he is not the traitor he is accused of being, he will come home.
Bobnpvine1
7/2/2013 8:43 PM EDT
Let's get real here…
Eddie is a nihilistic, impetuous & egotistical 30 year old high school drop-out…
We should not be out-sourcing back-ground checks on people who will be given security clearance… These are the kinds of people we don't need knowing much more than "fries with that burger, sir?"…
Bobsic_semper_tyrannis
12:55 AM EDT
An Assange wannabe..Now that's pathetic.
klakey1
7/2/2013 9:24 PM EDT
Snowden was just a narcissistic twit, and now he's just a rat lost in a maze of his own making. His crime has triggered some good developments–the debate on NSA practices under the Patriot Act–but it was nonetheless a crime, and it has done the US serious harm, too. But that it would harm the US seriously never bothered Snowden and still doesn't. Also, If Snowden was the hero he likes to think he is he would have stayed in the US and taken what comes with what he did. But he didn't. He can start a fire but he can't take the heat.
row11
2:54 AM EDT
We need more Edward Snowdens and less Dana Milbanks in the US. Snowden faces life in prison for being brave enough to expose the illegal and unconstitutional actions of the NSA. He's not so stupid to think that's a fair trade off for exposing the truth.
The Establishment Media voluntarily acts as the Government Mouthpiece.
Truth, Justice and The American Way.
Tobit
1:34 AM EDT
[Snowden] has been revealing further government secrets that seem to serve no purpose other than embarrassing the United States
If all he's done has embarrass the government, how does that make him a traitor? And seriously, come back to the U.S. so he can have his day in court? He'd get his 15 minutes of fame followed by a life in solitary confinement.
America is on thin political ice to demand Snowden after it's revealed we are spying on our allies. Sure, everybody does it. But apparently the E.U. isn't buying that excuse.
NMonrad
1:40 AM EDT
It also makes it hard to take US complaints about Chinese spying seriously, when the US is the biggest spy of even its own allies …
pjs-1965
1:45 AM EDT
No matter what happens, wether the US government gets Snowden or Snowden gives up and comes home, the government is and will remain in a very awkward position. It is doing everything it can to deflect and stop the discussion we so desperately need about the Constitution shredding NSA. The cat is out of the bag and the whole world is watching. Many people remain sympthetic to Snowden and his reasons for doing what he did. We are outraged at the NSA as are European leaders. We are outraged at the baldfaced hypocrisy of our government and a top security official who tells lies to Congress under oath.
metropolitan1
2:00 AM EDT
well he's embarrassed the US gov. by revealing specific details on how we spy on competing nations. that's why people are calling him such things as "traitor".
when people say "embarrass" in a diplomatic context, they're not talking about showing pictures of the USA wearing funny hats.
Tobit
2:33 AM EDT
What the U.S. is doing may be legal, according to its own secret laws and courts, but it's constitutionally questionable, and other countries sure don't like the fact we're spying on them. Snowden caused no harm. The public is better off knowing the government is spying on them, so we can have an intelligent discussion. That's a lot more important that what happens to a whistle-blower.
RobertNaiman
1:32 AM EDT
People claiming that Snowden should voluntarily submit to prosecution in the U.S. should reflect on:
1) whether he has any reasonable expectation of a fair trial in the U.S., given the Orwellian hatefest being sponsored by anonymous government officials and their corporate media lackeys, reflected in the hatefest one sees in comments here;
2) how much we can expect that such a trial would educate the public. What are we learning from the Bradley Manning trial?
Judge.
1:15 AM EDT
"This young man of 29 was brave enough to say that we need to protect the world from the American imperial elite…"
"The American imperial elite…"
I've had enough of this anti-American crap.
No country is perfect, but come on–American Imperialist Elite? Anyone who believes that twisted, unreal garbage should get the hell out.
Corrupt Marxists and murderous tinpot dictators who have always hated the USA and what it stands for are using Snowden to legitimize and validate their hideous little regimes and their anti-human rights manifestos–and Snowden is enabling them–as if America and Americans were the worst people on the planet.
As stupid and as ill-conceived as the Patriot Act is, all we are guilty of is trying to defend ourselves, and with Snowden's efforts, the enemies of our country are making a mockery of the REAL heroes that died trying to rescue our people from the devastation of 9/11.
Snowden is no 'political asylum seeker'–he's a DEFECTOR.
www.washingtonpost.com/opinions/dana-milbank-snowden-is-undermining-his-cause-in-the-united-states/2013/07/02/91a912f0-e34f-11e2-aef3-339619eab080_story.html
Questions for Snowden
By Walter Pincus, Published: July 8
Did Edward Snowden decide on his own to seek out journalists and then a job at Booz Allen Hamilton's Hawaii facility as an IT systems administrator to gather classified documents about the National Security Agency's worldwide surveillance activities?
Snowden told the South China Post in June that he took the Booz Allen job in late March or early April because it "granted me access to lists of machines all over the world the NSA hacked."
"That is why I accepted that position," he added.
He worked less than three months at Booz Allen, but by the time he reached Hong Kong in mid-May, Snowden had four computers with NSA documents.
Was he encouraged or directed by WikiLeaks personnel or others to take the job as part of a broader plan to expose NSA operations to selected journalists?
In the case of Pfc. Bradley Manning, the U.S. soldier on trial for disclosing thousands of classified documents to WikiLeaks, it was Julian Assange and his organization who directed the collection of documents, U.S. prosecutors have alleged. While Manning's lawyers contend there is no evidence to support that finding, prosecutors have said there are hundreds of chats between Manning and Assange and WikiLeaks lists of desired material.
In Manning's case, WikiLeaks and its founder, Assange, determined the news organizations that initially would receive the materials.
How did Snowden select his recipients?
In January, Snowden contacted documentary filmmaker Laura Poitras using encrypted e-mails. Without providing his name, he claimed to have information about the intelligence community. Poitras told an interviewer last month that in February, Snowden had also had a similar first contact with Glenn Greenwald, a columnist for the Guardian newspaper. Greenwald wrote on June 10, "Laura Poitras and I have been working with him [Snowden] since February."
Barton Gellman, a contributing writer for The Washington Post, wrote last month that he, too, was first contacted in February, initially by Poitras and then indirectly by Snowden. Snowden again did not disclose his real name.
How did Snowden decide on these three individuals before he went to work for Booz Allen and before he apparently had all the documents he wanted to release?
Poitras and Greenwald are well-known free-speech activists, with many prior connections, including as founding members in December of the nonprofit Freedom of the Press Foundation. One of its key goals is to support groups that engage in transparency journalism and support whistleblowers, including WikiLeaks.
Poitras had suggested Snowden contact Gellman, who had been part of a fellowship program with her at New York University's Center on Law and Security.
Greenwald had the byline on the initial June 5 Guardian story, and Gellman and Poitras were bylined on The Post's story on June 6.
Did Assange and WikiLeaks personnel help or direct Snowden to those journalists?
Poitras and Greenwald have had close connections with Assange and WikiLeaks. In December 2010, Greenwald said of the British arrest of Assange: "Whatever you think of WikiLeaks, they have not been charged with a crime, let alone indicted or convicted. Yet look what has happened to them. They have been removed from [the] Internet . . . their funds have been frozen . . . media figures and politicians have called for their assassination and to be labeled a terrorist organization."
In a June 2012 Guardian column, Greenwald wrote, "As a foreign national accused of harming U.S. national security, he [Assange] has every reason to want to avoid ending up in the travesty known as the American judicial system."
On April 10, 2012, Greenwald wrote for the WikiLeaks Press's blog about Poitras and WikiLeaks being targeted by U.S. government officials.
Since last year Poitras has been working on a film on post-9/11 America, with a focus on the NSA and in which Assange and WikiLeaks are participating. Assange confirmed this in a May 29 interview on Democracy Now's Web site.
In that same interview, Assange previewed the first Greenwald Guardian story based on Snowden documents that landed a week later. Speaking from Ecuador's embassy in London, Assange described how NSA had been collecting "all the calling records of the United States, every record of everyone calling everyone over years. . . . Those calling records already [are] entered into the national security complex."
Did he know ahead of time of that Guardian story describing the U.S. court order permitting NSA's collection of the telephone toll records of millions of American Verizon customers and storing them for years?
Snowden's releases reflect another WikiLeaks technique: directing materials to suit specific audiences at specific times.
While in Hong Kong, Snowden told the South China Post that the United States was targeting China's mobile-phone systems along with Internet hubs run by two Chinese universities. That release came while U.S. officials were pushing Chinese cyberwarfare as a major issue.
On Sunday, as Snowden seeks asylum possibly in a Latin American country, Greenwald, again on Democracy Now, described an article he co-wrote in Brazil's O Globo newspaper: "NSA is systematically tapping into the telecommunication systems of Brazil and intercepting, storing and monitoring millions upon millions of telephone calls and emails of ordinary Brazilians, the kind . . . that we reported was taking place in the United States, as well."
Meanwhile, Snowden is reportedly in Moscow's Sheremetyevo International Airport with WikiLeaks handling his legal representation and public relations operations.
What other roles the group played in getting Snowden to this point remain a mystery.
Salomo wrote:
3:11 AM EST
Who is this Mr Pincus and did he decide on his own to write the article published in the Washington Post?
Was he encouraged or directed by the NSA to take his job at Washington Post?
Keith Alexander, head of the surveillance institution that calls itself National Security Agency, declared that the NSA has interest in "those who collect on us as an intelligence agency". Besides Congress, the American citizens and people accross the globe, this would appear to include in particular both Wikileaks and Edward Snowden. This bears remarkable similarity to the interest Mr Pincus shows with his questions.
How involved was the NSA phrasing those questions for Mr Pincus?
The world has a right to finally get some answers from Mr Pincus!
aahpat wrote:
7:32 AM EST
I am more concerned that Snowdon was hired rather than that he sought the job. the scale of the U.S. national security complex is so out of proportion to the threat that they simply can't see the trees through the forest. In this case the tree fell right on the head of the NSA and they didn't hear it in the noise of the leaves.
American over-reach in national security has led to less not more security for America. This massive security complex is driven to any extreme to show some semblance of "product" rather than being narrowly focused on actual threats. As it should be.
The ultimate insult, to tax-payers footing the bill for this fiasco, is that the U.S. national security complex is so complex that it can't secure even itself.
angie12106 wrote:
5:26 AM EST
Snowden is a Traitor…..and a Coward…and has intentionally created LESS protections for Americans! 

www.washingtonpost.com/world/national-security/questions-for-snowden/2013/07/08/d06ee0f8-e428-11e2-80eb-3145e2994a55_story.html
KUNAL DUTTA
Thursday 27 June 2013
The Snowden affair is reviving Cold War politics
American suspicions of Russia have reignited in wake of the whistleblower's flight

www.independent.co.uk/voices/comment/the-snowden-affair-is-reviving-cold-war-politics-8675036.html
China's state newspaper praises Edward Snowden for 'tearing off Washington's sanctimonious mask'
State-run People's Daily says whistleblower has exposed US hypocrisy after Washington blamed Beijing for his escape
Fastandbulbousgotme
25 June 2013 6:41am
It seems logical that every nation with the technological wherewithal to do so is spying on anyone and everyone. The US and UK have been caught with their pants down. I doubt that a Chinese Snowden will put his head above the parapet. Gives Beijing the moral high ground for a while and they're going to bask in it.

www.guardian.co.uk/world/2013/jun/25/peoples-daily-savages-us-over-snowden
Image of NSA leaker Edward Snowden evolves with each revelation

www.mcclatchydc.com/2013/06/28/195337/image-of-nsa-leaker-edward-snowden.html
Obama's hands-off approach to extraditing Snowden draws criticism
Conservatives [and common sense] say[s] Obama's posture in the case provides further evidence of a commander in chief whose credibility abroad has declined and who shrinks from presidential leadership at moments of international crisis, including in response to last fall's attacks in Benghazi, Libya.
…Obama's first brief public comments on Snowden came Monday during an event focused on immigration. The remarks came nearly 40 hours after Snowden had set off on his global odyssey, jetting first to Moscow with the possibility of seeking asylum in Ecuador by way of Cuba.
Djibouti1 wrote:
1:28 AM EDT
Privacy and bandwidth are inversely proportional relationships. National security and faster internet is the soup of the day. This is a hard pill to swallow but that's where we are as a connected society. It's incredible, 100 million internet junkies in the US alone. The minds of those who cannot unplug will be controlled by their Governments and evil spirits. This is the FORWARD moving CHANGE you can believe in! Everything is proceeding according to plan. Thanks Edward.

www.washingtonpost.com/business/economy/company-allegedly-misled-government-about-security-clearance-checks/2013/06/27/dfb7ee04-df5c-11e2-b2d4-ea6d8f477a01_story.html
Glenn Greenwald, who now works for The Guardian newspaper, was previously a lawyer with connections to the porn industry

www.dailymail.co.uk/news/article-2350153/Journalist-helped-Edward-Snowden-expose-NSA-scandal-previously-sued-business-partner-running-Hairy-Jocks-porn-business.html

www.washingtonpost.com/lifestyle/style/on-nsa-disclosures-has-glenn-greenwald-become-something-other-than-a-reporter/2013/06/23/c6e65be4-dc47-11e2-9218-bc2ac7cd44e2_story.html
Originally published Wednesday, June 26, 2013 at 2:03 PM
Al-Qaida said to be changing methods after NSA leaks
By KIMBERLY DOZIER
AP Intelligence Writer
WASHINGTON —
U.S. intelligence agencies are scrambling to salvage their surveillance of al-Qaida and other terrorists who are working frantically to change how they communicate after a National Security Agency contractor leaked details of two NSA spying programs. It's an electronic game of cat-and-mouse that could have deadly consequences if a plot is missed or a terrorist operative manages to drop out of sight.
Terrorist groups had always taken care to avoid detection – from using anonymous email accounts, to multiple cellphones, to avoiding electronic communications at all, in the case of Osama bin Laden. But there were some methods of communication, like the Skype video teleconferencing software that some militants still used, thinking they were safe, according to U.S. counterterrorism officials who follow the groups. They spoke anonymously as a condition of describing their surveillance of the groups. Those militants now know to take care with Skype – one of the 9 U.S.-based Internet servers identified by former NSA contractor Edward Snowden's leaks to The Guardian and The Washington Post.
Two U.S. intelligence officials say members of virtually every terrorist group, including core al-Qaida members, are attempting to change how they communicate, based on what they are reading in the media, to hide from U.S. surveillance. It is the first time intelligence officials have described which groups are reacting to the leaks. The officials spoke anonymously because they were not authorized to speak about the intelligence matters publicly.
The officials wouldn't go into details on how they know this, whether it's terrorists switching email accounts or cellphone providers or adopting new encryption techniques, but a lawmaker briefed on the matter said al-Qaida's Yemeni offshoot, al-Qaida in the Arabian Peninsula, has been among the first to alter how it reaches out to its operatives.
The lawmaker spoke anonymously because he would not, by name, discuss the confidential briefing.
Shortly after Edward Snowden leaked documents about the secret NSA surveillance programs, chat rooms and websites used by like-minded extremists and would-be recruits advised users how to avoid NSA detection, from telling them not to use their real phone numbers to recommending specific online software programs to keep spies from tracking their computers' physical locations.
House Intelligence Committee Chairman Mike Rogers, R-Mich., said there are "changes we can already see being made by the folks who wish to do us harm, and our allies harm."
Sen. Angus King, I-Maine, said Tuesday that Snowden "has basically alerted people who are enemies of this country … (like) al-Qaida, about what techniques we have been using to monitor their activities and foil plots, and compromised those efforts, and it's very conceivable that people will die as a result."
Privacy activists are more skeptical of the claims. "I assume my communication is being monitored," said Andrew Prasow, senior counterterrorism counsel for Human Rights Watch. She said that's why her group joined a lawsuit against the Director of National Intelligence to find out if its communications were being monitored. The case was dismissed by the U.S. Supreme Court last fall. "I would be shocked if terrorists didn't also assume that and take steps to protect against it," she said.
"The government is telling us, `This has caused tremendous harm.' But also saying, `Trust us we have all the information. The US government has to do a lot more than just say it," Prasow said.
At the same time, NSA and other counterterrorist analysts have been focusing their attention on the terrorists, watching their electronic communications and logging all changes, including following which Internet sites the terrorist suspects visit, trying to determine what system they might choose to avoid future detection, according to a former senior intelligence official speaking anonymously as a condition of discussing the intelligence operations.
"It's frustrating. You have to start all over again to track the target," said M.E. "Spike" Bowman, a former intelligence officer and deputy general counsel of the FBI, now a fellow at the University of Virginia's Center for National Security Law. But the NSA will catch up eventually, he predicted, because there are only so many ways a terrorist can communicate. "I have every confidence in their ability to regain access."
Terror groups switching to encrypted communication may slow the NSA, but encryption also flags the communication as something the U.S. agency considers worth listening to, according to a new batch of secret and top-secret NSA documents published last week by The Guardian, a British newspaper. They show that the NSA considers any encrypted communication between a foreigner they are watching and a U.S.-based person as fair game to gather and keep, for as long as it takes to break the code and examine it.
Documents released last week also show measures the NSA takes to gather foreign intelligence overseas, highlighting the possible fallout of the disclosures on more traditional spying. Many foreign diplomats use email systems like Hotmail for their personal correspondence. Two foreign diplomats reached this week who use U.S. email systems that the NSA monitors overseas say they plan no changes, because both diplomats said they already assumed the U.S. was able to read that type of correspondence. They spoke on condition of anonymity because they were not authorized to discuss their methods of communication publicly.
The changing terrorist behavior is part of the fallout of the release of dozens of top-secret documents to the news media by Snowden, 30, a former systems analyst on contract to the NSA.
The Office of the Director for National Intelligence and the NSA declined to comment on the fallout, but the NSA's director, Gen. Keith Alexander, told lawmakers that the leaks have caused "irreversible and significant damage to this nation."
"I believe it will hurt us and our allies," Alexander said.
"After the leak, jihadists posted Arabic news articles about it … and recommended fellow jihadists to be very cautious, not to give their real phone number and other such information when registering for a website," said Adam Raisman of the SITE Intelligence Group, a private analysis firm. They also gave out specific advice, recommending jihadists use privacy-protecting email systems to hide their computer's IP address, and to use encrypted links to access jihadi forums, Raisman said.
Other analysts predicted a two-track evolution away from the now-exposed methods of communication: A terrorist who was using Skype to plan an attack might stop using that immediately so as not to expose the imminent operation, said Ben Venzke of the private analysis firm IntelCenter.
But if the jihadi group uses a now-exposed system like YouTube to disseminate information and recruit more followers, they'll make a gradual switch to something else that wasn't revealed by Snowden's leaks – moving slowly in part because they'll be trying to determine whether new systems they are considering aren't also compromised, and they'll have to reach their followers and signal the change. That will take time.
"Overall, for terrorist organizations and other hostile actors, leaks of this nature serve as a wake-up call to look more closely at how they're operating and improve their security," Venzke said. "If the CIA or the FBI was to learn tomorrow that its communications are being monitored, do you think it would be business as usual or do you think they would implement a series of changes over time?"
Terrorist groups have already adapted after learning from books and media coverage of "how U.S. intelligence mines information from their cellphones found at sites that get raided in war zones," said Scott Swanson, a forensics intelligence expert with Osprey Global Solutions. "Many are increasingly switching the temporary phones or SIM cards they use and throw them away more often, making it harder to track their network."
The disclosure that intelligence agencies were listening to Osama bin Laden drove him to drop the use of all electronic communications.
"When it leaked that bin Laden was using a Thuraya cellphone, he switched to couriers," said Jane Harman, former member of the House Intelligence Committee and now director of the Woodrow Wilson International Center. "The more they know, the clearer the road map is for them."
It took more than a decade to track bin Laden down to his hiding place in Abbottabad, Pakistan, by following one of those couriers.
Valiantsailor
June 27, 2013 at 5:01 PM
What a load of garbage. Bin Laden never used a phone or the internet because he knew NSA was looking. More lies from NSA and DOJ and of course the White House.
This is less devastating than the loss of the USS Pueblo or the us spy plane that landed in China. By the way, the Chinese missle warheads look amazingly like US ones. Got any idea where they go the plans? As Bill Clinton.
"The officials spoke anonymously because they were not authorized to speak about the intelligence matters publicly."
Latitudinarian
June 27, 2013 at 4:30 PM
"The officials spoke anonymously because they were not authorized to speak about the intelligence matters publicly."
Say WHAT???!!!!!
That would be on orders from Windbag: "No talking until my hidden-teleprompter programmers devise a story that blames Bush for this example of my incapacity and creates the laughable illusions that I'm the experienced, powerful statesman I claim to be."
Latitudinarian
June 27, 2013 at 4:07 PM
Be ready for a hidden teleprompter reading. "Bush couldn't make the primitive cowards change their tactics. I did. All by myself, just like the way I personally hunted down bin Laden and wasted him. I'm THE ONE! Say it, everybody!"
imtellinyou3
June 26, 2013 at 8:49 PM
Richard Nixon was ousted for taps on 50 telephones. Obama and Congress, through the NSA and private contractors, have apparently tapped every phone and computer in the world.
Riding on Faith
June 26, 2013 at 6:46 PM
"They spoke anonymously as a condition of describing their surveillance of the groups….
The officials spoke anonymously because they were not authorized to speak about the intelligence matters publicly.
The officials wouldn't go into details on how they know this"
Is this a joke?
Is this what passes for journalism today?
Ahh.. Someone told us to say this and this and so we did, but we can't say who told us to say this or what they are basing this on and so we will just go ahead and pretend that we are reporting facts when there is NOTHING here based on any facts and no one will admit to anything.
I ask again, is this a joke?
edgar4evar
June 26, 2013 at 5:40 PM
So, wait. Someone in the CIA just said Snowden's leaks are causing the terrorists to change their behavior. They did so without permission. And now the terrorists know that the CIA knows they're changing their behavior.
In other words they just leaked something that will cause the terrorists to change their behavior.
This is horsecrap of the finest grade. The CIA is manipulating the media (not the first or last time) with this heap of bull. Nobody should be buying it.
Totally Fed Up
June 26, 2013 at 5:37 PM
Snowden Coverage: If US Mass Media Were State-Controlled, Would They Look Any Different?

https://www.commondreams.org/view/2013/06/26-0
Totally Fed Up
June 26, 2013 at 5:29 PM
So the question is what IS ok for the gov't to do to try and prevent terrorist attacks.
How about
DISMANTLE THE GD U.S. EMPIRE!
Never Wrong
June 26, 2013 at 4:39 PM
Al-Qaida Training manual: How to infiltrate the NSA: Put in an application, try to be under 30 years old, fake some of your resume…your in for 122K a year! no doubt they have been working within the NSA for years. Just because they hate the USA does not mean they are stupic.
http://seattletimes.com/html/politics/2021272877_apusnsasurveillancealqaida.html
Intel Leakers apparently once enraged Snowden
By Peter Finn and Julie Tate
The Washington Post
WASHINGTON — When he was working in the intelligence community in 2009, Edward Snowden, the National Security Agency contractor who passed top-secret documents to journalists, appears to have had nothing but disdain for those who leaked classified information, the newspapers that printed their revelations and his current ally, the anti-secrecy group WikiLeaks, according to newly disclosed chat logs.
Snowden, who used the online handle "TheTrueHOOHA," was particularly upset by a January 2009 New York Times article that reported on a covert program to subvert Iran's nuclear infrastructure, according to the logs, which were published Wednesday by Ars Technica, a technology news website.
"They're reporting classified [expletive]," Snowden wrote. "You don't put that [expletive] in the NEWSPAPER."
At the time of the posting, in January 2009, Snowden was 25 and stationed in Geneva by the CIA.
"Are they TRYING to start a war?" he asked of The New York Times. "Jesus christ they're like wikileaks."
Snowden's libertarian and dogmatic online persona adds to the emerging portrait of a shape-shifting young man whose motivations and decision-making remain in flux.
When he burst into public view in the second week of June, Snowden cast himself as a lonely crusader reconciled to capture and prison but determined to use what freedom he had left to expose what he said were omniscient U.S. surveillance powers that threatened individual privacy.
"I have no intention of hiding who I am because I know I have done nothing wrong," Snowden told Britain's Guardian newspaper in a report that was published June 9 and revealed he was in Hong Kong.
Two weeks later, the former NSA contractor is on the lam, presumed to be at a transit zone at a Moscow airport and forced to depend on a government the likes of which he had earlier seemed eager to avoid.
Although Snowden seems to have started out with a carefully considered plan to steal highly classified material and abscond to Hong Kong, he has since undertaken unscripted dodges to keep U.S. investigators at bay.
He has formed an unsurprising but impromptu alliance with WikiLeaks, gambled on Hong Kong's desire to be rid of him, as well as on the Kremlin's benevolence, and turned for asylum to Ecuador.
Snowden became part of the intelligence community without even a high-school diploma, making the jump from security guard at the federally funded University of Maryland Center for Advanced Study of Language, which conducts classified and unclassified research, to CIA recruit in 2007.
The CIA assigned him to Switzerland, and in his commentary on his first taste of life abroad, he complained about bad hamburgers and intermissions in movies.
"God I hate metric," wrote Snowden on #arsificial, a channel on Ars Technica's public Internet Relay Chat (IRC) server. "Why can't they use real numbers over here?"
Editors at Ars Technica said chats on #arsificial are not archived, but they obtained the logs involving Snowden from multiple, independent sources.
The Washington Post reported this month that Snowden used the handle TheTrueHOOHA. Elements of TheTrueHOOHA's biography and personal views correspond with Snowden's.
Snowden's postings offer some glimpses into his political opinions. He admired Rep. Ron Paul — "dreamy" — supported Second Amendment Rights and considered Social Security a crutch that should be eliminated. He called those who disagreed with him "retards."
Snowden wondered how the anonymous sources could have disclosed classified information. "Those people should be shot in the balls," he wrote.
There was only the faintest hint Snowden was becoming disillusioned with the U.S. surveillance programs he would later reveal. "WE LOVE THAT TECHNOLOGY [EXPLETIVE]," he wrote in March 2009. "HELPS US SPY ON OUR CITIZENS BETTER."
Indeed, as he told the Guardian in a videotaped interview this month, his disillusionment with his work as a systems analyst in the U.S. intelligence community was gradual.
"Over time that awareness of wrongdoing sort of builds up and you feel compelled to talk about," he said. "And the more you talk about, the more you're ignored, the more you're told it's not a problem, until eventually you realize that these things need to be determined by the public and not by somebody who was simply hired by the government."
In 2009, Snowden left the CIA to work for a private contractor and was based at an NSA facility in Japan. Three years later, he moved to Hawaii, where he again worked at the NSA.
In January, Snowden, without identifying himself, contacted the documentarian Laura Poitras and told her that he wanted to get her an encryption key and use a secure channel to communicate. In February, he also contacted Guardian columnist Glenn Greenwald.
Poitras also spoke to reporter Barton Gellman about some of the correspondence she had with Snowden, according to an interview she gave Salon, the news website.
In March, Snowden took a position with the contractor Booz Allen Hamilton, apparently to maximize his access to classified material at the NSA.
"My position with Booz Allen Hamilton granted me access to lists of machines all over the world the NSA hacked," Snowden told the South China Morning Post in an interview in Hong Kong this month. "That is why I accepted that position about three months ago."
On May 20, after telling his supervisor he needed treatment for epilepsy, Snowden flew into Hong Kong carrying four laptops. He met with Guardian journalists there June 1. The first Guardian article based on NSA documents appeared June 5, followed the next day by articles in The Washington Post and the Guardian on another surveillance program.
Snowden said he chose the semiautonomous Chinese territory because it had the "cultural and legal framework to allow me to work without being immediately detained." He stressed in interviews that he had no interest in aiding foreign powers.
"Anyone in the positions of access with the technical capabilities that I had could suck out secrets, pass them on the open market to Russia; they always have an open door as we do," he told the Guardian.
Snowden's supporters in WikiLeaks have said that neither Chinese nor Russian intelligence have debriefed the American and that agents from those countries have not had access to his computers.
http://seattletimes.com/html/nationworld/2021277078_snowdenleaksxml.html
U.S. charges Snowden with espionage
By Peter Finn and Sari Horwitz, Published: June 21
Federal prosecutors havefiled a criminal complaint against Edward Snowden, the former National Security Agency contractor who leaked a trove of documents about top-secret surveillance programs, and the United States has asked Hong Kong to detain him on a provisional arrest warrant, according to U.S. officials.
Snowden was charged with theft, "unauthorized communication of national defense information" and "willful communication of classified communications intelligence information to an unauthorized person," according to the complaint. The last two charges were brought under the 1917 Espionage Act.
The complaint, which initially was sealed, was filed in the Eastern District of Virginia, a jurisdiction where Snowden's former employer, Booz Allen Hamilton, is headquartered and a district with a long track record of prosecuting cases with national security implications. After The Washington Post reported the charges, senior administration officials said late Friday that the Justice Department was barraged with calls from lawmakers and reporters and decided to unseal the criminal complaint.
A Justice Department spokeswoman declined to comment.
Snowden flew to Hong Kong last month after leaving his job at an NSA facility in Hawaii with a collection of highly classified documents that he acquired while working at the agency as a systems analyst.
The documents, some of which have been published in The Post and Britain's Guardian newspaper, detailed some of the most-
secret surveillance operations undertaken by the United States and Britain, as well as classified legal memos and court orders underpinning the programs in the United States.
The 30-year-old intelligence analyst revealed himself June 9 as the leaker in an interview with the Guardian and said he went to Hong Kong because it provided the "cultural and legal framework to allow me to work without being immediately detained."
Snowden subsequently disappeared from public view; it is thought that he is still in the Chinese territory. Hong Kong has its own legislative and legal systems but ultimately answers to Beijing, under the "one country, two systems" arrangement.
The leaks have sparked national and international debates about the secret powers of the NSA to infringe on the privacy of Americans and foreigners. Officials from President Obama on down have said they welcome the opportunity to explain the importance of the programs and the safeguards they say are built into them. Skeptics, including some in Congress, have said the NSA has assumed the power to soak up data about Americans that was never intended under the law.
There was never any doubt that the Justice Department would seek to prosecute Snowden for one of the most significant national security leaks in the country's history. The Obama administration has shown a particular propensity to go after leakers and has launched more investigations than any previous administration. This White House is responsible for bringing six of the nine total indictments ever brought under the 1917 Espionage Act. Snowden will be the seventh individual when he is formally indicted.
Justice Department officials had already said that a criminal investigation of Snowden was underway and was being run out of the FBI's Washington field office in conjunction with lawyers from the department's National Security Division.
By filing a criminal complaint, prosecutors have a legal basis to make the detention request of the authorities in Hong Kong. Prosecutors now have 60 days to file an indictment, probably under seal, and can then move to have Snowden extradited from Hong Kong for trial in the United States.
Snowden, however, can fight the extradition effort in the courts in Hong Kong. Any battle is likely to reach Hong Kong's highest court and could last many months, lawyers in the United States and Hong Kong said.
The United States has an extradition treaty with Hong Kong, and U.S. officials said cooperation with the Chinese territory, which enjoys some autonomy from Beijing, has been good in previous cases.
The treaty, however, has an exception for political offenses, and espionage has traditionally been treated as a political offense. Snowden's defense team in Hong Kong is likely to invoke part of the extradition treaty with the United States, which states that suspects will not be turned over to face criminal trial for offenses of a "political character."
Typically in such cases, Hong Kong's chief executive must first decide whether to issue a warrant for the accused's arrest. But the extradition treaty also says that in exceptional cases a provisional warrant can be issued by a Hong Kong judge without the chief executive's approval. The judge must give the chief executive notice, however, that he has issued the warrant.
A spokesperson at the office of Hong Kong chief executive Leung Chun-ying said there was no information on Snowden's case. The police department did not respond to calls or e-mails. At the police station for Central District in Hong Kong Island, police officers on duty said they had not heard anything about Snowden.
If Snowden is arrested, he would appear before a judge. Bail would be unlikely and, instead, Snowden would be sent to the Lai Chi Kok maximum-security facility in Kowloon, a short drive from the high-end Mira Hotel, where he is last known to have stayed in Hong Kong.
Snowden could also remain in Hong Kong if the Chinese government decides that it is not in the defense or foreign policy interests of the government in Beijing to have him sent back to the United States for trial.
Another option would be for Snowden to apply for asylum with the United Nations High Commission for Refugees, which handles most asylum requests in Hong Kong. The UNHCR was closed Saturday morning and did not immediately respond to requests for comment via e-mail and phone. The asylum application process can take months or even years because Hong Kong has a severe backlog. The Hong Kong government cannot formally surrender individuals until their asylum applications have been processed.
Snowden also could attempt to reach another jurisdiction and seek asylum there before the authorities in Hong Kong act.

www.washingtonpost.com/world/national-security/us-charges-snowden-with-espionage/2013/06/21/507497d8-dab1-11e2-a016-92547bf094cc_story.html
NSA surveillance may be legal — but it's unconstitutional
By Laura K. Donohue, Published: June 21
Laura K. Donohue is a professor at Georgetown University Law Center and director of Georgetown's Center on National Security and the Law.
The National Security Agency's recently revealed surveillance programs undermine the purpose of the Foreign Intelligence Surveillance Act, which was established to prevent this kind of overreach. They violate the Fourth Amendment's guarantee against unreasonable search and seizure. And they underscore the dangers of growing executive power.
The intelligence community has a history of overreaching in the name of national security. In the mid-1970s, it came to light that, since the 1940s, the NSA had been collecting international telegraphic traffic from companies, in the process obtaining millions of Americans' telegrams that were unrelated to foreign targets. From 1940 to 1973, the CIA and the FBI engaged in covert mail-opening programs that violated laws prohibiting the interception or opening of mail. The agencies also conducted warrantless "surreptitious entries," breaking into targets' offices and homes to photocopy or steal business records and personal documents. The Army Security Agency intercepted domestic radio communications. And the Army's CONUS program placed more than 100,000 people under surveillance, including lawmakers and civil rights leaders.
After an extensive investigation of the agencies' actions, Congress passed the 1978 Foreign Intelligence Surveillance Act (FISA) to limit sweeping collection of intelligence and create rigorous oversight. But 35 years later, the NSA is using this law and its subsequent amendments as legal grounds to run even more invasive programs than those that gave rise to the statute.
We've learned that in April, the Foreign Intelligence Surveillance Court (FISC) ordered Verizon to provide information on calls made by each subscriber over a three-month period. Over the past seven years, similar orders have been served continuously on AT&T, Sprint and other telecommunications providers.
Another program, PRISM, disclosed by the Guardian and The Washington Post, allows the NSA and the FBI to obtain online data including e-mails, photographs, documents and connection logs. The information that can be assembled about any one person — much less organizations, social networks and entire communities — is staggering: What we do, think and believe.
The government defends the programs' legality, saying they comply with FISA and its amendments. It may be right, but only because FISA has ceased to provide a meaningful constraint.
Under the traditional FISA, if the government wants to conduct electronic surveillance, it must make a classified application to a special court, identitying or describing the target. It must demonstrate probable cause that the target is a foreign power or an agent thereof, and that the facilities to be monitored will be used by the target.
In 2008, Congress added section 702 to the statute, allowing the government to use electronic surveillance to collect foreign intelligence on non-U.S. persons it reasonably believes are abroad, without a court order for each target. A U.S. citizen may not intentionally be targeted.
To the extent that the FISC sanctioned PRISM, it may be consistent with the law. But it is disingenuous to suggest that millions of Americans' e-mails, photographs and documents are "incidental" to an investigation targeting foreigners overseas.
The telephony metadata program raises similar concerns. FISA did not originally envision the government accessing records. Following the 1995 Oklahoma City bombing, Congress allowed applications for obtaining records from certain kinds of businesses. In 2001, lawmakers further expanded FISA to give the government access to any business or personal records. Under section 215 of the Patriot Act, the government no longer has to prove that the target is a foreign power. It need only state that the records are sought as part of an investigation to protect against terrorism or clandestine intelligence.
This means that FISA can now be used to gather records concerning individuals who are neither the target of any investigation nor an agent of a foreign power. Entire databases — such as telephony metadata — can be obtained, as long as an authorized investigation exists.
Congress didn't pass Section 215 to allow for the wholesale collection of information. As Rep. F. James Sensenbrenner Jr. (R-Wis.), who helped draft the statute, wrote in the Guardian: "Congress intended to allow the intelligence communities to access targeted information for specific investigations. How can every call that every American makes or receives be relevant to a specific investigation?"
As a constitutional matter, the Supreme Court has long held that, where an individual has a reasonable expectation of privacy, search and seizure may occur only once the government has obtained a warrant, supported by probable cause and issued by a judge. The warrant must specify the places to be searched and items to be seized.
There are exceptions to the warrant requirement. In 1979 the court held that the use of a pen register to record numbers dialed from someone's home was not a search. The court suggested that people who disclose their communications to others assume the risk that law enforcement may obtain the information.
More than three decades later, digitization and the explosion of social-network technology have changed the calculus. In the ordinary course of life, third parties obtain massive amounts of information about us that, when analyzed, have much deeper implications for our privacy than before.
As for Section 702 of FISA, the Supreme Court has held that the Fourth Amendment does not protect foreigners from searches conducted abroad. But it has never recognized a foreign intelligence exception to the warrant requirement when foreign-targeted searches result in the collection of vast stores of citizens' communications.
Americans reasonably expect that their movements, communications and decisions will not be recorded and analyzed by the government. A majority of the Supreme Court seems to agree. Last year, the court considered a case involving 28-day GPS surveillance. Justice Samuel Alito suggested that in most criminal investigations, long-term monitoring "impinges on expectations of privacy." Justice Sonia Sotomayor recognized that following a person's movements "reflects a wealth of detail about her familial, political, professional, religious, and sexual associations."
The FISC is supposed to operate as a check. But it is a secret court, notorious for its low rate of denial. From 1979 to 2002, it did not reject a single application. Over the past five years, out of nearly 8,600 applications, only two have been denied.
Congress has an opportunity to create more effective checks on executive power. It could withdraw Sections 215 and 702 and introduce new measures to regulate intelligence collection and analysis. There are many options.
James Madison put it best: "In framing a government which is to be administered by men over men, the great difficulty lies in this: you must first enable the government to control the governed; and in the next place oblige it to control itself."
5amefa91 wrote:
6/21/2013 10:20 PM EST
Did the NSA Prism program keep us safe at the Boston Marathon bombing?
You have greater chance of being struck by lightening on your way to your car when you go to work than you do of being killed by a terrorist.
And for that, you are willing to give up being a free people and spend a over a trillion dollars a year on a secret police spy apparatus?
What manner of madness is this?
MadamDe responds:
6/21/2013 10:24 PM EST
PRISM was not designed to detect domestic-only terror attacks. It's meant to gather information passed between a US person and someone in a foreign country. You need another example.
5amefa91 responds:
6/21/2013 10:25 PM EST
Deb,
If you think that data is only on contacts outside the country you are sadly out of date.
Catch up on the news.
Kick1 wrote:
4:04 AM EST
When Obama says
His spies will keep us safe
We hail!
Hail!
Right in Obama's face
Not to trust Barack
Is a great disgrace
So we hail!
Hail!
Right in Obama's face
katman13 wrote:
3:53 AM EST
The idiots in congress and in the intelligence community are just to lazy to follow the constitution. Bushies hated laws so they did away with them. Obama is just riding along in the Bushie car.
Seattle Guy wrote:
1:01 AM EST
I don't believe this area of law is your specialty, Laura. Here is just one article dealing with this subject that may shine a light on your concerns, although i imagine you will need more:
"The Protect America Act of 2007 was passed in order to amend the provisions of the Foreign Intelligence Surveillance Act (FISA), legislation which provided the legal backing and court authorization for much of the FBI and NSA's surveillance activities.
The 2007 Act, in addition to the FISA Amendments Act of 2008, reinvigorated FISA-based intelligence by protecting any "electronic communication service provider" from being sued by allowing their servers to be surveilled.
Companies Volunteered Data
Normally, to obtain data from a company like Google or Facebook (especially data that might be attached to personal email or user accounts), the government would need a warrant, signed by a judge and supported by probable cause.
However, it is alleged that up to nine major tech providers (including Yahoo, Microsoft, and Google) volunteered to give access to their data to the NSA, starting with Microsoft, which began cooperating with the PRISM project in 2007, according to the Post.
The Fourth Amendment protects those on U.S. soil from illegal searches from government actors. Still, it is legally ambiguous whether voluntary participation in government surveillance under FISA can be considered as acting as a government agent."
mhrail wrote:
12:20 AM EST
Thank you,yes it's unconstitutional. So is tapping the press without a warrant and using the IRS for political purposes.Wake up America,you are loosing your freedoms,NOT saving them. Where are the protests,where are the aticles of impeachment? A piece of paper separates us from all othe countries and it's being shredded piece by piece. Does anyone care? Goebbels would be proud of our government,I'm not! Bring back the Stars and Stripes and put that swastika in the trash,where it was supposed to be in 1945.
Senavifan wrote:
2:30 AM EST
1. There was a warrant for the press (AP) call records. The AP just did not get a chance to fight it.
2. There is NO evidence right now suggesting anyone in the Obama administration was using the IRS for political purposes, and it looks like there will be no evidence.
3. Many will not agree with this lawyer that these activities started duing the Bush administration are unconstitutional . They are approved by the FISA court and congress is informed.
It isn't just a "piece of paper" that separates us from other countries.
Steve Goddard wrote:
6/22/2013 11:22 PM EST
9/11 was done by a few men with boxcutters. Aurora and Sandy Hook were done by lone wipmy teenagers.
All three situations could have been prevented by a responsible adult with a $300 gun.
We trust pilots with a 600 MPH projectile loaded with jet fuel and 400 passengers, but don't trust them with a revolver.

www.washingtonpost.com/opinions/nsa-surveillance-may-be-legal–but-its-unconstitutional/2013/06/21/b9ddec20-d44d-11e2-a73e-826d299ff459_story.html
China Said to Have Made Call to Let Leaker Depart
By JANE PERLEZ and KEITH BRADSHER
Published: June 23, 2013
BEIJING — The Chinese government made the final decision to allow Edward J. Snowden, the former National Security Agency contractor, to leave Hong Kong on Sunday, a move that Beijing believed resolved a tough diplomatic problem even as it reaped a publicity windfall from Mr. Snowden's disclosures, according to people familiar with the situation.
Hong Kong authorities have insisted that their judicial process remained independent of China, but these observers — who like many in this article spoke on the condition of anonymity to talk freely about confidential discussions — said that matters of foreign policy are the domain of the Chinese government, and Beijing exercised that authority in allowing Mr. Snowden to go.
From China's point of view, analysts said, the departure of Mr. Snowden solved two concerns: how to prevent Beijing's relationship with the United States from being ensnared in a long legal wrangle in Hong Kong over Mr. Snowden, and how to deal with a Chinese public that widely regards the American computer expert as a hero.
"Behind the door there was definitely some coordination between Hong Kong and Beijing," said Jin Canrong, professor of international relations at Renmin University in Beijing.
Beijing's chief concern was the stability of the relationship with the United States, which the Chinese believed had been placed on a surer footing during the meeting between President Xi Jinping and President Obama at the Sunnylands estate in California this month, said Mr. Jin and a person knowledgeable about the Hong Kong government's handling of Mr. Snowden.
The Chinese government was pleased that Mr. Snowden disclosed the extent of American surveillance of Internet and telephone conversations around the world, giving the Chinese people a chance to talk about what they describe as American hypocrisy regarding surveillance practices, said Mr. Jin and the person familiar with the consultations between Hong Kong and China.
But in the longer term, China's overall relationship with the United States, which spans global economic, military and security issues, was more important than the feelings of the public in China and Hong Kong, who felt that the contractor should be protected from the reach of the United States, analysts said.
Mainland Chinese officials "will be relieved he's gone — the popular sentiment in Hong Kong and China is to protect him because he revealed United States surveillance here, but the governments don't want trouble in the relationship," said the person familiar with the consultations between Beijing and Hong Kong.
Mr. Snowden went public in Hong Kong on June 9, the day after the meeting between Mr. Obama and Mr. Xi ended, as the source of a series of disclosures in the British newspaper The Guardian and The Washington Post about classified national security programs.
The stream of information about the extent of American worldwide eavesdropping shifted the focus in the public sniping between the Obama administration and China over cybersecurity that had been unfolding for months.
In a series of speeches, senior officials in the Obama administration, including the national security adviser, Tom Donilon, and the defense secretary, Chuck Hagel, had taken the offensive against China, publicly accusing it of cyberespionage against American businesses. Mr. Donilon said in a speech in March that China was responsible for theft of confidential business information and proprietary technologies through digital intrusions on an "unprecedented scale."
In response to those accusations, China said that it was the victim of cyberattacks from the United States.
Mr. Snowden's disclosures appeared to confirm the Chinese government's argument, and put the United States on the defensive. The highly classified documents that Mr. Snowden gave to the two newspapers showed that the N.S.A. compiled logs of virtually all telephone calls in the United States and collected the e-mail of foreigners from American Internet companies.
Mr. Snowden has denied giving China classified documents and said he had spoken only to journalists. But his public statements, directly and to reporters, have contained intelligence information of great interest to China.
Two Western intelligence experts, who worked for major government spy agencies, said they believed that the Chinese government had managed to drain the contents of the four laptops that Mr. Snowden said he brought to Hong Kong, and that he said were with him during his stay at a Hong Kong hotel.
If that were the case, they said, China would no longer need or want to have Mr. Snowden remain in Hong Kong.
The disclosures by Mr. Snowden set off a surge of commentary against American "double faced" and "arrogant" behavior by many users of China's version of Twitter.
In some instances, the Chinese news media made snide references to what it called the gap between how the United States portrayed itself, and what the United States practiced. "Washington must be grinding its teeth because Snowden's revelations have almost overturned the image of the U.S. as the defender of a free Internet," Global Times, which often reflects the official point of view, wrote in an editorial.
The precise details of how the Chinese government dealt with Hong Kong authorities were not immediately known.
But Beijing appears to have decided that weeks of focus on Mr. Snowden in Hong Kong and his disclosures about the American government's global surveillance practices were enough, and that he could turn into a liability, said a second person familiar with the handling of Mr. Snowden. "Beijing has gotten the most they can out of the Snowden situation," that person said.
A senior diplomat familiar with the way the Chinese government works said just before the departure of Mr. Snowden became public that he believed that Beijing would do all it could to keep Mr. Snowden out of American hands. The Chinese public would be outraged if the contractor was extradited, put on trial and jailed, he said. At the same time, the Obama administration would put relentless pressure on Beijing to get Mr. Snowden, he said.
"I see the sun of Sunnylands disappearing into the snow of Snowden," the diplomat said.

www.nytimes.com/2013/06/24/world/asia/china-said-to-have-made-call-to-let-leaker-depart.html
Edward Snowden out of sight in Moscow

www.washingtonpost.com/world/europe/edward-snowden-out-of-sight-in-moscow/2013/06/23/5a13b606-dc1a-11e2-9218-bc2ac7cd44e2_story.html
Snowden spy row grows as US is accused of hacking China
Whistleblower charged with espionage reportedly claims US authorities accessed millions of private text messages in China
Toby Helm, Daniel Boffey and Nick Hopkins
The Observer, Saturday 22 June 2013 14.30 EDT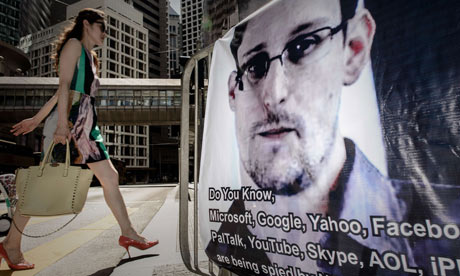 Edward Snowden, the former CIA technician, on a banner in Hong Kong.
Photograph: Philippe Lopez/AFP
Edward Snowden, the former CIA technician who blew the whistle on globalsurveillance operations, has opened a new front against the US authorities, claiming they hacked into Chinese mobile phone companies to access millions of private text messages.
His latest claims came as US officials, who have filed criminal charges against him, warned Hong Kong to comply with an extradition request or risk complicating diplomatic relations after some of the territory's politicians called for Snowden to be protected.
The latest developments will raise fears that the US's action may have pushed Snowden into the hands of the Chinese, triggering what could be a tense and prolonged diplomatic and legal wrangle between the world's two leading superpowers.
Snowden, whose whereabouts have not been publicly known since he checked out of a Hong Kong hotel on 10 June, was reported by the Chinese media on Saturday to be in a "safe place" in the former British colony.
The 30-year-old intelligence analyst has over the past three weeks leaked a series of documents to the Guardian revealing how US and UK secret services gain access to huge amounts of phone and internet data, raising serious questions about privacy in the internet age.
On Friday, based on documents from Snowden, the Guardian reported that Britain's spy agency GCHQ has secretly gained access to the network of cables carrying the world's phone calls and internet traffic, without the authorities having made this known to the public. It was also reported that GCHQ is processing vast streams of sensitive information which it is sharing with its US partner, the National Security Agency.
On Saturday the former British foreign secretary Sir Malcolm Rifkind, who now chairs the intelligence and security committee, said the committee would launch an investigation into the latest revelations. The committee will receive an official report from GCHQ about the story within days and will then decide whether to call witnesses to give oral evidence. If it is then thought necessary, the committee can require GCHQ to submit relevant data.
Within hours of news breaking that the US had filed charges against Snowden, the South China Morning Post reported that the whistleblower had handed over a series of documents to the paper detailing how the US had targeted Chinese phone companies as part of a widespread attempt to get its hands on a mass of data.
Text messaging is the most popular form of communication in mainland China where more than 900bn SMS messages were exchanged in 2012.Snowden reportedly told the paper: "The NSA does all kinds of things like hack Chinese cellphone companies to steal all of your SMS data."
The paper said Snowden had also passed on information detailing NSA attacks on China's prestigious Tsinghua University, the hub of a major digital network from which data on millions of Chinese citizens could be harvested.
As Snowden made his latest disclosures, the US issued an extradition request to Hong Kong and piled pressure on the territory to respond swiftly. "If Hong Kong doesn't act soon, it will complicate our bilateral relations and raise questions about Hong Kong's commitment to the rule of law," a senior Obama administration official said.
Snowden appeared to be gaining support from politicians in Hong Kong who said China should support him against any extradition application from the US, which on Friday charged him under its Espionage Act. One legislator, Leung Kwok-hung, said Beijing should issue instructions to protect Snowden from extradition before his case was dragged through the courts. Leung urged the Hong Kong people to "take to the streets to protect Snowden". Another politician, Cyd Ho, vice-chairwoman of the pro-democracy Labour party, said China "should now make its stance clear to the Hong Kong SAR [Special Administrative Region] government" before the case goes before a court.
China has urged Washington to provide explanations following Snowden's disclosures that NSA programs collect millions of telephone records and track foreign internet activity on US networks. In a press conference Hong Kong's police commissioner, Andy Tsang, indicated that the normal legal process would be followed after the US filed criminal charges. "All foreign citizens must comply with Hong Kong's law," he said, adding that the police would act on the request once it was received.
He declined to comment on reports in one Hong Kong newspaper that Snowden is already in a police safe house.
In response to the Guardian's latest revelations regarding the surveillance activities of GCHQ, politicians and freedom of information campaigners raised concerns about the lack of oversight and up-to-date laws with which to monitor and regulate the activities of the secret services. Former Foreign Office minister David Davis MP said documents containing an admission by GCHQ lawyers that UK oversight was "light" compared with that in the US were particularly worrying.
"This reinforces the view that the oversight structure is wholly inadequate. Really what is needed is a full-scale independent judicial oversight that reports to parliament."
Shami Chakrabarti, the director of Liberty, said: "It's possible to be shocked but not surprised at this blanket surveillance on a breathtaking scale. The authorities appear to be kidding themselves with a very generous interpretation of the law that cannot stand with article 8 of the European convention on human rights.
"To argue this isn't snooping because they haven't got time to read all this private information is like arguing we'd all be comfortable with our homes being raided and our private papers copied – as long as the authorities stored them in sealed plastic bags."
Carl Miller, director for social media at the thinktank Demos, said: "Just like the rest of us, terrorists and criminals are increasingly using social media and other forms of online communication. So it's clear that the intelligence services should be able to access this where it is necessary and proportionate. But this is the crucial point. What these latest stories reveal is that much of this surveillance is happening already, but without the security services having made the public argument for these powers. There is a clear need for a legal grounding or oversight structure that commands public confidence."

www.guardian.co.uk/world/2013/jun/22/edward-snowden-us-china
Snowden extradition may be complicated process if criminal charges are filed

Kin Cheung/AP –
A banner supporting Edward Snowden, a former CIA employee who leaked top-secret documents about sweeping U.S. surveillance programs, is displayed at Central, Hong Kong's business district on Wednesday.
By Sari Horwitz and Jia Lynn Yang, Published: June 19
If U.S. officials criminally charge Edward Snowden, they are likely to confront a complicated and lengthy process to bring the admitted leaker of top-secret documents back home to stand trial, according to extradition experts and law enforcement officials.
Although the United States has an extradition treaty with Hong Kong, where Snowden was last seen, the treaty offers an exception for political offenses. It also has a rare exception that would allow Snowden to stay in Hong Kong if the government there determines it to be in its best interest. He also could apply for asylum in Hong Kong, Iceland or another country. On Wednesday, the founder of WikiLeaks told reporters that his legal advisers had been in touch with Icelandic officials on Snowden's behalf.
"There are a number of hurdles that the government will have to jump through before Snowden will ever end up in a U.S. courtroom," said Stephen I. Vladeck, an associate dean at American University's Washington College of Law who studies national security law.
In the end, the ability to bring the former National Security Agency contractor back to the United States will come down to legal maneuvering and creative diplomacy, Vladeck said.
"The dirty little secret about extradition law," he said, "is it's really about 90 percent politics and only 10 percent law."
Snowden, 29, revealed himself June 9 as the anonymous source for articles in the British newspaper the Guardian and The Washington Post about the NSA surveillance of telephone calls and Internet communications. He was staying in an upscale hotel in Hong Kong, a city that he said he had chosen because he felt he might win asylum there.
But Snowden subsequently left the hotel, and it is unclear where he is. In an unusual live Web chat Monday, he said he sees no possibility of a fair trial in the United States and suggested that he would try to elude authorities as long as possible.
Justice Department officials have said that a criminal investigation is underway, led by agents from the
FBI's Washington field office and lawyers from the department's national security division. Investigators are gathering forensic material to back up possible criminal charges, most likely under the Espionage Act, according to former Justice Department officials.
Snowden also could be charged with theft and the conversion of property belonging to the U.S. government, experts say. A thorny issue for U.S. authorities trying to build their case against Snowden involves how much to reveal about the highly classified material that he allegedly acquired, according to former Justice Department officials.
U.S. officials could file a criminal complaint and try to have Snowden detained in Hong Kong on a provisional arrest, extradition lawyers said. They would then have 60 days to file an indictment, possibly under seal, setting out probable cause. U.S. authorities could then formally move to extradite Snowden for trial in the United States — a move he could fight in the courts.
The United States has extradition treaties with about 120 countries, but that doesn't necessarily make it easier to extract people accused of a crime from those countries. For example, of 130 extradition requests to Britain since 2004, only 77 people were extradited to the United States.
To fight extradition, Snowden could invoke Article 6 of the 1997 pact between the United States and Hong Kong, which states that a suspect will not be surrendered to face criminal prosecution for an offense of a "political character."
That's a standard and historic exception in treaties between governments but one that lacks a standard definition or clear legal interpretation. In the United States, as well as in other states, what constitutes a political act has narrowed. How the Hong Kong courts would view such an assertion is unclear. If Snowden argues that he is an activist, said Simon N.M. Young, director for the Center of Comparative and Public Law at the University of Hong Kong, "this will be one of our first cases."
Hong Kong also has an additional and unusual exception in its treaty that could provide a defense for Snowden, according to Douglas McNabb, a lawyer who specializes in international extradition cases. Hong Kong authorities can refuse the extradition of a suspect "if they believe it should be denied from a defense or foreign policy perspective," McNabb said. "I have not seen that in any other treaty." Public sentiment in support of Snowden has built in Hong Kong, and hundreds rallied in the streets Saturday.
Should a Hong Kong judge rule against Snowden, he could continue to appeal, all the way up to Hong Kong's highest court, dragging the process out over many months. Bail is unlikely to be offered, so
Snowden could be in jail at that point, possibly at the Lai Chi Kok maximum-
security facility in Kowloon, where conditions are harsh. "That will be added pressure on him for how long he wants to fight it out here," Young said.
Aside from the courts, Snowden could plead for asylum, the route taken by WikiLeaks founder Julian Assange, who has been holed up for a year in the Ecuadoran Embassy in London.
Snowden, in an interview with the Guardian, floated the idea of asylum in Iceland, which has historically provided a haven for whistleblowers and never granted a U.S. extradition request.
Johannes Skulason, an Icelandic government official, told the Associated Press on Wednesday that WikiLeaks spokesman Kristinn Hrafnsson had held informal talks with assistants at the Interior Ministry and the prime minister's office.
Skulason said Hrafnsson "presented his case that he was in contact with Snowden and wanted to see what the legal framework was like."
But the United States could try to prevent Snowden from traveling by asking the International Criminal Police Organization, or Interpol, to put out a "red notice," which is a bulletin for international fugitives and which alerts about 190 countries that there is an outstanding warrant for Snowden's arrest.
Snowden could also apply for asylum in another country's embassy in Hong Kong, as Assange did in London. Or he could make an asylum claim in Hong Kong after his travel visa expires in mid-August or if the U.S. government requests his surrender.
If he does apply for asylum, Snowden will be stumbling into a labyrinthine system criticized by human rights lawyers as dysfunctional and inefficient.
Hong Kong did not sign the United Nations' 1951 Refugee Convention, and so the government has no obligation to process refu­gee claims. Instead, it relies mostly on the U.N. High Commissioner for Refugees' office in Hong Kong, which is underderstaffed and has a backlog of asylum requests. In cases in which the applicants claim that they may be tortured if sent home, the Hong Kong government reviews the case. An estimated 5,000 claims are being processed by both the UNHCR and the Hong Kong government.
"We have asylum seekers who have been in Hong Kong for years," Young said.
Because the UNHCR and the Hong Kong government evaluate claims, Snowden could seek to have his asylum case reviewed by both. Complicating the picture are two recent court cases mandating that Hong Kong consolidate its refu­gee system and establish a new process.
"I think Mr. Snowden is much wiser from a legal perspective than many people initially gave him credit for," McNabb said. "I think he's thought about this for a long time."
magnifco1000 wrote:
6/20/2013 7:26 AM EST
Since the NSA actions are unconstitutional to begin with, Snowden is a hero. Read the 4th Amendment. Just because the Supremes poop their pants when the government screams "National Security," doesn't make the Patriot Act constitutional.
SparkySparky responds:
6/20/2013 7:30 AM EST
Since your knickers are in a knot, tou must be making a lot of calls to Somalia. As for me, thank you NSA for keeping our shores safe.
Gregory Smith responds:
6/20/2013 7:47 AM EST
what if he WAS making calls to Somalia? Did I miss the special "Somalia" exception in the 4th Amendment?
Amiga5 wrote:
6/22/2013 4:37 PM EST
Freedom dies if the USA gets away with this crap.
The man saw a crime, he reported it. It's that simple.
If all the politicians want to say he is a traitor then have a look at your past. GEORGE WASHINGTON was a traitor in your book back then and then he became President.
The only traitorus things going on in USA is being committed by USA government.
Go after Microsoft why dont yo. Windows in the most tracked software on the planet.
Why do all our cell phones have cameras? To spy on us.
The patriot act must go away like Obama promised on his first pledge. That did not happen right.
So far Obama has done EVERYTHING HE SAID HE WOULD NOT DO. That is grounds for impeachment because he is committing crimes against the people of the USA and the world.
He is no different from any President with the exception of JFK. He was going to save USA by getting rid of the FED and thats why he was shot by the governments of USA and Israel
joachim1 wrote:
6/21/2013 8:37 PM EST
Support for Snowden is the fallout one gets from the lies told to justify the Iraq war. Those lies were predicated on previous government lies such as Iran Contra, Watergate and Vietnam, both the lies told by the Generals and lies told by Eisenhower and Kennedy (they inserted CIA not "advisors). Thus, over the past 50+ years, the US government has forfeited the right to get the benefit of the doubt on security and military issues.
The other day we learned that drones are being used to spy on us in the US. Our phones, bank accounts, electronic transmissions and much more are already being monitored. The rationale that this is all for our benefit is built on fear, and has lost credibility. It is simply time to put a stop to it. The only question is how, when these government agencies can rely on secrecy and our elected officials play along.
Anpadh wrote:
6/21/2013 8:27 PM EST
This is not specifically about Mr. Snowden or even about the secrets he revealed. What is panicking the US government is that it has become extraordinarily EASY for people to discover and to leak its secrets. More than 100 years ago, Oscar Wilde said that there was no longer any need for spies because newspapers do the same job. In the age of the Internet that is even more true. Basically, the only way to keep a secret, now, is to simply be quiet. Secret documents are not going to stay secret long — not if anyone is interested in them. We have now reached the point where the people who are paid to keep secret documents secret are going to be negatively affected whether or not they keep the documents secret. So, of course, at least some of them are going to reveal the secrets.
humanbeng wrote:
6/21/2013 8:15 PM EST
What a bunch of chicken ***ts we have become. I'm not saying this as a partisian, but this guy should not be arrested for having the guts to do what many other people have had the opportunity to do; and that is…Tell it like it is. this illustrates what an awful piece of legislature the Patriot act was/is. Out founding fathers were also accused of treason. the orig. Tea Party participants were accused of treason. the real treason here was the authorship and passage of The Patriot Act. Get a list of the people who signed this, these were the real traitors to America. Who will protect us from our own government? I don't want to give up my freedom and personal privacy, just so some overlords can claim to be protecting me from some CIA manufactured boogey man. Anyone with half a brain knows this protection s just plain hooey, a thinly veiled excuse to control the use of our information, probably, eventually against us.
OldCoot1 wrote:
6/21/2013 7:53 PM EST
This man should be given the Medal of Freedom instead of an arrest warrant.
VinJa wrote:
6/21/2013 1:19 AM EST
Snowden's right about one thing from his own perspective and that is he would not get a fair trial in the United States. Due to his perspective that he feels he did the right thing he wouldn't get a fair trial. From my perspective he had no legal grounds in leaking classified information and it would appear he didn't seek legal counsel before his revelations to ascertain if he could or should take things in his own hands. The court will take everything under advisement and rule accordingly and no matter the verdict, Snowden will feel a victim of unfairness. I personally feel betrayed as a citizen of the U.S. and don't appreciate him usurping my vote which went to those I feel are capable of protecting our rights and freedoms. I feel the print media will disect this ordeal to the fullest and will help reach a conclusion whether individual privacy rights have been beached. And glad to hear on Thursday that the agency responsible for handling the application process for Snowden will be investigated even though they feel there is no impropriety involved
cm-mouse wrote:
6/20/2013 11:48 AM EST
Only traitors are US bureaucrats and politicians……. Government lies, deception, secrecy must go. Those practices have no place in any form of modern government
devin3 wrote:
6/20/2013 11:18 AM EST
There will be a movie made about this guy. I am ambivalent about his actions, but I can't help but admire his execution. He's a genius.
John_Rintala wrote:
6/20/2013 10:16 AM EST
People should read the Chinese press. Read Global Times. (globaltimes.cn) Everyone knows or should know that the CPC can, if it wishes, determine the outcome of this entire affair. The CPC, one way or the other, also controls Global Times.
GT has been running long favorable articles on Snowden, in fact a huge special section. It is publishing polls, supposedly taken in HK and China showing huge public support, majorities, for Snowden and rejection of attempts to extradite him to the US. There are also editorials stating that HK authorities should consider both the law and public opinion on this matter. Demonstrations in HK supporting Snowden are also being reported.
Any serious reader will recognize a classic media political campaign to create public opinion which will provide cover for a governments action, like the campaign leading up to the war against Iraq. A situation is being created to make it politically impossible for the HK authorities to give him up.
And why should they. If the situation were reversed, if a Chinese took refuge in the US amid a big media campaign supporting him, would the US give him up? LOL.
Much has been made of the fact that China does not want to offend the US in this delicate period by sheltering Snowden. Initially, I subscribed to this view, but now believe that China is in the catbird seat vis a vis the cyberspying issue. The US also has no moral authority in world public opinion. I also think that the CPC can pull wires in a thousand ways , but from behind the scenes. Plausible deniability, as they say.

www.washingtonpost.com/world/national-security/snowden-extradition-may-be-complicated-process-if-criminal-charges-are-filed/2013/06/19/c525a4b8-d8e6-11e2-9df4-895344c13c30_story.html
Ex-Worker at C.I.A. Says He Leaked Data on Surveillance

The Guardian
Edward Snowden
By MARK MAZZETTI and MICHAEL S. SCHMIDT
Published: June 9, 2013 1164 Comments
WASHINGTON — A 29-year-old former C.I.A. computer technician went public on Sunday as the source behind the daily drumbeat of disclosures about the nation's surveillance programs, saying he took the extraordinary step because "the public needs to decide whether these programs and policies are right or wrong."
During a 12-minute video interview that went online Sunday, Edward Joseph Snowden calmly answered questions about his journey from being a well-compensated government contractor with nearly unlimited access to America's intelligence secrets to being holed up in a Hong Kong hotel room, the subject of a United States investigation, with the understanding that he could spend the rest of his life in jail.
The revelation came after days of speculation that the source behind a series of leaks that have transfixed Washington must have been a high-level official at one of America's spy agencies. Instead, the leaker is a relatively low-level employee of a giant government contractor, Booz Allen Hamilton, that has won billions of dollars in secret government contracts over the past decade, partly by aggressively marketing itself as the premier protector of America's classified computer infrastructure.
The episode presents both international and domestic political difficulties for the Obama administration. If Mr. Snowden remained in China, the White House would have to navigate getting him out of a country that has been America's greatest adversary on many issues of computer security.
Then the United States must set up a strategy for prosecuting a man whom many will see as a hero for provoking a debate that President Obama himself has said he welcomes — amid already fierce criticism of the administration's crackdown on leaks. The court-martial of Pfc. Bradley Manning, who released a vast archive of military and diplomatic materials to WikiLeaks, resumes Monday.
Mr. Snowden, who said he was seeking asylum abroad, perhaps in Iceland, gave the interview to The Guardian, the British newspaper and global Web site that during the past week published a string of articles about classified National Security Agency programs. Both The Guardian and The Washington Post, which also published articles disclosing the surveillance programs, identified Mr. Snowden on Sunday as the source for their articles.
In his interview with The Guardian, Mr. Snowden said his job had given him access to myriad secrets that the United States government guards most jealously, including the locations of Central Intelligence Agency stations overseas and the identities of undercover agents working for the United States.
But he said he had been selective in what he disclosed, releasing only what he found to be the greatest abuses of a surveillance state that he came to view as reckless and having grown beyond reasonable boundaries. He was alternately defiant and resigned, saying at one point that the C.I.A. might try to spirit him out of China, and speculating that it might even hire Asian gangs to go after him.
"If you realize that that's the world you helped create and it is going to get worse with the next generation and the next generation and extend the capabilities of this architecture of oppression, you realize that you might be willing to accept any risks and it doesn't matter what the outcome is," Mr. Snowden said.
Some outside experts said the push in recent years to break down barriers between spy agencies and share information across the government had greatly expanded the universe of government employees and outside contractors with access to highly classified intelligence.
"In past years, someone like Snowden may not have had access to briefings detailing these collection programs," said Cedric Leighton, a former deputy director of the National Security Agency, "but now with the push from a 'need to know' to a 'need to share' philosophy, it's far more likely for an I.T. contractor like him to gain access to such documents."
Mr. Snowden's disclosures prompted some calls from Congress on Sunday to hold hearings about the surveillance programs or reopen debate on portions of the Patriot Act.
The disclosures also were published just as the Obama administration was grappling with the fallout from its many investigations into leaks to the news media. After it was revealed in May that the Justice Department had secretly obtained phone logs for reporters at The Associated Press and Fox News, criticism of the administration's leak investigation was heightened. Mr. Obama said he was "troubled" by those developments, and ordered Attorney General Eric H. Holder Jr. to review the Justice Department's procedures for investigating reporters.
As part of that review, Mr. Holder and senior department officials have met with editors and media lawyers to try to assuage their fears that the administration is trying to silence the press. A day before The Guardian published its first article on how the government was collecting Americans phone data, Mr. Holder met with lawyers for several media outlets about legislation and other measures that may help protect reporters.
A White House spokesman declined to comment on Sunday. A spokesman for James R. Clapper Jr., the director of national intelligence, referred questions to the Justice Department. In a statement, the department said it was in the initial stages of an investigation into the matter, though it did not name Mr. Snowden.
In a weekend interview with NBC News, Mr. Clapper warned that the revelations could create serious risks to national security. "We're very, very concerned about it," he said. "For me, it is literally — not figuratively — literally gut-wrenching to see this happen, because of the huge, grave damage it does to our intelligence capabilities."
Mr. Snowden, a native of North Carolina, told The Guardian that he signed up in 2003 for an Army Special Forces training program because he wanted to fight in Iraq.
"I felt like I had an obligation as a human being to help free people from oppression," he said.
But he said he had quickly become disillusioned with the military.
"Most of the people training us seemed pumped up about killing Arabs, not helping anyone," he said.
After breaking his legs during a training accident, Mr. Snowden was discharged from the Army and took a job as a security guard at an N.S.A. secret facility on the University of Maryland's campus, according to The Guardian, which said it had confirmed his story.
Despite not having a high school degree, he was later hired by the C.I.A. to work on information technology security, serving in Geneva. In 2009, he joined the N.S.A. as a contractor at a facility in Japan, where, he said, he watched "as Obama advanced the very policies that I thought would be reined in."
Most recently, Mr. Snowden has been part of a Booz Allen team working at an N.S.A. facility in Hawaii. Three weeks ago, he made final preparations to disclose the classified documents, The Guardian said. It said he had copied the documents and told a supervisor that he needed to take a few weeks off to deal with medical problems. He then flew to Hong Kong.
While it was not clear whether Mr. Snowden had remained in Hong Kong, if he had, his presence could complicate any possible American effort to extradite him for prosecution. A British colony until its return to China in 1997, Hong Kong retains autonomy from the mainland in its immigration system and its rule of law. Hong Kong has an independent immigration system, but it is part of China for purposes of foreign policy.
Hong Kong has an extradition agreement with the United States, in case American officials can provide a legal basis for seeking Mr. Snowden's transfer to the United States. Hong Kong also has a very long tradition, dating back to British control, of close cooperation with the United States on criminal and criminal intelligence issues.
There was no indication in the Guardian article that Mr. Snowden had ever acquired legal residency in Hong Kong, so he would appear to be subject in principle to the 90-day limit that all American passport holders have for visa-free stays there.
Another complexity for Mr. Snowden is that the new administration of President Xi Jinping of China is pursuing better relations with the United States, including a meeting with Mr. Obama on Friday and Saturday in California, and may be more inclined than usual to put pressure on officials in Hong Kong to hand over Mr. Snowden.
On Sunday evening, Booz Allen released a statement confirming Mr. Snowden's employment. "News reports that this individual has claimed to have leaked classified information are shocking, and if accurate, this action represents a grave violation of the code of conduct and core values of our firm,"the statement said. "We will work closely with our clients and authorities in their investigation of this matter."
The revelation that Mr. Snowden worked for Booz Allen is perhaps the most awkward for Mike McConnell, a former head of the N.S.A. and director of national intelligence who in 2011 was promoted to vice chairman at Booz Allen. He is now responsible for driving Booz Allen's cybercapabilities and advancing its relationship with his former agency.
Mr. McConnell said in an interview last year that the United States was not using its full capabilities to address threats from foreign cyberattacks because of privacy concerns.
"If you harness all the capabilities of our nation, you could have a better understanding of foreign threats," he said. "But what makes it hard is that everyone has an opinion. There's very little appreciation for the threat, and there are so many special interests, particularly civil liberty groups with privacy concerns. That mix keeps us from getting to the crux of the national issue."
RLSVirginia wrote:
While the President said he welcomes having a debate on the surveillance program, he really doesn't. In 2008, candidate Obama said he would "strengthen whistleblower laws to protect federal workers who expose waste, fraud and abuse." Instead, he has prosecuted more whistleblowers under the Espionage Act than previous presidents combined, including NSA whistleblower Thomas Drake. He was prosecuted for exposing the ineffective Trailblazer program that was chosen over another program which had "built-in privacy protections" and cost a fraction of what was spent on Trailblazer.
Drake received the Ridenhour Prize for Truth-Telling in 2011. From his acceptance speech:
"Truth tellers, such as myself, are those who are simply doing their jobs and honoring their oaths to serve their nation under the law of the land. We are dedicated to the proposition that government service is of, for, by the people. We emphatically do not serve in order to manipulate on behalf of the powerful, nor to conceal unlawful, illegal or embarrassing secrets from the public, because truth does matter. Truth may be inconvenient. It may cause embarrassment. It may threaten the powers that be and their unlawful activities, but it is still the truth."
June 9, 2013 at 3:32 p.m.
robert bloom berkeley ca wrote:
Thank you, Mr. Snowden, for your wisdom, your principles, and your courage.
Thank you, Guardian, for telling us the truth.
And thank you, George Orwell, for warning us what was coming. Too bad we didn't pay attention.
June 9, 2013 at 3:52 p.m.
C.Henry Virgina wrote:
I voted for Obama to defend my rights and safety, not some 27 year old technician and traitor who sold our our national security to our enemies and then fled to China.
June 9, 2013 at 3:52 p.m.
VeronicaKNY wrote:
Our government is supposed to be by the people and for the people. It appears to be rapidly accelerating away from having anything to do with the people other than lying to and controlling us.
Give Snowden a medal….he may have preserved our remaining liberties for another year or two.
June 9, 2013 at 3:54 p.m.
Brett WhartonBoise, ID wrote:
I believe Mr. Snowden is a national hero and our Founders would have supported his actions. Whether or not you agree that the government should be collecting our data, I believe we had a right to know, and engage in a debate. I personally support the surveillance, since it is averting deadly terrorist attacks, but I am disgusted our government unnecessarily tried to conceal it from us, given it's controversial infringement on our 4th Amendment rights.
I hope Mr. Snowden is pardoned. Mr. Obama should thank him for providing the transparency he himself promised but failed to give us, and that we our entitled to as a country that supports its citizens' freedom and privacy.
June 9, 2013 at 3:56 p.m.
VictoriousOne Atlanta wrote:
Get a grip, here, people! Are you actually naive enough to think that all presidential administrations have not been prone to this kind of spying and secret subterfuge? Wake up and smell the partisan coffee! Every administration in my lifetime has had a long list of scandals and espionage gaffes. The only difference is the red-hot digital smart phone world we live in and the ease with which an item can be shared with the world before government can attempt to cover it up or snuff it out. All of this hyperbole about this administration being the worst ever – blah, blah, blah – is a bunch of hooey. You pick your favorite president, and I'll show you the laundry list of scandalous stuff that went on on his watch. Some got caught less often than others, but every one of them spied on anybody they thought was a threat – American or not – and isolated, prosecuted or silenced them if they could get away with it. This is bad, no doubt, but it's only different because the technology now exists for us to more easily snoop without getting caught…at least for a while. All this noble truth-teller stuff is way over the top…just another person looking for his 15 minutes of fame…
June 9, 2013 at 4:04 p.m.
blasmaicWashington DC wrote:
Snowden did not cite a specific example of an illegal act taken by anyone, except himself.
He did say he that as an employee, he had the technical ability to wiretap any personal e-mail address anywhere (Yahoo!, Google, Microsoft, etc.?), but he never said that he saw anyone do that, or that he saw anyone do that illegally, either.
He said the cumulative weight of the frightening things he saw (that he was not cleared to see), eventually overwhelmed him. With the new informational power he had acquired, the privileged life of ease that he was living became dissatisfying and empty. The only way to restore his sense of goodness was to blow the whistle and impact change on institutions that he alone determined were in need of it. He is the textbook example of a self-radicalized, suicide bomber– he's the judge, jury, and executioner. Only one person determined that the lid needed to be blown off. That person is, coincidentally, the "hero" of the day, Snowden.
I do not believe the rhetoric that our spies tell themselves about what they're doing. Snowden is believing his own rhetoric too, and his actions are illegal by his own admissions.
June 9, 2013 at 4:16 p.m.
www.nytimes.com/2013/06/10/us/former-cia-worker-says-he-leaked-surveillance-data.html
Edward Snowden, the impulsive 'martyr'
By Anne Applebaum, Published: June14
KIRKWALL, Orkney Islands
Never mind why, but a few days ago I found myself in the far northern reaches of the British Isles, standing in a cathedral dedicated to Saint Magnus of Orkney. The cathedral is the work of his nephew, Saint Rognvald, and it dates to a time when the Orkneys were a Viking kingdom. Though made of soft sandstone — some of the sculpture on the outside has been worn down by the wind — it's still standing more than 800 years later, a monument to a martyred earl and his sainted relative, men whose names would otherwise have been long forgotten.
The desire for martyrdom — and for the long-lasting fame that sometimes comes with it — is common to all cultures. It's one of those human instincts that can be used for good or for ill. Soldiers sacrifice themselves to save their comrades; mothers starve so their children can eat. Dissidents, tragically, set themselves alight to call attention to their causes, but suicide bombers, cruelly, kill innocent bystanders as well as themselves in order to make a different sort of point. The action is impossible to judge outside of a context. Sacrificing oneself might be brave, it might be foolish or it might be evil, depending on the point of the sacrifice, who it helps and who it harms.
In the story of Edward Snowden, the NSA leaker, a good deal of the context is still missing, and what remains is peculiar. Certainly Snowden styles himself a martyr: "I'm willing to sacrifice all of that because I can't in good conscience allow the U.S. government to destroy privacy, Internet freedom and basic liberties for people around the world with this massive surveillance machine they're secretly building." And yet some of the key facts of the case are still in doubt. Does the National Security Agency really have full access to private companies' Internet servers, as was first implied? Or was that, as it now seems, an exaggeration?
Some details now appear to be wrong as well. Snowden might not, for example, have stolen four laptops, as originally and flamboyantly reported, but instead — less glamorously — removed information on a thumb drive.
And his methods are curious. There is a tradition of whistleblowing in the United States, even among people who work with classified information — and there are long-established ways to do it. Snowden might have approached a member of Congress, perhaps one of those with intelligence oversight. He might have written to his organization's lawyers, to clarify the legality of his work. He might have argued his case from within. Jack Goldsmith, a legal expert then working in the Justice Department, fought against the use of torture by the Bush administration. Eventually he resigned and wrote about it. There were setbacks, but ultimately, Goldsmith was successful: The policy was reversed.
Snowden chose a different path. He stole a hoard of documents and fled to Hong Kong. Thus did he place his fate in the hands of a government that exerts total control over its nation's Internet and spares no expense in its attempts to penetrate ours. His decision to speak from there, in public, is also noteworthy: It means his interest in publicity trumps his stated fear of arrest.
Nothing about the context, in other words, tells us that Snowden is interested in anything other than martyrdom and a perverse sort of fame. Nothing tells us that his primary interest is the welfare of his fellow Americans. Nothing about his actions, so far, seems likely to help him achieve his stated goals. There may be further investigations. Congressional oversight might be increased. Unless we learn something new, the NSA's data-mining will not come to a halt because of Snowden's personal sacrifice — and, at the moment, it doesn't seem likely that anyone will build a cathedral in his honor.
The Guardian has called his leak "the spy story of the age." But the mere impulse to martyrdom is not in and of itself evidence of wisdom. Nor is it evidence of the righteousness of the martyr's cause.
Redchaser wrote:
6/14/2013 8:11 PM EST
Swowden worked for the NSA for 3 months. He didn't realize what his job would be? Did he think he would be playing video games?
He steals classified documents, sends them to a foreign media, fly's to Hong Kong, CHINA, gives an interview to the foreign media and now resides in a "private residence" in CHINA and makes further comments about the US hacking the Chinese government.
Snowden, during the interview makes a veiled threat that he could expose ALL CIA operatives names, their missions and their foreign contacts.
Snowden is your friend, your hero? … the US government is your enemy? Because you feel this self-rightous, 29 year old high school drop out, with minimal experience, who played judge and jury and stole classified documents that he swore to protect, did you a favor? He's a hero because he disclosed a program that was legal, albeit concerning in it's reach but that has yet to be determined?
Snowden has perhaps put American's in sensitive positions around the world in harms way and possibly damaged the security system of the US, one that was designed with the intent to protect it's citizens from terrorist attacks.
The decision Snowden in his warped and self-rightous mind made, was not his to make. To align yourself with, support and applaud his reckless and irresponsible actions, is to ignore his actions for what they are, criminal and treasonous.
But … the pro-comments in support of Snowden has revealed how many people distrust the government to the point of wishing to dismantle, without thought to conscience. It feeds into the anti-government mind set that feeds off paranoia and/or is simply politically motivated.
Regardless of your position on the NSA's programs, the support of Snowden and considering him a hero is absurd and does a disservice to those thousands of American's who have fought and died to protect our country.
Snowden is not a "whistleblower" he is a traitor who has fled the country.
Dona Dunsmore responds:
6/14/2013 8:49 PM EST
This is really well said. I am having a hard time sympathizing with him. Mark Udall among others has been complaining about this for years–Senator Udall would have had some better ammunition than inuendo had Snowden gone to him.
Redchaser responds:
6/14/2013 8:59 PM EST
Snowden had choices but he chose this route.
He says he is not going to hide, as he continues to make disparaging comments about the US programs …. while in "hiding" in an undisclosed and "private residence in Hong Kong, CHINA.
rheckler2002 wrote:
6/16/2013 4:39 PM EST
Too many assume our enemies don't know the USA government is spying on them. How absurd. Our enemies likely know more about our USA government than we Americans do.
If whistleblowers were interested in compromising USA security why would they contact USA news media with their information?
Because they feel our rights as citizens are being violated. And because they feel actions of government officials leave a lot to be desired. Or perhaps government officials have been lying to the USA.
The USA media is not going tojeopardize America. Elected beltway folks seem to do plenty on their own stupidity.
hambya wrote:
6/16/2013 4:35 PM EST
This sterling defender of individual rights steals secrets and then flees to China, known of course for a long-standing devotion to individual rights.
Is it possible he was working for China all along?
rheckler2002 wrote:
6/16/2013 4:33 PM EST
And the Constitution says, "No person shall be convicted of treason unless on the testimony of two witnesses to the same overt act, or on confession in open court." That means you'd have to find two people who saw Snowden leaking secrets, which sounds like a tall order.
Could it be the more we listen to government officials and too many columnists the dumber we become?
The word "treason" has been thrown around a lot lately in relation to alleged leakers Edward Snowden and Bradley Manning, but it turns out that no one accusing them of the crime actually seems to understands what it means.
Senate Intelligence Committee Chairwoman Dianne Feinstein called Snowden's leak an "act of treason," as did Florida Democratic Sen. Bill Nelson, while House Speaker John Boehner called the leaker a "traitor." And they were only the most prominent of a slew of columnists and officials. For instance, former UN Ambassador and Fox News regular John Bolton called the leak "the worst form of treason."
Treason is the only crime specifically defined in the Constitution, and considering how much people in Washington say they love the founding document, one would think they would have read it a bit more closely, because experts say that among Snowden's potential crimes — and they are crimes, in all likelihood — treason is almost definitely not one of them.
"It's a narrow and specific definition," New York Law School professor and constitutional historian R. B. Bernstein told Salon. As described in Article III, Section 3: "Treason against the United States, shall consist only in levying war against them, or in adhering to their enemies, giving them aid and comfort." Bernstein says this means that "you need to show specific intent to make war" against the U.S., or aid the enemy. "There's just none of that here," he said.
Other experts agree, Politico reports, noting that prosecutors charged Manning with "aiding the enemy," but not treason.
Con't
[url]http://www.salon.com/2013/06/13/no
www.washingtonpost.com/opinions/anne-applebaum-snowden-the-impulsive-martyr/2013/06/14/5c059462-d511-11e2-a73e-826d299ff459_story.html