Spanish-language spelling bees taking off in the U.S.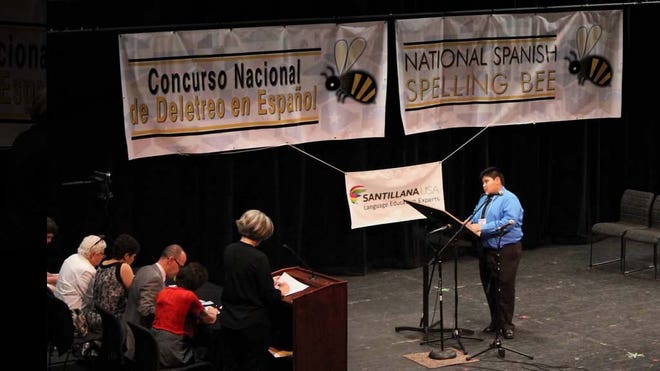 http://latino.foxnews.com/latino/lifestyle/2015/05/04/spanish-language-spelling-bees-taking-off-in-us/
The job fair comes at a time when recent U.S. Census Bureau data shows Mecklenburg County's Hispanic growth rate continues to boom. The non-white Hispanic population grew 14.8 percent between 2010 and last year, more than double the white growth rate. Hispanics are now 12.7 percent of the county's population, an estimated 128,473 people among 1.01 million residents.

www.charlotteobserver.com/news/business/article27254554.html
CHICAGO — Jesus G. Garcia, candidate for mayor, strode down the sidewalk on Monday evening, trailed by a giddy pack of supporters, volunteers and passers-by. They snapped pictures and chanted his nickname: "Chu-y! Chu-y!"
One man did not join in. An African-American who wore a knit Blackhawks hat, he glared at Mr. Garcia from the curb.
"I'm voting," he said, when asked if he would take part in Tuesday's election. "But I ain't voting for no Chuy. I ain't voting for a Mexican."
Pressed to explain, he said he was tired of competing with Latinos for jobs. Then he walked away.

www.nytimes.com/2015/04/04/us/candidate-for-chicago-mayor-struggles-to-unite-latinos-and-blacks.html
Reno, Nevada
In 1960, 85 percent of Americans were white and 10 percent were black. Now, 63 percent are white, 13 percent black, 17 percent Hispanic and 5 percent Asian. In 2050, those shares are projected to be 47 percent white, 13 percent black, 28 percent Hispanic and 8 percent Asian.
www.washingtonpost.com/opinions/robert-samuelson-americas-menacing-mega-trends/2014/03/02/edcbd8b6-a0b8-11e3-9ba6-800d1192d08b_story.html
October 2, 2014 National Journal recently visited Des Moines to see how an increasingly diverse population—a majority of public-school students are now minorities—and booming economic development have changed this once-sleepy town. In the coming weeks, Next America will publish a series of stories about the reality of 21st-century Iowa.
DES MOINES, Iowa—If Juan Rodriguez had to clean a university library to make a living, he was going to get a little more out of it.
Rodriguez moved from Colombia to the Chicago area early in 2003, and found his way to Des Moines later that year. The former computer engineer worked the 3 a.m. shift as a janitor at Drake University so that he could spend his off hours reading and learning English. "It was kind of hard moving from an office position to cleaning," he says with a timid smile. "But I didn't want to go back. I'm going to work hard here and see if I could do my best."
Just four years later, Rodriguez started his own insurance agency, and he would later buy a radio station, open a Mexican restaurant, acquire an events center, and launch a magazine. He is now considered one of most successful Latino businessmen in Des Moines.
Rodriguez provides essential support and tools for a rapidly growing Latino population that makes up 12 percent of Iowa's capital city residents. His insurance agency provides coverage for immigrants with foreign driver's licenses, his restaurants employ dozens of people, and his Spanish-language magazine and radio programs educate a community often unaware of their rights or resources. And he's setting up roots here, inviting his family to join him in this unusual Hispanic oasis in the heartland.
"People who came to work in construction now want to open a business, and they need more information," he says in his insurance office on East Grand Avenue, a few blocks from the State Capitol. "I use my resources to invest in the community."
The community has revitalized many of the neighborhoods in the east and south parts of Des Moines through purchasing and rehabilitating homes, and launching small businesses along Southeast 14th Street, East Grand Avenue, Indianola Avenue, and Army Post Road. Many Latino newcomers moved into areas already abandoned by white residents. They took over empty commercial shops and buildings, spared bankers who were trying to sell those buildings, and opened supermarkets, restaurants, and clothing stores where Latinos could go and speak their native tongue. It's not too different from what's happening in the rest of the state.
In many ways, Latinos saved Iowa. For years, young people left small towns to find education and employment opportunities in bigger cities. As the remaining residents of those small towns aged, tax bases deteriorated and infrastructures crumbled. Add the farm crisis of the 1980s, and the death of Small Town Iowa seemed imminent. That is, until the Latino revolution hit the state. Latinos moved to these small towns for jobs in manufacturing or meatpacking plants. They stayed to raise families, open small businesses, and become part of the community. Now there are places like West Liberty (pop. 3,730) that are majority Latino, and other small towns like Columbus Junction, Denison, and Storm Lake that are approaching that 50-percent mark.
Over the past decade, the Latino population in Iowa grew by 104 percent. It is projected to triple by 2040, from 169,000 to about 421,000. The median age of Iowa's Latinos is around 22, compared with 38 for the rest of the state, which only adds to their population growth. And in Des Moines, Latinos make up 23 percent of students in public schools.
Joe Henry, the Iowa state director of the League of United Latin American Citizens, sees a Latino population with a strong sense of community, whose labor and tax dollars will build a new Iowa. His family has seen Des Moines' transformation; Henry's grandfather was part of the first wave of Latinos to come to Des Moines in 1917 after the Mexican Revolution.
"We're here to stay," Henry says. "We are the only growing population. The baby boomers are retiring. The majority community is not increasing at the same rate as us. You need to embrace us, because we are going to be here and take care of you down the road."
The growth of the Latino community has not come without some pushback. New cultures mean unfamiliarity. New businesses can mean new practices. When there weren't yet enough restaurants to serve the growing community, Latino restaurant owners had to get creative. That didn't sit well with some of their neighbors. "When the business community tried to establish itself, we've got a number of complaints that we weren't doing it the right way," Henry says. "When some of the restaurants started with taco stands, there was an outcry from some of the city council members that we weren't following the proper city codes, which to me was a form of discrimination."
And while nearly one-quarter of public-school children are Latino, employment in Des Moines public schools doesn't match that percentage. There have been only two Latino principals in the district's history, and neither currently works in the school system. The same can be said for city employment, as well, though top officials, including the mayor, say they are making strong efforts to diversify city government.
But above all, immigration remains a top concern. Memories of Postville, when officials in 2008 raided a slaughterhouse and meatpacking plant in the northeast Iowa town and arrested 400 undocumented immigrants, still weigh heavy on people's minds here.
Alejandro Alfaro-Santiz, a pastor at Las Americas, a Spanish-speaking community within Trinity United Methodist Church, says many undocumented members of his church worry that a simple traffic stop could mean deportation. "It's really appalling," says Alfaro-Santiz, who moved to Iowa four years ago. "It's really hard living in a constant state of fear, not knowing if when you come back at night you're going to see your loved ones."
This is why leaders like Rodriguez are so crucial for the future of the Latino community in Iowa. The slogan of his magazine reads, "Porque Nuestra Comunidad Merece Estar Bien Informada," or "Because our Community Deserves to be Well Informed." Information can help Latinos grow their community, and help Iowans know that they are here to stay.

www.nationaljournal.com/next-america/population-2043/how-latinos-are-saving-iowa-20141002
American-Born Cabbies Are a Vanishing Breed in New York
By MATT FLEGENHEIMERFEB. 9, 2014
John Abrahams, an American-born cabby, in Times Square. Today, only 8 percent of city taxi and for-hire drivers were born in the United States.
The cabbies huddled beside space heaters in the break room of a garage in Long Island City, Queens, playing a Ghanaian version of checkers before their shifts were to begin.
"Greek. African. Couple of Haitians," said Stanley Wissak, the longtime president of the cab company, 55 Stan, gesturing toward each yellow taxi driver he passed.
"Mr. Stanley, how you doing?" one cabby asked. Mr. Wissak nodded as the man walked away.
"Egypt," the boss said.
The American-born cabby, long a stalwart of the industry even as immigrants began to dominate its ranks, has now just about vanished.
Today, only 8 percent of New York City taxi and for-hire drivers were born in the United States, the city's Taxi and Limousine Commission said. According to records released in December by the commission, the dearth is particularly pronounced among yellow taxi drivers; of them, 6 percent are native-born.
The numbers are a far cry from 1980, when 62 percent of taxi and for-hire drivers in New York City were born in the United States, according to Census figures cited in a 2004 report by Schaller Consulting. By 1990, the figure had fallen to 36 percent; by 2000, it was down to 16 percent.
The Queens cab company 55 Stan has a largely immigrant work force, including drivers originating from Ghana, Greece and Haiti.
Credit Bryan Thomas for The New York Times
The shift to a near-uniform immigrant work force has had a profound effect on the taxi industry, reshaping the relationship between driver and passenger.
Archetypes of a generation past have largely receded from view: the New York know-it-all, the fledgling actor making do between auditions, the student working his way through college behind the wheel.
Former and current drivers said the trend could be traced in large part to changes in cab leasing terms in the 1970s. With rules that now often require much of a long day's work — a standard shift is 12 hours — just to cover the daily rental rate, there is far less latitude for students, performers or other young New Yorkers to drive cabs for part of the day as supplemental income.
"I went into this thinking it was a steppingstone to something," said John McDonagh, 59, a cabby who was raised in Middle Village, Queens. But his more than 35 years as a taxi driver have led him to instead perceive his job as a springboard "to the end of my life."
Another consequence of the lease changes: Taxi operators were once far more invested in the success of their cabbies.
"It was just a much better job," said Tom Robbins, a journalist and author who drove a taxi in the 1970s. "When I had a good day, the boss had a good day. When I had a bad day, the boss had a bad day. Once leasing came in, the boss never had a bad day."
Mr. Robbins once worked out of a Greenwich Village garage, known as Dover, that served as the inspiration for the television series "Taxi." According to a New York Magazine article, personnel included a college professor, a former priest, a calligrapher, the inventor of the electric harp and "the usual gang of starving artists, actors, and writers."
The Dover garage is long gone, replaced by a seven-story condominium building. And the native-born drivers who remain on the job tend to be, like Mr. McDonagh, old-timers who are aging out of the industry, or the recently unemployed, who have few options.
Mr. Wissak, 86, said that many American-born drivers who joined the industry now were "basically over the age of 55 to 65" and recently out of a job in another field.
And most immigrants do not look to cab driving as a top choice.
"I don't think it's the first option for any worker, native-born or immigrant, because the conditions are so difficult," said Bhairavi Desai, the executive director of the New York Taxi Workers Alliance. "It's the backup plan."
According to the commission report, the most common country of origin for yellow cabdrivers is now Bangladesh. More than 23 percent of drivers were born there, the report said, compared with less than 14 percent in 2005. In that year, the highest concentration of drivers came from Pakistan.
The report, which included demographic information on drivers and passengers, suggested that riders tend to be young, male and affluent. Surveys conducted on back-seat television screens found that more than 40 percent of riders had a household income of more than $100,000, not including 17 percent who preferred not to answer. About 70 percent of riders were found to be 35 or younger.
"The opportunity of a sympathetic relationship between a young stockbroker and a 50-year old from Bangladesh is pretty remote," said Graham Hodges, a taxi historian and a former New York cabby.
"People get in the cabs, and they're talking on their cellphones," Mr. Robbins said. "They're missing out on a lot."
For some native-born cabbies, the decision to drive has taken a toll. Chrishna Sooknanan, 28, from Flatbush, Brooklyn, said his father had got a taxi medallion around 1980 after emigrating from Trinidad and Tobago. With his father's help, Mr. Sooknanan secured his own medallion at age 21.
But he has remained ambivalent about the industry, he said, even engaging in a heated argument recently with two passengers who questioned why someone born in the United States was "doing this job."
Mr. Sooknanan was reminded of his childhood, when he first told friends what his father did for a living.
"They laughed at me," he said. "They think it's like a peasant job."
The scarcity of American-born drivers seems to have bound some together. John Abrahams, 52, from Park Slope, Brooklyn, recalled a run-in with a fellow cabby on Park Avenue.
"I looked over, and there was a white guy," Mr. Abrahams said. "We both burst out laughing. He said, 'I always tell my fares that there's one other white guy in the city. I found him.' "
www.nytimes.com/2014/02/10/nyregion/american-born-cabbies-a-vanishing-breed-in-city.html
G.O.P. Congressman in South Carolina Takes a Risk With a Foray Into Immigration
Representative Mick Mulvaney, a Republican, said he and other House Republicans were open to some kind of legal status for immigrants in the country illegally.
By JULIA PRESTON FEB. 21, 2014
GAFFNEY, S.C. — After the sterling conservative voting record he has established during three years in Washington, Representative Mick Mulvaney, a Republican, can take a few political risks in his South Carolina district, one of the most conservative in this reliably Republican state. This week he did just that.
Mr. Mulvaney convened a town-hall meeting in this country town on the troublesome issue of immigration, with an audience of Latinos. He held forth for an hour, parsing policy and answering questions about the prospects for immigration legislation in the House — entirely in Spanish.
Even more surprising to the spellbound crowd at the First Baptist Church, Mr. Mulvaney said he and other conservative House Republicans were open to some kind of legal status, although not a path to citizenship, for many immigrants living in the country illegally.
But he also said it would not happen this year: Republicans just do not trust President Obama to carry out any law they might enact.
"We are afraid that if we reach an agreement," the congressman said, making the most of the Spanish skills he acquired years ago in college, "he will take the parts he likes and he won't take the parts that he doesn't like."
The town of Gaffney in South Carolina, where Mr. Mulvaney spoke at a town-hall-style meeting to discuss immigration, in Spanish, with Hispanics.
Credit Mike Belleme for The New York Times
The politics of immigration are gradually shifting in South Carolina and some other Southern states, where not long ago most conservatives passionately rejected legalization as amnesty that rewarded lawbreakers. Like Mr. Mulvaney, a number of Republicans are moving toward the view that the immigration system needs fixing, and that 11.7 million illegal immigrants will not be deported and need a path to legal status.
But Mr. Mulvaney first rode to office on the Tea Party wave in 2010, ousting a long-serving Democrat, and he knows his voters. If he moves too far too fast, he could awaken their ire.
"If Mick Mulvaney would come out tomorrow to do immigration reform, somebody from the Tea Party would challenge him," said Karen Martin, a founder of the Tea Party group in Spartanburg, on the edge of Mr. Mulvaney's district.
Ms. Martin said she campaigned for Mr. Mulvaney during his first race and keeps a vigilant eye on his work in Washington. She said she and many other South Carolina voters feared an influx of newly legalized immigrants into the state's lagging labor market.
"It doesn't matter if you feel sorry for those people," Ms. Martin said of immigrants without legal status. "Right now you won't get anywhere because people are terrified that their families won't have a house or a job next year."
The mixed mood in South Carolina was reflected in recent start-and-stop politics on Capitol Hill. Last month, House Republican leaders presented their principles for reform, with a series of measures to toughen enforcement and border security and then to allow illegal immigrants to "get right with the law." While some Republicans flatly rejected legalization, many others said the principles might be right but the timing was wrong. Within days, Speaker John A. Boehner of Ohio said it was unlikely the House would move on immigration this year.
Mr. Mulvaney, a former state senator who had not focused particularly on immigration until he won federal office, is picking a careful course through that minefield. The principles were "an important first step," he said in an interview (in English).
A large, mostly Hispanic crowd gathered this week to listen to Mr. Mulvaney.
Credit Mike Belleme for The New York Times
"I am more than willing to have a discussion about allowing at least part of the 11 million people here illegally to have some type of status," he said. "I'm just disappointed that more people in my party don't want to do that."
He put the blame on Mr. Obama. Conservatives, who despise the president's health care law, were outraged by changes he made through executive action as it was being rolled out. "If I worry he would selectively enforce the law, it throws a cold shower on the whole immigration discussion," Mr. Mulvaney said.
Mr. Mulvaney appears to be comfortably safe in his seat, after redistricting in 2012 made it more favorable to Republicans. Facing no Republican primary challenger so far this year, he has done little campaigning.
But pressure for immigration reform is increasing from several sides. The town of Gaffney is well known to drivers on Route 85, the main thoroughfare through the region, because of a giant peach that towers over the highway — an unsubtle reminder that Georgia is not the only state growing that fruit.
Growers, farmers, manufacturers and hotelkeepers are becoming more outspoken with Mr. Mulvaney about their urgent need for legal immigrant workers for low-wage jobs.
Evangelical Christian clergy members have also called for action, including the Hispanic pastors who brought busloads of parishioners to the town hall. Mr. Mulvaney was impressed, saying the meeting was among the most well-attended of some 40 he has held.
"We are not insignificant," said Victor Prieto, a Southern Baptist minister and university professor, noting the surge in Hispanic population in the area in the last decade.
A giant peach perched atop a water tower in Gaffney offers a reminder of the region's fruit production.
Several Latinos at the meeting overcame their misgivings to admit to Mr. Mulvaney that they did not have legal papers and feared being separated from their families by deportation. One man, Wilson Ramírez, upbraided him for putting off the debate this year. "Why is there such a lack of love between the two parties, Republicans and Democrats?" Mr. Ramirez asked, to applause from the audience.
Mr. Mulvaney said Republicans were growing confident that they would regain the majority in the Senate in November elections, allowing them to move ahead with immigration legislation to their liking.
When Mr. Mulvaney's foray into Spanish made the front page of the Spartanburg Herald Journal the next morning, aides waited nervously for the local reaction. But there was no vitriol and even some praise in the comments on the paper's website.
Yet there are divisions that simmer among South Carolina Republicans that Mr. Mulvaney cannot ignore. Some party leaders said they would push him to pick up the pace in Washington.
"We have to show the Hispanics at least a crack in the door," said John Major, chairman of the Cherokee County Republican Party. He said resistance to legalization was declining among the state's voters. "People are tired of this problem," he said. "They want to move to the next phase."
But others said Mr. Mulvaney was prudent to move slowly. In South Carolina, the debate is overshadowed by the travails of Senator Lindsey Graham, the Republican who was one of eight authors of a sweeping immigration bill that passed the Senate last year, which included a pathway to citizenship. He now faces five primary challengers.
Bruce Carroll, chairman of Carolina Conservatives United, a group working to unseat Mr. Graham, said the problem was not the legalization part of the Senate bill, but the bill's vast scope and bipartisan compromises.
"People are just kind of exhausted with Washington right now," Mr. Carroll said. "There is a general dismay that an important issue like immigration would be put through that sausage-maker in a year like this."
Ms. Martin, the Tea Party organizer, said she was certain Mr. Mulvaney would not risk provoking her organization's wrath by pushing an overhaul anytime soon.
"Mick Mulvaney is just not going to come out for immigration reform," she said matter-of-factly. "He is not going to push for something people in his district see as a threat.
www.nytimes.com/2014/02/22/us/politics/gop-congressman-in-south-carolina-takes-a-risk-with-a-foray-into-immigration.html
Asylum Fraud in Chinatown: An Industry of Lies
F.B.I. agents outside 2 East Broadway in Chinatown, an office raided in December 2012 during an investigation into immigration fraud. More than 30 people have been charged
Credit Hiroko Masuike/The New York Times
By KIRK SEMPLE, JOSEPH GOLDSTEIN and JEFFREY E. SINGERFEB. 22, 2014
A Chinese woman walked into a law office in New York's Chinatown and asked to see her lawyer. She had applied for asylum, claiming that she had been forced to get an abortion in China to comply with the country's family-planning laws, and she was anxious about her coming interview with immigration officials.
She had good reason to be worried: Her claim, invented by her lawyer's associates, was false.
But the lawyer, John Wang, told her to relax. The process, he said, was straightforward, and as long as she memorized a few details, everything would be fine. "You are making yourself nervous," he said in Mandarin. "All you would be asked is the same few rubbish questions."
"Just make it up," the lawyer added.
The conversation, in December 2010, was secretly recorded by federal officials conducting a wide investigation of immigration fraud in New York's Chinese population. The inquiry has led to the prosecution of at least 30 people — lawyers (including Mr. Wang), paralegals, interpreters and even an employee of a church, who is on trial, accused of coaching asylum applicants in basic tenets of Christianity to prop up their claims of religious persecution. All were charged with helping hundreds of Chinese immigrants apply for asylum using false tales of persecution.
The transcript of the conversation in Mr. Wang's office, which was disclosed in a recent court filing, offered a rare look at the hidden side of the Chinese asylum industry in New York.
More Chinese immigrants apply for asylum than any other immigrant group in the country, with the Chinese population in New York leading the way: Over the past six years, about half of all applications filed by Chinese immigrants not facing deportation were submitted in New York City. (Comparable data for asylum applications from those in deportation proceedings was not available.)
In fiscal year 2012, Chinese immigrants filed more than 62 percent of all asylum cases received by the federal asylum office in New York, which in recent years has received more Chinese applications than the next 10 nationalities combined.
Though the prevalence of fraud is unknown, federal officials appear to regard the applicant pool in New York with considerable suspicion. In fiscal year 2013, asylum officers around the country granted 40 percent of all Chinese asylum requests, according to government data. In New York City, asylum officers approved only 15 percent.
Peter Kwong, a professor at the City University of New York and an expert on the Chinese population in New York, said it was an open secret in the Chinese community that most asylum applications were at least partly false, from fabricated narratives of persecution to counterfeit supporting documents and invented witness testimony.
To asylum-seekers, he said, "it's not an issue of right or wrong. It's an issue about whether they can get it and their means to get it."
The growth in the Chinese asylum industry over the past decade has coincided with an increase in Chinese migration to the United States and in the number of Chinese arriving on temporary visas, some with the intention of staying. Many have made New York City their primary destination. Between 2000 and 2011, the foreign-born Chinese population in New York City grew by a third, to more than 350,000 from about 261,500, and is now on the verge of overtaking Dominicans as the city's largest im migrant group, according to New York's City Planning Department.
As an increasing number of Chinese have sought permanent immigration status here, asylum has become a popular way to achieve it: Asylum recipients are granted immediate permission to work and can apply for a green card a year later. Amid this rising demand, an ecosystem of law offices and other businesses specializing in asylum — not to mention a darker subculture of forgers and fake lawyers — has flourished in the crowded office buildings of Manhattan's Chinatown and above storefronts along the bustling streets of Chinese enclaves in Flushing, Queens, and Sunset Park, Brooklyn.
The trade has generated healthy revenues. Some firms ask $1,000 to handle a case, then they add incremental fees that might total more than $10,000 — steep for most of the applicants, many of whom are restaurant and construction workers, nannies and manicurists.
But some involved in the business say they are motivated more by politics and moral principles than by money.
"We are doing work like the last stop on the Underground Railroad," said David Miao, the owner of an immigration law office in Chinatown. He was among those indicted in the investigation that also implicated Mr. Wang; the case became public with the unsealing of nine indictments and a series of raids in December 2012. He has pleaded not guilty to conspiracy to commit immigration fraud.
"If we didn't do this, they will be sent back to China," he said in an interview. "We save lives."
The volume of petitions has clogged the federal bureaucratic machinery, overwhelming asylum officers and judges. The deputy director of the New York asylum office blamed fraud, in part, for the deluge, and said she had tripled her team of asylum officers to dig out of a two-year backlog of cases.
The schemes "wreaked havoc on the asylum system as a whole," the official, Ashley B. Caudill-Mirillo, wrote in a letter to a federal judge in November.
The 2012 indictments appear to have disrupted, at least temporarily, the surge of Chinese asylum applications in New York. But when asked to comment publicly about how extensive asylum fraud remains among Chinese applicants, most officials declined.
Speaking privately, however, they concurred with the prevailing opinion in the Chinese diaspora: that the problem is ubiquitous and that one high-profile case will not curb it.
The United States has a long tradition of offering refuge to foreigners fleeing persecution. Whether in the country legally or not, immigrants can petition for asylum within one year of arriving. They must show they are unable or unwilling to return to their country because they have "a well-founded fear of persecution" based on their race, religion, nationality or membership in a particular social or political group.
In fiscal year 2012, about 56,400 asylum applications were filed in asylum offices or in courts throughout the country. In the same year, about 29,500 people were granted asylum, the most since 2002, when 37,000 received it.
False asylum petitions are among the most common forms of immigration fraud, in part because they are difficult to detect, experts said. Since many claims are based on events that took place amid armed conflict or political turmoil, the narratives and supporting documents can be hard for the American authorities to verify.
And while the Chinese asylum pool has drawn increasing scrutiny in recent years, asylum fraud cuts across all immigrant groups, officials say, cropping up among populations from societies in turmoil such as Guineans seeking refuge from political upheaval, Afghans fleeing war, Russians looking for sanctuary from homophobia and Mexicans running from drug violence.
Among the Chinese, the vast majority of applicants claim they were either forced to endure abortions or sterilization under China's family planning laws or that they fear persecution based on their adherence to Christianity or their participation in banned groups like the Chinese Democracy Party and Falun Gong, a spiritual movement that has been labeled a cult by the government.
And while many such claims are legitimate, officials and industry specialists said, an untold number are not. Mr. Kwong said the cases were easy to fake.
"The law itself provides a huge loophole, and that loophole cannot be closed because of the politics," he said.
Sometimes the fraud consists of little more than embellishing stories to make them seem more believable. Other times, the accounts are complete fiction.
Narratives and documents are recycled from client to client, with the names and dates changed — though sometimes the lawyers forget to do even that.
Several immigrants said in interviews in Chinatown and Flushing that while their cases were based on true stories of persecution, some of the documents supporting their claims were false. (Many Chinese immigrants interviewed for this article agreed to talk only on the condition of anonymity.)
A well-connected member of the Taiwanese community in Queens said that while working at an immigration law office in Queens several years ago, one of his tasks was to use Photoshop to superimpose clients' faces onto file photos of people who had been beaten by the police in China. "Everything was prefabricated," he said.
In Flushing and other Chinese enclaves, many churches give attendance receipts to help parishioners prove their Christian faith to asylum officers. It is widely believed in the Chinese community that the pews are full of as many nonbelievers as true believers.
The dozens of people rounded up in 2012, including employees of at least 10 law firms, were accused of "weaving elaborate fictions" on behalf of hundreds of clients and coaching them on how to lie during their asylum interviews and in court. One of the lawyers would sign blank asylum petitions and let others fill them out with stories he never reviewed, prosecutors said.
Victor You, a star witness for the prosecution who worked as an assistant at several law firms and pleaded guilty to immigration fraud, said he would craft a story based on characteristics like clients' ages and schooling. He would feed the Falun Gong narrative to uneducated immigrants because it was easiest to remember, he said in court testimony last week. Christianity claims went to young immigrants with at least a high school education.
When clients veered off-script during interviews with asylum officers, prosecutors said, some interpreters would falsely translate the client's words.
Liying Lin, a defendant who worked at a church in Flushing, would give paid lessons in the basics of Christianity for immigrants seeking asylum for religious reasons and would coach applicants on how to lie, prosecutors said.
Of the eight lawyers indicted, officials said, Mr. Wang was one of the most prolific. Between 2010 and 2012, his office filed more than 1,300 asylum petitions with the New York asylum office.
His methods were revealed in the recording of his discussion with the Chinese client, who was preparing to tell immigration officials that she had been forced to get an abortion because she had become pregnant out of wedlock.
Mr. Wang and a paralegal briefed her on the sequence of fictitious events she had to memorize: the missed period, the knock at the door, government officials hauling her to a clinic, the feeling of a medical tool inside her, the dates of her trip to the United States.
He said asylum was nearly a foregone conclusion: Cases like hers were getting approved without a problem. "It's too easy," he said.
More than half of the defendants have pleaded guilty, including. Mr. Wang, who was sentenced in December to two years of probation.
The indictments in 2012 cast blanket suspicion over the entire business, including applicants with legitimate claims and upstanding law practices with large Chinese clienteles. In the years before the raid, the flow of applications to the New York asylum office had risen sharply, peaking at about 7,000 in fiscal year 2012, up from about 1,700 in 2006. But after the raid, the volume plummeted, to about 4,300 in 2013, according to federal data. Immigration officials refused to speculate on the cause of the drop.
In the days after the raids, law offices and immigration agencies in Chinatown and Flushing were swarmed by clients worried about their asylum requests.
"We were looking for an expert in the law to do things a legal way," said Zeng Hang, a cook who took a day off from his job at a Chinese restaurant in Connecticut to check on the status of his case. He was among scores of clients at 2 East Broadway, an office building in Chinatown raided by the F.B.I.
Li Bo, another cook, said he and others had assumed that if they were to entrust their cases to lawyers, then they would be in good hands. "They represent the law, do they not?" he said.
No asylum applicants were prosecuted in this case; officials have generally reserved their contempt for the lawyers, paralegals and others accused of orchestrating the frauds. At his sentencing in December, Mr. Wang, who is in his early 30s, explained that he had become an immigration lawyer "because I am also an immigrant and I want to help immigrants in this country."
Describing himself as "young and inexperienced," he struck a tone of remorse. "I know I made the wrong decision when I got involved in this fraud," he said.
But in interviews, others involved in the schemes were not as contrite, rationalizing their actions.
Some said they were motivated by a compulsion to help Chinese immigrants make a better life for themselves. Those who had worked so hard to flee authoritarian rule in China, they argued, should be able to stay in the United States.
"According to my system of values, what I did is correct," said Xu Lu, a defendant who worked as an interpreter at law firms implicated in the schemes.
"What you did is against the law but it is righteous," he said of his actions. "You helped the weak. And you will be loved and remembered by the world."

www.nytimes.com/2014/02/23/nyregion/asylum-fraud-in-chinatown-industry-of-lies.html
Vanishing America – later than you think