Massacres are part of American military history. During the Civil War, the most notorious occurred at Fort Pillow, Tennesssee where Confederate cavalry under the command of Nathan Bedford Forrest killed black and white troops that had surrendered. On April 9, 1865, Robert E. Lee surrendered the Ahmy of Northern Virginia. That afternoon southeast of Mobile, defenders of Fort Blakely were overwhelmed by a charge conducted by troops under the commanded of Major Gen. Frederick Steele. Hawkins' Colored Brigade massacred Mississippians in Sears' Brigade.
Ben Bounds, 4th Mississippi, who had been captured at Fort Donelson and Vicksburg, wrote:
"Seeing the white flag the Negro troops came rushing on us with the cry "Remember Fort Pillow." Had it not been for the white Federal troops and the white officers of the negro regiments, I would have not been here writng this incident.
More of our troops were slain after the surrender than in the battle. Finally the white officers bunched us in squads of forty or fifty each and placed guards around us as close together as they could stand with fixed bayonets facing outward to protect us from the infuriated mob. They continued to shoot our men down, shooting between or over the heads of the guards."
p.149
See also:
http://georgiaheritagecouncil.org/site2/commentary/regenstein-ft-blakeley-war-criminals.phtml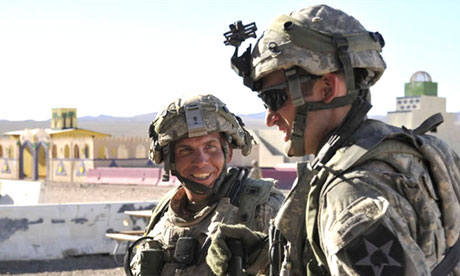 Staff sergeant Robert Bales, left, is accused of shooting dead 16 Afghan villagers, including nine children.
On March, 11th, SSG Robert Bales, "walked off his base in a remote southern Afghan village shortly before dawn Sunday and opened fire on civilians inside their homes, killing at least 16, including nine children, Afghan officials said."
There is a decisive difference between the incidents described above. Atrocites committed at Forts Pillow and Blakely occurred during combat and involved entire military units. Sgt. Bales offed civilians off base.
According to his high school friends and neighbors, " Bobby" "insisted that other kids behave, be safe and be considerate of older residents." Before he enlisted in the army, however, Bales had already experienced a troubled past.
Staff Sgt. Robert Bales was found liable in financial fraud

www.washingtonpost.com/world/national-security/staff-sgt-robert-bales-was-found-liable-in-financial-fraud/2012/03/19/gIQA4Ni2NS_story.html
"He robbed me of my life savings," Gary Liebschner of Carroll, Ohio told ABC News."
Financial regulators found that Bales "engaged in fraud, breach of fiduciary duty, churning, unauthorized trading and unsuitable investments," according to a report on Bales filed in 2003. Bales and his associates were ordered to pay Liebschner $1,274,000 in compensatory and punitive damages but have yet to do so, according to Liebschner.
http://news.yahoo.com/afghan-murder-suspect-bales-took-life-savings-says-223934030–abc-news.html
Bales' investment career — from 1996 to 2001 — followed the rise and fall of the tech-stock bubble, which burst beginning in 2000, causing a historic stock-market slide through 2002.
After college, Bales worked for a web of companies accused of numerous petty financial frauds, records show. Bales shuttled between five companies tied to the same principals until 2000, when he founded the doomed venture with former NFL player Marc Edwards, his former high-school football teammate in Norwood.
www.dispatch.com/content/stories/national_world/2012/03/21/massacre-suspects-career-in-finance-tinged-with-fraud.html
Bales' trial will drag out, perhaps for years, and become a metaphor for the endless commitment in Afghanistan.
The doomsday scenario – already being discussed among diplomats in Kabul – is that President Hamid Karzai refuses to allow the advisers to stay on. Without their support, ill-trained and poorly motivated Afghan forces would struggle to maintain even a limited amount of security.
After more than a decade of British, American and international casualties, Afghanistan would be plunged right back into civil war.
So far, though, that remains the worst-case scenario. Karzai is a weak president who knows how much he needs American support to keep him in power – and alive. He is unlikely to push for a hasty exit. And so far there has been thankfully little anger on the streets, just like previous crises when public fury failed to live up to the hype of media commentators.
This is not the make or break moment in Afghanistan. The danger is that it will be turned into one by American politicians wondering whether it is time to speed up the withdrawal.

http://blogs.telegraph.co.uk/news/robcrilly/100143175/afghanistan-shootings-diplomats-in-kabul-are-already-discussing-a-doomsday-scenario/
It is a system devised to be flexible enough to be convened on a battlefield, and broad enough to deal with anything from theft and insubordination to atrocity. Experts agree there will be no quick resolution in this case, especially if the charges carry the death penalty, which Defense Secretary Leon E. Panetta said last week "could be a consideration" in the case.
That, said John Galligan, a military lawyer in private practice in Texas, would mean "it's going to take several years."

www.nytimes.com/2012/03/20/us/bales-court-martial-could-be-lengthy.html
Justice consists not in being neutral between right and wrong, but in finding out the right and upholding it, wherever found, against the wrong.
Theodore Roosevelt
This is not justice for the perp or the Afghans who lost family his wantom act of evil. The American justice system is consumed with process rather than resolution. Consider Jared Loughner, who killed six people on Janaury 8, 2011, including a nine-year-old girl. Congresswoman Gabrielle Giffords was also gravely wounded, in attempted murder. Why is he still alive? Given the fact that Loughner's guilt is not in doubt, what purpose does it serve, beyond billable hours, for his trial to be delayed? Should his state of mind allow him to remain in jail for decades at tax payer expense?
Incarceration to what purpose. Rehabilitation? Punishment? Prevention? Justice is not served unless Loughner and Bales are executed.
Then there's this turd: murderer/assassin/terrorist who killed a dozen Americans in 2009. He should have been shot on the spot. Instead of being discharged from the army, he skated into a career due to bureaucratic incompetency – political correctness.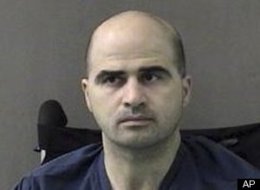 FORT HOOD, Texas—The Army psychiatrist charged in the deadly Fort Hood shooting rampage will be back in a military court this week.
Maj. Nidal Hasan will attend a pretrial hearing Wednesday. The judge may rule on a request from defense attorneys for a forensic pathologist, who would be paid by the government.
The judge also might rule on a defense motion to force prosecutors to provide notes from meetings with President Barack Obama, the defense secretary and other officials after the November 2009 shootings. But prosecutors say no Army officers involved in the case have been influenced by higher-ranking officials.
Hasan faces the death penalty if convicted of 13 counts of premeditated murder and 32 counts of attempted premeditated murder.
His trial is to start in June at the Texas Army post.
www.boston.com/news/nation/articles/2012/04/02/fort_hood_suspect_requesting_another_expert/
U.S. officials say JBLM soldier split shooting spree into 2 attacks
The U.S. officials believe 38-year-old Bales made his first attack, returned to his base and then left again for the second attack.
www.kirotv.com/news/news/us-officials-say-jblm-soldier-split-shooting-spree/nLcN9/
Robert Fisk: Madness is not the reason for this massacre
ROBERT FISK SATURDAY 17 MARCH 2012
I'm getting a bit tired of the "deranged" soldier story. It was predictable, of course. The 38-year-old staff sergeant who massacred 16 Afghan civilians, including nine children, near Kandahar this week had no sooner returned to base than the defence experts and the think-tank boys and girls announced that he was "deranged". Not an evil, wicked, mindless terrorist – which he would be, of course, if he had been an Afghan, especially a Taliban – but merely a guy who went crazy.
This was the same nonsense used to describe the murderous US soldiers who ran amok in the Iraqi town of Haditha. It was the same word used about Israeli soldier Baruch Goldstein who massacred 25 Palestinians in Hebron – something I pointed out in this paper only hours before the staff sergeant became suddenly "deranged" in Kandahar province.
"Apparently deranged", "probably deranged", journalists announced, a soldier who "might have suffered some kind of breakdown" (The Guardian), a "rogue US soldier" (Financial Times) whose "rampage" (The New York Times) was "doubtless [sic] perpetrated in an act of madness" (Le Figaro). Really? Are we supposed to believe this stuff? Surely, if he was entirely deranged, our staff sergeant would have killed 16 of his fellow Americans. He would have slaughtered his mates and then set fire to their bodies. But, no, he didn't kill Americans. He chose to kill Afghans. There was a choice involved. So why did he kill Afghans? We learned yesterday that the soldier had recently seen one of his mates with his legs blown off. But so what?
The Afghan narrative has been curiously lobotomised – censored, even – by those who have been trying to explain this appalling massacre in Kandahar. They remembered the Koran burnings – when American troops in Bagram chucked Korans on a bonfire – and the deaths of six Nato soldiers, two of them Americans, which followed. But blow me down if they didn't forget – and this applies to every single report on the latest killings – a remarkable and highly significant statement from the US army's top commander in Afghanistan, General John Allen, exactly 22 days ago. Indeed, it was so unusual a statement that I clipped the report of Allen's words from my morning paper and placed it inside my briefcase for future reference.
Allen told his men that "now is not the time for revenge for the deaths of two US soldiers killed in Thursday's riots". They should, he said, "resist whatever urge they might have to strike back" after an Afghan soldier killed the two Americans. "There will be moments like this when you're searching for the meaning of this loss," Allen continued. "There will be moments like this, when your emotions are governed by anger and a desire to strike back. Now is not the time for revenge, now is the time to look deep inside your souls, remember your mission, remember your discipline, remember who you are."
Now this was an extraordinary plea to come from the US commander in Afghanistan. The top general had to tell his supposedly well-disciplined, elite, professional army not to "take vengeance" on the Afghans they are supposed to be helping/protecting/nurturing/training, etc. He had to tell his soldiers not to commit murder. I know that generals would say this kind of thing in Vietnam. But Afghanistan? Has it come to this? I rather fear it has. Because – however much I dislike generals – I've met quite a number of them and, by and large, they have a pretty good idea of what's going on in the ranks. And I suspect that Allen had already been warned by his junior officers that his soldiers had been enraged by the killings that followed the Koran burnings – and might decide to go on a revenge spree. Hence he tried desperately – in a statement that was as shocking as it was revealing – to pre-empt exactly the massacre which took place last Sunday.
Yet it was totally wiped from the memory box by the "experts" when they had to tell us about these killings. No suggestion that General Allen had said these words was allowed into their stories, not a single reference – because, of course, this would have taken our staff sergeant out of the "deranged" bracket and given him a possible motive for his killings. As usual, the journos had got into bed with the military to create a madman rather than a murderous soldier. Poor chap. Off his head. Didn't know what he was doing. No wonder he was whisked out of Afghanistan at such speed.
We've all had our little massacres. There was My Lai, and our very own little My Lai, at a Malayan village called Batang Kali where the Scots Guards – involved in a conflict against ruthless communist insurgents – murdered 24 unarmed rubber workers in 1948. Of course, one can say that the French in Algeria were worse than the Americans in Afghanistan – one French artillery unit is said to have "disappeared" 2,000 Algerians in six months – but that is like saying that we are better than Saddam Hussein. True, but what a baseline for morality. And that's what it's about. Discipline. Morality. Courage. The courage not to kill in revenge. But when you are losing a war that you are pretending to win – I am, of course, talking about Afghanistan – I guess that's too much to hope. General Allen seems to have been wasting his time.
http://www.independent.co.uk/opinion/commentators/fisk/robert-fisk-madness-is-not-the-reason-for-this-massacre-7575737.html
March 21, 2012
Associated Press | by Mirwais Khan and Deb Riechmann
KANDAHAR, Afghanistan — Several Afghans near the villages where an American soldier is alleged to have killed 16 civilians say U.S. troops lined them up against a wall after a roadside bombing and told them that they, and even their children, would pay a price for the attack.
Residents have given similar accounts to both The Associated Press and to Afghan government officials about an alleged bombing in the vicinity, which they said occurred March 7 or 8, and left U.S. troops injured. The residents also said they are convinced that the slayings of the 16 villagers just days later was in retaliation for that bomb.
Although the villagers' accounts could not be independently confirmed, their claim that the shootings by a U.S. soldier may have been payback for a roadside bombing has gained wide currency in the area and has been repeated by politicians testifying about the incident to Afghan President Hamid Karzai.
Army Staff Sgt. Robert Bales, 38, is suspected of leaving a U.S. base in Panjwai district, entering homes and gunning down nine children, four men and three women before dawn on March 11 in the villages of Balandi and Alkozai. Villagers said the earlier bombing occurred in Mokhoyan, a village about 500 yards (meters) east of the base.
A lawyer for Bales in the United States also suggested that Bales was motivated by a bombing in the area.
However, a spokesman for the U.S. military in Afghanistan declined to give any information on the bombing or even confirm that it occurred, citing the ongoing investigation into the shootings. He also declined to comment on the suggestions that U.S. troops had threatened villagers with retaliation.
"The shooting incident as well as any possibilities that led up to it or might be associated with it will be investigated," Lt. Col. Jimmie Cummings, the spokesman, said Tuesday.
One Mokhoyan resident, Ahmad Shah Khan, told The Associated Press that after the bombing, U.S. soldiers and their Afghan army counterparts arrived in his village and made many of the male villagers stand against a wall.
"It looked like they were going to shoot us, and I was very afraid," Khan said. "Then a NATO soldier said through his translator that even our children will pay for this. Now they have done it and taken their revenge."
Neighbors of Khan gave similar accounts to the AP, and several Afghan officials, including Kandahar lawmaker Abdul Rahim Ayubi, said people in the two villages that were attacked told them the same story.
Mohammad Sarwar Usmani, one of several lawmakers who went to the area, said the Afghan National Army had confirmed to him that an explosion occurred near Mokhoyan on March 8.
On March 13, Afghan soldier Abdul Salam showed an AP reporter the site of a blast that made a large crater in the road in Panjwai district of Kandahar province, where the shootings occurred. The soldier said the explosion occurred March 8. Salam said he helped gather men in the village, and that troops spoke to them, but he was not close enough to hear what they said.
Ghulam Rasool, a tribal elder from Panjwai district of Kandahar province, where the shootings occurred, gave an account of the bombing at a March 16 meeting in Kabul with President Hamid Karzai.
"After the incident, they took the wreckage of their destroyed tank and their wounded people from the area," Rasool said. "After that, they came back to the village nearby the explosion site.
"The soldiers called all the people to come out of their houses and from the mosque," he said.
"The Americans told the villagers, `A bomb exploded on our vehicle. … We will get revenge for this incident by killing at least 20 of your people,' " Rasool said. "These are the reasons why we say they took their revenge by killing women and children in the villages."
Bales' lawyer, John Henry Browne, has said that his client was upset because a buddy had lost a leg in an explosion on March 9. It's unclear if the bombing cited by Browne was the same as the one described by the villagers. After a meeting at a military prison in Fort Leavenworth, Kan., Browne said Bales told him a roadside bomb blew off the leg of one of his friends two days before the shootings occurred.
Karzai's investigative team is not convinced that one soldier could have single-handedly left his base, walked to the two villages, and carried out the killings and set fire to some of the victims' bodies. The U.S. military has said that even though its investigation is continuing, everything currently points to one shooter.
Villagers in Mokhoyan, meanwhile, are convinced that the shootings were a case of revenge.
Naek Mohammad, who lives in Mokhoyan, told the AP that he heard an explosion March 8 and went outside. As he and a neighbor talked about what happened, he said, two Afghan soldiers ordered them to join other men from the village who had been told to stand against a wall.
"One of the villagers asked what was happening," he said. "The Afghan army soldier told him, `Shut up and stand there.' "
Mohammad said a U.S. soldier, speaking through a translator, then said: "I know you are all involved and you support the insurgents. So now, you will pay for it — you and your children will pay for this.' "
None of the villagers [would] could identify the soldier who they said issued the threat.

www.military.com/news/article/villagers-afghan-slayings-were-act-of-retaliation.html
Robert Bales should be executed