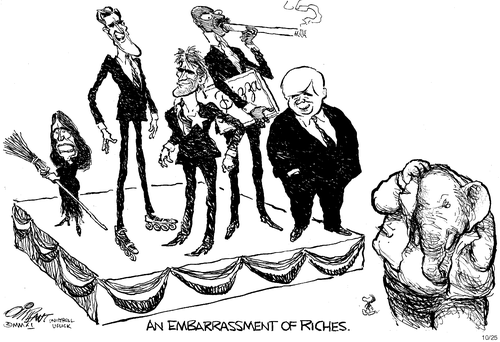 Michele Bachmann says if you turn Herman Cain's "9-9-9″ plan upside down it becomes 6-6-6. "I think the devil is in the details," she said at the GOP debate hosted by Bloomberg and Washington Post.
CLASSIC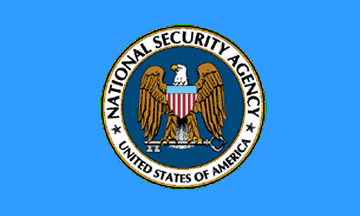 As a member of the Army Security Agency, I worked at the National Security Agency, the real puzzle palace, from April 1973 – Oct. 1974.
Growing up during the Vietnam War, I recall watching Huntley-Brinkley and seeing the weekly American death toll while in grade school. In 1971, I enlisted in the Army and studied (hopped) Vietnamese (Zipanese) from Jan. to Dec. 1972. My orders to 'Nam were canceled in Jan. 1973. Instead of serving in SE Asia, I served at a desk in the National Security Agency where I learned, from experience at age nineteen, the government lied.
During the Carter admintration, Common Sense concluded that there is no national leadership in this country. Ronald Reagan was a form without substance. Publicans invoke his name as though he is minor deity. Poppy Bush won a war and could not get re-elected. Clinton, Dubya, Obama, would you follow them into battle, across the Maas-Waal Canal on September 20, 1944, over the embankment and take the Nijmegen Bridge ?
Leaders know the way to achieve success whether it is on the battlefield, playing field, or to capture market share. George Bush, a history major didn't know that invading Iraq was comparable to the French occupation of Spain during the Napoleonic wars: the Spanish hated the infidel French.
Napoleon's "Spanish Ulcer", as he chose to describe the Spanish response to his occupation, provides a myriad of timeless lessons for strategic and operational planners. The strategic gap that developed between Napoleon's rapid conventional military victory and the immediate requirement to positively influence the population as part of post-hostilities stabilization operations serves to highlight the limits of conventional military power in post-conflict operations and the perils of forgetting "the people" in the initial and ongoing strategic calculus.
www.napoleon.org/en/reading_room/articles/files/smith_iraq_spain.asp
Clinton's presidency benefited from low oil pries and productivity brought about by the introduction of computers into the work place. President Obama can project leadership on the campaign trail with shiny rhetoric but can not present leadership ideas, then execute them, from the Oval Office.
The current clutch of candidates for the Republican presidential nomination are – yawn, uninspiring – don't see a Roosevelt or an Eisenhower among them.
Perry – Dubya redux, thinks entitlement programs are unconstitutional; Paul – an Austrian oddity; Santorum – nothing better to do; Bachmann – get a clue, no accomplishments in Congress; Cain – flavor of the month – happy hands; Huntsman – no traction; Gingrich – consummate DC insider; liar and hypocrite; Romney – plastic fantastic, spineless – Kerry do-over. Sarah Palin still lurks about marketing her brand.
SilverSpring8
3:13 AM EST
The Rethuglican field summarized: 
 
Romney – Desperate flip-flopper with no core beliefs except "I should be President" 
Gingrich – Serial womanizer running a disorganized campaign with little ground operation 
Cain – Serial womanizer running a disorganized campaign with little ground operation 
Perry – Idiot ("… and the third is … I can't. Oops.") 
Bachmann – Crazy (says HPV vaccine causes mental retardation) 
Paul – Batsh– crazy (wants to eliminate the Fed and Medicare) 
Santorum – "Family values" homophobe polling at 3 percent 
Huntsman – Too sane to appeal to GOP voters, polling at 3 percent 
www.washingtonpost.com/politics/newt-gingrich-and-how-he-got-rich/2011/11/21/gIQAftOglN_allComments.html?ctab=all_comments
Face the facts – wise up, wake up – there's no leadership in this country because there is no politician who will risk the wrath of senior voters by telling them the truth.
Yet the ultimate cause of the economic malaise is not a political failure but a political choice. Since the New Deal — and especially since the Great Society — America has chosen an accelerating transfer of wealth from young to old. Some of this was necessary and desirable. Many seniors face a period of economic struggle toward the end of life, which entitlements have effectively, compassionately eased.

www.washingtonpost.com/opinions/the-mark-of-a-tired-nation/2011/08/10/gIQAd3Wc9I_story.html
The choice is clear: individual hardship or collective catastrophe…
Until the Congress confronts reality – chisel, chop, and slashes unsustainable entitlement payments along with wasteful military expenditures, there will never be any meaningful reduction in federal spending.
I'm 76 years old, and I've been drawing benefits continuously, commencing in 2000. In those 11 years (through 2010) I have received 176 percent more than I have paid in payroll taxes for Social Security since about 1950. (Most of this information is available from the Social Security Administration.) In fact, I have received 38 percent more than the total of my payments plus employer contributions to my account. (It could be argued that an investment rate of return should be applied to payroll tax payments, but that raises the argument that an investment rate of return should also apply to benefit payments.)
Now, virtually every dollar in benefit payments to me is a dollar more than I have paid in payroll taxes. Am I entitled to this money? I believe that my experience is typical, if not average.
Multiplied by all Social Security beneficiaries lies a number that contributes significantly to the fiscal crisis. Payments to me…are not fully covered by the immensely increasing tax burden on our working children and grandchildren.
Social Security is great: I'm for it. But retirees have a responsibility to lend a greater wisdom to the debate about national debt than seems evident to me.
WILLIAM E. NORRIS
Columbus
www.dispatch.com/content/stories/editorials/2011/08/14/contributions-dont-keep-up-with-benefits.html