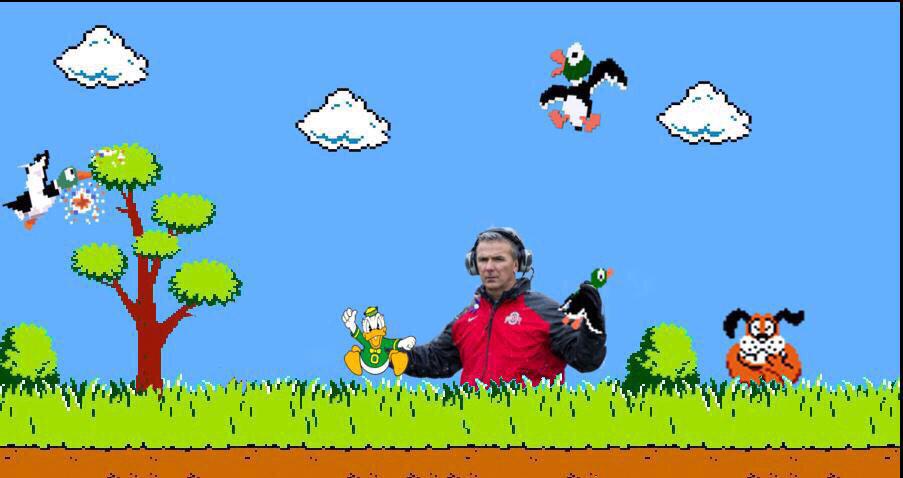 Tim May commentary: 'Next man up' became clear theme of Buckeyes' title run
The Columbus Dispatch • SUNDAY JANUARY 18, 2015 5:12 AM
Just when I thought I had seen it all, along came this phenomenal 2014 Ohio State football season, the greatest I have ever witnessed.
In 30 years of covering the Buckeyes, I had seen the unexpected, undefeated national championship run in 2002; a cycling of the bully status in The Game from decidedly Michigan back to now decidedly Ohio State; misses at other national titles; and various scandals, including the tattoos-for-memorabilia matter that brought the first bowl ban in team history way back in 2012.
I wrote way back because it seems so long ago after this third season under coach Urban Meyer. Just like that loss to Virginia Tech way back on Sept. 6 — as it turned out, this season wasn't about what just happened but about what was going to happen. Or as our staff-produced book on the season proclaims, it was all about Next Man Up. Such as:
• On Aug. 18, quarterback Braxton Miller — the two-time Big Ten MVP — suffered a season-ending shoulder injury. Up stepped redshirt freshman J.T. Barrett. By the end of the regular season, Barrett had accumulated several OSU records and had acquired enough recognition to finish fifth in the Heisman race. But it would not be his season to finish.
• The offensive line, with four new starters, was beaten soundly by Virginia Tech. The next week, those same five easily handled Kent State. It was a revival that resonated throughout a 13-victory run to the championship, the piece de resistance the carving of Alabama's front seven.
• In preseason camp, sophomore running back Ezekiel Elliott, heir apparent to power back Carlos Hyde, suffered a broken bone in his left wrist. With what amounted to one arm tied behind his back, Elliott cozied up more and more to the fast-maturing offensive line, so much so that by the end of the postseason, he was the toast of college football.
• Sophomore Michael Thomas emerged as a playmaking receiver a year after taking a redshirt season in his second year to get his act together. By season's end, what school had a more potent receiver foursome in the nation than Ohio State with Thomas, with his aggressive moves to the ball, selfless senior Evan Spencer, with his devastating blocks, Jalin Marshall, the hybrid back who delivered plenty of big catches down the stretch and senior deep threat Devin Smith, who never met a defense he couldn't embarrass?
• Senior tight end Jeff Heuerman dealt with injuries most of the season that hampered his effectiveness. Up stepped junior Nick Vannett, who had two drive-sustaining catches against Alabama and scored the go-ahead touchdown on a catch against Oregon.
• Many knew of the potential of the defensive line, with Joey Bosa, Michael Bennett and Adolphus Washington, which awaited suspended all-Big Ten performer Noah Spence for the third game to become whole. But Spence's suspension evolved into a nullification after another failed drug test, which made senior Steve Miller the fourth. How appropriate to see Miller have the play of plays for a defensive lineman, a touchdown off an interception against Alabama.
• No player that fans had seen in 2013 seemed capable of filling the void left by linebacker Ryan Shazier. That's because they hadn't seen Darron Lee, who redshirted. Starting with a fumble returned for a touchdown against Navy, fans watched Lee rise until by season's end, he wasn't just a replacement, he was a brute.
• Vonn Bell and Tyvis Powell became a stable safety duo under new co-defensive coordinator Chris Ash. But it was Eli Apple ripening as the new starting cornerback across from senior Doran Grant that completed the secondary. Fitting, then, that on the last play of the season, Apple picked off Heisman winner Marcus Mariota.
• When Barrett suffered a broken right ankle in the fourth quarter against Michigan, the hush that fell over Ohio Stadium was deafening. That's because you could hear the fans thinking, "Cardale Jones?" But when the strong-armed Jones rose to become the MVP of Ohio State's emphatic 59-0 victory over Wisconsin in the Big Ten championship game the next week, the stage was set to deliver the most impressive of the Buckeyes' six national championships.
Underdogs in their last three games, the Buckeyes beat the top three finishers in the Heisman race, including No. 2, running back Melvin Gordon of Wisconsin, and No. 3, receiver Amari Cooper of Alabama. They beat Alabama, the No. 1 seed of the first College Football Playoff, and Oregon, the No. 2 seed.
They rallied to run the toughest gauntlet in college football history. I rest my case.
Tim May covers Ohio State football for The Dispatch.
http://buckeyextra.dispatch.com/content/stories/2015/01/18/Ohio-State-football-tim-may.html
Buckeye Bash: Ohio State claims title in playoff's debut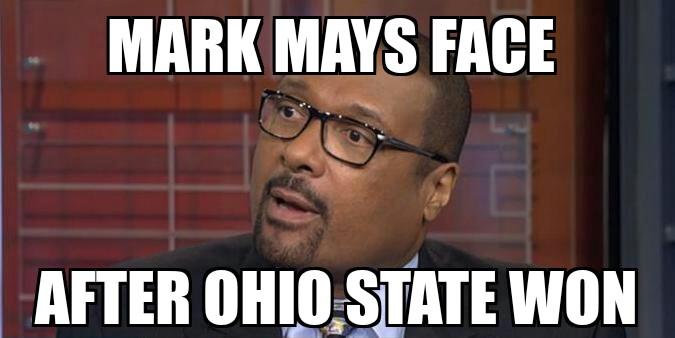 1. Ohio State (64) 14-1
2. Oregon 13-2 W
3. TCU 12-1
4. Alabama 12-2 W
5. Michigan State 11-2 W
6. Florida State 13-1
7. Georgia Tech 11-3
8. Baylor 11-2
9. Georgia 10-3
10. UCLA 10-3
11. Missouri 11-3
12. Mississippi State 10-3
13. Wisconsin 11-3 W
14. Arizona State 10-3
15. Clemson 10-3
16. Boise State 12-2
17. Arizona 10-4
18. Kansas State 9-4
19. Ole Miss 9-4
20. Utah 9-4
21. USC 9-4
22. Marshall 13-1
23. Auburn 8-5
24. Louisville 9-4
25. Memphis 10-3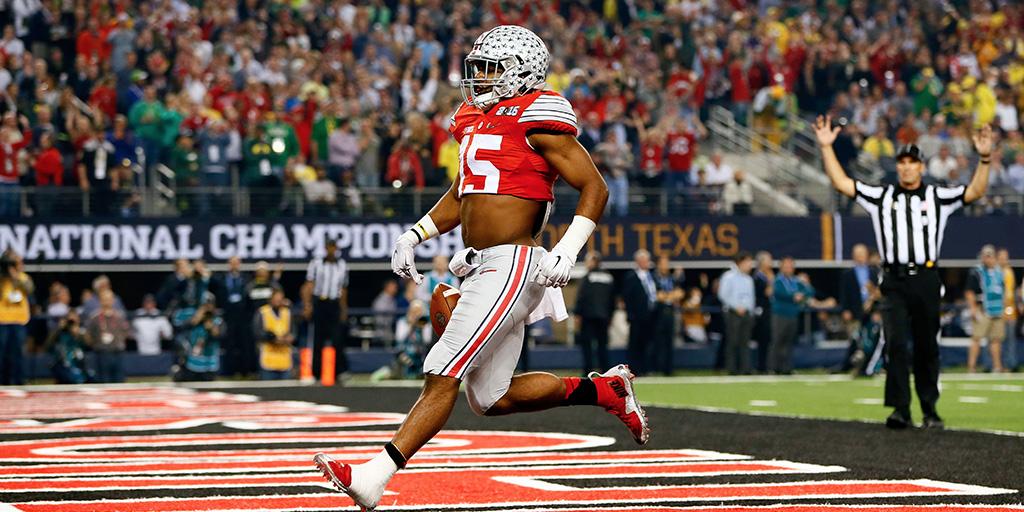 Ohio State crushed ORE: 4 TOs…Cardale Jones is undefeated. That's Right Football Nation, Ohio State, the First True National Champion, and it's just beginning: third string qb.
BruceFeldmanCFB Bruce Feldman #OhioState's QB (Jones); leading rusher (Elliott) & WR (Marshall) & top 4 tacklers tonight (Powell, Lee, Apple & Bell) are all FR or sophs.
ESPNCFB ESPN CollegeFootballHalf: OSU leads Oregon 21-10. Buckeyes = 90-1 when leading by at least 14 pts last 10 seasons (led 21-7) #UOvsOSU http://t.co/F4SsgKt7v3
ChantelJennings Oregon is punting? Oregon is punting. White flag? Psh. Just as well.
ESPNRittenberg Adam Rittenberg That Ohio State could win comfortably being minus-4 in turnovers is stunning. Just a dominating performance by the Bucks. #UOvsOSU
tOSU: Second best winning percentage since World War II,
http://michigan-football.com/ncaa/ncaa_1a.htm
and first team with 14 wins twice, and first team to defeat three Heisman finalists in successive games. Can never be duplicated.
No Excuses
http://espn.go.com/college-football/bowls14/story/_/id/12145868/oregon-ducks-focus-moving-forward-wake-darren-carrington-suspension
http://espn.go.com/video/clip?id=espn:12110459
2015 Sugar Bowl: Ohio State beats Alabama, 42-35, to advance to title game
By winning a Sugar Bowl that doubled as a national semifinal in the sport's first four-team playoff, Ohio State overcame the hardened, years-old notion that it couldn't keep up with the Southeastern Conference at big-stage football. It did so in a streaky and undefinable game full of big plays and big hits that occasionally dislodged helmets — a "sledgehammer game," as Buckeyes Coach Urban Meyer called in the moments after the final whistle. And it stormed almost poetically from near-hopelessness on behalf of the Big Ten, its sneered-at conference that went 6-11 this season against teams from the other "Power Five" conferences.
www.washingtonpost.com/sports/colleges/2015-sugar-bowl-ohio-state-beats-alabama-42-35-to-advance-to-title-game/2015/01/02/441608b8-91fe-11e4-ba53-a477d66580ed_story.html
Cardale Jones, in 2nd career start, leads Ohio State in upset of Alabama
Ezekiel Elliott's 85-yard TD run is the longest rushing play Alabama has allowed under Nick Saban.
Ezekiel Elliott's 230 rushing yards are the most in Sugar Bowl history.
Urban Meyer has now won more than 84 percent of his games as a head coach, the fourth-best mark in FBS history and best by any coach in the last 60 years.
Cardale Jones is the 1st Ohio State QB to win a bowl game without having started that season's opener since Troy Smith in the 2006 Fiesta Bowl against Notre Dame (2005 season).
Alabama: 31-3 vs non-SEC opponents since 2008 (all 3 losses came in Sugar Bowl)
Ohio State trailed by 15 points. The win over Alabama is the largest comeback victory for the Buckeyes since October 28, 1989 (came back from 31-0 down to beat Minnesota 41-37).
The SEC West was 28-0 against non-conference opponents in the regular season. However, the division finished 2-5 in bowl games, including losing all 4 matchups against ranked opponents.
Alabama converted a first down on a season-low 15% of its third downs Thursday. The Crimson Tide entered the game converting 54% of their third downs, second-best in the FBS behind Georgia Tech (58%).
http://scores.espn.go.com/ncf/recap?gameId=400610178
ACHTUNG! – very vulgar
The Buckeyes were determined to mix it up and weren't reluctant to run against Alabama's defense (No. 1 in the nation with an 88.7-yard average). The Buckeyes, led by Elliott and Jones, had 281 yards rushing. On defense, a zone-blitz call to drop Miller, a defensive end, into coverage in front of Amari Cooper led to a touchdown. A double-reverse pass that receiver Spencer threw to Thomas for 13 yards and a TD cut the Alabama lead to 21-20 just before halftime.
http://buckeyextra.dispatch.com/content/stories/2015/01/01/sugar-bowl/ohio-state-sideline.html
Ohio State football: Not all was sweet during Sugar Bowl win
By Ray Stein & Tim May The Columbus Dispatch • SATURDAY JANUARY 3, 2015 5:41 AM
NEW ORLEANS — Ohio State gained one of its greatest wins on Thursday, beating Alabama 42-35 in the Sugar Bowl to advance to the first College Football Playoff championship game against Oregon. The Buckeyes did it with some big plays, especially from running back Ezekiel Elliott and defensive end Steve Miller.
In a game like that, with so much on the line and two traditional powers going head to head, there were almost too many memorable plays to count.
But for Ohio State fans, there also were a few curious moments that left them scratching their heads, perhaps even wondering out loud, "What are they doing?" as the Buckeyes put themselves in several predicaments.
Most glaring, Ohio State threw the ball on first down after Evan Spencer had leaped to secure an attempted onside kick by Alabama with 1:55 to play. Knowing the Tide had two timeouts left, the Buckeyes probably needed just one first down to run out the clock.
But with Alabama crowding the line on first down, the coaches opted to let Cardale Jones take a shot downfield to Spencer, but the pass fell incomplete to stop the clock.
Three plays and two Alabama timeouts later, the Buckeyes punted to give the Crimson Tide the ball with 1:33 to go. On the final play, Blake Sims threw to the end zone, where safety Tyvis Powell intercepted and finally clinched the win.
There were other curious moments. For example:
Freshman hybrid back Noah Brown ran a jet sweep wide on third-and-1 from the Ohio State 43-yard line midway through the third quarter. The Buckeyes were leading 27-21 and in the process of putting together a stout drive that began at their 5. Suddenly, it was stunted with Brown being tackled for a 4-yard loss.
The Buckeyes had started from the 5 because they had not sent anyone deep to field the previous punt from Alabama's JK Scott, whose attempt landed at about the Ohio State 22 and bounded to the 5, where it was downed. Scott averaged 55 yards a punt in the game.
On another punt, early in the second quarter, Ohio State returner Jalin Marshall made a fair catch at the Buckeyes 5. That was not exactly textbook. Later, he made another fair catch at the 9.
From Ohio State's 22, Jones tried to complete a wide screen pass to Michael Thomas, who had lined up left with two other receivers. But Jones didn't see Alabama' Cyrus Jones jumping the play. Cyrus Jones had a beeline on a defensive touchdown, if only he had caught the ball.
Those are a few of the things the Buckeyes got away with on a night that otherwise went their way.
http://buckeyextra.dispatch.com/content/stories/2015/01/03/0103-osu-football-sugar-bowl-oddities.html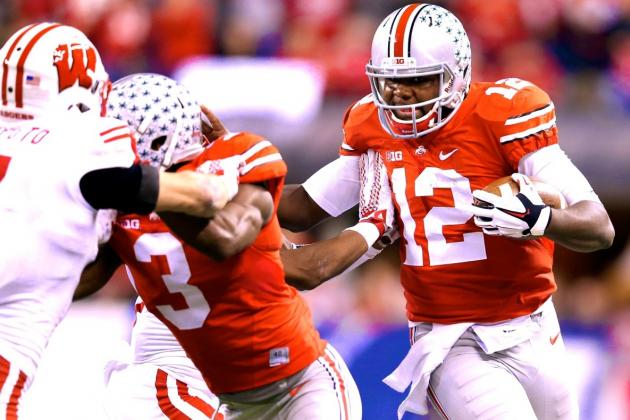 "Fifty-nine to nothing against one of the top teams in America," Ohio State head coach Urban Meyer said. "This team is playing at an extremely high level right now. This is one of the best teams in the country."
On paper, at least, Ohio State's overall body of work seems to be better than Baylor's or TCU's. The Buckeyes beat seven teams that currently have winning records (6-5 Navy still has to play Army next week); TCU defeated four such teams and Baylor beat three.
You want to talk about schedule strength? The Buckeyes didn't play an FCS foe (Baylor played Northwestern State and TCU played Samford). Plus, Ohio State had to play an extra game against Wisconsin on Saturday night. The 12 FBS teams the Buckeyes defeated averaged 6.67 victories. The 10 FBS teams that Baylor and TCU beat averaged 5.5 wins and 5.4, respectively.
http://espn.go.com/college-football/story/_/page/gamedayfinal120614/ohio-state-buckeyes-baylor-bears-tcu-horned-frogs-vie-fourth-place-college-football-playoff
Research Notes
Ohio State's 59-0 win over Wisconsin is not only the largest shutout win in a Power 5 Conference Championship Game… It's the ONLY shutout ever in a Power 5 Conference Championship Game (ACC, Big 12, Big Ten, Pac-12, SEC).
Ohio State's 59-0 win over Wisconsin is Urban Meyer's largest shutout win over a Power 5 school and his 2nd-largest over and FBS school (Ohio State beat Kent State, 66-0 earlier this season)
Ohio State defeated Wisconsin 59-0 in the Big Ten Championship Game. It's the 2nd-largest win in a Conference Championship Game in a Power 5 conference. The only team to win by a larger margin — Texas in 2005 — went on to win the national championship that season.
Ohio State gained 271 of its 301 rushing yards on zone-read runs, its second-most in a game this season. Ezekiel Elliott led the way, gaining 207 of his career-high 220 yards on zone-read rushes. Wisconsin came in allowing a Big Ten-low 3.4 yards per rush on zone-read runs. –Wisconsin allowed 301 rushing yards to Ohio State on Saturday, the fourth-most the Badgers have allowed in a game in the last 10 seasons.
Ezekiel Elliott's 220 rush yards are the most in the history of the Big Ten Championship Game.
The Buckeyes' 59-0 win over Wisconsin was the first shutout win in a Power 5 Conference Championship Game and tied for the second-largest shutout of an AP Top-15 team.
Melvin Gordon rushed for 76 yards Saturday, 112 yards fewer than his season average. It was his second fewest rushing yards in a game this season, and the first time he did not have a run of at least 20 yards.
Cardale Jones completed four passes thrown 15 or more yards downfield Saturday, including three touchdowns. Jones' three touchdowns were more than J.T. Barrett had on such throws in any game this season.
Ezekiel Elliot (OSU): 81-yd Rush TD, longest run of his career.
Ohio State has won 10 straight games since falling to Virginia Tech on September 6, the second-longest active win streak in the FBS behind Florida State (28 straight). Since 2000, the Buckeyes have had six different win streaks of 10 games or more, tied with Boise State for the most such streaks in the FBS over that span
Melvin Gordon has 31 rushes of 20 yards or longer, more than 118 of 124 FBS teams (excluding Wisconsin).
Ohio State's 59-0 shellacking of Wisconsin is tied for the 4th-largest shutout EVER against a ranked team and by far the largest for Ohio State. This is the first time the Buckeyes have shut out an AP-ranked opponent since 1975.
Melvin Gordon had 10 rushes on which he gained zero or negative yards, his most in any game in the last 2 seasons.
Last year when Ohio State faced Wisconsin, it shut down the Badgers' running game. Wisconsin had 104 rushing yards, the fewest it has had in any game in the last two seasons. Melvin Gordonwas held to 74 yards without a single run over 20 yards.
J.T. Barrett will be tough to replace. He has been responsible for a Big Ten-record 45 touchdowns this season. The previous record was 42 set by Drew Brees in 1998.
Ohio State and Wisconsin play in the Big Ten Championship game this weekend, with Wisconsin listed as a 4-point favorite. Ohio State is the #6 team in the AP Poll, while Wisconsin is #11. No team in the top 10 of the AP Poll has EVER been listed as an underdog to a team OUTSIDE the top 10 in a Conference Championship game (Conference Championship games date back to 1992) 33 different championship games have been played by an AP top 10 team against an opponent outside the top 10…and all teams ranked higher have been listed as the favorite.
Wisconsin's 38-point deficit is their worst point margin in ANY half over the last 10 seasons. It's actually two touchdowns worse than the next-largest margin (outscored 24-0 by Penn State in the 2nd half of their 2008 contest).
In each of the first three Big Ten Championship games, the results have been unpredictable. The teams with less than a 50% predicted chance to win, according to FPI, have won two of the three games with the only loss coming on a late Wisconsin touchdown against Michigan State in 2011. This season, FPI projects that Wisconsin has a 41% chance to win, which is similar to the Badgers' projected win percentage in 2012, when they ran for 539 yards and scored 70 points against Nebraska.
Entering the weekend, FPI projected that there was an 85% chance that one of the top six teams in the CFP rankings – Alabama, Oregon, TCU, Florida State, Ohio State and Baylor – would lose. Not only did all six teams win, but they did so in an impressive fashion. The average scoring margin in those games was 31.8 points, and every team except Florida State had an average in-game win probability above 80%.
Cardale Jones has already thrown for more yards and TDs than Braxton Miller did in last year's Big Ten Championship game.
http://scores.espn.go.com/ncf/recap?gameId=400609096