Panetta: U.S., NATO will seek to end Afghan combat mission next year
www.washingtonpost.com/2010/07/28/gIQAriZJiQ_story.html
Afghanistan's first female mayor proves critics wrong
Azra Jafari has won respect in her community as she fights to improve lives and change attitudes towards women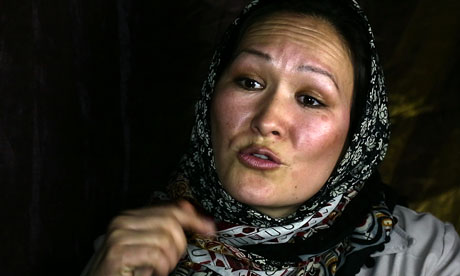 After facing suspicion from local men, Azra Jafari is now referred to as 'Mr Mayor' – a title that conveys respect in Afghanistan.
Photograph: Ellie Kealey
Golnar Motevalli in Kabul
The Guardian, Sunday 24 February 2013 13.36 EST
After facing suspicion from local men, Azra Jafari is now referred to as 'Mr Mayor' – a title that conveys respect in Afghanistan. Photograph: guardian.co.uk
When Azra Jafari became mayor of Nili, she knew that the impoverished and remote Afghan town desperately needed roads and investment. She was aware she would be living in very basic conditions, on a meagre salary of $76 (£50) a month, and that taking care of a four-year-old daughter at the same time would be challenging.
What she was less prepared for was the appearance of a powerful mullah in her unheated, makeshift office, wagging his finger at her, warning that Nili was not about to accept a female mayor who thought she could "exploit her femininity in order to complete a few projects and influence our women".
"After three months, the same man came up to me and thanked me," Jafari recalled, four years later. "He said, 'If a man could do just half of what you've done here, our province will surely flourish.' He now supports me and we work very well together – I have a great deal of respect for him."
She is now referred to as "Mr Mayor" by her community, a title that conveys respect in a country not known for women's rights.
Until 2009, Nili – a small town of about 40,000 people at the centre of Daykundi province – had never seen a female official, said Jafari. She had to prove to the community that she was serious about improving their lives.
Jafari was shocked by the complete lack of infrastructure in the town. "Anything that needed to be built in Nili, had to be built from scratch," she said. "And I had no budget" – something she had to address by making regular trips to Kabul to implore ministry officials to release funds. "When I arrived, my office had been damaged by snowfall. It was a small room, with a few pillows. There was no table, no chairs. Just a couple of people there to help me," Jafari said.
"Wherever it was necessary I picked up a shovel, kicked dirt, and gathered coal with my hands. Nili is not the sort of town where you can easily drive a car. I often had to walk from place to place through deep snow, getting my feet soaking wet."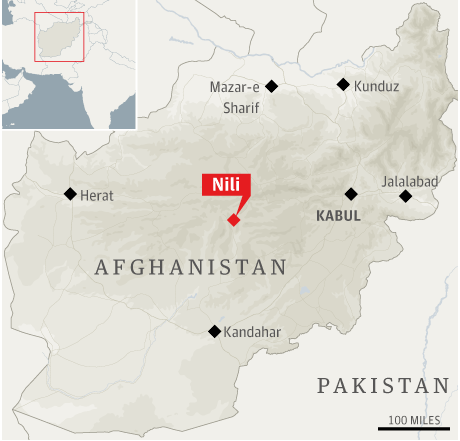 Location of Nili in Afghanistan.
The 34-year-old cannot be further from the image of the downtrodden victim that has become a misleading shorthand for Afghan womanhood. Nor is she connected to a powerful or wealthy family, and she fiercely rejects the suggestion that her promotion was an exercise in tokenism by a government under pressure from its western financiers to show it is bettering women's rights.
"If our friends in the international community really made me mayor because I am a woman then they would have paid for the roads I built. Unfortunately they have contributed very little to the changes in Daykundi," she said.
Jafari also does not hold back on the subject of how severely women in office in Afghanistan are judged, likening it to having one's decisions and behaviour placed under a magnifying glass.
"There are plenty of men here with no ambition to work, who are bad at their jobs and over whom a lot of money has been wasted. Because they are men, no one really questions them and asks 'as a man, how successful have you managed to be?' But as the only female mayor among 180 others, the first question I'm always asked, wherever I am, is 'show us what you've done for your people.'"
Jafari, who is married to an Afghan film-maker, is currently the subject of a documentary series called Kabul: A City at Work, a sequel to Kabul at Work, which seeks to show ordinary working Afghans doing extraordinary things at a time of war.
"Mr Mayor" grew up in Ghor province, which borders Daykundi to the west. Like Daykundi, Ghor's population is poor and mainly Shia Hazara. Jafari says that her familiarity with the people and their needs is what partly drew her to the job in Nili.
Daykundi has virtually no western troops. It was carved out of inhospitable mountainous terrain in the centre of Afghanistan in 2004, hugged by the much more restive provinces of Ghazni, Uruzgan and Helmand.
It takes Jafari and her daughter, Indira, two days to drive to Nili from Kabul. It is a perilous journey on poorly paved roads. It becomes a death trap during winter's heavy snowfall.
Two days after this interview, Jafari telephoned from Nili to explain that the small coach in which she had been travelling along with her daughter and 13 other passengers, had overturned and almost careered 1,600ft towards a riverbed below.
"The windows were shattered. Thank God we were OK," she said, adding that she had suffered a sprained neck and her daughter had cut her finger on some glass. "But she couldn't stop shaking for half an hour afterwards."
Bad weather and heart-stopping bus journeys are one risk. The other is the war being waged between Afghan and foreign forces and insurgents.
Jafari's commute often takes her through the insurgent-filled province of Maidan Wardak. "Last year we were caught in a gunfight between Afghan forces and insurgents for three hours. We couldn't move."
And violence is slowly encroaching on Nili itself. Daykundi has long been known as one of the least dangerous and most isolated provinces in Afghanistan. But the Taliban are making increasingly bold moves on Nili, advancing from a district called Gizab, on the border with Uruzgan and technically under that province's jurisdiction.
For many years, it was the very lack of an insurgency that starved Daykundi of adequate attention from foreign donors. Now, Jafari says, that argument is running on borrowed time.
Between 2001 and 2011 the US government's development agency, USAid, spent $37m (£24.4m) on projects in Daykundi province, which has a population of just over 400,000 but no Nato-backed provincial reconstruction team (PRT). By contrast, the more dangerous Uruzgan province, which borders Daykundi to its south and is home to 100,000 fewer civilians, received almost twice as much aid over the same period and hosts a PRT.
Like thousands of Afghans, Jafari fled the civil war in the early 1990s, taking refuge in Iran, where she ran a school for Afghan refugee children. She moved back to Afghanistan in September 2001 to take part in a peace jirga (a tribal assembly of elders) as the fall of the Taliban became imminent. She has also published two books, one entitled I am a Working Woman, which she wrote for women with low levels of literacy.
When we met, Jafari was dressed in a fitted beige knee-length tunic, buttoned down the front and worn over trousers. Her hair was neatly covered with a black shawl splashed with bright colours and loosely wrapped around her neck. It is a typical Kabul look, but perhaps seen as less acceptable in a much more conservative and rural place such as Nili.
"I like to dress formally," she explained. "This means clothes tend to be more fitted and a bit tighter, but this is the way formal, professional people dress. Not traditional loose, wide clothing, and people need to accept this."
She has never changed what she wears, even in the face of criticism and gossip, as she sees it as part of her job to encourage people to understand that the way someone dresses has no bearing on who they are or their ability to get a job done properly.
"What I've really learned is that it makes no difference whether you are a man or a woman, what matters is that you do your work properly and you work hard and how seriously you take your responsibilities," she said.
As Afghanistan's first and only female mayor, Jafari is determined to make her mark not just on infrastructure but on attitudes towards women. She feels strongly that since being in Nili, she has influenced the way younger women think, and for the better. She says one day she may angle for the top job in government, but she would like to become a member of parliament before aiming for the presidential palace. "I'm like a template for women," she said.
The morning after the interview, Jafari set off, with Indira in tow, on their long and dangerous journey to Nili.
Additional reporting by Ellie Kealey

www.guardian.co.uk/world/2013/feb/24/afghanistan-first-female-mayor
Sorry, General Petraeus – Iraq and Afghanistan are only too similar
If Obama's Iraq handover strategy is anything to go by, any optimism about Afghanistan is deeply misguided

www.guardian.co.uk/commentisfree/cifamerica/2010/sep/01/petraeus-iraq-afghanistan-handover-strategy?INTCMP=SRCH
In winding down war, a fundamentally different challenge in Afghanistan than in Iraq
The narrative that the Obama administration has laid out for winding down the war in Afghanistan has a familiar feel: It is intended to evoke the gradual withdrawal from Iraq.
But the administration faces a fundamentally different challenge in Afghanistan and a host of problems that it did not have in the latter days of the Iraq war.
In Afghanistan, heavy fighting is likely to persist well into 2014, particularly in the provinces along Pakistan's border, senior military officials said. In contrast with Iraq, the Afghan government and security forces will require billions of dollars annually in U.S. support for the foreseeable future. It seems unlikely that the insurgents' haven in Pakistan will shrink.
"In Afghanistan, you will be fighting a much tougher war over the next few years compared with Iraq post-2008," said retired Lt. Gen. David Barno, who previously served as the top U.S. commander in Kabul.

www.washingtonpost.com/world/national-security/in-winding-down-war-us-faces-different-challenge-in-afghanistan-than-iraq/2012/02/02/gIQA3l1dlQ_story.html
In Afghan War, Officer Becomes a Whistle-Blower
[Lt. Col. Davis] spoke with about 250 soldiers, from 19-year-old privates to division commanders, as well as Afghan security officials and civilians, he said. From the Americans, he heard contempt for the perceived cowardice and double-dealing of their Afghan counterparts. From Afghans, he learned of unofficial nonaggression pacts between Afghanistan's security forces and Taliban fighters.

www.nytimes.com/2012/02/06/world/asia/army-colonel-challenges-pentagons-afghanistan-claims.html
Afghanistan is not a country like America or Canada but a tribal region. Cousins form clans which can become tribes and tribes evolve into nations. The Franks (Visigoths, Sueveii) became French. Angles (Saxons, Cornovii) became the English. Afghanistan is comparable to Somalia. The idea that Western money and military power could build a nation with a central government ruling from Kabul is another example of thinking that is out of touch with reality involving American lives. An ideological fantasty proven to be barren of results.
Democracy in Afghanistan is like a power plant in Wisconsin; it works better here rather than there. Afghanistan's economy is based upon agricultural and amounts to around $14 billion GDP. There is not a sufficient tax base to support an effective army. States exist to project coercive power and without a robust military force, Kabul will compete with local Taliban leaders to enforce laws and take taxes.
Instead of building a large national army to support the Kabul government, resources should be allocated to create local defense forces that can resist the Taliban in villages and districts. The Taliban will be unable to collect taxes and the distant central government will have a presence in the countryside by providing logistical support and training for the home guard. Further, instead of levying taxes from the meager income of farmers, the Kabul government should levy tolls on newly built roads that provide access to markets and a measure of rising prosperity.
"The US has failed [sic] in Afghanistan and the Taliban will become stronger. But it is unlikely they can win a total victory. The non-Pashtun communities, a majority of the population, will resist them. Reconciliation will be very difficult in a country as deeply divided as Afghanistan. The war may soon be over for the Americans, but not for the Afghans."

www.independent.co.uk/opinion/commentators/patrick-cockburn-the-death-of-the-american-dream-in-afghanistan-6422973.html
Pashtuns make up 40 percent of the country's population.
Pashtuns are further divided into sub-tribes and clans as this graphic depicts below.
One of the most successful Afghan commanders who opposed the Soviets was Ahmad Shah Massood, the "Lion of the Pajshir", who assassinated by al-Queda two days bfore 9/11. Massood was Tajik. There are also Baluchi, Wakhi, Uzbek, Turkmen, and many others. These ethnic divisions are not conducive to the unity required to establish a nation and a central government
Record Number of Afghan Civilians Died in 2011, Mostly in Insurgent Attacks, U.N. Says
Of the documented deaths, 77 percent were caused by the Taliban and other insurgent groups, an increase from 2010 despite repeated pledges by the Taliban to try to avoid killing civilians. By contrast, the number of civilians killed by pro-government forces, including NATO troops, the Afghan Army and government-backed militias, fell to 410, or 14 percent of the total killed. In 9 percent of cases, the party responsible was not clear.

www.nytimes.com/2012/02/04/world/asia/afghanistan-civilian-deaths-hit-record-un-says.html
As the following articles document, the Taliban expect to regain control of Afghanistan, aided by their Pakistani (Pashtun) allies.
Taliban believe they will take over from US and Nato in Afghanistan – report
Pakistan and Nato reject assertions by Taliban and al-Qaida detainees in document based on interrogations
Julian Borger
guardian.co.uk, Wednesday 1 February 2012 05.58 EST
A secret US military report says the Pakistan, are confident they can win the Afghanistan conflict, and that they are gaining popular support at the expense of the Kabul government.
The report, The State of the Taliban 2012, is the latest of a series drawn up by a US special operations taskforce on the basis of interrogations with 4,000 suspected Taliban and al-Qaida detainees.
Its conclusions, that the Taliban's strength and morale are largely intact despite the Nato military surge, and that significant numbers of Afghan government soldiers are defecting to them, are in stark contrast to Nato's far more bullish official line, that the insurgent movement has been severely damaged and demoralised.
The report, leaked to the BBC and The Times, also portrays the Taliban as being under the thumb of Pakistan's powerful security agency, the Inter-Services Intelligence (ISI), but resenting that control.
According to published excerpts, the report finds that "Taliban commanders, along with rank and file members, increasingly believe their control of Afghanistan is inevitable. Though the Taliban suffered severely in 2011, its strength, motivation, funding and tactical proficiency remains intact."
The authors, American researchers attached to special forces, conclude that the weakness and venality of the government in Kabul is an increasing source of strength for the insurgents. "In the last year, there has been unprecedented interest, even from [Afghan government] members, in joining the insurgent cause. Afghan civilians frequently prefer Taliban governance over [the Afghan government], usually as a result of government corruption, ethnic bias and lack of connection with local religious and tribal leaders.
The BBC quotes the report as saying: "Reflections from detainees indicate that Pakistan's manipulation of Taliban senior leadership continues unabated. The Taliban themselves do not trust Pakistan, yet there is a widespread acceptance of the status quo in lieu of realistic alternatives."
The report also quotes a senior al-Qaida detainee as saying: "Pakistan knows everything. They control everything. I can't [expletive] on a tree in Kunar without them watching." He added: "The Taliban are not Islam. The Taliban are Islamabad."
Pakistan's foreign minister, Hina Rabbani Khar, rejected the report as "old wine in an even older bottle". Speaking during a visit to Kabul, Khar said her country had no hidden agenda and would back a peace process between Kabul and the Taliban as long as it was driven by Afghans and not outsiders. The Nato-led International Security Assistance Force (Isaf) played down the singificance of the report, pointing out it reflected only the views of captured Taliban fighters, who had their own agenda.
"Obviously they are telling us what their idea is about the goings on of their campaign," said Brigadier General Carsten Jacobson, the chief Isaf spokesman. "It is what they either do believe or what they want us to believe."
He said most of the captured fighters think "they are still having a successful role" on the ground but that perception was wrong and Nato was not planning to change its strategy because of it in any way.
"The insurgency is clearly on the back foot. We have been pressurising them over the summer, we have taken vast amounts of land out of their hands and we have detained a high number" of militants, Jacobson said.
The report is the latest of a series aimed at providing an assessment of the insurgency on the basis of detainee interrogations, written by researchers seconded to a US special operations unit called Task Force 3-10, which is charged with hunting down Taliban and al-Qaida commanders. An earlier version of the report was influential in convincing the British government at the time that a peace deal could be done with the Taliban.
Sherard Cowper-Coles, the former UK special envoy for Afghanistan and Pakistan, said of the document at the time: "It paints a picture of the Taliban believing that they are winning in the long war, in the long game, though they suffer tactical reverses.
"It shows that many of them are fed up with fighting; that some of them have suffered very painful losses. And it shows their real objection is to foreigners in their land, whether those foreigners come from Kansas or Karachi or Cairo. They are fighting as nationalists, and it does show that a deal could be done – but it doesn't show that a deal will be done."
The Taliban on Wednesday said they had no plans to hold peace talks with the Afghan government in Saudi Arabia, as President Hamid Karzai has proposed. A Taliban spokesman, Zabiullah Mujahid said that exploratory talks with the US would not lead to negotiations in Qatar as planned until there is "trust-building between the sides, which has not started yet". The Taliban are demanding the release of five of its senior members from Guantánamo Bay.
The Obama administration is considering the demand, but Karzai has blocked any deal on the grounds that it bypassed the sovereignty of his government.
The Associated Press quotes unnamed intelligence officials as saying the US was exploring a solution by which Afghanistan could assume a formal legal custody over the prisoners and then, with the prisoners' own consent, agree to consign them to house arrest in Qatar.

www.guardian.co.uk/world/2012/feb/01/taliban-afghanistan-leaked-report-pakistan
(Reuters) – The Taliban, backed by Pakistan, remains confident despite a decade of NATO efforts that it will retake control of Afghanistan, NATO said in a new classified report that raises more questions about Afghanistan's future as foreign forces withdraw.

www.reuters.com/article/2012/02/01/us-afghanistan-idUSTRE8100E520120201
Pakistan is actively helping the Taliban retake control of Afghanistan, a leaked Nato report has concluded.

www.huffingtonpost.co.uk/2012/02/01/taliban-poised-to-retake-afghanistan_n_1246131.html
Hina Rabbani Khar Foreign Minister of Pakistan
Pakistan denies claims in NATO report of spy service still aiding Taliban
By Richard Leiby, Published: February 1
ISLAMABAD, Pakistan — Pakistan's foreign minister on Wednesday brushed aside claims made by Afghan insurgents in a secret NATO report that Pakistan has been directing the Taliban's battle to regain power in Afghanistan.
"We have no hidden agenda in Afghanistan," Hina Rabbani Khar said in Kabul, where she expressed support for the Afghan government's nascent peace negotiations with the Taliban. "These claims have been made many, many times. Pakistan stands behind any initiative that the Afghan government takes for peace."
Khar's trip to the Afghan capital to meet with her counterpart there was initially overshadowed by headlines about a classified report obtained by British news organizations and said to be based on 27,000 separate interrogations of 4,000 captured insurgents. The detainees asserted that the Taliban is poised to regain control of Afghanistan once Western forces withdraw.
'It's not an analysis'
NATO officials, while confirming the report's authenticity, played down its significance. They said the document is essentially a summary of what the detainees said, not a corroboration of their views.
"It's not an analysis, nor is it meant to be considered an analysis," Lt. Col. Jimmie Cummings, a spokesman for the NATO-led International Security Assistance Force, or ISAF, told the Reuters news service.
The BBC and the Times released excerpts from the report, which restates long-standing U.S. allegations that Pakistan plays a "double game," supporting the Taliban's war across the border even while trying to quell its own Islamist insurgency.
"Pakistan's manipulation of the Taliban senior leadership continues unabatedly," the BBC quoted the report as saying. The document reportedly asserts that Pakistan's spy agency, Inter-Services Intelligence, known as the ISI, monitors the whereabouts of all senior Taliban leaders and also directs attacks against NATO forces.
"Senior Taliban leaders meet regularly with ISI personnel, who advise on strategy and relay any pertinent concerns of the government of Pakistan," the report said. It also alleged that Islamabad is "intimately involved" with the effort to topple the government of Afghan President Hamid Karzai.
Compiled by the U.S. military at Bagram air base, the classified report was given to NATO officers last month, the Times reported.
"For me, this is old wine in an even older bottle," Khar told reporters in Kabul. "I don't think these things are new — these things have been heard for many, many years. More importantly, I think it would be important to look at the conversations that are taking place with the Taliban by many other important capitals of the world, so I think I can just disregard this."
Neither ISI nor Pakistani army officials would comment Wednesday, but a Pakistani Foreign Ministry spokesman, Abdul Basit, called the report "frivolous, to put it mildly."
"We are committed to non-interference in Afghanistan," Basit said in a statement. "Pakistan has suffered enormously because of the long conflict in Afghanistan. A stable and peaceful Afghanistan is in our own interest."
According to the BBC, the report quotes a senior al-Qaeda detainee as saying: "Pakistan knows everything. They control everything. I can't [expletive] on a tree in Konar without them watching."
"The Taliban are not Islam," the detainee reportedly continued. "The Taliban are Islamabad."
The report suggests that the insurgents have gained support among the Afghan people and are biding their time until the announced pullout of coalition forces in 2014.
"Many Afghans are already bracing themselves for an eventual return of the Taliban," the Times quoted the report as saying. "Once ISAF is no longer a factor, Taliban consider their victory inevitable."
Wishful boasting
But in one of its tweets, ISAF portrayed that claim as wishful boasting by enemy combatants. "Keep in mind [insurgents are] often inspired to play up their success, support, and morale," it said.
Echoing Khar's comments in Kabul, a prominent Pakistani legislator, Ayaz Amir, who sits on committees on defense and foreign affairs, said he considered the NATO report nothing more than a "repeat of past claims."
He added, "This blame game must come to an end now, and all the partners in this counter-terrorism campaign should work together, trust each other and fight this menace."

www.washingtonpost.com/world/nato-report-pakistan-spy-service-still-aiding-taliban-in-afghan-war/2012/02/01/gIQACr5XhQ_story.html
Quotes from secret NATO report referenced above.
Pakistan 'knows everything'
"The Taliban leadership designated Kabul City a 'free area', in which any commander can conduct operations without prior co-ordination with local command."
"A senior al-Qaeda commander in Kunar province said: 'Pakistan knows everything. They control everything. I can't [expletive] on a tree in Kunar [province] without them watching. The Taliban are not Islam. The Taliban are Islamabad."
"The Taliban continue to openly raise the majority of their revenue through donations. Collectors travel door to door throughout Pakistan requesting donations, without disguising their Taliban affiliation."
"Once Isaf [International Security Assistance Force] is no longer a factor, the Taliban consider victory inevitable."
"Almost without exception Taliban members do not receive salaries or other financial incentives for their work."
"The effectiveness of Taliban governance allows for increased recruitment rates which, subsequently, bolsters their ability to replace losses."

www.bbc.co.uk/news/world-asia-16829368
BBC: NATO finds Pakistan intelligence agency helps Taliban
…Pakistan's Inter-Services Intelligence (ISI) agency has denied previous allegations that it supports or is linked to the Taliban.
http://content.usatoday.com/communities/ondeadline/post/2012/01/nato-report-says-pakistan-intelligence-agency-helps-taliban/1

Taliban Captives Dispute U.S. View on Afghanistan War
By ROD NORDLAND and ALISSA J. RUBIN
Published: February 1, 2012
KABUL, Afghanistan — More Taliban insurgents are being killed or captured than ever before, yet when the captives are interrogated by the American military, they remain convinced that they are winning the war.
That is because the Taliban believe that their own hearts-and-minds campaign is winning over Afghans — or so they tell their interrogators — and even converting a growing number of Afghan government officials and soldiers.
Those are among some of the findings of aNATO report, "State of the Taliban 2012," based on 27,000 interrogations of 4,000 Taliban and other captives that portrays a Taliban insurgency that is far from vanquished or demoralized even as the United States and its allies enter what they hope will be the final phase of the war. A copy of the document, which was first reported by the BBC and The Times of London, was given to The New York Times by a Western official, on the condition of anonymity because it was classified.
The report coincides with an announcement on Wednesday by Defense Secretary Leon E. Panetta that American forces would step back from a combat role in Afghanistan as early as mid-2013, more than a year before all American troops are scheduled to withdraw.
Yet the classified report provides a sobering counterpoint to the coalition's decidedly more upbeat public assessments of progress in the war and of the Afghanistan that NATO says it will leave behind. It abounds with accounts of cooperation between the insurgents and local government officials or security forces, as well as accounts from Taliban detainees who claim that in areas where coalition soldiers are withdrawing, the Afghan military is cooperating with the insurgents.
"Many Afghans are already bracing themselves for an eventual return of the Taliban," the report says. The Afghan government "continues to declare its willingness to fight, yet many of its personnel have secretly reached out to insurgents, seeking long-term options in the event of a possible Taliban victory," it adds.
The Taliban accounts may be influenced by the duress of interrogation or tinged with bravado. Yet the report's findings roundly challenge many of the assumptions on which American policy in Afghanistan is based: that American military might will force the Taliban to the negotiating table; that the coalition's counterinsurgency strategy will increase support for the Afghan government among Afghans; and that as NATO troops leave, Afghan security forces will be able to take over their responsibilities.
It also portrays a tight yet nuanced relationship between the Taliban and their Pakistani patrons, one not only of sometimes servile dependence, but also of frank enmity, and it says that the Taliban have gradually distanced themselves from Al Qaeda. The Taliban's alliance with Al Qaeda was the reason that coalition forces entered Afghanistan after the attacks of Sept. 11, 2001.
Publication of the report put NATO officials on the defensive, and on Wednesday they issued an unusually detailed rebuttal. A spokesman for the NATO-led coalition played down the findings and emphasized that NATO analysts did not necessarily accept the views of the Taliban detainees as valid.
"This document aggregates the comments of Taliban detainees in a captive environment without considering the validity of or motivation behind their reflections," said Lt. Col. Jimmie E. Cummings of the NATO-led International Security Assistance Force. "Any conclusions drawn from this would be questionable at best."
"It is important not to draw conclusions based on Taliban comments or musings," Colonel Cummings said. "These detainees include some of the most motivated and ruthless of the insurgents, who are inspired to play up their success. It is what they want us to believe they think."
In Washington, the State Department's spokeswoman, Victoria Nuland, said the report reflected a limited assessment of detainees' attitudes and would not alter American efforts to repair the badly strained relationship with Pakistan, particularly after a mistaken border attack on Pakistani troops in November.
"It was not designed for any purpose other than to help those in the field understand what Taliban detainees were saying," Ms. Nuland said. "So it was in no way designed to impact on our ongoing efforts to be back on track with Pakistan."
 A crucial element of the American strategy in Afghanistan is to step up the tempo of raids aimed at capturing or killing insurgents, particularly midlevel commanders; in the past two years the number of detainees has more than doubled. The raids are intended to pressure the insurgents to negotiate a peaceful settlement of the war, and in recent weeks there have been steps toward starting peace talks.
The report, dated Jan. 6, provided little evidence to believe that this strategy or the increase in the number of troops during the Obama administration had helped spur the nascent peace talks. "Taliban commanders, along with rank and file members, increasingly believe their control of Afghanistan is inevitable," the report said. "Though the Taliban suffered severely in 2011, its strength, motivation, funding and tactical proficiency remains intact."
It added of the insurgents: "While they are weary of war, they see little hope for a negotiated peace. Despite numerous tactical setbacks, surrender is far from their collective mind-set. For the moment, they believe that continuing the fight and expanding Taliban governance are their only viable courses of action."
Recruits and donations for the Taliban increased over the past year, the report said, citing insurgents' accounts.
One of the most startling elements in the report is the view by detainees that the Taliban have mostly rejected their old alliance with Al Qaeda and no longer give members of the terrorist network logistical or military support.
"In most regions of Afghanistan, Taliban leaders have no interest in associating with Al Qaeda," the report said. "Working with Al Qaeda invites targeting and Al Qaeda personnel are no longer the adept and versatile fighters and commanders they once were."
The report said the Haqqani network, a particularly lethal Pakistan-based faction of the insurgency that once had close ties with Al Qaeda, had not had any contacts with Al Qaeda in two years, according to detainees.
The report was apparently leaked to the BBC and The Times of London on the eve of the first high-level visit to Afghanistan since last September by a Pakistani official, Foreign Minister Hina Rabbani Khar, and both news organizations made much of Pakistan's role in supporting the insurgents. Ms. Khar dismissed that as "old wine in an even older bottle."
One former Obama administration official speculated that the American military might have been behind the leak. "The mood in Kabul is that the U.S. military are very critical of Pakistan," the official said, speaking on the condition of anonymity because of military rules about discussing classified material. "They think the problem is not the Taliban, but the ISI," the Inter-Services Intelligence Directorate, Pakistan's spy agency.
Much of the Pakistani material in the report depicts a surprisingly unhappy alliance between the Taliban and the ISI. While it confirmed complaints by American officials that factions of the ISI cooperate with the Taliban, it also reported that Taliban leaders and fighters viewed their patrons with distrust and even hostility.
"ISI is thoroughly aware of Taliban activities and the whereabouts of all senior Taliban personnel," the report said. "The Haqqani family, for example, resides immediately west of the ISI office at the airfield in Miram Shah, Pakistan," the report said. The Haqqani network has been responsible for some of the most spectacular insurgent attacks of the past year, including an assault on the American Embassy and NATO headquarters in Kabul in September.
"There is a widespread assumption that Pakistan will never allow the Taliban the chance to become independent of ISI control," the report said.
At the same time, however, it reported that Taliban commanders and fighters viewed the Pakistanis with suspicion and as "untrustworthy, manipulative, controlling and demeaning," and cooperated with them "in lieu of realistic alternatives." And the detainees reported no evidence that ISI directly financed or supplied the Taliban in the field, working through intermediaries instead.
But it was the accounts of cooperation between the insurgents and local government officials or security forces that seemed to most upset NATO officials. "Captured photographs of Taliban personnel riding openly in the green Ford Ranger pickup trucks of the Afghan army are commonplace throughout Afghanistan," the report said, adding that the vehicles were "sold or donated" to the Taliban. Elsewhere it cited a document related to a plot between Afghan intelligence agents and the Taliban to ambush American soldiers.
Some of the newest material in the report covered extensive efforts by the Taliban to improve their relations with local people. The Taliban leader, Mullah Muhammad Omar, has promoted a code of conduct that sets out how insurgents should deal with people, including rules on avoiding civilian casualties and excessively brutal punishments.
The group has even instituted "hot line" numbers for citizens to make complaints about their treatment by insurgents, and it sends fact-finding committees out from headquarters in Quetta, eliciting complaints against local Taliban leaders.
The report, which also included interrogations of non-Taliban civilians who were arrested after sweeps of their communities, cited the high marks the insurgents received for their judicial activities, which in contrast to many government court actions, were offered to people without demands for payments or bribes.

www.nytimes.com/2012/02/02/world/asia/nato-plays-down-report-of-collaboration-between-taliban-and-pakistan.html
Report: Taliban POWs convinced of victory

www.usatoday.com/news/world/afghanistan/story/2012-02-01/afghanistan-nato-report/52912242/1
Taliban deny they are ready for Afghan peace talks

www.theolympian.com/2012/02/01/1972701/afghan-taliban-deny-theyre-ready.html
Washington's wishful thinking about Taliban talks
A negotiated peace in Afghanistan with the Taliban is becoming conventional wisdom in DC. But the plan is fraught with difficulty
Michael Boyle
guardian.co.uk, Wednesday 1 February 2012 08.33 EST
Whenever a policy position becomes conventional wisdom in Washington, there are usually good reasons to be suspicious of it. Such is certainly the case with the growing bipartisan consensus behind negotiating with the Taliban to end the war in Afghanistan. In the last several months, much of official Washington has recently come around to the view that some kind of grand bargain with the Taliban may be necessary to secure the peace. Secretary of State Hillary Clinton has even gone as far as to re-label the US approach in Afghanistan as "fight, talk, and build".
The idea of talking to the Taliban as a way of ending the long struggle in Afghanistan is hardly novel, but it is worth pursuing. For the United States, there is no reason to turn away from negotiations if they are offered in good faith, because an outright victory over the Taliban is probably impossible to achieve. The recent moves by the Taliban leadership to establish an office in Qatar is an encouraging sign that they may finally be serious about talking. Moreover, there are some reports that the Afghan Taliban have tabled specific demands, and even offered a full blueprint of what a possible peace with the United States would look like. These facts alone suggest that the US should take the prospects of talks seriously and be willing to countenance a settlement that is not resolved by force alone.
However, the US needs to be careful not to misconstrue the prospect of negotiation as the only way of way out of the mess that it has created in Afghanistan. Talking with the Taliban is not, in itself, a solution to the problem; in fact, it raises more questions than it answers. First, despite these encouraging overtures, it remains unclear whether the Taliban are serious about peace, or are merely playing for time. As Karl Inderfurth pointed out in a recent essay, the Taliban are masters at talking and fighting at the same time. The Taliban insist that they have not given up the fight and that they will never accept the legitimacy of the "stooge" administration in Kabul (pdf). Given that the Taliban have long craved international respectability, it is likely that they are using the pretext of negotiations to open an office in Qatar, to burnish their image and to expand their international contacts. Such steps may only be tactical, and cannot yet be interpreted as evidence of a change in heart.
Second, it remains unclear whether the balance of power on the battlefield truly favors negotiations with the Taliban. The Department of Defense reported that enemy-initiated attacks are down (pdf), but according to Human Rights Watch, 2011 was the most violent year so far in the war in Afghanistan. Moreover, recent data suggests that violence has recently increased in the Taliban strongholds in the south and east of the country. While Nato maintains that these spikes in violence are due to bringing the fight to the enemy, the reality is probably murkier.
The relatively brazen attacks of the last few weeks – including the storming of a government building in the east of the country, and the assassination of French soldiers on 20 January – do not suggest that the Taliban movement is crippled by battlefield losses. This is important because the battlefield calculation is predominant: the Taliban will not negotiate in good faith or strike a deal unless they think the war is turning against them. At the present moment, the evidence suggests instead that the Taliban think that the war is at a stalemate; and that it is a good time to capitalize on the gains that they have made since their resurgence in 2004-05.
Third, there is a marked difference between the clarity of the demands of the Taliban – a complete withdrawal of foreign troops, the release of prisoners and the removal of key leaders from the UN blacklists – and the unclear goals that the US has. TheUS demanded the Taliban renounce ties to terrorists and endorse peace efforts before opening in Qatar, but beyond that its bottom line for the settlement remains unclear. Would the US, for example, encourage the Taliban to be involved in a coalition government? Would the US allow a Taliban-influenced government to roll back some of the liberal advances – especially in terms of education, women's rights and freedom of the press – currently allowed under the Karzai regime? And what leverage would the US have over developments in Afghanistan if it fully withdraws its forces?
Worse still, the fact that it is now election season in the US – the time in which political leaders cheerfully say what sounds good at home even if it is at odds with reality – will work against serious negotiations proceeding. In his state of the union speech, President Obama pledged to "wind down" the war in Afghanistan, which sends a message to the Taliban "only wait things out; the US will leave on its own accord". The current circus which characterises the GOP field is no better, with nominal frontrunner Mitt Romney offering only that the way with to deal with the Taliban is to beat them (as if it were so simple). Given the uncertainty generated by the American election cycle, the Taliban have every reason to delay and see who they're dealing with after November 2012, rather than to strike a deal now.
Fourth, even if the negotiations got underway between the US and the Taliban, there is no way that a deal would be struck without interference from key players – especially the governments of Afghanistan and Pakistan – whose interests are threatened by a deal. Despite the choreography designed to seek Karzai's blessings for the talks, his government has deep reservations about them, for a power-sharing agreement with the Taliban would leave him at their mercy after US forces depart. Throughout this process, he is likely to follow his normal practice of blustering, making inconsistent demands and engaging in brinkmanship to prevent the US from selling him out in a separate peace with the Taliban.
No matter how good an offer the Taliban makes, the US cannot easily shove aside Hamid Karzai's government, but rather may find itself tethered to a client who shamelessly stole the democratic elections in 2009. Similarly, Pakistan has supported the Taliban for years as a way of destabilizing Afghanistan, keeping India off balance and extorting aid and assistance for their "cooperation" from the US. Although the
a href=" http://www.google.com/hostednews/afp/article/ALeqM5i3Wwny6G2wpcmI6WG6Ddjpn9uloQ?docId=CNG.be33fda73987ff722e71ca3a18f1bfaf.71 " >Pakistani Taliban has recently turned on the Pakistani army, it is hard to imagine that the Afghan Taliban's backers in the ISI would be satisfied with a peace settlement that deprives them of a strategic asset in their game with India.
Finally, even if the leadership core of the Taliban were serious about a peace deal with the United States, it remains unclear whether the Taliban leadership could deliver on the terms of the peace that they promised. The Taliban is a diffuse movement, which is aligned with local factions and the notorious Islamist alliance the Haqqani network, as well as an array of Pakistani-based Islamist forces. Even though they appear to be making token efforts to include Haqqanis in the negotiations, the extent to which Quetta Shura Council can control their own factions – and reign in those factions from responding to provocations by the Afghan government or other players – is in doubt. Much of the recent violence, conducted by small groups of Taliban, does not suggest that their forces are under tight control. This fact does not bode well for a peace settlement ,which, at best, is likely to be tenuous. How many shocks – or attacks along the lines of what is currently happening in Iraq – could a US-Taliban deal sustain without unraveling?
All of these concerns are not a reason to reject negotiations with the Taliban, only to understand that the "peace" that comes from them will be fragile and violent, and may contain terms that most Americans would be loath to accept. No matter what officials in Washington or on the campaign trail promise, negotiations with the Taliban are unlikely to bring an end to the decade of fighting in Afghanistan anytime soon.

www.guardian.co.uk/commentisfree/cifamerica/2012/feb/01/washington-wishful-thinking-taliban-talks