www.dailymail.co.uk/news/article-2423264/Four-year-old-Daniel-Pelka-beaten-starved-death-invisible-authorities-missed-chance-chance-save-report-finds.html
Officials never asked Daniel Pelka about home life before he was tortured to death
A four-year-old boy who was tortured and starved to death by his mother and stepfather in one of the most notorious child abuse cases of recent years was never even asked directly about his home life, a damning report concludes.

www.telegraph.co.uk/news/uknews/crime/10313697/Officials-never-asked-Daniel-Pelka-about-home-life-before-he-was-tortured-to-death.html
Horrific scenes in court as moment robber killed gas station clerk, 76, by setting her on FIRE and stole petty cash from till is played
Jurors in Dallas were visibly shaken on Monday as they watched Nancy Harris frantically try to extinguish the fire that would ultimately kill her
The shocking surveillance footage on the first day of the capital murder trial of Matthew Johnson
Harris' son, Scott Harris, described the heartbreaking moment he learned of the attack as he was getting ready for church 
The 76-year-old suffered 40 per cent burns to her body in the hold up, which took place at 7 a.m. one Sunday in May 2012
She died in hospital five days after she and her family decided to turn off life support 

www.dailymail.co.uk/news/article-2478683/Matthew-Johnson-trial-Jurors-death-penalty-trial-watch-grisly-video-grandmother-store-clerk-shes-doused-lighter-fluid-set-robbery.html
A violent ex-con has been charged with multiple counts in the road rage shooting death of a 21-year-old female Georgia college student. Sparkles Lindsay, 22, pictured left, allegedly followed Kimberly Kilgore, 21, and Shannon Stone, pictured left, into her gated apartment complex last year. She then shot Kilgore to death while her best friend sat in the passenger seat and watched in horror, police say.

www.dailymail.co.uk/news/article-2537689/Woman-shot-dead-college-student-terrified-friend-road-rage-dispute.html
Despite vast E-V-I-L in our world, there is GOOD.
CONGRESSMAN REUNITES TWIN GIRLS SEPARATED AS INFANTS BY ADOPTING THEM INTO FAMILY
Congressman Mullin and his family. (Credit: Daily Mail)

www.theblaze.com/stories/2013/09/01/congressman-reunites-twin-girls-separated-while-infants-by-adopting-them-into-family/
North Carolina mother Ashley England was reduced to tears on Friday after a mystery man made a beautiful gesture towards her family and special needs son. The group (left) received a touching note (right) from a stranger after eight-year-old Riley (inset), who is non-verbal and suffers from epilepsy, got noisy in a pizza restaurant.
www.dailymail.co.uk/news/article-2410652/North-Carolina-family-epileptic-son-touched-stranger-pays-dinner-sends-kind-note.html
Larry and Carri Williams of Sedro-Woolley, Washington, pictured inset, were found guilty Monday of letting adoptive daughter Ana, pictured, starve and die of hypothermia in their backyard. Both were convicted of first degree manslaughter and Carri was also convicted of homicide by abuse. They face a potential life sentence.
Tough disciplinarians: Hana and her adoptive brother were allegedly spanked, hit with sticks, hosed down and forced to eat frozen food

www.dailymail.co.uk/news/article-2416514/Hana-Williams-Washington-adoptive-parents-Larry-Carri-Williams-GUILTY-manslaughter.html
Black eyes, a broken arm and reduced to a 'bag of bones' who scavenged from bins: The catalogue of missed chances to save Daniel Pelka
Daniel Pelka, four, died after sustaining massive blow to the head
But despite looking 'like an old man' and regularly injured he was not saved
Mother Magdalena Luczak and partner Mariusz Krezolek had denied murder
Daniel scavenged for food from bins in the final weeks of his life
Emaciated schoolboy appeared at school with black eyes and a broken arm
He was 'imprisoned' in unheated 'cell' and died after more than 33 hours
Murdered: Daniel Pelka who died last year after months of abuse at the hands of his mother and stepfather

www.dailymail.co.uk/news/article-2382025/Daniel-Pelka-The-catalogue-missed-chances-save-year-old.html
What happened to Daniel Pelka was evil. Why can't we call it that?
Official, politically correct language means all too often we fail to recognise and stop appalling behaviour
By Cristina Odone
5:18PM BST 03 Aug 2013
The CCTV image of James Bulger, aged 2, wandering off with the two older boys who would kill him, shook the nation. Twenty years on, camera footage captures Daniel Pelka in a school playground, trying to keep up with his drug-addicted prostitute mother as she rushes away. It's a heart-breaking picture of a vulnerable child struggling to survive bad parents. In the end, Daniel didn't: he was starved and then beaten to death.
Whom to blame? Potentially, the guilty parties include social workers, doctors, teachers, parents and neighbours. Everyone, it seems, ignored the signs of Daniel's suffering. Geoffrey Robinson, the constituency MP, condemned the systemic incompetence that allowed the murder. Then the MP for Coventry North West departed from the usual script and spoke of evil. Yes, everyone fell short of their duty; but the stepfather who had beaten Daniel and starved him to death was "evil".
The word is so out of use, it jarred. Evil? We no longer accept that the concept exists. Worse, we don't know when we see it, right under our noses. "Evil" describes villains in Harry Potter, not Coventry in 2013.
Decades of bureaucratising have flattened the complex term into more manageable expressions. The banalities for evil now include "inappropriate", "not fit for purpose", and even, in the verdict of Daniel's headmaster, "not pleasant". (Broken arms, emaciated body, and a serial offender as a stepfather; if these are unpleasant, goodness knows what the head calls bad.)
I appreciate the British penchant for understatement. But the reluctance to call a killer "evil" or even "bad" allows crime a place in our lives. Being tongue-tied does not make wilful cruelty or destructive intent go away – it just camouflages them.
The computers and filing cabinets that fill police stations and town halls reduce humans to "data". The police and social workers see not vices, but cases. When the bureaucrats who could have saved Daniel's life approached Mariusz Krezolek, they saw pages filled with jargon, not looming murder.
Abuse of power starts with abuse of language. The secret-police regimes of eastern Europe knew that (my husband, a foreign correspondent, saw his own Stasi file, but found the pedantic, convoluted phrases so heavy-going, he had to force himself to read them).
Even in today's Britain, it's difficult to spot depravity lurking in bland, abstract words, appendices and subordinate clauses, in the verbing of nouns and nouning of verbs. Such non-speak has the capacity, though, of allowing the authorities to be circumspect. Hiding behind the officially prescribed lexicon, they can pussyfoot around the race of the gangs grooming young girls; they can avoid all references to colour, religion, and sexual preference in their caseload. Sadly, cautious words such as "inappropriate" and "not pleasant" won't offend – but they won't tell the full story, either.
The language of officialdom is calculated to bore, not make the blood boil. Yet blood does have to boil for justice to be meted out. As anyone hooked on police dramas can tell you, the good guys may don a thin veneer of impartiality, but they must burn with a sense of right and wrong.
That desire to make a difference used to be called "vocation". It fuelled professionals who worked for social services, the police force, the NHS, schools and churches. When my father-in-law became an Oxford don, he received a stipend, not a salary: the difference between being enabled to teach, and being paid for doing a job. Today's salaried professionals talk of work, not vocation – which is the flip side of refusing to admit evil. The selfless mission to leave the place a better world sounds as odd today as talk of "sin".
While officials recoil from making value judgments, other groups relish it. In the recent battle against internet trolls, for instance, feminists did not mince their words: stalkers who threatened women activists with rape were "wicked" "evil" and "foul". They certainly were. Why, though, can a middle-class male troll be evil, but not a child-murderer or a pimp?
I'm not a pessimist who believes in locking people up and throwing away the key. I believe in redemption – for everyone; but unless we acknowledge their act is wicked, criminals have scant reason to redeem themselves. Like the monstrous Ariel Castro, blaming his incarceration of innocent women on his own miserable life, they will explain themselves instead. They'll get away with murder by citing their own poverty, their own abuse as a child, or broken home.
Bureaucrats, with their files and reports, caseloads and records, have no room for abstracts like good and evil. This is not because they are terribly complex, but because – as Daniel Pelka found – they are brutally simple.

www.telegraph.co.uk/news/uknews/crime/10220079/What-happened-to-Daniel-Pelka-was-evil.-Why-cant-we-call-it-that.html
Lessons from the tortured life of Daniel Pelka
Such extreme cases of child abuse conform to a pattern that the safety net fails to catch

www.independent.co.uk/voices/comment/lessons-from-the-short-and-tortured-life-of-daniel-pelka-8741820.html
How child services repeatedly failed to protect disabled girl, 2, before she was 'killed by her mother who smashed her head against the wall'
Aliyah Marie Branum was savagely beaten, smothered and neglected in her short life
Her mother Chelsea Huggett, 21, is facing first-degree murder charge over her daughter's death in Florida
Victim: Child services in Florida face difficult questions as to why the two-year-old's injuries and reports of her mother's violent behavior was not investigated thoroughly

www.dailymail.co.uk/news/article-2397606/Florida-mother-Chelsea-Huggett-killed-disabled-daughter-Aliyah-Marie-Branum-2.html
Foster mother beats toddler to death after she was taken from her biological parents because social services discovered them smoking pot
Tragedy: Two-year-old Alexandria Hill died on Wednesday 31st July – two days after she was admitted to hospital in Texas suffering a serious brain injury

www.dailymail.co.uk/news/article-2385159/Foster-mother-beats-toddler-seized-biological-parents-social-services-discovered-smoking-pot.html
Mother of four and her boyfriend charged with capital murder for 'beating son, 5, to death with a belt because he wet his pants'
Brutal death: Autopsy showed that Gregory Caver, 5, was beaten with a belt severely enough to cause blunt force trauma, and eventually death
Torment: The little boy, nicknamed 'man-man' by his mother, also suffered a seizure, internal bleeding and an injury to one of his eyes

www.dailymail.co.uk/news/article-2382917/Mother-boyfriend-charged-capital-murder-beating-son-5-death-belt-wet-pants.html
Dominique Lang, main picture, testified that he ran into De'Marquise Elkins, top right, on the morning of the March 21 slaying. A short while later as the two walked together, they saw Sherry West walking with her baby Antonio in the stroller. Lang says Elkins walked to West and demanded her purse before pulling out a gun. When West refused to hand the purse over, he hit her in the face with it and threatened her baby. 'The baby was in the stroller screaming,' Lang said.
Teen 'who shot baby in the face while robbing his mom counted down from five before he pulled the trigger'
De'Marquise Elkins, 18, and Dominique Lang, 15, accused of shooting the son of Sherry West in the head
Ms West also lost a 17-year-old son to a street stabbing in 2008
Lang pointed out Elkins in court as the shooter

www.dailymail.co.uk/news/article-2400509/Antonio-Santiago-shooting-Georgia-teen-DeMarquise-Elkins-counted-shot-baby.html
INSIDE CASTRO'S HORROR HOUSE: First pictures of the chains and pole kidnapper used to enslave his victims as he is sentenced 1,000 YEARS
Ariel Castro sentenced to 1,000 years in prison today in Cleveland
Graphic, disturbing pictures shown in court of torture and rape paraphernalia used
Court heard Castro would make the girls hold a gun to his head and dare them to shoot him
Victim Michelle Knight made an emotional speech to the court and dramatically came face-face with Castro
Revealed that Castro wrote in a letter to police, 'Bottom line, I am a sexual predator'
Officer Barbara Johnson testified the girls were very thin, pale and very scared when rescued
Michelle Knight launched herself at an officer and said, 'You saved us, you saved us!'
Michelle Knight was emaciated and covered in bruises
Detective Harasimchuk also told the court all three girls were vaginally, orally and anally raped throughout their time in captivity
Sickening: Chains found in an upstairs bedroom at the Seymour Ave. house are shown on a television monitor during the sentencing phase of Ariel Castro Thursday, Aug. 1, 2013, in Cleveland
Diaries kept by Amanda Berry, Michelle Knight, and Gina de Jesus while held captive for a decade in an Ohio home have helped US prosecutors describe their suffering
Dr Frank Ochberg told the court: These women have life sentences, they will never be free of the damage done

www.dailymail.co.uk/news/article-2382530/Cleveland-kidnap-victim-speak-court-horrific-abuse-Ariel-Castro-sentenced.html
Elderly man kept hostage in a Houston garage for a year so 'captor could cash his welfare checks' dies just a week after being freed
William Merle Greenawalt, 79, died a week after he was found locked in a garage where he was given little food and had no bed or restroom
He was locked up with two other men, aged 59 and 64, in the garage
Alleged victims so malnourished they were taken away on stretchers
Walter Jones, 31, 'held them captive to cash their welfare checks'
Charged: Walter Jones, 31, was charged with injury to the elderly after the grim discovery

www.dailymail.co.uk/news/article-2381894/Elderly-man-kept-hostage-Houston-garage-year-captor-cash-welfare-checks-dies-just-week-freed.html
A teenage thug who killed a 'heroic' off-duty police officer with a single punch in an unprovoked attack was today jailed for just three-and-half years.
Victim: PC Chris Findlay, 33, was walking home from a night out with friends when he was attacked by Dale Dixon. He died 10 days later in hospital
Attacker: Dale Dixon who was sentenced to three-and-a-half years in a Young Offenders' Institution after admitting manslaughter

www.dailymail.co.uk/news/article-2377756/Teenager-jailed-just-THREE-YEARS-killing-heroic-duty-police-officer-single-punch-unprovoked-attack-night-out.html
Boy, 15, and three others 'went on a deadly shooting spree for fun and slit a man's throat after promising him sex with a female accomplice'
Konrad Schafer
'[Schafer] thought it would be fun to shoot Mr Guerrero,' said Kissimmee Police Chief Lee Massie, according to the Orlando Sentinel. 'This is the type of individuals we put in jail today.'

www.dailymail.co.uk/news/article-2359099/Boy-15-went-deadly-shooting-spree-fun-slit-mans-throat-promising-sex-female-accomplice.html
D.C. man held without bond in death of 4-year-old boy
Wednesday – 8/7/2013, 6:30pm ET
WASHINGTON – D.C. police say Peter Hendy punched 4-year-old Kamari Zavon Taylor twice in the abdomen, severing the boy's liver and breaking several ribs. The punches left bruises and knuckle marks on the boy's abdomen.
Hendy then left Kamari in a bedroom while he sold marijuana on the street outside, according to charging documents that detail the evidence against Hendy.
The boy's injuries were so severe the boy died soon after his mother's boyfriend punched him for being what Hendy called a "smart mouth kid," court documents say.
Hendy is charged with first-degree murder and appeared in D.C. Superior Court Wednesday. He was ordered held without bond.
Police discovered Kamari unconscious Monday afternoon lying on the bedroom floor in a home in the 5600 block of Nannie Helen Burroughs Avenue NE. He was taken to the hospital were he was pronounced dead.
An autopsy determined that the boy died of multiple blunt impact injuries. The medical examiners office said that the injuries to the liver were caused by "a severe amount of force" and that a closed fist punch could have caused the damage, according to court documents.
The medical examiner's report also said that the injuries likely could not have been caused by a fall, court records say.
Hendy told police that after Kamari's mother left for work about 10:45 Monday morning, he watched the boy ride his scooter in the street. He scolded Kamari for riding too far from where Hendy could see him. But the boy said he didn't have to listen to Hendy, because Hendy wasn't Kamari's father, Hendy told police.
Hendy became angry and told police he then hit the boy twice in the stomach telling him "you're going to listen to me," court records say.
Hendy told police the boy then continued riding his scooter for another 30 to 45 minutes but when Kamari returned, he was sweating and shaking. Hendy said he thought the boy was dehydrated so he took him inside, gave him some water and put him in bed. He then returned outside to sell marijuana, according to court records.
When Hendy returned to the house an hour later, he saw bruises on the boy's stomach and noticed a "blank look" on the boy's face. He then continued selling marijuana outside. When he checked on the boy a second time, he realized the boy was unresponsive and he called 911 and the boy's mother, court documents said.
Police arrived at the home after 2 p.m.
The medical examiner's report said that it "would have been impossible for (Kamari) to continue to ride his scooter for 30 to 45 minutes after suffering these injuries," court documents say.
Hendy was arrested shortly after midnight Wednesday by the Capital Area Regional Fugitive Task Force.

www.wtop.com/109/3412591/Police-Punch-to-liver-killed-4-year-old
First picture of man who raped and murdered girl, 6, then dumped her body in tarp – after he was shot by police in stand-off
Tyler Holder, 17, was shot in the head after opening firing on police detectives when they tried to arrest him
Holder is accused of abducting, raping and murdering Alanna Gallagher on July
Alanna's body was found naked and bound, wrapped in a tarp, on a street in Saginaw, Texas
Holder is charged with capital murder and attempted capital murder
Tragic: The murder of Alanna Gallagher, 6, on July 1 shocked the small city of Saginaw, Texas. She was allegedly abducted from the streets in her neighborhood by Holder, who lives four doors away
Holder allegedly wrote a letter to his mother apologizing for the crime before he opened fire on police officers who were coming to arrest him
http://www.dailymail.co.uk/news/article-2386622/Tyler-Holder-pictured-Suspect-murder-Alanna-Gallagher-6-recovered-police-shooting.html
Pictured with guns and stacks of cash: Three teens charged over the murder of 'college baseball star shot dead because they were BORED'
Promising baseball student gunned down on Friday after a visit to his sweetheart
Parents of teens accused deny their sons are involved
Police believe they were going to shoot someone else afterwards
Tribute from heartbroken girlfriend says 'I love you so much babe'
Flowers adorn the scene of the shooting that has left the town stunned
The youths facing first-degree murder charges have been named as Chancey Luna, 16, bottom right, James Edwards, 15, top right, and Michael Jones, 17, not pictured, all from Oklahoma. Chris Lane, pictured with his girlfriend, was jogging in the small town of Duncan in Oklahoma on Friday when he was shot in the back and left to die in the gutter. He was in the U.S. on a baseball scholarship.

www.dailymail.co.uk/news/article-2398257/Chris-Lane-murder-Teens-shot-dead-Australian-student-street-named-pictured.html

http://dailycaller.com/2013/08/21/black-teen-who-murdered-australian-jogger-posted-racist-tweets/
Tough guy: Edwards posted videos of him tossing around guns
Role model: Edwards was a huge fan of ultr-violent rapper Chief Keef

www.dailymail.co.uk/news/article-2400253/Chris-Lane-shooting-teens-killed-Australian-student-influenced-ultra-violent-rapper-Chief-Keef.html
Love: Sarah Harper, the girlfriend of Christopher Lane, arrives at St Therese's Church in Essendon in Melbourne, holding his jacket

www.dailymail.co.uk/news/article-2403720/Chris-Lane-funeral-Murdered-baseball-players-family-mourn-23-year-old-Melbourne-funeral-American-girlfriend-wipes-away-tears-clutching-Oklahoma-team-jacket.html
Chilling 911 call details final moments of Melbourne baseballer Chris Lane's life
SAM LANDY, AAP AND ANDY BURNS HERALD SUN AUGUST 22, 2013 10:30AM
Sarah Harper and Chris Lane. Source: Supplied
A memorial to Chris Lane near where he was shot.
Source: AP
James Edwards Sr believes his 15-year-old son is innocent.
Source: AP
James Edwards takes a selfie.
Source: Supplied

www.adelaidenow.com.au/news/national/chilling-911-call-details-final-moments-of-melbourne-baseballer-chris-lane8217s-life/story-fnii5smq-1226700172461
Chris Lane murder: Is a racist dimension of the crime being discounted?
…Now, news of racist tweets allegedly by one of two black suspects in the Lane killing is causing some white Americans to murmur about how officials are classifying the crime. The offensive tweets are playing on white perceptions of a double standard when it comes to hate and violence – that the news media and prosecutors are quick to pursue evidence of white racism, but tend to ignore or discount evidence of black racism in crimes such as the Lane murder.
Black mob attacks on whites in recent years in Chicago, Milwaukee, Philadelphia, and other cities have helped to sow suspicion among some whites that police are unwilling to file hate-crime charges against black defendants, even in the face of indications that racism is involved.

www.csmonitor.com/USA/Justice/2013/0823/Chris-Lane-murder-Is-a-racist-dimension-of-the-crime-being-discounted
The Rev. Jesse Jackson said in a Tuesday interview with a national news outlet that there's no question about it — Republicans are constantly pushing the race button on all matters of policy and politics, and tea party activists are akin to redneck racist throwbacks from the Civil War era.
"The tea party is the resurrection of the Confederacy," he said, in an interview with Politico. "It's the Fort Sumter tea party."
He added: The GOP is "absolutely" using race as a reason to oppose President Obama and White House policy proposals.
This is just the latest in a series of notable remarks the civil-rights activist has made lately, as captured by the press.
A week ago, he posted a Twitter statement about the murder of Australian Christopher Lane, in Oklahoma on a college baseball scholarship: "This senseless violence is frowned upon." Readers reacted in outrage, calling his choice of words — "frowned upon" — a tactless understatement. Shortly after, Mr. Jackson took to Twitter again and commented on the same murder — only referred to the victim, Mr. Lane, by an incorrect name — as Christopher Lee.
Again, readers reacted with anger, calling on Mr. Jackson in responding tweets to "get it right."

www.washingtontimes.com/news/2013/aug/27/jesse-jackson-tea-party-resurrection-confederacy/
Delbert Belton, 88, a World War Two veteran nicknamed 'Shorty' who served in the Battle of Okinawa was brutally beaten by two men and left to die outside a bar in Spokane, Washington on Wednesday. Witnesses to the attack said that Belton was walking inside the Eagles Lodge to play pool at around 8 p.m. when two male suspects (left) set upon him.

www.dailymail.co.uk/news/article-2400716/World-War-Two-veteran-88-dies-brutally-beaten-teenagers-random-attack-parking-lot.html
Fighter: A World War II-era photo shows veteran Delbert Belton
www.dailymail.co.uk/news/article-2406476/Family-outraged-teenage-suspect-brutal-WWII-veteran-killing-claims-buying-CRACK-88-year-old-deal-turned-deadly.html
Suspect in WWII vet slay: We were buying crack from victim
http://sync.democraticunderground.com/10023546630
Police: Arrest Made In Beating Death Of 88-Year-Old WWII Vet
SPOKANE, Wash. (CBS Seattle/AP) — Police in Spokane, Wash., say they have arrested one of two teens suspected of fatally beating an 88-year-old veteran of World War II who had survived the Battle of Okinawa.
Authorities say the two young African American men, between 16 and 19 years old, approached Delbert Belton in his car at random Wednesday night outside an Eagles Lodge as he was waiting for a friend.
Belton was found by police with serious head injuries and died in the hospital Thursday.
Belton's daughter-in-law tells KREM-TV that the suspects beat him with flashlights.
"They used those great big heavy flashlights," Bobbie Belton said. "The doctors said he was bleeding from all parts of his face."
Spokane Police say they have surveillance images of the attackers — at least one of them has been taken into police custody.
The Spokesman-Review reports Belton was born and raised in Spokane before he joined the Army. Friends say he was shot in the leg during the Battle of Okinawa, where thousands of American soldiers died.
"He was an Army veteran," Glenn Longsdorff, Belton's roommate of four years, told KREM. "In fact, he was shot when he was 18-years-old on the beaches of Okinawa. He'll do anything in the world for anybody."
After the war, he spent 33 years working for Kaiser Aluminum, before retiring in 1982.
Belton's sister, Alberta Tosh, told the newspaper her brother "went through hell" during his years in the Army. Though she was too little to remember her brother going to war, she does remember how reluctant he was to talk about the bloody Okinawa battle in 1945.
"I know he came home shell-shocked pretty bad," she said.
Belton lived a full and busy life, Tosh said. He loved to dance, repair old cars and was always surrounded by close friends and loved ones.
"He was a good guy who would help anybody if they needed help," she said.
A friend, Ted Denison, said he was planning to go to the Eagles Lodge when he heard Belton had died.
"He put his life on the line for our country to come home and 60 years later? Get beat to death?" Denison said. "That's not right."
Denison, a veteran himself, said he used to tease Belton about his membership in the Eagles Lodge, saying that place was for "old fogies." He didn't make it to the lodge in time.
"I don't care who you are, you don't beat up an old man," Denison said. "You're supposed to respect your elders, not beat them to death."
Another close friend, Lill Duncan, said she can't imagine what drove anyone to kill him.
"He lived his life every day to make somebody else happy. It wasn't all about him. It was about what he could do for everybody else."
http://seattle.cbslocal.com/2013/08/23/daughter-in-law-world-war-ii-vet-beaten-to-death-with-big-heavy-flashlights/
John Dillon Salers, 15, (right) is accused of knotting a rope around Katelynn Arnold's (left) neck and hanging her from a tree in Ragland, Alabama. A request by the district attorney to have the boy tried as an adult was granted Wednesday. Police say Salers admitted to the May 2012 crime.

www.dailymail.co.uk/news/article-2400280/Alabama-boy-15-hanged-9-year-old-half-sister-tree-tried-adult.html
Christopher Sowell (pictured top right) was arrested in Gosnell, Arkansas on Wednesday, just hours after the body of missing Jessica Williams (left) was found by Big Lake in Mississippi County (pictured main). Authorities have not said how the young girl died, but her devastated father Eric Williams said it looked as though she had drowned in two feet of water when they found her body, with her puppy (bottom right) standing over her. The little girl was last seen playing in her father's front yard with the dog on Tuesday night.
http://www.dailymail.co.uk/news/article-2405868/Jessica-Williams-Neighbor-17-killed-girl-11-murdered-ditch-loyal-dog-guarding-body.html
Shocking video of white toddler, 3, being 'racially bullied' by her black neighbors, aged five, sparks uproar after it is posted on Facebook
A shocking video viewed by hundreds of thousands of people online which appears to show the racially motivated bullying of a three-year-old Minneapolis white girl by her five-year-old black neighbors is not what it appears say the fathers of the children involved. Two clips uploaded to Facebook and entitled 'When white people pi** black people off', show a heartbreaking scene – a little Minneapolis girl trying to play with another group of girls who are encouraged to hit, push and verbally abuse the toddler at the encouragement of an older boy off camera

www.dailymail.co.uk/news/article-2403070/Shocking-Facebook-video-white-toddler-3-racially-bullied-year-old-black-neighbors.html
Chinese police hunt woman who gouged out boy's eyes
Reward offered for capture of woman who grabbed six-year-old off street before brutal attack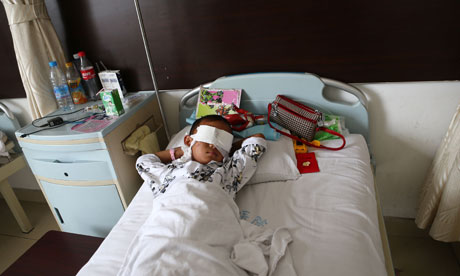 www.theguardian.com/world/2013/aug/28/chinese-boy-eyes-gouged-out