With God All Things Are Possible
Frey=Frei=Free=Frank=Franc=Francia=France
Rick (Duroc) and myself at the Faculty Club
From: RIsbell@columbus.gov
To: JerryFrey2010@mail.com
Date: Wed, 4 May 2011 15:10:58 -0400
I believe in what you have to say, please don't doubt me.

Richard Isbell
City of Columbus Mayor's Office
ADA & Veteran's Affairs Coordinator
90 W. Broad St. 2nd Floor
Columbus, OH 43215-4520
"A man who is good enough to shed his blood for his country is good enough to be given a square deal afterwards. More than that no man is entitled, and less than that no man shall have." Theodore Roosevelt, 1903
OHIO STATE 18 – MICH 15
Taken on High Street by Robin Sue Pearlstein November 17, 1979
Fifteen minutes later, my L arm was broken

Green softball shirt came home with me from Fort Meade – I liked how it looked
Malta – USS Ohio — Paris
August15, 1769 – August 25, 1953
8/25/1953 = 8 + 7 (2+5) = 15 (1+9+5+3) = 18 + 15 = 33
Historians would agree on two things about Napoleon. First, he was an extraordinary man, a self-made man. His drive, will, military genius and charisma made him a great man, a world historical figure, a man who made history. Machiavelli would have found Napoleon to be his perfect prince. Second, by spreading revolutionary ideals and institutions, Napoleon made it impossible for the restoration of the ancien regime. After Napoleon there was no turning back: feudalism was dead, society was secularized, the modern nation state replaced the dynastic state, and the bourgeoisie became the new class of privilege and status.
www.historyguide.org/intellect/lecture15a.html
PHOTOGRAPHS – think for your self
Campaign of 1814
Jacques-Louis David
The Emperor Napoleon in His Study at the Tuileries, 1812
SEE ALSO:
http://www.nga.gov/kids/napoleon/nap3.htm
1814 – Betrayed…four hours too late!
France, l'armée, tête d'armée, Josephine…
Exile:
www.mrodenberg.com/category/theman/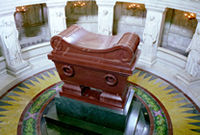 Remains placed in St. Jerome's Chapel 1840-1861.
Review of Napoleon's life and career:
Facts constitute evidence that allows one to draw a conclusion. If more facts are required to demonstrate that the impossible is possible, contact me. There is no contrary evidence.
Decide for your Self: congruent behavior – James Leininger
Facts about reincarnation:
FRANKLIN: Middle English frankeleyn, from Anglo-French franclein, from franc
Date: 14th century: a medieval English landowner of free but not noble birth
Forty years ago: I picked up a new book about Waterloo from the library shelf. Attracted to the cavalry pictures, I read that the British squares stood up to the French. "That's great," I thought, "like the peasants standing up to the knights." I read that the French cavalry was wasted and the French should have won the battle. Angrily, I put the book back on the shelf and wondered why I was angry.
If you've gotten this far, neighbor, based upon interpretation of the facts, what can be your logical conclusion? Res ipsa loquitor
ватерлоо
La garde au feu Waterloo (The Middle Guard advances against the Allied right center at Waterloo.)
St. Helena, 'Cursed Rock' of Napoleon's Exile
http://travel.nytimes.com/2012/04/01/travel/st-helena-cursed-rock-of-napoleons-exile.html
Like father, like son: A painting of Napoleon II by Krafft

www.dailymail.co.uk/news/article-2298792/Gold-engagement-ring-Napoleon-presented-wife-sells-660-000.html
See The Evidence PHOTOGRAPHS