"We can't go back to school," one little boy told Rosen. "Our teacher is dead. Mrs. Soto; we don't have a teacher."
The child says that a 'bad man' suddenly came into their class wearing 'army clothes' and firing a 'bazooka'. He saw his teacher get shot and knew she was dead.
Lanza fired at the boy multiple times but missed by inches and hit something the child was holding in his hand.
The boy dropped the stuffed animal he was holding in his other hand and 'ran, and ran, and ran' out of the school, past the bloodied body of principal Dawn Hochsprung.

www.dailymail.co.uk/news/article-2530129/Newtown-aftermath-pictured-time-Harrowing-images-inside-Sandy-Hook-Elementary-School-released-final-report.html
This is the 9-11 for mass murder.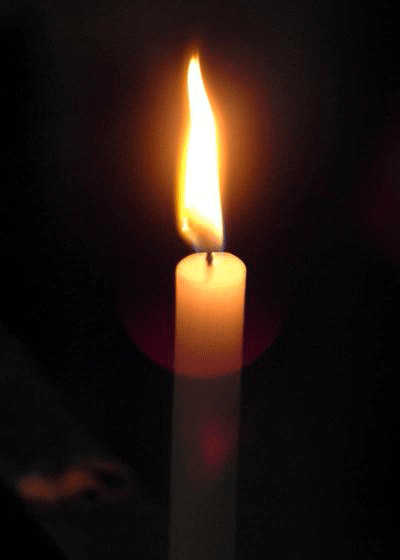 Veronique Pozner, whose son Noah died in the attack, showed task force members the last picture taken of her son the night before the shooting as she urged broad new restrictions.
She recalled her son's inquisitive nature. "He used to ask, 'If there are bad guys out there, why can't they just all wake up one day and decide to be good?' "

www.nytimes.com/2013/01/29/nyregion/connecticut-legislature-hearing-on-gun-violence.html
Iconic image: Yoko Ono has tweeted this image of John Lennon's bloodstained glasses together with a message about how many people have been killed by guns in the U.S. since his death

www.dailymail.co.uk/news/article-2296416/Yoko-Ono-tweets-photo-John-Lennons-bloody-glasses-protests-gun-violence.html
Mark and Jackie Barden, parents of Sandy Hook victim Daniel Barden, hold hands at the news conference one month after the shootings

www.dailymail.co.uk/news/article-2262415/Relatives-friends-Sandy-Hook-dead-launch-initiative-drive-national-conversation-gun-regulation-mental-health-school-safety.html
Make the debate over guns worthy of our son
By Mark Barden and Jackie Barden, Published: January 29
Mark Barden is a musician and Jackie Barden is a teacher. They live in Newtown, Conn.
Wednesday's Senate Judiciary Committee hearing on gun violence is the latest in a series of events following the Dec. 14 shootings at Sandy Hook Elementary School . Our 7-year-old son, Daniel , 19 of his first-grade classmates and six educators were What Would Daniel Do?," to inspire others to reach out as our youngest son did.
As lawmakers and others discuss what can be done to curb gun violence, we hope Americans will ask, What would Daniel do?
Daniel would listen and be respectful. Our country needs a new dialogue, one that doesn't follow the tired script of political squabbling. Any improvement to our laws, no matter how small or reasonable, should not be decried as the forward wave of an attempt to "ban guns" or "take away rights." Even those of us who have lost the most are suggesting no such thing.
.Daniel would be honest. We know that there are no easy answers to these multifaceted issues. Anyone who suggests that a single law would "solve the problem" isn't telling the truth. But neither is anyone who says that changes in our laws can't make a difference.
Daniel wouldn't give up hope. We refuse to accept the status quo. Making our society safer will require sustained, comprehensive action by individuals as well as by communities and government. As parents, there is nothing more important to us than our relationship with our children. Every parent can start right there, in their own home. On a broader level, it is urgent that we address the gaps in our mental health system and examine school security. We must have the same open dialogue about gun responsibility and accountability. The parental desire to love and protect our children is common ground for gun owners and non-gun owners alike.
We have joined with other families, neighbors and friends in making the Sandy Hook Promise (www.sandyhookpromise.org). We hope every member of Congress and Americans nationwide will join us in pledging to honor the lives lost last month by coming together to end these violent tragedies.
Our Daniel wanted to be a fireman like his uncles. He played drums in our family band, and he could run like the wind. Until Dec. 14, Daniel's future was limited only by the size of his dreams.
Our son's future was stolen from him: There will be no firehouse, no more rock band, no Boston Marathon.
But if our nation uses this moment to make the future brighter for other children, Daniel's life and the lives of his classmates and educators will have meaning for years to come.
Our nation's ability to deal with gun violence is limited only by the civility of our discourse, the scope of our ambitions and — as Daniel would have done — our willingness to come together and take action.

www.washingtonpost.com/opinions/in-response-to-newtown-shootings-think-of-daniel/2013/01/29/b658933a-6a48-11e2-95b3-272d604a10a3_story.html
After Newtown shooting, mourning parents enter into the lonely quiet
Mark and Jackie Barden hug their 11-year-old daughter, Natalie, before she goes to school in Newtown, Conn., in May.
(Linda Davidson/The Washington Post)
www.washingtonpost.com/national/after-newtown-shooting-mourning-parents-enter-into-the-lonely-quiet/2013/06/08/0235a882-cd32-11e2-9f1a-1a7cdee20287_story.html
Carrie Lendroth Battaglia's daughter is in first grade and was in the classroom next door to the one where the shooter killed the most students
Letter from Sandy Hook Mom
I am a mother of three girls, ages 2, 6, and 8. Two of them are Sandy Hook School students – one in first grade, one in third grade. I would like to share with you our experience with Dec 14th and my feelings on gun control.
My third grader has gone thru some deep grief over the loss of her siblings' friends. She was devastated by the loss of the teachers, especially her principal, Dawn Hocksprung, whom we all loved. She is angry that this has happened, that lives were lost so tragically and that she can no longer go to her school. When she was evacuated that day to the fire house, she did not know if her little sister had survived. She struggles with the concept that there is evil in the world, that something this horrific could happen to this town, to her, to her sisters, to her friends. She is 8.
In addition to the tragic loss of her playmates, friends, and teachers, my first grader suffers from PTSD. She was in the first room by the entrance to the school. Her teacher was able to gather the children into the tiny bathroom inside the classroom. There she stood, with 14 of her classmates and her teacher, all of them crying. You see, she heard what was happening on the other side of the wall. She heard everything. Shooting. Screaming. Pleading. She was sure she was going to die that day and did not want to die for Christmas. Imagine what this must have been like. With PTSD comes fear – all kinds of fear. Each time she hears a loud or unfamiliar noise, she experiences the fear she had in that bathroom. She is not alone. All of her classmates have PTSD. She struggles nightly with nightmares, difficulty falling asleep, and being afraid to go anywhere in her own home. At school she becomes withdrawn, crying daily, covering her ears when it gets too loud and waiting for this to happen again. She is 6.
Imagine being this age and living like this. My children face their fears every day by getting on the bus and going to school. Would you be able to do the same? How would you feel if these were your children?
Although we are getting help and trying to heal, this will affect us for the rest of our lives. We are thankful that by the grace of god, our children came home to us on Dec. 14. As a family and a community, we are deeply saddened and heartbroken at the loss of so many innocent children and beloved teachers.
We are also furious.
Furious that 26 families must suffer with grief so deep and so wide that it is unimaginable.
Furious that the innocence and safety of my children's lives has been taken.
Furious that someone had access to the type of weapon used in this massacre.
Furious that this type of weapon is even legal.
Furious that gun makers make ammunition with such high rounds and our government does nothing to stop them.
Furious that the ban on assault weapons was carelessly left to expire.
Furious that lawmakers let the gun lobbyists have so much control.
Furious that somehow, someone's right to own a gun is more important than my children's rights to life.
Furious that common sense has gone out the window.
Furious that lawmakers are too scared to take a stand.
The "what if's" never stop going through my mind. What if this weapon were still banned? What if there weren't high capacity rounds? What if the shooter had different bullets? I think the carnage would have been a lot less. Yes, there would have been losses. But there would have been time. Time to react and possibly make a difference.
Those children and teachers had NO CHANCE. They did not just get shot. They got blown apart.
It's time to stop catering to the gun owners and lobbyists and start caring about our children, our families, our teachers, our friends and our neighbors. The NRA does not care about people, they care about money.
I don't believe that anyone, other than the military, has a right to own the type of weapon or ammo used at Sandy Hook.
The second amendment is not limitless.
Weapons like the AR15 have no place in society. This is simply common sense.
Veronique Pozner, mother of Noah Pozner, killed at Sandy Hook Elementary, gave this statement which I believe whole-heartedly:
"The equation is terrifyingly simple: Faster weapons equal more fatalities. This is not about the right to bear arms. It is about the right to bear weapons with the capacity for mass destruction."
We are trying to move forward, but there must be change. If our lawmakers cannot make this change, then we, as a people will elect those who will.
I insist on the following from you, our lawmakers:
-Universal, federal level background checks – no loopholes;
-Ban ALL assault weapons like the ones used at Sandy Hook;
-Ban high capacity magazines and armor piercing bullets;
-Address mental health issues
Just as there are limits on Freedom of Speech, the MUST be limits on the 2nd amendment, for the good of society.
I ask you to think hard about your choices. Look at the pictures of the 26 innocent lives taken so needlessly and wastefully, using a weapon that never should have been in the hands of civilians. Really think. Changing the laws may "inconvenience" some gun owners, but it may also save a life, perhaps a life that is dear to me or you. Are you really willing to risk it?
There MUST NOT be another Sandy Hook. You have a responsibility and an obligation to act now and change the laws.
I hope and pray that you do not fail.
Carrie Lendroth Battaglia
Sandy Hook
http://newtownaction.org/letter-from-sandy-hook-mom/
http://www.dailymail.co.uk/news/article-2249579/Sandy-Hook-shooting-First-funerals-place-following-massacre-year-old-Jets-fan-laid-rest.html
The tragic last school picture of first graders who were gunned down by Sandy Hook shooter with their substitute teacher

Clockwise from top left: Catherine Hubbard, Ana Marquez-Greene, James Mattioli, Grace McDonnell, Josephine Gay, Madeline Hsu, Chase Kowalski, unknown, Jack Pinto, Noah Pozner, Jessica Rekos, Daniel Barden, Charlotte Bacon, Benjamin Wheeler and Caroline Previdi
Gone too soon: Little Emilie Parker is missing from the picture. Her father told MailOnline she was not at school that day
Missed: The Parkers are pictured with six-year-old Emilie, right, and their two younger daughters

www.dailymail.co.uk/news/article-2303583/Sandy-Hook-shooting-Newtown-parents-enduring-pain-school-tragedy.html
Suffering: Krista Rekos said she has no idea how she will get through life without her daughter Jessica
J. SCOTT APPLEWHITE/AP
Sen. Joe Manchin (left) meets Nelba Marquez-Greene and Mark Barden, both of whom lost a child at Sandy Hook. Manchin changed his position in favor of new background checks.
NEWTOWN SHOOTING | THE VICTIMS
Charlotte Bacon, 6
Daniel Barden, 7
Olivia Engel, 6
Josephine Gay, 7
Ana Marquez-Greene, 6
Dylan Hockley, 6
Madeleine Hsu, 6
Catherine Hubbard, 6
Chase Kowalski, 7
Jesse Lewis, 6
James Mattioli, 6
Grace McDonnell, 7
Emilie Parker, 6
Jack Pinto, 6
Noah Pozner, 6
Caroline Previdi, 6
Jessica Rekos, 6
Avielle Richman, 6
Benjamin Wheeler, 6
Allison Wyatt, 6
Rachel Davino, 29
Teacher
Dawn Hochsprung, 47
School principal
Nancy Lanza, 52
Mother of gunman
Anne Marie Murphy, 52
Teacher
Lauren Rousseau, 30
Teacher
Mary Sherlach, 56
School psychologist
Victoria Soto, 27
Teacher
She ushered special education teacher Anne Marie Murphy and several children under her desk. She moved other children behind a bookcase or barrier. When Lanza came in, Soto was the only one he saw. She faced him. He killed her, and then he killed the children and Murphy under the desk. Murphy died shielding a child in her arms. Other children escaped the classroom. Soto's actions saved children's lives.

www.courant.com/news/connecticut/newtown-sandy-hook-school-shooting/hc-victoria-soto-1226-20121225,0,1760313.story
She threw herself in front of the gunman to save her students: Astonishing story of the brave teacher who died protecting children from 'deeply disturbed' killer
Victoria Soto, 27, sacrificed herself to save her first grade students by throwing her body in front of gunman Adam Lanza
She was a highly regarded member of staff, popular with students and known for chewing gum in class
Principal Dawn Hochsprung and school psychologist Mary Sherlach were also killed execution-style after confronting Lanza
A fourth teacher has been named as Lauren Rousseau, 30
Selfless: Victoria Soto threw herself in front of her first grade students and was killed protecting them

www.dailymail.co.uk/news/article-2248477/She-threw-gunman-save-students-Astonishing-story-brave-teacher-died-protecting-children-deeply-disturbed-killer.html
Jillian Soto, identified by USA Today, brakes down as she learns the news about her sister, Victoria Soto, who was killed at the Sandy Hook Elementary School shooting.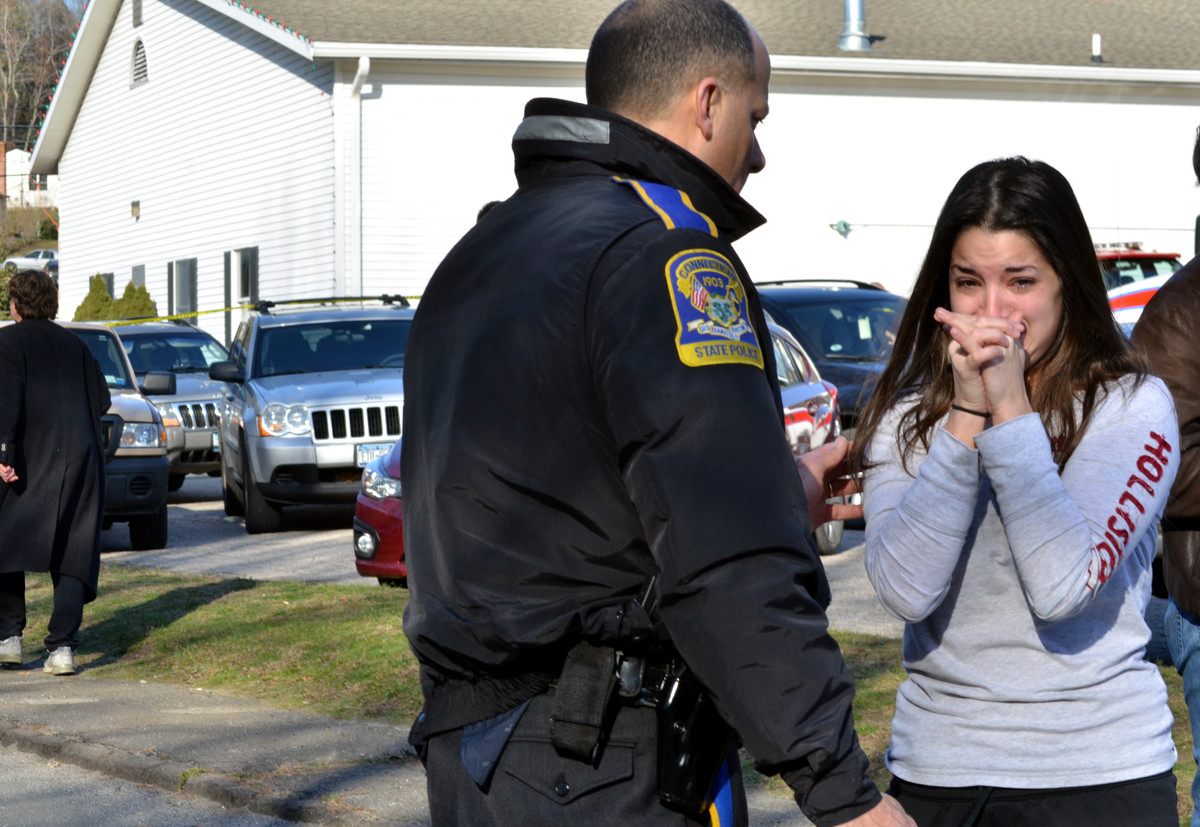 Cardinal Dolan compares murdered Sandy Hook teacher whose body was found cradling six-year-old British special needs student to Jesus
Anne Marie Murphy, 52, laid to rest in Kotonah, New York
Her body was found shielding Dylan Hockley, who also died in the massacre
Dolan: 'Like Jesus, Annie was an excellent teacher and died for her friends'
Another teacher and three students also buried on Thursday
Anne Marie Murphy
http://www.dailymail.co.uk/news/article-2251263/Cardinal-Dolan-compares-Sandy-Hook-teacher-Anne-Marie-Murphy-Jesus.html
A woman of noble character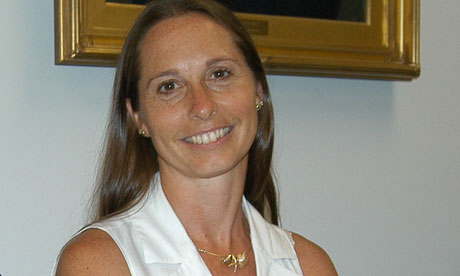 Hundreds pay respects to Sandy Hook Principal Dawn Hochsprung

www.washingtonpost.com/national/hundreds-pay-respects-to-sandy-hook-principal-dawn-hochsprung/2012/12/19/cc06878a-4a1f-11e2-ad54-580638ede391_story.html
Sandy Hook reading consultant tells how heroic principal and psychologist saved her life after confronting shooter
Becky Virgalla was in a meeting with Principal Dawn Hochsprung, school psychologist Mary Sherlach and other staff when the gunman opened fire
Hochsprung, Sherlach and another teacher went to check out the noise and warned their colleagues: 'Shooter! Stay put'
Virgalla: 'They saved my life'
Saved: Speaking at a memorial for Sandy Hook victims, Becky Virgalla recounted hearing the gunshots ring out. Three members of staff ran out of the room and warned her: 'Shooter, stay put'
www.dailymail.co.uk/news/article-2252911/Becky-Virgalla-Reading-consultant-tells-heroic-Sandy-Hook-principal-psychologist-saved-life-confronting-shooter.html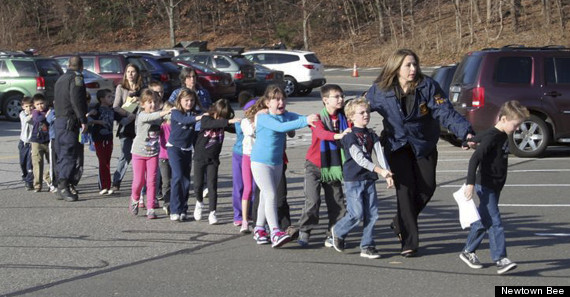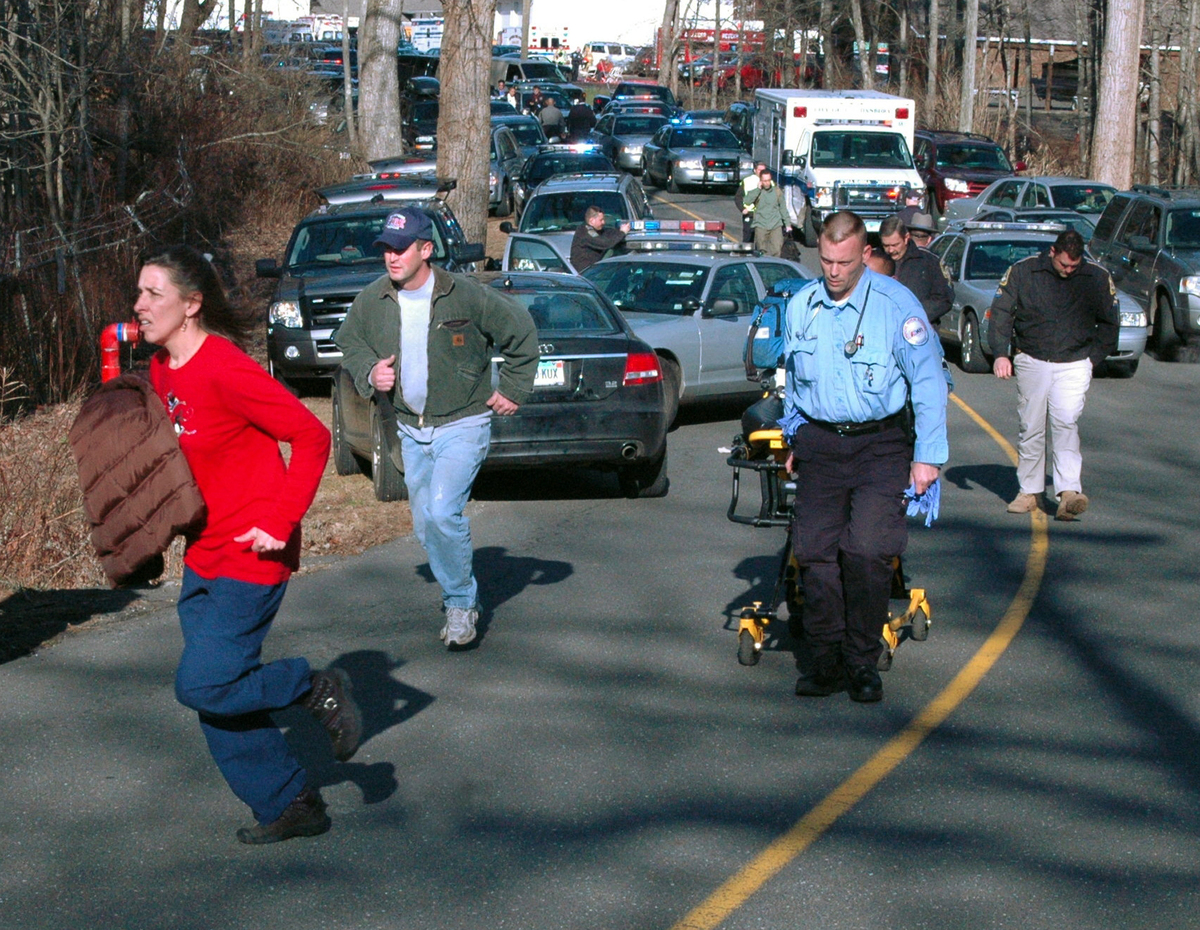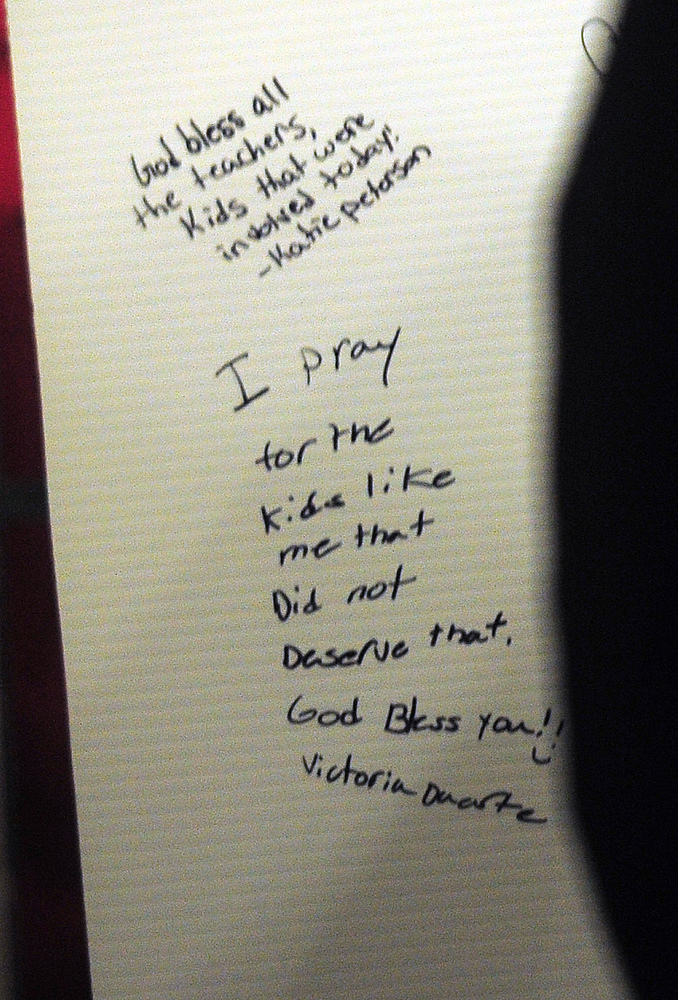 Sandy Hook massacre: New details, but few answers

www.washingtonpost.com/national/gunman-kills-mother-then-26-in-grade-school-rampage-in-connecticut/2012/12/15/9017a784-46b6-11e2-8061-253bccfc7532_story.html
The best thing this person ever did was commit suicide.
Perspective:
For Lanza family, son Adam's difficulties dominated

www.washingtonpost.com/local/for-lanza-family-son-adams-difficulties-dominated/2012/12/17/3c0e8eb0-4890-11e2-ad54-580638ede391_story.html
"For several days, journalists tripped over one another at local video game stores, computer repair shops, a comic book store — just about any place where Lanza might have, perhaps should have, been known. But nobody knew him. Nobody had even seen him. Lanza was just a picture on the news. Even in life, he had been a ghost.
The only person who recalled dealing with him was the town hairstylist, who had trimmed Lanza's hair. Think about that: Except for using the bathroom and eating his meals, getting a haircut was just about the only thing Lanza couldn't do online. All the things he apparently enjoyed were accessible to him without leaving his room. He could find community among gamers. He could order computer parts. He could buy books without ever visiting a bookstore. That he smashed his hard drive before the shooting spree was telling — a digital suicide preceding his physical one….Our lives are becoming more transmitted than lived."

www.washingtonpost.com/opinions/why-do-we-still-know-so-little-about-adam-lanza-because-he-lived-in-the-cloud/2013/01/18/34b722ee-5f51-11e2-a389-ee565c81c565_story.html
Connecticut Shooting Victims' Stories Begin To Emerge
By MATT SEDENSKY 12/16/12 02:08 PM ET EST
Most died at the very start of their young lives, tiny victims taken in a way not fit for anyone regardless of age. Others found their life's work in sheltering little ones, teaching them, caring for them, treating them as their own. After the gunfire ended Friday at Sandy Hook Elementary School, the trail of loss was more than many could bear: 20 students and six adults at the school, the gunman's mother at home, and the gunman himself.
A glimpse of some of those who died:
___
CHARLOTTE BACON, 6
They were supposed to be for the holidays, but finally on Friday, after hearing much begging, Charlotte Bacon's mother relented and let her wear the new pink dress and boots to school.
It was the last outfit the outgoing redhead would ever pick out. Charlotte's older brother, Guy, was also in the school but was not shot.
Her parents, JoAnn and Joel, had lived in Newtown for four or five years, JoAnn's brother John Hagen, of Nisswa, Minn., told Newsday.
"She was going to go some places in this world," Hagen told the newspaper. "This little girl could light up the room for anyone."
___
OLIVIA ENGEL, 6
The images of Olivia Engel will live far beyond her short lifetime. There she is, visiting with Santa Claus, or feasting on a slice of birthday cake. There's the one of her swinging a pink baseball bat, and another posing on a boat. In some, she models a pretty white dress; in others, she makes a silly face.
Dan Merton, a longtime friend of the girl's family, says he could never forget the child, and he has much to say when he thinks of her.
"She loved attention," he said. "She had perfect manners, perfect table manners. She was the teacher's pet, the line leader."
On Friday, Merton said, she was simply excited to go to school and then return home and make a gingerbread house.
"Her only crime," he said, "is being a wiggly, smiley 6-year-old."
___
DAWN HOCHSPRUNG, 47, principal
Dawn Hochsprung's pride in Sandy Hook Elementary was clear. She regularly tweeted photos from her time as principal there, giving indelible glimpses of life at a place now known for tragedy. Just this week, it was an image of fourth-graders rehearsing for their winter concert; days before that, the tiny hands of kindergartners exchanging play money at their makeshift grocery store.
She viewed her school as a model, telling The Newtown Bee in 2010 that "I don't think you could find a more positive place to bring students to every day." She had worked to make Sandy Hook a place of safety, too, and in October, the 47-year-old Hochsprung shared a picture of the school's evacuation drill with the message "safety first." When the unthinkable came, she was ready to defend.
Officials said she died while lunging at the gunman in an attempt to overtake him.
"She had an extremely likable style about her," said Gerald Stomski, first selectman of Woodbury, where Hochsprung lived and had taught. "She was an extremely charismatic principal while she was here."
___
MADELEINE HSU, 6
Dr. Matthew Velsmid was at Madeleine's house on Saturday, tending to her stricken family. He said the family did not want to comment.
Velsmid said that after hearing of the shooting, he went to the triage area to provide medical assistance but there were no injuries to treat.
"We were waiting for casualties to come out, and there was nothing. There was no need, unfortunately," he said. "This is the darkest thing I've ever walked into, by far."
Velsmid's daughter, who attends another school, lost three of her friends.
___
CATHERINE HUBBARD, 6
A family friend turned reporters away from the house, but Catherine's parents released a statement expressing gratitude to emergency responders and for the support of the community.
"We are greatly saddened by the loss of our beautiful daughter, Catherine Violet and our thoughts and prayers are with the other families who have been affected by this tragedy," Jennifer and Matthew Hubbard said. "We ask that you continue to pray for us and the other families who have experienced loss in this tragedy."
___
CHASE KOWALSKI, 7
Chase Kowalski was always outside, playing in the backyard, riding his bicycle. Just last week, he was visiting neighbor Kevin Grimes, telling him about completing – and winning – his first mini-triathlon.
"You couldn't think of a better child," Grimes said.
Grimes' own five children all attended Sandy Hook, too. Cars lined up outside the Kowalskis' ranch home Saturday, and a state trooper's car idled in the driveway. Grimes spoke of the boy only in the present tense.
___
NANCY LANZA, 52, gunman's mother
She once was known simply for the game nights she hosted and the holiday decorations she put up at her house. Now Nancy Lanza is known as her son's first victim.
Authorities say her 20-year-old son Adam gunned her down before killing 26 others at Sandy Hook. The two shared a home in a well-to-do Newtown neighborhood, but details were slow to emerge of who she was and what might have led her son to carry out such horror.
Kingston, N.H., Police Chief Donald Briggs Jr. said Nancy Lanza once lived in the community and was a kind, considerate and loving person. The former stockbroker at John Hancock in Boston was well-respected, Briggs said.
Court records show Lanza and her ex-husband, Peter Lanza, filed for divorce in 2008. He lives in Stamford and is a tax director at General Electric. A neighbor, Rhonda Cullens, said she knew Nancy Lanza from get-togethers she had hosted to play Bunco, a dice game. She said her neighbor had enjoyed gardening.
"She was a very nice lady," Cullens said. "She was just like all the rest of us in the neighborhood, just a regular person."
___
JESSE LEWIS, 6
Six-year-old Jesse Lewis had hot chocolate with his favorite breakfast sandwich – sausage, egg and cheese – at the neighborhood deli before going to school Friday morning.
Jesse and his parents were regulars at the Misty Vale Deli in Sandy Hook, Conn., owner Angel Salazar told The Wall Street Journal.
"He was always friendly; he always liked to talk," Salazar said. Jesse's family has a collection of animals he enjoyed playing with, and he was learning to ride horseback.
Family friend Barbara McSperrin told the Journal that Jesse was "a typical 6-year-old little boy, full of life."
___
ANA MARQUEZ-GREENE, 6
A year ago, 6-year-old Ana Marquez-Greene was reveling in holiday celebrations with her extended family on her first trip to Puerto Rico. This year will be heart-breakingly different.
The girl's grandmother, Elba Marquez, said the family moved to Connecticut just two months ago, drawn from Canada, in part, by Sandy Hook's sterling reputation. The grandmother's brother, Jorge Marquez, is mayor of a Puerto Rican town and said the child's 9-year-old brother also was at the school but escaped safely.
Elba Marquez had just visited the new home over Thanksgiving and is perplexed by what happened. "What happened does not match up with the place where they live," she said.
A video spreading across the Internet shows a confident Ana hitting every note as she sings "Come, Thou Almighty King." She flashes a big grin and waves to the camera when she's done.
Jorge Marquez confirmed the girl's father is saxophonist Jimmy Greene, who wrote on Facebook that he was trying to "work through this nightmare."
"As much as she's needed here and missed by her mother, brother and me, Ana beat us all to paradise," he wrote. "I love you sweetie girl."
___
JAMES MATTIOLI, 6
The upstate New York town of Sherrill is thinking of Cindy Mattioli, who grew up there and lost her son James in the school shooting in Connecticut.
"It's a terrible tragedy, and we're a tight community," Mayor William Vineall told the Utica Observer-Dispatch. "Everybody will be there for them, and our thoughts and prayers are there for them."
James' grandparents, Jack and Kathy Radley, still live in the city, the newspaper reported.
___
ANNE MARIE MURPHY, 52, teacher
A happy soul. A good mother, wife and daughter. Artistic, fun-loving, witty and hardworking.
Remembering their daughter, Anne Marie Murphy, her parents had no shortage of adjectives to offer Newsday. When news of the shooting broke, Hugh and Alice McGowan waited for word of their daughter as hours ticked by. And then it came.
Authorities told the couple their daughter was a hero who helped shield some of her students from the rain of bullets. As the grim news arrived, the victim's mother reached for her rosary.
"You don't expect your daughter to be murdered," her father told the newspaper. "It happens on TV. It happens elsewhere."
___
EMILIE PARKER, 6
Quick to cheer up those in need of a smile, Emilie Parker never missed a chance to draw a picture or make a card.
Her father, Robbie Parker, fought back tears as he described the beautiful, blond, always-smiling girl who loved to try new things, except foods.
Parker, one of the first parents to publicly talk about his loss, expressed no animosity for the gunman, even as he struggled to explain the death to his other two children, ages 3 and 4. He's sustained by the fact that the world is better for having had Emilie in it.
"I'm so blessed to be her dad," he said.
___
NOAH POZNER, 6
Noah was "smart as a whip," gentle but with a rambunctious streak, said his uncle, Alexis Haller of Woodinville, Wash. Noah's twin sister Arielle, assigned to a different classroom, survived the shooting. He called her his best friend, and with their 8-year-old sister, Sophia, they were inseparable.
"They were always playing together, they loved to do things together," Haller said. When his mother, a nurse, would tell him she loved him, he would answer, "Not as much as I love you, Mom."
Haller said Noah loved to read and liked to figure out how things worked mechanically. For his birthday two weeks ago, he got a new Wii.
"He was just a really lively, smart kid," Haller said. "He would have become a great man, I think. He would have grown up to be a great dad."
___
LAUREN GABRIELLE ROUSSEAU, 30, teacher
Lauren Rousseau had spent years working as a substitute teacher and doing other jobs. So she was thrilled when she finally realized her goal this fall to become a full-time teacher at Sandy Hook.
Her mother, Teresa Rousseau, a copy editor at the Danbury News-Times, released a statement Saturday that said state police told them just after midnight that she was among the victims.
"Lauren wanted to be a teacher from before she even went to kindergarten," she said. "We will miss her terribly and will take comfort knowing that she had achieved that dream."
Her mother said she was thrilled to get the job.
"It was the best year of her life," she told the newspaper.
Rousseau has been called gentle, spirited and active. She had planned to see "The Hobbit" with her boyfriend Friday and had baked cupcakes for a party they were to attend afterward. She was born in Danbury, and attended Danbury High, college at the University of Connecticut and graduate school at the University of Bridgeport.
She was a lover of music, dance and theater.
"I'm used to having people die who are older," her mother said, "not the person whose room is up over the kitchen."
___
MARY SHERLACH, 56, school psychologist
When the shots rang out, Mary Sherlach threw herself into the danger.
Janet Robinson, the superintendent of Newtown Public Schools, said Sherlach and the school's principal ran toward the shooter. They lost their own lives, rushing toward him.
Even as Sherlach neared retirement, her job at Sandy Hook was one she loved. Those who knew her called her a wonderful neighbor, a beautiful person, a dedicated educator.
Her son-in-law, Eric Schwartz, told the South Jersey Times that Sherlach rooted on the Miami Dolphins, enjoyed visiting the Finger Lakes, relished helping children overcome their problems. She had planned to leave work early on Friday, he said, but never had the chance. In a news conference Saturday, he told reporters the loss was devastating, but that Sherlach was doing what she loved.
"Mary felt like she was doing God's work," he said, "working with the children."
___
VICTORIA SOTO, 27, teacher
She beams in snapshots. Her enthusiasm and cheer was evident. She was doing, those who knew her say, what she loved.
And now, Victoria Soto is being called a hero.
Though details of the 27-year-old teacher's death remained fuzzy, her name has been invoked again and again as a portrait of selflessness and humanity among unfathomable evil. Those who knew her said they weren't surprised by reports she shielded her first-graders from danger.
"She put those children first. That's all she ever talked about," said a friend, Andrea Crowell. "She wanted to do her best for them, to teach them something new every day."
Photos of Soto show her always with a wide smile, in pictures of her at her college graduation and in mundane daily life. She looks so young, barely an adult herself. Her goal was simply to be a teacher.
"You have a teacher who cared more about her students than herself," said Mayor John Harkins of Stratford, the town Soto hailed from and where more than 300 people gathered for a memorial service Saturday night. "That speaks volumes to her character, and her commitment and dedication."

www.huffingtonpost.com/2012/12/15/connecticut-shooting-victims_n_2308463.html
http://napoleonlive.info/see-the-evidence/mindless-violence-and-senseless-cruelty/
Sandy Hook School Girl Plays Dead, Survives Elementary Shooting; Pastor Jim Solomon Recounts Story
When little children play "let's pretend," the stakes should never be so high.
When killer Adam Lanza brought terror to Sandy Hook Elementary school, one 6-year-old girl had the wit to play dead and save herself from the horrific fate of her classmates.
Local pastor Jim Solomon, who spoke to the first grader after Friday's mass shooting in Newtown, Conn., recounted the story to ABC News. Of 16 children in the classroom, the unidentified girl was the only survivor.
"She ran out of the school building covered from head to toe with blood and the first thing she said to her mom was, 'Mommy, I'm OK but all my friends are dead,'" Solomon said. "Somehow in that moment, by God's grace, she was able to act as she was already deceased."
The girl was reportedly the first student to flee the building after the massacre at the school, which left 20 children, six adults and the gunman dead.
Solomon told ABC News that the girl and her parents are doing "as well as you can expect them to" after the heartbreaking incident.
The first two of 20 children whose lives were taken will be buried today.
Sandy Hook Elementary School remains closed, and police believe it will take more than a month before they turn the school grounds back over to the district. The investigation into Lanza — crime who carried an arsenal of guns and ammunition as he acted out his gruesome and suicidal mission — is ongoing.

www.huffingtonpost.com/2012/12/17/sandy-hook-school-girl-plays-dead-survives_n_2315947.html
Newtown Shows It's Moving Forward, in Step

Michael Kirby Smith for The New York Times
Newtown, Conn., has celebrated its annual Labor Day parade since 1962. Local cheerleaders were among the participants
By PETER APPLEBOME
Published: September 2, 2013
NEWTOWN, Conn. — She had not expected this. But at the judge's stand at the end of the parade, after carrying the Sandy Hook Elementary School banner with three other mothers, Kristen Kinsey found herself proud, happy, teary and confused.
"It was emotional; it was overly emotional," said Mrs. Kinsey, a mother of a first and a third grader, "especially at the end where there were so many faces we knew, people who had been in that school, in those classrooms that day. I felt so much support, so much happiness, so much sadness. I didn't expect to cry the way I did, but it was just overwhelming."
Many places have a day, an observance or a celebration each year that sums up who they are, were or like to think they should be, like Mardi Gras in New Orleans or Patriots' Day in Boston. In Newtown, for 51 years, it has been the annual celebration of community, summer's end and simpler times that plays out for two hours every Labor Day in the parade on and around its broad Main Street.
Life in Newtown, of course, has never been less simple. But on this day, as perhaps on every day since 20 children and 6 adults were shot to death at Sandy Hook Elementary, Newtown did its best to be respectful of tragedy while grasping for normalcy, both yearning for the way life was before last Dec. 14 and adjusting to the way it has to be afterward.
This was no small task, as the Newtown parade is known throughout Connecticut as one of the state's most exuberant spectacles and a mandatory stop for campaigning politicians. It dates to Sept. 3, 1962, when an estimated 4,000 people showed up for the first parade. Back then, 41 groups participated. Now, it is about 250, and organizers struggle to keep the parade at two hours.
Over the years, it has evolved into a cockeyed festival of Americana. On and on they come — the Pyramid Shriners Motor Patrol in their tiny red Thunderbirds and Mustangs, the Newtown Juggling and Circus Arts Club, the Rocking Roosters square dance club, the Simsbury Spinners baton twirling team, Shaolin Studios kung fu and karate academy and seemingly every marching band, antique tractor, vintage fire truck and bagpipe ensemble in southern New England and some from far outside the region.
"There's certainly a sensitivity, a need to respect what's happened this year that makes this parade different than others in the past," said Beth Caldwell, the parade committee president.
"But one thing we've really tried to do is to keep this as normal as possible."
So, for instance, at a parade where the sticker of choice was a green one reading "I choose love," the Ben's Lighthouse float chose the Beatles, the favorite music of Ben Wheeler, one of the first graders killed at the school. The Lighthouse is a fund in his honor designed to provide programs and activities to promote the long-term health of the area's children and families. Its float rolled along to the sounds of "Let It Be," "Day Tripper" and "All You Need Is Love," acknowledging loss but striving to be upbeat about moving forward from it.
"It doesn't feel like individuals watching a parade," said Pastor Kathie Adams-Shepherd of the Trinity Episcopal Church, which oversees the fund. She marched along in clerical collar, Bermuda shorts and running shoes, applauding the crowd as it applauded back. "You feel everyone lifting each other up. And if God's next act is to get the humidity down, that would be O.K., too."
So the parade's traditional lineup and spirit were pretty much intact, though alert parade aficionados noted the absence of the beloved Hickey Septic truck ("If it's icky, just call Hickey"), which traditionally rolled along, sometimes escorted by helpers dressed as skunks and tossing candy to children in the crowd. The company has been bought out and was conspicuous in its absence.
But, given the events of the past year, parade organizers faced tough questions like never before. Normally, there is a grand marshal, but whom to single out after the events of the past year? They decided to pick no one, leaving the whole town this year's honoree and the slogan: "We are Newtown — marching strong." The parade is always punctuated by sharp cracks of rifle fire from re-enactors or military units. The decision this year was that no shots would be fired. How to properly acknowledge the police, fire and other first responders? Representatives from the five fire companies, the Police Department, E.M.S. service and search-and-rescue team were selected to march behind a banner reading "Newtown's First Responders."
Then there was the question of how to deal with the sense of Sandy Hook overload left behind by so many well-meaning vigils and special events that First Selectman E. Patricia Llodra in June said the town would stop accepting offers for similar events from outsiders.
"Sometimes, yes, we feel foundationed out and evented out, and it's too much — let's have another yoga day and another healing arts day," said Dr. Jeremy Richman, a neuroscientist, who with his wife, Jennifer Hensel, also a scientist, started the Avielle Foundation, dedicated to brain science and programs to reduce violence, in honor of another child victim, their daughter.
But the parade, he said, is "not a run or a guided meditation."
"It's a parade that's for everyone," he said. "It's about getting together and celebrating being a community, so we're proud to be part of it."
Local lore has it that it never rains on the parade, which is not strictly true, but close enough to inspire confidence that all the planning would not go to naught. Still, given the morning's dark sky, the confidence seemed on shaky ground. As the parade stepped off at 10, there were torrential rains to the west and south, forcing cars to pull off highways, threatening havoc.
Around 11, there was a brief cooling shower, then nary a drop as the parade rolled triumphantly on. Hours after it ended, the skies opened, drenching the empty streets and the stray lawn chairs left on the parade route.
But by then, the paradegoers of Newtown had long since retired to the peace and safety of home.
Elizabeth Maker contributed reporting from Newtown.
www.nytimes.com/2013/09/03/nyregion/newtown-shows-its-moving-forward-in-step.html
Gene Rosen had finished feeding his cats at his home near the Sandy Hook Elementary school when he saw 6 small children at the end of his driveway. He quickly discovered they were among the first to escape Friday's deadly shooting.
Neighbor took 6 young survivors into his home
By By PAT EATON-ROBB | Associated Press
NEWTOWN, Conn. (AP) — Gene Rosen had just finished feeding his cats and was heading from his home near Sandy Hook Elementary school to a diner Friday morning when he saw six small children sitting in a neat semicircle at the end of his driveway.
A school bus driver was standing over them, telling them things would be all right. It was about 9:30 a.m., and the children, he discovered, had just run from the school to escape a gunman.
"We can't go back to school," one little boy told Rosen. "Our teacher is dead. Mrs. Soto; we don't have a teacher."
Rosen, a 69-year-old retired psychologist, took the four girls and two boys into his home, and over the next few hours gave them toys, listened to their stories and called their frantic parents.
Rosen said he had heard the staccato sound of gunfire about 15 minutes earlier but dismissed it as an obnoxious hunter in the nearby woods.
"I had no idea what had happened," Rosen said. "I couldn't take that in."
He walked the children past his small goldfish pond with its running waterfall, and the garden he made with his two grandchildren, into the small yellow house he shares with his wife.
He ran upstairs and grabbed an armful of stuffed animals. He gave those to the children, along with some fruit juice, and sat with them as the two boys described seeing their teacher being shot.
Victoria Soto, 27, was a first-grade teacher killed when 20-year-old Adam Lanza burst into her classroom. It wasn't clear how the children escaped harm, but there have been reports that Soto hid some of her students from the approaching gunman. The six who turned up at Rosen's home did apparently have to run past her body to safety.
"They said he had a big gun and a little gun," said Rosen, who didn't want to discuss other details the children shared.
Rosen called the children's parents, using cellphone numbers obtained from the school bus company, and they came and retrieved their children.
One little girl, he said, spent the entire ordeal clutching a small stuffed Dalmatian to her chest and staring out the window looking for her mommy.
And one little boy brought them all a moment of levity.
"This little boy turns around, and composes himself, and he looks at me like he had just removed himself from the carnage and he says, 'Just saying, your house is very small,'" Rosen said. "I wanted to tell him, 'I love you. I love you.'"
Rosen said Sandy Hook had always been a place of joy for him. He taught his 8-year-old grandson to ride his bike in the school parking lot and took his 4-year-old granddaughter to use the swings.
"I thought today how life has changed, how that ground has been marred, how that school has been desecrated," he said.
He said it wasn't his training as a psychologist that helped him that day — it was being a grandparent.
A couple of hours after the last child left, a knock came on his door. It was a frantic mother who had heard that some children had taken refuge there. She was looking for her little boy.
"Her face looked frozen in terror," Rosen said, breaking down in tears.
"She thought maybe a miracle from God would have the child at my house," he said. Later, "I looked at the casualty list … and his name was on it."
http://news.yahoo.com/neighbor-took-6-young-survivors-home-205020443.html
Tales of heroism emerge from 'evil' school shooting
By Chris Kaufman
NEWTOWN, Connecticut | Sat Dec 15, 2012 3:07pm EST
(Reuters) – Elementary school library clerk Mary Ann Jacob heard gunshots and shouted "Lockdown!" to a class of fourth graders. Then she discovered the classroom door wouldn't lock.
Quickly, quietly she and other library staff got the 18 children down on the floor and crawled with them to a classroom storage closet. Hiding from the gunman who killed 20 children and six adults at Sandy Hook Elementary School on Friday, they barricaded themselves inside by shoving a file cabinet against the door.
"We settled them down with paper and crayons," Jacob told reporters on Saturday.
The gunfire suddenly ended and police came pounding at the door. But the library staff refused to open it until they slipped a badge under the door, Jacob said.
In the aftermath of the massacre, Connecticut Governor Dannel Malloy on Friday said "evil" had descended upon the small community of Newtown. But emerging a day after the carnage were tales of heroism by school staff members, including the six who died.
There was first-grade teacher Vicki Leigh Soto, 27, who police said "put herself between the kids and the gunman's bullets" and whose body was found huddled with the students in a classroom closet, according to The Wall Street Journal.
And there were selfless survivors like first-grade teacher Kaitlin Roig. She told ABC News she scrambled her class into a cramped bathroom, locked the door and "told the kids I love them" in case those were the last words they ever heard.
A school custodian reportedly raced through the hallways echoing with gunfire to check that classroom doors were locked from the inside, the Newtown Bee newspaper said.
On Friday morning fourth graders were in Jacob's library classroom when the intercom sputtered to life with what sounded like a struggle in the school office.
"We heard some scuffling noises and stuff and I thought someone made a mistake," Jacob said. "So I called down there and the secretary answered the phone and said 'There's a shooting.'"
Then Jacob heard "popping noises" that she realized was gunfire.
"I shouted 'Lockdown!' and I ran across the hall and told the other class it was a lockdown," Jacob said.
She dashed back to her classroom and discovered that the door would not lock. Spying the storage closet in the room, Jacob and the rest of the library staff guided the children in a group-crawl to safety as the gunfire continued.
"We tried to minimize it with the kids. Just tried to keep it calm and quiet," she said. The staff told the children it was an active shooter drill that they had practiced before.
Later, Jacob said she found out that "the kids who died were in two first-grade classrooms."
Panicked parents converged on a firehouse near the school on Friday afternoon, terrified by the thought that their children might be among the dead.
"The teachers lined up, held up signs, the kids lined up behind them," Jacob said.
"There were a lot of parents running around. It came out pretty quickly that there were almost two full classes missing," she said.

www.reuters.com/article/2012/12/15/us-usa-shooting-connecticut-heroes-idUSBRE8BE0BK20121215
LOVE
The sky is crying, and the flags are at half-mast. It is a sad, sad day. But it is also your day, Noah, my little man. I will miss your forceful and purposeful little steps stomping through our house. I will miss your perpetual smile, the twinkle in your dark blue eyes, framed by eyelashes that would be the envy of any lady in this room.
Most of all, I will miss your visions of your future. You wanted to be a doctor, a soldier, a taco factory manager. It was your favorite food, and no doubt you wanted to ensure that the world kept producing tacos.

www.washingtonpost.com/national/noah-pozners-mother-uncle-deliver-moving-remembrances-of-boy-killed-in-newtown-massacre/2012/12/17/135afcae-48bf-11e2-8af9-9b50cb4605a7_story.html
Chris and Lynn McDonnell pictured moments after hearing that their six-year-old daughter Gracie was a victim of gunman Adam Lanza
'I'll never forget her blowing me kisses from the bus that day as she left for school': Mother's heartbreaking tribute to daughter Grace McDonnell, seven, who was killed in Sandy Hook massacre

Parents Lynn and Chris McDonnell lost their daughter Grace, 7, during last Friday's deadly shooting
Couple spoke with Anderson Cooper on their daughter's short but brilliant life, saying how she loved peace and art
Also said: 'I take comfort that she's with friends; each one of those children was so beautiful'
Family love: Mrs McDonnell said she'll always remember her daughter's beauty
Beach baby: The artistic first-grader loved going to the beach; some of her favorite things were seagulls and lighthouses

www.dailymail.co.uk/news/article-2250340/Sandy-Hook-victims-Grace-McDonnells-mother-Lynn-remembers-daughter-loved-peace-art.html
Ana's funeral: A horse drawn carriage carrying the body of Ana Grace Marquez-Greene leaves the church after her funeral in Bloomfield, Connecticut, on Saturday
Missed: Hannah D'Avino uploaded this picture of her sister's empty place at Christmas dinner. Rachel D'Avino, 29, was one of the six teachers gunned down with 20 students in Newtown on December 14
'It was like being told you're paralyzed': Heartbroken mother of Sandy Hook victim Noah Pozner describes horrific moment she found out her six-year-old son was dead
Veronique Pozner, 45, said some days it's 'hard to get out of bed'
She said Noah's twin Arielle continues to talk about her slain brother in the present tense and asks if the gunman can still hurt him and the other victims
Pozner has submitted a detailed proposal to the White House task force, recommending a range of reforms
By HELEN POW and ASSOCIATED PRESS
PUBLISHED: 11:09 EST, 16 January 2013 | UPDATED: 16:15 EST, 16 January 2013
Dreams: Pozner, pictured, said her little boy also came to her in dreams
The heartbroken mother of Sandy Hook victim Noah Pozner has opened up about the 'paralyzing' moment she learned her son was dead and revealed the six-year-old still comes to her in dreams.
'It was kind of like being told when you wake up from a routine operation, "I'm sorry, but you're now paralyzed below the neck and you're going to have to learn to live for the rest of your life like that,"' Veronique Pozner said.
Ponzer rushed to the Newtown elementary school from her job in nearby New Britain as soon as she heard reports about the shooting. When she arrived at the school she found her two daughters — seven-year-old Sophia and Noah's twin, Arielle — but Noah's class was unaccounted for.
As authorities investigated, parents waited. She said when she noticed clergy members among the families, she began to fear the worst.
'Just in my heart of hearts I knew something really bad had happened,' she said. She asked if it was a hostage situation. No. 'I asked them if it was a morgue up there,' she said.
After she was told Noah was one of the 26 shooting victims, she said she went into denial, thinking he was just hiding at school. Relatives and friends offered support. Visiting a makeshift memorial helped, too. She recently took her children out of town for a few days, and the family is getting counseling.
'But I find that grief finds me no matter how busy I keep,' she said. 'It's a very strange process. It just blindsides you when you least expect it.'
Pozner said her little boy also came to her in dreams. In one, the six-year-old brushes his teeth at the sink, his dark hair wet. He looks directly at his mother and says, 'Mommy, I'm having fun.'
In another, Pozner gives birth atop a mountain, is handed the infant by a midwife and walks down a long flight of stairs back to a village. But she drops the baby.
'When I got to the bottom, the baby was dead,' Pozner said, crying.
Since the massacre last month, Pozner has struggled with the gaping hole left by the loss of her energetic, affectionate son.
She has tried to help her other children cope and make sense of the senseless. Noah was especially close to his twin, who escaped the shooting unharmed along with sister Sophia.
Arielle continues to talk about Noah in the present tense. Among donations the family received was a stuffed animal they call Noah bear.
'Every time Arielle hugs it, she says it doesn't feel anything like her brother, but she does enjoy having it around,' Pozner said.
Her children are filled with questions. Why did it happen? Where is the shooter now? Can he still hurt Noah and the other victims?
'I tell them, "Just like some people can be very sick in their bodies, some people can be very sick in their souls, and they don't think the same way other people do and they can't feel other people's pain,"' Pozner said.
She assures them the gunman can't bother Noah and the other children anymore.
'What's the alternative?' the 45-year-old oncology nurse told The Associated Press in an interview this week. 'Not getting out of bed? I don't think Noah would want to see me like that, although sometimes it is hard to get out of bed.'
She has tried to help her other children cope and make sense of the senseless. Noah was especially close to his twin, who escaped the shooting unharmed along with sister Sophia.
Arielle continues to talk about Noah in the present tense. Among donations the family received was a stuffed animal they call Noah bear.
'Every time Arielle hugs it, she says it doesn't feel anything like her brother, but she does enjoy having it around,' Pozner said.
Her children are filled with questions. Why did it happen? Where is the shooter now? Can he still hurt Noah and the other victims?
'I tell them, "Just like some people can be very sick in their bodies, some people can be very sick in their souls, and they don't think the same way other people do and they can't feel other people's pain,"' Pozner said.
She assures them the gunman can't bother Noah and the other children anymore.
Goodbye: Veronique Pozner, pictured left at her son's funeral, said some days it is hard to get out of bed
She took her children back to school in neighboring Monroe this week for the first time since the shooting. On the drive, Sophia asked her not to play music on the radio because it makes her cry.
Pozner said she was reassured to see police at the school and believes such a presence can act as a deterrent.
She thinks gunman Adam Lanza's mother, who owned the weapons the 20-year-old used to kill 20 six and seven-year-olds and six staff members in the December 14 assault, was negligent.
'I think he had a mother who at best was blind; at worst aided and abetted him,' she said.
'Maybe she wanted to compensate for his feelings of inadequacy by letting him handle weapons of mass carnage and taking him to shooting ranges. I think there was gross irresponsibility, and I'd like to think that maybe she was just as unwell as he was to have allowed someone as obviously compromised as he was to have access.'
Those who knew Nancy Lanza have described her as a good, devoted mother.
To help move on from the tragedy, Ponzer is pushing for reforms from the White House. Her family has submitted a detailed proposal to a White House task force, recommending a range of legal reforms including federal grants to review security at public schools and requiring gun owners to lock weapons if mentally ill or dangerous people could access them otherwise.
Pozner also said it wasn't right that the law protects the release of any mental health information on the gunman. She said she planned to challenge that because it could shed light.
'Those are all answers that I feel that we're entitled to,' she said.
The family is suggesting a new law requiring people to notify police within 24 hours if they know about an imminent threat of harm or death made by a person who has access to guns or explosive devices.
'I've just been in deep admiration of her strength and her ability to try to do something positive and to try to make a difference out of what happened,' said Pozner's brother, Alexis Haller. 'She's an inspiration really for the whole family.'
Pozner said she is not ready to go back to work yet. These days, she has a tattoo near her wrist with angel wings and her son's name, his birth date of November 20, 2006, and the day he died, December 14, 2012.
'He was just a very expressive little boy,' Pozner said. 'He was just a bundle of energy.'
She thinks of her son's facial expressions, of him asking for a snack after school. Days before the massacre, he had come downstairs to see her shortly after being put to bed.
'I just wanted to give you one more hug,' Noah said. 'Why is your pajama top off?' his mother asked.
'So I can feel your heart better,' he replied.

www.dailymail.co.uk/news/article-2263415/Veronique-Pozner-Sandy-Hook-Noahs-mother-describes-moment-told-son-dead.html
Why are mass shootings becoming more common?
Posted by Brad Plumer on December 14, 2012 at 4:18 pm
The news on Friday was horrific. A man highlighted this discrepancy back in July. For much of the 20th century there were, on average, a handful of mass killings per decade. But that number spiked in 1980, and kept rising thereafter. In the United States, there have now been least 62 mass shootings in the past three decades, with 24 in the last seven years alone, according to a recent Mother Jones survey. This has happened even as the nation's overall violent crime and homicide rates have been dropping.
So what explains the apparent rise in mass shootings?
One theory is that certain types of killing sprees are somehow contagious. Back in 1999, four public health researchers published a famous study titled "Media and Mass Homicides" in the Archives of Suicide Research. They studied a series of mass homicides in Australia, New Zealand, and Britain in the 1980s and 1990s and found that different incidents appeared to be influenced by each other in a number of ways, often spanning many years and across continents.
The idea that one violent rampage might inspire another has given rise to plenty of articles and papers about whether the press should be more conscientious in the way it reports on these events. Giving a murderer too much publicity might be a bad idea.
A great deal of research, however, suggests that behavioral scientists just don't have a strong grasp on what drives mass shootings and violent rampages, or why they've increased in recent decades. Here's how a 2010 article in the Journal of Police and Criminal Psychology sums it up:
Incidents of mass murder have gained considerable media attention, but are not well understood in behavioral sciences. Current definitions are weak, and may include politically or ideologically motivated phenomenon. Our current understanding of the phenomenon indicates these incidents are not peculiar to only western cultures, and appear to be increasing.
And here's a 2012 article from the American Journal of Public Health, coming to a similar conclusion:
To understand and prevent rampage violence, we need to acknowledge that current discipline-based violence research is not well suited to this specific challenge. There are numerous important, unanswered research questions that can inform policies designed to prevent rampage violence.
Mental illness is one likely factor — a survey by Mother Jones found that at least 38 of the 61 mass shooters in the past three decades "displayed signs of mental health problems prior to the killings." Yet the studies above note that researchers still have a ways to go before they understand the exact connection between the two.
And what about the availability of guns as a factor? Researchers have found a connection between guns and homicide — more guns tend to lead to more murder. And guns will obviously make any mass attack far deadlier. Note that there was also an attack on 22 students in a Chinese elementary school on Friday. But there was a key difference: The man only had a knife, and there were zero fatalities.
Again, though, overall gun violence in the United States has been declining in recent years while mass shootings appear to have become more commonplace. It's not entirely clear why that is. And it's an increasingly important question.
Update: It's also possible that mass shootings simply aren't on the upswing at all. See this newer post for data suggesting that these shootings have remained constant since 1980, and haven't increased at all.
701native
12/17/2012 8:55 PM EST
idk if shootings are contagious, copy cats, or coincidence. Just a few weeks ago there were 3 very young kids shot in New Town, ND. It received a lot of press due to the nature, no one said if he used a high capacity "assault rifle", granted it wasn't as many kids, and the town is spelled (spaced) slightly different…the thought crossed my mind that the recent shooter noticed the similarity in the name. I thought the odds were like two Smithvilles being in the news for multiple homicide/suicides in a short time frame. Having just witnessed a small community deal with the loss of many young lives… banning guns and bullets won't stop killers, it just forces them to get more creative.
woicle
12/17/2012 7:48 PM EST
Controlling the proliferation of guns and ammo may be essential band-aids, but I would look at the broader picture, as well. I would demand that our leaders stop demonstrating that "Might makes right", and "If you don't agree with someone, kill them". Both Presidents Bush, with their Mideast invasions, and now President Obama, with his extra-judicial drone killings, have shown such disdain for the value of innocent lives and the rule of law that it is little wonder that ordinary citizens might follow their bad examples. The application of lethal violence has become so common as to appear an almost acceptable manner of behavior and a quasi- normal way of resolving disputes or dissatisfaction.
Jeff Olson
12/17/2012 3:42 PM EST
To reiterate from the article: "Note that there was also an attack on 22 students in a Chinese elementary school on Friday. But there was a key difference: The man only had a knife, and there were zero fatalities."
No matter how deranged or mentally unstable, no matter how much we've taken God out of the public sphere, no matter how unprotected the facility, the question is that if that man had broken into the school with his bare hands, a bag of rocks or knives, how many would have died?
alfaqual
12/17/2012 3:22 PM EST
Seems to me that video gaming might play a factor in the increase of mass killings.
Jeff Olson
12/17/2012 4:11 PM EST
What if we let people play all the video games they want but they didn't have access to guns? How many mass killings would there be?
t2girl
12/17/2012 6:10 PM EST
Good luck with that fantasy
Henrik
12/17/2012 2:19 PM EST
Mass shootings have gone down significantly. The Washington Post has to finagle the numbers to make it appear that they are going up when they aren't. Mass shootings have been the lowest in the first decade of this century than they have been in fifty years. It doesn't mean the event last week wasn't really terrible, but using the deaths of first graders to advance a political agenda is terrible, in my opinion.
AllenFlx
12/17/2012 3:33 PM EST
you're doing the same thing when you use the event to say that it shouldn't spur a call to reconsider our gun control policies.
Jeff Olson
12/17/2012 4:04 PM EST
How many mass shootings would there be if the guns weren't available?
t2girl
12/17/2012 6:16 PM EST
Well how are you thinking the government will be getting all the guns there are in this country? Not all guns have to be registered. All states have different laws on guns also so why dont you tell us how you are going to get all the guns…. it would be much easier to cut the stupid MURDER games kids play they should be outside playing or doing chores anyway. What good has come from the games that kill people? NONE!
Scott Wieduwilt
12/17/2012 10:38 PM EST
Jeff, they would not be called Mass "Shootings" if guns werm't available, they would be called Oklahoma City, 9-11 and other Mass Murders.
Japan, Man with samurai katana sword beheads 17 children or Car Plows Through Crowd in Santa Monica, Killing 9. take away the Gun there are other tools..
Look for a short Film called "A PIECE OF WOOD" by Ray Bradbury
http://home.wlv.ac.uk/~in5379/films/piecewood/piec…
The 2nd Amendment has nothing to do with hunting or protecting your property
The text of the Second Amendment reads, in full: "A well-regulated militia, being necessary to the security of a free State, the right of the people to keep and bear arms, shall not be infringed." Several other drafts change the capitalization and punctuation, although the text remains the same.
It's all about the people being able to stop tyranny, a well-armed citizen keeps the government in check.
kemurph
12/16/2012 6:44 PM EST
While it's terribly underreported, psychiatric drugs are one place to look for the causes of these problems. You link to the NYT article which shows these types of events starting to ramp up heavily in the 80′s, into the 90s and beyond. Well, anti-depressants and similar drugs were introduced in the 80s. They have also been clearly linked to homicidal ideation (thoughts of murder), and a 2010 publication from a Harvard Medical School and Wake Forest research team found that 31 drugs were statistically significantly connected with actual violence against others. These were predominantly anti-depressants, which as a class showed a 10x impact on violence against others. The rate of spree killings worldwide was about 0.2 per year until the 80′s and has been about 2 per year since. Hmmm… 10x. Coincidence? All of the China school attacks of past two years were mental patients, the Colombine shooters and VA tech shooter were on meds. In fact, Columbine victims (and other shooting event victims) won $ from the anti-depressant drug companies in both settlements and in court decisions – which nobody remembers during these moments. Keep believing it's unexplainable… just go ahead, though frankly I find it depressing that our media is so ignorant.
Ted Dubin
12/17/2012 9:30 AM EST
Thank you for having the guts to bring up this issue,
Unfortunately, the common denominators:
1. Male
2. On medication (or should be, or not taking it properly, etc.).
Jeff Olson
12/17/2012 3:43 PM EST
What if a 1) male 2) on medication 3) without guns had gone into the school? How many would have died?
10Ol
12/16/2012 4:59 PM EST
The news media makes it a general practice not to report on individual suicides, because it is understood that there is a "copycat" effect. A striking example of the effectiveness of this policy is in San Francisco: when the local media agreed to not report on Golden Gate Bridge jumpers, there was a clear decrease in the number of jumpers.
It's disingenuous to speak about the "mass shooting" epidemic without putting the lion's share of the blame on the wall-to-wall reporting.
vmax02rider
12/16/2012 8:39 PM EST
the reporting of these "events" has become so rote, it is nauseating in itself. how can we engage in these spasms of emotion knowing the next event is not far off and not doing anything to prevent it? have we not become bit players in the events?
amapola11
12/16/2012 10:13 AM EST
They need to get rid of the violent video games sitters. Parents need to get involved and be less selfish. If they are parents " Be Parents " you'll have enough time later to do something else. Enjoy your kids it not such a long time that they have them home.
SkeptikProductioN
12/16/2012 8:01 PM EST
It isn't video games that make children violent… It's other problems such as being raised in an abusive household or having substance abuse. Just because you feel strongly as a parent that video games are the cause, they aren't 100% of it. It's the hundreds of other factors that may combine with violence to cause somebody to become psychotic and go on rampages. — SkeptikProduction — 15 year old kid from Seattle, WA
Jeff Olson
12/17/2012 3:45 PM EST
What if kids who played tons of violent video games…or kids who have been exposed to hundreds of other factors went on rampages with their bare hands but no guns? How many would die?
brickcha
12/16/2012 2:58 AM EST
My first instinct is that highly deadly guns are becoming even deadlier, more common, and more legal.
1Gandydancer
12/16/2012 9:50 AM EST
You're confusing what you wish to believe with reality. The Newtown killer used an ordinary .223 rifle stolen from his dead mother, and it is in no obvious way any more deadly, common or legal than say, Witman's arsenal was in 1966. Rather the opposite, though he chose to shoot children crowded into classrooms rather than pick off distant targets with a scope.
Ted Dubin
12/17/2012 9:31 AM EST
used handguns, rifle found in car
Militant Moderate
12/17/2012 12:05 PM EST
Wrong, all were killed with AR-15. Except shooter who killed self with handgun. Shotgun was found in car. AR-15 with 30 round clips made it so much more efficient for him. JOhn Hinckely used a 22 cal pistol with 6 rounds. He was subdued when he ran out of bullets after 1.7 seconds.
BTW- Reagan was surrounded by armed guards when he was shot but they couldn't stop Hinckley until he had already shot 4 people…
The difference now is the easy availablity to even children of highly lethal weapons…
samkaplan@hotmail.com
12/15/2012 10:32 PM EST
It should be noted that since 1979, beginning with CNN and now the Internet, we have a 24/7 news cycle. That may be coincidental–or not.
YAGMF
12/15/2012 9:36 PM EST
"Are mass shootings contagious?"
No, but apparently mass stupidity is.
veerle1
12/15/2012 9:23 PM EST
For the love of god, legalize assisted suicide at will
Give a depressed idiot with anger issues a gun and he'll take as many with him as he can.
If someone is that pi**ed-off about living, give them a dignified and non-violent way out. Some people are just not meant to be and ending their existence is up to them, and nobody else.

www.washingtonpost.com/blogs/wonkblog/wp/2012/12/14/why-are-mass-shootings-becoming-more-frequent/
President Obama says we will change our approach to gun violence — some other day.

www.washingtonpost.com/opinions/dana-milbank-slow-walking-the-gun-issue/2012/12/17/47a600dc-4895-11e2-b6f0-e851e741d196_story.html
Barack Obama has never impressed me. The president can give a great speech, but he's not a leader.
Legislative fixes for gun violence are elusive because they are, or appear to be, politically perilous. How else to explain the shameful fact that President Obama, who as a candidate in 2008 said he would work to reinstate the assault weapons ban, had scarcely a word to say in its defense after the previous shootings? That — in his first year in office — the president signed into law more repeals of federal gun policies than in the eight years of President George W. Bush?

www.washingtonpost.com/opinions/ruth-marcus-after-newtown-beating-the-nra-at-its-own-game/2012/12/18/9036f1c6-494e-11e2-ad54-580638ede391_story.html
Overcoming Delusions About the Second Amendment

www.huffingtonpost.com/jeffrey-sachs/overcoming-delusions-abou_b_2322195.html
The Second Amendment was intended to protect the right of Americans to rise up against a tyrannical government.
This canard is repeated with disturbing frequency. The Constitution, in Article I, allows armed citizens in militias to "suppress Insurrections," not cause them. The Constitution defines treason as "levying War" against the government in Article III, and the states can ask the federal government for assistance "against domestic Violence" under Article IV.
Our system provides peaceful means for citizens to air grievances and change policy, from the ballot box to the jury box to the right to peaceably assemble. If violence against an oppressive government were somehow countenanced in the Second Amendment, then Timothy McVeigh and Lee Harvey Oswald would have been vindicated for their heinous actions. But as constitutional scholar Roscoe Pound noted, a "legal right of the citizen to wage war on the government is something that cannot be admitted" because it would "defeat the whole Bill of Rights" — including the Second Amendment.

www.washingtonpost.com/opinions/five-myths-about-gun-control/2012/12/21/6ffe0ae8-49fd-11e2-820e-17eefac2f939_story.html
…England and Wales have about 50 gun homicides a year — 3 percent of our rate per 100,000 people. Many people believe that America is simply a more violent, individualistic society. But again, the data clarify. For most crimes — theft, burglary, robbery, assault — the United States is within the range of other advanced countries. The category in which the U.S. rate is magnitudes higher is gun homicides.
The U.S. gun homicide rate is 30 times that of France or Australia, according to the U.N. Office on Drugs and Crime, and 12 times higher than the average for other developed countries.
So what explains this difference? If psychology is the main cause, we should have 12 times as many psychologically disturbed people. But we don't. The United States could do better, but we take mental disorders seriously and invest more in this area than do many peer countries.
Is America's popular culture the cause? This is highly unlikely, as largely the same culture exists in other rich countries. Youth in England and Wales, for example, are exposed to virtually identical cultural influences as in the United States. Yet the rate of gun homicide there is a tiny fraction of ours. The Japanese are at the cutting edge of the world of video games. Yet their gun homicide rate is close to zero! Why? Britain has tough gun laws. Japan has perhaps the tightest regulation of guns in the industrialized world.

www.washingtonpost.com/opinions/fareed-zakaria-the-solution-to-gun-violence-is-clear/2012/12/19/110a6f82-4a15-11e2-b6f0-e851e741d196_story.html
Weaker Gun Laws, Lack Of Leadership Earn President Obama A Failing Grade

www.bradycampaign.org/media/press/view/1214/
Text of Obama's remarks in Newtown
President Obama speaks at an interfaith vigil on Sunday night for the shooting victims from Sandy Hook Elementary School
Newtown, Conn. (CNN) – THE PRESIDENT: Thank you. (Applause.) Thank you, Governor. To all the families, first responders, to the community of Newtown, clergy, guests — Scripture tells us: "…do not lose heart. Though outwardly we are wasting away…inwardly we are being renewed day by day. For our light and momentary troubles are achieving for us an eternal glory that far outweighs them all. So we fix our eyes not on what is seen, but on what is unseen, since what is seen is temporary, but what is unseen is eternal. For we know that if the earthly tent we live in is destroyed, we have a building from God, an eternal house in heaven, not built by human hands."
We gather here in memory of twenty beautiful children and six remarkable adults. They lost their lives in a school that could have been any school; in a quiet town full of good and decent people that could be any town in America.
Here in Newtown, I come to offer the love and prayers of a nation. I am very mindful that mere words cannot match the depths of your sorrow, nor can they heal your wounded hearts. I can only hope it helps for you to know that you're not alone in your grief; that our world too has been torn apart; that all across this land of ours, we have wept with you, we've pulled our children tight. And you must know that whatever measure of comfort we can provide, we will provide; whatever portion of sadness that we can share with you to ease this heavy load, we will gladly bear it. Newtown — you are not alone.
As these difficult days have unfolded, you've also inspired us with stories of strength and resolve and sacrifice. We know that when danger arrived in the halls of Sandy Hook Elementary, the school's staff did not flinch, they did not hesitate. Dawn Hochsprung and Mary Sherlach, Vicki Soto, Lauren Rousseau, Rachel Davino and Anne Marie Murphy — they responded as we all hope we might respond in such terrifying circumstances — with courage and with love, giving their lives to protect the children in their care.
We know that there were other teachers who barricaded themselves inside classrooms, and kept steady through it all, and reassured their students by saying "wait for the good guys, they're coming"; "show me your smile."
And we know that good guys came. The first responders who raced to the scene, helping to guide those in harm's way to safety, and comfort those in need, holding at bay their own shock and trauma because they had a job to do, and others needed them more.
And then there were the scenes of the schoolchildren, helping one another, holding each other, dutifully following instructions in the way that young children sometimes do; one child even trying to encourage a grown-up by saying, "I know karate. So it's okay. I'll lead the way out." (Laughter.)
As a community, you've inspired us, Newtown. In the face of indescribable violence, in the face of unconscionable evil, you've looked out for each other, and you've cared for one another, and you've loved one another. This is how Newtown will be remembered. And with time, and God's grace, that love will see you through.
But we, as a nation, we are left with some hard questions. Someone once described the joy and anxiety of parenthood as the equivalent of having your heart outside of your body all the time, walking around. With their very first cry, this most precious, vital part of ourselves — our child — is suddenly exposed to the world, to possible mishap or malice. And every parent knows there is nothing we will not do to shield our children from harm. And yet, we also know that with that child's very first step, and each step after that, they are separating from us; that we won't — that we can't always be there for them. They'll suffer sickness and setbacks and broken hearts and disappointments. And we learn that our most important job is to give them what they need to become self-reliant and capable and resilient, ready to face the world without fear.
And we know we can't do this by ourselves. It comes as a shock at a certain point where you realize, no matter how much you love these kids, you can't do it by yourself. That this job of keeping our children safe, and teaching them well, is something we can only do together, with the help of friends and neighbors, the help of a community, and the help of a nation. And in that way, we come to realize that we bear a responsibility for every child because we're counting on everybody else to help look after ours; that we're all parents; that they're all our children.
This is our first task — caring for our children. It's our first job. If we don't get that right, we don't get anything right. That's how, as a society, we will be judged.
And by that measure, can we truly say, as a nation, that we are meeting our obligations? Can we honestly say that we're doing enough to keep our children — all of them — safe from harm? Can we claim, as a nation, that we're all together there, letting them know that they are loved, and teaching them to love in return? Can we say that we're truly doing enough to give all the children of this country the chance they deserve to live out their lives in happiness and with purpose?
I've been reflecting on this the last few days, and if we're honest with ourselves, the answer is no. We're not doing enough. And we will have to change.
Since I've been President, this is the fourth time we have come together to comfort a grieving community torn apart by a mass shooting. The fourth time we've hugged survivors. The fourth time we've consoled the families of victims. And in between, there have been an endless series of deadly shootings across the country, almost daily reports of victims, many of them children, in small towns and big cities all across America — victims whose — much of the time, their only fault was being in the wrong place at the wrong time.
We can't tolerate this anymore. These tragedies must end. And to end them, we must change. We will be told that the causes of such violence are complex, and that is true. No single law — no set of laws can eliminate evil from the world, or prevent every senseless act of violence in our society.
But that can't be an excuse for inaction. Surely, we can do better than this. If there is even one step we can take to save another child, or another parent, or another town, from the grief that has visited Tucson, and Aurora, and Oak Creek, and Newtown, and communities from Columbine to Blacksburg before that — then surely we have an obligation to try.
In the coming weeks, I will use whatever power this office holds to engage my fellow citizens — from law enforcement to mental health professionals to parents and educators — in an effort aimed at preventing more tragedies like this. Because what choice do we have? We can't accept events like this as routine. Are we really prepared to say that we're powerless in the face of such carnage, that the politics are too hard? Are we prepared to say that such violence visited on our children year after year after year is somehow the price of our freedom.
All the world's religions — so many of them represented here today — start with a simple question: Why are we here? What gives our life meaning? What gives our acts purpose? We know our time on this Earth is fleeting. We know that we will each have our share of pleasure and pain; that even after we chase after some earthly goal, whether it's wealth or power or fame, or just simple comfort, we will, in some fashion, fall short of what we had hoped. We know that no matter how good our intentions, we will all stumble sometimes, in some way. We will make mistakes, we will experience hardships. And even when we're trying to do the right thing, we know that much of our time will be spent groping through the darkness, so often unable to discern God's heavenly plans.
There's only one thing we can be sure of, and that is the love that we have — for our children, for our families, for each other. The warmth of a small child's embrace — that is true. The memories we have of them, the joy that they bring, the wonder we see through their eyes, that fierce and boundless love we feel for them, a love that takes us out of ourselves, and binds us to something larger — we know that's what matters. We know we're always doing right when we're taking care of them, when we're teaching them well, when we're showing acts of kindness. We don't go wrong when we do that.
That's what we can be sure of. And that's what you, the people of Newtown, have reminded us. That's how you've inspired us. You remind us what matters. And that's what should drive us forward in everything we do, for as long as God sees fit to keep us on this Earth.
"Let the little children come to me," Jesus said, "and do not hinder them — for to such belongs the kingdom of heaven."
Charlotte. Daniel. Olivia. Josephine. Ana. Dylan. Madeleine. Catherine. Chase. Jesse. James. Grace. Emilie. Jack. Noah. Caroline. Jessica. Benjamin. Avielle. Allison.
God has called them all home. For those of us who remain, let us find the strength to carry on, and make our country worthy of their memory.
May God bless and keep those we've lost in His heavenly place. May He grace those we still have with His holy comfort. And may He bless and watch over this community, and the United States of America.

www.cnn.com/2012/12/16/politics/obama-newtown-remarks-text/
12-14-12: The day Newtown will never forget
First-hand accounts give voice to the unspeakable, starting with the first sounds of gunfire
Updated 9:56 pm, Monday, December 31, 2012
The Neighbor
Gene Rosen
Around 9:15 a.m., Gene Rosen hears shots. Must be fireworks, he thinks, as he walks up the stairs to the loft above his garage in his Riverside Road home. No hunter in his right mind would use that many rounds, and so near an elementary school. Rosen, 69, and a retired psychologist, goes about feeding his cat and two others he rescued.
The EMT
Cathy Dahlmeyer
Just up the street, Cathy Dahlmeyer hears the shots, too. God, eight of them, she counts. The sounds make her three rescue dogs jumpy. Probably a car backfiring, she says to herself. The one-story ranch house where Dahlmeyer and her grown daughter live is on Sunnyview Terrace, across from the school and near the Sandy Hook firehouse.
Dahlmeyer had come home an hour or so earlier from working the night shift as an advanced emergency technician for the Newtown Volunteer Ambulance Corps. A busy night. Four calls, one every couple of hours. She has barely lain down to get some sleep.
The Mother
Therese Lestik
Across town, Therese Lestik pops open her Dell laptop in her home office. Earlier, she sent her 5-year-old daughter Eva off to kindergarten at Sandy Hook Elementary, tossing some cheese sticks into her snack bag and walking her out to the bus stop. Now, an automated reverse 911 call comes in on her phone, telling of a shooting in town. Lestik, 50, isn't worried. Probably a bank job, like the one a few years ago.
It's the 14th year the Lestiks have lived in their big, comfortable, yellow Colonial near the Monroe border. Today is the 13th birthday for their son, Christian. They have big plans for this evening.
The Cop
William Chapman
In the center of town, on Route 25, just down the hill from Newtown's iconic flagpole, police Officer William Chapman sits down to complete every cop's least-favorite part of the job: paperwork. Chapman's shift starts at 8 a.m., but before he can leave the police station and go out on patrol, the 29-year-old officer has to take care of some routine business. He has been on the force for five years.
The Governor
Dannel P. Malloy
And in Hartford, Gov. Dannel P. Malloy is about to preside over a meeting at the state Capitol to discuss health and human service issues with several of his commissioners. The previous evening, the governor hosted a Christmas party for 36 state senators, one of a series of such holiday events, some more tolerable than others.
He had gone jogging shortly after dawn, running a 22-minute circuit near Elizabeth Park, showering, then grabbing a cup of coffee for a token breakfast.
The dispatch
Around 9:30 a.m., the Newtown police dispatch operator alerts units that a caller has reported a shooting at Sandy Hook Elementary School.
Officer William Chapman bolts from his desk and out to his cruiser. The school is three miles away — up the hill, a right on Church Hill Road, under Interstate 84 and by the shops and restaurants of Sandy Hook's four corners and past the cemetery with its leaning gray tombstones dating to 1813. Then a hard right on Dickinson to get back to the school. He tells himself to stay calm, to drive swiftly but safely.
He listens to the dispatch reports on his cruiser radio. He has his rifle ready as he pulls into the school parking lot.
There are nine or 10 other Newtown officers there, including Chief Michael Kehoe. Chapman hears rifle fire inside the school. He and Officer Scott Smith charge through the front door, where the glass has been shot out, while Kehoe and another officer go in through a side entrance.
This is serious, he thinks.
Officers are trained to check rooms to make sure a shooter is not lurking, so Chapman and Smith do not linger in rooms where there are victims. They are hunting for the shooter.
Officers discover the shooter is dead. Chapman and Smith go back down the hall. They return to an area where they know there are victims — a first-grade classroom where a majority of the slain children are found.
The room is full of the bodies of children. But one child, a little girl, still shows signs of life.
A tall, muscular man, Chapman scoops the child into his arms and runs out to find an ambulance. He tells the little girl she is safe, that the police are there to protect her and that she is loved.
'Send everything'
Cathy Dahlmeyer's dogs won't stop barking. The puggle, Leo, "goes into frozen shaking mode."
She turns her pager on. She hears sirens. Lots of sirens. Dispatch is sending an ambulance to stand by at the church.
Looking out her window, she sees town police and state troopers flying down Dickinson toward the school, sirens screaming and lights flashing.
Dahlmeyer kicks her dogs out of the way, throws on her blue EMT uniform, grabs her radio and jumps into her tan Toyota FJ Cruiser. She heads for the Methodist church on Church Hill Road, about a half mile from her house.
She knows the crew will be there, but they won't know why because the dispatcher didn't put it out on the radio.
They don't know what I've heard.
She jumps in the ambulance and tells them what she knows. They drive to the Sandy Hook firehouse, at the mouth of the street leading to the school.
Please, maybe it's a hunter and somebody panicked and it's nothing.
Two state cops are frantically waving Dahlmeyer and the ambulance crew toward the school. They pull into the school parking lot.
There's a Newtown police officer holding a small child. He's on one knee, holding her low to the ground, grave concern on his face.
This is like seeing an image in Time magazine from Afghanistan. Holy crap. This can't be happening. I'm dreaming; it's a nightmare.
Dahlmeyer starts to get out the side door of the ambulance then jumps back in. She drops down the stretcher. The police officer climbs into the ambulance and lays the child on it.
"You need to hold here," the officer tells her, showing her a wound.
Where the hell is my medic? OK, here he is.
The medic and another EMT are with Dahlmeyer in the ambulance. Around her is everything she might need, from oxygen and heart monitors to blood pressure cuffs, gloves and dressings. Dahlmeyer puts pressure on the girls' wound. She realizes the child has been shot.
A state trooper opens the back doors of the ambulance. "Do you have a radio?" he asks.
"Yes! We have a radio, we have lots of radios," Dahlmeyer says.
"Well, call dispatch and tell them to send everything."
Send everything? You never, ever send everything because you're taking resources you may not need, and you're taking them from where you might need them.
She calls dispatch. "The state police have asked me to call you and they want you to send everything."
The dispatcher responds, "Well, what exactly do you need?"
"They just said, `Send everything,' " Dahlmeyer says.
A third EMT is behind the wheel. The ambulance speeds off to Danbury Hospital.
`Let her be OK'
While Therese Lestik is working on her laptop at home, the TV is on in the background. It's NBC's "Today." It's a little after 9:30 a.m. Newscasters break into the program to say there's been a shooting at Sandy Hook Elementary.
She snatches up her keys and runs out of the house, dressed in sweatpants and a fleece top, not bothering to grab a coat.
Lestik races to the school in her white Honda SUV. Rather than follow Route 34 straight into Sandy Hook, she takes the back way in to the school — north on Pole Bridge Road, then left on Philo Curtis Road past Treadwell Park onto Riverside Road and the school.
Please, God, please, let her be OK.
The car will show up in many of the news photos on this day — the white SUV jammed into a space surrounded by emergency vehicles.
When Lestik arrives, police, fire and emergency workers are flooding into the area surrounding the school and the fire department. Shouting, worried parents add to the throng. The chaos begins to throb.
Where are the kindergartners, where are the kindergartners?
By this time, parents know not only that there's been a shooting at the school, but that principal Dawn Hochsprung has been killed. News updates flash across the smartphones in the crowd.
Eva Lestik's teacher, Janet Vollmer, has done a remarkable job of keeping her students safe — locking the door to her classroom, pulling down blinds, moving the students to a quiet corner of her classroom out of harm's way, reading to them and reassuring them.
Once police and emergency crews let them leave the school, Vollmer leads her students to safety, walking with them the 200 yards from the school to the fire department.
It is there, in the maelstrom of parents and first responders and news media, that Therese finds her daughter.
Oh, thank God, she's OK.
She hugs Eva. Eva hugs her back. "I was crying for you, Mommy," she says.
Hallway of tears
Inside the ambulance Dahlmeyer is in a state of disbelief. She's nervous, too. She doesn't know what she'll see when the child's clothing is peeled off so she can be treated.
She soon learns.
I cannot believe the damage an assault rifle can do, especially on a small person.
The ambulance is racing down Interstate 84 to Danbury Hospital. The crew administers trauma care to make sure the child is breathing and she has circulation. Dahlmeyer is on her feet, shifting around and administering treatment.
They pull into the hospital and back up to the doors. Police and security are everywhere, waiting. The little girl's body is placed on a backboard and then over to the hospital's stretcher. The paramedic gives the hospital team a quick report.
Inside, the hallway is lined with people, many of them sobbing.
Nurses, technicians, doctors, X-ray, I'm not sure who they all are but the whole hallway is filled.
The hospital has mobilized about 80 medical personnel, enough to staff four emergency rooms and six operating rooms.
Are there more victims? There must be more?
The ambulance heads back to Newtown. Dahlmeyer rides in the back with the paramedic. They don't talk about what's gone on. She calls Walgreens, where she works, to say she won't make it in for her noon shift.
The little girl she and her crew rushed to the hospital is pronounced dead.
The good Samaritan
Gene Rosen spends about 10 minutes in his loft feeding the two stray cats he's rescued, Blackie and Blackjack. He is leaving the loft when he hears a man yelling out, "It's going to be OK."
He looks to the end of his driveway to see a tall, lanky man, possibly a volunteer from the Sandy Hook firehouse next door.
There is also a group of six children sitting sweetly in a perfect circle on his front yard near the front lantern.
Who are these kids? They look like Cub Scouts rehearsing a play.
A woman bus driver is with the kids. She says there has been an incident, but she doesn't explain what it was.
She's in shock.
Rosen sees the terror on the children's faces.
The man who was yelling has disappeared. Rosen asks the children to come into his house.
He grabs a handful of his grandchildren's stuffed toys and gives them to the children, who seem to be comforted. One begins to spell her name out on a stuffed frog that has the alphabet on his belly.
They settle in the small living room with wide plank floors, two windows looking out at the driveway and a large brick hearth filled with family photos. A white tile hung with care many years ago that includes a dragonfly and a single word, "Peace."
Two of the boys sit on a rug in front of the couch, and suddenly they begin to talk.
One starts saying loudly, "We can't go back to the school, we can't go back to the school, our teacher is gone. Ms. Soto is gone."
The other boy joins in: "He had a big gun, and a little gun."
A girl also begins talking, saying she saw blood coming from the mouth of her teacher, Victoria Soto. The girl falls to the floor.
Rosen tries to call the children's parents, but nobody is home. So the bus driver calls her supervisor to get emergency contact information.
It was about 10:15 a.m., he said, when parents began to arrive at the home. The bus driver says they have to bring the children to the firehouse, where all the students are being accounted for. So they head down the hill to the firehouse next door.
Rosen is stunned to see scores of parents frantically searching for their children. He returns home a short while later.
About 11 a.m., there's a knock on his door. It's a woman, her face frozen in fear. She has heard that Rosen sheltered six children and was hoping her son was among them.
I want to say he's here. I want to say he's here.
He has to tell her no.
A shaken president
At the Capitol, the governor's meetings have segued, one into another. He gathers aides to talk about the planned move of a hedge fund from Westport to Stamford and about some economic development issues.
Mark Ojakian, Gov. Dannel P. Malloy's chief of staff, receives the first of several phone calls from State Police Lt. Sean Cox, head of the governor's security detail. Ojakian steps away to take it, then returns and tells Malloy a shooting has occurred at a Newtown school, but no casualties are reported.
A half hour later, shortly before 11:30 a.m., Ojakian receives another call from Cox, with graver news: There are numerous casualties.
Malloy pulls his overcoat over his dark suit and briskly leaves the Capitol. He slides into the front seat of his official black Ford Taurus (in a budget crisis, limousines are a luxury), next to State Trooper Rich Garcia. In the back is Roy Occhiogrosso, Malloy's former campaign manager and senior advisor, who has just one week left in his two years on the job before leaving state government.
The motorcade — Lt. Gov. Nancy Wyman is in her Lincoln, and they are led by a state trooper in a marked car with emergency lights blazing — roars off to I-84 and Newtown.
Malloy doesn't know what he's going to find there.
At 12:15 p.m. his motorcade pulls into Sandy Hook Volunteer Fire & Rescue. Hundreds of concerned families and friends are milling around. Reporters and photographers are roaming the property. Cars are clogging the road.
This is a mess.
A former prosecutor and mayor of Stamford, Malloy is briefed by state police and local officials. They agree the state police will take the lead in the investigation, set up a perimeter for the press, bring chairs into the firehouse and assign a trooper or local police officer to be a liaison with each family searching for a loved one at Sandy Hook.
The firehouse quickly becomes the epicenter of activity. Built in 1938, the low-slung brick building, with its white cupola topped with a metal fire helmet weather vane, is home to 59 volunteers. They generally can manage the few calls they get in a sleepy small town. (In November, there were two: an extrication on Jeremiah Road and a rollover on Exit 10 of I-84).
Volunteers move Engine 442 and the pumpers and other equipment out of the seven bays to make room for everyone.
President Barack Obama calls Malloy on his cellphone, offering sympathies and support. He's clearly disturbed, upset and shaken by the whole thing. Malloy tells him he's not going to be making any statements to the media in the short run because the information was too chaotic.
"Mr. President, you should do whatever you need to do," Malloy tells Obama. "I'm going to wait until I have more information before I respond."
The president acknowledges the massacre during remarks made to the nation around 2:30 p.m., a full hour before Malloy makes his first statement in Newtown.
Malloy watches the people crowded into the Sandy Hook Volunteer Fire & Rescue building. So many people. Platters of sandwiches, trays of ziti and boxes of pizzas have been brought in to feed everyone milling around on the cold concrete floor.
Parents and firefighters, police and ministers quietly talk, moving in little knots. There is still hope in the air, hope that at least some of the 20 children missing from Sandy Hook Elementary School may turn up alive. Hiding in a closet. At a neighbor's house or in the woods. Alive, somehow.
The governor of Connecticut knows better. An intense man, restless and not easily given to small talk, Malloy is ready to act. The investigators have told him about the gruesome scene just a few hundred yards away. He knows the number of dead bodies found inside the school matches the number of unaccounted-for children and teachers.
We have to tell these people. They need to know the truth.
Malloy is accustomed to being in charge. Still, he dreads the moment. At about 3 p.m., he calls for everyone's attention.
Malloy chooses his words carefully, taking great pains not to use the word "dead."
"This is now a crime scene," Malloy says of the elementary school. "You are not going to be reunited with your loved one."
A few people cry out in anguish.
"What about the two children who were taken to the hospital?" someone yells.
They have died, Malloy says.
"It's just a morgue, then, it's just a morgue," a woman shouts.
Malloy says a few more words, words he hopes will console and comfort. But he knows the minds and hearts of the parents in the firehouse have gone to another place.
End of the day
By early evening, the magnitude of the carnage is known, even though the names of the victims won't be released for another day. Stories have spread of what happened that morning inside the school, of the heroism of the principal and teachers, of the unimaginable terror. The news coverage is international in scope, almost suffocating.
A 7 p.m. vigil is attended by hundreds at St. Rose of Lima Church, just a few miles from the school. St. Rose will become the scene of eight funerals in the next several days.
Gene Rosen spends much of the evening talking to his wife, Maggie, about what happened.
While getting ready for bed, Rosen turns on the news and hears an announcer speak about the massacre at Sandy Hook.
This is so bizarre. How did this happen to my hometown?
William Chapman drives back to the police station in the late afternoon. Upon his arrival he is surrounded and flanked by fellow officers. He meets with a counselor to try to sort out at least his initial emotions of what is described by first responders as the most horrific scene they have ever encountered.
Chapman changes out of his uniform. It's dark as he leaves the station. He's happy to get home, where his family and friends await him. They unwind around the fireplace and watch the Bing Crosby classic, "White Christmas."
For a while, Cathy Dahlmeyer is at her second home, the ambulance garage. There are friends and support there. When her husband, Detlef, died in March after a three-year battle with cancer, she knew her family — her 28-year-old daughter, Teresa, and her two sons, 31-year-old Justin and 23-year-old Alexander — would have a hard time with Christmas. Now there's this, too.
She leaves the ambulance garage around 8:45 p.m. What is normally a 10-minute trip takes her an hour because of the traffic and checkpoints and gridlock.
She has been up for 36 hours. She gets into some warm pajamas and falls asleep right away. About two hours later, she is awakened by a knock on her door.
This isn't good. Why is someone knocking on my door at this hour?
Her heart is pounding. The dogs bark furiously.
She turns on the light and opens the door. There's a woman with a news microphone. Dahlmeyer mutters some expletives and shuts the door in her face.
Malloy goes back to Hartford about 9:30 p.m. He hasn't eaten all day. He gets a glass of white wine and tells his wife, Cathy, about the day.
Therese's parents have arrived at the Lestik family's home. So has her sister. Everyone's there for son Christian's 13th birthday.
The phone never stops ringing. Her in-laws from North Carolina are calling. Her husband, Michael, has a relative on a business trip to Germany. He calls, too.
Producers for the national media track her down. Geraldo. Bill O'Reilly. Therese eventually ends up being interviewed by
Erica Hill on NBC's "Today," the program she was watching when the news of the shooting broke.
Christian's birthday party at Panino's Restaurant in Monroe grows from the immediate Lestik family to about 18 people.
They try hard to celebrate. Nobody talks about what happened earlier.
Therese Lestik is happy her family was able to celebrate Christian's birthday. They go home from the Monroe restaurant and stay up and watch the television news coverage of the shooting. They go to bed around midnight, exhausted.
Eva sleeps with her parents.
Epilogue
In two days, the names of the 20 slain children will be known by a grieving nation, recited by Obama in a televised memorial service from Newtown High School. Charlotte. Daniel. Olivia. Josephine. Ana. Dylan. Madeleine. Catherine. Chase. Jesse. James. Grace. Emilie. Jack. Noah. Caroline. Jessica. Avielle. Benjamin. Allison. The world will learn, too, about the six women who were their teachers and school administrators, some of whom lost their lives trying to save the 6- and 7-year-old children.
Before he gunned down the children and adults at Sandy Hook Elementary and took his own life, 20-year-old Adam Lanza killed his mother, Nancy, at the home they shared on Yogananda Street in Newtown.
The investigation into the shootings will take months, police say.
For the five men and women who were interviewed for this story, 12-14-12 did not end on Friday. To say they have reflected on that day — on what happened and why, on how it affected them and their families, on how to find healing and comfort for themselves and for others — seems wholly inadequate.
How does one comprehend, truly comprehend, the monstrous evil that swept down on their world? Why did this happen?
For more than a decade, Gene Rosen worked at Fairfield Hills as a counselor with the chronically mentally ill, but he says it was the time he spent with his two grandchildren that prepared him.
"These are my teachers," he says, pulling a picture of the two children from the fireplace mantel. "They gave me the strength to be with these children."
When he talks about the day, he pulls off his eyeglasses and sobs.
One day, Rosen hopes, he can have a reunion with the children whom he sheltered for that awful moment and take them sledding on the backyard hill where he has taken his grandchildren on snowy winter afternoons.
"They are just so sweet and so innocent," he says. "These children are always in my prayers. I want to meet them in the light, because we came together in the darkness."
***
How has the tragedy transformed him, William Chapman is asked?
He thinks about the question. "I won't know the answer to that for years," he finally says.
The shootings have traumatized his police department. Many of the 15 Newtown officers — one-third of the 45-officer force — witnessed the carnage at Sandy Hook Elementary. A peer liaison for officer counseling, Chapman is stoic about the events of that day, but he says he has tried to be "very proactive about taking care of officers."
It is a great comfort, he says, that so many children escaped unharmed from the gunman's savagery. It's "impossible to see so many kids leave that building and not be thankful we were there, and were there as quickly as we were."
Chapman knows that it's possible the last words the little girl he cradled in his arms heard were the words he told her — that she was loved. That, too, means something to him.
***
For Dannel Malloy, the first days ahead are full of memorial services and funerals. He attends 12 of them.
He calls Monroe First Selectman Steve Vavrek to ask what he needs to get that town's mothballed Chalk Hill Middle School up and running for the children of Sandy Hook Elementary. The governor orders several state regulations waived to clear the path.
As state police continue an investigation into the shooting that is likely to take months, legislators and others call for changes to the state's gun laws. There's also widespread speculation over the extent to which the mental health of the shooter played a role in his murderous spree.
Malloy urges lawmakers to include provisions to improve mental health diagnosis and treatment to help avoid future violence. The shooter at Sandy Hook, the governor says, was "mental illness dressed in evil."
***
The morning after the shootings, Cathy Dahlmeyer goes to a meeting at the ambulance garage for counseling and other services for everyone who was directly involved in the tragedy.
She needs to see the police officer who brought the child to her ambulance.
"I want to see him to see how he's doing," she says.
William Chapman wants to see her, too.
"I give him a big hug," Dahlmeyer says. "No words are necessary. He knows and I know (what has happened)."
She hopes to go to the funeral of the little girl Chapman carried from the school and placed in her arms, but she ends up working.
"I just keep asking, `When am I gonna feel normal again?'"
***
During the Christmas season, Therese Lestik quietly explains to Eva what happened.
"She asked, she demanded to know," Lestik says.
She tells her daughter that the students and teachers at the school were killed and that the 26 victims are in heaven.
"She said, `I want to go to heaven and visit Ms. Hochsprung,"' Lestik says. "I said, `Honey, we can't do that. We can draw her a picture, or buy her some flowers.' She was all right with that."
Her husband grew up in Newtown and went to Sandy Hook Elementary. This is their family's home. This is where they want to be.
Lestik went with Christian on his first day back at Newtown Middle School. As he leaves her car, she tells him she loves him. As he walks to school, she starts sobbing.
While she admits she may never feel secure about watching Eva get on a school bus again, she also knows her family must overcome what it went through that day.
"If I live in fear, so will my children," Lestik says. "If I can't move on, the kids can't move on."
http://www.greenwichtime.com/local/article/12-14-12-The-day-Newtown-will-never-forget-4156167.php