Dejah Hall (left in 2012 and right in 2016), 26, from Arizona, has highlighted the harrowing effects of drug addiction by sharing her before and after photos on social media. Ms Hall shared the eye-opening images of herself online to celebrate four years of being clean from heroin and meth. The mother-of-one spoke to Daily Mail about her debilitating addiction and how her association with the 'wrong crowd' only led to her addiction getting worse as the years progressed. 'I was a bad heroin addict but I thought I was sexy and gorgeous and looking at the photos now, especially the bottom one (left) I can only see a broken person who has given up,' Ms Hall said, who is now studying to become a minister.
'I was a monster in every way': Meth and heroin addict, 26, shares incredible transformation photos to celebrate four years of being clean
https://www.facebook.com/dejah.dimartino
www.dailymail.co.uk/femail/article-4056732/Former-meth-heroin-addict-shares-incredible-transformation-photos-celebrate-four-years-clean.html
Dramatic rise in crystal meth casualties fuels fear of Australian 'ice' boom
Study finds 318% rise in number of occasions ambulances were called to emergencies related to drug in Melbourne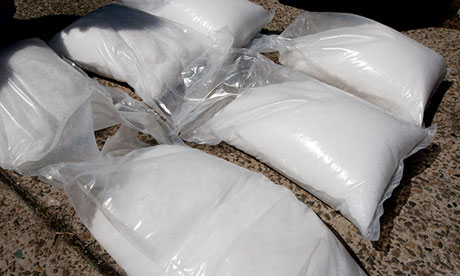 Ice, a crystalline form of methamphetamine, is usually smoked or applied intravenously.
Photograph: AAP/Australian Federal Police
www.theguardian.com/world/2013/sep/16/australia-drugs
World Drug Report Reveals The Staggering Extent Of North America's Meth Problem
www.businessinsider.com/north-america-has-a-massive-meth-problem-2013-6
Don't be
STUPID
and ruin your LIFE
Female college student, 19, dies in police custody after she 'panicked' and swallowed a bag of meth during traffic stop arrest
Madeleine Gene Richardson, 19, was pronounced dead at hospital in Texas in the early hours of Saturday
Her family described the college student as a 'beautiful young lady inside and out'
www.dailymail.co.uk/news/article-2359548/Teenage-girl-dies-police-custody-swallowing-baggie-meth-traffic-stop.html
Man, 32, sentenced to life in prison after pleading guilty to murdering two sisters while high on methamphetamine
Clifford Miller, 32, of Trimble, Missouri, pleaded guilty on Tuesday

www.dailymail.co.uk/news/article-2314274/Man-32-sentenced-life-pleading-guilty-murdering-sisters-high-methamphetamine.html
From Drugs to Mugs: Shocking before and after images show the cost of drug addiction

www.telegraph.co.uk/health/healthpicturegalleries/8345461/From-Drugs-to-Mugs-Shocking-before-and-after-images-show-the-cost-of-drug-addiction.html
The innocent 'meth heads': How more and more children are becoming victims of deadly drug as number of 'shake and bake' at-home labs skyrocket
In some states, 90 per cent of home lab busts sick children are taken away
Number of domestic meth labs more than doubled in 2010 to 15,000 after an all-time low of about 7,000 in 2007
Ingredients easily available in hardware stores and pharmacies
Innocent: Children of meth addicts have emerged as the latest victims of the ravaging drug as some local law authorities estimate that in 90 per cent of home lab busts, neglected, abused and sick children are taken away

www.dailymail.co.uk/news/article-2376753/The-innocent-meth-heads-Children-victims-deadly-drug-number-home-labs-skyrocket.html?ico=ushome%5Eheadlines

www.dailymail.co.uk/news/article-2244031/The-horror-Meth-Before-pictures-reveal-shocking-transformation-faces-users-hooked-deadly-drug.html
Teenage girl is left brain-damaged and blind after smoking synthetic marijuana she bought in a gas station and suffering series of strokes
Emily Bauer, 17, bought the substance from a gas station
She suffered a series of strokes which left her in a psychotic-like state
Nearly two months later, she is blind and dependent on family and nurses
Family hopes to raise awareness of the dangers of the legal drug
Emily Bauer, 17, from Cypress, Texas, has been left with brain damage after smoking the fake weed and suffering a series of strokes. Doctors were forced to put her in a coma after the strokes left her in a psychotic-like state, during which she urinated on herself, ran into walls, hallucinated and acted violently. But Emily has not given up and, even when her family removed her feeding tube, she continued to fight for life.
Former life: Seventeen-year-old Emily Bauer started experiencing severe migraines in December, after smoking a synthetic weed she had bought from a gas station
www.dailymail.co.uk/news/article-2273440/Teen-left-brain-damaged-blind-smoking-synthetic-marijuana.html
'Her body is covered in sores and her teeth are rotting': The former America's Next Top Model contestant battling a meth addiction
Jael Strauss reached the final of the show, hosted by Tyra Banks, six years ago
The 28-year-old is now a homeless drug addict whose looks have been ravaged by methamphetamine
Before and after: Jael Strauss, a former contestant on America's Next Top Model has spent six years struggling with drug addiction since she left the show

www.dailymail.co.uk/femail/article-2201818/Americas-Next-Top-Model-Jael-Strauss-contestant-battling-meth-addiction.html
MANY more harrowing examples.

www.dailymail.co.uk/news/article-2138407/The-faces-despair-Shocking-images-meth-addicts-reveal-devastating-effects-dangerous-drug.html?ito=feeds-newsxml
Efforts to ban synthetic marijuana prove to be difficult
By Elisha Anderson, Detroit Free Press
DETROIT – Mary Kait Hudson tried synthetic marijuana for the first time last October. The 17-year-old from Lake Orion and her friends bought it from a party store, mixed it with marijuana and smoked it.
"It worked pretty instant," she recalled.
She began hallucinating and felt like she was in the shower. Then she blacked out. The next thing she remembers is waking up in her bed the next morning.
Hudson got hooked on the drug — often called K2, Spice or fake weed — and ended up in rehab. But the substance has been even more devastating for other users. Police believe two young men smoked it before they attacked a Farmington Hills family with baseball bats in April. A West Bloomfield teen killed by his grandmother tested positive for the substance, the grandmother's attorney said. And police blame it for the overdose death of a young man in Bloomfield Township last weekend.
Now, Michigan lawmakers, police, judges, health professionals and parents say they're on a mission to get the products banned.
It's not the first time the state or federal government has tried to outlaw synthetic marijuana. In the last two years, both have banned certain chemicals that were being used to make the products.
Manufacturers quickly skirted the laws and developed new formulas. Today, it's easy to find across much of the nation.
Last year, for the first time, high school seniors were asked in the annual Monitoring the Future survey, conducted by the University of Michigan, whether they had used the substance. About one in nine seniors said they had.
"We know it's the tip of the iceberg, that abuse is much more common and hospitalization more common than you can tell by looking at our numbers," said Dr. Susan Smolinske, managing director for the DMC Children's Hospital of Michigan Regional Poison Center.
LOL no laughing matter
Synthetic marijuana is usually sold in packets or clear containers with names like Legal Devil, the Presidential, Demon, LOL, Tsunami and Scooby Snax. It comes in flavors like grape, blueberry, mango, strawberry, apple and watermelon.
The products are made up of plant material, not marijuana, and sprayed with chemicals that mimic THC, the active ingredient in marijuana. It doesn't show up in many drug tests.
National Drug Control Policy Director Gil Kerlikowske said calling the product synthetic marijuana is a mistake because that term doesn't convey the dangerousness of the drug.
Some variations can be legally purchased online, at gas stations, tobacco stores and various other outlets — usually for $5 to $50. It's often marketed as incense or potpourri with a label that warns "not for human consumption."
"That's only with a wink and a nod because everyone realizes … that they're buying it to be used for people to get high," said special agent Rich Isaacson, spokesman for the Detroit division of the Drug Enforcement Administration.
Chemicals used in the products can be purchased from specialty companies in Europe, China and possibly the Cayman Islands, Isaacson said. Synthetic marijuana is manufactured in those areas as well as the U.S., according to the DEA.
The Free Press visited several stores in Detroit and found the product for sale in plain view but often behind glass.
Store owners or managers who sell it either didn't return calls from the Free Press, said they've pulled the products from store shelves in the best interest of the community or said what they've sold isn't illegal and isn't meant to be smoked.
Spice in the spotlight
In recent weeks, synthetic marijuana has been thrust into the spotlight in Michigan in a series of incidents involving teens and young adults said to be using it.
In Farmington Hills, police say Tucker Cipriano, 19, and Mitchell Young, 20, smoked Spice before they attacked Cipriano's family with baseball bats on April 16, killing his father and critically injuring his mother and brother.
In West Bloomfield, Jonathan Hoffman, 17, tested positive for Spice on May 18, the day police say his grandmother shot him to death, according to Jerome Sabbota, the grandmother's attorney. Sabbota said Sandra Layne, 74, shot her grandson out of fear after he threatened her.
In Troy, a mother rushed to Raintree Park on May 17 after someone called to say her 15-year-old daughter, who had smoked Spice, was "freaking out," according to police.
In Rochester Hills, police said a 27-year-old man tried to steal synthetic marijuana from a gas station May 20 and scuffled with the clerk.
And in Bloomfield Township, 18-year-old Oliver Satchel Smith was using synthetic marijuana before he died next to a private lake on May 26, police said. Toxicology results are pending.
"It's very much on people's minds," said Oakland County Sheriff Michael Bouchard, who with other county officials announced a campaign Friday to put decals in windows of businesses that pledge not to sell synthetic drugs.
Changes in behavior
Several metro Detroit parents can attest to the dangers of synthetic marijuana, describing how their children quickly went from happy and outgoing to troubled — experiencing mood swings, stealing from them and being withdrawn.
Mary Kait Hudson's father, Jeff Hudson, said he knew something was wrong and questioned his daughter, but she denied drug use.
"She was putting a wedge between herself and family," he said.
Mary Kait, who was smoking the substance up to five times a day, spent the night in the hospital after she was found passed out in a snow bank in February. She sought treatment and has been clean since Feb 13, but said she believes the use of synthetic marijuana has taken a toll on her body.
"My memory sucks," she said. "Do I have holes in my brain?"
Lisa Kelly, 54, of Waterford said she couldn't understand the changes in her son's behavior and had him tested for drugs, but the results were clean.
Last summer, four years after she said the addiction started, she discovered what her son was using when he smoked what he told her was "flavored tobacco" at a cookout with family and friends.
Kelly said she wanted to know what it was, so she took a few hits.
"Within minutes … I was sick, I was dizzy, nauseated. My equilibrium was off," she said. "My head, I couldn't get it straight."
Kelly said she has watched her son, now 20, lose control — fighting with his brother, being rushed to the hospital about four times and spending his money and hers to feed the addiction.
"It's been a nightmare," she said.
About a week ago, Kelly's son — who asked not to be named — said he was ready to get help.
"He's becoming more loving and back to himself," she said.
More seek treatment
Dr. Alexander Sackeyfio, a psychiatrist in Farmington Hills, handles many emergency cases in which teens are rushed to Beaumont Hospital in Royal Oak. Many of them become psychotic, see things and feel out of control after smoking synthetic marijuana.
"It is actually very, very dangerous," he said. "If you have any propensity toward any psychotic illness … that will bring it out."
The number of people seeking treatment at Michigan's hospitals has risen dramatically in two years, according to reported cases.
In 2010, 16 people were treated in hospitals after using synthetic marijuana, statistics from the Children's Hospital of Michigan Regional Poison Center show. That number jumped to 201 in 2011 and 185 through May of this year.
Smolinske of the poison center noted the numbers are likely much higher because hospitals aren't required to report cases.
Strengthening laws
Some rules are already in place banning synthetic marijuana, but efforts are under way to strengthen those laws.
Michigan passed legislation in 2010 prohibiting seven substances frequently used to make synthetic marijuana. The DEA made five chemicals illegal last year.
That hasn't stopped the legal sale of synthetic marijuana because manufacturers change the chemicals and often advertise on packaging that the product is a "100% legal blend" or does not contain "prohibited ingredients as per state law or DEA regulations."
"Because it is legal, children and young adults believe it can't be that dangerous, or we as a society would protect them from it," said District Court Judge Kirsten Nielsen Hartig of Troy, who educates people on the products.
A bill introduced in both the state House and Senate would allow the state to temporarily ban a substance if the director of the Michigan Department of Community Health, working with the Michigan Board of Pharmacy, deems it an imminent danger to people's health, said sponsor Sen. Rick Jones.
Another bill that passed in the state Senate with bipartisan support Thursday would make synthetic cannabinoids used in the products — as well as those that could be manufactured or sold down the road — illegal.
"We're mostly trying to get at the manufacturers and those who sell it," said Sen. Dave Hildenbrand, who introduced the bill. "If we get rid of that, then people can't get their hands on it."
Kerlikowske has encouraged states to take action, in part because they have regulatory power and can move quicker than the federal government. The U.S. Senate late last month passed legislation banning synthetic marijuana, but it still must be reconciled with a version passed in the House.
"This is without question a huge problem," said the DEA's Isaacson. "It's finally coming to the forefront, but it's something we've been talking about in our drug education presentations for a year and a half here in the Detroit area."

www.washingtonpost.com/blogs/compost/post/zombie-apocalypse-are-bath-salts-to-blame/2012/06/07/gJQAsYL3LV_blog.html
Stores now selling 'Zombie Bullets' as police warn against new Cloud Nine drug following TWO more horrifying cannibal
Ammunition company also offering 'Zombie Bullets' – live ammunition with a clever marketing campaign
Mind-altering drug available over the counter in U.S., but banned in Britain
Police link drug to previous cannibal attack when a man ate another's face
Causes heart palpitations, nausea, hallucinations, paranoia and erratic behaviour
The Walking Dead: Hornady Manufacturing has started selling Zombie bullets, 'just in case'; it is live ammunition

www.dailymail.co.uk/news/article-2155816/Is-Cloud-Nine-zombie-apocalypse-Police-issue-warning-new-drug-TWO-cannibal-attacks.html