50 things you didn't know about Marilyn

www.telegraph.co.uk/film/some-like-it-hot/marilyn-monroe-facts-life/
EXCLUSIVE: Fall in love all over again – rare photos of Marilyn Monroe show the blonde bombshell's most intimate moments, from vacation to the movie set (and even Playboy!)
www.dailymail.co.uk/news/article-3332236/Fall-love-Rare-photos-Marilyn-Monroe-blonde-bombshell-s-intimate-moments-vacation-movie-set-Playboy.html
The sound quality alone, makes this a memorable visit…headphones!
Revealed: Marilyn called Jackie to confess JFK affair… and she replied 'that's great, I'll move out and you have all the problems'
In 'These Few Precious Days: The Final Year of Jack with Jackie,' author Christopher Andersen claims Jackie Kennedy 'knew everything' about Jack's cheating and turned a blind eye, but his relationship with Marilyn 'seemed to bother her the most.' And she was right to fear the bombshell actress, because Marilyn's sights were firmly set on becoming the President's second wife.

www.dailymail.co.uk/news/article-2384446/JFK-book-Marilyn-Monroe-confessed-affair-Jackie-replied-great-Ill-problems.html

www.dailymail.co.uk/news/article-2261678/Lost-nearly-50-years–intimate-images-Marilyn-Monroe-New-York-captured-love-struck-15-year-old-fan-display.html
Norma Jean age 15

www.dailymail.co.uk/news/article-2380152/Marilyn-Riveter-New-photos-shows-young-Monroe–Norma-Jean–working-military-factory-height-World-War-II.html
Born illegitimately in 1926 to an unmarried mother in the charity ward of the Los Angeles General Hospital, Marilyn was originally known as Norma Jeane Mortenson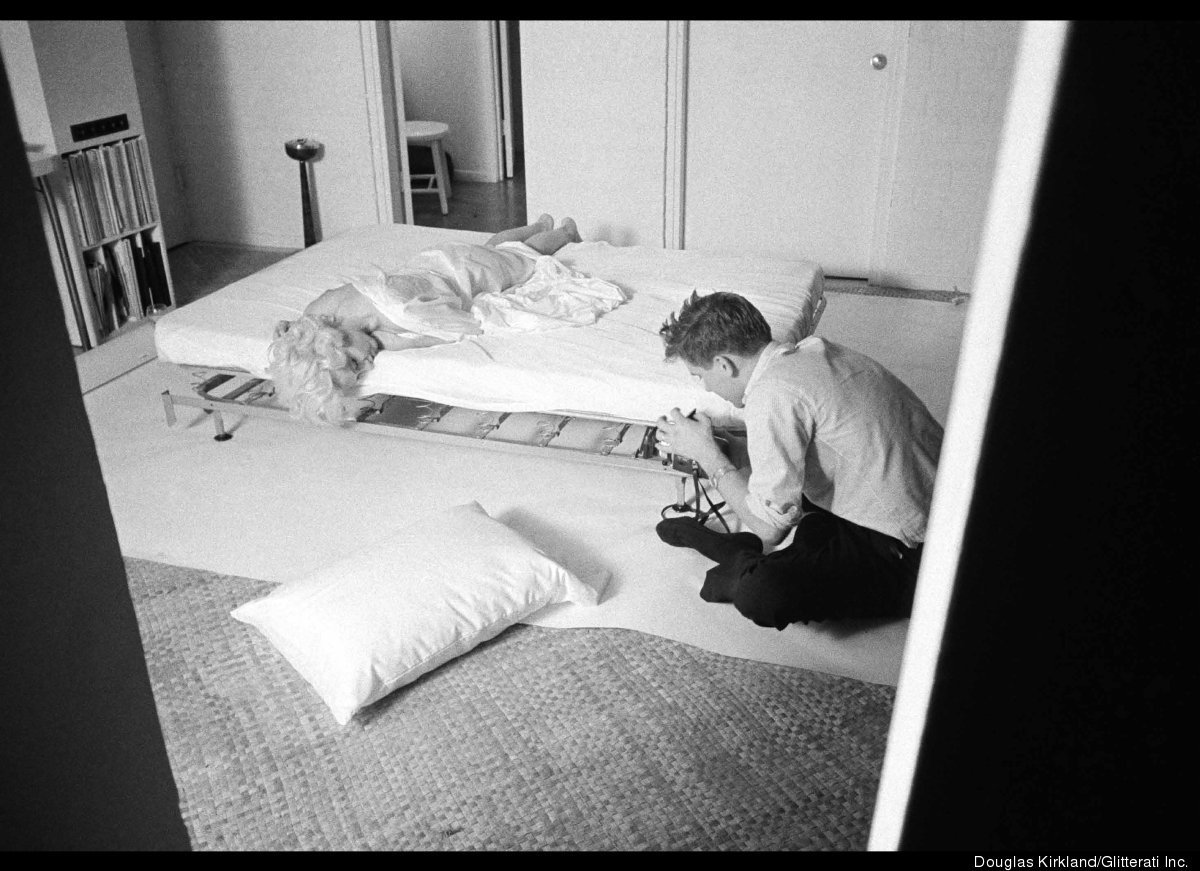 For more pictures, click here..
Marilyn Monroe (1926-1962), the movie star of the 1950s, conveyed beauty, vulnerability and innocence on the screen. When she died, I remember the men on the baseball field talking about her death. Being nine years old at the time, I didn't quite understand who they were talking about because I was unawre of her significance. Despite talent, success, and fame, Marilyn did not find the love and happiness she hoped for — sadly, she died alone.
The recent movie, My Week With Marilyn is recommended. Michelle Williams is quite believable as the movie star.

www.dailymail.co.uk/news/article-2097537/Marilyn-Monroe-pictures-effortless-glamour-hidden-drawer-50-YEARS.html?ito=feeds-newsxml
'They're bullies and they treat their women like crap': One former Kennedy wife tells of Robert Kennedy's come-ons, JFK's stealing, and the family's philandering
"…Lawford was often the one to arrange JFK's – and later Bobby Kennedy's – trysts with movie star Marilyn Monroe, setting up meetings for the secret lovers in his own California home."

www.dailymail.co.uk/news/article-2150659/Former-Kennedy-wife-tells-Robert-Kennedys-come-ons-JFKs-stealing-familys-philandering.html
The Death of Marilyn Monroe
By Rachael Bell
Sometime after 10 p.m. on August 4, 1962, Marilyn Monroe slipped into a coma caused by an overdose of sleeping pills. She would never regain consciousness. Shortly after she was discovered, a bizarre set of activities took place in her Brentwood home at 12305 Fifth Helena Drive. Some items were allegedly removed, including a diary and an incriminating note which could have far-reaching implications, if discovered. The order for their removal was believed to have come from someone in the White House, in an attempt to prevent a scandal from toppling the presidency of John F. Kennedy.
Many witnesses said they observed Marilyn being secretly taken that night by an ambulance crew to a nearby hospital before being returned again to her Brentwood home in Los Angeles. Forever steeped in mystery are the exact events that took place on the night that one of the world's leading sex symbols and movie legends died. According to some accounts, Marilyn's body was rediscovered by her house companion, Eunice Murray, and her psychiatrist, Dr. Greenson, several hours following the initial discovery of her remains.
Greenson would later tell police that Murray alerted him around 3:30 a.m. that something might be wrong with Marilyn, the morning following Marilyn's death. When he arrived at Marilyn's home, he broke into her bedroom and found her lying nude and face down in her bed. She was clutching a phone in her right hand. After a brief examination he determined that she was dead.
Exactly how and when Marilyn Monroe died sparked a debate that would last more than 40 years and generate many theories, including that of murder. Some of these theories even implicated John F. Kennedy and his brother Robert in the mysterious death.

www.trutv.com/library/crime/notorious_murders/celebrity/marilyn_monroe/9.html

http://news.yahoo.com/photos/life-rare-early-photos-of-marilyn-monroe-slideshow/
The ultimate sex symbol for men. But did Marilyn Monroe only love women? Fifty years after her death, an author who met the star questions her sexual identity
By MICHAEL THORNTON
PUBLISHED: 16:18 EST, 20 July 2012 | UPDATED: 17:21 EST, 20 July 2012
As headlines flashed around the world on an August morning 50 years ago announcing the death of the ultimate love goddess, newspapers filled their pages with the most iconic image of all, from her film The Seven Year Itch.
On a New York sidewalk, Marilyn Monroe stands with her legs astride a grating while the breeze generated by a subway train blows her accordion-pleated white dress up above her panties and around her ears.
'Isn't it delicious?' she cries, as the breeze billows around her thighs.
That moment, perhaps the most vivid memory in the whole of Hollywood history, inflamed the libido of men everywhere, establishing Monroe as the world's number one sex symbol and as the most desirable woman on the planet.
But therein lies a great irony.
For Marilyn Monroe was not the man-eating siren her image suggested.
Although she married and divorced three times, she was — though few people are aware of the fact — a lesbian by inclination.
She admitted to sexual encounters with actresses Joan Crawford, Barbara Stanwyck, Marlene Dietrich and Elizabeth Taylor, as well as with both her acting coaches, Natasha Lytess and Paula Strasberg.
As Michelle Morgan reveals in her expertly researched recent biography, Marilyn Monroe: Private And Undisclosed, I met her once when I was a 15-year-old schoolboy.
Under the resentful and glowering gaze of her third husband, the playwright Arthur Miller, and the extremely possessive Strasberg, I presented Marilyn with a bunch of wilting roses in the drive of Parkside House, the mansion she and Miller were renting at Englefield Green in Surrey during the filming of The Prince And The Showgirl in 1956.
She circumnavigated an extremely large police detective in order to take the roses from me.
And then she did something completely unexpected. She reached forward and planted a kiss full on my lips.
It was in no sense erotic. It was the sort of gentle and innocent kiss that a child might give. I rode away on my borrowed bicycle, bemused and astonished.
After Marilyn's death only six years later, I was to meet Jean Negulesco, who directed Monroe in How To Marry A Millionaire.
Negulesco had been due to take over the direction of Marilyn's final film, Something's Got To Give.
Only a day before he was due to visit her, Monroe was found dead.
'I still think I might have saved her if I could have got to her in time,' he told me.
'You know what was wrong with her, don't you?
'Her whole existence was a search for identity, and her sexual identity was a complete lie.
'She told me once she had never had an orgasm with a man in her entire life.'
This seems hard to believe, remembering that billowing white dress above the New York subway grating.
And yet Negulesco's assertion is validated by the taped transcripts of Marilyn's sessions of psychoanalysis with her psychiatrist, Dr Ralph Greenson, at the end of her life.
'What I told you is true when I first became your patient,' she says in the transcripts.
'I had never had an orgasm. I well remember you said an orgasm happens in the mind, not the genitals.'
She also recalls other advice from Greenson, saying: 'When I did exactly what you told me to do, I would have an orgasm … what a difference a word makes.
'You said I would, not I could. Bless you, doctor. What you say is gospel to me.'
Another of those who worked with Monroe, actress Celeste Holm, who appeared with her in All About Eve, and who died last Sunday, told me that Marilyn's sexual problems were rooted in her traumatic childhood.
Born illegitimately in 1926 to an unmarried mother in the charity ward of the Los Angeles General Hospital, she was originally known as Norma Jeane
Mortenson, the child of a 24-year-old film negative cutter, Gladys Pearl Monroe Mortenson, who developed schizophrenia.
Both of Gladys's parents, Otis Elmer Monroe and Della Monroe Grainger, lived out their twilight years in mental institutions, while Gladys's brother, Marion, was diagnosed with paranoid schizophrenia.
So it is small wonder that the child who became Marilyn Monroe grew up with a deep-rooted fear of genetic insanity.
This, according to Celeste Holm, gave Marilyn a lifelong terror of pregnancy.
In addition to her fear of giving birth to an abnormal child, Marilyn suffered from devastating bouts of endometriosis, a gynaecological condition causing intense pelvic pain, severe cramps and painful periods.
It made normal sexual intercourse difficult and uncomfortable.
'Because of this,' Holm explained,
'Marilyn was never able to enjoy sex with men.
Joan Crawford was succeeded in Marilyn's lesbian adventures by two other veteran Hollywood stars, Barbara Stanwyck and Marlene Dietrich
'She was afraid of it, and turned to older women as sexual role models.'
After Marilyn had become a world-famous sex symbol, her first husband, Jim Dougherty, who joined the Merchant Marine in 1943, would brag: 'Never had I encountered a girl who so thoroughly enjoyed a sexual union. It made our lovemaking pure joy.'
But this, sadly, was far from the truth.
'Jim told me privately that she spent most of their early marriage locked in the bathroom,' said Martin Evans, a friend of Jim's at the time they married.
'She had sex books and manuals that were given to her, and none of them made a difference.
'She was scared. From my information, she even asked if it were possible for her to never have sex with Jim. "Could they just be friends?" she wondered.
'To be honest, I don't think they had a good sex life ever — despite what Jim later claimed.'
'For years,' said Celeste Holm, 'Marilyn was in love with the idea of being Betty Grable (the Forties star known as the Girl With The Million Dollar Legs).
'She followed Betty around everywhere, studied her all the time and copied everything she did.
'Betty, let me stress, was happily married to Harry James, with two daughters, and was not in the least that way inclined, but she understood Marilyn and was patient with her.'
In 1969, Grable told me that she had found Monroe's pursuit of her 'sometimes scary, but you have to understand that all her problems had to do with her not being able to have a child.
'She would have been a wonderful mother and it would have saved her life if only she could have had children.'
Another female star Marilyn pursued and propositioned was Judy Garland, who married three gay men among her five husbands.
'One night at a party, Marilyn followed me from room to room,' said Garland. "I don't want to get too far away from you," she said.'
Shortly before Marilyn signed with Columbia Pictures in 1948, she met Natasha Lytess, a failed actress who was a drama coach at the studio.
'I want to recreate you,' she told Marilyn.
'I shall mould you into the great actress I suspect you can be. But to do so, you must submit to me. Do you understand?'
Natasha's dominant intentions were clear.
In 1950, Marilyn moved into her apartment while she was being escorted by a new father-figure, the venerable Hollywood agent Johnny Hyde.
When Hyde died from a heart attack in December 1950, Natasha rescued Marilyn from a suicide attempt with a drug overdose.
Marilyn told her close friend, actor Ted Jordan, that she and Natasha were sleeping together.
'Why not?' she said. 'Sex is something you do with people you like. What could be wrong with a natural act?'
Natasha told Marilyn: 'You're wonderful. I love you.'
Marilyn said of Natasha: 'She was a great teacher, but she got really jealous about the men I saw. She thought she was my husband!'
Natasha detested the baseball player Joe DiMaggio, whom Marilyn started to date in 1952 and later married.
He always referred to Lytess unflatteringly as 'Morticia'.
'If it were up to me,' he said, 'Morticia would take a long walk off a short pier.
'Maybe I could get through to Marilyn if I didn't have this broad to deal with. This broad is gonna ruin her, I'm telling you.'
In the transcripts of her taped sessions with Dr Ralph Greenson, Marilyn also admits to a full-blown lesbian encounter with the rampantly bisexual Joan Crawford.
'Oh yes, Crawford,' she says. 'We went to Joan's bedroom. Crawford had a gigantic orgasm and shrieked like a maniac. Credit Natasha with that. She could teach more than acting.
'Next time I saw Crawford, she wanted another round … after I turned her down, she became spiteful.'
Crawford was succeeded in Marilyn's lesbian adventures by two other veteran Hollywood stars, Barbara Stanwyck and Marlene Dietrich.
After Marilyn's divorce from Joe DiMaggio in 1954, DiMaggio confided to the New York newspaper columnist Walter Winchell that the real cause of the breakdown of the marriage was Marilyn's preference for her own sex.
Her final break with Natasha Lytess was brutal.
Marilyn moved to New York and began studying at the Actors Studio with Lee Strasberg and his wife, Paula, with whom Monroe established yet another strongly homoerotic relationship.
Natasha was simply dumped. Dropped from the payroll at 20th Century Fox, she tried to contact Marilyn, who refused to take her calls.
She once arrived unannounced where Marilyn was staying, only to find the agent, Lew Wasserman, barring the door and telling her: 'Your engagement with the studio is none of Miss Monroe's concern.'
As Natasha left, she saw Marilyn staring down at her from a window with a blank expression. They never saw each other again.
Before her death from cancer in 1964, Natasha said of Marilyn: 'The truth is, my life and feelings were very much in her hands.
'I was the older one, the teacher, but she knew the depth of my attachment to her, and she exploited those feelings as only a beautiful younger person can.
'She said she was the needy one. Alas, it was the reverse.'

Marilyn's marriage to Arthur Miller had proved as unsatisfying sexually as those to Jim Dougherty and Joe DiMaggio, and they divorced in January 1961
Following Marilyn's marriage to playwright Arthur Miller in 1956, Paula Strasberg accompanied them to London as Marilyn's acting coach, and assumed an even more dominant role in her life than Natasha had done.
This relationship also had strong lesbian undertones.
The British movie star Jean Kent, who appeared with Marilyn in The Prince And The Showgirl, says: 'Marilyn would not make a single move or take a single step without Paula's approval. Someone heard Paula telling her that she was the most popular person on earth, more popular even than Jesus!'
Five years later, having returned to the U.S., Marilyn was to have another liaison with a woman — this time one of the biggest stars in the world.
On June 7, 1961, at Frank Sinatra's cabaret opening at the Sands, Las Vegas, she had a one-off sexual encounter with her rival as the Queen of Hollywood, Elizabeth Taylor, who was six years her junior.
'Her touch was electric,' wrote Taylor of Marilyn in her diary.
'I wanted to see how far the bitch would go. But she had to do all the work.'
Marilyn's marriage to Arthur Miller had proved as unsatisfying sexually as those to Dougherty and DiMaggio, and they divorced in January 1961.
After that, she became something of a loner.
Though much has been written about Marilyn's relations with the Kennedys, and she remained both before and after her death perhaps the ultimate sex symbol for men, Dr Ralph Greenson affirmed that Monroe 'was not sexually involved with either Kennedy brother or with any other man at the end of her life.'
Was it because, amid the emotional wreckage of so much of her life, she had found her greatest happiness with women?

www.dailymail.co.uk/femail/article-2176657/Marilyn-Monroe-The-ultimate-sex-symbol-men-But-did-love-women.html
www.guardian.co.uk/film/2012/jul/21/marilyn-monroe-feminist-psychoanalysis-lois-banner

www.dailymail.co.uk/news/article-2245416/Marilyn-Monroes-intimate-snapshots-taken-pinup-photographer-1940s.html
Marilyn Monroe unseen photographs