Record breaker: This poster of the 1931 film adaptation of Boris Karloff's Frankenstein has sold for a staggering $262,900 at auction after it was stashed in a horror fan's cupboard for more than 30 years

www.dailymail.co.uk/news/article-2381999/Frankenstein-poster-bought-couple-dollars-forgotten-closet-30-years-raises-250-000-auction.html
Ohio mother-of-two Eva Holland said her husband, Mike, died after a recent relapse, having been clean since leaving rehab around Christmas. She described his death as preventable. 'I'm sure this photo makes a lot of people uncomfortable it may even p–s a few people off but the main reason I took it was to show the reality of addiction,' she wrote in a post on Facebook, uploading a photo in front of her husband's casket with their two children, Lucas and Ava (main). 'If you don't choose recovery every single day this will be your only way out. This was preventable it didn't have to happen but one wrong choice destroyed his family.'
www.dailymail.co.uk/news/article-3234153/Hiding-facts-going-epidemic-going-Woman-husband-died-heroin-overdose-smiles-photo-casket-children-reality-addiction.html
The Roman Empire fell due to internal rot and pressure from the barbarians on the frontiers – you figure it out.
Mexico feeding America's heroin habit
With the price of marijuana falling due to decriminalization, Mexican drug farmers are turning to opium poppies.
www.washingtonpost.com/world/tracing-the-us-heroin-surge-back-south-of-the-border-as-mexican-cannabis-output-falls/2014/04/06/58dfc590-2123-4cc6-b664-1e5948960576_story.html
Five men indicted on drug charges connected to 20 pounds of heroin
Approximately 9.5 kilograms of heroin – or more than 20 pounds – were seized, as well as about $363,000 in cash, he said.
The defendants, being held in the Franklin County jail, are:
*Raul Nunez-Altamirano, 35, of Freedom Crossing on the Far North Side
*Anibal Lopez Acosta, 32, of Cleveland Avenue on the North Side
*Julio Herrera Gomez, 26, of Mark Place on the West Side
*Omar Enrique Sanchez, 26, of Prendergast Place on the Far East Side
*Manuel Montero, 22, of Taliesin Place on the North Side

www.dispatch.com/content/stories/local/2015/08/14/Five-men-charged-in-heroin-case.html
Opium production in Mexico increased by 50 per cent in 2014, as farmers tried to meet the growing levels of heroin use across the border in the US.
Production is predominantly in the south-western Guerrero state, which its governor, Rogelio Ortega Martínez says is now on par with Afghanistan in terms of heroin production.
A report by the New York Times also said that children are partaking in the farming, and can be found "scaling steep mountainsides to lance poppies and collect the gummy brown opium that seeps out".
Farming of opium pays much more than farming crops like corn, and many children are believed to have left school in order to work.

www.independent.co.uk/news/world/americas/mexican-opium-production-rises-to-meet-heroin-demand-in-us-10478139.html
Obituaries Shed Euphemisms to Chronicle Toll of Heroin
Tracey Marino in her son's bedroom in Stratford, Conn., in June. After her son, James, died of a heroin overdose at 23, she wrote about his drug dependency on Facebook.
Credit Christopher Capozziello for The New York Times
http://www.nytimes.com/2015/07/12/us/obituaries-shed-euphemisms-to-confront-heroins-toll.html
Today's Heroin Epidemic
http://www.cdc.gov/vitalsigns/heroin/index.html
Heroin Scourge Overtakes a 'Quaint' Vermont Town
But the 21st-century drug scourge is evident in the faces of some of the young people hanging out near the Stewart's convenience store on Main Street.

"The quaint town of Bennington has had a rude awakening of drugs," said Wayne Godfrey, a Vermont state trooper, as he cruised the streets here one recent frigid morning. "Everyone is doing it," he said of heroin. "It's in the high school. The kids are doing it right in school. You find Baggies in the hallway."
Hailey Clark, 20, with a heroin conviction, has lost custody of her son
Credit Cheryl Senter for The New York Times

www.nytimes.com/2014/03/06/us/bulwark-in-revolutionary-war-town-in-vermont-faces-heroin-scourge.html
Video of Girl Trying to Keep Mom From Passing Out on Bus Sparks Investigation
Several concerned viewers sent the video to NBC10. One viewer claimed the girl in the video is 7-years-old. She also claimed the woman was under the effects of heroin abuse.
www.nbcphiladelphia.com/news/local/Video-of-Girl-Trying-to-Keep-Mom-From-Passing-Out-on-Bus-Sparks-Investigation-249074181.html
Deadly heroin overdoses double in 2012
Marin Riggs died in 2012.
By Alan Johnson The Columbus Dispatch Tuesday November 19, 2013 4:39 AM
The first sign was when Heidi Riggs noticed that spoons were missing from the kitchen. About the same time, her husband, T.J., found that their daughter had charged $360 in gasoline on his credit card — in just three days.
They didn't know it, but something was very, very wrong with Marin, their lovely, energetic, athletic 20-year-old. Marin, who graduated from Pickerington Central High School in 2010 and hoped to go to college to become an ultrasound technician, had been using heroin for about six months at the time and was hooked. She was trading gasoline for heroin and using the stolen spoons to cook it.
"We were shocked and embarrassed. … We thought heroin was a street drug, a junkie's drug," said Mrs. Riggs, a former member of Pickerington City Council. "How did this happen to our daughter?"
Marin's addiction turned into a parent's worst nightmare when she died of a heroin overdose on Jan. 28, 2012. The family had just moved to Upper Arlington a few months earlier, hoping to get a fresh start.
Such a story is repeated across Ohio as black-tar heroin floods the state, leaving death and destroyed lives in its wake.
An average of 11 people die from heroin overdoses each week in Ohio, Attorney General Mike DeWine said at a news conference yesterday. Ohio had 606 heroin-overdose deaths in 2012, double the number in 2010, and that total is expected to be exceeded this year.
The numbers come from coroners in 47 counties that together represent more than 75 percent of the state's population; the coroners keep separate statistics on heroin deaths.
Franklin County had 73 deaths attributed to heroin overdoses last year, behind Montgomery (93) and Cuyahoga (161).
Ohio's campaign to reduce abuse of prescription painkillers has been making inroads, but it is having an unintended consequence: more-plentiful and dirt-cheap heroin, sometimes as low as $10 a dose. People who no longer can get pain pills are switching to less-expensive, more-available — and much more deadly — heroin.
DeWine said he will allocate $1 million to establish a new section in his office to investigate, do lab testing for and prosecute heroin cases.
"Heroin has been increasing in this state no matter what we did with prescription drugs," DeWine said. "I'm not sorry what we did."
DeWine said heroin is readily available and cheap in all areas of Ohio, largely because of imports from Mexican drug cartels. "If people think it's not in their community, they're wrong."
Montgomery County Coroner Dr. Kent Harshbarger said the toughest part of a coroner's job is telling parents that their child has died from a drug overdose. "As we make these many notifications around the state, we hear these tragic stories," he said.
Devastated by her daughter's death, Mrs. Riggs said she did not see what was coming until Marin was in heroin's grip. She said her only regret is not telling her daughter earlier that the young woman's uncle — Heidi Riggs' brother — had died from an overdose of heroin about 10 years ago.
"This is a disease that I couldn't fix; I couldn't make it better," she said. "How naive was I that I didn't see these things? I knew something was going on in her life, but I didn't think it was heroin."
The availability of heroin is likely to increase. A report last week by the United Nations Office on Drugs and Crime painted a grim picture for the future: The crop of opium poppies, from which heroin is derived, is up 50 percent in Afghanistan this year, despite major eradication efforts by the U.S. and other countries. The U.N. said that supply might outstrip demand for the first time.

www.dispatch.com/content/stories/local/2013/11/18/DeWine-campaign-to-curb-heroin-abuse.html
He would buy heroin from Mexican dealers in Minneapolis, who gave him a prepaid cellphone and "chirped" him when his order was ready, he said. He then sold it in Hudson to, among others, Ms. Ivy's boyfriend, "knowing it was going to Alysa" and to "another guy who died here."
www.nytimes.com/2014/02/11/us/heroins-small-town-toll-and-a-mothers-pain.html
Heroin leads surge in overdose cases

www.dispatch.com/content/stories/local/2013/07/06/heroin-leads-surge-in-overdose-cases.html
Suburban teen: John Kacena grew up playing hockey and baseball and was a Boy Scout, before he turned to heroin

www.dailymail.co.uk/news/article-2385041/The-new-face-heroin-Affluent-teenagers-suburbs-taking-heroin-alarming-numbers.html
Heroin Makes a Comeback
This Time, Small Towns are Increasingly Beset by Addiction, Drug-Related Crimes
By ZUSHA ELINSON and ARIAN CAMPO-FLORES
ELLENSBURG, Wash.—This small city east of the Cascade Mountains is known for its hay farms, rodeos and, increasingly, something more sinister: a growing heroin problem.
The drug surfaced in the past two years and is spawning a new generation of addicts. The fatal overdose of a state trooper's son in May convulsed the town—especially when the two men arrested and charged with selling him heroin turned out to be a county official's sons. They pleaded not guilty in Kittitas County Superior Court and are awaiting trial.
"It really shook our community," said Norman Redberg, executive director of Kittitas County Alcohol Drug Dependency Service. He has evaluated 27 heroin users in the fiscal year that ended June 30, compared with three in 2008. Ellensburg has 18,000 residents.
Heroin use in the U.S. is soaring, especially in rural areas, amid ample supply and a shift away from costlier prescription narcotics that are becoming tougher to acquire. The number of people who say they have used heroin in the past year jumped 53.5% to 620,000 between 2002 to 2011, according to the Substance Abuse and Mental Health Services Administration. There were 3,094 overdose deaths in 2010, a 55% increase from 2000, according to the federal Centers for Disease Control and Prevention.
Much of the heroin that reaches smaller towns such as Ellensburg comes from Mexico, where producers have ramped up production in recent years, drug officials say. Heroin seizures at the Southwest border, from Texas to California, ballooned to 1,989 kilograms in fiscal 2012 from 487 kilograms in 2008, according to figures from the Drug Enforcement Administration.
The heroin scourge has been driven largely by a law-enforcement crackdown on illicit use of prescription painkillers such as oxycodone and drug-company reformulations that make the pills harder to crush and snort, drug officials say. That has pushed those who were addicted to the pills to turn to heroin, which is cheaper and more plentiful.
"Basically, you have a generation of ready-made heroin addicts," said Matthew Barnes, special agent in charge of the DEA's Seattle division.
Given the growing supply, dealers have flooded local markets with heroin. Former users interviewed in Ellensburg, who didn't want to be identified, said dealers promoted the drug aggressively. A 21-year-old recovering addict said she made the switch from pain pills to heroin after her dealer one day held out both options in his hands and encouraged her to choose the cheaper one.
A former Marine who lives in Ellensburg said he switched to heroin after getting hooked on oxycodone prescribed to him for an injury suffered while serving overseas. "To me, it was identical," said the 28-year-old. "It's mind-numbing, an instant antidepressant." He was eventually arrested for writing bad checks; if he successfully completes drug treatment, charges will be dropped.
Drug experts say the heroin sold today is generally purer and thereby more potent than the varieties prevalent in past decades, increasing the risk of overdose. Moreover, the purity can vary enormously from one batch to the next. A baggie "may be 15% pure one day, and the next day it's 60%," said Skip Holbrook, the police chief in Huntington, W.Va., which sits in an area of Appalachia where heroin is spreading. "It's like playing Russian roulette."
In contrast to the 1970s and 1980s, when heroin ravaged inner-city neighborhoods, this time it is taking hold in rural places that are often unprepared to deal with the fallout, a trend noted in this year's White House National Drug Control Strategy report. Many lack addiction-treatment options. According to data analyzed by the Maine Rural Health Research Center, 93% of facilities nationwide with treatment programs for opioids, a class of pain-relief drugs including heroin, are located in metropolitan areas.
Small-town police forces strain to handle the additional narcotics investigations and drug-related crimes such as burglaries. Some afflicted areas are far from hospital emergency rooms, raising the risk that an overdose will be deadly. In Ellensburg, Kim Hitchcock, who works at a nonprofit public-health organization, has started a needle-exchange program in her spare time and taken young addicts released from the hospital following overdoses into her home. "There's a tremendous lack of services in our area," she said.
In Marinette, Wis., some employers are having difficulty filling positions because so many applicants are testing positive for heroin, said state Rep. John Nygren. The problem prompted the local chamber of commerce in April to begin assembling a consortium of community organizations to address the problem. Meanwhile, a sharp rise in heroin-related crime has fed a 31% increase in the inmate population at the 164-bed local jail over the past two years, said administrator Bob Majewski.
The town of 11,000 has no residential treatment centers for addicts. "If somebody says, 'I'm at bottom, I need help,' there's nothing that we have to give them," said Sgt. Scott Ries of the Marinette Police Department. "It's really sad."
The only option is to head to cities such as Green Bay, an hour away.
In some rural areas of Kentucky, communities "are experiencing heroin literally for the first time," said Bill Mark, director of the Northern Kentucky Drug Strike Force. Last year, 28 of the state's 120 counties logged their first heroin arrests since he started tracking such data in 2008, he said.
Back in Huntington, W.Va., heroin became the top drug problem in the city of around 50,000 about six months ago, said Mr. Holbrook, the police chief. Last month, a local task force nabbed 3.7 pounds of the drug, one of the largest seizures ever in the region. And police are contending with a steady increase in property crimes like larceny, driven by addicts trying to feed their habit.
The drug "transcends all areas of our town," Mr. Holbrook said. "It is absolutely the most pressing issue that we face."
http://online.wsj.com/article/SB10001424127887323997004578640531575133750.html
Lonely: The pictures are simple enough – abandoned row houses in an area of Baltimore beset with urban decay, but their very presence conveys so much more
Often three stories high, they were clearly not designed to stand alone like this
Sad affair: These nineteenth century structures were once attached to similar row houses that made up entire city blocks
Last House Standing: literally cut off from its neighbors and left to the elements with whatever time it has left

www.dailymail.co.uk/news/article-2408624/Last-houses-standing-The-beautiful-row-houses-sprawling-tenements-illustrate-Baltimore-urban-decay.html
A farm? In the city of St. Louis? Some neighbors aren't happy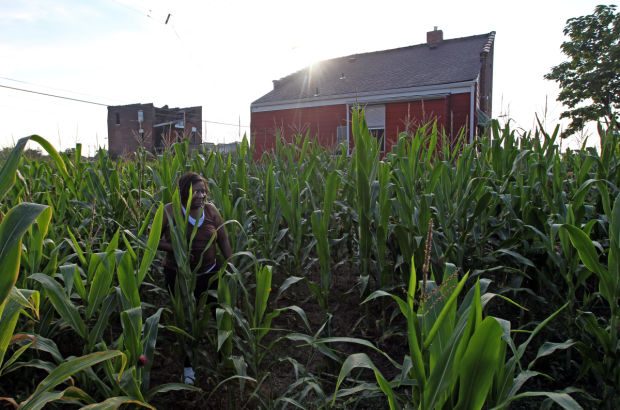 Karen Hancock shows how high the corn is that surrounds her house on Wednesday, Sept. 18, 2013, at 2318 Madison Street in St. Louis. "I am isolated. I can't see anything. I don't feel safe. I can't see my neighbors. I have a six foot fence around my house and the corn is eight feet high, " said Hancock. Hancock and many of her neighbors do not like the new country-like atmosphere in their north St. Louis neighborhood. A Jackie Joyner-Kersee-owned urban farming outfit planted corn and soybeans on 60+ acres it's leasing from Paul McKee.
Photo by Laurie Skrivan, lskrivan@post-dispatch.com
September 20, 2013 6:15 am • By Tim Logan tlogan@post-dispatch.com 314-340-8291
ST. LOUIS • Shirley Booker didn't sign up to live next to a farm. But these days, when she looks out the front door of the house where she's lived for 37 years, a farm is exactly what she sees.
It stretches across about 10 blocks on 23rd Street in the city's St. Louis Place neighborhood, some of it planted with corn, some with soybeans. The land was bought from the city last year by Paul McKee's NorthSide Regeneration LLC, then leased to a farming company founded by former Olympian Jackie Joyner-Kersee. It's being billed as perhaps the largest urban agriculture experiment in the country, and a way to put long vacant land to productive use.
But to at least some of the people who still live among them, the rows of tall corn and green soy are an insulting nuisance.
Since the fields sprang up earlier this summer, Booker said, so have new pests — bugs and possums in and around her house. She's seen cars drag racing through the alleys on weekend nights, hidden by 8-foot stalks. Several residents said they worry about getting mugged. Then there's just the jarring shift — with no advance warning — from living in a depopulated urban neighborhood to living in something that looks like Iowa, if Iowa had the occasional crumbling brick vacant building sprinkled in.
"I'm all for progress," said Booker's neighbor Joyce Cooks. "But I don't want to live on a farm. I'm a city girl."
The whole episode highlights the challenge of wholesale reinvention of city neighborhoods and the persistent gap between the big visions of McKee and his partners in north St. Louis and the day-to-day experience of the people who live there.
"No one asked us. No one told us this was coming," Booker said. "And this isn't happening next to where they live."
The fields are the work of Family Roots International, an urban agriculture company founded by Joyner-Kersee.
The company was looking for someplace to try large-scale farming, said attorney Maurice Foxworth, and approached McKee about leasing some of the land he had bought for NorthSide. Family Roots signed a deal for 62 acres, most of it long-vacant blocks north of the old site of the Pruitt-Igoe housing complex, on a year-to-year basis.
"We're a stopgap," Foxworth said. "As soon as he wants to use it for development, we'll move somewhere else. I don't think there's a shortage of vacant land."
In the meantime, they are trying to find ways to grow good crops in ground that might contain lead or asphalt or old filled-in basements, with inconsistent irrigation and different types of weeds than you would find in a rural field.
It's all part of a broader strategy, Foxworth said, to bring the burgeoning plant sciences industry to the inner city, to provide jobs and, yes, make a little money in the process.
"This is a for-profit business," Foxworth said. "The whole point is to be sustainable and provide jobs and grow things."
They are not the only ones trying it. Urban farming is all the rage.
In St. Louis and cities across the country, groups are planting vegetable gardens in vacant lots and selling the produce at farmers markets. Gateway Greening, a nonprofit agency that supports urban agriculture here, works with more than 200 community gardens in St. Louis and St. Louis County, run by schools, churches and neighborhood volunteers. Some provide job training to local residents.
To Mara Higdon, program director at Gateway Greening, the cornfields were an interesting example of what urban farming can look like on a larger scale than it is typical.
"It demonstrates the possibilities," she said. "It can open people's minds to what can be done with a vacant lot."
She also said that Gateway Greening — which is not involved in this project — typically recommends lots of public outreach to involve the community. It's not clear that happened here.
While Foxworth said he talked with area residents ahead of time, several said they only learned of the project when insecticide sprayers came through early this summer.
Karen Hancock said she didn't know until they started planting the stuff. Now the little red brick house on Madison Street — where she's lived for nearly 50 years and is rearing three grand-nephews — is surrounded by corn.
"I call myself the 'children of the cornfield lady,'" Hancock says with a laugh. But, she says, it's weird. And a little scary.
There have been strange new animals around, she said: foxes and deer, fat rats and even a peacock. She hasn't been letting the kids play outside without her this summer, for fear someone might snatch them.
A few weeks ago, she says, a man who was running from the police fled through the corn to hide in her yard, until she chased him off. The few people who still live in this neighborhood all know each other. Most go back generations. And several said there was a sense of security in being able to see each others' houses across the mostly empty blocks.
"I can't see anybody now," Hancock said.
McKee spokesman Jim Gradl and Foxworth both said crime concerns have been overblown, and a police spokeswoman said there has been no noticeable uptick in criminal activity in the area this summer. But Foxworth said he understands neighbors' worries about the tall stalks, and that his group isn't married to corn. Next year, they may plant something shorter.
"They have concerns that are legitimate that we should and can address," he said. "We don't have to grow corn. We don't have to have things high. We can find ways to get around that."
And they're starting to harvest the stuff. While there are still several blocks worth of feed corn, destined for farms to feed animals, Family Roots started picking sweet corn — for people — this month. They hired city residents to pick it, Foxworth said, and gave the produce to food banks and churches and anyone from the neighborhood who asked. Foxworth took some home, too.
"It was delicious," he said.
But Booker, Cooks and Hancock all said they have no stomach for the produce of these fields in their neighborhood.
In fact, Booker said, the whole experience of living amid corn had turned her off to the vegetable altogether. The other weekend, she said, she bought some for a family dinner. She cooked it, put it on the table and watched as her grown children had some.
"But I just couldn't," she said.
www.stltoday.com/business/local/41320fe2-66af-50a0-81da-cd47b9366895.html
Employment Gap Between Rich, Poor Widest on Record
…Overall, more than 16 percent of adults ages 16 and older are now "underutilized" in the labor market — that is, they are unemployed, "underemployed" in part-time jobs when full-time work is desired or among the "hidden unemployed" who are not actively job hunting but express a desire for immediate work.
Among households making less than $20,000 a year, the share of underutilized workers jumps to about 40 percent. For those in the $20,000-to-$39,999 category, it's just over 21 percent and about 15 percent for those earning $40,000 to $59,999. At the top of the scale, underutilization affects just 7.2 percent of those in households earning more than $150,000.
By race and ethnicity, black workers in households earning less than $20,000 were the most likely to be underutilized, at 48.4 percent. Low-income Hispanics and whites were almost equally as likely to be underutilized, at 38 percent and 36.8 percent, respectively, compared to 31.8 percent for low-income Asian-Americans.

http://abcnews.go.com/Politics/wireStory/employment-gap-rich-poor-widest-record-20265592
The ultimate golden parachute – Energy company boss to get $44m exit package for TWENTY minutes in his post

Bill Johnson is facing a $44m payoff after working for Prospect Energy and Duke Energy for 20 minutes
It exceeds that of former Barclays chief executive Bob Diamond who got $26m
Utilities regulators are now considering investigating his abrupt resignation amid protests from shareholders
Former colleague calls the colossal farewell package 'the most blatant example of corporate deceit' he had ever seen

www.dailymail.co.uk/news/article-2170968/The-ultimate-golden-parachute–Energy-company-boss-44m-exit-package-TWENTY-minutes-post.html
Forbes 400 Wealthiest Americans Worth More Than Ever
The 400 wealthiest Americans are worth a record $2.02 trillion, roughly equivalent to the GDP of Russia. That is a gain of $300 billion from a year ago, and more than double a decade ago. The average net worth of list members is a staggering $5 billion, $800 million more than a year ago and also a record. The minimum net worth needed to make the 400 list was $1.3 billion. The last time it was that high was in 2007 and 2008, before property and stock market values began sliding. Because the bar is so high, 61 American billionaires didn't make the cut.

www.slate.com/blogs/the_slatest/2013/09/16/forbes_list_of_wealthiest_americans_shows_america_s_rich_have_more_wealth.html
SAN JOSE, Calif. — This metropolis of nearly a million residents is the third-largest city in California, home to tens of thousands of technology industry workers, as well as many thousands more struggling to get by. Yet even here, in the city that bills itself as the capital of Silicon Valley, the economic tidal wave that has swamped Detroit and other cities is lapping at the sea walls.

www.nytimes.com/2013/09/24/us/struggling-san-jose-tests-a-way-to-cut-benefits.html

www.dailymail.co.uk/news/article-2415602/Inside-Americas-largest-homeless-camp-sits-shadows-richest-citizens-Silicon-Valley.html
Census on Obama's 1st Term: Real Median Income Down $2,627; People in Poverty Up 6,667,000; Record 46,496,000 Now Poor
http://cnsnews.com/news/article/terence-p-jeffrey/census-obama-s-1st-term-real-median-income-down-2627-people-poverty
Amid slow economic recovery, more Americans identify as 'lower class'

www.latimes.com/local/la-me-lower-class-20130916,0,5616335.story
Capitalists wait for the recovery, while labor loses out

www.washingtonpost.com/opinions/robert-samuelson-capitalists-wait-while-labor-loses-out/2013/09/08/649dcc1a-1711-11e3-be6e-dc6ae8a5b3a8_story.html
Labor Participation Rate Hits 34-Year Low

www.usatoday.com/story/money/business/2013/04/07/march-labor-force-participation/2057887/
The Great Divide August 24, 2013, 2:35 pm 716 Comments
How Technology Wrecks the Middle Class
By DAVID H. AUTOR AND DAVID DORN
Bill Pugliano/Getty Images
Robot arms welded a vehicle on the assembly line at a General Motors plant in Lansing, Mich., in 2010.
In the four years since the Great Recession officially ended, the productivity of American workers — those lucky enough to have jobs — has risen smartly. But the United States still has two million fewer jobs than before the downturn, the unemployment rate is stuck at levels not seen since the early 1990s and the proportion of adults who are working is four percentage points off its peak in 2000.
This job drought has spurred pundits to wonder whether a profound employment sickness has overtaken us. And from there, it's only a short leap to ask whether that illness isn't productivity itself. Have we mechanized and computerized ourselves into obsolescence?
Are we in danger of losing the "race against the machine," as the M.I.T. scholars Erik Brynjolfsson and Andrew McAfee argue in a recent book? Are we becoming enslaved to our " robot overlords," as the journalist Kevin Drum warned in Mother Jones? Do "smart machines" threaten us with "long-term misery," as the economists Jeffrey D. Sachs and Laurence J. Kotlikoff prophesied earlier this year? Have we reached "the end of labor," as Noah Smith laments in The Atlantic?
Of course, anxiety, and even hysteria, about the adverse effects of technological change on employment have a venerable history. In the early 19th century a group of English textile artisans calling themselves the Luddites staged a machine-trashing rebellion. Their brashness earned them a place (rarely positive) in the lexicon, but they had legitimate reasons for concern.
Economists have historically rejected what we call the "lump of labor" fallacy: the supposition that an increase in labor productivity inevitably reduces employment because there is only a finite amount of work to do. While intuitively appealing, this idea is demonstrably false. In 1900, for example, 41 percent of the United States work force was in agriculture. By 2000, that share had fallen to 2 percent, after the Green Revolution transformed crop yields. But the employment-to-population ratio rose over the 20th century as women moved from home to market, and the unemployment rate fluctuated cyclically, with no long-term increase.
Labor-saving technological change necessarily displaces workers performing certain tasks — that's where the gains in productivity come from — but over the long run, it generates new products and services that raise national income and increase the overall demand for labor. In 1900, no one could foresee that a century later, health care, finance, information technology, consumer electronics, hospitality, leisure and entertainment would employ far more workers than agriculture. Of course, as societies grow more prosperous, citizens often choose to work shorter days, take longer vacations and retire earlier — but that too is progress.
So if technological advances don't threaten employment, does that mean workers have nothing to fear from "smart machines"? Actually, no — and here's where the Luddites had a point. Although many 19th-century Britons benefited from the introduction of newer and better automated looms — unskilled laborers were hired as loom operators, and a growing middle class could now afford mass-produced fabrics — it's unlikely that skilled textile workers benefited on the whole.
Fast-forward to the present. The multi-trillionfold decline in the cost of computing since the 1970s has created enormous incentives for employers to substitute increasingly cheap and capable computers for expensive labor. These rapid advances — which confront us daily as we check in at airports, order books online, pay bills on our banks' Web sites or consult our smartphones for driving directions — have reawakened fears that workers will be displaced by machinery. Will this time be different?
A starting point for discussion is the observation that although computers are ubiquitous, they cannot do everything. A computer's ability to accomplish a task quickly and cheaply depends upon a human programmer's ability to write procedures or rules that direct the machine to take the correct steps at each contingency. Computers excel at "routine" tasks: organizing, storing, retrieving and manipulating information, or executing exactly defined physical movements in production processes. These tasks are most pervasive in middle-skill jobs like bookkeeping, clerical work and repetitive production and quality-assurance jobs.
Logically, computerization has reduced the demand for these jobs, but it has boosted demand for workers who perform "non-routine" tasks that complement the automated activities. Those tasks happen to lie on opposite ends of the occupational skill distribution.
At one end are so-called abstract tasks that require problem-solving, intuition, persuasion and creativity. These tasks are characteristic of professional, managerial, technical and creative occupations, like law, medicine, science, engineering, advertising and design. People in these jobs typically have high levels of education and analytical capability, and they benefit from computers that facilitate the transmission, organization and processing of information.
On the other end are so-called manual tasks, which require situational adaptability, visual and language recognition, and in-person interaction. Preparing a meal, driving a truck through city traffic or cleaning a hotel room present mind-bogglingly complex challenges for computers. But they are straightforward for humans, requiring primarily innate abilities like dexterity, sightedness and language recognition, as well as modest training. These workers can't be replaced by robots, but their skills are not scarce, so they usually make low wages.
Computerization has therefore fostered a polarization of employment, with job growth concentrated in both the highest- and lowest-paid occupations, while jobs in the middle have declined. Surprisingly, overall employment rates have largely been unaffected in states and cities undergoing this rapid polarization. Rather, as employment in routine jobs has ebbed, employment has risen both in high-wage managerial, professional and technical occupations and in low-wage, in-person service occupations.
So computerization is not reducing the quantity of jobs, but rather degrading the quality of jobs for a significant subset of workers. Demand for highly educated workers who excel in abstract tasks is robust, but the middle of the labor market, where the routine task-intensive jobs lie, is sagging. Workers without college education therefore concentrate in manual task-intensive jobs — like food services, cleaning and security — which are numerous but offer low wages, precarious job security and few prospects for upward mobility. This bifurcation of job opportunities has contributed to the historic rise in income inequality.
HOW can we help workers ride the wave of technological change rather than be swamped by it? One common recommendation is that citizens should invest more in their education. Spurred by growing demand for workers performing abstract job tasks, the payoff for college and professional degrees has soared; despite its formidable price tag, higher education has perhaps never been a better investment. But it is far from a comprehensive solution to our labor market problems. Not all high school graduates — let alone displaced mid- and late-career workers — are academically or temperamentally prepared to pursue a four-year college degree. Only 40 percent of Americans enroll in a four-year college after graduating from high school, and more than 30 percent of those who enroll do not complete the degree within eight years.
The good news, however, is that middle-education, middle-wage jobs are not slated to disappear completely. While many middle-skill jobs are susceptible to automation, others demand a mixture of tasks that take advantage of human flexibility. To take one prominent example, medical paraprofessional jobs — radiology technician, phlebotomist, nurse technician — are a rapidly growing category of relatively well-paid, middle-skill occupations. While these paraprofessions do not typically require a four-year college degree, they do demand some postsecondary vocational training.
These middle-skill jobs will persist, and potentially grow, because they involve tasks that cannot readily be unbundled without a substantial drop in quality. Consider, for example, the frustration of calling a software firm for technical support, only to discover that the technician knows nothing more than the standard answers shown on his or her computer screen — that is, the technician is a mouthpiece reading from a script, not a problem-solver. This is not generally a productive form of work organization because it fails to harness the complementarities between technical and interpersonal skills. Simply put, the quality of a service within any occupation will improve when a worker combines routine (technical) and nonroutine (flexible) tasks.
Following this logic, we predict that the middle-skill jobs that survive will combine routine technical tasks with abstract and manual tasks in which workers have a comparative advantage — interpersonal interaction, adaptability and problem-solving. Along with medical paraprofessionals, this category includes numerous jobs for people in the skilled trades and repair: plumbers; builders; electricians; heating, ventilation and air-conditioning installers; automotive technicians; customer-service representatives; and even clerical workers who are required to do more than type and file. Indeed, even as formerly middle-skill occupations are being "deskilled," or stripped of their routine technical tasks (brokering stocks, for example), other formerly high-end occupations are becoming accessible to workers with less esoteric technical mastery (for example, the work of the nurse practitioner, who increasingly diagnoses illness and prescribes drugs in lieu of a physician). Lawrence F. Katz, a labor economist at Harvard, memorably called those who fruitfully combine the foundational skills of a high school education with specific vocational skills the "new artisans."
The outlook for workers who haven't finished college is uncertain, but not devoid of hope. There will be job opportunities in middle-skill jobs, but not in the traditional blue-collar production and white-collar office jobs of the past. Rather, we expect to see growing employment among the ranks of the "new artisans": licensed practical nurses and medical assistants; teachers, tutors and learning guides at all educational levels; kitchen designers, construction supervisors and skilled tradespeople of every variety; expert repair and support technicians; and the many people who offer personal training and assistance, like physical therapists, personal trainers, coaches and guides. These workers will adeptly combine technical skills with interpersonal interaction, flexibility and adaptability to offer services that are uniquely human.
David H. Autor is a professor of economics at the Massachusetts Institute of Technology. David Dorn is an assistant professor of economics at the Center for Monetary and Financial Studies in Madrid.
http://opinionator.blogs.nytimes.com/2013/08/24/how-technology-wrecks-the-middle-class/
The Insiders: Bad news is good news for the Obama economy
By Ed Rogers, Published: August 26 at 4:31 pm
The Obama administration is stuck in a surreal world, where bad news is good news for the economy it has created. Trickle down from the stock market and artificially low interest rates are the only drivers of the economy. The second-estimate gross domestic product report this week will be vital to the life-support system that President Obama has constructed for the 1 percent. If the revised GDP numbers are good – relatively speaking – it will suggest that bond-buying by the Federal Reserve will be tapered in the near future. If the tapering begins, the stock market is going to fall. If the stock market falls, the wealth effect and the trickle-down that stock market boom has produced are going to dry up.
Obviously, an economic crash would be terrible, but so would a slowing down of the conveyor belt of money between Washington and Wall Street, which is fueling what little growth we have.
This puts Democrats in an odd position; right now the only thing worse than trickle-down economics is no trickle-down economics.
Another disappointing earning cycle is behind us, which confirmed that there is no top-line growth almost anywhere in this economy. And in case you needed more bad news, the Wall Street Journal noted today that durable-goods orders dropped 7.3 percent in July, almost double the estimated drop.
Suffice it to say, GDP growth is only about 40 percent of what the administration promised during Obama's reelection campaign. It'll be interesting to see if the Democrats begin to panic or if they'll be willing to stay the course through the midterm elections.
And, oh by the way, why does it appear that there are only two choices for the president to consider for the position of Federal Reserve chairman? Why not appoint someone a little new and different? Who says the Federal Reserve chair has to be a dry academic/economic theoretician/political retread? What if President Obama appointed someone like David Smick, author of "The World is Curved," who has proved he is one of the world's foremost economic fortune-tellers? Or what about John Taylor from Stanford, who is so smart that Obama should overlook the fact that he's a Republican? Or Ken Chenault, CEO and chairman of American Express? Or Mark Gallogly, who is a serious investor and someone the president has expressed confidence in in the past? Or the president could even try to talk Jack Welch into taking the job. Don't tell me the savvy former chairman and CEO of General Electric doesn't have sufficient economic credentials – and he is nothing if not independent.
This administration is stale and failing. It needs to look for fresh approaches wherever it can.

www.washingtonpost.com/blogs/post-partisan/wp/2013/08/26/the-insiders-bad-news-is-good-news-for-the-obama-economy
Teen employment hits record lows, suggesting lost generation
Jessica Lopez-Cerrano works at the Family Health Center, in Louisville, Kentucky. For the fourth consecutive summer, teen employment has stayed anchored around record lows, prompting experts to fear that a generation of youth is likely to be economically stunted with lower earnings and opportunities in years ahead
| Bill Luster/MCT
By Kevin G. Hall | McClatchy Washington Bureau
WASHINGTON — For the fourth consecutive summer, teen employment has stayed anchored around record lows, prompting experts to fear that a generation of youth is likely to be economically stunted with lower earnings and opportunities in years ahead.
The trend is all the more striking given that the overall unemployment rate has steadily dropped, to 7.4 percent in August. And employers in recent months have been collectively adding almost 200,000 new jobs a month. It led to hopes that this would be the summer when teen employment improved.
In 1999, slightly more than 52 percent of teens 16 to 19 worked a summer job. By this year, that number had plunged to about 32.25 percent over June and July. It means that slightly more than three in 10 teens actually worked a summer job, out of a universe of roughly 16.8 million U.S. teens.
"We have never had anything this low in our lives. This is a Great Depression for teens, and no time in history have we encountered anything like that," said Andrew Sum, director of the Center for Labor Market Studies at Northeastern University in Boston. "That's why it's such an important story."
Summer is traditionally the peak period of employment for teens as they are off from school and get their first brush with employment and the responsibilities that come with it. Falling teen employment, however, is just as striking in the 12-month numbers over the past decade.
The picture these teen employment statistics provide looks even worse when viewed through the complex prism of race. Sum and colleagues did just that, comparing June and July 2000 and the same two months of 2013. In 2000, 61.28 percent of white teens 16 to 19 held a job, a number that fell to 39.25 percent this summer. For African-Americans, a number that was dismal in 2000, 33.91 percent of 16 to 19 year olds holding a job, fell to a staggering low of 19.25 percent this June and July.
It wasn't terribly better for Hispanics, who saw the percentage of employed teens fall from 40.31 percent in the two-month period of 2000 to 26.7 percent in June and July 2013.
One of the more surprising findings of Sum's research is that teens whose parents were wealthy were more likely to have a job than those whose parents had less income. Some 46 percent of white male teens whose parents earned between $100,000 and $149,000 held a job this summer, compared with just 9.1 percent of black male teens whose family income was below $20,000 and 15.2 percent for Hispanic teen males with that same low family income.
That finding is important because a plethora of research shows that teens who work do better in a wide range of social and economic indicators. The plunging teen employment rate is likely to mean trouble for this generation of young workers of all races.
"Kids that get work experience when they are 17 or 18 end up graduating from college at a higher rate," said Michael Gritton, executive director of the Workforce Investment Board, which promotes job creation and teen employment in Louisville, Ky., and six surrounding counties. "There are economic returns to those young people because they get a chance to work. Almost every person you ask remembers their first job because they started to learn things from the world of work that they can't learn in the classroom."
The teen employment numbers are calculated from the Current Population Survey, carried out by the Census Bureau for the Labor Department's Bureau of Labor Statistics. This survey of households is used in determining estimates for the size of the civilian workforce, the number of employed nationally and the unemployment rate.
Unemployment data is calculated in a different fashion, and while it tells a similar story of hardship for teens, it is not considered by researchers to be as accurate as the employment data because it underestimates the severity of the slow economy.
The weak employment numbers sometimes prompt a mistaken narrative that younger workers are just staying in college longer rather than entering the workforce, or are going on to graduate school given the impaired jobs market.
"I think there is this myth out there that there is some silver lining for young people, that they are going on to college. . . . You don't see an increase in enrollment rates over and above the long-term trend. You can't see a Great Recession blip," said Heidi Scheirholz, a labor economist at the liberal Economic Policy Institute, a research group. "They are not in school. There's been a huge spike in the not-in-school, not employed. It's just a huge missed opportunity."
Even before the economic crisis exploded in the summer of 2008, workers ages 16 to 19 made up a declining share of the overall workforce, in part because of a decades-long climb in college enrollment, and in part because universities now place less importance on work and more on life experiences and community service.
But most of this decline in youth in the workforce is thought to be the result of the severe economic crisis and its aftermath, with older workers taking the jobs of teens.
"People entering into the labor force in their 20s, it looks like more and more now they're not going to have any work experience as teens. Labor force participation is as low as it's ever been," said Keith Hall, who served as commissioner of the Bureau of Labor Statistics from 2008 to 2012.
Hall points to a troubling trend within an already worrisome statistic. Because of the so-called Great Recession and the sluggish growth that's followed, middle-age and older workers are not moving up the career ladder. The natural order of career progression has been stunted.
"I think that means that a lot of workers aren't advancing through their careers," he said. "Younger workers aren't going to be progressing through their careers as they did before."

www.mcclatchydc.com/2013/08/29/200769/teen-employment-hits-record-lows.html
High tech and the long road to 'full employment'
By Robert J. Samuelson, Published: July 14
Here's a somber thought: We may never — or at least not anytime soon — regain "full employment," meaning an unemployment rate between, say, 4 percent and 5.5 percent. It is now four years from the recovery's start, and the number of jobs is still 2.2 million below the pre-recession peak. Since World War II, this has never happened. After the harsh 1981-82 recession, employment recouped lost ground in 12 months. Economists are searching for an explanation, and one recent candidate seems surprising: high tech.
It's usually seen as an engine of growth, but the spread of automated processes and robots has actually acted as a drag on job creation and has kept the unemployment rate high (7.6 percent in June), argue Erik Brynjolfsson and Andrew McAfee of the Massachusetts Institute of Technology. Digital technologies, they contend, have enabled companies to cut costs, increase productivity (i.e., efficiency), improve profits and slash payrolls. They expect more of the same.
"The MIT academics foresee dismal prospects for many types of jobs as these powerful new technologies are increasingly adopted not only in manufacturing, clerical and retail work but in professions such as law, financial services, education and medicine," wrote David Rotman in an informative story in the MIT Technology Review. A gap has opened between productivity increases and employment growth, goes the theory. If it persists, it would confound economic history.
Technological upheavals routinely disrupt. Airlines and interstate highways decimated railroad passenger service. Between 1945 and 1970, intercity rail travel dropped nearly 90 percent. Air conditioning drew people and plants from the Northeast and Midwest to the South. Early in the 20th century, supermarkets — a more efficient form of organizational technology — displaced small grocers. "While selling food cheaply was good for consumers, it was bad for the hundreds of thousands of retailers, wholesalers and manufacturers who needed high food prices in order to make a living," wrote Marc Levinson in his book "The Great A&P and the Struggle for Small Business in America."
But these and other large technological shifts — from steam power to electrification — typically haven't spawned the permanent rise in unemployment feared by Brynjolfsson and McAfee, says Harvard economist Lawrence Katz. Some existing workers lost their jobs; it was hard on them. Yet there were always "new sources of labor demand" that prevented a steep rise in unemployment.
This is the crux of the matter. Productivity-enhancing technologies usually create more demand than they destroy, through two channels. First, lower prices enable consumers to buy more. If grocery costs fall, shoppers can purchase more food — or something else entirely. Lower computer chip prices have spawned mass markets for personal computers, cellphones and tablets.
The second channel is higher wages and profits. Some efficiency gains go to workers, managers and investors. Their greater purchasing power then raises total demand and living standards. Over the past half-century, higher productivity in manufacturing and agriculture has enabled Americans to spend more on health care and education. If history repeats itself, fears about the digital revolution (like earlier fears of other technologies) will fade.
There's the rub: Will history repeat itself?
It's a stretch to see digital technologies as a major source of today's unemployment. In the recession, the economy lost 8.7 million jobs. Most were non-digital, concentrated in construction, finance, retailing and manufacturing. What seems less dubious is that, in a permanently sluggish economy, firms might favor digital investments that shave costs and sustain profits. McAfee envisions warehouses maintained by robots, trucks driven by computers and automated language translations. The digital revolution could stymie job growth.
Unfortunately, the Great Recession abetted this protective psychology. This keeps unemployment up. Companies didn't just fire workers; they also went on a hiring strike. "In the Great Recession, [hiring] took a bigger hit than in any previous recession — and has not recovered," economist John Haltiwanger of the University of Maryland recently told a conference of the pickup in hiring to 200,000 a month, about 10 percent higher than 2012's rate, is encouraging. But it's still a long way to "full employment." Projections have us getting there in 2017 or 2018, assuming faster economic growth and no recession. Let's hope that's not wishful thinking.

www.washingtonpost.com/opinions/robert-samuelson-high-tech-and-the-long-road-to-full-employment/2013/07/14/6704fca2-eb16-11e2-8023-b7f07811d98e_story.html
Forget gold. Classic cars are the new hot investment.
By Lydia DePillis, Published: September 8 at 5:03 pm
For rich people seeking new places to put their money, maybe one more fun than mutual funds and less risky than tech startups, one asset class is beating out all the rest: Classic cars.
Real estate firm Knight Frank put out its Luxury Index on Friday, which tracks a basket of collectible items that serves as a good proxy for how good wealthy people are feeling about their situations in life. Known as the KFLII, it kept rising fairly steadily through the recession, and is now beating the global stock markets.
Not all collectibles are doing equally well, though. Antique furniture has been out of style for a while now, for example and fine art–usually a more volatile category–sank 6 percent this year. But prices for classic cars, as tracked by the Historic Auto Group, have more than doubled over the past five years, and grown by 28 percent in the last 12 months.
What's driving the bubble, if we might call it that? According to Knight Frank, cars are all the rage among Asian plutocrats. And unlike art, wine, and watches, there's more of a confined supply. The various indices only track certain models, and none of them are being made anymore (even so, it's hard to pin down the overall value of the market, since there's not a central collection point for that kind of information, like there is in the major stock markets). Hagerty breaks them down by type of car: The "blue chips" cover models made in the 1950s, 60s, and 70s. There are only so many of them, and even more people want to own one — complete with fraying upholstery — there's no way for the market to increase supply.
For comparables, Knight Frank plots the Luxury Index against something that's also known as a luxury commodity: Gold. The price of gold, though, has plummeted in recent months. That's probably a good sign for the global economy , since people don't feel he need to put their money in bars of something that's always seen as valuable even if currencies collapse.
Luxury items aren't really a substitute for gold, says Knight Frank analyst Andrew Shirley. That would be a better way to characterize equities, like stocks: When confidence in the economy is high, people put their money in riskier bets that have the potential to make large returns. Collectibles are where they put their money when they've made enough money in the stock market that they feel like diversifying — or just having some bling to set them apart from the other millionaires.

www.washingtonpost.com/blogs/wonkblog/wp/2013/09/08/forget-gold-classic-cars-are-the-new-hot-investment/
Class Is Seen Dividing Harvard Business School

Gretchen Ertl for The New York Times
The Bloomberg Center at the Harvard Business School.
Many Harvard business students and readers were especially troubled by Section X, and the idea that even within the extremely elite confines of one of the nation's premier business schools, the ultrawealthy are segregating themselves.

www.nytimes.com/2013/09/10/education/harvard-business-students-see-class-as-divisive-an-issue-as-gender.html
FILE – In this 1928 file photo, Actress Joan Crawford is seen dancing the Charleston in "Our Dancing Daughters" in Hollywood, Calif. A report released, September, 10, 2013, shows that the very wealthiest Americans earned more than 19 percent of the country's household income in 2012, their biggest share since 1928. And the top 10 percent captured a record 48.2 percent of total earnings last year
Richest 1 percent earn biggest share since '20s

www.thenewstribune.com/2013/09/10/2776688/top-1-percent-took-record-share.html
http://economix.blogs.nytimes.com/2013/09/10/the-rich-get-richer-through-the-recovery/

www.theblaze.com/stories/2013/09/10/the-most-and-least-lucrative-college-majors-in-a-single-graph/
Population centers: This is the map that reveals the 146 counties that are home to half of the country's population

www.dailymail.co.uk/news/article-2413498/The-146-large-counties-HALF-U-S-population-lives.html
The Happiest States In America In One Map (INFOGRAPHIC)

www.huffingtonpost.com/2013/08/02/happiest-states-_n_3696160.html
Rick J Black, Sr.
11 hours ago
Thank God I live in America. Obama aside, we have one of the best if not the best economic models of the world. However, If our President continues down the road to Communism, we will fall by the wayside as has so many other civilizations. I do not hold out much hope for improvement till we get our debt under control, which the Democrats seem not wish to do. It will take a Republican government to pull us out of our economic malaise and undo all the damage our current President has done to our beloved Republic. I hope the French people find within themselves the courage to do the same.

www.telegraph.co.uk/news/worldnews/europe/france/10202556/France-is-dancing-on-a-volcano-and-Europe-may-go-up-in-flames.html#disqus_thread
Women like Brittany Paige, pictured, are few and far between in the boisterous mining town of Williston

ww.dailymail.co.uk/news/article-2381141/Williston-North-Dakota-oil-mining-transformed-face-sleepy-backwater-single-men-dramatically-outnumber-women.html
I am a commercial truck driver in the US. What do you want to know?
My days consist of doing over 500 miles crossing America. I've seen the best and worst of this country


Jack Paulden theguardian.com, Thursday 11 July 2013 08.30 EDT
Jack Paulden is a commercial truck driver from Ohio and a Guardian reader. He agreed to open up about what life is like on the road in the United States as part of a summer series the Guardian is doing on working America. Leave more questions for Jack in the comments, and he will answer as many as he can tomorrow when he has a break from driving.
1. What's your typical day like?
A typical day is to get up between 5 and 6am. Walk into the truck stop and do the morning rituals. Get some coffee, walk around and inspect the truck and trailer and then check messages, do the logs; perhaps check weather and any safety conditions on the Qualcomm regarding route of travel and get rolling. Drive to a shipper or receiver and either "drop and hook" or "live load" or "live unload". If it is live then you may be sitting for hours and not making any money as I get paid by the miles I drive. If time is on my hands, then I will use this down time to plan the trip route. Planning fuel stops and dealing with weigh stations and weather and road construction are also daily events to deal with.
Meals on the go or time to eat at a restaurant is a variable thing. Towards evening you keep an eye on the Department of Transportation time clock so as not to violate any rules which can be costly. Once you pick your place to park, which can be a truck stop, an on or off ramp of an interstate, a receiver or shippers property, or any place you can fit a truck and trailer without breaking any rules; then you shut down and shower and eat, and/or shut down and call home and hit the sack.
2. There's been a lot of talk lately about people wanting work/life balance. Does your job provide that?
If you want a balanced life I think you have to get home most nights. There are truck driving jobs that allow that, but most of us "over the road" haulers do not have a balanced life in my opinion. However, who knows what people consider as balanced. It is subjective
3. What's the craziest/most unexpected thing that's ever happened to you while on the job?
I guess you could say it was getting into the trucking business. In 2011, at the age of 58 and "on the dole", I was desperate to find work. My local employment office provided a lead about becoming a truck (aka lorry) driver. I applied online and was accepted the next day. The outcome, after agreeing to pay $3,000 dollars to a truck driving school for an intense 16-day "learnin'", left me feeling a little crazy.
I let my ego convince me, a 58-year-old rookie, that I could lease a brand new truck and make a living as a solo driver. Six months later after driving 63,400 miles across the highways and byways of the USA trying to make a living, I realized that I had really just gained experience, but not made a living. I had lived in a truck and provided the leasing company the means to continue to make millions from fools like me. I have learned my lesson now and drive for a company.
4. What makes for a really good day on the job?
A really good day on the job for me is lots of miles, "drop and hooks" instead of live loading and unloading, and being able to get to the truck stop early to find a spot and have a nice clean hot shower followed by a good meal. What makes it a really, really good day is if I am going to make it home that night after perhaps 12 to 19 days on the road.
5. What's your annual salary? Do you get benefits?
I get paid 40 cents a mile. I have days I turn in over 600 miles and days I turn in less than 200. I assume this year I will make perhaps what an average teacher with tenure makes in the US. However, because I am paid by the mile I don't really know until the end of the year what I make. Many drivers get paid what is referred to as "paid miles". Without going into detail it is not the miles you actually drive but more a, "how the crow flies" from zip code to zip code type mileage. In some cases you may drive a hundred miles for which you are not paid that day during a run in which you actually put in 500 to 600 miles total. Some drivers get paid "practical miles" which amounts to practically every mile driven, unless you detour without cause or get lost or perhaps detour for a quick stop by home. I have also met guys who live on $100 weekly advances from the company they work for, while being not much more than a homeless person living in a truck. They are not lesser people, just people who have less.
Benefits vary from company to company. I am a military veteran so to save money, I use the VA (Veterans Administration) hospitals on the rare occasion I have medical needs. Not to get political; but it is my opinion that although the new healthcare policies are a step in the right direction; it would have been deceptively simple to just give the whole country Medicare (not Medicaid) coverage. I never hear our retirees complain about Medicare. It is a single payer (the government) paying private medical practitioners and private hospitals (both for profit and non-profit hospitals) to provide care anywhere that retiree needs medical care in the country.
6. What's the biggest mistake you've ever made while working?
The biggest mistake occurred immediately after getting my class A CDL (commercial driver's license). I had to gain experience, and the school wanted 15,000 to 20,000 driving miles during a 30 day trainin' period. This meant I had to live with a stranger in that "truck space" environment for a month making a mere $65 a day. Learning to drive, while sleeping and eating in a truck that seemed to be constantly moving between shippers and receivers would have been perhaps more acceptable at a younger age. Doing it in cramped quarters with a person you barely know is even less of a joy.
I would drive up to 11 hours a day during my shift and turn in mileages of 550 to 640 miles a day. My trainer and I had many an argument during our time together. I wish there had been another way. I realized my mistake after talking to a woman student and her female trainer from another school who said she, the trainee, was required to put in 275 hours of driving as a "trainee" but there was no 30 day requirement to meet those hours. A softer more sane "easier way" perhaps. These two women were sitting in the truck stop and having a meal together. What a contrast that was to my situation. My last week as a trainee I could hardly stand being in the truck with my instructor, let alone sitting together to "break bread".

http://www.guardian.co.uk/commentisfree/2013/jul/11/truck-driver-salary-life-on-road
Why I'm on strike today: I can't support myself on $7.85 at Burger King
I know what it feels like to be afraid that your children will go to bed hungry, your heat will be turned off or you'll be evicted

Willietta Dukes theguardian.com, Thursday 29 August 2013 08.30 EDT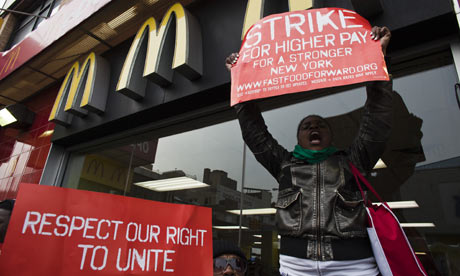 Fast food workers take part in a protest at a McDonald's restaurant in Harlem, New York for better wages, 4 April 2013.
Photograph: VIEWpress Corp/Corbis
I've worked at fast-food restaurants in North Carolina for the past 15 years. I've spent more hours at Church's Chicken, McDonald's and now Burger King than I can remember. I work hard – I never miss a shift and always arrive on time. But today, I'm going on strike.
I make $7.85 at Burger King as a guest ambassador and team leader, where I train new employees on restaurant regulations and perform the manager's duties in their absence. Before Burger King, I worked at Church's for 12 years, starting at $6.30 and ending at just a little more than $8 an hour.
I've never walked off a job before. I don't consider myself an activist, and I've never been involved with politics. I'm a mother with two sons, and like any mom knows, raising two teenage boys is tough. Raising them as a single mother, on less than $8 an hour, is nearly impossible, though.
My boys, Tramaine and Russell Jr are now 20 and 21 years old. When they were in middle and high school, I had to work two fast-food jobs to make ends meet. Most days, I would put them on the bus at 6:30am before working a 9 to 4 shift at one restaurant, then a 5-close shift at another. If I had a day off, I was at their schools, checking in with their teachers and making sure they were keeping up with their education. I wanted them, when they were grown-up, to not have to work two jobs.
My hours, like many of my co-workers, were cut this year, and I now work only 25 to 28 hours each week. I can't afford to pay my bills working part time and making $7.85, and last month, I lost my house. Now, I go back and forth between staying with Russell Jr and Tramaine. I never imagined my life would be like this at this point. I successfully raised two boys, and now I'm forced to live out of their spare bedrooms. That's why I'm on strike today.
About a month and a half ago, I saw a Facebook page for NC Raise UP, which encouraged fast-food workers in North Carolina to join with others around the country who are striking. Today, I am joining workers in 40 cities who are taking collective action for a $15 wage and the right to form a union without retaliation.
Most of the workers I've met on social media are just like me – mothers and fathers who wonder if they will ever get what they deserve, if they'll ever escape from poverty. We are walking off our jobs because we don't know how we are going to survive on these jobs. We're on strike because we can't afford not to strike.
Burger King says they can't pay employees like me higher wages because it would force them out of business. Yet last year it made $117m in profits and its CEO took home $6.47m. It would take me 634 years to earn that much.
I've worked in fast-food for 15 years, and I can't even afford my own rent payments. We just want fairness and to be able to provide for our families. No one who works every day should be forced to be homeless.
As a guest ambassador, my job is to keep customers happy, greeting them at the door, checking in with them at their tables and picking up their trash. I'm good at what I do. Customers have come in and have wanted to give me $25 gift certificates as a way of saying thank you. If only Burger King rewarded hard work in the same way.
I'm on strike today for the first time in my life, and surprisingly, I don't feel afraid. Like so many fast-food workers across this country, I know what it feels like to be truly afraid – afraid of having your children go to bed hungry, or having your heat turned off in February, or being evicted from your home. Today is not scary. Today is empowering.
www.theguardian.com/commentisfree/2013/aug/29/fast-food-worker-protest-minimum-wage
Now showing at drive-ins: The final days of 35mm film
A night at the drive-in: The Family Drive-In Theatre in Stephens City, Va., brings a nostalgic feel to going to the movies, even as it struggles to update its technology to modern times. This summer marks the 80th birthday of drive-in movies. The first theater opened in Pennsauken, N.J., in June 1933. (Trivia: There are no drive-ins left in New Jersey.) The number of outdoor theaters peaked at 4,000 nationwide in 1958. Today, there are about 360. But in some rural locales, such as Stephens City, outdoor viewing never went out of style.

www.washingtonpost.com/business/transition-to-digital-is-costly-proposition-for-drive-in-movie-theaters/2013/07/25/573f418e-f46b-11e2-9434-60440856fadf_story.html
Pigeon Forge girl meets Disney cruise benefactor
By Deborah Ince
Posted July 27, 2013 at 8:42 p.m.

www.knoxnews.com/news/2013/jul/27/pigeon-forge-girl-meets-disney-cruise-benefactor/
Kindhearted boy, 13, who heard how a devastated stranger had lost her $4,000 wedding ring in a waterfall got his snorkel and mask on and managed to find it
Impressive feat: This unnamed 13-year-old boy from Nashville, Tennessee, heard about what happened and decided to search for the ring himself
"Seemingly lost: 'I slipped and fell down into the water and I'm waving my hands back and forth and all of a sudden the ring flies off and I said, 'I lost my ring,'" she said."

www.dailymail.co.uk/news/article-2379911/Boy-13-heard-devastated-stranger-lost-4K-wedding-ring-waterfall-got-snorkel-mask-managed-it.html
Canoe craze marked by romance, ribaldry

www.startribune.com/lifestyle/217172731.html
Connecticut National Guard Troops Welcomed Home

www.courant.com/community/hartford/hc-national-guard-ceremony-0728-20130727,0,3521542.story
Airlines are sparing no expense these days to enlarge, upgrade and increase the price of their first-class and business-class seating. As the space and dollars devoted to the front of the planes increase, something else has to be diminished, and, as multitudes of travelers can attest, it's the experience of flying coach. The joys of air travel — once common to all who flew — have been redistributed upward and are now reserved for the well-heeled few.

www.washingtonpost.com/opinions/harold-meyerson-a-hard-landing-for-the-middle-class/2013/08/06/e8948e4c-fec4-11e2-bd97-676ec24f1f3f_story.html
As L.A.'s Chinatown changes, some see opportunity for renewal
Among the owners of longtime area businesses, there are those who embrace an evolving Chinatown, seeing multiculturalism as the way to survive.
By Frank Shyong
July 27, 2013, 12:00 p.m.
In its heyday, Empress Pavilion fielded an army of 100 employees that brought the restaurant to life at dawn; a crew of 20 prep cooks chopped vegetables, wrapped dumplings and crimped shumai.
When doors opened at 9 a.m., a squadron of waitresses armed with steam carts fanned out across a vast 600-seat dining room, hawking tins of black bean spare rib and har gow in three languages. The wait to get in could last two hours.
Empress Pavilion — behind on rent and struggling to find customers — closed earlier this summer, the latest blow in Chinatown's three decades of slow decline. Today the aging community has the feel of a museum. Grimy storefronts gather dust, abandoned by second- and third-generation locals and ignored by a shrinking trickle of tourists.
But a new Chinatown is emerging — one that is less Chinese.
The neighborhood is seeing a new wave of development that is decidedly more mainstream. Developers are building more than 500 new housing units, some hoping to lure downtown types north of the 101 Freeway. A Walmart Neighborhood Market and Starbucks are slated to open this year. Dim sum palaces and gift shops are giving way to single-origin coffee, artisan pasta and pan-Asian cuisine.
A long-delayed residential and retail development broke ground in May. But its latest design has shed the Asian architectural flourishes that traditionalists say is the mark of Chinatown.
The owner of the complex that housed Empress Pavilion is hoping to lure a new dim sum restaurant, but he also hopes to bring in some Thai businesses.
Some see a model in Little Tokyo, which has remained a Japanese enclave while attracting a diverse array of businesses and visitors.
"Why shouldn't we have a multicultural Chinatown?" asked George Yu, president of Chinatown's business improvement district. "Why shouldn't we have a good cup of [Starbucks coffee]? Little Tokyo has two of them, and no one says anything about that."
People have been writing Chinatown's obituary for decades now.
It began in the early 1980s, when booming Chinese enclaves in the San Gabriel Valley drained Chinatown of people and business. Monterey Park was declared the new Chinatown, and since then the epicenter of Chinese American life in the Southland has moved steadily east.
In the 1990s, an influx of Southeast Asian immigrants brought some new business to Chinatown, but the area's economic trajectory remained unchanged — even after the Gold Line light-rail station opened.
Census data shows that the area's overall Asian population has been steady over the last decade, with the population of Mainland Chinese declining by just 4%.
But the feel of the neighborhood is starting to change. Bars serving craft beer and boba and snacks and restaurants are surfacing amid a sea of dilapidated gift shops and souvenir stores. Starry Kitchen, a pop-up pan-Asian restaurant, has set up shop inside the Grand Star Jazz Club. General Lee's, a century-old Chinatown restaurant closed for two decades, reopens as a bar in August with a design by the same firm responsible for Culver City's Akasha and Hatfield's in Hollywood.
And on Cesar E. Chavez Avenue, the Jia Apartments, a 280-unit residential development, will open later this summer with a Starbucks and an artisan pasta restaurant on the first floor. Blossom Plaza, a $95-million project, will add 237 new units and several new storefronts when it opens in 2016.
Many of the new units are aimed at downtown Los Angeles' fastest growing demographic — young professionals. Chinatown doesn't have Spring Street's bars or the loud glamour of L.A. Live, but the neighborhood is no longer eerily silent after sunset.
At Far East Plaza on any given weeknight, thumping bass beats rattle the windows of ginseng stores and Chinese gift shops until 11 p.m. Chego, chef and Kogi creator Roy Choi's new restaurant, began serving up multicultural rice bowls in June.
Inspired by Chicago hot-dog stands, Chego's interior consists of a curving steel counter, a cashier and a drink machine.
Below a vintage camera hanging from a peg, an Eric B and Rakim record leans against a wall. Picnic tables are clustered in the plaza outside.
Choi's first taste of dim sum was at Empress Pavilion, and he compared the restaurant's closing to "a death in the family."
But it was also inevitable.
"Their food never changed," Choi said.
The restaurant attracts a younger crowd that looks much like downtown's — skinny jeans, complicated haircuts, a mixture of ethnicities and a preponderance of beards. That demographic is Chinatown's future, Yu said.
"If we bring in the mainstream which our children are a part of, and make Chinatown relevant to that, you'll see the second and third and fourth generations returning like they used to," Yu said.
Far East Plaza used to be a crossroads of Chinese cuisine known throughout the U.S. Restaurants such as Monkee Seafood brought lines of customers that stretched into the street. Mandarin Deli, in the space now occupied by Chego, was one of the first places in the city to serve soup dumplings, or xiao long bao. But that was a different time — there was no Monterey Park, Yu said.
Yu's new hopes for the area look something like Chinatown Summer Nights, a recurring summertime street festival that drew 28,000 people on a recent weekend.
A stream of Metro Rail riders filled Chinatown's Central Plaza, snacking at food trucks and browsing local shops and crafts tents.
Some of Chinatown's older merchants have mixed feelings about the neighborhood's new direction — and about Chego's rice bowls.
"To me it was kind of heavy," said Ron Louie, the co-owner of K.G. Louie gift shop in nearby Central Plaza. "I think I should probably give it another try."
Louie, 74, and his brothers have traded shifts to maintain the business their parents started in 1938 through Chinatown's many evolutions — but they can't keep it running forever. Louie's daughter has her own career and isn't interested in working at the 75-year-old art-supply and gift shop.
"We'll be doing this until the last one is left standing," Louie said.
Louie and the other members of the Los Angeles Chinatown Corp., the founding property owners of Chinatown, consider themselves the keepers of Chinatown's traditions. They take pride in Central Plaza's curving roofs and glowing neon outlines. But even they acknowledge change is inevitable — today many of them have a 626 area code, that of the San Gabriel Valley.
"We try to keep things the same," said Larry Jung, president of the corporation. "But it's difficult."
The corporation held its 75th-anniversary banquet in June. As they had in the past, organizers had planned to have it at Empress Pavilion, but the restaurant closed a month before the dinner. They relocated it to Golden Dragon Restaurant.
"Demographics have changed. Expectations are different. It's not the old neighborhood any more," Jung said.

www.latimes.com/news/local/la-me-new-chinatown-20130727,0,2148904.story
70 years later, a WWII veteran is aloft again on a B-17
Having piloted 50 combat missions in World War II, there's a sense of déjà vu for a 93-year-old Amherst veteran as he finds the flying smooth on a vintage bomber
Richard J. Notebaert piloted 50 combat missions in a B-17 bomber, so it was only fitting that he sat back Monday and enjoyed his 51st ride as a passenger.
The Liberty Foundation's Memphis Belle is back in Buffalo, and the 93-year-old former Army Air Forces captain from Amherst caught a ride on the historic World War II-era aircraft, which is much like the one he flew on daring raids over Italian cities such as Rome, Naples and Bologna in 1943.
"It was very smooth," Notebaert said just after descending the cockpit from the 15-minute flight that circled downtown and Lake Erie. "They found a smooth layer up there, and there was no bumps whatsoever. The B-17 worked just beautiful."
The bomber will be available for public flights from 10 a.m. to about 3 p.m. Saturday and Sunday at Prior Aviation, 50 Airport Drive, Cheektowaga, near Buffalo Niagara International Airport, by calling (918) 340-0234. The cost for a 30-minute ride is $450. Free ground tours will be given after 3 p.m. both days. The visit is part of the Liberty Foundation's Salute to Veterans tour, which strives to teach the public about World War II and honor its veterans.
"He got through the airplane probably just about as well as I did," Keith Youngblood, a Memphis Belle crew member, said of Notebaert. "Once you get a veteran back on the plane their mobility comes back to them and that muscle memory moving through the plane. He had a great time."
Indeed, the very utilitarian B-17 was not built for comfort with its low clearances and tight squeezes. The crew hands out ear plugs to buffer from the deafening engine noise, the military-style seat belts take some getting used to, and the smell of burning fuel fills the open-air cabin.
During the war, a B-17's 10-man crew would fly at altitudes of 25,000 to 30,000 feet in a nonpressurized cabin with only an electric-heated leather suit to keep warm. Notebaert remembered eating K-rations of cheese and "tasteless" bread on missions that could last eight hours or more. Only smoking cigars could help him sleep and muster through the final 15 missions before he was cleared to return home.
"Hopefully this gives people a little bit of appreciation for what the 10 men in the aircraft went through during combat," Youngblood said.
Of the 12,732 B-17s built between 1935 and 1945, only 13 are still flying today, according to the Liberty Foundation, an Oklahoma-based nonprofit organization that takes its B-17 across the country to air shows. Dubbed the "Flying Fortress," they were operated mainly by the Eighth Air Force from bases in England.
The original Memphis Belle was the first bomber to complete 25 missions with its crew intact in World War II. Today it is being restored at the National Museum of the Air Force in Dayton, Ohio.
The foundation's Memphis Belle was built in 1945 by Douglas Aircraft in Long Beach, Calif., as the war was ending. It never saw combat but did see Hollywood when it was hired for the 1990 film "Memphis Belle" starring Matthew Modine as its pilot. It was built as a B-17G model but restored to look like a B-17F complete with four propeller engines, twin .50-caliber machine guns with ammunition belts, ball turret, radio room hatch and a plexiglass nose for navigating.
Notebaert said he liked flying the B-17 because of its "Davis wing," thicker than on the B-24.
"The B-17 was such an easy airplane to fly," he said. "When this thing stalls, it lets you know."
A large contingent of Notebaert's family was there Monday to witness their patriarch's flight down memory lane, including three of his five children, four grandchildren and six great-grandchildren. Notebaert, wearing a pair of khaki pants and button-down shirt with a Veterans of Foreign Wars patch on the left sleeve, American flag on the right and wings pin on the front, posed center as the large family took a portrait with the plane in the background.
"He has a little difficulty in mobility, so this was just a terrific opportunity for him to experience some of the things he had done in stressful situations years ago," said Notebaert's son, John.
After flying his combat missions out of North Africa, Notebaert finished his service as an instructor on B-17s for a year in Roswell, N.M.. After the war, his new job as a pilot for National Gypsum brought him from his native Rochester to Buffalo, where he flew a DC-3 airliner and Gulfstream II for 33 years before retiring.
Notebaert's family wasn't sure what his reaction would be to flying in the same model of plane he captained 70 years ago.
"This morning we weren't sure he was going to get on that plane," said John Notebaert. "But there wasn't a hesitation when I asked, 'You sure you want to get on this flight?' He said, 'Yes, sir.' "

www.buffalonews.com/apps/pbcs.dll/article?AID=/20130729/CITYANDREGION/130729049/1002
$95m penthouse? Manhattan prices hit new heights
The property market led the US into a crisis but now, as prices rise and even London is left behind, could it be the country's saviour?
JULIAN KNIGHT WEDNESDAY 14 AUGUST 2013

New York is surpassing London as the property investment capital of the world once again. New developments on prime real estate in the Big Apple are commanding eye-wateringly high prices and attracting international buyers in their droves.
Richard Wallgren, executive vice president (sales and marketing) of Macklowe Properties, which is currently selling an exclusive range of luxury penthouse apartments priced from $7m (£4.5m) to $95m at 432 Park Avenue in Manhattan, has noticed a turnaround in the past 18 months: "The resurgence in activity coincided with the supply of new super-luxury inventory. Following the 2008 economic crisis, there was a paucity of new construction in Manhattan.
"Beginning in 2012 and carrying on into 2013, there has been the release of a new residential beginning, with One57 [in Manhattan] followed by 432 Park Avenue and 737 Park Avenue."
As in London, it is the classic areas of Manhattan that are proving appealing. New developments within a stone's throw of Central Park and the financial district are achieving sales rates of above $5,000 per square foot, which makes Mayfair look decidedly down at heel.
But importantly, unlike London, it is not just overseas buyers who are looking at buying. In fact Mr Wallgren estimates that two-thirds of his buyers are domestic, and this reflects a general feelgood factor around the US property market.
It is ironic that American real estate, which played a central role in the crashing of the world economy in 2008, is now helping to lead the world's biggest economy away from the economic danger zone. Mortgage arrears are now back to pre-crash levels, according to the ratings agency Fitch. In prosperous Dallas and Denver, prices have risen by 7.6 per cent and 9.7 per cent respectively in the past year –above their late 2006 levels, according to a survey by Standard & Poor's. What's more, nationwide transaction levels are on the up – a very good indicator of normality returning. (In the UK, by contrast, property transactions are still only running at half their pre-crash level, suggesting that the headline rate of house price increases may be a little misleading.)
Some parts of the country are positively booming, and not just upmarket New York. In Florida, the latest figures from the Miami Association of Realtors show 19 months of continued house price growth in the county of Miami-Dade. The association's president, Fernando Martinez, reports that in some cases multiple buyers are vying for homes. "Properties that are competitively priced will sell very rapidly, particularly in the lower price points, and will generate multiple offers close to or above asking price," he said. "Miami real estate is definitely thriving."
What's more, 60 per cent of house purchases in Miami are being made in cash. This indicates that the crucial conveyor belt of retirees from the rest of the US, who sell their property in their home towns, release equity (and are therefore cash buyers) and then move to Miami, is once again operating in the traditional way. This doesn't just underline the appeal of Miami but indicates business as usual in the property market for much of urban America. Across the US, property prices are up 7 per cent, while transactions are 15 per cent higher.
Behind this resurgence is a healthier economy. Unemployment has stopped rising and annual economic growth is pushing 2 per cent again. The Federal Reserve has been printing vast amounts of money and encouraging mortgage lending at what have been, until quite recently, historic low interest rates. Specific schemes such as the Home Affordable Refinance Program and Home Affordable Modification Program have helped to reduce the number of American homeowners in negative equity, releasing shackles from the market.
However, in the crucible of the world financial crisis – industrial (or post-industrial) areas such as Detroit – there is still little sign of this property market recovery. Thousands of foreclosed homes still lie empty, often stripped of their copper wiring by opportunistic thieves. The areas that attracted the biggest number of "Liar Loans" (self certification) and bogus mortgages dubbed "Ninja – no income, no job – may not see any trickle-down benefits for a generation.
However, there are exceptions, even here. "There are a lot of homes that are run-down and vacant. Those homes – you could sell them for $1 all day long, because no one wants to buy them, nobody wants to live there," said Chris Stead, director of Property Investment House, which specialises in attracting buy to let investors into run-down areas.
"If you want to make money in the Detroit market, or wherever you buy, it's about the location. Certainly, the houses that we offer are good houses on good streets in good neighbourhoods. When we advertise them for rent, we get 20 to 30 phone calls from people wanting to live there."
And from an investment returns perspective, areas like depressed Detroit (the city has recently filed for bankruptcy) do offer a compelling case as property is comparatively cheap but yields, because of an under-supply of good-quality rental accommodation, are potentially good – sometimes above 10 per cent a year.
However, any British investors looking to make such returns have to be aware that they may not to be able to sell up if they need the cash. The US house price recovery, although striking and more broadly based than in the UK, is still built on shaky economic and fiscal foundations.

www.independent.co.uk/news/business/analysis-and-features/95m-penthouse-manhattan-prices-hit-new-heights-8760324.html

www.dailymail.co.uk/news/article-2375762/Bankrupt-Detroit-vows-Americas-Comeback-City–grim-reality-decaying-metropolis-revealed-stunning-pictures.html
Come See Detroit, America's Future
By CHARLIE LeDUFF
Published: July 25, 2013
DETROIT — I KNOW an old woman who hasn't opened her windows in a decade, afraid that what's outside will climb inside. Inside, there is the stale odor of dead air.
I know another woman who called me about a corpse lying outside her window for six and a half hours. This was because of cutbacks at the morgue. No dignity in death here. They do it better in Baghdad.
The latest trend? When a person is murdered, he is thrown into an abandoned house, and it is set on fire. There are tens of thousands to choose from.
I know of an 11-year-old boy who was shot, the bullet going clean through his arm. The cops stuffed him in the back of a squad car and rushed him to the hospital. That's how we do it. There was no ambulance available. About two-thirds of the city's fleet is broken on an average day.
I know a cop who drives around in a squad car with holes in the floorboards. There is no computer, no air-conditioning, the odometer reading 147,000 miles. His bulletproof vest has expired. His pay has been cut 10 percent .
I knew a firefighter who died in a fire, but not from the fire. He died when the roof of an abandoned house collapsed on him and his brethren could not find him because his homing alarm was broken and did not sound. He suffocated.
In our town, the 911 dispatch system recently for 15 hours, and no one seemed to give a damn. When the system is running, the average wait is 58 minutes. Firefighters can't use hydraulic ladders on fire trucks to do their jobs unless there is an "immediate threat to life." In a fire — imagine that. The ladders haven't been inspected in years.
If this were New York, these stories would have ricocheted around the world. But this is Detroit and, of course, nobody gives a damn. Even here people have been conditioned to accept these things as normal, a nuisance, the buzz of a fly.
This numbness, in a peculiar way, is a sign of strength. People here manage to get along somehow.
So we went broke, bust, bankrupt. We've known that in Detroit for years. Only now it is official with a
Chapter 9 filing last week. The biggest municipal default in United States history — at least $18 billion. Suddenly, America gives a rip.
How did it get this way, I'm asked? After all, it was just 99 years ago that Henry Ford offered the workingman $5 a day and profit-sharing. How, in less than a century, did it come to this?
The short answers: municipal mismanagement, race riots, white flight, black flight, dead flight (people routinely disinter their deceased and relocate them to the suburbs). There were the overreaching unions and management that couldn't balance a ball. Proof? The multibillion-dollar bailout of the auto industry. Thank you, American taxpayers!
Then there is our spectacular civic corruption: A former mayor, Kwame M. Kilpatrick , waits for a bed in federal prison, convicted of extortion, racketeering and bribery. He looted the city of millions of dollars and stole the future of thousands of children. They can send him to hell for all I care. I don't want to pay for his upkeep. But thank you, taxpayers! You will pay for it. And the ex-mayor's team of super lawyers will also be paid with the public dime.
So Detroit files for bankruptcy. What does this mean? Pay close attention because it may be coming to you soon, Los Angeles, Baltimore, Chicago, Philadelphia. In 2011, Moody's calculated the unfunded liabilities for Illinois's three largest state-run pension plans to be $133 billion. (It is expected to be even larger this year.) That's the size of six Detroit bankruptcies — give or take a few hundred million.
Of Detroit's debt of at least $18 billion, about $7 billion is secured by collateral like casino revenues and utility taxes. That means creditors — read: big banks — will get paid. Of the remaining $11 billion dollars or so in unsecured debt, about $9 billion is owed to retirees and current municipal workers, people like firefighters and police officers. These debts come in the form of promised pension checks and health care benefits, all backed by a false, unsecured promise. These are the people who are likely to lose out.
In simple math, do we sacrifice 30,000 former and current workers to save a city of 700,000 people and their progeny? Most Detroiters will tell you yes. Don't judge. We feel bad about it. But we're simply Americans. We are a gaunt dog. We are desperate. And you are watching and studying us.
Pension checks will be much smaller than planned and health care benefits will get foisted off on Medicaid and Obamacare. Thanks again, taxpayers!
There is hope up here on the Great Lakes. We have fresh water, profitable auto companies, more than $130 billion a year in trade with Canada crossing through our city, a world-class research university and, eventually, a clean balance sheet. Hey, it helps to be first. What do you have, Atlanta?
So come visit Detroit, my fellow Americans. Come take a look at your future. Come give the tires a kick. And if you want your money back, come strip copper pipes and wiring from the abandoned buildings — if you can find any copper. Chances are, someone beat you to it.
Charlie LeDuff , a reporter at the TV station WJBK and a former New York Times correspondent, is the author of "Detroit: An American Autopsy."
www.nytimes.com/2013/07/26/opinion/come-see-detroit-americas-future.html
What Really Ails Detroit
By STEPHAN G. RICHTER
Published: August 15, 2013
IS Detroit's collapse the story of one American city gone awry? Or is it indicative of a more profound nationwide problem? The facts point to the latter.
Though Detroit's bankruptcy is exceptional in many ways — notably, its size and its disproportionate impact on African-Americans — the overall decline of America's manufacturing centers is evident in the deterioration of many smaller cities and towns throughout the Midwest and Northeast.
What accounts for this sad turn of events?
The traditional narrative holds that globalization, outsourcing and, after 2007, the recession have been responsible for devastating American manufacturing by moving jobs out of the country in enormous numbers. But at best, that is a convenient half-truth.
American manufacturing has been in trouble even since its heyday, in the 1950s and 1960s, when the United States was the global economic powerhouse and American assembly-line workers earned very decent middle-class wages.
That era of prosperity was not, as is so often claimed, the manifestation of the American dream. Rather, it was, or should have been, a warning sign that America was riding a fleeting wave of progress. Almost nobody was looking hard enough to the future and asking what it would take to sustain success.
The reason so many manufacturing-sector workers in the United States received such high pay at that time was not that they had exceptional skills or had received superior training; it was that the corporations for which they worked were unsurpassed in their dominance and generated huge revenues.
But that dominance was, to a considerable degree, a momentary quirk of history: the absence, in the wake of World War II, of any real competition from other nations. Once foreign competition was re-established, in Europe and Asia, only the superior skills of a nation's workers and a focus on long-term workers' training would allow a country to stay ahead.
For the United States, the day of reckoning came as other nations recovered from the war. In the 1970s, for example, American car manufacturers began facing competition on their home soil for the first time. Belittling the Japanese and their funny little cars was not an effective competitive response, though not for want of trying.
In that moment, American companies, communities and employees should have started taking the competition seriously. That did not happen. Companies like General Motors continued to shower blue-collar workers with handsome pay and benefits.
Who was to blame for this? Not the unions. They did what they were supposed to do: ask for higher pay and more benefits. No, the fault lay with the top corporate managers: it was their job, as capitalists, to deny such increases if they were not justified by productivity trends.
But with a fatal arrogance, executives at American manufacturing companies did allow those increases, in part to maintain a society of contented, trouble-free workers, though executives would also use those increases as cover for their own rapidly swelling compensation. In the 1960s, the average compensation of an American C.E.O. was about 25 times the average compensation of a production worker. That ratio rose to about 70 times by the end of the 1980s, and to around 250 times these days.
It is tragic to hear voices from Detroit declaring themselves ready for a resuscitation of the city. Revival is a question not just of will but also of the available skills base, which unfortunately has deteriorated as a result of a failure to invest in training.
That skills deteriorated is, to a considerable extent, the fault of the unions. Unfortunately, they shared the management class's shortsighted focus on extracting the maximum amount of compensation from companies, even in the face of the underlying businesses' failing strength.
Developing the necessary skills base is not a short-term project. It requires decades of concerted effort on many fronts, by many national, regional and local actors, including collaboration among companies, government, trade associations, schools, colleges and universities.
This kind of common purpose, however, is not something that American society, with its ethos of individualism and personal independence, seems capable of undertaking. Doing the right thing for the long haul is typically put off for a later time, if it ever happens.
That such a "strategy" is self-defeating ought to be obvious. Sadly, it is not — not in an instant-gratification world.
Globalization, in many ways, serves as an early warning system for the changes required in a domestic society. No society should have been better prepared to utilize this tool than the United States, given its traditional — but at least for now largely lost — proclivity to embrace change. That it didn't work out that way is a tragedy of the nation's own making.
Stephan Richter is publisher of The Globalist, an online magazine.

www.nytimes.com/2013/08/16/opinion/what-really-ails-detroit.html
Detroit's death by democracy
This bedraggled city's decay poses…worrisome questions about the viability of democracy in jurisdictions where big government and its unionized employees collaborate in pillaging taxpayers. Self-government has failed in what once was America's fourth-­largest city and now is smaller than Charlotte.

www.washingtonpost.com/opinions/george-f-will-detroits-death-by-democracy/2013/07/31/74a109c2-f94a-11e2-afc1-c850c6ee5af8_story.html
Average age of American cars hits a record 11.4 years as quality improves
Traffic slows down in both directions along I-94 in Detroit on Monday July 1, 2013 off of 2nd Avenue.
/ Ryan Garza/Detroit Free Press
By Tom Krisher
Associated Press
TRAVERSE CITY, MICH. — Americans are keeping their cars and trucks longer than ever, and even with new car sales increasing, the average age will continue to rise, an industry research firm says.
The average age of the 247 million cars and trucks on U.S. roads hit a record of 11.4 years in January, the latest figures available from state registration data gathered by the Polk research firm.
That's up from 11.2 years in 2012, and nearly two full years older than in 2007, before the start of the Great Recession, Polk said Tuesday.
People are keeping their cars because the quality is so much better and they are trying to avoid the monthly payments, said Mark Seng, a Polk vice president. The annual percentage of cars and trucks sent to the scrap yard has dropped 50 percent since the recession, he said.
"Cars are just lasting longer," he said.
The company doesn't see the age dropping for at least five years, even though U.S. vehicle sales are running at an annual rate of around 15.5 million, which is near pre-recession levels. And it predicts that the percentage of cars age 12 or older will actually rise in the next five years.
The change creates a big opportunity for repair shops and auto-parts stores, Seng said.
"Customers from independent and chain repair shops should be paying close attention to their business plans and making concerted efforts to retain business among the do-it-for-me audience, while retailers have a unique and growing opportunity with potential consumers wrenching on their own vehicles," he said.
U.S. sales have risen gradually from a 30-year low of 10.4 million in 2009 because of
low interest rates, appealing new models and pent-up demand as people replace aging vehicles they kept through the recession. The sales rebound prompted Polk to raise its estimate of the total number of vehicles on U.S. roads by 5 percent to more than 260 million in five years.
But Seng said many people intend to keep running their older cars into the future, adding that he can't remember another time that the average age has grown as quickly.
The growth rate in the average age will slow in the coming years, but won't start falling until new-car sales rise and stay high for several years. Older vehicles would have to be scrapped at a higher rate, as well, he said.
"With the quality of the vehicles, that's not going to happen," Seng said.
More people also are financing cars for 72 months, meaning they'll keep their cars for at least six years and probably longer, Seng said.

www.freep.com/article/20130806/BUSINESS01/308060033/autos-cars-averag-age-polk
In Cleveland, Killings Show Social Costs of Deterioration
Michael F. McElroy for The New York Times
Relatives of Shirellda Helen Terry, a missing 18-year-old, comforted each other Tuesday. Later that day, she was identified as one of three women found dead in East Cleveland.
www.nytimes.com/2013/07/25/us/in-cleveland-killings-show-social-costs-of-deterioration.html
Violence Rises in Boston Off the National Stage
Katherine Taylor for The New York Times
A crowd gathered in Mattapan on Thursday after a shooting — the city's 124th since the marathon bombings.
"Since April 15, we're at over 115 shootings," a city councilor, Tito Jackson, told a Boston police officer from the department's gang unit at a public safety meeting at a Roxbury community center late last month.<

www.nytimes.com/2013/09/07/us/a-spotlight-on-boston-brings-isolation-too.html
I teach high school on Chicago's South Side. What would you like to know?
I grieved with my students after a classmate was killed, and have watched our school lose funding little by little. Any questions?
http://www.theguardian.com/commentisfree/2013/sep/03/chicago-teacher-south-side
Welcome to Chicago — now give me that iPhone
By Rosemary Regina Sobol
Tribune reporter
10:55 a.m. CDT, July 21, 2013
Two visitors to Chicago received a rude welcome to the city Friday when one was robbed by a group of city teens and the other was punched while trying to help, officials said.
The two visitors – a 15-year-old Florida girl and a 51-year-old Michigan woman – were both walking on the Mag Mile Friday evening when the older woman was robbed of her iPhone by a group of eight juveniles, officials said.
The woman who was robbed, who wanted to be identified only by her first name Tammy and did not want her hometown published, said she was visiting Chicago to see relatives and to run the Rock 'n' Roll Half Marathon Sunday. She checked into a hotel and she, her sister, and their 70-year-old mother went out shopping.
"We had only been in town four hours and I got robbed," Tammy said with the hint of a laugh during a telephone interview Saturday evening. "Welcome to Chicago."
According to a police report, about 7 p.m. Friday in the 700 block of North Michigan Avenue, the teens grabbed and held Tammy while one of the teens took her iPhone from her pocket.
After feeling her iPhone being pulled from the pack pocket of her jean shorts, Tammy grabbed the boy who took it by the backpack and held on until police got there two or three minutes later.
"He just kept saying, 'We didn't take your phone, you white b——, leave us alone,' " said Tammy.
"I don't think it was racial. I just think they targeted anyone whose phone they could get."
The Good Samaritan from Florida, during a telephone interview Saturday afternoon, said she was with her mother and had been taking a stroll on Michigan Avenue to look at the shops when they noticed three women, two of whom appeared to be in their 40s or 50s and one who looked to be in her 60s or 70s.
They were about 15 feet behind when they noticed three boys "creeping toward" the women, and one of the boys appeared to gesture to someone else, said the 15-year-old Florida girl.
"All of a sudden seven more teens came and got close to the women," she said.
Then she noticed one of the boys ripping an iPhone from a pocket of one of the three women, so forcefully that the victim said: "Give it back," but they denied they had it, said the girl.
"The rest of them swarmed around her to disorient her," and began to become more physical and push the women against a small metal fence around some shrubs, the girl said.
With a rush of adrenaline, the Florida girl said she decided to step in, against her mother's wishes.
"They felt endangered, but I'm a person who tries to help and I wanted to help the lady," she said. "My mom tried to stop me three times."
The Florida girl screamed at them: "Give her back her phone," and a teen girl yelled back that they didn't have it.
"That's when the girl charged at me" and punched her, hitting the Florida girl's head and ear, causing a big bump, bruising and swelling, she said.
Passersby noticed the ruckus and called police, who got there soon and arrested the teens, she said.
Police asked her if she wanted an ambulance but she declined and placed ice on her wound.
The victim, who was scratched during the incident and had some bleeding, was "very pleasant" and spoke to the girl afterwards. "She was thanking me and was very kind," the girl said.
"We were so grateful that she helped," Tammy said.
The Florida girl said she's never done anything like this before but said did not hesitate or think about the consequences.
"I wasn't really thinking about what might happen; I just wanted to help her," the teen said.
Her mother was relieved she wasn't badly hurt but was very upset that it could happen over "a phone" in Chicago, where she lived for more than 20 years, worked and went to college.
"I'm very proud of her," her mother said of her daughter.
Tammy still has not gotten her iPhone back, though. She said her 21-year-old son was trying to track where the phone was and found it had "pinged" somewhere on Chicago's South Side.
They had also placed an alert onto the stolen iPhone with a message that asked anyone who found the phone to call another number so it could be returned. On Saturday morning, her son received a call from someone asking for his help in turning on the phone. Tammy said she believed the caller was someone who'd purchased the stolen phone.
"The person who they sold it to tried to activate it and wanted my son to help turn it on," Tammy said.
"He said you need to do the right thing and turn it in."
She has not gotten her phone back.
Despite the incident, which left her a bit shaken, the Florida teen said she still "loves" Chicago. The mother and daughter asked not to be identified and asked that their hometown not be identified either.
"After this incident, I'm a little hesitant (on visiting again), but I think this could happen anywhere and I think it makes me aware of the dangers that lie in the streets," said the girl, who described herself as "street savvy."
"It's an eye opener," Tammy said of the attack. "I'm from (didn't want to disclose city) and we have crime rates out there too…it's just…I mean I had my backpack on, tight, and it still happened."
Two 15-year-old girls, a 14-year-old girl, a 13-year-old girl, three 15-year-old boys and a 16-year-old boy were arrested in the incident and charged with robbery, police said.
The names of the eight people arrested were not disclosed because they are juveniles, but they all are from Chicago, police said.
One of the 15-year-old girls arrested in the incident – the one who punched the Florida teen who tried to help – also was charged with battery, and one of the boys was additionally charged with theft because police said he had another person's iPhone that had been either lost or stolen earlier Friday at North Avenue Beach.
Police said one of the boys arrested was found with a black iPhone, which he claimed belonged to his mother, but police found it really belonged to a person who told police he'd either lost it or it had been stolen earlier that day on North Avenue Beach. That boy was charged with theft of lost or mislaid property, police said.

www.chicagotribune.com/news/local/breaking/chi-chicago-crime-iphone-robbery-magnificent-mile-20130721,0,770857.story
At Town Halls, Congress Now Steers Clear of Voters
www.businessweek.com/articles/2013-08-29/at-town-halls-congress-now-steers-clear-of-voters
The Okefenokee Swamp, atremble with wonders < p>


www.washingtonpost.com/lifestyle/travel/the-okefenokee-swamp-atremble-with-wonders/2013/04/25/7548e99c-98b7-11e2-814b-063623d80a60_story.html
In South Florida, a Polluted Bubble Ready to Burst

J Pat Carter/Associated Press
Protesters greeted Gov. Rick Scott as he toured the newly polluted areas.
By LIZETTE ALVAREZ
Published: September 8, 2013
CLEWISTON, Fla. — On wind-whipped days when rain pounds this part of South Florida, people are quickly reminded that Lake Okeechobee, with its vulnerable dike and polluted waters, has become a giant environmental problem far beyond its banks.
Beginning in May, huge downpours ushered in the most significant threat in almost a decade to the bulging lake and its 80-year-old earthen dike, a turn of events with far-reaching consequences. The summer rains set off a chain reaction that devastated three major estuaries far to the east and west, distressing residents, alarming state and federal officials and prompting calls for remedial action.
With lake waters at their limit, there were only two choices, neither of them good. One was to risk breaching the 143-mile dike, a potential catastrophe to the agricultural tracts south of the lake and the small communities that depend on them. The other was to release billions of gallons of polluted water into delicate estuaries to the east and west.
Following its post-
Hurricane Katrina guidelines, the
Army Corps of Engineers chose the estuaries, rather than test the dike's vulnerabilities.
As a result, the St. Lucie River estuary in the east and the Caloosahatchee River estuary in the west, which depend on a naturally calibrated balance of salt and fresh water, were overwhelmed. The rush of fresh water from the lake and the estuaries' own river basins, along with the pollutants carried in from farms, ranches, septic tanks and golf courses, has crippled the estuaries and, on the east coast of the state, the Indian River Lagoon.
A breeding ground for marine life, estuaries are crucial to the ecosystem. As algae caused by pollutants quickly spread and fresh water overpowered saltwater, oysters died in droves. Manatees, shellfish and the sea grasses and reefs that help sustain the estuaries all were badly hit.
"These coastal estuaries cannot take this," said Mark D. Perry, the executive director of the
Florida Oceanographic Society, based in Stuart. "Enough is enough. This cannot continue to happen. These estuaries are so important to us, our environment and our economies."
The damage to the estuaries has been so profound and the clamor from local communities so intense that political leaders have pledged action. Gov. Rick Scott, a Republican, visited the affected areas last month and proposed spending a total of $130 million for two separate projects.
One is intended to ease some of the pressure on Lake Okeechobee by allowing more water to go south into the Everglades, where it should flow naturally. The water will flow under a series of bridges that will be completed over the Tamiami Trail. By law, the water flowing into the Everglades is filtered and treated, unlike the water that heads to the estuaries.
South Florida was expressly engineered to prevent too much water from moving south, which is why most of the flow from the lake is pushed east and west. Canals to the south were dug to make way for agricultural fields, mostly containing sugar cane, and for urbanization. The little water that is released flows around those areas.
Environmentalists have fought for decades to correct the flow into the Everglades, a gargantuan and costly undertaking.
A second project would clean more of the polluted water in the St. Lucie River Basin that flows into the river. There are plans for a similar storm water treatment area on the west coast to help curb the damage.
"Every drop of water that we can send south and keep out of the Caloosahatchee and St. Lucie estuaries is a win for Florida families," Mr. Scott said recently when he proposed $90 million for one of the projects. "My message to families being impacted is that we will not give up on you."
Among other projects quickly moving forward is one to store more water outside the lake, including on private property, and another to unclog culverts south of the lake. A prominent state senator, Joe Negron, recently held a hearing in Stuart to talk about the problems stemming from the lake and possible solutions.
A top priority is repairing the frail Herbert Hoover Dike surrounding Lake Okeechobee, which is more than half the size of Rhode Island and is renowned for its bass fishing. A 2006 report on the lake found that the dike, long ranked among the most vulnerable in the country, posed a "grave and imminent danger."
But the repairs take time and large amounts of money.
Last year, the Corps of Engineers finished shoring up one section of the dike. It has now shifted gears and is working on replacing or repairing some of the lake's 32 huge culverts and conducting a further analysis of the dike.
"It doesn't take long at all to realize what a complex web water management is in South Florida," said John Campbell, a corps spokesman. "There are no easy fixes anywhere."
The corps built the dike after two hurricanes smashed into the region in the 1920s, flooding the area and killing 2,500 people. Decades later, its flaws are evident. For one, it was built with earthen mounds. Hurricanes and storms have taken bites out of it, causing leaks in the past.
But there is another intractable problem, as well. The corps dug channels to funnel water from the Kissimmee River into the lake and prevent flooding to the north. The channels propel the water so swiftly that six times more water can pour into the lake than the corps can pump out.
When it rains heavily, the lake swells quickly.
As a result, the corps starts discharging water when the level rises above 15 ½ feet, although some leeway exists depending on the weather. This summer it hit 16 feet, close to a record high for August. The corps began to release water as quickly as it could, further damaging the estuaries.
"There is no button we can push to magically lower the lake if the inflows coming in exceed the outflows," Mr. Campbell said.
Mr. Scott has accused the federal government of dragging its feet on making dike repairs and paying its share of the cost. But environmentalists say Mr. Scott and the Legislature have slashed the budget of the South Florida Water Management District, which oversees the state's water flow, and have put in place some inexperienced managers.
Meanwhile, the peak of hurricane season has arrived.
"The lake is slowly beginning to recede a bit," said Ernie Barnett, the interim executive director for the South Florida Water Management District. "But the concern is still there. All it will take is one tropical storm to put us in a massive crisis mode."
The rush of fresh water, both from the lake and its own river basin, has had an immediate impact on the St. Lucie River estuary to the east. Life in and around it has come to a standstill this summer — one recent afternoon, boats could be tallied on one hand. Fishing piers sat forlorn. Any fish capable of swimming away have already done so. Salinity in the estuary is at zero percent, said Mr. Perry, of the Florida Oceanographic Society.
The bay, which abuts picturesque downtown Stuart, is about as inviting as someone else's filthy bath water.
"Advisory," read the warning signs around the estuary. "High bacteria levels. Avoid contact with the water. Increased risk of illness at this time."
Lake Okeechobee, with its prized bass, is also struggling. Phillip Roland, the mayor of Clewiston, a lakeside town of 7,000, has witnessed many of the lake's travails: the 1947 hurricane that drove water over the dike; seasons of drought that starved the lake, followed by storms that weakened the dike.
But he is skeptical of the hubbub, unsure that it will amount to change.
"I've seen this time after time," Mr. Roland said wryly. "This problem hasn't just started."

www.nytimes.com/2013/09/09/us/lake-okeechobee-in-florida-a-polluted-bubble-ready-to-burst.html
On Location | Lottsburg, Va.
Chesapeake Bay Pearl

www.nytimes.com/2013/07/11/greathomesanddestinations/chesapeake-bay-pearl.html
Video captures woman's survival after car tumbles off Chesapeake Bay Bridge

Morgan Lake swam to survival after her car crashed off the Chesapeake Bay Bridge on July 19. Video shows the 22-year-old clinging to rocks underneath the bridge while she waits to be rescued.
By J. Freedom du Lac, Published: July 24
Scott Fortney was headed to the Eastern Shore on Friday to join his family at their house in St. Michaels, Md., when the tractor-trailer in front of him struck a Chrysler Sebring and sent the car over the side of the Chesapeake Bay Bridge.
Fortney stopped, rushed to the guardrail and watched in amazement as a woman swam to safety, eventually pulling herself onto a pile of boulders at the base of the bridge.
And then, Fortney began recording on his smartphone, documenting Morgan Lake's survival after her car plunged into the bay.
Fortney posted the video on YouTube on Tuesday evening, adding riveting audio and visual details to an already remarkable story. On Wednesday, the National Transportation Safety Board announced an investigation into the incident, which captivated the country by combining a nightmare scenario with human triumph.
"She's alive, and that's an absolute miracle," Fortney said in an interview. "I was shocked to see her on the rocks."
Fortney, an Alexandria real estate broker, did not capture the crash — or splash — on his smartphone. His 21 / 2-minute video shows the immediate aftermath: Lake on the rocks, alive, with people calling to her from more than 25 feet up.
"Hang on, we've called 9-1-1! Hang on, they're coming! They're sending help!" a man shouts.
"There's nobody else there, is there?" a woman asks.
"No," Lake says.
"Can you come up a little bit more?" a man says, trying to coax Lake all the way out of the water.
Somebody asks her name.
"My name is Morgan Lake," she says.
"Morgan, hang on! Help is coming, okay?" a man says. "You're going to be fine. You're fine. Here's the ambulance, I can hear them. They're coming!"
The scene was "surreal," Fortney said. "It was just so unbelievable."
He put the video clip online after returning from St. Michaels, where he didn't have WiFi access.
Lake had a visceral reaction upon viewing the video, her father said. "It was a little upsetting; it was a little bit much," said Marcelino Lake, who was unhappy that the footage was shared with the public. "I think the family should have been notified, and we were not."
Fortney had just begun the bridge crossing Friday when the ordeal began. "I looked up to a series of very swift brake lights, everybody jammed on the brakes, and then I saw her car bounce off the side rail and go up over the rail," he recalled. "There was a point where the car could have fallen back down onto the bridge, but it went over."
When Lake's vehicle fell into the bay, "everybody just jumped out of their cars. I ran to the rail, and she had just emerged from underwater. She was 10 to 15 feet away from the rocks and swam to safety."
One of the Chrysler's wheels was visible from the bridge "about a foot under water," Fortney said, "but it was a pretty good distance away from where she swam." There were no boaters nearby, no emergency vehicles within earshot — really very little sound at all, he said.
"It was eerie," he said. "Just waves lapping against the rocks."
Moments earlier — before he began recording — "there were a number of people crying hysterically on their cellphones." They didn't know whether the driver had survived.
By the time Lake, a 22-year-old College of Southern Maryland student, reached the rocks, Fortney said, "she seemed to be very level-headed. She was having good dialogue with people near me."
Jumping off the bridge to help didn't make sense, he said. Lake had told the other people that she had been alone in the vehicle, and she was out of the water.
"It didn't seem that anybody could really do a whole lot from up top," Fortney said. "She already seemed to be in a safe position, so why risk it? Had she not been so heroic by saving herself, the thought absolutely crossed people's minds that we'd need to jump in to save her."
Within minutes, a recreational boater stopped near the rocks to watch over Lake until rescue personnel arrived. Police soon poured onto the bridge as well. Fortney was too preoccupied with Lake, he said, to notice where the tractor-trailer's driver was.
The driver of the truck, Gabor Lovasz of Canada, was not injured. No charges have been filed, but an investigation is continuing, according to Maryland Transportation Authority Police.
The NTSB's Office of Highway Safety is sending two investigators to Maryland on Thursday "to determine if there are any new safety issues or potential recommendations the NTSB can make to improve bridge and highway safety," a spokesman said. The auto group AAA Mid-Atlantic has raised questions about the safety of the Bay Bridge guardrails.
"That truck hoisted that car so far up in the air — heck, from what I saw, if that wall were higher, it may not have made much of an impact," Fortney said. "I'm not as concerned with the wall height as I am with people driving safely."
Eventually, he said, police cleared the road, sending cars that were behind the accident back down the bridge and diverting them to the other span, which then carried two-way traffic. Fortney resumed his drive to St. Michaels, but not everybody continued the trip east. "I witnessed some drivers just leaving," he said.
"I wanted to join my family, get hooked back up with them; I wasn't scared. But I was in a daze after seeing what I'd seen. . . . I was in a state of amazement of how easily it could have been me.

www.washingtonpost.com/local/video-captures-womans-survival-after-car-tumbles-off-chesapeake-bay-bridge/2013/07/24/be9c5342-f48b-11e2-a2f1-a7acf9bd5d3a_story.html
U.S., groups working to open more public access to Chesapeake
(Sarah L. Voisin/The Washington Post) –
From left, Juan Carlos Turcios, 6, Ashley Turcios, 4, and Jossly Turcios, 9, find precious beach access at Sandy Point State Park in Annapolis, Md.

www.washingtonpost.com/national/health-science/us-groups-working-to-open-more-public-access-to-chesapeake/2013/07/28/40010d60-f60d-11e2-9434-60440856fadf_story.html
Too fat to rescue? More heavy patients denied air ambulances

http://www.nbcnews.com/health/too-fat-fly-growing-girth-grounds-5-000-patients-air-6C10485763
Obesity rates decline among low-income preschoolers after rising for decades

www.washingtonpost.com/national/health-science/obesity-rates-decline-among-low-income-pre-schoolers-after-rising-for-decades/2013/08/06/ad4e1b80-fea8-11e2-bd97-676ec24f1f3f_story.html
Tickets to 2013 Great American Beer Festival gone in record time
POSTED: 08/01/2013 12:01:00 AM MDT By Eric Gorski
Great American Beer Festival awards
(Denver Post file photo)
In less time than it takes to responsibly enjoy a good beer, they were gone.
Tickets to the 2013 Great American Beer Festival that were available to the general public were snatched up in a record-breaking 20 minutes Wednesday, causing many fans to vent frustration about scalpers suspected of crashing craft beer's biggest party and prompting more questions about whether the event needs a makeover.
This year's festival, which will run Oct. 10-12 at the Colorado Convention Center in Denver, is expected to draw 49,000 attendees over four sessions, with more than 3,000 styles of beer poured by 619 breweries.
The quick sellout was not a surprise. Small, independent American craft breweries this week reported double-digit sales growth over the first half of this year while overall beer sales declined.
Last year's public-ticket allotment sold out in 45 minutes — a record then. In 2011, GABF tickets took a week to sell out.
"Interest in craft beer is through the roof," said Barbara Fusco, sales and marketing director for the festival, which is staged by the Boulder-based Brewers Association, a trade group.
Tickets available online Wednesday were snagged nearly immediately after the 10 a.m. sale but did not officially sell out for another 20 minutes because of processing time, Fusco said.
Organizers do not disclose how many tickets are actually sold, or how many were available in the general public sale.
On Tuesday, Ticketmaster technical problems blocked some purchases during a sale open to members of the American Homebrewers Association and the Brewers Association. Despite the problems, those tickets still sold out within 90 minutes.
A Ticketmaster representative did not respond to requests for comment.
Fusco said the Brewers Association and Ticketmaster, which is under contract to handle GABF sales through 2014, have tried to restrict access to scalpers, including enforcing ticket limits and trying to thwart bots, or computer programs that hoard tickets.
Yet, general session festival tickets, which cost $75 apiece, quickly landed on secondary ticket sites such as Stub Hub and eBay, where they were being offered for up to $200.
"Scalpers are in the business of finding ways to work around the security measures," Fusco said.
The increasing difficulty of getting tickets has led to discussions about changing the ticket-sales system or the festival itself.
Among the ideas under consideration: requiring ticket purchasers to swipe credit cards used to buy the tickets to gain entry. But that comes with potential downsides, including even longer waits to enter the hall.
Festival organizers say they are weighing options, but there is only so much that can be done when demand dwarfs supply.
"You can't blame something for being popular," said Dave Chichura, head brewer at Oskar
Blues in Longmont. "It's a popular event, and that means there will be a lot of people vying to get access."

www.denverpost.com/news/ci_23772467/tickets-2013-great-american-beer-festival-gone-record
Restored 'Star Trek' shuttle unveiled for crowds in Houston
Photo By Cody Duty/Houston Chronicle
Officials unveil the fully-restored, 1967 Star Trek Galileo ship at the Space Center Houston Wednesday, July 31, 2013, in Houston. Featured in the 1967 Star Trek episode "The Galileo Seven," the ship made its debut at the Space Center Houston after a year-long restoration project led by Adam and Leslie Schneider, die-hard Star Trek fans and memorabilia collectors. The life-size spaceship will be on permanent display inside Space Center Houston's Zero-G Diner and will be one of only a few exhibitions in the world where visitors can see iconic sci-fi history that has influenced generations of innovators.
This ship was in poor condition when it was bought at an auction last year by collector Adam Schneider, who worked to restore the ship.
Candy Torres is photographed standing in front of the restored space shuttle Galileo from the 1960′s television show Star Trek holding her plastic toy version of the vehicle at Space Center Houston Wednesday, July 31, 2013, in Houston. The restored shuttlecraft that crash-landed on a hostile planet in the 1967 episode "The Galileo Seven" was officially unveiled at the Space Center Houston before a crowd of die-hard Star Trek fans.(AP Photo/Pat Sullivan)

www.chron.com/news/houston-texas/article/Restored-Star-Trek-shuttle-unveiled-for-crowds-4695966.php
This is Pornification and PURE WHITE TRASH

Miley Cyrus, Steubenville and teen culture run amok

www.washingtonpost.com/opinions/richard-cohen-miley-cyrus-steubenville-and-culture-run-amok/2013/09/02/1cecafa6-11af-11e3-bdf6-e4fc677d94a1_story.html
Not long ago, researchers could easily pinpoint the typical American family. Not anymore.
The traditional portrait of working dad, stay-at-home mom and their kids is bobbing in a sea of co-habitation, single parenthood, divorce and remarriage.
Most troubling, says the author of a new report on the divergent paths of American families, is the economic polarization.
"There's this sharp contrast," said Zhenchao Qian, author of the study and a sociology professor at the Ohio State University. "Race and ethnicity, education, economics and immigration status are increasingly linked to how well families fare."
The marriage divide, for example, closely tracks the nation's growing class divide. People with lower levels of employment and education also are less likely to wed.

www.dispatch.com/content/stories/local/2013/09/11/traditional-u-s–family-is-getting-hard-to-find.html
More women in their 40s are having babies
Birthrates for American women ages 40 to 44 have hit their highest point since 1967, federal data show. Many are first-time moms.

www.latimes.com/features/health/la-me-fortysomething-moms-20130729,0,3096457.story
Fertility rates in U.S. appear to be leveling off
www.washingtonpost.com/local/fertility-rates-in-us-appear-to-be-leveling-off/2013/09/05/507444a6-165f-11e3-be6e-dc6ae8a5b3a8_story.html
The low U.S. birth rate has been linked to the weak economy, but one professor says larger demographic trends also could be at work.
http://news.msn.com/us/us-birth-rate-still-hasn't-bounced-back-from-recession
What's Killing Poor White Women?
For most Americans, life expectancy continues to rise—but not for uneducated white women. They have lost five years, and no one knows why.
http://prospect.org/article/whats-killing-poor-white-women
Study: Children's Poor Motor, Social Skills Linked To Too Much Television Watching
http://atlanta.cbslocal.com/2013/08/10/study-childrens-poor-motor-social-skills-linked-to-too-much-television-watching/
Life in the United States of America