Gymnast who witnessed Hitler refusing to shake Jesse Owens' hand at 1936 Games to take part in second Olympics… in 2012 torch ceremony

Jesse Owens, 2nd from right, ignored by Hitler during the medal procession after he won the 100 metres, 200 metres, the long jump and the 4×100 metres relay

www.dailymail.co.uk/news/article-2099459/London-2012-Olympics-Gymnast-witnessed-Hitler-Jesse-Owens-1936-fiasco-Games.html
J.C. "Jesse" Owens (1913 – 1980) stole the show from Hitler's Aryan supermen in 1936. The XI Olympiad was supposed to showcase Nazi Germany to the world. Instead, an American exploded the myth of racial superiority when Jesse Owens won 4 gold medals.
Jesse Owens competed in track and field for the Ohio State University in the Big Ten. His greatest athletic accomplishment did not take pace in Berlin, however, because he broke three world records and tied a fourth in 45 minutes at the Big Ten meet in 1935. Jesse Owens was the greatest athlete in Ohio State history.
Born in Alabama, Jesse Owens' family relocated to Cleveland where he drew attention at East Technical High School. When his father obtained employment at Ohio State to support the family, Jesse attended the university and became known as the "Buckeye Bullet." He worked part-time because he did not receive a scholarship and experienced racism when the team traveled. Even though Jesse Owens earned enduring glory in Berlin, the president did not invite him to the White House or send a telegram of congratulations. President Eisenhower made him a good will ambassador for sports in 1956.
Despite his notoriety, economic success eluded Jesse Owens after his triumph in Berlin. He died from cancer and is buried in Chicago. Among the many honors bestowed upon him after his death, the Postal Service issued two stamps to recognize his achievements as an outstanding athlete and as a good man.
The black fist is a meaningless symbol. When you open it, you have nothing but fingers – weak, empty fingers. The only time the black fist has significance is when there's money inside. There's where the power lies.
Ohio State unveils tribute to Jesse Owens
By Adam Hawkins
Seventy-five years ago, Jesse Owens was breaking racial barriers and world records in the 1936 Summer Olympics in Berlin, Germany.
Ohio State, Owens' alma mater, is celebrating his achievements with a four-day tribute that began on Thursday with the unveiling of a statue at the southwest corner of the Jesse Owens Memorial Stadium.
OSU athletic director Gene Smith, along with President E. Gordon Gee and Owens' three daughters, helped unveil the statue in front of a crowd of family, alumni and current athletes.
The statue is an eight-foot likeness of Owens standing on the top of the podium wearing his Olympic attire and holding his four gold medals next to his heart. Alan Cottrill, an artist from Zanesville, Ohio, designed and sculpted it.
Cotrill said the statue tells a story about Owens and his achievements in the 1936 Olympic games.
"The heart and soul of the piece is Jesse's gesture and expression," Cotrill said.
Gloria Owens Hemphill, one of Owens' daughters, said her father was a caring man.
"He showed extraordinary love for his family and friends," Hemphill said. "He has inspired countless others, all over the world to do the best in spite of obstacles."
Smith agreed with Hemphill, and said Owens was one of the most important figures in our history as a university and as a country.
"He is truly an individual that we, as your athletic department, hold on a pedestal for all of our student-athletes to hopefully emulate," Smith said.
The David E. Reese family funded the $250,000 statue, said Liz Cook, assistant director of media relations. Hemphill said she and her sisters are grateful for the Reese's contribution.
"We thank you for this magnificent gift, this statue of our beloved father," Hemphill said. "We hope it will inspire others to reach for the sky."
Reese said he and the rest of his foundation donated the money to honor his father as it relates to Owens. Owens and Reese's father were friends and both considered pioneers.
However, Reese said the statue is mostly for OSU.
"It is about this university, because that is why we're all here," Reese said.
Hemphill said the statue is important to the family and the memory of her father.
"It certainly demonstrates to our family that time and change does surely show," Hemphill said. "How firm thy friendship, O-H-I-O."

www.thelantern.com/campus/ohio-state-unveils-tribute-to-jesse-owens-1.2189436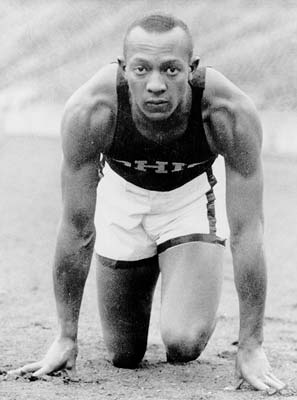 Owens pierced a myth
By Larry Schwartz
ESPN.com
For most athletes, Jesse Owens' performance one spring afternoon in 1935 would be the accomplishment of a lifetime. In 45 minutes, he established three world records and tied another.
But that was merely an appetizer for Owens. In one week in the summer of 1936, on the sacred soil of the Fatherland, the master athlete humiliated the master race.
Owens' story is one of a high-profile sports star making a statement that transcended athletics, spilling over into the world of global politics. Berlin, on the verge of World War II, was bristling with Nazism, red-and-black swastikas flying everywhere. Brown-shirted Storm Troopers goose-stepped while Adolf Hitler postured, harangued, threatened. A montage of evil was played over the chillingly familiar Nazi anthem: "Deutschland Uber Alles."
This was the background for the 1936 Olympics. When Owens finished competing, the African-American son of a sharecropper and the grandson of slaves had single-handedly crushed Hitler's myth of Aryan supremacy.
He gave four virtuoso performances, winning gold medals in the 100- and 200- meter dashes, the long jump and on America's 4×100 relay team. Score it: Owens 4, Hitler 0.
A remarkably even-keeled and magnanimous human being, Owens never rubbed it in. Just as sure as he knew fascism was evil, he also knew his country had a ways to go too in improving life for African-Americans.
"When I came back to my native country, after all the stories about Hitler, I couldn't ride in the front of the bus," Owens said. "I had to go to the back door. I couldn't live where I wanted. I wasn't invited to shake hands with Hitler, but I wasn't invited to the White House to shake hands with the President, either."
Owens wasn't complaining. That wasn't his style. He believed it was his job "to try to make things better."
Born James Cleveland Owens on Sept. 12, 1913, in Oakville, Ala., he was often ill as a child, suffering from both chronic bronchial congestion and several bouts of pneumonia. Inadequate housing, food and clothing didn't help his health.
By the age of seven he was expected to pick 100 pounds of cotton a day. At nine his family moved to Cleveland. When a teacher asked his name, he answered, "J.C.," which is what he was called. The teacher misunderstood his Southern drawl and the name was Jesse from then on.
As a teenager he set or tied national high school records in the 100- and 220-yard dashes and the long jump (called the broad jump then). At Ohio State, he was not a good student but he was easily the swiftest on the track.
Two weeks before the 1935 Big Ten Championships, Owens was involved in some playful hi-jinks with his roommates. But the prank backfired and he slipped on water during his getaway, severely injuring his tailbone.
On May 25 in Ann Arbor, Mich., Owens couldn't even bend over to touch his knees. But as the sophomore settled in for his first race, he said the pain "miraculously disappeared."
3:15 — The "Buckeye Bullet" ran the 100-yard dash in 9.4 seconds to tie the world record.
3:25 — In his only long jump, he leaped 26-8 1/4, a world record that would last 25 years.
3:34 — His 20.3 seconds bettered the world record in the 220-yard dash.
4:00 — With his 22.6 seconds in the 220-yard low hurdles, he became the first person to break 23 seconds in the event.
Some credit Owens with setting five world records, saying he also beat the marks for the shorter 200 meters and 200-meter low hurdles.
In his junior year at Ohio State, Owens competed in 42 events and won them all, including four in the Big Ten Championships, four in the NCAA Championships, two in the AAU Championships and three at the Olympic Trials.
In Germany, the Nazis portrayed African-Americans as inferior and ridiculed the United States for relying on "black auxiliaries." One German official even complained that the Americans were letting "non-humans, like Owens and other Negro athletes," compete.
But the German people felt otherwise. Crowds of 110,000 cheered him in Berlin's glittering Olympic Stadium and his autograph or picture was sought as he walked the streets.
On Aug. 3, the 5-foot-10, 165-pound Owens won his first final, taking the 100 meters in 10.3, edging out Ralph Metcalfe, also an African-American.
The next day, Owens was almost out of the long jump shortly after qualifying began. He fouled on his first two jumps, though he was stunned when officials counted a practice run down the runway and into the pit as an attempt.
With one jump remaining, Luz Long, a tall, blue-eyed, blond German long jumper who was his stiffest competition, introduced himself. He suggested that Owens make a mark several inches before the takeoff board and jump from there to play it safe. Owens took the advice, and qualified.
In the finals that afternoon, Long's fifth jump matched Owens' 25-10. But Owens leaped 26-3¾ on his next attempt and won the gold medal with a final jump of 26-5½. The first to congratulate the Olympic record holder was Long, who looked like the model Nazi but wasn't.
"It took a lot of courage for him to befriend me in front of Hitler," Owens said. "You can melt down all the medals and cups I have and they wouldn't be a plating on the 24-karat friendship I felt for Luz Long at that moment. Hitler must have gone crazy watching us embrace. The sad part of the story is I never saw Long again. He was killed in World War II." Owens, though, would continue to correspond with Long's family.
In the 200-meter dash on August 5, Owens won in an Olympic record of 20.7 seconds, beating out Mack Robinson, the older brother of Jackie Robinson.
That was supposed to be the end of Owens' Olympic participation. But from out of the blue, Owens and Metcalfe replaced Marty Glickman and Sam Stoller, the only Jews on the U.S. track team, on the 4×100-meter relay.
The rumor was that the Nazi hierarchy had asked U.S. officials not to humiliate Germany further by using two Jews to add to the gold medals the African-Americans already had won. Glickman blamed U.S. Olympic Committee president Avery Brundage for acquiescing to the Nazis.
On August 9, the 4×100 relay team, with Owens running leadoff, won by 15 yards and its world-record time of 39.8 seconds would last 20 years. Upon Owens' return to New York and a ticker-tape parade, he had to ride the freight elevator to a reception in his honor at the Waldorf-Astoria. He was treated as a kind of curiosity. When endorsements didn't come his way, he made money by, among other activities, running against horses and dogs.
"People said it was degrading for an Olympic champion to run against a horse, but what was I supposed to do?" Owens said. "I had four gold medals, but you can't eat four gold medals."
Not until the fifties did he achieve financial security, becoming a public speaker for corporations and opening a public-relations firm.
In a 1950 Associated Press poll, he was voted the greatest track and field star for the first half of century, outpolling Jim Thorpe by almost three to one.
In 1976, President Ford presented Owens with the Medal of Freedom, the highest honor the U.S. can bestow upon a civilian.
Owens, a-pack-a-day smoker for 35 years, died of lung cancer at age 66 on March 31, 1980 in Tucson, Ariz.
Four years later, a street in Berlin was renamed in his honor.
A decade after his death, President Bush posthumously awarded Owens the Congressional Medal of Honor. Bush called his victories in Berlin "an unrivaled athletic triumph, but more than that, a triumph for all humanity.
http://espn.go.com/sportscentury/features/00016393.html
Michael Arace commentary: Jesse Owens' story deserves retelling
ByMichael Arace
THE COLUMBUS DISPATCH
WEDNESDAY MAY 2, 2012 5:29 AM
The latest biographical treatment of Jesse Owens aired on the PBS series American Experience last night. The documentary, only an hour long, leaves much of his post-Olympic life on the cutting-room floor. Still, it is a wonderful piece produced by an award-winning crew, and it is worth every minute.
Owens himself wrote more than one memoir. He has been the subject of a raft of books, including the excellent 2007 work by Jeremy Schaap: Triumph: The Untold Story of Jesse Owens and Hitler's Olympics. Yet the story deserves retelling, as often as possible. Younger generations should be exposed to the man who, to paraphrase the noted sociologist Dr. Harry Edwards, provided the shoulders on which Jackie Robinson stood.
Owens was one of 10 children born to Alabama sharecroppers. He was the grandson of slaves. His family moved to Cleveland in the early 1920s as part of the great northern migration of blacks seeking factory work. Heavily recruited coming out of East Technical High School, he chose Ohio State because it offered him a night job as an elevator operator at the State House — a means to pay for college.
On May 25, 1935, at the Big Ten championships in Ann Arbor, Mich., Owens entered the national consciousness. He put aside a back injury, tied the world record for the 100-yard dash and broke the world records for the broad jump, the 220-yard dash and the 220-yard low hurdles. In the process, he also set world records for the 200-meter dash and the 200-meter low hurdles, and he did it all in a span of 45 minutes.
Many newspapers across the country gave him bigger play than Babe Ruth, who hit his 712th, 713th and 714th home runs the very same day.
Owens was still a student at Ohio State when he went off to the Berlin Olympics in 1936. Once-forgotten details come back to life in the retelling of the famous, and infamous, Berlin Games, which were supposed to be Adolf Hitler's statement on the superiority of the Aryan race.
Owens was a member of what Hitler called America's "African auxiliary." He was subhuman according to Nazi propaganda. He then showed up the Fuhrer by winning four gold medals and setting a long-jump record that would stand for 24 years.
Again, the details: Owens was placed in the 400 relay (and won his fourth gold medal) only after the two Jewish-Americans who were scheduled to run, Marty Glickman and Sam Stoller, were removed from the team. Their removal came at the behest of Avery Brundage, an official with the American team and a Hitler appeaser. Owens stood up for Glickman and Stoller and protested their removal.
The old footage of Owens is magnificent. His superiority to his competition is breathtaking, his power and abundant grace are captivating. The sight of him taking a victory lap arm-in-arm with German Luz Long, the runner-up in the long jump, is most compelling. This was Germany, on the brink of World War II and the Holocaust, with the architect of genocide in the stands — and here was a simple act of sportsmanship that shook the world.
Owens returned to a ticker-tape parade in New York. In the aftermath, he had to use the servant's entrance to the Waldorf-Astoria hotel, and ride the freight elevator, to attend a dinner in his honor.
Later, Brundage, as chairman of the U.S. Olympic Committee, stripped Owens of his amateur status out of spite. Older folks still recall how Owens was forced to trade on his name in any way possible — including racing against horses — until he established a career as a motivational speaker. He was America's greatest Olympic ambassador, he played the part well, and he had the voice.
Even here in Columbus, where Owens famously trod, we do not do enough to keep him in proper context. We tend to forget he was, arguably, the most-important sports figure of the 20th century, a towering champion who stood up to Hitler, came home to face Jim Crow and maintained a state of grace through it all. American Experience provides a good refresher. Look for the DVD.
www.buckeyextra.com/content/stories/2012/05/02/owens-story-deserves-retelling.html
Jesse Owens American Hero