Christopher Padget photographed 75 survivors of the Boston Marathon Bombings, all of whom have tattoos inked on their bodies to commemorate the atrocity that killed three and injured 264 on April 15 2013. They include Patrick (left), whose tattoo depicts the view of Boston he remembers from childhood; SJ (center), whose inking is based off a piece of artwork by a Boston-based singer-songwriter and friend; and Kate (right), whose tattoo is based on a photograph she took while kayaking the Charles River.

www.dailymail.co.uk/news/article-2587841/Bled-Boston-Survivors-marathon-bombing-come-celebrate-tattoos-inked-wake-tragedy.html
In 2011 Murder Inquiry, Hints of Missed Chance to Avert Boston Bombing

www.nytimes.com/2013/07/11/us/boston-bombing-suspect-is-said-to-be-linked-to-2011-triple-murder-case.html
Boston Marathon bombing
Stories of the victims
Three people died and more than 250 injured last week when two bombs exploded near the finish line of the 117th running of the
Boston Marathon. Three days later, a police officer was killed and another wounded in confrontations with the bombing suspects.

www.washingtonpost.com/wp-srv/special/national/boston-marathon-bombing-victims/
Boston bombing victim comes home to Maryland

Victim of Boston bombing returns to Maryland: Erika Brannock and her sister were badly injured in the attack.

www.washingtonpost.com/local/boston-bombing-victim-comes-home-to-maryland/2013/06/03/53679706-cc97-11e2-8573-3baeea6a2647_story.html
Jeff Bauman – lost both legs – see below
How a man's love for his boat led to the capture of the world's most wanted man: Boston bombing suspect discovered less than an hour after residents given 'all clear to go outside again'
5pm – Police admit they don't know the whereabouts of Boston Marathon suspect Dzhokhar A. Tsarnaev
5.45pm – Homeowner discovers Tsarnaev hiding in his boat
7.50pm – Police lob flash grenades into boat to stun suspect
8.43pm – Tsarnaev is taken into custody and rushed to the hospital

www.dailymail.co.uk/news/article-2311982/Boston-bombing-Watertown-homeowner-finds-suspect-Dzhokhar-Tsarnaev-boat.html
Emotional: Mr Henneberry got choked up while talking about the victims who lost their lives, and others who lost limbs, in the bombing
Boat owner describes moment he discovered 'bomber' and insists he's an 'incidental hero' and would rather people donate to limbless victims than buy him a new boat
Watertown resident David Henneberry spoke out for the first time after he discovered the second bombing suspect in his boat
Comes as Dzhokhar Tsarnaev reportedly confessed to the bombings while being interrogated by the FBI at a Boston hospital
He said that his older brother Tamerlan spearheaded the blasts
Bombers' mother and father are headed to the U.S. from native Russia

www.dailymail.co.uk/news/article-2313788/Watertowns-incidental-hero-David-Henneberry-moment-discovered-Boston-bomber-Dzhokhar-Tsarnaev.html
Hero who found America's most wanted WILL get a new boat: Donations flood in for man who stumbled on suspect in his yard
David Henneberry, a resident of theof Watertown, had been at home under curfew since early hours
At 5.30pm went outside for cigarette and noticed tarpaulin on his 24ft pleasure cruiser had been disturbed
Saw blood on it and thought he could see a body underneath, went inside and called police
Hundreds of police officers, FBI and SWAT teams descended on quiet neighborhood riddling countless holes in his beloved boat

www.dailymail.co.uk/news/article-2312392/Boston-Marathon-bombing-Donations-pour-buy-David-Henneberry-new-boat-shoot-out.html
Boston bombing suspects' family 'has received more than $100,000 in U.S. welfare benefits'
Bombing suspect Tamerlan Tsarnaev, 26, received welfare up until 2012
Benefits include cash, food stamps and housing assistance
Details of the benefits are contained within more than 500 documents handed over to state officials on Monday

www.dailymail.co.uk/news/article-2316935/Boston-bombing-suspects-family-received-100-000-U-S-welfare-benefits.html
Georgie Anne Geyer commentary: How did Tsarnaevs get into this country, anyhow?
Wednesday April 24, 2013 5:46 AM
There remain many unknown facts about the Boston bombers from the faraway region of Chechnya, but perhaps the most important ones have not even been brought up.
Why were Chechens, of all peoples, even here in the United States? Why had they, apparently, been awarded asylum status by an American immigration judge? And does the present policy discussion about immigration law intend to correct the gross violations of asylum law in any new legislation?
First, the Chechens. In all the words published about the Tsarnaev family over the past week, there is nothing to indicate that they had the right to asylum in America. This roughly 30-year-old right is reserved for people who are in danger of persecution in their home country. It also is specifically conceived as a "temporary protection to enable people to work for change in their own countries," according to Dan Stein, president of the Federation of American Immigration Reform and a historical specialist on all areas of immigration.
But the Tsarnaevs barely lived in war-torn Chechnya, if at all. They did not even live in the neighboring former Soviet republic of Dagestan. They lived in Kyrgyzstan, a small, mountainous republic in Central Asia where the Soviets sent legions of political prisoners.
When I was there in 1992, I found Kyrgyzstan one of the more pleasant places in remote Central Asia. I was always amused when the Kyrgyz would joke, "This isn't the end of the world, but you can see it from here." Not only was the father, Anzor Tsarnaev, not persecuted, he held a highly desirable job in the prosecutor's office in Bishkek.
There is some record of his moving temporarily to Chechnya, with its brutal Caucasian traditions, but only briefly. Yet, somehow Anzor and his wife, Zubeidat Tsarnaeva, got permission to come to America as refugees 10 years ago. The younger son, Dzhokhar, now recovering in Boston's Beth Israel Deaconess hospital, followed in what is called a "derivative asylum."
But once in America, with virtually every advantage of the country at their fingertips — for Lord's sake, the younger boy was studying at the University of Massachusetts and the older boy competed in the national Golden Gloves tournament in boxing — the family blithely ignored the meaning and the prerequisites for their precious positioning as refuges. Anzor, the father, apparently broke with his wife and simply returned to Dagestan, the region next door to Chechnya and now even more violent.
No matter now that he had been awarded his precious status in America because he would have to have said that in some way he was persecuted in that region. No matter that America took him in and his big extended family.
The father went "home" to Dagestan not because it really was home, but because he felt important there, and in America he had to start from the bottom up. In Dagestan, he could identify with the great bloody warriors of Caucasian history. He was somebody again, a Caucasian man who drank wine out of animal horns and kept women in their place. Papa went home not to change the society, as his asylum requested, but to enjoy it.
And since there is no record of his or his family's ever having been in danger in the first place, why the devil not?
There is a lot of talk, too, about Tamerlan, the older and more pugnacious son, now dead, making a long trip to Dagestan last year. Thoughts fly to al-Qaida training camps and warriors on horseback in the Caucasus mountains fighting for beautiful blondes. But The New York Times traced his trip on the ground and found that, far from jumping 10-foot barriers and building bombs, Tamerlan "slept late, hung around at home, visited family and helped his father renovate a storefront."
My own judgment on Tamerlan is that he traveled back to his homeland for the same reasons as his father. That, and because in that tormented, bloody part of the world, invaded and overrun by Persians, Turks and Russians, Tamerlan could feel, too, like a powerful Caucasus warrior chief.
He's the one who had said he "had no American friends," that he couldn't understand "them." I don't know. We've got plenty of goofy types here, without going all the way to Dagestan.
If this story of his trip to Dagestan is true, as reported, and here we enter a new room in this house of irony, it kept him from his desire to become an American citizen when he returned.
We return to the "why?" They could be here, says Dan Stein, because "the asylum administration is totally outside of public view. There are widely divergent standards held by immigration judges (who decide on asylum cases), and it is all in secret. There is no integrity in the process."
So we don't know right now why this troubled family from this troubled part of the world is here at all. We don't know whether the new immigration bills will help stem these expensive and tragic wrongs.
But we do know that had they not been here at all, this would never have happened.
http://www.dispatch.com/content/stories/editorials/2013/04/24/how-did-tsarnaevs-get-into-this-country-anyhow.html
Boston bomber texted 'lol' to three college friends who warned him his face was 'all over the news' as they are arrested for throwing out his backpack to help cover his tracks
Three taken into custody helped Dzhokhar Tsarnaev cover up for the bombing after the fatal blasts
Two identified as Dias Kadyrbayev and Azamat Tazhayakov, both Kazakh nationals who were in custody already on immigration issues
Third suspect named as Robel Phillipos of Cambridge, Massachusetts
All three are 19-years-old, the same age as Dzhokhar
Three 'disposed of materials for the bomber at a landfill after attack'
Boston police say there is no threat to public safety
Red flag: Police initially investigated the pair after the discovery of their license plates (pictured) but then held them on immigration charges since they are Kazakh nationals in the country on expired academic visas

www.dailymail.co.uk/news/article-2318092/Boston-bombing-Dzhokar-Tsarnaev-texted-lol-friend-warned-terrorism-suspect.html

www.dailymail.co.uk/news/article-2312486/Dzhokhar-Tsarnaev-Boston-bombing-suspect-gun-mouth-fired-botched-suicide-attempt.html
Alex Jones is an | otiose | piece of crap — tell him I said so — who knows a sucker is born every minute.

Radio conspiracy theorist Alex Jones tweeted that official explanation of the Boston bombings 'stinks to high heaven,' and suggested it was a 'false flag' attack
He lives in a van down by the river.
'Disgusting' Facebook group called 'Dzhokhar Tsarnaev is innocent' attracts more than 11,000 fans worldwide
Conspiracy junkies believe double-amputee veteran pretended to be marathon spectator whose legs were blown off
Growing movement accuses the U.S. government and a private security company of staging the April 15 massacre
Grainy news footage and off-angle photos are evidence for claiming the Tsarnaev brothers surrendered but were killed by police
One theory holds that 'two men in drag planted the bombs'

www.dailymail.co.uk/news/article-2313303/Dzhokhar-Tsarnaev-innocent-Facebook-page-attracts-11-000-fans-worldwide.html
Young victim: Martin Richard, 8, from Dorchester, Massachusetts, was killed as he was standing at the finishing line
'We knew he was just gone': Hero off-duty fireman who was pictured rescuing boy from Boston carnage tells how he also tried to save eight-year-old victim Martin Richard
Matt Patterson, an off-duty firefighter, was among those trying to save Martin Richard, one of the three victims who died in the bombing
He had earlier ran a savagely injured boy, aged 7 or 8, a full block and a half to medical teams
Michael Chase, a trained police officer who works with troubled youths, helped him, holding his belt around the child's leg to stop the bleeding
The heroic strangers didn't get the family's details in the chaos and are desperate to hear the condition of the boy, named Sean or Shane
Life-savers: Matt Patterson, center, an off-duty firefighter, and Michael Chase, left, a trained police officer who works with troubled youths, ran the boy, in Patterson's arms, a full block and a half to medical teams

www.dailymail.co.uk/news/article-2311093/Boston-bombing-2013-Off-duty-fireman-Matt-Patterson-pictured-rescuing-boy-tried-save-Martin-Richard.html
Family of 8-year-old boy killed in Boston bombings share first picture of his sister who lost a leg when she was able to return home at last
Jane Richard, 7, lost a leg in the blast that killed her brother Martin
Grieving family released statement on Thursday about their 'long, difficult and painful journey forward' after the little boy's death
With Jane's release from hospital a few weeks ago, the family finally returned home to Dorchester, Massachusetts
Inspirational: The Richard family, who lost their eight-year-old son in the Boston bombings, have shared this picture of daughter Jane with her new prosthetic leg. They said she is a source of inspiration

www.dailymail.co.uk/news/article-2394898/Boston-bomb-survivor-Jane-Richard-7-pictured-using-new-prosthetic-leg.html

www.dailymail.co.uk/news/article-2310262/Boston-bombing-2013-Hundreds-gather-candle-light-vigils-remember-victims.html
The Shenyang Evening News reported Wednesday on its official Twitter-like microblog account that the victim is named Lü Lingzi. An editor at the newspaper says that Lü's father confirmed his daughter's death

www.dailymail.co.uk/news/article-2310289/L-Lingzi-Boston-bombing-victim-Chinese-graduate-23.html
VIDEO link

www.weeklystandard.com/blogs/aftermath-footage-boston-bombs_716394.html
>


www.dailymail.co.uk/news/article-2309545/Boston-Marathon-bombs-Martin-Richard-8-named-boy-killed.html

www.telegraph.co.uk/news/picturegalleries/worldnews/9996842/In-pictures-Boston-Marathon-bombing-several-die-and-more-than-130-injured.html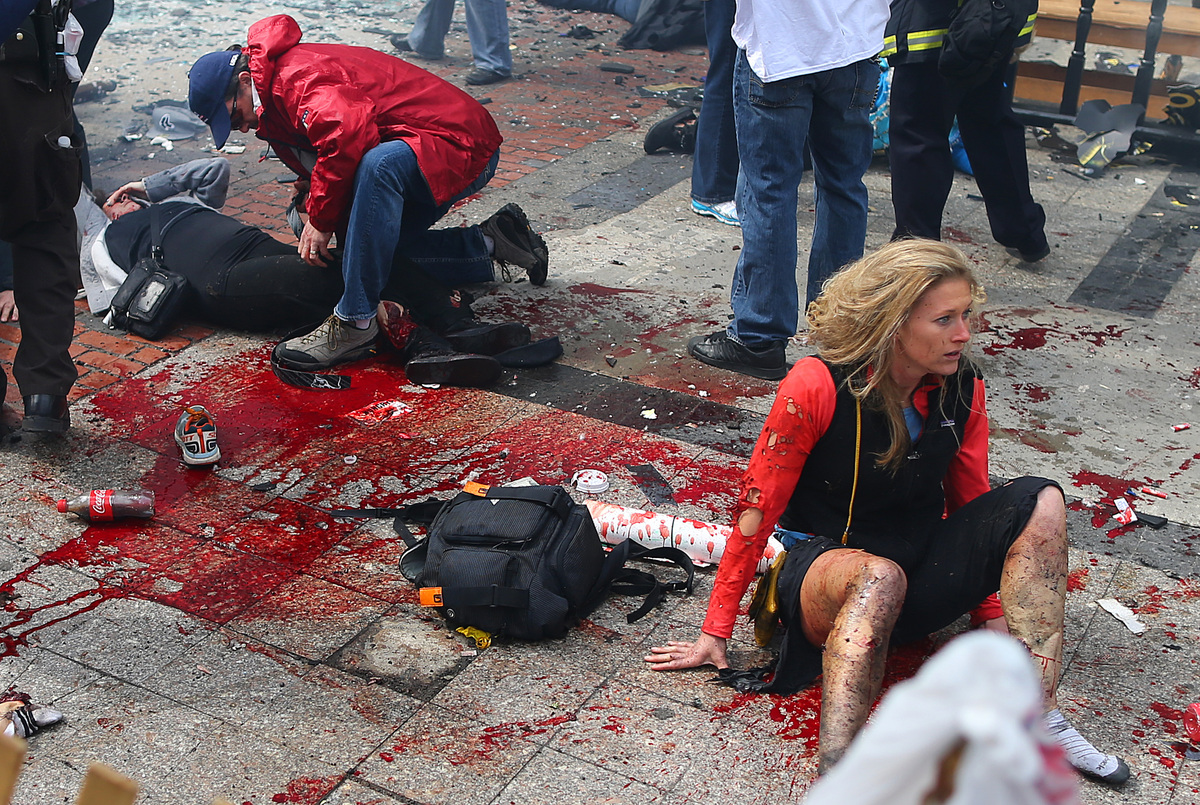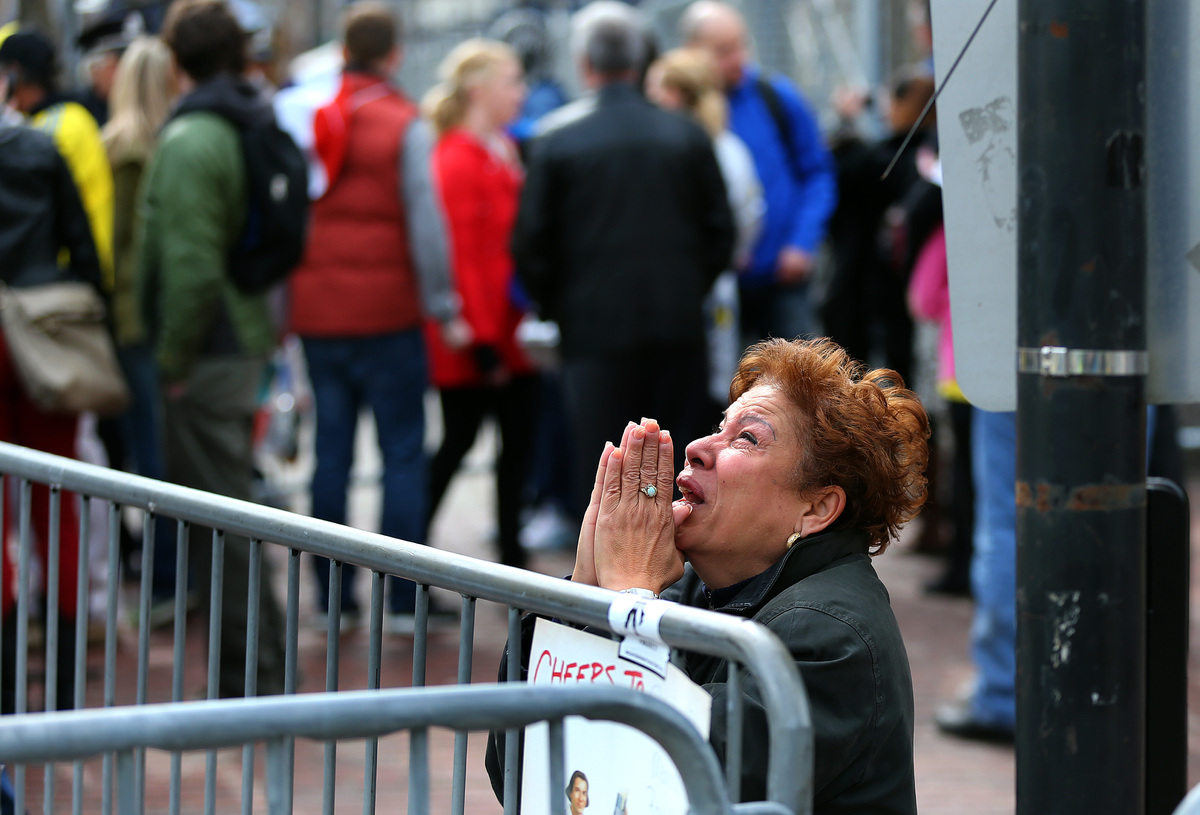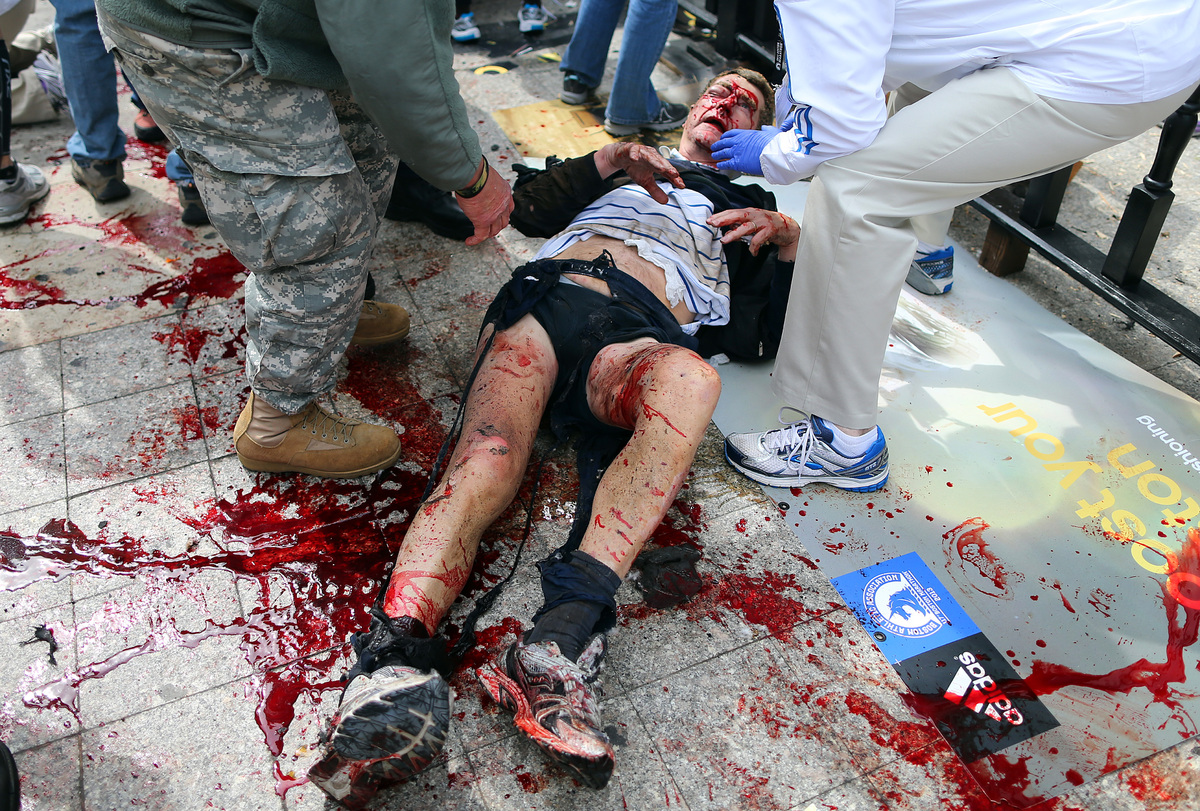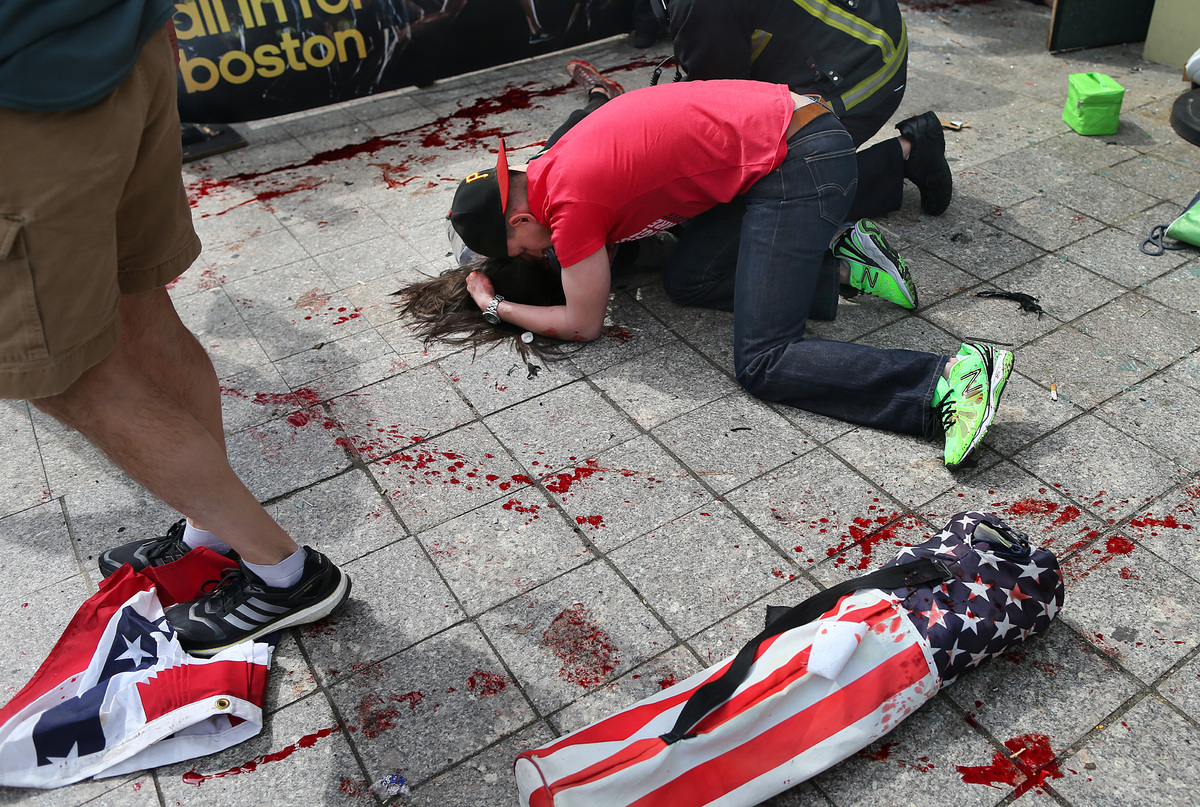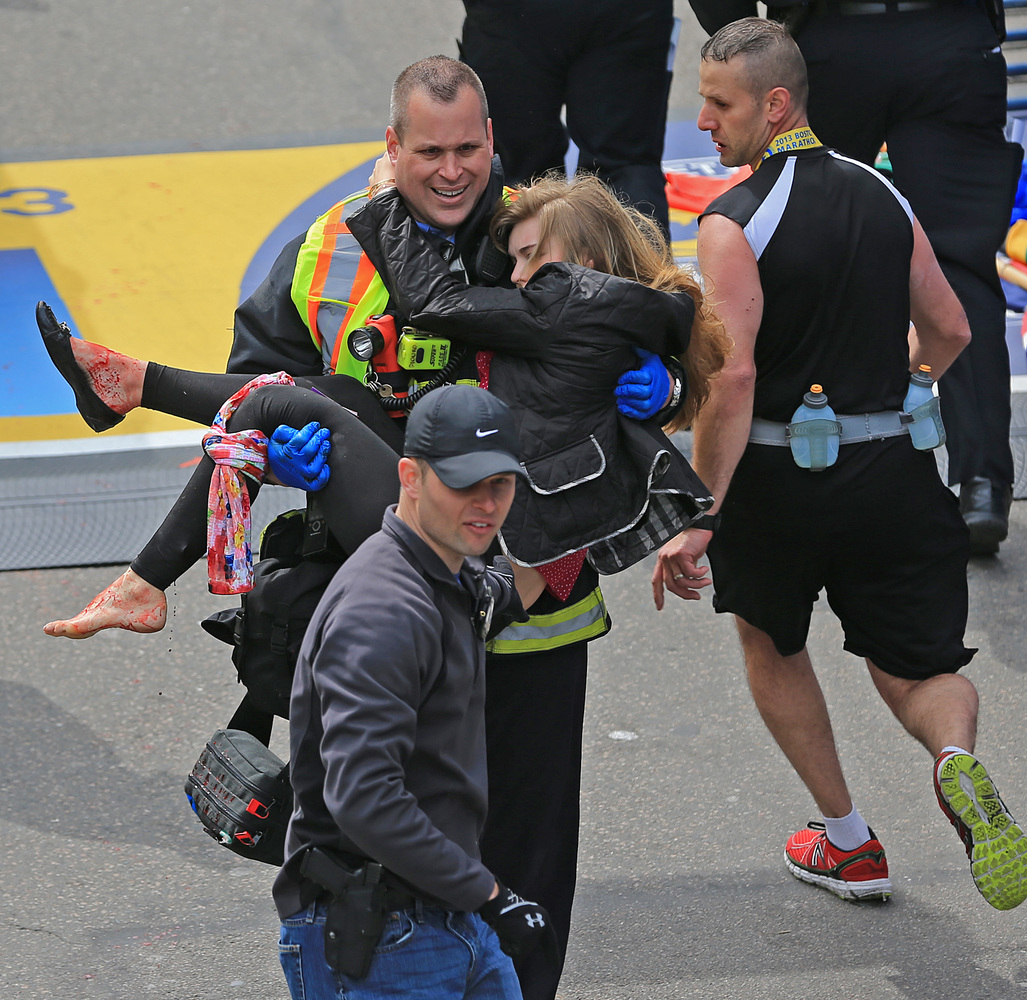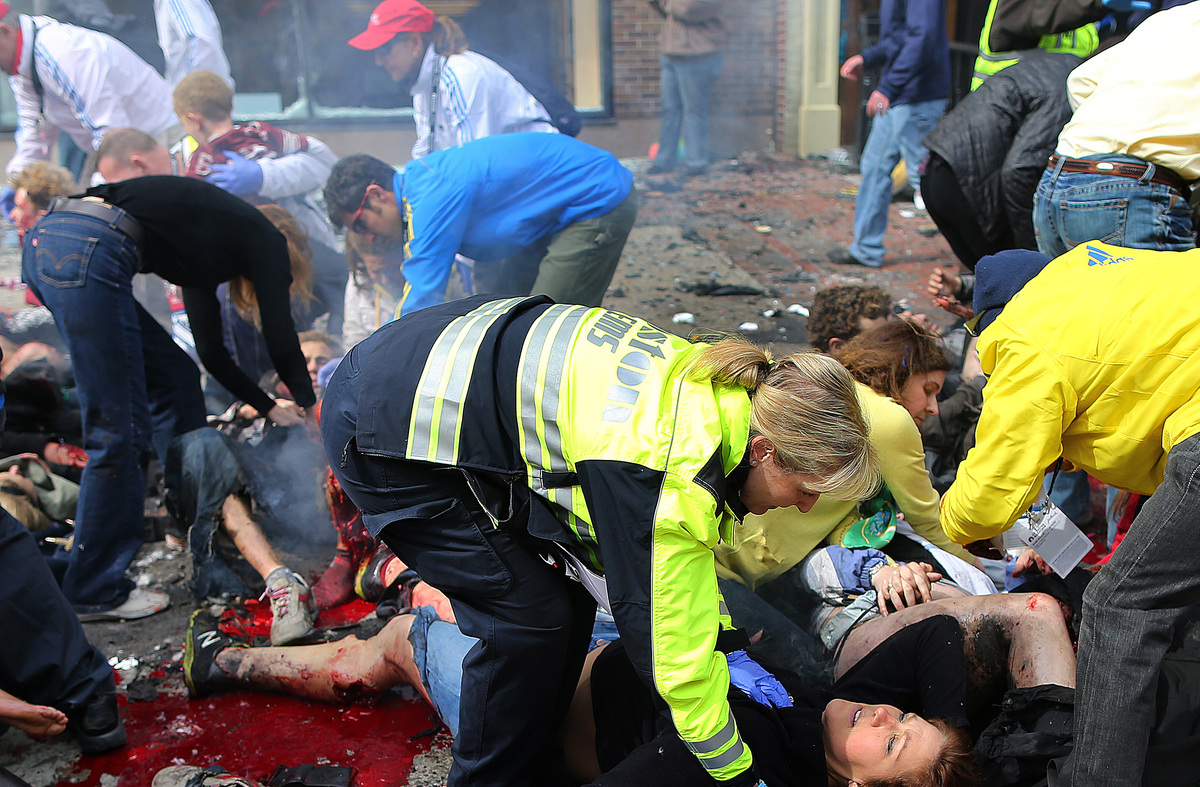 This photograph has been cropped. Ms. Campbell was shown, obviously deceased – RIP in the Unknown Country…
Boston Marathon bombs: parents of victim Krystle Campbell 'thought she had survived'
The parents of a young woman killed in the Boston marathon bombings spent 12 hours believing that she had survived, after her identification card was found on an injured friend.

www.telegraph.co.uk/news/worldnews/northamerica/usa/9999415/Boston-Marathon-bombs-parents-of-victim-Krystle-Campbell-thought-she-had-survived.html
Hundreds of people wait in line for chance to pay respects to Krystle Campbell, 29, at wake ahead of her private funeral Monday

www.dailymail.co.uk/news/article-2312683/Boston-Marathon-victim-Krystle-Campbell-wake-held-ahead-funeral.html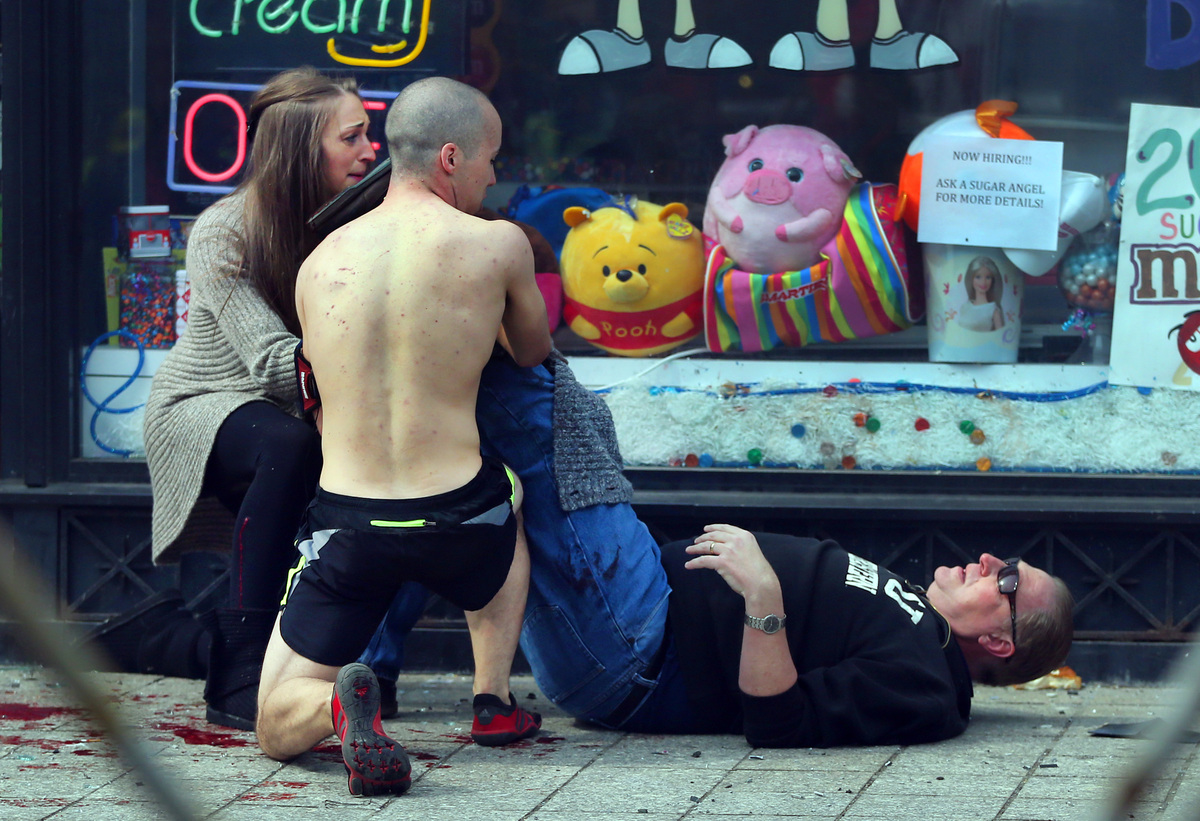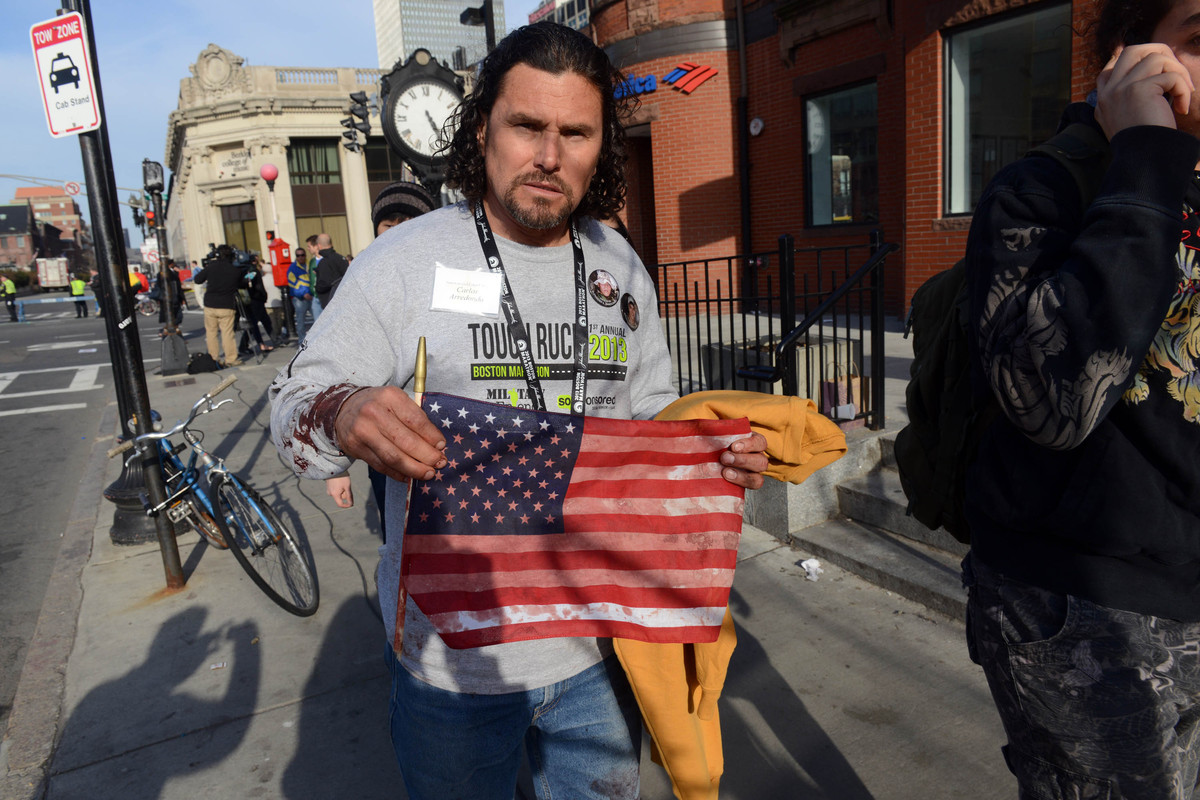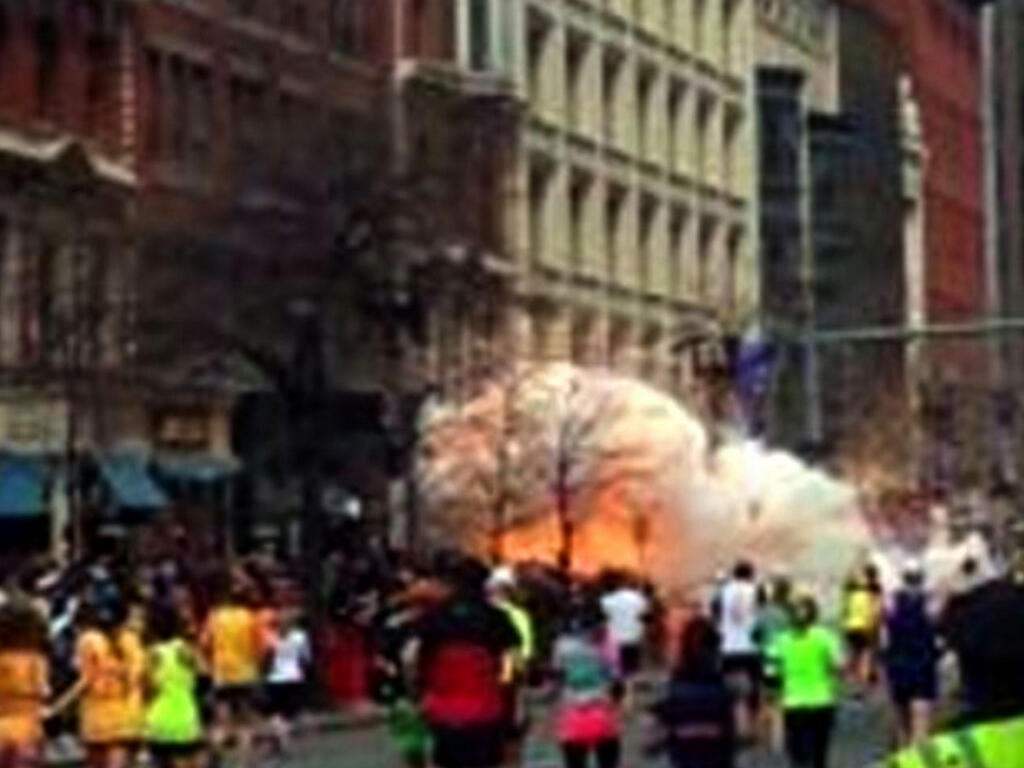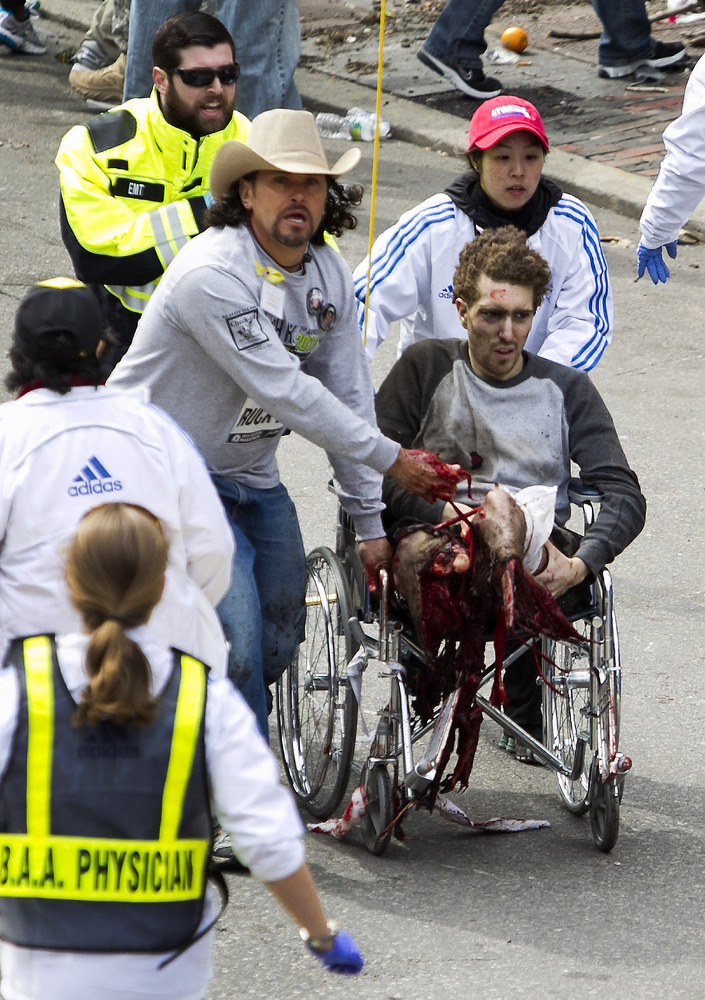 'Saw the guy'
While the analysts combed through videos frame by frame, a more traditional tip was developing two miles away at Boston Medical Center. Jeffrey Bauman, groggy from anesthesia, his legs just removed at the knee, managed to eke out a request for pen and paper.
In the intensive-care ward, Bauman, who had been near the finish line to see his girlfriend complete Monday's race, wrote words that would help lead to quick resolution of the bombing that killed three and injured 176 others: "Bag. Saw the guy, looked right at me."
www.washingtonpost.com/world/national-security/inside-the-investigation-of-the-boston-marathon-bombing/2013/04/20/19d8c322-a8ff-11e2-b029-8fb7e977ef71_story.html
Jeff Bauman, 27, is photographed delivering a birthday present to 18-year-old victim Sydney Corcoran. It's believed that the woman in the forefront of the photo is Celeste, Sydney's mother
'He's dead and I'm still here': Heroic double amputee who identified suspected Boston bomber opens up about the attacks and his agonizing recovery
Marathon bombings victim Jeff Bauman, 27, said he felt 'sad' hen he looked down and saw that his legs were gone
After losing his legs in the blasts, Bauman helped authorities identify suspect Tamerlan Tsarnaev
He became suspicious of Tsarnaev because he stood out from the crowd and didn't look like he was having fun
Bauman plans to attend Boston Marathon next year but stay away from the finish line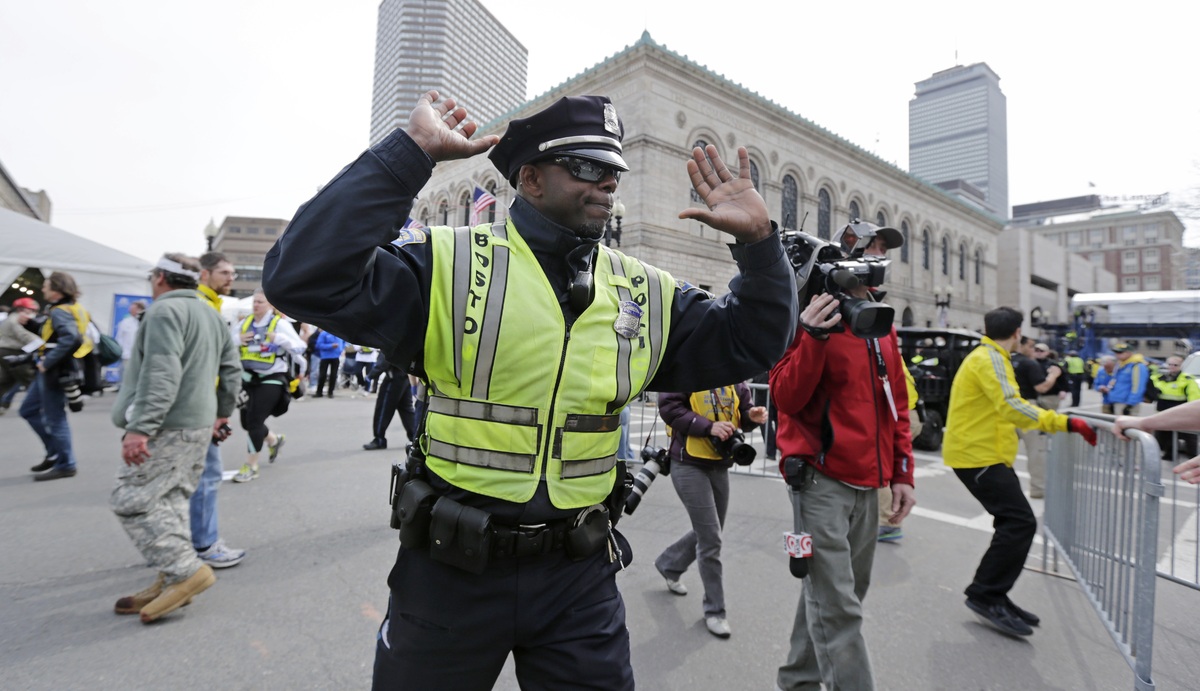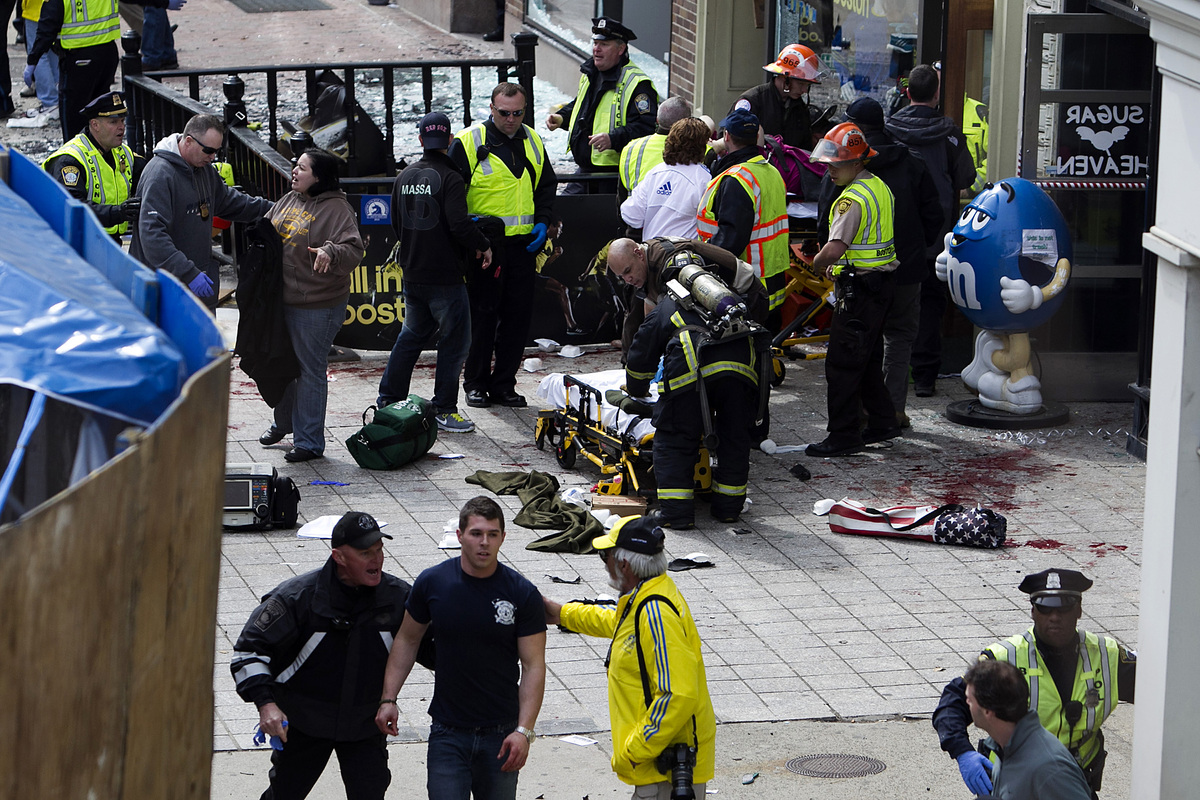 www.huffingtonpost.com/2013/04/16/boston-explosion-news_n_3088615.html#comments
Many Boston Marathon bomb victims cope with leg injuries
By David Montgomery, Mary Beth Sheridan and Lenny Bernstein, Published: April 16
BOSTON — Andrew Ulrich has not been to war, but he now has seen its toll on human flesh, the damage that bits of metal can wreak when packed tightly in bombs and aimed low at unprotected civilians nearby.
The physician saw it Monday, not in Baghdad or Kabul, but in the emergency room at Boston Medical Center, where he and his colleagues frantically treated injury after horrific injury to the legs and feet of 23 of the victims of the Boston Marathon bombings.
Scores treated at Boston Medical and many of the 12 other hospitals caring for victims had suffered wounds from BB-sized pellets and nails, as well as metal debris blasted into tissue and bone at close range.
"Almost all the injuries are in the lower extremities. Think of this like an IED," Michael Zinner, chief of surgery at Brigham and Women's Hospital, where another 31 victims were treated, said at a news conference Tuesday. At least three of those victims were hit by ball bearings and nails that appeared to be packed into the bombs, doctors said.
"We found BBs inside of kids," said David Mooney, director of the trauma center at Boston Children's Hospital. "We found nails that looked almost like carpet tacks, maybe a centimeter long that were sticking out of a kid's body."
The disproportionate number of leg injuries has convinced some medical experts that the bombs were on the ground or not high above it. The carnage from two- to three-millimeter diameter pellets and half-inch nails has convinced some that the main goal of the bombs was to injure as many people as possible.
"You can't put into words how disturbing this is," said trauma surgeon Tracey Dechert, who had finished a 28-hour shift at Boston Medical before the twin bombs went off, then raced back to the hospital, arriving in time to perform a double amputation on one woman. The hospital had five patients who required amputation of part of at least one leg, and "more than one" patient lost both legs, Dechert said.
At Boston Children's Hospital, three of the nine youngsters brought in after the bombings remained hospitalized Tuesday, two in critical condition with severe leg injuries, Mooney said. Surgeons were fighting to avoid amputation, he said, because of the impact it would have on a child's life.
"We'll go to the mat to save a leg," Mooney said. The third patient, a 2-year-old boy with a head injury, was in good condition and could be released later Tuesday or Wednesday, he said.
At Massachusetts General Hospital, however, doctors performed four amputations and two more limbs were at risk, said George Velmahos, chief of trauma surgery.
"Almost all of them had such severe trauma in their lower extremity that it was beyond salvation," he said. "So I would consider them almost automatic amputees. We just completed what the bomb had done."
Velmahos said some patients were hit by "numerous" metal pellets. "There are people who have 10, 20, 30, 40 of them in their body. Or more."
Two brothers, Paul and J.P. Norden, who went to the marathon to cheer on a friend, each lost a leg in the bombings and were being treated at separate hospitals, according to media reports.
Ground-based explosions send metal objects packed around the charge in a concentric circle, striking feet, legs, thighs and torsos, depending on how far victims are from the bomb, said Jay A. Johannigman, a trauma surgeon and lieutenant colonel in the Air Force Reserve who has served multiple tours of duty in Iraq and Afghanistan. If the blast is strong enough and there are enough fragments, it can tear limbs off, an injury called "traumatic amputation."
That peculiarity of this terrorist attack means that the quality of life for many survivors can, quite literally, depend on how much leg doctors can save. Physicians will work fiercely to preserve a patient's knee because prostheses work much better when that joint is intact, said Richard Neville, chief of the division of vascular surgery at George Washington University School of Medicine. And mobility means less stress on patients' hearts and lungs, improving their chances at long-term survival.
"It's more than just the person's leg," Neville said. "You're preserving their life, their lifestyle and their ability to function."
Typically, 20 percent of people with severe, traumatic leg injuries face amputation, Neville said, citing figures he said were extrapolated from the results of combat. "You look at the leg and say 'We can't save that,' " usually because of artery or nerve damage, he said. A quarter to a half of those whose legs can be saved face more than one surgery. And the danger of infection is present throughout the process, he said.
One critical element in saving victims Monday, several experts said, was the use of tourniquets in the field. Joseph Blansfield, a nurse practitioner and program manager for the trauma center at Boston Medical Center, said the loss of life could have been greater if emergency medical crews had not used them to tie off the bleeding wounds of some patients as they were transported to the hospital.
"Tourniquets are a difference maker. Tourniquets can save a life," Blansfield said. "They proved their value yesterday." Tourniquets are part of standard care for Boston Emergency Medical Services personnel, Blansfield said. He knows because he helps train crews. Boston police, however, don't carry them, a spokeswoman for the department said Tuesday.
Two years ago, the professional societies for surgeons and emergency physicians recommended that all ambulances carry tourniquets.
"I hope if there is a silver lining in all of this, it is that tourniquets will be more widely available across the United States," said John B. Holcomb, chief of the Texas Trauma Institute in Houston and a retired Army colonel. "Every police officer, every firefighter and every medic should carry a tourniquet. That is the lesson from the war that the United States needs to implement."
Some patients did arrive at the hospital without tourniquets, perhaps because the need was not apparent at the scene, he said. In those cases, hospital staff applied tourniquets, Blansfield said.
Holcomb also noted that distributing victims to numerous hospitals is a critical early decision that increases survival in mass-casualty events. "The folks in Boston are to be congratulated in doing that," he said. "It is crucial not to overload one hospital."
Leg injuries were not the only wounds suffered by the more than 170 people who were felled by the twin bombs but survived. Punctured eardrums, burns, heavy and rapid blood loss, broken bones and other trauma were widespread, officials said. Some victims were still in critical condition at area hospitals, and others face long and difficult rehabilitations.
"I think one thing that's really important to remember is that, yes, this happened yesterday, but it reverberates a long time," Peter Burke, chief of trauma surgery at Boston Medical Center, said Tuesday.
Patients face multiple operations in coming days, physical therapy and getting used to life without a limb.
"Some of them," he said, "still could die."

www.washingtonpost.com/world/national-security/many-boston-marathon-bomb-victims-cope-with-leg-injuries/2013/04/16/ea6e07d6-a6c0-11e2-a8e2-5b98cb59187f_story.html
Boston Marathon Bombing: Nurses Tell Of Bloody Aftermath
By CARLA K. JOHNSON 04/21/13 04:18 PM ET EDT
BOSTON — The screams and cries of bloody marathon bombing victims still haunt the nurses who treated them one week ago. They did their jobs as they were trained to do, putting their own fears in a box during their 12-hour shifts so they could better comfort their patients.
Only now are these nurses beginning to come to grips with what they endured – and are still enduring as they continue to care for survivors. They are angry, sad and tired. A few confess they would have trouble caring for the surviving suspect, 19-year-old Dzhokhar Tsarnaev, if he were at their hospital and they were assigned his room.
And they are thankful. They tick off the list of their hospital colleagues for praise: from the security officers who guarded the doors to the ER crews who mopped up trails of blood. The doctors and – especially – the other nurses.
Nurses from Massachusetts General Hospital, which treated 22 of the 187 victims the first day, candidly recounted their experiences in interviews with The Associated Press. Here are their memories:
THEY WERE SCREAMING
Megann Prevatt, ER nurse: "These patients were terrified. They were screaming. They were crying … We had to fight back our own fears, hold their hands as we were wrapping their legs, hold their hands while we were putting IVs in and starting blood on them, just try to reassure them: `We don't know what happened, but you're here. You're safe with us.' … I didn't know if there were going to be more bombs exploding. I didn't know how many patients we'd be getting. All these thoughts are racing through your mind."
SHRAPNEL, NAILS
Adam Barrett, ICU nurse, shared the patient bedside with investigators searching for clues that might break the case. "It was kind of hard to hear somebody say, `Don't wash that wound. You might wash evidence away.'" Barrett cleaned shrapnel and nails from the wounds of some victims, side by side with law enforcement investigators who wanted to examine wounds for blast patterns. The investigator's request took him aback at first. "I wasn't stopping to think, `What could be in this wound that could give him a lead?'"
THEIR FACES, THEIR SMILES
Jean Acquadra, ICU nurse, keeps herself going by thinking of her patients' progress. "The strength is seeing their faces, their smiles, knowing they're getting better. They may have lost a limb, but they're ready to go on with their lives. They want to live. I don't know how they have the strength, but that's my reward: Knowing they're getting better."
She is angry and doesn't think she could take care of Tsarnaev, who is a patient at another hospital, Beth Israel Deaconess Medical Center: "I don't have any words for him."
THE NEED FOR JUSTICE
Christie Majocha, ICU nurse: "Even going home, I didn't get away from it," Majocha said. She is a resident of Watertown, the community paralyzed Friday by the search for the surviving suspect. She helped save the lives of maimed bombing victims on Monday. By week's end, she saw the terror come to her own neighborhood. The manhunt, she felt, was a search for justice, and was being carried out directly for the good of her patients.
"I knew these faces (of the victims). I knew what their families looked like. I saw their tears," she said. "I know those families who are so desperate to see this end."
On Friday night, she joined the throngs cheering the police officers and FBI agents, celebrating late into the night even though she had to return to the hospital at 7 a.m. the next day.

www.huffingtonpost.com/2013/04/21/boston-marathon-bombing-nurses_n_3128617.html
Complex challenges lie ahead for Marathon bombing amputees
By Kay Lazar and Chelsea Conaboy | GLOBE STAFF APRIL 18, 2013
Some of the patients who lost limbs in Monday's Marathon bombings woke up hungry for news about the horrific event, while others have barely been able to acknowledge what happened to them.
"We have some people who don't want to know and haven't asked any questions," said Jennifer Lawrence, a social worker at Boston Medical Center, where five of the 14 patients who underwent amputations following the attack are hospitalized.
Three days after the bombings, people who lost limbs may differ in their emotional responses, but all are beginning a daunting journey that will force them to relearn many of the most basic activities of daily life. The challenges ahead range from brushing their teeth standing on one leg to pulling pants over their new prosthesis, specialists and amputees say.
One person well aware of the difficulties — both physical and mental — is Posie Mansfield, who has been tapped to help provide peer support to some of the Marathon patients whose limbs were blown off. Mansfield's left leg was amputated above the knee two years ago.
Her soul-testing odyssey began the week after surgery, as she got up in the middle of the night to use the bathroom and forgot she was missing a leg. She fell to the floor, where she lay sobbing.
'You can say I am going to give up and sit in a wheelchair the rest of my life, or you can choose to go on.'
"Your brain remembers there was a limb there; it doesn't feel like it's gone," Mansfield said. "That stays for a long time."
One of the toughest challenges for the former skier in the months-long rehabilitation that followed her surgery was learning how to maneuver in her own kitchen.
"I was afraid to use the stove because I was afraid I would lose my balance and get burned," Mansfield said. "The fear of falling is the biggest fear an amputee has, I don't care how long you have been an amputee."
Initially "angry at God" about having her leg amputated, the 64-year-old Wenham resident has since mentored many new amputees.
Most of the Marathon amputees apparently lost legs. They will encounter multiple teams of specialists in the days and weeks after surgery, to help rebuild body and soul.
At Boston Medical Center, social workers meet with a patient's family and friends two to three days after surgery to learn the best way to broach the loss, particularly if the patient is waking up after a traumatic event unaware of what transpired.
"Their families know them better and may know how much information is enough or too much to help them process this," Lawrence said.
The wound where a limb has been amputated usually heals within 10 to 14 days, if there are no complications. The end of the limb is then wrapped tightly with an elastic bandage or sock for several weeks, to compress it into a cylindrical or cone shape that better fits the socket of a prosthesis.
"Sometimes they can be ready for a prosthesis in five or six weeks, but I have seen patients not ready for up to a year because they had complications with wound infections or problems with insurance," said Dr. David Crandell, director of the amputee program at Spaulding Rehabilitation Hospital. The socket usually has to be adjusted multiple times to get the right fit.
It was like "sitting on a barbed wire fence," Mansfield said of her early fittings. "When they first put it on you, you feel like you will never walk again."
Patients are typically moved to a rehabilitation hospital before going home. Inpatient rehab usually lasts about three grueling weeks, with patients working with therapists to strengthen their good leg and their upper bodies, while also relearning simple tasks of daily living, such as getting into and out of a shower and dressing themselves.
Once they are discharged, outpatient rehab can last months. Mansfield needed a year at Spaulding, with twice-weekly sessions to strengthen the hip on her amputated side and the knee on her good leg.
"They got me walking again with a prosthesis and encouragement and pushing," she said. "They didn't make it easy. They didn't let up for a minute."
Patients' road to recovery will probably include bouts of "phantom limb," sensations of pain or itchiness in the limb that is no longer there.
"It feels like your toes itch, your foot tingles, or you have a cramp," said Mansfield, who was taught to massage her good leg to help ease the sensations, in addition to taking medications.
"You can say I am going to give up and sit in a wheelchair the rest of my life, or you can choose to go on," said Mansfield, who has returned to skiing, kayaking, and even surfing since her amputation. "There are lots and lots of people out there to help and wonderful science and technology to give you the best possible life you can have."
That's the message Steve Chamberland brings to new amputees. He lost his right leg in a motorcycle accident in Lowell in 1999, and said it can help patients early in their recovery to meet someone like him, burly — he had pursued a career with World Wrestling Entertainment, as a one-legged wrestler — with a full life.
"If I wore jeans, you'd never know I had a prosthetic leg," the 41-year-old said.
Chamberland, who runs a nonprofit called 50 Legs that helps amputees buy prosthetics, received a call from an old friend earlier this week. Dale Maybury of Westford had just learned his nephew, Jeff Bauman, lost both legs in the Marathon blasts.
Maybury told Chamberland that Bauman, a 27-year-old who worked at Costco, had plans to go back to school, and had no health insurance. Chamberland responded: "Don't worry. I'll buy his legs."
"I'm a pretty rugged guy," Maybury said Wednesday by phone, but he cried when he received Chamberland's message.
"I was just so overwhelmed."

www.bostonglobe.com/lifestyle/health-wellness/2013/04/17/the-daunting-road-ahead-for-marathon-bombing-amputees/uBdfZWbFbmeqt0YXWkDvrN/story.html
How string of events involving Tsarnaev brothers unfolded
By Joby Warrick and Sari Horwitz, Published: April 19
As their photographs spread rapidly across the Internet, the Tsarnaev brothers decided to make their move. Not waiting for police to find them, they gathered guns and homemade explosives for what became a final, bloody rampage on a community still in shock from the bombing three days before.
In less than 15 minutes late Thursday, authorities said, the brothers fatally shot a campus police officer as he sat in his car, then carjacked a Mercedes-Benz sport-utility vehicle at gunpoint. They held the driver hostage for 30 minutes as they scoured Boston's western suburbs for bank machines from which to take the man's cash.
Finally discovered, the Tsarnaevs led police on a chase through residential streets, hurling grenades and makeshift bombs as they drove. When cornered, they battled police with guns and more homemade explosives, wounding a transit officer and trading more than 200 rounds until the officers ran out of ammunition.
The drama ended for the elder brother, Tamerlan, 26, when police shot him and then he apparently was run over by his brother in a melee witnessed by scores of frightened residents of Watertown, Mass., a residential community about five miles from the apartment where the pair lived.
The younger brother, Dzhokhar, 19, fled on foot, somehow eluding police and beginning a widespread search by thousands of federal agents and state and local officers. The hunt shut down much of metropolitan Boston for hours and transfixed millions of Americans who watched the events unfold.
On Friday night, soon after state police held a news conference saying they did not know where Dzhokhar Tsarnaev was hiding, he was discovered in a plastic-covered boat parked in the driveway of a Watertown home. Police surrounded the boat and, after nearly three hours, brought him out alive.
The younger Tsarnaev, a former high school wrestler, was identified along with his brother as a suspect in Monday's bombing near the crowded finish line of the Boston Marathon that killed three people and wounded more than 170.
It is unclear whether investigators knew the suspects' names when they released photographs and videos of them along the marathon course around 5 p.m. Thursday in what the FBI said was an appeal for help from the public. Within minutes, the images circulated worldwide on the Internet and in continuous loops on television networks.
Law enforcement officials had hoped that a wide distribution of photos would bring clues. Instead, it appears to have jarred the Tsarnaevs into action. After apparently spending three days watching the aftermath of the bombing from nearby Cambridge, the two left their apartment within hours of the FBI news conference, heavily armed and prepared for a fight. Whether they intended to flee the area or provoke a confrontation is unclear.
The following account was provided by multiple law enforcement officials involved in the manhunt or the bombing investigation. Several of them spoke on the condition of anonymity because the probe is ongoing.
htJust after 10:30 p.m. Thursday, the pair walked up to a parked police car at the Massachusetts Institute of Technology, where Sean Collier, a 26-year-old campus officer, was nearing the end of his 3-to-11 p.m. Shift.
A security camera would later show two men approaching the car and speaking to the officer. Abruptly, one of the men was seen pulling a gun and shooting Collier multiple times, including once in the head. Some officers concluded that the shooting was an effort to provoke a larger confrontation with police.
"They were looking to start something," one official said.
Collier was found in his car by other police and taken to a hospital, where he was pronounced dead. By then, the Tsarnaevs had moved on.
At 10:39 p.m., just blocks from the cruiser in which Collier lay bleeding, the pair held up the driver of a black Mercedes SUV. Hijacking the car, they drove through Cambridge to nearby Watertown, a middle-class suburb of 30,000 where they searched for bank machines.
"They tell [the driver] they're the bombers," said a law enforcement official familiar with the account given by the SUV's owner, who was released unharmed after a 30-minute ordeal.
The Tsarnaevs stopped at three ATMs and got $800 cash from one of them, using the SUV owner's bank card. A surveillance camera at one bank recorded images of a young man resembling Dzhokhar Tsarnaev, dressed in a gray hooded jacket.
Denied cash at other ATMs, the suspects dropped off the vehicle owner at a gas station.
"The guy was very lucky that they let him go," Massachusetts State Police spokesman David Procopio said of the hostage, whose name was not immediately released.
Just after midnight, police responding to the crime spree spotted the Mercedes and gave chase. The SUV tore through the nearly empty streets of Watertown with as many as a dozen police cars in pursuit. The officers had to dodge homemade bombs hurled from the speeding Mercedes.
At 12:50 a.m., the SUV stopped in a residential neighborhood in Watertown. The brothers opened fire, igniting a gun battle witnessed by neighbors peering from houses. One of them, Andrew Kitzenberg, 29, said he saw two men engaged in "constant gunfire" with police. Richard J. Donohue, 33, a three-year veteran of the transit police force, was shot and seriously wounded during the confrontation.
After more than 200 rounds were traded over several minutes, some officers were out of ammunition and charged the brothers' position with their police car. The vehicle was disabled by gunfire from the Mercedes. Kitzenberg said he saw one of the shooters toss a metallic object — possibly a pressure-cooker bomb similar to the ones used in the marathon attack — in the direction of the police line. It rolled a few yards before detonating harmlessly.
Tamerlan Tsarnaev, now out of his car, attempted to lob a makeshift bomb at police, but the device exploded in his hand. While still firing a pistol with the other hand, police tackled and tried to subdue the 200-pound amateur boxer.
Dzhokhar Tsarnaev, apparently intending to help his brother, tried to ram the officers with the Mercedes. Instead, the officers lunged out of the vehicle's path and he ran over his brother and dragged him along the street before speeding off with police in pursuit.
Officers found the Mercedes abandoned and quickly sealed off neighborhoods in Watertown as they began a street-by-street search for the suspect. But police acknowledged later that there were not enough officers to establish a solid perimeter and that the suspect, who may have been wounded, had escaped.
Tamerlan Tsarnaev was taken to a hospital where he was pronounced dead on arrival. Hospital officials said he had been shot multiple times and suffered other wounds, apparently from an explosion.
Late Friday afternoon, state and local authorities held a news conference in Watertown and said they did not know Dzhokhar Tsarnaev's location. Shortly after 6 p.m., however, the streets of Watertown came alive with sirens — the police had cornered the suspect.

www.washingtonpost.com/world/national-security/how-string-of-events-involving-tsarnaev-brothers-unfolded/2013/04/19/629d19c6-a929-11e2-8302-3c7e0ea97057_story.html
Boy at Home in U.S., Swayed by One Who Wasn't

www.nytimes.com/2013/04/20/us/details-of-tsarnaev-brothers-boston-suspects-emerge.html
Tamerlan Tsarnaev
Wild claims: Zubeidat Tsarnaeva, mother of Tamerlan and Dzhokhar Tsarnaev, (pictured at a press conference on Thursday) claims that the Boston Marathon bombings were one big play with 'paint instead of blood'

www.dailymail.co.uk/news/article-2314663/Boston-bombers-crazed-mother-Zubeidat-Tsarnaeva-says-marathon-carnage-play-paint-instead-blood.html