Goodbye, my dear friend: Heart-breaking moment elephant bids farewell to fallen companion is captured by amateur photographer
Photographer John Chaney, 63, took this image of a female elephant performing a standing vigil by the carcass of her dead friend in a wildlife park in Botswana, Africa. Mr Chaney described how the mourning elephant scared off vultures and hyenas before wrapping her trunk around one of her dead friend's tusks. She then remained perfectly still over the body for several hours in an apparent tribute to her loved one.

www.dailymail.co.uk/news/article-2439543/Elephant-mourns-dead-friend-guards-body-moving-photo-vigil.html
Saved from a muddy grave: Baby elephant and its mother pulled from lagoon where they got stuck because they wouldn't be separated
By RICHARD HARTLEY-PARKINSON
Last updated at 12:05 PM on 11th November 2011
Trapped in the mud and sinking fast, this pair of elephants seemed doomed.
The mother had gone to the rescue of her baby, but had got stuck herself – leaving the rest of the herd understandably wary of trying to save them.
So, with no time to lose, a team of conservation workers sprang into action.

The family herd desperately tries to help the stricken mother and calf as they lie in the lagoon

The mud dries quickly making their mistake harder and the window of time for rescue much shorter

Workers managed to slip a rope under the baby before the hard work of pulling her free begins

The team of workers from South Luangwa Conservation Society pulls the calf first, avoiding the mother's thrashing trunk
Thinking on their feet, they first slipped a rope under and around the calf and began to pull.
A couple of attempts were made to release the youngster, but it wanted to stay with its mother and resisted.
Eventually, managing to avoid the mother's thrashing trunk, they dragged the calf to safety. But rescuing the much-heavier mother was always going to prove more difficult.
The rope had to be attached to the back of a tractor as they strained to pull her free. Finally, they succeeded in saving her from the muddy grave, and she raced off to rejoin the herd – and her baby.
The dramatic rescue took place on the flats of the Kapani Lagoon in Zambia.

The calf appears to be calling for help while her mother appears resigned to her fate before the rescue gets under way

Although the calf appears to be almost free of the drying mud pool, she looks back to her mother

Shouting and waving frantically, the team tries to deter the youngster from returning to its mother

A final attempt is made to pull the calf further away from its mother who continues to thrash around in the mud
Rachel McRobb, part of the rescue team from the South Luangwa Conservation Society, said: 'Most conservationists believe that man should not meddle with the natural order and that we should allow nature to run her course however cruel or grim it seems to be.
'We agree on the whole, unless a wildlife problem has been created by man (for instance in the case of snaring or being trapped in a fence, in which case it's justifiable to intervene) then nature should be left to her own devices. She has a plan.
'However – every rule has an exception and the dreadful plight of a baby elephant trapped in the mud of the Kapani Lagoon and her mother, who had also got stuck trying to save her yesterday had us all in a frenzy of activity. 
'We simply could not stand by and watch them struggle and slowly die.'
Before the rescue by workers from conservation society, Kapani Lodge and Norman Carr Safaris the mother and calf's herd tries to rescue the pair.
When they are unable to do anything, the team – along with members of the Zambian Wildlife Authority – moves in while the herd waits on the other side of some trees.
At one point, the calf appears to be calling for help while his mother appears resigned to her fate before the rescue gets under way.

Finally there is some joy as the ropes are removed from the calf elephant after it is pulled clear

A cousin from her herd calls to her and she makes a dash for freedom

The focus then turns to the mother elephant who is becoming tired after struggling for so long

After an inch by inch struggle, she eventually senses freedom and starts to scramble through the mud once more

A little weak and wobbly, she makes her escape to the delight of everyone who helped

After the long struggle, the mother makes a dash towards her calf and waiting family

www.dailymail.co.uk/news/article-2059502/Baby-elephant-mother-pulled-muddy-grave-conservation-workers-Zambia.html
British army joins fight against elephant and rhino poaching
Paratroopers in Kenya to train local rangers who are battling against increasingly militarised poachers
Adam Vaughan
theguardian.com,Friday 1 November 2013 12.22 EDT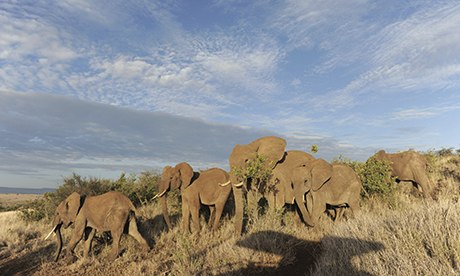 Demand for elephant tusks is driven mainly by the south-east Asian market.
Photograph: Roberto Schmidt/AFP/Getty Images
The British army is, for the first time in many years, taking a key role against the escalating illegal wildlife trade killing rhinos and elephants in Africa.
A total of 25 paratroopers in Kenya are on rotation at the army's base in Nanyuki, 200km north of Nairobi, and will provide training to Kenyan rangers who are battling increasingly militarised poachers.
Kenyan parliamentarians are currently considering proposals to increase the penalty for poaching from the current maximum punishment of three years in prison to lifetime sentences. Kenya said last month it was going to microchip the horn of every single one of the country's thousand rhinos in a bid to combat the trade, which is largely driven by demand from south-east Asia.
The environment secretary, Owen Paterson, who is in Kenya this week, said of the partnership: "Illegal poaching is having a devastating effect on some of the world's most iconic species and we must work together to tackle it. By joining forces with those on the front line in Kenya, our armed services will be able to provide training and support to the courageous people who put their lives on the line every day to protect these animals ."
Brigadier Duncan Francis, defence attache based in Nairobi, said: "This is an excellent example of the British army taking positive action on an issue that is close to many people's hearts. It is also the first time that we have carried out this kind of work. The 25 members of the parachute regiment involved in this training will be making an immense contribution to securing the future of some of the world's most endangered species."
The soldiers will not take part directly in operations against poachers, but provide training on how to patrol better, working more effectively as a team, and what to do if they encounter poachers. Members of the Kenyan Wildlife Service, Kenyan Forestry Service, and conservation organisation Mount Kenya Trust will receive the training in the coming weeks.
An NGO-organised conference in London next February will discuss how to improve law enforcement to tackle the illegal poaching of elephant, rhino and tiger parts.
www.theguardian.com/environment/2013/nov/01/british-army-elephant-rhino-poaching-kenya
The Wrong Way to Protect Elephants
sia together and hoping he was wise enough to find an out of the
www.nytimes.com/2014/03/27/opinion/the-wrong-way-to-protect-elephants.html
NAIROBI, Kenya — The staggering rise in the illegal slaughter of elephants, rhinos and other protected animals across Africa and Asia has ignited widespread outrage and prompted official measures to combat poaching — efforts that are certainly well-intentioned but mostly misdirected.
…Some 22,000 elephants were slaughtered in 2012, according to the United Nations, and in Tanzania, an average of 30 are lost to poachers every day. The United States State Department estimates that wildlife trafficking generates profits of between $8 billion and $10 billion annually, feeding into other illicit activities, including the arms trade and the narcotics industry.

www.nytimes.com/2014/03/27/opinion/mutiga-in-africa-all-conservation-is-local.html
Amazing Elephant Rescue