You got what you voted for…I'm proud to say I never voted for him or Reagan.
Obama Is Seen as Frustrating His Own Party
By CARL HULSE, JEREMY W. PETERS and MICHAEL D. SHEARAUG. 18, 2014

Harry Reid, the majority leader, and other senators have been dismayed by President Obama's attitude toward concerns of Democrats. Credit Gabriella Demczuk/The New York Times
WASHINGTON — The meeting in the Oval Office in late June was called to give President Obama and the four top members of Congress a chance to discuss the unraveling situation in Iraq.
But Harry Reid, the Senate majority leader, wanted to press another point.
With Mitch McConnell, the Republican leader, sitting a few feet away, Mr. Reid complained that Senate Republicans were spitefully blocking the confirmation of dozens of Mr. Obama's nominees to serve as ambassadors. He expected that the president would back him up and urge Mr. McConnell to relent.
Mr. Obama quickly dismissed the matter.
"You and Mitch work it out," Mr. Obama said coolly, cutting off any discussion.
Mr. Reid seethed quietly for the rest of the meeting, according to four separate accounts provided by people who spoke with him about it. After his return to the Capitol that afternoon, Mr. Reid told other senators and his staff members that he was astonished by how disengaged the president seemed. After all, these were Mr. Obama's own ambassadors who were being blocked by Mr. McConnell, and Secretary of State John Kerry had been arguing for months that getting them installed was an urgent necessity for the administration.

"It's fairly nonexistent. There's not much of a relationship," said Joe Manchin III, of West Virginia, when asked to characterize his relationship with the president. Credit Gabriella Demczuk/The New York Times
But the impression the president left with Mr. Reid was clear: Capitol Hill is not my problem.
To Democrats in Congress who have worked with Mr. Obama, the indifference conveyed to Mr. Reid, one of the president's most indispensable supporters, was frustratingly familiar. In one sense, Mr. Obama's response was a reminder of what made him such an appealing figure in the first place: his almost innate aversion to the partisan squabbles that have left Americans so jaded and disgruntled with their political system. But nearly six years into his term, with his popularity at the lowest of his presidency, Mr. Obama appears remarkably distant from his own party on Capitol Hill, with his long neglect of would-be allies catching up to him.
In interviews, nearly two dozen Democratic lawmakers and senior congressional aides suggested that Mr. Obama's approach has left him with few loyalists to effectively manage the issues erupting abroad and at home and could imperil his efforts to leave a legacy in his final stretch in office.
Grumbling by lawmakers about a president is nothing unusual. But what is striking now is the way prominent Democrats' views of Mr. Obama's shortcomings are spilling out into public, and how resigned many seem that the relationship will never improve. In private meetings, Mr. Reid's chief of staff, David Krone, has voiced regular dismay to lawmakers and top aides about White House operations and competency across a range of issues, according to several Democrats on Capitol Hill.
"Maybe if something isn't working, you'd say, 'What can I do better?' " said Senator Joe Manchin III, Democrat of West Virginia, expressing dismay that the president seemed to have little interest in taking a warmer approach with Democrats. "Maybe we wanted something different. But it kind of is what it is."
Asked to characterize his relationship with the president, Mr. Manchin, a centrist Democrat who has often been a bridge builder in the Senate, said: "It's fairly nonexistent. There's not much of a relationship."
Few senators feel a personal connection to the president.
"In order to work with people, you need to establish the relationship first before you ask for something," said Senator Angus King of Maine, an independent member of the Democratic caucus. "And I think one of the things the White House has not done well and the president has not done well is the simple idea of establishing relationships before there is a crisis."
Senator Claire McCaskill, the Missouri Democrat who was an early supporter of Mr. Obama's presidential bid, said that if her fellow Democrats were hoping for Mr. Obama to transform into a Lyndon B. Johnson late in his second term, they should quit waiting.
"For him, eating his spinach is schmoozing with elected officials," she said. "This is not something that he loves. He wasn't that kind of senator."
White House officials flatly reject the idea that Mr. Obama has failed to build deep ties with Democrats on Capitol Hill.
"The president is fighting to get Democrats elected and keep the Senate this fall because the stakes are too high for the American people," said Amy Brundage, the White House deputy communications director. "We're focused on making the case about Democrats' commitment to building on the progress we are seeing in the economy and growing the middle class, and we will continue to work in close partnership with the Democratic leadership throughout the fall."
Regarding the meeting with Mr. Reid, White House aides said that the senator had caught the president off guard by abruptly shifting the conversation away from a sober discussion of the security threats in Iraq. Later, Mr. Obama called Mr. McConnell to press him to clear the way for more confirmations.
The aides also cite 18 meetings this year that the president has held with groups of lawmakers, not including one-on-one phone calls or meetings. They say administration advisers routinely consult Democrats when crafting policy on climate change, the Affordable Care Act and the economy.
They point to four social events for Democrats that the president hosted this year, and said Mr. Obama had extended 250 invitations to members of Congress for bill signings so far this year.
But in interviews, several Democrats said that small talk at large, formal White House gatherings was not the kind of relationship they had in mind.
"I can count them on both hands, and they're big," said Senator Richard Blumenthal of Connecticut, referring to the number of times he has been to the White House since he took office in 2011, and to the size of the events. "It's more the interaction that I think has been somewhat lacking — the personal."
Early in his presidency, Mr. Obama largely outsourced his relations with congressional Democrats to Rahm Emanuel, his hyper-energetic first chief of staff. In the meantime, some Democrats say, they have just learned to accept the president's solitary nature and move on.
Representative Steny H. Hoyer of Maryland, the No. 2 House Democrat, said that compared with Presidents Bill Clinton and George W. Bush, Mr. Obama "is more self-contained, less gregarious." He added: "Does it somewhat take away from his spending more time with members of Congress and the Senate and politics? Yes." But, Mr. Hoyer said, "this president has reached out as much as any president in my view, been open to compromise as much as any I've observed."
If there was an opportunity amid the Washington paralysis for Mr. Obama to build relationships, it might have been during his frequent golf games. But only twice in more than 180 rounds has the president invited members of Congress to play with him, and only one Democratic official — Senator Mark Udall of Colorado — has joined a presidential foursome.
Democratic senators, for their part, do not always show up at White House events. Twelve were invited to a St. Patrick's Day reception this year, for example, but only one showed up.
Aides tried to encourage Mr. Obama to broaden his invitation list, to the White House and the links, but the idea went nowhere.
Several people noted that Mr. Obama's path to the White House helped prevent the kind of close relationships that other presidents forged with Democrats.
Unlike Mr. Clinton, who worked hard as a candidate to court every Democrat he could — from county chairmen to the socialite Pamela Harriman and Vernon Jordan, the superlawyer — Mr. Obama presented himself as unencumbered by the kind of close ties to the Democratic establishment that would mark him as a creature of Washington.
Senator Richard J. Durbin of Illinois, who said he had a "closer personal relationship with Mr. Obama than most" of his colleagues, said that while he was satisfied that the president had tried to reach out, Mr. Obama would never be a "creature of Washington" like Mr. Clinton. "I don't think that was ever in the cards, and I still don't," Mr. Durbin said.
Another point of tension between Senate Democrats and the White House has been the extent of the president's participation in the party's effort to retain the Senate this fall. A group with ties to Mr. Reid has established a "super PAC" to compete with the efforts by the billionaire brothers Charles G. and David H. Koch to tip control of the Senate to Republicans.
But the White House and Democrats have sparred over conditions that the administration has put on the president's participation, and Mr. Obama has no appearances currently scheduled for the group.
The back and forth is reminiscent of the 2008 campaign, when Mr. Obama and his aides made a decision that he would not appear on stage side by side with Democratic lawmakers, given the low popularity of Congress.
That thinking has continued in the White House. Members of Congress are usually invited to Mr. Obama's speeches, but they sit in the audience. The result is that Democratic members are robbed of a triumphant picture with the president that they can show their family members, while the White House sacrifices the loyalty of a once grateful lawmaker.
"The White House has something in common with the rest of America, and that is disdain for Congress," Ms. McCaskill said. "It is hard to blame them."
www.nytimes.com/2014/08/19/us/aloof-obama-is-frustrating-his-own-party.html
Alone Again, Naturally
AUG. 19, 2014
Maureen Dowd
WASHINGTON — Affectations can be dangerous, as Gertrude Stein said.
When Barack Obama first ran for president, he theatrically cast himself as the man alone on the stage. From his address in Berlin to his acceptance speech in Chicago, he eschewed ornaments and other politicians, conveying the sense that he was above the grubby political scene, unearthly and apart.
He began "Dreams From My Father" with a description of his time living on the Upper East Side while he was a student at Columbia, savoring his lone-wolf existence. He was, he wrote, "prone to see other people as unnecessary distractions." When neighbors began to "cross the border into familiarity, I would soon find reason to excuse myself. I had grown too comfortable in my solitude, the safest place I knew."
His only "kindred spirit" was a silent old man who lived alone in the apartment next door. Obama carried groceries for him but never asked his name. When the old man died, Obama briefly regretted not knowing his name, then swiftly regretted his regret.
But what started as an affectation has turned into an affliction.
A front-page article in The Times by Carl Hulse, Jeremy Peters and Michael Shear chronicled how the president's disdain for politics has alienated many of his most stalwart Democratic supporters on Capitol Hill.
His bored-bird-in-a-gilded-cage attitude, the article said, "has left him with few loyalists to effectively manage the issues erupting abroad and at home and could imperil his efforts to leave a legacy in his final stretch in office."
Senator Claire McCaskill of Missouri, an early Obama backer, noted that "for him, eating his spinach is schmoozing with elected officials."
First the president couldn't work with Republicans because they were too obdurate. Then he tried to chase down reporters with subpoenas. Now he finds members of his own party an unnecessary distraction.
His circle keeps getting more inner. He golfs with aides and jocks, and he spent his one evening back in Washington from Martha's Vineyard at a nearly five-hour dinner at the home of a nutritional adviser and former White House assistant chef, Sam Kass.
The president who was elected because he was a hot commodity is now a wet blanket.
The extraordinary candidate turns out to be the most ordinary of men, frittering away precious time on the links. Unlike L.B.J., who devoured problems as though he were being chased by demons, Obama's main galvanizing impulse was to get himself elected.
Almost everything else — from an all-out push on gun control after the Newtown massacre to going to see firsthand the Hispanic children thronging at the border to using his special status to defuse racial tensions in Ferguson — just seems like too much trouble.
The 2004 speech that vaulted Obama into the White House soon after he breezed into town turned out to be wrong. He misdescribed the country he wanted to lead. There is a liberal America and a conservative America. And the red-blue divide has only gotten worse in the last six years.
The man whose singular qualification was as a uniter turns out to be singularly unequipped to operate in a polarized environment.
His boosters argue that we spurned his gift of healing, so healing is the one thing that must not be expected of him. We ingrates won't let him be the redeemer he could have been.
As Ezra Klein wrote in Vox: "If Obama's speeches aren't as dramatic as they used to be, this is why: the White House believes a presidential speech on a politically charged topic is as likely to make things worse as to make things better."
He concluded: "There probably won't be another Race Speech because the White House doesn't believe there can be another Race Speech. For Obama, the cost of becoming president was sacrificing the unique gift that made him president."
So The One who got elected as the most exciting politician in American history is The One from whom we must never again expect excitement?
Do White House officials fear that Fox News could somehow get worse to them?
Sure, the president has enemies. Sure, there are racists out there. Sure, he's going to get criticized for politicizing something. But as F.D.R. said of his moneyed foes, "I welcome their hatred."
Why should the president neutralize himself? Why doesn't he do something bold and thrilling? Get his hands dirty? Stop going to Beverly Hills to raise money and go to St. Louis to raise consciousness? Talk to someone besides Valerie Jarrett?
The Constitution was premised on a system full of factions and polarization. If you're a fastidious pol who deigns to heal and deal only in a holistic, romantic, unified utopia, the Oval Office is the wrong job for you. The sad part is that this is an ugly, confusing and frightening time at home and abroad, and the country needs its president to illuminate and lead, not sink into some petulant expression of his aloofness, where he regards himself as a party of his own and a victim of petty, needy, bickering egomaniacs.
Once Obama thought his isolation was splendid. But it turned out to be unsplendid.
amydm3 is a trusted commenter San Francisco, CA
17 hours ago
Even though I fell for Obama in a big way back in 2008, as soon as he took office I wanted to change him! Isn't that the way of many romances, those heady days when Mr. Right can do no wrong, then "whoops!" he leaves his socks on the floor.Yes, I do wish Obama would come out to play more. I want him to woo us like he did before. I want him to barnstorm and inspire and give us hope, instead of retreating into his man cave. And yet… he's a capable guy who doesn't do "stupid stuff." If Hillary had gotten the nod, I'd be whining about something else. And if McCain had won… I might be rusticating Pago Pago.Just once, I'd like to choose someone for president who doesn't disappoint. Just once.
www.nytimes.com/2014/08/20/opinion/maureen-dowd-alone-again-naturally.html
A Brief History of President Obama Not Having Any Friends
http://news.yahoo.com/brief-history-president-obama-not-having-friends-162612159.html
For visitors who are unaware, The Guardian is the UK equivalent of The New York Times.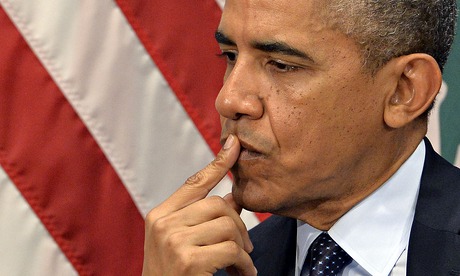 What the hell is Barack Obama's presidency for?
His ascent to power had meaning, but now his interventions are too rare and too piecemeal to constitute a narrative
…Barack Obama has now been in power for longer than [LB]Johnson was, and the question remains: "What the hell's his presidency for?" His second term has been characterised by a profound sense of drift in principle and policy. While posing as the ally of the immigrant he is deporting people at a faster clip than any of his predecessors; while claiming to be a supporter of labour he's championing trade deals that will undercut American jobs and wages. In December, even as he pursued one whistleblower, Edward Snowden and kept another, Chelsea Manning, incarcerated, he told the crowd at Nelson Mandela's "
funeral: " There are too many leaders who claim solidarity with Madiba's struggle for freedom, but do not tolerate dissent from their own people.
If there was a plot, he's lost it. If there was a point, few can remember it. If he had a big idea, he shrank it. If there's a moral compass powerful enough to guide such contradictions to more consistent waters, it is in urgent need of being reset.
Given the barriers to democratic engagement and progressive change in America – gerrymandering, big money and Senate vetoes – we should always be wary of expecting too much from a system designed to deliver precious little to the poor. We should also challenge the illusion that any individual can single-handedly produce progressive change in the absence of a mass movement that can both drive and sustain it.
Nonetheless, it was Obama who set himself the task of becoming a transformational political figure in the mould of Ronald Reagan or JFK. "I think we are in one of those fundamentally different times right now where people think that things, the way they are going, just aren't working," he said. It was he who donned the mantles of "hope" and "change".
www.theguardian.com/commentisfree/2014/feb/23/what-is-barack-obama-presidency-for
President Obama's foreign policy is based on fantasy
By Editorial Board, Published: March 2
FOR FIVE YEARS, President Obama has led a foreign policy based more on how he thinks the world should operate than on reality. It was a world in which "the tide of war is receding" and the United States could, without much risk, radically reduce the size of its armed forces. Other leaders, in this vision, would behave rationally and in the interest of their people and the world. Invasions, brute force, great-power games and shifting alliances — these were things of the past. Secretary of State John F. Kerry displayed this mindset on ABC's "This Week" Sunday when he said, of Russia's invasion of neighboring Ukraine, "It's a 19th century act in the 21st century."
That's a nice thought, and we all know what he means. A country's standing is no longer measured in throw-weight or battalions. The world is too interconnected to break into blocs. A small country that plugs into cyberspace can deliver more prosperity to its people (think Singapore or Estonia) than a giant with natural resources and standing armies.
Unfortunately, Russian President Vladimir Putin has not received the memo on 21st-century behavior. Neither has China's president , who is engaging in gunboat diplomacy against Japan and the weaker nations of Southeast Asia. Syrian president Bashar al-Assad is waging a very 20th-century war against his own people, sending helicopters to drop exploding barrels full of screws, nails and other shrapnel onto apartment buildings where families cower in basements. These men will not be deterred by the disapproval of their peers, the weight of world opinion or even disinvestment by Silicon Valley companies. They are concerned primarily with maintaining their holds on power.
Mr. Obama is not responsible for their misbehavior. But he does, or could, play a leading role in structuring the costs and benefits they must consider before acting. The model for Mr. Putin's occupation of Crimea was his incursion into Georgia in 2008, when George W. Bush was president. Mr. Putin paid no price for that action; in fact, with parts of Georgia still under Russia's control, he was permitted to host a Winter Olympics just around the corner. China has bullied the Philippines and unilaterally staked claims to wide swaths of international air space and sea lanes as it continues a rapid and technologically impressive military buildup. Arguably, it has paid a price in the nervousness of its neighbors, who are desperate for the United States to play a balancing role in the region. But none of those neighbors feel confident that the United States can be counted on. Since the Syrian dictator crossed Mr. Obama's red line with a chemical weapons attack that killed 1,400 civilians, the dictator's military and diplomatic position has steadily strengthened.
The urge to pull back — to concentrate on what Mr. Obama calls "nation-building at home" — is nothing new, as former ambassador Stephen Sestanovich recounts in his illuminating history of U.S. foreign policy, "Maximalist." There were similar retrenchments after the Korea and Vietnam wars and when the Soviet Union crumbled. But the United States discovered each time that the world became a more dangerous place without its leadership and that disorder in the world could threaten U.S. prosperity. Each period of retrenchment was followed by more active (though not always wiser) policy. Today Mr. Obama has plenty of company in his impulse, within both parties and as reflected by public opinion. But he's also in part responsible for the national mood: If a president doesn't make the case for global engagement, no one else effectively can.
The White House often responds by accusing critics of being warmongers who want American "boots on the ground" all over the world and have yet to learn the lessons of Iraq. So let's stipulate: We don't want U.S. troops in Syria, and we don't want U.S. troops in Crimea. A great power can become overextended, and if its economy falters, so will its ability to lead. None of this is simple.
But it's also true that, as long as some leaders play by what Mr. Kerry dismisses as 19th-century rules, the United States can't pretend that the only game is in another arena altogether. Military strength, trustworthiness as an ally, staying power in difficult corners of the world such as Afghanistan — these still matter, much as we might wish they did not. While the United States has been retrenching, the tide of democracy in the world, which once seemed inexorable, has been receding. In the long run, that's harmful to U.S. national security, too.
As Mr. Putin ponders whether to advance further — into eastern Ukraine, say — he will measure the seriousness of U.S. and allied actions, not their statements. China, pondering its next steps in the East China Sea, will do the same. Sadly, that's the nature of the century we're living in.
   
   
   

www.washingtonpost.com/opinions/president-obamas-foreign-policy-is-based-on-fantasy/2014/03/02/c7854436-a238-11e3-a5fa-55f0c77bf39c_story.html
Susan Rice embodies U.S. decline
Susan Rice ought to stay off "Meet the Press." The last time she was on, she misrepresented what led to the deaths of four Americans in Benghazi, Libya. On Sunday she was back, this time misrepresenting critics of the Obama administration's Syria policy. Last time her misrepresentation was unintentional. This time it wasn't. I prefer it, though, when she doesn't know what she's talking about.
www.washingtonpost.com/opinions/richard-cohen-susan-rice-and-the-retreat-of-american-power/2014/02/24/e9d347dc-9d82-11e3-9ba6-800d1192d08b_story.html

Ukraine crisis: Vladimir Putin has marched into the void left by Barack Obama
The end of US 'domination' of world geopolitics has brought a free-for-all for rogue states, lunatic extremists and long-dead imperial powers
Protesters battling to retake Independence Square in Kiev. If Ukraine eventually finds its way to some form of stable democracy, it will have been with precious little help from the West
Photo: DAVID ROSE FOR THE TELEGRAPH
By Janet Daley
6:25PM GMT 22 Feb 2014
The end of the Cold War was supposed to bring an era of global peace and understanding so secure that the great nations of the world would be able to beat their arms into ploughshares – or at least into lavish welfare programmes. Remember that? When was the last time you heard the phrase "peace dividend"?
That was going to be the material reward for the collapse of the Soviet Union and the glorious realisation that there would be no Third World War, and thus no endless arms race on which countries would have to spend vast proportions of their GDP. All the money that had gone into missile development, "Star Wars" defence systems and the proliferating technology of counter-intelligence could now be used at home for the benign purpose of improving civilian well-being. Democratic values and free-market economics could simply be allowed to produce their miracles of mass affluence and personal liberty in a climate of universal agreement.
As we watch events in Ukraine, Pakistan, and Afghanistan, and decide whether to laugh or cry over that short-lived daydream, we must come to terms with the fact that a great many powerful countries – including the most powerful one on earth – seem to be behaving as if that momentary fantasy actually came true. Barack Obama began his presidency with a tour of Eastern Europe in which he announced explicitly what America's intentions were in the wake of the dissolution of the Warsaw Pact. The long-range missile shield with which the United States had intended to guard those countries would be abandoned. After all, the threat was gone: Russia was no longer to be regarded a bellicose enemy. So Europe, which had relied so long on American military power, would have to be responsible for its own defences.
In other words, you can spend your own money on armaments from now on. The worldwide ideological battle between the US and the Soviet Union is over, so there's nothing in this for us. We're out of here. Bye bye.
And he meant it. While Kiev burned, and Europe scrambled a delegation of foreign ministers in some sort of belated attempt to come to terms with Vladimir Putin's phenomenally brazen power game, the Obama White House seemed very far away – still wittering about the Ukrainian government "crossing a line" while it deliberated the possibility of selective visa sanctions. Meanwhile, ministers from Germany, France and Poland were trying to talk turkey through the gunfire.
  
It was clear from the outset that the EU ministers saw the urgency of their mission very much in terms of their own particular national interests. Angela Merkel appeared to be the real driving force behind the attempt to achieve some sort of negotiated settlement. The European Commission and Baroness Ashton, the High Representative of the Union for Foreign Affairs and Security Policy (a title that could be set to music by Gilbert and Sullivan), were largely irrelevant. They say that all politics is local, which may or may or not be true. But it is certainly the case that, when it comes to it, all foreign policy is national.
Ukraine – a large, populous country which forms the critical, hazardous bridge between a neo-imperial Russia and a deluded European Union with fantasies of superpower status – is still in chaos. The biggest player in this game (which, incidentally, is poker, not chess) was Mr Putin, as the US president effectively acknowledged by telephoning him after the negotiated "agreement" with the EU foreign ministers was reached.
This is, in fact, only the latest hand which Putin has played in the new global power struggle. Ever since the Assad regime was allowed to gallop gleefully over Mr Obama's "red line" by using chemical weapons on its own people – thus showing the world that you could now openly defy America and suffer no consequences – Putin has believed himself (not unjustifiably) to be on a roll.
That this ex-KGB autocrat, presiding over a country with a dying population and an economy entirely dependent on the price of oil, has become the world's most powerful head of state (and its self-appointed chief peacemaker, of all things) is entirely attributable to the vacuum which has been left by America's retreat. It is quite true that the US could not militarily intervene in Ukraine (or in Georgia). But it is the void, that deliberate withdrawal from the global stage, which allows the new Imperial Russia to march across it with impunity.
Putin clearly felt confident that he could reclaim those countries which he believes to be within Russia's own sphere of influence, and justifiably respond with outrage when they got ideas of their own about being modern self-determining European states. There is a vacancy for world domination – and Putin, wearing his most implacable face, has put down his marker. Which raises the interesting question: back in the day, was Soviet aggression always about territory, rather than ideology?
Nor is Russia alone in this new imperial confidence. China is threatening Japan – America's established ally – over territory, in a way that would have seemed unthinkable a generation ago. And, ironically, it was to Asia that Mr Obama claimed he was shifting the attention of his foreign policy. In the absence of American leadership, it seems that any state looking for an expansionist adventure or a public relations bonanza can take a punt.
And, of course, al-Qaeda has noticed, too. The failure of the West to support the early stages of the Syrian resistance to Assad provided a splendid opportunity for it to stage a takeover of the rebellion with a ready-made case: the West has abandoned you to the regime that murders your children with poison gas. We are the only ones to whom you can turn for defence.
So tell me, those of you who have demanded for years that America and the West should end their "domination" of geopolitics, and their interference in the affairs of far-flung nations: is this what you wanted? A free-for-all for rogue states, lunatic extremists and long-dead imperial powers, in which the lives and freedoms of populations caught up in the murderous power play would count for nothing?
Over Syria, every crackpot and despot in the world saw America dither and shamelessly contradict itself – and in the end, do nothing. Every rebellious dissident in an autocratic country now appreciates that he and his fellow protesters are on their own, with only the feeble attempts of a collective European negotiating machine standing between them and annihilation.
If Ukraine – or Syria for that matter – eventually finds its way to some form of stable democracy, it will have been with precious little help from the West, which seems to be either uninterested (America) or useless (the EU). So I ask again: is this what those who longed for a post-American, post-Western world had in mind?
www.telegraph.co.uk/news/worldnews/vladimir-putin/10654966/Ukraine-crisis-Vladimir-Putin-has-marched-into-the-void-left-by-Barack-Obama.html
   
Is there change President Obama can believe in?
By Fred Hiatt, Published: February 23
It's a relatively small thing, really, a fix to the calculation of cost-of-living benefits that would have helped save Social Security.
But President Obama's decision to drop the reform from his proposed budget hints at a big To hear him in 2009, you would have thought that safeguarding Social Security was one such goal. "To preserve our long-term fiscal health, we must also address the growing costs in Medicare and Social Security," he said.
In 2010 , he was even more determined: "Now, even after paying for what we spent on my watch, we'll still face the massive deficit we had when I took office. More importantly, the cost of Medicare, Medicaid and Social Security will continue to skyrocket. … I refuse to pass this problem on to another generation of Americans."
Now the winds have shifted — his party wants to woo older voters by promising richer benefits, not reform — and Obama has moved on, too. Someone else will have to fix Social Security.
His turnabout on foreign policy has been even more dizzying. Three years ago, he was promising to support democracy movements throughout the Middle East and protect their advocates from government violence.
"Some nations may be able to turn a blind eye to atrocities in other countries," he said in March 2011. "The United States of America is different." In Libya, he said, "I refused to wait for the images of slaughter and mass graves before taking action."
He was lyrical on the moral imperative of U.S. involvement. "I believe that this movement of change cannot be turned back, and that we must stand alongside those who believe in the same core principles that have guided us through many storms. . . . [W]herever people long to be free, they will find a friend in the United States."
By fall of last year, Obama had formulated a different doctrine, perhaps to explain why the United States was a bystander to slaughter and mass graves in Syria.
The United States had core interests, he said, including "the free flow of energy from the region to the world." But "democracy and human rights and open markets" were not among them, though they continued to be things the United States looked upon favorably. Syria, he told the American people in September, was "someone else's civil war."
Which of these world views represented the real Obama? Did either of them? Did the president really once believe that the United States could no longer kick the can down the road on entitlement reform?
Defenders would say that his foreign policy is smartly situational, not inconsistent, and that he's done his bit for entitlement reform with cost-bending measures in Obamacare.
Obama has consistently supported some policies throughout his presidency: higher taxes on the rich; more money for education, infrastructure, research and renewable energy; health insurance for all Americans. These are, for the most part, sensible goals that a Republican leader would not have favored or prioritized.
They are also generic Democratic Party inclinations. Searching beyond those for Obama's inner core, questioning the connection between his eloquence and his conviction — these are old sports, for right and left. Just as Sarah Palin famously mocked "that hopey, changey stuff," so a left-leaning political science professor, Adolph Reed Jr., can bemoan Obama's "triumph of image and identity over content."
But if, as Reed recently argued in Harper's Magazine, Obama is "an unexceptional neoliberal Democrat with an exceptional knack for self-presentation," why do neoliberal Democrats feel disappointed, too?
According to the leftist critique, for example, Obama is carrying on the Clintonian, pro-trade agenda, pursuing ambitious deals with European and Pacific countries. But how much does he care? He recently sent to China, as U.S. ambassador, the pro-trade senator Max Baucus, who might have helped win congressional approval for the deals.
Why? Democrats wanted to appoint a replacement to the seat that Baucus had announced he would give up in 2015, get a head start on the campaign and marginally improve their chances of holding their Senate majority.
Which points to one possible clue: There has always been another election looming. In 2011, Obama cold-shouldered the fiscal commission he himself had appointed; Democrats feared that embracing its recommendations could hurt in 2012. Push trade or Social Security reform now, and Democrats might lose the Senate.
Any politician wants to win the next race. Whatever compromises he has to make, he can tell himself they're preferable to having no power at all.
But after November, the last election — the last excuse — will be past. You wonder whether Obama will wake up then and try to remember what, exactly, he came here to accomplish.

www.washingtonpost.com/opinions/fred-hiatt-is-there-change-president-obama-can-believe-in/2014/02/23/437c4966-9a75-11e3-b931-0204122c514b_story.html

You got what you voted for