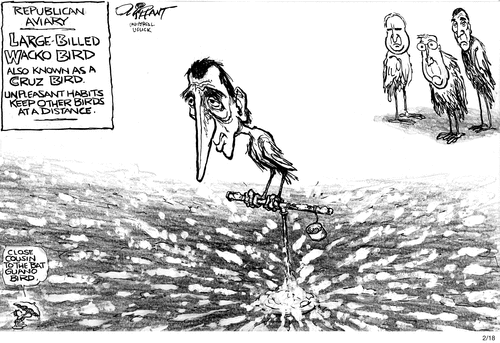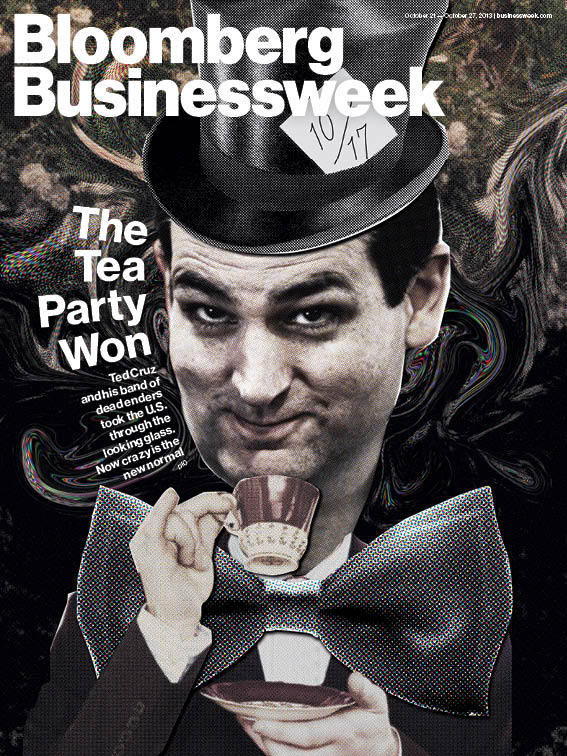 Who Is The Real Ted Cruz?
Vladimir Lenin said, "There are no morals in politics; there is only expedience. A scoundrel may be of use to us just because he is a scoundrel."
I can't think of a better description of Ted Cruz's relationship with the DC-Wall Street Establishment – Cruz being the scoundrel of course. Cruz's claim of not being a tool of the political elite is like Bill Clinton telling the world, "I did not have sexual relations with that woman."
Webster's definition of a scoundrel is a dishonest or unscrupulous person, and Cruz has become quite adroit at saying one thing while his history shows him doing the other. Rather than the outsider he claims to be, Ted Cruz is the ultimate insider, former top Bush 41 policy aide and globalist, Ivy Leaguer, and establishment insider.
Not many conservatives coming out of Princeton and Harvard. "I'm just sayin,'" Ted, as said in the debate.
There is no better example of this than Calgary Ted's actions surrounding the big Wall Street banks and their secret funding of his political ascension. Cruz has been gorging at the table of the ultimate insider of all insiders – Goldman Sachs and Citibank .
You may recall in a recent Fox Business Network debate that Cruz, in Mr. Haney from Green Acres voice, declared to one of the moderators, "The opening question [moderator Jerry Seib] asked — would you bailout the big banks again — nobody gave you an answer to that. I will give you an answer — absolutely not."
What else would you expect a scoundrel to say who had secretly secured big sweetheart loans from Goldman and Citibank — by leveraging his retirement accounts –– to fund his 2012 U.S. Senate campaign. Loans which the Calgary Ted conveniently forgot to disclose to the Federal Election Commission. These are the very retirement accounts that he said he and his wife said he cashed in to fund his senate race. In other words, Ted lied.
At the same time Ted's bulging 2016 campaign accounts and supporting Super-PACs are stuffed with big oil and gas money. He knows how to play the game.
And perhaps the ultimate hypocrisy of the native born Canadian is that his spouse, Heidi, by all accounts a lovely wife and mother, has been employed by Goldman Sachs since 2005. She is on leave as managing director and regional head of private wealth management. Heidi is a proud member of the lefty Council on Foreign Relations, advocates of one world government and the New World Order.
Heidi is not a bit player in the Cruz campaign with those credentials but rather an integral part of the campaign's fundraising efforts. As reported by CNN last year, "She works the phones the way she worked them when she was at Goldman," said Chad Sweet, the Cruz campaign's chairman, who recruited Heidi to work at the giant investment bank."
Yet we are to believe that the big Wall Street banks have no leverage over Ted Cruz? Why didn't Heidi Cruz resign from Goldman Sachs instead of taking a leave of absence? That's like saying Bill Ayers and Saul Alinsky have had no influence on Barack Obama.
The other inside connection that hits one like a baseball bat is the Bush connection.
Ted was George W.'s brain when he ran for President. A top policy adviser. Ted maneuvered for Solicitor General in Bush World but settled for a plum at the Federal Trade Commission. Ted's a Bushman with deep ties to the political and financial establishment.
Ted and Heidi brag about being the first "Bush marriage" – they met as Bush staffers which ultimately led to marriage. Cruz was an adviser on legal affairs while Heidi was an adviser on economic policy and eventually director for the Western Hemisphere on the National Security Council under Condoleezza Rice. Condi helped give us the phony war in Iraq.
Also conveniently missing from Heidi's Wikipedia bio is her service as Deputy U.S. Trade Representative to USTR head Robert Zoellick. At USTR Heidi worked on U.S.-China trade policy- the one Donald Trump talks about so much.
And Chad Sweet, Ted Cruz's campaign chairman, is a former CIA officer. Michael Chertoff, George W. Bush's former Secretary of Homeland Security, hired Sweet from Goldman Sachs to restructure and optimize the flow of information between the CIA, FBI and other members of the national security community and DHS. Chertoff and Sweet co-founded the Chertoff Group upon leaving the administration.
A known tactic of the intelligence community is the use of strategic communications as a "soft power" weapon against it adversaries — the creation of false narratives by the effective use of all media — social, digital, newspaper, print, etc. Combined with denial and deception, it can be a potent force. Glenn Beck and Mark Levin are abetting this.
Despite his ability to lie with a straight face (sadly Nixonian) on his support for amnesty and TPP, he got nailed by Senator Marco Rubio on the debate. Acting like a prick in the U.S. Senate was the core of Ted's disciplined effort to bury his old school ties and reinvent himself as a modern-day Jesse Helms and supposed Conservative outsider. It's a ruse.
As we get closer to the Iowa Caucus and New Hampshire Primary, Cruz and his establishment puppet masters are engaged in an aggressive strategy against Trump. The false narrative of course being that Cruz is the outsider while Trump is the insider. Nothing could be farther from the truth.
In its most simplistic terms – the power elite have no leverage over Trump – nothing.
Cruz, on the other hand, is the establishments quisling, spawned by the Bushes and controlled by Wall Street, who became a strident "outsider" only four years ago.
The U.S. Constitution does not defined "native born" citizen, nor have the courts. That Ted was eligible to run for office as a citizen only 15 months ago is weird. Trump's right the Democrats would have a field day with Calgary Ted, the Manchurian, Canadian Candidate.
Don't get me wrong. Ted Cruz is a smart, canny, talented guy who has run a great "long race" campaign. He aspires to be Reagan but trust me he's Nixon. Right down the incredible discipline and smarts playing the political game. Ted Cruz is not who he appears to be. As the bible says, "Beware of false prophets, who come to you in the clothing of sheep, but inwardly they are ravening wolves." In this case we must beware a Canadian bearing gifts.
Written with Paul Nagy
http://dailycaller.com/2016/01/26/who-is-the-real-ted-cruz/
http://dailycaller.com/2016/03/10/ted-cruz-a-bush-by-another-name/
Lots of Words and Few Facts From Ted Cruz

www.bloomberg.com/news/2013-09-25/lots-of-words-and-few-facts-from-ted-cruz.html
Why we miss Kay Bailey Hutchison

www.chron.com/opinion/editorials/article/Why-we-miss-Kay-Bailey-Hutchison-4898405.php?cmpid=opedhprr
Houston Chronicle regrets endorsing Ted Cruz

www.msnbc.com/news-nation/houston-chronicle-regrets-endorsing-ted-cruz
Texans Stick With Cruz Despite Defeat in Washington

Michael Stravato for The New York Times
Bruce Labay, a businessman in El Campo, Texas, on Friday. Mr. Labay expressed his support for Senator Ted Cruz by attaching plastic foam cups to a fence.
By MANNY FERNANDEZ
Published: October 18, 2013
HOUSTON — Senator Ted Cruz, Republican of Texas and the face of the angry right, has been criticized, lambasted and lampooned for putting the nation through a 16-day government shutdown and the prospect of a financial default.
Bloomberg Businessweek put him on its cover as a mad hatter who defines how "crazy is the new normal." Representative Peter T. King, a Republican from New York, has said Republican leaders need to go after Mr. Cruz and accused him of bringing the country "to the edge of ruin."
In Texas, it is a different story.
Drivers speeding down a busy highway about 70 miles outside Houston have been greeted with two blunt messages that Bruce Labay put up at his oil field services business. One declared that Mr. Labay was tired of softhearted Republicans, though he used a more colorful adjective. The other read, "We Need More Republicans Like Ted Cruz."
Mr. Labay, 55, made his signs by sticking 1,200 plastic foam cups, one by one, into the loops of his chain-link fence, a 90-minute project that filled much of the fencing around BL Oilfield Services in the town of El Campo.
"I was proud of him," Mr. Labay said of the state's junior senator. "I was proud he was a Texan. I wish they would have held firm, and we'd still be shut down."
Home states and districts are usually loyal to their senators and representatives in times of political crisis. But the continued support for Mr. Cruz among Texas Republicans illustrates something larger: the cultural and political divide that continues to widen between a red state that President Obama lost by nearly 16 points in the 2012 election and the blue or even purple parts of the country where Mr. Cruz's tone and tactics have caused outrage and consternation.
"Texas is not America," said Matt Mackowiak, a Republican political consultant in Austin and the former spokesman for Mr. Cruz's Republican predecessor in the Senate, Kay Bailey Hutchison. "It's in America, but it's not America. National polls don't mean anything. Democrats haven't won a statewide office in Texas since 1994. There are no Peter Kings in Texas."
In recent interviews here, Republican elected officials, voters and political strategists said the fact that Mr. Cruz and House Republicans lost their fight with the White House over Mr. Obama's health care law was a side issue. What mattered, they said, was that Mr. Cruz, who had campaigned on shaking up the status quo in Washington, had fulfilled his promise. From local party leaders to county commissioners to Tea Party members, Mr. Cruz was praised for his courage.
"For a lot of us, this was refreshing," said Mike Gibson, chairman of the Republican Party in Fort Bend County in suburban Houston. "We had a politician who said what he was going to do and then did it. Most Texas Republicans have been tired of our elected officials talking tough in Texas and then going to Washington and going along."
Mr. Cruz, for one, said his Texas support has been uplifting. "The many supportive letters, e-mails, calls and social media comments we've received from Texans since Labor Day have been inspirational," he said in a statement. "Hearing from constituents keeps me focused on the concerns of the people I work for and the issues I ran on. That's what matters."
Of course, not everyone is applauding, particularly Democrats in Texas, where Republicans control both houses of the Legislature.
"I just kind of shake my head and say, 'I don't believe this guy is for real,' " said State Senator John Whitmire, a Houston Democrat. "Many individuals in his own party say he has helped the Democrats. I'm more concerned about what he's done to the country than the good he's done to any Democratic effort."
Moderate and establishment Republicans in Texas privately grumble about Mr. Cruz and his handling of the budget fight. They criticize the wisdom of forcing a government shutdown over a health care law that the Supreme Court validated, and wondered how much of Mr. Cruz's battle was done to benefit his presidential aspirations.
"I grit my teeth and bear it," said a prominent Texas Republican, who spoke on the condition of anonymity because he said he wanted to avoid an intraparty fight. "I really hope he implodes sooner rather than later."
One of the few public displays of any Texas backlash came in an editorial on Wednesday in The Houston Chronicle. Headlined "Missing Kay," the editorial criticized Mr. Cruz, whom the paper endorsed last year, for being "part of the problem in specific situations where Hutchison would have been part of the solution." But even that criticism was muted. When news outlets reported that The Chronicle had "unendorsed" Mr. Cruz, the paper's editors clarified that they did not pull their endorsement, but were evaluating the work of elected officials in an "active, ongoing process."
The doubts from Texas Republicans invariably play out behind closed doors. They do not fear Mr. Cruz's personal wrath, but that of his supporters and the possibility of a primary fight if they criticize him. Mr. Cruz won his Senate seat by defeating one of the most powerful Republicans in Texas, Lt.
Gov. David Dewhurst, a victory that exposed the ideological split between moderate establishment Republicans and the younger, more aggressive and conservative movement of grass-roots activists and Tea Party supporters.
One county commissioner in Collin County in North Texas, Matt Shaheen, a Tea Party supporter of Mr. Cruz's who welcomed Mr. Cruz's father, Rafael Cruz, to Plano at a Republican event on Tuesday, was asked what moderate Republicans were saying about Mr. Cruz. "I don't know," he replied. "I don't hang out with the moderates."
Mr. Dewhurst, who is now running for re-election against three prominent Republican conservatives, has tried to steer farther to the right after his loss to Mr. Cruz. In the aftermath of the government shutdown, Mr. Dewhurst complimented his former Senate primary opponent. "I give Senator Cruz credit for using every means available to draw attention to one of the biggest examples of Washington's overreach, the financial disaster known as Obamacare," Mr. Dewhurst said in a statement.
State Senator Dan Patrick, a Houston Republican who endorsed Mr. Dewhurst last year over Mr. Cruz but is now one of the three conservatives running against Mr. Dewhurst for lieutenant governor, said he supported Mr. Cruz's stand and principles.
"Texas likes a fighter," Mr. Patrick said. "He's only been there 10 months, but he's proven to be a fighter. If our party doesn't lead as a bold conservative party, then we will disappear as a party."

www.nytimes.com/2013/10/19/us/politics/texans-stick-with-cruz-despite-defeat-in-washington.html

www.businessweek.com/articles/2013-10-17/ted-cruzs-donors-are-satisfied-customers
The crux of Ted Cruz
ByKathleen Parker, Published: October 18
Two things are often said in this town: "A day is a year in politics." And, "It's all about 2014."
Combined, the two statements mean that much can happen between now and the midterm elections next year, when Republicans hope to hold the House and gain the Senate — and Democrats intend to hold the Senate and recover the House.
Each respective goal is equally possible depending on the same single significant determinant: whether Ted Cruz stops talking.
While that thought settles in, we pause to note that, right now, the idea that Republicans could convince anyone that they should be allowed to deliver milk, much less hold the nation's purse strings, seems remote. But things do change quickly around here. With the debt crisis postponed and the government up and running again — faith in the efficiency of which underscores the direness of our political straits — most Americans will settle into the season's serial holiday distractions and move right along.
Nothing to see here. Even the barricades are gone.
As all know, the fixes recently applied are temporary and the new year brings fresh problems — our gluttonous debt and the implementation of Obamacare, just to name a couple.
Tax and entitlement reforms were the real targets for House Speaker John Boehner, who tried in vain to convince his colleagues that they'd have greater leverage during debt-ceiling negotiations. Instead, the tea party insurrectionists in the House, incited by Cruz, opted to defund Obamacare, a doomed effort from the start. Farewell, leverage.
This is history now. What lies ahead is the GOP's internal struggle to determine which wing of the party prevails. And which wing prevails likely will determine the balance of power come 2014. Suffice to say, if Cruz's voice drowns out the so-called establishment voices, Republicans may as well start investing in camels. The desert awaits.
The House may be less problematic because many Republicans, thanks to gerrymandering, are secure in their conservative districts. The Senate poses greater challenges, but the National Republican Senatorial Committee has been busy recruiting and training candidates who can bridge the gap and win both primaries and general elections, especially focusing on states where Democrats either are vulnerable (South Dakota, Montana and West Virginia).
This is where Cruz reenters the picture. Extreme voices may win primaries, but they do not win statewide elections, especially in a nation where a majority self-identify as centrist. This is a lesson Republicans have learned before, but stubborn factions, who would rather tether themselves to a flagpole than run the flag across a finish line, seem unable or unwilling to embrace it.
Think back to 2010 and Delaware's Christine "I'm Not a Witch" O'Donnell and Nevada's explained that rape pregnancies are gifts from God, and Todd Akin, whoexplored the nuances of "legitimate rape."
Cruz comes off as smarter than all of the above combined. There's a reason so many outside the Beltway admire him. To those who feel jilted by the system and insulted by critics, he is a vision of palm trees, dates and fountains. He articulates what they think and feel and, as a bonus, he's got that Latino thing.
But Cruz is a mirage, an idea conjured in a fantasy that can't be realized in reality. Like many successful politicians (and narcissists), he reflects back to others their own projected needs and desires. But then reality sets in — the debt-crisis deadline looms, or the defunding ruse is exposed as theater — and only dust and dung remain among the shards of mirrored glass.
To the most important point, the crux of Cruz: The only person who loves Ted Cruz more than Ted Cruz is Barack Obama. It is the White House and Democrats, not Republicans, who have advanced the idea that Cruz is the face of the GOP. Remember when the White House insisted that Rush Limbaugh was the leader of the GOP? These narratives are useful to Democrats because they loonify the GOP, driving voters away from their fiery rhetoric just as intense heat repels any sensible mammal.
Cruz and Co. were more useful than Democrats could have hoped for as Obamacare limped out of the starting gate. One can bet that the greater the "glitches," the bigger the megaphone for Cruz, the useful genius.
The only hope for Republicans going forward is that Cruz resists the allure of his own voice.

www.washingtonpost.com/opinions/kathleen-parker-the-crux-of-ted-cruz/2013/10/18/81e3184a-381b-11e3-80c6-7e6dd8d22d8f_story.html
A Ted Cruz on Every Corner
By GAIL COLLINS
Published: October 18, 2013
Have you noticed how many lawmakers from Texas were doing crazy things during the government shutdown debacle?
We need to discuss this as a matter of simple justice. These days, when you say "Texas" in the context of heavy-breathing Republican extremism, everybody immediately thinks of Senator Ted Cruz. Which is really unfair when there are so many other members of the state delegation trying to do their part.
I am thinking, for instance, of Representative Randy Neugebauer, who harangued an innocent park ranger about a shutdown-shuttered war memorial, insisting that the ranger and her colleagues should be "ashamed of themselves."
Or Representative Louie Gohmert, who created a mild diversion when he charged that John McCain, an opponent of the shutdown, "supported Al Qaeda" in Syria. (McCain said that he did not take offense because "if someone has no intelligence, I don't view it as being a malicious statement.")
Or Representative Steve Stockman, who accused the president and House Democrats of "curb-stomping veterans."
Or Representative John Culberson, who cried "Let's roll!" in an apparent belief that shutting down the government was equivalent to resisting 9/11 terrorists.
Or Representative Pete Sessions, who summed things up rather neatly with: "We're not French. We don't surrender."
See? Share the credit.
The nation keeps searching for signs of a resurgent political center, but there aren't many hopeful peeps coming out of Texas. The pragmatic Texas Republican establishment is pretty much on its back, hyperventilating.
The old center-right standard-bearer, Lt. Gov. David Dewhurst, is desperately trying to wipe out his reputation as a mainstream politician while he runs for re-election.
"I don't know about you, but Barack Obama ought to be impeached," he told a Tea Party gathering recently, with more fervor for the cause than for grammatical construction.
Texas Democrats, who haven't won a statewide race in a generation, spent the last decade whimpering and waiting around for all the Hispanic children to grow up and start voting. However, this year, they have an exciting candidate for governor: Wendy Davis, the state senator who starred in that famous 11-hour filibuster against anti-abortion legislation this past summer.
Some people think Davis, who is canny, energetic and attractive, might actually have a chance to win. But anybody who could just raise money and get 45 percent of the vote would be the party's biggest star since Ann Richards.
Davis's opponent will probably be the state's attorney general, Greg Abbott, who has already amassed enough cash to buy Nebraska. Abbott once provided supporters with his vision of the attorney general's duties: "I go into the office, I sue the federal government, and then I go home."
So there's that.
Even the bottom of the ticket is going to have little sparks of strange. Next year, the race for Texas land commissioner will feature a new-generation Bush, Jeb's son George P. The singer Kinky Friedman says he's running for the Democratic nomination for agriculture commissioner on a legalize-marijuana platform. The rest of us will just sit here and mull the fact that Texans feel the need to make these jobs elective.
Meanwhile, back at the ranch, Gov. Rick Perry appears to be planning to run for president again. And since Ted Cruz is pretty clearly planning a run, too, there could be two Texans in the Republican primary debates. Maybe an all-Texas ticket!
While Cruz has been trying to win the hearts of American voters by spreading fear, terror and economic chaos, Perry has been wandering around the country, criticizing other states for their high taxes and bragging about job growth in Texas.
Economic development has, indeed, been impressive, thanks mainly to the state's plentiful land and cheap housing. On the downside, a large part of Texas seems to be running out of water. Once the presidential debates kick off, perhaps Perry's opponents could lift their water glasses and make sloshing sounds every time he talks about growth. Ross Ramsey, a columnist for The Texas Tribune, suggested the governor's critics might carry bags of gravel to remind the world that Texas' under-maintained roads have deteriorated to such an extent that the highway department has let some of them revert from pavement to pebbles.
This week, Perry's in Israel, burnishing his foreign affairs credentials and promoting the Texas economy. Do not expect a critique of the Israeli tax code.
In Texas, there's so much craziness, it's hard for a normal crazy to get attention. Imagine an election year with both Perry and Cruz on television every night. To get any airtime, the Texas guys in the House of Representatives would have to call for impeachment while bungee jumping. While waving "Secede!" signs. While carrying unconcealed weapons.
Remember the Alamo.

www.nytimes.com/2013/10/19/opinion/collins-a-ted-cruz-on-every-corner.html?ref=opinion
…Although Cruz's irrational demand that Obamacare be gutted precipitated the crisis, the debate ultimately focused on fiscal priorities, including the critical need to address the unsustainable costs of social programs, namely Social Security, Medicare and Medicaid.
Arriving at solutions to ensure that these programs last isn't rocket science, but it does require courage and compromise. Democrats must be open to reforms, such as raising eligibility ages over time and means-testing benefits, while Republicans have to permit higher taxes.

www.dispatch.com/content/stories/editorials/2013/10/20/fiscal-problems-can-be-fixed–with-compromise.html
With Iowa appearances, Ted Cruz casts himself as national conservative leader

Nati Harnik/AP –
Sen. Ted Cruz, R-Texas, stands in front of pheasants that were shot during a hunt hosted by Rep. Steve King, R-Iowa, on Saturday, Oct. 26 in Akron, Iowa. Cruz attended the Iowa GOP's annual fundraising dinner in Des Moines, Iowa, on Friday.
By Ed O'Keefe, Published: October 26
LE MARS, Iowa — Sen. Ted Cruz used a series of long-scheduled appearances here this weekend to cast himself as the natural leader of a burgeoning conservative movement that nearly derailed the new health-care law.
"Two weeks ago it was impossible, this week President Obama and the Democrats are saying 'Holy cow, this thing really isn't working,' " Cruz (R-Tex.) told a supportive crowd here a few hours after bagging two pheasants in a hunt with Rep. Steve King (R-Iowa). ("There were about a dozen Dick Cheney jokes," Cruz said.)
No politician spends a weekend in Iowa in the chilly fall of an odd-numbered year unintentionally — and fewer political visitors bring along their spouse. But with his wife, Heidi, watching just beyond the television cameras, Cruz told reporters at a state Republican Party fundraiser Friday night in Des Moines that he's focused on staying and fighting in the Senate and increasing participation in the conservative movement.
"I'm convinced we're facing a new paradigm in politics; it is the paradigm of the rise of the grassroots. It has official Washington absolutely terrified," he said in his speech to party loyalists.
Republicans failed to strip apart the health-care law, but "I think we accomplished a great deal," Cruz told the Des Moines crowd. The weeks-long spending impasse "elevated the national debate of what a disaster, what a train wreck, how much Obama­care is hurting millions of Americans in this country."
He warned that the decision by Senate Democrats to repeatedly vote together against GOP-backed budget proposals will spell trouble for vulnerable House and Senate Democrats during next year's midterm elections.
"I promise you, come October and November of 2014, we're going to see TV commercials all over this country of Democrats who voted to give themselves a special exemption to Obamacare that their constituents don't get and there are going to be some Democratic members of Congress and of the Senate who are suddenly going to be experiencing the joys of the private health-care system," Cruz said.
But the senator reminded the crowd that during midterm election cycles "nothing, nothing, nothing, nothing matters more than an energized and active and vocal grass-roots America."
That's an especially relevant message to Iowa Republicans, who are sharply divided among an upstart tea party, a libertarian-inspired group of activists running the state party and mainstream Republicans more closely aligned with party stalwarts Gov. Terry Branstad and Rep. Tom Latham (Iowa).
David Fischer, co-chairman of the state party, began the fundraiser Friday night by saying: "There are some of the old guard in the Grand Old Party that frankly don't approve of the kind of principled leadership being shown by the new conservative leaders" such as Cruz and Sens. Rand Paul (Ky.) and Mike Lee (Utah). "Some Republicans have even gone so far as to call them names," he said. "Well I have a name for these principled new leaders, too. I call them the future."
In an interview, Branstad called Cruz "a new face and one of the up-and-comers in Washington." But when asked about 2016, Branstad said he's looking to other GOP governors to step up. "We have many Republican governors that are doing many great things in terms of attracting businesses and jobs and reducing taxes and reforming education. I think governors are providing the leadership we don't see in Washington, D.C."
Party activists who attended the dinner said they generally appreciated Cruz's efforts to generate GOP opposition to the health-care law.
Jeff Shipley, 25, of Fairfield is one of many younger GOP activists here who backed former congressman Ron Paul (R-Tex.) for president in 2008 and 2012. He said Cruz's decision to mount a filibuster in opposition to the health-care law had been the subject of spirited discussions at a recent party meeting.
"If I were going to talk for 21 hours, I'd probably also talk about other issues, like President Obama's failure of leadership. Like our situation in Syria, and the fact that we're spying on each other," Shipley said.
But Nancy Tucker, a corn and soy bean farmer in Colo, said she spent several hours watching Cruz's filibuster and appreciated how he mixed serious comments with a reading of the Dr. Seuss classic "Green Eggs and Ham."
"And we were just tickled to wake up in the morning and see that he was still doing it," Tucker said. "All these people say they're going to defund Obamacare and they're not trying. And he is."

www.washingtonpost.com/politics/with-iowa-appearances-ted-cruz-casts-himself-as-national-conservative-leader/2013/10/26/d4c414ba-3e56-11e3-a94f-b58017bfee6c_story.html
Wearing out his welcome, already?
By Jennifer Rubin October 28 at 11:00 am
Thanks, in part, to the 24/7 media environment, a politician can quickly wear out his welcome. A pol's constant presence in social, online and old media provides endless opportunities to repeat empty sound bites — and to quickly bore audiences. Shrill condemnation of every and any perceived outrage only makes it worse, tiring out an audience, which quickly learns that anger and outrage are a pol's default emotions. There are few politicians — California Gov. Jerry Brown (D) is one — who remain interesting over a long period of time because they  generate fresh ideas or at least express their ideas in fresh and intriguing ways.
The self-proclaimed upstarts of the newly invigorated right wing already seem to be wearing thin even among their base. The shutdown squad's nose-dive in the polls confirms a limited appeal with a wider electorate (even in Utah). Maggie Haberman reports that Sen. Ted Cruz (R-Tex.) delivered a "stem winder" in Iowa. And yet, "Cruz received a good response from the crowd, but he wasn't cheered wildly. And his speech, lengthy and meandering, began to lose some of the people in the audience as it went on." Cruz's spiel is now familiar, if not shopworn. He's been betrayed by the "establishment." He is fighting for America. Liberalism, if unchecked by Cruz and his followers, will destroy America. It's all delivered at a fevered pitch in a tone vacillating between disdain and melodrama. If you've heard it a few times, you don't need to listen again. He exhausts even those who haven't heard it before after the first or second time he repeats the same tropes.
There are three other problems that some of his cohorts must realize as they move onto more attainable goals or more positive themes.
First, a lot of what he says is just wrong. He wasn't done in by Republican senators; his plan was doomed from the start, and he never had Democratic votes to pass a defunding bill. He didn't make Obamacare the top issue; he distracted from it and the greatest success the party has had has been post-shutdown. (The first time he debates capable people who will decry his fabulist history, you wonder what he'll do.)
Second, his diatribe in Iowa was entirely devoid of his own positive agenda. Yes he told us what he is against (the "establishment," violations of the First and Fourth Amendment, Obamacare) but not who and what he is for. If there is a single problem with the right this is it, as American Enterprise Institute president Arthur Brooks wrote: "A strategy of fighting against things — instead of fighting for people — and simply blaming Obama for the current stalemate would lead the GOP into the same trap into which the president has fallen." Like Barack Obama in 2007, Cruz hasn't really done anything or given voters anything but platitudes.
Third, whether in Iowa or elsewhere, activists in Iowa realize the party needs a winner, not an aggrieved loser:
One veteran activist in the state was blunt about where Cruz finds himself now, after a 21-hour speech on the Senate floor featuring his reading of Dr. Seuss's "Green Eggs and Ham." "The whole national spectacle has endeared him to base activists but also disillusioned more traditional Republicans and money types," said the activist, noting that some of those donors — not the ones on the two coasts, but GOP bundlers elsewhere in the country — "were actually open to him. So, he has damaged himself with that crowd." Craig Robinson, a former state party executive director who runs a news website called The Iowa Republican, said Cruz has lost some of his sheen since the shutdown. He's become "polarizing," Robinson said, adding that his methods are of concern to pragmatists in the party who want to win.
In 2016 Cruz, not unlike Sarah Palin in 2012, will need to decide if he risks his status and future on a risky presidential run, which would force him to test just how popular he is and exactly what he wants to do, or if he favors — as his comrade in demagoguery Jim DeMint has done — playing the martyr and the gadfly. There are plenty rooting for him to do the former, if only because it would greatly undermine his determination to do the latter.

www.washingtonpost.com/blogs/right-turn/wp/2013/10/28/wearing-out-his-welcome-already/
Ted Cruz le douche televangelist