Yet with the presidential election race now entering its final stages, Mr Obama appears strangely reluctant to address the Afghan issue. Apart from brief references to his achievement in ending the war in Iraq, and his intention to do the same in Afghanistan, the conflict has almost been forgotten so far as the election campaign is concerned, with the Obama team determined to steer clear of an issue that no longer enjoys much popular support. The same goes for Mitt Romney, the Republican candidate. Despite his bellicose statements on national security issues such as Iran, he has been reticent about Afghanistan, beyond echoing the calls for a timely withdrawal: in his keynote speech to the Republican convention, he failed to mention the war, or to pay the customary tribute to America's forces overseas.

www.telegraph.co.uk/comment/telegraph-view/9579084/The-forgotten-war.html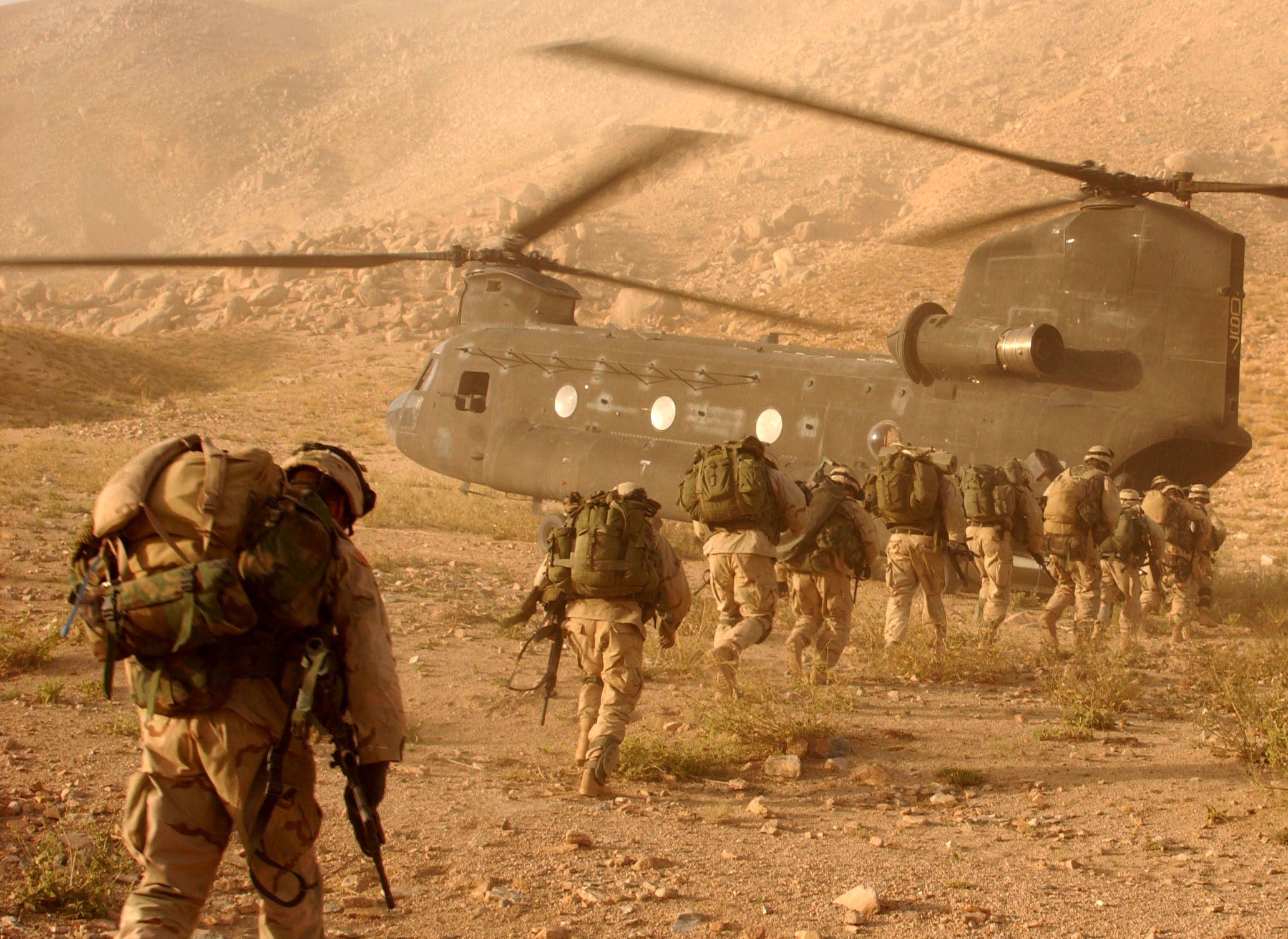 On 10/1, NBC correspondnet Richard Engel reported from a remote village in Wadak Province. The elders are preparing for civil war to combat the Taliban when NATO forces withdraw. Correspondent Engel recounted the history of our involvement in Afghanistan; the operative word was futility.
Friends and neighbors: the level of our involvement in Afghanistan served no strategic purposes. The political elite have wasted thousands of lives and billions of dollars for no discernible reason. Iraq is a disaster. Our economy is like a baseball team with 8 players. The corporate power elite and their political enablers, contrary to the impession they try to convey, are really unconcerned with the lives and aspirations of ordinary people. Unlike a Lincoln or Roosevelt, present day politicians do not identify with the grind of daily life…trying to play by the rules to make it and raise a family.
In the days of spears, swords, and arrows, the strong oppressed the weak: take your cow, take your land, take your daughter, take your life. Today, with democracy, the strong hide behind the law: money is political speech and corporations are people — ENRON, Global Crosing, Tyco, Goldman Sachs, B of A.
They outsource jobs, take your pension and take your peace of mind for the future.
Everyone wants to go to work, not experience problems, and come home. Everyone wants their children to be a success, to pay their rent or mortgage, to keep the government out of daily life, and we want the home team to win.
Romney has omitted the core details of his tax, spending, housing, financial regulation, and health-care plans for a reason. He's made a point of distancing himself from core elements of the Ryan budget — like the Medicare cuts — for a reason. His campaign made a judgment that they had a better chance of winning this election if they made it about Obama's policies rather than Romney's.
The Obama campaign, conversely, can't escape their policies. The Affordable Care Act is out there. The Dodd-Frank financial regulations are out there. The stimulus is out there. There's nothing really to do but defend them, and to try and create a contrast with the other side.

http://www.washingtonpost.com/blogs/ezra-klein/wp/2012/09/06/bill-clinton-wonk-in-chief/
If the presidential campaign were a TV program, it would have been canceled by now. Viewers have clicked off, stupefied by a campaign that has one overriding issue, the economy, and virtually nothing else. What started out with such energy — a "Gong Show" of debates, one unlikely and bizarre front-runner after another — has settled into a slog in which two "firsts," an African American and a Mormon, are proving the efficacy of the melting pot: They have both been reduced to gruel.
Over at the television networks, the ratings tell the tale. One network news executive says they're seeing viewers flee politics. There was a flash of interest around the time of the Republican debates but little since. When politics come up, the ratings show a real dip in viewership — presumably a rush to the bathroom or the kitchen. (Could this be a cause of the obesity epidemic?)

www.washingtonpost.com/opinions/richard-cohen-a-presidential-campaign-with-no-drama/2012/06/25/gJQAOCZp2V_story.html
The 2012 presidential campaign can be characterized as the Seinfeld Election,
about nothing. Instead of promoting commerce to benefit the economy – jobs – the Obama campaign promotes social issues.
Who has the spine to fix the United States' finances?

www.washingtonpost.com/opinions/who-has-the-spine-to-fix-the-united-states-finances/2012/06/03/gJQAijP7BV_story.html
Out-sourcer-in-chief?
The Obama campaign misused a recent Washington Post article to label Romney as an "outsourcer in chief."

http://www.washingtonpost.com/opinions/could-a-truly-honest-politician-become-president/2012/07/06/gJQAGK4OSW_story.html
Focus groups provide the sound-bites. The President's re-election commercials focus upon Mitt Romney's past instead of developing a positive meassage for the future – change?
Big Money has frozen politics into the status quo. Though the President can tout his success in saving the auto industry, a no-brainer policy, the country needs ideas for the present and the future.
Republicans, McConnell and Boehner, do not respect this president — he does not inspire fear.
Skip the falsehoods, Mr. President, and give us a plan
By Dana Milbank,
I had high hopes for President Obama's speech on the economy. But instead of going to Ohio on Thursday with a compelling plan for the future, the president gave Americans a falsehood wrapped in a fallacy.
The falsehood is that he has been serious about cutting government spending. The fallacy is that this election will be some sort of referendum that will break the logjam in Washington.
Fallacy first. "Both parties have laid out their policies on the table for all to see," Obama said. "What's holding us back is a stalemate in Washington between two fundamentally different views of which direction America should take. And this election is your chance to break that stalemate."
He's right about the stalemate. But he's absolutely wrong that November offers an opportunity to break it. No scenario shows either party with a chance of amassing a solid governing majority of the sort Obama had when he took office. The way to break the stalemate is through compromise, not conquest.
And that leads to the falsehood. Despite his claim that "both parties have laid out their policies on the table," Obama has made no serious proposal to fix the runaway entitlement programs that threaten to swamp the government's finances.
"My own deficit plan would strengthen Medicare and Medicaid for the long haul by slowing the growth of health-care costs — not shifting them to seniors and vulnerable families," Obama said. "And my plan would reduce our yearly domestic spending to its lowest level as a share of the economy in nearly 60 years."
That's incorrect. As Politifact has pointed out, Obama's claim that he would reduce annual domestic spending to a percentage of gross domestic product not seen in 60 years is true only if you don't count the enormous spending on programs such as Medicare. (Obama presumably means he would cut domestic discretionary spending to a 60-year low, a lesser boast.)
Of more concern is Obama's nonsensical claim that he has a deficit plan that would strengthen Medicare for the long haul. He has called for doubling Medicare spending over the next 10 years, to nearly $1 trillion in 2022. His cuts in the rate of growth amount to just a few percentage points. As The Post's Lori Montgomery has reported, the president's 2013 budget marked "the second year in a row Obama has ignored calls to restructure Social Security and Medicare entitlement programs."
Nothing in Obama's speech came close to a proposal to fix the debt problem; he dealt with that only at the end of the 54-minute address — largely by complaining about Republicans' refusal to consider higher taxes on the wealthy.
Obama alleged, correctly, that Republicans' refusal to countenance tax increases scuttled the Bowles-Simpson plan and the Senate's Gang of Six plan. He argued, also correctly, that Republicans' refusal to budge on taxes is "the biggest source of gridlock in Washington today." He's on solid ground, too, in saying Republicans would end Medicare as we know it.
But none of that is going to help Obama, because he hasn't come up with a viable alternative. It isn't enough to claim that the other guys have a bad plan (though they do). As Democratic strategists Stan Greenberg and James Carville wrote in a memo widely discussed last week, Obama needs a "new narrative" that "focuses on what we will do to make a better future for the middle class."
Instead, Obama's speech was a rehash of earlier proposals — such as sending more Americans to community college and spending more on clean energy. Those plans for additional spending would be more credible if he had a plausible plan to reform entitlement spending, the biggest driver of future debt.
Undoubtedly, Obama would take heat from his base if he put forth a serious plan along the lines of Bowles-Simpson, whose recommendations he never quite embraced. Doing so would also blunt his political advantage as the defender of Medicare from Republican marauders.
But taking a stand on concrete fixes for the nation's fiscal problems would get Obama credit for strong leadership — and he would be able to tell the new economic narrative Americans crave. There's even the remote chance that taking such a gamble would bring Republicans to the table.
Early in 2010, Obama told ABC's Diane Sawyer that he'd "rather be a really good one-term president than a mediocre two-term president." Now he is acting in the opposite manner: hoping to limp to a second term without addressing the looming debt crisis — which, as JPMorgan Chase's Jamie Dimon told Congress last week, has contributed to today's economic malaise.
Even at this late stage, Obama should take a risk. The election, whatever the result, won't make things any easier.
www.washingtonpost.com/opinions/dana-milbank-obama-needs-a-plan-now/2012/06/14/gJQAjvbXdV_story.html
"What are we trying to do in this administration? Why does he want a second term? Would he tell us? What's he going to do in the second term? More of this? Is this it? Is this as good as it gets? Where are we going? Are we going to do something the second term? He has yet to tell us. He has not said one thing about what he would do in the second term. He never tells us what he is going to do with reforming our healthcare systems, Medicare, Medicaid, how is going to reform Social Security. Is he going to deal with long-term debt? How? Is he going to reform the tax system? How? Just tell us. Why are we in this fight with him? Just tell us, Commander, give us our orders and tell us where we're going, give us the mission. And he hasn't done it.

And I think it's the people around him, too many people around, they're little kids with propellers on their heads. They're all virtual. Politics, this social networking, I get these e-mails, you probably get them. I'm tired of getting them. Stop giving them to me. I want to meet people. Their idea of running a campaign is a virtual universe of sending e-mails around to people. No it's not. It's meetings with people, it's forging alliances. It's White House meetings and dinner parties that go on till midnight, and he should be sitting late at night now with senators and members of Congress and governors working together on how they're going to win this political fight that's coming.

www.theblaze.com/stories/chris-matthews-has-harsh-words-for-obama-i-dont-have-a-sense-that-hes-ever-had-a-meeting/
AGAIN? SECOND TIME IN TWO DAYS WASHINGTON POST HAMMERS TEAM OBAMA FOR FALSE CLAIMS
www.theblaze.com/stories/again-second-time-in-two-days-washington-post-hammers-team-obama-for-false-claims/
Lies from Obama seem especially bad
It's becoming increasingly clear that President Obama is not burdened with too heavy a commitment to honesty.
This is hardly a shock about any politician, but revelations of dishonesty hurt some more than others. Obama was supposed to be different. He was a "lightworker," an ocean-tamer and cynicism-slayer. In short, he was supposed to be too good to be true — and it turns out he was.
That's one obvious conclusion to be drawn from the all-too-delayed vetting of the president's biography, most notably in David Maraniss' aptly titled new book, Barack Obama: The Story, but also at news outlets such as National Review Online and Big Journalism.
For instance, as New York Times reporter Janny Scott first reported over a year ago, Obama lied about his cancer-stricken mother being denied coverage for her pre-existing condition. Yes, he was close to the Rev. Jeremiah Wright and former terrorist Bill Ayers. Yes, he was a member of the socialist New Party (as my National Review colleague Stanley Kurtz has documented).
In the spirit of charity, some of the lies can be chalked up, at least in part, to fanciful family narratives. Obama claims his maternal grandfather fought in Patton's army and liberated Nazi death camps. He says his paternal grandfather was tortured by the British imperialists in Kenya. He's claimed his Indonesian stepgrandfather was killed by the Dutch while fighting for independence. None of that is true.
What I find more interesting are the lies Obama tells not so much about himself, but about society. In Dreams from My Father, Obama tells readers that he struggled with racism and racial alienation all his life. He wasn't a starter on his high-school basketball team because he played "black" while his coach coached "white." He confabulated a black friend in high school who, like himself, was shunned for racial reasons. He wrote of a "big fight" with a white ex-girlfriend who, after seeing a racially charged play, "started talking about why black people were so angry all the time."
As Maraniss methodically shows, these and other tales of racial woe were false. His friend in high school was half-Japanese, not black, and neither of them was racially ostracized. The girlfriend, Genevieve Cook, never saw the play and never said anything of the sort.
No doubt Obama experienced racial animosity, but not enough to fill a memoir with true examples. No doubt life had been unfair to him, but not so unfair as to keep him from Harvard, the Senate or the White House.
The lies, the self-made myths and the whole gestalt of the Obama story boil down to a man who has struggled with adversity and proven himself better than the society that spawned him. In effect, we don't deserve Barack Obama. Perhaps this helps explain why Michelle Obama once said that the impending nomination of her husband was the first time in her adult life she was proud of America.
One pattern holds from beginning to end of the tale: When things go wrong for the young Barack, the truth must be bent to show that it's somebody else's fault. Young Barry Obama had the right stuff as a basketball player but was denied by the smallness of his coach's vision. Older Barack Obama, likewise, has the right stuff, but voters, or the Republicans, or maybe the Europeans, are too small to recognize his greatness. The truth of the matter has nothing to do with it.
Jonah Goldberg is editor at large of National Review Online.

www.dispatch.com/content/stories/editorials/2012/06/24/lies-from-obama-seem-especially-bad.html
In Pennsylvania coal country, voters not thrilled with their choices
In Pennsylvania coal country, voters not thrilled with their choices: This part of Pennsylvania is a political and economic battleground, a transitional place loaded with history, with memories of prosperity but also of vicious poverty.

www.washingtonpost.com/national/health-science/in-pennsylvania-coal-country-voters-not-thrilled-with-their-choices/2012/06/03/gJQA5pHzBV_story.html
White working class leans Republican
Saturday June 23, 2012 7:00 AM
What's up with the white working-class vote? For years, the blue-collar worker was the star of the New Deal Democratic coalition. It was for him, and his wife and family, that Democrats taxed the rich, invented Social Security and supported militant labor unions.
Well, that was then. White working-class voters — or white non-college voters, the exit poll group most closely approximating them — are now a mainstay of the Republican coalition.
Ronald Brownstein, a clear-sighted and diligent analyst of demographic voting data, provided some useful perspective in his most recent National Journal column. His bottom line is that in order to win this year, Mitt Romney must capture two-thirds of white non-college voters — about the same percentage that voted for Ronald Reagan in his 1984 landslide re-election.
The reason Romney must do so well is that white non-college voters are a smaller part of the electorate now than they were then. In 1984, they comprised 61 percent of all voters. In 2008, they comprised 39 percent.
The good news for Romney is that Republicans have run near these levels for some time. In 2008, the white non-college vote went 58 percent to 40 percent for John McCain. In 2010, the white non-college vote for the House of Representatives was 63 percent to 33 percent Republican. Current polling shows Obama at about 33 percent among this group.
Another way to look at it is that in 1984, white non-college voters came in 7 percent more Republican than the national average. In 2008 and 2010, they came in 11 to 12 percent more Republican than average.
Such data tends to undercut the theory, first advanced by Ruy Teixeira and John Judis in their 2002 book The Emerging Democratic Majority, that as minorities and working women became a larger share of the electorate, Democrats could command majorities for years to come.
That was true in some years, like 2006 and 2008, but not in others, like 2009 and 2010. Then it was counterbalanced by heavy Republican margins among white non-college voters.
As a majority group — 86 percent of voters in 1940 and 61 percent in 1984 — white non-college voters could not be ignored by either party. Party platforms and candidate rhetoric were aimed at them. A party that failed to win over this group, like the Democrats in 1984, would suffer landslide defeat.
Things operate differently with groups that are self-conscious minorities. One party may antagonize them in search of votes from other groups. Democrats' efforts to woo blacks and liberal college-educated whites turned off the white working class in the 1980s.
Barack Obama seems to be doing the same thing this year. His support of same-sex marriage won't help with non-college whites. Nor will his blocking the Keystone pipeline with all its blue-collar jobs.
Add to the list the contraception mandate being denounced in Catholic churches. And the move to give work permits to something like 1 million illegal immigrants.
In each case, Obama is trying to instill enthusiasm in a core Democratic constituency — and poking a finger in the eye of the white working class.
Meanwhile, there is evidence that demographics may not work as strongly for Democrats as many predicted.
The Pew Hispanic Center reported in April there has been more reverse migration to Mexico than Mexican migration into the U.S. since 2007, and the Pew Research Center reported Monday that in 2010 there were more mostly high-skill immigrants from Asian than mostly low-skill immigrants from Latin America.
According to exit polls, Latinos made up 9 percent of the electorate in 2008 and 8 percent in 2010. They voted 67 to 31 percent for Obama in 2008 and 60 to 38 percent Democratic for House candidates in 2010.
Obama's support among them seems to be holding up well, but Latino turnout may be low, as it was in California's primary. The virtual halt in Latin immigration makes it unlikely Latinos will double their share of the electorate soon, if ever.
Meantime, there are four times as many white non-college voters leaning Republican by a similar margin. Demographics can work both ways.
Michael Barone is a senior political analyst for The Washington Examiner.

www.dispatch.com/content/stories/editorials/2012/06/23/white-working-class-leans-republican.html
The president picks up support from just 35% of white voters overall. That's eight points below the 43% of the white vote he won in 2008. Among white Democrats, 17% currently plan to vote for Romney.

www.rasmussenreports.com/public_content/politics/obama_administration/daily_presidential_tracking_poll
Latinos: Obama's big electoral treasure trove

www.washingtonpost.com/blogs/the-fix/post/latinos-obamas-big-electoral-treasure-trove/2012/06/18/gJQA6mhflV_blog.html
Another Dem to skip convention

www.politico.com/blogs/on-congress/2012/07/another-dem-will-skip-dnc-127973.html
Obama facing boycott from his own superdelegates in white working class states who refuse to give him the nomination

www.dailymail.co.uk/news/article-2162304/President-Obama-facing-boycott-superdelegates-white-working-class-states.html
DEM. CONGRESSMAN REFUSES TO SAY IF HE'LL ENDORSE OBAMA DURING TV INTERVIEW
www.theblaze.com/stories/dem-congressman-refuses-to-say-if-hell-endorse-obama-during-tv-interview/
Hispanics: the rising power in the United States
Hispanic voters are a growing force in America – are they strong enough to swing victory President Barack Obama's way?

For the time being, the Republicans are being saved by the relative lack of engagement among Hispanic communities. Only half of eligible Latinos voted in the 2008 presidential election, compared to two-thirds of white and black voters Photo: Getty Images
By Jon Swaine
8:15 PM BST 26 Jun 2012
Marie Lopez Rogers works on the same scorched patch of Arizonan desert today as she did 55 years ago. But while her hands were torn to ribbons as an eight-year-old picking cotton with her Mexican immigrant grandparents, these days the worst she has to fear is a paper cut.
Mrs Lopez Rogers, 63, is now mayor and sits in an air-conditioned office at City Hall. "I feel I have lived the American dream," she says, blinking away a tear. Millions hope to follow her. The population of the city she leads, Avondale, more than doubled in the last decade, much of the growth driven by the Hispanic families who during that time became its majority.
Here in Arizona's searing West Valley, home to four of the country's 10 fastest-growing cities, America's future is on display. The US Census Bureau said last month that for the first time more ethnic minority babies were being born than white infants, with Latinos leading the charge. It was a milestone on the road to a nationwide non‑white majority, currently forecast for 2042.
With 50,000 of them turning 18 every month, the 21-million-and-rising Latinos eligible to vote are being eyed keenly by those pursuing power. Ballots from growing Hispanic populations, who tend to be younger and Democrat-leaning, could dictate whether Barack Obama, who led among them by 26 points in 2008, can edge victories this year in crucial battleground states such as Colorado, Florida, Nevada and Virginia – and therefore hold on to the White House. "Latinos will be a deciding factor in this election," an Obama campaign source agrees.
Over the past fortnight the President has struck a sharp one-two punch in the fight for their vote. On Monday he emerged largely victorious from an attempt to quash Arizona's draconian anti-illegal immigrant law at the US Supreme Court. This came after his surprise order this month that law-abiding young illegal migrants must no longer be deported and may obtain work permits.
It is the latest in a series of political gambles aimed at minorities, following his endorsement of gay marriage. While Mr Obama insists it is merely "the right thing to do", it also highlights his acute need to hold together the coalition of ethnic minorities, young voters and women that swept him to power in 2008, and the lack of leeway he enjoys in addressing the central issue of the campaign: America's unemployment crisis and faltering economic recovery.
His strategists are counting on increased turnout among the centre-Left outweighing the potential backlash. "Sure, there is a risk," says Jamal Simmons, a Democratic consultant, "but many of the people who don't like it were never going to back him." Polls repeatedly show that Arizona's SB1070 law – which gave state police wide-ranging powers against suspected illegal immigrants – is actually supported by a majority of Americans.
Yet both of Mr Obama's recent moves are highly popular in the Latino communities they most affect. "It's exciting, and will reignite enthusiasm among his base," says Juan Escalante, a spokesman for Dream Activist, a Florida-based pressure group.
Meanwhile, this question of what to do about the country's roughly 11 million "undocumented" immigrants, an estimated 360,000 of whom are in Arizona, has hamstrung appeals to Hispanic voters by the Republican Party. Its older, whiter core vote – whose influence is gradually fading – favours a zero-tolerance approach more akin to that of their former presidential hopeful Herman Cain, who once proposed an electrified border fence surrounded by alligators. On his path to the party's presidential nomination, Mitt Romney capitalised on an atmosphere that saw Rick Perry, the Republican Texas governor and no lily-livered liberal, booed for saying in a primary debate that those opposing state-subsidised education for the children of illegal migrants did not "have a heart". But the ultra-tough line on immigration that served him well with the party activists now threatens to do Mr Romney serious harm among a rapidly changing nation.
"Mitt Romney has dug himself into a great big hole with Latinos on immigration," Ana Navarro, an adviser to John McCain on Hispanic issues in 2008, said this week.
Romney pledged to veto the Dream Act, a comprehensive plan to offer citizenship for young illegal migrants, which inspired Mr Obama's work permit scheme and is supported by 86 per cent of Latinos. In trying to please all sides over the Arizona immigrant law, his campaign has attempted a balancing act that on Monday saw a spokesman forced to avoid answering whether Mr Romney actually supported the law, or just Arizona's right to enforce it, an excruciating 21 times.
Polls suggest the Republicans' Latino deficit may have grown to as much as 43 points. During a talk with top donors in April, unaware that reporters could hear him, Mr Romney conceded that failing to improve this "spells doom for us". Susana Martinez, the Republican Governor of New Mexico, has said she is in "no doubt" that many fellow Latinos have been "alienated" by the party's strident rhetoric.
Amid the shifting demographics, it is a problem that threatens to put the Republicans out of power for a generation. Ed Gillespie, a senior strategist for Mr Romney, told a conference in Florida this year: "In 2020, if the Republican nominee for President gets the same percentage of the white, Hispanic, African-American and Asian vote that John McCain got in 2008, a Democrat will be elected to the White House by 14 percentage points."
For the time being, the Republicans are being saved by the relative lack of engagement among Hispanic communities. Only half of eligible Latinos voted in the 2008 presidential election, compared to two-thirds of white and black voters. This is hardly a feasible long-term electoral strategy, however, and Mr Obama's party are determined to destroy it. They are already looking beyond this year's campaign, ploughing resources into Arizona, a staunchly conservative state that has only voted Democrat for president once in 60 years and looks likely to plump for Mr Romney this time.
In the Latino slums outside Phoenix, they are working to seize control of the next era of politics. In a grubby strip mall eight miles east of Mayor Lopez Rogers's office, next door to the 99-cent shop, a dozen fresh-faced volunteers pound phones. Beneath banners declaring "Sí, se puede!" – "Yes, we can" – they are busy urging residents to vote Obama in November.
They are aiming to replicate the accomplishments of their office's previous tenants. From this base last November, Danny Valenzuela, a 36-year-old Mexican-American fireman and plucky political novice, was elected to Phoenix's city council. In an upset, he beat Brenda Sperduti, an experienced white Republican businesswoman.
Aided by a team of activist students, most of them illegal immigrants, Mr Valenzuela upturned the conventional wisdom, boosting Latino turnout in his seat by almost 500 per cent. "We came out and knocked on all 72,000 doors in the district," he said. "In the end, something special happened."
There was no secret formula. "Fact is, I showed up," he said. "Many of these doors had never been knocked on by anyone running for office."
"It had a huge impact," conceded Ms Sperduti. "I wish I had reached out to them more."
"The Valenzuela campaign was historic and amazing," says an Obama campaign official. "The potential votes are here, frankly, and they showed us we can win them." With many poor and computer-less Latino families missed by the hi-tech targeted campaigning Mr Obama's team pioneered four years ago, it is via an intensified version of this old-fashioned person-to-person approach that Democrats believe they can turn this red state blue – maybe not this time, but perhaps in the next election.
Failure to engage similarly with this increasingly vocal section of the American public – and, whether their traditional supporters like it or not, to take a more conciliatory stance towards the latest arrivals in this nation of immigrants – may spell disaster for the Republicans, and Mr Romney knows it.
Attempting to strike a softer tone, he told a conference of Latino politicians in Florida last week: "We owe it to ourselves as Americans to ensure that our country remains a land of opportunity". But he may be too late. Having already seized its opportunities, Hispanic voters are ready to change America's politics.
"We are building power from our communities, and making them part of the system – which right now they are not," says Viridiana Hernandez, a 21-year-old student and illegal immigrant who worked on the Valenzuela campaign. "We are not just fighting for candidates, or an election, we're fighting for our lives."

www.telegraph.co.uk/news/worldnews/us-election/9356524/Hispanics-the-rising-power-in-the-United-States.html
Biden warned Obama that his plan for Afghanistan was 'flawed' and said he had 'profound questions' about the mission

Casting doubt: Joe Biden's reservations about military expansion in Afghanistan are well known but a newly-discovered memo shows exactly what he warned President Obama

www.dailymail.co.uk/news/article-2164368/Biden-warned-Obama-plan-Afghanistan-flawed-said-profound-questions-mission.html
When President Obama addressed the nation on May 1 from Bagram Air Base in Afghanistan, he said, "The tide has turned" and promised to "end the war." He said he would keep bringing U.S. troops home "at a steady pace", and he said that by 2014 "the Afghans will be fully responsible for the security of their country."
But if that is so, why, then, are thousands of U.S. troops likely to still be in Afghanistan at least until 2024?
Because almost everything Obama said in his speech was false.
The tide hasn't turned. The Taliban still control vast swaths of Afghanistan, and shortly after Obama left, they set off bombs in Kabul itself, demonstrating that they are capable of carrying out daring attacks even in the most heavily guarded areas.
"We've built strong Afghan security forces," Obama asserted. But these forces seem incapable of defending the country by themselves. And some of them have the bad habit of firing on U.S. soldiers.
Matthew Rothschild:
"The way Obama managed the Israeli-Palestinian issue exhibited many of the hallmarks that have defined his first term. It began with a bid for historic change. But it foundered ultimately on his political and tactical misjudgments, on a lack of trusted relationships and on an outdated view of a conflict that many of his closest advisers imparted to him. And those advisers — veterans of the Middle East peace issue — clashed among themselves over tactics and turf. "

www.washingtonpost.com/politics/obama-searches-for-middle-east-peace/2012/07/14/gJQAQQiKlW_story.html
Op-Ed Columnist
All the President's Privileges
By ROSS DOUTHAT
Published: June 23, 2012 160 Comments
WHEN George W. Bush was president of the United States, it was an article of faith among liberals that many of his policies were not just misguided but unconstitutional as well. On issues large and small, from the conduct of foreign policy to the firing of United States attorneys, the Bush White House pushed an expansive view of executive authority, and Democrats pushed right back — accusing it of shredding the constitution, claiming near-imperial powers and even corrupting the lawyers working in its service.
That was quite some time ago. Last week the Obama White House invoked executive privilege to shield the Justice Department from a Congressional investigation into a botched gunrunning operation by the Bureau of Alcohol, Tobacco, Firearms and Explosives. The previous week the White House invoked powers that President Obama himself had previously claimed to lack, unilaterally revising the nation's immigration laws by promising to stop enforcing them against a particularly sympathetic population.
Both moves were entirely characteristic of this presidency. Obama campaigned as a consistent critic of the Bush administration's understanding of executive power — and a critic with a background in constitutional law, no less. But apart from his disavowal of waterboarding (an interrogation practice the Bush White House had already abandoned), almost the entire Bush-era wartime architecture has endured: rendition is still with us, the Guantánamo detention center is still open, drone strikes have escalated dramatically, and the Obama White House has claimed the right — and, in the case of Anwar al-Awlaki, followed through on it — to assassinate American citizens without trial.
These moves have met some principled opposition from the left. But the president's liberal critics are usually academics, journalists and (occasionally) cable-TV hosts, with no real mass constituency behind them.
The majority of Democrats, polls suggest, have followed roughly the same path as the former Yale Law School dean Harold Koh, a staunch critic of Bush's wartime policies who now serves as a legal adviser to the State Department, supplying constitutional justifications for Obama's drone campaigns. What was outrageous under a Republican has become executive branch business-as-usual under a Democrat.
On domestic matters, the liberal silence is even more deafening. It was conservatives who pointed out the dubious constitutionality of Obama's immigration gambit. Among liberals, it was taken for granted that the worthy ends were more important than the means.
Two forces are at work here. One is the intersection of power and partisanship, which produces predictable hypocrisies when one side passes from critiquing authority to embodying it.
These turnabouts can be quite startling. A progressive Web site noted the irony of liberal opinion's shift on Gitmo: "Under the leadership of a President who campaigned with the promise to close the facility but reneged, support for the detention center may be at its highest level ever."
But these turns are not always a bad thing. Sometimes it was the original partisan critique that was overdrawn, and sometimes power educates rather than corrupts. If the view from the State Department looks different from the view from Yale Law School, it isn't necessarily the State Department that's wrong.
What's more perilous is the extent to which these sudden shifts reflect something unique to constitutional debates — namely that arguments for constitutional limits tend not to sway people who don't already have a political incentive to support them.
Partisan about-faces are inevitable, but they're arguably easier on constitutional matters. Change your mind on immigration, and your constituents may well revolt. Change your mind on whether a president has the power to do things on immigration policy that your constituents already support, though, and only your partisan critics and the occasional law professor will care.
This is why it's so remarkable that our constitutional order has lasted so long, given the perpetual incentive — common to both parties, and all three branches of government — to abandon its safeguards in order to push a particular agenda.
Today those incentives are strongest for Democrats — visible in their support for Obama's more dubiously constitutional forays, and also in the widespread liberal attempt to explain his struggles by casting him as a Gulliver tied down by an antiquated system of government.
Conservative pundits have noted that similar explanations were proferred to explain the failures of Jimmy Carter. That in and of itself isn't proof that they're wrong. But it suggests the possibility that some of the ways this president has been baffled, legislatively and perhaps soon in the courts, reflect the genius of our constitutional system rather than its failings. It's a system that often lacks principled defenders, but that's designed to defend itself.

www.nytimes.com/2012/06/24/opinion/sunday/douthat-all-the-presidents-privileges.html
War in the White House: attorney general Eric Holder and top Obama adviser David Axelrod 'had to be separated'
Eric Holder, Barack Obama's attorney general and David Axelrod, his top political adviser had to be separated after squaring up during a furious row over attempts to impose White House operatives in the justice department.
By Jon Swaine, Washington
6:22PM BST 03 Jun 2012
Eric Holder, who heads Mr Obama's justice department, is said to have become "incensed" after being accused by David Axelrod of complaining publicly about political interference in his office.
"That's bull****," Mr Holder said in a confrontation after a cabinet meeting, according to author Daniel Klaidman. He writes: "The two men stood chest to chest. It was like a school yard fight".
The relatively mild-mannered Mr Axelrod is said to have told the attorney general: "Don't ever, ever accuse me of trying to interfere with the operations of the Justice Department", a taboo in US politics.
In 'Kill or Capture: The War on Terror and the Soul of the Obama Presidency', Klaidman discloses the struggles within Mr Obama's White House at it mounted its controversial campaign against al-Qaeda.
He writes that Mr Holder and Mr Axelrod were separated by Valerie Jarrett, a White House adviser and confidante to Mr Obama. Ms Jarrett "pushed her way between the two men, her sense of decorum disturbed, ordering them to 'take it out of the hallway'," says Klaidman.
The argument is said to have erupted over attempts to add a political official to the staff of Mr Holder, who has presided over a handful of political and public relations blunders since taking office in 2009.
Denying impropriety, Mr Axelrod, a hangdog 57-year-old veteran of Chicago politics, is said to have told Mr Holder: "I'm not Karl Rove".
Mr Rove, a top aide to President George W. Bush, was accused of pressuring the justice department to fire seven politically unhelpful federal prosecutors in 2006.
The book, which is released on Tuesday, examines the CIA-led drone war on al-Qaeda operatives who have made it on to a so-called "Kill List" that is said to be overseen by Mr Obama himself.
It comes soon after a series of well-informed newspaper articles and other books covering similar ground and portraying the President as a ruthless slayer of terrorist suspects five months before he faces re-election.
Klaidman also discloses that the work of Christopher Hitchens, the late British author, influenced the decision by Mr Obama's administration to overhaul its rules on interrogating terror suspects.
Hitchens was waterboarded for an article and video titled "Believe me, it's torture" and published by Vanity Fair in 2008. He could bear only ten seconds before asking that it be stopped.
"Watching the video," Klaidman writes, "Holder was both mesmerised and repulsed." The attorney general became "increasingly convinced that he would need to launch an investigation".
Mr Obama banned waterboarding – in which detainees are made to feel they are drowning – and other techniques after coming to office in 2009, while Mr Holder launched an inquiry into past practices.
Mr Obama today attempts to recover from his worst week of the presidential campaign so far, having been battered by dismal unemployment figures as his campaign repeatedly botched their message.
He remains 2.3 per cent ahead of Mitt Romney, his Republican challenger, according to a RealClearPolitics aggregate of national polls. However Mr Romney's campaign is growing in strength.
Klaidman writes in his book that shortly after taking office in 2009, Mr Obama was already keenly aware of the possibility that he might be ousted by the former Massachusetts governor after one term.
"You never know who is going to be president four years from now," Mr Obama is said to have told aides during a discussion about whether he should be able to detain terror suspects indefinitely. "I have to think about how Mitt Romney would use that power."
.
www.telegraph.co.uk/news/worldnews/barackobama/9309372/War-in-the-White-House-attorney-general-Eric-Holder-and-top-Obama-adviser-David-Axelrod-had-to-be-separated.html
Obama and his Record