The calls and e-mails from top executives came toward the end of each month, former managers at USIS recalled. The company needed to swiftly complete investigating security clearances for the government in order to reach its monthly revenue goal, the managers said they were told. Finally, there was an order: "Flush" everything you've got.
…Once an arm of the federal government, USIS was spun off into the private sector in the 1990s as U.S. Investigations Services. Former employees said it became aggressively focused on meeting revenue goals after it was bought in 2007 by Providence Equity Partners for $1.5 billion.
"It all became extremely numbers-intensive," said a former executive with top-level management responsibility. "There would be a crisis situation when you were off by 2 percent" from a revenue quota.
The time to close a file shrank from an average of 145 days in 2005 to 36 this year, according to the Federal Investigative Service, a bureaucratic triumph celebrated by Republicans and Democrats.

www.nytimes.com/2013/09/28/us/pressure-reported-in-rush-to-meet-security-clearances-including-edward-snowden-and-aaron-alexis.html
This is Dysfunctional Government.

In a recent survey conducted by David Winston, a pollster who advises the House GOP, 71 percent said they opposed "shutting down the government as a way to defund the President's health care law." Only 23 percent approved.

www.washingtonpost.com/politics/as-shutdown-and-default-loom-crisis-mode-becomes-washingtons-new-normal/2013/09/21/dd06feae-21fe-11e3-966c-9c4293c47ebe_story.html
SHUTDOWN COUNTDOWN: 10 days — ALAN GREENSPAN WARNS: 'no viable long-term solution to our badly warped economy' without fixing political system — WHITE HOUSE SIGNALS Janet Yellen nomination coming

www.politico.com/playbook/0913/playbook11706.html
Danger to economy worries experts weighing potential government shutdown, default
By Zachary A. Goldfarb, Published: September 29
A prolonged government shutdown — followed by a potential default on the federal debt — would have economic ripple effects far beyond Washington, upending financial markets, sending the unemployment rate higher and slowing already tepid growth, according to a wide range of economists.
A shutdown of a few days might do little damage, but economists, lawmakers and analysts are increasingly bracing for a shutdown that could last a week or more, given the distance between Republicans and Democrats. Such an outcome would suck money out of the economy and spread anxiety among consumers and businesses in a way that is likely to hold back economic activity.
And a default on the federal debt, which may occur within 30 days without congressional action, would be much worse, economists say. Failing to raise the debt ceiling would require the government, a major driver of growth, to cut spending by about a third, potentially forcing delays in Social Security checks, military pay and payments to doctors.
There are other risks, too. On Oct. 17, the Treasury is scheduled to ask investors for $120 billion in loans. But if investors grow nervous about whether the United States will be able to pay them back, they are likely to demand higher interest rates, which would cause rates to spike throughout the financial system, leading to more expensive mortgages, auto loans and credit card bills.
Doubt could grow about the safety of parking money in U.S. bonds, the linchpin of the global financial system.
"It's corrosive on the economy," said Mark Zandi, chief economist of Moody's Analytics. A lengthy shutdown followed by a default would be "the nightmare of the recession all over again."
Even if lawmakers find a way out of a shutdown or a default, this fall's brinkmanship — the fourth such crisis in two years — is likely to have negative effects on the economy. With so much uncertainty in Washington, economists say that businesses, flush with cash, have been reluctant to invest and hire.
"The simple story is it creates a tremendous amount of uncertainty," said Ethan Harris, a top economist with Bank of America. "One of the unfortunate side effects of the brinksmanship is a message to business leaders to delay long-term commitments and wait to see whether something really bad happens."
There are already signs of intensifying anxiety in the financial markets, which had largely brushed off the fiscal clash previously.
The stock market, as measured by the Standard & Poor's 500-stock index, was down four of five days last week, and the dollar also fell. More relevant, the cost of a type of insurance that investors use to protect themselves against default in U.S. government bonds has rocketed higher in recent days, suggesting the chances of default are increasing.
Business interest groups, usually aligned with the Republicans, have urged the GOP to abandon their demand for policy concessions, such as delaying President Obama's signature health-care law, in exchange for funding the government and raising the debt limit.
"It is not in the best interest of the employers, employees or the American people to risk a government shutdown that will be economically disruptive and create even more uncertainties for the U.S. economy," the nation's leading corporate lobbying groups, led by the U.S. Chamber of Commerce, wrote Friday in a letter to Congress.
Much of the government will close Tuesday without action by Congress. If the shutdown lasts more than a few days, it would affect the economy in numerous ways, most clearly by cutting spending on contracts and salaries.
But there are likely to be a wide range of indirect effects as well, because government operations provide the launching point for key activities driving economic growth, according to independent economists.
For example, the closure of national parks and museums may hurt hotels, restaurants and the people who work for them. The process of getting approval for a home loan could take much more time, slowing a housing recovery that is one of the few bright spots in the economy.
Headlines about dysfunction in Washington could also sow consumer and business fears even in parts of the economy not directly affected by a shutdown, leading individuals and businesses to cut back on spending and investment.
Economists estimate that the cumulative effect of a prolonged shutdown could trim economic growth in the final three months of the year by up to 1.4 percentage points. Under that scenario, the economy would hardly expand at all — at a time that is usually one of the most important economic periods of the year.
"That would mean a hit to employment and income as we approach the critical holiday season," economist Diane Swonk of Mesirow Financial wrote in a recent analysis.
But for all the worry about a shutdown, economists are far more concerned about a potential default on the federal debt. The Treasury Department has warned that it will have only about $30 billion in cash on hand by the middle of next month, and estimates are that it will run out of money by the end of the month.
If it is low on cash, the government is likely to hold back on payments until enough money comes in by way of tax revenue, according to a Treasury Department inspector general's report.
Social Security checks, veterans' benefits and active-duty military pay could be delayed two weeks, according to estimates. Such delays would not only disrupt lives but also cause an economic contraction because that money often flows directly into the economy through grocery shopping, car sales and staple purchases.
Until recent weeks, many economists and investors have seen the prospect of a debt default as unthinkable because so many people around the world rely on the safety of U.S. Treasury bonds. But people close to the process now say it is all too possible.
"This Congress is dysfunctional, and I can no longer predict what it's going to do," said Rep. James P. Moran (D-Va.). "I can't tell you for sure we'll avoid a debt default. That's mind-blowing."
Steve Bell, a former senior Republican budget staffer and a top analyst with the Bipartisan Policy Center, said the issues surrounding the congressional battles this fall leave little room for error.
"What is different this time . . . is going to be the direct conflation of the debt ceiling and continuing resolution for appropriations," he said. "That's when the stakes are highest."

www.washingtonpost.com/business/economy/danger-to-economy-worries-experts-weighing-potential-government-shutdown-default/2013/09/29/651b7e5c-2793-11e3-ad0d-b7c8d2a594b9_story.html
A Football Fan's Reaction to Renewed Congressional Dysfunction

www.huffingtonpost.com/mohamed-a-elerian/a-football-fans-reaction-_b_3968819.html
…But a default this time will have devastating consequences, meaning a downgrade in our credit by all ratings agencies and a spectacle to the world of spectacular, self-destructive dysfunction.

www.theatlantic.com/politics/archive/2013/09/the-sequester-is-a-disaster-and-congresss-next-move-may-be-worse/279819/
This dysfunction isn't built into the system. It's a result of human failure. President Obama gets pummeled daily for his weak leadership but, compared with Boehner, he's a titan.

www.washingtonpost.com/opinions/david-ignatius-john-boehner-is-a-leader-without-followers/2013/09/27/c8145b2a-2705-11e3-ad0d-b7c8d2a594b9_story.html
Don't blame Boehner for House dysfunction
By Steve LaTourette
Steve LaTourette, who represented Ohio's 19th and 14th congressional districts in the U.S. House from 1995 to 2013, is president of Main Street Partnership, an organization of centrist Republicans.
There has been a lot of talk in both Democratic and Republican circles about whether House Speaker John Boehner (R-Ohio) can lead his caucus. Incidents such as the defeat of the farm bill on the House floor have been cited to support this narrative.
But much of the blame for Washington failures has been mislaid.
The focus on Boehner has been more intense because House Democrats have abdicated any meaningful role in passing legislation. Few bills are able to garner Democratic support, often not because of policy differences but because House Democratic leaders have decided they would rather wash their hands of responsibility for governing and, instead, focus on winning back the majority.
The role of the minority party is to be the "loyal opposition," and Democrats have gotten it half right — they are opposed to everything House Republicans do, but there is not much loyal about it.
Democrats frequently push back against this, arguing that Boehner isn't willing to move legislation that isn't supported by a majority of his caucus even if there would be 218 votes for passage. But the reality is that Boehner has been willing to waive the "Hastert rule" and bring important legislation to the floor. He did so this year with the "fiscal cliff" deal and with the Violence Against Women Act. He is, however, the leader of the GOP caucus, so he has to pick and choose the times he is willing to move forward without a majority of Republicans — or risk not being their leader much longer.
Boehner is a skilled politician who is more than able to lead his caucus — well, at least the 180 or so members interested in actively participating in the legislative process. Unfortunately for Boehner, for the House as an institution and for the country in general, these 180 public servants are not the problem.
Thirty to 40 other members of the House, however, believe their only responsibility as a member of Congress is to show up and vote "no." Frankly, they take such a dim view of their job that a trained monkey could do what they do. And, sadly, the situation is becoming one in which the monkeys are running the zoo.
It is these members who are largely responsible for the dysfunction in Washington and the failure of the legislative process. They have gleefully ground to a halt the work of the people. Because of them, agreement cannot be reached on legislation once deemed too important not to pass, such as the farm bill or the transportation bill.
These members are cheered on by interest groups such as the Club for Growth and FreedomWorks, organizations that have made a lucrative business out of Washington's dysfunction.
The No On Everything caucus, exemplified by members such as Justin Amash (R-Mich.), Michele Bachmann (R-Minn.) and Tim Huelskamp (R-Kan.), has tapped into Americans' unhappiness with Washington while deepening the dysfunction that has bred such widespread contempt among voters. It's an admirable feat of political skill in the basest sense, but it is also everything that is wrong with politics today.
Our country faces some heady issues. There is a fight looming over funding the government that could lead to a government shutdown. That will be followed by debate over whether to raise the debt ceiling, with the specter of the United States defaulting on its debts as the backdrop. We have a limited window of time to deal with other important questions, such as fundamental tax reform and critical reforms to the U.S. immigration system.
It is time for Democrats and the No On Everything caucus to step up and become meaningful participants in the legislative process.
It is said that politics can make strange bedfellows. Progressives may say they bemoan the "radicalism" of the tea party, and tea party advocates may claim to despise the "tactics" of liberals, but the truth is that both sides have abdicated the most basic responsibilities of elected officials. Both sides are complicit in creating an environment in which nothing can be accomplished.
Running for office is not an obligation; one isn't forced to do it. And those lucky enough to be entrusted with the faith of the voters they were elected to represent have obligations that come with the office. Our nation faces serious challenges. We need men and women in Congress who are willing to get to work finding solutions. Sitting on the sidelines is not an option.

www.washingtonpost.com/opinions/dont-blame-boehner-for-house-dysfunction/2013/09/20/511aa3a0-2208-11e3-a358-1144dee636dd_story.html
As of late Sunday, there were no negotiations occurring between Boehner, Senate Majority Leader Harry Reid (D-Nev.) and Obama. The Senate wasn't even in session, and House GOP leaders weren't holding emergency discussions internally. Both sides seem prepared to let the government shutdown happen and then squabble over who is to blame. The House will reconvene Monday at 10 a.m., but Republicans will just wait. The Senate is scheduled to return Monday afternoon, and Reid says Senate Democrats will move quickly then to reject two House amendments to the government funding bill. That would leave just hours before a government shutdown.

www.politico.com/story/2013/09/government-shutdown-john-boehner-pivotal-moment-97535.html
Shutdown countdown: What the next eight days could bring
By Paul Kane, Published: September 22
On Friday, the House passed a measure that would keep the government running through mid-December. But it came with what Democrats consider a poison pill: It defunds President Obama's signature health-care law, known as Obamacare. There is no way whatsoever — think pigs flying — that the Senate will agree to the House plan. Senate Majority Leader Harry M. Reid (D-Nev.) said the House bill was "dead," then for emphasis added: "Dead." ¶ That sets up eight days of brinkmanship between the Republican House and the Democratic Senate and White House, leading to midnight Sept. 30, when much of the government will shut down if there's no deal. ¶ Leaders on Capitol Hill expect the face-off to go right up to the deadline, if not beyond. Below is a day-by-day look at how it's all likely to play out — with the caveat that events can change quickly.
Monday: The Senate will convene briefly, with just a few members on hand. Reid is expected to call up the House bill, known as a continuing resolution, and file a motion that sets up initial votes on the measure. Under Senate rules, there will be two votes just to determine whether the chamber gets to a vote on final passage of the bill. These are the "cloture" votes, which require 60 ayes to choke off a filibuster; Reid will file a motion one day, then there must be an intervening day of debate, then the filibuster-busting vote comes. Reid will file the first of these Monday, setting up a vote Wednesday.
The House is not in session.
Tuesday: The full Senate will return just before noon. After approving some noncontroversial judicial nominees, Republicans and Democrats will go to their separate weekly lunches to hash out strategy. At about 2 p.m., Reid and Minority Leader Mitch McConnell (R-Ky.) will hold back-to-back news conferences where they will probably call each other names. The Senate will continue debating whether to cut off debate on the continuing resolution.
The House is still not in session.
Wednesday: The Senate's first filibuster vote will probably take place in the late morning, and the chamber is almost certain to vote to proceed. The rules then call for 30 more hours of debate on the motion to proceed before senators can start debating the actual bill. (It's possible, though not expected, that Republicans could waive the 30 hours.)
The House will return. Around 4:30 p.m., Speaker John A. Boehner (R-Ohio) will probably huddle with his leadership team to plot strategy. At 6:30 p.m., the full House will convene for some noncontroversial votes.
Thursday: At 9 a.m., House Republicans will gather in the Capitol basement for their weekly policy huddle. Boehner's leadership team usually holds a news conference afterward, around 10 a.m. The big issue for House leaders will be determining whether they have enough support for a bill to raise the nation's debt limit. That deadline will come in mid-October, but it is relevant to the shutdown debate because it provides another chance to try to defund Obamacare. (More on that later.)
Reid's Senate leadership team usually hosts its weekly news conference at noon. If tradition holds, Reid will call Boehner a bunch of names.
At some point Thursday afternoon or evening, the 30 hours of debate in the Senate will expire, and senators are likely to pass the motion that formally begins debate on the bill. Simultaneously, Reid will file a second motion setting up the next vote to try to stop the last filibuster attempt by Sen. Ted Cruz (R-Tex.) and other Obamacare opponents. They will then have until Saturday to make their final stand to persuade enough GOP colleagues to filibuster the legislation
Friday: The House could pass a bill to raise the debt ceiling. An initial draft of the legislation contains something for everyone in the Republican Conference: It increases the debt limit until the end of 2014, delays Obamacare for a year and includes a grab bag of conservative goals, such as offshore drilling, Medicare means testing, a tax code overhaul and approval of the Keystone pipeline. The bill is designed to gain the necessary bare majority with GOP votes alone. But there's no guarantee of that, because a significant number of House Republicans don't believe in raising the debt limit under any circumstances.
In the Senate, this is the intervening day of debate on the last filibuster vote. Cruz and Sen. Mike Lee (R-Utah), his conservative ally in this fight, have vowed to use any means necessary to try to hold up the continuing resolution. They may even launch into an old-fashioned talking filibuster, taking to the floor for hours at a time. These are rare in the modern Senate, since new rules have allowed the minority to block legislation with 41 votes, if it can hold together. A talking filibuster would be largely theatrical; Cruz and Lee won't be able to stop the bill, because parliamentary procedures will have locked in the votes that are set to occur.
Saturday: The final filibuster-vote day in the Senate. One hour after senators convene, they will hold a vote that, if it receives 60 ayes, will end any filibuster attempt and lock in a time for a final vote on the bill. This is the point when things will get weird.
At this time, the continuing resolution will still have the exact language conservatives love — they begged Boehner to pass it, in fact — but Cruz and Lee will be opposing the bill for strategic reasons. That's because once the measure clears this last 60-vote hurdle, Reid will call up his amendment to strip out the portion that defunds Obamacare. Having already avoided a filibuster, he'll just need a simple majority to pass his amendment, then a simple majority to approve the new bill and send it back to the House. So the only recourse for conservatives is to try to preemptively filibuster their own bill, stopping it from coming to a vote. A vote to do that is, in effect, a vote to shut down the government, because the bill is the only vehicle to fund it. For that reason, it's not likely that many Senate Republicans will go along with Cruz.
Sunday: By Sunday morning, Reid will have brought up his amendment to remove the health-care language from the bill. Final passage could come around dinnertime. The bill will then go across the Capitol to the House, with a countdown clock of roughly 30 hours until government funding expires.
Monday, Sept. 30: Boehner faces a momentous decision: He can either call a vote on the Senate bill that includes funding for the health-care law, or he can try to attach something else to it that gains a majority so he can send the bill back to the Senate as the deadline looms. At this point, it's unclear what would be attached to the legislation and whether 218 Republicans would support it. Boehner could try a poison pill other than defunding Obamacare, but many Republicans may oppose it because a vote for it would be a vote for funding the health-care law.
If Boehner does go this route, and if he gets the votes, there will almost certainly be a shutdown.
If not, the question will be whether House leaders can get enough Republicans to join Democrats to pass the Senate bill and keep the government running.
This is where the debt-ceiling bill comes into play. House GOP leaders could argue to their caucus that they could use the October debt-limit deadline to take up the effort to defund the health-care law and avoid a painful shutdown in the meantime. Again, it's entirely unclear whether enough Republicans would go along. If not, the government would shut down.

www.washingtonpost.com/politics/shutdown-countdown-what-the-next-eight-days-will-bring/2013/09/22/16645f5e-2388-11e3-b75d-5b7f66349852_story.html
We can't afford to default on the debt
By Frank Keating, Published: September27
Frank Keating is president and chief executive of the American Bankers Association. He was governor of Oklahoma from 1995 to 2003 and is a member of the Bipartisan Policy Center's Debt Reduction Task Force.
In this country, our word is our bond. The respect and admiration that the United States and its institutions inspire around the world are based on the certainty that when our nation makes a promise, we keep it.
Unfortunately, Congress seems poised to undermine U.S. credibility at home and abroad by taking the extraordinary step of reneging on bills that our nation has racked up. Ordinary Americans will bear the brunt of the damage if our leaders don't prevent the United States from defaulting on its debt for the first time in history.
Sadly, we've been here before. The debt-ceiling standoff in 2011 is costing taxpayers nearly $20  billion as nervous investors demanded higher interest on U.S. Treasury bonds to defray the risk of government default. That manufactured political crisis caused economic uncertainty to spike, consumer confidence to plummet and stock prices to spiral downward — all because of the perceived risk of the United States defaulting on its domestic and international obligations.
If our nation defaults on its nearly $17 trillion in debt, the harm is likely to be measured in hundreds of billions of dollars.
Beyond the enormous cost to taxpayers, even the slightest uptick in Treasury interest rates would cascade through the economy. Default would be a blow to retirement funds, leaving fewer resources available for retirees. It would raise the borrowing costs for companies, meaning job losses and price increases. For banks, which hold $3 trillion in Treasury, agency and mortgage-backed securities, the sharp decline in value would translate into fewer resources available for mortgages or business, auto, credit card and student loans.
Default would put the United States in the category of reckless debtor nations that have broken their word in the markets, including Argentina, Venezuela and Cameroon. Defaults left those countries financial pariahs and debilitated their economies.
No one takes our national debt more seriously than I do. As a Republican governor, I balanced my state's budget eight years running and worked with colleagues from both sides of the aisle to ensure that Oklahoma honored its debts and expanded its economy. Later, I joined the Bipartisan Policy Center's Debt Reduction Task Force (also known as the Domenici-Rivlin commission), which endorsed painful but necessary measures to put the country's fiscal house in order.
Using the debt ceiling as leverage in the deficit debate is unwise and dangerous. Citizens nationwide are frustrated with the political stalemate in Washington. But our nation's financial integrity should not be used as a bargaining chip.
Honoring U.S. fiscal obligations isn't a Republican or Democratic issue — it's the American thing to do. As George Washington said, "No pecuniary consideration is more urgent than the regular redemption and discharge of the public debt; on none can delay be more injurious, or an economy of the time more valuable."
Since May, the Treasury has used extraordinary measures to keep us from hitting the debt limit. We've been lucky to avoid it thus far, but time is up. With the U.S. economy and our nation's honor on the brink, our leaders must — in the spirit of patriotic compromise — do what it takes to make a deal.
Congressional Republicans must avoid scorched-earth tactics in pursuing their agenda on health care and deficit reduction. Democrats in Congress must begin to engage their constituencies in responsible discussions about the long-term outlook of government programs popular with their base. In short, Republicans need to be more willing to say yes and Democrats must be more willing to say no. Disagreement and debate strengthen our democratic institutions. But we cannot allow honest differences of opinion, however diametric, to jeopardize the trustworthiness of our nation's credit.
If confidence is lost in our country's willingness to pay its bills on time, we will have lost something that may be impossible to regain — the world's trust.

www.washingtonpost.com/opinions/defaulting-on-us-debt-cant-be-an-option/2013/09/27/deaf2580-26f7-11e3-b75d-5b7f66349852_story.html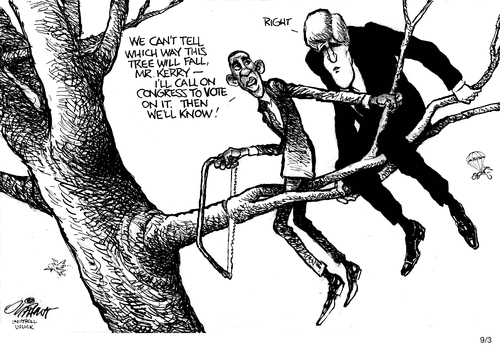 This is Bureaucracy.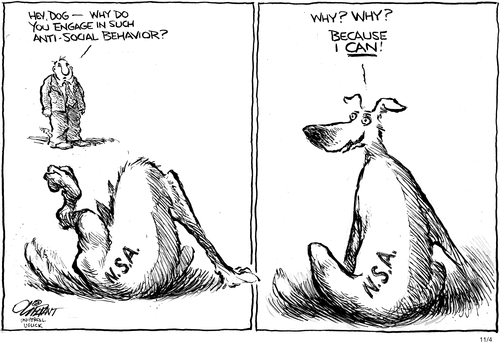 As Congress fights over the budget, agencies go on their 'use it or lose it' shopping sprees

www.washingtonpost.com/politics/as-congress-fights-over-the-budget-agencies-go-on-their-use-it-or-lose-it-shopping-sprees/2013/09/28/b8eef3cc-254c-11e3-b3e9-d97fb087acd6_story.html
Problems with the federal government's new health-care Web site have attracted legions of armchair analysts who speak of its problems with "virtualization" and "load testing." Yet increasingly, they are saying the root cause is not simply a matter of flawed computer code but rather the government's habit of buying outdated, costly and buggy technology.
The U.S. government spends more than $80 billion a year for information-technology services, yet the resulting systems typically take years to build and often are cumbersome when they launch. While the error messages, long waits and other problems with www.healthcare.gov have been spotlighted by the high-profile nature of its launch and unexpectedly heavy demands on the system, such glitches are common, say those who argue for a nimbler procurement system.
"The episode is all too typical of how government creates IT services," said Tom Lee, director of Sunlight Labs, the research arm of the Sunlight Foundation, which advocates for more government transparency. "The procurement process tends to select for firms that are good at navigating the procurement process, not providing good IT services for the dollar."

www.washingtonpost.com/business/technology/some-say-health-care-sites-problems-highlight-flawed-federal-it-policies/2013/10/09/d558da42-30fe-11e3-8627-c5d7de0a046b_story.html
WASHINGTON — Just as Edward J. Snowden was preparing to leave Geneva and a job as a C.I.A. technician in 2009, his supervisor wrote a derogatory report in his personnel file, noting a distinct change in the young man's behavior and work habits, as well as a troubling suspicion.
The C.I.A. suspected that Mr. Snowden was trying to break into classified computer files to which he was not authorized to have access, and decided to send him home, according to two senior American officials.
But the red flags went unheeded. Mr. Snowden left the C.I.A. to become a contractor for the National Security Agency, and four years later he leaked thousands of classified documents. The supervisor's cautionary note and the C.I.A.'s suspicions apparently were not forwarded to the N.S.A. or its contractors, and surfaced only after federal investigators began scrutinizing Mr. Snowden's record once the documents began spilling out, intelligence and law enforcement officials said.
"It slipped through the cracks," one veteran law enforcement official said of the report.

www.nytimes.com/2013/10/11/us/cia-warning-on-snowden-in-09-said-to-slip-through-the-cracks.html
Bugged: Obama's Roach Problem
As in cockroaches. But vermin is nothing new in a building that is 213 years old–and roaches aren't the worst of it.
By George E. Condon Jr.
September 13, 2013 | 5:27 p.m.
It was just a cockroach, one of millions around the world. But this one had a White House address, making it pretty special. Well, special at least to the reporters with workspace in the often-troubled basement of the press offices. Already this year, they have been treated to flooding, soaked carpet, mousetraps and the wondrous odors of mold.
"It was the size of a small drone," said Martha Joynt Kumar, professor of political science at Towson University, who led the effort Wednesday to capture the bug. Kumar, who has worked out of the press offices studying the president-press relationship for almost four decades, wanted to turn it into the General Services Administration, the agency responsible for the building. "I wanted to bag it so that the GSA would know what kind of issue we had," she said. "I chased it. But it got away behind some wiring."
It is, of course, not the first time bugs or vermin have done battle with the humans who work in the 213-year-old building. Humans have not always prevailed easily – much to the deep frustration sometimes of the president of the United States. None was more frustrated than Jimmy Carter, who battled mice from the start of his administration. To his dismay, he found the bureaucracy unresponsive. GSA, responsible for inside the White House, insisted it had eliminated all "inside" mice and contended any new mice must have come from the outside, meaning, the New York Times reported at the time, they were "the responsibility of the Interior Department." But Interior, wrote the Times, "demurred" because the mice were now inside the White House.
To make matters worse, GSA and Interior refused to use traps, claiming humane groups had protested that in the past. But when mice started scampering across his office in daylight and when his meeting with the Italian prime minister was conducted amid the distinct smell of a dead mouse, Carter erupted.
His fury was captured in his diary entry for Sept. 9, 1977. Carter that day summoned top officials from the White House, the Department of Interior and the GSA to the Oval Office to unload on them about the mice overrunning the executive offices – including the dead ones rotting away inside the walls of the Oval Office and giving his office a very unpleasant odor. "For two or three months now I've been telling them to get rid of the mice," Carter wrote. "They still seem to be growing in numbers, and I am determined either to fire somebody or get the mice cleared out – or both."
Now more scared for their jobs than at any possible reaction from humane groups, the bureaucracy responded. According to the Associated Press, daily battle updates were sent to the highest levels of the White House, complete with body counts and descriptions of the weapons being deployed. On Sept. 12 – three days after the meeting with Carter – GSA reported 48 spring traps in the White House, including five in the Oval Office and four in Carter's study. Six more "Ketch All" traps were placed in the crawl space under the Oval Office. Peanut butter, bacon and cheese were the favored baits. By Sept. 13, the number of traps deployed in the West Wing was up to 114. On Sept. 15, the body count was up to 24. By Sept. 19, it was 30; then 38 by the end of the month.
Finally, on Nov. 4th, the GSA declared victory, reporting officially "the problem (is) under control." The final "confirmed catch" was 61; the final count of traps was 296 spring traps and 141 GSA "bait stations."
Other presidents have had their own battles with White House vermin. First Lady Barbara Bush once was taking her daily swim in the pool on the South Lawn when she was joined by a rat that "did not look like a Walt Disney friend, I'll tell you that." She told reporters "it was enormous." She credited her springer spaniel, Millie, and her husband, the president, with rescuing her and drowning the rat.
With that history, this week's cockroach is but a footnote. But several days later it is still unclear if GSA will declare it an "indoor" bug or find a way to blame Interior for letting an "outdoor" bug in.
www.nationaljournal.com/whitehouse/bugged-obama-s-roach-problem-20130913
Defense Department orders review of security clearance procedures
Navy Yard shooting's aftermath.
An Army pilot program that began last year found that 20 percent of military and civilian personnel it scrutinized had serious issues that demanded a review of their security clearances. Some had been arrested or charged with crimes, made threatening comments about President Obama on social media, or expressed depressed or suicidal feelings. The program relied largely on law enforcement records and public Web sites.
www.washingtonpost.com/politics/defense-department-orders-review-of-security-clearance-procedures/2013/09/18/56e26b0e-207f-11e3-8459-657e0c72fec8_story.html
Defense officials have acknowledged that a lot of red flags were missed in Alexis' background, allowing him to maintain a secret-level security clearance and have access to a secure Navy facility despite a string of behavioral problems and brushes with the law. Over the past week, they have been struggling to determine what might have been missed, and what changes could be made in order to try and prevent similar violence in the future.
So far, however, the detailed reviews only underscore how subjective the security checks can be and how difficult it is to predict violent behavior based only on minor conduct issues that could easily be overlooked.
www.fortmilltimes.com/2013/09/24/2977756/report-shooter-lied-about-previous.html
Navy Yard shooter's personnel report left out gun-related details
The Navy gave a security clearance to Aaron Alexis based on incomplete information, an official says. Alexis killed 12 people at the Washington Navy Yard last week.

www.latimes.com/nation/la-na-navy-shooter-20130924,0,3834322.story
Workers at USIS, which vetted Alexis and Snowden, felt pressure to do more, faster
By Jia Lynn Yang, Published: September 20
When Ileana Privetera started working for the contractor USIS, the firm that vetted National Security Agency leaker Edward Snowden and Navy Yard shooter Aaron Alexis, it sounded like the perfect job. A mother, she would have flexible hours for her family, and she would be helping the country by running background checks on people who were doing the government's most critical jobs.
She quickly learned that she was being asked to do the impossible.
A computer-software system spat out assignments for her every week with new people to interview. The deadlines were merciless, with as many as 10 cases due in a single day.
Privetera was driving madly from one end of Los Angeles to another to complete interviews. And she was never sure whether she was asking enough questions as she probed people's personal lives, asking about their rocky marriages and finances.
"I didn't like the feeling, 'Am I doing this right?' " said Privetera, who left her job at USIS in December after about five months. "I felt like we were doing something important."
The work was so overwhelming that she and co-workers joked about taking anti-anxiety medications.
No evidence has emerged that Falls Church-based USIS cut corners when it vetted Snowden and Alexis. But the company, which has grown to become the biggest private contractor handling background checks for the government, has drawn the notice of lawmakers and the Justice Department.
It is under criminal investigation over whether it misled officials about the thoroughness of its work. A number of former USIS employees have been charged with falsifying records in recent years. And Monday's Navy Yard shooting is raising questions about how the government vets employees who are given access to some of the country's most sensitive documents and facilities.
USIS declined to comment for this story, said company spokesman Ray Howell. But in interviews, some former employees describe an environment where people went weeks without seeing their bosses and handled sensitive documents with no supervision in their home offices and occasionally at Starbucks. The goal at all times: volume.
"It was like wink, wink, do this as fast as humanly possible," said a former USIS investigator, who spoke on the condition of anonymity to avoid crossing a former employer. "There was this intense pressure to do more and faster."
With about 7,000 employees, USIS handles about 45 percent of all contracted background checks for the Office of Personnel Management. Last year, OPM processed nearly 2.3 million investigations.
The story of how USIS became the biggest private name in background checks is unusual. The company was originally part of OPM. But during the Clinton administration, with the Cold War long over, there was less demand for security clearances. As part of Clinton's "reinvent government" initiative, the employees of OPM's security and investigations unit were transferred in 1996 to a private firm, wholly owned by the workers. It was a first for the government.
The move was so revolutionary that many OPM employees and members of Congress vehemently opposed the plan.
"National defense, security, and the fitness and suitability of the Federal workforce are not commodities like hammers, ashtrays, and space toilets to be traded on the open market and sold to the lowest bidder," said Deborah Abraham Apperson, an OPM employee, in testimony on Capitol Hill in 1996. "Who among us is willing to take the risk of letting a Timothy McVeigh [the Oklahoma City bomber] 'slip through the cracks' in order to save a few dollars by cutting corners?"
USIS received an immediate leg up: a noncompetitive three-year contract, according to a 2011 report by the Congressional Research Service. The company quickly dominated the field of private background checks for the government. During the Iraq war, it expanded into training Iraqi police units.
USIS's lucrative work conducting investigations for the government — worth $334 million this year — is at risk given the criminal probe. Some lawmakers are calling on OPM to cut off the company, which is now owned by Providence, a private-equity firm.
OPM has been under pressure to process background checks more quickly since new standards were put in place by a 2004 intelligence reform law.
As the agency has leaned heavily on contract workers, "the quality of the investigations has gone down," said Mark Riley, a former Army officer who works as a private security clearance lawyer. "They are much more cursory. They don't ask the right follow-up questions. . . . The bottom line is the buck, rather than national security."
Former employees say the relentless demand to churn out background checks meant that even when USIS investigators wanted to do their best to follow up on red flags, there was limited time.
"If I had three months to check this person out . . . I'd be doing a more-thorough process," said a third former employee, who spoke on the condition of anonymity because she also did not want to upset her former employer. "When you're giving me a week to interview 50 people, that's impossible."
This employee said she was particularly concerned about the process for giving secret-level clearance — the kind issued to Alexis. That level requires only information from a self-reported questionnaire, a credit check and data from local law enforcement. No interviews with the subject or with references, including neighbors and former spouses, are required.
But even for top-secret clearance, where such interviews are required, some former employees said they felt rushed. (Snowden, who leaked top-level NSA documents to The Washington Post and Britain's Guardian newspaper, had top-secret clearance.)
"It's very: 'Here's a sheet of questions, ask the questions, hurry and get the answers, submit them and move forward,'" said one of the former employees. "There's just not a lot of paying attention to potential red flags and that sort of thing."
Candidates do not have to disclose mental-health counseling they have received related to marital issues, grief or coming back from combat. Former investigators say that mental-health issues were particularly tricky to ferret out and understand in the context of a background check.
In a limited number of cases, candidates would sign waivers allowing USIS employees to obtain their mental-health records, these former employees say. USIS investigators said they then had to drive to the medical facilities where the candidates were treated and get someone to sign a form attesting to whether the candidate posed a threat to national security. The person who signed the note, however, could be anyone who had access to the candidate's files; it didn't have to be the person who treated the candidate, these employees said.
The bosses simply trusted the employees to do the work in the right way with little oversight, these former employees said.
"I could go weeks and weeks and not see a single co-worker, so there's no way they can see what you're doing," said one former investigator.
There was a rule that all documents had to have two layers of locks: for instance, a locked file cabinet in a home, plus a locked front door would qualify. But former investigators said that aside from their initial training, no one went to check their homes to make sure the documents containing personal information were secure.
"People were leaving their laptops at Starbucks," said one former investigator. "People were leaving cases on top of their cars, information blowing off. We had a lady that left her files at Chuck E. Cheese with her kids."
A number of employees in the background-checking business have been convicted or have pleaded guilty to falsifying records. Several worked for USIS but at least one had been employed by a USIS competitor, CACI International.
"They're going to make the numbers one way or another," Privetera said. "Obviously, they're not going to say, 'We encourage bad behavior.' But you're kind of creating the environment for it."
Matea Gold, Zachary A. Goldfarb, Tom Hamburger and Alice Crites contributed to this report.

www.washingtonpost.com/business/economy/security-clearance-contractor-usiss-workers-felt-pressure-to-do-more-and-faster/2013/09/20/c62c7498-2208-11e3-b73c-aab60bf735d0_story.html
ATF Kept Out Of The Loop After Navy Yard Shooting
By ALICIA A. CALDWELL 09/22/13 10:27 AM ET EDT
WASHINGTON — Within hours of the Navy Yard shootings, the FBI had traced the gunman's recent shotgun purchase and sent agents to the shop in northern Virginia where he bought it. Left out of the loop was the Bureau of Alcohol, Tobacco, Firearms and Explosives, a surprising snub between top U.S. law enforcement agencies that comes as the ATF struggles to show its relevance in Washington.
The ATF is the federal agency in charge of tracing guns used in crimes, including the military-style semi-automatic rifle used in rampage at a Connecticut school last year, a similar rifle used in the deadly shooting at a Colorado movie theater and a handgun used to kill six people and critically wound a congresswoman, among others, outside a grocery store in Tucson, Ariz.
By the afternoon of the Navy Yard shootings, FBI agents – not ATF agents – were in northern Virginia at the gun shop where Aaron Alexis, 34, bought a Remington 870 Express shotgun and about two dozen shells barely 48 hours earlier. By day's end it was clear that the shotgun, which Alexis altered with a sawed-down barrel and shoulder stock, was purchased legally after Alexis showed his valid Texas driver's license and passed both a state and federal background check.
But the ATF wasn't involved.
There is no evidence that the FBI did anything wrong in tracing the gun on its own, but the move is unusual.
"I have never seen an instance where ATF had not been relied upon to trace the gun," said Mike Bouchard, a former ATF assistant director for field operations. "I have never heard of a situation like that."
By 6 p.m. Monday, the day of the shooting, The Associated Press had learned that the shotgun had been legally purchased at a gun shop in Lorton, Va. When asked about those details, the ATF said its trace had not been completed. ATF spokeswoman Ginger Colbrun said in a statement Friday that once ATF traced the shotgun, that information was handed off to the FBI, which is leading the investigation. She declined to say when the ATF completed its trace.
"ATF is the sole federal agency that is authorized to conduct firearms tracing," Colbrun said in the statement. The ATF's National Tracing Center "is authorized to trace a firearm for a law enforcement agency involved in a bona fide criminal investigation."
The FBI's Washington Field Office declined to comment on the investigation.
A 1968 overhaul of gun laws gave the ATF the authority to trace firearms used in crimes and required that gun dealers keep records of who bought what gun and when. The powerful gun lobby has successfully pushed a series of legislation that limits what the ATF can do with that information, including bans on storing it in any searchable computer database.
When law enforcement needs to trace a gun, the low-tech process includes a series of phone calls, starting with the manufacturer. Depending on the age of the gun and how many times it has changed hands, the process can take days. In the case of the Navy Yard shotgun, Alexis bought the weapon just two days earlier. The paper trail ended about 17 miles from the crime scene.
The Navy Yard shooting comes less than three weeks after ATF Director B. Todd Jones was sworn in as the first Senate-confirmed ATF director.
The agency had been without a permanent leader since 2006 when the Senate was given the power to approve the director. In pushing for Jones' approval, Senate supporters, including President Barack Obama, suggested ATF was unnecessarily weakened by lack of leadership.
The ATF was noticeably absent in the gun debate that dominated the attention of lawmakers in the months after the December massacre of 20 school children and six adults at a Newtown, Conn., elementary school.
Bouchard said another law enforcement agency asking for gun sales records could be confusing for licensed dealers who have become accustomed to dealing with the ATF.
"Gun dealers are accustomed to dealing with ATF and will always be cooperative with any law enforcement agency," Bouchard said. "But because of dealing with ATF there could be some confusion on their part as to what they have to do during an investigation, or if they should surrender records that they are legally instructed to keep by ATF."

www.huffingtonpost.com/2013/09/22/atf-navy-yard-shooting_n_3971774.html
This is Corruption.
Marion Barry, the corruption continues

www.washingtonpost.com/opinions/colbert-king-with-marion-barry-the-corruption-continues/2013/09/20/3f0e42aa-2151-11e3-966c-9c4293c47ebe_story.html
Former Chief of Jewish Charity Stole Money Early and Often, Prosecutors Say
Michael Appleton for The New York Times
William E. Rapfogel after his arrest on Tuesday on charges of looting the Metropolitan New York Council on Jewish Poverty

www.nytimes.com/2013/09/25/nyregion/charitys-fired-chief-is-charged-with-stealing-millions.html
Ex-official of Bell, Calif., pleads no contest to stealing millions
Judge Kathleen Kennedy indicated former city administrator Robert Rizzo would be sentenced to 10 to 12 years in prison.
By IAN LOVETT
The New York Times
LOS ANGELES — Robert Rizzo, the former city administrator of Bell, Calif., accused of looting millions from city coffers, pleaded no contest to all 69 felony charges against him Thursday, prosecutors said.
On the eve of his trial, Rizzo made a surprise appearance in a Los Angeles courtroom and pleaded no contest to all charges, including misappropriating public funds, hiding and falsifying records, perjury and other crimes.
Judge Kathleen Kennedy indicated Rizzo would be sentenced to 10 to 12 years in prison, which would be the longest sentence in a Los Angeles County public-corruption case since at least 2001, according to the district attorney's office.
His attorney said Rizzo would also likely be required to pay between $1 million and $3.2 million in restitution to the city.
"Although we were prepared to go to trial and felt confident we could convict Mr. Rizzo of all charges, we are pleased he chose to admit his guilt and accept full responsibility for the irreparable harm he caused the people of Bell," said Jackie Lacey, the district attorney.
Often grimacing at photographers who followed him and — at least until now — publicly unrepentant, Rizzo, 59, became a symbol of municipal corruption after the Los Angeles Times reported in 2010 that he was paid a base salary of nearly $800,000 a year for managing the small working-class city just south of Los Angeles, where a quarter of the residents live below the federal poverty line. Rizzo's benefits package boosted his compensation to $1.5 million a year.
Other city officials were paid huge sums; Rizzo's assistant, Angela Spaccia, made $376,288 a year. Five former City Council members, who were paid as much as $100,000 annually for part-time work, were convicted on corruption charges this year.
But they pointed to Rizzo as the mastermind of the scheme to enrich themselves on Bell tax dollars. Rizzo, who once owned a ranch in Auburn, had been scheduled to stand trial, along with Spaccia, next week.
Rizzo and his lawyer had previously maintained that although his salary was high, he had broken no laws.
"Today was the first step toward Mr. Rizzo's effort to accept responsibility and put his legal troubles behind him," said James Spertus, his lawyer.
Rizzo will still face federal charges, Spertus said, which he expected to be filed in the coming weeks. He said Rizzo would now cooperate in the case against Spaccia.
The surprise no-contest plea was a bittersweet ending for Bell residents, who had hoped a trial would reveal more details of what went on during Rizzo's 17-year tenure

seattletimes.com/html/nationworld/2021960333_bellpleaxml.html
Company fires scientist who warned of Hanford waste site problems
When senior scientist Walter Tamosaitis warned in 2011 about fundamental design flaws at the nation's largest facility to treat radioactive waste in Hanford, Wash., he was assigned to work in a basement room without office furniture or a telephone.
On Wednesday, Tamosaitis, an employee of San Francisco-based URS Corp., was laid off from his job after 44 years with the company.
The concerns that Tamosaitis raised two years ago about the design of the waste treatment plant, a $12.3-billion industrial complex that would turn highly radioactive sludge into glass, were validated by federal investigators. Construction of the plant was halted and the Energy Department is trying to address a wide range of problems with the design.

www.latimes.com/nation/la-na-hanford-layoff-20131004,0,1311785.story
This is Politics: Rampant self-interest.

Republicans' dangerous rationality
By Dana Milbank, Published: September 23
It has become fashionable to give a psychiatric diagnosis to those Republicans teeing up a government shutdown.
"They're on a different planet ," Sen. Chuck Schumer (D-N.Y.), a member of the Senate Democratic leadership, said last week. "Off the deep end."
Majority Leader Harry Reid (D-Nev.) said Republicans "define insanity" with their behavior.
I've lapsed into the off-the-rocker shorthand, too, but this misstates — and understates — the problem. The trouble isn't that Republicans on the defund-Obamacare mission are insane. It's that they are being entirely rational.
Certainly, what they are doing is dangerous to the country and to the GOP brand: A minority are saying that if their demands are not met, they will throw the nation into default and shock the economy by closing down the government.
But this doesn't mean that the 228 House Republicans (joined by two Democrats) were acting irrationally when they voted Friday to keep the government operating only if Obamacare is jettisoned. Most of them were acting in their own rational self-interest, doing what's necessary to survive in a political system gone mad.
The tally by political handicapper Stuart Rothenberg says that 211 of the 234 Republican seats in the House are "safe," leaving only 23 even marginally competitive. Some of those seats are made safe by the incumbents' skills or bank accounts. But many of them are safe because district lines have been drawn to make them uncompetitive.
The only way these Republican lawmakers would lose their seats is if they were ousted by a challenger in a low-turnout primary dominated by conservative activists and distorted by an explosion of independent expenditures by ideological groups. The surest way to keep their spots, therefore, is to vote against anything and everything President Obama supports — Obamacare above all.
The situation is similar for Republicans in the Senate, where 14 of the 15 GOP seats up in the next election cycle are either safely Republican or favoring the Republicans. To them, as well, the threat comes primarily if not entirely from the right.
Sen. Ted Cruz (R-Tex.), the man leading the shutdown campaign, knows this better than anybody. Sen. John McCain (R-Ariz.) called him a "wacko bird," but Cruz is, in fact, coldly calculating.
A new article about Cruz by Jason Zengerle in GQ confirms my impression of him as an opportunist driven more by ambition than ideology.
A Harvard Law School roommate of Cruz's told Zengerle that Cruz refused to study with anyone who hadn't been an undergraduate at Harvard, Princeton or Yale. But when the tea party became a political force and Cruz saw a route to power, he shed his elitism and posed as a rebellious outsider. His rise, and his ability to make even the grizzled Senate Republican leader Mitch McConnell cower, is the result of a cunning — and thoroughly rational — exploitation of the system. The only wacko bird in Cruz's office is on the Daffy Duck baseball cap that he keeps as an answer to McCain.
And McConnell, who is facing a conservative primary challenge in Kentucky, is also acting rationally in trying to keep up with the Cruzes. McConnell has been a proud internationalist and hawk throughout his career, but after Cruz and fellow wacko-bird Sen. Rand Paul (R-Ky.) opposed military action in Syria and McConnell's primary opponent took the same position, poor McConnell broke with other Republican leaders and declared that he, too, opposed military action.
If McConnell and the other frightened Republicans are to be faulted, it's for putting their own political survival above all else and doing things they know are dumb. For example, Rep. Peter King (R-N.Y.), one of the last moderates, told Wolf Blitzer that the defund Obamacare effort "makes no sense at all" and that Cruz is "carrying out a fraud." He then voted for the very effort he had called a kamikaze mission and likened to Gallipoli.
One of the most honest assessments of the Republican position came from Rep. Thomas Massie (Ky.), who explained last week why he favored the shutdown showdown: "All that really matters is what my district wants. And my district is overwhelmingly in favor of my position."
An enlightened officeholder might decide that other things matter, too: his oath to the Constitution, the national interest and his obligation to lead people and not just reflexively to follow public opinion. His constituents may not be aware of the hit the economy takes from a government shutdown and a default — but Massie should.
Massie's position is shortsighted — but it is rational. Until Republicans can fix their truly insane primary system, it may be the only logical response.

www.washingtonpost.com/opinions/dana-milbank-republicans-dangerous-rationality/2013/09/23/f9963f36-248c-11e3-b75d-5b7f66349852_story.html
His action hurt his fellow Republicans without doing anything to abolish Obamacare. But the filibuster did achieve something: It gave Cruz more TV exposure and further endeared him to the tea party. And for the ambitious senator from Texas, the most important thing has always been Ted Cruz.

www.washingtonpost.com/opinions/dana-milbank-ted-cruz-is-filibusted/2013/09/24/d358168a-2551-11e3-b75d-5b7f66349852_story.html
…Russia's ruling elite, led by Putin, does not act in Russia's interests. Russian elites act in their own interests. At the moment, they are convinced that economic nationalism and the language of neo-imperialism will win them popular support, and possibly private profits. I wonder how long the rest of the Russians will put up with it.

www.washingtonpost.com/opinions/anne-applebaum-russia-wields-hard-power-over-armenia/2013/09/20/15a54e62-2148-11e3-966c-9c4293c47ebe_story.html
Gridlock Corruption Bureaucracy Politics