Egyptian Sociologist Saadudin Ibrahim: The Muslim Brotherhood Is Hijacking the Revolution, More Dangerous than the Salafis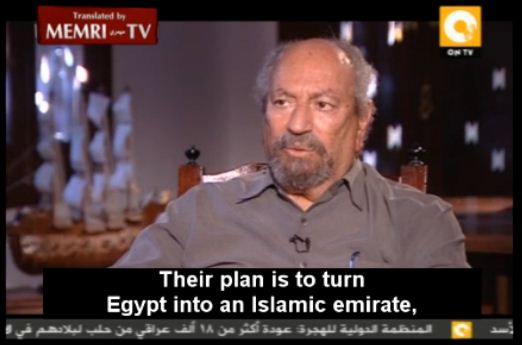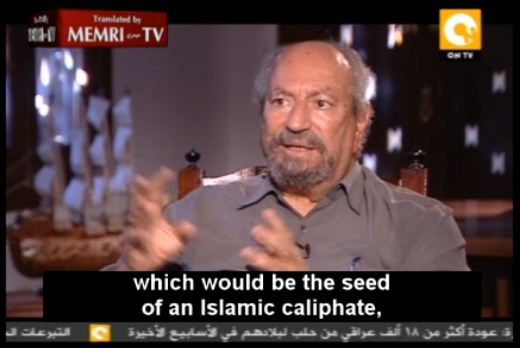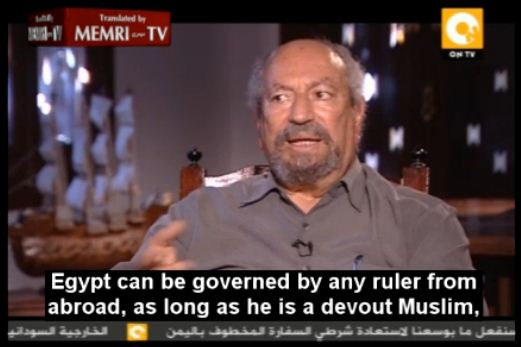 www.memri.org/report/en/0/0/0/0/0/0/6588.htm
Egypt's Islamists Tread Lightly, but Skeptics Squirm
By ROD NORDLAND
Published: July 28, 2012

www.nytimes.com/2012/07/29/world/middleeast/egypts-islamists-tread-lightly-but-skeptics-squirm.html
Egypt: Presidential loser Ahmed Shafik leaves as graft inquiry launched

www.independent.co.uk/news/world/africa/egypt-presidential-loser-ahmed-shafik-leaves-as-graft-inquiry-launched-7888918.html
There is a fox in Tahrir Square. Bushy tailed and thickly furred, he claims to hear everything. And this is what he says: that 50.7 per cent of Egyptian voters cast their ballot for Mubarak's former Prime Minister, Ahmed Shafiq, in last month's elections; that only 49.3 per cent voted for Mohamed Morsi of the Muslim Brotherhood's Freedom and Justice party; but that the military were so fearful of the hundreds of thousands of Brotherhood supporters who would gather in Tahrir Square they gave the victory to Morsi.
Now foxes can be deceitful…


www.independent.co.uk/news/world/africa/robert-fisk-president-morsi-a-rigged-ballot-and-a-foxs-tale-that-has-all-of-cairo-abuzz-7902952.html
The principles identified by the 2002 U.N. Arab Human Development Report, which was written by and for Arabs. It said that for the Arab world to thrive it needs to overcome its deficit of freedom, its deficit of knowledge and its deficit of women's empowerment. And, I would add, its deficit of religious and political pluralism. We should help any country whose government is working on that agenda — including an Egypt led by a Muslim Brotherhood president — and we should withhold our support from any that is not.

www.nytimes.com/2012/06/27/opinion/the-fear-factor.html
Egypt's hopes betrayed
Telegraph View: the liberal, secularist dream of Egypt's revolution has been betrayed by the army and Islamists.

Mohamed Morsi

www.telegraph.co.uk/news/worldnews/africaandindianocean/egypt/9353445/Egypts-hopes-betrayed.html

www.theblaze.com/stories/the-koran-is-our-constitution-egyptian-president-promises-to-ignore-egyptian-constitution-for-the-sake-of-sharia-in-chilling-speech/
ISLAMIC POLITICAL SCIENCE PROFESSOR: NEOCONSERVATISM IS SPREAD THROUGH…TOM AND JERRY CARTOONS

www.theblaze.com/stories/islamic-political-science-professor-neoconservatism-is-spread-through-tom-and-jerry-cartoons/
Election Commission Offices in Eastern Libya Are Sacked
Successful local electionsin Benghazi, in which voter turnout was impressive and a female candidate secured the largest number of votes, showed that the country can move towards becoming a state with viable democratic processes and representative leaders.
Yet, with every step it takes forward, Libya takes another two back. The security situation has deteriorated rapidly over the past two weeks. On Tuesday, it was the turn of the International Committee of the Red Cross in Misrata to come under attack. On Monday, the British ambassador's convoy in Benghazi was hit, with two bodyguards injured in the ensuing gun battle. Last week there was an attack on the US diplomatic mission in the same city.
Apart from terror attacks such as these, Libyans are fighting each other. Militiamen act with impunity, as the recent seizure of Tripoli airport showed, while clashes continue in the southern town of Kufra, where pro-government militiamen are locked in an armed conflict with tribal forces over smuggling routes. The clashes have so far claimed at least 20 lives.
Civil war and increased bloody lawlessness in Libya is now a real possibility, with all indicators suggesting the worst may be yet to come because of the continued lack of state control and failure to stabilise the security environment.
Militias continue to constitute the primary force in Libya, militarily and politically. They represent regions, tribes and powerful families, though some are simply criminal. Most act independently of the interim government, the National Transitional Council (NTC), especially the most powerful ones such as those from Misrata in the east and Zintan in the west – which are now essentially states within a state.
Although Libya has a more homogenous population than Iraq and Lebanon – and is therefore unlikely to suffer civil war on the same scale as in either of those countries – the future does not bode well because of two principal reasons.
First, national security lacks co-ordination and organisation – with the result that conflict between rival groups and criminal activities like smuggling and terrorism flourish in the gaps.
Second, the stakes are likely to be higher after the coming elections, rather than lower. Many Libyans argue that elections offer the best hope of stability in the form of a more assertive state – a view also shared by journalist Lindsey Hilsum.
However, the situation could become more volatile after the elections as the various factions contest one another for control of the country, its riches and the army – not least since rival militia forces will be contesting the elections directly or will have extensive links to the political leaders that emerge. Militia forces will, therefore, fear the personalisation of state institutions by rivals and look to assert their own control over the most powerful of ministries and institutions.
Thus, infrequent and localised struggles could turn into conflicts for survival and superiority. However, rather than pinning too much hope on the elections there are several steps that could be taken to both stabilise the country today and protect the population against protracted conflict in the future.
Some argue that the best way to give the state increased control is to reinforce the national army currently controlled by the NTC and equip it with more sophisticated weaponry. But that could escalate the problem by forcing the militias to amalgamate into coalitions in order to preserve their superiority; they will not back down in the face of an emboldened NTC army and will look to support from outside forces.
An alternative approach would be to accept that the most powerful militia forces will remain as the primary force on the ground – at least in the medium term – and that the NTC, unpopular and illegitimate in the eyes of the militias, is unlikely to be able to form an effective army independently. The most powerful of militias could, therefore, be integrated to form (and preside over) a centralised national army that combines with a power-sharing mechanism stopping any one group from consolidating too much power.
Finally, the existing regionalised security environment could be reworked so that while militia forces are kept intact and in some cases even strengthened, their military role would be sustained as part of a regulated framework underpinned by dispute-resolution mechanisms and one that makes them more organised, efficient and accountable forces able to protect their regions and national borders.
This would allow the militias to properly and legitimately maintain their status as law enforcers in the disparate regions they control while also allowing a centralised state force to emerge.
The so-called national army, operating out of Tripoli, would in this scenario simply co-operate with regional forces on matters of intelligence and military operations, while also intervening in local disputes as and when needed, and acting as a mediator in a manner akin to the mobile forces that existed in the 1950s and 1960s, under Libya's former ruler, King Idris.
www.guardian.co.uk/commentisfree/2012/jun/14/libya-needs-more-than-elections

Portraits of people killed in the uprising hang in a mosque in Darnah, a town known as a cradle of Islamic jihad, but where many have put their faith in elections.
Libya sees a violent return to democracy
The first elections since the fall of Gaddafi have revealed a Libya that is still bitterly divided
KIM SENGUPTA MONDAY 09 JULY 2012
The call to tell Hussein Abdullah Barsi that his son had been killed came as he and his friends were debating how to vote. A helicopter carrying election material had been hit by a rocket propelled grenade; the pilot managed an emergency landing, but the 22 year old student did not survive his terrible injuries.
Abdullah Hussein died in the hands of those in eastern Libya who dispute the legitimacy of first elections in 'Free Libya' for half a century and have repeatedly declared that they would not recognize the official results.
"He worked getting aide to poor families during the fighting last year, my son. He had volunteered for election work because it was the right thing to do" said his father, as relatives and friends came up to him offer their condolences at his home in Benghazi. "We should be thankful many more weren't killed in such an attack. Abdullah wanted to do something for the future, the people who murdered him are opposed to progress in our country."
The opponents of the election, going by the collective term of 'federalists', showed on polling day that they were organized as well as armed. The Independent followed flatbed trucks and cars full of activists, some carrying placards, others Kalashnikovs, a few rocket propelled grenade launchers, as they stormed polling stations in the city, destroying ballot boxes and papers. There were running fights, a few people were shot, insults and vows of retribution traded.
The violent assaults in Benghazi, the "birthplace and heartbeat of the revolution" as the posters declared when it began last February, does not mean that the elections nationally were a failure. But it does illustrate the divisions in Libya as it struggles to go forward after the 42 years of Muammar Gaddafi's dictatorship.
At Al Wiya Khadra, Zaituna and Tolitula three of the centres looted by the protestors, ballot boxes and papers were either torn or smashed or taken away to be ceremonially burned at a city centre roundabout where a rally has been held for the last two days. The administration in Tripoli, the National Transitional Council, claimed that only one location had come under threat and the attackers had been driven off by voters.
No election observers, who have deployed in the country in numbers, were present at any of the stations attacked. Security presence was light, with a rule that there should be weapon should be within 200 meters of a voting centre, checks were unobtrusive.
It was a laudable attempt to show democracy in action away from the shadow of the gun. It also meant, however, that the guards were caught by surprise and quickly overwhelmed when the federalists struck. At Zaituna, Ibrahim Saleh, with blood streaming from a cut on his head was beside himself with rage at how semi-automatic rifle had been grabbed from him and then, to add further insult, the raiders had shot up his home.
"We weren't expecting this. They came suddenly and they were well prepared. We tried to fight back but they were pointing their guns at us and others came from behind and hit us. The worst is that a bunch of them went into my home and threatened my wife and family. I will kill them if I catch them."
A woman who had come to vote with her two children was afraid and angry. "Where are the police, they are supposed to be protecting these places, protecting us."
The police arrived belatedly at Tolitola. There was a confrontation with the federalists, both sides fired shots in the air and then at each other: a man fell and was dragged away.  Murad Ali Fartusi, in his early teens, showed off his Glock pistol. "I used this in the revolution to fight Gaddafi, now I'll use it against those who want to steal our revolution. Now watch, we'll pretend to run away and the police will follow us. Then others will go and close other [polling] stations."
For a while chasing convoys roared around the streets, sirens and horns blaring. It was like the heady days of the revolution all over again. There was something else from the days of the war, large groups of armed men on the streets, mostly supporters of the election forming roadblocks to stop the protestors.
"I had put this away six months ago, but now we must protect this election, there is no other way", said Omar Mohammed Hussein, wiping a rag over his Kalashnikov. "We are the majority and when the federalists fight us, they will lose."
By late afternoon Benghazi was full of police, soldiers and vigilantes. Tanks were deployed at the east gate of the city, supposedly to stop paramilitaries arriving for an onslaught on voting.
By the evening the federalists have been driven from their gathering place at Dubai Street. Anti-election pamphlets were being burned in the same drums used earlier to incinerate ballot papers. A rally was being held outside the city courthouse where the first demonstrations of the uprising had taken place.
At a sideroad we came across two carloads of federalists. They carried weapons and warned that this was not the end of the matter. "They will be shown to have manipulated the vote and then we'll act" said Jaffar Ahmed Athadeen.
At the gathering for the fallen Abdullah Hussein, his uncle, Fawzi Barsi, vowed revenge. "We want the authorities to catch and punish those responsible. Otherwise we'll take matters into our own hands, we Barsis are a clan 50,000 strong."

www.independent.co.uk/news/world/africa/libya-sees-a-violent-return-to-democracy-7923379.html
Libya Democracy Clashes With Fervor for Jihad

www.nytimes.com/2012/06/24/world/africa/libya-jihadis-offer-2-paths-democracy-or-militancy.html
Tunisia Riots: Islamist Salafist Riots Lead To 162 Arrests
By BOUAZZA BEN BOUAZZA 06/13/12 01:13 PM ET
TUNIS, Tunisia — Tunisia's leaders on Wednesday condemned extremists after days of riots by radical Islamists left one man dead, injured 62 security personnel and led to more than 160 arrests.
Ultraconservative Islamists known as Salafis attacked an art gallery Sunday in a Tunis suburb for an exhibition they said insulted Islam. After security forces dispersed them with tear gas, gangs attacked police stations around the country over the next few days.
Clashes between secular groups and religious hardliners have been on the rise in recent months, but this week's violence is unprecedented and comes just two days after the terror group al-Qaida urged Tunisians to rise up against the governing moderate Islamist party Ennahda.
In the coastal town of Sousse, 22-year-old Fehmi Aouini, a university student, died of his wounds Wednesday after being shot in the head during clashes between security forces and Salafists, the Farhat Hached hospital said.
The North African nation that held its first free election last year is bracing for renewed unrest on Friday, the Muslim holy day, when conservative religious groups have called for renewed demonstrations against insults to the faith.
A joint statement Wednesday by the president, prime minister and head of parliament condemned unidentified "extremist groups" for "threatening the freedoms of Tunisia" and noted that these riots were taking place just as the country was getting back on its feet and the economy improving.
Tunisia for half a century was ruled by a secular dictatorship that fiercely repressed any Islamist sentiment. Since the overthrow of the regime in January 2011, religious groups have sprouted up. Ennahda won an historic election last fall and allied itself with two secular parties, but hardline groups, including al-Qaida, say the government is not doing enough to implement Islamic law.
The leader of Ennahda, Rachid Ghannouchi, said in an interview that Ayman al-Zawahri, the leader of al-Qaida who recently condemned Tunisia, was "a catastrophe for Islam and Muslims."
"We are against extremism regardless of the ideology, whether secular or Salafi, and the law must be applied to all those who violate it," he said.
Tunis, the capital, was calm on Wednesday after days of violence swept across the country.
On Tuesday in Sousse, a mob attacked the local palace of fine arts and attempted to set it on fire with firebombs. In some areas young men took up weapons to protect their neighborhoods from religious extremists, according to the state news agency.
Late Sunday, hundreds of extremists destroyed artworks at an exhibit in the Tunis suburb of La Marsa that included paintings that caricatured Mecca, portrayed a nude woman and showed the word "Allah" spelled with strings of ants.
Monastir on the coast, as well as Ben Guerdane on the Libyan border also witnessed similar violent protests.
The art gallery in Tunis has since been closed by the government. Minister of Culture Mehdi Mabrouk said while the government supports the freedom of expression, it is opposed to any insults to religion.
Interior Minister Ali Larayedh accused "extremists from the right and left" of being behind the violence. He also said remnants of the old regime and bands of criminals could also be involved and warned that "no one was above the law."
The government, many of whose members were once imprisoned by the old regime, had taken a cautious approach to the Salafist protests but appears to be taking a firmer line after this week's riots.
www.huffingtonpost.com/2012/06/13/tunisia-riots-islamist-salafist_n_1592694.html
After 2 Days of Quarreling, Syrian Opposition Draws Up Goals for Transition
"…But the wrangling during the two-day meeting here — including a drastic withdrawal complete with punches thrown by the Kurdish delegation over its status as a recognized minority — seemed to indicate that true unity remained elusive. "

www.nytimes.com/2012/07/04/world/middleeast/human-rights-watch-report-accuses-syria-of-torture.html
Leading article: Only politics can hope to resolve Syria's problems
It is possible, though extremely unlikely, that Assad will be toppled or defeated
THURSDAY 14 JUNE 2012
Two great global crises are moving, almost simultaneously, towards a climax. The common currency project, the most ambitious bid to create a supranational Europe, is in danger of unravelling, with devastating consequences for world financial stability and economic growth. And across the Mediterranean, the ever worsening Syrian conflict may set the entire Middle East aflame.
The two situations are very different, but they have one element in common. For both, the only hope of a lasting solution lies in a giant leap forward: in Europe, to a genuine economic, and therefore political, union; in Syria – and by extension most of the Arab world – to reconciliation between the Sunni and Shia, and the creation of real countries, rather than geographic assemblages of different religious sects, tribes and ethnic groups.
Whether what is now happening in Syria qualifies as a civil war is a semantic quibble. As The Independent reported yesterday, Saudi Arabia and Qatar are providing the rebels with anti-tank and other weapons. Meanwhile, Russia has supplied the Assad regime with attack helicopters. Both developments raise the conflict – which has already taken 11,000 lives – to new levels of violence. By any common-sense definition, this is a civil war.
The immediate outlook could hardly be bleaker. The ceasefire called for by the Annan plan, the one serious diplomatic attempt thus far to halt the bloodshed, was honoured only in the breach. The Russians have stymied any meaningful action by the UN Security Council. In the US, the heirs of the neocon movement urge a massive arming of the rebels (which seems to be happening), and, if that does not work, then direct military intervention by a Washington-led "coalition of the willing". The parallels with Iraq are as obvious as they are disturbing.
Neither does the Nato-backed overthrow of the Libyan regime offer any guide. Muammar Gaddafi was an insignificant despot on the margins of the Arab world, without allies. Syria by contrast is at the very heart of the Middle East and its overlapping tensions.
It is of course possible, though extremely unlikely, that President Assad will be toppled by a coup or defeated in the field. Failing that, however, there will be military stalemate, with Syria's wretched citizens trapped in permanent civil war. For that reason, the solution there – albeit as hard to imagine, now, as the surrender of national sovereignty needed to end the euro crisis – must be political.
It is easy, on both political and practical grounds, to dismiss Russia's call for an international conference involving all players in the region and building on the Annan plan. Given diplomacy's often glacial pace, not to mention the source of the proposal, the move may indeed be a cynical attempt by Moscow to buy time for Assad to finish the job with the tools with which it is providing him. Those of a practical bent might also wonder if the US will really sit down at the same table as Iran. But if a new post-Assad Syria is to be peaceably created, then such a conference may be the only way.
There are other priorities, too. In the short term, that means safe havens for Syria's internal refugees. The umbrella opposition group, the Syrian National Council, must also become more credible, and offer guarantees of safety to the country's Alawites and other minorities. More than anything, if Russia is serious about a conference, it must subscribe to a tough UN resolution, making clear that blame lies with the cruel Damascus regime. That is the message Barack Obama must deliver to Vladimir Putin at next week's G20 summit. Only then can work start on the impossible dream, of a Syria and a Middle East that is not an arbitrary mosaic of sects and tribes, but a collection of modern nation states.

www.independent.co.uk/opinion/leading-articles/leading-article-only-politics-can-hope-to-resolve-syrias-problems-7848751.html
The state of Gaza: Five years after Hamas took power in the city, how has life changed for its citizens?
Donald Macintyre Sunday 10 June 2012
The front office of Kamal Ashour's small family clothing factory in Gaza City opens on to Izzedine al-Qassam Street, named, like Hamas's military wing, in honour of the Islamist mujahid who led the anti-Zionist, anti-Mandate, Black Hand gang and was shot dead by British police in 1935.
Which makes it serendipitous to see the mannequins on one of its shelves triumphantly displaying four samples of the 2,000 acrylic cardigans and polo sweaters Ashour has just shipped off to the UK firm of JD Williams in the first clothing exports to leave Gaza for five years. And a lot more so to be talking on Ashour's landline to a Jewish-Israeli clothier in Tel Aviv about how fast, if he had half a chance, he would revert to buying his goods from here, as he once did.
Having made the call, Ashour, a short, spry septuagenarian who used to export at least 80 per cent of his clothing to Israel, has thrust the phone into my hand to demonstrate just how highly his most favoured customer values his business. Sure enough, the Israeli trader explains that, since the blockade imposed in Gaza by his own government in 2007, he has been forced to find a Chinese supplier instead of Ashour; that, yes, the sweaters may be slightly –though "not much"– cheaper, but that he would still prefer Ashour every time. "Look, I've been working with Gaza for 30 years and with this guy for 11 or 12. The overall quality is high, better than China. He's very, very good to work with. I trust him completely. If he says he will do something, he does it. He never changes his mind."
Such is his nervousness about discussing a politically sensitive topic that, unlike Mr Ashour, his Israeli client, whose name we know, begs us not to use it. For this is a conversation across enemy lines. Gaza is still officially classified by the Israeli Cabinet as a "hostile entity" and since the turbulent events that unfolded in June 2007 the exports to Israel and the West Bank on which its economy depended have been prohibited.
Five years ago this week, Gaza was in chaos. The BBC correspondent Alan Johnston was being held as a hostage by the criminal jihadists who had kidnapped him in March. The Israeli soldier Gilad Shalit, seized by militants on the Gaza border, had already been in captivity for a year. But in the streets outside, a brief but bloody civil war was raging between militants in the two biggest Palestinian factions, Hamas and Fatah.
Two years earlier, Ariel Sharon had pulled Israeli troops and the 8,000 settlers they had been protecting out of Gaza. Then, in January 2006, Hamas unexpectedly beat Fatah in notably clean parliamentary elections held throughout the occupied territories. The victory was not primarily because of ideology. (Fatah was committed to a two-state solution with Palestine, consisting of Gaza, the West Bank and East Jerusalem living side by side with Israel, while Hamas had always refused to recognise Israel.) Rather, it was because Palestinians were fed up with Fatah's corruption, the failure of negotiations to bring any results, and perhaps because some, at least in Gaza, initially bought into Hamas's extravagant boasts that its militants had "liberated" the territory from Israel.
Finding itself leading the new Palestinian Authority in uneasy co-habitation with a Fatah president in Mahmoud Abbas, Hamas was faced with a boycott by a US-led international community which effectively refused to recognise the results of the election it had sanctioned in the first place. The outcome was a coalition with Fatah; but it was a shotgun marriage that quickly degenerated into civil conflict.
Hamas, despite partially covert American help for the Fatah forces, was victorious. When the bloodshed ended on 14 June 2007 Hamas was left in charge of Gaza, Fatah of the West Bank. And Israel responded with its blockade of Gaza – central elements of which are still in force today – which the senior UN official Filippo Grandi said 12 days ago had "completely obliterated" the territory's economy, and which leaves a deeply puzzling question: why is Israel still maintaining an export ban which, in Grandi's words, has "penalised" the "common people" and the "business community" of Gaza but has left its Hamas rulers intact and unscathed?
Through the past five years, punctuated by Israel's bloody three-week military offensive in Gaza in the winter of 2008-2009, Ashour has stayed in contact with his old Israeli customer. He explains that he last used his coveted businessman's permit to visit the Israeli's premises and drink tea with him, after Benjamin Netanyahu finally agreed the prisoner exchange with Hamas that made headline news with the release of Gilad Shalit last October. Ashour recalls that one of the Israeli's sons told his father: "'Look, Shalit's out. The crossings must open now. Kamal could produce 10,000 pieces for us.'" At which point the clothier thrust a wad of 14,000 shekels (around £2,300) in banknotes into Ashour's hand as a down-payment for just such an order. The Israeli trader's optimism after the Shalit prisoner exchange was understandable, because one of the reasons cited by the government for maintaining the blockade in the first place had been the IDF soldier's continued incarceration.
Stacked in a storeroom are the sweaters the Israeli has paid for, neatly boxed up and waiting for the moment when they are allowed to leave Gaza for Tel Aviv. A moment which still shows no sign of coming, since the Netanyahu government has not lifted its decree that no goods will leave Gaza for destinations in Israel or the West Bank. Which is exactly where 85 per cent of the territory's exports went before June 2007.
In any case, it hardly compares with the 6,000 garments – two truckloads – Ashour used to send out to his Israeli customers every week. He did all he could to help out his impoverished employees after June 2007, first keeping them on half-pay and then with loans from his own pocket. But whereas he used to employ 35 to 40 workers for three shifts all the year round, in the past year he has employed only 25 for two shifts, and for just three months. Those that could, found jobs as bakers, taxi drivers, street cleaners or more frequently on NGO-sponsored short-term work programmes or as Hamas policemen. Those who he temporarily re-engaged came back – except the policemen. It is a neat illustration of how the slump in private-sector employment since 2007 served to boost the payroll of the Hamas authorities.
Now, the British order completed – and the second batch ready for dispatch – the factory is silent and empty. Ashour believes, not unreasonably, that a resumption of commerce between Israel and Gaza would foster better relations all round, and that, "I never saw a businessman throw a stone." Breaking into English for his final rhetorical flourish, he adds: "The Jews understand me very good. For business, Tel Aviv is better for me than London or New York."
The outrage that followed the fatal shooting by Israeli commandos of nine Turks aboard the Mavi Marmara, the flagship of the flotilla that set sail for Gaza in an attempt to break the blockade in May 2010, awakened Western governments to the need to be seen to press Netanyahu to lift the siege. The most immediate result of the subsequent negotiations between Tony Blair, as the international envoy of the "Quartet" (a mediating coalition of the UN, the US, the EU and Russia), and the Israeli Prime Minister was the rapid flow of Israeli goods into Gaza supermarkets as the military lifted it capricious "security" ban on a bizarrely comprehensive selection of commodities, which had ranged from musical instruments and razor blades to coriander, and as an infuriated US Senator John Kerry had discovered on a trip in 2009, pasta.
Blair also secured a resumption of raw-material imports for Gaza's industry – which allowed Ashour to bring in his acrylic cloth from Turkey through Israel for the first time since 2007 and other manufacturers to start serving local markets again. Netanyahu also – in theory – agreed to allow exports, though in practice this has been mainly confined to dispatches, heavily subsidised by foreign governments, of flowers and fruit to Europe. Even conservative estimates put the total levels of Gaza exports at less than two per cent of pre-June 2007 levels.
It was less painful for Israel to change the policy, of course, because it had so manifestly failed. Indeed, whatever its effects on Gaza's long-suffering public, it had done nothing to weaken, let alone dislodge, Hamas. Through the long period of international boycott, Israeli blockade and the 2008-2009 war, the Islamic faction has tightened its grip on government. At the end of last month, Gaza was once again alive with hopeful talk that Fatah and Hamas would heal the split that began so bloodily and form a "unity" government – an outcome strongly opposed by Israel.
Gaza, like the West Bank, is a land the Arab Spring forgot; but that does not mean its politics have been unaffected. Hamas has a dual leadership –de facto Prime Minister Ismail Haniyeh in Gaza and Khaled Meshal outside the territory. The uprising, fast becoming a civil war, in Syria and Bashar Assad's brutal treatment of it, now condemned by Hamas, forced Meshal to leave his Damascus base, leaving him in need of new allies. And the rise of the Muslim Brotherhood in Egypt – which will be even more marked if its presidential candidate Mohammed Morsi wins this week's run-off – provided him with the chance to do just that. Deposed Egyptian president Hosni Mubarak—and some of the intelligence chiefs still in post – always favoured Fatah over Hamas. But Hamas is an offshoot of the Brotherhood. And if the West is prepared to talk to the Brotherhood in Egypt, might they not in time, he may have reasoned, do so to Meshal himself, especially if he has a new accord with Abbas?
In the short term, moreover, no new Fatah-Hamas agreement was ever going to mean economic change for the better in Gaza. And the changes negotiated after the Mavi Marmara debacle were as significant for what they did not include as what they did. Not only were exports banned to the very markets in the West Bank and Israel they had overwhelmingly served, but Israel did not lift the ban – other than on imports for strictly identified projects supervised by the UN and other international organisations – on bringing in building materials, including for reconstruction needed after the 2008-2009 war. The latter decision, ostensibly on the grounds that Hamas could divert such materials for is own purposes, including military ones such as underground bunkers, went to the heart of the contradictions in Israeli policy in Gaza.
For both Hamas and the private sector have been importing everything they need from Egypt through the tunnels Gazan entrepreneurs constructed under the Egyptian border to beat the siege after 2007. It is almost impossible to overestimate the impact of the tunnels; "smuggling", though technically correct, hardly seems an appropriate term to cover the cars, motorcycles and livestock coming under the border. Nor for the bulk building materials such as the truckloads of Egyptian cement from El Arish you can see trundling north along the Gaza Strip's main Saladin Road.
Indeed something of a construction boom, however temporary, is the main factor behind a fall in unemployment to around one in three of the workforce, according to UN figures; there is even a shortage of skilled workers, such as carpenters and steel-fixers. Building sites abound in Gaza City, many funded with cash from the new breed of Gaza millionaires, many themselves tunnel operators and close to Hamas.
Meanwhile, a 2km stretch of the sandy, potholed Al Rasheed coast road is being proudly transformed into a "corniche", one of several projects financed by PalTel, the main Palestinian telecommunications company, apparently to avoid the embarrassment of paying taxes directly to Hamas. Huge mounds of earth and roadside pyramid-shaped stacks of steel piping brought in at the beginning of the year testified to the scale of the project – with 5m-wide pavements, a central reservation and a pedestrian tunnel for families to get safely to the beach (a safety that can hardly be guaranteed in the sea itself, still dangerously polluted by the 15,000cm a day of raw sewage long pumped into the Mediterranean). Not only does this traffic fatally undermine the stated "security" goals of the Israeli policy, but it is of huge financial benefit to Hamas, which is levying 10 shekels (£1.65) on every ton of aggregate, 20 on cement, and 50 on steel.
The building boom cannot disguise the huge hole – which only a restoration of exports to the West Bank and Israel would truly start to repair – still left in Gaza's economy. But the construction industry's resilience is a reminder that even in the darkest days it has passed through since 2007, up to and including the aftermath of the war, there has always been more to Gaza than its stereotype outside the territory.
At one extreme, of course, the narrow alleys separating the famously overcrowded, zinc-roofed, breeze-block slums of the Jabalya refugee camp testify to a level of poverty in which the UN says more than 70 per cent of Gazans depended on food or cash aid. At the other, the glamorous young women, some daringly without headscarves, smoking narghila on a sociable Thursday evening under a late May new moon on the terrace of the Arabesque Al Deira hotel are a reminder that, for all its problems, Gaza City is the most metropolitan and in many ways sophisticated of all the Palestinian urban centres. It has two universities of its own as well as the offshoots of others in the West Bank, it has its crop of lively bloggers, often fearlessly critical of the Hamas authorities. It has some of the best of all Palestinian painters –and, for that matter, rappers. Its music school has just become part of the prestigious Edward Said Conservatory network…
It is a paradox which bothers Iqbal Qishta, who, like Gaza's many hundreds of would-be exporters, has fallen victim to what increasingly looks like Israel's systematic determination to separate Gaza from the West Bank. For the third change Netanyahu refused to make in the negotiations with Blair was to free the movement of people through the Erez Crossing out of Gaza.
The elegant Ms Qishta, who runs a successful Gaza City hair and beauty salon and has decided to take a university degree at a proudly unmarried 37, has been refused permission to attend a hairdressers' convention in the West Bank city of Tulkarem. In previous times a veteran of such events – evidence that there are no security grounds against her – she argues that her presence and those of her peers in the past was as much the conventions' gain as those of the Gaza invitees. "They can learn from us; for example some of the ways we dye hair in crazy colours which we get from Egypt and take to the West Bank."
She is half-irritated and half-amused as she describes how far Palestinians in the West Bank, who now rarely if ever meet Gazans, have internalised an image of them as ingénues at best and barbarians at worst. At a previous convention, she says, "One woman from Jericho asked me: 'Do you still all live in asbestos shacks?' They wouldn't believe we were from Gaza; they thought we were 1948 Palestinians [Arabs living in Israel]. It's because of the media. They just show bombardments or they go to the Beach [refugee] camp and show kids playing in some sewage puddle, people wearing bad clothes and graffiti. They don't go to the Mövenpick hotel [actually now the ArcMed, but still called after the Swiss company which originally built it in the more-hopeful 1990s] or the Lighthouse restaurant or the Al Deira."
Qishta insists she will try again each year to attend the convention – resenting that it is easier for to go to Cairo through the Rafah crossing than to join her fellow Palestinians for a short meeting in the West Bank.
Even more sweeping is the military's ban on students attending – as they routinely did before the second intifada broke out in 2000 – universities in the West Bank. Last month an unprecedented judgement in Israel's Supreme Court gave the state 45 days to reconsider the routine application of the ban to four women in their thirties and forties, all of whom have been active in promoting women from attending courses in the West Bank.
But it did not intervene at all on the case of Loujain Alzaeem, 18, a law student with outstanding grades who has long been ambitious to follow in her mother's footsteps to go to Birzeit University in Ramallah. "My dream since I was a kid was to go to Birzeit. It is one of the best universities in Palestine and the law faculty is very good. The fact my mother went there is a big factor and she has told me a lot about her time there. I can go to London but I can't go to Birzeit or Jerusalem or anywhere like that. [The Israelis] just don't want any students from here to go to the West Bank and that's it."
Not only has the military made no claim against Loujain – or the four older women – on security grounds, but her father Shaharbeel, one of the most prominent and best-connected lawyers in the country, a well-known advocate of non-violence, with clients in Israel and the West Bank as well as Gaza, is one of the select few with a permit to travel through the Erez Crossing into Israel.
The passage of people, like goods, between Gaza and the West Bank looks very much like a one-way street. Israel has deported Gazan-registered Palestinians living in the West Bank – even when married to West Bankers – for no other reason than that they hold Gaza IDs. And while it has promised under severe pressure from human-rights organisations to legitimise 5,000 Gazans by giving them new West Bank IDs, another 13,000 live under daily threat of deportation. The prisoners released in the exchange for Gilad Shalit whom Israel judged most dangerous were deported to Gaza – Sharharbeel Alzaeem calls it Israel's "New Australia" policy. But the large majority of the 3,000 Gazans per month allowed to leave Gaza, and then only temporarily, are either medical patients sick enough to meet Israel's strict criteria for treatment outside the Strip, or traders allowed through Erez to negotiate imports.
In Alzaeem's view, this is part of a "systematic policy. They are trying to separate Gaza and the West Bank, and to throw Gaza south, towards Egypt." He argues that an embargo which stimulated the extraordinary growth of the tunnels economy is a "very clear sign that that they want Gaza to be dependent on Egypt and not Israel". He adds scornfully that if there was to be a state, Israel would prefer it to be Gaza, leaving in the West Bank "a few [Palestinian] islands surrounded by settlers, islands which would need little more than a municipal council to run".
The student ban may also be more congenial to Hamas than Israel admits. Last year the de facto government refused exit permits to eight outstanding high-school students who had been awarded scholarships to study in the United States, citing "social and cultural reasons". As Amira Hass, who knows Gaza better than any other Israeli journalist, wrote last month in Haaretz, Israel's oldest daily newspaper: "Like the State of Israel, the Hamas education ministry doesn't like it when Gazan youth go to the West Bank or overseas. And for good reason: political and religious indoctrination ebbs when horizons open up. If Israel genuinely wanted to weaken Hamas rule, it would respect freedom of movement, which has been restricted since 1991."
It's hard not to escape the conclusion – heavily denied by Israel – that there have been convenient aspects to a separated and Hamas-controlled Gaza, especially when military officers admit privately that the faction, for now, is often active in preventing smaller groups from firing rockets at Israel. The split between Gaza and the West Bank is, after all, an obstacle to the full two-state solution that many doubt the Netanyahu government really wants.
Sari Bashi, director of Gisha, the Israeli NGO which has done more than any other to highlight the impact of the Gaza closure, says that for decades Israel pursued a policy of economic integration which made Gaza wholly dependent on the West Bank and Israel for its exports, and that no economic recovery is possible without exports to its existing markets there rather than to "non-existent markets" abroad. "The idea of a two-state solution is premised on the integrity of Gaza and the West Bank, where four million Palestinians share economic, education, familial and social ties," she says. " Sealing Gaza off from the West Bank means sealing off access to schools, jobs, family unity – and the possibility of a two-state solution."
Along with Kamal Ashour, Abed Al Rauf Abu Safar is another of the very few Gaza businessman who has managed, albeit with considerable difficulty, to get exports out through Israel – in his case, tomatoes to Saudi Arabia through Jordan. The amounts are nothing like the six or seven trucks he used to send each week through the now-closed Karni crossing, packed with vegetables for Israel and the West Bank; Abu Safar used to pay to equip dozens of farmers in the central and southern Gaza Strip for plantation, and then recoup the cost from his export revenues. He is acutely aware that since his loads passing through Israel on their way to the Allenby Bridge across the Jordan river meet all the stringent checks imposed by the military, it is not security but a policy of separation that stops him exporting similar loads to Israel and the West Bank. Instead, Abu Safar is now keeping his West Bank customers supplied from farms in Jordan – one of dozens of the more successful Gaza businessmen to shift operations abroad in a flight of capital directly triggered by Israeli policy. "It's a tragic situation," he says, "for Gaza."

www.independent.co.uk/news/world/middle-east/the-state-of-gaza-five-years-after-hamas-took-power-in-the-city-how-has-life-changed-for-its-citizens-7831408.html
Where Arranged Marriages Are Customary, Suicides Grow More Common

www.nytimes.com/2012/06/07/world/middleeast/more-suicides-in-iraq-region-where-arranged-marriage-is-common.html
By ANDREAS HARSONO
Published: May 21, 2012
Jakarta, Indonesia
IT is fashionable these days for Western leaders to praise Indonesia as a model Muslim democracy. Secretary of State Hillary Rodham Clinton has declared , "If you want to know whether Islam, democracy, modernity and women's rights can coexist, go to Indonesia." And last month Britain's prime minister, David Cameron, lauded Indonesia for showing that "religion and democracy need not be in conflict."
Tell that to Asia Lumbantoruan, a Christian elder whose congregation outside Jakarta has recently had two of its partially built churches burned down by Islamist militants. He was stabbed by these extremists while defending a third site from attack in September 2010.
This week in Geneva, the United Nations is reviewing Indonesia's human rights record. It should call on President Susilo Bambang Yudhoyono to crack down on extremists and protect minorities. While Indonesia has made great strides in consolidating a stable, democratic government after five decades of authoritarian rule, the country is by no means a bastion of tolerance. The rights of religious and ethnic minorities are routinely trampled. While Indonesia's Constitution protects freedom of religion, regulations against blasphemy and proselytizing are routinely used to prosecute atheists, Bahais, Christians, Shiites, Sufis and members of the Ahmadiyya faith — a Muslim sect declared to be deviant in many Islamic countries. By 2010, Indonesia had over 150 religiously motivated regulations restricting minorities' rights.
In 2006, Mr. Yudhoyono, in a new decree on "religious harmony," tightened criteria for building a house of worship. The decree is enforced only on religious minorities — often when Islamists pressure local officials not to authorize the construction of Christian churches or to harass and intimidate those worshiping in "illegal" churches, which lack official registration. More than 400 such churches have been closed since Mr. Yudhoyono took office in 2004.
Although the government has cracked down on Jemaah Islamiyah, an Al Qaeda affiliate that has bombed hotels, bars and embassies, it has not intervened to stop other Islamist militants who regularly commit less publicized crimes against religious minorities. Mr. Yudhoyono's government is reluctant to take them on because it rules Indonesia in a coalition with intolerant Islamist political parties.
Mr. Yudhoyono is not simply turning a blind eye; he has actively courted conservative Islamist elements and relies on them to maintain his majority in Parliament, even granting them key cabinet positions. These appointments send a message to Indonesia's population and embolden Islamist extremists to use violence against minorities.
In August 2011, for example, Muslim militants burned down three Christian churches on Sumatra. No one was charged and officials have prevented the congregations from rebuilding their churches. And on the outskirts of Jakarta, two municipalities have refused to obey Supreme Court orders to reopen two sealed churches; Mr. Yudhoyono claimed he had no authority to intervene.
Christians are not the only targets. In June 2008, the Yudhoyono administration issued a decree requiring the Ahmadiyya sect to "stop spreading interpretations and activities that deviate from the principal teachings of Islam," including its fundamental belief that there was a prophet after Muhammad. The government said the decree was necessary to prevent violence against the sect. But provincial and local governments used the decree to write even stricter regulations. Muslim militants, who consider the Ahmadiyya heretics, then forcibly shut down more than 30 Ahmadiyya mosques.
In the deadliest attack, in western Java in February 2011, three Ahmadiyya men were killed. A cameraman recorded the violence, and versions of it were posted on YouTube. An Indonesian court eventually prosecuted 12 militants for the crime, but handed down paltry sentences of only four to six months. Mr. Yudhoyono has also failed to protect ethnic minorities who have peacefully called for independence in the country's eastern regions of Papua and the Molucca Islands. During demonstrations in Papua on May 1, one protester was killed and 13 were arrested. And last October, the government brutally suppressed the Papuan People's Congress, beating dozens and killing three people. While protesters were jailed and charged with treason, the police chief in charge of security that day was promoted.
Almost 100 people remain in prison for peacefully protesting. Dozens are ill, but the government has denied them proper treatment, claiming it lacks the money. Even the Suharto dictatorship allowed the International Committee of the Red Cross to visit political prisoners, yet the Yudhoyono government has banned the I.C.R.C. from working in Papua.
Instead of praising Indonesia, nations that support tolerance and free speech should publicly demand that Indonesia respect religious freedom, release political prisoners and lift restrictions on media and human rights groups in Papua.
Mr. Yudhoyono needs to take charge of this situation by revoking discriminatory regulations, demanding that his coalition partners respect the religious freedom of all minorities in word and in deed, and enforcing the constitutional protection of freedom of worship. He must also make it crystal clear that Islamist hard-liners who commit or incite violence and the police who fail to protect the victims will be punished. Only then will Indonesia be deserving of Mr. Cameron and Mrs. Clinton's praise.

www.nytimes.com/2012/05/22/opinion/no-model-for-muslim-democracy.html
Indonesian man jailed for two-and-a-half years for writing 'God doesn't exist' on his Facebook page

www.dailymail.co.uk/news/article-2159530/Indonesian-man-jailed-half-years-writing-God-doesn-t-exist-Facebook-page.html
Muslim Brotherhood's Mohammed Morsi pledges to be president for all Egyptians
www.telegraph.co.uk/news/worldnews/africaandindianocean/egypt/9353052/Muslim-Brotherhoods-Mohammed-Morsi-pledges-to-be-president-for-all-Egyptians.html
Can Mohammed Morsi's Islamic democracy lead the way for the Arab world?
The Muslim Brotherhood ruler is confounding Egypt's expectations

Mohammed Morsi : he has said that he will appoint a woman and a Christian to senior posts
'Please God, make it stop!' British female journalist, 21, describes horrific sexual assault in Egypt's Tahrir Square after election result
Natasha Smith attacked by a 'group of animals' who stripped her naked
Only escaped after she was handed a burka and men's clothes
'I was tossed around like fresh meat among starving lions'

Assaulted: Natasha Smith has written about her horrific ordeal in Tahrir Square on her blog

www.dailymail.co.uk/news/article-2165445/British-journalist-Natasha-Smith-22-recalls-horrific-sexual-assault-Egypts-Tahrir-Square.html
Natasha Smith, British Journalism Student, Recounts Tahrir Square Mob Sexual Assault After Election

www.huffingtonpost.com/2012/06/28/natasha-smith-british-jou_n_1634847.html
Robert Fisk: Mubarak's 300,000-strong army of thugs remains in business despite elections
The Long View: The military has played a shrewd game – insisting Mubarak go on trial while realigning supporters to preserve their privileges
Robert Fisk Monday 18 June 2012
As millions of Egyptians turn their backs on the brave young revolutionaries of Tahrir Square, today is the day to remember old General Mohammed Neguib, who kicked off Egypt's first post-war revolution by plotting the overthrow of King Farouk almost exactly 60 years ago. He and his fellow Egyptian army officers had been debating whether to execute the obese Farouk or send him into exile. Nasser opted to shoot the monarch. Neguib asked for a vote. In the early hours, Nasser wrote a note to Neguib: "The Liberation Movement should get rid of Faruk [sic] as quickly as possible in order to deal with what is more important – namely, the need to purge the country of the corruption that Faruk will leave behind him. We must pave the way towards a new era in which the people will enjoy their sovereign rights and live in dignity. Justice is one of our objectives. We cannot execute Faruk without a trial. Neither can we afford to keep him in jail and preoccupy ourselves with the rights and wrongs of his case at the risk of neglecting the other purposes of the revolution. Let us spare Faruk and send him into exile. History will sentence him to death."
The association of corruption with the ancien regime has been a staple of all revolutions. Justice sounds good. And today's Egyptians still demand dignity. But surely Nasser got it right; better to chuck the old boy out of the country than to stage a distracting and time-consuming trial when the future of Egypt, the "other purposes of the revolution", should be debated. Today's military played an equally shrewd but different game: they insisted Mubarak go on trial – bread and circuses for the masses, dramatic sentences to keep their minds off the future – while realigning the old Mubarakites to preserve their own privileges.
The ex-elected head of the judges' club in Egypt, Zakaria Abdul-Aziz, has rightly pointed out that even if Mubarak was put on trial, the January-February 2011 killing went on for days, "and they [the generals] did not order anyone to stop it. The Ministry of Interior is not the only place that should be cleansed. The judiciary needs that."
It was Mubarak's senior judges who permitted the deposed dictator's last Prime Minister, Ahmed Shafik, to stand in this weekend's run-off for President. As Omar Ashour, an academic in both Exeter and Doha, has observed, "when protesters stormed the State Security Investigations [SSI] headquarters and other governorates in March 2011, torture rooms and equipment were found in every building".
And what happened to the lads who ran these vicious institutions for Mubarak, clad alternatively in French-designed suits or uniforms dripping with epaulettes? They got off scot-free. Here are some names for The Independent's readers to stick in their files: Hassan Abdul-Rahman, head of the SSI; Ahmed Ramzi, head of Central Security Forces (CSF); Adly Fayyed, head of "Public Security"; Ossama Youssef, head of the Giza Security Directorate; Ismail al-Shaer, boss of the Cairo Security Directorate – "shaer", by the way, means "poet" – and Omar Faramawy, who ran the 6 October Security Directorate.
I will not use the words "culture of impunity" – as Omar Ashour does without irony – but the acquittal of the above gentlemen means that Mubarak's 300,000-strong SSI and CSF thugs are still in business. It is impossible to believe the Supreme Council of the Armed Forces – still running Egypt and commanded by Mubarak's old mate Field Marshal Tantawi – was unaware of the implications of this extraordinary state of affairs. If Mubarak represented Faruk, and his sons Gamal and Alaa the future leaders of the royal family, then the 2011 Egyptian revolution represented 1952 without the king's exile and with a shadow monarchy still in power.
The belief among journalists and academics that Tahrir Square would fill once again with the young of last year's rebellion, that a new protest movement in its millions would end this state of affairs, has – so far – proved unrealistic. Over the weekend, Egyptians wanted to vote rather than demonstrate – even if the country's security apparatus would end up running the show as usual – and if this is democracy, then it's going to be of the Algerian rather than the Tunisian variety. Maybe I just don't like armies, while Egyptians do.
But let's go back to Neguib. He went aboard the royal yacht in July 1952 to say goodbye to the king he was deposing. "I hope you'll take good care of the army," Farouk told him. "My grandfather, you know, created it." Neguib replied: "The Egyptian army is in good hands." And Farouk's last words to the general? "Your task will be difficult. It isn't easy, you know, to govern Egypt…"
Neguib concluded that governing would be easier for the military because "we were at one with the Egyptian people". Indeed. Then Nasser kicked out Neguib, prisons reopened and torturers were installed. Then came General Sadat and General Mubarak. And now?

www.independent.co.uk/opinion/commentators/fisk/robert-fisk-mubaraks-300000strong-army-of-thugs-remains-in-business-despite-elections-7857358.html
Leading article: The storm clouds are gathering over Egypt
When mass protests toppled Hosni Mubarak in February last year, Cairo's Tahrir Square swiftly became the emblem of the hopes of the Arab Spring. Sixteen months on, however – with the constitution still not written and soldiers guarding the doors of the parliament – the outlook for the Egyptian revolution is far from certain.
There were always going to be hiccups. After six decades of military rule, three of them under Mr Mubarak, dismantling the old power structures – the so-called "deep state" – could hardly be expected to run entirely smoothly. But all the signs suggest that the ruling military council is tightening its grip on power just as the time to relinquish it is approaching.
It is true that the Supreme Council of the Armed Forces (SCAF) has restated its commitment to hand control to the new President at the end of this month as planned. But on Sunday night, a bare few hours after the polls closed, the council issued a constitutional declaration granting itself both sweeping legislative and budgetary oversight and also, crucially, the final say over who will draft the constitution that will set out the President's powers.
Coming just days after the Muslim Brotherhood-dominated parliament was declared unconstitutional and dissolved, it is hard to avoid the conclusion that the military is consolidating its position while it can. The decision that the army will remain outside presidential control, and that parliamentary elections will not go ahead until after the constitution is in place, only add to moderate Egyptians' fears. It is understandable, then, that the council's actions were swiftly branded a "coup", and that there was a smattering of demonstrators back in Tahrir Square yesterday.
In response, there was much bluster from the council, not least the claim that the situation is being "blown out of proportion". For such protestations to have any credence, however, will take action as well as words. Until then, it is, alas, Nobel laureate Mohamed ElBaradei's verdict of "a grave setback for democracy" that stands.
But it is not only the machinations of the military council that are disquieting. A presidential race that, by the final round, pitted Mohamed Morsi, of the Islamist Muslim Brotherhood, against Ahmed Shafik, a former air force commander and Mr Mubarak's final Prime Minister, has only added to the frustrations of the young, liberal demonstrators who led the Tahrir Square protests. To many, such a choice looks like the revolutionary momentum is all but lost.
The election has certainly proved a close-run thing. So much so that both sides are making early claims of victory, ahead of Thursday's official result. Although neither candidate merits unqualified support, it is Mr Morsi who must be preferred of the two. The election of Mr Shafik simply looks too much like a return to the bad old days, even more so in light of the military's latest moves.
That said, a Morsi presidency carries significant risks of its own. For all his efforts to cast himself as a liberal, the prospect of Islamist rule remains a disconcerting one. More concerning still, given recent developments, is that Mr Morsi may prove no more effective a break with the past than Mr Shafik. The Muslim Brotherhood was a latecomer to the protest movement, and has been a vocal supporter of the military council since. If the SCAF is bent on pulling the President's constitutional claws, it would be up to Mr Morsi to fight it. And whether or not he did so would determine Egypt's political future.
More than anything, Egypt needs a leader who can start to unify its fractured society and address its increasingly acute economic problems. The optimism of February 2011 is not entirely spent, but there is much cause for concern. Tahrir Square may see more protests yet.

www.independent.co.uk/opinion/leading-articles/leading-article-the-storm-clouds-are-gathering-over-egypt-7858748.html
Death Threats to Author Questioning Origins of Islam
A best-selling author questioning the origins of Islam in a new book has received death threats on the Twitter social networking website.
By Chana Ya'ar
First Publish: 6/2/2012, 11:40 PM
A best-selling author questioning the origins of Islam in a new book has received death threats on the Twittersocial networking website.
Robert Spencer, director of the website "Jihad Watch," questioned the source of Islam in a new book, "Did Muhammad Exist? An Inquiry into the Obscure Origins of Islam," published by ISI Books. Spencer is also the author of The Politically Incorrect Guide to Islam (and the Crusades), The Truth about Muhammad (both New York Times best-sellers) and is a columnist for FrontPage Magazine.
But upon publication of his latest book, which theorized that the founder and prophet of Islam, Muhammad, did not really exist, Spencer was threatened with a violent death.
The threat of beheadings and stabbings was sent on May 30 to the author via Twitterby an Australian Muslim whose ID was 'abdulhakim'.
The potential attacker, whose Twitter handle is @83_amira sent a tweet that stated: "1,200 of your books were burnt in Australia yesterday by me Cause you a liar, lucky you are miles &miles away." A second threat sent was "slandering the prophet is not freedom of speech you dog, scumbag. I would not slash u, but cut you head off and hang it on the White House."
Several more threats from the same Twitter account were also sent, calling for killing David Wood, a blogger and Teaching Fellow in Philosophy, as well as blogger Pamela Geller who writes on the "Atlas Shrugs" website. The threat to Geller stated, "she needs to be hung or slaughtered because of her hatred."
The following day tweets from "Adam' whose handle is @allahuakbar12 added fuel to the fire, saying "Its your fault you brought it upon yourself." Another tweet in favor of violence followed from @frigidfire23, writing "That man would do humanity a great favor!Maybe he should pay you a visit too.World would be a much better place without u2!"
The Twitteraccount @83_amira has since been suspended.

www.israelnationalnews.com/News/News.aspx/156460#.T99y6hdfFIw
UN-Backed PA NGO to Children: Replace Cigarettes with Guns
PA-based NGO supported by UN branches puts on a puppet show, tells kids to see Jews as "enemies" who kill Arab youth.
By Elad Benari
First Publish: 6/12/2012, 6:44 AM
A Palestinian Authority-based NGO, the Burj Luq-Luq Social Center Society organization, recently performed a puppet show for children in east Jerusalem to promote non-smoking.
The educational message delivered by the puppets, however, instructed children to replace cigarettes with machine guns. A video of the puppet show was uploaded to the NGO's website. It was accessed by the Palestinian Media Watch (PMW) research organization, which monitors and translates the PA-based media. The organization translated the video and presented it on its website.
In addition to teaching children not to smoke, the puppet show glorified death and violence and educated children to see Jews as "enemies" who kill the Arab youth of Jerusalem.
One of the puppets in the show said, "I wanted to stand before the audience and sing to Jerusalem, which is being kept from us. Jerusalem, whose youth are being killed by the Jews, to sing and to say:
Jerusalem, we are coming, Jerusalem, the time of death has arrived.
Jerusalem, we will not surrender to the enemies or be humiliated."
A second puppet responded, "What am I doing to myself [by smoking]?
I, and many other youth like me, think that through cigarettes we will be adults and men. Jerusalem doesn't need youth who hold cigarettes.
It needs men who hold machine guns, not cigarettes."
PMW also noted that according to the Burj Luq-Luq Social Center Society's website, it is or has been supported by various branches of the UN, including UNICEF and UNESCO, in addition to international donors, including:
"… the French consulate, the Swiss Development Agency, the Youth Development Department, which belongs to the Association of Arab Studies the 'Orient House,' the Italian Institutions Union, the Faisal Husseini Institute… UNFPA" and Arab countries, as well as the PA Ministry of Youth and Sports.
PMW has documented in the past how UN and international donor money has been used to support PA institutions or organizations that incite hatred and promote violence against Jews and Israel. Among other examples, PMW documented that UNESCO supported a PA-based magazine for youth that glorified Hitlerbecause he killed Jews.
Following PMW's exposure and international protests, UNESCO stopped its funding of the magazine, saying it "deplores and condemns the reproduction of such inflammatory statements in a magazine associated with UNESCO's name and mission and will not provide any further support to the publication in question."

www.israelnationalnews.com/News/News.aspx/156785
Fatah to Israel: Do What We Want, or Face Intifada
by David Lev
If Israel does not surrender all the lands liberated in the Six Day War of 1967, set up an Arab state with Jerusalem as its capital, and make significant concessions in accepting as citizens descendants of Arabs who fled Israel in 1948, a third intifada should, and must, be conducted. The call for a new "uprising of the people" against Israel was part of a the summation statement issued at the end of the two day Palestinian Revolutionary Council (PRC) general meeting held this week. The meeting was led by Palestinian Authority chief and Fatah party head Mahmoud Abbas.
The statement declares its support for Abbas' ongoing refusal to back down from positions that have proven unacceptable to Israel in the past, including demands that Israel agree in principle to accept as citizens descendants of Arabs who fled their homes in 1948. Abbas has also declared that he will refuse to discuss anything with Israel until all settlement activity is ended. That precondition has also been unacceptable to Israel, but in its statement, the PRC said that it supported Abbas on that as well.
The PA will also make another attempt to be recognized as a state by the United Nations this year. Last year, the PA statehood bid was thwarted after many months of intense diplomatic activity by Israel, but analysts said that the PA was less likely to back down this time, and would insist that the matter be brought before the Security Council.
The statement also expresses ongoing support for attempts to reunite Fatah and Hamas in the PA government.It also praised the election of Mohammed Morsi as President of Egypt, saying that it "indicates that Egypt is on the way to resume its major role in the Arab world."
Shell in Misurata Adds to a City's Grim Toll
By C. J. CHIVERS
Published: May 1, 2011
MISURATA, Libya — On the night he would die, Muhammad Abdulhamid Sbikhee, a night watchman at a local school, was at home with his wife and their seven children. They shared a small, ground-floor apartment that opened to a tiny yard that opened in turn to an urban dirt alley.
Misurata had been shelled for several weeks running, and Mr. Sbikhee, a quiet man with a thick gray beard, was both worried and prepared, a neighbor and his wife said.
His children's two bedrooms faced the direction from where many of the high-explosive shells and rockets from the forces loyal to Col. Muammar el-Qaddafi had been fired. Around 10:30 p.m. Saturday, when more shells began landing and exploding in his neighborhood, Mr. Sbikhee and his older son sent his children, ages 1 to 17, to the other side of their apartment. He told them to hurry through the kitchen, outside, across the narrow slot of open sky, and to sleep on cushions he had arranged in a storage room near the cement wall beside the alley.
His instincts were good. It was safer there. Then he returned inside, to the bedroom he shared with his wife, Soad Warayeth. The artillery shell met him there.
How long this shell had been in flight no one can say for sure. But it was very likely racing through the air over this besieged city as Mr. Sbikhee paced back through the kitchen, crossed the dimly lit corridor, and entered the room where he had slept for years.
What is known is that he all but collided with it. He had made it to the foot of his bed when it struck the exterior base of his building, squarely in line with the bed's opposite side. There it exploded. In a flash and roar, the shell and a large section of wall were converted into a rush of shrapnel, shattered cinder blocks and bits of flying plaster and concrete. This engulfed Mr. Sbikhee.
Earlier on Saturday, Colonel Qaddafi, Libya's long-ruling leader, gave a rambling speech on state television in which he insisted, no matter any evidence to the contrary or the impressions in the West, that his forces were not killing Libyan civilians. "You lie and say I'm killing my own people," the former revolutionary said. "Show us the bodies."
In accordance with Islamic tradition, under which people are buried on the day they die, showing the colonel bodies of all the Libyans killed in recent months, hundreds of them here in Misurata alone, by his military forces and militias was not readily possible. But there was no need to wait long for the colonel's claim to be proved wrong. On Saturday, as on every day, more people were becoming bodies with the passing hours.
Now it was Mr. Sbikhee's turn.
As his bedroom wall was blown asunder, covering the double bed with a mound of gray rubble, a wave of shrapnel and debris shot across the room. It blew open the wardrobe, shattered the mirror above the bureau, and popped the light bulb on the wall.
Several pieces hit Mr. Sbikhee, including one that entered his right side, below the armpit, cutting a deep wound. He collapsed to the floor.
Mrs. Warayeth, who had been behind him at the doorway, was struck in her lower body. Dust and darkness enveloped her.
The events of the next several minutes — shared in the accounts of Mrs. Warayeth and her neighbors, traced in the dark stains left behind, and visible at the desperate struggle in the trauma tent where doctors tried to resuscitate Mr. Sbikhee — present the chronicle of a family at the hour of its destruction.
As blood rushed down her legs, and she struggled against disorientation, Mrs. Warayeth heard the voice of Ahmed, her oldest son. "My father is dead!" he shouted. "I want to kill myself! My father is dead."
The corridor was black. Mrs. Warayeth found a light switch. Unexpectedly, it worked. Now seeing the way, she staggered toward the storeroom where Mr. Sbikhee had put their smaller children.
Judging from the bloody tableau of handprints she left on the walls against which she leaned, she stopped often. Her bloody footprints show that she pressed on, past the skillet still on the stove in the kitchen, across the tiny bit of open air, toward the storeroom, to the gate, which she opened.
Looking on the alley, she vented her confusion in a scream, to everyone and to no one at all. "My husband is dead!" she shouted. "I do not know what to do!"
A pickup truck of rebels soon lurched to a stop by the gate. A group of rebels bounded out, put her in the truck's bed and sped toward a clinic, where her bleeding would be stopped.
hey managed to move their friend out of his ruined room, across the corridor and to the entryway to the building, where they rested him on the stoop. The shells had stopped landing, for the moment. In the confusion, no one had the keys to a car.
One man ran down the alley to find someone who could drive, Mr. Naji said. At the moment he rounded a corner, another artillery shell landed, killing him.
Ten minutes passed before a car could be found. Mr. Sbikhee was not conscious. Though his wound was large, he barely bled. In all likelihood — though not yet officially — he was dead.
Estimates of the number of Libyans killed since the armed uprising against the colonel and his family began in February have varied widely, from several thousand to more than 30,000. Because of the poor state of communications in wartime Libya, and to the difficulties of accounting for the dead, the wounded and the missing on several fluid fronts, no fully reliable tallies exist.
There is no question, beyond the parallel universe of Libyan state television and the official statements that it bullhorns, that the toll is large.
In Misurata, clinics and hospitals have confirmed at least 530 deaths from war-related trauma. This count does not include many people who did not reach medical care before they died, and were buried by their families, but it does include Mr. Sbikhee.
At a trauma center a short while after he was carried to the stoop, he was raced into the corner of the triage station where the most gravely wounded patients are treated.
He was motionless and pale. For a long time several doctors took turns trying to revive him. There was little hope. One doctor watched the others from several yards away. "They are trying," he said. "But he has already died."
A short while later, he was among the numbered, one of many killed in a few bloody hours in Misurata. According to rules of public discourse in the Libyan capital, word of his passing is officially a lie.

www.nytimes.com/2011/05/02/world/africa/02misurata.html
Robert Fisk: 'We will never cease our struggle until we bring down Assad'
Robert Fisk hears the defiance of Syrian refugees
Monday, 2 May 2011
Something terrible happened in the small Syrian town of Tel Kalakh. At the most it was a massacre of 40 civilians; at the least a day of live-firing into unarmed protesters, torture, arrests and panic. Almost half the Sunni Muslim population fled over the river frontier into Lebanon, babes in arms, old people in wheelchairs, pushed through the shallow waters of the Nahr el-Kbir.
Perhaps 4,000 of the Syrian Sunnis made it to the safety of Lebanon to be given food, shelter and blankets by relatives and by strangers and they were there yesterday – 80 living in one house alone scarcely 20m from Syria, desperate to praise the kindness of the Lebanese, fearful of the things they had seen, ferocious in their anger against their president.
One man, having described detainees from the town who had returned home with their nails ripped out and their beards burned off, broke down in tears. "We will never cease our struggle until we bring Assad down," he cried. "For 40 years, we have not been able to breathe."
The men responsible for the killings in Tel Kalakh were members of the Syrian army's 4th Brigade – the same unit, commanded by President Bashar al-Assad's little brother Maher, that is besieging the southern city of Deraa – along with government snipers and "shabiha" thugs from the Alawi mountains. Dressed in black, the latter spent some time, according to Syrian refugee women, tearing the veils off girls and trying to kidnap them.
Tel Kalakh, which lies 20 miles due west of the rebellious city of Homs, had a population of 28,000 – 10,000 of them Muslims, the majority Alawi Shia, the same group to which the Assad family belongs. Even before the shooting started on Wednesday, the military and the plain-clothes gunmen spent some time separating Sunni Muslims from the Alawi inhabitants, telling the latter to stay in their houses – as good a way of starting a local civil war as you could find in Syria. Then they shot into the crowds, firing also with tank-mounted machine guns into homes on both sides of the main streets.
None of the Syrian adults would give their names or have their photographs taken but they spoke with fury of what had happened to them six days ago. Several claimed that their protests against the Assad government started two months ago – an intriguing assertion which suggests the first rural protests in Syria may have begun weeks before the world knew what was happening – but that the protesters, all Sunnis, had been protected because of the intercession of the respected Sheikh of the town's mosque, Osama Akeri.
But last Wednesday morning, armed men seized the sheikh from his home and the Sunni Muslims of the city poured on to the streets. "We were shouting 'independence – give us freedom and independence' and they came in tanks and opened fire, the shabiha shooting at the men at the front; everyone started running but they went on shooting at us from the tanks and people fell everywhere," one man said.
"The tanks completely surrounded the town. People were running away into the fields, the babies screaming, trying to get to Lebanon."
In sight of the village of Arida Sharquia – on the Lebanese side of the border and linked to Syria by a stone bridge – many women and children were stopped by a military checkpoint, but it appears that men from Tel Kalakh set the roadblock on fire.
For three days, the Sunni Muslims fled their town, many creeping from their homes at night as shooting continued across the streets – the entire military operation a miniature version of exactly the same siege that is crippling Deraa – and some men had the courage to return from Lebanon with food for their families. Others did not dare. Tel Kalakh – just like Deraa – is not only surrounded, but all electricity and water supplies have been cut.
So fearful were those who had avoided the killings that they hid in their homes for more than 24 hours, too frightened to attend the funerals of the dead. "We didn't want to risk being killed again," another man said, apologising for not being able to give me even his first name. "The close families of the dead went to the cemetery and some old people. That was all."
One of the 40 dead was Muntaser Akeri, he said, a cousin of the arrested sheikh. Villagers tell different stories of the events. Shooting apparently went on for more than 24 hours and it was only on Thursday that some of the men dragged away in buses and cars by the "mukhabarat" secret police came back.
"Some had had their fingernails torn out and the ones with beards had had them burnt off," another man said. "There were so many soldiers and plain-clothes police and thugs that we couldn't escape. The Alawis didn't join our protest. We were alone."
Arida lies on both sides of the border of Lebanon – Sharquia means "east" and the western side of the town – Arida Gharbia – stands scarcely 20m away across the river, inside Syria.
Along with the refugees, it is also a smuggling centre – indeed,children were bringing barrels of Syrian propane gas across the river yesterday – and it was possible to talk to Syrians on the other side of the water. So close to Syria are the refugees that while I was talking to them, my Lebanese mobile phone kept switching to the "Syriatel" mobile system in Damascus, the message "ping" constantly – and ominously – drawing my attention to the words "Welcome to Syria… for tourist guide, dial 1555. Enjoy your stay."
But the men and women – and the hundreds of children – from Tel Kalakh have torn the lid off any such fantasy. Here at last were Syrians who had just fled their town, talking for the first time of their suffering, free of the mukhabarat, abusing the Assad family. A few had tried to return. One woman I spoke to walked back to Tel Kalakh yesterday morning and returned in the afternoon, shouting that it was a "hostile" town in which it was impossible for the Sunni Muslims to live. Many of the men said that all government jobs were given to Alawi citizens of Tel Kalakh, never to them.
There is, of course, room for exaggeration. No one could explain to me why so many soldiers were being killed in Syria although they said their own protests had been totally unarmed. Shooting is still heard at night on the Syrian side of the frontier, a phenomenon that has persuaded the Lebanese army to send night patrols through the orchards and olive groves on the Lebanese side. Just in case the Syrian military is tempted to chase in hot pursuit of their own refugees.

www.independent.co.uk/opinion/commentators/fisk/robert-fisk-we-will-never-cease-our-struggle-until-we-bring-down-assad-2277704.html
5 voices: What's next for the 'Arab Spring'?
April 25, 2011 | By Kyle Almond, CNN
It all happened so fast.
In January, less than a month after fruit vendor Mohammed Bouazizi lit himself on fire, nationwide protests in Tunisia forced out President Zine El-Abidine Ben Ali.
One month later, Egypt experienced its own revolution, and unrest spread across the region to other countries such as Bahrain, Jordan, Syria and Yemen.
But in the last couple of months, it seems, the rate of change has slowed. A stalemate has developed in Libya's civil war. Government leaders aren't budging in Bahrain or Syria, and Yemen's future is still up in the air.
So what happens next? Is more change on the way, or have we already seen the peak of what some call the "Arab Spring"?
CNN.com reached out to five experts for opinion and analysis. More specifically, we posed the following question: How do you see the "Arab Spring" playing out as we move toward the summer months?
Taylor: Expect regime change in Libya, Yemen Julie Taylor, a Middle East specialist who lived in Egypt for four years, is a political scientist at the RAND Corp.
It is likely that we will see at least two more regime transitions in the next six months.
One is Yemen, where the ruling party has agreed to have President (Ali Abdullah) Saleh step down. It is not clear whether Saleh is on board with the deal — if the opposition rejects the portion of the agreement that would protect Saleh and his family from prosecution, the president's departure might be delayed. But it will still be imminent. Saleh enjoys little support both inside and outside of Yemen, and all parties are growing frustrated with his attempts to drag out the inevitable.
Another is Libya, where most think any resolution that keeps (Moammar) Gadhafi in power and divides the country is untenable.
Syria is harder to call. The protesters are unrelenting, but — unlike in Yemen — troop leaders in Syria's armed forces are highly committed to President (Bashar) al-Assad. Their fates are tied to the maintenance of the regime because they are from the same minority Alawite sect. Al-Assad also has the ability to initiate a mass crackdown, and the regime's primary patron, Iran, would likely support such a move.
Overall, prospects for consolidated democracies look somewhat bleak. Prior to the revolutions, a network of civil society groups had developed in Egypt and Tunisia, cultivating a civic culture that promoted popular engagement and democracy. But the two countries still struggle to establish democratic systems.
The countries in a possible "second wave" of Arab revolutions have even dimmer prospects. Other than tribes, Libya essentially has no civil society, and it has a long-isolated educated class. Yemen has civil society organizations but fewer well-educated individuals or solid state institutions. And Syria, despite its comparatively well-educated population, has virtually no civil society; removal of the regime would likely devolve into a civil conflict between Alawites and majority Sunnis.
Sharqieh: 'We are seeing dictators inspiring dictators to resist' Ibrahim Sharqieh is deputy director of the Brookings Doha Center.
One major lesson that Tunisia and Egypt shared with their fellow Arabs is that dictatorships do have an end and that they can be abolished sooner than many think. Furthermore, they inspired the entire region with their success, breaking the barrier of fear and replacing it with a pragmatic optimism that change can be achieved.
However, the other half of the story that remains is the question of what it takes to effect democratic change in the region. In particular, it is becoming increasingly obvious that a smooth overthrow of entrenched dictators is quite an elusive goal. The Tunisian and Egyptian paradigm of regime change in three weeks probably cannot be repeated.
In the coming months, a new paradigm for political transition will likely emerge in the Arab world. We should be prepared to see different means of quelling public unrest in the region. Possible new scenarios include civil wars, coups, disintegrations, sectarian tension, external intervention, internationalization and negotiated political settlements.
The countries at risk — particularly Libya, Yemen, Syria and Bahrain — are unlikely to follow one particular path because each one of them has its own set of dynamics and domestic drivers for change. In Tunisia and Egypt, we have seen people inspiring others to revolt; however, in the new paradigm, we are seeing dictators inspiring dictators to resist.
It is true the emergence of these new dynamics is likely to make the process of political change longer and more complicated. But regardless of how long this process takes, the Arab public has learned that the time has come for aging dictators to depart — and that the only option at this point is to move forward with the long-overdue call for freedom and justice.
Khanna: Arab world has the money to solve its problems Parag Khanna, author of "How to Run the World: Charting a Course to the Next Renaissance," is a senior research fellow with the New America Foundation.
As the "Arab Spring" moves into summer, things are likely to remain hot.
While it is anyone's guess what will happen in Libya — consolidation or partition are still equally viable scenarios — tensions will surely rise in Egypt as government reforms falter and election preparations ramp up. And Bahrain might have quelled the protests in its streets, but it will have done little to address the core sectarian inequalities that are a key driver of its present instability.
Importantly, the bottom-up push for accountability will continue as long as citizens, business groups and other reformers keep the pressure on for emergency laws to be repealed, parliaments to be strengthened and economic reforms to be undertaken. Particularly with respect to the economy, private creditors and outside agencies such as the International Monetary Fund can play a valuable role in forcing governments in Egypt and Syria to loosen their economic grip faster than entrenched elites would like.
The role of the Gulf Cooperation Council, which includes countries such as Saudi Arabia, Qatar and the United Arab Emirates, will remain pivotal and come ever more into the spotlight. These oil-rich states have been key investors across the Arab world and play a vital role in financing the necessary structural economic modernization the region needs.
Remember that the Arab world is not the third world — it has all the money it needs to solve its own problems. The question is if it can overcome the stale Arabism of the past, which affirmed insecure nationalism, in favor of a new Arabism that champions trans-Arab interdependence.
Cherif: Odds stacked against Syrian revolution Feryal Cherif is an assistant professor for the political science department at the University of California, Riverside.
The events in Tunisia and Egypt offer hope that uprisings elsewhere in the Middle East and North Africa will meet with success. Perhaps most striking are the events unfolding in Syria, where few predicted mass protests against Bashar al-Assad's regime and where the conventional wisdom suggests that past repression, ethnic-religious diversity and relative popularity would shield al-Assad.
In many ways, the events in Syria draw strong parallels to Egypt. In the hopes of appeasing protesters, al-Assad offers concessions every few days — a lifting of the niqab ban, offering citizenship to Kurds and promising to rescind emergency law. But much like (Egyptian President Hosni) Mubarak, al-Assad constantly appears to be a step behind the protesters' demands.
While the magnitude of Syrian protests is impressive, the fate of al-Assad's regime remains an open question. Specifically, a loyal military and the legacy of limited association rights significantly diminish the prospects of a successful revolution in the country.
n Egypt, protesters benefited from relatively strong NGOs (nongovernmental organizations) and experience with activism, but Syria has a more limited and restricted civil society. Data from the NGO Regulation Network reveal that there are nearly five times more civil society organizations per capita in Egypt than Syria. Except for the Hama revolt in 1982 and Kurdish demonstrations in 2004, political protest in Syria has been minimal.
All of this suggests that Syrian protesters have less local political experience and knowledge, fewer resources and smaller networks that they can tap into. These deficiencies limit protesters' ability to pressure the regime and ensure it is held accountable for its actions.
Hashemi: Revolts leave a 'powerful legacy' Nader Hashemi teaches Middle East politics at the Josef Korbel School of International Studies at the University of Denver, and he is author of "The People Reloaded: The Green Movement and the Struggle for Iran's Future."
The notion of an "Arab Spring" is a misnomer because it assumes that the Arab world is a monolith.
Yes, these uprisings are motivated by common political and economic grievances rooted in decades of authoritarian rule. And, yes, the protesters aspire to common democratic objectives. But each country in the Arab world is different. Each has its own internal story and confronts different obstacles related to class and minority cleavages, the strength of the military and state institutions, and the unity and democratic orientation of the opposition forces.
Moreover, the nature and character of the forms of authoritarian rule in the Arab world — and the devastation they have wrought — pose different challenges for democrats moving forward. There is cause for optimism even if we assume a worst-case scenario where democratic forces are crushed in Libya, Syria, Yemen and beyond. Were this to happen, these revolts would still leave behind a powerful legacy that future democratic forces can build upon, buttressed by the successful of examples of Tunisia and Egypt, where the prospects for democracy appear to be the greatest.
Regardless of how many democratic transitions we witness this year, the tide of history has turned. The days are numbered for Arab authoritarian regimes, and those who argue that Islam/Arab culture is incompatible with democracy are left scrambling.

http://articles.cnn.com/2011-04-25/world/voices.arab.future_1_civil-society-ali-abdullah-regime-change?_s=PM:WORLD