Nationally, the average cost of attending one year at a four-year, public college, in state, is $20,100. The average at a four-year private college is $39,800. Between 2000-01 and 2010-11, prices for undergraduate tuition, room and board at public institutions rose 42 percent.

Locally, University of Cincinnati's main campus cost $26,828 last year, up 8 percent from just three years earlier. Northern Kentucky University was $17,796, up nearly 7 percent from 2008. Miami University was $30,536, up 12 percent in three years. Xavier was $43,880, up 13 percent in three years.

http://news.cincinnati.com/article/20120912/EDIT01/309120051/Editorial-College-degree-slides-out-reach
"Despite the heartwarming tales emerging from both sides of the political aisle, social mobility in America is under serious threat. In many ways, if you are to be born poor, you would be better-off being born somewhere else in the developed world than in the United States of America. Your chances of improving your social lot are likely to be better. As Columbia University Professor Howard Steven Friedman writes, about the work of the Economic Mobility Project, the prospects of bettering oneself in the US can be worse than in many other developed countries, even class-ridden Britain. Friedman points out that an American male's income is nearly twice as reliant on his father's background as a Canadian's. Another study showed some 42% of American sons of fathers born in the poorest fifth of society ended up in that fifth themselves. That compares to 30% in the UK, and a range of 25-28% in Denmark, Sweden, Finland and Norway".

www.guardian.co.uk/commentisfree/2012/sep/07/conventional-tales-unattainable-american-dream
In total, 415,000 private sector jobs (in seasonally adjusted numbers) have been GAINED from the time Obama took office until now, August 2012. That's a net increase of 0.37%.
http://mollysmiddleamerica.blogspot.com/2012/09/private-govt-jobs-gained-lost-obama.html
Census: Middle class shrinks to an all-time low

Kristen Wyatt/AP – Laura Fritz, 27, left, with her daughter Adalade Goudeseune fills out a form at the Jefferson Action Center, an assistance center in the Denver suburb of Lakewood in July. Fritz grew up in the Denver suburbs in a solidly middle class family, but she and her boyfriend, who has struggled to find work, are now relying on government assistance to cover food and $650 rent for their family.
Income inequality increased by 1.6 percent, the Census Bureau said in its annual report on poverty, income and health insurance. This was the biggest one-year increase in almost two decades and suggested that a trend in place since the late 1970s was picking up steam.

www.washingtonpost.com/business/economy/poverty-was-flat-in-2011-percentage-without-health-insurance-fell/2012/09/12/0e04632c-fc29-11e1-8adc-499661afe377_story.html
US median income lowest since 1995
Unemployment falls to 8.1 percent; August jobs number below expectations
By Kevin G. Hall | McClatchy Newspapers
WASHINGTON — Employers added a subpar 96,000 posts in August and the jobless rate fell to 8.1 percent amid a declining workforce participation rate, the government said Friday in a disappointing report that weighs against President Barack Obama's re-election efforts.
Most economists had expected job growth between 125,000 and 140,000 new jobs, and were revising upward their forecasts after both private and public sector gauges of employment this week had raised hopes of a strong jobs report. But August proved deceptive.
Private employers added 103,000 jobs during the month, the Labor Department said, but the overall number was dragged down by another 7,000 government jobs lost in August. Adding salt to the wounds, statisticians also revised downward the previous hiring estimates for June and July by a combined 41,000 posts.
"A disappointing jobs report. Job growth fell short of expectations and the labor force declined. Businesses remain very cautious and reluctant to hire. Until hiring picks up the job market and broader economy won't improve substantially," said Mark Zandi, chief economist for forecaster Moody's Analytics. "Most of the miss on jobs last month was in auto-related manufacturing. This is at odds with improving vehicle sales and thus should turn around this fall. Government also continues to shed large numbers of workers."
Obama seemed to foreshadow the weak report during his speech Thursday night closing out the Democratic convention in Charlotte, N.C., telling Americans more time was needed to recover from the deep financial mess he inherited.
The man who wants Obama's job, former Massachusetts Republican Gov. Mitt Romney, fired off a statement minutes after the jobs report came out.
"If last night was the party, this morning is the hangover. For every net new job created, nearly four Americans gave up looking for work entirely," Romney said, hinting at the declining labor force participation rate. "This is more of the same for middle class families who are suffering through the worst economic recovery since the Great Depression."
House Speaker John Boehner, R-Ohio, was ready to pounce too.
"This report underscores President Obama's failed promises to get our economy moving again. The unemployment rate has been higher than eight percent for 43 consecutive months," Boehner said in a statement. "Wages are stagnant, gas prices and health care costs are up, our national debt has surpassed $16 trillion, and millions of Americans remain out of work or underemployed."
It fell to the chief of White House Council of Economic Advisers, Alan Krueger, to put a happy face on a jobs report that fell short of expectations.
"The economy has now added private sector jobs for 30 straight months, for a total of 4.6 million jobs during that period," Krueger said in a statement.
Appearing on the business cable channel CNBC, Krueger cautioned against reading too much into a single monthly report.
"Recoveries have ups and downs," he said.
Appearing on the same show minutes later, Romney's running mate, Rep. Paul Ryan, R-Wis., argued that the weak numbers speak to the need for a new start.
"This is not an economic recovery. We are limping along. This is stagnant growth," Ryan said, calling weak economic data "the result of failed leadership in Washington."
Mainstream economists had expected much more from Friday's numbers, in part because the ADP National Employment Report, a private measure of hiring activity in the private sector, reported Thursday that 201,000 jobs had been created in August. The ADP report is not as exhaustive as the government report, but is thought by many economists to better capture hiring by small businesses who may not be on the government's radar screen.
If there was a bright spot for the Obama administration, it's that the jobless rate ticked down two-tenths of a percentage point and now sits at 8.1 percent. Two more government jobs reports are due before the Nov. 6 election and provide the chance to get the jobless rate below 8 percent, where it was when Obama took office and down from a high of 10.1 percent.
But even this bright spot comes with an asterisk. Some of the falling jobless rate is explained by new hiring, and some of it comes from a declining labor force participation rate, which fell in August to 63.5 percent, the lowest it's been since 1981.
"The number of unemployed fell by 250,000, but not because of a net increase in employment," Alan Levenson, chief economist for investment firm T. Rowe Price, said in a note to investors.
www.mcclatchydc.com/2012/09/07/167477/unemployment-down-to-81-percent.html
Jobs: the key factor that will decide the US election. Or not
No president since Roosevelt has been re-elected with jobless numbers so high. But voters' economic sentiment defies forecast

www.guardian.co.uk/commentisfree/2012/sep/03/jobs-key-factor-decide-us-election
BigSon1
2:18 AM EDT
I am an Obama supporter. I offer my view from that perspective so that readers don't think I'm some right-wing hater. I thought the speech fell short. Some commentators said it was "Presidential" and "Struck the Right Notes." All I could think about was that I've been out of work or professionally underemployed for all but nine weeks of his presidency. President Obama didn't cause the crisis – the wheels were coming off the bus before he was elected. However, I didn't hear anything suggesting how it would be different. In other words, what is going to change in Congress and with the House that will allow his policy agenda to move forward? I don't see it. It would have been nice to hear a bit of an indictment against an obstructionist Congress in the same vain as Harry Truman. I don't believe Romney who seems only to want the job because he sees it as the one accomplishment (a capstone of achievement if you will) that his father could not reach. Ryan is a bald-faced liar who probably doesn't believe his own rhetoric but sees the campaign as a life-altering experience forever changing his political forturnes. That said, President Obama is the better candidate, but if he doesn't do a better job of getting more Democrats down-ticket elected and then maintain a right of center governance and party discipline, then nothing will be different and we will have four more years of gridlock.

www.washingtonpost.com/opinions/eugene-robinson-the-tale-of-two-conventions-favors-obama/2012/09/06/df83f60e-f85c-11e1-8398-0327ab83ab91_story.html
Good news! The economy added 163,000 jobs last month, just a bit over the level required to keep up with population growth. A return to a free fall now seems less likely. On the other hand, there is the small footnote that the return to full employment is nowhere in sight. The recovery looks safe for those of us who are not already screwed. That, sadly, has come to be the primary focus of our economic policy.
In the years since the collapse of 2008, the existence of mass unemployment has stopped being something the economic powers that be even pretend to regard as a crisis. To those directly impacted, the economic crisis is an emergency, a life-altering disaster the damage from which will endure for years. But most of those in a position to address it simply have not seen it in such terms. History will record that the economic elite has viewed the economic crisis from a perspective of detached complacency.

http://nymag.com/daily/intel/2012/08/why-washington-accepts-mass-unemployment.html
President Obama's tough sell on the 'are you better off' question

www.washingtonpost.com/blogs/the-fix/wp/2012/09/04/president-obamas-tough-sell-on-the-are-you-better-off-question/

www.dailymail.co.uk/news/article-2197911/Study-reveals-Fairbanks-Alaska-fastest-growing-wages-U-S.html
Obama's Economy: C+Liberal Source
U.S. economy grew at tepid 1.7% rate in 2nd quarter
www.denverpost.com/business/ci_21431028/u-s-economy-grew-at-tepid-1-7
Obama aides mum on Americans' gains
9/3/2012
By DAVID ESPO and BEN FELLER
Associated Press
CHARLOTTE, N.C. — Flinching in the face of economic weakness, President Barack Obama's top aides refused to say Sunday in the run-up to the Democratic National Convention if Americans are better off than they were four years ago.
Obama campaigned in Colorado and Vice President Joe Biden in Pennsylvania as their senior surrogates sought to deflect discomforting questions and turn them into criticism of Republican challenger Mitt Romney.
"The Romney path would be the wrong path for the middle class, the wrong path for this country," said David Plouffe, one of Obama's top White House aides.
But responding to the question that has become a staple of presidential campaigns, he sidestepped when asked if Americans are better off than when Obama took office.
"We've clearly improved … from the depths of the recession," he said.
Another aide, David Axelrod, said, "I think the average American recognizes that it took years to create the crisis that erupted in 2008 and peaked in January of 2009. And it's going to take some time to work through it."
Not only the economy, but the weather was also a concern for the Democrats with Obama planning to deliver his prime-time acceptance speech on Thursday night before a crowd of tens of thousands at a football stadium.
An enormous sand sculpture made in Obama's likeness served as a reminder, as if any were needed, that the Democrats were in town. A drenching rain caused damage on Saturday just as work was finishing on the project, but the five-member crew said they had been able to make repairs.
Planeloads of delegates flew into their convention city for two days of receptions before their first meeting in the Time Warner Cable Arena on Tuesday. Hundreds of demonstrators marched through the streets around the hall, protesting what they call corporate greed as well as U.S. drone strikes overseas said to kill children as well as terrorists.
No arrests were reported as dozens of police officers walked along with the parade, carrying gas masks, wooden batons and plastic hand ties.
Biden, campaigning in York, Pa., took a swipe at Romney on foreign policy.
"He said it was a mistake to end the war in Iraq and bring all of our warriors home," the vice president said. "He said it was a mistake to set an end date for our warriors in Afghanistan and bring them home. He implies by the speech that he's ready to go to war in Syria and Iran."
Democrats have been critical of Romney for making no mention of the war in Afghanistan when he accepted the Republican nomination in Tampa, Fla., last week. He previously criticized Obama for setting a public date for the withdrawal of U.S. combat troops from the war.
Romney also has faulted Obama for allowing the government of Syrian President Bashar Assad to remain in power. Yet his aides have refused to say for a week if he agrees with French President Hollande's promise to extend diplomatic recognition to a provisional government if Syrian rebels form one.
Romney spent Sunday at his Wolfeboro, N.H., vacation home, leaving only to attend church services with his wife, Ann.
Aides said he would spend much of the Democrats' convention week preparing for three fall debates with Obama, beginning on Oct. 3.
Running mate Paul Ryan was booked into North Carolina, counterprogramming the Democratic convention rhetoric.
San Antonio Mayor Julian Castro delivers the keynote speech on Tuesday, followed by First lady Michelle Obama's remarks.
Obama and Biden will be nominated for second terms on Wednesday night, when former President Bill Clinton has the role of star speaker.
Biden and Obama, deliver their nomination acceptance speeches on Thursday, the convention's final night.
The economy has recovered fitfully at best from the worst recession in decades, and national unemployment is 8.3 percent. Joblessness was spiking when Obama took office and peaked at over 10 percent before it began receding during his term.
While Republicans want the election to be a simple referendum on Obama's handling of the economy, he and the Democrats are determined to make Election Day a choice between him and his rival.
That strategy was on display in the Sunday interview programs.
Plouffe, asked on ABC to answer the better-off question with a yes or no, replied: "I think everybody understands we were this close to a Great Depression. We staved that off. We're beginning to recover. We have a lot more work to do. We need to grow jobs more quickly, we need to grow middle-class incomes more quickly."
Axelrod, on Fox, said, "I can say that we're in a better position than we were four years ago in our economy in the sense that when this president took office, we were losing 800,000 jobs a month. The quarter before he took office was the worst quarter that this country has had economically since the Great Depression, and we are in a different place, 29 straight months of job growth, 4.5 million private sector jobs."
"Are we where we need to be? No. But the problem with what Governor Romney said is for three days they never offered anybody a plausible alternative."
www.thebrunswicknews.com/Open_Access/National/a0727-BC-US-CVN-PresidentialC-7thLd-Writethru-09-02-1678#
A dozen Labor Days — and three presidential elections — ago, the world was in the thrall of American-style capitalism. Not only had it vanquished communism, but it was widening its lead over Japan Inc. and European-style socialism.
Today, that economic hegemony seems a distant memory. We have watched the bursting of two giant financial bubbles, wiping out the paper wealth many of us thought we had in our homes and retirement accounts. We have suffered through two long recessions and a lost decade of income growth for the average family. We continue to rack up large trade and budget deficits. Virtually all of the country's economic growth and productivity gains have been captured by the top 10 percent of households, while moving up the economic ladder has become more difficult. And other countries are beginning to turn to China, Germany, Sweden and even Israel for lessons in how to organize their capitalist economies.
5 pages

www.washingtonpost.com/opinions/can-we-save-american-capitalism/2012/08/31/800de6be-f04e-11e1-ba17-c7bb037a1d5b_story.html
Majority of New Jobs Pay Low Wages, Study Finds


A waitress at Arco Iris Restaurant in Tampa, Fla., last week. The food industry has added 300,000 low-paying jobs in the recovery.
By CATHERINE RAMPELL
Published: August 30, 2012
While a majority of jobs lost during the downturn were in the middle range of wages, a majority of those added during the recovery have been low paying, according to a new report from the National Employment Law Project.
The disappearance of midwage, midskill jobs is part of a longer-term trend that some refer to as a hollowing out of the work force, though it has probably been accelerated by government layoffs.
"The overarching message here is we don't just have a jobs deficit; we have a 'good jobs' deficit," said Annette Bernhardt, the report's author and a policy co-director at the National Employment Law Project, a liberal research and advocacy group.
The report looked at 366 occupations tracked by the Labor Department and clumped them into three equal groups by wage, with each representing a third of American employment in 2008. The middle third — occupations in fields like construction, manufacturing and information, with median hourly wages of $13.84 to $21.13 — accounted for 60 percent of job losses from the beginning of 2008 to early 2010.
The job market has turned around since then, but those fields have represented only 22 percent of total job growth. Higher-wage occupations — those with a median wage of $21.14 to $54.55 — represented 19 percent of job losses when employment was falling, and 20 percent of job gains when employment began growing again.
Lower-wage occupations, with median hourly wages of $7.69 to $13.83, accounted for 21 percent of job losses during the retraction. Since employment started expanding, they have accounted for 58 percent of all job growth.
The occupations with the fastest growth were retail sales (at a median wage of $10.97 an hour) and food preparation workers ($9.04 an hour). Each category has grown by more than 300,000 workers since June 2009.
Some of these new, lower-paying jobs are being taken by people just entering the labor force, like recent high school and college graduates. Many, though, are being filled by older workers who lost more lucrative jobs in the recession and were forced to take something to scrape by.
"I think I've been very resilient and resistant and optimistic, up until very recently," said Ellen Pinney, 56, who was dismissed from a $75,000-a-year job in which she managed procurement and supply for an electronics company in March 2008.
Since then, she has cobbled together a series of temporary jobs in retail and home health care and worked as a part-time receptionist for a beauty salon. She is now working as an unpaid intern for a construction company, putting together bids and business plans for green energy projects, and has moved in with her 86-year-old father in Forked River, N.J.
"I really can't bear it anymore," she said, noting that her applications to places like PetSmart and Target had gone unanswered. "From every standpoint — my independence, my sense of purposefulness, my self-esteem, my life planning — this is just not what I was planning."
As Ms. Pinney's experience shows, low-wage jobs have not been growing especially quickly in this recovery; they account for such a big share of job growth mostly because midwage job growth has been so slow.
Over the last few decades, the number of midwage, midskill jobs has stagnated or declined as employers chose to automate routine tasks or to move them offshore.
Job growth has been concentrated in positions that tend to fall into two categories: manual work that must be done in person, like styling hair or serving food, which usually pays relatively little; and more creative, design-oriented work like engineering or surgery, which often pays quite well.
Since 2001, employment has grown 8.7 percent in lower-wage occupations and 6.6 percent in high-wage ones. Over that period, midwage occupation employment has fallen by 7.3 percent.
This "polarization" of skills and wages has been documented meticulously by David H. Autor, an economics professor at the Massachusetts Institute of Technology. A recent study found that this polarization accelerated in the last three recessions, particularly the last one, as financial pressures forced companies to reorganize more quickly.
"This is not just a nice, smooth process," said Henry E. Siu, an economics professor at the University of British Columbia, who helped write the recent study about polarization and the business cycle. "A lot of these jobs were suddenly wiped out during recession and are not coming back."
On top of private sector revamps, state and local governments have been shedding workers in recent years. Those jobs lost in the public sector have been primarily in mid and higher-wage positions, according to Ms. Bernhardt's analysis.
"Whenever you look at data like these, there is this tendency to get overwhelmed, that there are these inevitable, big macro forces causing this polarization and we can't do anything about them. In fact, we can," Ms. Bernhardt said. She called for more funds for states to stem losses in the public sector and federal infrastructure projects to employ idled construction workers. Both proposals have faced resistance from Republicans in Congress.

www.nytimes.com/2012/08/31/business/majority-of-new-jobs-pay-low-wages-study-finds.html
Jobless numbers improve as St. Louis labor force shrinks

www.stltoday.com/business/local/jobless-numbers-improve-as-st-louis-labor-force-shrinks/article_2c32e5b8-f39a-11e1-804f-001a4bcf6878.html
Click here for national job growth graphic.
The Institute for Supply Management's manufacturing index, a broad gauge of economic activity, held steady at 49.6 in August, just below June's reading of 49.8. A reading below 50 indicates economic contraction.

www.usatoday.com/money/economy/story/2012-09-04/economic-reports-ism-construction-spending-home-prices/57574122/1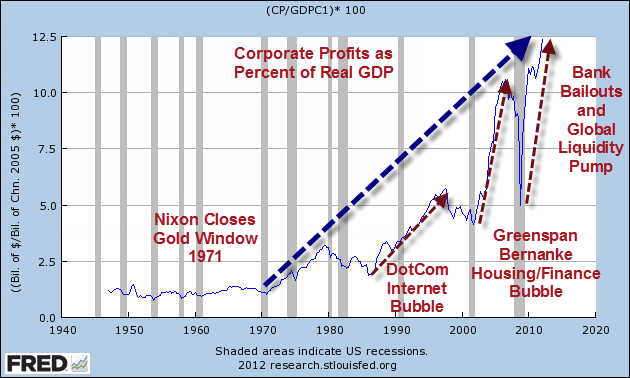 More Americans Think Economy Will Never Recover
Published: Friday, 3 Jun 2011 | 1:26 PM ET
By: Christina Cheddar Berk
CNBC News Editor
The mixed signals regarding the economy's health are taking a toll. Americans are growing increasingly doubtful about direction of the US economy, according to the latest survey from business-advisory firm AlixPartners.
In fact, an increasing number, some 61 percent, say they don't expect to return to their respective pre-recession lifestyles until the spring of 2014, if ever.
What's worse, a full 10 percent said they expect they will never return to pre-recession spending.
That's a more pessimistic view than last year, when those surveyed expected that they could be back to pre-recession spending levels by the middle of 2013.
"Americans continue to push their expectations for return to a pre-recession 'normal' further and further into the future—close enough for comfort, but far enough away to seem realistic," said Fred Crawford, CEO of AlixPartners. "But as that happens, more and more it seems normal is actually where we are right now."
The latest employment report, which showed that U.S. employers hired far few workers than expected in May, only serves to reinforce these attitudes.
"It's a vicious cycle," Crawford said. "Americans need to see a significant decrease in unemployment to feel confident in the economic recovery, but companies are waiting to see increased demand for their products and services before they begin hiring and making job-creating capital expenditures."
In the latest survey, some 63 percent of Americans said they feel "not good" or "bad" about the state of the US economy, representing a significant increase from May 2010 when only about 49 percent of those polled felt this gloomy.
The survey also found that Americans overwhelmingly expect to delay by at least 12 months major purchases and expenditures such as spending on new cars, home repairs and vacations.
There have already been signs of this in the latest retail sales reports that came out earlier this week from a handful of major retailers.
Overall, sales at stores open at least a year rose 5.0 percent in May, which is below the 5.4 percent increase that Wall Street expected, according to Thomson Reuters data.
While some analysts used a number of excuses, including high gasoline prices, poor weather, and lackluster merchandise, to explain away the disappointing results, the findings of the survey may suggest that consumers are hunkering down amid the uncertainty.
The view was expressed Thursday by Target CEO Gregg Steinhafel, who said that traffic at Target stores slowed in the second half of the month.
"Our guests continue to shop cautiously in light of higher energy costs and inflationary pressures on their household budgets," Steinhafel said, in the company's monthly sales press release.
AlixPartners is by no means the first organization to recognize this growing pessimism.
Goldman Sachs economist Jan Hatzius said the number of consumers who believe they have a chance to bring home more money one year from now is at its lowest level in 25 years, based on his analysis of the University of Michigan and Thomson Reuters consumer sentiment poll.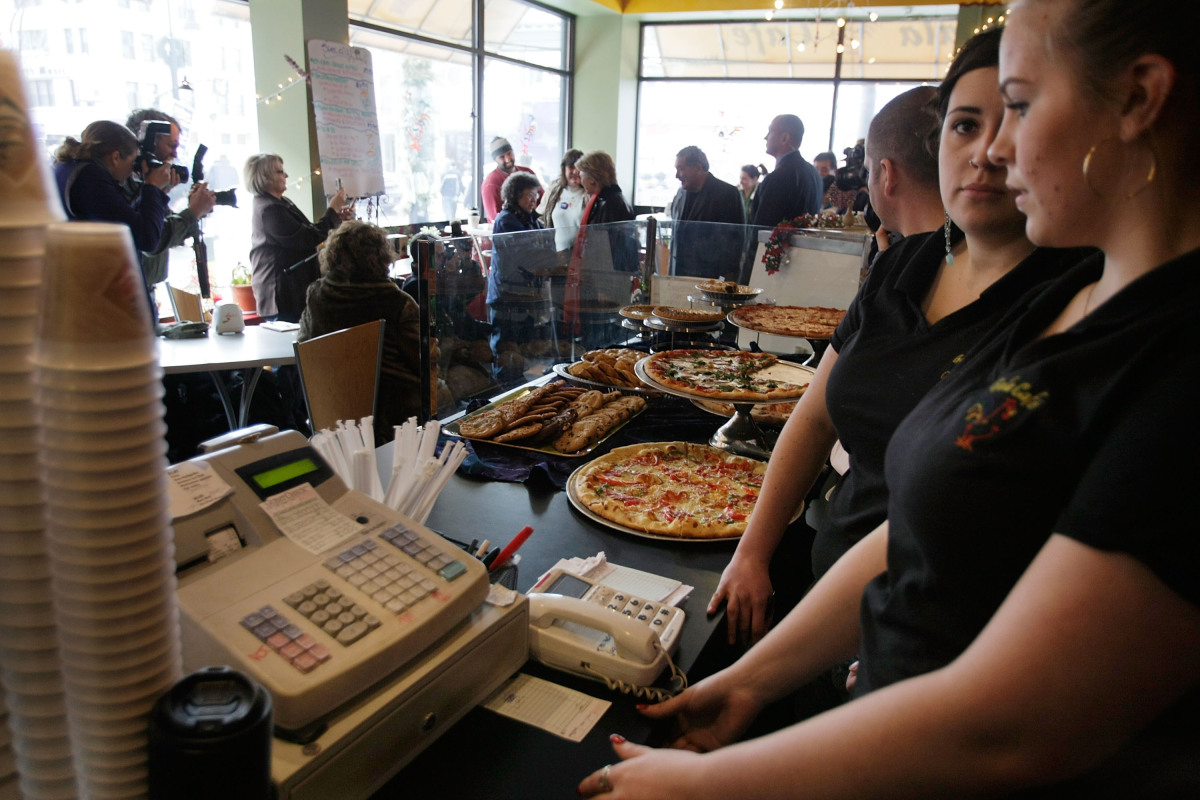 Updated August 9, 2012, 8:20 a.m. ET
A Business Message to D.C.: Stop Fighting, We'll Spend
America's companies have a message for Washington. It's just not being heard. That's why they've resorted to a new method: Shouting.
You can hear the bafflement, the anger, on the just-completed run of company earnings calls. Typically scripted and banal, the calls have become an unexpected public platform for chastising Democrat and Republican alike for what's become of our way of governing. A "fiscal cliff" that will reset tax rates looms on Dec. 31, while a presidential election has only sharpened the divide on virtually every major policy issue.
"There's way too much partisan politics," said John Ambroseo, CEO of laser-tools company Coherent Inc. COHR -0.66% on his July 26 conference call. "People should be focusing on improving the economy instead of just bashing each other."
The exasperation showed up in the June 12 call of Kevin Grant, chief executive of specialty lender CYS Investments Inc. CYS +0.17% "There is a political climate where there is just pushback, and a bifurcation of politics in this country is making some of this very difficult," he said.
These CEOs were just the start. I read and sifted through about 500 earnings call transcripts using the CapitalIQ database, and found a surprising number. At least 35 CEOs publicly vented about Washington.
Alas, there was something missing from their public remarks: Any sign that they, too, might actually try to address those underlying problems. How many CEOs pledged, for instance, to withhold campaign contributions and PAC money until Congress passed a competent tax and deficit plan? Or march with the deficit-reduction duo Alan Simpson and Erskine Bowles? Zero.
A few CEOs railed against President Barack Obama. Only 10 even mentioned the name of Mitt Romney. Most spread the blame on the broader culture of Washington itself. Its dysfunction, they say, is having real-world effects as many companies plan fiscal years that began July 1.
In separate interviews, the executives made a simple point: Washington is itself trapping much of the energy needed to repower the economy. Find a smidge of common ground, set clear rules, end policy triggered by "cliffs" and brinkmanship, and business will unleash that energy back.
"If you can't plan, you don't spend. And if you don't spend you don't hire," said Paul J. Diaz, chief executive of nursing home and rehabilitation-center Kindred Healthcare ., Inc KND +0.72% in an interview. "It's just hard to do budgets."
On his Aug. 3 investor call, Mr. Diaz resisted analysts' requests to project 2013 performance, saying he didn't know whether Washington would slash health-care spending or not as part of the "sequestration" budget cuts that will kick in Dec. 31.
"We can recover, and the only thing holding us back is the inability of these guys to compromise," Mr. Diaz said in the interview. "It sort of breaks your heart."
Of course, it's easy for CEOs to blame Washington and the Europe debt crisis for flagging business results. Search for the word "uncertainty" among earnings calls of the S&P 500 companies, and you will find it cropping up in nearly half of them. There is a long, if ignoble, tradition of casting responsibility on regulators, Congress, and the weather.
But the remarks from the last two months do show something different. Call it a collective ache.
Robert G. Jones, chief executive of Old National Bancorp in Evansville, Ind., spoke up on his July 30 investor call. Lack of guidance from Washington, he said, was pushing his clients—typically farmers and industrial companies throughout southern Indiana—to postpone making "good, sound, long-term capital investments."
Mr. Jones also sits on the board of directors of the St. Louis Federal Reserve. In an interview, he said that in the last three months business-survey results from the St. Louis region have shown "bipartisan frustration."
"Business owners are looking for confidence. That's what leadership is about. We're really managing from the fringes more than from the middle. And it's awful hard to come to the middle."
David Golub sifts through some 300 financial statements every year, weighing whether to lend money to middle-market businesses. He said the feedback to his publicly traded company, Golub Capital BDC Inc., GBDC +1.68% shows "a clear slowdown in profit growth from a year ago to now." Companies, he adds, are delaying decisions on dividends, capital investments and hiring.
And he, too, singled out Washington for what he said was rampant dysfunction on his Aug. 6 chat with analysts and investors.
Mr. Golub said in an interview he has been a long-time Obama supporter. He gave more than $30,000 to the Democratic National Committee last year.
"I don't think this is just a Republican problem. I think this is a both-party problem," he said. Watching businesses try to cope, "it makes you want to vote for no incumbents and try again."
"There are no innocents."
Dennis K. Berman is editor of Marketplace. Email: dennis.berman@wsj.com Twitter: @dkberman
http://online.wsj.com/article/SB10000872396390444900304577577412322839298.html
William Lazonick
Director, University of Massachusetts Center for Industrial Competitiveness
How American Corporations Transformed From Producers to Predators
Posted: 04/ 3/2012 11:23 am
Corporations are not working for the 99 percent. But this wasn't always the case. In a special five-part series, William Lazonick, professor at UMass, president of the Academic-Industry Research Network, and a leading expert on the business corporation, along with journalist Ken Jacobson and AlterNet's Lynn Parramore, will examine the foundations, history and purpose of the corporation to answer this vital question: How can the public take control of the business corporation and make it work for the real economy?
In 2010, the top 500 U.S. corporations – the Fortune 500 — generated $10.7 trillion in sales, reaped a whopping $702 billion in profits, and employed 24.9 million people around the globe. Historically, when these corporations have invested in the productive capabilities of their American employees, we've had lots of well-paid and stable jobs.
That was the case a half century ago.
Unfortunately, it's not the case today. For the past three decades, top executives have been rewarding themselves with mega-million dollar compensation packages while American workers have suffered an unrelenting disappearance of middle-class jobs. Since the 1990s, this hollowing out of the middle class has even affected people with lots of education and work experience. As the Occupy Wall Street movement has recognized, concentration of income and wealth of the top "1 percent" leaves the rest of us high and dry.
What went wrong? A fundamental transformation in the investment strategies of major U.S. corporations is a big part of the story.
A Look Back
A generation or two ago, corporate leaders considered the interests of their companies to be aligned with those of the broader society. In 1953, at his congressional confirmation hearing to be Secretary of Defense, General Motors CEO Charles E. Wilson was asked whether he would be able to make a decision that conflicted with the interests of his company. His famous reply: "For years I thought what was good for the country was good for General Motors and vice versa."
Wilson had good reason to think so. In 1956, under the Federal-Aid Highway Act of 1956, the U.S. government committed to pay for 90 percent of the cost of building 41,000 miles of interstate highways. The Eisenhower administration argued that we needed them in case of a military attack (the same justification that would be used in the 1960s for government funding of what would become the Internet). Of course, the interstate highway system also gave businesses and households a fundamental physical infrastructure for civilian purposes — from zipping products around the country to family road trips in the station wagon.
And it was also good for GM. Sales shot up and employment soared. GM's managers, engineers and other male white-collar employees could look forward to careers with one company, along with defined-benefit pensions and health benefits in retirement. GM's blue-collar employees, represented by the United Auto Workers (UAW), did well, too. In business downturns, such as those of 1958, 1961 and 1970, GM laid off its most junior blue-collar workers, but the UAW paid them supplemental unemployment benefits on top of their unemployment insurance. When business picked up, GM rehired these workers on a seniority basis.
Such opportunities and employment security were typical of most Fortune 500 firms in the 1950s, '60s and '70s. A career with one company was the norm, while mass layoffs simply for the sake of boosting profits were viewed as bad not only for the country, but for the company, too.
What a difference three decades makes! Now mass layoffs to boost profits are the norm, while the expectation of a career with one company is long gone. This transformation happened because the U.S. business corporation has become in a (rather ugly) word "financialized." It means that executives began to base all their decisions on increasing corporate earnings for the sake of jacking up corporate stock prices. Other concerns — economic, social and political — took a backseat. From the 1980s, the talk in boardrooms and business schools changed. Instead of running corporations to create wealth for all, leaders should think only of "maximizing shareholder value."
When the shareholder-value mantra becomes the main focus, executives concentrate on avoiding taxes for the sake of higher profits, and they don't think twice about permanently axing workers. They increase distributions of corporate cash to shareholders in the forms of dividends and, even more prominently, stock buybacks. When a corporation becomes financialized, the top executives no longer concern themselves with investing in the productive capabilities of employees, the foundation for rising living standards for all. They become focused instead on generating financial profits that can justify higher stock prices — in large part because, through their stock-based compensation, high stock prices translate into megabucks for these corporate executives themselves. The ideology becomes: Corporations for the 0.1 percent — and the 99 percent be damned.
The 99 percent needs to understand these fundamental changes in the ways in which top executives have decided to make use of resources if we want U.S. corporations to work for us rather than just for them.
The Financialization Monster
The beginnings of financialization date back to the 1960s when conglomerate titans built empires by gobbling up scores and even hundreds of companies. Business schools justified this concentration of corporate power by teaching that a good manager could manage any type of business — the bigger the better. But conglomeration often became simply a method of using accounting tricks to boost earnings in the short-run to encourage speculation in the company's stock price. This focus on short-term financial manipulation often undermined the financial conditions for sustaining higher levels of earnings over the long term. But the interest of stock-market speculators was (as it always is) to capitalize on short-term changes in the market's evaluation of corporate shares.
When these giant empires imploded in the 1970s and 1980s, people began to see the weakness of the model. By the early 1970s the downgraded debt of conglomerates, known as "fallen angels," created the opportunity for a young bond trader, Michael Milken, to create a liquid market in high-yield "junk bonds." By the mid-'80s, Milken (who eventually went to jail for securities fraud) was using his network of financial institutions to back corporate raiders in junk-bond financed leveraged buyouts with the purpose of extracting as much money as possible from a company once it was taken over through layoffs of workers and by breaking up the company to sell it off in pieces.
Wall Street changed the way it made its money. Investment banks turned their focus from supporting long-term corporate investment in productive assets to trading corporate securities in search of higher yields. The great casino was taking form. In 1971, NASDAQ was launched as a national electronic market for generating price quotes on highly speculative stocks. The Employee Retirement Income Security Act of 1974 encouraged corporate pension funds to get into the game since inflation had eroded household savings. In 1975, competition from NASDAQ led the much more conservative New York Stock Exchange, which dated back to 1792, to end fixed commissions on stock transactions . This move only further encouraged stock market speculation by making it less costly for speculators to buy and sell.
In 1980, Robert Hayes and William Abernathy, professors of technology management at Harvard Business School, wrote a widely read article that criticized executives for focusing on short-term profits rather than investments in innovation. But in 1983, two financial economists, Eugene Fama of the University of Chicago and Michael Jensen of the University of Rochester, co-authored two articles in the Journal of Law and Economics which extolled corporate honchos who focused on "maximizing shareholder value" — by which they meant using corporate resources to boost stock prices, however short the time-frame. In 1985 Jensen landed a higher profile pulpit at Harvard Business School. Soon, shareholder-value ideology became the mantra of thousands of MBA students who were unleashed in the corporate world.
Proponents of the Fama/Jenson view argue that for superior economic performance, corporate resources should be allocated to maximize returns to shareholders because they are the only economic actors who make investments without a guaranteed return. They say that shareholders are the only ones who bear risk in the corporate economy, and so they should also get the rewards. But this argument could not be more false. In fact, lots of people bear risks of investing in the corporation without knowing if they will pay off for them. Governments in the U.S., funded by the body of taxpayers, are constantly making investments in physical infrastructures and human capabilities that provide benefits to businesses, but without a guaranteed return to taxpayers. An employer expects workers to give time and effort beyond that required by their current pay to make a better product and boost profits for the company in the future. Where's the worker's guaranteed return? In contrast, most public shareholders simply buy and sell shares of a corporation on the stock market, making no contribution whatsoever to investment in the company's productive capabilities.
In the name of this misguided philosophy, major U.S. corporations now channel virtually all of their profits to shareholders, not only in the form of dividends, which reward them for holding shares, but even more importantly in the form of stock buybacks, which reward them for selling shares. The sole purpose of stock buybacks is to give a manipulative boost to a company's stock price. The top executives then benefit when they exercise their typically bountiful stock options and cash in by selling the stock. For 2001-2010, 459 companies in the S&P 500 Index in January 2011 distributed $1.9 trillion in dividends, equivalent to 40 percent of their combined net income, and $2.6 trillion in buybacks, equal to another 54 percent of their net income. After all that, what was left over for investments in innovation, including upgrading the capabilities of their workforces? Not much.
Falling to the Challenge
Big changes in markets and technologies since the 1980s have given U.S. corporations serious competitive challenges. Confronted by Japanese and then Korean competition, companies closed plants, permanently displacing blue-collar workers from what had been middle-class jobs. Meanwhile, the open systems technologies that characterized the microelectronics revolution favored younger workers with the latest computer skills. In the name of shareholder value, by the 1990s, U.S. corporations seized on these changes in competition and technology to put an end to the norm of a career with one company, ridding themselves of more expensive older employees in the process. In the 2000s, American corporations found that low-wage nations like China and India possessed millions of qualified college graduates who were able and willing to do high-end work in place of U.S. workers. Offshoring put the nail in the coffin of employment security in corporate America.
In response to these challenges, U.S. corporations could have used their profits to upgrade the capabilities of the U.S. labor force, laying the foundation for a new prosperity. Instead, the same misguided financialized responses have meant big losses for taxpayers and workers while the top 1 percent has gained. Instead of rising to the challenge, they've fallen into greed and short-sightedness that chips away at our chances for a prosperous economy.
Yet properly governed, corporations can be run for the 99 percent. In fact, that's still the case in many successful economies. The truth is that it's possible to take back the corporations for the 99 percent in the U.S. if we can really wrap our heads around the problem and the solutions. Here are three places to start:
1) Ban It. Ban large established companies from buying back their own stock, and reward them instead for investing in the retention and training of their employees.
2) Link It. Link executive pay to the productive performance of the company, with increases in executive pay being tied to increases for the corporate labor force as a whole.
3) Occupy It. Recognize that taxpayers and workers bear a significant proportion of the risk of corporate investment, and put their representatives on corporate boards where they can have input into the relation between risks and rewards.

www.huffingtonpost.com/william-lazonick/how-american-corporations_b_1399500.html
The mythology surrounding entrepreneurial capitalism is that it creates great wealth for risk-taking entrepreneurs, great numbers of new jobs and great numbers of new products that dramatically enhance the quality of life and the productivity of the rest of the economy. But as the economist Joseph Schumpeter understood, there is an irreducible amount of destruction that comes along with all that creativity—destruction of existing companies, jobs, wealth and in a few instances, communities. While Americans admire and celebrate entrepreneurial success, we tend to forget and ignore the losers from this dynamic process.
Although today it sounds rather quaint, "worker capitalism" was something of a fad in the 1980s. In its purest form, worker capitalism meant employee-owned firms that were either bought from a retiring entrepreneur or brought out of bankruptcy by workers looking to save their jobs. The same spirit, however, was taken up by an even larger number of public and private companies whose executives subscribed to enlightened management strategies such as profit-sharing, employee empowerment, high performance work teams, open-book management, continuous process improvement. Whatever the name, all involved pushing responsibility and accountability to front line workers, on the theory that it was their hard work, commitment and ingenuity that made for successful companies.
Coming from the opposite direction, however, was "shareholder capitalism," which was based on the theory that workers were largely interchangeable and expendable and that companies should be managed solely to maximize short-term profits and share prices for owners and investors. In many ways, shareholder capitalism was an effort to overcome the self-interested complacency of managerial capitalism that, in the view of many, had allowed the American economy to fall behind Germany, Japan and the other Asian "tigers."
The driving force behind shareholder capitalism came not from Wall Street's traditional investors but from upstart financiers known as "corporate raiders" who were the first to use a new financing mechanism, the "junk bond," to launch hostile takeovers of under-performing public companies.
Although corporate executives decried the trend, the threat of having their companies bought out from under them led to a fundamental shift in corporate management in which the interests of customers and employees have been subordinated to the interests of shareholders. To reinforce this new orientation, top executives were loaded up with stock and stock options that would better align their own economic fortunes with those of other shareholders.
MORE

www.washingtonpost.com/business/identity-crisis-for-american-capitalism/2012/05/26/gJQACsRAtU_story_1.html
Who creates jobs? How economists see the Obama-Romney debate.

www.csmonitor.com/USA/DC-Decoder/2012/0802/Who-creates-jobs-How-economists-see-the-Obama-Romney-debate
Unemployment woes hit hard for displaced workers, Labor Dept. study shows
Mark Lennihan/AP – In this Aug. 2, 2012 photo, ironworker Stephen MacGray cuts a steel brace at the World Trade Center construction site, in New York. The economy has added an average of 151,000 jobs a month this year, roughly the same as last year's pace. That's not enough to satisfy the 12.8 million Americans who are unemployed.
By Peter Whoriskey, Published: August 24
Many workers are nervous about their livelihoods despite the economic recovery — and for good reason, it turns out.
Among those workers who lost a good job because of the struggling economy over the past three years, roughly one in four found a job that pays as well, according to data released Friday by the Labor Department.
The others remained unemployed, stopped looking for work or accepted jobs at lower wages.
"This data is telling a story of unemployment inflicting long-term damage for a lot of people," said Michael Mandel, an economist at the Progressive Policy Institute, a centrist think tank. "This won't turn around until wages overall start rising — and so far, we haven't seen any strong signs of that."
The biennial survey of "displaced workers" is one of the government's most detailed reports of the unemployed.
The report focuses primarily on steady workers who were economically displaced — that is, people who had held a job for at least three years and lost it because a plant closed, there was insufficient demand or the position was cut.
The 6.1 million such workers who lost their jobs between 2009 and 2011 were surveyed in January of this year. Of them, roughly 30 percent took jobs that paid less, about 27 percent remained unemployed at the time of the survey and 17 percent stopped looking for work.
Of those who accepted jobs with pay cuts, most lost 20 percent or more from their previous wages. This analysis probably underestimates the loss of wages because it assumes that displaced workers who reported taking part-time work or being self-employed faced the same wage reduction as those who found full-time employment.
"Things are certainly better than they were two years ago, but we're not where we ought to be," said Henry Farber, an economist at Princeton University who uses the survey in his research.
Indeed, the downward pressure on incomes extends well beyond those who have suffered a spell of unemployment.
According to a report released this week, incomes have dropped more since the beginning of the recovery than they did during the recession.
Adjusted for inflation, overall median household income fell 4.8 percent over the three-year period that ended in June, according to the report issued by Sentier Research, a firm headed by two former Census Bureau officials.
The new survey from the Labor Department does, however, show signs the economy has improved.
The number of workers being displaced from jobs they had held for three years or more has dropped since the recession ended in June 2009 — from 2.5 million in 2009 to 1.8 million in 2010 and 2011.
Moreover, a larger percentage of those displaced workers are finding jobs.
In the last such survey, which covered 2007 to 2009, only 49 percent of those workers had been reemployed by the time of the survey, a historic low.
This time around, the number of reemployed has risen to 56 percent — better, but still the second-lowest level since the survey began providing comparable figures in 1994.
Normal levels are about 65 percent or more.
The economy now is "a little bit better," said Heidi Shierholz, an economist at the Economic Policy Institute. "But if you lost your job, there just wasn't that much available."
The difficulties, moreover, have been spread unevenly across the economy and across age groups.
The typical older worker who was displaced spent more time without work — 12 weeks or more for workers older than 45, compared with about eight weeks for younger workers.
Similarly, various industries offered widely different job prospects. Only about a third of workers who had lost jobs in real estate had found new jobs, according to the survey. By contrast, more than 70 percent of telecommunications workers and 65 percent of workers in finance had been reemployed.
Although displaced workers have confronted difficulties even when the economy is strong, the Labor Department surveys show a clear difference between conditions now and conditions before the recession.
Contrasting the recent Labor Department data against the data from the three-year period leading up to the recession shows the difference:
In the pre-recession survey, the percentage of displaced workers who were reemployed was 11 percentage points higher; the percentage of displaced workers who found jobs that paid as well or better was 11 points higher; and the percentage of displaced workers who remained unemployed was nine points lower.

www.washingtonpost.com/business/economy/unemployment-woes-hit-hard-for-displaced-workers-labor-dept-study-shows/2012/08/24/72c7e608-ee00-11e1-b0eb-dac6b50187ad_story.html
U.S. pushes for more scientists, but the jobs aren't there

www.washingtonpost.com/national/health-science/us-pushes-for-more-scientists-but-the-jobs-arent-there/2012/07/07/gJQAZJpQUW_story.html
For Jobless, Little Hope of Restoring Better Days

Katie O'Brien Mowery has managed to find a new job with better benefits and opportunities.
By MOTOKO RICH
Published: December 1, 2011
People across the working spectrum suffered job losses in recent years: bricklayers and bookkeepers as well as workers in manufacturing and marketing.
But only a select few workers have fully regained their footing during the slow recovery.
Katie O'Brien Mowery is one of the lucky ones. After losing her job in the marketing department of a luxury resort in Santa Barbara, Calif., in early 2010, she eventually found a position with better benefits and the promise of a brighter future.
"I wished that it happened sooner than it did," said Ms. Mowery, who is in her mid-30s, referring to her nearly yearlong job search. "But looking back, my new position wouldn't have been available when I was laid off, and now I'm very happy."
Even though the Labor Department is expected to report on Friday that employers added more than 100,000 jobs in November, a new study shows just how rare people like Ms. Mowery are. According to the study, to be released Friday by the John J. Heldrich Center for Workforce Development at Rutgers, just 7 percent of those who lost jobs after the financial crisis have returned to or exceeded their previous financial position and maintained their lifestyles.
The vast majority say they have diminished lifestyles, and about 15 percent say the reduction in their incomes has been drastic and will probably be permanent.
Bill Loftis is one of the unfortunate ones. He is without a college degree or specialized skills and also worked in an industry, manufacturing, that has added back only about 13 percent of the jobs that it lost during the recession.
After 22 years on the job, Mr. Loftis, 44, was laid off from a company that produces air filters and valves in Sterling Heights, Mich., three years ago. Managers "looked me dead in the eye," he recalled, "and said, 'We're laying you off, but don't worry, we're calling you back.'"
He has heard nothing since. Despite applying for more than 100 jobs, he has been unable to find work. He has drained most of his 401(k) retirement fund, amassed credit card debt, and is about to sell his car, a 2006 Dodge Charger. "It's looking hopeless," he said.
According to the Rutgers study, those with less education were the most ravaged by job loss during the recession. Even among those who found work, many made much less than before the downturn.
"The news is strikingly bad," said Cliff Zukin, a professor of public policy and political science at Rutgers who compiled the study, which was based on surveys of a random sample of Americans who were unemployed at some point from August 2008 to August 2009. The numbers represent "a tremendous impression of dislocation and pain and wasted talent," he said.
More than two years after the recovery officially began, American employers have reinstated less than a quarter of the jobs lost during the downturn, according to Labor Department figures. Of the 13.1 million people still searching for work, more than 42 percent have been unemployed for six months or longer. About 8.9 million more are working part time because they cannot find full-time work.
While health care and some energy-related jobs have boomed throughout in recent years, the other winners have mostly been in skilled professions like computer systems design, management consulting and accounting, where employers have added back as many or more jobs than were cut during the downturn.
Companies like Ernst & Young, KPMG and PricewaterhouseCoopers, which offer accounting and other business advisory services, as well as management consulting firms like Bain & Company, have returned to peak hiring levels. Many Silicon Valley firms are aggressively recruiting. Google, for example, announced that it has hired more people in 2011 than in any previous year.
Other employers are adding back jobs that were cut, though not yet enough to reach prerecession peaks. What is more, these jobs are in areas like retail, hospitality and home health care, categories that pay low wages and are unlikely to give workers much economic security.
The sectors that have been slowest to recover are those that endured the most acute job losses, like construction and state and local government. Construction workers are among the biggest sufferers, stung by a housing collapse that led to the loss of two million jobs. Since the recovery began, the industry has added just 47,000 jobs.
Even manufacturing, which has shown a relatively healthy pace of job creation during the recovery, has added just over a tenth of the 2.3 million jobs that disappeared in the downturn.
"This recovery is really not a fair and balanced recovery," said Scot Melland, chief executive of Dice Holdings, an online job search service. "There are certain sectors that have done well, and others that haven't done well at all. If you're in one of the losing sectors, it's very tough."
Based on previous recessions, employers would have been expected to fill more jobs at this point in the recovery. But the kinds of jobs that typically return first have lagged this time around. "Construction is usually one of the earlier sectors to come back," said Harry J. Holzer, an economist at Georgetown University and the Urban Institute.
Because she had a college degree, it never occurred to Ms. Mowery that she would not eventually find a job. While collecting unemployment benefits, she tapped her network of friends and sought out the services of a unit of Randstad Holdings, a job placement firm. To brush up on her skills, she took online tutorials in software programs like Photoshop and InDesign.
When she landed a new marketing job last December at a company that resells networking equipment, she started at the same salary she had earned before, but with improved health and retirement benefits and more opportunities for promotion.
"I didn't want to just take a job, but make a career move," she said. "I was pretty confident. Things have a way of working out."
Others are more desperate. Some of them are sending out scattershot applications for jobs for which they are overqualified. Jaison Abel, senior economist at the Federal Reserve Bank of New York, said there was "some evidence that people who, in a different time, would have been entering the work force in midskilled jobs are now entering into the lower-skilled jobs."
Some are trying for slots even if they do not meet basic qualifications. PricewaterhouseCoopers received more than 250,000 applications through its Web site over the last year, but it has hired only 1 percent from that pool, said Holly Paul, its United States recruiting leader. She said a house painter with no qualifications beyond high school had applied for 10 different openings that required college degrees and accounting certification.
"It's definitely an eye-opener for me because it gives you an idea of what unfortunately is happening in the economy," said Ms. Paul.
Even many of those who have managed to find a job are struggling to restore financial stability. "They have had to take pay cuts or benefit cuts or maybe they don't get any vacation," said David Elliot, communications director for USAction, a coalition of grass-roots groups that will release a report on Friday about the experiences of unemployed and underemployed workers.
Mr. Loftis stays at his home in Michigan with his 4-year-old twins and looks for ways to shave costs. He and his wife, who has returned to work in a $10-an-hour factory job, canceled their cable service and no longer travel to see her family in the Philippines or relatives in Florida or Tennessee.
As he continues to apply for work, Mr. Loftis said employers have told him he has been out of a job for too long. "It's just hard," he said. "What can you do to get back on track, you know?"
www.nytimes.com/2011/12/02/business/for-jobless-little-hope-of-full-recovery-study-says.html
Why you can't get a job (even when you're qualified and the company is hiring)

www.washingtonpost.com/blogs/post-leadership/post/why-you-cant-get-a-job-even-when-youre-qualified-and-the-company-is-hiring/2012/06/06/gJQAtnXdIV_blog.html
Workers beset by 'wage theft,' advocates say

Leslie Gilbert, a former employee of Focus Care Home Health in Grand Rapids, Mich., displays the check she was sent in compensation for back wages. It was for the wrong amount, and unsigned. She's since filed a complaint with the state

www.chron.com/business/article/Workers-beset-by-wage-theft-advocates-say-3621267.php

Nation is at a critical juncture
10:20 PM, Sep. 5, 2012
John Pepper is a retired chairman and CEO of Procter & Gamble Co. and a co-chair of the National Underground Railroad Freedom Center.
With the presidential conventions now wrapping up, we can expect the polarized debate and too-often hyperbolic, sound-bite attacks to continue.
I don't mean to minimize the importance of what is said at these conventions. It is important. But I rather doubt if the debate we will hear will take the nation to the plans needed to address our opportunities and challenges.
No matter who wins, we will desperately need such a plan following this year's election. We all know what the challenges are:
The deficit has to be brought under control in a manner that respects fiscal discipline yet invests wisely for our future. Virtually every respected economist agrees we will need to both increase revenue and significantly reduce costs. Doing the latter will require reining in the cost of health care. We have to deal with Social Security, recognizing the increasing average age of the population. These are economic realities; and they cannot be swept under the rug or dealt with in sound bites which, at best, are partial solutions. Nothing can be held sacrosanct from this, including the defense budget. I have never seen a budget that can't be made more efficient, but it takes hard work and tough choices.
We need more jobs. And to that end, we must decisively address the inadequate educational preparedness of our children, starting with early childhood, particularly among families of lesser means.
Our taxation system is absurdly complicated, filled with loopholes and includes a corporate rate that is uncompetitive compared with the rest of the world.
To achieve the plan we need, we must abandon the either/or mentality when it comes to the role of the private sector and government.
As always, the private sector must drive growth in this country – job growth, economic growth and innovation. But it never has been, nor will it ever be, able to do this without the wisely targeted support of government investment.
Remember, without government investment, we would never have had the highways in this country, the railroads or the development of the Internet. We would not have had the G.I. Bill of Rights, Pell grants or land grant colleges, nor much else that has underpinned the education of our citizens.
We won't get anywhere by denying this. But we must approach government investment with great care, both to eliminate waste and to see where it will leverage the long-term improvements our nation most needs.
Our nation has always had great tensions between our political parties. We forget the vitriolic debates that occurred between Jefferson and Hamilton, Lincoln and Douglass, and FDR and the Republican Party.
However, in times of crisis, we have come together, particularly at times of war. We have battles today that, in terms of their impact on our country's future, are almost comparable to war: battles to control our deficit; to provide education that addresses the needs of all our children; and to secure affordable energy without propping up unfriendly regimes.
We have to come together after the election to fight these battles. We have done it before. Few presidents spawned more animosity during their tenure than FDR. Yet, in 1940, with the United States' involvement in World War II at hand, we came together – not without great debate, but we did it. How? Key leaders on both sides of the aisle realized we had to come together or we risked the nation's very existence.
President Roosevelt asked two Republican leaders, Henry Stimson, Hoover's former secretary of state, and Frank Knox, who had run as the vice-presidential candidate against Roosevelt in 1936, to join his Cabinet, as secretaries of war and the Navy. Some Republicans bristled at Stimson and Knox agreeing to do that. But they did it, and it was a good thing they did, because it helped our nation to prepare for war with astonishing speed.
I hope that before the election is settled, the leaders of both parties will be mentally preparing to join together after the election, to deliver a "made-for-adult" program that comprehensively addresses the critical issues in front of our nation. They cannot be put off. We cannot keep kicking the can down the road.
I am confident that, presented well and honestly, most Americans will rally behind such a program, recognizing that, at this critical juncture, that is what our future demands.

http://news.cincinnati.com/article/20120905/EDIT02/309050124/Nation-critical-juncture
Unemployed bad fit for available jobs
Good jobs in Ohio are going unfilled because job-seekers don't have the right skills, even as the economy putters along

www.dispatch.com/content/stories/business/2012/07/20/unemployed-bad-fit-for-available-jobs.html
U.S. losing high-tech manufacturing jobs to Asia

www.washingtonpost.com/business/economy/us-losing-high-tech-manufacturing-jobs-to-asia/2012/01/17/gIQA9P1S6P_story.html
Exploding the myths of manufacturing
MIT conference explores the complex state of an industry showing signs of revival.
http://web.mit.edu/newsoffice/2012/manufacturing-lgo-conference-0510.html
http://napoleonlive.info/economics/manufacturing-creates-wealth/