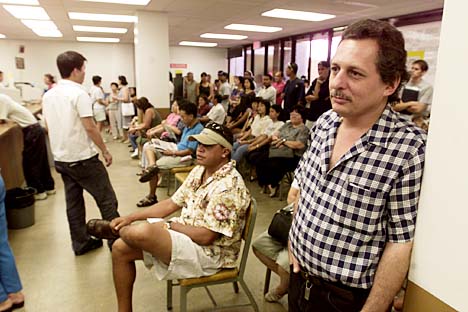 In a previous post, this blog confirmed the fact that the economy was essentially going no where. The latest job growth figures confirm that April conclusion. Due to uncertainty, oil prices based based on speculation rather than demand, and health care initiatives, employers are reluctant to hire, even though this would be patriotic. More pay checks means increased spending amd more growth due to demand.
Few jobs added in May; unemployment up to 9.1 pct
Employers added 54,000 jobs in May, fewest in 8 months; unemployment rate rose to 9.1 pct.
Christopher S. Rugaber, AP Economics Writer, On Friday June 3, 2011, 11:47 am
WASHINGTON (AP) — Employers in May added the fewest jobs in eight months, and the unemployment rate inched up to 9.1 percent. The weakening job market raised concerns about an economy hampered by gas prices and the Japanese nuclear disaster.
The key question is whether the meager 54,000 jobs added last month mark a temporary setback or are evidence of a more chronic problem. That total is far lower than the previous three months' average of 220,000 new jobs per month.
Private companies hired only 83,000 new workers in May — the fewest in nearly a year.
Stocks on Wall Street fell for the third straight day. The Dow Jones industrial average was down 76 points in late-morning trading. Broader indexes also dropped.
Many analysts suggest the economy will improve later this year, particularly if gas prices continue to decline.
But Friday's report underscores that the recovery will likely remain weak and unemployment high for many months.
"The recovery has not been derailed, but it's slow," said Michelle Meyer, an economist at Merrill Lynch. "We're still in a muddle-through period."
Among the deepest job cuts were in local governments, which cut 28,000 jobs last month, the most since November. Nearly 18,000 of those jobs were in education. Cities and counties have cut jobs for 22 straight months and have shed 446,000 positions since September 2008.
The anemic pace of job creation poses a challenge to President Barack Obama's re-election prospects next year. The Conference Board, a business research group, predicts that the unemployment rate will be 8.5 percent by the end of next year. That would mean Obama would face re-election with a higher unemployment rate than any other post-war president has.
Yet there's little appetite on Capitol Hill for additional stimulus spending. And the Federal Reserve plans to wrap up its most recent effort to pump money into the economy at the end of this month.
White House economist Austan Goolsbee said the burden is now on the private sector to create jobs, as the days of a government-led recovery are nearing an end.
"You've seen corporate profits high," he said. "It's now time to get that translated … into the adding of jobs, building of factories and buying of equipment here at home."
The jobs report followed a string of sluggish economic data in the past month that suggest the economy is growing more slowly.
The manufacturing sector, a key driver of the recovery, grew at its slowest pace in 20 months in May. Home prices in big metro areas have reached their lowest level since 2002.
Higher gas prices have left less money for consumers to spend on other purchases. And average wages aren't even keeping up with inflation. As a result, consumer spending, which fuels about 70 percent of the economy, is growing sluggishly.
Companies that depend on consumer spending shed jobs last month. Retailers cut 8,500 positions, after adding 64,000 in April. And leisure and hospitality, which includes restaurants and hotels, cut 6,000 jobs. That came after they added an average of 43,000 in the previous three months.
Economists have said that most of the factors slowing the economy are temporary. But some are now concerned that their impact is greater than they first envisioned.
"Economic activity has clearly hit a soft patch," said Steven Wood, chief economist for Insight Economics. "The open question is whether this is temporary and will quickly reverse itself over the next couple of months or whether this is an adjustment to a slower permanent growth rate."
Nariman Behravesh, chief economist at HIS, called it a "pretty bad report. It's tempting to say it's an outlier, but I'm a little worried."
More jobs are needed to sustain the economic recovery. They provide the income needed to support consumer spending, which accounts for about 70 percent of the economy.
Wages and salaries aren't providing much help. Average hourly earnings rose 1.8 percent in the past year, to $22.98 — not enough even to keep up with inflation.
More people entered the work force in May. But most of the new entrants couldn't find work. That pushed the unemployment rate up from 9 percent in April. The number of unemployed rose to 13.9 million.
And the government revised the previous months' job totals to show 39,000 fewer jobs were created in March and April than first estimated.
The weakness in hiring was widespread. Manufacturers cut 5,000 jobs, the first job loss in that sector in seven months. They included a drop of 3,400 jobs in the auto sector.
Car makers are cutting back on production because they are having a difficult time buying parts. Many auto parts, including some key electronic components, are made in Japan, and the March 11 earthquake and ensuing nuclear crisis in that country has disrupted supply chains.
Sectors of the economy most dependent on consumer spending suffered some of the steepest job losses in May. Retailers cut 8,500 positions, after adding 64,000 in April. And leisure and hospitality, which includes restaurants and hotels, cut 6,000 jobs. That came after they added an average of 43,000 in the previous three months.
There were some bright spots in May. Professional and business services added 44,000 positions, most of them in accounting, information technology services, and management.
Still, the economy must generate at least 100,000 jobs each month just to keep up with population growth and prevent the unemployment rate from rising. And economists say the gains need to be at least double that total to drive down the rate.
About 8.5 million Americans worked part time, even though they would have preferred full-time jobs. An additional 2.2 million have stopped looking in the past year.
When the unemployed are combined with part-time workers who would rather be working full time and people who have given up looking for jobs, roughly 25 million Americans are "underemployed." That's equal to 15.8 percent of the work force.
www.boston.com/business/articles/2011/06/03/employers_added_54k_jobs_rate_ticks_up_to_91_pct/
White House: Poor jobs numbers 'bumps on the road to recovery'
By Kara Rowland and Stephen Dinan The Washington Times10:35 a.m., Friday, June 3, 2011
The White House downplayed a disappointing May jobs report Friday that showed unemployment inched up to 9.1 percent, with President Obama's chief economist Austan Goolsbee calling the latest number one of the "bumps on the road to recovery."

www.washingtontimes.com/news/2011/jun/3/white-house-poor-jobs-numbers-bumps-road-recovery/
At Well-Paying Law Firms, a Low-Paid Corner
By CATHERINE RAMPELL
Published: May 23, 2011
WHEELING, W.Va. — The nation's biggest law firms are creating a second tier of workers, stripping pay and prestige from one of the most coveted jobs in the business world.
Make no mistake: These are full-fledged lawyers, not paralegals, and they do the same work traditional legal associates do. But they earn less than half the pay of their counterparts — usually around $60,000 — and they know from the outset they will never make partner.
Some of the lawyers who have taken these new jobs are putting the best face on their reduced status. "To me there's not much of a difference between what I'm doing now and what I would be doing in a partner-track job," said Mark Thompson, 29, who accepted a non-partner-track post at Orrick,
Herrington & Sutcliffewhen he could not find a traditional associate job. "I still feel like I'm doing pretty high-level work — writing briefs, visiting client sites, prepping witnesses for hearings."
Asked whether he hopes someday to switch onto the partner track, given the higher pay for this same work, he is diplomatic. "I'm leaving all my possibilities open," he said.
Lawyers like Mr. Thompson are part of a fundamental shift in the 50-year-old business model for big firms.
Besides making less, these associates work fewer hours and travel less than those on the grueling partner track, making these jobs more family-friendly. And this new system probably prevents jobs from going offshore.
But as has been the case in other industries, a two-tier system threatens to breed resentments among workers in both tiers, given disparities in pay and workload expectations. And as these programs expand to more and more firms, they will eliminate many of the lucrative partner-track positions for which law students suffer so much debt.
Mr. Thompson is one of 37 lawyers in Orrick's new program, which is based in this small Rust Belt city an hour southwest of Pittsburgh. An international firm headquartered in San Francisco, Orrick is one of a handful of law firms, including Wilmer Hale and McDermott Will & Emery, experimenting with ways to control escalating billing rates.
"For a long time the wind was at the back of these big law firms," said William D. Henderson, a historian at Indiana University-Bloomington.
"They could grow, expand and raise rates, and clients just went along with absorbing the high overhead and lack of innovation. But eventually clients started to resist, especially when the economy soured."
For decades, firms used essentially the same model: charging increasingly higher rates for relatively routine work done by junior associates, whose entry-level salaries in major markets have now been bid up to $160,000 (plus bonus, of course), a sum reported by the big law schools. Even under pressure to reduce rates, firms are reluctant to lower starting salaries unilaterally for fear of losing the best talent — and their reputations.
"Everyone acknowledges that $160,000 is too much, but they don't want to back down because that signals they're just a midmarket firm," said Mr. Henderson. "It's a big game of chicken."
So now firms are copying some manufacturers — which have similarly inflexible pay because of union contracts — by creating a separate class of lower-paid workers.
At law firms, these positions are generally called "career associates" or "permanent associates." They pay about $50,000 to $65,000, according to Michael D. Bell, a managing principal at Fronterion, which advises law firms on outsourcing.
These nonglamorous jobs are going to nonglamorous cities.
Orrick moved its back-office operations to a former metal-stamping factory here in 2002, and in late 2009 began hiring career associates. Costs of living are much cheaper in Wheeling than in San Francisco, Tokyo or its 21 other locations, saving $6 million to $10 million annually, according to Will A. Turani, Wheeling's director of operations.
"It's our version of outsourcing," said Ralph Baxter, Orrick's chief executive. "Except we're staying within the United States."
Similar centers have cropped up in other economically depressed locations. WilmerHale, a 12-office international firm, has "in-sourced" work to Dayton, Ohio.
"There's a big, low-cost attorney market there," said Scott Green, WilmerHale's executive director.
"That means we can offer our services more efficiently, at lower prices."
What's good for clients, of course, isn't quite as good for those low-cost lawyers.
http://www.nytimes.com/2011/05/24/business/24lawyers.html
In Rust Belt, manufacturers add jobs, but factory pay isn't what it used to be
By Michael A. Fletcher, Published: May 17
NORTH CANTON, OHIO — More than 1,000 applicants began lining up this week outside a former Hoover vacuum plant here in the hopes of joining a surprising trend in this part of the nation's manufacturing heartland: new jobs.
Come June, the plant will be churning out EdenPure space heaters, vacuums, air purifiers and other small appliances once made in China. The turnabout for this factory and scores of others across the long-suffering Rust Belt offers vivid evidence of a budding revival in American manufacturing that has been a key driver of the economic recovery.
The nation's factories have added 250,000 jobs since the beginning of last year — about 13 percent of what was lost during the recent recession — marking the first sustained increase in manufacturing employment since 1997.
But the new hiring also reflects another emerging reality of U.S. manufacturing: Many of the jobs don't pay anything close to what they used to. Assembly-line workers who will be making the EdenPure products under the auspices of Suarez Corp. Industries will start at $7.50 an hour.
That's a far cry from the $20 an hour that most workers made with Hoover, which shifted its century-old production lines to Mexico and El Paso in 2007 after concluding that it was too expensive to make its products in the industrial Midwest.
"The communities and workers in Ohio have been devastated over the past decade and are grateful for the opportunity to earn a living," said Robert Baugh, executive director of the AFL-CIO's Industrial Union Council. "But this is tempered by reality. One is that the jobs at Suarez, with wages and benefits well below the middle-class ones that were there before, are not a replacement for the ones that left."
Behind the recovery
The Rust Belt's nascent recovery is being fueled by a host of factors, including a revitalized auto sector, innovations that have made workers more productive, and a weakened dollar, which makes American products more appealing for export.
Lower labor costs are also a critical factor. But many of the prospective workers who braved a cold rain Monday outside the old Hoover plant for a shot at a job with benefits did not complain.
"I was a little disappointed about the rate of pay," said Leslee Valentine, 52, who rushed down to the factory after hearing about the job fair on the news. "But right now I'm on unemployment, so it looks pretty good. There is always that opportunity to move up."
Wilmer Miller, 50, who previously has worked as a plumber, was similarly upbeat.
"It's an opportunity," he said. "You got to have a job, and you got to have a paycheck. I'll take a little less to have those things. It's good to see something open up."
The Rust Belt's fortunes have been one of the bright spots of a mostly shaky recovery. Nationally, manufacturing output grew at an estimated annual rate of 9.1 percent in the first three months of the year, while the overall economy expanded by just 1.8 percent, according to Federal Reserve figures.
"Everybody had written off the manufacturing sector and the Rust Belt, but now the manufacturing sector is the shining star of the U.S. recovery," said Mark J. Perry, a professor at the University of Michigan at Flint and a visiting scholar at the American Enterprise Institute.
The recovery has been a long time coming. The nation lost nearly 6 million factory jobs, almost a third of its total, between 2000 and 2009. Those losses came on top of a long slide that started in 1979, when the nation's manufacturing workforce peaked at 19.5 million. Currently, the nation has 11.7 million manufacturing workers, according to the Labor Department.
"What we are experiencing is first and foremost a recovery from the depths of a terrible recession," said Robert E. Scott, a senior economist at the Economic Policy Institute. "We have a long way to go before we climb out of this hole."
he manufacturing gains are particularly apparent in states such as Michigan, Wisconsin, Pennsylvania and Ohio, where the decline of the steel industry and, later, the sharp reduction in auto-related and other factory jobs transformed much of the region into an economic basket case long before the recession hit. Now unemployment rates in these states are falling, and some are at or below the national average. Economists say the recovery in manufacturing work is also crucial to the fortunes of the vast majority of American workers who are not college graduates. As a group, factory jobs pay about 10 percent more on average than other jobs in the economy.
But even as manufacturers have been prospering and jobs have begun to trickle back, some analysts and union leaders worry that workers are not sharing fully in the bounty.
General Motors and Ford recently reported their highest earnings in more than a decade. Goodyear set a sales record in the first quarter of this year. Other manufacturers, including Caterpillar, which makes construction equipment, and Timken, a maker of specialized steel and bearings, reported healthy sales and earnings in the first three months of 2011.
Meanwhile, newly hired autoworkers are earning $14 an hour plus benefits, about half of a veteran autoworker's wage. And many experts and labor leaders worry that the wage premium that factory workers enjoy is eroding.
A 'renaissance'
A recent report by the Boston Consulting Group predicted that the United States is on the verge of a "manufacturing renaissance" as labor costs increase sharply in China and the Chinese currency slowly increases in value.
Those forces are combining to make the United States "one of the cheapest locations for manufacturing in the developed world," the report said — a prediction that is not universally embraced as good news.
"It's not clear that the manufacturing jobs that are now growing are all that desirable," said Susan R. Helper, an economist at Case Western Reserve University.
Ben Suarez, founder and chief executive of Suarez Corp. Industries, the maker of EdenPure and other home products, said that "everybody wants to manufacture in the United States. It is just the cost of doing it" that prompts companies to move factories offshore.
He decided to move manufacturing back from China because it takes two months to get products to market from his factories there. That lag led to supply and inventory headaches for his weather-sensitive products, particularly his signature space heaters. Those problems became less tolerable as his costs for making products in China and shipping them home began to soar. 
Once he began making some of the heaters in a temporary facility in North Canton last year, he noticed that they sold 30 percent better than identical ones made in China, simply because of labels identifying them as made in America, he said.
The clincher was when his company was able to re-engineer the space heater so it required fewer man-hours to build. Even with all of that, Suarez said, his production costs are higher here than they would be in China. Nonetheless, he said he is happy to be bringing jobs back to his home town, adding that he will probably hire as many as 2,500 workers over the next 18 months.
But, he added, the pay offered in his non-union shops will be commensurate with the skills workers bring to the assembly line. Anything more, he said, would make his products uncompetitive.
For the relatively simple work of assembling space heaters, that means many workers will make the $7.50 to $8.50 an hour that was advertised at the recent job fair, although some computer programmers can make as much as $16 an hour.
Suarez offers a profit-sharing plan that last year meant average payouts of $22,000 to his company's 700 employees, but many of his new factory workers are technically employees of manufacturing contractors hired by Suarez and do not receive profit sharing.
"There isn't anybody who doesn't want to create prosperity, to help people out," said Suarez, recalling that he "grew up on the wrong side of town" and worked his way through the University of Akron as a meat cutter and steelworker. But, he added, "what we are able to pay depends on the skill level needed for a job."

www.washingtonpost.com/business/economy/in-rust-belt-manufacturers-add-jobs-but-factory-pay-isnt-what-it-used-to-be/2011/05/17/AFDmL55G_story.html
http://www.washingtonpost.com/business/economy/economic-outlook-hinges-on-jobs-report/2011/06/02/AGRiQJHH_story.html?hpid=z3
Weak jobs report isn't all bad news
www.mcclatchydc.com/2011/06/03/115203/economy-adds-54000-jobs-unemployment.html
Forecast: On again, off again economy could last for years
www.mcclatchydc.com/2011/06/02/115167/forecast-on-again-off-again-economy.html