 George Mitchell, a Pioneer in Hydraulic Fracturing, Dies at 94

www.nytimes.com/2013/07/27/business/george-mitchell-a-pioneer-in-hydraulic-fracturing-dies-at-94.html
The Right Way to Develop Shale Gas
By MICHAEL R. BLOOMBERG and FRED KRUPP APRIL 29, 2014
LISTENING to the polarized energy debate in the United States, you might think natural gas was an economic and geopolitical cure-all — or an environmental curse. Too many oil and gas executives behave as if this newly abundant resource, released from underground shale deposits by the combination of horizontal drilling and hydraulic fracturing, has no environmental challenges. Opponents often act as if it has no economic and environmental benefits.
So here's a reality check. The shale gas boom is indeed lowering energy costs, creating new jobs, boosting domestic manufacturing and delivering some measurable environmental benefits as well. Unlike coal, natural gas produces minuscule amounts of such toxic air pollutants as sulfur dioxide and mercury when burned — so the transition from coal- to natural-gas-fired electricity generation is improving overall air quality, which improves public health. There's also a potential climate benefit, since natural-gas-fired plants emit roughly half the carbon dioxide of coal-fired ones.
At the same time, opposition to shale gas development is driven by very real instances of localized air and groundwater pollution. Because of intensive shale-gas development, the small town of Pinedale, Wyo., has experienced smog concentrations comparable to those of Los Angeles. The industry asserts that hydraulic fracturing does not contaminate water supplies when fluids are shot at high pressure into shale deposits to release gas. But inspection records in several states show that mistakes or accidents in other phases of the process — poor well construction or surface spills, for example — have done so.
These environmental concerns are having a major impact on public opinion. A poll by the Pew Research Center last fall found that 49 percent of those surveyed opposed the increased use of hydraulic fracturing, while 44 percent supported it. These views are leading communities and even states to keep out the industry. In 2010, New York, one of four states sitting atop an estimated 141 trillion cubic feet of recoverable natural gas in the Marcellus Shale formation, became the first state to impose a moratorium on hydraulic fracturing. Last year in Colorado, four cities voted to prohibit it. If opponents have their way, a statewide measure restricting the process will be on the Colorado ballot this fall.
There's also a growing awareness today of another serious problem with natural gas development: methane emissions, which can undo the potential climate benefit of natural gas. Though it burns cleaner than coal, uncombusted natural gas is mostly methane, a greenhouse gas 84 times more potent than carbon dioxide in the first 20 years after it is released. Estimates vary widely about how much methane is being leaked or vented during the production and transportation of natural gas, but there is no doubt that methane emissions need to be measured and reduced.
This is essentially a data acquisition and management problem — the kind that we know we can solve. For instance, after New York City's health department installed 150 air-quality monitors throughout the city in 2008, a startling fact emerged: Dirty heating oil caused more soot pollution than all the cars and trucks in the city combined. The resulting Clean Heat program helped drive down sulfur dioxide pollution by nearly 70 percent and soot levels by almost 25 percent by helping the worst polluting buildings switch to cleaner fuels.
The same data-driven approach can reduce air and water pollution from shale gas drilling, by requiring operators and regulators to identify and correct hot spots. We have the technology to do this. But we can't manage what we don't measure.
Strong rules and enforcement are critical. And, as one of us, Fred Krupp, describes in the current issue of Foreign Affairs, states are beginning to take action. Texas has imposed tough standards for well integrity, a key to groundwater protection. Wyoming has set strong requirements for water testing before drilling begins. Ohio is emerging as a leader in reducing air pollution from leaky oil and gas equipment. And in February, Colorado became the first state to directly regulate methane emissions from oil and gas operations — a huge step forward.
After Gov. John Hickenlooper declared "zero tolerance" for methane, three of Colorado's largest oil and gas producers worked with the Environmental Defense Fund to develop a proposal that shaped the state's final rules. The new rules will also remove 90,000 tons of smog-forming volatile organic compounds — about what the state's cars and trucks discharge each year — and 100,000 tons of methane from the industry's emissions.
Reducing air pollution makes good business sense. Why waste natural gas, when capturing emissions and reducing leaks is so cost effective? E.D.F. recently commissioned a study that evaluated currently available measures to reduce methane emissions. The measures could cut emissions by 40 percent over five years — at a cost of less than a penny per thousand cubic feet of gas produced, which today costs between $4 and $5.
Now the Obama administration is developing a methane-reduction strategy. We're confident the Environmental Protection Agency will recognize, as Colorado did, that sensible rules are necessary and affordable, and will work with states to write them. And we hope that as in Colorado, industry leaders, elected officials and environmentalists will work together to make shale gas development safer. Doing so will not only help the industry meet reasonable pollution limits, it will help the industry regain public trust.
w.nytimes.com/2014/04/30/opinion/the-right-way-to-develop-shale-gas.html
Editorial
Shale pays off — for lawmakers
Sunday August 4, 2013 6:53 AM
In one of the least-surprising revelations from campaign-finance reports filed Wednesday, oil and gas interests turn out to be among the biggest contributors to the Republican lawmakers who steadfastly refuse to subject the industry to a reasonable severance tax.
Not surprising, but not acceptable, either.
In rejecting Gov. John Kasich's proposal to modestly raise the severance tax applied to "fracking," or horizontal fracturing of shale for oil and gas, the legislature denied the whole state a chance to benefit from a tremendous state resource from which out-of-state drillers stand to reap huge profits. It didn't matter to legislators that Kasich's proposal still would leave Ohio's drilling-related taxes below those of other booming states, including Pennsylvania and Texas, nor that the revenue from the tax could have been returned to all Ohioans in the form of an income-tax rebate.
Lawmakers expressed more concern that asking anything of drillers might discourage them from drilling — even though substantially higher taxes don't appear to have dampened the shale boom in other states.
Campaign-finance reports show just how much concern the oil and gas industry has expressed to the lawmakers: In the last two-year election cycle, they gave about $830,000 to Republican legislative campaigns. The biggest contributors were industry giants Chesapeake Energy and NiSource and the Ohio Oil and Gas Association, the primary industry lobbying group.
Just for the first half of 2013, the total was more than $242,000.
The biggest recipients? House Speaker William G. Batchelder, at about $25,500; Rep. Ron Amstutz of Wooster, chair of the House finance committee, at $23,200; and Senate President Keith Faber of Celina, who received $20,500.
Batchelder has been so dead-set against increasing the fracking tax that Kasich, asked recently when he might raise the issue again, joked, "I think we wait for Batchelder to retire."
The lawmakers will, of course, insist that their votes were not influenced by campaign contributions.
Faber spokesman John McClelland was quick to assert, "Political donations have never driven policy decisions in the Senate. It never happened before, and it's not going to happen now."
Does McClelland, or any of the Republican leadership, imagine that anyone believes that?
Voters should make their own judgments about it in future elections.
But regardless of the motivation, rejecting the fracking-tax change is bad public policy.
Severance taxes long have been the standard means by which the public is compensated when natural resources that cannot be replenished are removed by private interests. In other states, oil and gas companies pay them at rates well higher than Ohio's.
Blessed with huge reserves of oil- and gas-bearing Utica and Marcellus shale, Ohio has the potential to reap a windfall that could benefit the whole state.
By unilaterally keeping Ohio's severance-tax rates out of whack, lawmakers are shortchanging the public, even as their own campaign chests grow.

www.dispatch.com/content/stories/editorials/2013/08/04/1-shale-pays-off-for-lawmakers.html
Protesters in Balcombe, West Sussex, after the granting of a permit to Cuadrilla to drill an exploratory borehole
Photo: Rex Features

www.telegraph.co.uk/earth/energy/10204677/HS2-fracking-and-planning-have-given-rise-to-mutiny-in-Middle-England.html
More Oil and Gas Drillers Turn to Water Recycling
http://www.nytimes.com/aponline/2013/11/11/us/ap-us-fracking-water-recycling.html
Drilling fluids stayed below drinking water

www.dispatch.com/content/stories/national_world/2013/07/20/drilling-fluids-stayed-below-drinking-water.html
Internal EPA report highlights disputes over fracking and well water
An EPA staff report suggests methane from hydraulic fracturing, or fracking, contaminated wells near Dimock, Pa., but the agency says the water's safe to drink.
By Neela Banerjee
July 27, 2013, 8:00 p.m.
WASHINGTON — One year ago, the Environmental Protection Agency finished testing drinking water in Dimock, Pa., after years of complaints by residents who suspected that nearby natural gas production had fouled their wells. The EPA said that for nearly all the 64 homes whose wells it sampled, the water was safe to drink.
Yet as the regulator moved to close its investigation, the staff at the mid-Atlantic EPA office in Philadelphia, which had been sampling the Dimock water, argued for continuing the assessment.
In an internal EPA PowerPoint presentation obtained by the Tribune/Los Angeles Times Washington Bureau, staff members warned their superiors that several wells had been contaminated with methane and substances such as manganese and arsenic, most likely because of local natural gas production.
The presentation, based on data collected over 4 1/2 years at 11 wells around Dimock, concluded that "methane and other gases released during drilling (including air from the drilling) apparently cause significant damage to the water quality." The presentation also concluded that "methane is at significantly higher concentrations in the aquifers after gas drilling and perhaps as a result of fracking [hydraulic fracturing] and other gas well work."
Critics say the decision in July 2012 by EPA headquarters in Washington to curtail its investigation at Dimock over the objection of its on-site staff fits a troubling pattern at a time when the Obama administration has used the sharp increase in natural gas production to rebut claims that it is opposed to fossil fuels.
In March 2012, the EPA closed an investigation of methane in drinking water in Parker County, Texas, although the geologist hired by the regulator confirmed that the methane was from gas production. In late June, the EPA dropped a study of possible contamination of drinking water in Pavillion, Wyo., despite its earlier findings of carcinogens, hydrocarbons and other contaminants in the water.
"We don't know what's going on, but certainly the fact that there's been such a distinct withdrawal from three high-profile cases raises questions about whether the EPA is caving to pressure from industry or antagonistic members of Congress," said Kate Sinding of the Natural Resources Defense Council, an environmental group.
The EPA confirmed the authenticity of the presentation about the Dimock wells but said it was the work of one employee.
"This presentation represents one [on-scene coordinator's] thoughts regarding 12 samples and was not shared with the public because it was a preliminary evaluation that requires additional assessment in order to ascertain its quality and validity," said EPA spokeswoman Alisha Johnson.
"The sampling and an evaluation of the particular circumstances at each home did not indicate levels of contaminants that would give EPA reason to take further action," Johnson said. "Throughout EPA's work in Dimock, the agency used the best available scientific data to provide clarity to Dimock residents and address their concerns about the safety of their drinking water."
At the same time, the energy industry and its congressional allies have hammered the EPA for undertaking the studies, which they say are a pretext for regulatory overreach.
"They have attempted to link fracking to water contamination in at least three cases, only to be forced to retract their statements after further scrutiny proved them to be unfounded," Rep. Lamar Smith (R-Texas), chairman of the House Science Committee, said at a recent hearing.
Robert B. Jackson, professor of environmental sciences at Duke University, who has researched methane contamination in the Dimock area and recently reviewed the presentation, said he was disappointed by the EPA's decision.
"What's surprising is to see this data set and then to see EPA walk away from Dimock," Jackson said. "The issue here is, why wasn't EPA interested in following up on this to understand it better?"
The EPA staff presentation about Dimock was an interim analysis of water sampling data collected by Pennsylvania regulators and, later, by the EPA, from 2008 to June 2012.
The presentation provides charts for nine of the 11 Dimock-area wells, tracking natural gas production work in the area and the concentration of methane and metals over a four- to five-year period, depending on the well. Some wells underwent a "short-term disruption," or a rise in methane in the water six to eight months after nearby gas development activity. Over two or three years, the concentration of methane fell.
Four other wells experienced long-term disruption to their water quality, according to the presentation. In those instances, methane levels did not fall over time but remained high after an initial increase or began to climb after a period of decline. The presence of metals such as manganese and arsenic also rose over time in some of those wells.
A study by Jackson and other Duke scientists published in June indicates that drinking water wells near natural gas production in northeastern Pennsylvania, including Dimock, are at greater risk of methane contamination than those farther away.
Methane is the primary component in natural gas. In enclosed spaces, such as sheds and basements, it poses the risk of asphyxiation and explosion. There is little research into the long-term effects on human health from prolonged exposure to methane in drinking water.
Scientists and regulators say that when methane ends up in well water, it is usually because of faulty metal casings inside a natural gas well that allow methane to seep out as it travels to the surface or shoddy concrete work that is supposed to keep gas and water from moving into the space between the well casings and the rock.
Though EPA officials concluded that Dimock water was safe to drink, the mid-Atlantic EPA office nevertheless asked the Centers for Disease Control and Prevention to evaluate the health risk.
Cabot Oil & Gas Corp., the company drilling in Dimock, asserts that the methane in the water is unrelated to oil and gas development. "Through our investigation, Cabot concluded that methane gas existed in groundwater and water wells in the Dimock and Springville townships long before Cabot began drilling in the area," said Dan O. Dinges, Cabot's chief executive, in a May 29 letter to the Senate Energy and Natural Resources Committee.
Although methane gas occurs naturally in the area's aquifers, the Duke study showed that the chemical "fingerprint" of methane in shallow water wells near the gas sites was the same as the natural gas extracted from deep underground.
The EPA PowerPoint presentation identified five wells contaminated with methane whose chemical fingerprint, or isotopic composition, was the same as methane from the Marcellus shale formation at the center of Pennsylvania's natural gas boom.
Fred Baldassare, a former official at the Pennsylvania Department of Environmental Protection who worked on the state's Dimock studies, disputed the presentation's assertion that some wells contained Marcellus methane. Now a consultant for industry and homeowners, Baldassare said there was not enough information about the composition of the methane in the wells to draw conclusions about the origin. "It's dangerous and inappropriate to interpret this data in a vacuum," he said.
Jackson disagreed, arguing that the methane found does not naturally occur in drinking water. "The burden of proof is different here," he said. "The question we're asking is, 'Was there enough evidence to warrant further study?' The EPA scientist clearly thought so."

www.latimes.com/news/nationworld/nation/la-na-epa-dimock-20130728,0,4847442.story
If you care about the environment, you should welcome natural gas fracking
There is no perfect energy source that has no environmental impact and is low-cost. Natural gas is far better than coal or oil
John Hanger
guardian.co.uk, Monday 8 July 2013 10.45 EDT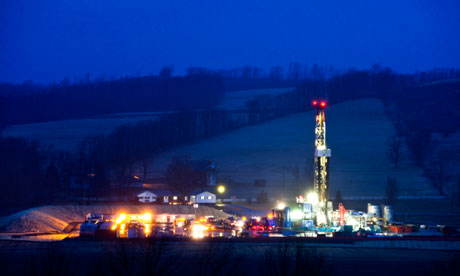 A fracking site in rural Pennsylvania.
Photograph: Jim Lo Scalzo/EPA/Corbis
Shale gas is reshaping America's economy, environment and politics in still surprising ways. It was an unpredicted phenomenon, but shale gas, now more than a decade old, accounts for 40% of the natural gas in the US. The success of shale production, that has reached large areas of America where no gas development previously existed, birthed the largest environmental movement since the anti-nuclear power protests of the Three Mile Island era. The "fracking wars" have come to America and the world, with the recently fired French energy and environment minister saying shale gas supporters wanted her scalp.
The massive supply of shale gas crashed the price of gas from $13 for a thousand cubic feet in July 2008 to below $4, delivering heating and electricity savings of $1,000 per year to many US consumers and helping to fend off further recession in 2011 and 2012. These large price reductions in heat and power – necessities of life – are especially vital for those living in poverty, and a welcome turn of luck for median-income households.
As a result of shale gas, fortune has smiled as well on millions of Americans who have lease their land to the drilling industry. They receive payments and royalty checks that total tens of billions of dollars. Hundreds of thousands more get a paycheck from jobs created directly or indirectly by the shale gas boom and chemical manufacturing associated with it.
Shale gas in the US is no Ponzi scheme, resting on sketchy reserves, as some have recklessly asserted, but a durable economic bonanza that could return energy intensive manufacturing jobs to many communities. In fact, the new gas volumes are so real and enormous that they threaten coal, oil, nuclear and renewable energy.
So far, shale gas is co-existing with solar and wind, whose capacity skyrocketed respectively 14 and 2 times since 2008, but is in mortal combat with coal. Cheap natural gas is coal's market nemesis, plunging coal electricity to only 37% of the market in 2012 from 48% in 2008 and causing investors to pull the plug on 150 planned coal-fired power plants. Though Republicans reflexively charge President Obama with a war on coal, Adam Smith's market forces caused coal to lose market share at a rapid pace.
Since burning gas emits no lethal soot or sickening toxic metals and about 50% less carbon dioxide than coal, the displacement of coal generation by natural gas slashes the amounts of major air pollutants like mercury, lead, arsenic, soot, and carbon dioxide. America's carbon emissions have dropped 800 million tons since 2007 and are back to 1995 levels, with gas displacing coal and some oil responsible for about half of the total reduction. The carbon benefits of gas will increase as methane rates are cut by increasing green completions and other practices reducing leakage that the US Environmental Protection Agency has mandated in rules taking effect in 2014.
One of the major concerns about natural gas is what happens at the local level. Shale gas production is an industrial activity that brings to local areas drilling rigs, hydraulic fracturing pumps, trucks, and pipelines as well as lease payments, royalty checks, jobs, and cheap energy. It often creates new local sources of diesel air emissions and drilling waste water whose storage in deep caverns caused an earthquake felt at the surface in Youngstown, Ohio. During the first year of development of any shale well, shale gas is not a quiet, good neighbor, and it brings lasting challenges.
I saw the issues first-hand when I was Pennsylvania's environmental secretary as the state's Marcellus Shale drilling took off. Mistakes in the casing and cementing of gas wells caused methane to migrate to 18 water wells in Dimock, Pennsylvania, and five compressor stations have erupted in fire in Pennsylvania just since 2011. Gas drilling must be strongly regulated and reasonably taxed. Rules must be strong, regulatory staff big enough to enforce them, and political leaders must tell their regulators to enforce fully the rules. Excellent regulation can help minimize impacts and maximize benefits, but regulation of gas and energy production is too often poor.
Even with the best regulation, gas production cannot be done with no impact on the environment, no trucks, accidents, leaks, spills, land disturbance. Yet, no form of energy production can meet that standard.
Virtually all of our energy choices have big safety and environmental risks or significant weaknesses. There is no perfect or excellent energy source that has no environmental impact, is low-cost, and operates continuously. Indeed, especially in terms of the environment, our energy choices today are mostly ugly.
Coal production involves blowing up mountains, tearing apart land, burying streams with spoil, discharging acidic waste water that destroys aquatic life, and disposal of gargantuan volumes of ash after combustion. The burning of coal releases big volumes of air pollutants – mercury, lead, arsenic, carbon dioxide, sulfur dioxide, nitrogen oxide, and soot. Soot pollution that comes from coal and diesel can be lethal, and is estimated to cause 34,000 premature deaths per year just in America.
Oil leaks and spills everyday, fouling streams and groundwater. It's burning releases soot and huge amounts of carbon dioxide as well as other air pollutants. Nuclear power creates the world's most toxic waste stream, until it has a bad day, and then nightmares come true. After Fukushima, more than 1% of the nuclear plants built in the world have melted down, with radiation released at Chernobyl alone responsible for the deaths of about 4,000 people.
The two biggest renewable energy sources – corn ethanol and large hydro – pollute and damage as well. Big dams devastate fish migrations around America. Nitrogen and phosphorus run-off from corn fields that feed ethanol plants pollute rivers and cause big dead zones in the Gulf of Mexico. Though growing rapidly, wind and solar provide just 2% of America's total energy, but even wind that causes zero air and water pollution has passionate opponents who hate its visual impacts or loath any bird kills.
So which energy source is winning the battle for market share around the world? Oil remains the world's biggest energy source, but coal is closing the gap and could become the world's top fuel. Indeed, last year, coal reached its highest market share of the world's energy in more than 40 years. China, the second biggest and fastest growing economy, gets 70% of its total energy from coal and just 5% from natural gas. Only in America is coal struggling, because the shale gas revolution has made gas cheap and is displacing it here.
Coal and oil already provide about 63% of the world's total energy. Their consumption is increasing and is the prime reason why atmospheric carbon concentrations exceed 400 ppm, why air pollution harms millions, and why energy usage pollutes water. In that real world of ugly energy, more energy efficiency, renewable energy, nuclear power, and natural gas – imperfect as they are – offer big public health benefits. Moreover, in some parts of the world like the US, natural gas is uniquely able to displace quickly and economically huge amounts of coal and oil.

www.guardian.co.uk/commentisfree/2013/jul/08/shale-gas-fracking-good-for-environment
Why such hysteria over fracking?
Studies have shown repeatedly that fracking is fundamentally safe. It creates jobs and cuts dependence on foreign oil. So why is there still such backlash?

Anti-fracking activists allege that the process of removing oil from deep underground damages air quality, contaminates water sources and could potentially cause earthquakes. Above: Workers tend to a well during a hydraulic fracturing operation at a gas well outside Rifle, Colo.
(Brennan Linsley / Associated Press / March 29, 2013)
By Rock Zierman
June 21, 2013
Is hydraulic fracturing — used for more than 60 years to produce oil and natural gas — safe?
The "safe fracking" question has been asked and answered many times over by government regulators, scientists and other technical experts, and they have concluded that hydraulic fracturing is a fundamentally safe technology. Interior secretaries and EPA heads have repeatedly said that fracking can be done, and is being done, so that it doesn't present environmental or public health problems.
That's been the case for decades, Interior Secretary Sally Jewell, a former petroleum engineer and a former president of REI, the outdoor equipment retailer, said in May. Jewell's predecessor, Ken Salazar, testified to Congress that hydraulic fracturing "has been done safely hundreds of thousands of times" and warned lawmakers against anti-fracking "hysteria."
As far back as 1995, the Environmental Protection Agency studied whether hydraulic fracturing contaminated drinking water. The EPA studied a site in Alabama at the request of environmentalists and found "no evidence" of "any contamination or endangerment of underground sources of drinking water." In 2004, the agency conducted a broader study and also found fracking "poses little or no threat" to water supplies.
In 2009, another study from the U.S. Department of Energy and the Ground Water Protection Council — an interstate body of environmental regulators — concluded that fracking is a "safe and effective" technology for producing energy from deep geological formations like California's Monterey Shale.
More recently, Stanford University geophysicist Mark Zoback, who's also served as an advisor to the Obama administration, confirmed that fluids used in hydraulic fracturing "have not contaminated any water supply," and with more than a mile of rock separating deep shale formations and shallow drinking water aquifers, "it is very unlikely they could." In California, it is worth noting, more than 80% of hydraulic fracturing occurs in parts of Kern County where there is no potable groundwater.
Anti-fracking forces respond to such good news by finding new ways to scare the public. That's why you hear more and more allegations about air quality, water use and earthquakes. On air quality, they are ignoring that California's oil and gas industry already operates under some of the world's tightest emissions controls, and such controls have worked well in states where fracking and drilling are more widespread than in California.
For example, in Colorado, regulators have reported "decreases in the levels of many organic pollutants associated with oil and gas operations" during a dramatic rise in energy production. And in Texas in recent years, regulators responded to air quality fears in the Dallas-Fort Worth area with round-the-clock monitoring, and found "no levels of concern for any chemicals" and "no immediate health concerns from air quality."
Next, activists exaggerate problems associated with water usage and wastewater disposal associated with hydraulic fracturing. In states where hydraulic fracturing is used much more frequently, and where many times as much water is used as in California, the process accounts for less than 1% of total water demand, according to the Department of Energy and the Groundwater Protection Council. In addition, wastewater can be treated and reused, minimizing both issues.
In California, we use much less water than other states because of our geology. For perspective, the amount of water used in all of the hydraulic fracturing jobs in California last year was about the same amount of water that the state's golf courses consumed in half a day.
As for earthquakes, a yearlong study released in 2012, the first of its kind in the state, at the Inglewood Oil Field in the Baldwin Hills area found "no detectable effects on vibration" — and no water or air quality problems either — from hydraulic fracturing. Perhaps that's because, as Zoback has explained, the amount of seismic energy released during hydraulic fracturing is about the same as "as a gallon of milk falling off a kitchen counter." In fact, the National Research Council concluded last year that hydraulic fracturing does not pose a high risk of inducing earthquakes. The separate process of injecting oil and gas wastewater into deep disposal wells, while it does carry some risk, has never triggered an earthquake in California.
Despite the sound bipartisan defeat of legislation that would impose a moratorium on hydraulic fracturing, some activist groups are still pressing lawmakers to ban the technology. There is no reason to impose a moratorium or ban on a technology that is fundamentally safe, will lead to more jobs and economic growth and will reduce our dependence on foreign oil.
Regulators should continue to review the rules that apply to hydraulic fracturing, and find ways to improve them to ensure that the public has the information it needs about the process. The facts clearly show that this technology can be used safely while regulatory updates are made.
Rock Zierman is chief executive of the California Independent Petroleum Assn.

www.latimes.com/news/opinion/commentary/la-oe-zierman-california-fracking-moratorium-20130621,0,1007838.story
Dangers of fracking still becoming clear
Editorial Board
Updated: 7:07 p.m. Wednesday, Dec. 28, 2011
Published: 7:04 p.m. Wednesday, Dec. 28, 2011
The word "fracking" may sound funny, but it describes a drilling practice that has created a serious boom in natural gas production in Texas and elsewhere, and with the boom has come serious worries about fracking's effects on the environment.
States are just now catching up with the boom and are starting to pass rules governing fracking. The scrutiny is needed.
Fracking is formally known as hydraulic fracturing. It's a drilling process that forces a high-pressure mixture of water, chemicals and sand deep underground to break apart shale formations. Oil and natural gas then flow along these cracks to the surface. Energy companies use fracking to tap reserves previously out of reach.
The boom in natural gas production boosts the nation's energy security and it means lower prices for consumers. It also has meant thousands of jobs and millions of dollars in tax revenue for communities around the country. According to a report on the natural gas "shale gale" released this month by IHS Global Insight, shale gas production supported more than 600,000 jobs last year and will support 870,000 jobs by 2015, as well as contribute $118 billion in economic growth.
Energy companies insist fracking is safe, but its effect on groundwater supplies is not fully understood. Fracking uses huge amounts of water — millions of gallons in some cases — and some of the chemicals that are pumped underground are toxic. The wastewater that flushes back to the surface is not only tainted with these dangerous chemicals but also sometimes contains radioactive elements that naturally occur underground. This contaminated water usually is disposed of in deep injection wells. There are concerns about spills and leakage from the drilling process and the storage wells into drinking water.
There's even concern that fracking causes earthquakes. Injecting water under high pressure deep into the earth creates tremors as the fluid breaks open fissures in the rocks. These tremors usually are inconsequential, but earthquakes of moderate strength have occurred recently in gas-producing areas, and scientists are studying the relationship between fracking and these stronger earthquakes.
Gov. Rick Perry dismissed environmental worries about fracking as a "fear tactic" of the left while campaigning recently in Iowa. Yet the Texas Legislature — not a place frequently known for its environmental liberalism — this year rightly passed a bill that requires companies to disclose the fracking chemicals they use. We're glad Perry signed the bill into law in June.
This month, the Texas Railroad Commission adopted rules to enforce the law. Starting Feb. 1, energy companies will have to post on a website — www.fracfocus.org — the fracking chemicals they use, though the state law does not require them to post the chemicals' concentrations, which the companies consider to be trade secrets.
A handful of other states have passed similar regulations regarding fracking chemicals. Some states are looking at imposing tougher rules; a few are debating whether to ban fracking.
The Environmental Protection Agency is reviewing fracking. A preliminary report released this month by the EPA found that fracking might have contaminated groundwater in central Wyoming, but that finding, the EPA said, was specific to that part of Wyoming and the fracking method used there. The agency expects to have a final report ready in 2014.
Meanwhile, the University of Texas' Energy Institute also is researching fracking. A preliminary report by the institute suggested there is no link between fracking and groundwater contamination. A final report is expected next year.
Fracking will continue to be used — natural gas is too important a part of the nation's energy mix, and fracking is necessary to tap increasingly hard-to-reach gas reserves — but a debate about its potential harm and the risks associated with it is necessary. Additional rules governing its use may be warranted.
The economic boom that many communities are enjoying eventually will wind down. Steps need to be taken to assure that the good times don't end with poisoned water or other environmental messes. No boom will be able to make up those costs.
www.statesman.com/opinion/dangers-of-fracking-still-becoming-clear-2063702.html
Preliminary study says minimal impact from fracking
By Farzad Mashhood
AMERICAN-STATESMAN STAFF
Published: 10:42 p.m. Wednesday, Nov. 9, 2011
As shale gas harvesting has increased in recent years, so have the questions about the process's environmental effects. As a result, the techniques of the extraction and its possible effects on groundwater are facing closer scrutiny, and both the Environmental Protection Agency and the University of Texas's Energy Institute are currently conducting long-term studies of the process.
Preliminary findings from the Energy Institute's study released Wednesday suggest there is no link between the extraction operations and groundwater contamination, said the study's leader, Charles "Chip" Groat, a UT geology professor.
He noted that the dangers associated with shale gas drilling — which is accomplished by hydraulic fracturing, a process commonly known as fracking — are largely the same as other oil-drilling operations.
"Hydraulic fracturing doesn't seem to be of concern to groundwater," Groat said. "If there has been water contaminated related to shale gas development let's not look at fracturing, let's look at surface processes."
As in other types of drilling operations, poor casing or shoddy cement jobs have often been to blame for regulatory violations or contamination in shale gas drilling, Groat said.
Fracking is a process in which a combination of millions of gallons of water, mixed with sand and chemicals, is injected into rock thousands of feet underground to extract natural gas.
The relatively new process of horizontal drilling has allowed for the extraction of natural gas that is otherwise inaccessible if using conventional drilling techniques.
Surface spills of the hazardous chemicals across the country have killed livestock and contaminated waterways, the Houston Chronicle has reported.
Texas is home to one of the nation's largest shale gas deposits, the Barnett Shale. The Fort Worth area is a hotbed for fracking that shale, and there have been many questions surrounding the process.
Democratic state Rep. Lon Burnam of Fort Worth told The Associated Press in September that in the past five years, air pollution in North Texas has steadily increased, which he said is related to the drilling in the Barnett Shale.
Groat downplayed the problems associated with fracking.
"The violations that we've seen are of no, minor or small impact," Groat said. "The impact on groundwater, the impact on the surface is not of anything substantial, certainly not compared to coal mines or metal mines."
However, spills have come under closer scrutiny as shale gas drilling occurs in urban and suburban areas, Groat said.
"Fort Worth is the poster child for this," Groat said. "They are drilling under subdivisions, and those people are asking questions."
Shale deposits are spread out over broad areas, and drilling operations could easily move out of densely populated areas and stay in the fracking game, Groat said.
Groat briefed government officials, regulators, energy company executives, community group representatives and reporters in Fort Worth about the Energy Institute's preliminary findings.
Researchers expect to present their final report early next year, looking not only at the environmental effects of fracking but also at policy and regulatory issues as well as media coverage of the controversial technique of capturing natural gas.
The yearlong $330,000 study was paid for entirely by the University of Texas, Groat said.
The study's early stages have looked at regulatory violations and frameworks in states with major shale drilling operations, including Texas, Louisiana, New York and Pennsylvania, Groat said.
The EPA has said it expects to release preliminary findings by the end of 2012 and a final report in 2014.

www.statesman.com/news/local/preliminary-study-says-minimal-impact-from-fracking-1960103.html
The difficulty and uncertainty in predicting natural gas resources was underscored last week when the Energy Information Administration released a report containing sharply lower estimates.

The agency estimated that there are 482 trillion cubic feet of shale gas in the United States, down from the 2011 estimate of 827 trillion cubic feet — a drop of more than 40 percent. The report also said the Marcellus region, a rock formation under parts of New York, Ohio, Pennsylvania and West Virginia, contained 141 trillion cubic feet of gas. That represents a 66 percent drop from the 410 trillion cubic feet estimate offered in the agency's last report.
www.nytimes.com/2012/01/29/us/new-data-not-so-sunny-on-us-natural-gas-supply.html

Fracking poses environmental and public health challenges for Texas

www.statesman.com/opinion/fracking-poses-environmental-and-public-health-challenges-for-1537949.html
Fracking: Bane or boon? A look into industry's presence in Pa.
WILLIAMSPORT, Pa. — Set amid steep, forested hills on the banks of the west branch of the Susquehanna River, this little northern Pennsylvania city has always had its charms.
It once was considered the lumber capital of the world. West Fourth Street was dubbed Millionaire's Row for the baronial homes that lined it. And, of course, Williamsport has for decades been home to iconic Little League baseball and hosts the kids' world championship every summer.
But Little League and aging Victorian mansions only go so far. If Williamsport's charms hadn't faded, neither had they been renewed. Then, about five years ago, natural-gas land leasing agents swarmed into northern Pennsylvania, and residents began to realize that, for better or worse, the gas trapped in the Marcellus Shale deep below their feet was about to change everything.
Today, this metro area of 120,000 — slightly larger than metropolitan Ithaca — has drawn at least 110 new businesses that have brought as many as 2,000 jobs. Its economy was the seventh fastest-growing in the nation in 2010. The city is festooned with new hotels and restaurants.
"It's transformed our community," said Vincent Matteo, president of the Williamsport/Lycoming Chamber of Commerce. "We went from an economy that was holding steady to one that literally is booming."
Likewise, the countryside that lies between Williamsport and the New York state line is awash with money from new jobs, and lease and royalty payments from gas companies.
But a visit to northern Pennsylvania lays bare the problems associated with the huge influx of money and well-paid workers. Two-lane country roads and village streets are clogged with a startling number of gas-industry trucks. Environmental and land-use complaints are common. Crime and social service costs have gone up. Soaring rents have displaced many people of modest income.
Churches in Pennsylvania's largely rural Tioga County, south of Corning, have begun sheltering homeless families with nowhere else to turn.
Ralph Kisberg • Williamsport, Pennsylvania
Left out of my comments was the assertion that locally there are more loosers in this than winners: by far. Out county has 1% of our state's population, with the tax breaks and accounting wizardry the gas industry has, and no hope of a severance tax in PA's near future, the economic impact on the whole state is far from impressive. This whole thing has oversold to the public in many ways. NY state rural land owners ought to think about the advantage to their property values by holding a gas industry invasion at bay for a long time. With your proximity to the large Ontario market and the higher NG prices there, there goes the energy independence argument. In fact, your state would be doing the nation a favor by keeping the gas in the ground because much of it will end up out of country now and in the future we may need it here. Leased landowners will learn what a crapshoot it is as to who ends up with gas in production and when royalties come their way. The price keeps dropping, and with the steep decline curves from these wells, that doesn't really help those landholders who aren't in dire need of the money, if they do happen to get into production early. One more thing for NYers to think about, last January in a public meeting in Hughesville, PA, the geologist Dr. Terry Engelder, the "father of the Marcellus" stated, " Those people in Ithaca are right to be acting like Luddites.." ( in regard to gas drilling in their area)". He went on to explain why at a 6,000 ft or more depth, migration of fluids up from the formation into aquifers is not a concern to him, but shale depths of 3,000′ are a different story. Don't take my word for it or my exact wording, ask him to explain the statement.
18 December 2011 at 12:41
www.democratandchronicle.com/article/20111218/NEWS01/112180344/Fracking-Bane-boon-look-into-industry-s-presence-Pa-?odyssey=tab|topnews|text|Home
The burgeoning energy industry in Ohio will create or support 65,680 jobs by 2014, according to the latest estimate trying to pinpoint the economic benefit the state will get from the huge supplies of natural gas and oil beginning to be tapped in eastern Ohio.
Results of the study released yesterday for the Ohio Shale Coalition — a group of local chambers of commerce, businesses, development organizations and others — fall between two other recent studies. One, by an Ohio State University professor, pegs job gains at 20,000 over the next several years; another, backed by the industry, projects a gain of 200,000 jobs and investments totaling $14 billion during the next four years.

www.dispatch.com/content/stories/business/2012/02/29/shalebedrockforhowmanyjobs.html
Study doubts shale gas to be job gusher
By Mark Williams
The Columbus Dispatch Friday December 16, 2011 7:07 AM
The huge discoveries of natural gas and oil just starting to be tapped in eastern Ohio are expected to generate jobs — but only a fraction of the number that the industry forecasts, according to a report led by an Ohio State University professor.
The study released yesterday predicts that the boom in drilling will lead to 20,000 new jobs over the next several years, far fewer than the 200,000 that the industry has predicted will come from drilling in shale formations for oil and gas. The 20,000 jobs would be those created both directly and indirectly from drilling.
"We need to be setting realistic expectations," said Mark Partridge, an economics professor specializing in urban and rural development at Ohio State. He led the study with doctoral student Amanda Weinstein.
Partridge said there is plenty to like about Ohio's natural-gas finds, especially given how cheap gas is for consumers. Also, it is cleaner to burn than coal, he said.
But historically, energy booms often have had a long-lasting effect, he said. "If anything, they are often associated with negative outcomes," he said.
Like studies by other industries, a major industry study is flawed, he said.
That study, released during a conference in Columbus in September, predicted that drilling would create 200,000 jobs and lead to $14 billion worth of investment over the next four years.
The study, conducted by Cleveland research firm Kleinhenz & Associates, found that the oil and gas industry would produce 4,614 jobs this year in positions tied directly and indirectly to the industry. That number would rise to 204,520 by 2015, it said.
Rhonda Reda, executive director of the Ohio Oil and Gas Energy Education Program, defended that study.
"It was based on confidential data from the industry, taking a look at their five-year business plan," she said.
The industry study was based on reports from energy companies about hiring and spending plans, which were analyzed by the firm and faculty members at several colleges, including Ohio State. It also was based on hiring data in other parts of the country where shale projects are more developed.
The industry study anticipates that drillers will have 20 wells completed in the Utica shale in the eastern and central part of the state this year, increasing to 1,501 wells completed in 2015. Reda said hiring will increase over the next three to five years.
Gov. John Kasich has said the discovery of gas and oil in the eastern part of Ohio can transform its economy, leading to new jobs and other wide-ranging benefits.
Kasich spokesman Rob Nichols, responding to the new study's projections, said: "Whether it's 20,000 jobs or 200,000, that's tens of thousands of families living in a part of the state that's starving for good economic news who would say, 'Sounds good, sign me up.'  "
Ohio's oil and gas industry employed 4,490 workers last year, according to the industry study. State figures show that Ohio employed 12,000 workers in mining and logging as of October, an increase of 700 since January. Both numbers are small in the context of a state labor force that tops 5 million.
Partridge's report found that the industry study made unrealistic assumptions about the percentage of spending and hiring that would remain in Ohio when the industry matures. It also ignored, he said, the costs that a boom in drilling could have on other sectors, such as the potential for displacing coal miners and causing environmental damage that could hurt tourism and other activities. It also doesn't account for the costs to communities for such expenses as maintaining roads, he said.
Instead, Partridge figures that the 20,000 jobs probably coming to Ohio would about equal the number that has been created in Pennsylvania, where widespread drilling has gone on for years. Those 20,000 Pennsylvania jobs are far fewer than the 100,000 that the industry contends were created between 2004 and 2010, he said.
TIM MAPEL (GOLDIE1)
Hey People I'm from Eastern Ohio and own a farm of 125 acres. Already have been paid my (BONUS) money. It's good for us Land Owners. We've been buying Trucks Tractors and other needed equipment. But as for Jobs all I see is OUT OF STATE PLATES. Texas, Oklahoma, and Pa. Pa. people are being used because they were first to get Drilled on in Washington Cty. The only ones that are going to due good is the Land Owners, Company, and Crooked Government which is you Kasich !
2011-12-16 06:15:09.0
http://www.dispatch.com/content/stories/business/2011/12/16/osu-study-doubts-shale-gas-to-be-job-gusher.html
Shale gas drilling's dirty secret is out
The EPA's findings about fracking's contamination of ground water have sent a shockwave through a gas industry in denial

www.guardian.co.uk/commentisfree/cifamerica/2011/dec/09/shale-gas-drilling-epa-fracking-water-contamination
Disposal of brine into well halted
Owner agrees to wait while state explores possible link to quakes
By Ann Sanner
ASSOCIATED PRESS Saturday December 31, 2011 5:13 AM
The owner of a northeastern Ohio fluid-injection well has agreed to stop injecting brine used in drilling after a series of earthquakes were reported in the area this year.
The Ohio Department of Natural Resources announced the agreement with Northstar Disposal Services LLC yesterday, saying that the wastewater injections were halted as a precaution so that any potential links with earthquakes can be further assessed.
"We are going to make sure this process is done right and won't hesitate to stop operation of disposal sites if we have concerns," the department's director, Jim Zehringer, said in a statement. "And while our research doesn't point to a clear and direct correlation to drilling at this site and seismic activity, we will never gamble when safety is a factor."
Northstar Disposal Services of Youngstown is also the permit holder for the well. A message seeking comment was left yesterday.
The injection well, located in the Youngstown area, is used to dispose of wastewater that's a byproduct of oil and gas drilling. Thousands of gallons of brine are injected into the well daily, and much of it is shipped in from out of state.
Ten minor earthquakes have occurred this year within 2 miles of the well, the department said. Each registered at 2.7 magnitude or lower.
Earthquakes that register above 4 magnitude are typically known to cause surface damage, the natural resources agency noted.
There are 177 similar injection wells around the state, and the Youngtown-area well has been the only site with seismic activity, the department said. Injections there started in June 2010.
More detailed data from Columbia University about a Christmas Eve quake prompted the agreement, the department said. According to the U.S. Geological Survey, a 2.4 magnitude earthquake occurred early on Dec. 24.
Zehringer said the department reached out to Columbia University researchers, who positioned four seismometers in the area to capture more information about the earthquakes. The department received its analysis Thursday afternoon.
Information from the university's scientists indicated the Christmas Eve earthquake occurred " approximately 2 miles below and within a mile of the injection site," Zehringer said.
Patti Gorcheff, a Mahoning County resident who has raised concerns about drilling-related activity in the region, welcomed the state's action as good news.
"I think it's about time," she said. "I'm glad someone's paying attention."
JEFF COX (EXCELL)
Youngtown-area well has been the only site with seismic activity, the department said. The increase of fluid pressure from the injection of liquids wastes in northeast Ohio and near Lake Erie by the Stauffer Chemical Company into a nearly 6,000 feet deep sandstone formation was implicated by Ohio University researchers to have triggered a 5.0 magnitude earthquake and two aftershocks on January 31, 1986 at site 56 Two and possibly three prior earthquakes in that area during 1983 are thought by researchers to have likely also been caused by the same deep well injection site.56 The Ohio Geological Survey and other geologists determined that a sequence of earthquakes of magnitudes ranging from 2.6 to 4.3 that shook downtown Ashtabula, Ohio from 1987 to 2003 were caused by a nearby deep well site injecting hazardous waste fluids near two faults into a 5,900 feet deep basal sandstone formation.57 The researchers state, "like many faults that rupture in … stable subcontinental region earthquakes, the faults were previously unknown…"
2011-12-31 09:38:08.0
www.dispatch.com/content/stories/local/2011/12/31/disposal-of-brine-into-well-halted.html
Jan 02, 2012
Ohio quakes linked to oil-drilling waste pumped into wells
By Michael Winter, USA TODAY
Oil-drilling wastewater pumped into a northeast Ohio well "almost certainly" triggered 11 minor earthquakes around Youngstown since last spring, including one Saturday, a seismologist tells the Associated Press.
Ohio officials closed four inactive "fluid injection" wells within a five-mile radius of the Youngstown well, which is near a fault that geologists apparently weren't aware of. Pressure from the wastewater caused the fault to shift.
Northstar Disposal Services has used the wells to dispose of brine wastewater from shale oil and gas drilling, which officials said is different from so-called fracking, the Youngstown Business Journal and AP report.
Despite the disclaimer, The Christian Science Monitor writes that the disposal wells — and the earthquakes — are related to fracking, or hydraulic fracturing ("How fracking caused an Ohio earthquake").
The seismologist interviewed by the AP, John Armbruster of Columbia University's Lamont-Doherty Earth Observatory, said more minor shakes can be expected throughout 2012.
"The earthquakes will trickle on as a kind of a cascading process once you've caused them to occur," he said. "This one year of pumping is a pulse that has been pushed into the ground, and it's going to be spreading out for at least a year."
The magnitude 4 tremor New Year's Eve day was felt in northwestern Pennsylvania and in Buffalo. The Vindicator has more details. A magnitude-3 quake jiggled the region on Christmas Eve.
http://content.usatoday.com/communities/ondeadline/post/2012/01/11-ohio-quakes-linked-to-oil-drilling-waste-pumped-in-wells/
Pa. farmer, 73, jailed over beef with gas drillers
12:37 PM, Dec 18, 2012

www.stargazette.com/viewart/20121218/NEWS11/312180006/Pa-farmer-73-jailed-over-beef-gas-drillers