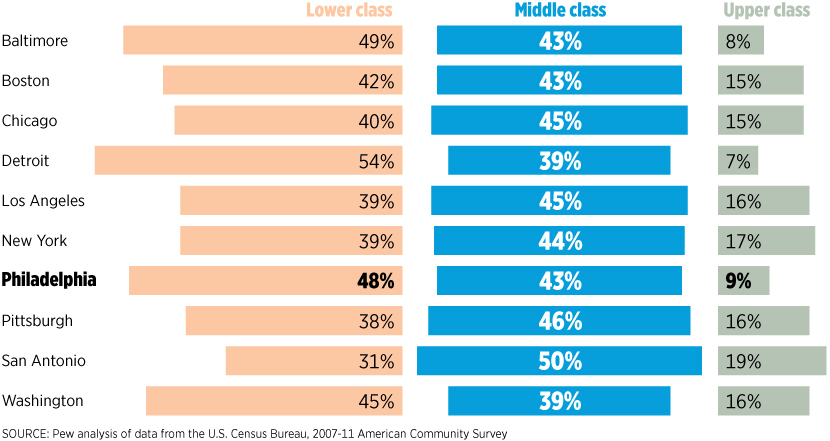 Jobs shock: 100% of female employment gains taken by foreigners since 2007

www.washingtonexaminer.com/jobs-shock-100-of-female-employment-gains-taken-by-foreigners-since-2007/article/2569824
Aug 13, 1:27 PM EDT
FOOD BANKS STRUGGLE TO
MEET SURPRISING DEMAND
BY SCOTT MCFETRIDGE
ASSOCIATED PRESS
In this July 29, 2015 photo, volunteer Peggy Bragg, of Des Moines, Iowa, unloads donated baked goods at the Des Moines Area Religious Council food pantry in Des Moines, Iowa. Food banks across the country are seeing surging demand for free groceries despite a growing economy and steadily declining unemployment rate, leading some charities to reduce the amount of food they offer each family.
(AP Photo/Charlie Neibergall)
DES MOINES, Iowa (AP) — Food banks across the country are seeing a rising demand for free groceries despite the growing economy, leading some charities to reduce the amount of food they offer each family.
U.S. food banks are expected to give away about 4 billion pounds of food this year, more than double the amount provided a decade ago, according to Feeding America, the nation's primary food bank network. The group gave away 3.8 billion in 2013.
While reliance on food banks exploded when the economy tanked in 2008, groups said demand continues to rise year after year, leaving them scrambling to find more food.
"We get lines of people every day, starting at 6:30 in the morning," said Sheila Moore, who oversees food distribution at The Storehouse, the largest pantry in Albuquerque, New Mexico, and one where food distribution has climbed 15 percent in the past year.
Across the country in Gloucester, Massachusetts, The Open Door food pantry has given away 7.6 percent more food this summer than last, said the organization's executive director, Julie LaFontaine.
"There's always a real hustle and bustle," she said. "People coming and going."
James Ziliak, who founded the Center for Poverty Research at the University of Kentucky, said the increased demand is surprising since the economy is growing and unemployment has dropped from 10 percent during the recession to 5.3 percent last month.
However, many people who have found jobs are working only part-time or for low wages, and others have stopped looking for work.
"People who have low-wage jobs, who aren't receiving regular raises, are finding those earnings stretched thin," Ziliak said.
The drop in food stamp rolls by nearly 2.5 million people from recession levels could be contributing to the food bank demand, he said, because people who no longer qualify for the government aid may still not earn enough to pay their bills.
According to the U.S. Labor Department, wages and salaries rose only 0.2 percent in the second quarter of the year.
Feeding America spokesman Ross Fraser said a recent study by his organization estimated that 46 million people sought food assistance at least once in 2014.
Feeding America, which coordinates large food donations for 199 food banks nationwide, has seen donations of food and money to the Chicago-based organization climb from $598 million in 2008 to $2.1 billion in 2014. The group coordinates donations from larger retailers, like Walmart, while local food banks also seek food from smaller businesses and buy groceries with donated money.
The recession helped boost public awareness of food banks, which helped increase donations but also may account for more people seeking assistance.
Lisa Hamler-Fugitt, executive director of the Ohio Association of Food Banks, who has been working in food charities since the 1980s, said that when earlier economic downturns ended, food demand declined, but not this time.
"People keep coming earlier and earlier, they're standing in line, hoping they're get there before the food runs out," Hamler-Fugitt said.
In Iowa, two years of 20 percent increases in demand forced the Des Moines Area Religious Council Food Pantry Network on Aug. 1 to reduce the food given out at its 12 pantries from a four-day supply to three.
The council's executive director, the Rev. Sarai Schnucker Rice, said Iowa's low unemployment rate, at 3.7 percent, hasn't made a difference.
"The economy is really not getting better for low-income people," Rice said.
That includes Peggy Bragg, 56, of Des Moines, who has been out of work for months. Bragg, who lives with her daughter, says the pantry bridges the gap for four or five days a month when no money is left for food.
"I know what people go through," she said. "You have to choose between food and bills."
In Fort Smith, Arkansas, the monthly food giveaways at a local park by the River Valley Regional Food Bank draw about 1,000 families.
"When people are willing to stand in 100 degree weather for hours, that tells you something," said Ken Kupchick, the food bank's marketing director.
Demand is growing even in areas with booming economies, such as Austin, Texas.
Hank Perrett, president and chief executive officer of the Capital Area Food Bank of Texas, said the influx of new residents has been part of the problem, pushing up housing prices. Low-skill jobs often pay $10 an hour or less.
"It's impossible to live that way in Austin, Texas," said Perrett, whose group has doubled the size of its operation to meet the surging demand.
http://hosted.ap.org/dynamic/stories/U/US_FOOD_BANKS_IN_DEMAND
Baltimore's people of the woods: Inside the hidden homeless camps made of milk crates, wooden doors and tarps on the outskirts of town
Photographer Ben Marcin's series 'The Camps' captures makeshift settlements near railway lines, gas stations, Walmarts and bridges
He said many of Baltimore's homeless feel safer in the woods than in shelters
While most homes are made from tarps, some more elaborate constructions use milk crates and wooden doors
www.dailymail.co.uk/news/article-2564858/Baltimores-people-woods-Inside-hidden-homeless-camps-milk-crates-wooden-doors-tarps-outskirts-town.html
A boost in the minimum wage to $10.10 would add $200 million — or less than 1 percent — to Wal-Mart's annual labor bill, the University of California Berkeley Center for Labor Research and Education estimates.
If Wal-Mart passed along the estimated $200 million in extra labor cost to consumers, it would equal about a penny per $16 item, said Ken Jacobs, the Labor Center's chairman. Meanwhile, the rise may boost purchases among the chain's core shoppers, many of whom could see their earnings climb, he said.

www.bloomberg.com/news/2014-02-20/minimum-wage-debate-prompts-u-s-retailers-to-plot-strategies.html
But now capitalism faces its greatest moral crisis since the Great Depression. The nature of that crisis can be captured in two statistics. When Facebook entered a deal to buy WhatsApp this week, it agreed to pay a price equal to $345 million per WhatsApp employee. Meanwhile, the share of the economic pie for the middle 60 percent of earners nationally has fallen from 53 percent to 45 percent since 1970.

www.nytimes.com/2014/02/21/opinion/brooks-capitalism-for-the-masses.html?ref=opinion
Stimulus bill didn't do all that backers projected
By Jack Torry The Columbus Dispatch • Sunday February 23, 2014 7:30 AM
WASHINGTON — On the day he signed the $830 billion economic-stimulus bill in Denver in 2009, President Barack Obama called it "the most sweeping economic-recovery package in our history."
Exactly five years later, Obama and congressional Democrats hailed the massive spending measure as a resounding success that prevented the 2008 financial recession from turning into an economic depression.
In a report last week to Congress, the White House Council of Economic Advisers said the package created or saved 6 million jobs, helped repair or build 2,700 bridges, provided a major boost to the development of renewable energy, and gave a modest tax cut to middle- and low-income families in 2009 and 2010.
Yet those claims are sharply disputed by Republican lawmakers and a number of economists who say the economy continues to sputter. They say that the automotive bail-out with money from a 2008 financial-rescue package combined with an easy-money approach by the Federal Reserve Board did more to save the economy than the stimulus.
They say it never had the impact of President Franklin D. Roosevelt's New Deal, which financed the building of the Tennessee Valley Authority, the highway bridge linking Miami to Key West, and New York's Lincoln Tunnel.
The nonpartisan Congressional Budget Office concluded in December 2012 that the stimulus raised the nation's gross domestic product by no more than 0.6 percent and increased the number of people employed by between 100,000 and 800,000.
Those numbers mesh with a study last year co-written by Bill Dupor, a former professor of economics at Ohio State University and now an economist with the Federal Reserve Bank in St. Louis.
Dupor's study concluded that, in the first 24 months of the stimulus, the private sector added no more than 1.1 million jobs while the public sector added 563,000, which the authors calculated cost taxpayers $202,000 for each job lasting one year.
"When you look at the overall economy, it didn't do much," said Lee Ohanian, a professor of economics at UCLA.
When Obama signed the bill, supporters spoke of it paying for "shovel-ready" road projects. In reality, the bill had only $27.5 billion for roads and bridges.
Instead, the measure's main focus was to prevent the 2008 financial collapse from becoming worse. During the first two months of Obama's presidency, companies had shed 1.5 million jobs, banks were reluctant to lend and General Motors and Chrysler were teetering on the point of collapse.
So the bill sent hundreds of billions of dollars to the states to allow them to balance their budgets, saving them from draconian spending cuts or major tax increases.
The Ohio Office of Management and Budget said that the federal government provided Ohio with $3.46 billion for Medicaid, the joint state-federal program that pays health costs for the poor. It also provided$2.47 billion for education, while offering just $868 million to build or repair roads and bridges.
"Without the stimulus, more teachers and nurses would have been laid off and Americans across the board would have had less money in their pockets," said Harry Stein, associate director for fiscal policy of the Democratic-leaning Center for American Progress, a nonprofit organization in Washington.
The bill also included billions of dollars that had only a tenuous link to expanding the economy, such as the National Endowment for the Arts, criminal justice and senior community-service programs. Ohio received $353,400 for the arts.
Even more alarming, some economists say that the $237 billion in tax cuts spread out nationally over two years had virtually no economic impact. Many economists suspect that, because consumers were too frightened in 2009 to spend money, they simply deposited the money in their bank accounts.
"The federal government is borrowing money, handing it to someone and people are saving 75 cents of every dollar of that," Dupor said.
By contrast, many progressives say the bill's major flaw is that it wasn't large enough. To win the votes of three crucial Republicans — Sens. Arlen Specter of Pennsylvania and Susan Collins and Olympia Snowe of Maine — the White House reduced the bill by $100 billion.
"The depth of the trough we were in really did necessitate a larger investment and many people said that at the time," said Amy Hanauer, executive director of Policy Matters, a left-leaning nonprofit research organization in Cleveland.
"Missed opportunity is the wrong term," she said. "But we still need investments in this country's infrastructure — particularly our energy infrastructure — and early-childhood education."

www.dispatch.com/content/stories/local/2014/02/23/stimulus-bill-didnt-do-all-that-backers-projected.html
Pew report: City's middle class is shrinking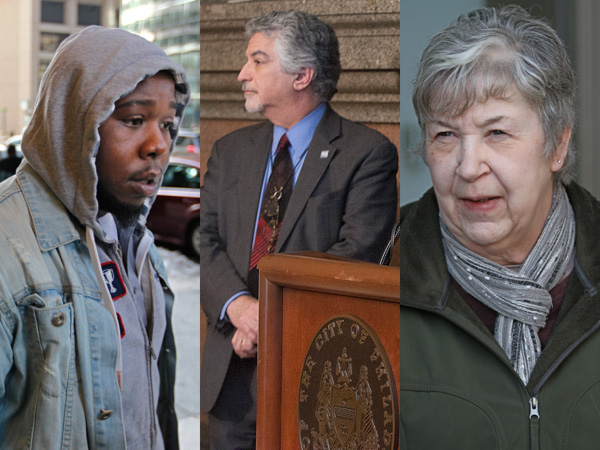 From left: Jason Hines, of Philadelphia; Alan Greenberger, the city's Deputy Mayor for Economic Development; and, Linda Watt, of Hatboro.
(Michael Bryant, Ed Hille / Staff Photographers)
Maria Panaritis, Inquirer Staff Writer
Last updated: Tuesday, February 25, 2014, 1:08 AMPosted: Monday, February 24, 2014, 4:04 PM
The Philadelphia middle class, a backbone of economic vitality that once made up the majority of residents in most of the city's neighborhoods, has declined in steep numbers since 1970, from 59 percent to 42 percent by 2010, according to a report released Monday, the first of its kind.
The precipitous decline of adults within this long-celebrated class occurred widely across the city and most sharply before 2000, sparing only chunks of Far Northeast Philadelphia and Roxborough and smaller pockets elsewhere. Those areas remained majority middle-class as of a few years ago, said the Pew Charitable Trusts, which spearheaded the study.
The data capture what has been sensed and dreaded by policymakers for years: Philadelphia is decidedly poorer than when it was a manufacturing powerhouse, losing even a greater share of higher-taxpaying middle-class residents than the nation as a whole, and failing even to see increases in its upper-class population to match other cities that fared better.
Whether middle-class Philadelphians fell into a lower-income class, moved into the suburbs, or died is not shown by Pew's analysis, as researchers have found such detailed tracking to be elusive.
But the share of lower-class Philadelphians spiked from 30 percent to 47 percent as the middle class shrank, underscoring the sheer scope of the city's declining tax base and growing impoverishment. The percentage of upper-class Philadelphians went from 11 percent to 10 percent during the four decades.
A recent snapshot of Philadelphia compared against other cities showed that only Baltimore and Detroit had higher percentages of lower-class households, and smaller percentages of upper-class households, than Philadelphia, Pew found.
Academics and others said Philadelphia's treasury was a major casualty, as was the chance of upward mobility for those who remained in or below the city's shrunken middle.
That is because middle class residents pay more, spend more, use fewer services against the taxes they pay, and are a stepping-stone for those seeking to climb the income ladder.
"We want people to understand that the middle class in Philadelphia has changed in dramatic ways," said Larry Eichel, a director of the Philadelphia program of the Pew Charitable Trusts, which ran the study. "The decline was quite large – and larger than what you would see nationally."
Harvard economist Nathaniel Hendren said places with a higher share of middle-class residents seemed to offer the richest opportunities for children to do financially better than their parents, according to research.
In that regard, Philadelphia's data are unsettling.
"One would want to be concerned that the same factors that are causing the middle class to erode would be potentially leading to lower rates of upward mobility," said Hendren, when told of the Pew findings.
Alan Greenberger, the city's deputy mayor for economic development, was not startled by the findings. "This shouldn't surprise anybody," he said. "The real question is what do we do going forward."
Philadelphia's 17 percentage-point drop was severe against the nation as a whole: The U.S. middle-class population fell 10 percentage points during roughly the same four decades, from 61 percent to 51 percent between 1971 and 2011, according to an earlier survey by Washington-based Pew Research Center.
The extent of the change was felt across a wide swath of local geography. Eight of every 10 census tracts in the one-time industrial powerhouse were majority middle class in 1970, Pew found. By 2010, only three of every 10 were, with entire sections of the Lower and Great Northeast seemingly hollowed out, as one example.
Pew defined middle class as adult Philadelphians in households with incomes of $41,258 to $123,157, in 2010 dollars. Those figures were based on percentages of the median income for the region, to better reflect local incomes and cost of living.
Philadelphia's loss occurred during the city's well-known exodus of hundreds of thousands of residents and jobs as manufacturing took a backseat in the American economy. Almost all of its suburban county neighbors, meanwhile, enjoyed big bumps in employment, population, and household income during the years studied.
The profile of the middle class in the city also changed radically. The bar of entry has risen for anyone aspiring to be in the group long heralded as embodying economic self-sufficiency and opportunity.
In 1970, 44 percent of the city's middle class lacked even a high school diploma. By 2010, only 8 percent did. Similarly, only 1And rather than 33 percent of the middle class working in predominantly manufacturing and construction jobs – the single largest category within the middle class of 1970 – 53 percent now hold jobs in finance, insurance, real estate, business, and professional services, compared to just 28 percent four decades ago.
"The penalty for those who don't complete high school is getting bigger and bigger," said David Elesh, an associate sociology professor at Temple University, who studies quality of life and economics in the region.
The Pew findings, Elesh said, were "not a big wow," given that the city's once-formidable manufacturing base steadily eroded through the 1970s and beyond.
"I have no doubt that what's going on in Philadelphia is more severe than the nation as a whole," he said.
Elesh and others said migration, death, and poverty were the factors behind Philadelphia's big middle-class loss, particularly as higher-wage blue-collar jobs disappeared, city schools became more unattractive to middle-class residents, crime rose in once-quiet enclaves, and better jobs began cropping up farther away from the city.
Helping prove this is lifelong Philadelphian Linda Watt, 63, who moved to Hatboro a few years ago. The Kensington native and longtime Olney resident works as a patient accounting representative for Penn Health System in Center City, but decided to leave.
Crime had risen considerably in Olney by the time she moved out in 2006. Her husband had died a few years earlier, and Watt wanted to live near her daughter – a woman raised and educated in Philadelphia, but now, like many of her generation, making a home in the suburbs.
"I moved because my children didn't live near me," said Watt.
With Teamsters truck-driving wages from her husband and part-time cash from Watt's old job at a (now-defunct) Clover store in the neighborhood, the family earned enough for decades to live comfortably middle-class lives in Olney, a largely rowhouse neighborhood off Roosevelt Boulevard.
Watt's son and daughter both attended Philadelphia public schools, so there was no need for tuition – an increasingly costly burden taken on by middle-class Philadelphians as schools continue to deteriorate because of inadequate funding.
Pew said its polling found that crime, job, and school issues were top on the minds of middle-class residents contemplating leaving Philadelphia.
A third (34 percent) of today's middle class said they definitely or probably would leave the city in five to 10 years, Pew fouAlong with ample reason for concern, the study found positive change for some. In 1970, only 26 percent of the city's middle class was African American. By 2010, 42 percent had joined the group. (Whites made up 74 percent of the city's middle class back then, compared to 54 percent more recently.)
Among them is 30-year-old Jason Hines of North Philadelphia. Hines said he was comfortably middle class, working 72 hours a week in Center City as both a full-time security guard and part-time housekeeper in two skyscrapers.
A graduate of a two-year culinary-arts program at the Art Institute, he has been busy paying off what he said were $62,000 in student loans, all in the hopes that he may one day run his own restaurant.
"Right now, I owe 38 [thousand] and some change," Hines said.
That's not to say that Hines saw it all as rosy. The U.S. economy is still struggling to return lost income to all but the very wealthy following the global financial meltdown of 2008. And none of Pew's findings took into account the uncommon debt burdens confronting today's younger adult households.
"The economy is bad," Hines said. "There's not that many jobs for people who are trying to work."
His own siblings have encountered mixed results in trying to get settled financially, he said.
"I just work and try to get through day by day," Hines said.
Eichel said it was Pew's hope that policymakers would seize the findings to explore ways of retaining the households in Philadelphia's shrinking middle.
"Because the drop has really slowed down, there's an opportunity to keep that population here," Eichel said. "This is tough stuff because there aren't a lot of easy answers to how to do it."
Greenberger said the city would remain focused on trying to attract businesses that could provide middle-class wages, partly to help retain the new and younger residents who have helped reverse the city's population decline in recent years.
"We're seeing a reemergence of the population," he said. "But it's a slow curve."
www.philly.com/philly/news/20140225_New_Pew_report_shows_city_s_middle-class_shrinking.html

www.philly.com/philly/news/Decline_of_the_Middle_Class_in_Philadelphia.html