Romney's role at Bain was not to create jobs but to provide for good returns for his investors. For more on this subject, look at our examination of Romney's untenable figure.

www.washingtonpost.com/blogs/fact-checker/post/fact-checking-the-cnn-debate-in-charleston/2012/01/19/gIQALs8dCQ_blog.html
These are intelligence indicators concerning the economy's future and the outcome of the 2012 presidential election.
Rail-Freight Surge Before Holiday Shows U.S. Skirting Recession
North American railroads' freight volumes surged 17 percent last week, the most in a year, in an indication that the U.S. economy will avoid a second recession.
Rising shipments of retail goods helped drive the jump in carloads for the period ended Dec. 24, the Association of American Railroads said today. The trade group released the results after government data showed U.S. jobless claims fell to a three-year low in the past month.
The double-dip recession "that people feared only six, eight, 10 weeks ago never materialized," said Tony Hatch, an independent railroad analyst in New York. "Things are going pretty well in a variety of the commodities that the railroads carry."

http://www.bloomberg.com/news/2011-12-29/rail-freight-surge-before-holiday-shows-u-s-skirting-recession.html
Jobless Rate Falls to 8.5 Percent, Lowest in Nearly Three Years
www.foxnews.com/politics/2012/01/06/jobless-rate-falls-to-85-percent-lowest-in-nearly-three-years/
Economists surveyed by the Associated Press project that the economy will generate an average of 175,000 jobs per month this year. That would be a step up from average monthly gains of 130,000 last year and 78,000 in 2010.
www.usatoday.com/money/economy/story/2012-01-06/december-unemployment-report/52410436/1?csp=34money
When President Obama took office, the unemployment rate was 7.7 percent; it peaked at 10.1 percent in October 2009. Should the unemployment rate be less than 8 percent, the president will be able to point to progress concerning the issue that affects most Americans, jobs. His Republican challenger will almost certainly be defeated.
http://mollysmiddleamerica.blogspot.com/2011/12/what-was-unemployment-rate-when-obama.html
Analysis: In elections, jobless trend matters more than rate
BY PAUL WISEMAN
AP Economics Writer
First published Jan 07 2012 10:41AM
Updated Jan 7, 2012 10:57AM
WASHINGTON • Unemployment is higher than it's been going into any election year since World War II.
But history shows that won't necessarily stop President Barack Obama from reclaiming the White House.
In a presidential election year, the unemployment trend can be more important to an incumbent's chances than the unemployment rate.
Going back to 1956 no incumbent president has lost when unemployment fell over the two years leading up to the election. And none has won when it rose.
The picture is similar in the 12 months before presidential elections: Only one of nine incumbent presidents (Gerald Ford in 1976) lost when unemployment fell over that year, and only one (Dwight Eisenhower in 1956) was re-elected when it rose.
Those precedents bode well for Obama. Unemployment was 9.8 percent in November 2010, two years before voters decide whether Obama gets to stay in the White House. It was down to 8.7 percent in November 2011, a year before the vote. It fell to 8.5 percent in December and is expected to fall further by Election Day.
Even so, the unemployment rate is still at recession levels. And former Massachusetts Gov. Mitt Romney, who is contending with other Republican candidates to challenge Obama in November, has made the weak economy the centerpiece of his campaign.
In a statement Friday, Romney said Obama's policies "have slowed the recovery and created misery for 24 million Americans who are unemployed, or stuck in part-time jobs when what they really want is full-time work."

www.sltrib.com/sltrib/home2/53251565-183/unemployment-percent-november-obama.html.csp
Revealed: The steel company deal that earned Mitt Romney millions while costing the government $44m and 750 people their jobs
By REUTERS REPORTER
Last updated at 12:17 AM on 7th January 2012
It was funny at first. The young men in business suits, gingerly picking their way among the millwrights, machinists and pipefitters at Kansas City's Worldwide Grinding Systems steel mill. 
Gaping up at the cranes that swung 10-foot cast iron buckets through the air. Jumping at the thunder from the melt shop's electric-arc furnace as it turned scrap metal into lava.
"They looked like a bunch of high school kids to me. A bunch of Wall Street preppies," says Jim Linson, an electronics repairman who worked at the plant for 40 years. "They came in, they were in awe."
Apparently they liked what they saw. Soon after, in October 1993, Bain Capital, co-founded by Mitt Romney, became majority shareholder in a steel mill that had been operating since 1888.
It was a gamble. The old mill, renamed GS Technologies, needed expensive updating, and demand for its products was susceptible to cycles in the mining industry and commodities markets.
Less than a decade later, the mill was padlocked and some 750 people lost their jobs. Workers were denied the severance pay and health insurance they'd been promised, and their pension benefits were cut by as much as $400 a month.
…Already, though, there were warning signs that the company was not on a sustainable course. Concerned about the level of debt, which totaled $378 million in 1995 on operating income less than a tenth of that amount, the merged company's new CEO, Roger Regelbrugge, negotiated a clause in his contract that would allow him to retire at the end of 1997.

Forgotten: The old mill, renamed GS Technologies, needed expensive updating, and demand for its products was susceptible to cycles in the mining industry and commodities markets

http://www.dailymail.co.uk/news/article-2083337/Mitt-Romney-earned-millions-steel-company-deal-cost-government-44m.html
Alexis de Tocqueville observed:
"The American Republic will endure until the day Congress discovers that it can bribe the public with the public's money."
"I do not know if the people of the United States would vote for superior men if they ran for office, but there can be no doubt that such men do not run."
"…I know of no other country where love of money has such a grip on men's hearts or where stronger scorn is expressed for the theory of permanent equality of property."
People voted for change in 1980 and 2000. In 2004, the election was about foreign policy – the Iraq War – "stay the course." The 2008 election was again about change; voters chose a nominal American instead of a woman to the lead the country.
As president, Obama refuses to cultivate bi-partisan relationships with members of Congress to facilitate pasage of his legislative agenda without endless rancor. Indeed his grandiose above the fray attitude betrays his lack of skill as a leader. He may be able to give a great speech, but the president's rhetoric does not translate into practical accomplishment: hope and change? seconds anyone?
Today, Barack Obama cuts a similarly impotent, indecisive and isolationist figure. The difference is that in 1932, one of the greatest statesmen of the century, the Democratic politician Franklin D. Roosevelt, was waiting in the wings.

Today, American voters looking for alternatives are confronted only with a bizarre gaggle of has-beens, inadequates and weirdos, otherwise known as the Republican presidential field. And to anybody who cares about the future of the Western world, the prospect of President Ron Paul or President Newt Gingrich is frankly spine-chilling.
http://www.dailymail.co.uk/news/article-2080534/Loss-faith-democracy-make-2012-frightening-year-ever.html
This year's presidential election features an incumbent who practices tactical politics like Herbert Hoover, instead of FDR, and a Republican clown show. Mitt Romney exudes the sincere authenticity of a used car salesman, but does not come across like a dumb ass. Rick Perry/Michele Bachmann – pick one; Newt Gingrich – Washington insider or bomb-thrower?; a crusty codger – eccentric libertarian, pick one: Ron Paul.
According to his web-site:
This election is about more than just replacing a president. It is an election to save the soul of America.
Romney's soul is green – he worships at the altar of Mammon. As a founder and principal of Bain Capital, a private equity firm, he made millions extracting wealth from acquired companies. Private equity firms flip companies like shysters flip houses.
"Between 1989 and 2004 three groups [including Bain Capital] of PE firms bought and sold Sealy. All told, they put down roughly $410 million in cash and made $1.3 billion, a 3.2- times return. Between 1986 and 2004, four groups of PE firms bought and sold Simmons, putting down $278 million and collecting $1.03 billion, a 3.7-times return."
p. 74
Like pirates prowling the Spanish Main in search of galleons and gold doubloons, targets of opportunity, PEs seek out companies or businesses they can plunder. PEs enhance the short-term earnings of companies, starving them of capital, then transfer wealth to themselves through distributions, fees, and divdends by forcing their hosts to take on debt.
PEs are not interested in the long-term good of the companies they acquire or the common good of the employees or communities.
p. 56, 110
From 1992-2000, Bain Capital, under the direction of Mitt Romney, bankrupted five companies. For example: the firm invested $85 milion in Dade Behring and received a return of $421 million.
Mitt Romney was a pioneer of this strategy. His private-equity firm, Bain Capital was the first PE firm to make a serious portion of its money not from selling its companies or listing them on the stock exchange, but rather by collecting distributions and dividends, which in this context is the exact opposite of reinvesting in a company. Bain Capital is notorious for its failure to plow profits back into its businesses.
p. 106, 107
"Paying distributions with debt is not uncommon," said Campbell Harvey, a finance professor at Duke University. 

http://www.dailymail.co.uk/news/article-2083337/Mitt-Romney-earned-millions-steel-company-deal-cost-government-44m.html
These termites, along with their Wall Street enabler cronies, have undermined the foundation of the middle class. PEs practice corkscrew capitalism and the wooden Romney does not represent the establishment, he IS the establishment: men who don't care.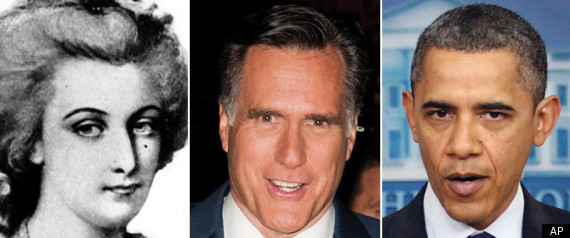 MASON CITY, Iowa — Mitt Romney on Thursday sought to portray President Barack Obama as out of touch with the struggles of everyday Americans — a charge he himself has often faced — by comparing the president to a former French queen who was overthrown during the French Revolution.
"When the president's characterization of our economy was, 'It could be worse,' it reminded me of Marie Antoinette: 'Let them eat cake,'" Romney said, referring to the infamously dismissive remark toward the poor attributed to the queen.
"This is not a time to be talking about, 'It could be worse.' It's a time to recognize that things should be better," Romney said during an interview on his campaign bus with The Huffington Post. "And the president's policies have failed the American people, have led to 25 million people still being out of work. He didn't cause the recession, but he has made it deeper and has made the recovery more tepid and the pain last longer."

www.huffingtonpost.com/2011/12/29/mitt-romney-compares-pres_n_1175230.html
Obama's policies 'fair' or 'poor'
By DEREK KRAVITZ and PAUL WISEMAN | AP
WASHINGTON (AP) — President Barack Obama gets mediocre marks for his handling of the economy, and Mitt Romney easily outpolls his Republican rivals in an Associated Press survey of economists.
The economy — and who bears responsibility for it — is likely to be a decisive issue when voters to go the polls next November.
The economy is still struggling to recover from the Great Recession of 2007-2009. The housing market remains weak, and a debt crisis in Europe threatens growth in 2012. The unemployment rate is at a recession-level 8.6 percent, up from 7.8 percent when Obama took office in January 2009. That month, the recession was already more than a year old.
Half of the 36 economists who responded to the Dec. 14-20 AP survey rated Obama's economic policies "fair." And 13 called them "poor." Just five of the economists gave the president "good" marks. None rated him as "excellent."
The economists' criticisms vary. Some say Obama was distracted by his health care overhaul. Others say his $862 billion stimulus program was poorly designed. Still others fault him for not pushing for an even bigger stimulus when the economy proved weaker than expected.
The AP economists expect economic growth to pick up to 2.4 percent next year. That would be an improvement from the under-2 percent growth expected for 2011. But the economists foresee little improvement — a dip to 8.4 percent — in the unemployment rate by Election Day.
Asked which of the Republican presidential candidates would do the best job managing the economy, two thirds of the economists named Romney, one chose former House Speaker Newt Gingrich. The rest didn't pick anyone at all.
Allen Sinai, president of Decision Economics, says Romney, who ran a private equity firm before turning to politics, is the "hands down" choice among Republican presidential contenders squaring off in the Jan. 3 Iowa caucuses.
"Romney's a technocrat," Sinai says. "He's not an ideologue. He has a history in the real world of business."
The Iowa presidential caucuses, which kick the GOP nominating process into high gear, begin Tuesday and polls show Romney in a strong position. Romney has based his campaign on the notion that he has the best chance of beating Obama on the economy because of his private sector experience.
Here's more about what the economists, mostly from banks and other financial firms, independent consultancies and academia, had to say about:
—Obama.
Some economists say the Obama administration didn't push hard enough for more government spending or tax cuts to stimulate growth. "They've generally tried to take the right kinds of measures but have often failed to lead with enough vigor to overcome political obstacles," said William Cheney,chief economist at John Hancock Financial Services.
Others say the president tried to do too much, especially by pushing early for legislation to overhaul the nation's health care system instead of focusing on policies to promote growth and create jobs.
"Health care reform wasn't necessarily the most important thing to be dealing with when you're in the midst of the worst recession since the Great Depression," said Joel Naroff, president of Naroff Economics.
Some critics say Obama's 2009 stimulus program relied too much on public works projects that were slow to get going. Decision Economics' Sinai says the president should have favored more tax cuts that put money in Americans' pockets immediately.
Sinai notes that public works projects failed to pull Japan out of a long economic slump that began in the 1990s and continues today. After the money is spent, "you're left with deficits and debt. And someday if you need new government stimulus, you can't afford it. And that's where we are now," Sinai says.
Republican strategist Rich Galen says the GOP has successfully painted Obama as a reckless steward of taxpayer money: "In a Tea Party era where Big Government is the enemy, throwing money at problems is the enemy," he says.
An Associated Press-GfK poll of American adults earlier this month found that 60 percent of American adults disapprove of Obama's performance on economic issues.
Jamal Simmons, an adviser to the Obama campaign in 2008, said the president must remind voters how bad things were when he took office. The economy lost more than 820,000 jobs the month Obama was sworn in, the biggest drop since October 1949.
Since the job market hit bottom in February 2010, it has produced nearly 2.5 million jobs — 117,000 a month. "Is it enough? Absolutely not, but it certainly ain't what it used to be," Simmons says. Perhaps Obama can take heart from President Ronald Reagan's experience. The unemployment rate was 8.5 percent — a tick away from where it was last month — a year before Reagan was re-elected in a 1984 landslide.
"You have to look at where you would have been if he hadn't gotten the stimulus package through," said Maury Harris, chief economist at UBS Securities. "We might be a lot worse off."
—Romney.
Many of those who chose Romney couldn't cite any of the former Massachusetts governor's economic proposals. Nevertheless, his background won over the economists. Romney graduated from Harvard Business School and served as CEO of Bain & Company, a management consulting business in Boston, and Bain Capital, a spinoff investment firm, in the 1980s and 90s."He has the experience that the other candidates lack," says Harris of UBS Securities.
Some of his Republican rivals have taken unconventional positions. Texas Rep. Ron Paul advocates abolishing the Federal Reserve and returning to the gold standard. Texas Gov. Rick Perry has said it would be "almost treasonous" for Bernanke to try a third round of bond purchases to jolt the economy before November's election.
Among Romney's chief economic plans: repealing the Obama administration's health-care law; cutting the corporate tax rate from 35 percent to 25 percent; and making permanent tax cuts on dividends, interest and capital gains from President George W. Bush's administration.
"He thinks about the economy in a more global way" than his GOP rivals, Naroff said. "He's not a rigid ideologue."
But Romney's business experience is also vulnerable to criticism. His Republican rivals have blasted him for profiting from putting companies through bankruptcy and laying off workers.
"At a time when the American public is suspicious of corporate wealth and power, that could do real harm to Romney," Simmons says. The economists were not asked to evaluate Obama's economic policies against Romney's or any other Republican candidate.
The economists gave good marks to Federal Reserve Chairman Ben Bernanke: 13 rated Bernanke as excellent, 14 as good and nine as fair. He was praised for taking extraordinary steps to calm financial markets after the collapse of Lehman Bros. in 2008 and to jolt the weakest economy in 70 years.
"He's been dealt a tough hand, but played it as well as anybody could," said Scott Brown, chief economist at Raymond James & Associates.
The economists praise Bernanke for his aggressive response to the financial crisis in the fall of 2008. He slashed short-term interest rates to zero, made loans to cash-strapped banks and bought Treasury and mortgage bonds to push down interest rates and calm financial markets.
"The Fed's response (to) the financial crisis and recession was dramatic and swift," said Sean Snaith, an economist at the University of Central Florida.
When the economy stalled in the second half of 2010, Bernanke launched another round of bond purchases to push long-term rates lower.
He has sometimes had to overcome dissent from others on the Fed's rate-setting board. And Bernanke's Fed has had to take the lead in economic policymaking because Congress and the White House are so often ensnarled in partisan bickering.
Still, some economists say Bernanke's Fed has gone too far, that zero interest rates are hurting retirees and savers without delivering many economic benefits.
"Perhaps the greatest criticism might be that the Federal Reserve has tried to do too much — trying to offset the impact of necessary budget cuts, European debt problems and other factors out of its control," said Lynn Reaser, chief economist at Point Loma Nazarene University.
http://news.yahoo.com/economists-obamas-policies-fair-poor-172306547.html
Neither Harvard educated aristocrat can connect with the common man/woman, the one who enlists to serve his/her country. The clown show candidates presented by the Republican Party are like a Christmas/birthday present for the president because the presumptive nominee, once the nominating process has run its course, will be Mitt Romney. In effect, President Obama will run against Gordon Gekko: "Greed is good." In 2012, voters will have the choice between an incumbent president and former governor: two candidates who do not inspire confidence or enthusiasm. Young people are more concerned with gadgets and gossip to register to vote.
How do PE firms like Bain Captital make their money? They acquire viable companies through leveraged buyouts then proceed to gut them to improve profits: by slashing payroll, reducing customer service, and cutting research and development. Then the PE s force their hosts to take on debt, borrowing, which allows the predators to recoup their investment and provide themselves with dividends. Does this happen in all cases? No p. 139. It is the common practice, however, and the smiling Mitt-meister manipulated money most successfully.
Some quick background:Private equity firms like Bain are known for raising money from outside investors; using that money to buy up struggling companies; restructuring the companies (think layoffs, slashing worker benefits, and selling off pieces of the business); and finally selling the (supposedly) leaner, meaner businesses for a profit. One particularly infamous type of private equity deal is the leveraged buyout, in which a private equity firm will borrow a huge amount of money to buy a company, thereby weighing down the purchased company with debt.
Now, let's pick apart Romney's defense of Bain. When Bain took over companies, he said, "in each case we tried to make 'em bigger, make 'em more successful and grow" [emphasis mine]. Not so in the case of Dade International, a medical testing company acquired by Bain and Goldman Sachs in 1994. As Bloomberg reported, Bain cut 1,600 jobs from the company between 1996 and 1999 after merging the company with several others as part of Bain's restructuring plan. In 1999, Bain and Goldman sold Dade International, as it was later called, for a profit, but left the company buried in debt. It filed for bankruptcy in 2002.
Then there was the case of American Pad and Paper, an Indiana-based office products company. Bain bought the company in 1992, and seven years later, when Romney left Bain, American Pad had seen two US plants shutter, lost 385 jobs, and was hobbled by $392 million in debt.
These are, of course, just two out of dozens of deals from Romney's 15 years at Bain. Other deals—helping to launch office goods store Staples, strengthening Sports Authority—showed how Bain could indeed improve a company. But the Dade and Ampad cases contradict Romney's statement that Bain was always focused on jobs growth and expanding companies.
Even more of a whopper was this statement of Romney's: "The idea that somehow you can strip things down and [that] makes them more valuable is not a real effective investment strategy." Except that's straight out of the private equity playbook.
http://motherjones.com/mojo/2011/09/mitt-romney-bain-capital-debate
In a wayward attempt to rebrand himself as a middle-class hero, GOP presidential candidate Mitt Romney is running headlong into his history with Bain Capital. Not only does the firm have a history of making millions by buying up and gutting companies, but Romney also secured a plush retirement deal from Bain that brought him "millions of dollars in income each year."
Of course, Romney has tried to spin his private sector role as that of a " job creator ." But a closer look at Bain's modus operandi reveals that firm spent a lot of time laying off company employees rather than hiring them — all while turning a profit. More than 20 years ago, Bain — with Romney at the helm — opened a new plant in Gaffney, South Carolina with the promise of "highly anticipated manufacturing jobs," only to shut down that plant four years later, laying off 150 workers while making millions:
"In the real world, some things don't make it," Romney offered as an explanation for the layoffs he had overseen as Bain's CEO. However, the plant in South Carolina is not an isolated incident. Under Romney, "four of the 10 companies Bain acquired declared bankruptcy within a few years, shedding thousands of jobs." But documents show that "Bain investors profited in eight of the 10 deals, including three of the four that ended in bankruptcy." Indeed, the firm pointedly made higher profits "by firing workers, seeking government subsidies, and flipping companies quickly for large profits."
As Romney's own business partner stated, "I never thought of what I do for a living as job creation." It'll be an interesting display of acrobatics to see how Romney explains to South Carolinians that the profit his company made off the backs of 150 laid off workers proves his bona fides as a job creator.
http://thinkprogress.org/economy/2011/12/19/392420/under-romney-bain-capital-made-millions-off-of-south-carolina-business-that-shut-down-laid-off-150-workers/
PEs employ "short-term strategies that cripple businesses over time. A cycle of driving the company into bankruptcy, rescuing it, and then driving it again into the ground. p. 183
Ampad: A controversial deal
Bain Capital put $5 million into its purchase of American Pad & Paper and quickly began charging management and other fees. It also made payments to investors. In all, Bain and its investors reaped more than $100 million even though Ampad went into bankruptcy, workers lost jobs, and stockholders were left with worthless shares. [And creditors got less than 50 cents on the dollar.] A look at the deal:
· 1992: Bain buys American Pad & Paper from Mead Corp. They invest $5 million.
· 1993: After Bain takes control, Ampad pays advisory fees to Bain under a management agreement.
· 1994: Bain acquires plant in Marion, Ind. Workers strike over layoffs and wage benefit cuts. The events become a campaign issue in Romney's challenge to Senator Edward M. Kennedy.
· 1995: Bain shuts down the Marion, Ind., plant. Roughly 200 lose jobs. Bain gets at least $2 million in annual fees, plus additional fees for each acquisition Ampad makes. Ampad borrows more to acquire an envelope and stationery maker and uses some of the proceeds, about $60 million, to pay Bain investors.
· 1996: Ampad completes an initial public offering. Bain sells about 3 million shares, reaping about $45 million to $50 million for investors and itself. It also takes $2 million in fees for arranging the IPO, plus other fees.
· 1998: With Ampad struggling, Bain agrees to cut the annual fee $1.5 million a year. It also agrees to start forgoing payment until the company turns around.
· 1999: Revenues continue to slide. Ampad closes a plant near Buffalo, with up to 185 losing jobs.
· 2000: Creditors force Ampad into Chapter 11 bankruptcy to reorganize.
· 2001: Judge puts Ampad into Chapter 7 to liquidate assets and pay creditors. Senior secured lenders get less than 50 cents on the dollar.
STOCK PRICE
July 2, 1996: $15.13 – IPO Price
Jan. 27, 1997: $26.00 – Peak
Sep 16, 1997: $13.13 – Stock loses 42% of its value
Nov 1, 1999: 35 cents – Ampad looks to sell assets to reduce debt
Jan 14, 2000: 15 cents – Ampad forced into bankruptcy
www.massresistance.org/romney/ampad_062607/index.html
Additional intelligence indicators
Claims lowest since '08 as job market improves
In in the latest sign that the economy is surging at year's end, unemployment claims have dropped to the lowest level since April 2008, long before anyone realized that the nation was in a recession.
Article by: DANIEL WAGNER and MARTIN CRUTSINGER , Associated Press
Updated: December 22, 2011 – 9:45 PM
WASHINGTON – In in the latest sign that the economy is surging at year's end, unemployment claims have dropped to the lowest level since April 2008, long before anyone realized that the nation was in a recession.
Claims fell by 4,000 last week to 364,000, the Labor Department said Thursday. It was the third straight weekly drop. The four-week average of claims, a less volatile gauge, fell for the 11th time in 13 weeks and stands at the lowest since June 2008.
While the economy remains vulnerable to threats, particularly a recession in Europe, the steady improvement in the job market is unquestionable.
"The underlying trend is undeniably positive," said Jennifer Lee, senior economist with BMO Capital Markets. "I think everyone is starting to come around to the view that, yes, there is a recovery going on."
Unemployment claims are a sort of week-to-week EKG for the job market. Except for a spike this spring, after the earthquake and tsunami in Japan hurt U.S. manufacturing, they have fallen steadily for a year and a half.
Claims peaked at 659,000 in March 2009. In the four years before the Great Recession, they mostly stayed between 300,000 and 350,000. That claims are edging closer to that range is a sign that the layoffs of the past three years have all but stopped.
"We haven't yet really seen substantial numbers of new jobs, but this is definitely an encouraging sign of what lies down the road," said Sam Bullard, an economist at Wells Fargo.
The steady decline may also herald a further decline in the unemployment rate, which fell in November to 8.6 percent from 9 percent the month before. The December rate will be announced Jan. 6.
If unemployment claims keep declining, the unemployment rate might fall as low as 8 percent before the November elections, said Dan Greenhaus, chief global strategist at BTIG LLC, a boutique brokerage.
The presidential election will turn on the economy. Ronald Reagan holds the post-World War II record for winning a second term with the highest unemployment rate. He won in 1984 with unemployment at 7.2 percent.
Economists will also watch closely on Jan. 6 to find out how many jobs were added this month. It added at least 100,000 each month from July through November, the best five-month streak since 2006.
"When you fire fewer people, hiring unquestionably follows," Greenhaus said. He expects employers to create as many as 200,000 jobs per month if the trend continues.
In another encouraging report Thursday, the Conference Board's index of leading economic indicators rose strongly in November for the second straight month, suggesting that the risks of another recession are receding.
The index puts the economy on track to grow at a 4 percent annual rate in the fourth quarter, which ends this month, said Ian Shepherdson, chief U.S. economist with High Frequency Economics.
The economy hasn't posted 4 percent growth or stronger since the first quarter of 2006, when it grew at a 5.1 percent rate. The best it has done since the recession was 3.9 percent, in the spring of 2010.
The Great Recession lasted from December 2007 through June 2009. Economists didn't declare that it was under way until December 2008.
The economy grew at a 1.8 percent annual rate in the third quarter of this year. The government revised that figure downward from 2 percent Thursday because Americans spent less than the government had estimated.
Besides a brightening job market, the positive factors include strong holiday shopping and cheaper gas, which leaves people more money to spend on other things and helps consumer confidence.
"The economy is carrying some clear momentum into 2012," said economist Joel Naroff of Naroff Economic Advisors.
The flip side, said Bullard, the Wells Fargo economist, is political uncertainty at home and a near-inevitable recession across the Atlantic. Those factors will weigh on growth next year and might reverse the momentum that the job market appears to be enjoying.
In Europe, the 17 nations that use the euro currency are struggling to deal with debt problems and keep the currency union together. A recession there would be bad news for American companies that export to Europe.
Another source of uncertainty for 2012 is what Congress will do about the Social Security payroll tax cut, set to expire Jan. 1. Extended unemployment benefits for the long-term unemployed also expire on that date.
The tax cut applies to 160 million Americans. For a worker earning $50,000, it saves $1,000 over a year. For a high-earning couple, it would save $4,404 over next year, or about $85 a week.
Economists say that failing to renew the tax cut and emergency unemployment aid could cut a full percentage point from economic growth next year.
http://m.startribune.com/business/?id=136061483&c=y
US jobless claims lowest since 2008 – but economic growth revised down
Latest government figures suggest that the US jobs market is improving, but growth in third quarter slower than first thought

www.guardian.co.uk/business/2011/dec/22/jobless-figures-fall-us-growth
U.S. Consumer Confidence Report for December (Text)
By Editor: Alex Tanzi – Dec 27, 2011 10:03 AM ET
Following is the text of U.S. consumer confidence from the Conference Board.
The Conference Board Consumer Confidence Index, which had improved in November, increased further in December. The Index now stands at 64.5 (1985=100), up from 55.2 in November. The Present Situation Index increased to 46.7 from 38.3. The Expectations Index rose to 76.4 from 66.4.
The monthly Consumer Confidence Survey, based on a probability-design random sample, is conducted for The Conference Board by Nielsen, a leading global provider of information and analytics around what consumers buy and watch. The cutoff date for the preliminary results was December 14.
Says Lynn Franco, Director of The Conference Board Consumer Research Center: "After two months of considerable gains, the Consumer Confidence Index is now back to levels seen last spring (April 2011, 66.0). Consumers' assessment of current business and labor market conditions improved again. Looking ahead, consumers are more optimistic that business conditions, employment prospects, and their financial situations will continue to get better. While consumers are ending the year in a somewhat more upbeat mood, it is too soon to tell if this is a rebound from earlier declines or a sustainable shift in attitudes."
Consumers' assessment of current conditions improved in December. Those stating business conditions are "good" increased to 16.6 percent from 13.9 percent, while those stating business conditions are "bad" declined to 33.9 percent from 38.0 percent. Consumers' assessment of the job market was also more positive. Those claiming jobs are "plentiful" increased to 6.7 percent from 5.6 percent, while those claiming jobs are "hard to get" decreased to 41.8 percent from 43.0 percent.
Consumers' short-term outlook also improved in December. The proportion of consumers expecting business conditions to improve over the next six months increased to 16.7 percent from 13.7 percent, while those expecting business conditions will worsen declined to 13.4 percent from 16.1 percent.
Consumers' outlook for the job market was also more favorable. Those anticipating more jobs in the months ahead increased to 13.3 percent from 12.4 percent, while those anticipating fewer jobs declined to 20.2 percent from 23.8 percent. The proportion of consumers expecting an increase in their incomes improved to 17.1 percent from 14.1 percent.
The next release is scheduled for Tuesday, January 31, at 10:00 AM ET.

http://www.bloomberg.com/news/2011-12-27/u-s-consumer-confidence-report-for-december-text-.html
Consumer Confidence Index Surges in December
http://abcnews.go.com/Business/wireStory/consumer-confidence-index-surges-december-15240768#.TvpFgTVAZQU
AP survey: Economy to pick up but still vulnerable

www.newsday.com/business/ap-survey-economy-to-pick-up-but-still-vulnerable-1.3412581
Shoppers return to credit to pay for holidays
Credit card purchases jumped more than 7 percent in November and surged again in early December, according to First Data, which tracks consumer payments. A survey by Consumer Reports found that shoppers planned to charge an average of $756 this holiday, up 6 percent from the previous year, though the number of people who plan to use credit has remained steady.
http://www.washingtonpost.com/business/economy/shoppers-return-to-credit-to-pay-for-holidays/2011/12/22/gIQAc0NnKP_story.html
Mitt Romney Bain Capital 2012 election