Manufacturing in Ohio bounces back
After a long, painful slide, companies are again adding jobs to the economy, setting the stage for what some see as a renaissance in the sector
By Mark Williams The Columbus Dispatch • Friday March 14, 2014 3:43 AM
After being pummeled by the worst recession since the Great Depression, manufacturing is on the rebound in Ohio.
The sector has added 54,000 jobs in the state over the past four years, the best gain in the past 20 years in such a period, according to state employment figures.
It is a similar story nationally, with the U.S. adding about 600,000 jobs in the same time.
"Ohio is going to be in the epicenter of something pretty good," Jim Russell, U.S. Bank's regional investment director, said recently at the Ohio Bankers League's annual economic summit.
Such optimism is rooted in several trends that are brightening the outlook for an area of the economy that has withstood its share of darker days. Consider the following:
Newly developed energy sources are expected to provide manufacturers a cheaper, more-abundant supply of natural gas, which is used in most factories.
Higher wages and concerns about quality in places such as China have eroded some of the advantage of production abroad, prompting employers to move jobs back to the U.S., where manufacturing wages have been flat.
The U.S. employs technology — including computer software — in manufacturing that is superior to that in other countries.
Manufacturers are looking to keep suppliers close by to improve stability and efficiency, also spurring a return of jobs.
The recent recession also spurred changes, as manufacturers reacted by putting more emphasis on investing in technology and product development, said Eric Burkland, president of the Ohio Manufacturers Association.
"Coming out of the last deep recession, when all the cuts were made in budgets and head counts and some of the plants, there was tremendous caution about hiring," he said.
"That's gone now. People are hiring. There's a great deal of confidence generally because of the competitive conditions in Ohio."
Manufacturing employment is important to Ohio because it makes up a greater share of the state's economy than the nation's, and the jobs tend to provide higher pay.
Russell said 17 percent of Ohio's economy is powered by manufacturing, compared with 12.5 percent of the U.S. economy, and 12.8 percent of the state's workforce is in manufacturing, the sixth most in the nation.
You don't have to look far to find evidence that manufacturers are hiring again.
Jim Waterman, operations manager for Samuel, Son & Co.'s plant in Heath, said the steel-band manufacturer has been expanding. That's because demand continues to climb for the company's products, especially in the energy, automotive and pipeline industries.
During the darkest days of the recession, the company had cut about 90 percent of its workers, he said. Now, the plant has 105 workers, more than before the recession.
"We produce our products competitively," Waterman said.
Ohio and the country were losing manufacturing jobs well before the recession.
The state had 1 million manufacturing jobs as recently as 2000. The number of manufacturing jobs in the country has been falling steadily since peaking in 1979 at 19.4 million, employment data show.
With the gains in recent years, the number of manufacturing jobs in Ohio was 668,600 as of January, while the number of manufacturing workers nationwide was 12.1 million.
"The ongoing current recovery is wonderful, but at the slow rate of recovery that we are seeing, it will take nearly 17 years for Ohio to recover the manufacturing jobs that it lost just since 2007," Cleveland-area economist George Zeller said. "To recover the manufacturing jobs that Ohio lost since 2001, at the current growth rate, it will take a stunning 45 years."
Even with the comeback of manufacturing jobs, Burkland said that some kinds of manufacturing jobs probably have been lost for good. Examples are those involved in the making of shoes and bicycles.
"High-skilled, highly automated, highly designed products is our sweet spot," he said. Those sectors include autos, engines, appliances and advanced materials.
A Boston Consulting Group study released in August found that U.S. competitiveness has improved so much that the nation could add 2.5 million to 5 million factory and related jobs by 2020.
A survey that the group did in September found that more than half of U.S.-based manufacturing executives at companies with sales exceeding $1 billion plan to bring production back to the U.S. from China or are considering it. That compares with 37 percent in February 2012.
"This feels like it's sort of the third or fourth inning," said Justin Rose, a Boston Consulting partner and a co-author of the report. "This is action that makes sense for our people in the next couple of years."
After years of manufacturers reducing staffs, one of the biggest problems they face is recruiting, Burkland said.
"The biggest issue we hear is that we don't have the people," he said. "It's in every corner of the state and every type of manufacturing."
Manufacturing, he said, has an image problem among parents and others because they might see it as being unstable, remembering the past job cuts.
"There's continued uncertainties of markets globally and uncertainty coming out of Washington," Burkland said. "Uncertainty does not breed confidence. The underlying health, dynamism and productivity of Ohio manufacturing and Midwest manufacturing in general is tremendous.
"If economic conditions grow a little bit, we will see employment growth in Ohio. Watch out, it will be a great time."
  
www.dispatch.com/content/stories/business/2014/03/14/manufacturing-in-ohio-bounces-back.html#
2011 Skills Gap Report

www.themanufacturinginstitute.org/Research/Skills-Gap-in-Manufacturing/2011-Skills-Gap-Report/2011-Skills-Gap-Report.aspx
Land represents unchanging wealth. True tangible wealth comes from the land: timber, coal, gold, oil, copper ore and iron ore that is manufactured into steel and then formed into cars and refrigerators. And farming. American farmers can produce much of the food that nourishes China and the Arab lands.
China has lost millions of arable acres of land due to desertification.
U.S., China embroiled in trade spat over chicken feet

www.washingtonpost.com/world/asia_pacific/us-china-embroiled-in-trade-spat-over-chicken-feet/2011/12/13/gIQASphjxO_story.html
Fifty years ago, Egypt was self-sufficient in food prduction. With a burgeoning population and the concomitant loss of arable land, Egypt now imports much of its food, especially wheat.
Buying local is a new aspect of American farming and distribution. With new innovations, smart farmers can produce crops in the harsh winter month to earn additional income and supply consumers.
Hoop houses extend the growing season so farmers can meet demand for local veggies

Students from Michigan State University's Organic Farmer Training Program help erect a hoop house for Val Jorgensen of Westerville. Jorgensen invited 18 students and faculty members to her 65-acre farm to help put up five solar greenhouses early last month. Putting on the finishing touches to one of the houses are, from left, Sarah Fillius, Hannah Weber, Perry DeBruhl (on ladder) and Nate Baldwin.
By Tracy Turner
The Columbus Dispatch Thursday December 8, 2011 8:23 AM
You can expect something more than snow to dot Ohio farmland this winter. Increasingly, domed plastic structures are popping up on farms around the state, aimed at keeping local produce flowing even when weather turns nasty.
Inside those structures, everything from salad greens to herbs will grow, warmed by the winter sun.
The domes, called hoop houses, stand as testament to the "eat local" movement that has sparked increasing demand for locally grown foods.
Val Jorgensen will have an entire crop of kale, spinach, lettuce, Swiss chard and herbs growing outside this winter on her 65-acre organic farm in Westerville.
With demand up for the products grown by Jorgensen Farms, she invested several thousand dollars this fall to build five hoop houses. The 20-feet-by-96-feet enclosed plastic structures will allow her to extend her growing season.
"The demand is greater than the supply right now. Even with the hoop houses, I won't be able to meet all of the orders I've gotten for local organic foods," Jorgensen said. "Ohio farmers are able to produce enough for local farmers markets, consumers and retailers during the summer months, but often have to rely more on shipping in foods grown in other areas to meet demand in the winter."
The increased crop is key for her to meet her increased customer demands, which includes Jeni's Ice Cream and several catering companies and restaurants.
One reason for the increased demand is that grocers are embracing "buy local" based on growing consumer demand.
Meijer in August announced that it plans to increase by 5 percent the amount of locally grown fruits and vegetables it sells in its stores. The goal is to ensure that nearly one-third of all produce Meijer sells this season comes from local producers, said Scott Calandra, a produce buyer for the Grand Rapids, Mich.-based chain.
And Kroger and Giant Eagle both obtain a majority of their produce from local sources, as do other grocers, including Whole Foods.
In fact, the U.S. Department of Agriculture projects that demand for local and organic foods is soon going to overtake supply, said Sharon Sachs, an owner of Women Farm, a Columbus-based company that helps women start or expand farms.
"As farms get smaller and local foods emphasis grows, there is more opportunity to get more people into the farming business, particularly women," she said. "The expansion of farmers markets coupled with a growing demand by restaurants and chefs to work directly with growers and producers has resulted in the need for growers to expand their growing capacity and growing season."
Hoop houses, especially in climates such as Ohio's, are one way of doing that, Sachs said.
Hoop houses, also called high tunnels, are similar to greenhouses but are less expensive and require no artificial energy source, according to the Agriculture Department. The structures are typically made using wood or metal covered in layers of plastic, which trap daytime air inside and minimize heat loss at night.
Depending on the size of the high tunnel, the cost can range from about $2,000 to $15,000, Jorgensen said.
There are those who'd be glad to see more of those hoop houses pop up.
Michael Jones, who owns the Greener Grocer, a local organic food store, said farmers who are able to continue supplying produce beyond the usual central Ohio growing season are in strong demand.
"We could sell five times more local foods than what we are getting from growers," he said. "The issue is being able to fill the demand for orders.
"It's taken awhile for farmers to see that there is a strong demand for local foods, and it takes more time to get production up to meet that demand."
Jones, also a spokesman for Local Matters, a central Ohio nonprofit group that supports local food, said the goal for many retailers is to sell more local foods.
"As you grow it, we'll sell it," he said.
As more retailers espouse that sentiment, more growers are realizing the benefits of expanding their growing season through the use of hoop houses, especially in colder states such as Ohio, said Ferd Hoefner, policy director for the National Sustainable Agriculture Coalition, a Washington-based trade group.
"More younger and new farmers are getting into agriculture and are finding that with the addition of hoop houses, they don't need a lot of land to grow fruits and vegetables. They not only can get a farm up and started this way, they can also earn additional money and expand their operations."
That was the case for Mike Laughlin, who operates the 20-acre Northridge Organic Farm in Johnstown. Laughlin has two hoop houses, which he uses to get a head start on spring planting of greens, broccoli, cabbage and other cold-tolerant crops.
He said the structures have been so successful for the farm that he plans to add at least two more.
"Anytime you can get produce earlier than you'd normally get it is an advantage," Laughlin said.
"People are looking for local foods and if you have it, they're wanting to buy it.
"The longer you can produce local foods, the more additional income you can generate. Retailers and consumers are always excited to get their hands on the products. Word travels pretty quickly in terms of what growers are doing and how they are growing.
"There's an awful lot of demand out there for these products."

www.dispatch.com/content/stories/business/2011/12/08/winter-harvest.html
Manufacturing, making something for sale or to export, made America great. Working with your hands in a trade is more honorable than acquiring paper wealth – financialization – CDOs, through illicit means.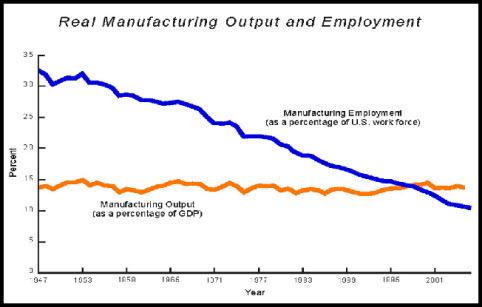 Blue-collar futures
Manufacturing jobs may outpace high-tech in coming years, but will there be enough trained workers?
By Thomas Gnau, Staff Writer 9:37 PM Tuesday, November 29, 2011
Thanks to retirements, blue-collar fields such as manufacturing and construction will have the largest number of expected job openings in the next seven years, outpacing other fields such as science, technology and even health care, according to a recent Georgetown University study.
But there's growing concern that many of those openings could go unfilled because of years of persistent misunderstandings about the role of manufacturing in the U.S. economy. A local committee of manufacturing leaders will soon try to address the problem through marketing and other measures.
Nationwide, there will be a total of 6.7 million openings in blue-collar occupations by 2018, left by the retirement of older workers, according to the 2010 study by the Georgetown University Center on Education and the Workforce.
That number exceeds projected openings in the fields of food and personal services, managerial and professional office work, education, health care and STEM (science, technology, engineering and math) fields, the study said.
To fill those openings, manufacturing employers say they need to find and encourage young people to come into the field.
Bill Lukens, chairman of Stillwater Technologies, a machine shop in Troy, has agreed to lead a Dayton Region Manufacturing Association committee to begin to explore possible solutions. The committee might have its first meeting this month, said Angelia Erbaugh, executive director of the organization, which recently was known as the Dayton Tooling and Manufacturing Association.
Lukens — who has served on Workforce Act Investment boards on both the county and state levels — said he has reached out to the staff of Gov. John Kasich and U.S. House Speaker John Boehner, as well as the National Association of Manufacturers, for ideas on bringing companies together for what he and others hope could be a national marketing campaign.
Lukens said manufacturers need something similar to a Got Milk? campaign, which was spearheaded by dairy producers.
A campaign is expensive but doable, he said, adding that similar attention has been given to worker shortages in health care and truck driving.
Dave Lord, a pre-engineering instructor at Kettering Fairmont High School, said he is not surprised by the Georgetown study's findings.
"I get people from Sinclair (Community College) … asking me to try to direct students to (Sinclair's) Step II program because they can't fill all the jobs that people are calling them up every day for," Lord said.
Sinclair's Step II program trains students for entry-level and more advanced tool-and-die work.
Even though parents might want to steer children away from what Lord called "career tech" education, he said his program is designed to point students toward further training and education. His graduates have gone on to Sinclair, Purdue University, the University of Dayton and Ohio State University, among other schools.
"Parents want their students to stay on the academic side," Lord said. But they also want students to be employable once they graduate.
"You're always seeing the numbers of four-year college graduates who can't get jobs in the field they graduated in," he said.
"It's a shame," he added. "I mean, kids are going to go out there and racking up huge debts and have no usable skills when they're done."
Anthony Carnevale, the Georgetown center's director, said that while metal-bending and -cutting jobs might be declining, "advanced manufacturing," involving clean laboratories, microbiology and medical devices, is growing.
"It's not dead," Carnevale said. "Manufacturing in some ways is (an) industry that really is too big to fail."
He thinks the field will soon grow by about 1 million workers to 12 million U.S. Employees.
Dave Jones, a machine shop and welding instructor at Stebbins High School, in Dayton, said his classes are full.
"Students here kind of get the message that's it a good thing to do," Jones said. "It's (about) how seriously they take it."
He estimated that half of his students are serious about manufacturing or welding as possible careers.
Some are simply curious about the skills required to make and modify things.
In Jones' view, much depends on helping parents and grandparents understand that manufacturing needs workers and that, with the right training, the field offers good careers.
Lukens cites National Association of Manufacturers data that says there are 600,000 open manufacturing jobs right now. Some of those openings seek engineers and scientists, but many are blue-collar positions: machinists, assemblers and the like.
"Manufacturing creates wealth," Lukens said. "It's one of the few things that does. And I don't think a lot of people understand that."

www.journal-news.com/news/hamilton-news/blue-collar-work-expected-to-grow-1291691.html
Wisconsin lost an estimated 9,300 private-sector jobs in October in the state's fourth consecutive month of job declines, according to the state Department of Workforce Development.
Losses covered a wide swath of the state's slow-moving economy – from manufacturing to health care and financial services to retail trade. The only sector with a significant increase came in leisure and hospitality trades, such as restaurants and hotels.
Abdur Chowdhury, chairman of the economics department at Marquette University in Milwaukee, noted that Wisconsin lost private-sector jobs during the same months that the national economy added private-sector positions, albeit haltingly.
At the state level, "the job loss in manufacturing is alarming," Chowdhury said. "At the national level, growth in the manufacturing sector had been driving the recovery. In Wisconsin, despite the presence of a significant manufacturing sector, the job loss doesn't bode well for the short-term growth of the state economy."

www.jsonline.com/business/state-loses-9300-privatesector-jobs-in-october-1s33j36-134051023.html
Jobs in Ohio steel mills may be reborn
Company, union, college set up training program
Monday November 21, 2011 3:46 AM
CLEVELAND (AP) — With a revival of steel-making in the Cleveland area and an aging mill work force, the United Steelworkers union, a steelmaker and a community college are collaborating to train future workers.
At the ArcelorMittal plant Cleveland, the average employee age is 57. And in Lorain, west of Cleveland, U.S. Steel is expanding, and Republic Steel plans to build an electric arc furnace and hire 449.
"People with an electrical or mechanical skill set will soon be needed to replace retiring workers," Steelworkers Local 979 president Mark Granakis said in announcing the training partnership last week.
The Steelworkers and ArcelorMittal will work with Lakeland Community College in Lake County northeast of Cleveland to offer a 2 1/2-year work-study program to prepare workers for the industry.
The college will hold an open house for prospective students Nov. 30. Applicants must have a high-school diploma.
John Russo, who studies labor issues at Youngstown State University, said the program could help the industry update its work force. "It reflects a graying of the work force in manufacturing," he said.
Manufacturing job cuts over the years have deterred people from looking to work in that field, but that may be changing, Russo said. "Given what's happened in the job market, people are increasingly willing to get skilled-up to work in high-tech manufacturing," he said.
Eric Hauge, vice president and general manager of ArcelorMittal Cleveland, said training future workers is important to maintain the company's global competitiveness.
The college will offer associate of applied science degrees in industrial electronics and in maintenance and repair concentrations.
The program includes four semesters of classroom work and an option of 24 weeks of paid training at ArcelorMittal's steel operation overlooking the Cuyahoga River and downtown Cleveland.
The joint announcement said the program is intended to offer training sought by manufacturers throughout the region, not just the steel industry.
The program begins with the spring semester starting Jan. 12. Officials expect each class to graduate about 15 students.
While stopping short of a guaranteed job with ArcelorMittal, the company's pitch to prospective students says "you'll have the tools you need to shape your own future. In fact, you could start at ArcelorMittal earning nearly $20 per hour."
ArcelorMittal launched its "Steelworker for the Future" pilot program in 2008 in Indiana and Illinois. The company has hired 18 of the 23 program graduates in the U.S.
http://www.dispatch.com/content/stories/local/2011/11/21/jobs-in-mills-may-be-reborn.html
Guest column: Cautious optimism for manufacturing
1:20 AM, Dec. 6, 2011
Does manufacturing have a future? The nation has gained back only 300,000 of the more than 2 million manufacturing jobs that vanished during the recession. Those losses have been keenly felt in Southwest Ohio, where a significant portion of the work force is employed in manufacturing.
Yet I am cautiously optimistic about the long-term prospects for manufacturing, in Cincinnati and nationwide. Manufacturing in the United States will never look the same, but that doesn't mean it won't have a vital future. I expect manufacturing to endure as one of the country's most important sectors.
The key to bolstering our nation's manufacturing sector is to recognize the forces that have been reshaping it and respond appropriately. Technological innovation is foremost among those forces. In fact, the National Science Foundation recently reported that manufacturers account for roughly 70 percent of research and development spending by U.S. businesses. These investments translate into new products, equipment and production methods that can also raise productivity outside the manufacturing sector.
The manufacturing sector is also a major adopter of new technologies. Innovations have driven down the relative price of capital goods, which has encouraged manufacturers to modernize, invest more in new plants and equipment. This has made the sector not only more capital-intensive, but much more skill-intensive.
Technological innovation is transforming the manufacturing work force, favoring higher-skilled individuals, many with post-secondary education.
Productivity is another major force reshaping manufacturing. In the two decades leading up to the Great Recession, labor productivity in manufacturing roughly doubled. But of course, higher-tech factories require fewer workers. Even as output rose 65 percent, labor hours fell 20 percent, and a total of 3.7 million jobs disappeared.
These trends are not unique to the United States. To be certain, a number of forces have been responsible for the rise of manufacturing activity abroad. Developing markets create sources of competition for producing low-skill and labor-intensive goods. At the same time, U.S. firms see profit in getting closer to their customer base abroad. As we know, outsourcing allows U.S. manufacturers to tap low-cost suppliers. Still, even with the expansion of global production, the World Bank estimates the United States' share of worldwide manufacturing at 20 percent for 2009 – the largest of any country.
Going forward, however, this shifting of production overseas is not a foregone conclusion. Manufacturers will open factories in the places they expect to be the most profitable and productive. That decision will certainly take into account factors like infrastructure, trade and tax policies, and the regulatory environment. But one of the most important forces is the quality of human capital.
We develop human capital through investments in education and training. Firms are more likely to open and maintain high-tech factories in regions with large populations of highly skilled workers. Over time, these investments will help determine our productivity and standard of living.
Unfortunately, other countries are passing us by in the development of human capital. We must improve pre-K and K-12 education by providing greater support for math, science and engineering in higher education and increasing funding for basic research. Making such investments is imperative if manufacturing is to have a robust future.
Sandra Pianalto is president and CEO of the Federal Reserve Bank of Cleveland, which has branch offices in Cincinnati and Pittsburgh.
http://news.cincinnati.com/article/20111206/EDIT02/312060068/Guest-column-Cautious-optimism-manufacturing
Are Employers to Blame for the Skills Gap?
In a new survey, workers say they've been forced to develop new skills on their own
By BEN BADEN
November 18, 2011
Even with a jobless rate of 9 percent and 14 million unemployed, the Bureau of Labor Statistics (BLS) reported this month that there are currently 3.4 million job openings. While the jobless rate has only fallen slightly from its peak above 10 percent, the number of job openings as reported by the BLS has increased 38 percent since the end of the recession in June 2009.
Labor economists say a skills gap—an imbalance between the skills companies demand and the experience of the U.S. workforce—is partly to blame. Employers in numerous surveys have said they're having trouble finding applicants who fit the requirements for open positions.
A recent survey from The Manufacturing Institute is one example. The Institute found that 67 percent of more than 1,100 manufacturers reported a moderate to severe shortage of available, qualified workers. Of those surveyed, 56 percent said they anticipate the shortage will grow over the next three to five years. Overall, the study found that about 5 percent of current jobs, or up to 600,000 jobs, remain unfilled due to a lack of qualified candidates.
http://money.usnews.com/money/careers/articles/2011/11/18/are-employers-to-blame-for-the-skills-gap
Is Manufacturing Falling Off the Radar?
MANUFACTURING'S muscle helped make the United States a world power, but its contribution to national income is dwindling. And while corporate leaders like Mr. Liveris and Jeffrey R. Immelt of General Electric — who is chairman of the President's Council on Jobs and Competitiveness — are beginning to express concern over manufacturing's relative decline, the multinationals they command have contributed to the problem by gradually shifting production abroad. About half of Dow Chemical's $58 billion in revenue last year came from overseas operations.
…"You have a culture within the elites of both political parties that says manufacturing does not matter, and industrial policy will do more harm than good," says Ronil Hira, an assistant professor of public policy at the Rochester Institute of Technology.

www.nytimes.com/2011/09/11/business/is-manufacturing-falling-off-the-us-radar-screen.html
In the last decade of the 20th century, the "new economy," was supposed to lift all boats as technology supplanted manufacturing. Other countries like Singapore and South Korea recognized the future and also invested in the new economy with the result that laptops, hard drives, and keyboards are manufactured at cheaper cost than in the US.
Loss of manufacturing eviscerated economies in hundreds of American communities. Call centers and logistics will not replace the jobs or the level of income lost in Michigan and Indiana.
Cloud centers bring high-tech flash but not many jobs to beaten-down towns
By Michael S. Rosenwald, Published: November 24
MAIDEN, N.C. — Here in this once-thriving town of furniture makers and textile mills, where Main Street businesses have vanished, nearby fast-food joints have closed and unemployment is rampant, government officials have lined up behind a flashy digital answer to all the heartache: The cloud.
Just off Startown Road, on the edge of town, Apple recently completed a massive $1 billion data center to help power its cloud computing products.
Total new full-time jobs running the facility: 50.
Apple's data center has been a disappointing development for many residents, who can't comprehend how expensive facilities stretching across hundreds of acres can create so few jobs, especially after thousands of positions in the region have been lost to cheaper foreign competition. But in the newer digital economy, capital investments that a generation ago would have created thousands of new positions often equal only a handful today, with computers and software processing the heavy lifting while the key programming is often done by engineers back in Silicon Valley.
"Apple rfor exporteally doesn't mean a thing to this town," said Tony Parker, the owner of Temple Furniture, one of the last surviving furniture makers in Maiden.
His son-in-law, Kelly McRee, the company's operations manager, said: "Apple was the apple of everybody's eye, but that's about it. It was something for everyone to ooh and aah over."
That hasn't stopped state and local officials from awarding huge financial incentives to some of the biggest names in computing — Apple,Google, Facebook — to locate their data centers in the battered North Carolina foothills region, where unemployment is near 13 percent. Cloud computing is a fast-growing sector of technology, allowing companies to store data and run software on off-site servers. The data centers that power the cloud and run programs such as Gmail and iTunes employ thousands of servers but only dozens of people.
The mismatch between investment and jobs created is illustrative of the structural unemployment challenges the country faces, experts say. Blue-collar workers laid off during the downturn find far fewer job openings in the high-tech sector and usually lack the necessary skills. The Obama administration has called this the "brawny-man problem," and one key piece of evidence for it is in North Carolina's unemployment rate. Despite cozying up to iconic technology firms, the state still has the one of the highest overall jobless rates in the country, at 10.5 percent.
Apple's data center is also supposed to create 250 indirect contracting jobs for maintenance and security. But many in this close-knit town of about 3,400 people — it essentially shuts down Friday nights for high school football — do not know anyone working at Apple.
Samantha Saunders, the longtime owner of a Main Street hardware store, where the old hardwood floors creak and a fresh-paint scent wafts through the cramped aisles, said the only contact she has had with an Apple employee is when one came in to make keys for the facility.
Asked how tough things were in the town, Saunders said, "The extreme of tough."
The consensus among some residents is that the only people who benefited from Apple's data center are Donnie and Kathy Fulbright. Apple paid them $1.7 million for their land, and the Fulbrights built themselves a new home nearby.
Most were not as lucky. The other day, just up the road in Hickory, Steven Sumpter arrived at the state unemployment office just before closing time after losing his job cutting cloth at a furniture factory. He looked tired. At 33, he's a single father, and he discovered when he tried to register for assistance that his former employer terminated him instead of laying him off, meaning he was not eligible for benefits.
He laughed when asked about whether data centers might provide him a future.
"People from around here don't get those jobs," he said. "Really, furniture is the only thing I know. Those data jobs are not for us."
That sentiment has not stopped governments from falling over themselves to attract companies such as Apple. North Carolina legislators, after debating for less than a minute, amended the state's corporate income tax law to win Apple $46 million in tax breaks, according to published reports.
State officials concede that cloud computing does not create as many jobs as traditional industries, but they argue that construction jobs are important and that data centers are just one tactic in a host of economic development strategies, including incubating high-tech corridors and cultivating advanced manufacturers such as aerospace firms.
Still, after Facebook announced plans to open a data center in the state, North Carolina Gov. Bev Perdue said, "The investment and jobs at the data center will be a boon to that region of the state."
In Maiden, local authorities cut Apple's property taxes by 50 percent and personal taxes by 85 percent. Town Manager William "Todd" Herms said Apple's presence boosts the town's tax base and helps it lower overall taxes, not to mention providing an influx of construction jobs.
"I think the average citizen sees it affecting life," Herms said. "They are a great corporate neighbor."
But analysts who study the economics of data centers say the overall benefits for communities such as Maiden are fleeting.
"Data centers are there to house a factory of IT systems," said Michelle Bailey, an International Data Corp. vice president who studies data center trends and consults with municipalities about their benefits. "There is not an immediate payback — there's no doubt about that. What you hope is that you can modernize the town, hope it can be relevant in the future and attract more companies."
Todd Cherry, director of the Center for Economic Research and Policy Analysis at Appalachian State University, said data centers "are more of a political benefit for those communities and politicians than for the community itself. They give the region the psychological benefit of having someone who wants them — somebody wants to come there and locate there."
Local residents who manage to find work in data centers are treated like lottery winners. While Apple did not return a request for comment, Google officials made three local employees available for interviews at its three-year-old, $600 million data center, which employs more than 100 people, including contractors.
Two of the workers interviewed had previously worked in the furniture industry but went back to school to earn associate degrees in technology. They help upgrade and fix servers inside Google's enormous and heavily secured data center, which is decorated with NASCAR memorabilia and pictures of legendary drivers such as Dale Earnhardt. They have found working with data to be transformative.
"I was told in my past jobs, 'We don't pay you to think.' You would never hear that here," said Paul Bowman, 39. "I don't have to worry anymore that I will wake up and discover they are moving overseas. I have a more relaxed sense in my job security."
Christopher Hood, a 22-year-old data center worker who used to manufacture tables, agreed.
"Technology is a growing industry, and especially Google — they are like the big dog in the industry," he said. "Furniture went overseas, and now there's no future in that."
He need only look at his own family to confirm that. His father and his aunt, both furniture workers, have been out of work more than three years. They do odd jobs here and there to make whatever money they can. They are struggling. Data centers are probably not in their future.
"They're kind of old-school," Hood said. "They don't get into computers and stuff."

www.washingtonpost.com/business/economy/cloud-centers-bring-high-tech-flash-but-not-many-jobs-to-beaten-down-towns/2011/11/08/gIQAccTQtN_story.html
Manufacturing creates wealth