Is President Obama the victim of bad economic advice?
The evidence points to "yes". The president's economic initiatives – food stamps, manufacturing, infrastructure, raising the debt ceiling, appointing a new chairman of the Federal Reserve – have mostly ended in either neglect or shambles. After five years, the Obama Administration's stated intentions to improve the fortunes of the middle class, boost manufacturing, reduce income inequality, and promote the recovery of the economy have come up severely short.
Despite this, the president believes he is negotiating his economic agenda with Congress from a position of strength, and almost every speech includes some self-congratulatory note about how far the economy has come.
…Here's the litany of failure: the president has not pushed through any major stimulus bill since 2009, and most of that was pork-barrel junk. Manufacturing is widest on record; the economic recovery is actually more like an extended stagnation with 12 million people unemployed; the housing "recovery" will be stalled as long as incomes are low and house prices are high ; and quantitative easing as a stimulus, while a heroic independent effort by the Federal Reserve, is past its due date and is no longer improving the country's fortunes beyond the stock market.
Shall we continue? We don't have a food stamp bill even though 49 million Americans lack regular access to food. Goldman Sachs analysts have said the sequester is taking a toll on stubbornly growing unemployment: "since sequestration took effect in March, federal job losses have been somewhat more pronounced," they wrote last week; and another debt ceiling controversy – the third of Obama's presidency – looms in only a few weeks with the potential to hurt what meager economic growth we can still cling to.
The president could not be more wrong or misleading in the way in which he presents our economic progress. One can perfectly understand economist Dean Baker's horror when he realized, back in August, that Obama's economic team believes it is doing a good job.
It's time to end the delusion that this White House has accomplished even a fraction of what it should be doing to help the economy. It should have been focusing all its efforts on employment, perhaps by boosting job-retraining programs, providing tax incentives for employers or supporting a comprehensive infrastructure effort. Instead, the administration is falling victim to political distractions and lack of follow-through and wasting its meager political capital on the wrong fights.

www.theguardian.com/commentisfree/2013/sep/16/larry-summers-withdrawal-obama-bad-economic-advice
Jonathan Knight, a 25-year-old graduate of Cal Lutheran University in Thousand Oaks, passes out resumes on Wilshire Boulevard near the 405 Freeway. The former Washington, D.C., intern has found it tough to launch his career in a tight job market.
(Cheryl A. Guerrero / Los Angeles Times / July 24, 2013)

www.latimes.com/news/local/la-me-adv-job-seeker-20130727,0,3667691.story

www.gallup.com/poll/163985/obama-economic-approval-slips.aspx
Grim Picture of Recovery in Forecasts by Retailers
Rick Wilking/Reuters
A Walmart Supercenter in Rogers, Ark. Several large retail chains this week dialed back their annual earnings
By STEPHANIE CLIFFORD
Published: August 15, 2013
A lot of Americans are still spending their money only on socks and other essentials, highlighting the disparity between younger and poorer consumers and those who are benefiting from the economic recovery.
Major retailers, like Walmart and Kohl's, that cater to budget-conscious customers with lower incomes cited sluggish sales this week as they decreased their annual forecasts. Macy's, with a slightly higher-income clientele, did not meet analysts' expectations for the first time in 25 quarters.
But even upper-income consumers do not seem to be spending as freely as some hoped. While Nordstrom's, which reaches a middle-to-luxury-end market, reported a higher-than-expected quarterly profit on Thursday, it too said sales "remained softer than anticipated" and lowered its forecast.
The latest sales reports painted a bleak picture for a sizable swath of the retail sector even as other economic indicators, like an increase in auto loans, showed signs of consumer confidence.
"There is a certain segment of the population that is faring well in this economy and have seen their net worth rise sharply with stock and housing market gains," said Ken Perkins, president of Retail Metrics. "Then there is the much larger segment of Americans that are working in low-wage jobs, part-time jobs, that are struggling to make ends meet and are living paycheck to paycheck. They are not spending beyond necessities."
In a call with reporters Thursday, Walmart's chief financial officer, Charles M. Holley Jr., said there was "a general reluctance of customers to spend on discretionary items right now."
As the back-to-school season reaches its peak, some retailers are not optimistic that they could see a big revival among shoppers. "The expectations through the end of the year are really through the lens of the cautious consumer," Mr. Holley said.
A few major factors have impeded progress for a lot of Americans as the country wades out of the recession. Job-market growth has been decent, but the jobs added have not.
"A lot of the gains have been in extremely low-paying sectors: retail, health care, temporary employment," said Joshua Shapiro, chief economist at MFR. When it is not full-time work, he said, benefits are low to nonexistent.
"If you dig below the surface, it's not that wonderful of a picture," he said.
Retailers also singled out the payroll-tax increase as one reason consumers were feeling thrifty.
"If you're making around $50,000 a year, that's $40 a paycheck that our customer doesn't have that they would've had last year" Mr. Holley said.
While retailers tend to offer excuses for missing quarterly results — good weather, bad weather, sporting events — economists agreed that the tax increase was affecting stores' sales.
"In terms of people who are paycheck to paycheck, which is a good chunk of this country, and certainly a good chunk of lower-end retailers' customers, it has a significant effect," Mr. Shapiro said.
Other economic indicators, like the upswing in the housing and stock markets, have not meant much to low-income shoppers.
In the housing market, "first-time buyers, in particular, have been waning," said Diane Swonk, chief economist at Mesirow Financial.
Mr. Shapiro said many sales are due to "speculative institutional demand," not typical home buyers.
Teenagers, too, are having a rough time, as shown by a recent earnings report from Aeropostale and an earnings warning from American Eagle.
"Teenagers have not had jobs for a while, and have to compete with older workers, and the back-to-school market's not looking terrific this year," Ms. Swonk said. "It's about the unevenness of the recovery across both age and income groups."
For Wal-Mart Stores, profit increased by 1.3 percent, to $4.07 billion, for the quarter and sales rose 2.4 percent, to $116.2 billion, both missing analyst estimates. The key measure of same-store sales dropped 0.3 percent in the United States; analysts had expected a 0.7 percent increase.
The company's international unit, which had until recently been growing at a fast clip, also turned in sluggish quarterly results, with sales growing 2.9 percent, to $33 billion.
"We've seen customers both in mature and emerging markets curb their spending," said C. Douglas McMillon, chief executive of Wal-Mart International. "We believe that environment is going to remain through the end of the year."
The company decreased its full-year guidance for net sales growth to 2 percent to 3 percent, from 5 percent to 6 percent.
Also, "somewhat uncharacteristically for Wal-Mart," according to a Sanford Bernstein analyst, Colin McGranahan, the company lowered its annual earnings per share forecast, to $5.10 to $5.30 from a previously issued $5.20 to $5.40.
Nordstrom's home quarterly profit of $0.93 per share was above analyst expectations for $0.88 a share. But it, too, lowered its annual forecast, to $3.60 to $3.70 a share versus its earlier outlook of $3.65 to $3.80.
Kohl's, which also reported results Thursday, said its quarterly profit fell 3.5 percent, and also lowered its annual earnings-per-share forecast, to $4.15 to $4.35, down from $4.15 to $4.45.
The results added to worries about the retail sector.
"We believe that much of our weakness is due to the health of the consumer," Macy's chief financial officer Karen Hoguet told analysts.
Macy's on Wednesday lowered its annual forecast, to $3.80 to $3.90 a share from $3.90 to $3.95 a share.
"When we do see good things in the economy, sometimes they don't immediately flow through to a paycheck. Remember how the average American lives," said Mr. McMillon of Walmart.

www.nytimes.com/2013/08/16/business/wal-mart-lowers-outlook-as-consumers-hold-back.html
New jobs disproportionately low paying or part time
WASHINGTON — The 162,000 jobs the economy added in July were a disappointment. The quality of the jobs was even worse.
A disproportionate number of the added jobs were part time or low paying — or both.
Part-time work accounted for more than 65 percent of the positions employers added in July. Low-paying retailers, restaurants, and bars supplied more than half July's job gain.
''You're getting jobs added, but they might not be the best-quality job,'' said John Canally, an economist with LPL Financial in Boston.
So far this year, low-paying industries have provided 61 percent of the nation's job growth, even though these industries represent just 39 percent of overall US jobs, according to Labor Department numbers analyzed by Moody's Analytics.

www.boston.com/business/news/2013/08/04/new-jobs-disproportionately-low-paying-part-time/T9m7B2pFqwdVJUZzfZx4hP/story.html
See also:
http://hosted2.ap.org/OHCOL/8ef5320729ce4298abefc1903704c7d5/Article_2013-08-03-Economy-Low-Wage%20Jobs/
Hard day's work: According to the sample budget, a minimum-wage fast food worker would need to get a second job and work over 60 hours a week to survive
Haves and have nots: McDonald's CEO Don Thompson received a compensation package worth $13.8 million in 2012

www.dailymail.co.uk/news/article-2373899/Income-mobility-map-How-live-affects-chances-moving-world.html
A better deal than minimum wage
By Charles Lane, Published: February18
Liberal firebrand Paul Krugman backs President Obama's plan for a phased-in 25 percent increase in the minimum wage, to $9 per hour. But he is still economist enough to note that raising it to $20 "would create a lot of problems" — among them, presumably, pricing low-skilled workers out of the job market.
There must be some level beyond which the minimum wage does more harm than good, and no one really denies it. Studies showing that higher minimum wages have little or no impact on employment generally refer to modest increments, or, as the White House's own fact sheet puts it, "the kind of minimum wage increases we have seen in the United States."
So the issue before us is whether Obama can hit the sweet spot: all higher-income upside for the working poor, and no job-killing downside.
I'm skeptical. Economists David Neumark of the University of California at Irvine and William Wascher of the Federal Reserve have spent their careers studying minimum wages. They found that, by and large, they reduce employment of young, low-skilled people. The last time the minimum wage was increased, in July 2009, Neumark estimated a loss of 300,000 jobs.
Those who disagree start from the plausible premise that the labor market is not perfectly competitive — not many markets are — and that minimum wages correct for this. In 2010, economist Arindrajit Dube of the University of Massachusetts and two colleagues studied county-level data for restaurants in neighboring states with different minimum wages. There was a job-killing effect in states with higher minimum wages, but it disappeared when they controlled for broader regional employment trends. Ergo, higher minimums were not to blame.
Neumark and his colleagues responded with a paper arguing that Dube & Co. failed to justify their choice of non-minimum-wage factors and that the minimum wage's job-killing effects remain. I found Neumark persuasive, but I'm no statistician.
Even if Dube is right, it's worth asking why. The answer, broadly, is that employers must have found ways to offset a higher minimum wage: raise prices, cut profits, organize their businesses more efficiently — or, in a more positive sense, reap the productivity benefits of a happier, more stable workforce.
John Schmitt of the left-leaning Center for Economic and Policy Research argues that employers probably make several small adjustments. Hard data are scarce, but the best evidence suggests that four offsets are most important, according to Schmitt: lower labor turnover, greater organizational efficiency, "wage compression" (lower wages higher up the payscale) and small price increases.
Note that two of these — wage compression and price increases — hurt other workers and consumers. 
In short, Obama's proposal works if it is, in fact, equivalent to those past increases in the minimum wage, which, according to certain studies, have not harmed employment. There are two risks: The studies are wrong; or, they're right but Obama picked the wrong wage level. Both risks are borne by the least-skilled, poorest members of the labor force.
Meanwhile, even if Obama's proposal does raise some workers' incomes without killing jobs, it would impose costs on other vulnerable members of society.
Is there no more efficient, better-targeted alternative? Yes: increasing the earned-income tax credit, a cash supplement to wages that works like a negative income tax. Started during the Ford administration and expanded under Republican and Democratic presidents, the credit has grown into a $60 billion-plus program that pays more than $5,300 per year to a family with two children. It lifts millions out of poverty. It has offset much of the minimum wage's inflation-adjusted stagnation in recent years: You might say that, in real terms, federal anti-poverty policy has been been gradually shifting from the minimum wage to the earned-income tax credit. Ditto the states, 24 of which have their own such credits.
Krugman and others object that employers capture some of the credit, because it enables workers to work for less and firms to pay them accordingly. This strikes me as a feature, not a bug. Poverty reduction, income equality and maximal employment can be thought of as public goods. Therefore, it's appropriate to purchase them through a transparent tax-code subsidy that falls on the public as a whole — rather than the minimum wage, which works like an invisible tax businesses pass along to workers and consumers.
Here's a thought: Don't eliminate the minimum wage. Leave it at $7.25, in recognition of the fact that the labor market is competitive, but imperfectly so. Increase the earned-income tax credit. And then index both to inflation so we can lock in their value over time — and argue about something else.

www.washingtonpost.com/opinions/charles-lane-a-better-way-to-help-working-class/2013/02/18/6e3e6538-7a02-11e2-82e8-61a46c2cde3d_story.html
Originally published July 25, 2013 at 6:40 PM | Page modified July 25, 2013 at 9:50 PM
Seattle fast-food workers file wage-theft complaints
Fast-food workers announced the filing of wage-theft complaints against some local restaurants Thursday, as part of an effort to spotlight what some say is an epidemic problem for low-wage workers.
By Jim Brunner
Seattle Times political reporter
Seeking to spotlight what they say is widespread abuse of low-wage workers, a group of fast-food employees filed criminal complaints Thursday alleging wage theft by Seattle-area restaurants.
In a news conference on the steps of Seattle City Hall organized by local activists, workers said they'd been forced to work off the clock, denied breaks or otherwise been underpaid.
Five workers filed complaints under a Seattle law that makes it a gross misdemeanor for employers to illegally withhold wages. That law was approved by the Seattle City Council in 2011 but has not resulted in any prosecutions — something the activists hope to change.
Caroline Durocher, who filed one of the complaints, said she was routinely underpaid at a Ballard Taco Bell where she worked earlier this year.
Durocher said a manager there would automatically clock her out an hour after closing time, but she'd frequently have to keep working well beyond that to finish cleaning up.
In all, Durocher estimates, she lost $800 in wages. "That is money that would have meant a whole lot to me," she said, saying it could have gone toward a deposit on an apartment or a needed root canal.
A Taco Bell spokesman said he did not have information to comment on Durocher's specific allegations. But in an emailed statement, he said the company has a "strict policy to comply with all federal, state and local labor laws" and "zero tolerance" for violations.
Another worker, Geoff Belforti, alleged his former employer, a Qdoba Mexican Grill on Capitol Hill, had simply failed to deliver his final paycheck for $150 despite his repeated requests.
"I need this money to live and I have not received it," he said.
Qdoba said in a statement its policy "is to properly compensate all of our employees," adding that if an employee has "proper documentation indicating that he or she has not been properly compensated, we're happy to review the information with that individual."
Anthony Anton, CEO of the Washington Restaurant Association, said employers need to follow wage laws. "If there is a problem with wage integrity and if there are steps that we can help better educate and inform, let's talk about that," he said.
Rebecca Smith, an attorney with the National Employment Law Project, said wage theft — from shaving hours, refusing to pay overtime, or other means — is at epidemic levels in low-wage jobs.
A national survey of low-wage workers conducted by the nonprofit group in 2008 found more than two-thirds said they'd experienced some type of pay-related workplace violation in the previous week — from being denied breaks to being forced to work off the clock.
The Washington State Department of Labor and Industries (L&I) investigated 3,908 wage complaints from workers in fiscal 2013 — about 700 of them food-industry related, said spokeswoman Dana Botka.
L&I has recovered more than $11 million to nearly 9,000 workers since 2007, when a new wage-protection law was passed. About 80 percent of those refunds came without a citation being issued.
Seattle is the only city in Washington with a law criminalizing wage theft. The ordinance makes it a gross misdemeanor punishable by up to 364 days in jail and a $5,000 fine.
Sage Wilson with Working Washington, a coalition of labor and community organizations, said the workers were pursuing the issue under the city's ordinance because they believe the threat of criminal prosecution is more of a deterrent.
The workers at Thursday's news conference were joined by city officials, including Seattle
Mayor Mike McGinn and City Councilmember Mike O'Brien, who vowed the city will take their complaints seriously.
Craig Sims, chief of the criminal division for the Seattle City Attorney's Office, said the city has not charged any employers under the wage-theft law because previous complaints made by workers had not been "factually sufficient."
But Sims said the city stands ready to investigate and prosecute the new complaints if the evidence is sufficient. He urged anyone who believes they have been a victim of wage theft to call the Seattle Police Department's non-emergency number at (206) 625-5011.

http://seattletimes.com/html/localnews/2021474715_wagetheftxml.html
The protests come amid a growing discussion about low wages in the United States, with a group of economists releasing a petition that encourages an increase in the minimum wage to $10.50, another report from the National Employment Law Project that questions the fast-food industry's focus on career opportunities for its low-wage workers and, now, President Obama's jobs remarks Tuesday at an Amazon fulfillment center. The online retailer is hiring 5,000 new warehouse fulfillment center workers into jobs that reportedly pay between $11 and $12 an hour, sparking debate over what now defines a middle-class job.

www.washingtonpost.com/blogs/on-leadership/wp/2013/07/30/the-beef-with-low-wages/
Hard work might not be enough for economic success

http://nky.cincinnati.com/article/AB/20130723/NEWS/307230010/Hard-work-might-not-enough-economic-success
Research ties economic inequality to gap in life expectancy

www.washingtonpost.com/business/economy/research-ties-economic-inequality-to-gap-in-life-expectancy/2013/03/10/c7a323c4-7094-11e2-8b8d-e0b59a1b8e2a_story.html
Making ends meet is tougher without a job
Sunday August 11, 2013 8:10 AM
I was surprised to see that State Auto Financial just made more than $6.2 million in profits in a couple of months ("State Auto posts profit as storms stay away," Dispatch article, Aug. 2).
Executives for the company make millions of dollars a year.
As someone who works hard cleaning State Auto's offices, I feel like we're living in two different worlds.
While State Auto is making millions of dollars in profits, I may become homeless. Where is the justice in that?
State Auto has chosen to switch to a janitorial company, and now I may be facing unemployment and a struggle to provide for my family. I can't afford to lose my job now.
After my daughter passed away as a result of a car accident, I had to care for my grandkids.
Working full-time, I get paid around $20,000 a year. It's hard to make ends meet, but I can keep a roof over my head and put food on the table.
I've experienced homelessness in the past because I lost my job, and I'm scared my family will be pushed into homelessness again.
Despite working hard every day to make sure that State Auto's offices are clean, I feel like my co-workers and I are being tossed aside.
JANICE JACKSON
Columbus

www.dispatch.com/content/stories/editorials/2013/08/11/making-ends-meet-is-tougher-without-a-job.html
SURVEY UNDERSCORES 'ELUSIVE AMERICAN DREAM' AND 'DETERIORATING ECONOMIC SECURITY'
Jul. 28, 2013 11:51pm Dave Urbanski
WASHINGTON (TheBlaze/AP) — Four out of 5 U.S. adults struggle with joblessness, near-poverty or reliance on welfare for at least parts of their lives, a sign of deteriorating economic security and an elusive American dream.
Survey data exclusive to The Associated Press points to an increasingly globalized U.S. economy, the widening gap between rich and poor, and the loss of good-paying manufacturing jobs as reasons for the trend.
A man walks past blighted row houses and vacant lots in Baltimore, Monday, April 1, 2013.
(Credit: AP)
The findings come as President Barack Obama tries to renew his administration's emphasis on the economy, saying in recent speeches that his highest priority is to "rebuild ladders of opportunity" and reverse income inequality.
As nonwhites approach a numerical majority in the U.S., one question is how public programs to lift the disadvantaged should be best focused – on the affirmative action that historically has tried to eliminate the racial barriers seen as the major impediment to economic equality, or simply on improving socioeconomic status for all, regardless of race.
Hardship is particularly growing among whites, based on several measures. Pessimism among that racial group about their families' economic futures has climbed to the highest point since at least 1987. In the most recent AP-GfK poll, 63 percent of whites called the economy "poor."
"I think it's going to get worse," said Irene Salyers, 52, of Buchanan County, Va., a declining coal region in Appalachia. Married and divorced three times, Salyers now helps run a fruit and vegetable stand with her boyfriend but it doesn't generate much income. They live mostly off government disability checks.
This photo taken Friday July 12, 2013, shows Renee Adams, left, posing with her mother Irene Salyers and son Joseph, 4, at their produce stand in Council, Va
. (Credit: AP)
"If you do try to go apply for a job, they're not hiring people, and they're not paying that much to even go to work," she said. Children, she said, have "nothing better to do than to get on drugs."
While racial and ethnic minorities are more likely to live in poverty, race disparities in the poverty rate have narrowed substantially since the 1970s, census data show. Economic insecurity among whites also is more pervasive than is shown in the government's poverty data, engulfing more than 76 percent of white adults by the time they turn 60, according to a new economic gauge being published next year by the Oxford University Press.
The gauge defines "economic insecurity" as experiencing unemployment at some point in their working lives, or a year or more of reliance on government aid such as food stamps or income below 150 percent of the poverty line. Measured across all races, the risk of economic insecurity rises to 79 percent.
Marriage rates are in decline across all races, and the number of white mother-headed households living in poverty has risen to the level of black ones.
"It's time that America comes to understand that many of the nation's biggest disparities, from education and life expectancy to poverty, are increasingly due to economic class position," said William Julius Wilson, a Harvard professor who specializes in race and poverty. He noted that despite continuing economic difficulties, minorities have more optimism about the future after Obama's election, while struggling whites do not.
People looking for jobs come to Worksource Portland Metro for help with their resumes, fill out unemployment forms and look at posted job openings at the Tualatin, Ore. office, June 18, 2013.
(Credit: AP)
"There is the real possibility that white alienation will increase if steps are not taken to highlight and address inequality on a broad front," Wilson said.
—
Nationwide, the count of America's poor remains stuck at a record number: 46.2 million, or 15 percent of the population, due in part to lingering high unemployment following the recession. While poverty rates for blacks and Hispanics are nearly three times higher, by absolute numbers the predominant face of the poor is white.
More than 19 million whites fall below the poverty line of $23,021 for a family of four, accounting for more than 41 percent of the nation's destitute, nearly double the number of poor blacks.
Sometimes termed "the invisible poor" by demographers, lower-income whites generally are dispersed in suburbs as well as small rural towns, where more than 60 percent of the poor are white. Concentrated in Appalachia in the East, they are numerous in the industrial Midwest and spread across America's heartland, from Missouri, Arkansas and Oklahoma up through the Great Plains.
Kristina Erbenich, right, is handed an eviction notice by San Jose city worker Mark Ruffing at a tent city in San Jose, Calif., Tuesday, March 5, 2013. The Silicon Valley is adding jobs faster than it has in more than a decade as the tech industry roars back. Stocks are soaring and fortunes are once again on the rise. But a more ominous record is also being set this year: food stamp participation just hit a 10 year high, African American wages fell 18 percent in two years and median incomes fell throughout the region.
(Credit: AP)
Buchanan County, in southwest Virginia, is among the nation's most destitute based on median income, with poverty hovering at 24 percent. The county is mostly white, as are 99 percent of its poor.
More than 90 percent of Buchanan County's inhabitants are working-class whites who lack a college degree. Higher education long has been seen there as nonessential to land a job because well-paying mining and related jobs were once in plentiful supply. These days many residents get by on odd jobs and government checks.
Salyers' daughter, Renee Adams, 28, who grew up in the region, has two children. A jobless single mother, she relies on her live-in boyfriend's disability checks to get by. Salyers says it was tough raising her own children as it is for her daughter now, and doesn't even try to speculate what awaits her grandchildren, ages 4 and 5.
Smoking a cigarette in front of the produce stand, Adams later expresses a wish that employers will look past her conviction a few years ago for distributing prescription painkillers, so she can get a job and have money to "buy the kids everything they need."
"It's pretty hard," she said. "Once the bills are paid, we might have $10 to our name."
Census figures provide an official measure of poverty, but they're only a temporary snapshot that doesn't capture the makeup of those who cycle in and out of poverty at different points in their lives. They may be suburbanites, for example, or the working poor or the laid off.
In 2011 that snapshot showed 12.6 percent of adults in their prime working-age years of 25-60 lived in poverty. But measured in terms of a person's lifetime risk, a much higher number – 4 in 10 adults – falls into poverty for at least a year of their lives.
The risks of poverty also have been increasing in recent decades, particularly among people ages 35-55, coinciding with widening income inequality. For instance, people ages 35-45 had a 17 percent risk of encountering poverty during the 1969-1989 time period; that risk increased to 23 percent during the 1989-2009 period. For those ages 45-55, the risk of poverty jumped from 11.8 percent to 17.7 percent.
Dan Kildee, Michigan's 5th district representative, prepares his lunch of two tuna sandwiches, a banana, and a cup of tea, on Friday, June 21, 2013 in Flint, Mich. Kildee has been participating in the SNAP Challenge, paying for all of his meals this past week using only food stamps, about $4.50 a day.
(Credit: AP)
Higher recent rates of unemployment mean the lifetime risk of experiencing economic insecurity now runs even higher: 79 percent, or 4 in 5 adults, by the time they turn 60.
By race, nonwhites still have a higher risk of being economically insecure, at 90 percent. But compared with the official poverty rate, some of the biggest jumps under the newer measure are among whites, with more than 76 percent enduring periods of joblessness, life on welfare or near-poverty.
By 2030, based on the current trend of widening income inequality, close to 85 percent of all working-age adults in the U.S. will experience bouts of economic insecurity.
"Poverty is no longer an issue of `them', it's an issue of `us'," says Mark Rank, a professor at Washington University in St. Louis who calculated the numbers. "Only when poverty is thought of as a mainstream event, rather than a fringe experience that just affects blacks and Hispanics, can we really begin to build broader support for programs that lift people in need."
The numbers come from Rank's analysis being published by the Oxford University Press. They are supplemented with interviews and figures provided to the AP by Tom Hirschl, a professor at Cornell University; John Iceland, a sociology professor at Penn State University; the University of New Hampshire's Carsey Institute; the Census Bureau; and the Population Reference Bureau.
Among the findings:
For the first time since 1975, the number of white single-mother households living in poverty with children surpassed or equaled black ones in the past decade, spurred by job losses and faster rates of out-of-wedlock births among whites. White single-mother families in poverty stood at nearly 1.5 million in 2011, comparable to the number for blacks. Hispanic single-mother families in poverty trailed at 1.2 million.
Since 2000, the poverty rate among working-class whites has grown faster than among working-class nonwhites, rising 3 percentage points to 11 percent as the recession took a bigger toll among lower-wage workers. Still, poverty among working-class nonwhites remains higher, at 23 percent.
The share of children living in high-poverty neighborhoods – those with poverty rates of 30 percent or more – has increased to 1 in 10, putting them at higher risk of teenage pregnancy or dropping out of school. Non-Hispanic whites accounted for 17 percent of the child population in such neighborhoods, compared with 13 percent in 2000, even though the overall proportion of white children in the U.S. has been declining.
The share of black children in high-poverty neighborhoods dropped from 43 percent to 37 percent, while the share of Latino children went from 38 percent to 39 percent.
Race disparities in health and education have narrowed generally since the 1960s. While residential segregation remains high, a typical black person now lives in a non-majority black neighborhood for the first time. Previous studies have shown that wealth is a greater predictor of standardized test scores than race; the test-score gap between rich and low-income students is now nearly double the gap between blacks and whites.
—
Going back to the 1980s, never have whites been so pessimistic about their futures, according to the General Social Survey, a biannual survey conducted by NORC at the University of Chicago. Just 45 percent say their family will have a good chance of improving their economic position based on the way things are in America.
This photo taken Friday July 12, 2013, shows the Salyers' produce stand in Council, Va. Four out of five U.S. adults struggle with joblessness, near poverty or reliance on welfare for at least parts of their lives, a sign of deteriorating economic security and a vanishing American Dream. Hardship is particularly on the rise among whites, based on several measures. Pessimism among that racial group about their families economic futures has climbed to the highest point since at least 1987. In the most recent AP-GfK poll, 63 percent of whites called the economy poor.
(Credit: AP)
The divide is especially evident among those whites who self-identify as working class. Forty-nine percent say they think their children will do better than them, compared with 67 percent of nonwhites who consider themselves working class, even though the economic plight of minorities tends to be worse.
Although they are a shrinking group, working-class whites – defined as those lacking a college degree – remain the biggest demographic bloc of the working-age population. In 2012, Election Day exit polls conducted for the AP and the television networks showed working-class whites made up 36 percent of the electorate, even with a notable drop in white voter turnout.
Last November, Obama won the votes of just 36 percent of those non-college whites, the worst performance of any Democratic nominee among that group since Republican Ronald Reagan's 1984 landslide victory over Walter Mondale.
Some Democratic analysts have urged renewed efforts to bring working-class whites into the political fold, calling them a potential "decisive swing voter group" if minority and youth turnout level off in future elections. "In 2016 GOP messaging will be far more focused on expressing concern for `the middle class' and `average Americans,'" Andrew Levison and Ruy Teixeira wrote recently in The New Republic.
"They don't trust big government, but it doesn't mean they want no government," says Republican pollster Ed Goeas, who agrees that working-class whites will remain an important electoral group. His research found that many of them would support anti-poverty programs if focused broadly on job training and infrastructure investment. This past week, Obama pledged anew to help manufacturers bring jobs back to America and to create jobs in the energy sectors of wind, solar and natural gas.
"They feel that politicians are giving attention to other people and not them," Goeas said.

www.theblaze.com/stories/2013/07/28/survey-underscores-elusive-american-dream-and-deteriorating-economic-security/
Kroger eliminates the middleman to feed hungry
Jani Fowler, left, and daughter Jazmine, along with volunteer Kearston Hawkins-Johnson, shop at a Northside food pantry that receives food from Kroger.
/ The Enquirer/Adam Birkan
According to Feeding America, 1 in 6 Americans rely on food banks and the network for assistance – up from 1 in 10 in 1996…

http://news.cincinnati.com/article/20130726/NEWS10/307260030/Kroger-eliminates-middleman-feed-hungry
WHEN Mitt Romney told the guests at a fund-raiser in Florida in May that America is divided between people who pay no income taxes and depend on government and pretty much everyone else, he missed the deeper truth. It is not just that most of the 47 percent Mr. Romney talked about do pay payroll taxes and that many of them have paid income taxes in the past. The reality he glossed over is that nearly all Americans have used government social policies at some point in their lives. The beneficiaries include the rich and the poor, Democrats and Republicans. Almost everyone is both a maker and a taker.
What the data reveal is striking: nearly all Americans — 96 percent — have relied on the federal government to assist them. Young adults, who are not yet eligible for many policies, account for most of the remaining 4 percent.
http://campaignstops.blogs.nytimes.com/2012/09/24/we-are-the-96-percent/
Big Banks, Flooded in Profits, Fear Flurry of New Safeguards
The nation's six largest banks reported $23 billion in profits in the second quarter…
http://dealbook.nytimes.com/2013/07/18/big-banks-flooded-in-profits-fear-flurry-of-new-safeguards/
July 24, 2013, 7:18 p.m. ET
The Inequality President
The rich have done fine under Obamanomics, not so the middle class.
http://online.wsj.com/article/SB10001424127887323610704578626142861572144.html
Middle class still left behind in U.S. economic recovery, data show

www.washingtonpost.com/business/economy/middle-class-still-left-behind-in-recovery/2013/07/18/a408b174-ef9f-11e2-9008-61e94a7ea20d_story.html
Obama's economic plan is flat; Republicans' plan is even flatter

www.dispatch.com/content/stories/editorials/2013/07/27/obamas-economic-plan-is-flat-republicans-plan-is-even-flatter.html
A warmed-over jobs message
By Dana Milbank, Published: July 23
"I don't normally do this," President Obama's senior adviser Dan Pfeiffer wrote in the subject line of an e-mail blast to reporters Sunday night.
This was tantalizing. What would this top White House official be doing? Singing karaoke on the North Lawn? Getting a "POTUS" tattoo on his arm?
Reality was rather more prosaic. Pfeiffer was announcing the rollout of a series of economic speeches Obama would begin on Wednesday — roughly the 10th time the White House has made such a pivot to refocus on jobs and growth. What would set this one apart is that Obama would be reprising a speech he made eight years ago, when he first became a senator; Pfeiffer included a link to clips from that speech, set in part to mood music from the Canadian electronica group Kidstreet, the same music used in an Apple ad last year.
But even a reincarnated Steve Jobs would have trouble marketing this turkey: How can the president make news, and remake the agenda, by delivering the same
message he gave in 2005? He's even giving the speech from the same place, Galesburg, Ill.
White House officials say this will show Obama's consistency. "We plead guilty to the charge that there is a thematic continuity that exists between the speech the president will give in Galesburg, at Knox College on Wednesday, and his speech in Osawatomie [Kansas, in 2011] and his speech back at Knox College in 2005," White House press secretary Jay Carney said.
Yes, but this also risks sending the signal that, just six months into his second term, Obama is fresh out of ideas. There's little hope of getting Congress to act on major initiatives and little appetite in the White House to fight for bold new legislation that is likely to fail. And so the president, it seems, is going into reruns.
In fairness, the 2005 speech was on the timeless theme of the need for education, training, regulations and tax changes to preserve the middle class. "The true test of the American ideal," he said then, is "whether we build a community where, at the very least, everyone has a chance to work hard, get ahead and reach their dreams."
That message was so good he repeated it in 2011 in Kansas, where he said, "This country succeeds when everyone gets a fair shot, when everyone does their fair share, when everyone plays by the same rules."
But while that message remains relevant, Obama is now facing a Republican opposition that, by House Speaker John Boehner's own account, is measuring its success by how many laws it can undo. There's no longer serious talk about a grand bargain that could reform entitlement programs and the tax code. Legislators and administration officials have little hope of doing more than short-term skirmishing over the debt ceiling and mindless spending cuts in the "sequester."
If he's to break through the resistance, Obama will need some bold new proposals. That's why his speech returning to the oldies would seem to confirm that the White House has given up on big achievements.
To build interest in the new series of speeches, the White House scheduled an invitation-only briefing (RSVP required) for Monday, then set cloak-and-dagger ground rules requiring that the briefers not be quoted, even anonymously. Reporters protested, but they needn't have worried: The official who gave the briefing made clear that there would be no new policies announced, at least not major ones and not initially.
Pfeiffer told me Tuesday that the president, in his series of speeches, will eventually get around to ideas about "some things Congress could do, things they should do but probably won't in the near term, and executive actions the president can take himself."
I admire Pfeiffer's pluck in trying to generate enthusiasm for what is largely a news-free initiative. And it's smart politics for Obama to keep his emphasis on economic matters. But it would be easier to rally enthusiasm if he gave supporters something big, bold and new to reach for, rather than leftover proposals coupled with lofty ideals.
"It will be a pretty good speech," Obama told activists this week at a gathering of Organizing for America, an outgrowth of his campaign. "But as we've learned, I've given some pretty good speeches before, and then things still get stuck here in Washington, which is why I'm going to need your help."
True, but with three years to go in his presidency, Obama needs to help his supporters help him — by giving them the power of fresh ideas.

www.washingtonpost.com/opinions/dana-milbank-on-jobs-obamas-fresh-out-of-ideas/2013/07/23/cc0fcd2c-f3d4-11e2-a2f1-a7acf9bd5d3a_story.html
Here we are, as Dana Milbank writes today, on our 4,347th iteration of President Obama pivoting to jobs — this time, definitely. Which would be fine, per Milbank, if it weren't in the form of a bunch of speeches microwaving Obama's leftovers from 2005. Wake us when it's a new idea, or a new way to get the old ideas over the dead body of Congress.

www.washingtonpost.com/blogs/post-partisan/wp/2013/07/24/postscript-milbank-and-pivoting-back-to-the-start/
Does part-time job growth signify a weak economy?
By Robert J. Samuelson, Published: July 24
Just when you thought that the United States' labor market was improving, with employment gains averaging about 200,000 a month, along comes Mort Zuckerman, real estate magnate and chairman of U.S. News & World Report, throwing cold water on any optimism. The truth, wrote Zuckerman in the Wall Street Journal, is that, according to the Labor Department's household survey, almost three-quarters of new jobs in 2013 have been part time. These need to be discounted in judging the economy's strength, argued Zuckerman.
"At this stage of an expansion you would expect the number of part-time jobs to be declining, as companies would be doing more full-time hiring," he wrote. "Not this time. In the long misery of this post-recession period, we have an extraordinary situation: Americans by the millions are in part-time work because there are no other employment opportunities."
Ugh. To Zuckerman, work is increasingly catch-as-catch-can, with firms relying more "on independent contractors and part-time, temporary and seasonal employees." He also blames the Affordable Care Act ("ObamaCare"), which has been criticized as discouraging full-time hiring. Companies with fewer than 50 full-time workers don't have to provide health insurance; nor are part-time employees (defined as working less than 30 hours a week) entitled to company coverage. These are " deterrents to adding full-time workers.
On some counts, Zuckerman's critique is overwrought.
For starters, it belittles genuine job progress. Gains since the recession's trough in 2009, though
inadequate, are still substantial. "Companies [now] seem to be holding on to their employees," said economist Beth Ann Bovino of Standard & Poor's. Initial weekly unemployment claims peaked at about 650,000; now they're about half that, 334,000 in a recent week, she said. The official unemployment rate has dropped from 10 percent in October 2009 to 7.6 percent. A broader measure (called the U-6), which includes involuntary part-time workers and people out of the labor force who want a job, is down to 14.3 percent from 17.1 percent.
Nor is there much evidence that, in the recovery, part-time workers have represented a disproportionate share of new jobs. Economist Scott Anderson of the Bank of the West analyzed employment gains since January 2009 and found that in June part-time jobs accounted for 19.5 percent of total employment, "exactly the average share . . . since January 2009." Part-time jobs sometimes surge for a few months, he noted, but then the rapid gains have been reversed.
Finally, Zuckerman doesn't acknowledge that most part-time jobs are desired by workers. Of the 27 million part-time workers in June, slightly more than 19 million were voluntary: students splitting jobs and studies; retirees wanting extra income or human contact; and parents juggling the demands of jobs and child-rearing.
Still, the core of Zuckerman's argument stands. This recovery, compared to its post-World War II predecessors, has been exceptionally weak. The number of part-time workers who would like full-time jobs (defined by the Bureau of Labor Statistics as 35 hours a week or more) has dropped very slowly. In May 2009, it peaked at 9.1 million; as of last month, it was 8.2 million. Moreover, the level was almost twice as high as before the recession — 4.2 million in December 2006. As Zuckerman argued, this suggests many companies are quietly shifting employment practices.
Firms seek to minimize fixed labor costs by using contractors, "temps" and part-timers. Obamacare intensifies the pressures, because the incentives against hiring full-time workers are so obvious. A survey by the New York Federal Reserve of manufacturers in the state found that 6.5 percent had already refrained from hiring or had fired workers to stay below the 50-worker threshold; 5.4 percent said they had substituted some part-time for full-time workers. (These firms apparently represented a large share of the companies subject to the threshold, because most firms had more than 50 workers. The average firm employed 218.) A survey by the Philadelphia Federal Reserve produced a similar response.
Up to a point, part-time jobs reflect the flexibility of the U.S. economy — but we are well beyond that point. They increasingly signify weakness

www.washingtonpost.com/opinions/robert-j-samuelson-do-part-time-jobs-signify-a-weak-economy/2013/07/24/c52089ec-f461-11e2-aa2e-4088616498b4_story.html
Obama pitches 'grand bargain' to a middle class that no longer exists
Americans like to think of themselves as middle class, but the reality is 79% will have to rely on aid at some point
Ana Marie Cox theguardian.com, Tuesday 30 July 2013 15.47 EDT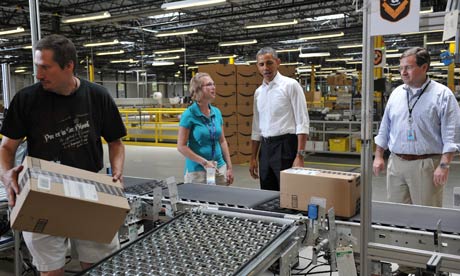 Obama stops at a labelling station during a tour at an Amazon fulfillment center with Amazon's vice-president for worldwide operations Dave Clark in Chattanooga on Tuesday.
Photograph: Mandel Ngan/AFP/Getty Images
Today President Obama delivered another speech on the economy that conservatives and the press greeted with varying shades of mockery and boredom. His calls for corporate tax reform and promises of "help for the middle class" are familiar campaign rhetoric and weakly echo the idea of "class warfare" that Republicans love to brandish as evidence of Obama's socialism, lack of "American values" or worse.
One could argue that this is the language that won Obama the presidency, why change what works? (And, as few in the press seem to realize, neither they nor conservatives are Obama's real audience for these speeches.) But it's unclear either that Obama won the presidency on pure merits (as opposed to people voting against the Bush legacy and Romney) or that this language is, politically speaking, "working". It's this language that keeps the Tea Party energized, after all. It's the threat of these policies that keeps corporate interests so deeply involved in elections in general.
And, as I wrote last week, appealing to "the middle class" is no longer a safe political bet. Today, Americans still identify as "middle class" more than anything else, but as the economy continues to shudder, polls are beginning to echo the precariousness of that perch.
On Monday, the Associated Press cited a survey showing that 79% of Americans will experience "economic insecurity" by the time they turn 60. At some point, pandering to the middle class will begin to feel like pandering to those who already have it easy. If Obama wants to truly energize voters, and to use their energy to sway recalcitrant Republicans, he needs to do more than make promises to those in the middle class, he needs to make them understand that the middle class as a category is threatened.
The AP defined "economic insecurity" as unemployment during the year, or a year or more of reliance on government aid, or income below 150% of the poverty line – and this concrete measure reflects reality much more reliably than a fuzzy, optimistic notion of middle class.
Middle class is a set of values, perhaps, or a way of measuring one's happiness; that it has nothing to do with income or wealth is apparent from the polling about it. When Pew asked Americans in 2012 if they were "middle class," a impossibly wide swath of 49% said they were. Around the same time, a Congressional Research Service report drily noted (pdf) that the literal middle class – those with incomes in the third quintile of American earners – make between $38,000 and $62,000, an income range "so narrow" it seems "unlikely…[to] account completely for those commonly considered to be middle class".
The report suggested that expanding the definition to the three middle quintiles (the middle 60%) of earners might make the economic category of "middle class" comport to the self-identified category, though that would mean lumping together as "middle class" everyone with incomes between $20,000 and $101,000. I don't think those people, in real life, are lumped together very often – though flying first class on airplanes is now so expensive it can mean that people from either end of that spectrum aren't just lumped together but sitting on each other's laps.
The AP's measure is more instructive, because it captures the slipperiness of reality that our minds can refuse to adjust to. That Pew survey showed that a startling 6% of those earning over $100,000 considered themselves to be "lower class", while another 6% of those earning less than $30,000 considered themselves to be "upper".
It's tempting to think we need a reality television show in which these bipolar "six-percenter" families live next to each other when I realized that our new economic normal means that families whose fluctuating economic station is out-of-sync with their identity live next to each other all the time. The AP's survey, and numerous other findings, report that those identifying themselves as "lower class" and as having experienced or expecting to experience poverty are increasingly white, suburban and – the fastest-growing demographic – young.
Indeed, young people between the ages of 18-29 saw a 14% jump in identification as "lower class" between 2008 and 2012, compared to 8 points among whites, 10 points among Hispanics, and zero change among blacks.
I take perhaps perverse comfort in that number, because of all the categories in American life where there are divisions, it's among young people where the barriers of color, class, and even geography are the least significant. Young people interact with each other in schools, around pop culture, through social media and in their imaginations: to be young is to be able to envision something different for yourself, and from yourself
American politicians, both liberal and conservative, have used class – and the need for "welfare" as a code for race – for the past three decades. They got away with this because so many white people could not imagine themselves as anything but middle class – and because they refused to see benefits like the home mortgage credit as being just as much of a government "handout" as food stamps. The AP's findings show that many white Americans, "middle class" Americans, can no longer afford such illusions.
Tea Party Republicans insist on speaking about government programs, and criticizing Obama, using terms that have been racist "dog whistles" for a generation. But there are fewer and fewer dogs to hear those whistles, and more and more people who are hungry. These are the people Obama must reach out to, whom he must make listen.
Social change on grand scale happens because of social interaction on a small – even one-to-one – scale. Young people today favor gay marriage and relaxed immigration laws because, more likely than not, they know a gay person, or an immigrant. Almost half of those under the age of 30 say they have a close friend or relative that's gay; 85% of our 11 million illegal immigrants are under the age of 44, one in five public school students are legal immigrants.
A recent study suggested that empathy is on the decline among American youth; that may be so, but I suspect that the recession has made empathy less relevant than commiserating – one doesn't need to be able to imagine the pain of another if you are in pain as well.
It's pain that leads to action. We are human, there is simply no other kind of motivation; however noble our goals, we don't seek them unless there is dissatisfaction with what we have. Obama keeps rallying "the middle class," but it's the subtle message – amplified by his enemies – about the elusiveness of class that will reverberate into the future.

www.theguardian.com/commentisfree/2013/jul/30/obama-grand-bargain-speech-middle-class
The Steady Decline of Homeownership, for Everyone, Everywhere

www.theatlanticcities.com/housing/2013/07/steady-decline-homeownership-everyone-everywhere/6373/
Is this the end of the American dream? How families are choosing city living over suburbs for the first time in 100 years
New book, The End of the Suburbs, explains how changing economic trends are making a suburban lifestyle less desirable
Rising energy costs are making commutes unaffordable
End of the white picket fence? Since the invention of the automobile, the rate of suburban population growth has outpaced that of urban centers. But in 2011 – for the first time in a hundred years – the trend reversed

www.dailymail.co.uk/femail/article-2382650/Is-end-American-dream-How-families-choosing-city-living-suburbs-time-100-years.html
A record 21.6 million millennials live with Mom and Dad
Published: Friday, 2 Aug 2013 | 8:00 AM ET
By:Kelli B. Grant | Personal Finance and Consumer Spending Reporter
More than a third of American millennials are living at home with their parents, according to a Pew Research Center study released Thursday.
When the recession began in 2007, 32 percent or 18.5 million of millennials—defined as 18- to 31-year olds—had not left the nest. Today, it is 36 percent, or 21.6 million.
According to Pew's analysis of Census Bureau data, the number of millennials still living at home is the highest percentage in four decades.
A driving factor: declining employment. Last year just 63 percent of young adults in that age group had a job, down from 70 percent in 2007.
"You're much less likely to be living with your mom and/or dad if you have a job, and job-holding still hasn't picked up," said Richard Fry, a senior research associate with Pew Research Center. 
Another interesting finding in the study is the gender difference. Men are more likely to hang at home than women: 40 percent to 32 percent.
What's a parent to do?
It costs a little less than $300,000 to raise a child to age 17, according to Department of Agriculture figures. And maybe another $160,000 to put him through college. But as the Pew study reveals, more families are finding that the big bills don't stop once kids reach adulthood.
Today's offspring who fail to launch have become a major financial planning issue, said certified financial planner Lynn Ballou, a managing partner at Ballou Plum Wealth Advisors in Lafayette, Calif.
Parents already have a tendency to sacrifice their own retirement planning and other savings to send their children to college, banking on them to find good jobs at graduation.
"Come to find out, your grad is unemployable and can't even find a job at Starbucks," said Ballou, who estimates that one-third of her clients are providing some financial support to an adult child.
Unexpected expenses to care for adult children can force parents to make severe cuts in their own spending, delay retirement or dip into savings.
But parents shouldn't feel obligated to continue providing the same support as they might for a teenager.
"They could be there forever if you don't charge them some rent and make them do some chores," said certified financial planner Sheryl Garrett, founder of The Garrett Planning Network. Adult children who can't find a job outside the home should be asked to contribute with duties in the household, she said.
If there's good news, it's that boomerang babies aren't entirely those who can't afford to live on their own. By Pew's estimates, one-third to one-half of those young adults living with Mom and Dad are college students who spend most of the year on campus and come home for breaks. (Whew.)
College graduates are also less likely than less-educated counterparts to live at home, particularly after they turn 25, Fry said.
Parents of children college-aged and younger may find it prudent to beef up their emergency fund from the recommended six months' worth of living expenses to 12 months, just in case.
"From where we're sitting, it could be a good decade to work this out," said Ballou. "Hope for the best and plan for the worst. Assume your child is not going to launch until they're in their late 20s."
Even when the job market picks up, however, parents may find they need to put off remodeling Junior's room into a home office.
"It's not just the poor economy," Fry said. "There indeed may be less stigma among young adults about living at home. Even when the economy fully recovers, the tendency may be to live at home longer."
August 3, 2013, 2:30 pm 12 Comments
Crumbling American Dreams
By ROBERT D. PUTNAM
Andrew Borowiec for The New York Times
The demolition of the old Port Clinton Middle and Jefferson Elementary Schools in Port Clinton, Ohio.
My hometown — Port Clinton, Ohio, population 6,050 — was in the 1950s a passable embodiment of the American dream, a place that offered decent opportunity for the children of bankers and factory workers alike.
But a half-century later, wealthy kids park BMW convertibles in the Port Clinton High School lot next to decrepit "junkers" in which homeless classmates live. The American dream has morphed into a split-screen American nightmare. And the story of this small town, and the divergent destinies of its children, turns out to be sadly representative of America.
Growing up, almost all my classmates lived with two parents in homes their parents owned and in neighborhoods where everyone knew everyone else's first name. Some dads worked in the local auto-part factories or gypsum mines, while others, like my dad, were small businessmen. In that era of strong unions and full employment, few families experienced joblessness or serious economic insecurity. Very few P.C.H.S. students came from wealthy backgrounds, and those few made every effort to hide that fact.
Half a century later, my classmates, now mostly retired, have experienced astonishing upward mobility. Nearly three-quarters of them surpassed their parents in education and in that way advanced economically as well. One-third of my classmates came from homes with parents who had not completed high school and, of that group, nearly half went to college.
Low costs at public and private colleges across Ohio were supplemented by locally raised scholarships — from the Rotary Club, the United Automobile Workers, the Junior Women's Club and the like. Although the only two black students in my class encountered racial prejudice in town and none of their parents had finished grade school, both reached graduate school. Neither for them nor for our white classmates was family background the barrier to upward mobility that it would become in the next century.
Andrew Borowiec for The New York Times
Marie and Philip Berry are managers of Seed Faith Food Pantry in Port Clinton.
Our (white) star quarterback, whom I will call J, grew up on the poor side of town. His dad, who had an eighth-grade education, worked two jobs to keep the family afloat — on the line at Port Clinton Manufacturing from 7 to 3, then at the canning factory from 3:30 to 11. Despite his 70-plus-hour workweek, J's dad made it to J's games. Unable to afford a car, J's family hitched rides with neighbors to church every week and ate a lot of hash. Despite their modest background, J's parents urged him to aim for college, and he chose the college-prep track at P.C.H.S., finishing in the top quarter of our class. His minister pointed him toward a downstate Lutheran institution and made a phone call to help find him financial aid. J graduated debt-free and continued on to seminary and a successful career as a Lutheran minister, coaching high school football on the side.
J's rise from a well-knit but modest working-class family to a successful professional career was not atypical, as a recent survey of my classmates revealed. My classmates describe our youth in strikingly similar terms: "We were poor, but we didn't know it." In fact, however, in the breadth and depth of the social support we enjoyed, we were rich, but we didn't know it.
As we graduated, none of us had any inkling that Port Clinton would change anytime soon. While almost half of us headed off to college, those who stayed in town had reason to expect a steady job (if they were male), marriage and a more comfortable life than their parents'.
But just beyond the horizon a national economic, social and cultural whirlwind was gathering force that would radically transform the life chances of the children and grandchildren of the graduates of the P.C.H.S. class of 1959. The change would be jaw dropping and heart wrenching, for Port Clinton turns out to be a poster child for changes that have engulfed America.
The manufacturing foundation of Port Clinton's modest prosperity in the 1950s and 1960s began to tremble in the 1970s. The big Standard Products factory at the east end of town provided nearly 1,000 steady, good-paying blue-collar jobs in the 1950s, but the payroll was more than halved in the 1970s. After two more decades of layoffs and "give backs," the plant gates on Maple Street finally closed in 1993, leaving a barbed-wire-encircled ruin now graced with Environmental Protection Agency warnings of toxicity. But that was merely the most visible symbol of the town's economic implosion.
Manufacturing employment in Ottawa County plummeted from 55 percent of all jobs in 1965 to 25 percent in 1995 and kept falling. By 2012 the average worker in Ottawa County had not had a real raise for four decades and, in fact, is now paid roughly 16 percent less in inflation-adjusted dollars than his or her grandfather in the early 1970s. The local population fell as P.C.H.S. graduates who could escape increasingly did. Most of the downtown shops of my youth stand empty and derelict, driven out of business by gradually shrinking paychecks and the Walmart on the outskirts of town.
The social impact of those economic hammer blows was initially cushioned by the family and community bonds that had been so strong in my youth. But as successive graduating P.C.H.S. classes entered an ever worsening local economy, the social fabric of the 1950s and 1960s was gradually shredded. Juvenile-delinquency rates began to skyrocket in the 1980s and were triple the national average by 2010. Not surprisingly, given falling wages and loosening norms, single-parent households in Ottawa County doubled from 10 percent in 1970 to 20 percent in 2010, while the divorce rate more than quadrupled. In Port Clinton itself, the epicenter of the local economic collapse in the 1980s, the rate of births out of wedlock quadrupled between 1978 and 1990, topping out at about 40 percent, nearly twice the race-adjusted national average (itself rising rapidly).
Unlike working-class kids in the class of 1959, many of their counterparts in Port Clinton today are, despite toil and talent, locked into troubled, even hopeless lives. R, an 18-year-old white woman, is almost the same age as my grandchildren. Her grandfather could have been one of my classmates. But when I went off to college on a scholarship from a local employer, he skipped college in favor of a well-paid, stable blue-collar job. Then the factories closed, and good, working-class jobs fled. So while my kids, and then my grandchildren, headed off to elite colleges and successful careers, his kids never found steady jobs, were seduced by drugs and crime, and burned through a string of impermanent relationships.
His granddaughter R tells a harrowing tale of loneliness, distrust and isolation. Her parents split up when she was in preschool and her mother left her alone and hungry for days. Her dad hooked up with a woman who hit R, refused to feed her and confined R to her room with baby gates. She says her only friend was a yellow mouse who lived in her apartment. Caught trafficking drugs in high school, R spent several months in a juvenile detention center and failed out of high school, finally eking out a diploma online. Her experiences left her with a deep-seated mistrust of anyone and everyone, embodied by the scars on her arms where a boyfriend injured her in the middle of the night. R wistfully recalls her stillborn baby, born when she was 14. Since breaking up with the baby's dad, who left her for someone else, and with a second fiancé, who cheated on her after his release from prison, R is currently dating an older man with two infants born to different mothers — and, despite big dreams, she is not sure how much she should hope for.
R'S story is heartbreaking. But the story of Port Clinton over the last half-century — like the history of America over these decades — is not simply about the collapse of the working class but also about the birth of a new upper class. In the last two decades, just as the traditional economy of Port Clinton was collapsing, wealthy professionals from major cities in the Midwest have flocked to Port Clinton, building elaborate mansions in gated communities along Lake Erie and filling lagoons with their yachts. By 2011, the child poverty rate along the shore in upscale Catawba was only 1 percent, a fraction of the 51 percent rate only a few hundred yards inland. As the once thriving middle class disappeared, adjacent real estate listings in the Port Clinton News Herald advertised near-million-dollar mansions and dilapidated double-wides.
Andrew Borowiec for The New York Times
An intersection in Port Clinton.
The contrast with the egalitarian ethos and reality of the 1950s — the contrast between the upward mobility experienced by J and the bleak prospects of R — vividly captures Port Clinton's transformation in the last half-century, much like that of the rest of the country. My research team has talked with dozens of R's from Austin, Tex., to Duluth, Minn., and from Atlanta to Orange County, Calif.
The crumbling of the American dream is a purple problem, obscured by solely red or solely blue lenses. Its economic and cultural roots are entangled, a mixture of government, private sector, community and personal failings. But the deepest root is our radically shriveled sense of "we." Everyone in my parents' generation thought of J as one of "our kids," but surprisingly few adults in Port Clinton today are even aware of R's existence, and even fewer would likely think of her as "our kid." Until we treat the millions of R's across America as our own kids, we will pay a major economic price, and talk of the American dream will increasingly seem cynical historical fiction.
http://opinionator.blogs.nytimes.com/2013/08/03/crumbling-american-dreams/
What Can We Learn by Disaggregating the Unemployment-Vacancy Relationship?
Rand Ghayad and William Dickens
Abstract:
The Beveridge curve—the empirical relationship between unemployment and job vacancies—is thought to bean indicator of the efficiency of the functioning of the labor market. Normally, when job vacancies rise, unemployment falls, following a curved path that typically remains stable over long periods of time. When vacancies rise and unemployment does not fall (or falls too slowly) this may be an indication of problems of structural mismatch in the labor market leading to an increase in the lowest unemployment rate that can be maintained without increasing inflation (the NAIRU or non-accelerating inflation rate of unemployment).Such a change in the vacancy-unemployment relationship occurred once in the 1970s and persisted through the late 1980s, and we have recently observed a similar change.

www.bostonfed.org/economic/ppb/2012/ppb123.pdf