Where Have All the Raises Gone?
The findings help to explain the trajectory in wages for workers with bachelor's degrees. From 1979 to 1995, their average pay rose modestly, by 0.46 percent on average annually, while wages declined for the non-college-educated who make up the vast majority of workers. From 1995 to 2000, wages grew for all educational groups, but since 2002 pay for the less educated has declined while pay for the college educated has largely stagnated.   
http://www.nytimes.com/2014/03/03/opinion/where-have-all-the-raises-gone.html?ref=opinion

www.npr.org/news/specials/enron/
Among the causes most frequently cited for the dizzying rise in American inequality in recent decades — globalization, technology, de-unionization — one culprit is generally left off the list: the Supreme Court. But the justices (more precisely, the conservative justices) must be given their due. In cases ranging from Buckley v. Valeo in 1976 to Citizens United v. Federal Election Commission in 2010, they have greatly increased the wealthy's sway over elections — which, in turn, has led to public policies that have reduced taxes on the rich, curtailed regulation of Wall Street and kept workers from forming unions.
….Whatever its effect on the nation's partisan balance, a ruling that neuters the organizations that poor, working women have joined to win a few dollars an hour more would put a judicial seal of approval on the United States' towering economic inequality. Well into the New Deal, the Supreme Court consistently overturned laws that enabled workers to win higher wages, helping to delay the advent of the middle-class majority that emerged after World War II. It now has the option to speed that middle class's demise.
www.washingtonpost.com/opinions/harold-meyerson-supreme-court-aligns-against-the-have-nots/2014/01/21/830b6a4a-82b4-11e3-9dd4-e7278db80d86_story.html
Criticism of the super-rich is like the Holocaust, says Silicon Valley billionaire in WSJ article that has sparked outrage
Venture capitalist Thomas Perkins, centre, who is thought to be worth around $8billion, wrote to the Wall Street Journal from San Francisco. He opened his letter to the paper: 'Writing from the epicenter of progressive thought, San Francisco, I would call attention to the parallels of fascist Nazi Germany to its war on its "one percent," namely its Jews, to the progressive war on the American one percent, namely the "rich.' Perkins built a $150m superyacht, top right.

www.dailymail.co.uk/news/article-2545918/Criticism-super-rich-like-Holocaust-says-Silicon-Valley-billionaire-WSJ-letter-sparked-outrage.html
Sales Are Colossal, Shares Are Soaring. All Amazon Is Missing Is a Profit
Matt Cardy/Getty Images
An Amazon warehouse in Swansea, Wales. The company is expected to have around $75 billion in revenue this year.
It just bought an online education company and introduced a payment mechanism for Internet retailers that competes with PayPal. It started selling wine for the first time in New York, updated its line of tablets, gave the go-ahead to three new comedy pilots and began a design competition for its fashion division. It is setting up mini-warehouses inside suppliers like Procter & Gamble to ship goods faster.
But one thing it will not be announcing this month: a significant profit.
Who cares? Amazon lost money in 2012, and analysts are anticipating another loss when the company releases its third-quarter results on Thursday. Yet the stock is at a record high.

www.nytimes.com/2013/10/22/technology/sales-are-colossal-shares-are-soaring-all-amazoncom-is-missing-is-a-profit.html
Amazon long ago proved that it could sell vast quantities of goods to tens of millions of people, and that it could simultaneously develop new businesses while innovating with old ones.
What is a more debatable question is when — or even if — all those investments will truly pay off.
"Skepticism is increasing," said Colin Gillis of BGC Partners. "It's hard to have $20 billion in revenue and not make any money. It's a real feat."
…Sales are rising at Amazon at a pace that retailers of its heft could never dream of achieving. The company said its revenue in the second quarter was $19.34 billion, up 23 percent from $15.7 billion in the period a year earlier. That matched analysts' expectations.
But losses mushroomed. Amazon had a net loss of $126 million, or 27 cents a share. A year ago, it lost $7 million, or 2 cents a share. Analysts had forecast a loss of 15 cents a share.
www.nytimes.com/2014/07/25/technology/revenue-swells-at-amazon-but-losses-do-too.html
Darden's dilemma shows us bitter truths about boardroom behavior
By Steven Pearlstein, Published: January 3 | Updated: Sunday, January 5, 12:12 AM
I made my first trip to a Red Lobster last week — I had the Bar Harbor Lobster Bake — to better understand the financial melodrama that is playing out on Wall Street and in the company's boardroom. It's a case study of everything that's wrong with the current version of "shareholder capitalism."
Red Lobster, along with Olive Garden, LongHorn Steakhouse and the Capital Grille, is part of Darden Restaurants, the country's leading operator of casual-dining restaurants. Last spring, Barington Capital, a small "activist" hedge fund, bought a 2 percent stake in Darden and, as such funds always do, presented Darden management with a restructuring plan designed to boost its stock price by 65 percent. The plan called for breaking Darden into three more-focused and efficient public companies — one with its mature, slow-growing brands, such as Red Lobster and Olive Garden, another with its younger, faster-growing brands, and a real estate investment trust to own and manage Darden's extensive portfolio.
Darden's management hired Goldman Sachs to help it consider how to deal with the challenge and finally announced the week before Christmas that it would spin off Red Lobster as a separate company, load it up with debt, slow expansion of its other brands and use the extra cash to buy back shares — all of it in the cause of delivering "enhanced shareholder value," the polite euphemism for goosing up the stock price.
That restructuring plan failed to satisfy Barington, or any of the other activist hedge funds, which tend to prey on the same quarry. A second, Starboard Value, which now has 5 percent of Darden's shares, put forward an even more aggressive plan that included "monetizing" existing restaurants by selling them off to franchisees. Starboard made explicit a threat that Barington had only implied: that if it doesn't get its way, it will mount a campaign to oust the company's directors and management.
To savor the delicious irony of this situation, a little Darden history is in order.
It begins in 1970 when General Mills, maker of Cheerios, Pillsbury flour and Betty Crocker brownie mix, decided that it could deliver more growth and greater stock price stability to investors if it diversified into other industries that had different cycles, cost pressures and risks. Over the next decade, it bought toy companies (the makers of Play-Doh and Monopoly) and clothing companies (Eddie Bauer and Talbot's) with the idea that its access to cheap capital and sophisticated management would allow it to build them into big new divisions. William Darden's small Red Lobster chain was bought by General Mills in 1970, and Darden stayed on as a top executive as the company expanded its restaurant division.
Wall Street loved such conglomerates — until it came to realize that they had a knack for taking well-run companies, expanding them too fast, hobbling them with too much bureaucracy and running them into the ground. So by the mid-'80s, Wall Street began demanding that companies focus on core products in which they held dominant positions and sell off everything else. Many divisions were sold at discounted prices to private-equity firms that quickly turned them around and took them public again at hefty profits. Others were spun off to shareholders as separate public companies. Once again, the rationale was "enhancing shareholder value."
By the time what became Darden Restaurants was spun off in 1995, it had successfully launched Olive Garden, its family Italian restaurant, and was well on its way to every major suburban shopping mall in America. Using well-tested operational formulas, it provided good value to budget-conscious suburbanites, relying on national television advertising and price promotions to drive traffic. Wall Street loved the Darden growth story — until it realized that Red Lobster and Olive Garden had pretty much saturated the market.
Desperate to win the kind of stock price valuations (and incentive compensation) that only growth companies command, Darden embarked on a strategy of buying up smaller restaurant chains with potential to be taken national. In 2007, it bought LongHorn Steakhouse and Capital Grille for $1.4 billion. In 2011, it was Eddie V's, a higher-end fish restaurant, for $59 million. And in 2012, it was Yard House, an American pub-style chain, for $585 million. In each case, Darden executives touted the acquisition as a way to generate sales and earnings growth, diversify the company's customer base and leverage operational synergies, all of it in the service of enhancing shareholder value.
Unfortunately for Darden, the synergies and efficiencies never materialized (they rarely do), while growth from the new brands was not enough to offset the decline in sales and profitability of its much larger mature brands. So Darden found itself in that Wall Street no-man's land where it could not be neatly categorized as either a pure growth company or a mature, dividend-paying stock. It was only a matter of time before analysts would downgrade the stock, activist hedge funds would pounce, and the company would be forced into yet another bout of financial engineering to "unlock" the unrecognized value of its assets and "enhance shareholder value."
The news release announcing Darden's new strategy, and the transcript of the management's conference call with Wall Street analysts, read like a parody of the financial mumbo-jumbo, management buzzwords and PR spin that passes for corporate communication these days.
During the conference call, executives who were privately seething at what they view as the unfair public criticism hurled at them by the activists hedge funds lined up to declare how "thrilled" and "excited" they were about the new strategy and structure. And while "value for shareholders" was mentioned in virtually every paragraph, there was little or no mention of improving the food or service for customers or sharing any of the benefits of restructuring with front-line employees, 20 percent of whom earn the legal minimum of $2.30 an hour before tips.
The first thing to understand about these never-ending bouts of buying up and spinning off is that they create little, if any, long-term economic value. If running slow-growing Red Lobster is really so different from fast-growing LongHorn Steakhouse, there is no reason Darden could not organize itself in a way that lets every brand, or group of similar brands, be managed independently, with centralized technology, purchasing, marketing and real estate services made available to brand managers who want to take advantage of any benefits or efficiencies they might offer.
And while it is true that there are some investors who want to buy growth stocks and others who like stocks offering stability and dividends, there are also plenty of investors who seek a combination of growth and income, and ought to be clever enough to assign different valuations to different segments of the company.
These endless restructurings are nothing more than a con game concocted to generate short-term trading profits and investment banking fees for the Wall Street wise guys and inflated compensation for executives. It has little, if anything, to do with providing good value to customers. It has nothing to do with providing good jobs for workers. And, ironically, it doesn't even generate a better return to long-term shareholders. It is the last refuge of weak and unimaginative corporate leaders who are unwilling to or can't succeed the old-fashioned way — by recruiting and motivating loyal employees to provide great products and services at competitive prices.
As for the lobster bake, it was a generous portion, fresher tasting than I expected but a bit bland. The freshly-baked cheese rolls were a big hit.

www.washingtonpost.com/business/dardens-dilemma-shows-us-bitter-truths-about-boardroom-behavior/2014/01/02/6f0c1e94-73f6-11e3-8b3f-b1666705ca3b_story.html
Posted on Friday, 03.07.14
'Tsunami' of store closings predicted for U.S. Retailers
By Joan Verdon MCT
The experts who keep track of store openings and closings have been forecasting for more than a decade that the day was coming when American retailers would have to pay for building far too many stores.
That day of reckoning, some say, has arrived, with one retail watcher predicting a "tsunami" of store closings this year.
That prediction, by Brian Sozzi of Belus Capital Advisors in New York, was made in January. Then, last week, Radio Shack announced that it is closing as many as 1,100 of its stores, and Staples said it is shutting 225 of its locations.
Even retailers that recently have been in expansion mode are trimming their store counts. Teen retailer Aeropostale plans to close 175 stores in coming years. The Children's Place, while continuing to open stores, will shutter 125 of its weakest shops by 2016.
Some of the closings are driven by weak performance. That's the case for Radio Shack, which has struggled to find its niche in the modern electronics world as it approaches its 100th birthday.
But in other cases, closings are being announced by retailers such as Staples that have decided that, in the Internet age, market dominance will not be achieved by building more bricks-and-mortar stores.
"It's partially a function of the economy that hasn't been that great, and consumers aren't spending the way they used to, combined with retailers really just retooling their strategy," said Glenn Brill, managing director at FTI Real Estate Solutions, a New York-based consulting firm.
In the past, Brill said, it was common for retailers to want to saturate a market to prevent competitors from moving in. "Those days are over," he said.
Shopper visits to stores were down about 15 percent during the November and December holiday season, and online purchases are growing at nearly the same pace, so retailers are trying to figure out how many stores they really need and how big they should be.
Alison Paul, a retail and distribution expert for the consulting firm Deloitte, said in January that she expects the coming shake-up will be the biggest change the retail industry has seen since the 1960s, when the era of big-box stores began.
Jeff Green, president of Jeff Green Partners, a real-estate consulting firm in Arizona, said: " If bricks-and-mortar retailers don't really address how to make their stores an experience — like Apple, like H&M — then they run the risk of becoming outmoded."
Talk of America having too many stores is not new, Green said, but the huge growth of online shopping is forcing retailers to address the problem.
"As so many office products and consumer electronics are bought over the Web, the office-supply superstore doesn't need to be as large as it was, and there don't need to be as many stores," he said.
"The closing of Staples is symptomatic of trouble in big-box retail in general," FTI's Brill said, as the items that filled the superstores now can be found by surfing the Web rather than browsing the aisles of giant stores. "Look at an older Best Buy store," he said. "They had a racetrack in the middle, like an oval, and everything that was in that oval — CDs, software, video games — all of that is Amazon material. People don't care where they buy it, as long as they can get it for the lowest price."
The Internet, Brill said, allows consumers to window-shop at dozens of stores and use shopping sites that compare prices and products. "It's tough to compete with that," he said.
The long list of retailers that have gone out of business includes Circuit City, Linens 'N Things and Borders. Those that have closed stores include Office Depot and A&P, said Ray Cirz, chairman of Integra, the country's largest commercial real-estate appraisal firm.
The shopping centers most at risk from a flood of store closings, Cirz said, are power centers — the name for shopping centers that are a collection of stand-alone big-box stores. Supermarket-anchored neighborhood centers are less-threatened, he said, because they tend to have tenants such as hair salons and dry cleaners, which have no Internet substitutes.
www.miamiherald.com/2014/03/07/3980893/tsunami-of-store-closings-predicted.html
For the Love of Money
By SAM POLKJAN. 18, 2014
IN my last year on Wall Street my bonus was $3.6 million — and I was angry because it wasn't big enough. I was 30 years old, had no children to raise, no debts to pay, no philanthropic goal in mind. I wanted more money for exactly the same reason an alcoholic needs another drink: I was addicted.
Eight years earlier, I'd walked onto the trading floor at Credit Suisse First Boston to begin my summer internship. I already knew I wanted to be rich, but when I started out I had a different idea about what wealth meant. I'd come to Wall Street after reading in the book "Liar's Poker" how Michael Lewis earned a $225,000 bonus after just two years of work on a trading floor. That seemed like a fortune. Every January and February, I think about that time, because these are the months when bonuses are decided and distributed, when fortunes are made.
I'd learned about the importance of being rich from my dad. He was a modern-day Willy Loman, a salesman with huge dreams that never seemed to materialize. "Imagine what life will be like," he'd say, "when I make a million dollars." While he dreamed of selling a screenplay, in reality he sold kitchen cabinets. And not that well. We sometimes lived paycheck to paycheck off my mom's nurse-practitioner salary.
Dad believed money would solve all his problems. At 22, so did I. When I walked onto that trading floor for the first time and saw the glowing flat-screen TVs, high-tech computer monitors and phone turrets with enough dials, knobs and buttons to make it seem like the cockpit of a fighter plane, I knew exactly what I wanted to do with the rest of my life. It looked as if the traders were playing a video game inside a spaceship; if you won this video game, you became what I most wanted to be — rich.
IT was a miracle I'd made it to Wall Street at all. While I was competitive and ambitious — a wrestler at Columbia University — I was also a daily drinker and pot smoker and a regular user of cocaine, Ritalin and ecstasy. I had a propensity for self-destruction that had resulted in my getting suspended from Columbia for burglary, arrested twice and fired from an Internet company for fist-fighting. I learned about rage from my dad, too. I can still see his red, contorted face as he charged toward me. I'd lied my way into the C.S.F.B. internship by omitting my transgressions from my résumé and was determined not to blow what seemed a final chance. The only thing as important to me as that internship was my girlfriend, a starter on the Columbia volleyball team. But even though I was in love with her, when I got drunk I'd sometimes end up with other women.
Three weeks into my internship she wisely dumped me. I don't like who you've become, she said. I couldn't blame her, but I was so devastated that I couldn't get out of bed. In desperation, I called a counselor whom I had reluctantly seen a few times before and asked for help.
She helped me see that I was using alcohol and drugs to blunt the powerlessness I felt as a kid and suggested I give them up. That began some of the hardest months of my life. Without the alcohol and drugs in my system, I felt like my chest had been cracked open, exposing my heart to air. The counselor said that my abuse of drugs and alcohol was a symptom of an underlying problem — a "spiritual malady," she called it. C.S.F.B. didn't offer me a full-time job, and I returned, distraught, to Columbia for senior year.
After graduation, I got a job at Bank of America, by the grace of a managing director willing to take a chance on a kid who had called him every day for three weeks. With a year of sobriety under my belt, I was sharp, cleareyed and hard-working. At the end of my first year I was thrilled to receive a $40,000 bonus. For the first time in my life, I didn't have to check my balance before I withdrew money. But a week later, a trader who was only four years my senior got hired away by C.S.F.B. for $900,000. After my initial envious shock — his haul was 22 times the size of my bonus — I grew excited at how much money was available.
Over the next few years I worked like a maniac and began to move up the Wall Street ladder. I became a bond and credit default swap trader, one of the more lucrative roles in the business. Just four years after I started at Bank of America, Citibank offered me a "1.75 by 2" which means $1.75 million per year for two years, and I used it to get a promotion. I started dating a pretty blonde and rented a loft apartment on Bond Street for $6,000 a month.
I felt so important. At 25, I could go to any restaurant in Manhattan — Per Se, Le Bernardin — just by picking up the phone and calling one of my brokers, who ingratiate themselves to traders by entertaining with unlimited expense accounts. I could be second row at the Knicks-Lakers game just by hinting to a broker I might be interested in going. The satisfaction wasn't just about the money. It was about the power. Because of how smart and successful I was, it was someone else's job to make me happy.
Still, I was nagged by envy. On a trading desk everyone sits together, from interns to managing directors. When the guy next to you makes $10 million, $1 million or $2 million doesn't look so sweet. Nonetheless, I was thrilled with my progress.
My counselor didn't share my elation. She said I might be using money the same way I'd used drugs and alcohol — to make myself feel powerful — and that maybe it would benefit me to stop focusing on accumulating more and instead focus on healing my inner wound. "Inner wound"? I thought that was going a little far and went to work for a hedge fund.
Now, working elbow to elbow with billionaires, I was a giant fireball of greed. I'd think about how my colleagues could buy Micronesia if they wanted to, or become mayor of New York City. They didn't just have money; they had power — power beyond getting a table at Le Bernardin. Senators came to their offices. They were royalty.
I wanted a billion dollars. It's staggering to think that in the course of five years, I'd gone from being thrilled at my first bonus — $40,000 — to being disappointed when, my second year at the hedge fund, I was paid "only" $1.5 million.
Owen Freeman
But in the end, it was actually my absurdly wealthy bosses who helped me see the limitations of unlimited wealth. I was in a meeting with one of them, and a few other traders, and they were talking about the new hedge-fund regulations. Most everyone on Wall Street thought they were a bad idea. "But isn't it better for the system as a whole?" I asked. The room went quiet, and my boss shot me a withering look. I remember his saying, "I don't have the brain capacity to think about the system as a whole. All I'm concerned with is how this affects our company."
I felt as if I'd been punched in the gut. He was afraid of losing money, despite all that he had.
From that moment on, I started to see Wall Street with new eyes. I noticed the vitriol that traders directed at the government for limiting bonuses after the crash. I heard the fury in their voices at the mention of higher taxes. These traders despised anything or anyone that threatened their bonuses. Ever see what a drug addict is like when he's used up his junk? He'll do anything — walk 20 miles in the snow, rob a grandma — to get a fix. Wall Street was like that. In the months before bonuses were handed out, the trading floor started to feel like a neighborhood in "The Wire" when the heroin runs out.
I'd always looked enviously at the people who earned more than I did; now, for the first time, I was embarrassed for them, and for me. I made in a single year more than my mom made her whole life. I knew that wasn't fair; that wasn't right. Yes, I was sharp, good with numbers. I had marketable talents. But in the end I didn't really do anything. I was a derivatives trader, and it occurred to me the world would hardly change at all if credit derivatives ceased to exist. Not so nurse practitioners. What had seemed normal now seemed deeply distorted.
I had recently finished Taylor Branch's three-volume series on the Rev. Dr. Martin Luther King Jr. and the civil rights movement, and the image of the Freedom Riders stepping out of their bus into an infuriated mob had seared itself into my mind. I'd told myself that if I'd been alive in the '60s, I would have been on that bus.
But I was lying to myself. There were plenty of injustices out there — rampant poverty, swelling prison populations, a sexual-assault epidemic, an obesity crisis. Not only was I not helping to fix any problems in the world, but I was profiting from them. During the market crash in 2008, I'd made a ton of money by shorting the derivatives of risky companies. As the world crumbled, I profited. I'd seen the crash coming, but instead of trying to help the people it would hurt the most — people who didn't have a million dollars in the bank — I'd made money off it. I don't like who you've become, my girlfriend had said years earlier. She was right then, and she was still right. Only now, I didn't like who I'd become either.
Wealth addiction was described by the late sociologist and playwright Philip Slater in a 1980 book, but addiction researchers have paid the concept little attention. Like alcoholics driving drunk, wealth addiction imperils everyone. Wealth addicts are, more than anybody, specifically responsible for the ever widening rift that is tearing apart our once great country. Wealth addicts are responsible for the vast and toxic disparity between the rich and the poor and the annihilation of the middle class. Only a wealth addict would feel justified in receiving $14 million in compensation — including an $8.5 million bonus — as the McDonald's C.E.O., Don Thompson, did in 2012, while his company then published a brochure for its work force on how to survive on their low wages. Only a wealth addict would earn hundreds of millions as a hedge-fund manager, and then lobby to maintain a tax loophole that gave him a lower tax rate than his secretary.
DESPITE my realizations, it was incredibly difficult to leave. I was terrified of running out of money and of forgoing future bonuses. More than anything, I was afraid that five or 10 years down the road, I'd feel like an idiot for walking away from my one chance to be really important. What made it harder was that people thought I was crazy for thinking about leaving. In 2010, in a final paroxysm of my withering addiction, I demanded $8 million instead of $3.6 million. My bosses said they'd raise my bonus if I agreed to stay several more years. Instead, I walked away.
The first year was really hard. I went through what I can only describe as withdrawal — waking up at nights panicked about running out of money, scouring the headlines to see which of my old co-workers had gotten promoted. Over time it got easier — I started to realize that I had enough money, and if I needed to make more, I could. But my wealth addiction still hasn't gone completely away.
Sometimes I still buy lottery tickets.
In the three years since I left, I've married, spoken in jails and juvenile detention centers about getting sober, taught a writing class to girls in the foster system, and started a nonprofit called Groceryships to help poor families struggling with obesity and food addiction. I am much happier. I feel as if I'm making a real contribution. And as time passes, the distortion lessens. I see Wall Street's mantra — "We're smarter and work harder than everyone else, so we deserve all this money" — for what it is: the rationalization of addicts. From a distance I can see what I couldn't see then — that Wall Street is a toxic culture that encourages the grandiosity of people who are desperately trying to feel powerful.
I was lucky. My experience with drugs and alcohol allowed me to recognize my pursuit of wealth as an addiction. The years of work I did with my counselor helped me heal the parts of myself that felt damaged and inadequate, so that I had enough of a core sense of self to walk away.
Dozens of different types of 12-step support groups — including Clutterers Anonymous and On-Line Gamers Anonymous — exist to help addicts of various types, yet there is no Wealth Addicts Anonymous. Why not? Because our culture supports and even lauds the addiction. Look at the magazine covers in any newsstand, plastered with the faces of celebrities and C.E.O.'s; the superrich are our cultural gods. I hope we all confront our part in enabling wealth addicts to exert so much influence over our country.
I generally think that if one is rich and believes they have "enough," they are not a wealth addict. On Wall Street, in my experience, that sense of "enough" is rare. The money guy doing a job he complains about for yet another year so he can add $2 million to his $20 million bank account seems like an addict.
I recently got an email from a hedge-fund trader who said that though he was making millions every year, he felt trapped and empty, but couldn't summon the courage to leave. I believe there are others out there. Maybe we can form a group and confront our addiction together. And if you identify with what I've written, but are reticent to leave, then take a small step in the right direction. Let's create a fund, where everyone agrees to put, say, 25 percent of their annual bonuses into it, and we'll use that to help some of the people who actually need the money that we've been so rabidly chasing. Together, maybe we can make a real contribution to the world.
Sam Polk is a former hedge-fund trader and the founder of the nonprofit
Groceryships.

www.nytimes.com/2014/01/19/opinion/sunday/for-the-love-of-money.html
A Look Inside SAC's Steven A. Cohen's Lavish Lifestyle
The billionaire once called himself 'King Cohen'
Steve Marcus / REUTERS
Hedge-fund manager Steven A. Cohen, founder and chairman of SAC Capital Advisors, listens to a question during a one-on-one interview session at the SkyBridge Alternatives Conference in Las Vegas on May 11, 2011.
http://business.time.com/2014/01/07/a-look-inside-sacs-steven-a-cohens-lavish-lifestyle/
Wall Street big Steven Cohen is a crook, ex-wife says in $300M lawsuit

www.nydailynews.com/news/crime/wall-street-big-steven-cohen-crook-ex-wife-300m-lawsuit-article-1.436265
'Greed sometimes is not good': Billionaire Steven Cohen's hedge fund reaches $1.8 billion plea deal

www.nbcnews.com/business/billionaire-steven-cohens-hedge-fund-reaches-1-billion-plea-deal-8C11523814
Washington's Gini coefficient, a widely used measure of income inequality, is the largest of any U.S. city with more than 500,000 residents except for Atlanta.
Certainly the politicians returning to the nation's capital for an election-year debate over income inequality should spare some time and attention for the maldistribution going on right outside the doors of Congress. Not only is the gap between rich and poor worse in the District than almost anywhere else, it is arguably less defensible and more instructive.
Americans generally, and quite properly, don't resent rich people just for being rich. We distinguish between those who exploit connections or insider knowledge to make money and those who get rich by developing extraordinary artistic talents, starting new businesses or inventing useful products.
The former earn our contempt. The latter earn our admiration: Even President Obama, launching his campaign against income inequality last month, paused to acknowledge that "we expect them to be rewarded handsomely."
A large number of Washington's top earners fit into the less productive category. Many of them specialize in trading on their connections to D.C.'s biggest "industry," the federal government. As of 2012, lobbying for tax breaks, contracts, exclusive licenses, subsidies and the like was a $3.3 billion-a-year industry, according to the Center for Responsive Politics.
The average salary of the CEOs — chief lobbyists — of the 30 biggest industry trade associations, including incentives and deferred compensation, was $2.34 million in 2010, according to Bloomberg News.
More than a few of these people used to be governors, senators or members of the House, where they acquired the access that they now sell to the highest bidder. They are accompanied by a small army of former executive and legislative branch staffers who have gone through the revolving door from government to what Washingtonians euphemistically call "the private sector."
Economists have a name for this sort of behavior: rent-seeking. In economic parlance, "rent" means the profit from gaining control over existing sources of wealth as opposed to creating new ones.
Washington lobbying, and the government-sponsored privileges it secures for various interest groups, is rent-seeking in its purest and most pernicious form. Various societies have grown free and prosperous by many different methods; dividing up existing wealth according to political connections is not one of them.
Washington's revolving door is hardly the only example of rent-seeking in our society, to be sure. A good deal of Wall Street activity fits the definition.
Rent-seeking is not necessarily unproductive. One reason inventors create new products is to patent them, a form of government protection that entitles one to years of royalty payments.

\www.washingtonpost.com/opinions/charles-lane-washington-cashes-in-on-connections/2014/01/06/2323019e-76f5-11e3-b1c5-739e63e9c9a7_story.html
Hey OBAMA….!!!!
Manufacturers say there is a critical shortage of trained workers in the United States. In South Carolina, a German company is training students in skilled labor through apprenticeships.
www.nytimes.com/video/business/100000002578175/creating-skilled-workers.html
Inequality of language muddies debate
By Kathleen Parker, Published: January 7
In politics, it's all in how you say things.
George Orwell knew what he was talking about when he described political language as "designed to make lies sound truthful and murder respectable, and to give an appearance of solidity to pure wind."
Today, we've become so accustomed to the distortions of political speak that we hardly notice. But as the midterm elections near, we might benefit from a booster shot of skepticism.
Both parties are guilty of verbal distortion and manipulation, but I dare say the left is more clever. Republicans tend to rely on dog whistles, loaded terms that prompt negative messages in the collective subconscious mind, while Democrats paste smiley faces on unpleasant messages, cloaking meaning in Orwellian frocks of emotional distraction.
A dog whistle might be the mention of, say, the " food stamp president," as Newt Gingrich called President Obama during the last presidential election. Protests that this is not racist are noted and dismissed. The term calls up a certain image and everyone gets it.
Sometimes those on both sides of an issue select language that essentially cancels out one another. This is because both are equally attractive to the ear, even if their meanings are quite different. Exhibit A: pro-life and pro-choice. Who is against life? Why, no one! But, who is against choice? Again, no one. Of course, one chooses to protect unborn life and the other selects termination. Enough said.
Moving along to today's headlines and "income inequality."
This may be one of the most brilliant turns of phrase yet. Not one single American, gun to head (figuratively speaking), would say, "I'm for inequality" or "inequality is good." But is inequality what we're really talking about?
When you step back and examine the concept closely, what becomes clear is that roughly 99.9 percent of Americans — perhaps even North Korea's favorite son Dennis Rodman — actually like income inequality. This is because we value merit, talent and hard work, and all people aspire to be commensurately rewarded. What, after all, is the opposite of income inequality? Income equality.
That said, let us stipulate that we do have a growing poverty problem in this country, the contributing factors of which are many and complex. But the poor are not poor because Warren Buffett and Bill Gates are rich. No one thinks that Oprah has caused people in Appalachia to be destitute.
Solving our problems is far more difficult than raising public consensus (a.k.a. rabble-rousing) that the rich should be less rich so that the poor can be less poor, a feat that can only be accomplished through redistribution of wealth.
Some of the factors contributing to the income gap are, indeed, tough to tackle, and Obama is not, in fact, a god, as he now seems comfortable conceding. These factors include the loss of jobs for low-skilled workers and the apparent inability of this population, for whatever reasons, to become more skilled. (Perhaps legalizing marijuana will help. If it doesn't provide enough jobs, at least more people will care less.)
Other factors include: a growing retired population, both in absolute numbers and as a percentage of the population; a dearth of entry-level jobs for college grads saddled with $1 trillion in loan debt (which the government guarantees); the appalling rate of children born out of wedlock, a now-systemic condition that condemns a new generation to another cycle of poverty, as Democratic Sen. Daniel Patrick Moynihan pointed out five decades ago and Obama has reiterated.
Add to these the grinding down of low-skill wages thanks to a global economy that rewards the professional class — lawyers, doctors, engineers and, yes, television talk-show hosts. And, voilà, a growing income gap.
But is it inequality?
What is missing from the trumpeting of income inequality is the hundreds of billions in annual government redistribution that already takes place. How much will be enough to satisfy the inequality camp? When incomes are equal?
In the end, fairness isn't the issue. The issue is justifying policies — government intervention, higher taxes, spending and redistribution — that can't otherwise be easily sold. How about this for a midterm catchphrase, reflective of true circumstances — the need for a higher-skilled labor force that pits no American against another and qualifies people for jobs that are actually available: "Learning for earning."
It's not as emotionally evocative as inequality, but it just might do some good. Other suggestions welcome.

www.washingtonpost.com/opinions/kathleen-parker-inequality-of-language-muddies-debate/2014/01/07/d69eef34-77dc-11e3-b1c5-739e63e9c9a7_story.html
High tech and the long road to 'full employment'
By Robert J. Samuelson, Published: July 14
Here's a somber thought: We may never — or at least not anytime soon — regain "full employment," meaning an unemployment rate between, say, 4 percent and 5.5 percent. It is now four years from the recovery's start, and the number of jobs is still 2.2 million below the pre-recession peak. Since World War II, this has never happened. After the harsh 1981-82 recession, employment recouped lost ground in 12 months. Economists are searching for an explanation, and one recent candidate seems surprising: high tech.
It's usually seen as an engine of growth, but the spread of automated processes and robots has actually acted as a drag on job creation and has kept the unemployment rate high (7.6 percent in June), argue Erik Brynjolfsson and Andrew McAfee of the Massachusetts Institute of Technology. Digital technologies, they contend, have enabled companies to cut costs, increase productivity (i.e., efficiency), improve profits and slash payrolls. They expect more of the same.
"The MIT academics foresee dismal prospects for many types of jobs as these powerful new technologies are increasingly adopted not only in manufacturing, clerical and retail work but in professions such as law, financial services, education and medicine," wrote David Rotman in an informative story in the MIT Technology Review. A gap has opened between productivity increases and employment growth, goes the theory. If it persists, it would confound economic history.
Technological upheavals routinely disrupt. Airlines and interstate highways decimated railroad passenger service. Between 1945 and 1970, intercity rail travel dropped nearly 90 percent. Air conditioning drew people and plants from the Northeast and Midwest to the South. Early in the 20th century, supermarkets — a more efficient form of organizational technology — displaced small grocers. "While selling food cheaply was good for consumers, it was bad for the hundreds of thousands of retailers, wholesalers and manufacturers who needed high food prices in order to make a living," wrote Marc Levinson in his book "The Great A&P and the Struggle for Small Business in America."
But these and other large technological shifts — from steam power to electrification — typically haven't spawned the permanent rise in unemployment feared by Brynjolfsson and McAfee, says Harvard economist Lawrence Katz. Some existing workers lost their jobs; it was hard on them. Yet there were always "new sources of labor demand" that prevented a steep rise in unemployment.
This is the crux of the matter. Productivity-enhancing technologies usually create more demand than they destroy, through two channels. First, lower prices enable consumers to buy more. If grocery costs fall, shoppers can purchase more food — or something else entirely. Lower computer chip prices have spawned mass markets for personal computers, cellphones and tablets.
The second channel is higher wages and profits. Some efficiency gains go to workers, managers and investors. Their greater purchasing power then raises total demand and living standards. Over the past half-century, higher productivity in manufacturing and agriculture has enabled Americans to spend more on health care and education. If history repeats itself, fears about the digital revolution (like earlier fears of other technologies) will fade.
There's the rub: Will history repeat itself?
It's a stretch to see digital technologies as a major source of today's unemployment. In the recession, the economy lost 8.7 million jobs. Most were non-digital, concentrated in construction, finance, retailing and manufacturing. What seems less dubious is that, in a permanently sluggish economy, firms might favor digital investments that shave costs and sustain profits. McAfee envisions warehouses maintained by robots, trucks driven by computers and automated language translations. The digital revolution could stymie job growth.
Unfortunately, the Great Recession abetted this protective psychology. This keeps unemployment up. Companies didn't just fire workers; they also went on a hiring strike. "In the Great Recession, [hiring] took a bigger hit than in any previous recession — and has not recovered," economist John Haltiwanger of the University of Maryland recently told a conference of the National Bureau of Economic Research. In other post-1980 recessions, he said, less hiring accounted for about 20 percent of the job loss; in the Great Recession, the share was roughly 60 percent.
Haltiwanger sees the economy becoming less dynamic. Young firms less than five years old create a huge number of new jobs, but the rate of business start-ups has declined — and with it, new jobs. In the late 1980s, start-ups' share of net job creation was nearly half; now, it's just below 40 percent. The causes of the slump in start-up firms are unclear. Some candidates: an aging society, government regulations, more risk-aversion.
The pickup in hiring to 200,000 a month, about 10 percent higher than 2012's rate, is encouraging. But it's still a long way to "full employment." Projections have us getting there in 2017 or 2018, assuming faster economic growth and no recession. Let's hope that's not wishful thinking.
www.washingtonpost.com/opinions/robert-samuelson-high-tech-and-the-long-road-to-full-employment/2013/07/14/6704fca2-eb16-11e2-8023-b7f07811d98e_story.html
Cheap money can't buy a strong economy
By Robert J. Samuelson, Published: June 23, 2013
We are now discovering the limits of cheap money.
For more than four years, central banks around the world — led by the Federal Reserve — have aggressively pumped money into their economies to stimulate faster revival. These infusions are huge. From 2007 to today, the assets of major central banks nearly doubled from $10.4 trillion to $20.5 trillion, reports the Bank for International Settlements (BIS) in its just-released annual report. When these assets (bonds, mortgages and other financial instruments) are purchased, the sellers receive cash. The outpouring of cash aims to lower interest rates, push up stock prices and real estate values, and restore confidence and stronger economic growth.
The most charitable verdict on this massive monetary experiment is that it's done modest good. In the United States, it did reduce long-term interest rates and, to some extent, bolster stocks. Even so, the speed of the U.S. recovery (about 2 percent annually) is roughly half the average of all recoveries from 1960 to 2007. As for the global economy, it grew 2.5 percent in 2012, down from the 3.7 percent average from 2003 to 2007, says IHS Global Insight. Few major countries are doing better now than before the financial crisis. Cheap money hasn't been a smashing success. Still, when the Fed suggested last week that it might curb bond-buying later this year, stocks swooned.
That's one downside: Cheap money is hard to reverse gracefully. The larger problem is that central banks are trying to do things beyond their powers. Says Stephen Cecchetti, the chief BIS economist: "Monetary stimulus alone cannot put economies on a path to robust, self-sustaining growth, because the roots of the problem preventing such growth are not monetary." In the annual report, he argues that low interest rates might even be counterproductive. They make it easier to finance large budget deficits and may delay needed, though unpopular, cuts. (Created in 1930 to help settle World War I debts, the BIS now serves mainly as a forum for international financial cooperations.)
Cecchetti's preference for deficit reduction is controversial; economists disagree about the need to cut deficits. But his main point is correct and may be understated. Cheap money can't rescue the global economy. Indeed, though no one dares say it, there may be no plausible set of policies to neutralize all the forces retarding growth.
The most powerful of these in the United States, as I've repeatedly written, is the legacy of the financial crisis and Great Recession. Their suddenness and magnitude sobered and frightened people in ways that sapped vitality and optimism. Households, companies, bankers, government regulators — just about everyone — became more cautious and, in economics jargon, "risk averse." Consumers skimped on spending; companies limited hiring and investment. Debts that seemed bearable quickly became burdensome. Firms and families "deleveraged."
Technological advance, an engine of growth in the 1990s, also seems to have faltered. Economist Robert Gordon of Northwestern University argues that the information technology boom is weakening. A new study from the Federal Reserve provides some corroborating evidence. It finds that from 1995 to 2004, labor productivity — a measure of efficiency — in the nonfarm business sector increased 3.1 percent a year, with about half the gain coming from IT. From 2004 to 2012, average annual gains dropped to 1.6 percent, with IT providing slightly more than a third.
Finally, demographics may hurt. As Americans age, they may restrain their spending. (In 2000, the 65-and-over population was 12 percent of the total; by 2025, it is projected to be nearly 19 percent.) Their wants may not have decreased, but they don't know whether they will outlive their savings. The decline in IRA and 401(k) retirement accounts — in many cases now reversed — could be repeated. Social Security and Medicare benefits could be cut. These uncertainties breed caution.
Cheap credit addresses none of these problems directly and, indirectly, does so only weakly. It can't erase the memories of the financial crisis. It can't create new technologies. It can't make older people younger. At best, cheap money aided the housing recovery; at worst, it became a stock-market narcotic that can't be withdrawn painlessly. Many countries face obstacles to growth that cheap money won't magically remove.
This raises a larger issue. Economists have been taught in graduate school that advances in their discipline make it possible to stabilize and, within broad boundaries, control economic activity. But what if that's not so? The ferocious debates among economists indicate that the consensus has broken down. Inevitably, there are better and worse policies; but in real time, it's not always clear which is which. Business cycles endure. Market forces still dominate; the ability to subdue and reshape them remains limited. Time, as much as policy, may promote recovery.

www.washingtonpost.com/opinions/robert-j-samuelson-cheap-money-cant-buy-a-strong-economy/2013/06/23/deadadcc-dc29-11e2-bd83-e99e43c336ed_story.html
This previous post has been attached for additional perspective.
Romney's role at Bain was not to create jobs but to provide for good returns for his investors. For more on this subject, look at our examination of Romney's untenable figure.

www.washingtonpost.com/blogs/fact-checker/post/fact-checking-the-cnn-debate-in-charleston/2012/01/19/gIQALs8dCQ_blog.html
These are intelligence indicators concerning the economy's future and the outcome of the 2012 presidential election.
Rail-Freight Surge Before Holiday Shows U.S. Skirting Recession
North American railroads' freight volumes surged 17 percent last week, the most in a year, in an indication that the U.S. economy will avoid a second recession.
Rising shipments of retail goods helped drive the jump in carloads for the period ended Dec. 24, the Association of American Railroads said today. The trade group released the results after government data showed U.S. jobless claims fell to a three-year low in the past month.
The double-dip recession "that people feared only six, eight, 10 weeks ago never materialized," said Tony Hatch, an independent railroad analyst in New York. "Things are going pretty well in a variety of the commodities that the railroads carry."

http://www.bloomberg.com/news/2011-12-29/rail-freight-surge-before-holiday-shows-u-s-skirting-recession.html
Jobless Rate Falls to 8.5 Percent, Lowest in Nearly Three Years
www.foxnews.com/politics/2012/01/06/jobless-rate-falls-to-85-percent-lowest-in-nearly-three-years/
Economists surveyed by the Associated Press project that the economy will generate an average of 175,000 jobs per month this year. That would be a step up from average monthly gains of 130,000 last year and 78,000 in 2010.
www.usatoday.com/money/economy/story/2012-01-06/december-unemployment-report/52410436/1?csp=34money
When President Obama took office, the unemployment rate was 7.7 percent; it peaked at 10.1 percent in October 2009. Should the unemployment rate be less than 8 percent, the president will be able to point to progress concerning the issue that affects most Americans, jobs. His Republican challenger will almost certainly be defeated.
http://mollysmiddleamerica.blogspot.com/2011/12/what-was-unemployment-rate-when-obama.html
Analysis: In elections, jobless trend matters more than rate
BY PAUL WISEMAN
AP Economics Writer
First published Jan 07 2012 10:41AM
Updated Jan 7, 2012 10:57AM
WASHINGTON • Unemployment is higher than it's been going into any election year since World War II.
But history shows that won't necessarily stop President Barack Obama from reclaiming the White House.
In a presidential election year, the unemployment trend can be more important to an incumbent's chances than the unemployment rate.
Going back to 1956 no incumbent president has lost when unemployment fell over the two years leading up to the election. And none has won when it rose.
The picture is similar in the 12 months before presidential elections: Only one of nine incumbent presidents (Gerald Ford in 1976) lost when unemployment fell over that year, and only one (Dwight Eisenhower in 1956) was re-elected when it rose.
Those precedents bode well for Obama. Unemployment was 9.8 percent in November 2010, two years before voters decide whether Obama gets to stay in the White House. It was down to 8.7 percent in November 2011, a year before the vote. It fell to 8.5 percent in December and is expected to fall further by Election Day.
Even so, the unemployment rate is still at recession levels. And former Massachusetts Gov. Mitt Romney, who is contending with other Republican candidates to challenge Obama in November, has made the weak economy the centerpiece of his campaign.
In a statement Friday, Romney said Obama's policies "have slowed the recovery and created misery for 24 million Americans who are unemployed, or stuck in part-time jobs when what they really want is full-time work."

www.sltrib.com/sltrib/home2/53251565-183/unemployment-percent-november-obama.html.csp
Revealed: The steel company deal that earned Mitt Romney millions while costing the government $44m and 750 people their jobs
By REUTERS REPORTER
Last updated at 12:17 AM on 7th January 2012
It was funny at first. The young men in business suits, gingerly picking their way among the millwrights, machinists and pipefitters at Kansas City's Worldwide Grinding Systems steel mill. 
Gaping up at the cranes that swung 10-foot cast iron buckets through the air. Jumping at the thunder from the melt shop's electric-arc furnace as it turned scrap metal into lava.
"They looked like a bunch of high school kids to me. A bunch of Wall Street preppies," says Jim Linson, an electronics repairman who worked at the plant for 40 years. "They came in, they were in awe."
Apparently they liked what they saw. Soon after, in October 1993, Bain Capital, co-founded by Mitt Romney, became majority shareholder in a steel mill that had been operating since 1888.
It was a gamble. The old mill, renamed GS Technologies, needed expensive updating, and demand for its products was susceptible to cycles in the mining industry and commodities markets.
Less than a decade later, the mill was padlocked and some 750 people lost their jobs. Workers were denied the severance pay and health insurance they'd been promised, and their pension benefits were cut by as much as $400 a month.
…Already, though, there were warning signs that the company was not on a sustainable course. Concerned about the level of debt, which totaled $378 million in 1995 on operating income less than a tenth of that amount, the merged company's new CEO, Roger Regelbrugge, negotiated a clause in his contract that would allow him to retire at the end of 1997.

Forgotten: The old mill, renamed GS Technologies, needed expensive updating, and demand for its products was susceptible to cycles in the mining industry and commodities markets

http://www.dailymail.co.uk/news/article-2083337/Mitt-Romney-earned-millions-steel-company-deal-cost-government-44m.html
Alexis de Tocqueville observed:
"The American Republic will endure until the day Congress discovers that it can bribe the public with the public's money."
"I do not know if the people of the United States would vote for superior men if they ran for office, but there can be no doubt that such men do not run."
"…I know of no other country where love of money has such a grip on men's hearts or where stronger scorn is expressed for the theory of permanent equality of property."
People voted for change in 1980 and 2000. In 2004, the election was about foreign policy – the Iraq War – "stay the course." The 2008 election was again about change; voters chose a nominal American instead of a woman to the lead the country.
As president, Obama refuses to cultivate bi-partisan relationships with members of Congress to facilitate pasage of his legislative agenda without endless rancor. Indeed his grandiose above the fray attitude betrays his lack of skill as a leader. He may be able to give a great speech, but the president's rhetoric does not translate into practical accomplishment: hope and change? seconds anyone?
Today, Barack Obama cuts a similarly impotent, indecisive and isolationist figure. The difference is that in 1932, one of the greatest statesmen of the century, the Democratic politician Franklin D. Roosevelt, was waiting in the wings.

Today, American voters looking for alternatives are confronted only with a bizarre gaggle of has-beens, inadequates and weirdos, otherwise known as the Republican presidential field. And to anybody who cares about the future of the Western world, the prospect of President Ron Paul or President Newt Gingrich is frankly spine-chilling.
http://www.dailymail.co.uk/news/article-2080534/Loss-faith-democracy-make-2012-frightening-year-ever.html
This year's presidential election features an incumbent who practices tactical politics like Herbert Hoover, instead of FDR, and a Republican clown show. Mitt Romney exudes the sincere authenticity of a used car salesman, but does not come across like a dumb ass. Rick Perry/Michele Bachmann – pick one; Newt Gingrich – Washington insider or bomb-thrower?; a crusty codger – eccentric libertarian, pick one: Ron Paul.
According to his web-site:
This election is about more than just replacing a president. It is an election to save the soul of America.
Romney's soul is green – he worships at the altar of Mammon. As a founder and principal of Bain Capital, a private equity firm, he made millions extracting wealth from acquired companies. Private equity firms flip companies like shysters flip houses.
"Between 1989 and 2004 three groups [including Bain Capital] of PE firms bought and sold Sealy. All told, they put down roughly $410 million in cash and made $1.3 billion, a 3.2- times return. Between 1986 and 2004, four groups of PE firms bought and sold Simmons, putting down $278 million and collecting $1.03 billion, a 3.7-times return."
p. 74
Like pirates prowling the Spanish Main in search of galleons and gold doubloons, targets of opportunity, PEs seek out companies or businesses they can plunder. PEs enhance the short-term earnings of companies, starving them of capital, then transfer wealth to themselves through distributions, fees, and divdends by forcing their hosts to take on debt.
PEs are not interested in the long-term good of the companies they acquire or the common good of the employees or communities.
p. 56, 110
From 1992-2000, Bain Capital, under the direction of Mitt Romney, bankrupted five companies. For example: the firm invested $85 milion in Dade Behring and received a return of $421 million.
Mitt Romney was a pioneer of this strategy. His private-equity firm, Bain Capital was the first PE firm to make a serious portion of its money not from selling its companies or listing them on the stock exchange, but rather by collecting distributions and dividends, which in this context is the exact opposite of reinvesting in a company. Bain Capital is notorious for its failure to plow profits back into its businesses.
p. 106, 107
"Paying distributions with debt is not uncommon," said Campbell Harvey, a finance professor at Duke University. 

http://www.dailymail.co.uk/news/article-2083337/Mitt-Romney-earned-millions-steel-company-deal-cost-government-44m.html
These termites, along with their Wall Street enabler cronies, have undermined the foundation of the middle class. PEs practice corkscrew capitalism and the wooden Romney does not represent the establishment, he IS the establishment: men who don't care.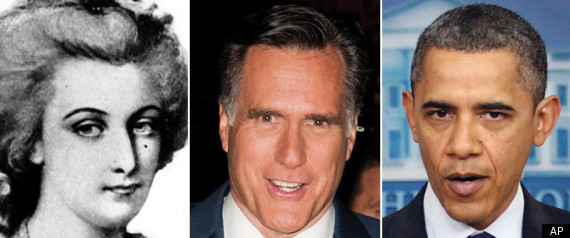 MASON CITY, Iowa — Mitt Romney on Thursday sought to portray President Barack Obama as out of touch with the struggles of everyday Americans — a charge he himself has often faced — by comparing the president to a former French queen who was overthrown during the French Revolution.
"When the president's characterization of our economy was, 'It could be worse,' it reminded me of Marie Antoinette: 'Let them eat cake,'" Romney said, referring to the infamously dismissive remark toward the poor attributed to the queen.
"This is not a time to be talking about, 'It could be worse.' It's a time to recognize that things should be better," Romney said during an interview on his campaign bus with The Huffington Post. "And the president's policies have failed the American people, have led to 25 million people still being out of work. He didn't cause the recession, but he has made it deeper and has made the recovery more tepid and the pain last longer."

www.huffingtonpost.com/2011/12/29/mitt-romney-compares-pres_n_1175230.html
Obama's policies 'fair' or 'poor'
By DEREK KRAVITZ and PAUL WISEMAN | AP
WASHINGTON (AP) — President Barack Obama gets mediocre marks for his handling of the economy, and Mitt Romney easily outpolls his Republican rivals in an Associated Press survey of economists.
The economy — and who bears responsibility for it — is likely to be a decisive issue when voters to go the polls next November.
The economy is still struggling to recover from the Great Recession of 2007-2009. The housing market remains weak, and a debt crisis in Europe threatens growth in 2012. The unemployment rate is at a recession-level 8.6 percent, up from 7.8 percent when Obama took office in January 2009. That month, the recession was already more than a year old.
Half of the 36 economists who responded to the Dec. 14-20 AP survey rated Obama's economic policies "fair." And 13 called them "poor." Just five of the economists gave the president "good" marks. None rated him as "excellent."
The economists' criticisms vary. Some say Obama was distracted by his health care overhaul. Others say his $862 billion stimulus program was poorly designed. Still others fault him for not pushing for an even bigger stimulus when the economy proved weaker than expected.
The AP economists expect economic growth to pick up to 2.4 percent next year. That would be an improvement from the under-2 percent growth expected for 2011. But the economists foresee little improvement — a dip to 8.4 percent — in the unemployment rate by Election Day.
Asked which of the Republican presidential candidates would do the best job managing the economy, two thirds of the economists named Romney, one chose former House Speaker Newt Gingrich. The rest didn't pick anyone at all.
Allen Sinai, president of Decision Economics, says Romney, who ran a private equity firm before turning to politics, is the "hands down" choice among Republican presidential contenders squaring off in the Jan. 3 Iowa caucuses.
"Romney's a technocrat," Sinai says. "He's not an ideologue. He has a history in the real world of business."
The Iowa presidential caucuses, which kick the GOP nominating process into high gear, begin Tuesday and polls show Romney in a strong position. Romney has based his campaign on the notion that he has the best chance of beating Obama on the economy because of his private sector experience.
Here's more about what the economists, mostly from banks and other financial firms, independent consultancies and academia, had to say about:
—Obama.
Some economists say the Obama administration didn't push hard enough for more government spending or tax cuts to stimulate growth. "They've generally tried to take the right kinds of measures but have often failed to lead with enough vigor to overcome political obstacles," said William Cheney,chief economist at John Hancock Financial Services.
Others say the president tried to do too much, especially by pushing early for legislation to overhaul the nation's health care system instead of focusing on policies to promote growth and create jobs.
"Health care reform wasn't necessarily the most important thing to be dealing with when you're in the midst of the worst recession since the Great Depression," said Joel Naroff, president of Naroff Economics.
Some critics say Obama's 2009 stimulus program relied too much on public works projects that were slow to get going. Decision Economics' Sinai says the president should have favored more tax cuts that put money in Americans' pockets immediately.
Sinai notes that public works projects failed to pull Japan out of a long economic slump that began in the 1990s and continues today. After the money is spent, "you're left with deficits and debt. And someday if you need new government stimulus, you can't afford it. And that's where we are now," Sinai says.
Republican strategist Rich Galen says the GOP has successfully painted Obama as a reckless steward of taxpayer money: "In a Tea Party era where Big Government is the enemy, throwing money at problems is the enemy," he says.
An Associated Press-GfK poll of American adults earlier this month found that 60 percent of American adults disapprove of Obama's performance on economic issues.
Jamal Simmons, an adviser to the Obama campaign in 2008, said the president must remind voters how bad things were when he took office. The economy lost more than 820,000 jobs the month Obama was sworn in, the biggest drop since October 1949.
Since the job market hit bottom in February 2010, it has produced nearly 2.5 million jobs — 117,000 a month. "Is it enough? Absolutely not, but it certainly ain't what it used to be," Simmons says. Perhaps Obama can take heart from President Ronald Reagan's experience. The unemployment rate was 8.5 percent — a tick away from where it was last month — a year before Reagan was re-elected in a 1984 landslide.
"You have to look at where you would have been if he hadn't gotten the stimulus package through," said Maury Harris, chief economist at UBS Securities. "We might be a lot worse off."
—Romney.
Many of those who chose Romney couldn't cite any of the former Massachusetts governor's economic proposals. Nevertheless, his background won over the economists. Romney graduated from Harvard Business School and served as CEO of Bain & Company, a management consulting business in Boston, and Bain Capital, a spinoff investment firm, in the 1980s and 90s."He has the experience that the other candidates lack," says Harris of UBS Securities.
Some of his Republican rivals have taken unconventional positions. Texas Rep. Ron Paul advocates abolishing the Federal Reserve and returning to the gold standard. Texas Gov. Rick Perry has said it would be "almost treasonous" for Bernanke to try a third round of bond purchases to jolt the economy before November's election.
Among Romney's chief economic plans: repealing the Obama administration's health-care law; cutting the corporate tax rate from 35 percent to 25 percent; and making permanent tax cuts on dividends, interest and capital gains from President George W. Bush's administration.
"He thinks about the economy in a more global way" than his GOP rivals, Naroff said. "He's not a rigid ideologue."
But Romney's business experience is also vulnerable to criticism. His Republican rivals have blasted him for profiting from putting companies through bankruptcy and laying off workers.
"At a time when the American public is suspicious of corporate wealth and power, that could do real harm to Romney," Simmons says. The economists were not asked to evaluate Obama's economic policies against Romney's or any other Republican candidate.
The economists gave good marks to Federal Reserve Chairman Ben Bernanke: 13 rated Bernanke as excellent, 14 as good and nine as fair. He was praised for taking extraordinary steps to calm financial markets after the collapse of Lehman Bros. in 2008 and to jolt the weakest economy in 70 years.
"He's been dealt a tough hand, but played it as well as anybody could," said Scott Brown, chief economist at Raymond James & Associates.
The economists praise Bernanke for his aggressive response to the financial crisis in the fall of 2008. He slashed short-term interest rates to zero, made loans to cash-strapped banks and bought Treasury and mortgage bonds to push down interest rates and calm financial markets.
"The Fed's response (to) the financial crisis and recession was dramatic and swift," said Sean Snaith, an economist at the University of Central Florida.
When the economy stalled in the second half of 2010, Bernanke launched another round of bond purchases to push long-term rates lower.
He has sometimes had to overcome dissent from others on the Fed's rate-setting board. And Bernanke's Fed has had to take the lead in economic policymaking because Congress and the White House are so often ensnarled in partisan bickering.
Still, some economists say Bernanke's Fed has gone too far, that zero interest rates are hurting retirees and savers without delivering many economic benefits.
"Perhaps the greatest criticism might be that the Federal Reserve has tried to do too much — trying to offset the impact of necessary budget cuts, European debt problems and other factors out of its control," said Lynn Reaser, chief economist at Point Loma Nazarene University.
http://news.yahoo.com/economists-obamas-policies-fair-poor-172306547.html
http://www.youtube.com/watch?v=KlPQkd_AA6c
Neither Harvard educated aristocrat can connect with the common man/woman, the one who enlists to serve his/her country. The clown show candidates presented by the Republican Party are like a Christmas/birthday present for the president because the presumptive nominee, once the nominating process has run its course, will be Mitt Romney. In effect, President Obama will run against Gordon Gekko: "Greed is good." In 2012, voters will have the choice between an incumbent president and former governor: two candidates who do not inspire confidence or enthusiasm. Young people are more concerned with gadgets and gossip to register to vote.
How do PE firms like Bain Captital make their money? They acquire viable companies through leveraged buyouts then proceed to gut them to improve profits: by slashing payroll, reducing customer service, and cutting research and development. Then the PE s force their hosts to take on debt, borrowing, which allows the predators to recoup their investment and provide themselves with dividends. Does this happen in all cases? No p. 139. It is the common practice, however, and the smiling Mitt-meister manipulated money most successfully.
Some quick background:Private equity firms like Bain are known for raising money from outside investors; using that money to buy up struggling companies; restructuring the companies (think layoffs, slashing worker benefits, and selling off pieces of the business); and finally selling the (supposedly) leaner, meaner businesses for a profit. One particularly infamous type of private equity deal is the leveraged buyout, in which a private equity firm will borrow a huge amount of money to buy a company, thereby weighing down the purchased company with debt.
Now, let's pick apart Romney's defense of Bain. When Bain took over companies, he said, "in each case we tried to make 'em bigger, make 'em more successful and grow" [emphasis mine]. Not so in the case of Dade International, a medical testing company acquired by Bain and Goldman Sachs in 1994. As Bloomberg reported, Bain cut 1,600 jobs from the company between 1996 and 1999 after merging the company with several others as part of Bain's restructuring plan. In 1999, Bain and Goldman sold Dade International, as it was later called, for a profit, but left the company buried in debt. It filed for bankruptcy in 2002.
Then there was the case of American Pad and Paper, an Indiana-based office products company. Bain bought the company in 1992, and seven years later, when Romney left Bain, American Pad had seen two US plants shutter, lost 385 jobs, and was hobbled by $392 million in debt.
These are, of course, just two out of dozens of deals from Romney's 15 years at Bain. Other deals—helping to launch office goods store Staples, strengthening Sports Authority—showed how Bain could indeed improve a company. But the Dade and Ampad cases contradict Romney's statement that Bain was always focused on jobs growth and expanding companies.
Even more of a whopper was this statement of Romney's: "The idea that somehow you can strip things down and [that] makes them more valuable is not a real effective investment strategy." Except that's straight out of the private equity playbook.
http://motherjones.com/mojo/2011/09/mitt-romney-bain-capital-debate
In a wayward attempt to rebrand himself as a middle-class hero, GOP presidential candidate Mitt Romney is running headlong into his history with Bain Capital. Not only does the firm have a history of making millions by buying up and gutting companies, but Romney also secured a plush retirement deal from Bain that brought him "millions of dollars in income each year."
Of course, Romney has tried to spin his private sector role as that of a " job creator ." But a closer look at Bain's modus operandi reveals that firm spent a lot of time laying off company employees rather than hiring them — all while turning a profit. More than 20 years ago, Bain — with Romney at the helm — opened a new plant in Gaffney, South Carolina with the promise of "highly anticipated manufacturing jobs," only to shut down that plant four years later, laying off 150 workers while making millions:
"In the real world, some things don't make it," Romney offered as an explanation for the layoffs he had overseen as Bain's CEO. However, the plant in South Carolina is not an isolated incident. Under Romney, "four of the 10 companies Bain acquired declared bankruptcy within a few years, shedding thousands of jobs." But documents show that "Bain investors profited in eight of the 10 deals, including three of the four that ended in bankruptcy." Indeed, the firm pointedly made higher profits "by firing workers, seeking government subsidies, and flipping companies quickly for large profits."
As Romney's own business partner stated, "I never thought of what I do for a living as job creation." It'll be an interesting display of acrobatics to see how Romney explains to South Carolinians that the profit his company made off the backs of 150 laid off workers proves his bona fides as a job creator.
www.massresistance.org/romney/ampad_062607/index.html
Additional intelligence indicators
Claims lowest since '08 as job market improves
In in the latest sign that the economy is surging at year's end, unemployment claims have dropped to the lowest level since April 2008, long before anyone realized that the nation was in a recession.
Article by: DANIEL WAGNER and MARTIN CRUTSINGER , Associated Press
Updated: December 22, 2011 – 9:45 PM
WASHINGTON – In in the latest sign that the economy is surging at year's end, unemployment claims have dropped to the lowest level since April 2008, long before anyone realized that the nation was in a recession.
Claims fell by 4,000 last week to 364,000, the Labor Department said Thursday. It was the third straight weekly drop. The four-week average of claims, a less volatile gauge, fell for the 11th time in 13 weeks and stands at the lowest since June 2008.
While the economy remains vulnerable to threats, particularly a recession in Europe, the steady improvement in the job market is unquestionable.
"The underlying trend is undeniably positive," said Jennifer Lee, senior economist with BMO Capital Markets. "I think everyone is starting to come around to the view that, yes, there is a recovery going on."
Unemployment claims are a sort of week-to-week EKG for the job market. Except for a spike this spring, after the earthquake and tsunami in Japan hurt U.S. manufacturing, they have fallen steadily for a year and a half.
Claims peaked at 659,000 in March 2009. In the four years before the Great Recession, they mostly stayed between 300,000 and 350,000. That claims are edging closer to that range is a sign that the layoffs of the past three years have all but stopped.
"We haven't yet really seen substantial numbers of new jobs, but this is definitely an encouraging sign of what lies down the road," said Sam Bullard, an economist at Wells Fargo.
The steady decline may also herald a further decline in the unemployment rate, which fell in November to 8.6 percent from 9 percent the month before. The December rate will be announced Jan. 6.
If unemployment claims keep declining, the unemployment rate might fall as low as 8 percent before the November elections, said Dan Greenhaus, chief global strategist at BTIG LLC, a boutique brokerage.
The presidential election will turn on the economy. Ronald Reagan holds the post-World War II record for winning a second term with the highest unemployment rate. He won in 1984 with unemployment at 7.2 percent.
Economists will also watch closely on Jan. 6 to find out how many jobs were added this month. It added at least 100,000 each month from July through November, the best five-month streak since 2006.
"When you fire fewer people, hiring unquestionably follows," Greenhaus said. He expects employers to create as many as 200,000 jobs per month if the trend continues.
In another encouraging report Thursday, the Conference Board's index of leading economic indicators rose strongly in November for the second straight month, suggesting that the risks of another recession are receding.
The index puts the economy on track to grow at a 4 percent annual rate in the fourth quarter, which ends this month, said Ian Shepherdson, chief U.S. economist with High Frequency Economics.
The economy hasn't posted 4 percent growth or stronger since the first quarter of 2006, when it grew at a 5.1 percent rate. The best it has done since the recession was 3.9 percent, in the spring of 2010.
The Great Recession lasted from December 2007 through June 2009. Economists didn't declare that it was under way until December 2008.
The economy grew at a 1.8 percent annual rate in the third quarter of this year. The government revised that figure downward from 2 percent Thursday because Americans spent less than the government had estimated.
Besides a brightening job market, the positive factors include strong holiday shopping and cheaper gas, which leaves people more money to spend on other things and helps consumer confidence.
"The economy is carrying some clear momentum into 2012," said economist Joel Naroff of Naroff Economic Advisors.
The flip side, said Bullard, the Wells Fargo economist, is political uncertainty at home and a near-inevitable recession across the Atlantic. Those factors will weigh on growth next year and might reverse the momentum that the job market appears to be enjoying.
In Europe, the 17 nations that use the euro currency are struggling to deal with debt problems and keep the currency union together. A recession there would be bad news for American companies that export to Europe.
Another source of uncertainty for 2012 is what Congress will do about the Social Security payroll tax cut, set to expire Jan. 1. Extended unemployment benefits for the long-term unemployed also expire on that date.
The tax cut applies to 160 million Americans. For a worker earning $50,000, it saves $1,000 over a year. For a high-earning couple, it would save $4,404 over next year, or about $85 a week.
Economists say that failing to renew the tax cut and emergency unemployment aid could cut a full percentage point from economic growth next year.
http://m.startribune.com/business/?id=136061483&c=y
US jobless claims lowest since 2008 – but economic growth revised down
Latest government figures suggest that the US jobs market is improving, but growth in third quarter slower than first thought

www.guardian.co.uk/business/2011/dec/22/jobless-figures-fall-us-growth
U.S. Consumer Confidence Report for December (Text)
By Editor: Alex Tanzi – Dec 27, 2011 10:03 AM ET
Following is the text of U.S. consumer confidence from the Conference Board.
The Conference Board Consumer Confidence Index, which had improved in November, increased further in December. The Index now stands at 64.5 (1985=100), up from 55.2 in November. The Present Situation Index increased to 46.7 from 38.3. The Expectations Index rose to 76.4 from 66.4.
The monthly Consumer Confidence Survey, based on a probability-design random sample, is conducted for The Conference Board by Nielsen, a leading global provider of information and analytics around what consumers buy and watch. The cutoff date for the preliminary results was December 14.
Says Lynn Franco, Director of The Conference Board Consumer Research Center: "After two months of considerable gains, the Consumer Confidence Index is now back to levels seen last spring (April 2011, 66.0). Consumers' assessment of current business and labor market conditions improved again. Looking ahead, consumers are more optimistic that business conditions, employment prospects, and their financial situations will continue to get better. While consumers are ending the year in a somewhat more upbeat mood, it is too soon to tell if this is a rebound from earlier declines or a sustainable shift in attitudes."
Consumers' assessment of current conditions improved in December. Those stating business conditions are "good" increased to 16.6 percent from 13.9 percent, while those stating business conditions are "bad" declined to 33.9 percent from 38.0 percent. Consumers' assessment of the job market was also more positive. Those claiming jobs are "plentiful" increased to 6.7 percent from 5.6 percent, while those claiming jobs are "hard to get" decreased to 41.8 percent from 43.0 percent.
Consumers' short-term outlook also improved in December. The proportion of consumers expecting business conditions to improve over the next six months increased to 16.7 percent from 13.7 percent, while those expecting business conditions will worsen declined to 13.4 percent from 16.1 percent.
Consumers' outlook for the job market was also more favorable. Those anticipating more jobs in the months ahead increased to 13.3 percent from 12.4 percent, while those anticipating fewer jobs declined to 20.2 percent from 23.8 percent. The proportion of consumers expecting an increase in their incomes improved to 17.1 percent from 14.1 percent.
The next release is scheduled for Tuesday, January 31, at 10:00 AM ET.

http://www.bloomberg.com/news/2011-12-27/u-s-consumer-confidence-report-for-december-text-.html
Consumer Confidence Index Surges in December
http://abcnews.go.com/Business/wireStory/consumer-confidence-index-surges-december-15240768#.TvpFgTVAZQU
AP survey: Economy to pick up but still vulnerable

www.newsday.com/business/ap-survey-economy-to-pick-up-but-still-vulnerable-1.3412581
Shoppers return to credit to pay for holidays
Credit card purchases jumped more than 7 percent in November and surged again in early December, according to First Data, which tracks consumer payments. A survey by Consumer Reports found that shoppers planned to charge an average of $756 this holiday, up 6 percent from the previous year, though the number of people who plan to use credit has remained steady.
http://www.washingtonpost.com/business/economy/shoppers-return-to-credit-to-pay-for-holidays/2011/12/22/gIQAc0NnKP_story.html