Heartbroken: Nicholas Weichel stands by the casket of his father, Rhode Island National Guard Sgt. Dennis Weichel Jr., who was killed in Afghanistan as he saved a boy from being hit by a truck
Ultimate sacrifice: U.S soldier Dennis Weichel died moments after saving an Afghan girl from being hit by an armoured truck
Heroic U.S. soldier and a father of three dies saving an Afghan girl from being run over by a truck
A U.S soldier was struck and killed by an armoured truck immediately after rescuing an Afghan girl who was about to be run over.
Sgt Dennis Weichel, a Rhode Island National Guardsman, was riding along as part of a convoy with his unit in Laghman Province in eastern Afghanistan when they spotted children on the road ahead.
The children were collecting empty shell casings to be recycled for money.
Weichel and the other soldiers quickly moved the children out of the way of the following trucks, which can weigh as much as 16 tons.
Weichel saw one girl dash back onto the road and managed to grab her to safety but was then struck by an armoured vehicle moments later.
The unnamed girl was unharmed but the heroic soldier died later that day from his injuries. His body is being flown back to the U.S on Saturday.
The father of three was due to get married to his girlfriend and had only arrived in Afghanistan a few weeks earlier.
On a Facebook page set up in his memory his young children have left a message that reads: 'We are so proud of our daddy..we love and miss you. ..daddy you are our hero. Love you Nick, Hope and Madison.'

www.dailymail.co.uk/news/article-2122421/Daddy-hero-Children-U-S-soldier-died-saving-Afghan-girl-oncoming-army-truck.html
Remembered: An honor guard carries Weichel's casket at the state Veterans Cemetery in Exeter, Rhode Island
Soldiers routinely help Afghans
Heroism doesn't always get notice that massacre has
By Rod Nordland
The New York Times Sunday April 1, 2012 5:50 PM
KABUL, Afghanistan — Bad news travels at the speed of light through the rugged redoubts of Afghanistan, but good news sometimes seems to be on the back of a lame mule, picking its way up a rocky trail.
The story of Spc. Dennis Weichel could easily be a counterpoint to the gruesome account of the U.S. soldier charged with 17 counts of murder in Kandahar on March 11.
Weichel, 29, was killed while rescuing an Afghan child, but more than a week after that event the military here has yet to officially confirm what happened. Details of the episode in northeastern Laghman province have trickled out, first from fellow soldiers and friends in the United States.
On March 22, Weichel, an Army National Guardsman from Rhode Island, was riding in a convoy that was leaving a firing range when he jumped from his vehicle to help clear a group of children out of the way. The children were trying to collect the brass shell casings at the range to sell for scrap metal.
Afghan witnesses said that when a 10-year-old Afghan boy darted under a vehicle, Weichel climbed under and pushed him to safety. Then the huge vehicle ran over Weichel, killing him.
The boy, Zaiullah, the son of an Afghan policeman, confirmed the episode in an interview.
Matiullah Khan, a vegetable seller and Zaiullah's uncle, said, "As you know, all five fingers on one hand are not equal, and it's the same with American soldiers.
"What that soldier did in Kandahar was such a brutal act, no human could do what he did," he said, referring to the accusations against Staff Sgt. Robert Bales in the Kandahar killings. "This soldier, he looked at my nephew as a human being and endangered his life to save my nephew's life."
In a different mission of mercy, three days after the killings of which Bales is accused, medics at a combat outpost in southeastern Paktika province raced to save the life of Mateen, an 8-year-old boy wounded when his Taliban father's homemade bomb exploded.
The emergency mission involved two medevac helicopter flights and medical treatment at three military aid stations and hospitals. The boy survived despite losing his sight and suffering other injuries. The military finally announced what had happened last week, once the boy had been returned to his family.
Often, the military is hampered by its bureaucracy and slow to decide when and what information to release. A spokesman for Weichel's unit, Maj. Christopher Thomas, said an investigation was still under way. "I'm concerned we should not set the precedent of commenting before the investigation is complete," Thomas said, "even though, from the reports we've heard, it's a shining example of what our soldiers are all about."
In addition to the bureaucratic hesitation, after years of emphasizing better community relations, most soldiers routinely are involved in providing services to Afghans and think of their actions as just part of their jobs.
At Combat Outpost Kushamond in Paktika, for instance, most of the aid station's trauma patients have been either Afghan civilians hurt in Taliban explosions or attacks, or wounded Taliban fighters, said the outpost commander, Capt. Giles Wright. "This is professionalism is all, that's just, they're human, too," Wright said. "My philosophy is that if you were taught from Day One we are all infidels and you had zero education, you're probably going to believe what you were taught is correct. We recognize that."
Weichel, who was the father of three young children with his fiancee, was praised by his comrades for his sacrifice.
"That's Spc. Weichel for you," said Sgt. 1st Class Robert Tobin, who was with him that day. "He had a tremendous love for his kids and his family, and I can only imagine the reason why he would do something like that was because he would want somebody to do something like that for his kids."
While the military in Afghanistan debated whether to release the details of Weichel's death — even though he had been promoted to sergeant and awarded the Bronze Star posthumously — friends of his put up a Facebook page in his memory. Gov. Lincoln Chafee of Rhode Island was among those listed as posting comments.
"Specialist Dennis Weichel's life was marked by bravery, selflessness and commitment to others — and unfortunately it was in demonstrating these remarkable characteristics that it was lost," the post attributed to the governor read.

www.dispatch.com/content/stories/national_world/2012/04/01/soldiers-routinely-help-afghans.html
March 26, 2012, 9:47 PM
Survey Gives Glimpse Into Minds of Recent Veterans
By JAMES DAO
The
2012 edition of Iraq and Afghanistan Veterans of America's annual survey of its members came out on Monday. The largest such survey by the group to date, its results provide some interesting insights into what's on the minds of recent veterans today.
Not surprisingly, the survey found that employment, mental health, disability benefits, health care, education (including the G.I. Bill), suicide and families — in that order — were the top concerns of the more than 4,200 members who responded.
Nearly 17 percent said they were unemployed when they took the survey in January, a higher rate than was documented by the Bureau of Labor Statistics, which put the veterans' unemployment rate for January at 9 percent.
Of those who are working, 37 percent said they worked for the government at some level, far outpacing the second largest industry listed, health care and pharmaceuticals, which tallied 8 percent. Similarly, of those looking for work, the largest group, about a quarter, said they wanted to find jobs in government.
In its summary of the survey, I.A.V.A. noted that because many local, state and federal agencies have been trimming their work forces, "the threat to veteran employment may grow."
More than one in three respondents, 37 percent, said they knew someone who had committed suicide, down slightly from last year's result. Asked if the person who committed suicide was serving or had separated from the military, respondents were almost evenly divided: 30 percent said the person had separated when the act occurred; 27 percent said the person was serving but not deployed; 25 percent said the person was serving and deployed. Another 11 percent said the person was in the National Guard and not deployed.
Two-thirds said they think troops and veterans are not getting the mental health care they need. Asked what were important factors in providing excellent mental health services, about three-quarters said that counselors should have served in the military, understand military life and culture, or have received specialized training in working with service members and veterans.
Asked about their relationships, nearly 80 percent said they were married or in a long-term relationship during a deployment. Nearly two-thirds said the deployment strained their relationships, and 6 in 10 said readjustment was difficult. Only 4 percent said their deployments had no effect on their relationships.
The vast majority — nearly 9 in 10 — said they had had no serious run-ins with law enforcement after returning from Iraq or Afghanistan. But of those who had, half said alcohol was the problem.
Of the 4,278 veterans who responded to the online survey — conducted between Jan. 1 and Jan. 16 — a little more than half submitted proof of post 9/11 service in Iraq or Afghanistan, while the rest did not.
Nearly 9 in 10 of those surveyed were men, 6 in 10 were Army veterans and more than 8 in 10 had served in Iraq. Almost half, 45 percent, were 36 years or older. Nine in 10 said they were registered to vote. Asked about their place of residence, the largest group, nearly 11 percent, said they lived in California.
The survey included some intriguing opinions about government. Neither the president nor Congress scored well when the veterans were asked if those officials listen to service members or Iraq and Afghanistan veterans. The Department of Veterans Affairs did a bit better, with 42 percent answering in the affirmative.
Asked about the Department of Veterans Affairs, half said they had a somewhat to very positive opinion of the department — though nearly 7 in 10 could not correctly name Eric K. Shinseki as the secretary.
V.A. health care and educational benefits received good or very good ratings from about 6 in 10 respondents, with disability benefits falling slightly below 50 percent. The new G.I. Bill seemed particularly important to the veterans, with 29 percent saying they were using their benefits and another 37 percent saying they expected to use the benefits in the future.
http://atwar.blogs.nytimes.com/2012/03/26/survey-gives-glimpse-into-minds-of-recent-veterans/
Poll: Support for the War in Afghanistan Falls

http://atwar.blogs.nytimes.com/2012/03/27/poll-support-for-the-war-in-afghanistan-falls/
Afghanistan sees rise in 'dancing boys' exploitation

www.washingtonpost.com/world/asia_pacific/afganistans-dancing-boys-are-invisible-victims/2012/04/04/gIQAyreSwS_story.html
Afghanistan: our modern opium war
Washington justified this occupation by the 'war on terror'. But it makes more sense as another theatre of the failed 'war on drugs'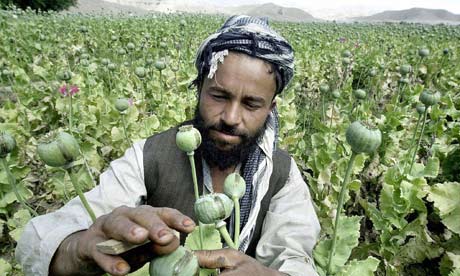 Time and again, the media tell us that Washington is consulting books galore on how to "solve" Afghanistan. "The struggle to set the future course of the Afghan war is becoming a battle of two books – both suddenly popular among White House," declared the Wall Street Journal in 2009. Which would it be? Lessons in Disaster or A Better War, both of which are chronicles of Vietnam. Yet, with more than half the income of Afghanistan derived from the opium trade, it would a mistake to imagine that the war in Afghanistan has anything in common with fighting the Viet Cong or even Communism.
www.guardian.co.uk/commentisfree/cifamerica/2012/apr/01/afghanistan-our-modern-opium-war
Sgt Dennis Weichel and Afghanistan