Start it up: the 50th anniversary of the Rolling Stones' first gig
Fifty years ago this week, a nervous band called the Rollin' Stones played their first gig – to a bemused crowd of jazz fans. Christopher Sandford, the band's biographer, charts a revolution
See how The Guardian and The Observer covered the Stones in the course of 50 years with our interactive history
Christopher Sandford
guardian.co.uk, Monday 9 July 2012 14.01 EDT
In the summer of 1962, the management of the Academy cinema on Oxford Street in London thought it wise to warn patrons that the film they were about to see, the big-screen adaptation of John Wyndham's novel about killer plants, The Day of the Triffids, "contained graphic horror" and "might prove disturbing to those of a nervous disposition". Today, Wyndham's mutant shrubs look blandly innocuous. But on the night of Thursday 12 July, in a basement club called the Marquee, just a few feet below the cinema where the Triffids was screening, something much more unsettling was about to get under way.
A sober-suited crowd of about 80 men and 30 women were on hand to witness the Rolling Stones' first gig. There was a taste among both sexes for shapeless, utility-style clothes, stout shoes and goofy square glasses. (It's remarkable how many young men seemed to resembleBuddy Holly.) Based on the number of goatees in the photographs, many were also diehard jazz fans; those who were there report that the audience took some time to warm up to the Stones' 50-minute blast of American rhythm and blues.
The band were officially billed as "Mick Jagger and the Rollin' Stones", although the lead vocalist was by no means their most compelling personality. Jagger, his Dartford Grammar schoolfriend Keith Richards, and the self-styled "Cheltenham Shagger" Brian Jones (who had recently come up with the group's name) were the front line. Jagger, who was still a student at the London School of Economics, wore a striped sweater and corduroys; Richards a funereally dark suit; while Jones pogoed up and down, leering at the women. Behind them was the already comically deadpan rhythm section, which for now comprised Richards's art-school friend Dick Taylor on bass and the future Kinks drummer Mick Avory, who sat in for the night. Jagger and Richards were 18 and living at home; Jones was 20; Ian Stewart, a 23-year-old shipping clerk, stood off to the side, eating a pork pie with one hand and playing piano in a loping, barrel-house style with the other.
In the Britain of 1962, young people were already creating a certain amount of consternation. Perhaps inspired by Hank Marvin and the Shadows, and their string of five UK hits that year, things were looking up for the electric guitar; in suburban Ripley, Surrey, a teenager named Eric Clapton took possession of his first Kay "Red Devil" that summer. The Beatles signed for George Martin and the Parlophone label, but were yet to release their first single. A revolt against the accepted cultural order was at least tentatively under way. The autumn of 1962 saw the release of Lawrence of Arabia, Dr No and Mutiny on the Bounty; in November, Anthony Burgess published A Clockwork Orange, priced 16 shillings (80p). The 1961 Census listed 2,471 licensed places of entertainment in London alone; an estimated 300 of these catered in one way or another to young groups such as the Stones, inspired by the urban R&B tradition of Muddy Waters and Chuck Berry.
Not all of this was in evidence on that warm July night at the Marquee; a wider social revolution still felt some way off. The ambient smell in the room was one of boiled cabbage, ground deep into the audience's worsted jackets, and of the ubiquitous Players Weights cigarettes. The gig itself was a mixed success. The band downed scotches and brandies as they played to calm their nerves. Taylor recalled that there were some initial catcalls from the house, possibly due to the band's limited rehearsal time. (The next week's Melody Maker seemed to confirm this theory, reproachfully noting the Stones' "very suspect tuning and internal balance".) Towards the end, however, things picked up with a loud, catalytic burst of Down the Road Apiece, played in the style of Chuck Berry. According to Ian Stewart's diary, the Stones took it up a gear during their last 15 minutes on stage, finishing big with Elmore James's Happy Home. Even then, they took their sense of urgency not from the singer, but from the acne-faced second guitarist, dressed completely in black, who called out each number and encouraged the drummer by hammering one spindly leg up and down and yelling, "Fuck you! Faster!" Even from the off, the Stones had great rhythm.
After the show, the band went up through the foyer of the cinema, walked down the street unrecognised and had a drink in The Tottenham pub, near Tottenham Court tube station, leaving a friend of Jones's to hump the gear upstairs and load it on to a passing bus. They were joined by an acquaintance who had come to the gig, part-time drummer Charlie Watts, who thought the Stones "had an obvious appeal for the kids that wanted to dance. My band was a joke to look at, but this lot crossed the barrier. They actually looked like rock stars."
The Stones split the 30-guinea performance fee six ways, which somehow meant that Jones got £6 and 10 shillings, everyone else got a fiver. No one there would have guessed that the band was 21st century bound, least of all the band members themselves. By Christmas of that year, Taylor and Avory had both left the fold, to be replaced by Bill Wyman and Charlie Watts respectively. In April 1963, a young hustler named Andrew Loog Oldham took over the Stones' management, Stewart was unceremoniously sacked, and Decca put out the band's first single – a cover of Chuck Berry's Come On, which sold 250,000 copies. The rest – well, the rest you know.

www.guardian.co.uk/music/2012/jul/09/rolling-stones-first-gig-50th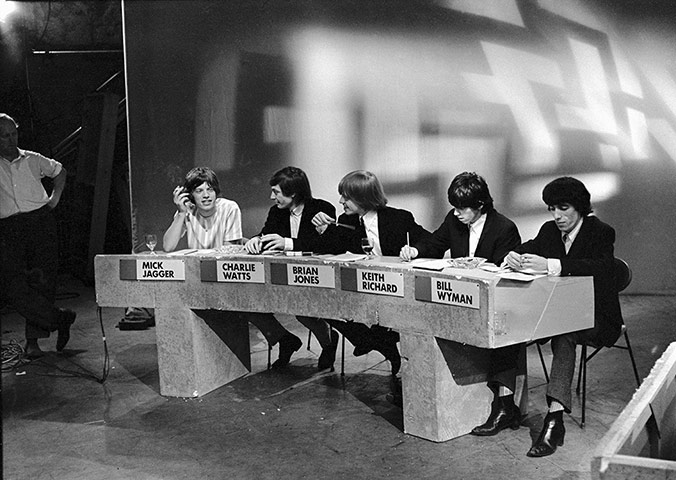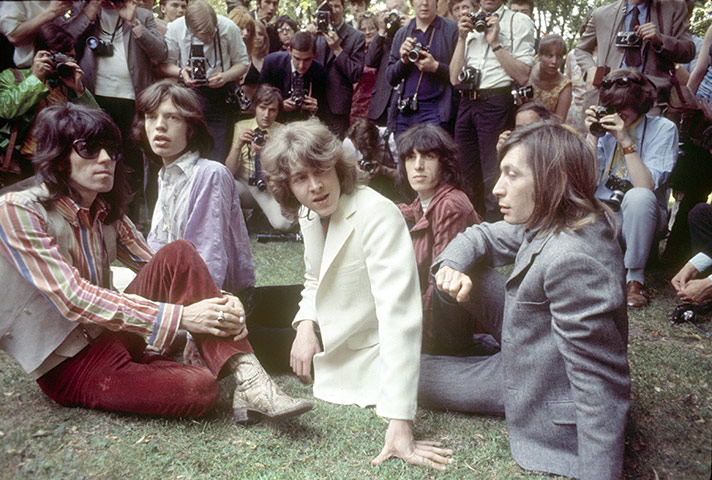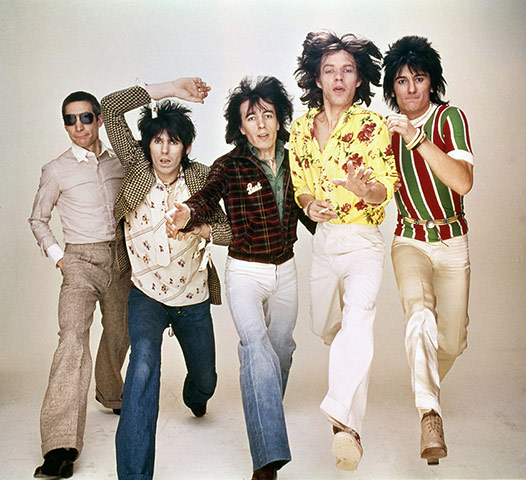 www.guardian.co.uk/music/gallery/2012/jul/09/rolling-stones-50-in-pictures
Mick Jagger: 'No one should care if the Rolling Stones break up, should they?' – a classic interview from the vaults
As the Rolling Stones prepare to celebrate the 50th anniversary of their first ever gig, we visit Rock's Backpages – the world's leading archive of vintage music journalism – for an interview with Mick Jagger in 1987 by the late Tom Hibbert for Q magazine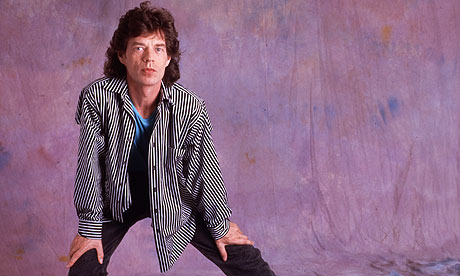 'It's like a marriage' … Mick Jagger on the Rolling Stones in 1987. Photograph: Michael Putland/Getty Images
Tom Hibbert
guardian.co.uk, Tuesday 10 July 2012 12.12 EDT
World's End, Chelsea, just down the King's Road from the old Drug Store, there's a charmingly delapidated terraced house that serves as occasional management offices to the Rolling Stones.
Up the rickety stairs to the third floor where the walls carry photographic portraits of that once "greatest rock'n'roll group in the world". The Stones – Mick and Keith and Charlie and Bill and the other one looking quaint and "wasted", dissipated and lovely and ill. And portraits of Jagger alone – Jagger with acoustic guitar slung over the shoulder, granting the camera a witchy glance; Jagger as Ned Kelly with bushwacker's beard and decrepit hat – Jagger the swaggerman – Jagger as the strutting gremlin with absurd balloons for lips in an ancient caricature by Trog. A shrine – no vulgar gold records, no flash, just antique memories.
And there he – the person – sits, silver threads and a nice striped shirt, taking afternoon tea and Coldrex. "I've got a fuckin' awful cold," he declares with wide-mouthed grimace and that well-known exaggerated nasality. "I'm not feelin' too sharp. Wanna go to sleep. Hope you don't wanna talk about the Stones. Oh, no, you do, don't you? You want to talk about the Staahns. Fuckin' 'ell…"
Michael Philip Jagger is 44. He still bears the traces of wayward, mocking youth – this is the brat that shocked our parents so with Mars Bars and garage walls and dope and the fuzz and sympathy for the devil, the cocky boy that's staring from the walls. Still, he wears his middle age neatly, bursting with health despite his cold and the degeneracy of former days. Jagger is a trouper and to prove it he is about to embark on another rock'n'roll tour. But this one's different. For the first time in a 25 year career, Jagger is going out alone, not as the swanking showman of the "sloppiest bar band in the world", but as the leader of a professional and presumably slick session man concoction. (At the time of the interview, this was to feature Simon Phillips on drums – who's recorded and toured with Robert Palmer, 10cc, Judas Priest, Roxy Music and The Pretenders – Hall And Oates' guitarist G.E. Smith and Jeff Beck as lead guitarist. A week later Beck was no longer in the group due, apparently, to an "inability to commit himself to a tour of that length". The tour, originally to begin with some small British and European dates this autumn, has since been rescheduled to start in America in November and take in Japan and Europe until summer '88.)
Jagger appears to find the prospect less than daunting, claiming in typically blase fashion, that "singing is singing, you know. It's like Charlie said when he was asked a similar question, his quote was quite good: playing drums is playing drums, I'm afraid. And singing is singing and you'll probably get me singing out of tune on my tour same as the Stones, so don't worry …"
It could have been the Rolling Stones rather than Jagger, would-be solo star, taking to the road in 1987. It could have been. If …
"If everything in the garden had been lovely it would have been very nice. But everything in the garden wasn't lovely, it was fucking horrible and it would have taken a fucking amount of pruning to … Well, I just think that going on tour with the Stones the way the Stones were would have been a disaster, or a recipe for one. The band was not getting on at all. It was awful. The graphic experience to me of a band on tour not working was The Who's last tour. When I saw that it really scared me and it remained with me seeing this real kind of hatred feeling. It was horrible, you know, Pete Townshend being in another hotel and no-one speaking. That gave me a real frisson and it was then that I realised there was no way the Stones could go out because it would have been exactly the same, probably worse. It would have been just a money-making tour. It wouldn't have been a Stones tour, it would have been the big banana and I just couldn't face that."
And so for the moment, for the foreseeable future – forever? – the Rolling Stones just don't exist. It's history; gone not with a bang but a few muted whimperings – though Mick Jagger would sooner prance on hot coals than discuss the "end" and the reasons in any detail.
"I can't be specific," he groans. "I can't. I don't think I have to, really. It's just that friction builds up over the years. It's like a marriage but I don't want to talk about the what, why and wherefore of me and Keith's marriage and sort of say, Oh, it was awful, he used to leave his dirty knickers all over the living room floor, that kind of thing. It's just that friction builds up and I just couldn't deal with it anymore. It became impossible to run the band the state they were worked up into. I didn't really know why they were so worked up, but I think a lot of it was just having too much of a good thing. It was all a bit knackered and I was the one who had to hold it all together and I just lost patience with everybody, it's as simple as that. I just could not deal with them anymore. It was like: don't expect me to pick up the pieces again and put everyone together again and make it whole because I can't be bothered anymore. You have to read between the lines a bit, I'm afraid, but it does come down to two people flying off the handle."
So we read between the lines and we reach the conclusion that the Glimmer Twins, Richards and Jagger, the gnarled ex-junkie who dwells in darkened rooms and the jet set jogger man who gambols in Barbados with his children and celebrity friends, is a partnership in decay, a common law marriage of separate beds. Irreconcilable differences.
So as Keith holes up in New York attempting to complete an album of his own, Mick releases his second solo offering, Primitive Cool.
"It's still rock'n'roll," drawls Jagger. "What I'm doing is not hugely different to the Stones. I'm not going off and doing opera, I'm not going off and doing Irish folk music, much as those two areas are very interesting. It's not much different to the Stones – but the recording process is different because it's not a committee of squabbling people. It's much more instant which I think a lot of pop writing should be. With me and Keith it was never instant. The Rolling Stones recently would go in the studio with very little prepared material and just live in there and camp out there for as long as it took which was sometimes so frustrating. With the Stones it wasn't just an individual saying, Okay, this is what you do, ding ding ding, which I can say to Jeff Beck. I could never say that to Keith because if I did he'd just play something completely different. You can't just throw a song at Keith because he'd probably loathe it on principle. So we'd go in the studio with just a few licks and there was no structure at all and you'd just hang around waiting for a spark. But with my own LPs I had complete songs and complete arrangements and the whole thing of it mentally, and the ability to present my stuff to the players without everybody going, Oh no, that's no good was sort of a new thing for me. Quite refreshing."
And so, satisfied with his own work and the joys of being theacknowledged boss, Jagger insists that he's a happier rock star than he's been for years, There must still be a certain fondness, surely, for the idea of the Rolling Stones but … would it be a major tragedy if the veteran rock troupe never "inter-related" again?
"No. Not at ALL!" he declares with a laugh of the utmost scorn. "It's very funny because while you're around and in no danger of extinction everyone's ready to kick you and say, Well, why don't you break up? Your band is really pointless, just doing the same thing over and over and over so why don't you just fuck off and die? And then when you are in danger of extinction they all go, What's the matter, man? You should reform, man. I mean, it's the Rolling Stones, maaan. They don't give a shit about what you feel and what you have to go through to preserve this monstrous image intact.
"It's ridiculous. No-one should care if the Rolling Stones have broken up, should they? I mean, when the Beatles broke up I couldn't give a shit. Thought it was a very good idea. And I don't believe the fact that the Smiths' guitarist has left is of any import to anyone whatsoever. I don't think anyone should give a shit. But with me people seem to demand that I keep their youthful memories intact in a glass case specifically preserved for them and damn the sacrifices I have to make. Oh, the Stones, it's part of my youth, man, they say, because they saw you in Hyde Park 18 years ago and they have their fucking conservative little mental picture of you and they don't want you to change – not that they've bought a record of yours in 15 years. Why should I live in the past just for their petty … satisfaction."
Satisfaction. He chews up the word and spits it out as on that clumping school hop hit of all those years ago. But Mick Jagger does not care to dwell in the past, that much is clear. Jagger thinks only of now, the tour, the technology (he's planning something spectacular with miniature chip video cameras attached to the performers' clothing). Memories seem somehow indecent. We don't want to talk about the Staahns, now, do we?
"The Rolling Stones does not tend to be associated with happy moments. It was kicking people in the teeth and just being happy that we survived."
When did Mick Jagger first realise that the pop star's lot was not always a happy one?
"Probably the first time I got arrested but I'm not prepared to talk about that because when Jerry got busted it was like some awful flashback. I couldn't believe it. I was stepping back in time and thinking this is ridiculous. It was just like my first bust all over again with an awful sense of déjà vu. They're very vindictive, the police, and I remembered my first arrest because that was when it all became a bit, Oh dear, this isn't just a big laugh after all. It was the end of the innocence, the end of the fun. And then with Brian dying it got … heavy, man. It got like really quite serious. I mean, the Hyde Park concert was a rare wonderful moment but even that … poor butterflies and poor Brian Jones so it was all tinged with black emotions like everything else about the Stones."
It gets worse.
"From then on the fun became harder and harder to find and then there was Altamont. That was … tough. I could see what was going on at the front and that was pretty horrific. I didn't see the guy with the gun until I saw the movie and that was a horrific moment. It was one of those hell situations. It's all part of growing up, I suppose. Life is not all kind of so much fun as you thought. At that point one became very afraid. You were just waiting for the next one. What's going to happen now? Terror. It was a very hard time to come through – and some people never really came through it at all."
And worse.
"And there were all the letters – you're a devil worshipper – and that was pretty disturbing. That whole period was very dark. I sound like a mental patient but the whole of the 70s was very hard to deal with. The whole of the '70s was very tense because you were constantly being drawn into this vortex of horrible events. But I was never as scarred up as Keith, thank God. Keith had a very rough ride. You can say, Well whose fault was that? But it still remains he had a very, very rough ride culminating in getting busted in Toronto. It was rougher and harder than anyone really knows and he's still recovering from it and he's not allowed to forget. If he was sitting here he'd be going, Oh, here it comes again. I have to play this part. Yes, I'm an ex-junkie. People don't forget."
People do not forget, but haven't the Rolling Stones played their various parts to the hilt to keep us constantly reminded?
"Oh, yeah, well, it's always Keith the ex-junkie who sleeps in a coffin or whatever and Charlie with the jazz drums and Bill with his separate, funny life and Ronnie Wood with all his guitars … And the wives– even I'm lost with all the wives … And Mick Jagger who goes and watches cricket matches all the time with his children. It's just convenient to paint yourselves like that; it's a convenient hat for the Mail On Sunday or whoever. Life is always an angle for them so you give them the angle. He was a rock'n'rollin' rebel but now he's sipping exotic drinks in Barbados and living the life of a jet-setter – wonderful 50s word, 'jet-setter'; comes from the time when only rich people could afford to go on aeroplanes.
"There's always this little cupboard people put you in because they don't want to see you as a balanced whole. The classic example of that was Spitting Image where one week I was the coke-sniffing pop star strutting the stage and they decided that was out of date so two weeks later I was with the children in the supermarket. It all becomes a bit of a running soap. I find it amusing but it's not really that funny because I never wanted to be in a soap opera. I never wanted a reputation. I didn't start on this to become notorious …"
Does one quite believe this? Doesn't Mick Jagger relish the fame and the notoriety and the fact that even now, in the Phyllosan years of his dotage, he's still considered a sex symbol?
"Oh, all that stuff makes me laugh, yes. They write to you, this incredible sexual stuff like, I want to make love to you all night and I'm a mother with a 15-year-old daughter and we both want to fuck you. That's a common one! I like those because if they ever met you, they'd freak out. All that side of it is hilarious but that's just one side to it. Being sort of sexy is one thing but I certainly never wanted to be perceived as a jet-setter. I never wanted that to take first place because it's meant that no-one really listens to me any more. It's very hard sometimes to be this monstrous public figure who was the singer in that sloppy bar band. Having been the singer in the Rolling Stones is not very satisfying, really, do you know what I mean? What's more satisfying is sitting down with someone and writing a great song in 10 minutes and saying, Yeah, let's go down the pub for a drink.
"That's more fun and more actually satisfying because I haven't been doing this to become some sort of historical, archival figure. That's not what it's for. The reason you do it is for a laugh, that's all …"

www.guardian.co.uk/music/2012/jul/10/mick-jagger-rolling-stones-interview

http://fashion.telegraph.co.uk/galleries/TMG9394472/The-Rolling-Stones-at-50-greatest-fashion-moments.html
Rolling Stones hint at tour ahead of 50th anniversary celebration

http://www.independent.co.uk/arts-entertainment/music/news/rolling-stones-hint-at-tour-ahead-of-50th-anniversary-celebration-7938594.html

www.wolfgangsvault.com/the-rolling-stones/concerts/forest-national-october-17-1973.html

The Beatles backstage at the Fairfield Halls, Croydon, on 25th April 1963

The Beatles played two shows at the Croydon venue as part of a 'Merseybeat Showcase'

Fairfield Halls organizers had feared that photographs of the 1963 gig had been lost forever
www.dailymail.co.uk/news/article-2162356/Unseen-Beatles-pix-discovered.html

Ringo Starr with Rory Storm and the Hurricanes L-R: Rory Storm born Alan Caldwell, Johnny Guitar born Johnny Byrne, Ringo Starr born Richard Starkey, Lu Walters born Wally Eymond at the Jive Hive aka St. Lukes Church Hall

www.dailymail.co.uk/news/article-2198356/Youve-NOT-got-hide-lyrics-away-anymore-Recordings-Ringo-Starrs-band-released-cellar-discovery.html

www.telegraph.co.uk/culture/culturepicturegalleries/9783507/Rare-photographs-of-The-Beatles-during-their-tour-of-the-US-in-1964.html

www.telegraph.co.uk/culture/culturepicturegalleries/10030746/The-Beatles-UK-number-ones.html
The Eagles: (l-r) Joe Walsh, Timothy B. Schmit, Glenn Frey, Don Henley Photo: Courtesy of Eagles Archives
The Eagles: No longer stoned, smiling young troubadours
http://www.telegraph.co.uk/culture/music/rockandpopfeatures/10030972/The-Eagles-interview-Rocks-become-very-shallow-and-trite.html
Ray Manzarek
www.rollingstone.com/music/news/ray-manzarek-doors-keyboardist-dead-at-74-20130520
Ray Manzarek dies at 74; keyboardist for the Doors
Manzarek, who was influenced by John Coltrane, added a jazz component to the band's rock sound and filled the role of bassist. The band charted 15 singles on the Billboard Hot 100 starting in 1967
By Randy Lewis, Los Angeles Times
May 20, 2013, 8:29 p.m.
When the Doors were still a fledgling quartet, and the band members were honing their chops playing five sets a night at the London Fog club in Hollywood, it wasn't rock stardom on keyboardist Ray Manzarek's mind as he and his three band mates laid down an extended jam for their debut album that ran more than seven minutes.
Manzarek was thinking more of one of his jazz heroes when he cribbed some of John Coltrane's ideas from the saxophonist's recording of "My Favorite Things" for his own solo in the song that would become the Doors' signature hit, and one of the defining singles of the 1960s: "Light My Fire."
"We loved that we were getting Coltrane played on AM radio," Manzarek said years later. "I'm not sure how many people caught that, but I'm sure some did."
Manzarek, who was responsible for the piercing electric organ sound on "Light My Fire" and most of the L.A. group's cornerstone songs, died Monday at a medical clinic in Rosenheim, Germany, after a lengthy battle with bile duct cancer. He was 74.
While studying film at UCLA in 1965, Manzarek (pronounced man-ZAIR-ek) met fellow student Jim Morrison and they decided to start a band built around Morrison's poetry. They enlisted drummer John Densmore, whom Manzarek had met in a transcendental meditation class, and Densmore in turn introduced them to his friend Robby Krieger, a guitarist.
Beginning in 1967, the Doors charted 15 hit singles on the Billboard Hot 100, including "Hello, I Love You," "Touch Me," "Riders on the Storm" and "People Are Strange," up through Morrison's death in 1971 at age 27. All six of the group's studio albums released during Morrison's lifetime made the Top 10 of the national sales chart, the biggest hit being "Waiting For the Sun," which spent four weeks at No. 1 in 1968.
"I was deeply saddened to hear about the passing of my friend and bandmate Ray Manzarek today," Krieger said in a statement. "I'm just glad to have been able to have played Doors songs with him for the last decade. Ray was a huge part of my life, and I will always miss him."
"There was no keyboard player on the planet more appropriate to support Jim Morrison's words," Densmore said through a spokeswoman. "Ray, I felt totally in sync with you musically. It was like we were of one mind, holding down the foundation for Robby and Jim to float on top of. I will miss my musical brother."
Creating a band with a neophyte singer, jazz-inclined keyboardist and drummer and a guitarist steeped in flamenco music wasn't by any stretch a formula for rock 'n' roll success. Manzarek wound up pulling double duty, handling the bass parts by way of a keyboard bass, which he played with his left hand while working the organ accompaniment and solos with his right.
"We actually intended to have a bass player, and auditioned a couple of them," he said in a
2011 interview with the Jerusalem Post. "With the first one, we sounded like the Rolling Stones, and with the second, for some reason, we sounded like Eric Burdon and the Animals. We knew there was no reason to have another band sound like either of them, so we kept looking.
"Then we auditioned at a club in Los Angeles, and I saw the Fender Rhodes keyboard bass onstage, which belonged to another band. And I thought, 'Eureka, that's it. I'll play that,' " he said. "It worked out fine because it's basically the way I play the keyboard anyway, with my left hand playing the bass line. And it kept the Doors as a four-side diamond, rather than an evil pentagram."
After graduating to headlining at the Whiskey A Go-Go, then the hottest rock club in Los Angeles, the Doors released their first single, "Break On Through (to the Other Side)." It got as high as No. 126, in early 1967, but "Light My Fire" shot to No. 1 just two months later, and the Doors were suddenly rock stars.
Manzarek not only supplied the signature opening riff of "Light My Fire," he delivered the otherworldly tacked-piano sound that gives "People Are Strange" much of its eeriness, and the haunting, moody electric piano lines that fuel "L.A. Woman."
Morrison's death shook the three surviving bandmates to the core. They recorded two albums without Morrison — "Other Voices" in 1971 and "Full Circle" the following year — but then called it quits.
Raymond Daniel Manczarek Jr. was born Feb. 12, 1939, in Chicago, and later simplified the spelling of his last name by dropping the "c."
After the Doors wound down, he recorded in the 1970s with his own band, Nite City, and worked up a rock treatment of Carl Orff's choral work "Carmina Burana."
In the 1980s, Manzarek had a strong hand in the emergence of another quintessential Los Angeles band when he produced all four of the original studio albums for the punk quartet X.
What drew him to throw in with the punk movement, which drew much of its energy and audience by rebelling against the classic rockers like the Doors who had preceded them?
"The punks were the next generation after the psychedelic era," he said. "After the stoners came the punks, and it was great. I thought it would be bigger in the U.S. than it was, but it never really caught on like it did in England. The punk scene in California, though, was as exciting as what happened in the '60s."
In 1991, after Oliver Stone's film biography of the group came out, Manzarek was openly critical of his portrait of the band. "Oliver Stone has assassinated Jim Morrison," he said at the time. "The film portrays Jim as a violent, drunken fool. That wasn't Jim."
Manzarek said in interviews that he'd rather that Morrison had lived and that they would still be making music together, even if it meant the singer had to sacrifice the mystique that developed around him because of his death at such a young age.
"If you're going to become a legend — one of the immortals, a god," Manzarek said in 2011, "then you have to die. That's the tragedy."
Manzarek and Krieger resumed touring over the last dozen years, playing Doors music with other singers and drummers — including the Cult's lead singer Ian Asbury, Pearl Jam's Eddie Vedder and the Police's drummer Stewart Copeland — which prompted a lawsuit by Densmore against Manzarek and Krieger to stop them from touring under the Doors' name. Densmore eventually won.
In the course of that proceeding, Manzarek and Krieger countersued Densmore for $40 million, alleging that he had rejected proposals to use the Doors' songs in commercials. Densmore's new book, "The Doors Unhinged: Jim Morrison's Legacy Goes on Trial," details both suits and his staunch opposition to advertising uses of the band's music. Manzarek, the book says, supported such uses as a way to keep that music in front of new generations of listeners. The countersuit was dismissed.
Manzarek also became an author, writing "Light My Fire: My Life with the Doors" in 1998 and "The Poet In Exile" in 2002.
He is survived by his wife, Dorothy; a son, Pablo; three grandchildren and two brothers, Rick and James Manczarek.
www.latimes.com/news/obituaries/la-me-ray-manzarek-20130521,0,3258512.story
Ray Manzarek of The Doors. His brilliant music will live on
Neil McCormick pays tribute to Ray Manzarek, the keyboardist and founding member of The Doors who has died at the age of 74.
By Neil McCormick, Music Critic
Ray Manzarek was one of the most individual and influential musicians in rock history. In a genre dominated by guitars, his sinuous, rhythmic, weaving keyboards, replete with jazzy flourishes, Gothic arpeggios and colourful splashes, provided the rich, fluid, ever-expanding backdrop to the greatest American rock band of the Sixties, perhaps of all time.
Manzarek was both the root of The Doors sound and its highest, wildest branches, providing slinky, funky bass with his left hand and noodly, hypnotic, surging, flowing, melodic and rhythmic adornment with his right. He was a dazzling musician, certainly, but he was a lot more than that – a bespectacled, thoughtful intellectual who approached rock music as he approached life, as a vehicle for self-exploration and higher possibility.
The Doors were a finely balanced group, one of those special units where every member counts, even if they are chiefly remembered now for the beautiful, brilliant, tragic Jim Morrison, the shamanistic frontman who established some of the abiding myths of rock and roll, a wayward, poetic archetype for living fast, and burning bright.
That rather prosaic band name was actually a reference to Aldous Huxley's Doors Of Perception, itself drawn from a quotation by William Blake. Morrison effectively lived by Blake's dangerous notion that the road to excess leads to the gates of wisdom. Sadly, wastefully, what he found there was alcoholism, heroin use and death at 27. Morrison's self-destruction brought a premature end to a phenomenal musical unit while ensuring their immortality as symbols of rock's dangerous power for both transcendence and destruction. Today, The Doors are almost celebrated more as an idea than a band but they left behind a lot of astonishing music.
If there is one band I wish I had seen live in their prime, it is The Doors. To me, they are the group who really opened up the potential for rock as something more than just another form of pop. In their dazzling, visceral, intense, improvisational mix of blues, jazz and poetry, they used music as a vehicle for spiritual exploration, the possibility of climbing through the rhythm and melody to another plane of existence, to "break on through to the other side", as Morrison sang.
They played an open ended, constantly mutating music that demanded the highest degree of internal alertness and response from the players and attempted to suck the audience into a vortex of sound that would release them from self-consciousness and into the freedom of the moment. I sometimes think that any contemporary rock group who doesn't acknowledge and build on the influence of The Doors is really wasting their own and everybody else's time. If you were to try and locate the spirit of the band now, you would probably have to look towards dance genres.
Rock careers are short, and life is long. Manzarek had a frustrating time since the death of Morrison. There were two inevitably diminished albums as a trio, and various post-Doors projects involving the spoken word poetry of Morrison. There were solo projects and pick up bands, and many collaborations with guitarist Krieger, including some ill-advised tours effectively as a Doors tribute act. It may have seemed a diminishment of the band's myth to perform with stand-ins for someone as uniquely individual as Morrison yet it is hard not to feel sympathy for any musician who just wants to get out and play his own music.
Manzarek also managed some interesting collaborations over the decades. He worked with Philip Glass, played with Iggy Pop and produced Echo & The Bunnymen, a band heavily influenced by The Doors. The teenage son of one my colleagues only recently discovered Manzarek, through his work with US electro sensation Skrillex.
Music, of course, isn't everything. Whenever Manzarek popped up in the media, he came across as a fascinating, lively, well-balanced individual. He married Dorothy Fujikawa in 1967, and she was with him until the end. They had one son, Pablo, and three grandchildren. Manzarek died of cancer yesterday, in a clinic in Germany. When he died at 74, he had outlived his old band mate Morrison, who died aged 27, by 42 years.
The music lives on. It may be a cliché but that doesn't make it any less true. I have been listening while I write this to The Doors Live in Boston 1970, a posthumously released recording of two shows performed at the Boston Arena on one night, April 10, 1970. Morrison turned up drunk (or, as Manzarek recalled "pie eyed, stinko, a rummy in training") but he is on rambling, audacious, improvisational poetic form. And the band, marshalled by Manzarek, shift and move behind and around him, not just keeping him afloat but pushing him and the audience ever higher. "Listen to the band work and cajole and follow and lead him," wrote Manzarek in the liner notes. "What a wild Doors night."
Wild indeed. People will be listening to Manzarek's brilliant, expressive playing on that night and many others for a long, long time to come.

www.telegraph.co.uk/culture/music/rockandpopmusic/10070160/Ray-Manzarek-of-The-Doors.-His-brilliant-music-will-live-on.html
Deep Purple founder Jon Lord dies aged 71
Leicester-born keyboard player who co-wrote Smoke On The Water dies of cancer

www.guardian.co.uk/music/2012/jul/16/deep-purple-jon-lord-dies