A heartwarming picture of a former Marine being who lost his legs to an IED in Afghanistan being carried by his wife has touched tens of thousands of people on Facebook. Jesse and Kelly Cottle have been married for only one year and were photographed while they visited her family in Idaho. Injured in 2009 (inset) while he attempted to dismantle an explosive device, Jesse joined the Marine Corps in August 2003 and remembers the entire horrific affair.

www.dailymail.co.uk/news/article-2402355/Soldier-love-having-legs-blown-IED-attack-worldwide-star-moving-photograph-carried-wife-goes-viral.html
Since you landed here through a search, READ this man's story and send him a check: be generous.
Donate Today! A Trust has been set up for Taylor Morris, please send donations to:
Veridian Credit Union – Cedar Heights Branch
In Care Of: Taylor Morris Recovery Fund (Account # 6912820)
3621 Cedar Heights Dr.
Cedar Falls, IA 50613
Remarkable: U.S. Navy bomb disposal expert and quadruple amputee Taylor Morris spins his girlfriend Danielle around the dance floor only months after returning from Afghanistan
'It's been so hard and she's been here the whole time': Amazing love story of bomb disposal expert who lost arms and legs in Afghanistan blast and the girlfriend who has been at his side during remarkable recovery
Taylor Morris, 23, underwent quadruple amputation after being seriously injured during deployment in May
Returned home to a hero's welcome in Cedar Falls, Iowa less than three months after being wounded
Unwavering: Miss Kelly has helped 23-year-old Taylor come to terms with the devastating injuries he suffered in Afghanistan four months ago

www.dailymail.co.uk/news/article-2204318/Pictured-Bomb-disposal-expert-lost-arms-legs-IED-blast-documents-recovery-online–sets-MASSIVE-fundraiser.html
Pictured: Bomb disposal expert who lost his arms and legs in IED blast documents his recovery online
By SNEJANA FARBEROV
PUBLISHED: 20:15 EST, 2 June 2012 | UPDATED: 02:38 EST, 3 June 2012
The amazing story of a 23-year-old bomb disposal expert who lost his four limbs in an explosion in Afghanistan has gone viral, with Internet users donating money to make his dream come true.
Less than a month ago, Taylor Morris, an explosive ordinance disposal (EOD) specialist in the U.S. Navy, was leading a team of U.S. Army Special Forces to a classified location near Kandahar province when he stepped on an Improvised Explosive Device, which went off directly underneath him.
'As soon as I stepped on it, I knew,' he told John Resig, the co-owner of the website The Chive, which has released his story. 'There was a moment, then I heard the blast. I felt the heat. I knew I had lost my legs. As I somersaulted through the air, I watched my legs fly off.

Brave: Taylor Morris has been recovering at Walter Reed Army Medical Center from his injuries

Fundraiser: Since Morris' story was posted on the site The Chive, Internet users have donated $230,000 for the injured serviceman
Taylor landed back in the blast crater, but despite the horrific injuries he had sustained, he remained conscious and did not go into shock.
Even though the 23-year-old was bleeding profusely from all four severed limbs, he called to the oncoming medics to stay away from the site of the blast so as not to put them in danger in case there were other mines around.

Injured: Morris (right) was leading a team of U.S. Army Special Forces near Kandahar province when he stepped on an IED
The area around the injured man was finally cleared by the second EOD specialist, and the medic finally administered combat casualty care. Morris remained alert throughout the whole ordeal.
'They asked me how much it hurts on a scale of one to ten. I said, 'Definitely a ten. It freaking hurts,'' he recalled.
Medical crews and comrades were under fire as they came to his aid. They got him on a stretcher and he was evacuated by helicopter to a hospital in Kandahar and then to Germany, the Waterloo-Cedar Falls Courier has reported. Somewhere between those final two stops, Morris finally lost consciousness after a doctor administered a strong sedative.
Three days later, on May 6, the 23-year-old arrived back in the U.S. and was transported to Walter Reed Army Medical Center in Washington, DC, to begin the long and painful rehabilitation process.
Morris has learned that he became only the fifth patient at the hospital to ever survive a four-limb amputation. So far, his progress has been ahead of schedule.
'My body is responding well,' Morris said. 'I'm already sitting up. I'm very fortunate.'
On May 30, the stitches in his arms were removed and he was fitted for prosthetics. The stitches in his legs were removed on Thursday.
A hand transplant specialist also visited Taylor on Thursday, according to his mother, Julie Morris.
Morris' sisters, Molly and Claire, have been organizing fundraisers at home. His brother, Riley, is serving in the Iowa National Guard, and his father, Dan, has been at the hospital with his son as often as work permits.
Morris has had visits from other wounded warriors; top military personnel, including the commandant of the U.S. Marine Corps; Congressman Bruce Braley and actor Joe Mantegna, an advocate for returning veterans.
While he said that his medical bills are covered, the 23-year-old man with a love of the great outdoors said that he has always dreamed of building a log cabin in the woods on a lake where he could live with his girlfriend, Danielle Kelly.
'Taylor and I are both savers, and we had been working our butts off to ensure we'd have a cabin, close to water to do water sports, and places we can hike,' Kelly said. 'After what happened, we will not abandon that dream if it takes years of saving.'
The California-based Internet site The Chive posted Morris' tale of recovery, along with online fundraising links set up by the family.
The site invited viewers to make contributions toward Morris' dream cabin, setting the goal at $30,000, but just 12 hours later, $143,000 had been raised through online donations at TaylorMorris.org. By Saturday morning, donations jumped to $230,000.
'I think it's amazing,' Morris' mother said.
Checks also may be made out to the Taylor Morris Recovery Fund at any Veridian Credit Union branch. Bracelets and T-shirts are available for sale at TaylorMorris.org, where donations can be made through PayPal.
Morris' supporters have also created a Twitter account where people can track his progress.
A major fundraiser for Morris is being planned for October, in addition to a fundraiser next Thursday through June 10 at Tony's La Pizzeria on the Parkade in Cedar Falls. A fundraiser last weekend raised $1,000, which means that Morris is well on his way of making his dream a reality.

www.dailymail.co.uk/news/article-2153924/Pictured-Bomb-disposal-expert-lost-arms-legs-IED-blast-documents-recovery-online–sets-MASSIVE-fundraiser.html
'Superman' soldier fights through rehab after Afghanistan accident takes his limbs making him one of only 5 quadruple amputees to survive
One of only five soldiers in recent times to have survived the loss of all four limbs, such is Army Staff Sgt. Travis Mills' bravery that he has been compared to that quintessential all-American hero – Superman.
Terribly injured in April on a tour of Afghanistan, the 25-year-old father of a new-born girl has astonished doctors with his desire to walk again, making progress that is advancing medicine's understanding of multiple amputees.
With almost 20,000 fans on Facebook watching and willing him on to recovery, the quadruple amputee was on patrol during his third tour in April, when he put his bag down on an improvised explosive device, which tore through the decorated high school athlete's muscular 6-foot-3 frame.

In an undated photo provided by the Mills family, Travis Mills is seen in his hospital bed with his wife Kelsey and daughter Chloe at the Walter Reed National Military Medical Center in Bethesda, Maryland
Having already served two deployments to Afghanistan without suffering anything close to a major injury, everything changed in that instant.
Within 20 seconds of the IED explosion, a fast-working medic affixed tourniquets to all four of Mills' limbs to ensure he wouldn't bleed to death.

Travis Mills served two full tours of Afghanistan before he suffered his devastating injuries
The medic was able to save Mills' life but not his limbs. Today, the 25-year-old Mills is a quadruple amputee, one of only five servicemen from any military branch to have survived such an injury during the wars in Iraq and Afghanistan, said Maria Tolleson, a spokeswoman at U.S. Army Medical Command.
And instead of serving alongside his unit, he has been spending his days based at Walter Reed Medical Center, working on rehabilitation after the accident that dramatically altered the trajectory of his life.
Mills doesn't dwell on that. Sitting in his hospital bed, he describes his situation plainly: 'I just had a bad day at work.'
His family — especially his wife, Kelsey — admires him for that.
'I think he's Superman. I really do,' she said. 'It's amazing to see just how lucky he is. I mean, he's the luckiest unlucky guy.'
Mills' recovery is expected to last at least a year. Already, there have been victories: A procedure performed at Walter Reed National Military Medical Center alleviated the excruciating phantom limb pains Mills was experiencing in the first weeks he was stateside.
He approaches each therapy session methodically, practically.
'There's no reason to sit here and look out the window and feel sorry for myself,' Mills told The Associated Press in a telephone interview from Walter Reed. 'It happened. I can't change the fact that it happened. I can't turn back time.'
At Walter Reed, Mills is doing exercises designed to make his body leaner while strengthening his core, hip flexors, pectorals and shoulders. He bounces on a trampoline, trying to execute 90-degree turns with his torso. 'There's nothing I really don't like (about PT), except I can't do two-a-days yet,' Mills jokes.
While he's in the midst of getting his permanent prosthetics, Mills currently needs assistance to do things that most people take for granted, such as cooking and cleaning, or walking and running.
As often as Walter Reed doctors let him, Mills makes his way to the Military Advanced Training Center to strengthen his body and prepare for long-term prosthetics. He currently has all four beginner prosthetics.
'They push you to your limit, then they push you a little more,' said Mills, a high school football, basketball and baseball star who is more accustomed to bench-pressing and squatting to get bigger.
While he works at learning to use his new artificial limbs, Mills has an army of supporters behind him.
On the Facebook page, nearly 20,000 people are tracking his progress and cheering him on virtually through messages.
The page serves as a window into his recovery, and his supporters watch eagerly as he surpasses milestones.

Sgt. Travis Mills was based at Fort Bragg in North Carolina and as he recovers in Maryland his army colleagues visit him
When he began to walk on his prosthetics for the first time, a camera followed him as he nudged forward on a small track.
With red and white sneakers laced on his prosthetic legs, and crutches gripping his artificial hands, he methodically takes one step at a time while tethered with a harness to the ceiling.
He doesn't just take a few steps. He walks the whole track.
'This is your first day?' an incredulous voice says from nearby.
'Yes, yes it is,' he responds proudly, taking another step.
A short time later, another video showed more progress: He walks faster now, swifter than his first deliberate gait.
Videos also show him learning to roll and come to a sitting position in his bed, and learning, patiently, to use an artificial hand. One clip shows him removing colorful clamps from a bar and dropping them in a bucket.
Another shows him using that same hand to feed baby food to his infant daughter, Chloe.
'Turkey and rice, tastes so nice!' he sings, as the baby girl opens wide and flaps her hands.
Only a half-year older than his injuries, Chloe has been a significant source of inspiration to Mills.
He was there when she was born on the base at Fort Bragg, N.C. He left 4 months later for Afghanistan. Now, she sees him every day — sometimes helping him with his recovery.
Some videos show Mills doing crunches on his bed with an elated Chloe on his torso. In another video, he straps her into his wheelchair and zips around as she waves her hands in excitement.
Mills repeatedly talks of how 'blessed' he is to be alive.
'Now I can watch my little girl grow up and see my wife and family again, and everything's good to go,' he said. 'I didn't die, so that's good. You've got to look at the positive things.'
Mills' prognosis moving forward isn't clear, but there have been advances in working with patients who suffer similar injuries. Dr. Karen Pechman, who runs the amputee rehabilitation program at Burke Rehabilitation Hospital in White Plains, N.Y., said;
'Only in the past few decades has the medical care existed that enables' people who incur the trauma or disease states that would result in quadruple amputees to survive, so it's not yet known whether those who lose all their limbs have their life expectancy diminished.
'There is nothing inherent medically about amputation that would affect subsequent health.
'It is … the activity level achieved by the patient that may impact on subsequent health.'
As he recovers, Mills' story is compelling thousands to take notice and offer support. Recognizing that the family will face costs not covered by the Army and insurance, a fund has been set up for his family.
There have been 5K runs held in his honor. T-shirts printed. Concerts, golf tournaments, motorcycle rides. Under the banner of hundreds who call themselves 'Team Mills,' fundraisers have been held in Kelsey's home state of Texas, in North Carolina where the couple lived and many places in between.
Nowhere has more been done, though, than in Michigan, where a recent spaghetti dinner at an American Legion post netted tens of thousands in donations.
In Mills' hometown of Vassar, it's hard to find a tree, lamppost or telephone pole without a yellow or red, white and blue ribbon attached. Businesses throughout the 2,700-resident town feature signs encouraging prayer for the Mills family.
'I wouldn't want to go through it. I don't know anybody that would,' said Paul Wojno, the principal at Vassar High School and the father of one of Mills' best childhood friends. 'But … if I had to pick one kid in this school that has recently graduated, I'd say Travis would be the one to try to do it.'
Mills recently achieved his goal of progressing to the point that doctors OKed his move to a nearby outpatient facility that allows him to live with Kelsey and Chloe. Now, he's setting his sights on September, when his unit returns to Fort Bragg.
'I'll be there, hopefully on my prosthetics, and I'll be standing in my uniform and I'll have an arm on my right and left side and I'll be able to salute them as they come in. And I'll be standing there waiting for them,' he said.
As for all of the supporters who call him a hero?
'Just because stuff happened to me, I don't think it makes me a hero,' he said. 'I think it just makes me a guy that did his job, knew the consequences of what could happen and something happened.'


As one of only five people in the recent history of the U.S. Military to to survive the loss of all four limbs, Travis Mills plays with his daughter Chloe

www.dailymail.co.uk/news/article-2168197/Superman-soldier-fights-rehab-Afghanistan-accident-takes-limbs-making-5-quadruple-amputees-survive.html
'Now I just have to make sure not to let everyone down': Hero soldier who lost four limbs returns to Michigan hometown

Soldier's return: Army Staff Sgt. Travis Mills is seen playing with his 1-year-old daughter Chloe on Thursday during his first visit to his hometown since losing all four limbs in Afghanistan

www.dailymail.co.uk/news/article-2213162/This-new-normal-I-adjust–Travis-Mills-soldier-lost-4-limbs-hometown.html
Heartache for woman burying Marine husband who died in Afghanistan without ever having met their three-month-old son

Tragic: U.S. Marine Lance Cpl. Steven Stevens II was killed in Afghanistan in June, leaving behind his wife Monique and their three-month-old son Kairo

Heartbreaking: Baby Kairo and his dad never even met
www.dailymail.co.uk/news/article-2168041/Heartache-woman-burying-Marine-husband-died-Afghanistan-having-met-month-old-son.html
Dick Winters

www.dailymail.co.uk/news/article-2155434/Statue-U-S-war-hero-inspired-hit-historical-drama-Band-Brothers-unveiled-68th-anniversary-D-Day.html
For captions, click on link
http://life.time.com/history/d-day-rare-color-photos/#1
Count Robert de La Rochefoucauld
Count Robert de La Rochefoucauld, who has died aged 88, escaped from Occupied France to join the Special Operations Executive (SOE); parachuted back on sabotage missions, he twice faced execution, only to escape on both occasions, once dressed as a Nazi guard.

Count Robert de la Rochefoucauld
5:48PM BST 29 Jun 2012
Other disguises also came in useful. On the run in occupied Bordeaux he dressed as a nun. In later life he helped Maurice Papon to flee to Switzerland.
Robert Jean-Marie de La Rochefoucauld was born in Paris on September 16 1923, one of 10 children of an aristocratic family which lived in old-fashioned splendour on Avenue de la Bourdonnais, in the shadow of the Eiffel Tower. An ancestor was François de La Rochefoucauld, famous for his maxims. Robert's mother (née Wendel) was daughter of the Duke of Maillé. His father's family retained a private carriage which was hitched on to trains during rail journeys.
Considered a sickly child, Robert was sent to a succession of private schools for the jeunesse dorée in Switzerland and Austria where, in 1938, he was taken on a school trip to Berchtesgaden, Hitler's Alpine retreat. When Hitler's convoy drew up, the Fuhrer approached and patted Robert on the cheek affectionately. It was, La Rochefoucauld later recalled, a dream come true for his 15 year-old self. Hitler was then the great statesman of Europe; young Robert and his schoolmates had attached swastikas to their bicycles in admiration.
La Rochefoucauld was back in France when the Nazis invaded. His father was taken prisoner; the rest of the family took refuge in the Chateau de Villeneuve, east of Paris. Furious at the Occupation, La Rochefoucauld protested long and loud until he was warned to keep quiet by a friendly postman, who had intercepted a letter denouncing the young man to the Nazis.
La Rochefoucauld made contact with the Resistance in the spring of 1942, keen to find a route to join Free French forces in England. He took the pseudonym René Lallier and travelled, via Vichy and Perpignan, to the Pyrenees, where he accompanied two British airmen over the Col de Perthuis into Spain. Immediately arrested, the three spent two months in jail before Major Eric Piquet-Wicks, head of recruiting French nationals for SOE, arrived from the British embassy in Madrid and arranged for the three to be released.
It was at the embassy that La Rochefoucauld was invited to join SOE. "The courage and skill of British agents is without equal," he recalled the ambassador noting. "It is just that their French accents are appalling."
After meeting de Gaulle to ask his permission to join British forces ("Do it," came the reply. "Even allied to the Devil, it's for La France.") La Rochefoucauld began his training early in 1943 at RAF Ringway, near Manchester, where he learned to parachute and use small arms and explosives, as well as how to kill a man with the flat of his hand. Experienced safe-crackers were brought out of jail to show the recruits the art of breaking and entering. In June he was considered ready for his first mission.
Dropped into the Morvan with two British agents, including one radio operator, La Rochefoucauld teamed up with a Maquis group near Avallon led by a man who called himself The Pope. After destroying the electrical substation at Avallon, and blowing up railway tracks, La Rochefoucauld was awaiting exfiltration by the RAF when he was denounced and arrested. After a series of interrogations, he was condemned to death.
En route to his execution in Auxerre, La Rochefoucauld made a break, leaping from the back of the truck carrying him to his doom, and dodging the bullets fired by his two guards. Sprinting through the empty streets, he found himself in front of the Gestapo's headquarters, where a chauffeur was pacing near a limousine bearing the swastika flag. Spotting the key in the ignition, La Rochefoucauld jumped in and roared off, following the Route Nationale past the prison he had left an hour earlier.
He smashed through a roadblock before dumping the car and circling back towards Auxerre on foot under cover of night. He sheltered with an epicier. From Auxerre, friends in the Resistance helped him on to a train for Paris, where he evaded German soldiers hunting him by curling up underneath the sink in the lavatory. "When we arrived in Paris I felt drunk with freedom," he recalled.
Taking refuge with an aunt and uncle, both of whom had assumed he was dead, La Rochefoucauld spent a month rebuilding his strength before, in February 1944, recontacting SOE, which ordered him to the Calais coast, then on high alert for the expected Allied invasion, to be extracted by submarine. After a successful rendezvous off Berck, La Rochefoucauld enjoyed a convivial evening with the crew, only to find himself obliged to stay on-board for three days while the sub completed a patrol. Those days of confinement, he wrote, were among his "worst of the war". When the vessel came under depth charge attack, La Rochefoucauld noted later, he had "never been so scared in my life".
Back in London, however, he found a city celebrating a victory that many assumed was just around the corner. "We were invited to the best houses," he recalled. "Girls fell into our arms." By May he was ready to be parachuted back into France, charged with blowing up the vast munitions factory at Saint-Médard near Bordeaux ahead of D-Day.
The mission, code-named "Sun", saw La Rochefoucauld infiltrate the factory dressed as one of the workers there. Over four days he smuggled in 40 kilos of explosives, concealed in hollowed-out loaves of bread and specially designed shoes. On Thursday May 20, La Rochefoucauld linked the charges and set timers before scaling a wall and pedalling to safety on a bicycle. The blast was heard for miles. After sending a message to London (the reply read simply: "Félicitations") he enjoyed several good bottles with the local Resistance leader, waking the next day with a hangover.
Cycling to Bordeaux to meet a contact who was to arrange his return to England, however, he ran into a roadblock, taken prisoner, and imprisoned at the 16th-century Fort du Hâ. His explanations that he had been out after dark on a romantic assignation were not believed and, in his cell, La Rochefoucauld considered swallowing the cyanide pill concealed in the heel of his shoe.
Instead he faked an epileptic fit and, when the guard opened the door to his cell, hit him over the head with a table leg before breaking his neck. ("Thank Goodness for that pitilessly efficient training," he noted). After putting on the German's uniform, La Rochefoucauld walked into the guardroom and shot the two other German jailers. He then simply walked out of the fort, through the deserted town, and to the address of an underground contact.
Once there, however, he found that joining the rest of his escape line was impossible, as checks and patrols had been stepped up. Then the man harbouring him, whose sister was a nun, suggested that La Rochefoucauld slip into her habit. Thus dressed, he slowly walked through the city, eventually knocking on the door of Roger Landes, code-named Aristide, a bilingual Briton whom he hoped would take care of his return to England. In fact, Aristide's orders were to hide La Rochefoucauld. D-Day was days away, and he was, by his own admission, "the last of their worries in London".
He was consigned instead to a woodcutter in the Landes but, bored with the work, joined a local Resistance group. Arrested once more, he was taken to a guardpost only to find himself in a storm of machine-gun fire. It turned out to be coming from fellow resistants, who had launched an immediate operation to free him. He emerged unscathed. "I had what I needed more than anything else," he said later. "Luck."
By August 1944 the Germans had abandoned Bordeaux. In the city La Rochefoucauld found men in glorious French uniform in every café; on the streets, others wore holsters. "It seemed the heroes were two a penny, now that the danger had passed," he noted. "The ostentation made me feel sick."
He joined the Charly group of the Resistance, harassing the German lines. One night he opened the door of an apparently deserted building, only for a German soldier to open a door opposite at exactly the same moment. In the gloom, each man fired four or fire shots at the other, missed, and simply retreated through the doors they had come through. For La Rochefoucauld, the incident illustrated the sometimes farcical nature of war.
His final behind-the-lines assault came in April 1945, when he led an night raid to knock out a casemate near St-Vivien-du Médoc, on France's western coast at the mouth of the Gironde. Paddling up the river, he approached the casemate, killed a guard there, and blew it up, forcing the Germans to pull back to their final defensive position on the sea at Verdon.
La Rochefoucauld was unable to witness the final victory. On April 19 1945 he was wounded in the knee after a mine explosion. In August, recovered, he travelled to Villeneuve to rejoin his family.
After a month's leave, La Rochefoucauld turned occupier himself, as ADC to General Roger Noiret. In Berlin Marshal Zhukov, then commander of the Soviet zone of occupation, invited Noiret and La Rochefoucauld to a party. After mishearing La Rochefoucauld's name as La Rochezhukov, the Soviet hero, known for his fondness for vodka, kissed La Rochefoucauld, Soviet style, full on the lips.
La Rochefoucauld was demobilised in 1946 in the rank of captain but immediately recruited into the French secret services. After training near Orleans, he volunteered for a tour of duty in Indo-China, leading commando raids against the Viet Minh. But his methods, which included launching ambushes dressed as a Viet, were frowned upon by senior officers, and after five months he returned to France. Life there bored him, and he travelled: first to Cameroon, for three years, then to Venezuela for two. He returned to rejoin French special forces in time for Suez. Parachuted into Sinai, the fighting ended before he became involved.
His awards included Chevalier de la Légion d'Honneur, Croix de Guerre, Médaille de la Résistance and the DCM. His memoirs were entitled La Liberté, c'est mon plaisir (2002).
From 1966 he served for three decades as mayor of Ouzouer-sur-Trézée in north-central France. In February 1997 he returned to Bordeaux for the trial of Maurice Papon, the former Vichy official accused of deporting 1,600 Jews from the city. In his defence, Papon claimed that he had been a Resistance go-between in 1944, a claim which La Rochefoucauld backed. "He [Papon] was one of those brave men who risked their lives to help the Resistance and the Allies," he said.
Despite this, Papon was found guilty and sentenced to 10 years. Freed while his lawyers appealed, Papon fled to Switzerland, where he was found under an assumed name: Robert de La Rochefoucauld. The former special forces soldier had provided Papon with his passport. When detectives arrived to question La Rochefoucauld, his wife told them: "Don't try to lock him up. He escapes, you know."
Robert de La Rochefoucauld married Bernadette (née de Marcieu de Gontaut-Biron). She survives him, with three daughters. Their son Jean inherits the title.
Count Robert de La Rochefoucauld, born September 16 1923, died May 8 2012
www.telegraph.co.uk/news/obituaries/9365640/Count-Robert-de-La-Rochefoucauld.html

Telling his story: Steve Flaherty, who was with the 101st Airborne, was killed in the northern section of South Vietnam in March 1969
Letters FINALLY make it home to family of American soldier who fought and died in Vietnam after they are handed over by Vietnamese who used them as propaganda
PUBLISHED:18:55 EST, 4 June 2012 | UPDATED: 00:59 EST, 5 June 2012
Letters written by American soldiers chronicling the carnage and exhaustion of the Vietnam War were given to Defense Secretary Leon Panetta in exchange for a Vietnamese soldier's diary that was taken from his body by an American GI.
'If Dad calls, tell him I got too close to being dead but I'm O.K. I was real lucky. I'll write again soon,' one letter read.
That poignant message never reached the mother of Army Sargent Steve Flaherty. He was killed in Vietnam in 1969 before he could mail the letters he was carrying, including one he might have been writing when he died.
The letters were taken by the Vietnamese after his death, U.S. officials said in releasing excerpts on Monday, and are now due to be returned to the fallen soldier's family in South Carolina.
Vietnamese Defense Minister Phung Quang Thanh and Mr Panetta made the exchange in a ceremony in which the Vietnamese also agreed to open three new sites in the country for excavation by the United States to search for troop remains from the war.
Acidic soil in Vietnam erodes bones quickly, leaving in many cases only teeth for military teams to use to try and identify service members.
Ron Ward, U.S. casualty resolution specialist at the Joint POW/MIA Accounting Command in Hanoi, said there are at least four U.S. troops believed to be lost in the three areas that are being opened.
That leaves eight sites still restricted by the Vietnamese, he said.
Memories of the Vietnam War are fading for many Americans, and the war is the stuff of textbooks for others, but it is brought vividly alive in Sargent Flaherty's letters.

Returned at last: As part of an exchange between U.S. and Vietnamese officials, the letters are due to be returned to Mr Flaherty's family. The Vietnamese used them as propaganda during the war


The exchange: Leon Panetta is handed Mr Flaherty's letters from Vietnam's defense minister General Phung Quang Thanh during a ceremony on Saturday
The mail from the Columbia, South Carolina native to his mother, Lois, and two women identified only as Mrs. Wyatt and Betty, offer emotional accounts of his fear – and also his determination.
'I felt bullets going past me,' Mr Flaherty wrote to Betty. 'I have never been so scared in my life.'
'We took in lots of casualties and death,' he writes. 'We dragged more bodies of dead and wounded than I can ever want to forget.'
'Thank you for your sweet card. It made my miserable day a much better one but I don't think I will ever forget the bloody fight we are having. … RPG rockets and machine guns really tore my rucksack.'
By 1969, the war was sharply dividing Americans back home, but Mr Flaherty told Mrs. Wyatt he still believed in the mission.
'This is a dirty and cruel war but I'm sure people will understand the purpose of this war even though many of us might not agree,' he writes.
In another section of the letter to his mother, Mr Flaherty reassures her that he was trying to get some rest.
'I definitely will take R&R,' he wrote. 'I don't care where so long as I get a rest, which I need so badly, soon. I'll let you know exact date.'
Mr Flaherty, who was with the 101st Airborne, was killed in the northern section of South Vietnam in March 1969. It's clear he saw some heavy combat.
'Our platoon started off with 35 men but winded up with 19 men when it was over,' he tells his mother. 'We lost platoon leader and whole squad.'
Officials said parts of Mr Flaherty's letters were read in propaganda broadcasts by the Vietnamese during the war.
This is the first time such a joint exchange of war artifacts has occurred, they said.
Vietnamese Colonel Nguyen Phu Dat had kept Sargeant Flaherty's letters, and last August he mentioned them in an online publication.
Early this year, Robert Destatte, a retired Defense Department employee who had worked for the POW/MIA office, noticed the publication, and the Pentagon began to work to get the letters back to Mr Flaherty's family.
Mr Flaherty's sister-in-law, Martha Gibbons, 73, of Irmo, South Carolina, said she learned of the letters' existence about six weeks ago.
Mrs Gibbons said her husband met Mr Flaherty when the boy was a 6-year-old living in a Japanese orphanage and her husband persuaded his mother, with whom they lived, to adopt the child. He grew up to be a well-liked, athletic boy, who dropped out of college to join the Army despite a baseball scholarship.
'He decided to enlist in the Army and go fight for his country in Vietnam and he didn't make it back,' said Kenneth L. Cannon, 80, of Prosperity, South Carolina, Mr Flaherty's uncle.
'It was very hard to take. It was hard.'
Mr Cannon said the family was told that he was in a field, taking a break to eat lunch or write letters.
'He never let us know how afraid and scared he was,' Gibbons said. 'He was in danger. We knew it was bad. We just didn't know how bad, I guess.'
She's thrilled the information has been released.
'I had a very emotional morning all over again. But it was a wonderful emotion this time. It's good for both countries. It's good for all the soldiers who were killed for both countries,' Mrs Gibbons said the family would store the letters with Mr Flaherty's medals, scrapbook and flag.
Defense officials reviewing the packet of papers given to Mr Panetta said it appears there are three sets of letters, including the four written by Mr Flaherty. It was not clear how many other service members' letters were there, but officials were going through them Monday
The small diary belonged to Vu Dinh Doan, a Vietnamese soldier who was killed in a machine gun fight, according to defense officials.
They said a Marine, Robert 'Ira' Frazure of Walla Walla, Washington, saw the diary – with a photo and some money inside – on the chest of the dead soldier and took it back to the U.S.
The diary came to light earlier this year when the sister of a friend of Frazure's was doing research for a book and Mr Frazure asked her help in returning the diary.
The sister, Marge Scooter, brought the diary to the PBS television program 'History Detectives.'
The show then asked the Defense and State departments to help return the diary.
There are nearly 1,300 cases of troops still unaccounted for, and officers briefing Mr Panetta said about 600 of those remains could be recoverable.
STRAIGHT FROM THE FRONT LINES: EXCERPTS FROM THE LETTERS
Letter to 'Betty'
'I'm sorry for not writing so long but we have been in a fierce fight with N.V.A. We took in lots of casualties and death. It has been trying days for me and my men. We dragged more bodies of dead and wounded than I can ever want to forget.'
'Thank you for your sweet card. It made my miserable day a much better one but I don't think I will ever forget the bloody fight we are having.'
'RPG rockets and machine guns really tore my rucksack.'
'I felt bullets going past me. I have never been so scared in my life. Well I better close for now before we go in again to take that hill.'
Letter to 'Mother'
'I definitely will take R&R, I don't care where so long as I get a rest, which I need so badly, soon. I'll let you know exact date.'
'If Dad calls, tell him I got too close to being dead but I'm O.K. I was real lucky. I'll write again soon.'
'Our platoon started off with 35 men but winded up with 19 men when it was over. We lost platoon leader and whole squad.'
'The NVA soldiers fought until they died and one even booby trapped himself and when we approached him, he blew himself up and took two of our men with him.'
Letter to 'Mrs. Wyatt'
'Our platoon leader was killed and I was the temporary platoon leader until we got the replacement. Nothing seems to go well for us but we'll take that ridge line.'
'This is a dirty and cruel war but I'm sure people will understand the purpose of this war even though many of us might not agree.'
www.dailymail.co.uk/news/article-2154667/Letters-FINALLY-make-home-family-American-soldier-fought-died-Vietnam-handed-Vietnamese-used-propaganda.html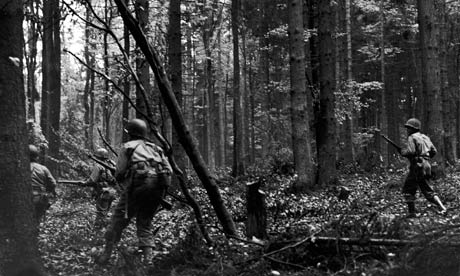 American infantrymen in the Hürtgen Forest, Germany, 2 November 1944: 24,000 died there in three months. Photograph: Time Life Pictures/Getty
The bloody consequences of military hubris
What folly that the US prefers to celebrate its victories, like D-Day, rather than learn from its disasters, like Hürtgen
Clancy Sigal
guardian.co.uk, Saturday 2 June 2012 10.00 EDT
D-Day – 6 June 1944, when Allied forces stormed into Hitler's Fortress Europa in Normandy – is rightly celebrated for the valor of the American and British citizen soldiers who scaled the fearsome cliffs of Pointe-du-Hoc and other dug-in Wehrmacht concrete bunkers on Omaha, Utah, Sword, Gold and Juno beaches.
Most of us have seen Saving Private Ryan, or have movie memories of The Longest Day or TV's Band of Brothers. That's because D-Day is photogenic and "iconic". The "longest day" is preserved in popular and institutional memory as a thrilling military success, which, as we know, has many fathers, while failure is an orphan. D-Day's message is that US military strength and pluck overwhelm, and always will.
But what happens after Matt Damon's Private Ryan is saved and John Wayne, with his broken ankle, takes Sainte-Mère-Église?
After the real Normandy invasion, American commanders, high on victories, were anxious to attack Hitler's Siegfried Line, a series of defensive positions along the German border that were concrete bunkers protected by antitank obstacles and mines, and by motivated, battle-hardened Wehrmacht troops. The idiot's plan was to frontally advance through a 70-mile-square dark Hürtgen forest, near Aachen, during the worst winter on record.
The forest trees had been planted so deliberately close together that visibility was almost zero – except for previously zeroed-in mortars andMaschinengewehr. The stupidest private soldier could have told the US brass that flanking the thickly wooded hills – going around it – would be more productive tactically and less destructive of the 24,000 Americans who died trying to take this piece of militarily valueless real estate.
I know about this disaster because I joined one of its lead elements, the Fourth Infantry Division, after they returned from Europe, decimated and shellshocked, and I had a chance to talk to survivors. At one point, the Fourth's 22nd Regiment suffered 80% casualties; some of its companies took nearly 200% dead and wounded – that is every soldier had to be replaced twice over, usually by gormless trainees like me. Hardly a squad leader, sergeant or young lieutenant survived. (See the late Paul Fussell's The Boys' Crusade: American Infantry in Northwestern Europe.)
The three-month battle of the Hürtgen Forest, the longest battle in US military history – marked by mud, snow, misery, desertions, unheard-of GI casualties and top brass incompetence – is a historical stepchild swept aside for more glorious encounters like D-Day and the Battle of the Bulge.
From September to November 1944, in the dark, mysterious, Grimm-like "haunted wood", summer-uniformed, under-armed, ill-supplied GIs, mostly unsupported by artillery and weathered-in air, without maps and unable to see one another in the jungle-like, mine-planted forest, were shredded by murderous tree-bursts for which they'd not been trained and flung blindly into repeated attacks by uncoordinated "command and control" officers issuing dumb orders from the rear. Understandably, if they lived, they preferred not to talk about it to civilians. Official military histories, which infantryman-scholar Fussell called "a masterpiece of omission, evasion and cheerful euphemism", simply erased Hürtgen altogether.
Top officers responsible for the fiasco – Ike Eisenhower, Omar Bradley, Courtney Hodges and Lawton Collins, among them – went on to honored retirement. Bradley, who became a "wise man" adviser to President Lyndon Johnson, strongly recommended against withdrawing from the Vietnam War. They never learn.
It depends on whether you're looking at it from inside a shell-blasted foxhole, like the wounded veteran Fussell, or from an elegantly-drawn map in a warm chateau miles away from the freezing front, which you find reasons not to visit and see for yourself.
Ernest Hemingway, a civilian journalist and an invalided veteran from the Great War, wanted to see what the hell was going on. So he armed himself with a submachine gun (against the Geneva Convention) and invited himself to the Hürtgen battle with the Fourth Division's 22nd Infantry Regiment. He took one look at this killing field, mud up to the axles, and GI foxholes useless under vertical shell explosions, and knew instantly what the generals refused to admit, that it was the first world war's Passchendaele disaster all over again: brass sacrificing khaki for their greater glory.
An exception to the rule of generals covering their asses was James Gavin, commander of the 82nd Airborne, who always jumped into combat with his men and carried the enlisted man's weapon, the M-1 Garand. He broke ranks to admit:
"For us, the Hürtgen was one of the most costly, most unproductive, and most ill-advised battles that our army has ever fought."
If only "Jumpin' Jim" Gavin, who understood the costs of combat, was still around to counsel Barack Obama about the lessons of Hürtgen and perhaps gently guide our commander-in-chief away from his current love affair with high-tech, kill-at-a-distance drone warfare – so bloodless, so intellectual, so glory-seeking … and so self-defeating. Obama, who, his aides tell us, has a "death list" printed on baseball cards listing which foreign enemies (and/or family) to obliterate with his thunderbolts, would have been at home at the battle of Hürtgen, behind the lines in some distant war room, poring over a map and brooding, brooding.

http://www.guardian.co.uk/commentisfree/2012/jun/02/bloody-consequences-military-hubris
Betrayal of a hero: He flew 92 missions as a rear gunner in the Second World War. So why won't bureaucrats let Freddie Johnson, 91, attend the unveiling of a memorial to his comrades in Bomber Command?
War Hero Freddie Johnson, 91, won six medals during the war
He was shot down twice during 92 bombing raids
But despite his efforts, bureaucrats say there are no tickets left for the unveiling so he can't go
New Bomber Command memorial will be unveiled by the Queen in Green Park, London on June 28
By CHRIS BROOKE
PUBLISHED: 09:27 EST, 10 June 2012 | UPDATED: 02:43 EST, 11 June 2012
Among a rapidly dwindling band, no one epitomises the courage and heroism of the Bomber Command veterans more than Freddie 'Johnny' Johnson.
A survivor of 92 missions during five years of service in the Second World War, the highly decorated rear gunner was shot down twice – once behind enemy lines – but lived to fight another day.
Now aged 91 and a wheelchair user, he could have expected to be a VIP guest at the unveiling of a long-awaited £6.5million Bomber Command memorial in Green Park in central London.
War hero: Rear gunner Freddie Johnson, 91, who has been denied a ticket to the unveiling of the £6.5million bomber command memorial
Mr Johnson's family are furious about the snub. They found out too late that veterans had to apply for tickets, like anyone else wanting to attend.
Now the entire allocation has been taken up, largely by relatives of those who served on the bombers, and Mr Johnson has been told he can't go.
His daughter Mandy Stewart, 56, said: 'How can they expect a 91-year-old war veteran to sort this out himself?

Serviceman: Freddie Johnson and his wife Jean, pictured during World War II, will be unable to attend the memorial unveiling
'He's a member of the RAF Association so it couldn't have been that hard to trace him and invite him to the ceremony.
'We feel that precedence should be given to those who were actually there.'
Mr Johnson, of Tadcaster, North Yorkshire, supported numerous fundraising events over the years which finally led to the memorial being given the go ahead.
He said: 'I would have loved to have gone. I was very pleased when I heard it was being built.'
Like many other veterans he was determined that the 55,573 bomber crew who lost their lives should be given a fitting memorial.
Mr Johnson was 20 when he joined the RAF. As a rear gunner he had a life expectancy of six weeks, but went on to survive the entire war and earn six medals, including the Distinguished Flying Cross, in the process.
There were 25 missions over Germany, as well as stints in Burma and North Africa in Wellington and Halifax bombers.
Mr Johnson's closest shave came at El Alamein in 1942 when his plane was shot down. He survived by a stroke of luck when the turret of his plane where he was sitting came away as the aircraft crashed into the desert. The front end of the plane exploded, killing four men on board, but he survived.
Despite being behind enemy lines he marched off into the desert and was picked up by a group of British soldiers who had spotted the crash.
A second crash occurred when his plane was shot down near the Burma border, and on this occasion everyone survived.
The rear gunner badly damaged his leg in another operation and was in hospital when his medal and letter from the King arrived. He still has pins in his legs and suffers severe arthritis.
He remains fiercely proud of his war years and his wife Jean, 85, believes the authorities have let him down.
She said: 'It's a shame. He is bitterly disappointed. There can't be that many veterans left who saw such long service and were presented with so many medals. This memorial is what my husband has been waiting for. At one point in the war the bombers were all we had. The bombers deserve this.'
The memorial organisers said that they were extremely sorry that Mr Johnson and other veterans had been unable to get tickets to the event.
A spokesman said: 'The problem is we have been absolutely overwhelmed by demand for tickets. We have a licence limiting us to 6,500 guests which we cannot exceed, and have prioritised two groups – people who lost relatives such as husbands and fathers, and veterans who flew in the planes.
'But we still probably have at least 1,000 people who would like to attend but cannot come. Other events will be staged at the memorial later in the year and we would hope that people who cannot get a ticket this time will be able to attend one of those functions.'

www.dailymail.co.uk/news/article-2157160/Betrayal-hero-He-flew-92-missions-rear-gunner-Second-World-War-So-wont-bureauocrats-let-Freddie-Johnson-91-attend-unveiling-memorial-comrades-Bomber-Command.html
A Lancaster crew was expected to survive for three-weeks only. A crew could fly one night and be lost on the next night. Luck played a huge part. Of the total number of Lancasters built, half were lost by the end of the war.In one month alone-when the losses were at their highest, of sixteen 49 Sqn crews based at Fiskerton, 3 completed their tour of 30 operations, 1 crew were listed as prisoners-of-war, 1 crew was listed as killed-in-action and 10 crews were listed as failing to return. A staggering loss rate of 80%. Confined crew positions and bulky flying gear made it almost impossible to escape a crashing Lancaster.

www.fiskertonairfield.org.uk/custom3.html
The scars of the Second World War still line bomber country
The Queen will mark the huge sacrifices of the RAF when she unveils the Bomber Command memorial in Green Park
By Neil Tweedie
6:50AM BST 27 Jun 2012
Poppies bloom in the fallow fields of Lincolnshire, sudden outbreaks of red in a verdant landscape – nature's unintended tribute to the thousands of young men who flew from this place into the dark heart of Nazi Germany, never to return.
The Second World War lingers here, in bomber country. Small memorials commemorating long-disbanded squadrons mark rural crossroads, and white headstones adorned with the Royal Air Force crest dot medieval churchyards. Lincolnshire is far from prairie flat but it enjoys a big sky. It needed to be big in the years 1942 to 1945 when, as the epicentre of RAF Bomber Command, the county was home to hundreds of Avro Lancasters.
"There were 46 military airfields in the county by 1945 and 24 of them were devoted to the strategic air offensive," says Patrick Otter, who has made a study of Lincolnshire's bomber past. "You couldn't drive seven miles without bumping into the RAF."
Tomorrow in London, the Queen will unveil the first national memorial to the dead of Bomber Command, a belated acknowledgement of sacrifice on a scale scarcely comprehensible today. The memorial is the culmination of a five-year campaign by veterans to raise £9.5 million from the public, including more than £1 million donated by readers of The Daily Telegraph.
Of 125,000 aircrew who served in the strategic bomber force between 1939 and 1945, 55,000 were killed and another 18,000 wounded or taken prisoner, a casualty rate of 60 per cent. Statistically, there was no more dangerous occupation during the war, except for that of U-boat crewman. The chance of being killed on a typical operation was one in 20, while the standard "tour" undertaken by a crew consisted of 30 ops. Flak, accident, the prowling, pitiless nightfighters – a completed tour was something to celebrate in the squadron local.
The bravery required to take to the air night after night, as one's luck drained steadily away, was of a different quality to that required in most other branches of the Armed Forces, where combat was often a short and terrifying interlude to extended periods of inactivity. Turning up over Berlin or the Ruhr for the third or fourth time was not enough to merit an award for gallantry, no matter that it entailed the nightly mastering of fears that inevitably drove some to the wall.
The British policy of "area bombing", the methodical destruction by incendiary and high explosive of German towns and cities, was a cruel, attritional business. Between 300,000 and 600,000 civilians perished in the whirlwind of destruction unleashed by Air Marshal Sir Arthur Harris, commander-in-chief of Bomber Command, at the behest of the War Cabinet. "They struck a medal for the Land Army and the Bevin Boys but there was no campaign medal for Bomber Command," says Mr Otter. "It is scandalous.
"There was this awful denial after the war about the role of the bomber crews because of the scale of the destruction inflicted on Germany. Churchill, who had promoted bombing as the only way of hitting back at Hitler in the early stages of the war, devoted one paragraph to Bomber Command in his memoirs."
Of the 55,000 who never came back – British, Canadians, Australians, New Zealanders and Free Poles – a good portion flew out of Lincolnshire. On a rare sunny day Mr Otter has chosen Bardney as a typical example of the airfields that sprang up to accommodate the vast force of four-engined "heavies". Opened in spring 1943, it was a rushed job, a basic place, the work of Irish labourers imported for one of the biggest construction programmes in British history. Metheringham, Kelstern, Skellingthorpe, Wickenby, Ludford Magna, Woodhall Spa, the wartime fields bestowed temporary notoriety on the villages from which they borrowed their names.
Little remains of most. Here and there is a hangar turned barn or a decaying Nissen hut. Bardney still has its control tower, a utilitarian concrete block now used by a model aircraft club. But its significance for Mr Otter lies elsewhere.
On the afternoon of December 16, 1943 his father, Flying Officer Bernard Otter, took off from Bardney in Lancaster Y-York, heading for Berlin. A navigator, he was 31, the oldest man by far in the seven-strong crew. It was their 16th operation together, and their last.
"My dad was a keen sportsman," says Mr Otter of the man he never met. "He was a quantity surveyor in Scunthorpe before the war and joined the Royal Air Force Volunteer Reserve. His eyesight stopped him being a pilot so he was sent to Canada on a navigator's course. He was so good that they made him an instructor and sent him to Florida. He was safe there but volunteered for operations and came back on the Queen Mary."
The raid of December 16 was part of "the Battle of Berlin", the attempt by Harris to destroy the Nazi capital and break the will of the German people to resist. Instead, it almost broke Bomber Command, exacting a terrible price in crews and aircraft between November 1943 and March 1944.
"From what my family told me, my father was a phlegmatic man and took things as they came," says Mr Otter. "Most people did in those days – post-traumatic stress was not recognised. Men who couldn't take it any more were deemed to be LMF ("lacking moral fibre"). They were reduced in the ranks and in some cases were sent for 'corrective treatment'. Others were simply given menial jobs, and the RAF made sure everyone knew why." Given the strains they were under, remarkably few aircrew opted for LMF.
"The day before Dad took off, he was at home with my mum, Gwen, in Gainsborough. He always flew with a green scarf around his neck. It belonged to her and it was his lucky charm. That Wednesday he went, he left it behind. My uncle ran with the scarf to catch him at the railway station but he'd already gone. He was killed on the Thursday."
The crew of another Lancaster saw what happened. Y-York had completed its bombing run and turned towards the Baltic when it collided with a Lancaster of 619 Squadron. Locked together, the two aircraft plunged earthward in flames, crashing in woodland 30 miles north-east of the German capital. Twenty-three other Lancasters were downed over Germany and 29 more crashed in fog near their bases.
"More than 300 men were killed," says Mr Otter. "It was called Black Thursday and was one of the worst nights of the bomber war because half the crews had been lost so close to home in avoidable circumstances."
Mr Otter was born in May 1944, six months after his father's death. "My mother had great difficulty in coming to terms with it. She didn't know what had happened to my father. He had gone down in what became the Soviet zone and she harboured the belief that he had been interned by the Russians. I remember being taught to recite a prayer at bedtime: 'Please God, send Daddy safely home'."
In fact, the two Lancaster crews had been buried in a grave close to the crash site before being handed over to the British authorities in 1947. They now lie in the Commonwealth war cemetery in Charlottenburg.
"I don't know if my mum ever accepted it, because she never went to Berlin. She never remarried. She brought up her family on her own, went back to work and became registrar of births, deaths and marriages in Gainsborough. Dad's uniform stayed hanging in her wardrobe until she died in 1967. My grandmother kept his Christmas presents for 1943, unwrapped."
A Typhoon fighter is darting in and out of cotton wool clouds as he looks out from the control tower balcony at Bardney. "I find it terribly poignant when I go into old Nissen huts and see the cartoons on the walls, scribbled by those young men," he says. "The airfields here are big and empty and quiet. I am fiercely proud of my father. It's strange to think that the last member of my family to step foot here was him."
www.telegraph.co.uk/history/raf-bomber-command/9356538/The-scars-of-the-Second-World-War-still-line-bomber-country.html
67 years late, the recognition they deserve: Lancaster drops payload of poppies as Queen unveils Bomber Command memorial
The memorial in Green Park remembers the bravery of the 55,573 RAF crew who lost their lives in the conflict
Air Staff Sir Stephen Dalton said the 'service and raw courage' of those who died had been recognised
The RAF's last flying Lancaster in Europe drops poppies over Green Park as a tribute to those who died
Tribute: A Lancaster bomber flies over the RAF Bomber Command memorial dropping thousands of poppies to mark the opening of the memorial in Green Park. The iconic bomber, operated by the RAF's Battle of Britain Memorial Flight, was the command's most populous aircraft in World War Two
Playtime: Harry, four, and Ted, two, from Chester play in the fallen poppies in a sunny Green Park this afternoon
Brave: Former Wing Commander Jim Flint, aged 99, stands during the dedication ceremony
Sacrifice: The Queen unveils the centrepiece of the memorial, a 9ft bronze sculpture depicting a seven-man bomber crew returning from a mission
www.dailymail.co.uk/news/article-2165852/Lancaster-drops-payload-poppies-Queen-unveils-Bomber-Command-memorial.html

www.telegraph.co.uk/news/newsvideo/7980967/Rare-Blitz-colour-footage-air-warden-training.html
Medals belonging to Second World War flying ace who climbed back into his damaged plane while ON FIRE to shoot down German bomber sell for £100,000
Group Captain Mike Stephen climbed back into his Hurricane fighter-bomber to shoot down a German
Messerschmitt with moments to spare
Parachuted away and beat out the flames on his burning uniform as he drifted to the ground… then hobbled through Libyan desert
This time he made it back: Cpt Stephens inspects damage to his Spitfire following a sortie in December 1941, shortly before the mission in the Hurricane, which didn't make it back
Cpt Stephens' medals: The Distinguished Service Order medal, far right, was among the haul that sold for almost £100,000 at auction
Memories: A sketch of Cpt Stephens in his uniform
Cpt Stephens' flying helmet with oxygen mask, which were also among the medals that were auctioned

www.dailymail.co.uk/news/article-2167681/Medals-belonging-Second-World-War-flying-ace-heroically-battled-Luftwaffe-ON-FIRE-sell-100-000.html
Sketches from hell: Humorous cartoons drawn by British soldier kept as a Japanese PoW for three years in Changi prison
BySARA MALM
PUBLISHED: 09:15 EST, 5 July 2012 | UPDATED: 10:25 EST, 5 July 2012
The lost drawings made by a British soldier during his time as a Japanese PoW during the Second World War have emerged.
Lance Bombardier Des Bettany used his humorous work to keep himself sane during his three years in the notorious Changi prison in Singapore.
It was only after his death that his three children uncovered a book containing hundreds of paintings.
Lance Bombardier Des Bettany depicting the futility of attempting to having some peace and quiet in the crowded library at Changi prison camp in Singapore
Mr Bettany painted the prisoners with smiles on their faces and rosy cheeks when illustrating the notoriously cramped conditions and lack of food that faced the Allied prisoners at Changi.
A cartoon by Lance Bombardier Des Bettany illustrating the prisoners need for something more exotic during their harsh prison days
His images include drawings from memory of British countryside, imagining life after the war and poking fun at the grim existence faced by the 50,000 prisoners of war.
Lance Bombardier Bettany, from Burnley, Lancashire, a talented artist before the war, fashioned a paintbrush out of human hair and a bamboo cane and used different coloured soil mixed with rice water for paint.
What Bettany imagined it could be like after a Red Cross delivery, however in real life this was definitely not the case
Lance Bombardier Des Bettany pictured near Brighton before his imprisonment during World War II, left, and painting pottery at South Shields Art School after the war in the 1950′s, right
Mr Bettany illustrating the moment he had his sketch book confiscated by a guard
The difference in statue between the Allied prisoners and their Asian captors is a common theme in Bettany's cartoons, as seen in this 'reversed Snow White and the Seven Dwarfs' painting
He suspected they may return after the war and feel a bit different about women
A nostalgic cottage in the English countryside that Mr Bettany painted from his memories of pre-war days

www.dailymail.co.uk/news/article-2169177/Sketches-hell-Touching-cartoons-drawn-British-soldier-years-terror-Changi-prison.html
Turning our backs on Britain's fallen: How a new generation believes it was just U.S. troops that won World War Two thanks to Hollywood
By MAX HASTINGS
PUBLISHED: 17:45 EST, 8 June 2012 |UPDATED: 18:10 EST, 8 June 2012
How ironic. Modern Europe totters on the brink of a historic political bust-up, and Britain seems more remote from our partners than ever since the Common Market was created. Yet on Wednesday, Francois Hollande made a gesture of reconciliation with 'Perfidious Albion'.
He became the first ever French president to visit a British cemetery in Normandy. In torrential rain, he shook hands with Parachute Regiment veterans at Ranville, where the 6th Airborne Division landed on June 6, 1944.
If that does not sound significant, remember that throughout the intervening 68 years, French governments have tried not to notice that the British were there on D-Day.

Paying their respects: French President Francois Hollande, right, joined Defence Secretary Philip Hammond, left, in the British war cemetery of Ranville, western France
Most French museums, not to mention school history books, make it sound like the Americans and the Resistance did it all. Millions of French people have seen Hollywood's D-Day epics; only about six recognise our part.
But I fear the same is becoming true among our own people. A few weeks ago, I visited the Normandy battlefields in the company of Paul Woodadge, a splendid tour guide who is himself British, but lives near Caen with his French wife. He told me sadly: 'Most British visitors nowadays know what Steven Spielberg has told them in Saving Private Ryan and Band Of Brothers, so they all want to go to the American sector. Some hardly get to our beaches at all.'.
Not just 1944, but our entire past, is seen by a new generation through a prism of celluloid myth and legend.
Our governments set a rotten example by their lack of interest in heritage, real history. Consider this: the centenary is fast approaching of the 1914 outbreak of World War I — one of the two largest and most terrible events in modern European history, which changed or destroyed the lives of millions.
The French government has allocated cash and effort to a major commemoration, but our own has done nothing.
In a letter written almost a year ago the Labour peer Lord Faulkner, chairman of the parliamentary war heritage group, urged David Cameron to get moving, first by deciding what we are commemorating: 'A matter of mourning and regret? Or should we be celebrating victory? . . . The need for action is now urgent.'
In response, the Prime Minister was polite, but offered nothing. The MoD has no money, and nobody else cares.
Battlefield guide and photographer Mike Sheil, who attended a meeting at Oxford about the centenary a few months ago, along with World War I historians, says that the Culture Minister present 'could scarcely bother to be polite'. His Department is interested only in the Olympics and Jeremy Hunt's future.
I would like our ministers, and indeed David Cameron, to make the trip I did recently, across the battlefields of France alongside experts who could teach them the meaning of 1914 — a blank screen, it seems, to members of the Bullingdon Club.
I know quite a lot about our wars. But travelling lately with guides, both in Normandy and eastern France, I have learned more than I would have thought possible about the highways and byways of history — and the debt we owe to those who gave their lives for Britain.
Because I am writing a book about 1914, I spent five days crossing Belgium and France with Clive Harris — who served in the Royal Signals — and Mike Sheil, who are rated among the best guides in the business. I have seldom found a journey more rewarding. We drove from Mons, where the first British battle of the war was fought on August 23, 1914, through the Ypres Salient where 250,000 British soldiers died, on to the Marne and Aisne, then south to the Vosges mountains where the French army suffered catastrophe.
From Harris and Sheil on the spot, I learned all sorts of things that are impossible to garner from books.
I will bet that not many of you have heard of the August 26, 1914, battle of Le Cateau, where three divisions of the British Army under General Sir Horace Smith-Dorrien fought a fierce delaying action against a vastly superior German army.
There were no trenches, no barbed wire. This was an action amazingly like Waterloo a century earlier.
The old British county regiments — Yorkshires and Middlesex, Suffolks and Surreys — simply took up positions in golden stubble-fields, supported by horse artillery deployed in plain view, and fought it out with the advancing Germans through a long, hot, bloody day. In 2012, I stood on the ridge outside Le Cateau, looking across ground that is almost completely unchanged.
My guides talked me through where each regiment stood, and where some died. I thought: this was perhaps the last battle in history where a man could see everything that happened within his own line of sight.
As the enemy masses came forward, they were mauled and harrowed by devastating rifle fire. 'It is impossible to miss German infantry,' wrote 43-year-old Major Bertie Trevor, a company commander in the King's Own Yorkshire Light Infantry. 'They come on in heaps.'
Trevor later recalled the battle as: 'Too terrible for words . . . we fired 350 rounds a man in my company, and did a good deal of execution. But we were in an absolute trap — it is a marvel that anyone there is alive and untouched.
'Until one has been for hours pelted at with shrapnel, machine-guns and rifle fire, one cannot understand war. Where the fun comes in, I don't know'.

The Somme: Though this was a battle of trenches and barbed wire, other actions in the First World War were little different from the era of Waterloo
www.dailymail.co.uk/debate/article-2156699/Turning-backs-Britains-fallen.html
Amazing discovery: The almost complete skeleton, found buried on land the British held, is believed to be a 20-year-old soldier from one of the Duke of Wellington's regiments who died during the Battle of Waterloo

www.dailymail.co.uk/news/article-2158303/Rare-intact-skeleton-British-soldier-site-Waterloo-battlefield-musket-ball-felled-ribs.html
En Garde! Napoleon's defeat at Battle of Waterloo replayed 197 years on

Wellington described the battle as 'the nearest run thing you ever saw in your life'

www.dailymail.co.uk/news/article-2160607/En-Garde-Napoleons-defeat-Battle-Waterloo-replayed-197-years-on.html
Wellington battalion facing its Waterloo as Defence Secretary plans to scrap it in cost-cutting cull
Army sources say the Yorkshire Regiment, the Duke of Wellington's batallion, will be axed under new plans
The present Duke of Wellington has written to the head of the army, urging him to save the historic name of the batallion
The proposal was revealed on the 197th anniversary of the Battle of Waterloo
The 8th Duke of Wellington, Arthur Wellesley, with his dog Nutkin, pictured in 1990

www.dailymail.co.uk/news/article-2160366/Wellington-battalion-facing-Waterloo-Defence-Secretary-plans-scrap-cost-cutting-cull.html
MORE Soldier Stories HELP Taylor Morris