Turkish Jews worried after politician links diaspora to protests
…Erdogan, in power for ten years, and other officials have cited conspiracies involving "foreign circles," an "interest-rate lobby," foreign media and terrorists engineering the protests to undermine Turkey's economy and political clout. Atalay's comments pointed the finger at the 'Jewish diaspora".

www.reuters.com/article/2013/07/02/us-turkey-protests-jews-idUSBRE9610L520130702
ISTANBUL — Having witnessed the Egyptian uprising in Tahrir Square in Cairo in 2011, I was eager to compare it with the protests by Turkish youths here in Taksim Square in 2013. They are very different. The Egyptians wanted to oust President Hosni Mubarak. Theirs was an act of "revolution." The Turks are engaged in an act of "revulsion." They aren't (yet) trying to throw out their democratically elected Islamist prime minister, Recep Tayyip Erdogan. What they're doing is calling him out. Their message is simple: "Get out of our faces, stop choking our democracy and stop acting like such a pompous, overbearing, modern-day Sultan."

www.nytimes.com/2013/06/19/opinion/friedman-postcard-from-turkey.html
After all, this upheaval is about Turkey's future identity. And that identity is much better represented by the humor, pluralism and liberalism of the protesters than by the dour disciplinarianism and provincial conservatism of the ruling party.
www.washingtonpost.com/opinions/the-protests-in-turkey-wont-be-the-last/2013/06/14/dc7e7bfc-d46e-11e2-8cbe-1bcbee06f8f8_story.html
Protests in Turkey Reveal a Larger Fight Over Identity

www.nytimes.com/2013/06/03/world/middleeast/development-spurs-larger-fight-over-turkish-identity.html
Turkey's protesters proclaimed as true heirs of nation's founding father
Ataturk, the secular reformer, has become the symbol for young Turks defying what they see as Erdogan's reactionary reversion to the Ottoman past
Luke Harding Istanbul The Observer, Saturday 8 June 2013 12.32 EDT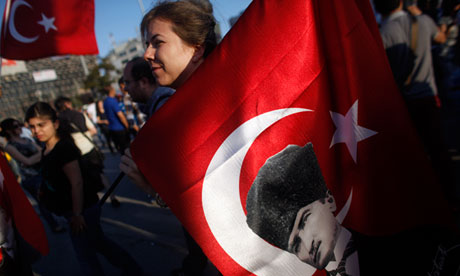 A protester in Istanbul's Taksim Square carries a Turkish flag embellished with the image of its first president Mustafa Kemal Ataturk.
Photograph: Kostas Tsironis/AP
Among the tents, snoozing youth and pleasant shady trees of Istanbul's Gezi Park there are portraits of one man in a European suit. Wherever you look Mustafa Kemal Ataturk – founder of the Turkish Republic – gazes sternly at you. Photos of the first president hang from branches, have been affixed to tea stalls, and even encircle a giant banner showingTurkey's prime minister, Recep Tayyip Erdogan, dressed as Hitler.
"We really love Ataturk. He changed our state. He made it into a modern republic," explained Murat Bakirdoven, a 24-year-old biology student who has been camping in the park for a week. Someone had stuck another photo of Ataturk – this time in a lounge suit, sitting on a leather chair, cigarette in hand – on a nearby tree. Bakirdoven added: "Erdogan wants us to forget him. Instead we are trying to create an Ataturk renaissance."
For the protesters who have taken part in Turkey's anti-government demonstrations, Ataturk is a hero. Dead for 75 years, he has become the reborn symbol of this student-driven anti-Erdogan movement. (The other motif is a penguin – a reference to the state media, which failed to report on the uprising for several days; one channel, CNN Turk, instead screened a nature documentary on Antarctica).
The symbolism goes to the heart of what this unprecedented uprising is about: Turkey's modern identity. At issue is whether Turkey should be the progressive, secular European nation-state that Ataturk originally envisaged and shaped from the ruins of the Ottoman empire, or a more explicitly religious country, a sort of Muslim version of Christian democracy. The protesters want the former; Erdogan, and his ruling Islamist-rooted Justice and Development party (AKP), it appears, the latter.
What has infuriated protesters is what they perceive as Erdogan's clunking attempts to impose his Islamic values on everyone else. Last month Turkey's government passed a new law banning the sale of alcohol between 10pm and 6am, and banishing it from the vicinity of schools and mosques. Two years ago it forbade access from Turkey to pornographic websites and temporarily shut down YouTube. Erdogan has spoken out against gay rights. "All this built up a wall of pressure," Bakirdoven said. Many also sense a creeping campaign to undermine Ataturk himself. Traditionally girls and boys would celebrate Ataturk day, 19 May, by dancing and singing in stadiums around the country. In 2012 Erdogan ditched the ceremony, saying no one wanted to see girls prance around in skimpy skirts. Then last week Erdogan defended his anti-alcohol legislation by obliquely calling Ataturk and his closest ally, Ismet Inonu, a couple of "drunkards".
All of this has galvanised educated, middle-class Turks to defend their personal freedoms. It began as a small environmental protest against plans to redevelop Gezi Park, and Istanbul's adjoining Taksim Square. But over the past two weeks it has morphed into a countrywide revolt. Three people have been killed, 4,000 injured and 900 arrested. The demonstrations have spread to more than 70 Turkish cities, including the capital, Ankara, and the restive western city of Izmir.
Erdogan has responded to this crisis in typically abrasive fashion. He dismissed the protesters as "looters". He denounced Twitter as a "curse" and laid into the New York Times. On Friday he accused the European Union of hypocrisy after it condemned the crackdown by Turkish riot police, who turned water cannon and teargas on peaceful demonstrators. He has also sought to blame the unrest on murky foreign forces and homegrown terrorists.
In the meantime, Gezi Park has been transformed into Turkey's first ever hippy commune, home to a vibrant open-air democracy festival: volunteers plant flowers and collect rubbish; there is a bookshop; and free food for camp denizens. At night tens of thousands pack into the area to sing and dance – drumming until the early hours. The spirit of May 1968 hovers in the air. "Ataturk said that Turkey belonged to the youth. That's us," said Ayda Agaoglu, a 23-year-old architecture student.
Analysts say that Erdogan's neo-Islamist legislative project has backfired. "He [Erdogan] will never manage to control civil society. It's completely empowered now," said Cengiz Aktar, professor of political science at Istanbul's Bahcesehir University. "To some extent this is re-Islamisation. Erdogan is a devout Muslim. But more than that he is a social engineer. He has a very high opinion of his own values, which happen to be Islamic values."
According to Aktar, Erdogan decided to undermine the Ataturk reforms after winning a whopping majority in the 2011 parliamentary elections, his third election victory. "Political Islam always taught, and sometimes rightly so, that Muslims were a majority in this country, especially Sunni believers. Kemalist power de-legitimised them. That's the fundamental paradigm. They [Erdogan and his supporters] started to challenge that."
Critics believe that the plans for the square amount to a further assault on Ataturk and his historical legacy. On Friday, Erdogan said he wanted to demolish the Ataturk cultural centre – a modernist building on Taksim's north side, which he says is not "earthquake-proof" – and replace it with a baroque opera house.
Most controversially, Erdogan wants to raze Gezi Park and rebuild the Ottoman military barracks that used to be there. The barracks were the site of a 1909 attempt by the Ottoman sultan Abdul Hamid II to stop the liberal reforms that eventually led to Ataturk's modern republic. Erdogan has also named Istanbul's "third bridge", linking Europe and Asia, after an Ottoman despot who slaughtered tens of thousands of Alevis, Kurds and Turkmens back in the 16th century.
Critics say these decisions are part of a sinister policy, yearning for a kitsch version of the pre-Ataturk past. According to Murat Bakirdoven, there are few reasons to be nostalgic. "The Ottoman empire was religious, very strict, and ruled by Islamic law. Women didn't have rights and couldn't vote." Ataturk, by contrast, separated religion from government, and gave Turkish women the vote before their Swiss and German counterparts. "Ataturk wasn't a dictator. He believed in law. He was highly intelligent," he added.
It is unclear how long Istanbul's summer of love will last. In the meantime, the young protesters are enjoying their own utopian moment: flirting, debating, drinking cans of Efes beer, and learning from each other. At first groups of students chanted: "We are the soldiers of Ataturk"; this died out after feminist protesters objected to its militaristic overtones. Bakirdoven said: "We used to sing 'Erdogan is the son of a whore'. But when the police teargassed us, one of the brothels on Taksim Square opened its doors, and the women gave us shelter and treated us with lemons. We don't sing that any more."

www.guardian.co.uk/world/2013/jun/08/turkey-protesters-proclaim-heirs-ataturk
This conflict is between proponents of fiercely neoliberal policies that promise high returns for capital and the great majority of the population for whom growth and development have only meant dispossession and loss of public spaces. To put it another way, this is a conflict between the supporters of Prime Minister Erdogan's single-handed management of the political, economic and social life of the country a la Louis XIV, and those who have been victims of his rule, as in the case of over 700 students (according to the Initiative for Solidarity with Detained Students) and more than 50 journalists behind bars at the moment who have been charged under vague terrorism laws.

www.guardian.co.uk/commentisfree/2013/jun/12/turkish-protest-what-it-is-not
Park Defender Helped Set Off Turkey's Crisis
www.nytimes.com/2013/06/05/world/europe/istanbul-protests-started-over-trees.html
Turkey divided more than ever by Erdoğan's Gezi Park crackdown
Authoritarian response to mass protests has left the once all-powerful prime minister weakened at home and abroad
www.guardian.co.uk/world/2013/jun/20/turkey-divided-erdogan-protests-crackdown
With silent protests now in hundreds of public spaces across Turkey, those opposed to Erdogan show little sign of disappearing. But a movement that last week briefly showed signs of coalescing around a common set of demands from Muhcu's Taksim Solidarity group has instead atomized. The change may make Erdogan's opponents harder to stamp out, but it may also diffuse their power, leaving both sides hardened against each other with no end to the conflict in sight.

www.washingtonpost.com/world/middle_east/2013/06/19/83751312-d910-11e2-a016-92547bf094cc_story.html
In Turkey, protesters try a new approach: Standing still


www.washingtonpost.com/world/middle_east/turkeys-protesters-try-the-silent-treatment/2013/06/18/aa581622-d853-11e2-a016-92547bf094cc_story.html
Turkish Liberals Turn Their Backs on Erdogan
Ed Ou for The New York Times
Former supporters of Prime Minister Recep Tayyip Erdogan say his response to the Taksim Square protests was the final
By TIM ARANGO
Published: June 19, 2013
ISTANBUL — For Prime Minister Recep Tayyip Erdogan, the antigovernment protests that have shaken Turkey have come with a jarring paradox: some of the protesters voted for him, most prospered from his economic policies, and some of the liberal intellectuals and columnists now calling him a dictator helped him win three successive elections with their writings.
For Turkey's liberals and urban elite, including some among the young, middle-class protesters who camped out in Gezi Park in Taksim Square here, the intense police crackdown — the use of tear gas and water cannons, and the detention of protesters, lawyers, journalists and medics — represented the final and most painful break with Mr. Erdogan and his Justice and Development Party.
"The Gezi Park-Taksim thing has been the breaking point for the left," said Cengiz Candar, a popular columnist who once supported Mr. Erdogan for his efforts to reduce the power of the military and to pursue membership in the European Union.
"It's not us that changed," he added. "We remain as democrats; we want to extend individual liberties."
As Mr. Erdogan rose to power, many liberals, unlike members of Turkey's old secular elite, who worried about a hidden Islamist agenda, overlooked Mr. Erdogan's religious roots. They saw his faith in the context of personal freedom, not as a threat to Turkey's secular tradition. They embraced him for his pursuit of European Union membership, now stalled, and for securing civilian authority over the military, whose influence had been pre-eminent in Turkey.
Turks were joined by many Europeans and Americans, including President Obama, who embraced the democratic reforms that Mr. Erdogan implemented. Now, many of those onetime supporters say Mr. Erdogan and his party have taken a decisive turn toward authoritarianism, leaving them to face a period of self-reflection.
"I was one of the European liberals who supported A.K.P. policies," said Joost Lagendijk, a former member of the European Parliament and columnist who lives in Turkey, referring to the Turkish initials of Mr. Erdogan's party. "There was a lot of sympathy for the reforms they were implementing."
Mr. Lagendijk said that he was never an ideological bedfellow of the A.K.P., but that he was attracted by Mr. Erdogan's early pragmatism and by his support for constitutional changes to secure individual liberties and advances in rights for Turkey's Kurdish minority.
"I'm a Green, I'm a liberal," he said. "I'm not conservative or religious, but it didn't matter."
These days, Mr. Lagendijk has had to fend off critics from his own liberal flank, who have been sending him Twitter messages and e-mails that all conveyed the same message: We told you so.
Over the past few years, Mr. Erdogan had begun alienating his liberal supporters by intimidating the news media and pursuing large urban development projects without public feedback. Then in recent weeks a group of protesters trying to save a city park from demolition were met with a fierce police response, setting off the larger antigovernment street movement that challenged Mr. Erdogan, whose response to the crisis confirmed for many of his former supporters that he had taken a path they could no longer support.
Beyond his democratic promises, many experts say Mr. Erdogan's charisma won over many liberals years ago.
Jenny B. White, an anthropologist at Boston University, spent time in Turkey in the 1990s researching
the rise of Islamist movements, and followed Mr. Erdogan around while he was mayor of Istanbul.
"He would ignore a table of bearded mayors after an event and talk to me like I was the only person in the world," she said. "There is that aspect of it that really captured people."
She added, "The liberals voted for him because when he was elected in 2002 he did all these things liberals only dreamed of."
Not all on the left have broken with Mr. Erdogan. Nursuna Memecan, a member of Parliament from the A.K.P. who is close to Mr. Erdogan and identifies herself as a liberal, said she helped arrange meetings between some of the protest leaders and Mr. Erdogan in hope of brokering a compromise, and winning back some of his former supporters. That did not happen, though, as a tentative deal to save the park was disavowed by most protesters, and Mr. Erdogan ordered a decisive police raid on Saturday to clear the park.
Referring to Mr. Erdogan's rise to power, Ms. Memecan said: "The real liberals supported him. They had no prejudices against him or his religion or what class he came from. His piousness did not bother them."
Another paradox of Turkey's uprising is that many of those now critical of his position — a cross section of urban, secular, mostly middle-class Turks — have benefited from the growing economy that Mr. Erdogan's liberalizing policies created.
Merve Alici, 26, works in advertising and participated in the protests. She comes from a secular, upper-middle-class family, but voted for Mr. Erdogan's party in the last election despite warnings from her family that the prime minister was becoming too powerful.
She said her choice was "mainly pragmatic."
"First, there was no opposition, and I liked how the A.K.P. challenged the army's power," she said.
"Then there is the economy. Everyone wants stability and economic prosperity, and this was a campaign promise."
She said she took part in the Taksim Square demonstrations every day, and because of that she could never vote for Mr. Erdogan again, especially after he called the protesters terrorists and unleashed riot police officers on the crowds.
"He is a political mastermind and is manipulating the truth on purpose to keep his voters," Ms. Alici said. "He antagonizes the protesters on purpose with his harsh words. I don't know what he is thinking."
Another former Erdogan supporter who joined in the protests was Esen Guler, 39, a guitarist whose band played in the square.
"I voted for Erdogan in the past two elections because I thought he would lead us to democracy," he said. "But power has gone to his head. He is no longer moderate, but a brutal dictator attacking his own flesh and blood."
Workers have been planting flowers in Taksim Square and scrubbing away the spray-painted epithets against Mr. Erdogan. When the square was filled with thousands of protesters, many of them young and expressing themselves politically for the first time, a common refrain among analysts was that Turkish politics would never be the same. Now that the square has been emptied by the strong hand of the police, the significance of what happened feels less certain.
"The wounds are still fresh," Mr. Candar said. "The lessons to be interpreted are still at an early stage. It's hard to say how it will be different, but for sure it will be different."
Ceylan Yeginsu contributed reporting.
This article has been revised to reflect the following correction:
Correction: June 21, 2013
An article on Thursday about many of Istanbul's liberal, urban elite who once supported Prime Minister Recep Tayyip Erdogan of Turkey but are now protesting his policies misspelled, in some editions, the given name of a liberal member of Parliament who is close to Mr. Erdogan. She is Nursuna Memecan, not Mursana.

www.nytimes.com/2013/06/20/world/europe/turkish-liberals-turn-their-backs-on-erdogan.html
Turkey's faltering economy, not protesters, could bend Erdogan
The Turkish lira has dropped to an 18-month low since protests began. That could undermine Prime Minister Erdogan, whose popularity has been tied to strong economic growth on his watch.
By Tom A. Peter, Correspondent / June 11, 2013
ANTAKYA, TURKEY
The Turkish government has taken steps to begin bailing out the economy, which is staggering after two weeks of protest. Since demonstrations began, the Turkish lira has dropped to an 18-month low and the Istanbul stock market has dropped by as much as 11 percent.
Citing the "excessive volatility" caused by "the international and domestic developments during the last month," the Turkish Central Bank announced today that it would take steps to stabilize the lira. The announcement triggered a rebound for the currency, but it came as police unexpectedly reentered Taksim Square, igniting clashes with demonstrators.
The Turkish government's inability so far to bring the protests to a peaceful end is likely to have more far-reaching impacts on the economy than new bank policies. Stability has long been one of Turkey's most attractive features to investors. Without it, the nation's economy could face growing challenges. These economic shortfalls may also erode support for Prime Minister Recep Tayyip Erdogan and his Justice and Development Party (AKP).
Mr. Erdogan has not yet swayed to the demands of protesters, but if the economy begins a serious downward trend, it may force him to adopt a more conciliatory tone.
"Right now, it doesn't seem to be moving toward a solution where both parties would agree to a solution, so [the economy] would be another factor that would push the government to be more accepting of the demands of the younger generation," says Subidey Togan, a professor of international economics at Bilkent University. "As long as the whole struggle carries on it will really have an effect on the investors' attitudes and how they view Turkey."
Political stability = economic stability
Since he was first elected in 2002, Mr. Erdogan has overseen the explosive growth of the Turkish economy, which accounts for much of his popularity among supporters.
The per capita gross national income and the gross domestic product have both tripled in the past 10 years. Foreign investment has dramatically increased, with the number of foreign companies with international capital expanding from 6,700 in 2003 to nearly 30,000 in 2011. A.T. Kearney's 2012 Foreign Direct Investment Confidence Index placed Turkey as the world's 13th most attractive place to invest.
Prior to the protests, it appeared that Turkey's economy would continue growing in 2013. Data released today about Turkey's GDP show that the country did better than expected, achieving a 3 percent year-on-year growth rate for the first quarter.
To maintain this growth, finding a peaceful solution to the protests is key. But today the government did not appear ready to compromise. Speaking to the parliament about recent demonstrations on
Tuesday morning, Erdogan vowed, "We won't show any more tolerance."
The remarks, and the police raid on Taksim, which came shortly after Erdogan had offered to meet with protest leaders, may indicate that Turkey is about to see protests grow rather than dissipate.
In a report released yesterday, rating agency Moody's wrote, "The protests remind investors of persistent Turkish domestic political risk, which in turn may reduce the attractiveness of Turkey to portfolio investors should they intensify."
The report also warned that the longer the unrest continues, the more likely the instability would be to adversely affect Turkey's credit rating.
Foreign capital has come to play a critical role in keeping the Turkish economy afloat.
"What is different before and after Gezi Park [where protests began]? I think the essential gist of the problem is this loss of confidence about the ability of the AKP party to manage to the Turkish economy because political stability was key to economic stability. Now political stability is a question mark," says Seyfettin Gursel, the director of the Bahcesehir University Center for Social and Economic Research.
Downturn may only be temporary
The ongoing instability could also eat into tourist revenues, which account for 10.9 percent of GDP and generate an estimated 2 million jobs. The summer is traditionally the high season for tourism, but there are already media reports coming from neighboring European countries that travelers have begun rebooking in favor of safer destinations, such as Spain.
Still, there remains some optimism that the situation will be resolved before the Turkish economy suffers longterm damage. In its assessment, Moody's cautioned that the political situation is not a "Turkish version of the Arab Spring," explaining that despite Erdogan's hardline approach to protests, other members of AKP have taken a more conciliatory tone.
In addition to a strong economy that has benefited many Turks in recent years, which they may be loath to jeopardize, upcoming elections in 2014 and 2015 will provide an opportunity for protesters to express themselves at the ballot box.
Bedri Kamil Onur Taş, an associate professor of economics at TOBB University of Economics and Technology, says that this current political situation may actually create investment opportunities for those looking to buy low.
"I think this is a good time for investors to invest in the Istanbul stock market because this is an unnecessary low," he says. "It will rise from here because there are no longterm effects on the Turkish economy."

www.csmonitor.com/World/Middle-East/2013/0611/Turkey-s-faltering-economy-not-protesters-could-bend-Erdogan
Police Attack Protesters in Istanbul's Taksim Square
By TIM ARANGO and CEYLAN YEGINSU
Published: May 31, 2013
ISTANBUL — Police officers attacked a group of peaceful demonstrators on Friday in Istanbul's Taksim Square with water cannons and tear gas, sending scores of people, protesters and tourists alike, scurrying into shops and luxury hotels and turning the center of this city into a battle zone at the height of tourist season.
The police action was the latest violent crackdown by the government against a growing protest movement challenging plans to replace a park in Taksim Square, Istanbul's equivalent of Cairo's Tahrir
Square, with a replica Ottoman-era army barracks that would house a shopping mall.
But while the removal of the park, which is filled with sycamore trees and is the last significant green space in the center of Istanbul, set off the protests at the beginning of the week, the gatherings have broadened into a wider expression of anger against the heavy-handed tactics and urban development plans of the government and its leader, Prime Minister Recep Tayyip Erdogan. His party, now in power a decade, is increasingly viewed by many Turks as becoming authoritarian.
Mr. Erdogan still has great support among Turkey's religious masses, but secular critics cite his government's sweeping prosecution and intimidation of journalists as evidence of its intolerance of dissent.
Much of the anger also centers on the struggle over Istanbul's public spaces. Mr. Erdogan's government has proceeded with disputed urban development plans with little public input, while his police forces have increasingly used tear gas against peaceful protesters, resulting in scores of injuries, including the hospitalization on Friday of a Kurdish lawmaker, who had become a vocal participant in the protests, after he was hit by a tear gas canister.
The protest movement comes amid continued public anger at Turkey's policy of supporting the rebels in Syria, which many Turks feel has led to a violent spillover inside Turkey, including recent car bombings in the southern city of Reyhanli, which killed dozens of people. The rising public disenchantment represents a significant political challenge to Mr. Erdogan, who is planning to run for the presidency next year and has been trying to alter the Constitution to create a more powerful presidential system.
In the early afternoon Friday, as protesters gathered and began shouting antigovernment chants, police officers in riot gear began surrounding the group, positioning vehicles that resembled tanks at the edge of the square around the protesters, who were mostly sitting.
"Taksim is ours, we are not giving it to the A.K.P.!" they chanted, referring to Mr. Erdogan's Islamist-rooted Justice and Development Party, known as A.K.P.
As they chanted, police officers casually put on their gas masks and the operators of the tanklike vehicles aimed their big guns, which fire a mixture of water and tear gas, at the group. Then chaos erupted. Protesters and onlookers, some of them tourists, ran down side streets where shopkeepers offered sliced lemons to soothe the burning sensation of the gas, and pharmacists doled out ointments for skin burns.
"The pigs, the pigs," said Esra Yurtnac, who was crying as she sought refuge in a bakery after being gassed. "All they know is how to use gas."
She added, "They think they can silence us with force, but they won't."
Hours after the clashes with protesters, an Istanbul court on Friday ruled in favor of a petition by a local advocacy group and halted the project until parties submitted their legal arguments to court, the semiofficial Anatolian News Agency reported. The interior minister also pledged on Friday that claims of excessive force would be investigated.
The chaos followed a dawn raid on an Occupy Wall Street-style encampment in Gezi Park, near Taksim, in which the police also used tear gas to drive away protesters and later barricaded the park. In an earlier raid on the camp, on Thursday, the police set fire to some tents. The brief occupation of the park, which began after bulldozers had started to take down trees, had taken on a festival-like atmosphere, with yoga, barbecues and musical performances, while those gathered chanted, "Taksim is ours! Istanbul is ours!
The people adorned the camp with banners expressing the rising anger at the reshaping of Istanbul's urban spaces by the government. One read, "Don't touch our neighborhood, our squares, our trees, our water, our soil, our homes, our villages, our cities and our parks."
Another referred to Mr. Erdogan and the growing number of shopping malls being built around the city.
"Let all shopping malls crumble and let Tayyip get crushed by their rubble," the banner read.
In building new mosques and emphasizing Turkey's Islamic past over its Byzantine and Roman legacies, Mr. Erdogan has been referred to as a latter-day Ottoman sultan, with little regard for seeking public input on the projects. On Wednesday, the government held a groundbreaking ceremony for a third bridge over the Bosporus that is being named for an Ottoman sultan.
"It's all about superiority, and ruling over the people like sultans," said one of the protesters, Seckin Barbaros, 26, a former journalist who is now unemployed. "When were we asked what we wanted? We have three times the amount of mosques as we do schools. Yet they are building new mosques. There are eight shopping malls in the vicinity of Taksim, yet they want to build another."
In a speech earlier in the week, Mr. Erdogan dismissed the protesters and said the destruction of park would go ahead, "no matter what they do."
The anger in the streets is also a rebuke to the economic policies of the government, which have relied heavily on construction and new housing in Istanbul to power economic growth. Turkey has had a resilient economy that emerged relatively unscathed from the global financial crisis, eclipsing the performance of Europe and many other nations. But some analysts worry the government's focus on construction projects could lead to a bubble much like the one in the United States that led to the economic collapse of 2008.
Ms. Barbaros said, "What about the day when all these shopping malls will be empty like in Greece and then they will wish they never constructed them."
She added: "Where are the opera houses? The theaters? The culture and youth centers? What about those? They only choose what will bring them the most profit without considering what we need."
Another demonstrator, Seyfettin Sabaz, who is training to be a dentist, said: "Many of the Turkish public think that we are here as environmentalists to save our sycamore trees. But that's not it. We are here to stand up against those that are trying to make a profit from our land."
Around Taksim Square, the site of several other tear gas attacks on protesters this year, including one on May Day demonstrators, the chaos is taking on a sense of the familiar to shopkeepers who are becoming accustomed to offering shelter and aid to tear gas victims.
"I own a decorations shop, but for the past year it has felt like I run a shelter for gas raid victims," said Ali Yildrim, who has lived in Istanbul for 35 years. "Soon I'll be keeping lemons and medicine behind my counter."

www.nytimes.com/2013/06/01/world/europe/police-attack-protesters-in-istanbuls-taksim-square.html

www.dailymail.co.uk/news/article-2339357/Violent-clashes-Turkish-police-protesters-Istanbul-officers-riot-gear-storm-Taksim-Square.html
Iconic: The woman in red turns as the policeman showers her in pepper spray at close range

www.dailymail.co.uk/news/article-2335924/Turkey-Protests-Horrifying-image-woman-red-sprayed-tear-gas-symbol-unrest.htm
Hubris and nemesis, with a Turkish accent
http://blogs.telegraph.co.uk/news/shashankjoshi/100220077/hubris-and-nemesis-with-a-turkish-accent/
Erdogan needs to listen
www.telegraph.co.uk/comment/telegraph-view/10094780/Erdogan-needs-to-listen.html
Turkey protests: Government fury at Istanbul protests exposes an authoritarian regime
Erdogan's sneer is clear to see

www.independent.co.uk/voices/comment/turkey-protests-government-fury-at-istanbul-protests-exposes-an-authoritarian-regime-8660309.html
Turkish unions march in support of Istanbul protesters

Antigovernment protesters demonstrate in Istanbul, Turkey.
(Burak Kara / Getty Images / June 17, 2013)
From the Associated Press
June 17, 2013, 3:16 p.m.
ISTANBUL — Riot police in Istanbul fired water cannons and tear gas Monday to disperse pockets of protesters on the sidelines of a demonstration called by labor groups hoping to capitalize on weeks of activism to register broader discontent.
Two major labor groups urged their members to hold a one-day strike and participate in demonstrations in response to a police crackdown against activists who have led protests centered on Istanbul's Taksim Square and nearby Gezi Park in recent weeks.
A rally in Ankara, the capital, took place peacefully, and there were no immediate signs that the police operation in Istanbul had provoked major clashes in the afternoon. Earlier, Turkey's interior minister warned that anyone joining unlawful demonstrations would "bear the legal consequences."
Meanwhile, in a sign of tension between rival groups, images from the Dogan news agency showed crowds of government supporters facing down some protesters. Some chanted, "The hands targeting the police should be broken."
The government has expressed increasing exasperation over more than two weeks of street demonstrations, including a sit-in in Gezi Park and occasional clashes between stone-throwing youths and riot police.
Deputy Prime Minister Bulent Arinc floated the prospect of authorities calling in the military.
In a television interview, Arinc stopped short of saying troops would be deployed or a state of emergency declared, according to the state news agency Anadolu. But he said that if the police operations weren't enough to calm the situation, local governors "can benefit from Turkey's military forces" under the law.
Monday's labor-led demonstrations had a more structured feel compared with the counterculture-style sit-in at Gezi Park and spontaneous protests in other cities. Middle-aged men banged drums and chanting women sat on the ground, hands clasped.
Behind the strikes were the KESK confederation of public-sector workers and DISK, a confederation of labor unions from industries including transport, construction, healthcare and the media. Together they say they represent 330,000 workers. Small unions representing professionals such as dentists, doctors and engineers also joined in.
However, strikes often have little visible impact in Turkey, a country of about 75 million, and the call to walk off the job Monday had limited fallout beyond the demonstrations.
The standoff between police and protesters began as a rally over the government's plan to tear down trees and redevelop Gezi Park. But a police crackdown May 31 lit a fuse, transforming the movement into a broader protest against Prime Minister Recep Tayyip Erdogan's government.
His opponents have grown suspicious of what they consider a gradual erosion of freedoms and secular Turkish values under his Islamic-rooted party's government.
Erdogan has been praised for shepherding Turkey to strong economic growth as many other world economies lagged. But his government's handling of the protests has dented his international reputation.
He has blamed the protests on a nebulous plot to destabilize his government and repeatedly lashed out at foreign and social media coverage.
www.latimes.com/news/world/worldnow/la-fg-wn-turkey-protests-20130617,0,725678.story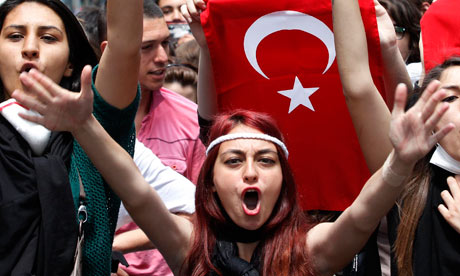 Turkish protesters in Ankara. The prime minister and president appear divided over how to respond.
Photograph: Umit Bektas/Reuters
Turkey protests continue as US voices concern about police use of force
Following fifth day of demonstrations, Turkish PM lashes out at critics and John Kerry calls for restraint

www.guardian.co.uk/world/2013/jun/03/turkey-protests-us-voices-concern
The Struggle for the Heart of Istanbul
It's becoming clear that it will take more than one chaotic weekend to derail Prime Minister Erdogan's plans.
BY JUSTIN VELA | JUNE 3, 2013
ISTANBUL —
Thousands of anti-government demonstrators gathered in the center of Turkey's largest city on Monday night, preparing to stand their ground against what they feared could be the imminent arrival of riot police.
Roads leading to Istanbul's Taksim Square, known as the "center of centers" in the sprawling metropolis, remained blocked off by gutted vehicles and scraps of wood and metal, which the protesters moved to reinforce. Police pulled back from Taksim on Saturday, and there were few demonstrators in the square during the daylight hours of Monday. But with working hours over and reports of further clashes with the police, the protesters returned to chant slogans against the country's prime minister, Recep Tayyip Erdogan.
Two young demonstrators said they had been in Gezi Park, adjacent to the square, when they smelled tear gas wafting up the hill from a road along the Bosporus Strait. Police had moved to disperse demonstrators who were trying for a third night to march on an office used by Erdogan.
"It's going to get messy," one young demonstrator said, as a helicopter buzzed over head. "Please support us."
Would they stay in Taksim even if Istanbul's brutal police force moved up the hill to pour tear gas on the demonstrators?
"We will try," one of the demonstrators said. "Will try for as long as we can."
Small kebab shops remained open, and protesters cheered as fireworks popped off and thousands of people rushed to the square.
Even before protesters reconvened in Taksim, the day brought news of the first casualty of the unrest. Mehmet Ayvalitas died after being struck by a car that drove into a group of protesters. It is unclear if the incident was accidental or not.
A teenage protester sitting next to an improvised barricade in Taksim said he'd come from a faraway neighborhood, "because I hate the government." There had been no sign of the authorities since Saturday, but he believed there was only so much longer that the protesters could stay in Taksim before the police moved in.
Public anger at Erdogan has been building for some time — and boiled over during the past weekend due to what protesters describe as his authoritarian nature.
"There's never been other protests like this in Istanbul or in all Turkey," said Yaman Kuleli, a 36-year old bank employee.
Like the majority of demonstrators, Kuleli focused his grievances on the prime minister: Erdogan was limiting personal freedoms, such as recent restrictions on alcohol, to promote conservative religious values. He'd bullied the country's media into submission through arrests of journalists, and by intimidating or co-opting media barons — a fact obvious to anyone with a television set, as most local stations opted to broadcast music and cooking shows rather than covering the protests.
Having won three elections since coming to power a decade ago, each time with a larger percentage of votes, Erdogan appears to believe he has a mandate to lead Turkish society as he sees fit. He is focused only on his supporters, Turks that are "like him" — Sunni Muslim and nationalist — Kuleli said. The demonstrators feel that he treats the rest of the country as a minority that should be unseen and unheard in their own country — a sentiment reinforced by Erdogan himself, who described the protesters as "arm-in-arm with terrorism" and said Turkey's intelligence services are investigating their links to foreign actors.

Anti-government protests in Turkey: As Turkey experiences its fiercest anti-government rallies in years, the prime minister rejects claims that he is a dictator.

www.washingtonpost.com/world/middle_east/turkish-protests-show-depth-of-anger-against-erdogan/2013/06/04/f9b8af42-cd22-11e2-9f1a-1a7cdee20287_story.html
Updated June 15, 2013, 2:36 p.m. ET
Police Launch Crackdown to Clear Istanbul Park
ByEMRE PEKER And JOE PARKINSON
Agence France-Presse/Getty Images
Riot police used a water cannon and tear gas to disperse protesters at the occupied Gezi Park in Istanbul on Saturday.
ISTANBUL—Turkey's riot police launched a crackdown Saturday to clear an occupied park in central Istanbul just hours after Prime Minister Recep Tayyip Erdogan issued a final warning to antigovernment demonstrators to accept his offer and leave the area.
Turkish security forces started making announcements at about 8:30 p.m. local time to disperse a crowd gathering in Istanbul's Taksim Square, adjacent to the occupied Gezi Park at the heart of the nationwide protests now in their third week. Within minutes, in the face of mounting antigovernment chants, armored vehicles mounted with water cannons started spraying demonstrators and police fired tear gas into the square and the park.
Protesters began streaming from their park encampment and along adjoining thoroughfares. On Republic Boulevard, demonstrators, many carrying tear gas masks, gathered next to the police lines, facing off for what looked likely to be a night of clashes.
Ambulances shuttled slowly to and from the scene through the crowds. Some protesters called for calm as tear gas crept up the street, fearing of a stampede. "We were in the park when they warned us, but we were determined to stay. Now I don't know if there's anyone left," said a 32-year old architect who gave her name as Seda. "There will be clashes tonight. This is not finished."
The government's push to evict protesters came as tensions started escalating Saturday, with protesters rejecting an offer by Mr. Erdogan to evacuate the park and bracing for the inevitable intervention.
The sit-in had become the epicenter of a nationwide outburst against the prime minister after police intervened with tear gas and water cannons to disperse the small group of environmental activists seeking to halt government plans to develop the green space.
"I don't know if anyone is still at Gezi Park…there is no reason to still camp out there," Mr. Erdogan said in a speech in Ankara, citing his proposal to wait for courts to decide on a pending appeal to cancel the project as well as a promise to take the plan to a local vote even if the government wins the legal battle.
As the prime minister addressed tens of thousands of his supporters in the capital, a similarly large number of protesters were gathered at Istanbul's Gezi Park, which has turned into a huge campsite since the occupation set up a commune in the area. Crowds spilling out of the park milled about the city's Taksim Square, where police had cleared demonstrators and banners in a fierce crackdown Tuesday.
"If our brothers are still there, I am telling them in goodwill to please leave the area, because it belongs to all Istanbulites and it's not to be occupied by illegal groups," Mr. Erdogan said. "We have a rally in Istanbul tomorrow [at 6 p.m.] I'm telling you loud and clear, Taksim Square is either evacuated or the country's security forces will know how to clear that space."
But hours before the prime minister issued his latest salvo against the protesters, Taksim Solidarity—a group chosen to represent the broad spectrum of protesters occupying the park—said the government had sought to divide, provoke and undermine support for demonstrators, stressing that their protests would continue.
"The government couldn't reach its aims and lost its legitimacy in the eyes of the domestic and international public. Under the pressure of our rightful resistance, it came to the point of responding to our demands and debate them," the statement said, adding; "But this is only the beginning, and the resistance will continue."
The group also called for punishment for those responsible for the deaths of four protesters and for an immediate release of all citizens arrested or detained across Turkey for taking part in the protests.
http://online.wsj.com/article/SB10001424127887323734304578546820507931396.html?mod=WSJ_hps_LEFTTopStories
Turkey: Violence of security forces in Taksim Square 'unprecedented' says Amnesty International
Demonstrators stockpiling face masks and goggles to protect against tear gas, and rebuilding barricades that have been destroyed

www.independent.co.uk/news/world/europe/turkey-violence-of-security-forces-in-taksim-square-unprecedented-says-amnesty-international-8654788.html
Police detain 13 more in raids in Turkey

www.stltoday.com/news/turkish-pm-rails-at-plot-behind-istanbul-protest/article_ec29eeea-98ec-5a87-8cf1-97357126a121.html
Turkish government could use armed forces against protesters, senior official warns

Tumult in Turkey: The turmoil entered a new stage as riot police descended on residential areas in Istanbul to clear protesters and the prime minister aimed to shore up support among tens of thousands of supporters on the city's outskirts. Meanwhile, police continued to fire tear gas and water cannons at demonstrators in the main squares of Istanbul and Ankara.
http://www.washingtonpost.com/world/middle_east/turkish-government-could-use-armed-forces-against-protesters-senior-official-warns/2013/06/17/69c37e9a-d776-11e2-a9f2-42ee3912ae0e_story.html

www.nytimes.com/2013/06/02/world/europe/despite-protests-turkey-vows-to-push-ahead-with-plans-for-square.html
Middle East History Turkey