Last year, the French chomped their way through 1.19 billion burgers Photo: Alamy
www.telegraph.co.uk/news/worldnews/europe/france/12188014/Le-burger-now-top-selling-dish-in-French-restaurants-new-study-reveals.html
Down and out: the French flee a nation in despair
The failing economy and harsh taxes of François Hollande's beleaguered nation are sending thousands packing – to Britain's friendlier shores
More than 70 per cent of the French feel taxes are "excessive", and 80 per cent believe the president's economic policy is "misguided" and "inefficient". This goes far beyond the tax exiles such as Gérard Depardieu, members of the Peugeot family or Chanel's owners. Worse, after decades of living in one of the most redistributive systems in western Europe, 54 per cent of the French believe that taxes – of which there have been 84 new ones in the past two years, rising from 42 per cent of GDP in 2009 to 46.3 per cent this year – now widen social inequalities instead of reducing them.

www.telegraph.co.uk/finance/10390571/france-hollande-taxes-socialist-farrage.html
http://napoleonlive.info/see-the-evidence/see-the-evidence-photographs/
Are French women perfect? Foreign beauty myths
Newspaper decides to get to the bottom of the French feminine mystique
ANNE PENKETH PARIS MONDAY 12 AUGUST 2013
Are French women perfect? Judging by the piles of American and British books attempting to nail their je ne sais quoi, it would appear that the rest of us are filled with a mix of envy and insecurity when contemplating France's glamorous fair sex.
The way they walk, the way they dress, the way they do their hair, and the way they raise their families. It has all been put under the microscope in books ranging from French Women don't get Fat by Mireille Guiliano to Pamela Druckerman's Bringing up bébé. Le Figaro decided to get to the bottom of the French feminine mystique and came up with a startling conclusion – it's all a lie. Or "an American dream".
The journalist Peggy Frey set about exploding the myths, one by one, starting with the "natural beauty" of the French woman.
Her trim figure? Don't believe the myth that French women never diet, says Le Figaro. It's true that they never talk about dieting, just "being careful". If you consider that almost half of French women smoke it's hardly surprising that their appetites are suppressed.
Her sexy appearance? The paper quotes from a recent study showing that French women spend €97 on lingerie – or only a fifth of what American women spend. As for her "natural" blonde highlights, they come straight out of a bottle, except that the French woman is likely to have spent months finding the right hairdresser and will never give you the address.
Forget the image of a French cook slaving over a hot stove, preparing dishes whose recipes were handed down from generation to generation. The modern French woman spends two minutes 30 seconds heating up dishes in the microwave.
Her exquisite innate fashion tastes? Don't be duped. Not everyone has the wherewithal of a TV presenter like Laurence Ferrari – who comes as close as anyone to the stereotypical "perfect" French woman – and most people make do with "putting on a bit of everything and any old thing … in any old way".
According to the paper, the secret of French women is "to do everything falsely: [they are] falsely coiffed, falsely dressed, falsely fatal".
To sum up, the French woman is a wizard of pretence. "What she does is to apply the motto: less is more – in almost every domain. A talent which apparently not everyone has!" the paper concludes.
France itself has been so in thrall to its image of women that a real woman is used as the model for the Marianne national emblem whose bust stands in every town hall. The models for past Mariannes include actresses such as Brigitte Bardot and Catherine Deneuve. But even the French seem to be doubting the strength of their own myth: this year, the Marianne on the nation's stamps was inspired by a Femen activist from Ukraine.
www.independent.co.uk/news/world/europe/are-french-women-perfect-foreign-beauty-myths-8758210.html
The Plot Against France

www.nytimes.com/2013/11/11/opinion/krugman-the-plot-against-france.html
English Proficiency Falters Among the French
By CHRISTOPHER F. SCHUETZE
Published: November 10, 2013
MARSEILLE, France — Marseille's new Museum of European and Mediterranean Civilisations opened in June, part of the city's celebration of its status as this year's European Capital of Culture.
Though the museum is European in ambition, many of its exhibits are labeled only in French: English, though firmly established as the global language of business, education and culture, is glaringly absent from most of the signage, though an English-language audio tour is available.
A study released last week suggests that this absence is symbolic of a significant trend. The study, by Education First, an international education company, found that while English proficiency among European adults is generally increasing, proficiency in France is both low and declining.
According to the third EF English Proficiency Index, released last week, France ranked 35th among 60 nations where English is not the main language. The study put the country's average English language skills in the "low proficiency" bracket, between China and the United Arab Emirates — and last among European nations. It also found that France was one of only two European countries where proficiency had decreased over the past six years. Norway was the other; but there, proficiency remained at such a high level that the change was insignificant.
The rankings are based on the results of 750,000 online assessment tests completed last year — some online, others by English language school applicants.
EF's English Proficiency Index, based on the test results, compared country scores with the results of a similar study carried out between 2007 and 2009, to identify trends in proficiency levels over the past six years.
"There are some countries that are still not giving the basic message that English is a necessary skill," said Kate Bell, a researcher with EF, in Paris.
According to Ms. Bell, the level of English proficiency among French adults suffers both from inadequate teaching at high school level and the reality that — despite fears of French culture's being overwhelmed by American pop culture, very little English is actually used in everyday life.
Unlike its smaller northern European neighbors, France dubs most American films and television shows into French. The top English speakers in continental Europe — Norway, Sweden and the Netherlands — all tend to use subtitling.
"It's a vicious-virtuous cycle," said Ms. Bell: Audiences not used to subtitling tend to shy away from it, which in turn diminishes their capacity to understand English.
France's secondary school system, which has only recently started testing English oral skills as part of the Baccalaureate, is a major reason for poor language skills, she said.
Spain, ranked at 23 in the index, has risen in the listing since introducing public English-Spanish bilingual schools. According to EF data, the country has significantly improved its proficiency level since 2007.
Eastern European countries are faring much better. Estonia is fourth in the survey, which puts it in the "very high proficiency" bracket, just after the traditional Scandinavian heavyweights. Poland, Hungary and Slovenia — all in the "high proficiency" bracket — are ranked in the top 10, with Hungary showing significant improvement.
"English is the de facto language of communication today between people who don't share a native language," Ms. Bell. said "Measuring English proficiency is in many ways a proxy measurement of international integration."
Turkey, though still a "low proficiency" nation, ranked 41st in the index, was the country showing the biggest improvement in the past six years. EF researchers point to Turkey as a perfect example of economic development and international engagement that go hand-in-hand with English proficiency.
Because of its prominence in international business, higher education and politics, the importance of basic proficiency in English can scarcely be overstated. More than just a linguistic skill, adult English proficiency is key to success in the globalized world.
Conversely, the EF study suggests that weak proficiency in English may correlate with weak integration into the global economy.
"The Middle East and North Africa are the weakest regions in English," the study said, with Iraq ranked 60th, at the bottom of the list.
"Poor English remains one of the key competitive weaknesses of Latin America," it added, with more than half the countries in the region in the lowest proficiency band

www.nytimes.com/2013/11/11/world/europe/english-proficiency-falters-among-french.html
On the Verge | Uzes, the Hidden Gem of the South of France

Gerard Sioen/Gamma-Rapho, via Getty Images
The town of Uzès, France, is meticulously preserved, while offering modern amenities.
Inside one of the nine rooms at La Maison d' Uzès, another of the city's new inns.
http://tmagazine.blogs.nytimes.com/2013/08/07/on-the-verge-uzes-the-hidden-gem-of-the-south-of-franc/
Jean Jullien
Vive le Terroir
By STEVEN ERLANGER
Published: August 31, 2013
CASTELNAU DE MONTMIRAL, France — JÉRÔME GALAUP, a fourth-generation farmer here, and his wife, Nathalie, a teacher, share a dream: to combine their professions and create a teaching farm, where new generations can learn about the particularities of this hilly bit of French soil — this terroir.
Jérôme, 32, and Nathalie, 35, met at a local vendange, the wine harvest. They feel a deep connection to this earth east of Montauban, and a desire to preserve it for their children. "My father and grandmother have a long experience of this place," he said. "He knows every inch, every stone, and which parcels are for what."
When he and his father had difficulty getting fermentation in their sparkling wine using only the natural yeasts in the grape, it was his grandmother Lucette who told them not to bottle during a full moon or when the harsh local wind, the vent d'autan, is blowing.
Local knowledge is crucial, of course. But as Nathalie put it: "It's the person who gives the work and the identity to terroir. There's an emotional identity to a particular piece of the earth."
The importance of terroir to the French psyche and self-image is difficult to overestimate, because it is a concept almost untranslatable, combining soil, weather, region and notions of authenticity, of genuineness and particularity — of roots, and home — in contrast to globalized products designed to taste the same everywhere.
Though related to the farm-to-table and locavore movements of a new generation, terroir is not about proximity, but about honesty and community, an idea even more important to a France that fears losing its identity in a larger Europe and a competitive world.
Terroir is most identified with wine, of course — the same pinot noir grape grown in different parcels of Burgundy will produce a different wine — but the idea extends far deeper into French culture and is even deployed as an advertising gimmick.
Nearly everything, even in the supermarket, must be seen to be sourced from somewhere. Peaches come from Roussillon. Chickens from Bresse. Meat from Limousin cows. The "Noir de Bigorre" is a special pig, with its own Web site.
The label of Le Fierbois yogurt, produced proudly in Touraine, shows happy cows lazing about on the grass under two columns of trees. Yogurt in glass jars comes from La Ferme du Manège, "the farm of the riding school," in Normandy. Olivier Mallard, the former bacteriologist who owns it, said, "I perpetuate the traditions as best I can," using only the freshest milk of the day. "Today, to have 'farm' in your brand is a connotation of terroir," he said, in contrast to industrial products like Danone or Yoplait.
After numerous scandals about horse meat in manufactured food, Mr. Mallard said, there is a value to "authenticity," a market for "a return to the things of the terroir, which reassures people a little."
The sandwich shop Cojean sells a sablé cookie — made with butter from Poitou-Charentes and salt from the Île de Ré. The best crottin cheese comes from Chavignol, in Sancerre, so is ruled to go best with Sancerre wine, that often superb transformation of the sauvignon blanc grape. Ordinary mushrooms are known as "champignons de Paris." Even McDonald's here features "onions from Brittany."
Oysters, too, are thought to have a terroir — the same breed from the waters of Ireland will not taste the same as those from Normandy or Marennes-Oléron, the way the same breed of asparagus will taste differently, says the chef Yannick Alléno, if grown in Vallauris, near Cannes, or in California. "This is where terroir expresses itself," he said.
The notion of terroir is essentially political, at heart a conservative, even right-wing idea, even though it has been picked up by a new generation that would consider itself on the left, opposing globalization and pesticides. It's not just about organic farming or locavores, since authentic products of terroir can come from far away.
Alain Ducasse, the renowned chef-entrepreneur, said in an interview that "the terroirs, it's our gastronomy" — the diverse heart of all French cuisine, which "must be preserved jealously." Viewed from abroad, he said, "it can seem complicated, but it is this diversity that provides all our riches, our strength."
The Galaups live in an ancient farmhouse, parts of which date from the 17th century, with their young children, Camille, Jérémie and Corentin; his father, Jacques; his grandmother Lucette and her sister, Tatie, who tend to wear matching plaid housecoats. They dine around a worn wooden table, with a bench for seating; they eat largely what they grow and drink their own wine, or that of neighbors here in the Gaillac, much of it made from the seven varieties of a local grape, Mauzac.
This is one of the oldest wine-growing areas of France, planted in grapes by the Romans, and the Galaups and their friend Laurent Cazottes, a third-generation farmer and distiller of eaux de vie, are trying to ensure that local varieties of grapes and fruits are resurrected here to produce something both rooted and new. Mr. Cazottes, for example, makes a rich eau de vie from local varieties of cherry, as well as one from an ancient variety of greengage plum; a superb poire Williams using only the ripe flesh; and a distillation of 72 kinds of tomatoes.
The Parisian chef Mr. Alléno, 48, left behind his three-star restaurant at Le Meurice, the Paris hotel, to start a new bistro in Paris called Terroir Parisien. Born in the Paris suburbs to parents who ran small bistros, he decided to emphasize the products of the Île de France, the department surrounding Paris, which once was the incubating heart of French gastronomy.
The first restaurants began in Paris, Mr. Alléno noted, and he wanted — just like the Galaups and Mr. Cazottes — to revive the products of the past nearly made extinct by modernization and industrialization. So he uses the black poularde de Houdan, much favored by Louis XIV and a different breed from the one grown in Bresse, which "dethroned" it, he said. He's made arrangements with farmers to grow the asparagus of Argenteuil, the purple cabbages of Pontoise, the peaches and white figs of Montreuil, and the watercress of Méréville. "Today one could say that there were 160 products of Parisian origin, from the Paris basin, that existed since the beginning of time," he told me. "My dream is to rediscover these 160 products."
There are similar concerns about the extinction of the many varieties of French cheese. As confusing and wondrous as they are, there is general moaning over the growing preference of price-conscious French consumers for pasteurized, industrial cheeses picked up in the supermarket. In 1979, France had 20,000 cheese shops. Now the figure is about 3,000, and only about 7 percent of French cheese is made from raw milk.
Jean-Claude Ribaut, a food critic for Le Monde, called terroir "a sort of lost paradise." But it also stands for a reaction to modernity, he said: "One could say it's a vision a bit backward-looking, but it's also, I think, a battle of today, to try to safeguard what gives us pleasure and health."
The preservation of terroir is finally a kind of unwritten conspiracy between the farmers and the wealthy, as well as the bourgeois bohemians of the big cities, who will pay more for quality, for freshness, for artisanal craft and for that undefinable authenticity that is the essence of terroir.
"If I come to the end of my career and see a significant diversity of Parisian agricultural lands, well, then at least I will have accomplished my thing," says Mr. Alléno. "I don't know if it is essential, but I will have done something, and I would be happy."

www.nytimes.com/2013/09/01/sunday-review/vive-le-terroir.html
France prefers subsidy to égalité
Competition is a dirty word in France. It threatens the privileges of state employees
www.telegraph.co.uk/news/worldnews/europe/france/10121619/France-prefers-subsidy-to-egalite.html
Goodbye Old World, Bonjour Tristesse
Ferdinando Scianna/Magnum Photos (Paris, 1989)
By MAUREEN DOWD
Published: July 6, 2013
PARIS — VERSAILLES lived again at haute couture week, as designers paraded their let-them-eat-cake creations, hand-stitched with gilt embroidery and trimmed with guiltless fur — frousfrous that no real women can wear and few can afford.
On Friday night, Christian Lacroix offered his homage to Elsa Schiaparelli, but even high fashion couldn't lift Paris from its low mood. "Liberté, égalité, morosité," Le Monde declared.
Joie de vivre has given way to gaze de navel. The French are so busy wallowing in their existential estrangement — a state of mind Camus described as "Should I kill myself, or have a cup of coffee?" — that they don't even have the energy to be rude. And now that they're smoking electronic cigarettes, their ennui doesn't look as cool. It's not that they've lost faith in their own superiority. They've lost faith that the rest of the world sees it. The whole country has, as Catherine Deneuve says of her crazy blue moods, une araignée au plafond — a spider on the ceiling.
On Place Vendome, Christian Lacroix was dispatching models in black crepe chiffon peplum basques — whatever they are — while on Avenue Hoche, Lacroix's dentist was bemoaning the black crepe City of Lights. Holding a cigarette in a waiting room filled with Picasso-print pillows, Dr. Gérard Armandou told how his patients, always prone to pessimism, are even more filled with malheur now as they sit in his chair contemplating tous les problèmes, including "not going anymore on holiday to Egypt."
"Cocteau said the French are Italians in a bad mood, but now there is more morosity," he said. "We are connecting with nostalgia. What is nostalgia? Where the present doesn't agree with the hope that you got in the past."
He said there are widening chasms between sectors of French society — old and young, natives and immigrants, "smokers and nonsmokers, homosexuals and non-homosexuals."
"Enter conflict, where before there was none," he said. "The French people, maybe they think too much. The happy stupid don't see the problem." People with joie de vivre, after all, are simply not paying attention.
"It's not the end of the world," Dr. Armandou said with a Gallic shrug. "It's the end of one world."
The French have higher rates of taking antidepressants and committing suicide than most other Europeans. And while arguing about how to move forward, they feel trapped in the past, weighed down by high unemployment and low hopes, the onerous taxes that drove Gérard Depardieu to flee, conflicts with immigrants, political scandals, Hollande fatigue, Germany envy, economic stagnation, a hyperelitist education system, and cold, rainy weather that ruined the famous Paris spring. Instead of confronting the questions at hand — how to adjust to globalization and compete with the Chinese — the French are grieving their lost stature and glorious past, stretching back to the colonial empire, the Lumières, the revolution, Napoleon, even the Jazz Age writers and artists. They're stuck in a sentimental time warp as vivid as the one depicted in Woody Allen's "Midnight in Paris."
"In 1945, France was on the losers' side, but this reality has long been masked by the political speeches of General de Gaulle and François Mitterrand: they both maintained, in their own way, the idea that it remained a great power promised to an exceptional destiny," the historian Christophe Prochasson told Le Monde. "After they left office, the French continued to live on that belief." Today, he added, this illusion is disappearing gradually and "France is a country in mourning." What is lacking now in France, he said, is the music of history, "the capacity to contemplate tomorrows that sing."
It doesn't help that as they come to grips with their dashed illusions of grandeur, the French find out that their own government and America's have them under the spyglass. "L'Oncle Sam se comporte très, très mal" (Uncle Sam behaves very, very badly), Le Monde scolded in a front-page editorial last Monday.
"I know we can be unbearable but not to the point where you are entitled to put mics at our place," said Philippe Manière, the managing partner of Footprint management consultants.
A 2011 BVA-Gallup poll conducted in 51 countries revealed that the French were even more pessimistic than Afghans and Iraqis. As the sociologist François Dubet told Le Monde, "If France doesn't get all the Olympic medals and all the Nobel Prizes, the French consider it hopeless."
Manière complains about how "disgusting" the Disneyfied Champs-Élysées has become, with hordes of teenage tourists snapping pictures of themselves in front of Ladurée, the macaroon shop, and pictures of the French without even a "s'il vous plait."
"The intersection of globalization and the French spirit is especially painful," he said. "We have this feeling that everything we were used to is disappearing and what we are offered is not as good." The French gave up the franc but don't want to give up anything else to mesh into a bland global society.
"The French are very conceptual, very cerebral," Manière said. "We need to have more than food and TV. In America, it is not treason of an ideal if you want to watch TV all day, whereas in France it is."
It is a measure of their desperation that the French have become fixated on American-style happiness studies. Claudia Senik, a professor at the Paris School of Economics and the Sorbonne, has become a media darling discussing her research on French malaise. Living in France, with its unyielding judgments about talent and its locked labor market, reduces the probability of being happy by 20 percent, she says.
Though everyone else flocks here to be dazzled, the French are less satisfied than the average European. She calls it "a cultural trait" linked not only to circumstance but to values, beliefs and behaviors passed from generation to generation, and exacerbated by madly competitive schools that are hard on self-esteem. In others words, unhappiness has been bred into the French bone. When French citizens emigrate, she said, they take their tristesse with them.
"Our happiness function is a little deficient," she said over espresso at Le Rostand across from the Jardin du Luxembourg. "It's really in the French genome."
Mr. Grolsch Prospect, Kentucky
France is uniquely France and something America will never be. But, then, America is exceedingly uniquely America and something no other country (save maybe Canada, on a bad day) could ever be. I remember the slightly rude cab driver in Paris who, realizing how close to the line he had gone, directed his passenger-seat German Shepherd to bark "Au Revoir" to the nice Americans as we were delivered to Georges Pompidou Centre from the Champs Elysee. And for those for whom the cities of France are too much, God bless the French countryside and the villagers who welcome Americans even as the same villagers may scorn our country's politics but politely ask if we agree with our President. The 1%/47% phenomena are as present in major French cities as they are in their American counterparts, but Frenchmen and women have a maturity and an at least apparent wisdom about life that we do not. A wisdom my wife thinks comes from the frail little women carrying their daily baguettes on the sidewalks from the stores, their faces lined with the reality of World War II, its prelude and aftermath.
July 7, 2013 at 7:10 a.m.

www.nytimes.com/2013/07/07/opinion/sunday/dowd-goodbye-old-world-bonjour-tristesse.html
French business leaders lash out at Francois Hollande
France's business leaders have launched a blistering attack on President François Hollande, demanding drastic measures to halt the country's industrial decline and shrink the ballooning public sector.
The avalanche of 'very dogmatic' measures imposed by Francois Hollande have put companies under enormous stress, said the leader of business federation MEDEF
By Ambrose Evans-Pritchard
7:34PM BST 08 Jul 2013
"The house is on fire. France is destroying 8,000 jobs a day," said Pierre Gattaz, the new leader of business federation MEDEF.
Mr Gattaz said the avalanche of "very dogmatic" measures imposed by Mr Hollande during his first months in power have put companies under enormous stress, and little has been done yet to reverse the damage despite a change in tone. "The government must step up to its responsibilities. Companies can't till a soil full of rocks and brambles. It is private enterprise that will save France. The public sphere can't create jobs, only companies can do that, and they're the heroes."
The chief executives of top firms including Peugeot Citroën, EADS, Sanofi and Publicis signed a joint letter to Les Echos, complaining that France is being suffocated by high taxes and an over-regulated system that is no longer fit for purpose.
"Unemployment has reached record levels. The trade deficit is getting worse. Profit margins are the weakest in the eurozone. This calls for urgent measures. It is a bitter reality, more so because other countries touched deeply by the crisis such as the US or Ireland are recovering," the letter read.
The group called for a radical shake-up of labour markets to let each firm set its own working hours, and a "coherent" energy policy to bring down costs from current ruinous levels. Gas prices are three times as high as in the US.
Christophe de Margerie, head of the energy giant Total, said France's outdated welfare model is draining the economy's life-blood. "The real problem we have in France is the state. Some 55pc of GDP in the hands of the state, and it is not being very well run. We live in a nanny culture where people expect the state to take care of everything."
France put off tough reforms during the boom years of EMU, coasting while Germany, Holland and Scandinavia became lean. It then delayed again after the 2008-2009 crisis and now risks being overtaken by Spain and even Italy, according to the International Monetary Fund.
The country is now having to grasp the nettle in a double-dip recession, with industrial output still 15pc below its 2008 peak. The Observatoire Economique in Paris says fiscal contraction will be 1.8pc of GDP this year, the biggest squeeze in half a century.
Unlike Britain, France has not been able to restore lost labour competitiveness quickly by letting its currency slide. It has to claw back ground slowly within EMU by deflating relative wages, a slower and more painful process that usually entails years of high unemployment.
French economists say France's slow decline has reached the point where it risks turning into a deeper crisis if the eurozone economy fails to rebound in the second half of this year, or if austerity fatigue in Portugal sets off a fresh eruption of EMU debt crisis.
Data on Monday showed that Germany's exports fell 2.6pc in May, the steepest one-month fall since December 2009. It is a clear sign that Germany is starting to suffer the effects of the downturn in China and stiff competition from Japanese companies enjoying a weak yen.
Germany's industrial output fell 1pc in May, and its manufucturing PMI gauge fell further below the "boom-bust line" in June to 48.6.
Patrick Legland from Societe Generale said Germany is facing chill winds from Asia and Southern Europe, and has itself become complacent about its lack of structural reform as the effects of the Hartz IV overhaul a decade ago start to fade. "The German success story could be at risk in the near future," he said.
In Portugal, President Anibal Cavaco Silva is expected to decide on Tuesday whether to call a snap election to clear the air after a week of political chaos, a move that would open the door to an anti-austerity government.
The European Commission denied reports that it is already working on a precautionary credit line or "bail-out lite" for the country from the EU rescue fund. Any such action would stir a hornet's nest, leading to a bitter fight with the IMF over the need for debt restructuring. It would also require a bail-out vote in the German Bundestag just before the German elections.
Furthermore, it would be an admission that the current €78bn `Troika' rescue has failed to restore Portugal's economic viability within EMU despite the full compliance of the Portuguese government. Serious questions will be asked if it turns out that the harsh medicine imposed on the nation has repeated the grave mistakes made in Greece.

www.telegraph.co.uk/finance/financialcrisis/10167527/French-business-leaders-lash-out-at-Francois-Hollande.html
Memo From France
A Proud Nation Ponders How to Halt Its Slow Decline

Lionel Bonaventure/Agence France-Presse — Getty Images
A Goodyear worker faced riot police officers near Paris in March, reflecting tensions at two of the company's tire factories. Structural changes to the French economy do not come easily.
By STEVEN ERLANGER
Published: August 24, 2013
PARIS — For decades, Europeans have agonized over the power and role of Germany — the so-called German question — given its importance to European stability and prosperity.
Today, however, Europe is talking about "the French question": can the Socialist government of President François Hollande pull France out of its slow decline and prevent it from slipping permanently into Europe's second tier?
At stake is whether a social democratic system that for decades prided itself on being the model for providing a stable and high standard of living for its citizens can survive the combination of globalization, an aging population and the acute fiscal shocks of recent years.
Those close to Mr. Hollande say that he is largely aware of what must be done to cut government spending and reduce regulations weighing down the economy, and is carefully gauging the political winds. But what appears to be missing is the will; France's friends, Germany in particular, fear that Mr. Hollande may simply lack the political courage to confront his allies and make the necessary decisions.
Changing any country is difficult. But the challenge in France seems especially hard, in part because of the nation's amour-propre and self-image as a European leader and global power, and in part because French life is so comfortable for many and the day of reckoning still seems far enough away, especially to the country's small but powerful unions.
The turning of the business cycle could actually be a further impediment in that sense, because as the European economy slowly mends, the French temptation will be to hope that modest economic growth will again mask, like a tranquilizer, the underlying problems.
The French are justifiably proud of their social model. Health care and pensions are good, many French retire at 60 or younger, five or six weeks of vacation every summer is the norm, and workers with full-time jobs have a 35-hour week and significant protections against layoffs and firings.
But in a more competitive world economy, the question is not whether the French social model is a good one, but whether the French can continue to afford it. Based on current trends, the answer is clearly no, not without significant structural changes — in pensions, in taxes, in social benefits, in work rules and in expectations.
But Mr. Hollande's Socialist Party and the harder French left have not seemed to grasp the famous insight of the prince in Giuseppe Tomasi di Lampedusa's renowned novel of social upheaval, "The Leopard," that "everything needs to change, so everything can stay the same." Sometimes, talking to French politicians and workers, one has the feeling that they all consider themselves communards and revolutionaries, fighters on the left — but at the same time, like the far right, they wish to lock into place the comfort of the known.
In May 1968, students at the University of Paris in Nanterre began what they thought was a revolution. French students in neckties and bobby socks threw cobblestones at the police and demanded that the sclerotic postwar system must change.
Today, at Nanterre, students worried about finding jobs and losing state benefits are demanding that nothing change at all. For Raphaël Glucksmann, who led his own first strike in high school in 1995, members of his generation have nostalgia for their rebellious fathers but no stomach for a fight in hard economic times.
"The young people march now to reject all reforms," he said. "We see no alternatives. We're a generation without bearings."
The Socialists have become a conservative party, desperately trying to preserve the victories of the last century. Many in the party, like the anti-globalization campaigner Arnaud Montebourg, now the minister in charge of industrial renewal — let alone those further to the left — seem to believe that France would be fine if only the rest of the world would just disappear, or at least work a little less hard.
There is nonetheless an underlying understanding that there will be little lasting gain without structural changes to the state-heavy French economy. The warning signs are everywhere: French unemployment and youth unemployment are at record levels; growth is slow compared with Germany, Britain, the United States or Asia; government spending represents nearly 57 percent of gross domestic product, the highest in the euro zone, and is 11 percentage points higher than Germany. The government employs 90 civil servants per 1,000 residents, compared with 50 in Germany.
Hourly wage costs are high and social spending represents 32 percent of G.D.P., highest among the industrialized countries; real wage increases outpace productivity growth; national debt is more than 90 percent of G.D.P.
About 82 percent of the new jobs created last year were temporary contracts, up from 70 percent only five years ago, not the kind of full-time work that opens the door to the French middle class. That keeps nearly an entire generation living precariously, no matter how hard people study or work.
Last year, France was ranked 28th out of the 60 most competitive economies in the world, according to the International Institute for Management Development in Lausanne, Switzerland. The United States was first. Even China, at 21, and Japan, at 24, outranked France. In the World Bank's ranking of "ease of doing business," France ranks 34th, compared with 7th for Britain and 20th for Germany.
In Amiens, in the north of France, Goodyear owns two tire factories. The work force at one has grudgingly accepted a change in work schedules, preserving its factory. The workers at the other have refused, and Goodyear is trying (not so easy in France) to shut it down, throwing more people out of work. Claude Dimoff, a former union leader at the more flexible plant, said: "I'm part of a generation that experienced the common program of the left. We had visions for the future, and different values, but all this is forgotten. The left has completely deviated from its promises."
The country retains plenty of strengths. France is the world's fifth-largest economy, with strong traditions in management, science and innovation. The gap between rich and poor is narrower in France than in most Western countries, although it is growing.
When the French work, they work hard; labor productivity, perhaps the single most important indicator of an economy's potential, is still relatively high, if dropping. But with long holidays and the 35-hour week, the French work fewer hours than most competitors, putting an extra strain on corporations and the economy.
Large French companies compete globally; there are more French companies in the Fortune 500 than any other European country. But the bulk of their employees are abroad, and there are few of the midsize companies that are the backbone of Germany. Ninety percent of French companies have 10 or fewer employees and fear expansion because of extra tax burdens and strict labor regulations.
Even in France's justly famous agricultural sector, the shrinking number of farmers has not been matched by a similar reduction in bureaucrats. Jacques Galaup, a farmer near Gaillac in the southwest, spoke with disdain of the number of hours he had to spend on paperwork — and estimated that there was probably one functionary now for every farmer.
Mr. Galaup showed off his records on the fewer than 30 cows that he raises. The files are thick and all done by hand; computers have barely made it to most levels of government.
In poll after poll, the French insist that they want renovation and modernization, so long as it does not touch them. That is always the political challenge, and Mr. Hollande's conservative predecessor, Nicolas Sarkozy, is considered to have failed in his promise to make serious structural changes.
While complaining constantly, for example, about the horrors of the 35-hour workweek, Mr. Sarkozy never dumped it, but simply played with the tax consequences of overtime, a change that Mr. Hollande immediately revoked. One of Mr. Sarkozy's advisers, Alain Minc, who tried to get him interested in Germany's social market revisions, once admitted that Mr. Sarkozy was simply afraid to confront the unions and the social uproar that real change would provoke.
There is a broad consensus that real social and structural renovation can be carried out only by the left. But that can happen only if Mr. Hollande, who has a legislative majority, is willing to confront his own party in the name of the future, as the former German chancellor Gerhard Schröder did a decade ago with a series of legal modifications that now get much of the credit for Germany's revival.
Mr. Hollande says he believes in "dialogue with social partners," which has so far produced relative peace but little substantive change. With centrist union agreement, he has slightly loosened the labor market, making flex time easier and taxing short-term contracts more steeply. And in 2014 he is moving about $27 billion of social costs from corporations to the regressive value-added tax.
But what can seem bold in local terms tends to yield minor results, and these modest efforts have taken place at the height of Mr. Hollande's power, which is inevitably declining.
In his book "The Resistance: The French Fight Against the Nazis," Matthew Cobb quotes a man named Boris Vildé, executed by the Nazis. His last words were: "I love France. I love this beautiful country. Yes, I know it can be small-minded, selfish, politically rotten and a victim of its old glory, but with all these faults it remains enormously human and will not sacrifice its stature."
But by refusing to grapple with its underlying faults, many here say, that is exactly what it is doing.

www.nytimes.com/2013/08/25/world/europe/a-proud-nation-ponders-how-to-halt-its-slow-decline.html
With unemployment high, France forces stores to close early
By Peter Gumbel SEPTEMBER 25, 2013
The French like to refer to the Champs Elysées in Paris as "the most beautiful avenue in the world," and
300,000
people stroll up and down it every day to see for themselves, many of them tourists looking to shop. No surprise, then, to find that retailers from Nike to LVMH are willing to pay premium rents for space on the avenue, which runs in a
straight line
from the Place de la Concorde up to the triumphal arch at Etoile.
Just don't try to buy anything in the evening. This week a Paris court of appeal ordered the cosmetics chain Sephora to close its flagship store on the avenue at 9 p.m., rather than staying open until midnight during the week and until 1 a.m. on Fridays and Saturdays. It was the latest ruling over store-closing hours that has already forced several other big name retailers in Paris both on and off the avenue to close early, including Apple, France's Monoprix and the Japanese clothing retailer Uniqlo. Two other stores on the Champs Elysées, Abercrombie and Fitch and perfumer Marionnaud, are also facing legal action.
France has a raft of regulations governing shopping, and its labor unions ensure that they are strictly enforced. As well as strict limits on opening and closing hours, the rules only allow sales during certain periods of the year, price promotions are circumscribed, loss leaders are illegal, store sizes are limited and even the types of shops allowed to open up are regulated. The Swedish clothing retailer H&M fought a long legal battle against the Paris city authorities before it won permission in 2008 to open on the Champs Elysées; City Hall vetoed the plan on the grounds that it was one clothing store too many, and would change the character of the avenue
. The issue was finally decided in H&M's favor by the Conseil d'Etat, the nation's highest administrative court.
For the most part, these rules just provoke a Gallic shrug in France itself. But at a time when the national economy remains stuck in a rut and unemployment continues to rise, this latest ruling on Sephora has struck a raw nerve. The case was brought by a consortium of labor unions, which has been zealous in its attempts to have the store-closing hour law enforced, arguing that it needs to protect workers from unscrupulous owners who force them to work antisocial hours. But that logic is patently untrue in this case.
The cosmetics chain reckons it does about 20 percent of its business after 9 p.m., and the 50 sales staff who work the late shift do so voluntarily — and are paid an hourly rate that is 25 percent higher than the day shift. Many of them are students or part-time workers, and they have publicly expressed their indignation about being put out of work by labor unions. The judge refused to take into consideration a petition they presented to the court, saying the case was a matter of public order, so now they are taking their campaign online, including with a Facebook page. Sephora says it will appeal the decision.
Political reaction has been swift. Pierre Lellouche, a member of parliament for Paris whose constituency includes the Champs Elysées, called the regulations "suicidal," and said it was "scandalous in our country, where the unemployment rate is above 10 percent of the active population, that unions should fight against jobs, and even more worrying that the law should be on their side." The national employers association has called for the laws to be changed. And an association of store owners on the Champs Elysées has worried publicly about wealthy tourists going elsewhere to shop, including London, where there are far fewer barriers to their ability to spend money.
It's not clear whether this case might turn out to be a tipping point in favor of consumers. What is certain, however, is that France remains wedded to highly regimented forms of business that are hard to change, and which place protection of the status quo far ahead of the interests of consumers and the economy as a whole. While there is a French anti-trust commission charged with promoting greater competition, it is relatively weak and overshadowed by a more powerful and much larger code of labor legislation, with its 981 articles, is about four times the volume of that of neighboring Germany, itself no slouch when it comes to protecting workers' rights.
Two big department stores near the Paris Opera, Printemps, both very popular with tourists, have  calculated that they could increase their revenues by at least $200 million per year and employ an additional 1,000 full-time staff if they were allowed to open more often on Sunday. Unlike the Champs Elysées stores, which have a legal exemption to open on Sundays because they are in zones classified as highly touristic, the two department stores are only allowed to open on five Sundays per year.
Retailing regulation is the most visible, but many other consumer-oriented businesses are also subject to rigidly-enforced rules. Taxis, hairdressers, public notaries and many others are governed by "obsolete regulation," according to an official 2008 report on ways to open up the French economy, written by Jacques Attali, a writer, consultant and former top government official, who argued that it was time to blow up the rules and liberate producers and consumers alike in order to create jobs and give a boost to the economy. Among other things, he recommended eliminating a 1973 rule that limits the numbers of bars with alcohol licenses; enabling hairdressers with five years experience to open a salon without having to pass a special exam; dumping a quota system that limits the number of pharmacies, and breaking a taxi monopoly in Paris that restricts the number of cabs in the French capital and can make it hard to find one at peak hours or when it's raining.
Cab drivers immediately staged a protest that blocked streets for hours, and the government responded by shelving any reform plans. That sounded the death knell for the Attali report more generally.
So far, President François Hollande and his socialist government have shown no signs of wanting to change the status quo. To do so would mean taking on the labor unions, a core constituency. But when jobs and growth are so obviously at stake, letting people buy lipstick at midnight seems a small price to pay.
PHOTO: People walk near the Virgin Megastore building on the Champs Elysees in Paris May 14, 2013. Picture taken May 14, 2013. REUTERS/Benoit Tessie
French 'old boys' network' far worse than Britain's, book claims
University lecturer Peter Gumbel turns his attention from education to the Gallic corridors of power and business
Kim Willsher in Paris
The Guardian, Tuesday 14 May 2013 10.38 EDT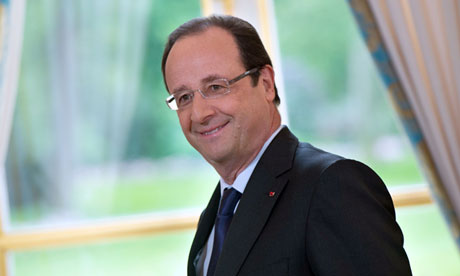 François Hollande has surrounded himself with his old classmates, according to Peter Gumbel.
Photograph: Bertrand Langlois/AFP/Getty Images
Left, right or centre, France's politicians are a ruling elite that resembles an ancien regime desperately clinging to its privilege and power, according to a new book by a Paris-based British author.
If you thought David Cameron and his Eton and Oxbridge clique were posh toffs out of touch with the real world, take a look over the Channel at the "tiny number of brilliant and charming men and women" who constitute the Gallic ruling class, says university lecturer Peter Gumbel.
In his new book, France's Got Talent: the Woeful Consequences of French Elitism, published on Wednesday, Gumbel takes a hard swipe at France's new nobility: the fewer than 500 graduates of elite schools that dominate the highest echelons of business and politics.
Often arrogant, untouchable, unaccountable – and almost certainly unsackable – Gumbel says France is still controlled by an "old boys' network", that makes the British government and business Britain appear a model of social diversity.
Just three years after he rattled the French establishment with a scathing indictment of the country's highly selective education system, Gumbel has turned his attention to the Gallic corridors of power and business.
"Since the Revolution, France has had this mythology that it is a meritocracy, that anyone can rise to the highest positions in society by virtue of their intellectual brilliance," Gumbel told the Guardian.
"The idea is the brightest kids in the class can go on to run the country, but it doesn't work. Those in this elite come from much the same upper middle-class background and they are not running the country well.
"They may be smart and swots and get grammar and maths but they don't have experience or, necessarily, ability."
Gumbel added: "David Cameron gets a hard time for surrounding himself with old Etonian buddies and being out of touch, but compared with François Hollande, who has surrounded himself with his old classmates, Cameron seems harmless. In France it's still a system of jobs-for-the-boys that was prevalent in Britain back in the 1950s."
Gumbel says the book is aimed at the disillusioned French public, which is fed up with Hollande and turning to the extreme right and left in increasing numbers, but which "may not be aware of the extent to which the elitist culture it endures is anything but normal by international standards".
He said: "It's not so much a glass ceiling as a concrete one. And with a tiny number of people coming up to run everything, everyone else feels frustrated and left behind."
Gumbel's previous book, They Shoot School Kids, Don't They?, detailed how only about 5% of France's top students get into classe préparatoire [preparatory classes], the "military-style boot camps" that provide intense grounding for the country's 200 elite grandes écoles.
The book was widely reviewed in France and prompted an invitation to the Élysée Palace to talk about education reforms.
"Ever since I arrived in Paris in 2002… I have been surprised by the pervasive culture of elitism in France. If this country were a TV show, it would be France's Got Talent, a fiercely competitive contest to show off how clever you are," Gumbel writes.
However, Gumbel says the entire contest is flawed. "Those chosen aren't always the best suited for the roles they are given, while the losers are marked for life."
Britain, the US, Germany and many other countries have broadened their leadership to better reflect their diverse societies, he says. "France is bucking this trend. Here, the demands, if anything, are becoming more elitist."
France has barely opened up, he says, since a 1900 parliamentary report by Alexandre Ribot noted: "A system that classifies men at the age of 20 based on the diplomas they have received deprives the state of the right to choose those who are outstanding, self-made professionals". The report said the system gave those who succeeded "the illusion they simply have to stand in line in order to receive a government post".
And once in the top job, there is little incentive to change anything: mandarins, says Gumbel, "can't be fired … at worst they're 'put in a cupboard', meaning shunted off to a low-profile job or a comfortable sinecure".
As a civil servant told him: "It's like an elevator. You step in and move up."
Gumbel, who lectures at one of France's most elite educational establishments, the Institute d'Études Politiques, better known as http://www.sciencespo.fr/ Sciences Po and which has educated five of the Fifth Republic's seven presidents, adds: "France needs elites, but it needs better ones. It needs people who are good at drafting reports, but even better at implementing their recommendations.
"To paraphrase General de Gaulle, how is it possible that in a nation that has 365 varieties of cheese, there are so few paths to the top?"
Facts and figures from Gumbel's book
• The École Nationale d'Administration (ENA) and the École Polytechnique, the most elite of France's top schools, admit just 480 students a year – 0.057% of their age group and "a proportion so minuscule it could be a statistical error".
• In 1980 an American study of managerial practices found 80% of the top executives of France's largest companies came from five grandes écoles.
• A study by Luc Rouban of CEVIPOF, Science Po's political research centre, found that Valéry Giscard d'Estaing, the 1970s president, had 61% of his entourage from Polytechnique and ENA; Sarkozy, 55% of immediate staff; Hollande is back to Giscard's levels.
• Only 12% of ENA students are from what could be described as working or lower-middle class families, according to the social trend monitoring agency, the Observatoire des Inégalités. And just 11% of Polytechnique students qualify for financial grants.
• ENA and Polytechnique take 480 admissions a year; Oxford and Cambridge take 3,400; US Ivy League universities (Harvard, Yale, Princeton, Columbia, Dartmouth College, Cornell, Pennsylvania, Brown) take 24,000.
• Every year around 75 graduates of ENA and Polytechnique join the grands corps de l'État (grand state corps), for fast-track civil service careers and jobs for life. Britain's civil service fast-track scheme chose 390 candidates in 2011 (26% of whom were from Oxbridge).
• Every year 830,000 pupils start secondary school. Of those, 570,000 pass the baccalaureate, but only 280,000 take the "general" bac as opposed to the professional and technical alternatives considered inferior. Of these just 40,000 – around 5% – will go to prep classes and 1,500 will be accepted at Science Po. Of the 260,000 who don't obtain any bac, the majority are from poor or modest backgrounds.
• A 2003 European Central Bank report on the efficiency of the public sector in 23 countries ranked France 20th
UK elite v French crème
Annual student intake
Oxford and Cambridge (undergraduates): 7,000
ENA and Polytechnique: 480
(Source: the schools)
Alumni constitute
Oxbridge: 21% of FTSE-100 CEOs and 42% of senior civil service.
ENA and Polytechnique : 40% of CAC-40 CEOs and 60% of senior civil service.
(Sources: The Sutton Trust (UK), Robert Half recruiting agency; Sociologies Pratiques 2010-12, François-Xavier Dudouet et Hervé Joly, Luc Rouban, CEVIPOF, Revue Française d'administration publique 2012-12)
'Fast-stream' civil service career track
Oxbridge graduates: 26% of successful candidates
ENA and Polytechnique graduates: 100%
(Source: UK Cabinet Office)
Lifelong-job guarantee
Top Oxbridge graduates: none
Top 15 ENA and top 60 Polytechnique graduates: guaranteed
Universities: first year drop-out rate
UK: 7.5%
France: 26%
(Source: UK HEFCE; France – ministry of education)
Number of companies judged by employees as great places to work
UK: 141
France: 58
(Source: Great Place to Work Institute)
Percentage of employees who say they are stressed by work
UK: 59%
France: 71%
(Source: European Working Conditions Survey, 2005)
International ranking of quality of relations between employees and employers
UK: 14th out of 32
France: 32nd out of 32
(Source: ISSP international Social Survey Programme, 2005)

www.guardian.co.uk/world/2013/may/14/france-power-elitism-peter-gumbel
Rite of Passage for French Students Receives Poor Grade

Ed Alcock for The New York Times
French students waited outside an exam hall in Paris before taking the nationwide test known as the baccalauréat this month .
By SCOTT SAYARE
Published: June 27, 2013
PARIS — Those who believe the old bromides about the French and their slack work ethic would do well to observe the frenzy of study that seizes this country's teenagers each June.
By the hundreds of thousands, they pack themselves into libraries, flood their bloodstreams with stimulants and spend weeks generally cramming for the baccalauréat, better known simply as the "bac," the exhaustive finishing exam that has racked the nerves of France's students since the time of Napoleon.
The weeklong national test is the sole element considered in the awarding of high school diplomas, themselves known as bacs; without a passing score, university doors are closed and job prospects are generally grim. The test is at the core of all high school curriculums, in Paris as in France's far-flung overseas territories, in establishments both public and private, and many consider it to be a foundational rite of passage, even an element of French identity.
Like so very much else in France, it is an emanation of the government in Paris, which decrees the testing dates and approves each of the questions. It is, in the words of a 2008 Senate report, "the veritable cornerstone of our educational system" and a "national monument."
And yet, for all the reverence, nostalgia or stress that it still inspires, its utility is growing ever less clear, according to French officials, students, parents, teachers and employers — most everyone, really.
"Each year more ridiculous, the comedy of the bac has returned," Luc Ferry, the philosopher who once served as education minister and oversaw the test, wrote this month in the newspaper Le Figaro.
France once liked to think of its educational system as a model for the world, but studies show academic performance here to be unexceptional and on the decline, and officials have in recent years begun to fret. Increasingly, the bac is viewed as the flagship of a flawed system, a symbol not so much of French excellence but of what is wrong with education here.
It focuses too little on logic or creativity, many complain, and too much on rote knowledge and the esoterica that thrill the Parisian cultural aristocracy. Some critics say it has grown too easy, with a pass rate of about 90 percent last year; others contend that it now serves as little more than an exceptionally inefficient way to weed out the least-proficient students.
French students remain attached to the bac, nonetheless.
Outside the Lycée Condorcet in Paris last week, Justine Ripoll said that the test she was about to take served little practical purpose, but she defended it just the same.
"It's more a rite of passage than an exam," said Ms. Ripoll, 18, dragging lightly on a morning cigarette. "That's why it would be a shame to get rid of it. Everybody's been through it. It's traumatized everybody."
The center-left government has pledged to "renew" the national school system, but its focus is on primary schools and there are no immediate plans for changes to the bac.
Still, the test needs to "evolve," said Vincent Peillon, the current education minister. "Everyone is reflecting on it, and they're right to."
The first edition of the test, given in Latin in 1808, produced 31 "bacheliers," or bac-holders. This year, 664,709 candidates were registered for one of the 91 versions of the bac: 3 "general" options (focused on the sciences, economics or literature), 8 bacs for technical students and 80 "professional" bacs for students in vocational programs.
As recently as 1945, high school diplomas remained the province of an intellectual elite, held by only 3 percent of all teenagers. More than 70 percent of young people earn bacs today.
As a result, the writing, administering and grading of the exam now mobilize a heaving bureaucracy. About 170,000 schoolteachers have been requisitioned this year to oversee the exams, which include a total of 3,990 original questions developed over several months by state commissions held to the strictest confidentiality.
(That secrecy cannot prevent certain forms of cheating, of course. A 52-year-old woman disguised as her 19-year-old daughter was discovered last week here taking the English portion of the exam, the police said.)
Two weeks of grading is conducted by schoolteachers and overseen by juries of instructors and university professors. The cost of producing, administering and grading the test reached about $80 million last year, according to official figures.
But that number does not include the salaries paid to educators during the tests and grading period. A study by a major educators' union, S.N.P.D.E.N., put the "true cost" of the general and technical bacs at a combined $2 billion.
Given the relative ease of passing the test, the bac's primary function now seems to be to identify and punish the weakest students, the educators' union argued. In effect, the state pays nearly $2 billion to prevent about 60,000 students from moving on to higher education, the union said, well more than $30,000 per failed student.
"These resources would perhaps be better used" to help them succeed, the union said in a statement this month.
Other critics worry that too many students earn the bac these days. Rather than raise 80 percent of students to the level of the test, "we put the baccalauréat at the level of 80 percent of students," wrote Jacques Julliard, a columnist at the newsmagazine Marianne, this year.
Indeed, the test does not function terribly effectively as a filter for higher education. In public universities here, less than half of first-year students, all of them bacheliers, move on to the second year.
The test does not evaluate the most relevant of students' capabilities, many critics say. "In France, we evaluate essentially only hard knowledge, not at all abilities," said Emmanuel Davidenkoff, the editor of the education magazine L'Étudiant. "But that, that's the whole French system."
Former President Nicolas Sarkozy famously lamented, for instance, that "La Princesse de Clèves," a 17th-century novel, had been included by a "sadist or an imbecile" in an examination for entry-level state administrative posts.
But change is slow in coming. Lawmakers have in recent years moved to include classroom grades in criteria for diplomas, Mr. Davidenkoff said, but withdrew their proposals after student protests.
To count classroom grades would betray the French egalitarian ideal, many argue, because grading standards vary between schools and instructors.
"Everyone is sort of equal in front of the bac," said Corentin Durand, a 17-year-old official in the Union Nationale Lycéenne, the country's largest high school union.
Marion Legal, 17, was less enthusiastic.
"I don't get it, myself," said Ms. Legal, outside the Lycée Condorcet on a gray morning last week. Surely, a "diploma of reference" is a useful measure for hiring purposes, she said, but the bac is probably not the right one. Ms. Legal was about to take the four-hour philosophy portion of the test.
One of the prompts inquired: "What do we owe the state?" Presumably, responses bemoaning the bac have not been well received.

www.nytimes.com/2013/06/28/world/europe/a-rite-of-passage-for-french-students-receives-a-poor-grade.html
LATEST UPDATE: 28/06/2013
France battles 'microwave' food in restaurants

By Tony Todd
Fearing the creeping use of re-heated pre-prepared food in restaurants, French lawmakers have voted to force restaurants to use a "home made" label for freshly made dishes, and will fine those that use it fraudulently.
In a bid to stop industrially prepared re-heated food undermining France's culinary reputation, French lawmakers on Thursday voted to oblige restaurants that prepare fresh dishes to label menu items "fait maison" [home made].
Voted by the lower National Assembly, the bill must now be passed by the upper Senate.
The move, if passed, will be compulsory – and offenders fraudulently passing off re-heated food as freshly-made will be fined.
French Trade Minister Sylvia Pinel, who authored the bill, originally wanted the label to be optional – but relented to pressure from other assembly members for whom the proposed law did not go far enough.
Many in the restaurant trade have been calling for the introduction of an "appellation" – a quality control similar to that applied to French wine – so that only those establishments that prepare their dishes in-house from raw ingredients can call themselves restaurants.
Assembly Member Daniel Fasquelle of the conservative opposition UMP party called the bill a "half measure" and said he wanted to reward establishments that "actually make food" with the "restaurant appellation".
'A good first step'
Restaurant owners – at least those who take pride in serving freshly-made meals – were cautiously optimistic.
Alain Fontaine, who owns the http://www.lemesturet.com/ Le Mesturet restaurant in Paris, where he employs 13 qualified cooks, said it was "a good first step" towards having a "restaurant appellation" in France.
"It will take eight to 10 years for that to happen," he told FRANCE 24. "There is too much conflict and disagreement for it to happen overnight, but it is important that things evolve slowly in that direction."
Fontaine explained that a growing number of eateries in France use pre-prepared meals that are simply heated up before being served as authentic French cuisine – and that there was no way for the customer to know exactly how the food had been prepared.
"It's not like food in restaurants comes with a complete breakdown of ingredients," he said.
"And these pre-prepared foods, just like those you buy in supermarkets, are stuffed full of preservatives and artificial colouring. Customers should be given the choice between something cooked from scratch and something that has been put together in a factory."
He also said the move towards officially-recognising properly-prepared dishes was essential to preserve France's "gastronomic heritage" at a time when disillusioned French chefs were taking their skills abroad.
"Using pre-prepared food debases the entire industry," he said. "It brings us all down because as its use evolves, there will be a growing price gap between places that re-heat food, and restaurants that do it properly. This is totally unacceptable, the French tradition of enjoying quality food in restaurants is something that should be accessible to everyone, not just the rich."

www.france24.com/en/20130628-france-battles-microwave-food-restaurants-gastronomy-pre-prepared
Originally published August 6, 2013 at 6:34 PM | Page modified August 6, 2013 at 10:15 PM
Fast food is front-runner in France
Fast food has overtaken traditional restaurant receipts for the first time in France as the economic crisis deepened and the share of those who pack a lunch for work is rising.
REMY DE LA MAUVINIERE / THE ASSOCIATED PRES
By LORI HINNANT
The Associated Press
PARIS — The country that gave us the words restaurant, bistro and cuisine is changing how it eats.
For the first time in France, fast food overtook traditional restaurant receipts as the economic crisis deepened, and the share of people who pack a lunch for work is rising faster by the year. Meanwhile, lurid reports of the increasing number of traditional restaurants resorting to frozen prepackaged meals to hold down their prices have shaken France's sense of culinary identity.
French lawmakers have swung into action to protect their cuisine, which the government officially considers a matter of national pride — even to the point of persuading UNESCO in 2010 to put French cuisine on its World Heritage List.
"I don't want chefs replaced by microwaves," said Daniel Fasquelle, a lawmaker in the French Assembly who voted recently for a measure that would require restaurants to print "fait maison" — or homemade — on menus next to dishes that were created from scratch.
Fasquelle said the legislation, which was approved in the lower house and goes to the Senate in the fall, is weaker than what he and other culinary warriors want but represents a step in the right direction. Fasquelle is part of a movement seeking to limit what can be called a "restaurant" to places where more than half the food is made in-house. The idea is to protect "true cuisine" and force the fakers — who would have to find a more appropriate word, such as "caterer" — to fess up.
Lunches that have traditionally run two hours or even three hours in the south are being cut short by the modern workday. According to a 2011 study, the French midday break is down to an average of 22 minutes, compared with nearly 90 minutes two decades ago. And a study this spring found that a fifth of French workers are bringing their food from home to eat at work — double the percentage just three years ago, according to a survey this spring from industry consultant Gira Conseil.
According to the study, fast-food expenditures have surpassed traditional restaurants for the first time, making up 54 percent of receipts.
But don't think that French fast food means strictly McDonald's, whose sales in France are slumping this year, according to their most recent quarterly results.
One of the biggest drivers of the fast-food trend are boulangeries. In 1998, the word "boulangerie" was legally reserved for establishments that made breakfasts from scratch. These days they've become masters of serving up delicious quick meals for the price of a Big Mac and fries — and these come under the category of "fast food."
For Estelle Levy, who opened a bakery two years ago in Paris, the choice was clear. A traditional French bakery has three producers: one to make bread, one to make pastries and cakes and a third to make breakfast fare like croissants. She decided to forgo the croissant specialist and hired a cook to serve quick meals instead.
"The day that I don't make bread, my business is over," she said, seated next to the espresso machine in her dining area. "But my bakery wouldn't be viable if I didn't serve food."
More than a third of her income is from the lunches, she said. Most of her customers grab a sandwich, a pastry and a drink and take off. A few linger at the handful of tables she set up facing the display cases containing pasta, quiches and desserts. The bread is there, of course, but it's tucked behind the counter.
While bakeries like Levy's are cashing in on the fast-food trend, so are supermarkets. This spring Carrefour, the hypermarket chain, began offering a new line of what the French call "snacking" — because a meal on the run is considered just that.
Even so, French flavor demands remain unchanged, said Anne-Marie Ferrari, a Carrefour executive. In France, she said, "snacking also has to mean eating well."
A small dessert is expected at even the most rushed of meals, and the idea of a meal eaten while walking or driving is anathema.
It all means traditional restaurants are getting squeezed and have been quietly reacting by turning to a pair of scissors and a microwave — reheating outsourced ready-made meals, said Fasquelle, the lawmaker. He thinks it's a quick-fix solution that will create a long-term problem for the entire country.
"Forty percent of tourists come here for our cuisine," he said. If food quality continues to deteriorate, he added, at some point jobs will be at stake. "France is not like other countries when it comes to cuisine. It's the country of good food, good wine."
What people in France eat when they dine out is of vital importance to national health as well as culture, said Denis Machuel, head of the unit of Sodexo that issues the majority of the country's subsidized restaurant vouchers. In one of the company's surveys, he said, nearly two-thirds of people said they needed a break at lunch because "it's a moment to enjoy life."
Alain Tortosa, who started a website and guide of restaurants that cook from scratch, is less sanguine.
"The French have to be among the most contradictory people in the world," he said. "On one side you have what the French say, and on the other side you have what they do."

http://seattletimes.com/html/businesstechnology/2021552049_frenchfoodxml.html
Paris riots sparked by police identity check on veiled Muslim woman
Cars destroyed and 14-year-old injured after police ID check triggers two nights of violence in suburb of French capital
Angelique Chrisafis in Paris
guardian.co.uk, Sunday 21 July 2013 11.20 EDT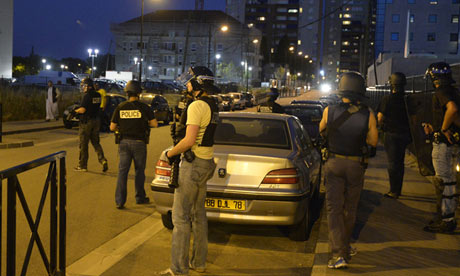 French police patrol Trappes: clashes erupted after officers carried out an identity check on a veiled Muslim woman. Photograph: Miguel Medina/AFP/Getty Images
Two nights of rioting in the Paris suburb of Trappes have left dozens of cars destroyed, at least 10 arrests and a 14-year-old injured, after police carried out an identity check on a Muslim woman in a full-face veil.
On Friday night, about 250 people hurling stones and paving slabs clashed with police firing teargas, while 400 others gathered to protest across the high-rise suburb west of Paris, torching cars, bins and bus-shelters.
On Saturday, a further 20 cars were burned and four people arrested after 50 people were involved in a standoff with police as the violence spread to towns in the surrounding area.
The Versailles state prosecutor said the trouble started on Thursday after police stopped and carried out an identity check on a woman in a niqab, or full-face veil.
The prosecutor said the woman's husband had assaulted one of the officers and tried to strangle him so was immediately taken into custody at the police station. Muslim full-face veils have been banned from all public places in France after a controversial law introduced by President Sarkozy in 2011. The Collective Against Islamophobia in France released a statement complaining of "heavy-handedness" and "provocation" by the police during the identity check.
The day after the arrest, 30 people gathered outside the police station demanding the man be released. When the police refused, others joined them and projectiles were thrown. Riot police were called in as backup and police fired teargas. The local prefect's office said the police station was under siege for over an hour.
"[The police] didn't want to listen and it got out of control," one local man, who gave his name as Sofiane, told iTele. "Trappes is a big family. When you attack us we're going to respond."
A police inquiry has been opened into how a 14-year-old suffered an eye injury from a projectile during the violence, which witnesses said could have been from a police flash-ball gun.
Trappes, a poor suburban town outside Paris with a large immigrant population, is well-known for producing some of France's biggest comedy stars, including the comedian Jamel Debbouze, and the actor Omar Sy as well as the footballer Nicolas Anelka.
The right was quick to accuse the Socialist government of not being tough enough on law and order, while the left accused rightwing politicians of trying to exploit events to stigmatise people in the poor suburbs.
In 2005, France declared a state of emergency after the worst urban rioting for 40 years was sparked by the death of two boys who had been running from police in a suburb north-east of Paris. Since then, tension between police and young residents have remained high on suburban estates.

www.guardian.co.uk/world/2013/jul/21/paris-riots-police-identity-check-muslim
"We all face a growing threat of radicalization of our populations and more terrorism at home, whether it is promoted through cyber-jihadism, battlefield experience or sermons in some mosques," Valls told me.
He then plunged headlong into a subject that most European and U.S. politicians furiously dance around: Muslim minorities in the West provide a fertile recruiting ground for terrorist networks because of some of Islam's practices and tenets.
"These attacks are tied not just to terrorism but also to a decline in the authority of the family and the state. Young people mixed up with drugs and criminal activity are also subject to influence by radical Islamicists," he said, referring to the Boston Marathon bombings and political murders in Britain and France.
"Part of my effort is to say clearly that we need a French Islam, an Islam that accepts the separation of state and religion, the equality of men and women, democracy as our form of government," he said. "This climate of insecurity must be overcome" by vigorous government action that fights both terrorism and the causes of terrorism.

www.washingtonpost.com/opinions/jim-hoagland-could-manuel-valls-be-frances-next-leader/2013/07/21/4f519106-e283-11e2-aef3-339619eab080_story.html
Influence: Ms Le Pen took 17.9 per cent of the vote in the first round of the French presidential election last year, and is a hugely influential politician
www.dailymail.co.uk/news/article-2353506/Far-right-leader-Marine-Le-Pen-prosecuted-racism-comparing-Muslims-praying-street-Nazi-occupation-France.html
Duped: A Roma woman asks this man to sign a petition while an accomplice picks his pocket (circled)
Look out: The woman using the ticket machine has not noticed the girl in the pink shirt who is memorising (circled) her PIN number and waits to steal her cash card

www.dailymail.co.uk/news/article-2367612/Invasion-pickpockets-Disturbing-pictures-Eastern-European-gangs-brazenly-targeting-victims-broad-daylight-Paris-streets-heading-UK.html
'I will kill myself if another caravan arrives in Chavannes': Mayor of French village threatens suicide if 35 traveller families refuse to leave the area
Paul Renaudat's hunting rifles confiscated following comments over traveller dispute
www.independent.co.uk/news/world/europe/i-will-kill-myself-if-another-caravan-arrives-in-chavannes-mayor-of-french-village-threatens-suicide-if-35-traveller-families-refuse-to-leave-the-area-8750092.html
France's Glorious Malaise
By ROGER COHEN
Published: July 11, 2013 153 Comments
RAPHÈLE-LES-ARLES, France — It seems this is a time of French malaise, moroseness and melancholy. I have been reading a lot about the existential anguish of France, a directionless nation under a featureless president. There are even fears for the Fifth Republic.
Here is something I read: "France today is racked by doubt and introspection. There is a pervasive sense that not only jobs — but also power, wealth, ideas and national identity itself — are migrating, permanently and at disarming speed, to leave a vapid grandeur on the banks of the Seine." The article continued: "The country's manicured capital, impeccable roads, high-speed trains, glorious food, seductive scents and deep-rooted savoir-vivre provide a compelling image of wealth and tradition. But just as the golden statuary on the bridges of Paris distracts the eye from the homeless sleeping beneath the arches, so the moving beauty of France tends to mask what amounts to a kernel of despair."
Disturbing stuff all right — and the article noted how the anti-immigrant, rightist National Front was well placed to benefit from the ambient angst.
Well, that was an article I wrote 16 years ago, in 1997, when I was a Paris-based correspondent. So deep was the "morosité" that a two-part series was planned before my colleague, Bill Keller, then the New York Times foreign editor, decided even a malaise so massive could be evoked in a single piece. That was a good call.
For if moroseness is a perennial state, rather than a reaction to particular circumstance, does it really matter? The French are living off their malaise much as the British live off the royal family. It's a marketing ploy with its degree of affectation; an object of fascination to foreigners rather than a worrying condition.
Tell a Frenchman what a glorious day it is and he will respond that it won't last. Tell him how good the heat feels and he will say it portends a storm. I recently asked in a French hotel how long it would take for a coffee to reach my room. The brusque retort: "The time it takes to make it."
This surliness is more a fierce form of realism than a sign of malaise. It is a bitter wisdom. It is a nod to Hobbes's view that the life of man is, on the whole, "solitary, poor, nasty, brutish and short."
Nothing surprises, nothing shocks (especially in the realm of marriage and sex), and nothing, really, disappoints. Far from morose, the French attitude has a bracing frankness. No nation has a more emphatic shrug. No nation is the object of so much romanticism yet so unromantic itself. No nation internalizes as completely the notion that in the end we are all dead.
Now, it is true that France lives with high unemployment in a depressed euro zone; that it is more vassal than partner to Germany these days; that it is chronically divided between a world-class private sector and a vast state sector of grumpy functionaries; that its universalist illusions have faded as its power diminishes; and that its welfare state is unaffordable.
Still, moroseness is a foible in a country with superb medicine, good education, immense beauty, the only wine worth drinking, an army that does the business in Mali, strong families and the earthy wisdom of "la France profonde."
Malaise and ennui are to France what can-do is to America: A badge of honor.
My daughter Jessica married into a French family, many of whom live in that region of strange, blustery beauty, the Camargue. Emile Trazic, my son-in-law's uncle, has a farm here where he raises bulls and horses. Having lived near Nîmes, in an area "where even snakes die of thirst," he was drawn to the watery flatlands of the Camargue.
I went to see Trazic recently for a long lunch. He lives alone, his wife 50 miles away: simpler like that. He has little time for ecologists — "All these people who love nature and know nothing about nature." He says, "I love the land, I hate folklore." His advice: "If you want to ruin somebody's life, give him a bull." Further counsel: "A leant horse is a sold horse." His deepest conviction, "Dans la vie il ne faut pas s'emmerder" — roughly (and slightly less crudely) "In life, don't take any crap." His father always told him, "The make of the bicycle does not matter, just pedal." And he has.
Trazic served a vile fermented cheese called "Cachat." To make it, take all your leftover cheese, crush it, add olive oil, cognac, bay leaves, thyme, and seal it in a jar for about a year. The stench is staggering, the secret of eating it to take very little. "It's stronger than any antibiotic, cures anything," he said.
Even malaise? No, that is incurable, too dear to the French to be given up. Voltaire, on his deathbed, was asked to renounce Satan and embrace God. He declined, saying this was "no time to be making new enemies."
Better to be miserable than a hypocrite, nauseated than naive — and far better to be morose than a fool.
www.nytimes.com/2013/07/12/opinion/global/roger-cohen-frances-glorious-malaise.html
www.open.salon.com/blog/rw005g/2010/04/24/war_debt_and_tax_avoidance_causes_of_french_revolution
Life in France