Op-Ed: Iran Remains the Great Threat in the Middle East
The novelty of the Islamic State, as well as the magnitude of the threat it poses, are greatly exaggerated. Iran remains the main threat to stability in the Middle East. Its journey toward a nuclear arsenal must be stopped.
www.israelnationalnews.com/Articles/Article.aspx/15833
Iran Capitalizing on a Taste for America's Biggest Brand
At Mash Donald's in Tehran, almost everything resembles its American counterpart — everything except the food.
CreditNewsha Tavakolian for The New York Times
By THOMAS ERDBRINK AUG. 2, 2015
TEHRAN — Despite the smiling clown, a symbol of the Great Satan's love for meat, buns and fries, there were no angry mobs punching fists in the air, shouting "Death to America"; nor did the smell of burned American flags permeate this Tehran neighborhood.
It smelled of juicy burgers, flipped by a cheerful Iranian teenager named Jahan. His kitchen was crowned with a flashing logo that looked remarkably similar to the golden arches of McDonald's, perhaps the best-known symbol of American fast-food imperialism.
The global chain's other well-known trademark, the white-faced, ever-smiling clown with a red jacket, yellow pants and red oversize shoes, was also present on a large poster waving to lure customers.
No, McDonald's has not opened in Tehran only weeks after a nuclear deal was reached that will ease international sanctions and possibly portend a change in Iranian revolutionary attitudes toward American companies.
This is Mash Donald's, Iran 's homegrown version.


The golden arches and smiling clown suggest McDonald's, but this restaurant is Mash Donald's. Credit Newsha Tavakolian for The New York Times
He was rearranging the red plastic chairs outside his hole-in-the-wall restaurant, placing them next to a bright yellow trash can.
Mash Donald's and other knockoffs of American food culture are increasingly dominating the streets of major Iranian cities, symbols of the increasing disruption to the official revolutionary anti-American narrative that has more or less predominated since the 1979 overthrow of the shah and the siege of the American Embassy.
This narrative is about to come under even more pressure if the nuclear agreement succeeds and Western companies return. Iran's leaders are hoping for major petroleum companies to invest, since the country has some of the world's largest reserves of oil. The Iranians also need hundreds of airplanes and are seeking partnerships for their technology industries.
But the arrival of foreigners with money and different ideas might also further undermine the values propagated by the state, hard-liners warn. Their message: Foreigners can come, but they cannot bring their symbols of capitalist indulgences.
So when perusers of the corporate website for the real McDonald's noticed recently that an international franchise application for Iran had been posted, it created quite a buzz here. Some politicians were quick to warn that there would be no McDonald's in Iran.
In a statement on its website, apparently meant to calm but not kill the speculation, McDonald's said, "We have not set a firm date for the development of McDonald's restaurants in Iran," while also inviting any Iranians interested in a franchise opportunity to complete the application.
Gholamali Haddad Adel, an influential lawmaker, said he was dismayed when looking at the front pages of some Iranian newspapers, seeing their giddy accounts of foreign businesses expected to come to Iran.
"Where is the news of the oppressed people of Yemen? They speak of the return of McDonald's," he said in an interview on Khabaronline, a conservative website. "Here lies a danger. They are opening their arms wide for the United States and zealously talk about its companies."
Iran is not exactly uncharted territory for McDonald's, which had outlets here before the 1979 revolution.
In 1994, a brave Iranian entrepreneur sought to open an official franchise of the hamburger giant in Tehran, exciting many citizens but also drawing the attention of hard-liners. After two days, the restaurant site was burned down, and the judiciary overruled the Health Ministry decision that had allowed the restaurant to open.
"If I had called my restaurant McDonald's, I'd get a visit from the hard-liners," the Mash Donald's owner said, wearing a red cap embroidered with an M.
"So my son advised me to go for Mash Donald's," he said. "It sort of sounds the same."
Government officials and vigilantes for revolutionary purity still visited to inquire about the name, saying it was too Western. "After a while, they got used to it," the owner said.
No genuine American food chain has an outlet in Iran, mainly because of the government's hostility and the sanctions that make such businesses impossible. Instead, American fast-food replicas have proliferated, with quirky changes in the names to give the owners some plausible deniability.
Besides Mash Donald's, Tehran has a K.F.C. (Kabooki Fried Chicken) a Pizza Hut (Pizza Hat) and a Burger King (Burger House).
The official distaste for American-brand products is by no means absolute. Coca-Cola and Pepsi, to take two examples, are ubiquitous here, to the surprise of many visitors. It is also no crime for an Iranian to chat on an iPhone, jog in a pair of Nikes or brush with Crest.
When President Hassan Rouhani's more conservative predecessor, Mahmoud Ahmadinejad, threatened to impose a boycott of American products in 2010 after the United States imposed tough new sanctions, many Iranians ridiculed the idea.
At Mash Donald's, Hassan, the owner, said he used the McDonald's logo to attract customers.
"McDonald's means quality. People in Iran know this too. So they stop here when they see Ronald McDonald," he said, pointing at the clown poster.
The resemblance to the American counterpart stops at the food. On a Photoshopped poster outside showing a McDonald's truck, an advertisement beckons: "Try our Mash Donald's 1.5 foot long super sandwich." Another poster reads: "Mash Donald's Falafel sandwich!"? The falafel sandwich costs $2.10, the 1.5-foot-long sandwich about $3.75.
Inside, Jahan and a co-worker, Karim, stood for hours amid the smell of old frying oil, making the Mash Donald's version of the Big Mac.
Instead of calling it the Big Mash, however, the owner chose "Mash Donald's baguette burger," a hefty mix of meat, cheese and turkey ham (cost: about $3).
It is not the kind of meal Hassan would eat himself. "I prefer my wife's home cooking," he said. "Fast food makes you super fat."
Mash Donald's customers, however, are happy with the food on offer.
"This falafel sandwich is fantastic," said Siavash Mirteki, 29, a navy conscript from Isfahan. But, he added, "of course if McDonald's comes, I'll go there too. When I went on pilgrimage to Mecca we would go to McDonald's every evening."
One day, Hassan said, he would like to really represent McDonald's, but he doubted that would happen anytime soon.
"In our country, we have two governments," Hassan said. President Rouhani represents the official one, he said, complimenting him for seeking to improve relations with the United States.
"But there are other groups, too, that still don't like America," he said. "They can barely tolerate Mash Donald's, let alone the real thing."

www.nytimes.com/2015/08/03/world/middleeast/a-burger-joint-thats-irans-answer-to-mcdonalds.html

www.theguardian.com/world/iran-blog/2015/aug/26/iran-medicine-money-to-buy-porsche-maserati
'Israel should be annihilated,' senior Iran aide says
Adviser to parliamentary speaker rejects British foreign secretary's suggestion that Rouhani indicating 'more nuanced approach' to Jewish state

www.timesofisrael.com/israel-should-be-annihilated-senior-iran-aide-says/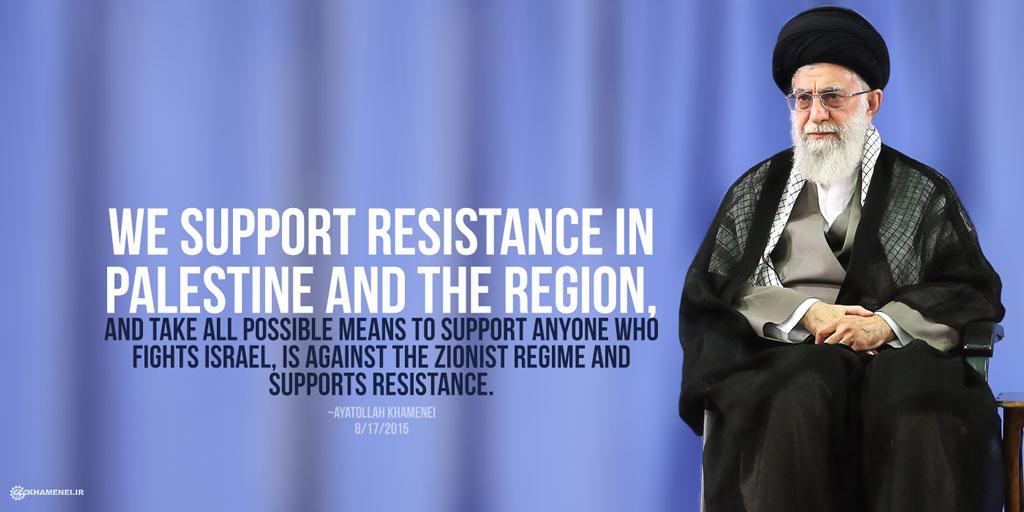 'Beat Up Arabs Game' Released…By Iran
Racist web game on site fully endorsed by the Iranian government; ethnic Arabs in Iran protest.

www.israelnationalnews.com/News/News.aspx/198993
Iran publishes book on how to outwit US and destroy Israel
By Amir Taheri August 1, 2015 | 3:00pm
While Secretary of State John Kerry and President Obama do their best to paper over the brutality of the Iranian regime and force through a nuclear agreement, Iran's religious leader has another issue on his mind: The destruction of Israel.
Ayatollah Ali Khamenei has published a new book called "Palestine," a 416-page screed against the Jewish state. A blurb on the back cover credits Khamenei as "The flagbearer of Jihad to liberate Jerusalem."
A friend sent me a copy from Iran, the only place the book is currently available, though an Arabic translation is promised soon.
Obama administration officials likely hope that no American even hears about it.
'Reclaiming Muslim lands'
Khamenei makes his position clear from the start: Israel has no right to exist as a state.
He uses three words. One is "nabudi," which means "annihilation." The other is "imha," which means "fading out," and, finally, there is "zaval," meaning "effacement."
Khamenei claims that his strategy for the destruction of Israel is not based on anti-Semitism, which he describes as a European phenomenon. His position is instead based on "well-established Islamic principles."
One such principle is that a land that falls under Muslim rule, even briefly, can never again be ceded to non-Muslims. What matters in Islam is ownership of a land's government, even if the majority of inhabitants are non-Muslims.
Khomeinists are not alone in this belief.
Dozens of maps circulate in the Muslim world showing the extent of Muslim territories lost to the Infidel that must be recovered.
These include large parts of Russia and Europe, almost a third of China, the whole of India and parts of the Philippines and Thailand.
However, according to Khamenei, Israel, which he labels as "adou" and "doshman," meaning "enemy" and "foe," is a special case for three reasons.
The first is that it is a loyal "ally of the American Great Satan" and a key element in its "evil scheme" to dominate "the heartland of the Ummah."
The second reason is that Israel has waged war on Muslims on a number of occasions, thus becoming "a hostile infidel," or "kaffir al-harbi."
Finally, Israel is a special case because it occupies Jerusalem, which Khamenei describes as "Islam's third Holy City."
He intimates that one of his "most cherished wishes" is to one day pray in Jerusalem.
'Israel fatigue'
Khamenei insists that he is not recommending "classical wars" to wipe Israel off the map. Nor does he want to "massacre the Jews." What he recommends is a long period of low-intensity warfare designed to make life unpleasant if not impossible for a majority of Israeli Jews so that they leave the country.
His calculation is based on the assumption that large numbers of Israelis have double nationality and would prefer emigration to the United States and Europe to daily threats of death.
Khamenei makes no reference to Iran's nuclear program. But the subtext is that a nuclear-armed Iran would make Israel think twice before trying to counter Khamenei's strategy by taking military action against the Islamic Republic.
In Khamenei's analysis, once the cost of staying in Israel has become too high for many Jews, Western powers, notably the US, which have supported the Jewish state for decades, might decide that the cost of doing so is higher than possible benefits.
Thanks to President Obama, the US has already distanced itself from Israel to a degree unimaginable a decade ago.
Khamenei counts on what he sees as "Israel fatigue." The international community would start looking for what he calls "a practical and logical mechanism" to end the old conflict.
Khamenei's "practical and logical mechanism" excludes the two-state formula in any form.
"The solution is a one-state formula," he declares. That state, to be called Palestine, would be under Muslim rule but would allow non-Muslims, including some Israeli Jews who could prove "genuine roots" in the region, to stay as "protected minorities."
Under Khamenei's scheme, Israel, plus the West Bank and Gaza, would revert to a United Nations mandate for a brief period during which a referendum is held to create the new state of Palestine.
All Palestinians and their descendants, wherever they are, would be able to vote, while Jews "who have come from other places" would be excluded.
Khamenei does not mention any figures for possible voters in his dream referendum. But studies by the Islamic Foreign Ministry in Tehran suggest that at least 8 million
Palestinians across the globe would be able to vote against 2.2 million Jews "acceptable" as future second-class citizens of new Palestine. Thus, the "Supreme Guide" is certain of the results of his proposed referendum.
He does not make clear whether the Kingdom of Jordan, which is located in 80 percent of historic Palestine, would be included in his one-state scheme. However, a majority of Jordanians are of Palestinian extraction and would be able to vote in the referendum and, logically, become citizens of the new Palestine.
Holocaust 'propaganda'
Khamenei boasts about the success of his plans to make life impossible for Israelis through terror attacks from Lebanon and Gaza. His latest scheme is to recruit "fighters" in the West Bank to set up Hezbollah-style units.
"We have intervened in anti-Israel matters, and it brought victory in the 33-day war by Hezbollah against Israel in 2006 and in the 22-day war between Hamas and Israel in the Gaza Strip," he boasts.
Khamenei describes Israel as "a cancerous tumor" whose elimination would mean that "the West's hegemony and threats will be discredited" in the Middle East. In its place, he boasts, "the hegemony of Iran will be promoted."
Khamenei's book also deals with the Holocaust, which he regards either as "a propaganda ploy" or a disputed claim. "If there was such a thing," he writes, "we don't know why it happened and how."
This is what Iran's leaders are preaching to their people and their allies in the Middle East. Do we really want to give succor?
http://nypost.com/2015/08/01/iran-publishes-book-on-how-to-outwit-us-and-destroy-israel/
Iranian Textbooks Teach War Against US, West
Deal or no deal, Iranian educational system still teaching the next generation to loath America, pursue jihad – and 'deceive' infidels.

www.israelnationalnews.com/News/News.aspx/198525
Iran Remains the Great Threat