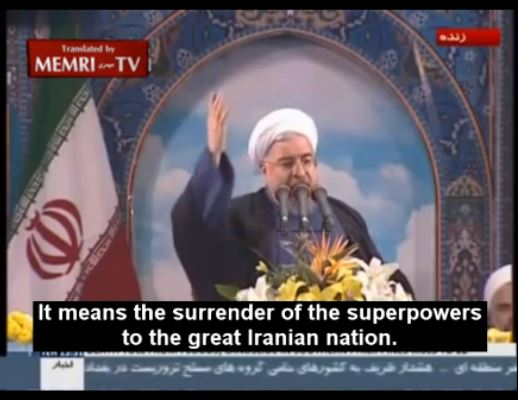 …Iran and America have fundamentally different views about an acceptable final deal. On the basis on my interview with Rouhani and talks with other Iranian officials, my sense is that the Iranian vision is as follows: Iran will provide the world with assurances and evidence that its nuclear program is civilian, not military. This means that the country would allow unprecedented levels of intrusive inspections at all facilities. This process has already begun. The interim agreement calls for international inspections at Iran's centrifuge production factories, mines and mills. This week, for the first time in nearly a decade, inspectors have entered Iranian mines.
But Iran's officials are determined not to accept any constraints on their program. They speak often about the importance of being treated like any other country that has signed the Nuclear Non-Proliferation Treaty, which to them means having the unfettered right to enrich uranium to produce electricity. In fact, the treaty says nothing about enrichment activities specifically. Many countries with nuclear power plants do not enrich but others do, which allows Iran to claim, reasonably, that enrichment has so far been a permitted activity. The only criterion the treaty lays out is that all nuclear production must be "for peaceful purposes."
The American vision of the final deal is quite different and stems from the notion that Iran must take special steps to provide confidence that its program is peaceful. It would allow Iran to enrich some small, symbolic amount of uranium, up to a 5 percent level (a point at which it remains time-consuming to achieve weapons-grade levels). Beyond that, Tehran would dismantle thousands of its existing centrifuges and shut down its heavy-water reactor. Washington wants to lengthen the lead time between a civilian and military program.
Both sides will have to think hard about their core concerns. Iran's officials will have to come to terms with the fact that their country is being treated differently and for good reasons. Iran has a program that is suspicious — a massive investment to produce a tiny amount of electricity — and the country has deceived the world about its program in the past. Washington will have to recognize that, while it will get more concessions than it thought possible on inspections, it will get fewer on the rollback of Iran's existing program. If it can ensure that it has a real lead time — six to nine months — that's a significant achievement. After all, if Tehran throws the inspectors out, that would change the situation instantly — and Washington would not need six months to react.
There are creative compromises that can bridge many of the gaps. Georgetown University's Colin Kahl and The Ploughshares Fund's Joseph Cirincione, who both work on these issues, pointed out to me that one could shut down centrifuges without destroying them. In fact, Iran has more than 19,800 installed centrifuges, but fewer than half are operational. Such compromises have already been found. Iran had always said it would not ship away its store of 20 percent enriched uranium, but in the interim agreement, it agreed to neutralize it by dilution and oxidation. Similarly, Iran could keep its heavy-water reactor running but convert it to a light-water system.
I have come away from meetings with Rouhani and Zarif convinced that they are moderates who seek greater integration of Iran with the world. (Rouhani hinted to me, for example, that in the next few months, the leaders of the Green Movement would be released.) But I am also sure that they are operating under constraints, with many domestic opponents. The same could be said of the Obama administration. It is better that both sides start preparing the ground domestically for a final deal — and the compromises it would involve — rather than hoping that somehow if it works out in Geneva, it will work out at home as well.

www.washingtonpost.com/opinions/fareed-zakaria-on-iran-compromise-needed/2014/01/30/361e788a-89f3-11e3-916e-e01534b1e132_story.html
Iranian Majlis Representative: Iran Needs A Nuclear Bomb 'To Put Israel In Its Place'; White House Pleaded For Meeting With Rohani
In a speech that he delivered at a January 3, 2014 political activists' conference in Mashhad (northeastern Iran), Majlis representative Mohammad Nabavian, a member of Ayatollah Mohammad Taqi Mesbah Yazdi's radical faction, said that despite its disinterest in a bomb Iran in fact does need one, in order to create a balance of terror vis-a-vis Israel.
In his address, Nabavian cited statements made by members of Iran's negotiating team – President Hassan Rohani, Foreign Minister Mohammad Javad Zarif, and his deputy Abbas Araqchi – to the Majlis on the course of the three rounds of the Geneva talks in October-November 2013. According to him, they said that during Rohani's September 2013 visit to New York, the White House had pleaded with him to meet with President Obama or at least talk with him by telephone. They also stated that Secretary of State John Kerry told the Iranian team about the vigorous protests that he had heard from Israeli Prime Minister Netanyahu before arriving in Geneva for the talks.
It should be noted that the Tasnim website, which was the first to quote Nabavian's statements, removed the part about the nuclear bomb, but it was published on other sites as well.
Mohammad Nabavian (Image: Baharnews.ir, January 3, 2014)
Below are the main points of Nabavian's speech, as quoted by the moderate conservative website Asr-e Iran:[1]
"We had a few sessions on the nuclear issue at the Majlis with [Foreign Minister, Mohammad Javad] Zarif, [Deputy Foreign Minister, Abbas] Araqchi, [Deputy Foreign Minister Majid Takht] Ravanchi and [Foreign Ministry spokeswoman] Marzieh Afkham, and one session in which President [Hassan Rohani] personally participated…
"…The [nuclear] agreement [with the P5+1] contains five clauses: a preamble, first step, interim step, final step and final conclusion. The first part determined from the outset that the objective of the negotiations was to reach a plan that would guarantee to both sides that Iran's nuclear program is purely civilian… The U.S. says: 'Never before did we succeed in ensuring Israel's security like we did today [by means of the agreement]. If a certain country has 270 kg [of enriched uranium at a level of] 20% and 10 tons [of enriched uranium at a level of] 5%, and 20,000 centrifuges, it will be in a breakout position and could manufacture a nuclear bomb on the uranium [track] within two weeks.' We don't aspire to obtain a nuclear bomb, but it is necessary so we can put Israel in its place…"
The Americans Courted Rohani And Sought A Meeting
"At the meeting we had with the president, Rohani said: 'After I won the elections, Obama relayed a message to me, [even] before [my September 2013] visit to New York. The White House contacted me five times seeking a meeting.' Now the question must be asked: Why does this superpower insist on meeting Iran's president… while calling us a third-world [country]?
"Rohani said: During my journey to New York, I arrived at the hotel on Monday night and again they contacted me from the White House. I assembled the delegation accompanying me and we decided not to meet [with Obama]. On Tuesday afternoon after the press conference, they said to me, 'why did you humiliate Obama and America?', and I said there was no humiliation. Here I recalled the words of the Imam [Khomeini] who said that one must humiliate the infidel leaders.
"The next part comes from [Foreign Minister] Zarif, who said: 'Wednesday and Thursday passed, and on Friday they contacted me five times from the White House and said that there should at least be a courtesy telephone conversation.' I asked why a superpower needs to meet or ask us how we are.
"If Obama asked for a meeting five times before the visit to New York and several times during the visit, it's because over these eight years measures were taken [by Iran] and, as a result, the United States [now] needs Iran. In Syria, the U.S. did not manage to attack and was humiliated. In practice, Obama was humiliated because he did not stand up to Iran, and hence it is necessary to meet with Iran's president to show that he is a strong man and tell the world: I brought Iran to the negotiating table after 30 years. That's why following the telephone call, this message ­– 'we negotiated with Iran' – was reported to the world…"
Iran Signed The Agreement To Free Itself Of The Oil And Banking Sanctions
"Forty-nine percent of our budget depends on oil [revenue]. This is a very high figure. This means that half our budget comes from oil money. In [March 2012-March 2013,] we had to sell 2,700,000 barrels of oil daily to supply the budget. Now take into account banking sanctions [even] more severe than the oil sanctions. Since June 2012 all the world's banks have been barred to us and we don't have permission to exchange even a dollar. Think of it, even if we sold 2,700,000 barrels of oil [a day], how could we have conducted the financial transactions? Finally, Putin sent the governor of his central bank directly [to Tehran] to secure alleviations in the field of money transfers and barter trade. Likewise, China transferred to our account 10 billion toman from the blocked funds."
The Negotiations With The Americans Progressed Rapidly, But Ran Into Problems With The Europeans
"At a Foreign Ministry meeting… Araqchi said that at Geneva 2 [i.e., the second round of the Geneva talks that took place on November 7-10, 2013], the head [of the Iranian negotiating team] had a working breakfast with his counterpart [on the other side, Catherine] Ashton. She placed a text on the table and said: 'This is the E.U. draft; agree to it'. Zarif was displeased with this and persuaded her that this was not what we had agreed upon.
"Araqchi added: 'The [general] negotiations began and the [bilateral] negotiations with the Americans progressed rapidly, and in this manner we obtained 90% agreement and 10% disagreement [with the Americans]. Finally, [the head of the American negotiating team] Wendy Sherman contacted [Secretary of State] John Kerry [asking him] to come. Kerry arrived on Friday afternoon [from Israel] and said that in the morning he had met with [Prime Minister] Netanyahu and his ears were [still] ringing from his [Netanyahu's] screams.' Later on Araqchi referred to the presence of [French Foreign Minister Laurent] Fabius [at the negotiations], saying: 'Fabius arrived and looked at the text that was the agreement with the Americans. He drew a line through three of its issues and finally a third text was created that was unacceptable to us and we returned to Iran.'"
Zarif And Araqchi Refused To Disclose The Contents Of The Negotiations With The Majlis
Nabavian continued: "The chairman of the Majlis National Security [and Foreign Policy] Committee, [Alaeddin] Boroujerdi, said to deputy Foreign Minister Araqchi: What were those 90% agreement and 10% disagreement [about], and what were the three issues that Fabius scratched out?' Araqchi responded that this was classified. [And I ask:] Does this [information] not concern the Majlis members? The negotiating team made this remark [about the information being classified] at the Majlis not once, not twice, but on several occasions. The Iranian nation has the right to know [the content of the negotiations] and the Majlis representatives are part of this nation. Zarif said: even if you summoned me to an impeachment vote I still wouldn't say anything. I told Zarif that, according to the Majlis' internal bylaws it is our right to know. I added: Allow us to be cautious with you. [We remember] who imposed resolution 598 [i.e., the decision to end the 1980-1988 war with Iraq] upon the Imam [Khomeini] – these were people like [Ali Akbar Hashemi] Rafsanjani and his deputy Rohani, who were on the negotiating team in 2003 that caused the freeze [on enrichment]. Let me say explicitly that I told Zarif and Araqchi 1,000 times that they should tell the people sincerely what [they] gave in the [Geneva] agreement and what [they] did not get. The agreement is called a Joint Plan of Action, and this means that it is no agreement but [merely] a declaration…"
Endnote:
[1] Asriran.com, January 3, 2014.

www.memri.org/report/en/0/0/0/0/0/0/7725.htm
Holocaust Denial In Iran: Iranian Website Claims Holocaust Photos Are Forgeries
"An emaciated Jew who died of starvation in a Nazi camp is burned in a crematorium."
"This is a labor camp in the former Soviet Union that is unrelated to the Jews and Nazis."

www.memri.org/report/en/0/0/0/0/0/0/7681.htm
Iranian Supreme Leader Khamenei Denied Holocaust – MEMRI Disproves Iranian FM Zarif's Claim To ABC That Khamenei's Statements About Holocaust 'Myth' Were 'A Bad Translation'; Khamenei Also Praised French Holocaust Denier Roger Garaudy
In a September 29, 2013 interview with ABC's George Stephanopoulos, in which Iranian Foreign Minister Mohammad Javad Zarif was questioned about Iranian Supreme Leader Ali Khamenei's statements that the Holocaust is a "myth," Zarif claimed that Khamenei is not a Holocaust denier and that the statements – which can be found in English on his official English-language website – were a "bad translation" and "out of context." Khamenei had made the statements in a February 2006 speech to Iranian Air Force officers.
However, a MEMRI investigation reveals that FM Zarif's claim is false; in Khamenei's original statements, which can be accessed on Khamenei's official Persian-language website, Khamenei did indeed call the Holocaust a "myth."
Furthermore, in mid-December 2013, Khamenei's office re-released Khamenei's 1998 statements of praise for the work of the late convicted French Holocaust denier Roger Garaudy, on the occasion of the anniversary of Garaudy's 1998 trial in France.
Zarif: Khamenei's Persian Statements Were Mistranslated Into English
Asked by Stephanopoulos about Khamenei's February 7, 2006 statement that the Holocaust is a myth, which appears on Khamenei's English-language website, Zarif said that in discussions of the Holocaust in Iran, no one refers to it as a myth, and that the statements attributed to Khamenei on the website were an English mistranslation of his statements in Persian. Zarif told Stephanopoulos: "The Holocaust is not a myth. Nobody's talking about [it as] a myth… "If it's there [in Khamenei's website]… it's a bad translation, and it's translated out of context… This is the problem when you translate something from Persian to English, you may lose something, as the film goes, 'Lost in Translation,' you may lose some of the meaning."
Khamenei Refers To "The Myth Of The Jewish Slaughter Known As The Holocaust"
Despite Zarif's claim that Khamenei's statements had been mistranslated from the Persian, MEMRI found that not only does Khamenei's original Persian statement appear on his Persian-language website, but that the English version on his English-language website is indeed an accurate translation – he did indeed refer to the "myth of the Jewish slaughter known as the Holocaust" (see Appendix for photo of the Persian statement).
The following is MEMRI's translation of Khamenei's statements on February 7, 2006 to Iranian air force officers:
"A more important topic is one that shames Western culture in terms of freedom of speech… This same freedom of speech – which they [i.e. the West] constantly champion – does not permit anyone to question the topic of the myth of the Jewish slaughter known as the Holocaust. On this topic there is no freedom of speech!"
Khamenei Supports Holocaust Denier Roger Garaudy On Facebook, Twitter
On December 16, 2013, Khamenei's office posted, on its Facebook and Twitter accounts, Khamenei's Persian-language statements of praise for the late Roger Garaudy, the convicted French Holocaust denier, which Khamenei had made when the two met in 1998. The occasion for the republication of the statements was the anniversary of Garaudy's 1998 trial; in its release, the office referred to Garaudy as "the Muslim French warrior."
http://www.memri.org/report/en/0/0/0/0/0/0/7786.htm">
www.memri.org/report/en/0/0/0/0/0/0/7786.htm
Iranian Political Analyst Mohammad Sadeq Al-Hosseini: If Not For The Geneva Deal, Obama Would Have Had To Kiss Nasrallah's And Khamenei's Hands To Prevent The Annihilation Of Israel; This Is The Treaty Of Hudaybiyya In Geneva

www.memri.org/report/en/0/0/0/0/0/0/7673.htm
Iran Takes Charm Offensive to the Persian Gulf



Emirates News Agency, via Reuters
Iran's top diplomat, Mohammad Javad Zarif, left, met Wednesday with the ruler of Dubai, center, and its foreign minister.
By THOMAS ERDBRINK
Published: December 4, 2013
TEHRAN — Iran's top diplomat, who only last month brokered a groundbreaking nuclear deal with the world powers, is now traveling the Persian Gulf region, trying to mend ties with Arab neighbors, Sunni nations that harbor deep suspicions of Shiite Iran.
On Wednesday, the diplomat, Foreign Minister Mohammad Javad Zarif, arrived in the United Arab Emirates, having stopped in Kuwait, Qatar and Oman this week, with the goal of undoing years of regional tensions, not only sectarian but also the fruit of the confrontational approach of Iran's former president, Mahmoud Ahmadinejad.
Mr. Zarif met with several Emirati officials, among them Sheikh Mohammed bin Rashid al-Maktoum, the ruler of Dubai, where an estimated 400,000 Iranians live and work in companies that are often front offices for trade with Iran — much of it illicit, because of sanctions. Mr. Zarif also invited the Emirates' president, Sheikh Khalifa bin Zayed al-Nahyan, to visit Tehran.
"My interpretation is that these countries as a whole are very much interested in opening a new chapter in their ties with the Islamic republic, which we hope will benefit peace and stability as well as the progress of the people in the region," Mr. Zarif was quoted as saying by Iran's state television on Tuesday.
It was only months ago that Mr. Zarif and his boss, President Hassan Rouhani, shocked the West by sending New Year's wishes to Jews and indicated a new flexibility in negotiating an end to the standoff over Iran's nuclear program. It now seems that the charm offensive is being directed to regional states, which are just as much a priority to Iran as restoring ties with the West, said Nasser Hadian, a political scientist at Tehran University.
"No matter what happens between Iran and the West, improving relations with all regional countries is highly important to us," he said.
The visit comes against a backdrop of long-growing regional and sectarian tensions between Iran and Saudi Arabia, as they compete for power and influence through proxies in Bahrain, Iraq, Lebanon, Syria and Yemen.
Iran accuses Saudi Arabia of deliberately destabilizing Syria by supporting Sunni "terrorists" against the Syrian government. Iran is accused by the Saudis and the West of supporting not just Syria but Hezbollah, the Lebanese Shiite militia that played a critical role in turning the Syrian civil war in the government's favor in recent months.
In 2010, the White House rebuffed requests by King Abdullah of Saudi Arabia to "cut off the head of the snake" by destroying Iran's nuclear sites in a military strike, according to leaked United States diplomatic cables.
On Sunday, while visiting the Qatari capital of Doha, home to the most important United States military command in the region, Mr. Zarif said Iran sought reconciliation with Saudi Arabia, emphasizing the recent nuclear deal and saying Iran posed no threat to other countries in the region. "We believe that Iran and Saudi Arabia should work together in order to promote peace and stability in the region," he was quoted as saying by news agencies. "This agreement cannot be at the expense of any country in the region."
Saudi Arabia and the United Arab Emirates have in recent years expanded their stockpiles of advanced arms, buying nearly $42 billion of precision guided bombs, antiship missiles and F-15 warplanes and other weaponry from the United States.
Iran and the Emirates have a longstanding dispute themselves, over three tiny Persian Gulf islands. In April, Mr. Ahmadinejad paid a visit to one, Abu Musa, where both Iranians and Emiratis live, after the Emirates renewed its ownership claim on the island. Mr. Zarif said this week that Iran was ready to discuss ownership of the island.
Mr. Zarif said he intended to travel to Saudi Arabia, but a date would be set only "after consultations with our Saudi brothers," the semiofficial Mehr News agency quoted him as saying last week. But some days later, http://www.alquds.co.uk Al Quds Al Arabi, an Arab newspaper based in London, wrote that unnamed Saudi officials had said the time was not ripe for such a rapprochement.
Iran's foreign minister did not stop in Bahrain during his Persian Gulf tour, as relations between the two countries have been strained since the island's Sunni rulers cracked down on Shiite-led protests two years ago.
One former Iranian lawmaker, who is close to Iran's conservative faction, said the aim of Mr. Zarif's visits was not just to reduce regional tensions but to sound an alarm over Saudi Arabia's ambitions.
"We must not forget that it is Saudi Arabia sponsoring the terrorists in Syria, and they are also saying they want to purchase a nuclear weapon from Pakistan," the lawmaker, Heshmatollah Falahatpisheh, said. "Mr. Zarif should make clear the regional states should not be worried over us, but over the Saudis."
This article has been revised to reflect the following correction:
Correction: December 5, 2013
Because of an editing error, an earlier version of this article misstated to whom Foreign Minister Mohammad Javad Zarif and President Hassan Rouhani of Iran sent New Year's wishes. They were sent to Jews worldwide, not Israelis.

www.nytimes.com/2013/12/05/world/middleeast/iran-takes-charm-offensive-to-the-persian-gulf.html
Iranian Majlis Speaker Larijani: The West Set Middle East Ablaze, Has No Right To Discuss Its Security in Nuclear Negotiations

www.memri.org/report/en/0/0/0/0/0/0/7615.htm
Iran copes with sanctions but wants to bloom
Hearsay wrote:
12/21/2013 7:52 AM EST
The main entity benefiting from sanction in Iran is IRG Iran Revolutionary Guard. People in Iran are the real victim. Now, Schumer, Menendez, McCain and other Senators know that and they are after other pipe dreams that if we make Iranian people to suffer long and hard enough they will rise up against the government. That is not going to happen specially with Rohani's government. What more sanction will do is the exact opposite and unite the Iranian that we have done all we could but west not accepting our yes.
http://www.washingtonpost.com/opinions/david-ignatius-iran-copes-with-sanctions-but-wants-to-bloom/2013/12/20/76382bee-691b-11e3-a0b9-249bbb34602c_story.html
From an earlier post.
WASHINGTON — The interim accord struck with Iran on Sunday interrupts the country's nuclear progress for the first time in nearly a decade, but requires Iran to make only a modest down payment on the central problem.
The deal does not roll back the vast majority of the advances Iran has made in the past five years, which have drastically shortened what nuclear experts call its "dash time" to a bomb — the minimum time it would take to build a weapon if Iran's supreme leader or military decided to pursue that path.

www.nytimes.com/2013/11/24/world/middleeast/progress-if-modest-in-holding-back-irans-nuclear-program.html
GENEVA — The anti-Zionist speech by Iran's supreme leader, Ayatollah Ali Khamenei, continued to stir controversy on Thursday as international negotiators resumed talks here with Iranian officials on Tehran's nuclear program.

www.nytimes.com/2013/11/22/world/middleeast/iran-nuclear-talks.html
…the uneasiness of our Middle Eastern allies is also rooted in the recognition that the danger posed by the Iranian regime is about more than its illicit nuclear activities. Iran's pursuit of nuclear weapons is the most alarming manifestation of a much more profound strategic problem: a perceived long-standing hegemonic ambition by Iran's rulers to dominate the Middle East.
This ambition has driven the Iranian government to build up a range of unconventional capabilities alongside its nuclear program over many years. These include Tehran's elite paramilitary force, the Iranian Revolutionary Guard Corps' Quds Force; its extremist proxies and partners, such as Hezbollah in Lebanon, Shiite militias in Iraq and the Assad regime in Syria; and a growing arsenal of cruise and ballistic missiles.

www.washingtonpost.com/opinions/us-should-be-wary-of-irans-goal-to-dominate-the-middle-east/2013/11/20/f9f97882-5081-11e3-9fe0-fd2ca728e67c_story.html

You cannot bomb knowledge and technical expertise
Last updated: November 14, 2013 7:39 pm
The four big truths that are shaping the Iran talks
By Philip Stephens
The who-said-what game about last weekend's talks in Geneva has become a distraction. The six-power negotiations with Tehran to curb Iran's nuclear programme may yet succeed or fail. But wrangling between the US and France on the terms of an acceptable deal should not allow the trees to obscure the forest. The organising facts shaping the negotiations have not changed.
The first of these is that Tehran's acquisition of a bomb would be more than dangerous for the Middle East and for wider international security. It would most likely set off a nuclear arms race that would see Saudi Arabia, Turkey and Egypt signing up to the nuclear club. The nuclear non-proliferation treaty would be shattered. A future regional conflict could draw Israel into launching a pre-emptive nuclear strike. This is not a region obviously susceptible to cold war disciplines of deterrence.
The second ineluctable reality is that Iran has mastered the nuclear cycle. How far it is from building a bomb remains a subject of debate. Different intelligence agencies give different answers. These depend in part on what the spooks actually know and in part on what their political masters want others to hear. The progress of an Iranian warhead programme is one of the known unknowns that have often wreaked havoc in this part of the world.
Israel points to an imminent threat. European agencies are more relaxed, suggesting Tehran is still two years or so away from a weapon. Western diplomats broadly agree that Ayatollah Ali Khamenei has not taken a definitive decision to step over the line. What Iran has been seeking is what diplomats call a breakout capability – the capacity to dash to a bomb before the international community could effectively mobilise against it.
The third fact – and this one is hard for many to swallow – is that neither a negotiated settlement nor the air strikes long favoured by Benjamin Netanyahu, Israel's prime minister, can offer the rest of the world a watertight insurance policy.
It should be possible to construct a deal that acts as a plausible restraint – and extends the timeframe for any breakout – but no amount of restrictions or intrusive monitoring can offer a certain guarantee against Tehran's future intentions.
By the same token, bombing Iran's nuclear sites could certainly delay the programme, perhaps for a couple of years. But, assuming that even the hawkish Mr Netanyahu is not proposing permanent war against Iran, air strikes would not end it.
You cannot bomb knowledge and technical expertise. To try would be to empower those in Tehran who say the regime will be safe only when, like North Korea, it has a weapon. So when Barack Obama says the US will never allow Iran to get the bomb he is indulging in, albeit understandable, wishful thinking.
The best the international community can hope for is that, in return for a relaxation of sanctions, Iran will make a judgment that it is better off sticking with a threshold capability. To put this another way, if Tehran does step back from the nuclear brink it will be because of its own calculation of the balance of advantage.
The fourth element in this dynamic is that Iran now has a leadership that, faced with the severe and growing pain inflicted by sanctions, is prepared to talk. There is nothing to say that Hassan Rouhani, the president, is any less hard-headed than previous Iranian leaders, but he does seem ready to weigh the options.
Seen from this vantage point – and in spite of the inconclusive outcome – Geneva can be counted a modest success. Iran and the US broke the habit of more than 30 years and sat down to talk to each other. Know your enemy is a first rule of diplomacy – and of intelligence. John Kerry has his detractors but, unlike his predecessor Hillary Clinton, the US secretary of state understands that serious diplomacy demands a willingness to take risks.
The Geneva talks illuminated the shape of an interim agreement. Iran will not surrender the right it asserts to uranium enrichment, but will lower the level of enrichment from 20 per cent to 3 or 4 per cent. It will suspend work on its heavy water reactor in Arak – a potential source of plutonium – negotiate about the disposal of some of its existing stocks of enriched uranium, and accept intrusive international inspections. A debate between the six powers about the strength and credibility of such pledges is inevitable, as is an argument with Tehran about the speed and scope of a run down of sanctions.
If there is an agreement when talks resume later this month, it will not satisfy hardliners on either side. The challenges to Mr Obama from those in Washington who think the US should be ready to start another Middle East war will be mirrored by opposition from the more reactionary elements in Tehran to any concessions to the "Great Satan". Sad to say, Mr Obama does not have a great record in winning arguments in Congress, while no one really knows the limits of Ayatollah Khamenei's negotiating flexibility.
So far Mr Netanyahu's government, in tune with the Gulf states, has had nothing to say beyond denouncing any deal. The message from Israel and from Saudi Arabia, its ally on this, is that Iran must be kept in a permanent state of isolated enfeeblement, lest it re-emerge as the region's most powerful actor. They point to Tehran's support for Hizbollah and for the murderous Assad regime in Syria.
The interests of almost everyone else are otherwise. Not to be tricked by smooth talking into making it easier for Iran to acquire the bomb, but to open a well-policed pathway that would allow it eventually to rejoin the community of nations. There is no guarantee this strategy will work even if an interim accord is reached during the second round of talks, but, to paraphrase a famous British statesman, it is better than all the alternatives.
www.ft.com/intl/cms/s/0/af170df6-4d1c-11e3-bf32-00144feabdc0.html#axzz2kj4k8L8B
Iranian consensus does not necessarily mean a good deal for the West
By Patrick Clawson and Mehdi Khalaji, Published: November 12
Patrick Clawson is director of research at the Washington Institute for Near East Policy, where Mehdi Khalaji is a senior fellow.
There is a broad consensus among Iran's elite that a nuclear deal with Washington would serve Iran's hegemonic objectives. In this view, the real barrier to such a nuclear accord is not the United States but Europe and Israel, supported by the Saudis.
The ongoing nuclear talks are playing very differently in Tehran than did the past few nuclear accords. The 2003 short-lived enrichment freeze, the even shorter-lived 2004 Paris accords to resume that freeze and the abortive 2009 Tehran Research Reactor deal to reduce Iran's stockpiles of enriched uranium all received much sniping. But now there is more consensus in Iran than at almost any time since the 1979 revolution. Especially since the turmoil that followed the disputed presidential election of 2009, supreme leader Ayatollah Ali Khamenei has been deeply concerned about the West's efforts to subvert the regime by supporting human rights and democratic movement in Iran. He has emphasized consensus among elites and popular support, hence his tacit acquiescence in the election of Hassan Rouhani. Iranian reformers have largely bought in to the theme of domestic consensus, fearful that pushing too hard for change would lead to civil war, as in Syria, or a military coup, as in Egypt. Reformers are focused on improving the economy first, with democracy to be addressed later.
This is the context in which Rouhani was elected president in June, promising to use diplomacy to achieve the easing of the sanctions on Iran without halting the country's nuclear program. During the two rounds of Geneva negotiations since his election, Rouhani's team has argued at home that not only can it go far toward these objectives but also that the United States and Iran are edging toward strategic cooperation. Many Iranian hard-liners are ready to accept a nuclear deal on the grounds that the West — especially Barack Obama — places so much importance on reducing the threat of weapons of mass destruction that Iran's human rights abuse and democracy deficit would be ignored in return for a deal.
It is possible an accord would herald a change in Iranian policy. The Islamic Republic has evolved in more surprising ways. Khamenei, for example, warned for many years about the dangers of Western cultural invasion. Well, the invasion happened. As Israeli Prime Minister Benjamin Netanyahu discovered in October from the global laughter that greeted his outdated comments about Iranians lacking blue jeans, Iran has experienced a profound cultural revolution in the past 15 years. An optimistic interpretation would be that the Islamic Republic is on track to become less revolutionary — less actively supporting terrorism, less prepared to interfere in the internal affairs of other states, less committed to an anti-Western agenda — and driven more by state interest than by ideological imperatives. Instead, it would become more like a typical corrupt, authoritarian Middle Eastern country: periodically meddling in its neighbors' affairs and refusing to accept Israel but not particularly active in making trouble.
That optimistic interpretation, however, is not the most likely. In high-profile speeches, Khamenei has been laying the groundwork to walk away from any deal by warning that the West is untrustworthy and will not deliver on its promises — the same reasons he gave for walking away from the earlier nuclear deals. Israel has good reason to worry that the economic sanctions will be eased, reducing the pressure on Iran such that whatever the West presents as the first temporary step is  never followed by another step, meaning that Tehran never accepts more limits on its nuclear program. Saudi Arabia has equally solid grounds to worry that, in return for a nuclear deal, Iran would get a free hand to pursue its hegemonic agenda in the region and consolidate its influence in Syria and Iraq. And Iranian democrats are right to fear that any accord with the West would herald renewed vigor for the Islamic Republic. After all, Rouhani has done little to improve human rights, as evidenced by the increased pace of executions since he took office.
Israel, the Gulf states and Iranian democrats will be reassured only by vigorous U.S. actions to address their concerns: efforts to persuade allies to threaten more sanctions to show Iran how bad things would get in the absence of a more far-reaching permanent accord; efforts to shore up those resisting or opposing Iranian proxies such as Syrian President Bashar al-Assad; and efforts to put renewed muscle behind outreach in support of Iranian democracy. The challenge for the Obama administration is to take steps that would make a nuclear accord a success for U.S. interests rather than facilitate the Islamic Republic's hegemony at home and in the region.

www.washingtonpost.com/opinions/iran-is-unlikely-to-take-the-path-the-west-hopes-it-will/2013/11/12/2eb713be-4b27-11e3-be6b-d3d28122e6d4_story.html
What About US?
By THOMAS L. FRIEDMAN
Published: November 12, 2013
It goes without saying that the only near-term deal with Iran worth partially lifting sanctions for would be a deal that freezes all the key components of Iran's nuclear weapons development program, and the only deal worth lifting all sanctions for is one that verifiably restricts Iran's ability to breakout and build a nuclear bomb.
But there is something else that goes without saying, but still needs to be said loudly: We, America, are not just hired lawyers negotiating a deal for Israel and the Sunni Gulf Arabs, which they alone get the final say on. We, America, have our own interests in not only seeing Iran's nuclear weapons capability curtailed, but in ending the 34-year-old Iran-U.S. cold war, which has harmed our interests and those of our Israeli and Arab friends.
Hence, we must not be reluctant about articulating and asserting our interests in the face of Israeli and Arab efforts to block a deal that we think would be good for us and them. America's interests today lie in an airtight interim nuclear deal with Iran that also opens the way for addressing a whole set of other issues between Washington and Tehran.
Some of our allies don't share those "other" interests and believe the only acceptable outcome is bombing Iran's nuclear facilities and keeping Iran an isolated, weak, pariah state. They don't trust this Iranian regime — and not without reason. I don't begrudge their skepticism. Without pressure from Israel, Saudi Arabia and the United Arab Emirates, and the global sanctions on Iran they helped to spur, Iran would not be offering to scale back its nuclear program today.
But that pressure was never meant to be an end itself. It was meant to bring Iran in from the cold, provided it verifiably relinquished the ability to breakout with a nuclear weapon. "Just because regional actors see diplomacy with Iran as a zero-sum game — vanquish or be vanquished — doesn't mean America should," said Karim Sadjadpour, the expert on Iran at the Carnegie Endowment.
Why? Let's start with the fact that Iran has sizable influence over several of America's most critical national security concerns, including Syria, Iraq, Afghanistan, the Palestinian-Israeli conflict, terrorism, energy security, and nuclear proliferation. Whereas tension with Iran has served to exacerbate these issues, détente with Tehran could help ameliorate them. Iran played a vital role in helping us to defeat the Taliban in Afghanistan in 2001 and can help us get out without the Taliban completely taking over again.
"Iran has at least as much at stake in a stable Iraq, and a stable Afghanistan, as we do — and as an immediate neighbor has a far greater ability to influence them, for good or ill," said Nader Mousavizadeh, the Iranian-American co-founder of Macro Advisory Partners and a former top aide to U.N. Secretary General Kofi Annan.
There is a struggle in Tehran today between those who want Iran to behave as a nation, looking out for its interests, and those who want it to continue behaving as a permanent revolution in a permanent struggle with America and its allies. What's at stake in the Geneva nuclear negotiations — in part — "is which Iranian foreign policy prevails," argued Mousavizadeh. A mutually beneficial deal there could open the way for cooperation on other fronts.
Moreover, there is nothing that threatens the future of the Middle East today more than the sectarian rift between Sunni and Shiite Muslims. This rift is being used by President Bashar al-Assad of Syria, Hezbollah and some Arab leaders to distract their people from fundamental questions of economic growth, unemployment, corruption and political legitimacy. It is also being used to keep Iran isolated and unable to fully exploit its rich oil and gas reserves, which could challenge some Arab producers. But our interest is in quelling these sectarian passions, not taking one side.
The Iran-U.S. cold war has prevented us from acting productively on all these interests. It is easy to say we should just walk away from talks if we don't get what we want, but isolating Iran won't be as easy as it once was. China, Russia, India and Japan have different interests than us vis-à-vis Iran. The only man who could unite them all behind this tough sanctions regime was Iran's despicable previous president, Mahmoud Ahmadinejad. The new president, Hassan Rouhani, is much more deft.  "Our sanctions leverage may have peaked," said Sadjadpour. "Countries like China won't indefinitely forsake their own commercial and strategic interests vis-à-vis Iran simply to please the U.S. Congress."
All this is why the deal the Obama team is trying to forge now that begins to defuse Iran's nuclear capabilities, and tests whether more is possible, is fundamentally in the U.S. interest. "The prize of détente with Iran is critical to allowing the U.S. a sensibly balanced future foreign policy that aligns interests with commitments, and allows us to rebuild at home at the same time," said Mousavizadeh. There are those in the Middle East who prefer "a war without end for the same tribal, sectarian, backward-looking reasons that are stunting their own domestic development as open, integrated, pluralist societies," he added. "They can have it. But it can't be our war. It's not who we are — at home or abroad."

www.nytimes.com/2013/11/13/opinion/friedman-what-about-us.html
Iran's spots haven't changed, whatever it tells negotiators
In Geneva this week, an Iranian delegation has been holding talks with six other nations about its country's nuclear program. These negotiations — the first to take place under the auspices of Iran's new president, Hassan Rouhani — inspired little bursts of positive rhetoric. The BBC reported an "upbeat mood" in Geneva. A European diplomat spoke of "cautious optimism." Rouhani himself had pledged to "resolve" the nuclear problem within the next six months.
After years of no progress with Iran, why the sudden good cheer? It's certainly not because Rouhani represents a radical new strand of Iranian thinking about nuclear power. After all, he was Iran's nuclear negotiator from 2003 to 2005. Parts of the nuclear program were temporarily suspended during that time, but it was never eliminated.
Nor does Rouhani's new cabinet mark a profound break from those who have run the Islamic Republic since its inception. As his justice minister, Rouhani has appointed Mostafa Pourmohammadi, a former high official in the Ministry of Information during the bloody and violent 1980s. Among other things, Pourmohammadi was one of those primarily responsible for the mass execution of thousands of political prisoners in 1988. He moved on to the ministry's foreign intelligence operations in the 1990s, during which its "achievements" included the bombing of a Jewish community center in Buenos Aires and the assassination of dissidents in Iran and around the world.
No one is denying this bit of history. After appointing Pourmohammadi, Rouhani went out of his way to praise his "numerous experiences in the government" and his record: "he has been successful, wherever he has been." Little appears to have changed: In the week of Sept. 23, when Rouhani was at the U.N. General Assembly in New York, recent conference in London, I heard Iranian diaspora economists return again and again to that theme. Sanctions have destabilized Iran's currency, oil and gas industry, international trade and investor confidence. Of course the shortcomings of sanctions are well known: They are a blunt and inefficient instrument; plenty of people defy them; and illicit trade goes on all the time. And, yes, they distribute economic pain over the entire population and don't necessarily hit hardest the people who make the decisions. Nevertheless, three decades' worth of overlapping unilateral and multilateral sanctions on Iran, organized at different times by the United States, the United Nations and the European Union, are, at least in a narrow sense, "working"; they have forced Iran's leaders back to a negotiating table they had largely abandoned some years ago.
The sanctions' success has also persuaded the Iranians to try a tactic that has worked well for many other countries, including Russia: Persuade the West to keep its foreign policy concerns in silos — separating economics, human rights and nuclear weapons, as though they have nothing to do with one another. Iran's oil ministry has even launched a kind of outreach campaign, declaring that "Iran welcomes any oil cooperation, even with American companies." Presumably they believe that those U.S. oil companies would lobby the Obama administration, hard, to lift sanctions altogether.
Such lobbying would be extremely short-sighted. If Iran is able to make concrete, verifiable nuclear proposals, of course some changes could be made to the sanctions regime. Some have suggested unfreezing Iranian assets held abroad as an option. But while negotiations continue, let's be clear about why the world cares about Iran's nuclear program in the first place.
Certainly we in the United States aren't overly worried about Britain's nuclear arsenal or about India's. The United States is hardly in a position to oppose nuclear weapons in principle, since we and several of our allies have them. No, we oppose Iran's nuclear ambitions for one reason: because we object to the Islamic Republic of Iran, a quasi-totalitarian state that since 1979 has been led by brutal, volatile men with no respect for the rule of law. Their regime is a "domestic" problem for many Iranians, and it's a major problem for Iran's neighbors and the rest of the world.
To put it differently: As long as men like Pourmohammadi are running Iran's courts and prisons, as long as the Iranian judicial system is subverted by a politicized version of sharia, there will always be a limit to what can be achieved through any conversations with Tehran. Talking is fine. But the negotiators in Geneva should leave any optimism at the door.

www.washingtonpost.com/opinions/anne-applebaum-irans-stripes-havent-changed/2013/10/16/f3704948-3685-11e3-80c6-7e6dd8d22d8f_story.html
Cal Thomas commentary: Iran is playing for time and can't be trusted to keep its word
Wednesday November 13, 2013 5:41 AM
In Geneva, Switzerland, the United States and other major powers appeared close to a deal with Iran to curb its nuclear program in exchange for lifting some economic sanctions against the terrorist-sponsoring state. Negotiations, however, fell apart at the last minute when France and Iran balked at the final wording on the interim draft. Talks are expected to resume within a few weeks, but it is worth pausing to consider what was nearly agreed to and what the outcome could likely be.
President Barack Obama has pledged to Prime Minister Benjamin Netanyahu that America has Israel's "back." Who knew he had a knife? An agreement that trusts Iran's promises and allows it to surreptitiously complete development of nuclear missiles would stab Israel in the back.
North Korea promised former President Jimmy Carter during his 1994 visit to Pyongyang it would close a nuclear reactor at Yongbyon in exchange for food and humanitarian aid. The reactor was subsequently re-opened. Memo to the Obama administration: tyrants lie.
Unlike North Korea, an officially atheist state, Iranian mullahs have repeatedly said they have a religious duty to annihilate Israel, not to mention America. How do secular diplomats negotiate with
people who, in their minds, would be violating "Allah's will" by making deals with the "great Satan"?
While the negotiations between Secretary of State John Kerry and Iran were taking place in Geneva, writes Ynetnews.com, "the Iranian government sent a different message with a broadcast on state television of a simulated missile attack on Israel." How much more evidence of Iran's intentions and ultimate objective are needed?
Last month, Kerry and Netanyahu met for seven hours in Rome. Caroline Glick of the Jerusalem Post, citing the Israeli newspaper Yediot Aharonot, writes, "The secretary of state told the prime minister that he heard from his European friends … that if the negotiations (with the Palestinians) fail, Israel can forget about participating in the European research and development program 'Horizon 2020'." Kerry is then quoted as saying, "And that will only be the beginning."
Doesn't Kerry have this backward? Sanctions might be lifted against Iran for a promise that won't be kept, but possibly imposed on Israel if it won't agree to what amounts to assisted suicide?
It would also appear that this "deal" had been in the works for at least several months before the Geneva meetings. The Daily Beast reports: "The Obama administration began softening sanctions on Iran after the election of Iran's new president in June, well before the current round of nuclear talks in Geneva or the historic phone call between the two leaders in September."
The administration pledges that it will watch Iran closely, and if it violates any provisions in a final agreement, sanctions would be re-imposed. If sanctions and other means, such as the introduction of the Stuxnet virus into Iran's computers, failed to deter Iran's nuclear program, why would anyone think additional threats and more sanctions would produce the desired results? Iran is playing for time, and it appears the United States is willing to give it to them.
History is a great teacher, but not everyone pays attention. In The Guns at Last Light, Rick Atkinson's chronicle of World War II, the author recalls President Franklin Roosevelt's view of Soviet dictator Josef Stalin following their meeting at Yalta in February 1945: "'Stalin doesn't want anything other than security for his country,' the president said. 'He won't try to annex anything and will work for a world of democracy and peace.' "
Winston Churchill similarly misjudged Stalin, writes Atkinson, telling his war cabinet, "'Stalin I'm sure means well to the world and Poland. … He will not embark on bad adventures.' He added, 'I don't think I'm wrong about Stalin,' whom he had called 'that great and good man.'"
Times and dictators change, but human nature remains the same. Roosevelt and Churchill were wrong about Stalin, and the Obama administration is wrong about Iran.

www.dispatch.com/content/stories/editorials/2013/11/13/iran-is-playing-for-time-and-cant-be-trusted-to-keep-its-word.html
Frenemies: the US-Israel relationship gets rocky over Iran and peace talks
Israeli PM Netanyahu is actively calling on American Jews to challenge the US government. It's a bold – and bad – move
www.theguardian.com/commentisfree/2013/nov/13/us-israel-relationship-strained-iran-nuclear-talks
In talks with Iran, France stood on principle
The U.S. should take French objections into account. Our most successful diplomatic efforts were bolstered by considering our allies' concerns.

www.latimes.com/opinion/commentary/la-oe-takeyh-iran-france-nuclear-talks-20131114,0,2793720.story
Iran and the Bomb