Perhaps Pope Francis is conversant with the truth and amenable to change.
Pope Francis says hypocrisy undermines Church's credibility

www.reuters.com/article/2013/04/14/us-pope-idUSBRE93D09A20130414
Pope Francis provides inspiration for all faiths
By Michael Gerson, Published: June 6
We tend to remember leaders in characteristic poses. For Pope Benedict XVI, the college professor, it was delivering a much-misunderstood lecture at the University of Regensburg, which made controversial reference to Islam. For Pope Francis, it is kneeling to wash the feet of a young Muslim woman in a prison on Holy Thursday. With due respect to Benedict's learning, Francis's symbolic act managed to more effectively communicate the essence of the Christian gospel.
The Catholic tradition, from catacombs to cathedrals, is filled with potent symbols. There is the cross, the fish, the dove and the lamb. There is Mary's blue, the purple of penance and the red of martyrs' blood. Francis excels at the symbolism of humility. He lives in a two-room apartment, dresses in simple white and speaks in direct, colloquial language. His assistant is reputed to carry a cellphone, making the pope callable, maybe.
Francis has not yet issued sweeping declarations. But his symbolism has begun seeping into substance. He seeks a simpler church, more closely identified with the poor. And he sounds like an institutional reformer. Here is the Vatican's account of one papal sermon: "When the Church wants to throw its weight around and sets up organizations, and sets up offices and becomes a bit bureaucratic, the Church loses its principal substance and runs the risk of turning itself into an NGO [nongovernmental organization]. And the Church is not an NGO. It is a love story."
In the context of American Catholicism, the left naturally finds this heartening. Francis is not on the verge of ordaining women priests, but a reforming pope legitimizes the idea of reform. And he is also an enthusiastic critic of capitalist excess. Yet much of the American Catholic right has also welcomed the fresh air of Francis's style, while emphasizing his complete faithfulness to traditional church teaching.
Some of this good feeling is the traditional, optimistic attempt of partisans to impute their own priorities to a yet-unformed papacy. But there seems to be something deeper at work. The problems of the Catholic Church — from abuse scandals to corruption in the Roman Curia — seem so large that other disputes have been marginalized. If Francis's touch can stop the hemorrhage of ecclesiastical authority, both left and right seem prepared to set aside some old arguments. The result is an outbreak of patience and generosity of spirit.
Many non-Catholics have found the new pope's social teaching contradictory and confusing. Sometimes he sounds like a Latin American lefty, calling for "social justice" and criticizing "selfish profit." Sometimes he is defiantly un-modern on matters sexual. The U.S. media have struggled to find and apply a simple ideological label — apparently their main journalistic calling.
But this is not really Francis's problem. He holds a doctrine identical to his predecessors'— one that was equally misunderstood when they taught it. Catholic social thought is not explainable in terms of left and right. Nor is it a moderate compromise between them. It starts from an entirely different premise.
Both American liberalism and conservatism put a priority on negative rights — the freedom from external restraint. For some, this means unrestricted social autonomy and choice; for others, unrestricted economic liberty. Catholic social doctrine asserts that human beings have moral and social natures, and that true freedom is found in their fulfillment. Men and women are liberated by ethical behavior; their happiness is completed in family and community; and all who share a community are diminished when any are destitute and hopeless. This perspective is fundamentally at odds with moral relativism and economic libertarianism. It transcends our ideological debates and challenges all sides of them.
Pope Francis, however, is adding something to this teaching — without which, it means little. "This guy," says Stephen Schneck of Catholic University, "seems to be trying to be like Jesus, the image of Jesus in the Gospels." The one who brought good tidings to the poor, bound up the brokenhearted and proclaimed liberty to the captives.
Whatever your view of Christianity, the example of Jesus remains one of history's most surprising constants. A man who never wrote a word, who spent three years teaching in an obscure corner of a vanished empire, still stirs the deepest longings of the human heart. When we see his image even partially reflected in another human being, it appeals beyond every political division. When we see his image even partially reflected in the church he founded, true authority returns.

www.washingtonpost.com/opinions/michael-gerson-pope-francis-provides-inspiration-for-all-faiths/2013/06/06/5e22b8e8-ced0-11e2-8f6b-67f40e176f03_story.html
Pope Benedict XVI's leaked documents show fractured Vatican full of rivalries
www.washingtonpost.com/lifestyle/style/pope-benedict-xvis-leaked-documents-show-fractured-vatican-full-of-rivalries/2013/02/16/23ce0280-76c2-11e2-8f84-3e4b513b1a13_story.html
5 PAGES
Vatican accused of cover up over Cardinal Keith O'Brien's 'sexual conduct'
The Vatican has been accused of orchestrating a cover-up over the disgraced Scottish Cardinal Keith O'Brien amid claims that it knew of allegations against him for five months but kept them secret.

Cardinal O'Brien issued confesse that his 'sexual conduct' had fallen far below the standard expected
Photo: Getty Images

www.telegraph.co.uk/news/worldnews/europe/vaticancityandholysee/9908687/Vatican-accused-of-cover-up-over-Cardinal-Keith-OBriens-sexual-conduct.html
Catholic church sex abuse ruling could cause big spike in compensation claims
Catholic diocese ruled liable for priest's alleged offences with lawyers saying test case could affect any group using volunteers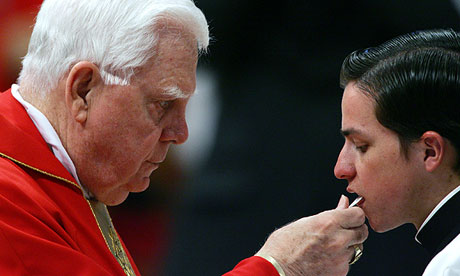 Cardinal Bernard Francis Law, left, gives communion to a young seminarist in the Vatican. Law was forced to resign as archbishop of Boston over sex abuse scandals in his diocese. The UK ruling could set an international precedent for compensation claims.
Photograph: Thomas Coex/AFP/Getty

www.guardian.co.uk/world/2013/feb/28/catholic-church-abuse-claims-compensation


http://boston.cbslocal.com/2011/11/04/victim-outrage-over-bernard-law-birthday-bash/
A leader who wished to end the crisis would sack Cardinal Bernard Law
There is not very much that Pope Benedict XVI can do to rescue the church from the crisis over sexual abuse. The reforms which would make a practical difference have already been put in place, and he deserves some credit for that – he will not get it. The scandals emerging are all from the 1970s or 1980s but in the popular imagination they might as well be happening now. Many of the most eloquent attacks on the church, such as that from Christopher Hitchens in a recent article in Slate magazine, come from enemies who would never give it the benefit of doubt, and for the moment public opinion is with them.
The Catholic church has been framed as an institution for paedophiles, and truth is no defence to that perception. Even in Britain, where all the big scandals involving children being abused or even murdered have involved state care and secular institutions, and where according to Camila Batmanghelidjh more than half a million children are brought to the attention of the social services every single year and most of these are ignored to keep the figures looking good, there's no doubt that the Catholic church is written about as a more serious threat to the children in its care.
Less than half of 1% of the Catholic clergy in the UK over the last three decades or so have been accused of child abuse. That's too many, of course. Nor do such comparative statistics suggest that two wrongs make a right. But they do show that two wrongs don't make one wrong even if there is only one wrong in the news.
However, there is one gesture which a pope might make to improve things. The trouble is that Pope Benedict is not the pope who could. What has driven a great deal of the outrage is the perception that the church placed itself above the secular law. Well it does. As a global institution, it must. Otherwise it has no more moral worth than Google or News International, or any other multinational which will do business wherever it is profitable. And – especially under the Polish pope John Paul II who fought so hard against communism – the church's moral worth was validated by its utter refusal to bend to the standards of the society around it.
This alone explains Benedict's otherwise inexplicable and indefensible decision to give a job in Rome to Cardinal Bernard Law, who presided over terrible scandals in Boston and is wanted by a grand jury. A pope who wished to end the crisis would sack Law, and order him to return to face the grand jury. He would declare that secular society had been morally more advanced than the church over child abuse. That would be the last act in the long process of opening the church to the good things of the world which the second Vatican council set in motion in the 1960s.
Ratzinger was an enthusiastic liberal then. It would take a miracle for him to return to that faith, and without it, the modern world will no longer trust his church.

www.guardian.co.uk/commentisfree/2010/mar/17/pope-benedict-cardinal-bernard-law
Monsignor William Lynn becomes the first U.S. church official convicted of a crime for how he handled abuse claims.
Pa. monsignor becomes 1st US Catholic official convicted for covering up abuse complaints

www.washingtonpost.com/national/on-faith/struggling-jury-returns-to-work-in-philly-priest-abuse-case-had-been-hung-on-4-of-5-counts/2012/06/22/gJQA9tl3uV_story.html
"Puppet-master"
Bevilacqua also facing a verdict
Even after his death, he has been a key figure in the trial. The outcome could shape his legacy.
June 04, 2012|By John P. Martin, Inquirer Staff Writer
Barely four minutes into his closing argument Thursday, defense lawyer Thomas Bergstrom uttered two words that seemed woven into the daily script of the clergy sex-abuse trial:
"The cardinal."
Bergstrom went on to mention the cardinal – former Philadelphia Archbishop Anthony J. Bevilacqua – at least 18 more times in an hour. Some were passing references, but all were part of a bid to convince jurors that his client, Msgr. William J. Lynn, had the will but not the power to remove abusive priests.
That power, Bergstrom said, rested solely with the cardinal.
Bevilacqua spent his final years in isolation before his death in January. Still, the landmark 11-week trial of Lynn, his former secretary for clergy, and whatever verdict the jury may render, could shape Bevilacqua's legacy as much as any event in his career as a prelate.
"What you have in him is one of the grand old monarchs of the Catholic Church in the United States – he operated like that and he lived like that," said Richard Sipe, a psychotherapist, former priest, and author of books on clergy sex abuse. "And that is what is crumbling."
The jury, scheduled to resume deliberations Monday, never saw a minute of the seven-hour videotaped deposition that an ailing Bevilacqua gave in a sealed hearing in November, two months before he died at age 88. But Bevilacqua is almost certainly a part of the jurors' conversations, and their verdict might be as much about him as his former aide.
A guilty verdict against Lynn could be viewed as validation of a wider conspiracy among archdiocese leaders to ignore or conceal abuse claims. An acquittal could mean jurors believed Lynn when he said he wanted to do more to root out abusive priests but that others had called the shots.
"I did what the cardinal asked," Lynn testified, a remark about his handling of one priest's case that could easily have applied to dozens. At another point, he told jurors this about Bevilacqua: "He was the one who had canon and civil law degrees, not me. I presumed he knew what was best."
The mountain of documents aired at the trial, plus testimony from Lynn and others, painted a portrait of Bevilacqua as a church leader who kept an arm's length from the gritty details of clergy sex abuse, but who nonetheless expected to be kept informed and who made most of the key decisions.
Lynn typed, and jurors saw, scores of confidential memos detailing graphic abuse by priests and recommending their hospitalization or, in some cases, reassignments to other parishes. Most of the memos ended with these words scrawled at the bottom:
"Approved, AJB."
Prosecutors have urged jurors to focus just on Lynn, who they say endangered children by recommending that two priests be allowed to live or work in parishes despite signs they might abuse children.
In his summation Thursday, Assistant District Attorney Patrick Blessington accused the defense of mounting a "misdirection" play – by constantly bringing up Bevilacqua and other aides who ranked above Lynn in the church hierarchy. Blaming the bosses, he said, is not a valid defense. Lynn needed only to participate in the conspiracy, not mastermind it, to be guilty, the prosecutor said.
"They've tried to get you to look at every single person who is not here," Blessington told jurors.
"Why? Because they don't want you to look at the train wreck that is [Lynn's] guilt."
Prosecutors have never disputed the cardinal's power. Their 2005 grand jury report painted Bevilacqua as an overseer of the archdiocese's policies and Lynn as his dutiful servant. That investigation ended without charges against anyone, because the Philadelphia District Attorney's Office concluded the abuse crimes fell outside the statute of limitations.
The grand jury that recommended Lynn's arrest a year ago was armed with an amended law that broadened the statute. Like their predecessors, those jurors also took aim at Bevilacqua, but didn't recommend charges.
"The Grand Jurors have no doubt that his knowing and deliberate actions during his tenure as Archbishop also endangered thousands of children in the Philadelphia Archdiocese," their report stated. "Msgr. Lynn was carrying out the Cardinal's policies exactly as the Cardinal directed."
Bevilacqua avoided charges for two reasons, they said: because his lawyers said he was old and feeble, suffering from cancer and dementia; and because the grand jurors couldn't be sure how much Bevilacqua knew about the Rev. James J. Brennan and Edward Avery, the priests arrested with Lynn and accused of molesting a boy.
Avery pleaded guilty days before the trial to sexually assaulting a 10-year-old altar boy in 1999. The jury is weighing charges that Brennan tried to rape a 14-year-old boy in 1996.
The case against Lynn, Brennan, and Avery returned Bevilacqua to the spotlight. Just weeks after his death, prosecutors and defense attorneys revealed that church lawyers had discovered a memo describing an order Bevilacqua had issued in 1994 – to shred a list of archdiocesan priests suspected of abusing children or teens.
Lynn wrote the list. His lawyers said that he had done so to show his bosses the extent of the clergy sex-abuse problem – but that he never knew what became of the list. They contended the cardinal's order to shred it proved a conspiracy among top-ranking church leaders to hide the problem.
In the first days of the trial, Jeffrey Lindy, one of Lynn's lawyers, called Bevilacqua "a puppet-master."
A renowned canon lawyer testified that if the cardinal had ordered the shredding, such a directive would have violated church and civil law.
"That was like obstructing justice cubed," said the Rev. Thomas P. Doyle, who said he was once a friend and adviser to Bevilacqua. "He's got a list of men who may have abused children – and he's going to shred it?"
Prosecutors urged jurors not to be distracted. Blessington called Lynn "the eyes and the ears" of the cardinal and said he held his post for 12 years because he was so good at it.
"He was willing to carry out the program," he said. "He was willing to keep the secrets."
During nearly three days on the witness stand, Lynn didn't gush over his former boss.
He said he was told, never asked, about his assignments within the archdiocese administration, first as a dean at St. Charles Borromeo Seminary, then as secretary for clergy.
He didn't realize the job would include investigating and recommending action against priests accused of sexual abuse, Lynn said. And he never heard of the Secret Archives – the confidential files containing misconduct allegations – until he had been in the post for a few months.
Lynn's office was on the 10th floor of the church's Center City headquarters, but he said he always reported to "someone on the 12th floor" – a reference to the archbishop and his vicars for administration, now Bishops Edward M. Cullen and Joseph R. Cistone.
Priests were taught in the seminary that the will of God flows through the bishops, Lynn told jurors. Some of his classmates considered him naive, but he believed it.
"Priests are trained to respect and obey their bishops," he testified. "When a bishop tells you to do something, you do it."

http://articles.philly.com/2012-06-03/news/32007388_1_abusive-priests-bevilacqua-richard-sipe
Pennsylvania priest jailed after conviction in abuse case
PHILADELPHIA (AP) – A Roman Catholic church official was convicted Friday of child endangerment but acquitted of conspiracy in a groundbreaking clergy-abuse trial, becoming the first U.S. church official convicted of a crime for mishandling abuse claims.
Monsignor William Lynn helped the archdiocese keep predators in ministry, and the public in the dark, by telling parishes their priests were being removed for health reasons and then sending the men to unsuspecting churches, prosecutors said.
The judge ordered that Lynn's bail be revoked and he was led to jail. The judge said she would at some point entertain a motion for house arrest.
Lynn, 61, had faced about 10 to 20 years in prison if convicted of all three counts he faced — conspiracy and two counts of child endangerment. He was convicted only on one of the endangerment counts, leaving him with the possibility of 3 1/2 to seven years in prison.
The jury could not agree on a verdict for Lynn's co-defendant, the Rev. James Brennan, who was accused of sexually abusing a 14-year-old boy.
Lynn has been on leave from the church since his arrest last year. He served as secretary for clergy from 1992 to 2004, mostly under Cardinal Anthony Bevilacqua.
No matter the verdict, the trial exposed how deeply involved the late cardinal was in dealing with accused priests. Rarely an hour of testimony went by without Bevilacqua's name being invoked.
Bevilacqua had the final say on what to do with priests accused of abuse, transferred many of them to new parishes and dressed down anyone who complained, according to testimony. He also ordered the shredding of a 1994 list that warned him that the archdiocese had three diagnosed pedophiles, a dozen confirmed predators and at least 20 more possible abusers in its midst. Prosecutors learned this year that a copy had been stashed in a safe.
Lynn didn't react when the verdict was read and remained sitting in his chair, his head lowered, even when the judge took a brief recess to thank the jury. He also didn't acknowledge the dozen or so family members, some of whom were weeping, sitting behind him in the gallery.
The judge ordered that Lynn's bail be revoked and he was led to jail. The judge said she would at some point entertain a motion for house arrest.
With the verdict, jurors concluded that prosecutors failed to show that Lynn was part of a conspiracy to move predator priests around.
The jury, however, did find that Lynn endangered the victim of defrocked priest Edward Avery, who pleaded guilty before trial to a 1999 sexual assault.
Lynn had deemed Avery "guilty" of an earlier complaint by 1994, and helped steer him into an inpatient treatment program run by the archdiocese. But Lynn knew that Avery later was sent to live in a northeast Philadelphia parish, where the altar boy was assaulted.
Karen Polesir, a spokeswoman for the Survivors Network of Those Abused by Priests who was outside the courthouse, said it was a historic trial because it revealed "the abuse and the cover-ups that have been going on in the Philadelphia archdiocese for a long time."
She said her immediate reaction to the verdict was tears.
"I'm brokenhearted for all the victims that were brave enough to come forward, and the whistleblowers that were brave enough to come forward," Polesir said. "I'm glad for the one count of guilty, but that is not enough to vindicate the victims and survivors. I feel that there was overwhelming evidence against Monsignor Lynn and that the decision is just heartbreaking."
Terence McKiernan, head of BishopAccountability.org, another victim-advocacy group, told Religion News Service that the "watershed" conviction serves as "a warning to other church officials and a model for prosecutors nationwide. … Bishops and church officials are now accountable — they are no longer immune from judgment and punishment."
Defense lawyers say Lynn alone tried to document the complaints, get priests into treatment and alert the cardinal to the growing crisis. Church documents show therapists had called one accused priest a ticking "time bomb" and "powder keg."
During the 10-week trial, more than a dozen adults testified about wrenching abuse they said they suffered at the hands of revered priests.
A former seminarian said he was raped by a priest throughout high school at the priest's mountain house.
A nun testified that she and two female relatives were sexually abused by a priest described by a church official as "one of the sickest people I ever knew."
A troubled young man described being sexually assaulted in the church sacristy in 1999 by Avery after the 10-year-old altar boy served Mass. Avery is serving a 2 1/2- to five-year prison term.
"I can't explain the pain, because I'm still trying to figure it out today, but I have an emptiness where my soul should be," another accuser testified. His mother had sent him to a priest for counseling as an eighth-grader because he'd been raped by a family friend. The priest then followed suit, he said.
Seven men and five women sat on the jury, along with eight alternates. Many have ties to Catholic schools or parishes, but said they could judge the case fairly. There are about 1.5 million Catholics in the five-county archdiocese, and Philadelphia neighborhoods were long identified by their local parishes.
Defense lawyers called the decision to send Lynn to prison overly harsh, given his ties to the community and lack of any prior criminal record. They said they would move for house arrest on Monday. Lynn will spend at least the weekend in a Philadelphia jail.
"He's upset. He's crushed. He's in custody and he didn't want anything else but to help kids," defense lawyer Jeffrey M. Lindy said.
Brennan, Lynn's co-defendant, was accused of sexually abusing a 14-year-old boy in 1996. With the jury unable to agree, the judge declared a mistrial on the attempted rape and child endangerment charges against him.
Lynn's lawyer, Thomas Bergstrom, pledged in opening statements in late March that the monsignor would not run from the sins of the church. However, he said in closing arguments that Lynn should not be held responsible for them.
He suggested his client was a middle manager-turned-scapegoat for the clergy-abuse scandal. Lynn, he said, documented the abuse complaints and did his best to get reluctant superiors to address it.
"And now, now of all things, the commonwealth wants you to convict him for documenting the abuse that occurred in the archdiocese, …. the evil that other men did. They want to hold him responsible for their sins."
Philadelphia prosecutors have been investigating the archdiocese for 10 years, since the national crisis erupted in the Boston archdiocese. Lynn testified several times before a grand jury that sat from about 2002 to 2005.
That panel produced a blistering report that identified 63 suspected child molesters in the archdiocese, but said no one could be charged because of legal time limits.
Afterward, then-District Attorney Lynne Abraham helped fight for state reforms that gave reluctant victims more time to come forward in Pennsylvania — and enabled her successor, Seth Williams, to charge Monsignor Lynn and four others last year based on more recent complaints.
In a hotly contested ruling in Lynn's case, Common Pleas Judge M. Teresa Sarmina let prosecutors tell jurors about 20 of the accused priests named in the first grand jury report, even though they were never charged, because Lynn worked on their files to some extent.
Prosecutors said they showed a pattern at the archdiocese of lying about why priests were removed, sending them to "company doctors" at church-run therapy centers and failing to warn new parishes where they were later transferred.
"They put so many innocent children in danger," Assistant District Attorney Patrick Blessington said in his closing remarks, noting that it can take years or decades for victims to come forward. "That's what's so scary about this. We have no idea how many victims are out there."
By Bergstrom's count, the commonwealth spent about 36 of 40 trial days on the tangential cases.
An appeal based on the inclusion of that evidence is considered likely.
The case was being watched not only in the USA but in the Vatican as well, says Ralph Cipriano, a long-time critic of the Archdiocese of Philadelphia and former reporter for the Philadelphia Inquirer, who blogged the three-month trial day by day. He said his second-highest audience source was Rome.
Cipriano said in an interview before the verdict that many trial-watchers were concerned that higher authorities in the archdiocese have never been held to legal account while Lynn was merely "a yes man at the bottom of the totem pole … holding the bag for the collective sins of an organization that allowed dozens of pedophiles to harm hundreds of children."
www.usatoday.com/news/religion/story/2012-06-22/priest-abuse-trial-verdict/55762008/1
Michael D'Antonio
Priests as Pintos: Fraud and the Next Catholic Crisis
Posted: 06/06/2012 12:53 pm
One can only guess what the pope might be thinking. In Rome, his butler has been arrested in connection with a "Vatileaks" scandal that has revealed venomous internal conflicts over the Church's finances, child abuse scandals and doctrine. In America, the faithful flock to support their nuns in their fight with Church disciplinarians, while a Philadelphia monsignor accused of endangering children faces heavy jail time in a criminal trial now in its second month. And these problems are not worst of it.
Amid all the more notable intrigue and scandal, a jury in the little city of Appleton, Wis., recently demolished a defense that has shielded the church from hundreds, if not thousands, of claims related to sexual crimes committed by priests against minors. The historic verdict threatens the Church with a new round of sexual abuse lawsuits that could expose it to billions of dollars in liability.
Like countless other victims of clergy abuse, Todd and Troy Merryfield had been unable to sue for damages because a state statute of limitations said too much time had passed between the moment when they knew they had been harmed and their decision to go to court. Noting that fraud stops the statute clock from ticking, their attorney Jeffrey Anderson re-filed the case to claim that higher-ups had defrauded his clients and the public by permitting a criminally flawed man to work as a priest. The way Anderson saw it, bishops who didn't act swiftly to protect the public from suspect priests were like the Ford Motor Company executives who unleashed fatally flawed Pintos on an unsuspecting public and should be held responsible.
The most remarkable thing about the Appleton case is that the facts were not unusual or extreme. Father John Patrick Feeney had been the subject of complaints about his behavior with children years before he met Todd and Terry Merryfield, and each time his superiors quietly transferred him. After Feeney assaulted the Merryfields in 1978, a district attorney showed his bishop evidence that the priest had committed other sex crimes. Still the Church did not remove Feeney from ministry. Finally, in 1983, the bishop barred Feeney from working in Green Bay but sent him off with a letter of recommendation — calling him "a cleric in good standing" — that allowed him to work as a priest in California and Nevada. All of this — Feeney's pattern of behavior, the bishop's foot dragging and the deceptive letter of recommendation — were standard operating procedure at the time.
In the records in the Feeney case his superiors don't use the kind of smoking gun language that would scream "we knowingly loosed a criminal on the community." Instead his bishop sounds exasperated, scrawling, "Father Feeney Please!" at the top of one letter of complaint and writing "If I hear any more about the swimming in the nude and encouraging boys to do it I'll suspend you." But as the evidence of Feeney's criminal sexual compulsions accrued, the bishop neglected his threat. And it was this neglect of duty, juxtaposed with the bishop's role as pastor to the Catholic people of Green Bay, that met the legal definition of fraud. In his closing argument Anderson said, "They knew he had sexually molested and they knew he posed a danger and a risk to children and thus they deceived the Merryfields and the community."
If it survives appeal, the Appleton verdict will establish an avenue for lawyers who brought abuse cases that were dismissed on the basis of state statutes of limitations to bring them again as fraud complaints. Victims who have been frustrated for decades could finally get their days in court. Bishops, who historically responded to complaints of abuse by moving suspect priests to new assignments, face a new wave of crisis and liabilities that would add substantially to the billions of dollars already paid out by the church in America to resolve sexual abuse lawsuits. Many dioceses could be bankrupted by claims.
Beyond the financial threat it poses to the Church, which is substantial, the Appleton verdict highlights the conflict of values between a religious institution that is also a monarchy, and the morality of liberal democracy. And it is in this arena, the moral arena, where the pope and the Church face the greatest challenge as ordinary citizens render their judgments. "You folks are the only people in this community and the only people in this world that can hold them responsible," said Anderson, in his closing. The jurors responded by requiring the Diocese of Green Bay to the face same standards other corporations confront in civil suits.
Holding the Church accountable was the Merryfields' first objective, and the jurors who obliged them exercised their authority over the Church as a competing moral power. The same can be said for the Philadelphia district attorney prosecuting Monsignor William Lynn, the Catholic laypeople who are rallying on the streets to support
American nuns, and even the journalists exploiting the Vatileaks documents. Although the Vatican calls a book based on those papers "criminal," it is, in fact, an example of how press freedom functions as a check on the powerful. Similarly, the Catholics who support besieged nuns express themselves based on the freedom of assembly and the prosecutor pursuing the monsignor acts on the principle of equality under the law.
The freedom and equality that allow individuals to confront powerful institutions have been ascendant for centuries and for centuries the Vatican has lagged behind the world as it moved to embrace them. Internally the Church is, of course, entitled to its own form of governance and its doctrines and beliefs. It can even cling to its traditions of secrecy and intrigue. However, as it engages with the larger society in courtrooms and the court of public opinion, its authoritarian mindset leaves it ill prepared for challenges raised by people who believe that they are equal to any bishop or pope. In the contest between monarchy and democracy, the world, if not the universe, is becoming more democratic and open every day.
This week the Vatican press office reported that the Pope Benedict XVI is "suffering" but serene as controversy swirls around him. If this is true, it's because events are unfolding in a way the pope envisioned more than 40 years ago when he predicted a future Church that "will be small and, to a large extent, will have to start from the beginning." This future Church, which sounds an awful lot like the original Church, "will lose many of her privileges in society" he said in 1969. It will, of necessity, "acknowledge new kinds of ministry and raise will raise up to the priesthood proven Christians who have other jobs…"
In trusting itself to become what he called "a church of the little people" served by a kind of amateur priesthood, Benedict's future Church would "no longer be able to fill many of the buildings created in her period of great splendor." However it would also become far more democratic, egalitarian and relevant to the lives of modern men and women. Seen in this light, the verdict rendered in Appleton may constitute a step toward a better day for the Church as well as for the Merryfields. Perhaps this is why the pope is serene.

http://www.huffingtonpost.com/michael-dantonio/fraud-and-the-next-catholic-crisis_b_1562085.html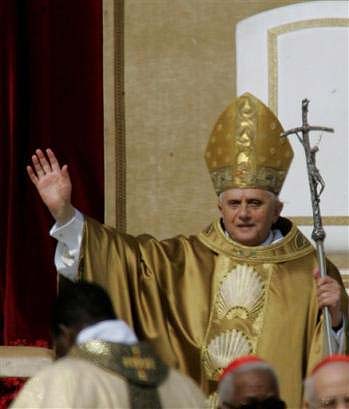 Prophecy of the Popes
www.coasttocoastam.com/show/2012/06/03
Instead of behaving as servants, the episcopal monarchs became benefactors and empahsized Christology rather than repentance. Orthodoxy replaced virtue: II Pet. 1:4-10. Bishops can no longer fulfill the role of the examplerion, put forth by Ignatius of Antioch.
Sex-abuse crisis is a watershed in the Roman Catholic Church's history in America
June 24, 2012 | By Michael D. Schaffer, Inquirer Staff Writer
The last decade has been a season of agony for the Catholic Church in the United States, a pilgrimage through purgatory made all the more painful by being self-inflicted.
Thousands of children have accused Catholic priests, seminarians, nuns, and brothers of molesting them. Victims have told stories of suffering intensified by official church neglect. The church has paid out billions of dollars in settlements. Most controversial of all, Catholic bishops have been accused of trying to hush it all up, shuffling offenders from one unsuspecting parish to another.
Now, Msgr. William J. Lynn, former secretary for clergy of the Archdiocese of Philadelphia, has become the first high-ranking church official convicted for failing to protect children from the possibility of abuse
It's a pivotal moment in the worst crisis the Catholic church in the United States has ever faced.
"Everybody working for a bishop is put on notice that they can go to jail if they don't do the right thing, even if they're doing what the bishop was telling them," said the Rev. Thomas J. Reese, a Jesuit priest and senior fellow at Georgetown University's Woodstock Theological Center.
"This is sending a very strong message to every priest personnel director, bishop's secretary, and chancellor in the country that it won't be a legitimate excuse to say, 'The bishop told me to do it,' " said Reese, formerly editor of the Jesuit magazine America and author of books on the Vatican and the American hierarchy.
"It's hugely significant and long overdue," said Philip F. Lawler, editor of the online Catholic World News. "If bishops and their assistants in the chanceries had been accountable, they wouldn't have to be held accountable by the courts."
"It's a major, major move forward for those of us trying to help victims," said the Rev. Thomas P. Doyle, a canon lawyer formerly on the staff of the Vatican's diplomatic mission in Washington.
An even higher-ranking church official than Lynn – Bishop Robert Finn of the Diocese of Kansas City-St. Joseph, Mo., – has been charged criminally with failure to report abuse. Finn was indicted on the misdemeanor charge in October. His trial is scheduled for September.
MORE – 3 pages

http://articles.philly.com/2012-06-24/news/32394491_1_canon-lawyer-catholic-priests-catholic-bishops