Goldman Sachs screws its clients which damages the larger US economy in the real world.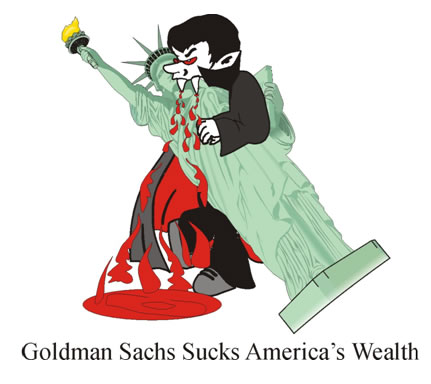 Rigging the I.P.O. Game
By JOE NOCERA
Published: March 9, 2013
ONCE upon a time, in a very different age, an Internet start-up called eToys went public. The date was May 20, 1999. The offering price had been set at $20, but investors in that frenzied era were so eager for eToys shares that the stock immediately shot up to $78. It ended its first day of trading at $77 a share.
The eToys initial public offering raised $164 million, a nice chunk of change for a two-year-old company. But it wasn't even close to the $600 million-plus the company could have raised if the offering price had more realistically reflected the intense demand for eToys shares. The firm that underwrote the I.P.O. — and effectively set the $20 price — was Goldman Sachs.
After the Internet bubble burst — and eToys, starved for cash, went out of business — lawyers representing eToys' creditors' committee sued Goldman Sachs over that I.P.O. That lawsuit, believe it or not, is still going on. Indeed, it has taken on an importance that transcends the rise and fall of one small company during the first Internet craze.
The plaintiffs charge that Goldman Sachs had a fiduciary duty to maximize eToys' take from the I.P.O. Instead, Goldman purposely set an artificially low price, so that its real clients, the institutional investors clamoring for the stock, could pocket that first-day run-up. According to the suit, Goldman then demanded that some of those easy profits be kicked back to the firm. Part of their evidence for the calculated underpricing of eToys, according to the plaintiffs' complaint, was that Lawton Fitt, the Goldman executive who headed the underwriting team and was thus best positioned to gauge the market demand, actually made a bet with several of her colleagues that the price would hit $80 at the opening. (Through a Goldman Sachs spokesman, Fitt declined to comment. Goldman denies that it did anything wrong, about which more shortly.)
Andrew Shurtleff/University of Virginia
Lawton Fitt of Goldman was said to bet that eToys stock would quadruple. It did.

On some level, this argument — between those who believe companies are routinely sold down the river by their underwriters and those who insist that underwriting requires a complex balancing of the interests of both company and investors — has been going on ever since. Just a couple of years ago when the social media company http://www.reuters.com/article/2011/05/19/us-linkedin-ipo-risks-idUSTRE74H0TL20110519 LinkedIn went public and the stock quickly doubled, I wrote that the company had been scammed by its underwriters, Morgan Stanley and Bank of America's Merrill Lynch unit. Money that rightly belonged to the company had instead gone to investment clients, I argued. A number of market observers responded by saying that I lacked a nuanced understanding of the complicated dynamics between companies, investors and underwriters.
Recently, however, I came across a cache of documents related to the eToys litigation that seem to tilt the argument in favor of the skeptics. Although the documents were supposed to be under seal, they were sitting in a file at the New York County Clerk's Office, available to anyone who asked for them. I asked.
What they clearly show is that Goldman knew exactly what it was doing when it underpriced the eToys I.P.O. — and many others as well. (According to the lawsuit, Fitt led around a dozen underwritings in 1999, several of which were also woefully underpriced.) Taken in their entirety, the e-mails and internal reports show Goldman took advantage of naïve Internet start-ups to fatten its own bottom line.
Goldman carefully calculated the first-day gains reaped by its investment clients. After compiling the numbers in something it called a trade-up report, the Goldman sales force would call on clients, show them how much they had made from Goldman's I.P.O.'s and demand that they reward Goldman with increased business. It was not unusual for Goldman sales representatives to ask that 30 to 50 percent of the first-day profits be returned to Goldman via commissions, according to depositions given in the case.
"What specifically do you recall" your Goldman broker wanting, asked one of the plaintiffs' lawyers in a deposition with an investor named Andrew Hale Siegal.
"You made $50,000, how about $25,000 back?" came the answer. "You know, you made a killing."
"Did he ever explain to you how to pay it back?" asked the lawyer.
"No. But we both knew that I knew how," Siegal replied. "I mean, commissions, however I could generate."
In one e-mail, a Goldman Sachs executive named David Dechman described hot I.P.O. deals as "a currency." He asked, "How should we allocate between the various Firm businesses to maximize value to GS?"
Robert Steel, who was then co-head of equity sales at Goldman Sachs and is now one of New York Mayor Michael Bloomberg's top deputies, sent an e-mail to one of the firm's biggest clients, Putnam Investments in Boston, in which he wrote bluntly, "It is my view that we should be rewarded with additional secondary business for offering access to capital market product" — like hot I.P.O.'s.
Did the clients knuckle under?
Are you kidding?
According to data compiled by the plaintiffs, Capstar Holding, an investing client, made a series of pointless trades solely for Goldman's benefit. The lawsuit quotes an investment manager at the firm, Christopher Rule, as saying that 70 percent of his trading activity in May 1999 was done to generate commissions for Goldman, "pursuant to an 'understanding' with his Goldman broker that he needed to generate money for Goldman in order to receive I.P.O.'s."
On Thursday, Goldman Sachs issued a statement that read, in part, "We did not engage in quid pro quos for allocation of hot I.P.O.'s, and none of the decade-old documents distorted by the eToys litigants suggests otherwise." I have posted a variety of the documents on The Times's Web site, so that readers can decide for themselves what story they really tell.
Goldman supporters also point out that it was hardly the only underwriter to allocate shares of Internet public offerings based on what it would get in return. In the aftermath of the bubble, Goldman wound up paying fines to the Securities and Exchange Commission for I.P.O. excesses. But so did a lot of other firms. None of the government's allegations, by the way, were related to the kind of practices alleged in the eToys lawsuit. As for the litigation itself, Goldman has argued that, contrary to popular belief, underwriters do not have a fiduciary duty to the companies they are underwriting. In recent years, this argument has held sway in the New York court system, although it has yet to be argued before the Court of Appeals.
GOLDMAN also pointed me to an e-mail Lawton Fitt wrote the day before the I.P.O., hoping to prevent firms that "are not long-term investors/aftermarket buyers" from getting too large an allocation. Even so, that e-mail made it clear that the "flippers" who didn't care about eToys were still going to get around 20 percent of the allocation. The e-mail isn't quite the ringing defense that Goldman makes it out to be.
What is undeniably true, of course, is that the documents are old. Some will dismiss them as relics of another era. But I continue to believe that the mind-set created by the I.P.O. madness of the late 1990s never really went away. To this day, an I.P.O. with a big first-day jump is considered a success, even though the company is being short-shrifted. To this day, investors know that they are expected to find ways to reward the firms that allocate them hot I.P.O. shares. The only thing that is truly different today is that few on Wall Street are so foolish as to put such sentiments in an e-mail.
Earlier this week, I tracked down Toby Lenk, the founder and former chief executive of eToys. Back when the S.E.C. was investigating I.P.O. excesses, the government deposed him. During the deposition, he mostly defended Goldman Sachs, even though he had the uneasy feeling that eToys had been taken advantage of.
After the deposition, he recalled, the S.E.C. lawyers began to show him some Goldman Sachs documents. He saw that one big firm after another had been allocated shares — and had immediately flipped them, even though Goldman had promised that its clients would support the stock. "That's when I thought, 'We really got screwed,'" Lenk told me.
Although the experience still angered him, he now has 14 years' worth of perspective. "Look at what has happened since then," he said. "If you think eToys got screwed, what do you think happened to the country?"
"What Wall Street did to us in 1999 pales in comparison to what they did to the country in 2008," he said.
www.nytimes.com/2013/03/10/opinion/sunday/nocera-rigging-the-ipo-game.html
Goldman bankers get rich betting on food prices as millions starve
Bank criticised for making £250m after destructive spikes in global food market
TOM BAWDEN SUNDAY 20 JANUARY 2013
Goldman Sachs made more than a quarter of a billion pounds last year by speculating on food staples, reigniting the controversy over banks profiting from the global food crisis.
Less than a week after the Bank of England Governor, Sir Mervyn King, slapped Goldman Sachs on the wrist for attempting to save its UK employees millions of pounds in tax by delaying bonus payments, the investment bank faces fresh accusations that it is contributing to rising food prices.
Goldman made about $400m (£251m) in 2012 from investing its clients' money in a range of "soft commodities", from wheat and maize to coffee and sugar, according to an analysis for The Independent by the World Development Movement (WDM).
This contributed to the 68 per cent jump in profits for 2012 Goldman announced last week, allowing it to push up the average pay and bonus package of its bankers to £250,000.
The extent of Goldman's food speculation can be revealed after the UN warned that the world could face a major hunger crisis in 2013, after failed harvests in the US and Ukraine. Food prices surged last summer, with cereal prices hitting a record high in September.
Christine Haigh of the WDM said: "While nearly a billion people go hungry, Goldman Sachs bankers are feeding their own bonuses by betting on the price of food. Financial speculation is fuelling food price spikes and Goldman Sachs is the No 1 culprit."
Goldman makes its "food speculation" revenues by setting up and managing commodity funds that invest money from pension funds, insurance companies and wealthy individuals in return for fees and commissions. The firm invented these kinds of funds and continues to dominate the market, together with Barclays and Morgan Stanley. Swiss trading giant Glencore hit the headlines in August when its head of agriculture proclaimed that the US drought will be "good for Glencore".
Goldman has always shrouded the breakdown of its profits in secrecy, but a WDM commodities derivatives expert has calculated the revenues it believes the bank makes from food speculation through an analysis of its recent results and market information.
The bank declined to comment on WDM's estimate or the impact of speculation on food prices. But Goldman Sachs is known to be advising clients that corn is one of its top trading tips for 2013, after the worst drought in US history whittled stockpiles down to their lowest level since 1974.
Although global food prices averaged seven per cent below 2011′s record, prices in 2012 were 16 per cent higher than in 2010 and 2.3 times as expensive as a decade earlier, even after adjusting for inflation, according to the United Nations.
British consumers have not been spared the impact of rising food costs – prices have, on average, risen by nearly 40 per cent in the past seven years.
Rob Nash, Oxfam's private sector adviser, said: "Oxfam is very concerned about food speculation, especially in the light of increasingly extreme weather conditions which can reduce supply suddenly and severely deplete stocks. The last thing we need is for that volatility to be exacerbated by speculation and exploited for short-term profit."
Banks and hedge funds typically argue that speculation makes little or no difference to food prices and point out that no definitive link has been proved. But there is a growing consensus that the influx of cash into food has increased demand so much that it has inevitably pushed up the prices.
Since deregulation allowed the creation of the commodity funds that allowed many speculators to invest in agriculture for the first time, institutions such as Goldman have channelled more than $200bn of cash into the area. This investment has coincided with a significant and sustained rise in global food prices.
www.independent.co.uk/news/business/news/goldman-bankers-get-rich-betting-on-food-prices-as-millions-starve-8459207.html
Financialization of the economy has led to what economists call "rent seeking," focusing on making government change the rules to make a business more profitable rather than investing in the production of real goods and services. It also offers the very wealthy a casino including $600 trillion worth of derivatives rather than having them invest in job-creating enterprises.
Highly consolidated industries also use their semi­monopoly power to drive down wages and make unionization more difficult.
Intergenerational wealth has diverged, with the rich doing better than ever while most households, struggling since 2000, saw a huge part of their wealth destroyed in the Great Recession.
In addition, educational attainment has faltered since 1980. What's our response? Lay off teachers and raise tuition for universities.
But none of this just happened because of a supposedly flawless free market. As Nobel Prize-winning economist Joseph Stiglitz writes in his book,The Price of Inequality," "Markets are shaped by laws, regulations and institutions."
Whatever the causes, little is being done to correct our trajectory into historic high inequality that is greater than other advanced nations.
Things may have to get worse before change happens. One thing is clear: Our situation is unsustainable and un-American.
http://seattletimes.com/html/businesstechnology/2020518410_biztaltoncol10xml.html
About 440 corporations and business groups spent tens of millions of dollars lobbying Congress and executive branch agencies on tax reform in the third quarter of last year, a Washington Post analysis shows. And that number continued to rise in the final three months of the year, up nearly 10 percent, the analysis shows.
The firms are a who's who of corporate America, from Apple to Wal-Mart, Boeing to Citigroup. More than 125 Washington lobbying and law firms are engaged in the effort, including those employing high-profile names like former New York City mayor Rudolph W. Giuliani, former U.S. senators Trent Lott and John Breaux, and power lobbyists Tony and Heather Podesta.

www.washingtonpost.com/politics/as-momentum-builds-toward-tax-reform-lobbyists-prepare-for-a-fight/2013/03/09/e46c0b3a-6ad9-11e2-af53-7b2b2a7510a8_story.html
What Goldman Sachs should admit: it drives up the cost of food
As Goldman shareholders meet today, they should be hearing about the financial titan's exploitative business practices
Deborah Doane
guardian.co.uk, Thursday 23 May 2013 08.30 EDT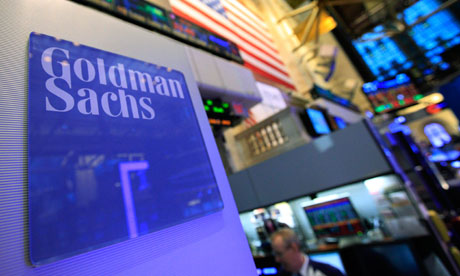 Goldman Sachs has been an active speculator on the commodity markets since their deregulation in the 1990s. Photograph: Brendan Mcdermid/Reuters
Today, 23 May, is the annual general meeting (AGM) of financial speculator Goldman Sachs , the archetypal villain of the global economic meltdown, bailed out by US taxpayers to the tune of $5.5bn. Perhaps they'll hand out last year's Community Impact report, which shows how they've tried to redeem themselves with charity, like serving up almost 30,000 meals and preparing about 250,000 others in community projects in the US and around the world.
The irony, of course, is that while they're serving up a few meals, their core business is virtually starving people at the same time. In 2012, the US investment bank made an estimated $400m from speculating on food. The World Bank estimated in 2010 that 44 million people were pushed into poverty because of high food prices, and that speculation is one of the main causes.
Since Goldman led the drive to deregulate commodity markets in the 1990s, after constraints were imposed following the 1930s Wall Street crash, they've been at the vanguard of creating and promoting complex commodity instruments, from which they've raked in huge profits. Wallace Turbeville, a former vice president and the inventor of commodity index funds, has been outing the company's methods. He says that in his time at Goldman, investment increased from $3bn in 2003 to $260bn in 2008, and commodity prices rose dramatically during the same period, increasing from 2006 to 2008 by an average of 71%.
In 1996, speculators held 12% of the positions on the Chicago wheat market, with most of the market being made up of the legitimate users of food – from farmers to producers. But the legitimate hedging element of commodity markets has virtually disappeared in the intervening years. By 2011, pure speculators made up a staggering 61% of the market. Of course, Goldman Sachs isn't the only player, but it is certainly the largest.
For several years, it was hotly debated whether speculation in food commodities drives up prices. But the evidence now firmly says it does, and that there's little correlation between rising prices and actual supply and demand. There are now well over 100 studies which agree (pdf), from sources as varied and valuable as Harvard University, the Food and Agricultural Organisation and the United Nations.
The knock-on effect of increased speculation has meant price spikes are now more and more common. In November 2012, the World Bank declared a new era of food price volatility.
While regulators play catch-up on both sides of the Atlantic, financial lobbyists are doing their utmost to block progress. The Dodd Frank Act, passed in 2010, imposed limits on speculation; but industry lobbyists are fighting at every pass.
In September last year, just before new rules would have come into effect, a Washington DC court ruled in favour of the International Swaps and Derivatives Association and the Financial Markets Association, which brought forward a claim that the rules were drafted fautily. An appeal is now pending, putting any effective regulation way out into the long grass.
Meanwhile, across the Atlantic, as Brussels tries to bring forward similarly progressive regulation, the tentacles of Goldman's influence are everywhere. In the UK, Goldman Sachs gave £8.8m ($13.4m) to political parties. The UK is the primary opponent blocking Brussels-regulation against commodity speculation.
Members of the European parliament on the economics and monetary committee met with representatives of Goldman Sachs, its lobby groups and PR companies nine times in the first six months of 2010 alone – the year regulation was drafted. Meanwhile, Goldman Sachs is represented on 16 industry groups that were invited to join a "special working group" to look at financial reforms for the European Commission.
Charity may be alive and well, but until the regulators stand up to its influence, Goldman Sachs and its financial sector cohorts are still able to give with one hand while taking significantly more with the other.

www.guardian.co.uk/commentisfree/2013/may/23/goldman-sachs-agm-drive-food-prices-up
Goldman Sachs Naked and exposed Historical Inequality