La France n'a pas d'avenir a moins qu'elle arrete d'encourager les gens a etre non productifs et penaliser les gens qui sont productifs.
In France, New Tech Academy Defies Conventional Wisdom

www.nytimes.com/2013/11/16/world/europe/in-france-new-tech-academy-defies-conventional-wisdom.html
Agnes Dherbeys for The International Herald Tribune
Xavier Niel created France's first Internet service provider, WorldNet, in 1993.
A Billionaire Who Breaks the Mold
By KEVIN J. O'BRIEN
Published: May 5, 2013
Mr. Niel, the French Internet entrepreneur, is a slightly disheveled 45-year-old fond of jeans and open-collared shirts. He is a high school graduate from a working-class Paris suburb who rails bluntly against the country's established classes and a business elite culled from a handful of grande écoles — elite educational institutions.
But over the past two decades, Mr. Niel has amassed a net worth estimated by Forbes in March at $6.6 billion, emerging as France's most influential technology entrepreneur, an opportunistic, controversial visionary whose low-cost Internet service provider and mobile network have made the Internet affordable for millions of French consumers.
To many struggling in France's stagnant economy, Mr. Niel is a hero. But to a French business establishment grappling with the competitive disruptions of the Internet — not to mention the same stagnant economy — he is an unwelcome threat, a destroyer of profit margins.
"He represents the Internet world and the Internet economy, something that is not really appreciated in France," said Cedric Manara, a law professor at Edhec, a business school in Paris. "He is not one of them. He represents what scares them — the big battlefield between the old and new economy."
Mr. Niel says his goal is no less than to instill a Web-based entrepreneurial culture in France.
"If people like us don't start to change things in France, nothing is ever going to change," Mr. Niel said. "Today France is the fifth-largest economy in the world. But if we don't change things, we will be the 25th biggest in just 10 years."
The role of new economy evangelist did not come naturally to Mr. Niel, who grew up as an introvert in a middle-class home southeast of Paris, not far from where the Marne and Seine rivers meet. His father worked as a patent consultant for a French pharmaceutical maker. His mother was a bookkeeper. Mr. Niel said he was coaxed out of his shell by his younger sister, Véronique.
When he was 13, his father bought him his first computer, a Sinclair ZX81, which had no monitor and 1 kilobyte of memory. The gift would change his life.
"It was the only thing in the world where I could ask it to do something, and it would do it," he said.
Mr. Niel's audience has grown since.
In 1993, when he was 25, Mr. Niel created France's first Internet service provider, WorldNet, which he sold seven years later, just before the dotcom bubble burst, for more than $50 million. In 2002, his second Internet service business, Free, sold the world's first triple-play package of phone, television and Internet. The Freebox service cost just €29.99 a month, or about $40 at current exchange rates, about a third less than the going rate. The triple-play would not arrive in the United States until three years later.
Free has since added a Blu-ray disc player, a digital recorder and unlimited domestic mobile calls to the Freebox package, but it still has not raised the basic price. The company is France's second largest Internet service provider, behind Orange, owned by the former telephone monopoly, France Télécom.
But the ISP business was only a warm-up. In January 2012, he created Free Mobile, which became France's fourth cellphone network operator. In another break with convention, Free sold a no-strings-attached SIM card service with unlimited calls, text and Internet for €19.99 a month, less than half what the other three — Orange, SFR and Bouyges Télécom — had been charging.
This came after the three bigger operators had tried unsuccessfully to persuade the European Commission to block Free's mobile license. Since its inception, Free Mobile is estimated to have cost the top three operators millions in profit, as all created new, lower-cost plans to compete.
That does not bother Mr. Niel too much. In December, the French competition regulator, Autorité de la concurrence, fined Orange and SFR, which together have about three-quarters of France's mobile users, €183 million for abusing their size by offering free on-network calls to their own customers since 2005.
The operators are appealing the ruling. But for Mr. Niel, who spoke during a wide-ranging interview on the top floor of his headquarters in central Paris, the case was another example of the cartel-like relationship among industry leaders that pervades the French economy and in which profit trumps the needs of consumers.
Free Mobile signed up 5.2 million customers during its first year of business, grabbing almost 8 percent of the French mobile market. Sales reached €844 million but the business generated a €46.1 million loss in 2012 before interest, taxes, depreciation and amortization. The new enterprise increased annual revenue at Mr. Niel's holding company, Iliad, by 49 percent to €3.2 billion last year. Iliad had a market capitalization Friday of €10 billion.
"Our goal is to bring Internet to everyone in France," he said, speaking in a heavily accented English.
But in parts of France, Mr. Niel remains controversial. In the 1990s, his company created services like reverse phone directories, which allow users to search by phone number, for the Minitel, a forerunner to the Internet. His decision to start a sex chat service rankled the French, most of whom are Catholic.
In 2004, he was arrested on charges of aggravated procuring — the French equivalent of pimping — in connection with his part ownership of a chain of French peep shows. One of the businesses, in Strasbourg, was found to be a front for prostitution. Mr. Niel, as a shareholder in the business, was taken in by the police.
The procuring charges were dropped, but Mr. Niel was convicted of concealing the misuse of corporate funds in connection with €200,000 in income from the peep shows. He received a two-year sentence that was suspended, but not before he spent four weeks in La Santé Prison in central Paris and paid a €250,000 fine.
"I have done a lot of stupid things in my life," Mr. Niel said, adding that he had subsequently sold his interests in the peep shows. "This was the stupidest."
Jean-Louis Missika, the deputy mayor of Paris and a longtime friend of Mr. Niel who served on Iliad's board from 2005 to 2008, said the experience — the police had led Mr. Niel away in front of his children — had changed him profoundly.
"It made him more careful about what he was doing, but it also made him want to get involved positively to change French society," said Mr. Missika, who is in charge of innovation, research and universities for the city. "Before, he was only interested in computers and the Internet. Now he is interested in giving something back."
For 10 years, Mr. Niel has been investing tens of millions of euros in technology startups. Each week, his venture capital company, Kima Ventures, invests in two more. Some of the money goes to French companies like Deezer, the streaming music service, but much has also gone to U.S. start-ups, like Square, a maker of free credit card readers for the iPhone, iPad and Android devices that is based in San Francisco.
Last month, Mr. Niel announced plans to open a tuition-free Web developer academy for 1,000 students. He has received 10,000 applications from students, each of whom spent four hours filling out a test of computer logic posted on the Web.
Tellingly, the test did not ask applicants for their academic credentials. Mr. Niel said he was looking for people like himself — qualified, but unprivileged and lacking the right connections — to give them a leg up.
"We are not just trying to change business," he said. "We are trying to change the mentality in France."
Despite Free's fast start, success is far from guaranteed. In July, Free will lose a financial advantage over its competitors — a preferential interconnection charge that it levies on rivals when they connect callers to customers on Free's third generation mobile network.
When it awarded Free a mobile license, the French government let Free charge 2.4 cents for the service, three times what competitors could charge Free. In July, Free must begin charging what its rivals charge.
Another test for Free Mobile will come at the end of 2017, when France Télécom, which owns the nation's largest landline grid, an essential low-cost transmission link for all mobile operators, will no longer be bound to connect Free's calls across France.
By then, Free must build out its own infrastructure or negotiate a new agreement that will allow it to continue to use the Orange network. By that point, Free hopes to have 20 million customers, allowing it the best chance to negotiate an acceptable deal with Orange.
François Godard, an analyst in Naples with Enders Analysis, said he thought that Free Mobile would eventually be forced to raise prices, which could undermine its low-cost image.
Mr. Niel said Free Mobile, like his landline ISP, had no plans to raise prices.
"You know, the French mobile market, it is €23 billion to €25 billion in France," he said. "It is a very big market. You don't have a problem earning money in such a market. In our first year of operation, we had almost €1 billion in revenue. So it is going to work."
As Mr. Niel's influence and public stature grows, some are worried he may become a part of what he hates — the establishment. They point to the fact that in 2010, Mr. Niel was one of three investors who bought a controlling interest in Le Monde, the country's flagship daily newspaper.
"I think secretly he wants to become part of the establishment," said Mr. Godard, the Enders analyst.
Mr. Manara, the Edhec professor, said he was not so sure.
"In France, we like to burn our idols," Mr. Manara said.
Mr. Niel said he had no desire to join the establishment. He ruled out pursing a political career.
"I like being an outsider," he said. "It is better in France on the outside."
www.nytimes.com/2013/05/06/business/global/xavier-niel-billionaire-who-breaks-the-mold.html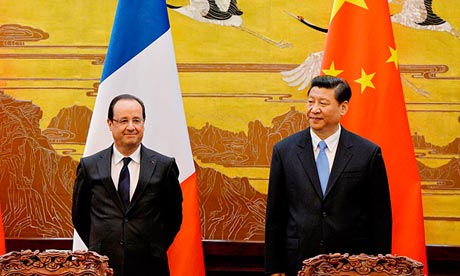 The French president, François Hollande, meets his Chinese counterpart, Xi Jinping, in the Great Hall of the People in Beijing, China.
Photograph: Pool/Getty Images

www.guardian.co.uk/world/2013/apr/26/blow-for-cameron-china-hollande
François Hollande, France's Socialist leader, is steering a middle-line path
FRANK PERRY/AFP/GETTY IMAGES – This file photo from March 14, 2013 shows crew members waiting to take part in a reflagging ceremony of the MSC Preziosa vessel at the STX shipyard in Saint-Nazaire, France. South Korea's troubled STX Group is considering selling its European assets including its shipyards in France and Finland.
By Edward Cody, Published: May 16
ST. NAZAIRE, France — This Atlantic port is the heart of France's shipbuilding tradition, where the British came to have the Queen Mary 2 built a decade ago and where Royal Caribbean recently ordered a $1.5 billion floating palace for island-hopping by the masses.
When the St. Nazaire STX Shipyards' majority shareholders in South Korea announced that they were selling out, therefore, the reflex here was almost automatic. Leftist union activists turned to the Socialist government in Paris with a demand for nationalization, saying it was the best way to preserve France's shipbuilding prowess and guarantee 2,000 jobs in the yards and 4,000 more in service and supply firms.
But President François Hollande's ministers in Paris replied with an immediate no. The issue, they said, was not who holds the capital but how many ships are on order. Another private investor will buy in, they predicted, provided the shipyards maintain their healthy finances and line up a solid list of projects.
The response was emblematic of Hollande's government, which this month completed the first year of a five-year term. The president, a Socialist elected with backing from the far left, has nevertheless steered France along a market-oriented path, trying to navigate the European financial crisis without Greece-style austerity but also without challenging the European Union's demand to bring down deficits.
Hollande's version of Socialism caused a sensation in December when Industry Minister Arnaud Montebourg threatened to nationalize an Indian-owned steel plant to save it from being closed down. Prime Minister Jean-Marc Ayrault swiftly countermanded the industry minister and stepped in to run the negotiations, ruling out nationalization. The plant has since been allowed to close, generating continuing protests by labor union activists, who accuse Hollande of betrayal.
As a result of such decisions, Hollande has encountered persistent and often angry criticism from the left as well as the right. With policies decried as unclear, three-fourths of those queried in opinion polls have qualified his choices as bad for the country. His popularity has hit dismal lows, undermined by his tentative style, and his own aides have nicknamed him "Pépère," the equivalent of "Pop."
Chafing at Hollande policies
For the conservative followers of former president Nicolas Sarkozy, Hollande has failed to bring down government spending far enough; it still represents more than half the economy. For his Socialist Party — including some of his ministers — and for groups further to the left — Greens and the Left Front — he has bowed to the penny-pinching demands of international finance instead of opening public spending valves.
The Left Front's leader, the obstreperous Jean-Luc Mélenchon, last week sponsored an anti-Hollande demonstration attended by tens of thousands of people demanding increased government spending. "If you don't know how, we do," Mélenchon blared to a cheering crowd at the evocative Place de la Bastille.
Ayrault announced several days later that Hollande's government planned to chart a major investment program, partly to stimulate economic activity, but would finance it by selling down the government stake in major industries. Although it was under conservative leadership for years, the government retains $80 billion worth of shares in a dozen key industries, such as Air France and electricity and gas suppliers.
For some, the chafing at Hollande's policies has taken the form of Germany-bashing, because Chancellor Angela Merkel champions the European Union's budget-balancing treaty. Claude Bartolone, president of the French National Assembly and a preeminent Socialist figure, called recently for a "confrontation" with Merkel over spending restrictions undertaken as part of the E.U. fiscal discipline treaty.
Hollande, although stepping away from Sarkozy's close partnership with Merkel, has carefully preserved cordial relations. In other ways as well, his handling of the "Merkozy"-imposed fiscal treaty has provided a window into his governing style.
As a candidate, Hollande denounced the treaty as an instrument of hardship for the working class and vowed to renegotiate it if elected. But once in office, he signed it as it stood, accepting the requirement that deficits be reduced to 3 percent of gross domestic product by this year and zero within two more years.
Unable to reach the 3 percent goal without even more painful cuts and taxes, however, he petitioned the European Commission in Brussels and early this month obtained a two-year extension. Although he finagled the extra breathing room, Hollande was careful to emphasize that France was still bound by the E.U. deficit reduction obligation.
'Reasonable path'
The maneuver has pleased neither the right nor the left. But Hollande's middle-line policy, often referred to as Scandinavian-style social democracy, drew praise from at least one supporter: the popular musician AndréManoukian. "Today, this seems to be the reasonable path, even if it is not very sexy or even very spectacular," he said in an Internet comment.
Le Monde, the paramount French newspaper, also endorsed Hollande's determination to avoid austerity while prudently paring back the deficit with added taxes and limited budget cuts. In a front-page editorial, Le Monde described Hollande's neither-nor policy as unprecedented for a Socialist president.
Although he had never held high office, Hollande has his own experience to guide him. He was a young economic adviser to ­François Mitterrand, the Socialist who became president in 1981 and set about nationalizing major industries in alliance with the Communist Party. The result was disaster; two years later, Mitterrand made a U-turn, starting a wave of privatization that turned Socialist doctrine on its head.
But Nathalie Durand-Prinborgne, a Workers' Force union delegate at the sprawling seaside shipyards here, said nationalization is still the only way to guarantee the future, because the government is necessary to arrange financing for such large investments as a ship. Without the government and its investment tax credits, she said, the St. Nazaire shipyards would never have snagged the Royal Caribbean contract, which provides three more years of work.
"For me," she said, "nationalization is the only way to keep this site alive."
uk-not-eu wrote:
5/16/2013 12:53 PM EDT
You have to be pretty far out on the loony left to think that Hollande is anywhere near the centre ground. A bit like saying Marine Le Penn is in the centre because she hasn't actually started putting people in cattle trucks yet. Of course the truth is that the centre ground has collapsed under the weight of it's own corruption and lies and the people of Europe are polarising under the populist banners again. We are all reverting to type. The Germans are endlessly stomping about telling other people what to do and calling those at the back lazy. The French are giving themselves pay rises and pretending that there is no crisis whatsoever, and if there is one it's all the fault of the barbarian English and if they pass enough anti "Anglo Saxon" laws and taxes then it's problem solved. The British are trying desperately to pull up every draw bridge and hide behind the channel shouting "I say that's against the rules, foul, not cricket" while furiously trying to be nice to the Americans. And the Italians elected a comedian and shot some police. Honestly we are all acting like a sketch writers parody of ourselves. I would laugh, but we all must know the ending by now.

www.washingtonpost.com/world/europe/francois-hollande-frances-socialist-leader-is-steering-a-middle-line-path/2013/05/16/7d67533a-b98b-11e2-92f3-f291801936b8_story.html
Restoring Sea and Romance to a French Treasure
Agnes Dherbeys for The New York Times
Tourists leaving Mont-St.-Michel, where a $285 million project to remake it into an island has generated confusion and anger.
By STEVEN ERLANGER
Published: April 23, 2013
MONT-ST.-MICHEL, France — A dispatch in The New York Times in August 1944 described the view of Mont-St.-Michel that American soldiers saw, "racing their tanks across the Norman hills into Avranches." Built "for war as well as worship," the writer noted, the Mont "seems to float on the sea as gracefully as a ship under full sail, catching all the changing colors of the clouds."
But in the years since then, the sea has dumped tons of silt around the island, slowly attaching it to the land. The main culprit appears to be a solid causeway, built in 1879, that linked the monastery to the mainland but disrupted the movement of the waters. The problem was worsened in 1969, when the government built a dam on the Couesnon River to protect farmlands from high tide, but one result was to further reduce the power of the river to push the silt back into the sea.
For Henry Adams, writing at the start of the 20th century, the Roman Catholic churches at Mont-St.-Michel and Chartres were the sublime symbols of a medieval unity of vision, founded on God, which he contrasted to the industrialized confusion of his time. Those churches, he wrote, expressed "an emotion, the deepest man ever felt — the struggle of his own littleness to grasp the infinite."
When not jostled by crowds of tourists in the town's cramped streets or distracted by the gift shops and ticket touts for private museums, a visitor can still feel some of that awe, especially at dawn and dusk, when the light spreads over the salt flats and the sea, or streams through the cloister and stained glass of the Abbaye du Mont-St.-Michel, known as La Merveille since at least the 12th century.
Despite its hundreds of steep steps, the abbey remains France's fourth-most-visited national monument, the most popular outside of Paris, with about 1.3 million paying visitors a year. That is more than half the 2.5 million visitors who come to Mont-St.-Michel annually. At the abbey — where there are only 13 nuns and monks now — 55 percent of the visitors are foreigners. But the number of visitors to the Mont and the abbey is declining, down 9 percent last year, and the reason is not simply the global economic crisis, particularly acute in Western Europe.
A $285 million project to restore the sea to Mont-St.-Michel, and consequently to move cars away from its base to parking lots nearly two miles away, has created confusion for tourists. It has also created local warfare between businesspeople and the local government in a place with fewer than 90 voting, year-round residents that echoes earlier fights over the island between Normandy and Brittany.
The project to restore the Mont to the sea was first approved in 1995, and work started 10 years later. But it is only now touching the commercial heart of the town. Just this month, there were angry demonstrations at a meeting to review and revise how visitors are transported from the parking lots. Most contentious, the price of parking was increased to $16 from $11, which was already up from the $6.50 that locals, known as the Montoise, were accustomed to paying in the sometimes sea-covered lots at the base of the Mont.
The fixed causeway that blocks the tidal movement will be replaced by a curving bridge that will appear to float on the water. The tip of the bridge will be inundated by spring high tides for a few hours a few days a year, symbolizing the island.
The original idea was to leave passengers more than half a mile from the island, so they could walk over the oak planks of the new bridge and experience the sense of pilgrimage of the past. But merchants argued that the walk was too long and too slow, and that locals who like to come for a drink or dinner overlooking the sea would be put off.
Instead, the shuttles will come to within about a quarter of a mile, still requiring a walk. But the extra distance meant more shuttles and extra costs that increased the parking fee.
Cyrille Guillaume, the maître d'hotel of the Auberge St.-Pierre, said that receipts were down 30 percent in the evenings, and "at least half of the 30 percent comes from the new difficulty of access." He compared the new system to "a hostage taking," saying that "if access is bad, business is bad."
Jean-Marc Bouré, the state-appointed administrator of the abbey, is also troubled. He supports the project to restore the sea and the beauty of the Mont, to bring "order" to the visiting process and to stop "the invasion of cars and buses." But he, too, complains about the drop in visitors, and consequently of revenue, which flows to the state's Center for National Monuments.
The mayor, Éric Vannier, who owns numerous businesses here, opposed the new shuttle plan and the higher parking price, but says that the French will complain about any changes, no matter how beneficial. "We're in France, and anything that changes anyone's habits a priori we don't like. But those same people in a few years will see the beauty of the site, and this moaning will disappear."
Mr. Vannier began to discuss the desilting project in 1983. "It's much bigger than this focus on the shuttles," he said. "It's an environmental project to preserve the magical effects of the tides, so it becomes again what it was a century ago, this marvel of the West in the middle of the sea."
Christophe Maisonobe, the operational director of the project, said the restoration was already beginning to work. A pretty new dam on the Couesnon was finished in 2009, with eight hydraulic gates that work in both directions (and that include fish ladders for salmon). The dam stores water to allow it to flow outward for a greater duration during low tides, to shove more sediment out to sea. To aid the process, two channels have been built that curve around Mont-St.-Michel. At the same time, workers are clearing out silt and vegetation from the upstream banks of the Couesnon to allow more water to flow.
"It's working better than we expected," Mr. Maisonobe said. The salt marshes have already retreated about 2,000 feet, he said, as the river does its work. But he cautioned that it is only when the new bridge is finished and the old causeway is finally destroyed sometime in 2015 that the full process of desilting will begin. Without the project, he said, the Mont would have been completely landlocked within 30 years.

www.nytimes.com/2013/04/24/world/europe/restoring-the-sea-and-the-romance-to-mont-st-michel.html
From Alsace, Sweet Love for the World
Hannah Olivennes
Christine Ferber, left, is the chef behind La Maison Ferber in the Alsace region of France. Called the ''Jam Fairy'' by friends, she is personally involved with all the company's creations.

www.nytimes.com/2013/04/24/fashion/24iht-rjam24.html
France: Languedoc-Roussillon – a taste of the south, sans the hordes
In Sète "you sense the energy of the unfiltered Mediterranean, the one where no one gives two hoots for Paris Hilton"
Photo: AP
http://www.telegraph.co.uk/travel/destinations/europe/france/9864213/France-Languedoc-Roussillon-a-taste-of-the-south-sans-the-hordes.html
Beyond wine, take a spirited journey across France
January 28, 2013|By Mary Ann Anderson, McClatchy-Tribune News Service
Light mist cloaked the ancient hills in Upper Normandy, and from somewhere within this tapestry of seaside cliffs and pastures of flowers, I expected a fire-breathing dragon or a white-haired wizard muttering ancient incantations would come bounding out of the forest at any moment.
Upper Normandy, in the northwest corner of France, is just the place that would summon a dragon or wizard or two with its castles, monasteries, moats, and stone fences. But it also summons spirits, the kind you find in a bottle, not those wafting from a vat of eye of newt and toe of frog.
If you've wined your way across Bordeaux, Burgundy, and Beaujolais sampling the vins yet still want to experience France by the glass, there are plenty of places to go one step further on a sniff-and-swirl journey to taste France's distilled spirits.
With snifter in hand, off went our tour group in a spirited journey across France.
After feasting on the most divine scallops at the chic restaurant Les Terre-Neuvas in Fecamp, a lovely Normandy town edging the English Channel, we visit first Palais Benedictine, where the herbal elixir DOM Benedictine has been produced since the 19th century.
There, we learned that Benedictine's recipe of 27 different herbs like hyssop, juniper, and saffron is so closely guarded that only three people in the world at any given time know it.
As much art gallery as storied history, the Palais Benedictine, perhaps the world's most ornate distillery with its hypnotizing part-Gothic, part-Renaissance architecture, is all stained glass, venerable spires, and lush gardens.
From Fecamp, the bus rumbled to Rouen for an overnight at the Hotel de Bourgtheroulde and dinner at La Couronne, dating to the 14th century and where Julia Child had her first meal in France. She proclaimed the cuisine, flavorful sole meunière, as "heaven to eat." Choosing the fish, I had to agree with her, our intrepid travelers toasting the evening with a lovely glass of Benedictine and champagne.
Before leaving Rouen, a city crammed with churches dating to the 4th century, we walked to an unassuming grassy rise on the Place du Vieux Marche, where Joan of Arc was burned at the stake in 1431. Afterward, we stopped in at the Rouen Market for fresh cheeses, sausages and fruits for the ride to Angers in the Loire Valley and Cointreau.
Cointreau, blended with a mélange of sweet and bitter orange peels, is the candy-like confectionary liqueur added to margaritas and cosmopolitans. Carre Cointreau, in its honor, is a museum, heritage center and distillery all combined into one happy place.
Brightly lit everywhere with Cointreau's signature gleaming orange and shiny copper stills, the distillery is like a theme park for spirits and definitely worth a visit, especially if you like the marvelous liqueur.
Leaving the Loire Valley, we pass fields of sunflowers, their blossoms reaching to the sky, and untold acres of rolling vineyards. Finally we arrive in the town of Cognac on the banks of the Charente, a river once described by King Henri IV as "the loveliest stream in my kingdom."
After checking in Chateau de L'Yeuse, a charming and historic hotel overlooking the Charente, and then fed by a hunger for arts and culture, we took a walking tour of Cognac. Ambling along its cobbled streets, we learned of its history deeply rooted in Celtic and Gaelic culture and stopped by the Musee des Arts due Cognac before visiting our first stop, Hennessy.
"In Cognac, you hear three things," begins Hennessy's Laurent Lozano, walking us through the distillery, "and those are tradition, history, and respect. It's all a very important part of the process."
He explains that cognac is produced only in this corner of France and nowhere else on earth. The air is humid and the soil chalky and easily drained, which are secrets to growing good cognac grapes.
The art of cognac, which translates to "eau-de-vie" or "water of life," is really aging and blending flavors with only white grape wine and which produces undertones of honey, vanilla, and oranges. The cognac then slumbers in oak barrels to maturity.
There are good years and bad when it comes to producing cognac. "When it comes to a good year for cognac and its harvest," says Hennessy ambassador Cyrille Gautier-Auriol, pointing to the sky, "the answer is always from God. God decides."
Remy Martin, makers of the signature champagne cognac, was our next stop. Here, you can take part in its Rendez-Vous program, which takes you to the estate, the vineyards, and cellar tastings complete with three meals.
"Many, many things will remain exactly the same as a hundred years from now, and just as they were a hundred years ago," says our guide as he led us through the essentially unchanged process of making cognac.
In Jarnac, we visited Courvoisier, the cognac of Napoleon, and were treated to a tour of the Chateau Courvoisier Museum, where the emperor's great coat, one of his hats, and even a lock of his hair are on display.
Courvoisier offers several tours, including Cognac and Truffles, a day-long treat that includes lunch and tastings.
One of the oldest major cognac houses is Martell, dating to about three centuries ago. More than 20,000 guests a year are welcomed through its visitor center, where the story of cognac is told through exhibits and 200 years' worth of handwritten archives.
And it is at Martell where I learned paradise isn't all it's cracked up to be. Instead of angels and fluffy clouds, it's much dustier and dirtier than I imagined.
Paradis, the French spelling, is more of dark, damp dungeon-like cellar where the oldest and best cognacs are kept for aging. Instead of brushing against gossamer wings, you're more likely to encounter gooey cobwebs and black mold.
"That's the angel's share," our guide explains in good-enough-but-not-perfect English and pointing to the ink-colored mold. "It feeds from the fumes, the alcohol that evaporates from the cognac as it ages. It's like black velvet."
Gathered around myriad barrels full of cognac quietly aging in oak casks, we raised a glass of cognac to France's happy angels

http://articles.orlandosentinel.com/2013-01-28/travel/vs-travel-spirited-france-20130128_1_place-du-vieux-marche-loire-valley-beaujolais
A rare look behind the walls of Palace Pompadour
By Morgan Brennan | Forbes.com – Fri, Mar 29, 2013 9:26 PM EDT
France's Loire Valley is, of course, famous for its regal chateaux. One can meander through the more than 500 rooms of the Chateau de Blois, see Leonardo da Vinci's tomb in the Chateau d'Amboise or simply behold the river-spanning architecture of Catherine de Medici's Chenonceau.
But there is one estate that sits quietly behind gates seldom opened to anyone. A reclusive philanthropist's personal trophy, it is the valley's only fully privately held royal chateau–a stone structure with nearly 200,000 square feet of living space on 118 acres of sculpted gardens on the banks of the Loire River. It is known as Chateau de Menars.
Menars is owned by a 76-year-old press-shy introvert named Edmond Baysari. For Baysari the chateau is the ultimate labor of love, costing him three decades and more than $100 million to restore. More important, it's a tribute to his lifelong muse: Madame de Pompadour, a renowned grande dame of the arts and the chateau's former inhabitant (as well as the chief mistress of King Louis XV, Marie Antoinette's father-in-law). Baysari refers to his chateau as "Palace Pompadour."
Portraits of Madame de Pompadour populate the estate, carved into stone statues and painted in oil.
The estate at Menars was among her last works, acquired in 1760. Pompadour enlisted court architect Ange-Jacques Gabriel–who designed Paris's Place de la Concorde–to build her dream home, refurbishing the original chateau, which had been built in 1642. Pompadour never saw Menars to completion; she died in 1764, at age 42, from tuberculosis. Her brother completed an addition; then the chateau sat quietly, weathering the French Revolution and thwarting the attentions of property developers and would-be tourists, for the next two centuries.
Forbes was able to take a rare look around inside the chateau. Yahoo! Homes is publishing an abbreviated version of the story and photos here; to see even more, visit Forbes.com:
In 1980, when Baysari heard from the chairman of Sotheby's that the chateau was for sale, he pounced.
He mulled over what to do with Menars before inspiration struck in 1989. "I decided I wanted to make a gift to Madame de Pompadour and put it back to the way she would have it if alive today," he says. But "restoration" doesn't fully encompass his painstaking efforts. It wasn't enough to refinish the intricate wood paneling adorning the walls of rooms or to touch up the gold leafing gleaming from ceilings; Baysari set out to revive Menars by employing the very same methods utilized by Pompadour.
Baysari returned the wings' large galleries to their original purposes of displaying artwork. He furnished the estate in original 18th century French antiques and employed artisans to authentically restore rooms and their finishes in the style utilized during Pompadour's time. Rather than adorn the walls with historical works from the time period, however, he has commissioned up-and-coming artists to paint and sculpt new works, just as Pompadour originally did:
Baysari uses the palace as a summer retreat, occupying it sporadically in the months of July and August. He once experimented with opening Chateau de Menars to the public for tours, until the estate was burglarized. Still, if a group wishes to arrange a tour, he often obliges them.
Now Baysari is looking to the future. He has no heir. He says he has already turned down several nine-figure offers from Russian and Middle Eastern billionaires looking for a trophy home. But that's not what he has in mind. Ideally, Palace Pompadour will be gifted to an arts institution, like the Getty Museum or the Hermitage, that "brings all of the assurances that it will be safe for a long, long time." And it will require some deep pockets: Annual upkeep on the chateau is roughly $1 million.
A new owner will also find three rooms that Baysari has purposely left unrestored: the ground-floor apartments that served as Madame de Pompadour's bedrooms. "I don't want to do it. I don't think I'm qualified," he says, laughing shyly. "I would rather that when she comes back, she does it herself."
To see the full story and even more pictures of Palace Pompadour, visit Forbes.com:
http://homes.yahoo.com/news/a-rare-look-behind-the-walls-of-palace-pompadour-012608347.html
www.telegraph.co.uk/property/luxuryhomes/9787857/Amazing-affordable-chateaux-for-sale.html
More than 400 €1million homes put on the market in Paris since socialist Francois Hollande elected to power
Selling 'panic' on France's luxury property market as millionaires rush to flee looming tax hikes
France's super-rich are looking to relocate to 'wealth-friendly' countries like Britain
Recruitment agency for high-paid banking jobs in London sees increase in French candidates

www.dailymail.co.uk/news/article-2214595/More-400-1million-euro-homes-Paris-market-millionaires-flee-Hollandes-socialist-tax-hikes.html
An Englishman's home is his chateau: Potential bargains for Brits as bottom falls out of French second home market
A second home in the country is a luxury the French can no longer afford – cue an invasion of British bargain hunters?
JOHN LICHFIELD PARIS TUESDAY 09 APRIL 2013

€27,000 Croze, in Creuse in south-western France: A nicely converted old three-bedroom house with a small garden in a pretty village in one of the most beautiful, and empty, départements in France
If it is your dream to own a country house in Normandy or a cottage near the sea in Brittany, your moment may have come; the bottom has fallen out of the market for second homes in France, according to a study.
The price of property in some beautiful rural areas – such as Creuse and Périgord in the south west or Morvan in northern Burgundy – has fallen by up to half in the last five years.
Even luxurious villas by the sea on the Mediterranean or Atlantic coasts are going relatively cheaply, according to a survey by French property lawyers. They speak of an "unprecedented crisis" in the sale of second homes in France, provoked, partly by the global economic slowdown and partly by a change in the French law on capital gains tax and residential taxes.
But there is also another, possibly even more significant, sociological explanation, they say. The French have fallen out of love with their second homes and "le weekend" in the country.
Jean Dugor, president of the Breton notaries and author of the report, says that "the days are disappearing when several generations of a family would gather in the country home for a holiday or weekend".
The high divorce rate, the reluctance of teenage children to leave their computers or friends in town and the cost of maintenance are all factors, he says, in undermining the market for the estimated 3,000,000 second homes in France.
"Women are working more…and marriages are less stable than they were," Mr Dugor said. "It used to be that the wife and children would open the shutters on 1 July and the house was alive for at least two months." Now, he says, families prefer to explore a new holiday haunt each summer rather than "root themselves in one place for 30 years".
The slump in country house sales began with the financial crisis in 2008. It has been intensified, the report says, by a bewildering series of constantly-changing proposals to increase capital gains and residential taxes on second homes in France. Although the impact of these taxes has now been somewhat softened, many British and other foreign would-be buyers have been scared away.
Benoît Verdet, of the Emile Garcie estate agency in the French Basque country, said: "Foreigners are now only 30 per cent of our buyers, compared to 60 per cent before 2008. The remaining buyers are mostly older people wanting somewhere to retire."
The fall in prices of holiday homes has been felt in all but the most chic areas, such as the Côte d'Azur, where Russian money keeps the market buoyant. The collapse has been especially acute in pretty, inland areas of France, such as Creuse, a green and hilly departement in the country's south west, which is particularly popular with British visitors.
A rapid survey of homes for sale in Creuse found dozens of possible bargains including one village house, admittedly rather tumble-down, on offer for €13,000 (£11,000).
Parts of the upper end of the market are also suffering. A huge villa overlooking the Gulf of Morbihan in southern Brittany was recently sold for €700,000 (£596,000) – a 30 per cent discount on the original asking price. At Cap Ferret, a trendy Atlantic peninsula west of Bordeaux, "only 50 second homes have been sold in the last 12 months," said Mr Dugor. "That's derisory."
In many country areas, the number of transactions for second homes has halved. "Only the market for properties well below €200,000 is showing any sign of life," Pierre Bazaille, president of the national institute of property notaries, told Le Monde.
In villages on the beautiful Morvan plateau in northern Burgundy, smart houses once worth €250,000-300,000 (£213,000-£255,000) are selling for €160,000 (£136,000). Much the same is reported in Perigord and the Lot – two areas of the south west favoured by British visitors and buyers.
However, some chic areas are resisting the trend, according to Le Monde: Deauville on the Calvados coast in Normandy, Biarritz on the Basque coast and the Vendée area, just south of the Loire.
Though that still leaves plenty of France on sale at knock-down prices.

www.independent.co.uk/news/world/europe/an-englishmans-home-is-his-chateau-potential-bargains-for-brits-as-bottom-falls-out-of-french-second-home-market-8566497.html
"As it is, Hollande's policies rely on the political view that Orwell believed he discerned in Dickens, the notion that rich people should be nicer and more amenable to taxation, and that were this the case all would turn out for the best.
This is not likely to happen soon. France's economic course makes bankruptcy under the present system likely, her political course makes it inevitable. She is too large to be bailed out, but will eventually need to print currency to honour her debts. To do that she will need to leave the euro."
http://blogs.telegraph.co.uk/finance/thomaspascoe/100018992/why-france-is-on-the-road-to-becoming-the-new-greece/
French capital flight spikes as Hollande hits business
France suffered a surge of capital flight over the autumn as president Francois Hollande pushed through a raft of tax rises and stepped up his campaign against the rich.
Mr Hollande's `soak-the-rich' campaign and a 75pc millionaire tax has erupted into controversy since comedian Gérard Depardieu renounced French citizenship and decamped to Russia in protest, egged on Brigitte Bardot.
Photo: AP
By Ambrose Evans-Pritchard
10:30PM GMT 13 Jan 2013
Fresh data from the Banque de France show a sudden rise in outflows in October and November, registered in the so-called Target2 payments system of the European Central Bank.
Simon Ward from Henderson Global Investors said the net loss of funds was €53bn (£43.8bn) over the two months, roughly the period when Mr Holland unveiled a string of tax rises and suffered a collapse in relations with French business.
A key gauge of the French money supply — six-month real M1 — has been contracting at an accelerating rate ever since Mr Holland's election in May.
It has fallen to levels last seen in the depths of the crisis in 2008. France's money data is now flashing more serious warnings than numbers in Italy or Spain. "Taken together, it is clear that there has been a major loss of confidence and funds have been pulling money out of the country," said Mr Ward.
While France is at no serious risk of a debt crisis, it has been bumping along at slump levels for two years with the youth jobless rate rising to a record 27pc.
The economy may have tipped into recession already even before Paris embarks on fiscal tightening of 2pc of GDP this year to meet EU deficit targets. Analysts say the "double whammy" of tax rises and monetary contraction could prove a toxic mix in 2013.
Mr Hollande's `soak-the-rich' campaign and a 75pc millionaire tax has erupted into controversy since comedian Gérard Depardieu renounced French citizenship and decamped to Russia in protest, egged on Brigitte Bardot.
Yet the bitter stand-off between France's Socialist leader and French business is a greater concern. An alliance of private sector groups issued a "State of Emergency" alert in October.
The employers group MEDEF said business was "in revolt across the country", warning that bankruptcies were accelerating and firms were slashing investment.
"Large foreign investors are shunning France altogether," it said.
Mr Hollande has sought to rein in his industry minister Arnaud Montebourg, who first lashed out at the Peugeot family and then threatened to nationalise ArclerMittal's steel operations in Lorraine, describing Lakshmi Mittal as "unwelcome" in France.
The government has since embraced the "Gallois Plan" calling for a competitiveness shock, but the country faces deep problems after putting off hard decisions for years.
The state's share of the economy has risen to Nordic levels of 55pc of GDP, without Nordic labour flexibility.
The International Monetary Fund warns that France risks being left behind by Spain and Italy as they cut costs and grasp the nettle of deep reform.

www.telegraph.co.uk/finance/9798891/French-capital-flight-spikes-as-Hollande-hits-business.html
France drowning in rules and regulations, critics say
Edward Cody/TWP –
The Mayor of Albaret-Sainte-Marie has ordered to rip out this sign and replace it because local bureaucrats require the sidewalk to be free of obstacles.
By Edward Cody, Published: April 16
ALBARET-SAINTE-MARIE, FRANCE — Although he is rich with 25 years of experience as mayor of this little town in the wooded hills of central France, Michel Therond gets advice from the bureaucrats in Paris almost every time he opens the mail.
One day's delivery brings a directive stipulating that the sidewalks must be widened to permit two wheelchairs to cross paths without bumping. Another says the school cafeteria must be made accessible by elevator. Trees must be trimmed of branches six feet up their trunks, the orders go, and only government-certified technicians can change a light bulb on city property.
"We are being strangled," Therond complained, sifting through a pile of rules and regulations on his desk that he largely ignores — and many of which he does not even understand.
France and its southern European neighbors, such as Italy and Greece, are increasingly being buried in such norms, rules and directives. In the past two decades, the number of legal do's and don'ts has become so great that businessmen and economists warn that it is smothering growth just as the continent tries to dig out of its worst slump in a generation.
Comparisons are difficult, but among other advanced economies, the United States, Britain and the Scandinavian countries, which have more hands-off traditions of government, generally suffer less from such excessive regulation, according to assessments by (OECD).
The regulations almost always flow from a desire to meet recent and broadly accepted social goals, such as environmental protection, accident prevention or access for the disabled. But as lawmakers pass more legislation and bureaucrats scribble more implementation orders, specialists say, the result looks like a vast straitjacket holding back economic activity at a time when Europe needs it most.
A report prepared for the French government last month estimated that the country is squirming under 400,000 norms and rules, ranging from orders to school cooks on the amount of boiled egg a kindergartner can eat at lunch — half an egg — to precise requirements on how far mailboxes can stick out from the wall. The directives have cost little towns in France, such as Albaret-Sainte-Marie, more than $2.5 billion over the past four years, the report estimated.
Applied to business with equal bureaucratic fastidiousness, such rules and regulations prove even more expensive in the private sector. They cost the 27 European Union countries an average 3.7 percent of their gross domestic product a year, more than $10 billion in the case of France, and hold back an incalculable amount of new investment, according to the OECD.
"The country is in danger of paralysis," warned Alain Lambert, head of the French government's Consultative Commission on Evaluation of Norms.
Therond said the problem has grown acute because France increasingly has a mind-set in which all risks must be eliminated, what is called "the principle of precaution." "But you just can't do that," he objected.
Lambert agreed. "We must temper the principle of precaution to restore to French people their right to risk," he said on delivering his report.
Pledges of change
Christophe Brunel, who runs the Hotel du Rocher Blanc across the road from City Hall here, said new regulations for wheelchair access, sanitation and fire prevention that come into effect in 2015 would cost him about $1.5 million to carry out, more than the century-­old hotel is worth. The rules, he said, would require him to enlarge corridors and stairways, put in elevators, change doors, update rooms and remodel the kitchen, destroying the charm — and the budget.
"Eighty percent of small independent hotels in France cannot meet these requirements," he said, suggesting that airport-style chain hotels will be the only lodgings left if such norms are applied.
Reacting to expressions of concern, President Francois Hollande promised last week that his government would carry out a "simplification shock" to reduce the overload of rules and regulations. His prime minister, Jean-Marc Ayrault, called in ministers, formed a committee and pledged a purge. But most French people only smiled, recalling that similar promises have come from all of Hollande's predecessors since Charles de Gaulle.
A big part of the problem is public demand. After revelations last month that some meat labeled beef in prepared dishes was actually horsemeat, for instance, Hollande's government was called on the carpet for inadequate regulation of the wholesale meat market. The consumer protection minister, Benoit Hamon, responded with promises of more regulations and tighter inspections.
Another source of overregulation is the "mille-feuille" of government, the layers that start with municipalities, then cantons, and on to inter-communal bodies, departments, regions, parliamentary representation and ministries. Each level plays a role in imposing norms, sometimes contradictory. But with various government bodies providing 23 percent of the jobs in France, talk of reducing the overlap is largely ignored.
The OECD has recommended that just abolishing departments would produce substantial savings. But in addition to boosting unemployment, such a move would rob the central government of its major channel for exercising authority throughout the country since Napoleon's time, anathema in a highly centralized system.
"We have a territory that is layered like lasagna," said Maurice Leroy, a rightist legislator who has joined the call for abolishing departments, "which is not an Italian specialty but a French specialty."
Bureaucratic layers
Towns and villages such as Albaret-Sainte-Marie were encouraged in recent legislation to form inter-communal committees to pool resources on such matters as water purification or recreational facilities. Despite the logic, all the new law did was add another bureaucratic layer, according to Herve Boulhol, who heads the OECD's French desk.
Therond said the most outrageous directive to hit his desk recently was a March 28 explanation from the departmental prefecture, 20 pages replete with color-coordinated graphics, of how the area's inter-communal towns and villages are to organize local elections scheduled for next year. The prescriptions are so detailed and arcane, he protested, that he would have to be a constitutional lawyer to understand what the prefecture was driving at.
"Look at this," he said, fingering the thick sheaf of papers. "I defy you to understand what they mean. Nobody could possibly understand it."
The directive joined a pile of papers filed away without action by the City Hall secretary, Alain Chastang.
Perhaps more seriously, recently revised rules for building permits have imposed so many additional requirements that construction has been slowed to a trickle since the beginning of the year just as authorities are trying desperately to find jobs for the unemployed, Therond said.
The town's activities center, for instance, is in need of renovation. But Therond is unable to fix it up because it is on a slope and wheelchair access — with the grade level minutely regulated — would be impossible without a ramp stretching out into neighboring property.
The second-floor cafeteria for Albaret-Sainte-Marie's 70 students will have to be moved to the ground floor, he said, because the cost of an elevator would be prohibitive for a community of 600 residents with an operating budget of just over $500,000.
Another regulation that brings a rueful smile to Therond's face has to do with water.
The community, high in the Massif Central hills, is blessed with natural spring water. But inspectors found recently that the town's main spring had absorbed too much salt from anti-snow treatment on a nearby highway.
No problem, Therond said, we'll just dig another spring. But wait, the bureaucrats said, experts have to test the new spring for a year before it can be used.
Result: The salty spring water still flows into residents' homes, and Therond has taken to drinking bottled mineral water to prevent hypertension.

www.washingtonpost.com/world/europe/france-drowning-in-rules-and-regulations-critics-say/2013/04/16/4a18bb32-9dd3-11e2-9a79-eb5280c81c63_story.html

www.dailymail.co.uk/news/article-2312518/Thousands-streets-Paris-protest-legalisation-gay-marriage-set-pass-week.html
French historian kills himself at Notre Dame Cathedral after gay marriage rant
Far-right essayist Dominique Venner, 78, shoots himself at altar after writing blogpost condemning same-sex marriage law

www.guardian.co.uk/world/2013/may/21/french-historian-kills-himself-notre-dame-gay-marriage
French protesters march in 'resistance' to austerity
Thousands take to the streets of Paris in move described by government minister as 'fundamental error'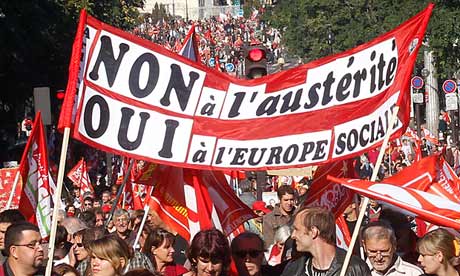 Protesters carry a banner reading 'no to austerity' at a march in Paris.Photograph: Michel Euler/AP

www.guardian.co.uk/world/2012/sep/30/french-protesters-march-resistance-austerity
France's Socialist 75 percent tax rate is economic suicide
http://blogs.telegraph.co.uk/news/nilegardiner/100182875/frances-socialist-75-percent-tax-rate-is-economic-suicide/
Moment of truth for Hollande as government unveils €30bn of increased taxes and spending cuts

www.independent.co.uk/news/world/europe/moment-of-truth-for-hollande-as-government-unveils-30bn-of-increased-taxes-and-spending-cuts-8182340.html
Sunday 7 April 2013
France is losing patience with its 'Mr Normal' president and his anti-austerity policies

www.independent.co.uk/voices/comment/france-is-losing-patience-with-its-mr-normal-president-and-his-antiausterity-policies-8563294.html
Will Chief Hollande Lead?
By JOHN VINOCUR
Published: April 2, 2013
Paris
WHEN a TV interviewer asked François Hollande last week to comment on what the reporter said much of the nation was thinking — whether the president has enough personal authority to lead the French out of a black pit of no growth, joblessness and blocked perspectives — the journalist might well have attached a follow-up.
It would have raised the issue of whether Hollande himself believes that his constituents (world champions of pessimism according to a BVA-Gallup International poll of 51 countries in 2011), whose positive view of the future of French society now runs at 29 percent, have the resolve for deeper, bitter gulps of the medicine of change.
Other than describing himself as the "chief in this battle," Hollande never really addressed his own authority. But he furnished a glancing reply to the question about the extent of the French taste for further attempts at reform in the face of new projections of declining growth and deepening deficits that break the government's commitment to meet the European Union's consolidation targets this year.
The Socialist president said that France under his leadership already has the toolbox of measures it needs to reverse its 10.6 percent unemployment rate — suggesting that he was unwilling to challenge the country's most hard-nosed labor unions in a blood-sweat-and-tears test of the French capacity for pain.
How come?
Suppose that a significant part of the problem lies with the citizenry, who for decades chose to believe — and why not? — a political class seeking to protect its hand on the status quo by defending the concept of a France where, minus a few nicks, all is for the best in the best of all possible worlds.
According to Pascal Lamy, director general of the World Trade Organization, the big problem lies here. A French Socialist, Lamy has urged accelerated economic reforms. But, in an interview with French media, he added: "I think the French don't want them because they don't see what they would bring them. The French believe they're an island of temporary happiness in a world of catastrophes."]
Jacques Julliard, a left-wing political commentator who has written a history of the French Left, makes a similar, if harsher point about his compatriots. Turning France around, he has said, involves "reversing the trajectory of a country which has accepted no longer being in the front rank, which has consented to its own humbling, and which refuses to make sacrifices."
Julliard hardly considers Hollande the cause, but describes him as not "sufficiently prophetic or adventurous" to engineer the turnabout.
Of course, this is not just a matter of 10 months of limited response by the left.
Ten years ago, Nicolas Baverez, a conservative economist and essayist, wrote that the entire French leadership class "cultivates status quo and rigidity" resulting in protectionism, narrow definition of French interests, and a disinclination to transfer significant sovereignty to the European Union.
Nicolas Sarkozy subsequently came to power having preached the necessity of a "rupture" in this society, meaning a total, cost-conscious makeover of the French social model, an end to the negative, anti-competitive symbolism of France's 35-hour workweek, and a plan for affirmative action à la française to combat the estrangement of France's Muslim community from integration and more assimilation.
But once in office, and not willing to challenge his own changed sense of the electorate's desires, he abandoned the affirmative action talk, and never officially removed the 35-hour week's monument to French exceptionalism. Running for re-election, he tried and then threw out campaign references to German economic and labor market standards as his economic goals. They were too much to ask of French voters.
Indeed, Sarkozy wound up projecting himself more as a protector of the French social model than a reformer.
With Hollande in charge, this leaves the French with what the French historian and novelist Max Gallo described to me as the mind-set of a "retiree of independent means." And what Alain Minc, an economist who served as a close adviser to Sarkozy, calls a "fragile country without a compass. In its own way, it is sicker than Italy because of the inefficient French productive apparatus."
What to do? With a major demonstration of authority, Hollande could start pushing the French by calling on the full institutional powers of the presidency in the manner of François Mitterrand's historic course reversal when he turned away from Socialist economics in 1983.
It would require a bold, exemplary act with universal symbolism, like officially abolishing the 35-hour workweek. It would require practical measures like lower taxes, and much greater flexibility in the French labor market. Moreover, it would take Mitterrand's willingness to face down strikes and political turmoil, and demand vast political courage of Hollande.
Could it happen? Take this as an answer: When Hollande was asked on television last week about future levels of public spending, he replied, "We're going to make savings in 2013 so that there won't be any more effort required by the French."
www.nytimes.com/2013/04/03/opinion/global/will-chief-hollande-lead-france.html
In France, Hollande's honeymoon period ends


ERIC FEFERBERG/AFP/GETTY IMAGES – French President Francois Hollande delivers a speech during a hight level event on the Sahel at the UN tribune on Sept. 26,2012, at the UN General Assembly in New York.
By Edward Cody, Published: September 26
PARIS — After a swell of euphoria over President Francois Hollande's electoral victory in May and a blissful timeout for summer vacation, France is coming to grips with a harsh reality of high unemployment, tax increases and budget cuts imposed by a flat-
lining economy and Europe's perilous debt crisis.
The realization that tough times lie ahead was slow in coming in part because, during the election campaign, Hollande decried austerity measures outlined by President Nicolas Sarkozy and suggested that renewing economic growth was the best recipe for paring down the debt. Moreover, Hollande promised to renegotiate a treaty committing European Union countries to limiting their debt to 3 percent of gross domestic product, raising hope that the economic discipline implied in such a goal could be bypassed.
But once installed as president, Hollande settled for a side agreement bundling several previously funded E.U. growth programs with limited impact on the slumping economies of the union's 27 member nations. Now it is Hollande's own finance minister, Pierre Moscovici, who is insisting that the treaty must be ratified as is and pledging that his austerity policies will bring France's debt level from 4.5 percent to 3 percent during the next year.
The feeling of doldrums has crystallized in recent days over Moscovici's 2013 budget, which is scheduled to be adopted at a government meeting Friday and presented to the French Parliament for a vote early next month. In it, one figure stands out: the nearly $40 billion needed to balance the budget enough to come close to the 3 percent figure called for in the E.U. fiscal treaty.
In addition, Labor Minister Michel Sapin acknowledged Wednesday what specialists already knew: Unemployment has topped 3 million people, a rate of about 10 percent, and a growing number of companies are announcing layoffs because of zero growth.
Hollande has promised that the budget shortfall will be met from three roughly equal sources: cutbacks in government expenditures, higher business taxes, and higher income taxes or other personal taxes. He has insisted that his measures will be more justly distributed than Sarkozy's, hitting the well-off harder than the poor, but it is clear that all French families and businesses are going to have to cinch up their belts.
Sarkozy silent; others not
Although Sarkozy holds to a self-imposed silence, his followers in the conservative opposition have seized on the bleak economic situation to intensify criticism of Hollande as inept and of his Socialist Party as naive and out of touch. Francois Fillon, who was Sarkozy's prime minister, raised fears in a recent Q&A in the newspaper Le Figaro that Hollande could lead the country "into a lasting recession, dragging Europe into a major crisis, with a threat to the European currency."
From the far left, former presidential candidate Jean-Luc Melenchon was even more caustic. Although eliminated from the first round of presidential voting, he said he would have been more able to govern the country "than this gang of penguins."
Although the threats to Europe and its currency were already intense during Sarkozy's rule, many French people seem to agree — with Fillon if not with Melenchon. Hollande's standing in a key opinion poll has plummeted 11 percent age points since vacations ended, to an unusually low 43 percent approval rating in a survey published Sunday in the Journal du Dimanche.
Najat Vallaud-Belkacem, minister of women's rights and the government spokeswoman, said Hollande's dive in popularity was to be expected given the difficult economic climate, and she sought to brush it off as a temporary phenomenon.
"When we take responsible decisions that were put off far too long by others, it is not surprising that we suffer the effects in the polls," she said in a television appearance.
But a sense that things are headed in the wrong direction has reached even Hollande's Socialist Party and its allies.
The Greens, with 17 members in Parliament, voted this weekend not to support the fiscal discipline treaty even though it has two ministers in the government. Bernard Hamon, a deputy finance minister who heads one of the Socialist Party's left-leaning factions, has kept a politic silence, but some of his followers have vowed to vote no despite appeals from Prime Minister Jean-Marc Ayrault.
"I call on their sense of responsibility," Ayrault said in an online interview posted Sunday. "I would like everybody to tell the truth about the consequences of a refusal of the [treaty], that is to say a political crisis in Europe."
Opting out of agreement
National Assembly speaker Claude Bartolone, a senior figure in Hollande's government, told a radio interviewer that the 3 percent goal is "unbearable" in France's current economic situation, no matter what the treaty says. He added that the European Commission, the E.U. executive body in Brussels, should admit this and declare that the goal can be set aside when economic growth lags.
In fact, this is what happened in the E.U. for years. Governments, including France and even Germany, routinely opted out of previous E.U. agreements to limit debt to 3 percent of GDP. The fiscal discipline treaty, concluded in December under pressure from Sarkozy and Chancellor Angela Merkel of Germany, was designed to prevent such "crossing your fingers" by imposing fines on governments that borrow over the limit.
In any case, the budget calculations by Moscovici's ministry are likely to be revised next year. They have been based on a forecast of 0.08 percent economic growth, when a number of French economists say a more realistic prediction is half that.
The European Commission, for instance, has forecast that France will still have a debt level above 4 percent next year.
www.washingtonpost.com/world/europe/in-france-hollandes-honeymoon-period-ends/2012/09/26/0543a2ec-07e2-11e2-afff-d6c7f20a83bf_story.html

www.france24.com/en/20120621-debate-honeymoon-over-for-hollande-tax-row
…For an Englishman living in France, it comes as a surprise that the locals expect politicians to have their best interests at heart.
Of course, the Credit Crunch — or la Crise, as the French call it — has been going on for years, and few countries are having an easy time of it. Britain has been branded a "crisis economy" by the incoming governor of the Bank of England – and he is supposed to be on our side. But my impression is that the mood on the streets of France has — as opposed to the stark economic figures, which have been scary for a while, with 10 per cent unemployment and just 0.1 per cent growth in the first quarter of 2013 — taken a striking turn for the worse in the past few weeks.
"People are morose," says Jean-François Augrit, a guard on the TGV trains from Paris to the regions and beyond. "You can see it in their faces. They don't believe in anything any more; the Right and Left are just as bad as each other." He explains that people have begun to fear that the next generation will be worse-off than their parents. "This would be the first time that has happened," he says firmly, "even going right back to the 19th century."
Last month, a poll of more than 3,000 French adults found that 68 per cent of them were depressed about the country's future. And that was even before the Cahuzac scandal broke, in which a former budget minister given to winkling out the kind of slimy tax-dodgers who hide their wealth in secret Swiss bank accounts was forced to admit that he, ahem, had one too — but only after he had looked France squarely in the eye and lied and lied, long before the cock crowed thrice.
The cock is certainly crowing now. The scandal has, in the words of Le Monde, "unleashed a political tsunami". But it is the effect that the scandal has had on the people of France that I find so telling, and so touching. In Britain, we are used to our politicians lying to us. It is one of the cosy constants in our daily lives: rocks are hard, trains are late and politicians are incapable of telling the truth. This is fine, because at least they are consistent, and their mendacity helps us to forget how easily we lie to ourselves. In France, many people really do seem to believe that the state is run by people who have their best interests at heart.
"We've had political scandals before, on the Right and the Left," says Fabrice Nivard, 58, the respected mayor of Darnac, a village nestling in the heart of la France profonde. "But this one really shocked me, because for a budget minister to tell people to tighten their belts and contribute more, even as he is secretly hiding away his own wealth, is worse than lying. It's taking the French for a bunch of — well, you can fill in the blank yourself."
Unfortunately, President François Hollande, who has a sexton's ability to make a grave situation graver, followed up the Cahuzac scandal with a masterstroke: in the interests of transparency, he ordered his ministers to reveal all their bank accounts and assets. Et voilà! It turns out that they are all just as bad as each other. Even the ones who aren't millionaires have been pilloried in the press for stashing their shekels in underperforming accounts. What hope for the national economy, when the charlies in charge of it can't even manage their own money?
"Where is France heading?" I ask Jean-Claude, one of the old boys behind whom I puff along on my rides with the local Limousin cycle club. "I'll tell you where it's heading," he says, over his shoulder. "It's heading straight into a brick wall." "But is there no hope?" "Yes, there's hope," he concedes. "We hope that the whole thing just dies. You know: goes belly-up. And then we can start again."
In this context, one can see why Édouard Carmignac, the chairman of France's largest independent asset manager, recently took the unusual step of paying for a full-page ad in the Financial Times to publish an open letter to President Hollande, in which he warned him of the "suicidal" impact of his failure to curb public spending. "Time is running out," declared Carmignac, before adding a sly chaser unlikely to aid Hollande's digestion: "European history is now in quick motion and the discredit that has fallen upon Italy's politicians should provide food for thought."
When I telephone my friend Clément Bresard-Billet, a young management consultant working in Paris, he surprises me by announcing that he is planning to move to Australia next year. "Our model is finished," he explains. "I find it hard to imagine a future here. France is like a patient in intensive care. The family dreams there's still a bit of life in the old bones but, secretly, they all know it's the end." Many of his Parisian friends, he adds, are planning similar moves.
At the last count, more than 300,000 French people were living in Britain. And, after a few years of living in France, where most children want to be civil servants when they grow up – and I have met a daunting number of quite brilliant people stuck in amazingly humdrum jobs – it is easy to see why.
"In Britain, you have the chance to change," says Bresard-Billet. "In France, once you have chosen a pair of shoes, you must wear them for life."
Yet the French model does still have its supporters, even in those pockets of the countryside hit hardest by la Crise. "I'm happy to pay heavy social charges," says Jean-Luc Terrade, who runs our local hardware store. "Solidarity is an important word for me, and France has always been a 'social' country. We mustn't go down the English route; that works fine for some people, but I'm not sure you'd hear the poorest in society saying so."
So how does he propose to save the ailing patient in her intensive-care ward? "I'm waiting for the revolution," he says. "But to assemble the masses, we need leaders with charisma. And even though I voted for Hollande, that's not the first adjective I'd apply to him. There's Nelson Mandela, of course, but I think we've left it a bit late to get him."
Terrade's humour and optimism are a reminder that not everything in France is darkness. That spirit of solidarité – the instinct of people to help their fellow man — runs wonderfully deep here. The sun is still shining and the trains still run on time. Entire villages conjure up feasts and sit down to them together, just as they always did, and if your six-year-old child happens to get her fingernail torn off by an automated ride-on cat in a Chinese restaurant in Limoges, then a team of no less than five medical staff will soon be repairing the injured digit after a short wait in A&E.
"Why are you photographing us?" asks the nurse who is administering the gas-and-air. "Sorry," I reply, blushing. "It's just that, if I don't, nobody in England will believe me."
The way things are going, it may not be long before nobody in France will, either.

www.telegraph.co.uk/property/propertyinfrance/10009131/Disillusionment-comes-home-to-la-France-profonde.html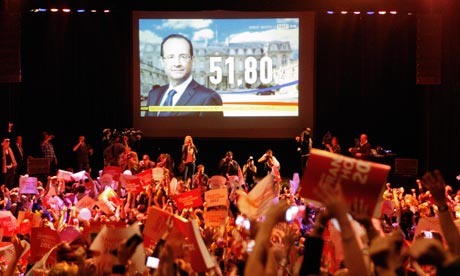 Socialist Hollande triumphs in French presidential poll
http://www.france24.com/en/france/2min/20120506-france-socialist-hollande-wins-presidential-election-sarkozy
Mr Hollande plans to hire 60,000 new teachers. He will narrow the deficit by raising taxes, not by cuts. The unreformed French state will grow even larger. Mr Sarkozy is barely more restrained.

"The size of the French government is 20pc of GDP too high. It is a brake on growth and lies at the root of our national decline," said Professor Francois Facchini from the Sorbonne. "We like to think France is a special case, but we're not."

The IMF said France has one of the rich world's highest life expectancies but one of the earliest retirement ages, a costly mix. Just 39.7pc of those aged 55 to 64 are working, compared with 56.7pc in the UK and 57.7pc in Germany. "French workers spend the longest time in retirement among advanced countries," it said. Pre-retirement benefits are the culprit.

http://www.telegraph.co.uk/finance/comment/ambroseevans_pritchard/9239606/Electoral-silence-on-Frances-slow-economic-decline.html
If Hollande wins the May 6 runoff election and becomes president, as pollsters predict, he has promised to press Germany for a relaxation of Europe's new fiscal treaty. "Europe can't just impose austerity," Hollande told Bloomberg News on Tuesday. "Of course, we won't depart from rigorous budget rules, but austerity in the sense that it's only a burden or pressure is unbearable for people."

www.washingtonpost.com/opinions/france-could-determine-europes-economic-fate/2012/04/25/gIQAWSXlhT_story.html
François Hollande: from a small town in France to the gates of the Elysée
Corrèze is what its inhabitants call "la France profonde" – in other words, the sticks. If it were not for the motorway from Paris built on the orders of former president Jacques Chirac, a local man, it would be the back of beyond. The locals are the first to admit this.
Despite its splendid isolation, however, this rural region in south-central France – a five-hour drive from the capital – has produced three popes (Clement VI in 1342, Innocent VI in 1352 and Gregory XI in 1370) and will, if François Hollande, is elected, have been the hothouse for two French presidents.

www.guardian.co.uk/world/2012/apr/22/francois-hollande-france-election
France is facing a crisis of competitiveness caused by rising labour costs. Last year it recorded its biggest-ever trade deficit. Without significant cuts, public spending is forecast to reach 100 per cent of GDP over the next few years. Unemployment, which Mr Sarkozy promised to reduce to five per cent, is at a 12-year high of nearly twice that figure. The president likes to compare France's situation favourably with that of Greece, Spain and Britain, but the overall trend, without stringent deficit reduction and incentives for private sector job creation, points towards recession.

www.telegraph.co.uk/news/worldnews/nicolas-sarkozy/9206157/Frances-decisive-week.html
Amusing – de Gaulle
France may have elected François Hollande, but she really needs a Napoleon Bonaparte
By Tim Stanley World Last updated: May 6th, 2012
It looks like Socialist François Hollande has won the French presidency. His platform: raise taxes on business to fund a lower retirement age and more spending. Things don't look good for poor old France. Either Hollande will stick to his promises and ruin the economy or he'll U-turn and reveal himself to be a reckless opportunist. Whether he's a fool or a knave, this election cycle has exposed just how broken the French political system is. The kind of economic reforms that are necessary to put the country back to work simply can't be enacted under the present arrangement. France needs to change. She needs another Napoleon.
Ever since the French Revolution of 1789, the French have struggled to keep a constitution going beyond two or three generations (there's a reason why la grande dame is on her fifth republic). The cause is the imbalance between "government rooted in law" and the free expression of "mass democracy." On the one hand, the French revolutionaries wanted to create a government that limited powers and liberated the economy (one of the first things they did was abolish serfdom and end regulation of the grain market). On the other hand, to give the new government legitimacy they acknowledged the political authority of the Parisian mob. What was the point of democracy if children starved? The policies passed by elected delegates had to be rubber-stamped by the sans-culottes.
The result was that within a few years of the revolution, the constitution (by far the most admirably liberal in the world) was suspended and terror was the order of the day. Food prices were set by the government and paper money was printed to keep the mob happy. A consensus was reached that veered between moments of chaos and stultifying bureaucratic corruption. Eventually the rotten system was brought to an end by Napoleon, on 9 November 1799. Napoleon kept what was best about the republic and established an empire in its place. This is the pattern of French history: revolution, chaos, consensus, breakdown and a coup led by a strong man who "embodies" the nation. Charles de Gaulle did it twice: first as the leader of the Free French in the 1940s and second in 1958, when he formed the current Fifth Republic.
Today, the revolutionary mob has been replaced by the organised Left. For noble, yet sectional, reasons, they made it their mission to bring down Nicolas Sarkozy through direct action. There is a myth floating around the Anglo-Right that Sarkozy's problem was that he was a socialist in disguise. Not true. He was a Gaullist, a defender of the national conservative status quo. The consensus that dominates the French Right is that the state should remain secular, powerful, friendly to business, neo-colonialist in Africa and at the heart of Europe. Its emphasis has always been upon maintaining social cohesion in preference to embracing global markets – hence former Gaullist presidents de Gaulle, Pompidou, d'Estaing and Chirac spent money like it was going out of style.
Sarkozy tried to rescue the Gaullist, Fifth Republic consensus with some light labour market reform. But a mix of strikes and urban riots stopped him. For how could the President govern without the will of the people? How could the constitution be seen to work if Paris was in flames? Bowing to the logic of history, Sarkozy failed to do what had to be done and he U-turned. Today, the top corporate tax is 34.4 percent (compared to 15.8 percent in Germany) and France has a €96 billion budget shortfall, which caused it to lose its high credit rating. The absurd 35 hour week largely remains in effect. Here's the most damning statistic: government spending now accounts of 56 percent of France's GDP. It's only higher in five other countries in the world – including Iraq and Cuba.
If Sarkozy's reform plan was brought down by the mob, he died by the sword by which he himself lived. In a desperate bid to win the provinces, he backed a ban on the burqa and then a war on France's traveller population. This was jackboot politics. But it was also the pitting of one mob (the French National Front) against another, the banlieue rioters (students, radicals, trades unions, disgruntled immigrant workers). Hollande, by contrast, is every other inch a man of the banlieue. He has promised to save the republic by handing out the equivalent of free grain and paper money to the Parisian crowds. This will satisfy them, for a little while.
Given the inevitable collapse of a future Hollande administration – either through economic failure or political ineptitude – what will save France from this poisonous consensus of decline and disorder? To return to the Napoleonic/Gaullist model, it needs a strong man (or woman) to advance bold, wholesale reform. It doesn't require a dictator: the rule is that every successive great leader adopts and preserves the best of the constitution that came before. But France surely needs a president who will a) reject sectional politics that pits one class or region against another, b) resist pandering to the mob, and c) do what must be done to deregulate the French economy. The sad fact is that beyond the tinkering of the Mitterand administration of the 1980s (which was more about European integration than liberalisation), France has never had a Thatcher or a Reagan. She has never emotionally detached herself from the protectionist, corporatist vision of the Fifth Republic and embraced the globalised world of the 21st century. She must if she is to survive, and the rest of Europe needs her to do so. We cannot afford another Greece or Spain.
http://blogs.telegraph.co.uk/news/timstanley/100156435/france-may-have-elected-francois-hollande-but-she-really-needs-a-napoleon-bonaparte/
"To succeed, he needs to reinvent the French economy, to reconcile French society and to find allies in Europe."

www.guardian.co.uk/commentisfree/2012/may/07/francois-hollande-45-days-to-succeed
The economy could take centre stage in the final runoff as other countries watch to see if Sarkozy becomes the latest leader to be ousted since the start of the financial crisis in 2008.
Sarkozy, who is the most unpopular French president to run for re-election, was not attacked on his initial handling of the crisis but on his record in office, his personal bling-bling style, perceived favouritism for the rich, and policies seen as unjust.
Sarkozy had run a rightwing campaign from the outset, chasing voters on the extreme right by focusing on immigration, saying there were too many foreigners in France and following Le Pen's lead in claiming unlabelled halal meat was a key concern of French voters. He had recently stressed conservative family values and the Christian heritage of France. His strategists will now have to decide whether he lurches even further to the right.
Some observers already claim his strategy had backfired, failed to boost him and only served to increase Le Pen's final result, which was double that of her father in the last presidential election in 2007.
Hollande ran a very cautious campaign, refusing to be drawn into battles or surprise measures.
His stance as being against the world of finance and his proposal of a 75% tax on incomes over €1m (£817,000) was approved by a majority in polls. He was convinced that his more measured, if ploddingly serious, style would win out with an electorate tired of Sarkozy's bling and frenetic policy initiatives.
Voter turnout was high, at 80%.
www.guardian.co.uk/world/2012/apr/23/francois-hollande-french-election
In other words, one in three French voters chose candidates who seek to overturn the national and European political consensus.
www.independent.co.uk/news/world/europe/all-eyes-on-hollande-as-firstround-victory-leaves-sarkozy-on-brink-7669168.html
Voting for Yesterday in France
By OLIVIER GUEZ
Published: April 20, 2012
Paris
FROM the subject of halal meat to the matter of driver's licenses, the French presidential campaign that culminates in voting on Sunday has been marked by peripheral squabbles and endless invective among the 10 candidates. But few things have been said about the gravity of the French economic crisis: the deficits in France's public accounts and balance of payments; its drop in competitiveness; its decline in international commerce; its apathetic growth.
Nor have we heard much about the threat of increased unemployment and reduced purchasing power from the austerity measures that the markets expect any president to take — right after the election, of course. As for civil war in Syria, the perilous transitions in Arab countries, Al Qaeda's progress in the Sahel, or Iran's nuclear program, the candidates have behaved as if nothing were the matter — as if France were tacitly abandoning all influence abroad.
These omissions say a great deal about the state of a country that has rarely seemed so avid in its navel-gazing, so inward-looking. In short, France in 2012 is an old nation that increasingly cultivates the temptation to be an island unto itself.
So many examples from these last few years come to mind: magazine covers devoted to President Nicolas Sarkozy almost every week; the Jan. 7 issue of Le Figaro, naming Joan of Arc Woman of the Year. An issue of Le Figaro Magazine devoted to a portrait of the French people declared: "France is noble in essence, the mother of liberty, the rights of man, letters, arts, and sciences."
Transfuge, a Parisian literary magazine, offered a harsh assessment this month: French literature, obsessed with the past, is entering the 21st century walking backward. Indeed, the French don't like the 21st century, and would gladly give it back. Their desire has its roots in a confluence of failures (the defeat in 1940 and the loss of their colonial empire) and the rejection, by other European nations, of building a Europe à la française — France on a bigger scale. France has become a middling power, with a mass culture and a society of consumption like everyone else. Gaullism and Communism kept up the illusion that a great history, a great destiny were still France's to be had. It didn't pan out that way. So as the world heeds France less, the French long to shut themselves off from it, to turn toward olden days and protect themselves.
The electoral campaign flattered their aspirations. The populist candidates outdid themselves with magic formulas to get France out of history as fast as possible. Marine Le Pen, the favorite of young voters, promised the moon and the stars if France left the euro zone, limited employment and social benefits to French citizens and finally drove all foreigners out.
Jean-Luc Mélenchon, that great orator, rekindled the spirit of revolutionary mythology by summoning Robespierre, Fidel Castro, Jean Jaurès, Hugo Chávez and Victor Hugo, while throwing to the wolves the bosses, the bourgeois, the journalists, Wall Street and the CAC 40 index on the Paris bourse.
The major contending parties — President Sarkozy's center-right Union for a Popular Movement and François Hollande's Socialists — did not rush the French people. The "tears and blood" Mr. Sarkozy promised them (a very Churchillian position that was coupled with German-style reforms and sacrifices) soon gave way to generous promises and the appointment of other scapegoats — poorly patrolled frontiers, fiscal exiles, free trade, the European Central Bank, clandestine immigrants.
Meanwhile, Mr. Hollande, the Zen master from the department of Corrèze, made do with waiting for a change in power, avoiding faux pas, reassuring his fellow countrymen by aping, as best he could, the virtuoso he claimed to follow: François Mitterrand.
But all 10 candidates had one enemy in common: globalization, that perpetual movement of capital, people and merchandise that endangers the French social model cherished by 90 percent of French people even as it threatens to definitively bring them to ruin. Among all inhabitants of developed nations, it seems, none hate globalization more than the French. All their political leaders have promised to "fight against" it. But no one fights globalization alone. No one can lie down alone in the path of history with impunity, not even the nation of the artiste Jean Dujardin.
While candidates promise brighter tomorrows, convinced "that the worst of the crisis has passed," markets watch their every move; their European partners (and toughest competitors) pursue reforms even as emerging nations continue to grow at dizzying rates.
In 1981, France rejected the path being set by Ronald Reagan and Margaret Thatcher. Mr. Mitterrand and his Socialists, with their Communist allies, embarked on a grand program of nationalization. Two years later, isolated, Mr. Mitterrand and his France had to turn abruptly toward austerity.
It will be much the same in 2012: whatever the new president will have promised before the election, reality will intrude. France will wake up to austerity again: After all, it needs to borrow $233 billion by the end of the year.

www.nytimes.com/2012/04/21/opinion/voting-for-yesterday-in-france.html
No Place to Go but Up in France
By JOHN VINOCUR
Published: April 17, 2012
PARIS — The election in France on Sunday won't decide its next president but will more likely offer a miserable precedent: a success for a "Rejection Front" that combines the bleak compatibility of the extreme left and right.
Notionally at least, with the Left Front and National Fronts scores added together, the beyond-the-mainstream candidates' total share of the vote could beat the individual first-round scores of either President Nicolas Sarkozy or the Socialist, François Hollande.
That doesn't change the near certainty that Marine Le Pen at the far right and Jean-Luc Mélenchon on the left's distant shore get eliminated on April 22 while Hollande and Sarkozy advance to the final round two weeks later.
But if the Rejection Front (my designation) does as well as most polls suggest, France will have legitimized two political currents that spurn serious solutions for France's economic grief, reject civility and common sense and variously propose regression through loony yet authoritarian economics, class warfare, class or racial prejudices, anti-Western instincts, and the politics of endless rage.
Sarkozy and Hollande are each projected to win between 26 and 29 percent of the votes cast in the first round among 10 contenders. That means that if parallel estimates hold for Le Pen (16 to 18 percent) and Mélenchon (around 15), extremism's total beats either mainstream guy.
This isn't a nerdy detail, but a miserable political signpost in an important and usually intelligent country struggling to retain influence in the world.
Mélenchon, who has Communist Party backing, infantilizes the French with promises of an "insurrection" that in the face of the country's pledges of austerity would create 500,000 new places in public nurseries, 200,000 new low-rent apartments per year, total reimbursement of all individual health expenditure and tenured status for 800,000 public service workers now without permanent contracts. It is not clear how the Left Front would handle the costs (the health bill alone is estimated at €40 billion yearly), but Mélenchon has given a hint: confiscation of annual individual income above €360,000.
Mélenchon's world-view goes hand in hand with his economics. He describes the United States as "the world's primary problem" and wants the U.S. Sixth Fleet out of the Mediterranean. More: Hugo Chávez of Venezuela is a hero, the Chinese invasion of Tibet was justified, and Cuba isn't a dictatorship.
In a French political universe where no one need tell a significant percentage of the truth, dealing in fantasy is an easy alternative. The problem with Mélenchon is that his routine is showing it works in 2012 France. As Daniel Cohn-Bendit, the left-wing ecologist politician, has said, "He's succeeded in restoring national nostalgia for old-time class conflict and statist tradition."
While Mélenchon's role in the Rejection Front refuses reality, Marine Le Pen's National Front summons French instincts in the direction of bigotry and spite. Again, it seems to be working.
With less of a growl than her father, Jean-Marie Le Pen, she pitches an anti-immigration line of carefully gauged excess meant to shake out votes from the majority of the population, shown by surveys to regard integration as a failure because of a lack of immigrants' effort. Polling illustrates that she is on to something. Le Monde's lead story on April 10 reported that more 18- to 24-year-olds (26 percent) would vote for her than any other presidential candidate on Sunday.
So who or what to blame for a significant part of France buying into off-the-wall economics and cosmeticized prejudice? An easy rationale would be that, after all, this is the ancient and resilient society that made ironic emblems of its selfish or self-destructive yearnings — "après moi le déluge" or "la nostalgie de la boue."
Pick Sarkozy and Hollande's triviality instead. They never confronted voters with the perspective of harder times through the reality of France's debt and deficit-reduction obligations, or considered big-bang programs for Muslim immigrants that would link sweeping affirmative action and requirements for their assimilation.
Hollande shied from taking a direct swing at Mélenchon's calls to the streets for fear of not being able to recuperate his voters in the second presidential round. Rather, he seemed to justify the far-left's reflexes with a call for a 75 percent tax rate on income over €1 million.
In turn, Sarkozy's tactics have been to increase the Left Front's vote total and reduce Hollande's in the first round with compliments for Mélenchon like, "I have to say, concerning his comprehension of things having to do with humanity, I have no complaints." On integration and immigration, Sarkozy the candidate would not condemn the National Front or Le Pen line by name to assure picking up their votes in the May 6 runoff.
Through their complaisant maneuvering, Sarkozy and Hollande have reduced the stature of responsible politics in France and with it given both halves of the Rejection Front enough momentum so that, side by side, they may enter the National Assembly in June legislative elections. Leaving this likely indelible (and repugnant) trace behind, the quality of the French presidential race and runoff round beginning Monday has no place to go but up.

www.nytimes.com/2012/04/18/opinion/no-place-to-go-but-up-in-france.html
Jean, 51, an electrician, lives in a shelter in the Bois de Vincennes, a park behind a parking lot in eastern Paris.
Ranks of Working Poor Grow in Europe
By LIZ ALDERMAN
Published: April 1, 2012
PARIS — When Melissa Dos Santos leaves her job at the end of each day, she goes home to an unlikely place: a tiny trailer in a campground 30 miles north of Paris, where scores of people who can barely make ends meet are living on a sprawling lot originally designed as a bucolic retreat for vacationers.
"I grew up in a house; living in a campground isn't the same," Ms. Dos Santos, 21, said wistfully.
Her dreams of a more normal life in an apartment with her boyfriend evaporated when they both took minimum-wage jobs — she in a supermarket and he as a Paris street sweeper — after months of searching fruitlessly for better-paying work. "People call us marginal," she said. "Little by little, it's eating us up."
Europe's long-running euro crisis may be cooling. But the economic distress it has left in its wake is pushing a rising tide of workers into precarious straits in France and across the European Union. Today, hundreds of thousands of people are living in campgrounds, vehicles and cheap hotel rooms. Millions more are sharing space with relatives, unable to afford the basic costs of living.
These people are the extreme edge of Europe's working poor: a growing slice of the population that is slipping through Europe's long-vaunted social safety net. Many, particularly the young, are trapped in low-paying or temporary jobs that are replacing permanent ones destroyed in Europe's economic downturn.
Now, economists, European officials and social watchdog groups are warning that the situation is set to worsen. As European governments respond to the crisis by pushing for deep spending cuts to close budget gaps and greater flexibility in their work forces, "the population of working poor will explode," said Jean-Paul Fitoussi, an economics professor at L'Institut d'Études Politiques in Paris.
To most Europeans, and especially the French, it seems this should not be happening. With generous minimum wage laws and the world's strongest welfare systems, Europeans are accustomed to thinking they are more protected from a phenomenon they associate with the United States and other laissez-faire economies.
But the European welfare state, designed to ensure that those without jobs are provided with a basic income, access to health care and subsidized housing, is proving ill-prepared to deal with the steady increase in working people who do not make enough to get by.
The trend is most alarming in hard-hit countries like Greece and Spain, but it is rising even in more prosperous nations like France and Germany.
"France is a rich country," Mr. Fitoussi said. "But the working poor are living in the same condition as in the 19th century. They can't pay for heating, they can't pay for their children's clothes, they are sometimes living five people in a nine-square-meter apartment — here in France!" he exclaimed, speaking of an apartment of about 100 square feet.
In 2010, the latest year for which data were available, 8.2 percent of workers in the 17 European Union countries that use the euro were living under the region's average poverty threshold of 10,240 euros, or about $13,500, a year for single adult workers, up from 7.3 percent in 2006, according to Eurostat. The situation is nearly twice as bad in Spain and Greece.
While direct comparisons are difficult because of different standards, the Labor Department estimated that 7 percent of single adult workers in the United States earned less than the poverty threshold in 2009 of $10,830 in 2009, up from 5.1 percent in 2006.
France fares better than most European countries, at 6.6 percent, but perhaps nowhere is the phenomenon more startling. While the country seems to exude prosperity, the number of working poor is up from 6.1 percent in 2006, and experts predict it will grow.
In France, half the nation's workers earn less than $25,000.
The median monthly paycheck is $2,199, 26 percent above the average for the entire European Union. But the high cost of living and the difficulty many people face securing affordable housing (home prices have surged 110 percent in the last decade, and most rentals require large advance deposits), leaves a growing number out in the cold.
Ms. Dos Santos and her boyfriend, Jimmy Collin, 22, moved to the trailer because they did not want to live with their families and lacked upfront money for an apartment. Mr. Collin, a high school graduate with some additional technical training, searched for work for more than six months before landing a minimum-wage contract last year, at $1,800 a month, cleaning streets near Parisian jewels like the Eiffel Tower. He gets a small government stipend for low-income earners, but they still found it hard to save after paying taxes and living expenses. The wait for subsidized housing is more than five yea
Ms. Dos Santos, also a high school graduate, jumped at the job at a Carrefour supermarket after she failed to find work through one of France's national employment centers, where counselors meant to handle 120 cases have been overwhelmed lately with up to 500 each. But her boss will not let her work more than 35 hours a week, and she cannot find supplemental jobs.
"It holds people back," she said.
Today, up to 120,000 people are living in French campgrounds, according to Observatoire des Inégalités, a social watchdog group. While it is not a new phenomenon, officials say it is accelerating.
And even some people with middle-class jobs are living on the edge.
Bruno Duboscq, 55, a human-resources manager at a small company in central Paris, moved into a recreational vehicle in the parking lot of the Château de Vincennes, a splendid 12th-century castle in eastern Paris, three years ago when the expense of a small apartment left him with too little money at the end of the month.
"People at work were shocked when they found out I live in a camper," said Mr. Duboscq, who is near retirement and hopes the extra savings will tide him over when he is no longer working. "It's getting harder to get by."
One February evening, as the thermometer showed minus 6 Celsius (21 degrees Fahrenheit), he opened the door to his camper and showed off a small kitchen, a TV, two beds and a tiny shower. Living in an official campground would have been better, but at about $40 a day, he said, it was too expensive.
Yet Mr. Duboscq is better off than most of his neighbors. "There is more and more misery around," he said, gazing at a row of snow-swept vehicles outside. "There are many people, especially young people, living in their cars here," he said. "They are not well paid, it's hard to afford an apartment, and the price of everything has risen considerably."
Many of them are on temporary contracts that employers are increasingly using to replace permanent jobs, which carry benefits and job protections that many employers are reluctant to take on. Contract labor has surged in the last several years and is set to increase as politicians in France and elsewhere encourage their use as a way to reduce high unemployment. But numerous recent studies by economists and social groups warn they may increase in-work poverty, because they pay less and have fewer benefits.
In 2011, temporary contracts accounted for 50 percent of all new hires in the European Union, according to Eurostat.
Isabelle Maquet-Engsted, a senior analyst at the European Commission in Brussels, said political efforts to encourage temporary work may only paper over the problems that Europe has in generating solid economic growth and well-paying jobs. "We have signs that things are not going to get better, because the jobs being created are those that carry a higher risk of poverty," she said.
For those who cannot find work after a temporary contract expires, the situation can become dire.
In the Bois de Vincennes, a park behind the parking lot where Mr. Duboscq lives, Jean, 51, an electrician who would give only his first name, warmed his hands recently over a fire in a small oil drum. He used to rent a tiny Paris studio, he said, but moved to a tent hidden in the woods three months ago after a fixed-term job expired and he was unable to secure other lodging.
By day, the forest is a playground for young urbanites. At night, however, it is home to an estimated 200 people, including families with children. Some are French, some are immigrants from Eastern Europe and North Africa.
Like many tent shelters, Jean's is quasi-permanent. With his neighbors, he shares a rickety table and a shelf stocked with sugar, salt and an old teapot. Strips of meat hung frozen on a clothesline.
"I never dreamed I would be here," Jean said. "But my contracts ran out, and at my age, it's getting harder to find new ones."
Matthieu, 31, a construction worker living on fixed-term jobs, wonders why European leaders seem focused more on protecting financial institutions than on helping people like him.
France enjoys a beautiful image, he said one recent evening in the Château de Vincennes parking lot. "But it's not like Anglo-Saxon countries," he said. "There, you arrive, you know how to do something — you can climb. That's the American dream.
"Never anywhere in the world do you hear anyone talking about the French dream," he added, pausing to look at the row of campers. "There is no such dream in France."

www.nytimes.com/2012/04/02/world/europe/in-rich-europe-growing-ranks-of-working-poor.html
APRIL 12, 2012, 4:06 PM VENTURE CAPITAL
To Keep Start-Ups at Home, France Invests in Them
BY ERIC PFANNER
PARIS — The French government likes social media — so much so that the country's sovereign wealth fund has invested 10 million euros in an online network.
Viadeo, a company based in Paris that bills itself as the world's second-largest social network for professionals, after LinkedIn, said Thursday that it had secured 24 million euros ($31.6 million) in new financing in what analysts described as the biggest investment ever in a European social network.
One of the new investors is a fund set up by the government of President Nicolas Sarkozy two years ago to buy strategic stakes in French companies, supporting their development — and, in some cases, to try to keep them out of foreign hands.
Governments across Europe are growing more active in their efforts to nurture technology start-ups, seeing them as one of the best hopes for producing economic growth. But usually these steps take the form of tax breaks or other financial incentives; it is unusual for public funds to take direct ownership stakes.
Except in France, that is. The government wealth fund, the Fonds Stratégique d'Investissement, has made 2.5 billion euros worth of investments in French technology groups, in giant companies like Groupe Bull but also in Internet firms like Dailymotion, a video-sharing service, and Skyrock, a blogging platform.
"The digital industry is among the leading sectors in France in terms of value added and employment," said Jean d'Arthuys, a member of the executive committee of the fund, known as F.S.I., calling Viadeo a "French Internet champion."
Viadeo said the new money would be used to finance its expansion in international markets. With 45 million members, Viadeo is less than a third the size of LinkedIn, the biggest global player in the business of connecting job seekers and headhunters via the Internet.
But Viadeo says it is the biggest player in France, as well as in China, where it claims 10 million members. It has also been expanding in India, Africa and other developing economies.
"These markets are now exploding for us," Dan Serfaty, chief executive and a founder of Viadeo, said. "The market is there, but you need this kind of cash when you want to expand."
Many European Internet companies, even those that have been successful in their domestic markets, have found it difficult to grow internationally. A number of French start-ups, including PriceMinister, an e-commerce business, and SeLoger, a real estate site, have been acquired by foreign companies, feeding concerns about France's ability to hold its ground in the digital world.
Before the investment announced Tuesday, there were fears in France that Viadeo might also fall into the hands of foreign owners, or leave the country. In fact, Mr. Serfaty and the other founder, Thierry Lunati, had already moved their personal offices to Silicon Valley two years ago, while keeping Viadeo's headquarters and much of the research and development operation in France. Mr. Serfaty has since moved again, to Beijing, where the company's Chinese subsidiary, Tianji, is based.
Viadeo employs about 400 people worldwide, half of them in France. Mr. Serfaty said the new round of financing would allow the company to double its work force, with a "proportionate" number of those jobs being created in France.
He said there was no quid pro quo that Viadeo would stay in France in return for the investment from the strategic fund, but added: "I think it was important for them."
"Companies that are based in France, with employees in France, with job offers in France, that's something they looked at," Mr. Serfaty said.
The 24 million euro investment also includes new money from Allianz, the German insurer, and Jefferies, the American investment bank.
By the standards of Silicon Valley, where Facebook has just agreed to buy Instagram for $1 billion, 24 million euros might not sound like much. But it is a sizable sum in the world of French start-ups, where Viadeo has raised less than 50 million euros over all since it was founded in 2004.
"There have been some very successful French Internet businesses, but they've been quite domestic businesses," said Benjamin Robertson, a managing director at Jefferies. "Viadeo is one of the few that has managed to successfully internationalize on the back of its domestic position."
The sovereign fund's stake was not disclosed, but Mr. Serfaty said institutional investors, including the fund, would own less than a third of the company. The fund will, however, get a seat on Viadeo's board.
Some wonder whether the freewheeling culture of a start-up could continue to thrive amid the scrutiny of a buttoned-down civil servant.
This concern was raised in 2009, when the F.S.I. invested 7.5 million euros in Dailymotion, France's answer to YouTube. Dailymotion has continued to grow, but it has been swallowed up by another company with ties to the French government,France Télécom.
Last year, France Télécom, the former state-owned monopoly, reached an agreement to acquire 49 percent of Dailymotion in a deal that gave it the right to eventually take full ownership.
Mr. Serfaty said the plan for Viadeo was to sell stock to the public, perhaps two or three years from now. The company considered an initial public offering of shares last year but decided against it.
He said the company, which has been profitable since 2009, had spoken with a number of sovereign wealth funds but chose the F.S.I. in part because it had made a long-term commitment.
"What we liked with F.S.I. was this idea of anchoring Viadeo in Europe," he said. "Having a long-term investor with deep pockets — we thought that could be very useful for us, with what we plan in the coming years."

http://dealbook.nytimes.com/2012/04/12/to-keep-start-ups-at-home-france-invests-in-them/
Nicolas Sarkozy (R) waits beside France's First Lady Carla Bruni-Sarkozy before taking part in the TV broadcast show "Des paroles et des actes'
The Lessons of Paris-on-Thames
By ROGER COHEN
Published: March 5, 2012
LONDON — Can beauty be stifling? Paris puts that proposition to the test, a city manicured to perfection that has confined its immigrant underclass to the invisible suburbs and burnished every surface of its seductive allure. Certainly, a lot of young Parisians have voted with their feet, moving across the Channel to Paris-on-Thames, aka London, where they come not so much in search of jobs — although there have been more of them — as of the global swirl: that raucous mix of innovation and grunge missing in a too-perfect Paris.
A new lycée, a new radio station (French Radio London) and a new electoral constituency including Britain all testify to the exodus, as did the appearance here last week of the French Socialist candidate François Hollande, otherwise known as "Monsieur 75 percent": more on that below.
Nobody knows exactly how many French people have moved — as European Union citizens they don't need to register — but more than 300,000 now live in London, making it the sixth-largest French city. Most are under 40. They learn English and they learn that globalization is not merely the catalogue of woes so laboriously laid out by the French left over the past couple of decades.
They feel, of a drizzly afternoon in Shoreditch, the mysterious tug of energy over beauty and of edge over elegance.
Hollande came to make his pitch to this expat crowd before the French presidential election next month. He was snubbed by David Cameron, despite the fact the British prime minister was snubbed recently in Brussels by President Nicolas Sarkozy: European leaders, in self-congratulatory mood over a few weeks without an outright euro crisis, are now banding together to avoid any disruption — a Hollande victory, for example — to Mario Draghi's silky euro salvage operation.
Otherwise, however, Hollande was well received. There's a thirst in Europe for growth, for something other than Franco-German austerity, and for a comeuppance for all those bankers seen as the villains of an age of inequality. Hollande has made speculative finance his prime target. "I wanted to come here to London to say that finance must be in the service of the economy to create wealth and not to enrich itself on the real economy," he said.
Nobody sensible would argue with finance serving the economy rather than a few financiers. But Hollande's new proposal to impose a 75 percent marginal tax on incomes above €1 million is populist politics at its worst. He declared on Jan. 28 that imposing hypertaxes on the very rich backfires. "A punitive tax on a tiny fraction of taxpayers would not produce much revenue," he said.
Hollande was right in January and wrong now. His flip-flop, although it seems to have given him a slight boost in the polls, raises again the temperament question. Hollande is a highly intelligent and cultured man, but is he a waverer?
He managed to spend years not reforming the French Socialist Party at a time when the rest of the European left was busy ditching class struggle to adjust to the demands of modernity and globalization.
A 75 percent tax, added to other taxes and social charges, would mean taxing the rich at over 100 percent. A lot of the wealthiest French people have already moved. Those that have not would.
The power of voting with your feet is evident in London, a city that has found strength in flux while Paris has gilded its stasis. Hollande needs to personify a new French left that will not punish creators of wealth even as it calls for growth: His proposal does the opposite.
The French election remains too close to call. Sarkozy faces some of the same problems as Barack Obama. There are the surface ones: high unemployment, faltering growth, budget deficits. And then there is the core issue: Neither has found a way to connect with the nation in a manner that lifts the mood or creates a conviction of better days to come.
That's a tougher task in France, whose reflex mode is grumpiness, than in the United States, where can-do optimism is the baseline. Still, the French like the Americans have kept their distance from their president. In France, with Sarkozy, it's a question of perceived vulgarity. In the United States, it's a question of perceived aloofness. Somewhere beneath those perceptions lie deeper prejudices. In America, all the nonsense about Obama being a Muslim or a European Socialist reflects some of his opponents' repressed repugnance at the fact he's African-American. In France, there's a view of Sarkozy as the parvenu.
So, in theory, Hollande should be a shoo-in. He wants to be seen as "Monsieur Normal." I don't think being "Monsieur 75 percent" helps. It puts him out on a limb. He wants to come across as a man of the people in touch with "la France profonde," the deep France repelled by Sarkozy's "bling-bling" lifestyle.
But France has changed, as the big migration across the Channel suggests. And the "Merkozy" euro salvage operation has kept Europe from disintegrating before the generation of idealistic new Europeans living in Paris-on-Thames takes the reins. Score one for messy improvisation over beautiful order.

www.nytimes.com/2012/03/06/opinion/cohen-the-lessons-of-paris-on-thames.html
March 7, 2012, 1:48 PM
'Too Many Foreigners' in France, Sarkozy Says
By J. DAVID GOODMAN
President Nicolas Sarkozy, facing a tough re-election fight this year, declared on Tuesday night that there were "too many foreigners" in France and that he would move to limit their numbers.
"Our system of integration is working worse and worse, because we have too many foreigners on our territory and we can no longer manage to find them accommodation, a job, a school," he said during the televised series of one-on-one discussions with journalists and, at one point, former Prime Minister Laurent Fabius.
His comments sparked outrage among many French on the left and those of foreign descent, including a 1960s student leader, Daniel Cohn-Bendit, now a Green Party member of the European Parliament, who was born in France to a German father. He told the Canal Plus broadcaster on Wednesday that Mr. Sarkozy's comments were "dangerous" and had disturbed his sleep the night before.
"I slept badly, and this morning, I'm still not feeling well," Mr. Cohn-Bendit said, "because he said something to me directly in the face. He told me, 'You are an extra person.'"
Others pointed out that Mr. Sarkozy himself is the son of a Hungarian immigrant.
Ségolène Royal, the Socialist candidate he defeated in the last election in 2007, also responded to the debate.
She posted numerous ripostes on Twitter during the broadcast, including one that wondered ironically how Mr. Sarkozy would have sounded — especially in his attacks on the journalists asking the questions — if he had instead been delivering his remarks to a class in the poorer districts outside Paris. The French-language news blog Rue89 collected and annotated some of her running commentary.
But Mr. Sarkozy's pugnacious style and tack to the right on immigration — promising to "divide by two the number of people we welcome" — were nothing new for the candidate as he attempts to siphon support from a hard-right challenger, Marine Le Pen, who is polling strongly.
On Saturday, he made a similar pledge to reduce the number of immigrants to France and called for clear labeling of halal meat. That oddly specific proposal for gastro-religious regulation appeared to be a response to an earlier claim by Ms. Le Pen that all meat in Paris was halal, or killed according to Islamic norms.
"Let's recognize everyone's right to know what they're eating, halal or not," Mr. Sarkozy said at a rally, Reuters reported. "I'd like to see, therefore, the ticketing of meat according to its method of slaughter."
A study into the costs of immigration for France published last year found that immigrants provided a small fiscal surplus for the French government over the long term.
As Mr. Sarkozy sought to appeal to a certain portion of the French electorate, the French first lady, Carla Bruni-Sarkozy, attempted to strike her own populist pose as she watched the television broadcast on Tuesday.
"We are modest people," said Ms. Bruni-Sarkozy, a millionaire former singer and supermodel, according to Le Monde, the French daily, which followed her actions backstage. Mr. Sarkozy has been mocked in the past as "President Bling-Bling" for his tastes.
Earlier, as she entered the television studio, she described the frosty Parisian night with an expression that roughly translates as "cold even for a beggar."
During the debate, Mr. Sarkozy responded to questions from one journalist under the rubric "President of the rich?"
Though in the style of French television debates, the segment led to a somber discussion of tax levels as a slide full of numbers flashed behind them, rather than platitudes about his bona fides as a regular Frenchman.
http://thelede.blogs.nytimes.com/2012/03/07/too-many-foreigners-in-france-sarkozy-says/

He's behind you: the farmer (wearing jumper) and his wife, left, watch Nicolas Sarkozy on the campaign trail in the Pyrenees region
French elections: Nicolas Sarkozy puts his foot in it again
The French president's combative nature may prove his undoing at the polls, reports Kim Willsher
Kim Willsher in Paris
8:00AM GMT 11 Mar 2012
Sometimes, Nicolas Sarkozy just cannot help himself. Few will forget the occasion when he sparked riots in Paris's volatile banlieue by describing local youths as "louts and rabble", or when he dismissed a recalcitrant French farmer with the words "Get lost, you sad bastard".
With a presidential election just six weeks away in which he is trailing catastrophically in the polls, however, he might have tried harder to control his notoriously short fuse.
Apparently not. On a recent campaign visit to the Pyrenees region of southern France, the president-candidate had little sympathy for a dairy farmer's wife and her complaints of hardship.
When she remarked she and her husband could not afford the luxury of a 35-hour working week, Mr Sarkozy retorted: "Me neither!"
"But we don't have what you have in the bank," she replied. "We have nothing… we're living from hand to mouth."
"And I don't own 40 hectares. OK?" Mr Sarkozy said, clearly annoyed, and tapping her husband on the chest.
From calling journalists "paedophiles" to telling David Cameron to "shut up" and describing sumo wrestlers as "obese guys with Brylcreemed buns", the hot-headed, hyperactive French president has never been a great loss to the diplomatic service or knowingly minced his words.
But his failure to keep his temper at the one time when he has to ingratiate himself with French voters is being interpreted by some as evidence that the wheels are falling off his already shaky presidential campaign wagon.
Today, the president will attempt to fix them back on with his first national election rally at a stadium outside Paris. Mr Sarkozy will use it to outline his manifesto and will attempt to galvanise the campaign with the theme, "It's me or chaos" – highlighting the inexperience of his opponent, Francois Hollande.
That was a strategy used by Charles de Gaulle in 1965, the first French election with universal suffrage – but making the election so personal could just as easily backfire on Mr Sarkozy in the current climate.
The rally is widely regarded as the make-or-break moment for Mr Sarkozy.
In the tussle between public bluster and private panic, estimations of the possible turnout vary somewhat. Mr Sarkozy's spokesman, Franck Riester, told The Sunday Telegraph he was expecting 30-40,000 people, while the president's ruling UMP party expects at least 50,000.
The numbers will be crucial. Such is the febrile atmosphere surrounding the event that UMP staff have been telephoning party members individually to ensure their attendance.
Previewing the event, the Left-wing newspaper Libération observed: "A success won't be enough… Nicolas Sarkozy's first 'national meeting' must be a triumph, the crowning glory that shows that victory is still possible."
With six weeks to go until the election, though, the French public seem less certain. Ask anyone in the street for their predictions and most will shrug and say they haven't a clue. They may love or hate Nicolas Sarkozy, but nobody is foolish enough to under-estimate him.
Snatching victory from the jaws of defeat is a Sarkozy speciality. In 1995, he was ostracised from the right of centre RPR party after backing the wrong presidential candidate. After two years in what he described as a "political desert", he returned to oversee the party's trouncing in the European elections of 1999.
The defeat prompted him to retire from national politics altogether and return to his career as a lawyer. Then, though, he backed RPR leader Jacques Chirac's re-election in 2002, and was given the interior minister's job, which was the beginning of his ascent to the top.
Elected comfortably in 2007, Mr Sarkozy, however, squandered the French people's initial goodwill by a series of gauche errors that gave the impression he was unmoved by their daily concerns and was "president of the rich".
Not all his setbacks have been self-inflicted. Just months after taking office in 2007, the global economic meltdown forced him to rethink his economic programme, leading to accusations that he failed to keep election pledges, a criticism Mr Riester says is unfair.
"It was a response to the evolution of the economic situation," he said. "When we began the campaign for 2007, it was on the basis of full employment. Then the world economic crisis struck and it was clear that hard reforms and modifications would have to be made."
Facing disastrous opinion polls at the beginning of this year, the president kept everyone guessing about when and if he would stand for re-election, hoping to inflate his reputation as an international statesman by micro-managing the euro-zone crisis and leading foreign intervention in the war in Libya.
Instead, it gave his Socialist rival, Francois Hollande, a head start, which then forced him to declare earlier than planned, putting his campaign on a back foot from the off.
Today, the atmosphere among his MPs is morose. Some are uncomfortable with Mr Sarkozy's swerve to the Right, with policies aimed at attracting Front National waverers, including a new pledge to halve immigration levels.
Others worry that he is making policy on the hoof and performing damaging U-turns. Two weeks ago he accused the FN's Marine Le Pen of whipping up an "artificial controversy" over halal meat, only to declare last week that it was the issue which most preoccupied French voters.
And all the time, more are losing faith in the prospect of a Sarkozy victory. Jacques Le Guen, an MP with the ruling UMP party, admitted: "Until last week our colleagues were saying they still believe it could happen. Now we don't know."
Yves Bur, a fellow UMP parliamentarian, added: "Sarkozy believes he can win with the same campaign he conducted in 2007. It's a serious mistake… I can tell you, colleagues elected with 51 per cent of votes are scared silly for their seats right now."
The left-leaning Nouvel Observateur magazine was predictably damning: "The outgoing president seems to have lost the knack" it wrote, expressing astonishment that Mr Sarkozy was prepared to evoke his own defeat.
Last week the president reiterated that he would get out of politics if he lost the election. Asked what he would do he replied: "I don't know." The magazine was withering. "Today, the real question is understanding why a candidate known for his professionalism and gifted with an unequalled excess of energy, has put himself in such a perilous position, to the point where he himself publicly envisages his new life once the axe has fallen."
One of his mistakes, said the magazine, was not exploiting Hollande's clear political weaknesses – he has no experience of office – and instead attacking him personally. It said many of the public had such a "visceral hostility" towards the president that the presidential election seemed like a referendum on him personally and not his politics. Indeed, polls show that a large number of those supporting his rival are not pro-Hollande but anti-Sarkozy.
"This is something Hollande is playing on and I believe it is a tactic that will rebound on him," insisted Mr Riester.
In a television debate described as "make or break" last week, Mr Sarkozy appeared on top form: combative and punchy. But even the right-wing Le Figaro newspaper said it failed to "dissipate the feeling that Nicolas Sarkozy's campaign was sliding".
Mr Riester said he was "totally convinced" the French people would realise that Mr Sarkozy was the only person with the "energy, courage and commitment to solve the country's problems and Europe's problems".
"He is the only one that can do this. Of that I am sure," he told The Sunday Telegraph.
In private, however, French political commentators and observers are briefing that the game is up for Nicolas Sarkozy.
The jury will be out until today's meeting. Until then, the Sarkozy camp will be hoping it can keep a lid on the almost palpable panic, and that their candidate can keep his cool.
www.telegraph.co.uk/news/worldnews/europe/france/9136266/French-elections-Nicholas-Sarkozy-puts-his-foot-in-it-again.html
France election 2012: Nicolas Sarkozy fights back with belated mea culpa over gaffes
As one French commentator remarked last night, it is a strange kind of democracy where it takes five years for a President to be properly grilled over why he intervened to secure his son a job as head of France's biggest business district.
By Henry Samuel, Paris
2:03PM GMT 07 Mar 2012
That question, and a string of others, was finally posed in a marathon interview of Nicolas Sarkozyon the France 2 programme Des Paroles et des Actes (Words and Deeds).
Heart on sleeve, he asked the French to be clement over Le Fouquet's – his disastrous decision to spend his election night in the bling Champs-Elysées bar – as his marriage to second wife Cecilia was "exploding" at the time. "What should have been the crowning moment of my life, my professional one in any case, I must say part of my mind was dealing with other problems".
Next time he will celebrate with his "solid family".
Yes, it was a mistake to tell a visitor to the Paris agricultural show who insulted him to "get lost you stupid jerk" while "oh how much" he wished he had not tried to secure his son Jean a job at the helm of l'Epad, the public body running the La Défense business district outside Paris, sparking furious claims of nepotism – even if the job was unpaid.
Other Left-wingers had done worse, he said, rightly pointing out that the string of non-partisan nominations to top state jobs under his watch.
Almost an hour was spent on de-mining the catastrophic start of his presidency, including his decision to spend a snap holiday on billionaire Vincent Bollorés yacht. He recognised the "symbolism" was unfortunate but said "I owe him nothing, he owes me nothing" and stuck to his guns that the French should learn to love their captains of industry.
Impressively combative, Sarko undeniably scored points in setting the record straight over claims he has been the "President of the rich" saying he was victim of a "witch hunt".
"France is the country with the highest taxes in Europe along with Sweden…something of which I am not proud," he said. For good measure, he announced a new tax on companies listed on the French stock exchange like oil giant Total, some of who pay little or no tax in France.
"What about the champagne Socialists' links to the wealthy?," he asked. "We are modest people," his heiress wife Carla exclaimed in the wings." Not sure that will help his cause.
Sarkozy pursued his National Front charm offensive promising to half immigration to 100,000 new arrivals per year and tightening up conditions for welfare.
Interesting to note that the French media view this as extreme compared to the relatively muted reaction to David Cameron's retrospectively unrealisable promise to reduce net migration to the "tens of thousands" in the UK.
Difficult to imagine Cameron baldly stating, as Sarkozy did Alf Garnett-like, that there are "too many foreigners" in the country.
No he was not running after the FN vote, Sarkozy said, but quickly added: "To vote FN is to play into the Socialists' hands."
Omnipresident he may be but last night was the first time since 2007 France has seen him spar with a rival politician: Laurent Fabius, the wily, professorial former Socialist prime minister.
Sarko had him on the ropes within seconds, reminding Fabius of what he only recently said of the man he now backs: "Frankly can you imagine Francois Hollande president? You must be dreaming".
Fabius got in a few right hooks, notably with the one-liner "Votre boulet est votre bilan" (Your millstone is your mandate) and "to preside France you first have to know how to preside yourself".
Irate, Sarkozy threw back: "I have no style lessons to receive from a man who wanted to back Dominique Strauss-Kahn for president". Ouch.
Sarko was at his most effective when attacking Hollande's manifesto, which he said failed to mention the word competitiveness (actually it appears once). "You (Socialists) are drugged on spending money you don't have."
More of the same is needed.
With no upturn in the polls in sight, Sarkozy clung to former surprise presidential upsets – Balladur versus Chirac in 1995, Jospin eliminated in 2002 and the rather tired claim that France "hates being told what to say and what to do."
That optimism is not shared by his camp if you believe today's Le Canard Enchaîné. In it, UMP party secretary general, Jean-François Copé is quoted as saying: "He screwed up and we won't be able to get back on track."

www.telegraph.co.uk/news/worldnews/nicolas-sarkozy/9128785/France-election-2012-Nicolas-Sarkozy-fights-back-with-belated-mea-culpa-over-gaffes.html
'Chateau' isn't made in America, French vintners say
By Edward Cody, Published: September 23
PORTETS, France — When Dominique Haverlan pastes the label "Vieux Chateau Gaubert" on his wine bottles, he proclaims this to his customers: I am selling you 400 years of French pedigree, the shadow of aged Palladian buildings restored at a cost of nearly $2 million, the fruit of 87 acres of vines tended to like children and the glories of a winemaking heritage here in the Graves flatlands near Bordeaux that reaches back for centuries.
How, then, Haverlan asks, can American winemakers pretend to put "chateau" on their labels from the New World? What chateau? They have chateaux in America? The very word is French, he notes, and the Vieux Chateau Gaubert, formerly Le Bordillot, was standing here before there even was an America. Worse, how can American merchants try to sell such wines in Europe? And even in France — maybe even Bordeaux?
But they are.
The European Commission, the 27-nation European Union's executive body in Brussels, is considering a U.S. request to drop a ban on import into Europe of American wines bearing the label "chateau" or "clos," a similar term used mainly on wines from Burgundy in eastern France. An E.U. wine committee is tentatively scheduled to vote on the request Sept. 25, whereupon it will go to the commission for a final decision that, given the tides of globalization in Europe, could well be positive.
"They're trying to steal our reputation," Haverlan said during a tour of his sun-splashed property. "The real chateaux, they're certainly not in the United States."
Preservation of "chateau" on wine bottles is another chapter in France's long struggle between tradition and globalization. Throughout the country, peasants and craftsmen are fighting to maintain the value of expensive prestige accumulated over centuries — just the right cheese, or a perfect dress — against an onslaught of cheaper imitations sloshing in on the latest freighter from abroad. With borders disappearing and trade increasingly ignoring origins, their voices are getting weaker every year.
The economic stakes are tremendous.
In France alone, a country of 65 million inhabitants, people consumed an average of 46.1 liters of wine a head in 2011; the industry employed about 50,000 workers, no small consideration in a stalled economy with 10 percent unemployment. Exports brought in almost $9 billion, helping offset a badly negative trade balance. Among the 27 European Union countries, exports to the United States alone totaled more than $2.2 billion last year.
But for people like Haverlan, the stakes go beyond their pocketbook. In their mind, they are heirs to a national treasure that must be preserved the same way Egypt preserves the pyramids and Greece the Pantheon.
Haverlan, the son of a Bordeaux winemaker, started his first winery at age 21. Since then, he has acquired control of two prestigious chateaux: the Vieux Chateau Gaubert, which produces 180,000 bottles a year selling at just under $20, and the nearby Chateau de La Brede, where the philosopher Montesquieu was born in 1689.
"I believe he had something to do with the American constitution, didn't he?" Haverlan said with a smile.
Pedigree of Bordeaux
The pedigree of Bordeaux wines has long attracted foreigners. Wealthy British bought Bordeaux chateaux in the 19th century and even before. Then came rich Americans seeking to buy into tradition, followed by Japanese in the 1970s. More recently, it is the turn of Chinese. During the past three years, about 30 chateaux in the Bordeaux region have been purchased by Chinese, out of a total of 7,400.
The most recent was Chateau Bellefont-Belcier, a prestigious first growth gobbled up by a rare metals tycoon. On the other side of the country, a Chinese firm recently bought a prestigious Gevrey-Chambertin vineyard, Chateau Gevrey, for China's first big move into high-end burgundies.
But foreign ownership is not the issue, Haverlan noted. That, too, is part of the Bordeaux tradition. The problem is that, in France, the word "chateau" on the label has a meaning that the American growers do not respect. According to French rules, only wine from grapes grown on the property and made into wine in facilities on the property can be labeled with the name of the chateau.
This is a guarantee of quality, Haverlan said, but more importantly, it is a guarantee of pedigree, a declaration to the buyer that he is sharing in the heritage that gave rise to his wine.
Bordeaux winemakers have cheated in the past, he acknowledged, but they are governed by a self-policing association and, if they fail to comply, pursued by government fraud-repression experts.
And now Americans are trying to surf on that guarantee. "Our chateaux wines are so well known in the world that the Americans want to grab the reputation for themselves," Haverlan said. "And if we allow the Americans to take it, what is to prevent everybody else from doing so, the Chinese, for instance?"
In an effort to placate Bordeaux growers, the United States two years ago provided its own definition of what chateau means. For U.S. growers, according to information provided to the European Union, a chateau wine is "produced in the region of the appellation of origin by a producer or group of producers from grapes grown in vineyards owned by this producer or group of producers, or in vineyards that traditionally have been used by the producer or group of producers."
For Haverlan and the Bordeaux wine industry, that is lawyer-talk for saying the grapes can come from almost anywhere and the wine can be made by almost anyone. "For them, chateau is just a name, a marketing device," he said.
Requests for an explanation of the U.S. case went unanswered at the U.S. diplomatic mission to the European Union in Brussels, the Department of Agriculture and the Office of the U.S. Trade Representative in Washington and the U.S. industry's San Francisco-based lobbying organization, the Wine Institute.
A window closes
The dispute over U.S. wines labeled with "chateau" stretches back for years. Although the ban was already in place, the United States was granted a three-year window to export such wines to Europe in 2006. In return, it was to clamp down on U.S. wineries' use of such terms as "burgundy," "Chablis," or "champagne" for wannabe wines turned out in America far from the regions that produce the real thing.
When European authorities decided that American wineries had not stopped using these terms, they allowed the window to close in 2009. Since then, the United States has been seeking to get its "chateau" wines back off the ban. It renewed the request recently on the occasion of a review of EU wine import/export rules that ordinarily would have taken place without notice in the hushed, gray world of Brussels bureaucrats.
"Such an authorization is going to create a precedent for all the terms that signify a winery (domaine, hospices, clos cru), and that constitutes fraud against consumers," Bernard Farges, president of France's National Federation of Appellations of Origin, said in a statement.
When Bordeaux winemakers sounded the alarm, French Agriculture Minister Stephane Le Foll donned his armor and pledged to do battle for France. As a result, the request, which had been scheduled for a vote in July, was put off at least until the end of this month.
European officials suggested that in fact, because of the fuss, it might be voted on later in the year, when the publicity dies down, when globalization can march quietly forward and Americans can put wine on European shelves with "chateau" on the label.
"That would be a fraud," lamented Haverlan, caressing a bunch of pale-green grapes just harvested for this year's white Vieux Chateau Gaubert.

www.washingtonpost.com/world/europe/an-american-chateau-french-winemakers-say-no/2012/09/23/a4b08432-03ee-11e2-8102-ebee9c66e190_story.html
The French approach to parenting: carrot and stick
Yet another Gallic guide to bringing up polite, well-behaved children has been published – so what do French mothers do that British ones don't?
ByGlenda Cooper
7:00AM BST 12 Sep 2012
When it comes to international affairs, we dismiss the French as cheese-eating surrender monkeys. When it comes to their politicians, we snigger at former president Nicolas Sarkozy and his Cuban heels. And as for their pop music … But start discussing parenting, however, and – mon Dieu! – the Gallic superiority is unbearable.
While we agonise over our enfants terribles, across the Channel, chic mamans preside over impeccably behaved children who like nothing more than tucking into seven-course tasting menus, who never smear mud on their Petit Bateau dresses, and who can certainly never be found lying on their backs in the middle of the street refusing point blank to move until the promise of a Starbucks babyccino (that's warm milk with chocolate sprinkles to the uninitiated) has been extracted.
A new book – Why French Children Don't Talk Back – following hot on the heels of the recent bestsellers, Why French Children Don't Throw Food, French Kids Eat Everything and Bringing Up Bébé, is enough to make the average British mother who frequently resorts to using a Peppa Pig magazine as a bribe feel totally inadequate.
This latest book is the work of a Brooklyn writer, Catherine Crawford, who, having compared her unruly daughters to those of an expat French friend, decided to adopt a French approach to her mothering. It can be summed up in the following three rules: you, the parent, are le Chef (the Chief) and your word goes; if there is no blood [when a child falls down], don't get up, and – most importantly – drink more wine.
"We are so focused on the child here in the US, and I think it's the same in the UK," says Crawford. "It's different in France. What's good for the mother is good for the family – and that approach sounds wonderful to me." Ah yes. It is easy to see why the French approach to motherhood is so seductive initially: you can have your crème caramel and eat it. Compared to Britain, where if a pregnant woman comes within sniffing distance of a ripe Brie she faces social ostracism, in France, Crawford says, a mother-to-be will often be told by her doctors that wine is fine if it's accompanied by a meal, and will be routinely marched to the front of the queue in any shop (presumably to spend her pregnancy subsidy of 150 euros a month).
Post birth, French women are famously given pelvic floor rehabilitation and abdominal therapy to help restore their figures. And – much to the envy of the sleep-deprived, baby-sick-stained mothers in Britain – the French expect their babies to sleep through the night from two months (they employ le pause, which means they do not immediately pick up a crying baby, but allow it to self-soothe if possible). Added to that, they stop breastfeeding early and have no qualms in going back to work, seeing themselves as women as well as mothers. Remember soignée French justice minister Rachida Dati, who returned to work just five days after giving birth?
So what is the theory behind continental parenting? Crawford – like Pamela Druckerman, author of Why French Children Don't Throw Food – discovered that French mothers employ a mixture of strict boundaries and laissez-faire. Manners are paramount: even tinies are expected to greet their elders with a polite bonjour and kiss on the cheeks. Bad temper is not tolerated: Crawford claims the "terrible twos" do not exist as a concept in France because of the French mother's view that her word is law.
In fact, any French mother hearing such emollient phrases in a restaurant as "Why do you want to jump on the table, Liam?" or "Coco, please try to explain your anger towards the green beans" would be incredulous.
French mothers, says Crawford, also make their children wait for attention if they are otherwise engaged talking to another adult. They have no hesitation in telling their offspring if they are being boring. "I don't humiliate my children in this way," adds Crawford. "I go half-French. But if there's a really asinine story, I might say 'Tell me something else!', but most importantly I don't applaud it."
At the centre of the French parent-child relationship is food. There is no demarcation between what adults and children eat (le fish finger and baked beans would be greeted with incomprehension by maman and enfant alike) and how they eat. Children are expected to use adult utensils; Crawford says she saw three-year-olds making vinaigrette, and under-sevens sitting through a three-course meal with no problem. The key is that the family sits down together for a meal on a daily basis, respecting the food they eat, and respecting the time they spend with each other while eating.
Yet, combined with these strict rules, the French also do not engage themselves with each minutiae of their child's life. For them, a mother standing by the climbing frame, either applauding her child's skill ("Well DONE, sweetheart! You slid down the slide! That's brilliant"), or swooping to pick up the child as soon as it cries, is ridiculous. As Crawford's French friend Lucie put it, pouring Crawford another glass of wine post dinner when Crawford's younger daughter Daphne was throwing a tantrum for attention: "If there's no blood, don't get up."
What Crawford – and Druckerman – do admit, though, is that there is another aspect of the French approach. La fessée – roughly translated as a good spank – is still seen as a normal part of parenting; something that would be seen as unacceptable by most British parents today.
And while we may envy the French mothers who slip back into their size 10 jeans within weeks of birth (indeed, as another Gallic guide notoriously declared, French Women Don't Get Fat), British mothers aren't under the same social pressure to lose the baby weight. Finally, a lot of the French parenting ideals would not be attainable without the well-funded, state-run nurseries that take children from an early age.
Leaving corporal punishment aside, the French attitude in general is one that can make sense, agrees Dr Amanda Gummer, a psychologist specialising in play and child development. "I don't like to generalise and say the French get it right, any more than say there's an upper-class or working-class way parents parent," she says. "But it is true that if you pay attention to bad behaviour, it encourages it – if it's safe to do so, you should ignore it.
"We do have a culture of instant gratification, and something we could learn from the Continent is to be less pressured on time. If you want children to sit at a table, eat using a knife and fork and make conversation, then the French approach – sitting with their children for an hour and a half for a meal – will work in a way quick fixes don't."
Yet, hang on a minute. This all sounds vaguely familiar. Children who don't speak unless they are spoken to, who eat up what they are given and like it, who speak respectfully to adults, who go out to play for hours without their parents hovering over them… well, on reflection, I'm not so sure the French can really claim credit for those ideas.
Substitute a cream bun for a croissant, bangers and mash for boeuf bourguignon, and – sacré bleu! – it all becomes clear. The French have ripped off our Fifties approach to child rearing and called it their own. Bloody chic…
'Why French Children Don't Talk Back' by Catherine Crawford (John Murray) is available to pre-order from Telegraph Books at £12.99 + £1.35 p&p. Call 0844 871 1515 or visit books.telegraph.co.uk
www.telegraph.co.uk/family/9535663/The-French-approach-to-parenting-carrot-and-stick.html
Clockwork Orange: France a 'savage' nation, book claims
A controversial book claiming France is becoming a "savage" nation with thousands of thefts, rapes and attacks going unreported daily has turned into an unlikely best seller.
The author claims that France is rapidly descending into mindless violence and incivility Photo: Getty Images
By Henry Samuel, Paris
6:43PM GMT 19 Mar 2013
Flying in the face of the traditional image of a country seen as the land of good living, 'France, A Clockwork Orange' claims that mainstream politicians and the media have long masked a far more disturbing reality: it is rapidly descending into mindless violence and incivility.
"Nobody should ignore the reality," the book claims, namely that "every 24 hours 13,000 thefts, 2,000 attacks and 200 rapes" take place in France – figures far higher than official national statistics.
Claiming to lift the lid on a taboo – "the 'ensavagement' of a nation" – it has been dismissed by some commentators and criminologists as biased, unscientific and downright racist, peddling far-Right theories linking crime and immigration.
But since its release mid-January, the book by Laurent Obertone, the pseudonym of a previously unknown 28-year old journalist, has sold 35,000 copies and a fresh print run of 20,000 is on sale. It reached fifth in France's weekly Ipsos-Livres Hebdo bestseller list and is currently third in Amazon's most requested book rankings.
In the book, he clinically enumerates one gratuitous crime after another gleaned from the press, police and judiciary, before coming to the conclusion that "ultra-violent crime" is exploding in France.
"The real level of insecurity, probably the worst in the history of the French Republic, is around 12 million crimes per year," he claims. To reach this figure, the author contends that true crime rates are "three times higher" than official figures as these only take into account registered or solved crimes.
Speaking on France 2, Mr Obertone said: "I am fighting for a truth I have felt and that does not get the media exposure it deserves." The book, which calls for a hard line on prison sentences, has struck a nerve as France's parliament this week begins a debate on reforms aimed at making prison a "last resort" by using fines, probation, treatment and training for less serious crimes.
They are due to reverse a decade of "zero tolerance" crime policy under Nicolas Sarkozy, who made his name as Jacques Chirac's hardline interior minister before becoming president.
Sales of Mr Obertone's incendiary jumped after Marine Le Pen, leader of the National Front, urged everyone to "read it and get others to read it".
Mr Obertone denies being a far-Right sympathiser saying he has "no political commitment".
But Mediapart, the Left-wing investigative website, claims to have "outed" him as the author of a far-Right, racist blog. He denies the charge and intends to press charges for defamation.
The criminologist Laurent Muchelli said: "This accumulation of more or less accurate figures and truncated crimes serves one purpose: to reach the (perfectly explicit) conclusion that all this is the fault of Arabs and Blacks and that hundreds of thousands of new prison places should be opened to shut them up."
The reality, he went on, was that delinquency involving foreigners has consistently decreased as a percentage of the total population since the 1970s.

www.telegraph.co.uk/news/worldnews/europe/france/9941044/Clockwork-Orange-France-a-savage-nation-book-claims.html
Marseille, France, hit by rising drug-related violence
JEAN-PAUL PELISSIER/Reuters –
French policemen check the identity papers with a resident during a control operation in apartment housing buildings at Air-Bel in Marseille, on March 15, 2013.

www.washingtonpost.com/world/europe/marseille-hit-by-drug-related-violence/2013/03/19/8d560094-9095-11e2-9cfd-36d6c9b5d7ad_story.html
FRANCE