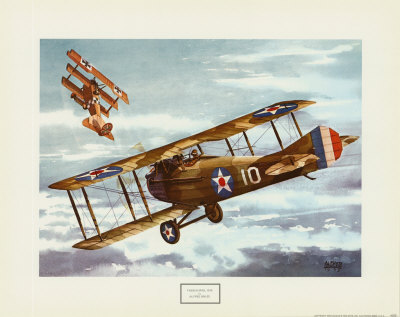 RUPERT CORNWELL
Sunday 3 March 2013
Rise and fall of black America's first fighter pilot
Out of America: Honoured by the French as a war hero, Eugene Jacques Bullard ended his days as a lift operator
Eugene Jacques Bullard joined the French Flying Corps in 1917
Strictly speaking, Black History Month here ended three days ago. But no excuses are needed if you're writing about Eugene Jacques Bullard. And anyway, why a single month to mark the contribution of African-Americans to their country? After all, as the actor Morgan Freeman has said, "Black history is American history" – even in the case of Bullard, whose contribution was not to the US but to France, where he spent the main part of a quite amazing life.
Black American expatriates are part of the myth of Paris in the early 20th century. The boxer Jack Johnson may have been the first, fleeing there with his white wife after being convicted in the US of transporting her "across state lines for immoral purposes". Then came the Jazz Age, Josephine Baker and La Revue Nègre, and the black musicians who spent time in the City of Light, among them Sidney Bechet and Louis Armstrong. And let's not forget the Harlem Hellfighters, the all-black 369th Infantry Regiment that fought in France in the First World War. Its regimental band, under James Reese Europe, became a sensation, infecting the French, it was said, with "ragtimitis".
A few black people did go the other way, including the Senegalese-born world champion boxer Battling Siki, famous for dressing in a dinner jacket to promenade his pet lion down the Champs Elysées. After losing his titles he moved to New York, where in 1925 he was gunned down, drunk, in the streets of Manhattan at the age of 28. Remarkable people, all of them. But none, surely, as remarkable as Eugene Bullard – stowaway, revue artist, boxer, aviator and multi-decorated war hero, nightclub owner and spy. He was born in Columbus, Georgia, in 1894, the seventh of 10 children of a labourer named William Bullard. Aged just eight, he ran away from home after his father escaped a lynching. Four years later, he stowed away on a vessel bound from Norfolk, Virginia, to Scotland, before making his way south to England where he found work in a travelling troupe called Freedman's Pickaninnies.
Along the way he managed to become a decent boxer. After a fight in Paris, and a tour of Europe with the vaudeville act, Bullard decided it was Paris for him. The choice was pre-ordained. His father was from Martinique and young Eugene was already conversant with French. As with many other American blacks who found their way to France, the urge to escape Jim Crow discrimination at home was a driving motive. In France, his father had told him, "Man was judged by his merit, not the colour of his skin."
Hardly had he arrived than war broke out in 1914. Bullard signed up with the French Foreign Legion, and was on the front lines in the second battle of Artois and the Champagne Offensive of September 1915. So ravaged by then was his unit that he was transferred to the 170th Infantry Regiment, the so-called Hirondelles de la Mort. Hence Bullard's nickname, the Black Swallow of Death. The 170th fought at Verdun, where he was badly wounded.
Bullard recovered, but was no longer able to serve as an infantryman. Instead he was offered a chance to join the infant French Flying Corps. He quickly secured his wings, to become the first black American fighter pilot, and downed at least one, and almost certainly two, enemy planes. By 1917, the US had joined the war, and Bullard sought a transfer to his own country's airforce. But even on the distant soil of Europe, Jim Crow ruled. For all his qualifications, his application was ignored by the US military, and Bullard saw out the rest of the war in a non-combat role back in the 170th, his old unit.
He decided to stay in France, marrying the daughter of a countess and fathering three children, one of whom died. The marriage broke up, and his former wife died soon afterwards, leaving him to bring up his two surviving daughters. Bullard made a living working in nightclubs, eventually owning his own, Le Grand Duc, where he became friends with Baker, Ernest Hemingway, F Scott Fitzgerald and other luminaries of the so-called Lost Generation.
By then he was a celebrity in France, and another war only cemented his legend. This time he turned spy for France, informing on German visitors to the club until Paris fell in June 1940. Bullard fled south, only to be gravely wounded again when he joined a vain effort to defend Orléans from the Wehrmacht. Somehow he was spirited out of occupied France to neutral Spain with his daughters, and thence to the US he had left more than three decades earlier.
Back in New York, he was a nobody. France had awarded him 15 military medals and later accorded him the extraordinary honour of being one of three veterans to relight the flame at the Tomb of the Unknown Soldier under the Arc de Triomphe. But, in the US, Bullard, who never fully recovered from his wounds, subsisted in various anonymous jobs, the last of them as a lift attendant at the Rockefeller Center.
He was buried not with US but with full French military honours, in a corner of Flushing Cemetery in Queens. Only in 1994, almost 80 years after his application to sign up as a pilot was ignored, did he receive a posthumous commission as a lieutenant in the US Air Force.
Two days after his death in 1961, aged 67, The New York Times wrote, in one of those laconic obituary paragraphs that beg a book: "In 1954 Mr Bullard was chosen to relight the flame at the Tomb of the Unknown Soldier in Paris. More recently he operated an elevator in the RCA building here." In fact, a couple of excellent ones have been written. The movie, however, still awaits.

www.independent.co.uk/voices/comment/rise-and-fall-of-black-americas-first-fighter-pilot-8517958.html
Edwin Ramsey dies at 95; WWII Army cavalry officer in Philippines
In January 1942, Ramsey led the 26th Cavalry in holding off advancing Japanese forces in the Philippines. Later he led a Filipino militia of 40,000. Ramsey was awarded the Distinguished Service Cross.
Ed Ramsey on his horse during World War II. Ramsey was a member of the 26th Cavalry Regiment and led the last mounted cavalry charge in U.S. military history.
By Elaine Woo, Los Angeles Times
March 16, 2013, 7:55 p.m.
Historians have said that losing the Philippines in the early stages of World War II was a defining event in the career of Gen. Douglas MacArthur.
The same could be said of Edwin Ramsey. But Ramsey couldn't admit defeat.
After MacArthur's retreat in early 1942, Ramsey, an officer in the 26th Cavalry Regiment of the U.S. Army, joined the Philippine resistance. He eventually headed a guerrilla force that grew to 40,000 enlisted men and officers, supplying crucial intelligence that helped lay the foundation for MacArthur's triumphant return more than two years later.
He had proved his mettle months before MacArthur's departure, when he led the last mounted cavalry charge in U.S. Military history — a courageous action that disrupted the Japanese invasion long enough for American and Philippine forces to pull back.
FOR THE RECORD:
Edwin Ramsey obituary: In the March 17 California section, the obituary of World War II hero Edwin Ramsey misidentified Eugene Orias Sr. as Eugene Orias Jr. The story also said that packs of chocolates and cigarettes were distributed in the Philippines with the words "I will return." The words, spoken by Gen. Douglas MacArthur when he was forced to abandon the Philippines during the Japanese assault, were "I shall return."
Ramsey, 95, whose World War II exploits earned him the Distinguished Service Cross personally awarded by MacArthur, died of natural causes March 7 at his Westwood home, said his son, Douglas Ramsey.
Enduring malaria, malnutrition, dysentery and an appendectomy without anesthesia during his service with the Philippine resistance, he received honors from several Philippine presidents and was revered in the Filipino American community.
"Next to MacArthur, he is No. 2," said Eugene Orias Jr., a Filipino American who met Ramsey through a local chapter of the Veterans of Foreign Wars. "He was able to stay behind enemy lines while the country was under Japanese rule. When the general came back, he was able to give him the straight story of what happened."
As the Japanese Imperial Army landed thousands of soldiers near Manila Bay in January 1942, the 26th Cavalry was ordered into the fray to delay the enemy's advance. Ramsey, then a lieutenant, led 27 riders to the strategic coastal village of Morong.
The village was still as Ramsey entered, but a Japanese advance guard soon shattered the silence with guns blazing. When Ramsey spied hundreds more Japanese troops wading across a river toward him, he knew his men had only one hope for survival.
He raised his pistol and, like a long line of cavalrymen since Custer's time, hollered, "Charge!"
"Bent nearly prone across the horses' necks, we flung ourselves at the Japanese advance, pistols firing full into their startled faces," he recalled in "Lieutenant Ramsey's War," a 1991 memoir co-written with Stephen Revele. "A few returned our fire, but most fled in confusion…. To them we must have seemed a vision from another century, wild-eyed horses pounding headlong; cheering, whooping men firing from the saddles."
After repelling the invaders, Ramsey and his platoon held their position for five hours under heavy fire until reinforcements arrived.
"This gallant little band of horsemen had maintained the best traditions of the American Cavalry," Gen. Jonathan Wainwright, then a senior field commander under MacArthur, wrote in his official report on the battle. "I doubt if I could have successfully made that withdrawal" without them.
But over the next weeks the Japanese army regrouped and pushed American and Philippine forces farther south. Rampant disease and starvation also sapped U.S. Strength.
The food situation was so dire that all horses belonging to the 26th Cavalry were ordered slaughtered. Ramsey learned of the demise of his beloved chestnut gelding, Bryn Awryn, while recovering from a leg wound in a field hospital, and bore the indignity of riding back to the battle lines in a truck. (The last mounted units were dissolved after the war.)
FOR THE RECORD:
An earlier version of this article misspelled Col. Claude Thorp's last name as Thorpe.
When the American defense of Bataan collapsed in spring 1942, Ramsey found himself cut off from his unit. Avoiding the fate of thousands of prisoners who died at Japanese hands during the Bataan Death March, Ramsey fled to central Luzon and signed up with Col. Claude Thorp, who was organizing resistance fighters.
For the rest of the war, Ramsey led a scrappy Filipino militia of 40,000 irregulars who armed themselves with weapons taken from dead soldiers. Ramsey later told the Winston-Salem Journal: "We made arms out of sawed-off pipes that we used as shotguns."
His guerrilla force — one of about a dozen on the islands — also gathered intelligence and conducted "counter-propaganda" efforts, including publishing a newsletter. They fanned Filipinos' hopes for liberation by distributing packs of cigarettes and chocolates sent by MacArthur's staff printed with his famous last words: "I will return."
Near the end of the wait for liberation forces, Ramsey made do with a bottle of rum to numb the pain of emergency surgery for appendicitis. He weighed only 93 pounds when MacArthur's Sixth Army arrived in early January 1945.
Edwin Price Ramsey was born May 9, 1917, in Carlisle, Ill., and grew up in Kansas. His father hanged himself in jail after being arrested on suspicion of battering his wife. His mother, a dermatologist who later ran her own clinic, raised Ramsey and his older sister, one of the first female pilots to deliver the U.S. Mail.
A rambunctious teenager, Ramsey was sent to the Oklahoma Military Academy, where his love of horses found an outlet on the polo team. He went on to the University of Oklahoma, which had a horse artillery unit, but left to join the Army in 1941.
After the war, he returned to the university for a law degree and worked in Japan for Hughes Aircraft as vice president of its Far East division. According to his son, Ramsey helped Hughes secure a contract to build the satellite that broadcast the 1964 Summer Olympics from Tokyo to the world. He became friends with several Japanese military leaders involved in the bombing of Pearl Harbor, including Minoru Genda, the Japanese naval commander who planned the attack.
Ramsey later ran electronics and consulting firms in Taiwan and the Philippines until retiring to Los Angeles in the 1990s.
His first marriage, to Madeleine Willoquet, ended in divorce in the late 1970s. He is survived by his second wife, Raquel Ramirez; four children from his first marriage, Edwin Jr., Douglas, Michele and Janine; four grandchildren and three great-grandchildren.
Ramsey often said he didn't expect to survive the war. And although he played an important role in the victory, he was loath to take much credit.
"I look back and think of myself as a soldier, not as a hero," he told a reporter from British Columbia in 2001. "I just had a temperament that made it impossible for me to surrender."
www.latimes.com/news/obituaries/la-me-edwin-ramsey-20130317,0,5224598.story
Mildred Manning, 'Angel' of Corregidor, Dies at 98
By RICHARD GOLDSTEIN
Published: March 10, 2013
Mildred Dalton Manning grew up poor on a Georgia farm. Her mother made all the family clothes on an old sewing machine. Hoping to escape a life of poverty, she attended nursing school during the Depression and became a nurse at a hospital in Atlanta.
She enlisted in the Army Nurse Corps in 1939. "I joined the Army to see the world," she told The Courier News of Bridgewater, N.J., some 60 years later. "And what I saw was a prison camp."
Mrs. Manning was among the Army and Navy nurses of World War II known collectively as the Angels of Bataan and Corregidor. When the Japanese were overrunning the Philippines in early 1942, the nurses treated wounded, dying and disease-ridden soldiers under heavy enemy fire, in one of the darkest chapters of American military history.
A total of 66 Army nurses were taken into captivity by the Japanese after the Americans' final outpost, on the island of Corregidor, fell in May 1942. They spent most of the war under guard at Japan's Santo Tomas internment camp for foreign nationals in Manila, where they faced near-starvation and were ravaged by disease and malnutrition while treating nearly 4,000 men, women and children.
When Mrs. Manning died on Friday in Hopewell, N.J., at 98, she was the last survivor of the Army and Navy nurses who had been captured by the Japanese in the Philippines, said Elizabeth M. Norman, who told their stories in "We Band of Angels." Ms. Norman's book was first published in 1999 as a Random House hardcover, but she said she had continued to keep track over the years.
"I'm certain she was the last one," Ms. Norman said of Mrs. Manning.
"We Band of Angels" was published in paperback in 2000 and as an e-book in 2011. Ms. Norman is preparing a revised paperback edition that will include a final chapter on Mrs. Manning titled "Last Woman Standing."
Mrs. Manning — Lt. Mildred Dalton during the war — and her fellow nurses subsisted on one or two bowls of rice a day in the last stages of their imprisonment. She lost all her teeth to lack of nutrition.
"I have been asked many times if we were mistreated or tortured," she wrote in a remembrance for her files, made available on Saturday by her son, James, who announced her death. "Physically, no. A few people might get their face slapped if they failed to bow to a Japanese guard. Humiliated, yes. We would be awakened at 2 in the morning for head count or searched for contraband."
"From time to time they would round up a number of men and take them out of camp and they were never heard from again," she continued. "Our internment was nothing compared to the Bataan Death March and imprisonment our soldiers went through. They were tortured and starved."
Mildred Jeannette Dalton was born on July 11, 1914, near Winder, Ga. She graduated from the Grady Memorial Hospital School of Nursing in Atlanta, then was head nurse at Grady before entering military service.
She was stationed at Clark Field, north of Manila, when the Japanese attacked Pearl Harbor on Dec. 7, 1941, and bombed the Philippines (where it was Dec. 8, across the international date line).
She treated servicemen at field hospitals in jungle terrain in the retreat to the Bataan Peninsula, then joined the last-ditch stand on Corregidor, treating the wounded there in tunnels bombed incessantly by the Japanese, until the American capitulation.
The 1943 Hollywood movie "So Proudly We Hail," starring Claudette Colbert, Paulette Goddard and Veronica Lake as Army nurses in the Philippines, was based on the memoir "I Served on Bataan," by Lt. Juanita Redmond, who was among nearly two dozen nurses evacuated from Corregidor shortly before it fell.
The captive nurses — 66 from the Army at Santo Tomas and 11 from the Navy, who had surrendered in Manila and were held at another internment camp — were liberated in the winter of 1945. The Army nurses received Bronze Stars in a ceremony on Leyte island in the Philippines, then were flown to California and received a message of gratitude from President Franklin D. Roosevelt.
Lieutenant Dalton was sent by the Army to promote war bond sales in her final months of military service. She met Arthur Brewster Manning, an editor at The Atlanta Constitution, at a rally and married him on her 31st birthday.
She later worked as a nurse in Jacksonville, Fla., while raising a family. In her later years she moved to Trenton to be near her son. In addition to him, she is survived by a daughter, March Price, as well as five grandchildren and a great-grandson. Her husband died in 1994.
Mrs. Manning told The Atlanta Journal-Constitution in 2001 that she continued to experience trauma from her war experiences. She feared dark places long after those grim days and nights in the tunnels of Corregidor, she said, and she built extra shelves in her home to store staples out of fear that she would run out of food.
"But I came out so much better than many of my friends," she said. "I have never been bitter, and I have always known that if I could survive that, I could survive anything."

www.nytimes.com/2013/03/11/us/mildred-dalton-manning-nurse-held-as-japanese-pow-dies-at-98.html
Family of merciful WWII flying ace who didn't shoot to kill are forced to sell his medals to pay for hero's care home fees
Wing Commander Bransome 'Branse' Burbridge, who was RAF's most prolific night-fighter pilot, now aged 93 with Alzheimer's
Conscientious objector at start of war would later become a clergyman
Downed four German planes in single sortie, and three of Hitler's V1 rockets
DSO with bar and DFC with bar to be sold along with logbooks, flying jacket and wartime sketchbook of drawings of enemy planes
His family 'reluctantly' selling medals to raise £120,000 which will cover cost of care for six years if necessary
By PAUL HARRIS and CHRIS BROOKE
PUBLISHED: 06:55 EST, 26 February 2013 | UPDATED: 07:31 EST, 28 February 2013
For nearly half a century, his medals simply gathered dust in a locked drawer.
Branse Burbridge rarely talked about his adventures as an RAF ace in the Second World War, not even with his closest family.
But the medals told their own remarkable story. One was a Distinguished Flying Cross and Bar, for his acts of gallantry in the face of the enemy. Another was the Distinguished Service Order and Bar, for an 'outstanding' devotion to duty.
For Wing Commander Bransome Arthur Burbridge – former conscientious objector, dedicated clergyman and devoted father – was the country's most prolific night-fighter pilot during the battle against Hitler's Luftwaffe.
Only when his grandson took an interest in the medals was the full extent of his heroism revealed. His RAF log book recorded 21 enemy kills, more than any other pilot flying night-time missions. But whenever he could, he aimed for the enemy plane's engine to give the pilot and crew a chance of survival.
Wing Commander Bransome 'Branse' Burbridge was the RAF's most prolific night-fighter pilot of the war, claiming 21 enemy kills. Now aged 93 (right), he is suffering from Alzheimer's and has been in a private care home since his wife Barbara died last year
Burbridge (right) and his navigator Bill Skelton (left) made 30 sorties over Germany to provide escort cover to RAF bombers
He downed four German planes in a single sortie and saved countless lives by bringing down three V1 flying bombs, jet propelled aeroplanes, before they hit civilian communities in London. But time appears to have evaporated the nation's debt to Branse Burbridge, now 92 and suffering from Alzheimer's disease. With much reluctance, his family is being forced to sell the medals to pay care home fees.
Yesterday veterans' organisations blamed politicians for forgetting the risks Wing Commander Burbridge and his contemporaries took and the sacrifices they made. One described it as 'a kick in the teeth' and added: 'Sadly he won't be the last to have to sell his medals to pay for his care.'
The story of how a young bible-class teacher became an unlikely fighter ace began when Burbridge, who registered as a conscientious objector at the outbreak of war, decided the best way to serve God was to fight for his country against the evil of Nazism.
He signed up for the RAF shortly after turning 20 in February 1941 and was posted nine months later to 85 Squadron as a night-fighter pilot.
Burbridge's logbook from November 1944 includes his four kills over Bochum, western Germany
Burbridge shot down three Junkers 88 bombers and a Messerschmitt 110 near Bonn, firing just 200 rounds in the process
Flying a Mosquito, the dashing young pilot excelled. With his navigator Bill Skelton he formed a duo nicknamed 'the night hawk partners' – and shot down 21 aircraft in ten months.
The pair made 30 sorties over Germany to provide cover for British and Allied bombers.\
One of his most exciting scrapes came on the night of March 24, 1944, when he became embroiled in a dogfight with a Dornier 217 bomber over the Channel. His Mosquito chased the aircraft from 19,000ft to 3,000ft before it crashed into the sea. Burbridge pulled up with only 1,000ft to spare.
His most celebrated achievement came in November 1944 during a bombing raid over Berlin. With just 200 rounds, he shot down three Junkers 88 bombers and a Messerschmitt. In January 1945, he surpassed the record set by night-fighter legend John 'Cats Eyes' Cunningham, famed for his ability to see in the dark.
David Erskine-Hill, of London auctioneers Dix Noonan Webb, which is selling the medal group, said: 'The Second World War produced many modest heroes who returned to civilian life and were reluctant to discuss their war-time exploits'
Burbridge's resolve to target aircraft engines rather than pilots meant that after the war, he was able to meet his chief adversary, Major Wilhelm Herget, whose plane he had downed. Burbridge happily took him for a spin in a Mosquito.
But not long afterwards, Wing Commander Burbridge put the war behind him. He studied theology at Oxford and became a lay preacher, dedicating much of his life to helping young people.
Soon after his wife Barbara died last year, however, it became clear his family would face a hefty bill for his care. Now they are trying to raise £120,000 from the sale of his medals, enough to provide for up to six years' care at the 'brilliant' home where he lives. Yesterday his son Paul, a 59-year-old artistic director from York, said: 'We're reluctant to do it but we believe it is the right thing. He was happy to do the remarkable things he did and he survived. We value him more than his medals.
'My father never really talked about his war experiences very much. It was only when my own son became interested for a school project that we sat down with Dad, and he took us through his log book.'
Recently Burbridge's life was documented in a book, Wings and a Prayer. Author Gillian Warson said: 'He was extremely modest about the whole thing. He never understood why he had been rewarded for something he didn't really want to do. He didn't boast about it… just the opposite. Whenever he shot a plane down he always used to look behind to see if the pilot had got out.'

www.dailymail.co.uk/news/article-2284673/World-War-Two-heros-family-forced-sell-medals-pay-heros-care-home-fees.html
Medal of Honor recipient from grim Korean War battle to be laid to rest at Arlington
A Korean War hero comes home at last: Army Lt. Col. Don Carlos Faith Jr., his men vastly outnumbered by Chinese troops in North Korea, devised a desperate plan to break out of the trap. He did not survive, but those who did remember him as "a soldier's soldier."
By Fredrick Kunkle and Steve Vogel, Published: April 16
In the bleak winter landscape of North Korea more than six decades ago, a small U.S. Army task force trapped on the shore of the Chosin Reservoir was under relentless attack by the Chinese and on the verge of destruction.
The outnumbered task force, part of an American drive to the Yalu River during the first year of the Korean War, had been caught by surprise and overrun by wave after wave of Chinese troops.
Blowing shepherd's horns, spraying burp guns and flinging grenades, more than 20,000 Chinese massed in four consecutive nighttime attacks, swarming over the American foxholes and engaging in savage hand-to-hand combat in such bitter cold that the frozen earth would not allow survivors to bury the dead.
Many Americans had given up any hope of survival, including Arthur Mercier, who was then a 23-year-old Army sergeant.
But then Army Lt. Col. Don Carlos Faith Jr., who had assumed command of the task force when his superior was killed, called his surviving officers together to outline a desperate plan to break out of the trap.
"We're not through here," Faith told Mercier and the other soldiers. "We're going home."
But Faith's homecoming never came — until now.
The 32-year-old Army officer from Washington, Ind., who was mortally wounded while leading the breakout attempt on Dec. 1, 1950, later was awarded the Medal of Honor for the heroic but largely futile effort to save his men. On Wednesday, he will be buried with full military honors at Arlington National Cemetery in a ceremony to be attended by some of his former men and by his daughter, who was just 4 when he died.
For decades, Faith's remains lay in an unmarked mass grave in North Korea alongside members of what became known as Task Force Faith, following one of the grimmest episodes in American military history. His remains, located by a joint U.S.-North Korean team in 2004, were identified last year through DNA testing.
"He's been lying in an unmarked grave, not even buried with dignity, in hostile territory," said retired Army Col. John Edward Gray, who served as a platoon commander. "Now the soldier is coming home."
The burial preparations also come at a tense moment, as North Korea is threatening to reignite the war, this time with nuclear weapons. The recovery of Faith's remains has also renewed debate about a little-known chapter in the Forgotten War, as some have called the Korean conflict. Despite questions about the Army's tactics, few question Faith's valor.
"He was what I call a soldier's soldier," said Mercier, who was Faith's radio man, weeping at the memory. "He's a real hero to me."
Driven to enlist
Now and then, Barbara Ann "Bobbie" Broyles slips into a way of speaking about her father as if he were still alive, emphasizing the presence of a man whom she has known only through the most poignant absence.
"Father will arrive Sunday morning at 11:15 a.m.," she said last week. "I want to be there to see him off the plane."
Broyles, 66, who lives in Baton Rouge and has a small psychotherapy practice there, has sparkling blue eyes and an earnest, engaging manner. Her voice has a soft Southern twang as she discusses the sense of loss that has shadowed her life, especially after her mother died of cancer when Broyles was a teenager.
Yellowing photographs of her father reveal a handsome man with a chiseled jaw.
Faith had wanted to be a soldier like his father. At 6 feet tall, he was lively, fun-loving, fit and athletic, as much at ease astride a polo horse as he was at the poker table. Denied admission at West Point after he failed the physical, he studied at Georgetown, appealed his medical denial and enlisted.
"He just wouldn't take no for an answer," she said.
Faith became an aide to Gen. Matthew B. Ridgway and performed several parachute drops, including on D-Day. After World War II, Faith was stationed with the Army's 7th Infantry as part of the U.S. occupying force in Japan. When U.S. troops were rushed to South Korea after North Korea's surprise invasion in June 1950, Faith went, too.
After reversing the early North Korean advance with a landing at Inchon in September, Gen. Douglas MacArthur moved north toward the Chinese border, hoping to wrap up a quick victory and end the war by Christmas.
Maj. Gen. Ned Almond, commander of the Army's X Corps, ordered an attack to start Nov. 27 along the Chosin Reservoir, about 40 miles from the Chinese border. MacArthur and Almond dismissed intelligence suggesting that China had entered the war.
Even after Chinese forces had appeared in sizable numbers and inflicted serious damage, Almond remained dismissive. Almond pinned a Silver Star on Faith's parka and departed. Faith, disgusted, ripped the medal off and hurled it into the snow.
"What a damned travesty," Faith said, according to eyewitness accounts.
After four nights of hellish fighting had ground down Task Force Faith and attempts to rescue and resupply it had gone awry, the task force commander, Col. Allan MacLean, ordered a withdrawal. When MacLean was shot by Chinese soldiers and dragged off, Faith took command and tried to rally the men to break out, even calling on the wounded to take up weapons and fight. After a truck convoy carrying hundreds of the most seriously wounded was hit by napalm dropped by American fighter planes, Faith, brandishing a .45-caliber handgun under enemy fire, worked to rally the demoralized unit.
"He just took it upon himself — 'If I'm going to fight to the death, let it be trying to save my command,' " recalled Gray.
Faith also led an attack to clear a roadblock that had stopped the convoy and was hit in the chest by shrapnel from a grenade. Other soldiers put the mortally wounded officer in the cab of a truck to stay warm, but the convoy again was halted at a destroyed bridge. Chinese forces soon overran the column, shooting and bayoneting wounded soldiers. Those who survived found safety by walking across the frozen reservoir to American lines.
"He did his all. He paid the full price, for duty, honor and country," said Gray.

www.washingtonpost.com/local/medal-of-honor-recipient-from-grim-korean-war-battle-to-be-laid-to-rest-at-arlington/2013/04/16/27678042-a6bf-11e2-8302-3c7e0ea97057_story.html
Brave Korean war Army chaplain who was captured after staying behind to help wounded soldiers to be awarded Medal of Honor
Mass: Kapaun celebrates Mass using the hood of his jeep as an altar, as his assistant, Patrick J. Schuler, kneels in prayer in Korea on Oct. 7, 1950, less than a month before Kapaun was taken prisoner
www.dailymail.co.uk/news/article-2304308/President-Obama-award-Medal-Honor-late-Army-chaplain-captured-Korean-War-staying-battle-aid-wounded-soldiers.html

First Black Fighter Pilot Last Cavalry Charge