After being viciously beaten by a 10-strong mob of Egyptian soldiers, this woman lies helplessly on the ground as her shirt is ripped from her body and a man kicks her with full force in her exposed chest during protest in Cairo. Moments earlier she had been struck countless times in the head and body with metal batons with one man stamping on her head repeatedly.
Arab Spring has transmuted into Arab Bling, a shiny cracked bauble, that lacks the serious substance of reform in the land of the pharoahs. Egypt's military establishment, the power broker, receives billions in aid from the United States and is loathe to give up power.
Hosni Mubarak emerged from the military elite. He commanded Egypt's air force during the 1973 War and was appointed vice president by President Sadat, who assassinated, in 1981. As president, Mubarak served the political and economic interests of the Egyptian military establishment as well as the nation.
Will Egypt's generals listen to Cairo protesters now?
Demonstrators have returned to Tahrir Square because the army has not relinquished its stranglehold on power – it is Mubarak's regime, just without Hosni Mubarak.
www.telegraph.co.uk/news/worldnews/africaandindianocean/egypt/8905491/Will-Egypts-generals-listen-to-Cairo-protesters-now.html
Egypt's military guards its own power
By Leila Fadel, Published: November 12
CAIRO — Two weeks before parliamentary elections billed as a first big step toward democracy, there are new signs that the generals ruling Egypt are trying to steer the transition to preserve their vast political and economic power.
A widening circle of critics say that new proposals from Egypt's ruling military council suggest that the generals are backing away from a pledge to quickly hand over authority to elected leaders. They note that guidelines put in place by the generals have prolonged the transition to democracy, allowing them to stay in place as de facto rulers until after presidential elections that could be held as late as 2013.

www.washingtonpost.com/world/middle_east/egypts-military-guards-its-own-power/2011/11/10/gIQA7QVVFN_story.html
Egypt's military sparks furor with new proposals
By HAMZA HENDAWI
The Associated Press
Updated: 3:52 p.m. Thursday, Nov. 3, 2011
Posted: 8:41 a.m. Thursday, Nov. 3, 2011
Fear that Egypt's ruling generals are working to perpetuate their hold on power is causing a political furor, threatening a "second revolution" and sending relations between the generals and activists to new lows less than four weeks before a key election.
The outcry has been prompted by a proposal from the military-appointed Cabinet to shield the armed forces from any oversight and give the generals a veto over legislation dealing with military affairs. The measure also is designed to curtail the likely influence by Islamist lawmakers over the writing of a new constitution.
The proposal, which requires the adoption of the ruling Supreme Council of the Armed Forces to be binding, has united both Islamists and liberals — groups that helped engineer the ouster of President Hosni Mubarak — in its condemnation.
Egypt's best known reform proponent, Mohamed El Baradei, decried the document as "distorted" and demanded its withdrawal.
"There is a difference between a civilian democratic state that guarantees man's basic rights and military guardianship," he said.
The Islamic fundamentalist Muslim Brotherhood, the country's largest and most powerful political group, is leading the opposition to the document, saying it usurped the "people's will."
"This route goes against the will of the people, and will lead to another revolution," said Saad el-Katatni, spokesman of the Brotherhood's Freedom and Justice party. "We call on the people of Egypt to reject the document to protect their rights."
If approved, the measure would shield the military from parliamentary oversight, give it a veto over legislation dealing with its affairs and reduce the powers of lawmakers to select a panel to write the constitution.
The proposal also would declare the armed forces the protector of "constitutional legitimacy," wording that is widely interpreted to mean giving the military final say over major national policies.
It says 80 of the 100-member panel to be mandated to write the new constitution will not be chosen by lawmakers and will instead be drawn from a wide range of institutions, including the judiciary, universities and civil society groups. The rest will come from political groups represented in parliament's two chambers.
The intensely publicized dispute over the proposal is the latest to plague Egypt's problematic transition to civilian rule following Mubarak's ouster in February by a popular uprising. Critics say the document would create a military state-within-the-state and devalue the democratic system the generals vowed to install when they took over from Mubarak.
The dispute already has poisoned the political climate ahead of the Nov. 28 election for a new parliament. Islamists are expected to dominate the vote, the first legislative balloting since the end of Mubarak's 29-year rule. The proposal is designed at least in part to deny the Islamists too much influence over the constitution, something that some secular and left-leaning politicians and minority Christians are supporting to avoid a document with an Islamist slant.
Faced with fierce criticism, Deputy Prime Minister Ali al-Salmy, who authored the proposal at the military's apparent behest, defended the draft Thursday, saying it would not be finalized before an exhaustive debate is completed.
In comments carried by Egypt's official news agency, he said he would continue to seek political consensus for the document and planned to call for another meeting with representatives of parties, trade unions and civil society groups to discuss its contents. The first such meeting, held Tuesday, ended with some participants rejecting it outright, while some walked out in protest or refused to attend.
The Muslim Brotherhood and other groups also have called for massive street demonstrations Nov. 18 to protest the document, but such calls have in recent months failed to bring out respectable numbers.
However, Islamists have an impressive record in mobilizing their supporters.
"We must acknowledge our defeat in this battle," said rights lawyer Negad Borai.
"We must now collect our remains and start all over again. The struggle against dictatorship will be long. Our enemy is ferocious and dangerous," he said of the generals on the military council.
The proposed guidelines for the drafting of the constitution were first floated in the summer by judicial experts linked to the military. As they are now, they were met then by a flurry of criticism that forced their proponents to shelve them.
That they are back now in the realm of national debate suggests that the military is not prepared to give up on trying to carve itself a role that would allow it guardianship over the nation even when a new parliament and president are elected.
The military has dominated Egypt since officers seized power in a 1952 coup. All of Egypt's four presidents have since hailed from the military, and most of the top jobs at strategically located provinces, regional councils and state organizations are filled by retired generals.
Field Marshal Hussein Tantawi, Egypt's military ruler, has fueled speculation he might seek the presidency when he went last month on a stroll through downtown Cairo in civilian attire, shaking hands and patting shoulders.
Last week, posters briefly appeared in Cairo and the Mediterranean port city of Alexandria supporting Tantawi as a future president. But the military has denied it has any intention of staying in power or field its own candidate in a presidential election. Its critics, however, say it is difficult to imagine the military willingly giving up 60 years of domination.
The military's attempt to enshrine a political role for itself follows what many Egyptians call the "Turkish model," a reference to the guardianship of Turkey's military over politics in the 1980s and 1990s that ended years of political instability in that NATO member.
However, Middle East expert Steven Cook of the Council on Foreign Relations wrote in a commentary posted Thursday on the Internet that the drive by Egypt's ruling generals to emulate the Turkish model was bound to fail because they do not have a direct role in drafting the constitution, do not enjoy the support of a broad segment of the political elite and are too concerned about "the preservation of their own status and economic interests."
Separately, U.S. Ambassador Bill Taylor, who is coordinating assistance to Middle East nations in transition, said he believes the generals want to hand over political power but could speed up the process significantly. He said the supreme council is "uncomfortable governing," adding that a presidential campaign should run parallel to the process of writing the constitution, instead of following the election.
The uproar over the draft proposal came after the arrest this week by the military of one of Egypt's best-known bloggers and activists for his alleged role in sectarian clashes on Oct. 9 in which 27 people, mostly Christians, were killed and hundreds were wounded. He is accused of inciting the violence, damaging military property and assaulting on-duty soldiers.
The arrest of Alaa Abdel-Fattah sent shock waves through the community of activists and pro-reform groups. They said the move showed a systematic campaign to discredit them as the generals build their own image as Egypt's foremost patriots. Abdel-Fattah's appeal of his 15-day detention was rejected Thursday.
The violence was the worst since Mubarak's ouster, and the controversy over whom to blame for the bloodshed has signaled a new low in relations between the military and activists. They blame the troops for starting the violence and army vehicles of running over protesters. The military denies the charge, insisting that troops deployed to deal with a Christian protest had no ammunition or firearms.
The violence and Abdel-Fattah's arrest are part of several issues that have strained relations between the military and political activists. They accuse the ruling generals of human rights violations, ignoring calls at home and abroad for stopping trials of civilians before military tribunals — at least 12,000 since February — and of making major policy decisions without consultations.
Activists said that, in pushing for a political role, the military was taking advantage of the growing disillusionment in post-Mubarak Egypt. Strikes, near daily protests, a surge in crime and rising prices have pushed many to long for stability, even at the expense of freedom or democracy.
"Our impression is that the people are fatigued and want things to return to where they were before," said Hossam Bahgat, a prominent rights activist. "Generally, people support the military council, which seems to believe that the opposition to its rule is restricted to a small elite minority."
However, Bahgat and others believe that the military's popularity will rapidly recede if its failure to revive the economy and restore security continues much longer.
www.palmbeachpost.com/news/world/egypts-military-sparks-furor-with-new-proposals-1948492.html
Hand of Egypt's military rulers grows heavier
By Hamza Hendawi
Associated Press / November 1, 2011
CAIRO—Growing in confidence after eight months in power, Egypt's military generals appear more determined than ever to crush the protest movement that ousted Hosni Mubarak and has turned critical of their rule.
This week, they detained Alaa Abdel-Fattah, a blogger whose activism made him an icon of the anti-Mubarak uprising, and — in an accusation that was derided by fellow activists — said he was to blame for stirring up violence at an October protest where 27 people were killed when soldiers cracked down.
www.boston.com/news/world/middleeast/articles/2011/11/01/hand_of_egypts_military_rulers_grows_heavier/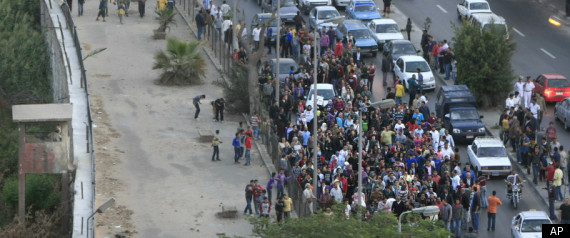 Hundreds of Egyptian protesters shout anti-military ruling council slogans as they march outside Torah prison in Cairo, at left, Wednesday, Nov. 9, 2011, in support of jailed Alaa Abdel-Fattah, one of Egypt's most vocal activists and bloggers and an icon of the uprising that led to Hosni Mubarak's ouster in February. (AP)
Alaa Abdel-Fattah, Egyptian Blogger, Custody Extended For 15 More Days
www.huffingtonpost.com/2011/11/13/alaa-abdel-fattah-detention_n_1091067.html
DE BORCHGRAVE: Egypt's Tower of Babel
Ancient conflicts reignite in fight for control in post-Mubarak era
By Arnaud de Borchgrave and – The Washington Times Wednesday, October 12, 2011
Hours before Cairo's latest bloody explosion this week, one of Egypt's most prominent and influential businessmen warned in a private message to friends abroad that the Arab Spring was dead and next month's elections could trigger "a major conflict with blood in the streets."
The latest explosion was triggered by a clash between the police and Christian Copts (10 percent of Egypt's 85 million people) protesting an attack that had torched a church. The Copts are also opposed to thearmy's boot-dragging in turning politics over to civilians.
One of Al Jazeera's cameras caught an armored personnel carrier running over some demonstrators, crushing six, including one whose skull exploded. Thousands soon appeared with knives, machetes and clubs. Christian crosses were held aloft as the crowd scattered. Several jumped over the parapet into the Nile. The bloody clashes seesawed along the Nile corniche on both sides of the state TV building.
Muslims who joined the demonstration seemed to split between those who sided with the military and those who tried to shield the Christians. The bloodiest clashes since former President Hosni Mubarak was ousted in February left 26 dead and about 200 wounded.
The confidential message that reached Western contacts earlier the same day said the upcoming elections, scheduled for next month, will produce a near majority for the Muslim Brotherhood or, if canceled or postponed, will trigger a bloody conflict in the streets of Cairo and other cities. Conditions will then be ripe for a sectarian or civil war. Many Egyptians already have packed and gone elsewhere. The stock exchange has lost half its value.
To transition in good order to an elected government, Egypt must have a prolonged period of stability. No one sees that coming.
Mr. Mubarak's National Democratic Party (NDP), which controlled the last national assembly, was dissolved, but its members regrouped and divided their numbers among newly formed parties – e.g., Renaissance Egypt, Egyptian Citizen Party and Freedom Party – with the aim of regrouping in a runoff to block religious extremists.
Their common objective is to short-circuit a religious state coupled with Islamist forces that blend religion and political action. Violence-prone Salafists stoked the latest violence in Cairo.
It was the late President Anwar Sadat who laid the foundations for NDP in 1978. And it was Talaat Sadat who was chairman of the party before it was dissolved by the military on April 16.
Talaat Sadat is emerging as the new leader of a group of political parties that plan to coalesce to build a national front to block the Muslim Brotherhood.
The Modern Egypt Party (MEP) is led by a prominent businessman and also includes NDP veterans. Senior Brotherhood officials told the senior army generals now in charge they expect former NDP members of parliament to be banned from participating in the forthcoming elections.
Either way, for or against the inclusion of former NDP stalwarts now scattered among half a dozen new parties, the ruling military's decision is bound to provoke fresh demonstrations – and bloodshed.
Youth movements that spearheaded the "January 25 Revolution" have also weighed in for a five-year ban on former members of the old parliament in the next elections.
Opponents of the old Mubarak's regime say NDP "remnants" are "as dangerous as Islamist forces and must be banned from participating in the political life of Egypt." The path toward elections at the end of November is strewn with booby traps, each one with the potential to trigger clashes in the capital.
The confidential message from one of Egypt's major players said, "Common sense and rationality have disappeared and the military, while trying to keep some keel to the process, have daily fires to deal with, e.g., disruptions in hospitals, educational sector in disarray, court rulings revoking privatizations that happened over 10 years ago, cancellation of licenses for plants built and that employ thousands of workers, a now dysfunctional banking sector and heightened risk of sudden court rulings, strikes in public transport, riots and demonstrations, populist mania by aspiring politicians, a totally frantic and irresponsible media, major weapons smuggling from Libya and Gaza, and an economy looking into the abyss with the stock exchange falling off the cliff, not to mention 'no new investments.' "
Salafist extremists seem to believe the time is ripe to take on Christian Copts. This could easily explode into the kind of sectarian violence Pakistan has suffered as Shia and Sunni Muslims torch each other's mosques.
Copts are the largest Christian community in the Middle East. Their history covers more than 19 centuries. Their women do not wear a veil or otherwise cover their faces. Christianity was introduced in the first century A.D. during the Roman period. Egypt is in the Bible as the refuge the Holy Family sought in its flight from Judea.
The Christian School of Alexandria was founded by St. Mark and is the oldest such establishment in the world. The Arab Muslim invasion of Egypt did not take place till A.D. 639.
Since Gamal Abdel Nasser's 1952 revolution, the army has been the most powerful player as the guardian of stability. It owns at least one-third of the economy. And many businessmen who did well through their army connections are faithful guardians of the status quo. The army is divided over whether it should stand pat or give up some of its privileges.
Egypt also remains of enormous strategic value to the United States. It is guardian of the Suez Canal, grants automatic authorization for U.S. military overflights and is an ally in the confrontation with Iran (though this has weakened since Mr. Mubarak's overthrow). In return, Egypt gets $2 billion a year in U.S. military aid.
As of now, the Egyptian military has no interest in undermining its strategic interests with the U.S. and Israel. Depending on who emerges victorious from a messy – and most probably bloody – election campaign, the geostrategic comfort zone may shrink perceptibly.
www.washingtontimes.com/news/2011/oct/12/egypts-tower-of-babel/
Clinton Thinks Twice: Maybe Mideast Democracy Not So Good
Obama helped oust Mubarak, replaced by an equally autocratic regime. Clinton wants elections – but will the Muslim Brotherhood win?
By Tzvi Ben Gedalyahu
First Publish: 11/8/2011, 2:48 PM
Months after President Barack Obama hastened the end of the Mubarak regime, U.S. Secretary of State Hillary Clinton wants the military regime in Cairo to move faster on elections.
Parliamentary elections are scheduled in three weeks, but discord, suspicion and protests may upset the timetable. The Muslim Brotherhood and other Islamists are leading the pack, but no one really understands the parties' policies.
The United States' first direct presence in Middle East elections was five years ago in the Palestinian Authority voting. There, American-supervised balloting mirrored America's principle of democracy in action.
Aides to then-Secretary of State Condoleezza Rice woke her up in the middle of the night with election results that she found hard to believe. Hamas had won, throwing the PA into disarray and leading to the eventual forced ouster of PA Chairman Mahmoud Abbas's Fatah party rule in Gaza.
Now, the Obama administration already is bracing for a victory by the Muslim Brotherhood, which spawned the Hamas terrorist organization.
William Taylor, an administration Middle East official who recently visited Egypt, said that if the Muslim Brotherhood wins, "I think we will be satisfied, if it is a free and fair election."
Clinton is not dismayed but admitted Monday that democratic elections do not always further near-term interests of the United States.
Speaking to the National Democratic Institute on the Obama administration's response to the Arab Spring uprisings, Clinton said the United States deals differently with pro-democracy movements, depending on the local situation.
Despite her dissatisfaction with the Egyptian's regime's months-long delay of elections, she said that democracy in the Middle East "can provide a more sustainable basis for addressing" American interests.
She tried to justify America's intervention in Libya while it has laid low in Syria, whose President Bashar Assad she called a "reformer" in the beginning of the anti-regime protests seven months ago.
Clinton said action was necessary in Libya to protect civilians. In Syria, 3,500 civilians have been murdered in the uprising, but she tried to explain, "Sometimes, as in Libya, we can bring dozens of countries together to protect civilians and help people liberate their country without a single American life lost.
"In other cases, to achieve that same goal, we would have to act alone, at a much greater cost, with far greater risks and perhaps even with troops on the ground. Our choices also reflect other interests in the region with a real impact on Americans' lives – including our fight against al Qaeda; defense of our allies; and a secure supply of energy."
Libya is a large producer of oil. Syria is not. Damascus also is a key factor in the Arab-Israeli struggle, is an ally of Iran and in effect dominates Lebanon through pro-Syrian and Hizbullah parties.
She left the solution to Assad's ruthless suppression with Syrian themselves. "Those leaders trying to hold back the future at the point of a gun should know their days are numbered," she said.
Clinton chose to concentrate on Egypt, saying "If, over time, the most powerful political force in Egypt remains a roomful of unelected officials, they will have planted the seeds for future unrest. Egyptians will have missed a historic opportunity. And so will we."

www.israelnationalnews.com/News/News.aspx/149531#.TsAwGvTpxNc
Smuggled Libyan weapons flood into Egypt
By Leila Fadel, Published: October 12
EL ARISH, Egypt — Large caches of weapons from Libya are making their way across the Egyptian border and flooding black markets in Egypt's already unstable Sinai Peninsula, according to current and former Egyptian military officials and arms traders in the Sinai.
Egyptian security officials have intercepted surface-to-air missiles, most of them shoulder-launched, on the road to Sinai and in the smuggling tunnels connecting Egypt to the Gaza Strip since Moammar Gaddafi fell from power in Libya in August, a military official in Cairo said. Arms traders said the weapons available on Sinai's clandestine market include rockets and antiaircraft guns.
The seizures raise fresh concerns about security along the sensitive area that borders the Gaza Strip and Israel, at a time when unrest is roiling the region. The addition of shoulder-fired antiaircraft missiles to arsenals of Palestinian fighters in Gaza could add significantly to the threat against Israel, whose helicopters and fixed-wing aircraft frequently patrol the strip, which is controlled by the militant Islamist group Hamas.
"We don't want to see Egypt as a pathway to smuggle weapons," said Sameh Seif el-Yazal, a retired Egyptian general in military intelligence who said several surface-to-air missiles have been intercepted on the desert road from Libya to the Egyptian city of Alexandria and north on to Gaza. "We believe some Palestinian groups made a deal with Libyans to get special weapons such as shoulder-fired surface-to-air missiles."
Concerns about security in the Sinai have been growing in Egypt and among Israeli and American officials, who have called on Egypt to do more to protect the sensitive area, which borders the Gaza Strip and Israel. In the months since Egypt's January-February revolution, the pipeline that feeds natural gas to Israel has been attacked seven times by militants. A cross-border attack by assailants in August killed eight Israeli civilians and prompted an Israeli counterstrike that killed six Egyptian troops, including three who later died of their wounds. Palestinian militants in Gaza command a potent arsenal that includes surface-to-surface missiles capable of striking deep inside Israel. But they are not known to have employed more than rudimentary antiaircraft weapons.
Resistance by Bedouins
The vastness of the Sinai, with its deserts and mountains, poses a major challenge to efforts by Egyptian authorities to maintain security there. In recent months, Egypt has sent reinforcements, bringing the number of troops on the peninsula to 20,000, but it has struggled to gain control in an area governed by tribal customs and populated primarily by Bedouins, who distrust the government and call the shots.
A security official and an Egyptian brigadier general who served recently in the Sinai said the seizures have included ammunition, explosives, automatic weapons and caches of heavier arms, including Russian-made Strela-2 and Strela-3 heat-seeking, shoulder-fired antiaircraft missiles.
"We've intercepted more advanced weapons, and these weapons aren't familiar to the Egyptian weapons markets; these are war weapons," said the brigadier general, who spoke on the condition of anonymity.
U.S. officials are concerned that some of Libya's vast trove of shoulder-fired antiaircraft missiles could end up in the hands of terrorists, who could use them against civilian jets. Gaddafi's government had up to 20,000 of the missiles, according to U.S. estimates, and American authorities are working with Libya's provisional government to track down what happened to them. Although thousands were thought to be destroyed in NATO bombing raids during the conflict this year, many missiles apparently were looted from unguarded warehouses in the chaos of the Libyan uprising.
The 1979 peace treaty between Egypt and Israel imposes strict limits on Egypt's military presence in the Sinai, but Israel has signaled an openness to further troop increases there because of concerns about cross-border attacks and smuggling. Many Bedouins rely on smuggling as their main source of livelihood, delivering food, cement and other commodities to Gaza — which is under an Israeli blockade — for cash, even as Egyptian authorities have taken new steps to cut off the tunnels that lead into the
zone.
www.washingtonpost.com/world/middle_east/smuggled-libyan-weapons-flood-into-egypt/2011/10/12/gIQA2YQufL_story.html
Islamist Parties Proliferate In Post-Mubarak Egypt
by SORAYA SARHADDI NELSON
November 15, 2011
Egypt holds parliamentary elections this month and many people expect the outcome to be similar to recent polls in Tunisia, where an Islamist party won the largest bloc of seats.
Nearly a dozen official parties with ties to Islamist groups have sprung up in Egypt since the summer, and most analysts predict they will do well.

/www.npr.org/2011/11/15/142301980/islamist-parties-proliferate-in-post-mubarak-egypt
Egypt's Islamic Camp, Once Suppressed By Regime, Now Taking Part in Shaping New Egypt – Part I: The Al-Azhar Document
By: L. Azuri*
To read the full report, visit
www.memri.org/report/en/0/0/0/0/0/0/5764.htm.
To read Part I, visit
www.memri.org/report/en/0/0/0/0/63/0/5617.htm.
To read Part II, visit
www.memri.org/report/en/0/0/0/0/0/0/5745.htm.
* L. Azuri is a research fellow at MEMRI.
In Egypt, measuring gap between activists, 'silent majority'
Updated 11/25/2011 1:18 AM ET
By Sarah Lynch, Special for USA TODAY
CAIRO — In a cafe hidden amid ancient mausoleums and tombs, Amed Awad watches clashes continue across Egypt on the screen of a blaring TV.
"We see the military council as perfect and don't understand why this is happening," said Awad, in Cairo's City of the Dead, where people live among the deceased. "The protesters are destroying our country."
For six days, activists, liberals and Islamists alike have clashed with security forces across the nation demanding that Egypt's Supreme Council of the Armed Forces (SCAF) step down. But beyond this group of vocal Egyptians who have become the political class in revolutionary Egypt, many here support the interim governing council, which has ruled since the ouster of longtime ruler Hosni Mubarak in February.
"We are the 'Party of the Couch,' " Awad said. "We are the silent majority who are watching this happen, but our voices are never heard."
Home to ancient burial grounds, the City of the Dead is only a few miles from Tahrir Square, the main protest site for the revolutionaries, but it is far from the world of the elites who are battling to shape Egypt's future political system. It is home to many impoverished people in a country where 40% of the people make less than $2 a day.
People here are more concerned with figuring out how they are going to feed their families than changing the path of their nation's politics.
"The military council needs to stay governing," said Sami Ibrahim, 32, sitting on a stoop between tombs. "If they step down, the country will be even more chaotic than it is now."
The disparity between average Egyptian interests and those of the political elite is evident in campaigns for parliamentary elections. Although some of Egypt's newly formed political parties have been savvy in appealing to Egyptians, political analysts say parties have not fully addressed one of the public's primary concerns.
"Political parties are saying they stand for social economic justice and that fighting unemployment is important, but they are banal platitudes that everyone agrees on," said Shadi Hamid, director of the Brookings Doha Center, a think tank in Qatar.
"There is no discussion about the nitty-gritty of economic policy, and that is ultimately what will make a difference for everyday Egyptians," Hamid said.
The unrest has hobbled the economy. Egypt had seen growth rates of 7% just a few years ago but is forecast to see growth of a paltry 1% this year, according to the International Monetary Fund.
Its debt is rising, too.
Sectors employing unskilled laborers have grown increasingly vulnerable, experts say. Tourism rates dropped drastically this year, while foreign and domestic investment has nearly dried up. With increasing pressures on the interim government to deliver social and economic justice, the economy grows increasingly strained.
"Even when the revolution broke out, many Egyptians were not in a comfortable position, which led to the need to topple the previous regime to begin with," said Magda Kandil of the Egyptian Center for Economic Studies. "Those who are trying to make ends meet have been severely affected."
Many Egyptians are struggling to feed their families and also fear what their lives would be like without the military's protection and security.
"If SCAF steps down, what will happen to women going to work and leaving at night alone?" said Saneh, 17, who dropped out of school when she was 12 to take care of her ill mother. "We are afraid nowadays even to take our kids to school."
Other Egyptians expressed concern about national security.
"It's natural for Egypt to be governed by the military right now, because the only enemy is Israel," said Ahmed Hassan, 40, commenting on the countries' shared border.
Analysts say the gap in public and elite opinion is a concern ahead of parliamentary elections, set to begin Monday, with presidential elections targeted for mid-2012.
"Some people think it is important to get the military out, and others say the military is the only thing standing between us and anarchy," said Jon Alterman of the Center for Strategic and International Studies in Washington, D.C.
"More troubling is that you see another rift opening up in Egyptian public opinion," Alterman said.
The parliamentary elections are to take place in three rounds over several months.
Various parties are running, ranging from the Muslim Brotherhood, a once banned organization that supports versions of Islamic law, liberal parties that want more freedoms, and some Islamists who want to tear up peace deals made with Israel years ago.
Few party members have put forth comprehensive proposals to boost incomes. Some people are so disgusted with their options they won't be voting.
"I don't think anyone can fix the country," Ibrahim said.
Alaya Gabalaya, an elderly woman, said she feels helpless. "We live here as though we are dead," she muttered. "No political parties represent our opinions. We always vote for people in parliament who promise to help us but at the end of the day, all they care about is their benefits."
http://content.usatoday.net/dist/custom/gci/InsidePage.aspx?cId=cincinnati&sParam=51385968.story
Egyptian democracy prospects