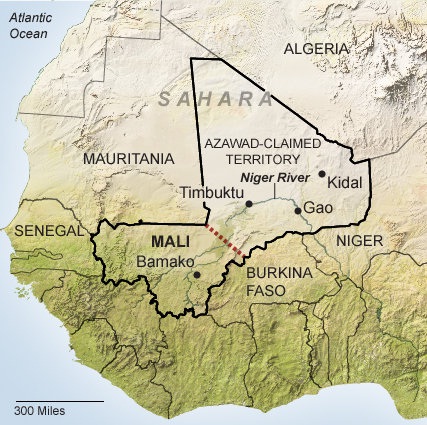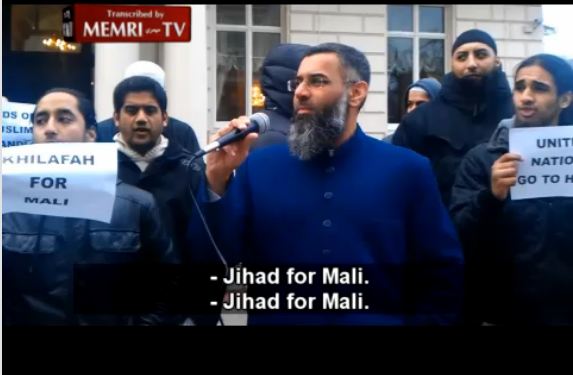 The forbidden lovers of Timbuktu: How Islamic militants terrorised the women and girls of Mali for not obeying their strict Sharia code
Liberator: A French soldier mans the gun of an armoured vehicle as he stands guard in front of the airport in Timbuktu
Enforcers: Members of the al-Qaeda-linked terror group Ansar Dine Islamist ride in the back of a pick-up truck. For ten months the group terrorised the female population of Timbuktu
Survivor: Salaka Djicke tells how she was jailed and flogged by Islamic militants linked to al-Qaeda
http://www.dailymail.co.uk/news/article-2274595/A-chance-phone-whirlwind-romance-loving-couple-slaughtered-Malis-terrorists-brutal-example-breaking-Sharia-code.html

www.dailymail.co.uk/news/article-2267033/Mali-French-soldier-pictured-wearing-Call-Duty-grinning-skeleton-mask.html
Al-Qaeda's scathing letter to troublesome employee Mokhtar Belmokhtar reveals inner workings of terrorist group
Mokhtar Belmokhtar, the one-eyed Islamic terrorist, was taken to task by al-Qaeda for failing to submit his expenses, answer his phone and carry out a spectacular attack, weeks before the Algeria gas facility hostage crisis.

www.telegraph.co.uk/news/worldnews/al-qaeda/10085716/Al-Qaedas-scathing-letter-to-troublesome-employee-Mokhtar-Belmokhtar-reveals-inner-workings-of-terrorist-group.html
Mokhtar Belmokhtar
In a video, Belmokhtar has spoken of the struggle against disbelief – in other words, us, the West – the importance of Islamic law and the Islamic project in northern Mali. He is too canny a man not to have realised that Mali's torment springs from the decades-long northern Tuareg-Berber-Arabophone refusal to be governed by a black administration in the south, but he was drawn – like Bin Laden in Afghanistan – into a land where centralised power was weak or non-existent. While human rights groups recorded ferocious Islamist punishments – executions, amputations, the oppression of women; the list is familiar – he spoke of a sharia which fed the poor, created justice between Muslims, and equal rights.

www.independent.co.uk/news/world/africa/mokhtar-belmokhtar-the-new-face-of-alqaida-and-why-hes-nothing-like-osama-bin-laden-8466057.html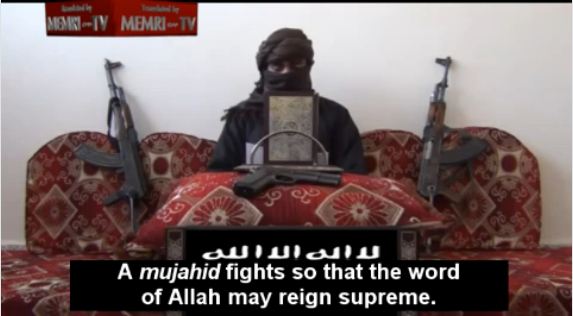 The French Way of War

Soldiers from the French Foreign Legion rehearsing in July for the Bastille Day parade down the Champs-Élysées.
By STEVEN ERLANGER
Published: January 19, 2013
PARIS
IN 1966, the French president, Charles de Gaulle, war hero and general nuisance in Allied eyes, wrote President Lyndon B. Johnson to announce that France was pulling out of full membership in NATO and would expel NATO headquarters from France.
"France is determined to regain on her whole territory the full exercise of her sovereignty, at present diminished by the permanent presence of allied military elements or by the use which is made of her airspace; to cease her participation in the integrated commands; and no longer to place her forces at the disposal of NATO," de Gaulle wrote.
After the humiliating capitulation to the Nazis, a tremendous shock to a prideful and martial France, it was not especially surprising that de Gaulle should seek to restore France to a place at the top table of nations, capable of defending its own interests with its own means at its own pace and pleasure.
Even today, as French troops intervene in Mali, the French take pride in their military capacity and in their independence of action. French forces still march every year down the Champs-Élysées on Bastille Day, a military celebration unparalleled in the West. France has nuclear weapons and is the only country, other than the United States, with a nuclear-powered aircraft carrier. And even as Paris has slowly reconciled itself to full NATO membership, France has maintained its ability to send troops and equipment quickly to large parts of the globe, and it should soon overtake an austerity-minded Britain as the world's fourth largest military spender, after the United States, China and Russia.
"The French, who are so gloomy and pessimistic about the situation in the country and the economy, have at least one reason to be proud of what their country can achieve," Jean-David Levitte, the diplomatic adviser to former President Nicolas Sarkozy and the former ambassador to both the United States and the United Nations, told me. "We still have a foreign policy, a capacity to act beyond our borders, a capacity to make a difference."
France cannot do everything on its own, Mr. Levitte freely acknowledges. "But if you don't have the military means to act, you don't have a foreign policy," he said.
The French are willing to intervene militarily, but on the basis of new conditions, which differ, French officials argue, from the old colonial habits and traditions known as "Françafrique."
In Mali, as they did in 2011 in Libya and in Ivory Coast, the French have intervened on the basis of a direct request for help from a legitimate government, the support of regional African groupings like the African Union and a resolution from the United Nations Security Council.
Even in Mali, France means to act multilaterally, even if it is leading from the front, as it did in Libya, in the name of saving an ally and helping the Sahel region combat the spread of radical Islamists, some of them foreign jihadists, strongly connected to terrorist groups like Al Qaeda in the Islamic Maghreb.
So far, the decisive intervention by the French president, François Hollande, has been popular. A survey published on Wednesday by BVA for Le Parisien found that 75 percent of the French supported Mr. Hollande's decision to take rapid military action against Islamist rebels in Mali, despite the risks, compared with 66 percent support for intervention in Libya last year and 55 percent for Afghanistan in 2001. An earlier poll on Monday for IFOP found that 63 percent backed Mr. Hollande's decision.
More striking, perhaps, the consensus among the political elite has been unanimously supportive, says Bruno Tertrais, a defense analyst at the Foundation for Strategic Research in Paris. "The French people are ready to support a military operation as long as the objectives are clear and seem legitimate," he told me. While stopping the Islamist advance on Bamako, Mali's capital, is such a goal, he went on to say, "if it were a matter of an operation to reconquer the north of Mali, the perception would have been different."
The French have an all-volunteer military, which distances the population further from the cost of war and makes soldiers "less visible to the populace at large," notes Sébastien Jakubowski, a sociologist at the University of Lille who studies the army. It has also made the army more popular, with an approval rating of between 80 and 90 percent, he says.
But in another change from the past, the French expect that a decision to use the military will be based on clear moral criteria, Mr. Jakubowski said. And the French take some pride in playing a leading role from a moral foundation, even if French national interests are also at play, pushing other allies to act.
Mr. Jakubowski cited an interview in Le Figaro on Jan. 3 with the American neoconservative historian Robert Kagan, whose study of American and European attitudes toward the use of force, comparing America to Mars and Europe to Venus, was much caricatured but highly influential.
In the interview, and later to me, Mr. Kagan praised the French for their willingness to use force in the pursuit of legitimate goals, even if they may not always have sufficient means to accomplish them. "Nobody asks France to be at the forefront of military interventions, but the willingness of the French to take the initiative is positive," he said. "I have a new philosophy: If the French are ready to go, we should go."
But the French also understand that their military limitations are real, and they are far better off acting with others, even if not always with Washington. Paris has been a constant prod to other European countries, and to the European Union itself, to develop better military capacities.
"We think it is absolutely necessary for other European countries to do what we do," Mr. Levitte said. "Otherwise there will be a kind of strategic irrelevance of Europe as a whole." It should be obvious, he said, that the United States has other priorities and is concentrating on Asia, and need not act everywhere. "So if we are both independent and true allies of the United States we should be in a position to act when need be."
http://www.nytimes.com/2013/01/20/sunday-review/the-french-way-of-war.html
Mali: jihadist fighters melt away as French begin to regain control
Majority of northern region taken back but many refugees believe retreat of rebels is only temporary
www.guardian.co.uk/world/2013/jan/27/mali-france-islamist-rebels-north
Recaptured by moonlight, the fabled desert city where Islamists burned books in a bitter farewell

www.independent.co.uk/news/world/africa/recaptured-by-moonlight-the-fabled-desert-city-where-islamists-burned-books-in-a-bitter-farewell-8470645.html
Islamist insurgents retreating from Timbuktu set fire to a library containing thousands of priceless historic manuscripts, according to the Saharan town's mayor, in an incident he described as a "devastating blow" to world heritage.
Hallé Ousmani Cissé told the Guardian that al-Qaida-allied fighters on Saturday torched two buildings that held the manuscripts, some of which dated back to the 13th century. They also burned down the town hall, the governor's office and an MP's residence, and shot dead a man who was celebrating the arrival of the French military.
French troops and the Malian army reached the gates of Timbuktu on Saturday and secured the town's airport. But they appear to have got there too late to rescue the leather-bound manuscripts that were a unique record of sub-Saharan Africa's rich medieval history. The rebels attacked the airport on Sunday, the mayor said.
www.guardian.co.uk/world/2013/jan/28/mali-timbuktu-library-ancient-manuscripts
Timbuktu Manuscripts Mostly Safe, University Of Cape Town Says

www.huffingtonpost.com/2013/01/30/timbuktu-manuscripts-mostly-safe_n_2582790.html

In northern Mali's war, al-Qaeda affiliate is directing the fight
By Sudarsan Raghavan, Published: January 28
DIABALY, Mali — Most of the rebels who took over this central town for five days this month were Malian and spoke the local languages of the north and the south. But their commanders were different, local residents said. They were foreigners who spoke Arabic.
Six bodyguards protected the most senior commander, with a gray-speckled beard and a black turban. The Islamist militant ate Algerian-made spaghetti and Mauritanian-made canned tomato sauce. Malian fighters served only as his interpreters or brought him intelligence reports.
"The Arabic speakers were in charge," recalled Moussa Sangire, 71, a retired soldier who lives next to a house taken over by a group of foreign fighters.
What began as a homegrown, Malian-led rebellion is now entrenched as a conflict directed by al-Qaeda's West and North Africa wing, mostly foreign fighters from Algeria and Mauritania, according to Western diplomats, Malian military officials and analysts.
As French and Malian forces advance in northern Mali, they are learning more about the rebels who have held this Texas-size swath of territory for months, mostly out of view of outsiders. Diabaly, briefly held by the militants, has now changed hands and offers a small window into the leadership of the jihadists.
They are an enemy that appears determined to broaden the conflict into a wider struggle against the West. The first reaction by the insurgents to the French forces' takeover of parts of the town of Gao on Saturday came from a top regional al-Qaeda leader, published on the Arabic Web site of the al-Jazeera television network. He vowed to resist what he described as a "new Crusader aggression," adding that a "jihadist Islamist emirate" would be created in northern Mali.
"It seems that these groups are being led by AQIM," said Bertrand Soret, chief political adviser to the European Union delegation in Mali, referring to al-Qaeda in the Islamic Maghreb. "The tactical backbone of the rebels is more influenced by AQIM."
In Diabaly, the jihadists covered their pickup trucks with mud and parked them under the thick canopy of mango trees to hide them from French airstrikes. They stole ubiquitous scooters and used them to patrol the town and blend into the population. They mounted antiaircraft guns on the rooftops of homes.
Some residents described seeing Abdelhamid Abou Zeid, a senior AQIM leader, though his presence in the area could not be independently verified.
The rising influence of the foreign fighters could bode well for efforts to negotiate with Malian insurgents to defect and turn against AQIM. Some local fighters have already defected, suggesting that they were unhappy with the direction the fight was taking.
But it also means that French forces could face a full-blown guerrilla insurgency punctuated by suicide bombings, homemade bombs and ambushes, tactics used in Afghanistan, Algeria and neighboring Nigeria. Many of the foreigners are veterans of these and other conflicts, according to Western diplomats and security analysts.
Western diplomats in Mali's capital, Bamako, predict that the French forces, with their airstrikes, superior weaponry and manpower, will probably take full control of Gao and the two other major militant strongholds of Timbuktu and Kidal after some resistance, as the militants retreat tactically or melt into the population.
But the real struggle for the north, they said, would likely unfold afterward, as less-experienced Malian and African forces secure the towns. The jihadists can take advantage of the vast northern desert they have lived in for years to disappear, train and rearm — creating a base to stage stealth attacks against French, Malian and other African soldiers in and outside urban areas.
"The million-dollar question is at what point they will work out that they can't defeat the French on the battlefield," said a Western diplomat, speaking on the condition of anonymity because of the sensitivity of discussing military matters. "Once they reach this conclusion, we have to anticipate an asymmetrical terror campaign."
During their brief siege of Diabaly, which ended a week ago, the militants unveiled some of their tactics: using civilian neighborhoods as refuges and to deposit weapons and ammunition, and turning local people into human shields. To accomplish this, they were polite to most Muslim residents, offering them dates and peanuts.
One Arabic-speaking commander, through a Malian fighter, informed Hamidou Sissouma that they were interested in killing only French and Malian soldiers. Clutching a black walkie-talkie, he handed Sissouma a ringlet of Muslim prayer beads as a gift.
"He said, 'We're not going to hurt you. Our mission is to teach you the proper religious ways,' " recalled Sissouma, 45, a teacher. "They were so kind. They were trying to win the people over."
Tuareg separatists sidelined
In March, secular Tuareg separatists took advantage of a military coup in Bamako to seize the northern half of the country, pushing out the weak Malian army with the help of arms smuggled from former Libyan leader Moammar Gaddafi's arsenal. AQIM fighters and other religious extremists piggybacked on the rebellion and soon marginalized the secular Tuaregs, installing a harsh brand of Islamic law, enforced by public amputations, stonings and whippings.
Initially, a homegrown group called Ansar Dine, or "defenders of the faith," was in control. Iyad Ag Ghaly, its leader, is a prominent Malian Tuareg religious hard-liner who has been fighting for a separate Tuareg state since the late 1980s. But gradually, Western diplomats and analysts said, AQIM and its offshoot, the Movement for Oneness and Jihad in West Africa, began to assert more authority over the rebellion. Increasingly, Ag Ghaly needed money from AQIM to finance his movement, and the al-Qaeda affiliate, its coffers flush with millions of dollars from kidnapping Westerners, was happy to oblige.
"He has been relying more and more on AQIM, and now he has been taken over by AQIM," Soret said.
Further bolstering AQIM's presence within the rebellion was the split last week inside Ansar Dine, with the defecting faction saying it was willing to negotiate with the French and Malian forces.
AQIM's origins can be traced back to the Algerian Salafist Group for Preaching or Combat, an insurgent group that initially fought the Algerian government in the 1990s but later embraced al-Qaeda's philosophy and changed its name to AQIM.
Today, Soret said, AQIM's goal is to "internationalize the conflict as best as they can." It appears to be working to some degree. Since the French military intervention began on Jan. 11, AQIM has been lionized by radical groups and in extremist Internet chat rooms, with some referring to Mali as a religious war. The hostage-taking this month at a natural gas plant in neighboring Algeria, in which at least 37 foreigners were killed, has also bolstered its image in global jihadist circles.
Hands-on leadership
On the ground, the foreign fighters have overseen the fighting to the minutest degree. In Diabaly, residents said the foreign commanders walked around town inspecting the damage from French airstrikes. They sent Malian jihadists on scooters, dressed in plain clothes, to gather information.
In one house, residents said they recognized Abou Zeid from his photo shown on television the night before. Born in Algeria, he is considered one the most violent jihadist commanders in the region, linked to several kidnappings and executions of Europeans.
Moussa Komare, 48, who lived near a house occupied by Abou Zeid, said the medium-height, bearded commander was surrounded round-the-clock by six bodyguards. He arrived on a Wednesday, two days after the town was captured.
While he was there, he did not leave the compound, Komare said. The bodyguards referred to him only as "our leader."
If true, the presence of Abou Zeid on an obscure front line would underscore the extent to which AQIM is directing the Mali conflict on the ground.
Late Thursday, a day after he arrived, he left Diabaly, residents said. The next morning, the rest of the jihadists began pulling out, and by Saturday, they had all vanished.

www.washingtonpost.com/world/middle_east/in-northern-malis-war-al-qaeda-affiliate-is-directing-the-fight/2013/01/28/212a909c-68a4-11e2-9a0b-db931670f35d_story.html
French troops face complicated military landscape in Mali

www.washingtonpost.com/world/french-troops-face-complicated-military-landscape-in-mali/2013/01/24/521d6ab0-6617-11e2-889b-f23c246aa446_story.html
Revealed: how Saharan caravans of cocaine help to fund al-Qaeda in terrorists' North African domain
The 37 foreign workers who died in the assault on an Algerian gas plant were victims of terrorists whose weapons may have been paid for by cocaine users of Britain and Europe, reports Colin Freeman.
By Colin Freeman, Segou
7:30PM GMT 26 Jan 2013
Like everywhere else that has fallen under Islamist rule in northern Mali, the city of Gao on the edge of the Sahara is not a place where vice is tolerated. Drinking and dancing are banned, the city's two nightclubs have been burned down, and the only thing that passes for street entertainment is watching citizens being flogged in public for smoking.
Such all-encompassing piety, though, comes to a halt outside the high walls of the gaudy new villas on Gao's outskirts, which stand out amid the shanty towns overlooking the sand dunes. Nicknamed "Cocainebougou" – which translates as "cocaine town" – the strip of mansions is home to the elite of the city's ancient smuggling community, which has trafficked goods across the Sahara since the 11 century, when Gao was better known than nearby Timbuktu.
Unlike their ancestors' cargoes of spices, salts and silks, the contraband that Gao's smugglers bring in today from Colombia is deemed strictly "haram", or forbidden, by Islam.
Yet the city's ever-zealous Islamist morality police have a good reason for turning a blind eye. For it is thanks to the trans-Saharan cocaine trade that Islamist groups like al-Qaeda have become a power in the region, building up formidable war chests to buy both arms and recruit< /p>
"Cocainebougou is full of very rich traffickers, all with gleaming new SUVs," said one former resident of Gao, who asked not to be named. "But they and the Islamists have a very close relationship."
The cocaine trade first exploded in this region five years ago, as Latino cartels, faced with a saturated market in the US, sought new routes to get their product to Europe's borders. First the drug is shipped or flown across the Atlantic to lawless, corrupt coastal states like Guinea Bissau, then it is moved thousands of miles across the Sahara to Algeria, Morocco and Libya.
Already, the influx of drug cash into such a poor region has had a disastrously corrosive effect.
In Guinea Bissau, for example, the cartels' limitless funds have bought up so many police, politicians and soldiers that it has been dubbed Africa's first "narco-state", with a military coup last April blamed on in-fighting over drug trade proceeds.
But while Britain and other Western nations have committed vast resources to fighting a similar narco-terror axis in the Taliban-controlled poppy fields of Afghanistan, the threat directly beneath Europe's belly has had rather less attention. The entire region has only a handful of Western counter-narcotics agents assigned to it, while many local police forces, such as in Guinea Bissau, lack even the cash to put petrol in their cars.
Now, though, the trade's potential to wreak far wider havoc has become horrifyingly clear, in helping to bankroll the al-Qaeda movements behind both the Islamist take-over of northern Mali and the murder of western workers at the Algerian gas facility earlier this month.
Among its most prominent beneficiaries is none other than Mokhtar Belmokhtar, the one-eyed jihadist and smuggler who has claimed responsibility for the mass hostage-taking in al-Qaeda's name.
Nicknamed the Marlboro Man for his lucrative cigarette smuggling empire, Belmokhtar, who helped found Al-Qaeda in the Islamic Maghreb, is thought to have diversified into drugs a few years ago, earning himself the moniker of "le narco-Islamiste" on the smuggling routes between Mali and his native Algeria.
More widely, AQIM is thought to levy "taxes" on other drug smugglers in return for safe passage, earning the group a direct subsidy from the cocaine that ends up in the clubs, bars and crack dens of Britain. As the US State Department puts it, AQIM provides "protection and permissions for traffickers moving product through areas they control".
As someone who boasts of fighting jihad in Afghanistan while just a teenager, Belmokhtar seems to have had no problem accommodating a sideline in "haram" contraband into his puritanical Islamic vision. As drugs are seen as a largely Western vice, jiihadists can argue that enabling them to flood into Europe is all part of a plan to weaken and corrupt the enemy.
In any case, smuggling has never been considered a disreputable professsion in the Sahara, especially along today's Mali-Algeria border. Goods in Algeria's oil-subsidised socialist economy are vastly cheaper than in dirt poor, remote Mali, creating a thriving black market in everything from petrol to semolina.
"In northern Mali, everything that is eaten comes from Algeria and comes illegally," said Andy Morgan, a British- based Sahara expert. "It has generated a massive smuggling economy, like Cornwall in the 18th century. Smuggling is in people's blood, it's not deemed a nefarious activity, and most of the region's powerful people are involved, like Belmokhtar and Abou Zeid (another AQIM leader)."
Today's smuggling caravans are very modern affairs, using the latest SUVs rather than camels, and steering by GPS rather than the stars.
However, thanks to the smugglers' time-old knowledge of the secret trails and hiding places that cover the Sahara's vast expanse, they are extremely to catch. The drug convoys are usually also heavily-armed, and are even said to sow certain sections of their routes with landmines to hinder police and army.
Gao, which sits on the River Niger in Mali's north-east, has long been one of the main drug transit points, where convoys begin winding north through the mountainous dunes of the Sahara proper. Notoriously, it was the scene of the so-called "Cocaine Air" incident of 2009, when an elderly Boeing 727 airliner was found abandoned in the desert near Tarkint, a sandblown village north of the city.
The United Nations Office for Drug Control believes the plane, carrying up to 11 tonnes of the drug, had been flown direct from Venezuela – one of an entire "fleet" of decrepit airliners pressed into service by Latino cartels. The incident prompted the UNODC to warn that terror-backed trafficking in West Africa was "taking on a whole new dimension."
Pierre Lapaque, the UNODC's regional head, who estimates that 35 tonnes of cocaine now pass through the region every year, told The Sunday Telegraph: "Northern Mali is the Wild West. There is absolutely no control."
While Mr Lapaque cautions that hard proof of al-Qaeda's role in the cocaine trade is, by definition, difficult to come by, US officials are rather more confident. In particular, they cite a court case in New York last November, when a man from Gao and two other extradited Malians were jailed for offering to transport cocaine for an FBI agent posing as a Latino drug baron.
The defendants, who claimed to be al-Qaeda affiliates, allegedly asked for a premium of $2,000 per kilo, which they said would "help the cause". While they later claimed to have simply fabricated their terror connections to impress their client, the DEA said the case proved a "direct link between terrorist organisations and international drug trafficking".
Such activities are believed to have enabled AQIM to go on a lavish shopping spree in the vast arms bazaar that sprung up in Libya after the fall of Colonel Gaddafi's regime in 2011. That, in turn, helped them to seize control of cities such as Gao last year, when they joined forces with Mali's Tuareg separatists to drive out the Malian army, prompting the subsequent military coup against President Amadou Toumani Toure.
There are even claims that the militants use cocaine as a stimulant when fighting. Last week, residents of the town Diabaly, where Islamists were driven out by French forces last week, said that some of the guerrillas who had invaded the week before had carried small bags of "white powder" with them.
"I saw two of them putting the power on the back of their hands and sniffing it," said Adama Sanogo, 44. "We assumed it was to give them energy during the fight."
While it was not possible to verify the claims of Mr Sanogo and other residents, it is not unheard of for al-Qaeda to use stimulants during battle. During the siege of Fallujah in Iraq in 2004, US soldiers found needles and quantities of amphetamines in militants' safe houses.
Yet the AQIM and its various Islamist affiliates, the Movement for Unity and Jihad in West Africa (MUJAO) and Ansar Dine (Defenders of the Faithful), are not the only ones benefiting from the cocaine trade. President Toure's government and army were likewise said to be on the take, with one 750 kilo seizure of cocaine mysteriously "disappearing" after being intercepted by troops in northern Mali in 2008.
Also thought to be complicit are local government officials around Gao, where the drug trade is dominated by the Telemsi, a tough Arab smuggling clan.
Identifying who exactly is involved is never easy, and within the various Islamists groups and their Malian government "patrones", allegiances and activities shift as constantly as the sands of the Sahara. One person who typifies the way they murkily interlink, though, is Baba Ould Cheikh, the tough, gun-toting Telemsi mayor of Tarkint, where the Boeing 727 landed.
While there is no suggestion that he is involved in the drug trade, many note that the traffickers chose to land the plane in his region. Equally intriguing is the role he has played in AQIM's other big money-raising activity – kidnapping Westerners for ransom.
On at least three occasions since 2003, he acted as a go-between for President Toure, driving thousands of miles into the desert to negotiate the release of hostages with AQIM brigades. And while he was always successful, Robert Fowler, a Canadian diplomat abducted by Belmokhtar in 2008, noticed that Mr Cheikh seemed on somewhat cordial terms with the AQIM leaders.
According to Mr Fowler, during the meeting at which he was finally released Mr Cheikh even had the kidnappers adjust the firing pin on his AK47.
"President Toure used to refer to Baba as 'Mon bandite'," said Mr Fowler, who spent 130 days in AQIM captivity. "He may or may not have had unsavoury connections, although I have to say that if it wasn't for Baba, I might not be alive today."
Smugglers and kidnappers, friends and foes, these shadowy webs of influence are the ones that France, Britain and other nations must now disentangle if they wish to have any chance of restoring stability to Mali and the wider region.
But while David Cameron has already pledged drones and Special Forces to "find and dismantle" al-Qaeda, it may be harder to stamp out the drug trade that nurtures them.
Western nations have already begun training counter-narcotics police in countries like Ghana and Nigeria, fearful that West Africa could face the kind of drug violence convulsing Mexico if the cocaine trade continues to expand.
But those countries most in need of help are already almost beyond it.
The hotspot of Guinea Bissau is a formidably difficult environment for trainers and counternarcotics officials to operate in, not least because, according to UN officials, many of those behind the coup and now in power have links with the drugs business.
And diplomats point out that for all the West's talk of helping to retrain Mali's chaotic army, it was already the recipient of a generous US counter-terrorism programme when it collapsed last year.
"You can spend all the money you like, but these are not easy regimes to deal with," said one serving drug enforcement officer who covers West Africa. "Some of them are already so bad that you can't achieve anything."

www.telegraph.co.uk/news/worldnews/africaandindianocean/mali/9829099/Revealed-how-Saharan-caravans-of-cocaine-help-to-fund-al-Qaeda-in-terrorists-North-African-domain.html
January 25, 2013, 10:23 am
A Tale of Two Islamisms
By HANNAH ARMSTRONG
BAMAKO, Mali — Last spring radical Islamism took over the north of Mali. Three fundamentalist militias with links to Al Qaeda hijacked a Tuareg uprising and after seizing two-thirds of the country, enforced Shariah at gunpoint and smashed religious monuments, eliciting comparisons to the Taliban.
Now, a republican form of Islamism is peacefully conquering the south of Mali. The High Council of Islam, an Islamist civil society organization, has gradually emerged as the country's strongest political force.
Since a coup d'état by Capt. Amadou Haya Sanogo and low-ranking soldiers threw the political class into upheaval last March, the H.C.I. has stepped in to fill the vacuum. Many Malians — 90 percent of whom are Muslim — respect the council for providing social services and education through a network of 165 ngos. The country's new leaders are forging close ties with the group in the hope of consolidating their support among the public.
Last August, the H.C.I. gained its first cabinet post, the Ministry of Religious Affairs and Worship — which many believe was created specifically for the council.
The vendor at my local boutiki, a small stand that sells eggs, bread and dried goods, has mounted a photo of Sanogo with his arms around the "Cherif of Nioro," a light-skinned Arab H.C.I. leader.
"They are definitely getting more involved in politics," Bakary Diouara, a 20-year-old journalism student, told me on Wednesday, speaking of H.C.I. members. "It is good for Mali."
The H.C.I. has served as the state's main interlocutor with the extremists in the north. More than 100 Malian soldiers were taken prisoner by Ansar Dine, one of the three extremist groups controlling the north, in the initial Islamist offense in April; it was mediation by the H.C.I. that eventually secured their release. "We recognize only one single channel of negotiations with Mali, and that is the channel of our brothers at the H.C.I.," Iyad ag Ghali, the Tuareg leader of Ansar Dine, said last July.
But the kinship is limited. The H.C.I. rejects the jihadis' imposition of Shariah by force, and having failed to convince Ansar Dine to disarm, it supported the recent intervention of French soldiers to stop a fresh offensive from the north. It is also tapping its extensive network of imams and NGOs to levy funds for the army from ordinary Malians. The first check the group delivered last week was for about $40,000. That's not much, but in a country this poor it represents thousands of personal sacrifices and a measure of the people's faith in the H.C.I.
On Monday I met Moussa Boubacar Bah, a fortysomething Sufi jurist, at the H.C.I. office in Bamako's Hamdallaye neighborhood. "I am a moderate Islamist and a republican," he told me. "All of our battles take place in the framework of the republic. I will not destroy a bar; I will convince the people not to drink."
In this, Bah is similar to other H.C.I. leaders, who uniformly decry violence and defend the importance of working alongside the Malian state — unlike the jihadis up north. And unlike the Gulf-inspired radicalism of those jihadis, the H.C.I. groups together Muslims of wide-ranging ideologies. Some represent the local brand of Sufism, for which music, fetishes and gender mixing are quite ordinary; others subscribe to the conservative Wahhabi strain of Islam, an import from Saudi Arabia.
Recently these camps debated how to celebrate the birthday of the Prophet Muhammad, which fell on Jan. 24 this year. Many Malians fete Maouloud, as the occasion is known across West Africa, with music and grand parties: In Bamako, the event usually draws over 50,000 people in the main stadium alone. But Salafis consider the revelry un-Islamic.
In the end, the H.C.I. decided to cancel public celebrations for this year. "It is not forbidden to celebrate Maouloud," Mahmoud Dicko, leader of the H.C.I., told journalists of Le Républicain newspaper. "We have simply asked people to celebrate it in contemplation and limit somewhat gatherings in public places." Though he cited security concerns to justify the ruling, it clearly favors the conservative branch of the organization.
Yet if southern Mali is heading toward Islamism, it is an Islamism based on persuasion, not violence and repression, as in the north. Also this week Dicko extended "warm thanks" to "His Excellence" François Hollande for the recent French intervention, while slamming "certain Gulf and other Muslim countries" — meaning Tunisia, Qatar, Egypt and members of the Organization of Islamic Cooperation — which called the French campaign an attack against Islam.
One Malian recently tweeted in support of Dicko: "These Arab Islamists are racists for they only conceive of Islam as being by Arabs, blacks are just second class." He, like most black southern Malians, who overwhelmingly support the intervention, do not grant Arab countries a monopoly on the interpretation of Islam. They favor their own version, leavened by pluralism and compromise-seeking.
http://latitude.blogs.nytimes.com/2013/01/25/another-kind-of-islamism-gains-ground-in-southern-mali/
With Timbuktu Retaken, France Signals It Plans to Pull Back in Mali
http://www.nytimes.com/2013/01/29/world/africa/timbuktu-mali-france-conflict.html
France plans to withdraw after retaking north Mali
Jan 30, 2013
by Oren Dorell, USA TODAY
France plans to leave northern Mali soon, now that its troops have retaken northern Mali from jihadist militias. Its strategy relies on handing control of an area the size of Texas to an African force that is unprepared and has yet to fully materialize.
About 2,500 French troops took part in the operation alongside the Malian military, which was overrun last year by Tuareg and Islamist militias that outnumbered and outgunned it. An international coalition of neighboring African countries has also committed troops, but there are serious questions about their number, training and experience for the mission, says Joshua Foust, a former intelligence analyst for the U.S. Military.
"There's a lot of doubt among Africa experts about whether these two groups will be able to handle it," says Foust, who works for the American Security Project, a think-tank in Washington.
French Foreign Minister Laurent Fabius told Le Parisien newspaper Wednesday that France provided the men and supplies "to make the mission succeed and hit hard," but French involvement "was never expected to be maintained."
"We will leave quickly," Fabius said, according to the Associated Press. "Now it's up to African countries to take over."
France launched its operation Jan. 11 at the request of the Malian transitional government to stop the advance of Islamist militias toward the capital, Bamoko. Jihadi and separatist Tuareg militias overran Malian government positions in the north last spring, supported by fighters that flooded the region after the fall of Libyan leader Moammar Gadhafi.
The militias, including al-Qaeda in the Islamic Maghreb (AQIM), al-Qaeda's affiliate in North Africa, destroyed ancient shrines, burned a historic library and enforced their harsh version of Islam, banning music and dance and amputating the hands of suspected thieves. An AQIM offshoot claimed responsibility for the hostage taking Jan. 16 in Amenas, an Algerian gas facility, that resulted in 37 dead Western workers, including three Americans.
French troops took control of the airport in Kidal, the last remaining city controlled by jihadists in northern Mali. French and Malian troops earlier recaptured two other provincial capitals, Timbuktu and Gao. Haminy Maiga, the interim president of the Kidal regional assembly, told the AP that French forces met no resistance when they arrived in Kidal late Tuesday.
The French advance did not defeat the jihadis, but rather forced them into a "strategic withdrawal," said J. Peter Pham, director of the Africa program at the Atlantic Council.
They've gone into hiding "in an area they know better than anyone else in the world except the Tuaregs," Pham said, referring to tribes who are native to the region.
The large territory cannot be secured by the small number of troops that have been committed to the task, Pham said.
The Malian military, which overthrew the country's democratic government in the midst of last spring's Tuareg offensive, can post about 2,500 troops to the north, Pham said. Up to 3,300 troops have been pledged by a multinational African force from Ivory Coast, Burkina Faso, Niger, Nigeria, Togo and Senegal. Chad has said it will send 2,000 troops, according to media reports.
Pham said the combined force is mostly untrained and unequipped for the desert terrain and will have to overcome linguistic barriers.
Confronting it, "you have more than enough militias" to engage in hit-and-run attacks, plant roadside bombs and shoot mortars – insurgent tactics used against foreign forces in Somalia, Iraq and Afghanistan over the past decade, he said.
The international troops "will hole up in garrisons behind sandbags while the militants fight an insurgency," Pham said.
Susanna Wing, an expert on Malian politics at Haverford College, says the French won't leave until the multinational force is in place and the Malian army has the backing it needs.
"The idea that the jihadists would slink away and stay away without someone to stop them coming back would be crazy, and the French are not going to risk that," Wing said.
Malian officials have announced plans for national elections by July, which could reinstitute democracy in the country, Wing said.
Foust says the French are trying to set a concrete and limited goal of safeguarding the government in Bamako and leave "in a way that Malians and west Africa can take care of their own business."
The downside, he said, "is it just might not work
http://news.cincinnati.com/usatoday/article/1878047
Can the E.U. become the world's policeman?

www.washingtonpost.com/opinions/anne-applebaum-the-eu-fills-a-void/2013/01/23/a58bcd14-6585-11e2-9e1b-07db1d2ccd5b_story.html