This is old news:
Wraps come off special operations Afghan war plan
By KIMBERLY DOZIER, AP Intelligence Writer – Apr 12, 2012
WASHINGTON (AP) — Adm. Bill McRaven, the head of U.S. special operations, is mapping out a potential Afghanistan war plan that would replace thousands of U.S. troops with small special operations teams paired with Afghans to help an inexperienced Afghan force withstand a Taliban onslaught as U.S. troops withdraw.
While the overall campaign would still be led by conventional military, the handfuls of special operators would become the leading force to help Afghans secure the large tracts of territory won in more than a decade of U.S. combat. They would give the Afghans practical advice on how to repel attacks, intelligence to help spot the enemy and communications to help call for U.S. air support if overwhelmed by a superior force.
http://www.google.com/hostednews/ap/article/ALeqM5i5MLgf-WjzmfA1Ofa1Oj-Lgl_J-g?docId=a419a831210246379a2c152a3dc9108a
U.S. Plans Shift to Elite Units as It Winds Down in Afghanistan
By THOM SHANKER and ERIC SCHMITT
Published: February 4, 2012
WASHINGTON — The United States' plan to wind down its combat role in Afghanistan a year earlier than expected relies on shifting responsibility to Special Operations forces that hunt insurgent leaders and train local troops, according to senior Pentagon officials and military officers. These forces could remain in the country well after the NATO mission ends in late 2014.
The plan, if approved by President Obama, would amount to the most significant evolution in the military campaign since Mr. Obama sent in 32,000 more troops to wage an intensive and costly counterinsurgency effort.
Under the emerging plan, American conventional forces, focused on policing large parts of Afghanistan, will be the first to leave, while thousands of American Special Operations forces remain, making up an increasing percentage of the troops on the ground; their number may even grow.
The evolving strategy is far different from the withdrawal plan for Iraq, where almost all American forces, conventional or otherwise, have left. Iraq has devolved into sectarian violence ever since the withdrawal in December, which threatens to undo the political and security gains there.
The plan would put a particularly heavy focus on Army Special Forces, also known as the Green Berets. They would be in charge of training a variety of Afghan security forces. At the same time, the elite commando teams within Special Operations forces would continue their raids to hunt down, capture or kill insurgent commanders and terrorist leaders and keep pressure on cells of fighters to prevent them from mounting attacks.
…Created by President John F. Kennedy in the 1960s, the Green Berets have as one of their core missions what is called "foreign internal defense" — using combat, mentoring, language and cross-cultural skills to train local forces in rugged environments, as they are today in missions conducted quietly in dozens of nations around the world.
Just as significant would be what the American military's conventional forces stop doing.
Americans would no longer be carrying out large numbers of patrols to clear vast areas of Afghanistan of insurgents, or holding villages and towns vulnerable to militant attacks while local forces and government agencies rebuilt the local economy and empowered local governments.
Those tasks would fall to Afghan forces, with Special Forces soldiers remaining in the field to guide them. This shift has already begun to take place.

www.nytimes.com/2012/02/05/world/asia/us-plans-a-shift-to-elite-forces-in-afghanistan.html
Special Forces
"Winning" is a meaningless word in this type of war, but something is happening in the Afghan south that gives me hope. Rather than resignation, America should show resolve — not to maintain a large troop presence or extend timelines, but to be smarter about the way we use our tapering resources to empower those Afghans willing to lead and serve.
www.nytimes.com/2011/09/28/opinion/this-war-can-still-be-won.html
When an IED explodes: The shocking pictures of what really happens when the Taliban attacks

www.dailymail.co.uk/home/moslive/article-2037292/Afghanistan-Shocking-pictures-really-happens-Taliban-attacks.html
The number of U.S. troops who had amputations rose sharply from 86 in 2009, to 187 in 2010 and 147 so far this year, military officials said Tuesday, releasing the report on catastrophic wounds.
Of those, the number of troops who lost two or three limbs rose from 23 in 2009 to 72 last year to 77 so far this year. Only a dozen or so of all amputations came from Iraq and the rest were from Afghanistan, where militants are pressing the insurgency with roadside bombs, handmade land mines and other explosives.
http://www.miamiherald.com/2011/09/20/2416763/troops-amputations-up-sharply.html
Afghanistan peace process in tatters after murder of key negotiator
Suicide bomber with hidden explosives has killed Hamid Karzai's chief peace envoy in the heart of Kabul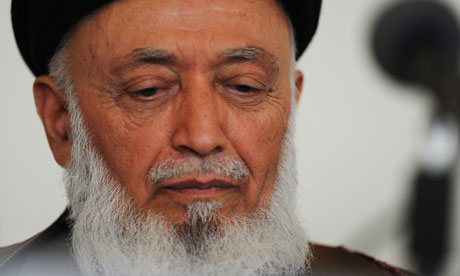 Hopes for a peaceful end to the 10-year war in Afghanistan were in tatters after a suicide bomber with explosives concealed in his turban killed Hamid Karzai's chief peace envoy.
The assassination of Burhanuddin Rabbani by men posing as leading Taliban envoys looked certain to tip the country even deeper into crisis. Rabbani was a former president of Afghanistan, respected religious scholar and chairman of the country's high peace council.

www.guardian.co.uk/world/2011/sep/20/afghanistan-peace-process-in-tatters
After Afghan slaying, a sense of helplessness
KABUL — As they mourned the slain Afghan leader who had been tasked with reconciling with the Taliban, close friends and associates of Burhanuddin Rabbani expressed anger and hopelessness Wednesday about peace talks they say were doomed from the start.
"We cannot continue to have wishful thinking," former presidential candidate Abdullah Abdullah, who was close to Rabbani, said as he drove to the former president's house to pay his last respects. "We must deal with them forcefully."
Abdullah called President Hamid Karzai's attempts to get Taliban leaders to lay down their arms and join the government naive.
"These are the people President Karzai calls 'dear brothers,' " Abdullah said of Karzai's conciliatory approach to the militants. "The ones who have killed thousands of people."
Afghan officials said they were all but certain that the Taliban's leadership or a faction of the group carried out Tuesday's assassination,  the latest high-profile killing in Afghanistan this year — and arguably the one most detrimental to efforts to end the 10-year-old war.

www.washingtonpost.com/world/asia-pacific/after-afghan-slaying-a-sense-of-helplessness/2011/09/21/gIQA078FlK_story.html?hpid=z10
Anyone who believes that Afghanistan will ever become even a nominal functioning democracy also thinks the Palestinians and Israelis will (in their own self-interest) one day live in peace and harmony.
The corrupt Karzai government has been described in a previous post. Reflecting their tribal society where group self-interest trumps the common good, the Kabul kleptocracy is unfit to govern. Despite NATO and NGO efforts, Afghanistan's tribes will never establish a national army or other instiutions in order to sustain a central government because there is no tax base beyond graft.
Corrupt Afghan trucking for U.S. military probed by Congress
By Karen DeYoung, Published: September 15
Trucking contractors who pay off the Taliban, warlords and government officials to ensure safe passage for U.S. military goods in Afghanistan do so because they believe they have no choice if they want to avoid attack, a senior military official told a congressional oversight panel Thursday.
"Some of that money, for sure, is going to the insurgency," Brig. Gen. Stephen J. Townsend said. "I can't quantify how much is going to attacks against us. . . . I don't think you can completely stop it, but we've got to minimize it."
Townsend and Pentagon officials told a House subcommittee that a new trucking contract, which goes into effect Friday, will decrease the level of corruption through wider competition, increased vetting and improved military oversight, along with a "code of ethics" for the contractors.
The new contract is worth about $1 billion over the next year. Under the contract it replaces, tens of millions of dollars had been diverted to "malign actors," according to congressional and military investigators.
The officials offered no assurances that the payoffs or wider corruption can be eliminated. But they said Afghan corruption is endemic and the need to supply U.S. troops is critical.
"As bad as it is, it would be worse if we had U.S. personnel guarding convoys," Rep. Stephen F. Lynch (D-Mass.) said. "The body count would be unacceptable."
Nearly all of the supply convoys — which transport more than 70 percent of all food, fuel, construction material and weapons to the nearly 100,000 U.S. troops across Afghanistan — are guarded by private Afghan security companies.
Military concern over payoffs first arose more than two years ago, when U.S. army investigators estimated that the going rate for protection was $1,500 to $2,500 per truck. But the military did not launch formal investigations into the issue until congressional committees conducted their own inquiries last year.
Military investigators concluded in May that U.S. funds had flowed to criminals and insurgents through four of the eight companies that were part of the earlier contract and that six of the eight were associated with "fraudulent paperwork and behavior," including profiteering, money laundering and kickbacks to Afghan government and police officials.
Thursday's hearing — by the House oversight subcommittee on national security, homeland defense and foreign operations — was the first in which the Pentagon explained the new contract.
Lawmakers appeared far from satisfied. Rep. John F. Tierney (D-Mass.) said military investigations had identified more than $360 million in overall U.S. contract funds diverted to "warlords, power brokers, insurgents, and criminal patronage networks" in Afghanistan. A separate government commission had estimated this month that as much as $60 billion had been lost to waste, fraud and abuse.
"I fear that these reports are only the tip of the iceberg," Tierney said. Asked about supply pilferage, Townsend said it was only about 1 percent overall but ran as high as 15 percent of the 1.5 million gallons of fuel per day transported under the trucking contract.
Tierney and others also questioned the military's zeal in pursuing contract abusers. Last December, the U.S. command in Afghanistan announced that it had suspended Watan Risk Group, the major security subcontractor for trucking convoys, for diverting funds and violating weapons regulations. The action, U.S. officials said at the time, was a "signal that there is a sea change underway and that we're very serious" about combating corruption.
Last month, however, the military overturned Watan's debarment and that of one of Watan's security subcontractors, Haji Ruhullah. Ruhullah, widely considered a leading warlord in southern Afghanistan, acknowledged making payoffs, but he was excused by the army's legal department on grounds that Watan had not explained contract rules to him and that his inability to speak English prevented him from reading the rules himself.
At the hearing, Tierney also raised concerns that more than half of the 20 companies awarded the new trucking contract were subcontractors under the previous version.
Kim D. Denver, deputy assistant secretary of the Army, said that none of the companies were among those with alleged abuses.
Also on Thursday, the General Accountability Office released a report saying that the departments of Defense and State and the U.S. Agency for International Development had failed to comply with laws and agreements requiring them to keep accurate count of the number of contractors employed in Iraq and Afghanistan and of the money distributed to them.
Data compiled last year by all three had "significant limitations," including an underreporting of "at least $4 billion in contract obligations," the GAO said.
In Thursday's testimony, Motsek said the Defense Department employed a total of 93,118 contractors in Afghanistan as of the third quarter of 2011, nearly half of whom were Afghan nationals. The rest were about evenly divided between U.S. citizens and citizens of some other country.

www.washingtonpost.com/world/national-security/corrupt-afghan-trucking-for-us-military-probed-by-congress/2011/09/15/gIQA9KHnVK_story.html
Costly Afghanistan Road Project Is Marred by Unsavory Alliances
By ALISSA J. RUBIN and JAMES RISEN
Published: May 1, 2011
GARDEZ, Afghanistan — When construction crews faced attacks while working on a major American-financed highway here in southeastern Afghanistan, Western contractors turned to a powerful local figure named simply Arafat, who was suspected to have links to Afghanistan's insurgents.
Subcontractors, flush with American money, paid Mr. Arafat at least $1 million a year to keep them safe, according to people involved in the project and Mr. Arafat himself.
The money paid to Mr. Arafat bought neither security nor the highway that American officials have long envisioned as a vital route to tie remote border areas to the Afghan government. Instead, it added to the staggering cost of the road, known as the Gardez-Khost Highway, one of the most expensive and troubled transportation projects in Afghanistan. The 64-mile highway, which has yet to be completed, has cost about $121 million so far, with the final price tag expected to reach $176 million — or about $2.8 million a mile — according to American officials. Security alone has cost $43.5 million so far, U.S.A.I.D. officials said.
The vast expenses and unsavory alliances surrounding the highway have become a parable of the corruption and mismanagement that turns so many well-intended development efforts in Afghanistan into sinkholes for the money of American taxpayers, even nine years into the war. The road is one of the most expensive construction projects per mile undertaken by U.S.A.I.D., which has built or rehabilitated hundreds of miles of Afghan highways and has faced delays and cost overruns on similar projects, according to the special inspector general for Afghan reconstruction.
After years of warnings that Mr. Arafat was making a small fortune playing both sides in the war — and after recent queries by The New York Times about payments to him — American officials said they had finally moved to cut him off in April.
Despite the expense, a stretch of the highway completed just six months ago is already falling apart and remains treacherous. The unfinished portion runs through Taliban territory, raising questions about how it can be completed. Cost overruns are already more than 100 percent, all for a road where it was never certain that local Afghans wanted it as badly as the American officials who planned it.
At their worst, the failures have financed the very insurgents that NATO and Afghan forces are struggling to defeat. Some American officials and contractors involved in the project suspect that at least some of the money funneled through Mr. Arafat made its way to the Haqqani group, a particularly brutal offshoot of the Taliban.
Critics say that payoffs to insurgent groups, either directly or indirectly, by contractors working on highways and other large projects in Afghanistan are routine. Some officials say they are widely accepted in the field as a cost of doing business, especially in areas not fully under the control of the United States military or the Afghan government. As a result, contracting companies and the American officials who supervise them often look the other way.
"Does it keep the peace?" asked one United States military officer with experience in volatile eastern Afghanistan. "Definitely. If the bad guys have a stake in the project, attacks go way down." The officer, like many of the people interviewed, did not want to be named for fear of retribution for criticizing a project that is considered a priority by the American and Afghan governments.
Some also suspected that Mr. Arafat had been staging attacks himself to extort more money for protection, a vicious cycle of blackmail that contractors and American officials acknowledged was a common risk.
In an interview, Mr. Arafat confirmed that he had been fired, but he called accusations that he had funneled money to the Haqqani group a "lie and propaganda," and he denied staging attacks.
Lofty Goals, Lofty Price Tag
The possibility that American taxpayers' money has been going to someone with ties to an insurgency that has killed American soldiers and Afghan civilians is just one of the many problems of the Gardez-Khost Highway.
From the beginning in 2007, no one thought that building the road would be easy. Traversing high, rugged terrain, the road rises to more than 9,000 feet. In winter, it is buried in deep snow. In summer, it is covered by a thick layer of chalky earth that engineers refer to as moon dust, which turns to mud in the rain.
But American officials judged the original price tag of $69 million to be worth the cost. The highway was seen as an important way to connect two mountainous provinces in southeast Afghanistan — Paktia and Khost — and wrest from the insurgents a route that they had long used to move money, men and guns into Afghanistan from Pakistan's tribal areas.
Development officials hoped that the road would better link Afghanistan's strategic border region to the central government in the capital, Kabul, and encourage commerce. The military hoped it would provide faster access for supplies and fresh troops.

www.nytimes.com/2011/05/01/world/asia/01road.html
Afghan Army Attracts Few Where Fear Reigns
By RAY RIVERA
Published: September 6, 2011
KANDAHAR, Afghanistan — Every morning, jobless young men gather by the hundreds at the busy central square here in this southern city, desperate for whatever work they can find. In other places, this would be an army recruiter's dream. Not so in Kandahar.
Many of the men here have brothers and cousins in the insurgency, or are former fighters themselves. Others fear what would happen to them or their families if they joined the Afghan Army. "I don't want to be killed by the Taliban," Janan, 30, who like many Afghans goes by one name, said on a recent day as he jostled with the crowd under a scorching sun.
Afghan and NATO officials have long struggled to entice young men in the heavily Pashtun south — the Taliban heartland — to join the Afghan Army. Despite years of efforts to increase the enlistment of southern Pashtuns, an analysis of recruitment patterns by The New York Times shows that the number of them joining the army remains relatively minuscule, reflecting a deep and lingering fear of the insurgents, or sympathy for them, as well as doubts about the stability and integrity of the central government in Kabul, the capital.
The influx of tens of thousands of American troops, who have pushed the Taliban back in much of the south, has done little to ease those concerns or to lift recruitment. In some places, the numbers of southern Pashtun recruits are actually shrinking, causing an overall decline of nearly 30 percent in the past five months, compared with the same period a year ago.
With the deadline for the withdrawal of most foreign forces in 2014, the need to enlist more southern Pashtuns is pressing if Afghanistan is to have a national army that resembles the ethnic and geographic makeup of the country. It is no small concern. The absence of southern Pashtuns reinforces the impression here that the army is largely a northern institution — to be used against them — and what Afghan and Western officials worry is a dangerous division of the country.
"If you go and talk to ordinary Afghans in Kandahar, they believe the government will collapse in a week or two," said Dr. Mahmood Khan, a member of Parliament from Kandahar. "People are still kind of under the spell of the Taliban. They believe it is not only stronger than the government, but that their intelligence is stronger. They can find out very soon if your son or brother is serving in the army."
The predominantly Pashtun southern and southeastern provinces — Kandahar, Helmand, Oruzgan, Zabul, Paktika and Ghazni — make up about 17 percent of Afghanistan's total population, yet they contributed just 1.5 percent of the soldiers recruited since 2009.
Some progress has been made, but merely in percentage terms; Kandahar and Helmand more than doubled their number of recruits last year from the previous year. The raw numbers, however, are discouraging, and Afghan officials worry that the recent erosion of security in Kandahar City could reverse the few gains they have made.
The two provinces are home to nearly two million people. Yet since 2009 they have contributed fewer than 1,200 soldiers to the army, less than 1 percent of the nearly 173,000 enlistees in that period. By comparison, Kunduz, a northern province of about 900,000 people, enlisted more than 16,500 recruits.
Oruzgan, a province of more than 300,000 residents, had 14 recruits all of last year.
Not surprisingly, the vast majority of recruits come from provinces in the north and northeast, where the insurgency is weaker. While the overall representation of Pashtuns, Afghanistan's largest ethnic group, in the army is equitable — they make up about 42 percent of the population and roughly the same percentage of the army — the vast majority come from a few northeastern provinces. More than a third come from Nangarhar Province alone.

www.nytimes.com/2011/09/07/world/asia/07afghanistan.html
Afghanistan has no consumer or export economy. There is no tax base that can support the central government.
A key step to securing peace will be to wean Afghan farmers off
growing poppies.
The grim axiom defining today's Afghanistan, 85 percent of whose citizens are farmers, is that its economy relies on two dueling revenue streams. One flows from Western aid, in the hopes that the country will renounce the Taliban. The other flows from opium trafficking supported by the Taliban, which use the proceeds to fund attacks on Western troops. Only recently has the Afghan government seemed to take stock of the obvious: For the outside world's largesse to continue, the national economy's addiction to opium must end. The poppy fields must be destroyed. But just as this devoutly Muslim nation did not become the world's leading opium supplier overnight, uprooting Afghanistan's poppy mind-set promises to be a complicated endeavor.
…A farmer squats with his back to the flowers, weeding an adjacent field. He is a 37-year-old man with the distinct Mongolian features characteristic of the borderlands, and he wears a brown tunic, a turban, and a tentative smile. He introduces himself as Mohammed Khalid. He acknowledges that the poppy field is his.
"My father taught me how to grow poppies ten years ago," he says. "Until this year, I was able to produce 60 pounds of opium from my farmland." Crouching while his fingertips brush against the tilled soil, Khalid describes how the smugglers would advance him the money for his crop and how a half-dozen members of his family would join him in the fields to weed, thin, and finally harvest the inky opium paste from the poppy bulbs—a four-month season of tedium that he hardly begrudged, given the benefits. The bricks of opium that he wrapped in plastic and took to the market would pay for all the food his family needed. In addition, the farmer would use the seeds to make cooking oil and burn the stalks as firewood and for ash to make soap. "It provided everything," he says.
With the relentless eradication, Khalid has come up with a strategy. His most visible farmland, the area he is now weeding, will hereafter be used for wheat and melons. Only the sliver of land that is almost impossible to see from the road will remain the sanctum of his high-value crop. "From that small field," he says with a glance over his shoulder at the riotous profusion of violet and pink and white, "I'll get about two pounds of opium. Maybe $80."
Possessing only the barest sense that he has become the hinge on which Afghanistan's future and America's national security interests swing, Khalid frowns and says, "I have no idea why they're eradicating. I'm just a poor farmer, and all I have time to think about is how to feed my family."
http://ngm.nationalgeographic.com/2011/02/opium-wars/draper-text.html
Afghan army successes cannot mask fears of what happens when US goes
Despite the progress made by home-trained soldiers, there are worries that the Taliban will quickly fill the void
Jon Boone in Kandahar
guardian.co.uk, Tuesday 21 June 2011 16.38 EDT
Six and a half years ago, when Abdul Baseer first started treating wounded Afghan soldiers in southern Afghanistan, he worked out of a small wooden hut which served as his office, pharmacy, surgery and sleeping quarters. He shared it with four other medics.
Now he has a gleaming, 100-bed military hospital that can do "everything except neurosurgery". Nearly every Afghan National Army (ANA) soldier who is wounded in southern Afghanistan comes through his hospital at the sprawling, and equally new, base of the 205th "Hero" Corps outside Kandahar City.
He says he has seen clear progress in the war, with a definite tilt against the Taliban on the battlefield – last year's intensive military operations to clear insurgent strongholds has led this year to a 50% fall in the number of patients, he says.
But ask Dr Baseer if he thinks the ANA is anywhere near ready to go it alone, without the help of American troops, and he lets out a panicked shout of "No!"
"These improvements can't be sustained without their help," he said.
As with many others, Baseer is waiting for Barack Obama's announcement about how many of the US surge troops will be withdrawn this year with some trepidation.
"My biggest worry is when transition happens we won't be able to fly patients directly from the battlefield to the hospital," he said. "We have to rely on the Americans for that."
Whatever the number Obama settles on, the US drawdown will mean a larger share of the burden will have to be taken up by the ANA.
To that end the army has been going through breakneck growth in the last 18 months, although western officials argue that the real leap in capability is yet to come as the huge influx of fresh recruits undergo more training and pick up battlefield experience.
"It is already happening," said Abdul Hameed, the Afghan general in charge of some of the country's most dangerous southern provinces. "Our soldiers used to run away from the enemy, but now they are running to capture them."
At the military training centre in Kandahar recruits line up in the baking sun for basic training.
In a couple of months 1,400 more will be ready, pushing the total number in the south above 20,000.It can be difficult, however, to ensure a steady flow of freshly minted officers arrive from Kabul.
General Hameed has to make a point of personally imploring new officers to fulfil their assignments.
"They don't want to come to dangerous areas, so I go and tell them about the situation and say they can leave if they don't like it," he said. That said, out of a recent batch of 70 that were due to arrive, only 40 turned up.
And no wonder. The south remains highly dangerous, with the hospital receiving up to 10 casualties a day, said Baseer. Nearly 80% of cases are young men whose limbs have been ripped off by blasts from hidden bombs.
"Our biggest problem is the long border with Pakistan," said Hameed. "If they prepare a suicide bomber in Quetta, he will be here in 30 minutes."
Given such obstacles, some observers have declared Nato's transition plan to be mission impossible, saying the west has no choice but to seek a rapid political settlement with the insurgents.
Similar predictions were made about the fate of the regime left behind after the Russian withdrawal from Afghanistan in 1989, and yet it survived as long as financial backing continued to flow from Moscow.
The mujahideen were forced to wait three years for their final victory, which only came with the collapse of the Soviet Union and the drying up of the all important military subsidies.
At present it is estimated that the annual post-withdrawal bill for the US to sustain the Afghan security forces will be $6bn to $8bn a year – a figure that has caused alarm in Washington and which officials in charge of Nato's military mission are looking to reduce.
A factor that will make regime collapse unlikely is the fact that even after full transition has happened by the end of 2014 there will still be a significant foreign military presence.
The makeup of that force, where it will be based and what authority it will operate under is currently being negotiated between the Afghan and US governments.
But it is certain to include large number of foreign military trainers and specialists who perform tasks the Afghans will not be capable of – including Dr Baseer's all important medical evacuation helicopters.
http://www.guardian.co.uk/world/2011/jun/21/afghan-army-fears-us-withdraws
Afghan army fights to prove its religious credentials
By Kevin Sieff, Published: September 6
KABUL — As Afghan army forces constructed a patrol base in a volatile stretch of Helmand province this spring, insurgents turned to one of their most effective weapons against the troops: They told area residents that their new, uniformed neighbors were godless "fake Muslims."
The battle over Islam has become a crucial front in the war between the Taliban and the country's growing security forces, prompting the Afghan army to create a strategy for proving that its soldiers are true Muslims.
In Helmand, Afghan commanders swiftly tapped their arsenal. The first step: building a mosque that dwarfs the rest of the base and sounding a call to prayer that echoes outside the city of Lashkar Gah several times a day.
"The message was: 'We are the true Muslims. Not the Taliban,' " said Col. Ataullah Zahir, the top Afghan military official in the area.
Across the country, as the Afghan army prepares to inherit prosecution of the war from its foreign counterparts, one of its most important campaigns is being waged with billboard-size Koran verses and public prayer groups, rather than Kalashnikovs. The campaign represents a bold effort to counter Taliban propaganda and establish the Islamic credentials of the armed forces.
Fighting the battle over religion — often the key to public support in this conservative Islamic nation — is perhaps the Taliban's strongest suit. If Afghans doubt the spiritual bona fides of their army, the institution stands little chance of gaining popular support.
"The insurgents can't fight us face to face, but they know how to rally people against us using false information about Islam," said Gen. Amin Naseeb, head of the Defense Ministry's Department of Religion and Culture.
Afghan military officials have encountered the tactic across the country, particularly in the south and east, where Taliban members speak at madrassas, or religious schools, and on radio shows about what they say is the impiety of the country's armed forces. As foreign troops begin to leave the country, the Taliban appears to be shifting the spotlight of its public disparagement campaign away from Western forces and toward Afghanistan's own soldiers.
'Religious obligations'
Inside his Kabul office, Naseeb calls in two assistants to unfurl a massive banner showcasing an Afghan soldier accepting a gun from a man in a coalition uniform. Above the image, a verse from the Koran is written in bold letters:
"Protection, patriotism and fighting on the path of freedom for an Islamic country is one of the religious obligations."
Naseeb wants to print 20,000 copies of the banner and post them across rural Afghanistan. He has courted top religious officials, explaining the Afghan army's moral cause and the value the force places on adherence to Islam.
In recent years, the army has recruited 50 men known as hafiz — those who have memorized the Koran — in addition to dozens of clerics. Those officials work to ensure that Islamic law is observed within the ranks and that the intensity of the war doesn't overwhelm soldiers' religious obligations. The army's cadre of spiritual leaders, most of whom carry religious texts, not weapons, are also meant to send a message to Afghan civilians, as walking symbols of the military's faith.
The officials attend meetings with local politicians and tribal elders, visiting mosques outside military bases
and reaching out to Afghans who might not be convinced of the army's religiosity.
Despite some key differences in interpreting the Koran, the army and the insurgents practice similar versions of Islam.
"They read from the same Koran, they believe in the same God, they take part in the same rituals," said Enayatullah Balegh, a professor of religion at Kabul University.
Western influence, aid
But there are important differences.
For nearly a decade, Afghan soldiers have worn Western-style uniforms and participated in joint patrols with foreign troops. Although the patches on their uniforms read "Allah is great" and "God, duty and country," establishing their religious commitment has often been a struggle.
U.S. officials, eager to promote Afghan forces as the country's true protectors, have attempted to aid their partners in that campaign. The Americans fund radio stations, encouraging Afghan military personnel to discuss Islamic matters on the air, as well as security issues. Western forces also promote local shuras, or consultations, where Afghan security officials can take their message to tribal elders.
Nearly every Afghan army base in the country has a mosque like the one in Helmand — buildings that serve as both houses of prayer and public monuments to the force's religiosity. At the army's training headquarters, there are three mosques. Units from across the country converge on the sprawling base not only for conventional military training but also for religious instruction from top military clerics.
Last week, Col. Mohammad Arif, the religious liaison for an Afghan battalion based in Kabul, took his soldiers to one of the mosques for midday prayers. Still dressed in fatigues, they dropped their guns and bowed toward Mecca.
"For the Taliban, Islam is about propaganda," Arif said. "For us, it's about faith."

www.washingtonpost.com/world/asia-pacific/afghan-army-fights-to-prove-its-religious-credentials/2011/08/26/gIQAl6FF6J_story.html
Young Afghan fighters eager to rejoin Taliban
www.washingtonpost.com/world/asia-pacific/young-afghan-fighters-eager-to-rejoin-taliban/2011/08/16/gIQAE5sQVK_story.html
As events this week underscore, insurgents are conducting bombings, assassinations and other operations that intimidate the Afghan people and help drive down U.S. and allied public support for the war. Furthermore, the Karzai government is far from effective and is politically unstable, and Afghanistan faces an election the year we leave. We may be winning tactically, but insurgents may be winning a battle of political attrition that will ultimately be strategically decisive.
…Finally, if we do decide to stay, it must be with the understanding that the Afghan government will need a decade of aid to deal with an economy that will suffer a massive depression if U.S. and other outside funding is suddenly reduced. Outside aid is some 14 times higher than the Kabul government's revenue-generating capability, and U.S. and outside military expenditures are as much as 30 times higher.
If we are to stay in Afghanistan and have any hope of real victory, we need a transition plan, civil and military advisers, and aid programs to deal with these issues. Afghan forces may be ready to take up much of the security burden in 2014, but the nation cannot survive without very substantial U.S. aid beyond 2020.
The Afghan civil economy might become self-sustaining in a decade or more. No talk about mining and a "new Silk Road," however, can have anything like the needed impact until 2025 to 2030.
Moreover, Afghanistan still needs help in developing adequate government capacity, creating a functioning legislature and dealing with serious political problems if there is to be a credible election in 2014 to replace Hamid Karzai. The requirements are likely to be a major U.S. military and civil advisory presence indefinitely into the future and annual aid of $8 billion to $10 billion.
http://www.washingtonpost.com/opinions/time-to-get-real-about-the-future-in-afghanistan/2011/09/21/gIQAOXwtoK_story.html
Afghanistan beyond 2011