Hard times return as China bids to bring its economic miracle to an end
Beijing insists slow growth is part of a plan to bring years of explosive expansion under control. But the global slowdown may make it hard to soft-land an economy still hooked on exports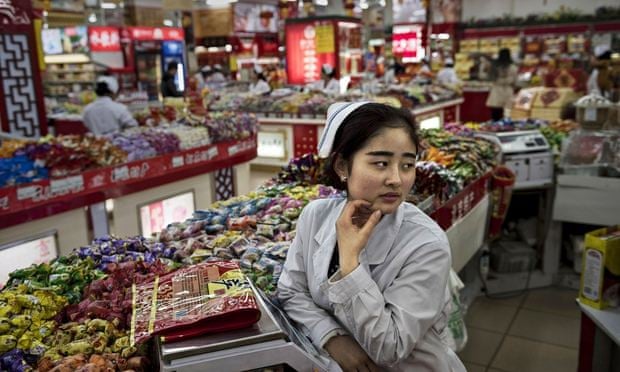 A slow day at a grocer's in Beijing. Growth has fallen to 7.4% in China – the lowest figure recorded since 1990.
Photograph: Kevin Frayer/Getty Images
Jonathan Kaiman in Beijing and Heather Stewart in London
Saturday 24 January 2015 19.05 EST
China's president, Xi Jinping, calls it the "new normal" – but strikes are increasing, wages going unpaid and businesses are struggling to survive as the vast economy adjusts to a more sedate pace of growth after more than a decade of explosive expansion.
Official figures published last week showed that China's GDP expanded by 7.4% in 2014. That was a significant drop from the 7.7% seen in 2013, and the weakest rate of growth since 1990, when the country was grappling with international sanctions in the wake of the Tiananmen Square massacre.
And while the government has spun the downturn as a good thing, as it deliberately shifts from an unsustainable, export-led boom to relying on demand at home to fuel economic growth, people across the country are feeling the heat.
Coal and copper prices are down owing to lack of demand; strikes and protests are becoming increasingly common. The prospect of weaker demand from China has also been a key factor behind plunging global oil prices.
"From an industry point of view, obviously the hardest hit are the miners and the upstream players – the iron ore industry, steel, refineries, they're all being really squeezed," said Andrew Polk, a senior economist at research group The Conference Board's China centre for economics and business in Beijing. "China's consumption has held up relatively well so far, but [the slowdown] looks to be finally feeding through to the consumption side as well."
And while the downturn is, on one level, intentional, policymakers face a tough challenge in engineering a slowdown while maintaining enough control over the financial system to prevent a crash.
Growth is expected to slow further over the next three years, as officials act to control the sliding property market and rein in excessive borrowing by local government — the International Monetary Fund has projected a 2015 growth rate of 6.8%.
"The financial crisis dealt a mortal blow to the export-led growth model, for two reasons," said Diana Choyleva, an expert on China at consultancy Lombard Street Research.
"One was the slowdown in global demand, and the other was the adjustment of the yuan against the dollar. Not only has the size of the pie reduced, but their ability to carve out ever-larger parts of it has diminished." Her analysis of Chinese data suggests growth is actually considerably slower than official figures suggest.
Even China's middle class, a group that has expanded at breakneck speed and become accustomed to constantly rising living standards over recent years, is starting to feeling the pinch.
On Thursday morning, many shoppers at the Huapu Hypermarket in central Beijing were complaining of tough economic times.
"I'm a businessman, so of course this is affecting me," said a 36-year-old tobacco and wine wholesaler who gave his name as Mr Ji. His income had dropped as much as 30% over the past year, he said, as he dropped spring onions into his trolley. "I'm starting to think about changing careers."
A young woman surnamed Chen said that wages at her public sector company were shrinking. "We're also getting less of a bonus this year – though I'm single, so it's not so bad," she said.
Polk at The Conference Board said: "From an industry point of view, one of the ways [the downturn] is going to play out is that wage growth will have to slow. We're starting to see a convergence between labour productivity and wage growth. When wage growth rises above productivity, companies start to be unprofitable."
Xi first urged the Chinese public to accept the "new normal" of economic growth while on an inspection tour in Henan province last May. Since then, state media has embraced the term as an assurance that authorities are firmly in control, carefully shedding their growth-at-all-costs mantra for a more equitable approach to development.
Under the new normal, officials say, China's economy will be fairer and more sustainable, and the country can finally begin making progress towards restoring its environment after decades of wanton pollution.
"The market, crazy about speed and figures, seems to have missed the reality that the Chinese economy is healthier under the 'new normal' featuring positive trends of stable growth, an optimised structure, enhanced quality and improved social welfare," Xinhua, the state news service, said on Wednesday.
At the Davos World Economic Forum on Thursday, China's prime minister, Li Keqiang, insisted: "China will avoid a hard landing, continue its ongoing reform and restructuring and ensure a prolonged period of sustainable future medium-to-fast growth."
Yet Chen Xiushan, an economics professor at the Renmin University of China, believes that this "new normal" will mean something very different for, say, an oil worker in far-northern Heilongjiang province than it will to an upwardly mobile tech entrepreneur in Beijing.
The downturn could be devastating for people working in basic commodities such as steel and cement, as the property market continues to sink and the government implements new measures to chip away at overcapacity. Yet other sectors could benefit, as Beijing pumps subsidies into healthcare, tech, and culture industries such as film and music.
Some regions are likely to adjust better to the new growth model, too. Coastal south-east China, an economically diverse region, may blow through the downturn unscathed, Chen Xiushan said, while inland and industrial provinces would almost inevitably struggle. North-east China "does not stand much chance for economic transition," as its economy leaned heavily on clunky, anachronistic state-owned enterprises and its population was increasingly migrating south in search of work.
Karen Ward, senior global economist at HSBC, said that, for the time being, the authorities were continuing to underpin economic growth with public building projects. "Consumption is still stable and strong, it's just not big enough: and while exports are a drag, it's just not filling the void. That's why they're still filling the gap with infrastructure spending."
Experts are divided about this infrastructural spending spree. Some fear the authorities have squandered money on unnecessary projects, reminiscent of the "bridges to nowhere" that came to characterise the Japanese investment bubble of the 1980s. Investment now accounts for more than half of GDP.
But Ward, who is optimistic about the outlook for China, insisted that the country was still in desperate need of infrastructure. "If you look at what they've got – sewerage systems for example – they're still a very poor country. They're building things that they need. In terms of infrastructure, it looks like Japan in the 1950s, not the 1980s.
"There are sectors that are massively over capacity – steel is definitely one of them. But in the broad scheme of things, are they wasting money to generate growth? That just doesn't worry me."
China's policymakers certainly claim they can avoid a crash. As prime minister Li put it in Davos: "If I could compare the Chinese economy to a running train, what I want you to know is that this train will not lose speed or momentum. It will only be powered by stronger dynamo and run with greater steadiness, bringing along new opportunities and new momentum of growth."
Choyleva, of Lombard Street Research, pointed out that the gear-change would not be easy. "The new leadership is intent on reform; but their resolve will be tested big-time."
City economist and China-watcher George Magnus warned last week that the authorities' resolve to let the slowdown run its course might be severely tested as it started to cause more financial pain for some.
"There is almost certainly a lower limit to growth, at or not too far away from 7%, where official concerns about unemployment and stability will increase — mainly because of the risk this could pose to social stability against a backdrop of a rising level of strikes and other labour unrest."
Additional research by Luna Lin

www.theguardian.com/world/2015/jan/25/china-bids-bring-economic-miracle-end-hard-times
China Cracks Down On University Textbooks Promoting 'Western Values'
JANUARY 30, 2015 9:26 AM ET
A Chinese paramilitary police officer stands in front a portrait of late Chinese leader Mao Zedong outside the Forbidden City in Beijing, in November.
Aaron Favila/AP
www.npr.org/blogs/thetwo-way/2015/01/30/382610842/china-cracks-down-on-university-textbooks-promoting-western-values
China's growing prosperity has turned recreational drug use into an $82 billion annual domestic business, according to the National Narcotics Control Commission. There are 2.76 million drug users registered with the Chinese government, three-quarters of them under 35. Yet even the police admit that such figures convey only a fraction of the drug problem. In October, Liu Yuejin, director general of the government's anti-narcotics division, estimated the actual number of addicts at roughly 13 million, half of whom are suspected of using methamphetamine, up from nine percent of addicts who were suspected of using that drug in 2008.
www.washingtonpost.com/world/asia_pacific/is-this-north-korea-chinese-netizens-squirm-as-party-tightens-grip-on-internet/2015/01/28/79cfc809-21ea-4437-9d4b-5ece2cfc75f6_story.html
Despite a Crackdown, Use of Illegal Drugs in China Continues Unabated
BEIJING — Despite the crowds and the risk of arrest, the African man standing outside an Adidas outlet here one recent wintry evening was brazen in his pitch.
"Hey man, you want to smoke something?" he asked a passer-by, before offering his wares: cocaine, ecstasy and crystal methamphetamine, all highly illegal in China.
The man was but one of several drug dealers who are a fixture in Sanlitun, one of Beijing's diplomatic districts, just down the block from a police station. Their presence would seem to defy the Chinese government's ambitious claims of a six-month crackdown on drugs that is underway in 108 cities.
Last week, the Ministry of Public Security announced that the Chinese police had arrested 60,500 suspects on drug offenses and seized more than 11 metric tons of narcotics since the latest operation, called "Ban drugs in hundreds of cities," began in October, according to the Xinhua state news agency. Around 180,000 drug users had been punished by mid-December, including more than 55,000 sent to government-run rehabilitation centers, Xinhua said.
But for all the reported successes of China's expanding antidrug campaigns — which last year included the arrest of celebrities like the son of the movie star Jackie Chan and the burning of 400 tons of methamphetamine ingredients — some analysts question whether the police are winning significant, lasting victories in what the authorities have called a "people's war."
China's growing prosperity has turned recreational drug use into an $82 billion annual domestic business, according to the National Narcotics Control Commission. There are 2.76 million drug users registered with the Chinese government, three-quarters of them under 35. Yet even the police admit that such figures convey only a fraction of the drug problem. In October, Liu Yuejin, director general of the government's anti-narcotics division, estimated the actual number of addicts at roughly 13 million, half of whom are suspected of using methamphetamine, up from nine percent of addicts who were suspected of using that drug in 2008.
"China is facing a grim task in curbing synthetic drugs, including 'ice,' which more and more of China's drug addicts tend to use," he said, using the street name for crystal methamphetamine, according to the state-run China Daily newspaper. China has some of the world's harshest drug laws: those caught trafficking large amounts of drugs can face the death penalty, and the police have the authority to send casual drug users to compulsory drug rehabilitation centers, which human rights groups say are little more than labor camps.
Although heroin is the most commonly used illegal drug among rural Chinese, the country's booming cities have become major markets for methamphetamine. A study of sewage in four megacities, published last year in the international journal Science of the Total Environment, reported that meth was omnipresent in Beijing, Shanghai, Guangzhou and Shenzhen. In Beijing, the greatest concentration was found at a treatment plant serving the city's highest density of nightclubs and bars, while China's wealthy coastal cities in the south were determined to have the highest total consumption of meth, cocaine, ecstasy and ketamine, according to the study.
Drug use also spans the breadth of Chinese society. In December, 41 government officials in the southeastern province of Yunnan were expelled from the Communist Party after failing drug tests. A few months earlier, a 17-year-old girl in the southern province of Jiangxi posted photos on social media of herself and friends snorting ketamine at a nightclub in the province of Jiangxi. She was detained.
Perhaps the most shocking example of China's huge drug trade exploded into the public consciousness in December 2013, when 3,000 paramilitary police officers raided a small village on the coast of Guangdong Province and arrested 182 people, including the former party secretary and 13 other officials. Nearly three tons of meth were seized from the village. "Meth is popular because any illegal lab or factory in the mainland can make it," said Lu Lin, the director of the China Medical Dependency Research Institute at Peking University in Beijing.
Some of the key ingredients in meth are derived from the herb ephedra sinica, known as ma huang in Mandarin, a staple of traditional Chinese medicine used for treating colds and coughs. Experts say much of the country's meth is produced in southern China, though the authorities prefer to blame Southeast Asian countries like Myanmar and Laos. Consistently absent from their accusations is North Korea, a close ally that some experts believe churns out vast quantities of meth trafficked into China's northeast.
For years, Beijing residents have wondered how dealers were able to sell their wares so openly near a police station in the Sanlitun district, home to many embassies, bars, and restaurants popular with expatriates. A crackdown scattered the men last spring, but during a recent stroll through the neighborhood, it was clear they have not gone far.
Sun Zhongwei, a former narcotics officer turned lawyer, dismissed the suggestion that the dealers were officially tolerated. "If Chinese police had spotted them, they'd have been arrested," he said. "It's impossible for the police to see them and not act upon it. That would be considered an act of negligence."
But drug users in China say the police operate in a bureaucracy programmed to follow orders from above. In some cities, the police allow dealers to operate undisturbed — until they need to fill a quota, according to He Mukun, a former addict and drug counselor in Yunnan. Mr. He said the police in Yunan rarely arrested drug dealers, preferring to use them as informants during crackdowns. "The police think, 'In the future, when my boss gives me an assignment to catch drug users, what happens if I can't find any?' " he said. "But if a cop knows a drug seller, he can just ask for a bunch of names. You get huge numbers that way."
Indeed, the eye-popping statistics from the Ministry of Public Security appear intended to impress: In a five-month crackdown last year, the police were said to have "totally uncovered" 50,827 drug cases, arrested 56,989 suspects and seized 26.5 tons of drugs, an increase in seizures of 126.8 percent over the same period a year earlier.
Despite those numbers, the nation's drug problem continues unabated. On Tuesday, the Chinese government for the first time acknowledged the existence of performance goals in law enforcement. According to Xinhua, the party's Political and Legal Affairs Committee demanded that officials "firmly abolish" quotas.
As for drug traffickers higher up the chain, Mr. He, the drug counselor, suggested that some were politically connected and, thus, protected. "The police usually can't touch them," he said.
But in an interview, one Beijing dealer said things were changing. "Before, because of our connections, we would always be alerted a few months ahead of a crackdown," said the dealer, who asked not to be identified. "Now they just happen."

www.nytimes.com/2015/01/25/world/despite-a-crackdown-use-of-illegal-drugs-in-china-continues-unabated.html