China now wishes to recast the military and ­political dynamic in the region to reflect its own traditional centrality. Great powers are driven by a mixture of confidence and insecurity. China wants a return to the leadership position it has enjoyed so often in Asian history. It also frets about the security of its seaborne commerce, especially in the area it calls the "Near Seas" – the coastal waters that include the Yellow, East China and South China Seas.
http://www.ft.com/intl/cms/s/2/78920b2e-99ba-11e3-91cd-00144feab7de.html#axzz2u0zyHJFF
China is motoring. It's getting richer and hungrier. Since 1998 China has accounted for nearly the entire increase in global consumption of major commodities like copper, tin and aluminum. But China also needs to feed itself, clothe itself, and as discussed, fuel itself. All this requires vast amounts of grain, beef, cotton and oil, the very things Africa is posed to provide. What China needs so desperately, Africa has…
119
China's colonialist behaviour in Africa could be a 'disaster' for environment, Jane Goodall warns, as she says Beijing is pillaging continent for raw materials
She said the nation is purging the African continent of its natural resources
It's been developing mines, oil wells and setting up construction firms
It's a big market for elephant tusks and rhino horns fuelling poaching
Stockpiles of ivory are seen in Gabon in this undated photo. China is said to be fuelling poaching in Africa

www.dailymail.co.uk/news/article-2562001/China-pillaging-Africa-raw-materials-like-old-colonialists-says-chimp-expert-Jane-Goodall.html
China-Africa relations hurt by bad Chinese behaviour, says ambassador


Lu Xinsheng says ivory smuggling and selling counterfeit goods hurts Chinese reputation in African countries

In the interview, Lu Xinsheng said Chinese businessmen smuggle ivory and rhino horns out of the country and flood local markets with counterfeit goods while contractors constantly try to undercut each other, resulting in shoddy infrastructure projects. "Our bad habits have followed us," he told the Guangzhou-based Southern Metropolis News.

www.theguardian.com/world/2014/jul/17/chinese-ambassador-tanzania-china-africa-relationship-ivory-smuggling-counterfeit
China's red furniture craze fuelling illegal logging in Guinea-Bissau
Appetite for African rosewood has driven a surge in illegal deforestation that threatens to destabilise local communities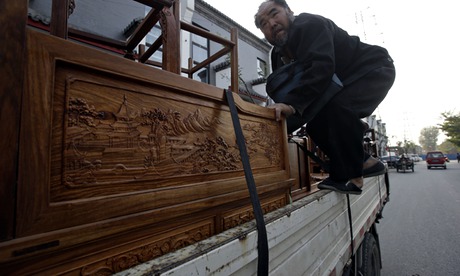 A man delivers African rosewood furniture to a shop Beijing, China. Photograph: AP
Between March and May, during the cashew harvesting season, it is typical to see trucks line Amílcar Cabral Avenue in Bissau, Guinea-Bissau's capital, waiting to offload their cargo on to ships. But when they line up all year long, suspicion is raised, especially as demand for the nut has plummeted.
From interior regions of Guinea-Bissau, the trucks openly haul tree trunks, said Constantino Correia, an agro-engineer and former director of the country's forest management agency. The cargo, mainly African rosewood, is destined for China, according to Abílio Rachid Said of the government Institute of Biodiversity and Protected Areas (Ibap).
Environmental activists have been denouncing illegal logging in Guinea-Bissau for years, but now it may be too late, "as we risk not having [the African rosewood] in the coming years", Said warned. "It is a type of wood in extremely high demand in the Chinese market."
Worth hundreds of thousands of dollars, Bissau-Guinean rosewood is used, among other things, to make hongmu furniture, red luxury Chinese pieces replicating the styles of the Qing period.

www.theguardian.com/global-development/2014/jul/23/china-furniture-rosewood-illegal-logging-guinea-bissau
Why China's Farms Are Failing
The country's environmental problems threaten the food production system for over a billion people.

A farmer walks through a field near a replica of the Eiffel Tower at the Tianducheng development in Hangzhou, Zhejiang Province.
(Aly Song/Reuters)
www.theatlantic.com/china/archive/2013/08/why-chinas-farms-are-failing/278906/
China embraces 'British Model', ditching Mao for Edmund Burke
David Cameron might be reassured to know that China's Communist leadership is studying the long arc of British history with intense interest, even if Russia's Vladimir Putin deems our small island to be of no account.

Professor Li said the 18th Century Irish philosopher Edmund Burke is now all the rage in Chinese universities, studied for his critique of violent revolution, and esteemed as the prophet of stability through timely but controlled change. Photo: Quirky China News / Rex Features

www.telegraph.co.uk/finance/comment/ambroseevans_pritchard/10294488/China-embraces-British-Model-ditching-Mao-for-Edmund-Burke.html
China bypasses American 'New Silk Road' with two of its own
By Simon Denyer, Published: October 14
BEIJING — Armed with tens of billions of dollars in investment deals and romantic tales of ancient explorers, Chinese President Xi Jinping has spent much of the past month promoting his vision of two new "Silk Roads" to connect his country to the West and secure its energy supplies — one by land and another by sea.
In the process, he has eclipsed an American vision of a New Silk Road that was advanced with much fanfare by then-Secretary of State Hillary Rodham Clinton two years ago and was supposed to revitalize Afghanistan as the link between Central and South Asia.
The contrast between the two visions — one with huge sums of money on the table, the other struggling to get off the ground — only underlines how China's ever-growing clout in Asia is challenging the influence of the United States.
In Central Asia in particular, China's leader has taken advantage of Russia's relative decline and the planned U.S. troop withdrawal from Afghanistan to expand his country's influence, experts said.
"China is making a pretty bold move," said Chris Johnson of the Center for Strategic and International Studies in Washington. "Xi Jinping sees a huge gaping hole in terms of trade and economic opportunities that the U.S. has so far failed to take advantage of."
Dating back more than two millennia, a web of trade routes linking oasis towns brought Chinese silks and other products from across Asia to the West.
In his call for a new Silk Road, Xi was underlining the importance of China securing its energy supplies — overland to the gas and oil fields of Central Asia and beyond, and by sea through Asia's contested waters and via the busy Strait of Malacca.
Last month, Xi traveled to Kazakhstan, Kyrgyzstan, Turkmenistan and Uzbekistan and signed tens of billions of dollars' worth of investment deals, taking a share in a major Kazakh oil field and expanding gas imports piped from Turkmenistan.
In Astana, Kazakhstan, where deals worth $30 billion were inked, he talked wistfully of almost hearing "the ring of camel bells echoing in the mountains" and seeing "the wisp of smoke rising from the desert."
Xi spoke of the travels of Han dynasty envoy Zhang Qian to the region more than 2,100 years ago, but more substantively, he proposed the establishment of a "Silk Road economic belt" to boost trade and transport links and strengthen regional policy coordination from the Pacific to the Baltic Sea.
As well as the geostrategic energy play, Beijing sees economic benefits in moving goods from western China, which has lagged the booming east coast, through Central Asia.
China's courting of the Central Asian republics has drawn comparisons to the Great Game, the 19th-century rivalry between Russia and Britain in the region.
Viewed as a race, China is ahead, eclipsing Russia as the largest trading partner of four of the five Central Asian republics.
Xi was the third consecutive Chinese president to visit the former Soviet Central Asia region, countries that no U.S. president has visited. There are tremendous business opportunities in the area for U.S. companies in telecommunications, oil and roads. But at the moment, China is "coming out on top in the region," said Martha Brill Olcott of the Carnegie Endowment for International Peace.
Xi also has trained his sights farther east. Last week, he was in Malaysia and Indonesia, wrapping up tens of billions of dollars in business deals and promoting trade and military ties. He mentioned historical links, with tales of the Chinese navigator Zheng He, who made seven visits to "the Western Seas" in the 15th century. Xi also spoke of building a "maritime Silk Road."
The majority of China's oil imports pass through the Strait of Malacca, one of the world's most important shipping lanes. Flanked by Indonesia and Malaysia, the seaway narrows to less than two miles across near Singapore.
China's efforts to befriend its Asian neighbors are complicated by maritime territorial disputes. Tensions run particularly high with Japan and the Philippines.
But in the past week, Xi seemed to have toned down some of the overt nationalism that had unsettled China's neighbors in recent years, Johnson said. Instead, he reverted to an older policy of using cheap money and economic deals to buy influence.
President Obama's goal of rebalancing U.S. foreign policy toward Asia is seen here partly as an effort to contain China through U.S. allies such as Japan, South Korea and the Philippines — something that Beijing is quietly countering with its moves in Central Asia.
Nevertheless, China's Silk Road strategy is never going to replace the economic importance of its ties to the more-developed countries of the Asia-Pacific region, said Ely Ratner of the Center for a New American Security in Washington.
Inevitably, perhaps, newspapers in China gloated this week when Obama failed to turn up at two important Asian summits because of the U.S. government shutdown. His absence, the papers said, underlined Washington's waning clout in the region.
But experts in Washington and Beijing said the point should not be overstated, with many of China's neighbors still wary of its intentions, despite the obvious economic advantages of good relations.
"The influence of China [in Southeast Asia] is growing faster than the U.S. in recent years, but it is still not as strong or as popular as the United States," said Zhang Mingliang at the Institute of Southeast Asian Studies at Jinan University. "Most Southeast Asian countries welcome the U.S. strengthening its presence in the region."
In 2011, Clinton talked of revitalizing trade from the Great Wall of China to the Bosporus in Turkey as part of an effort to boost Afghanistan's economy, with a key element being a long-delayed gas pipeline from Turkmenistan through Afghanistan and Pakistan to India.
But instability in Afghanistan, as well as mistrust between India and Pakistan, has dogged that vision. China's Silk Roads, by contrast, largely bypass Afghanistan.
Nevertheless, State Department spokeswoman Emily Horne played down any notion of competition, saying Xi's comments "mirror our own thinking on the New Silk Road."
The U.S. strategy had brought tangible benefits to the region, Horne said, but China's cooperation was welcome. "China and other countries in the region have an important role to play in the development of peace, stability and prosperity in the least economically integrated region in the world today," she said.

www.washingtonpost.com/world/asia_pacific/china-bypasses-american-new-silk-road-with-two-if-its-own/2013/10/14/49f9f60c-3284-11e3-ad00-ec4c6b31cbed_story.html31cbed_story.html
Ghana arrests 168 Chinese nationals in illegal mining crackdown
Arrests follow series of pit collapses in which dozens have died, and highlight social and environmental challenges of China's presence in Africa
Jonathan Kaiman in Beijing and Afua Hirsch in Accra
guardian.co.uk, Thursday 6 June 2013 15.06 EDT
Ghanaian authorities have arrested 168 Chinese citizens for illegal goldmining, highlighting the social and environmental challenges posed by China's growing presence on the continent.
In a six-day operation which began on Saturday and ended on Thursday morning, police and immigration officials made the arrests in the Ashanti and western regions of the country. Ghanaian authorities said it was part of a crackdown which would continue until all illegal miners had been removed from the country.
"We have arrested 168 Chinese nationals, all of whom are being detained and processed for court," said Michael Amoako-Atta, spokesman for the Ghana immigration service. He said that each of the detainees faced a fine of 2,000 Ghana cedis (around £670) for working illegally in the country and deportation.
The arrests are the latest by Ghanaian immigration, police and military authorities. Some 120 illegal miners were arrested in March. Most have been repatriated to China, while the rest are waiting for travel documents.
"Illegal mining in Ghana has assumed alarming proportions and has got to the point where it is threatening the survival of our water bodies," said Charles Wereko, spokesman for the ministry of lands and natural resources.
"Foreign nationals, especially the Chinese, have made the problem a lot worse. Unlike Ghanaians they have access to huge funds which they have been using to bring an enormous number of excavators into the country, which can destroy large areas of forest in just one day. The rate of destruction is such that, if it is not stopped, Ghana will not have any forest left.
"This operation is going to continue until all illegal miners are removed."
The arrests follow a series of pit collapses in which dozens of Ghanaian illegal miners have died, raising concern about the prevalence of the practice in Africa's second-largest gold producer after South Africa.
"Most of these illegal miners use very dangerous substances like cyanide and mercury in processing their ore, which are not biodegradable and leach into the water bodies creating serious problems for the communities who use these sources of water as drinking water," said Wereko.
"The extent of this illegality is so bad that now the state agency for processing water to provide clean drinking water for most of the communities in Ghana is not able to do their work, because the cost of cleaning up water has become too expensive."
Last month the Ghanaian president, John Dramani Mahama, established a high-level taskforce to bring "sanity" into the mining sector. "I am sending a clear signal to the offending individuals and groupings that the government will not allow their activities to cause conflict, dislocation, environmental degradation and unemployment when in fact the sector should rather benefit our communities and our country," Mahama told journalists in May.
But he has also sought to soothe relations with the Chinese – who are spending billions of dollars on construction and infrastructure projects in Ghana – and cautioned against the vilification of Chinese immigrants.
China has sent diplomats to visit the detainees, and warned its citizens in Ghana to "strictly abide by the related laws and regulations". Yu Jie, the spokesperson for China's embassy in Ghana, urged Ghana to exercise "strong discipline" in enforcing its laws, the Chinese news agency Xinhua reported.
The South China Morning Post estimates that more than 50,000 Chinese goldminers have been to Ghana since 2005, two-thirds of them from Shanglin, an impoverished county in southern Guangxi province where news of the gold rush spread by word of mouth.
"There are about 180 households in our village and more than 100 young men are in Ghana," 24-year-old Shanglin  villager Wen Daijin told the newspaper. "Many borrow money from local banks and relatives to go there. In my township, only men with physical problems don't have plans to go to Ghana."
Wen continued: "You need at least one excavator to dig sand and rocks, some trucks and two high-powered sand pumping machines to dredge for alluvial gold. The pumps are a special design, produced in our hometown."

www.guardian.co.uk/world/2013/jun/06/ghana-arrests-chinese-illegal-miners
Fixing China's image in Africa, one student at a time
Beijing's remarkable scholarship programme pays for 12,000 Africans to study in Chinese universities
www.guardian.co.uk/world/2013/jul/31/china-africa-students-scholarship-programme
Xi Jinping's Chinese Dream
Feng Li/Getty Images
By ROBERT LAWRENCE KUHN
Published: June 4, 2013
BEIJING — What to make of Xi Jinping, China's new senior leader, who holds his first summit meeting this week with President Barack Obama?
The hope is that Xi is a reformer who will guide China through domestic transformation and to responsible statecraft. The fear is that Xi is a nationalist, who has set China on an aggressive course of bullying its neighbors and confronting the United States.
The fear seems not unfounded. China has intensified its territorial claims, from island disputes with Japan to vast areas of the South China Sea.
Xi frequently inspects People's Liberation Army forces, especially naval fleets, exhorting China's military to "get ready to fight and to win wars" and "to win regional warfare under I.T.-oriented conditions."
Xi holds China's top three positions: head of the ruling Communist Party of China, head of state, and, as chairman of the Central Military Commission, head of the military. He will likely lead China for a decade.
Just after becoming party chief in late 2012, Xi announced what would become the hallmark of his administration. "The Chinese Dream," he said, is "the great rejuvenation of the Chinese nation."
Xi's Chinese Dream is described as achieving the "Two 100s": the material goal of China becoming a "moderately well-off society" by about 2020, the 100th anniversary of the Chinese Communist Party, and the modernization goal of China becoming a fully developed nation by about 2049, the 100th anniversary of the People's Republic.
The Chinese Dream has four parts: Strong China (economically, politically, diplomatically, scientifically, militarily); Civilized China (equity and fairness, rich culture, high morals); Harmonious China (amity among social classes); Beautiful China (healthy environment, low pollution).
"A moderately well-off society" is where all citizens, rural and urban, enjoy high standards of living. This includes doubling the 2010 G.D.P. per capita (approaching $10,000 per person) by about 2020 and completing urbanization (roughly one billion people, 70 percent of China's population) by about 2030.
"Modernization" means China regaining its position as a world leader in science and technology as well as in economics and business; the resurgence of Chinese civilization, culture and military might; and China participating actively in all areas of human endeavor.
If Xi's nationalism seems at odds with these grand goals, it is not. Here are six reasons why:
• Need to consolidate power. Xi was not selected by Deng Xiaoping, the architect of reform, as were his predecessors (Jiang Zemin and Hu Jintao), and he was not elected by the people. Conventional wisdom had it that Xi would be a weak leader. In order to realize his Chinese Dream, Xi needs to assert strength and assure control. So far, he has exceeded expectations.
• Need to enable reform . Xi and Premier Li Keqiang are determined to enact far-reaching economic reforms, the most extensive in 15 years, but there is stiff resistance from those whose dominance would be diminished and benefits cut (such as state-owned enterprises with ties to party power).
This resistance can no longer be couched credibly in terms of ideology, so it appeals to nationalistic aspirations by accusing reformers of "worshipping Western ways," "glorifying Western models" or "caving in to Western pressures." Xi's proactive nationalism is a strategy of "offense is the best defense" — an inoculation, as it were, against the political virus of being labeled "soft" or "pro-Western."
Reformers in China are generally associated with pro-American attitudes and thus subject to fierce public criticism. By establishing himself as a nationalist operating independently of the United States (his first foreign trip was to Russia), Xi is able to secure economic reforms by distinguishing them from serving Western/American interests.
• Need to legitimatize one-party rule. To perpetuate its rule (which China's top leaders truly believe is essential for the well-being of the country), the Chinese Communist Party has constructed a grand narrative that is founded on three critical claims: Only the Communist Party can continue to improve citizen's standard of living (and ameliorate severe social and economic disparities); only the party can maintain a stable, unified country and construct a happy, harmonious society; and only the party can effect the "rejuvenation of the Chinese nation," which stresses a firm command of "core interests" (i.e., sovereignty and territoriality) and increasing global respect.
• Maintain stability through unity. China faces numerous internal tensions, especially a class-divided populace (rich-poor, urban-rural, coastal-inland) that have erupted within one generation. Moreover, an increasingly complex society can fracture along multiple fault lines. Pollution, corruption, healthcare, housing, migrant workers, workers' wages, social cynicism, changing values, among other raging issues, threaten to fragment society — and all are exacerbated by an energetic social media. Only nationalism, which resonates intrinsically and passionately across Chinese society, can provide sufficiently strong social glue.
• Differentiate from predecessors. Top Chinese leaders must combine historical continuity with their own distinguishing theories and practices. How shall Xi fare?
Economic growth rates must decline, and a host of domestic tensions (or crises) are coming his way, such as public anger at corruption and resistance to pollution. Hence another rationale for nationalism.
In the past, nationalistic surges were triggered largely by external events (such as NATO's accidental bombing of the Chinese Embassy in Belgrade in 1999). Xi is putting nationalism at the core of his leadership — his nationalism is proactive, riding the high road of patriotism and pride.
•Personal beliefs. Xi has deep-seated patriotic convictions, the product of family, life and career. His father, Xi Zhongxun, was a founder of the new China and a leading reformer under Deng Xiaoping. In 2006, when Xi Jinping was party secretary of Zhejiang Province, he told me about Chinese pride and patriotism as motivating China's historic resurgence — words remarkably similar to his recent pronouncements.
So is Xi a reformer? A nationalist? The answer is that he is both, because only by being a nationalist can he be a reformer. American policy makers must understand Xi's nationalism so that when the reigning superpower meets the rising superpower, both can benefit.
www.nytimes.com/2013/06/05/opinion/global/xi-jinpings-chinese-dream.html
In a remote corner of the South China Sea, 105 nautical miles from the Philippines, lies a submerged reef the Filipinos call Ayungin.

www.nytimes.com/newsgraphics/2013/10/27/south-china-sea/
China wages a quiet war of maps with its neighbors

www.washingtonpost.com/world/asia_pacific/china-wages-a-quiet-war-of-maps-with-its-neighbors/2013/02/14/d682b704-76b3-11e2-aa12-e6cf1d31106b_story.html
Victor Davis Hanson commentary: China behaving as Japan did in 1930s
Thursday January 9, 2014 5:45 AM
In the 1920s, Japan began to translate its growing economic might — after a prior 50-year crash course in Western capitalism and industrialization — into formidable military power.
At first, few of its possible rivals seemed to care. America and European colonials did not quite believe that any Asian power could ever dare to threaten their own Pacific interests.
Japan had been a British ally and a partner of the democracies in World War I. Most of its engineering talent was trained in Britain and France. The West even declared Japan to be one of the "Big Five" world economic powers that shared common interests in peace, prosperity and global security.
Occasional parliamentary reforms had convinced many in the West that Japan's growing standard of living would ensure cultural and political liberality.
That was a comforting dream, given that by the 1930s, Americans were disillusioned over the cost of their recent intervention in the Great War in Europe. They were weary of overseas engagement and just wanted a return to normalcy. A terrible decade-long depression at home only added to the popular American desire for isolation from the world's problems.
Americans sympathized with China's security worries — but not enough to do much other than hector Japanese military governments with haughty sermons about fair play and international law, and threaten to impose crippling embargoes.
Japan ignored such sanctimoniousness. Instead, it harangued its Asian neighbors on the evils of Western colonialism and the need for them to combine under Japan's own tutorship to reassert their Asian influence in world politics.
The League of Nations did nothing when Japan began colonizing Manchuria in 1931. Westerners seemed more impressed by the astonishing rate of Japanese economic progress and growing armed clout than they were determined to stop Japanese aggression.
By 1941, few Americans were even aware that the Imperial Japanese Navy had almost magically grown more powerful than the Pacific fleet of the United States in every category of battleships, carriers, cruisers, destroyers and submarines. The idea that Japan was waiting for an opportune moment to exploit American weakness would have seemed absurd to most Americans.
The 1940 American relocation of its Pacific Fleet home port from San Diego to an exposed Pearl Harbor was supposed to deter Japan. But the Japanese interpreted such muscle-flexing as empty braggadocio, if not more foolhardily symbolism.
The attack on Pearl Harbor followed.
Substitute communist China for imperial Japan, and the same thing is now occurring in the Pacific. China believes it is finally time to make its military reflect its enormous economic power.
Chinese armed forces are growing while America's are shrinking.
If the Japanese of the 1930s once talked of Western decadence and American frivolity, so too the Chinese now sense that American global influence is not being earned by the current generation of Americans, which enjoys the high life on $17 trillion in borrowed money, much of it from China.
China likewise senses growing American isolationism, hears parlor talk about the U.S. reducing its nuclear arsenal, and notices America's new habit of distancing itself from allies.
Americans once talked tough about Iraq, Iran, Afghanistan, Libya and Syria. But China tuned out that empty rhetoric and instead noted that we abandoned Iraq after the successful surge, are exhausted by Afghanistan, were humiliated by Bashar Assad in Syria and seemingly were paid back with Benghazi after removing Moammar Gadhafi in Libya. China is reassured that what America says and what America does are not quite the same things.
More important, the Chinese also appear to hate the Japanese in the same way the latter apparently despised the former in the 1930s. China resents Japan's undeniable lack of contrition over the approximately 15 million Chinese killed by Japanese aggression in World War II. The Chinese also sense that Japan may be a has-been power, increasingly without its once-ubiquitous American patron at its side.
China accepts that the U.N., like the old League of Nations, is useless in solving global tensions, and prefers that it is so.
Add everything up and China seems about as confident of the future as Japan was in the 1930s. It is eager to teach Japan a lesson, as Japan once did China.
America once again appears confused by these radical changes in the Pacific. That is, until someone in the region tries something stupid — once again.
Victor Davis Hanson is a classicist and historian at Stanford University's Hoover Institution.

www.dispatch.com/content/stories/editorials/2014/01/09/china-behaving-as-japan-did-in-1930s.html
Chinese Leader Gets More Sway on the Economy and Security
Lan Hongguang/Xinhua, via Associated Press
President Xi Jinping, center, and other Chinese Communist Party leaders voted on policy measures as the Central Committee met Tuesday.
www.nytimes.com/2013/11/13/world/asia/chinese-leader-gets-more-sway-on-the-economy-and-security.html
Andy Wong/AP –
Office workers walk past China Dream propaganda boards, showing messages pushed by the current Chinese President Xi Jinping's administration, on display near a construction site in Beijing, China Tuesday, Oct. 8, 2013.

www.washingtontimes.com/topics/chinese-president-xi-jinpings-administration/333721/t/photos/
August 1, 2013, 8:52 p.m. ET
Learning How to Kowtow
Why Europe Capitulated to China on Solar Panels
What the European Union Saturday called its "amicable solution" negotiated with China to stop China dumping solar panels in Europe wasn't really amicable or a solution. It was a capitulation by Europe, says John Bussey on the News Hub.
If it looks like a duck and quacks like a duck, then it probably is…well, you know the rest.
What the European Union Saturday called its "amicable solution," negotiated with China to stop that country from dumping solar panels in Europe, wasn't really amicable or a solution. It was a capitulation by Europe, and another instance of China sidestepping its obligations under global trade rules.
For companies world-wide—especially those competing with Chinese manufacturers—the deal also bodes ill for a global trading system already knocked off balance by the Chinese goliath.
"This agreement is the EU caving," says a U.S. trade expert. "An industry has been lost to Chinese subsidy practices. That's the big picture."
Adds an executive with a U.S. multinational that competes with Chinese firms: "The rules of the road, at the margins, are increasingly being set by unilateral actions, brute force, things you'd associate with the 19th Century."
Earlier this year, at the urging of domestic solar-panel makers, the European Commission said it would place tariffs on China's panels, which, it argued, are subsidized by the Chinese government and sold below cost. This "dumping" of product undercuts European manufacturers and has won Chinese companies dominant market share, the EU said.
China's appeal of any tariff should have been through the World Trade Organization. But China knows the power of its own market. It threatened retaliation, saying it would investigate prices of European exports to China, notably wine. China saw it could divide and conquer. And so it did.
EU countries, fearful of losing market access for their companies in China, scotched the commission's proposed tariffs. The final deal essentially lets current Chinese solar-panel pricing prevail. No victory that.
China says the agreement serves both sides well, and it adds that Western governments also subsidize alternative-energy initiatives and products.
Free marketers might argue that all this is just healthy creative destruction. European prices were too high, inflated by labor costs and other expenses. China's products were cheaper. So, China wins. Governments shouldn't set prices.
But the problem is that Western companies aren't necessarily competing against Chinese companies. They're often competing against the state, which provides big subsidies to Chinese firms in the form of low-cost land, energy and raw materials.
Then why not just accept that China owns the industry and enjoy the fact that prices of solar panels have plummeted, making solar energy more affordable in the West? Let Beijing subsidize the West's shift to renewable energy, or so this argument goes.
Alan Wolff, a trade lawyer and former deputy U.S. trade representative, says this was part of Europe's dilemma as it considered how tough to be on China. A fat tariff on Chinese solar panels "runs counter to their governments' energy policies, raising the price of alternative non-carbon energy sources."
The risk in this approach, though, is that China gets dominance of the industry, runs competitors out of business, and then has the monopolist's freedom to set prices. "If they get away with it on panels, why not steel?" asks the trade expert. "Why not telecom equipment. Or semiconductors? This is a dangerous precedent."
Indeed, in China's new five-year plan, Beijing lists the next industries it plans to build out, backed by substantial subsidies. They include biotechnology, high-end equipment manufacturing, clean-energy vehicles, new materials, and next-generation information technology.
"When you have abuse of the trade rules by a major player, you threaten the integrity of the global system," says a former U.S. Official.
Mike Froman, the new US trade representative, declined comment on whether the EU decision undercuts Washington's own fight with China over subsidized solar panels. The U.S. placed tariffs on Chinese solar products last year, and China retaliated with tariffs on U.S. polysilicon, used in making panels.
Mr. Froman did offer an endorsement of the WTO as a mechanism for dispute resolution, a message perhaps meant for China. And he reiterated the U.S. desire for a global solution to the solar-panel problem, a message likely meant for Europe.
As for China, lately it has talked about negotiating a groundbreaking investment treaty with the U.S., and one day possibly joining a new Pacific trade group the U.S. is helping to initiate.
But companies around the world, watching what just happened in Europe, have a right to be skeptical.
These would be new rules of the road for China.
New rules to flout.
http://online.wsj.com/article/SB10001424127887323997004578642280024336350.html
China demands 'positive images' in return for access to markets
Hollywood required to provide scripts that enhance Chinese culture in order to find favour with authorities controlling movie production
• China confirmed as world's largest film market outside US• Top Chinese film-maker says country's censors are 'ridiculous'
Andrew Pulver
theguardian.com, Wednesday 6 November 2013 05.01 EST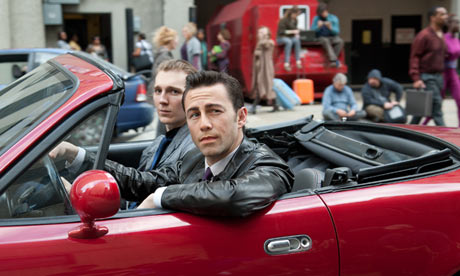 Didn't pass the test … Looper
A senior figure in the Chinese  film industry outlined the conditions it is setting for Hollywood to gain access to its lucrative box-office revenues, central among which is more "positive images" of the country and its culture.
Speaking at the US/ China Film Summit, held in LA on the eve of the American Film Market convention, China Film Co-Production Company president (CFCC) Zhang Xun told Hollywood executives: "We have a huge market and we want to share it with you [but] we want films that are heavily invested in Chinese culture, not one or two shots … We want to see positive Chinese images."
The CFCC is a particularly influential agency as it selects US productions for co-production status with Chinese companies, thereby allowing films to bypass the quota system China currently has in place for foreign films. Films such as Cloud Atlas and were turned down for co-production, despite having significant elements designed to accommodate Chinese sensibilities, while Zhang was thought to be referring to  Iron Man 3 with the "one or two shots" line. Zhang told the conference that to qualify a film had to have a minimum of 20% Chinese investment, significantly feature Chinese talent, and possess a joint script.
More thornily, Zhang said scripts had to be vetted by the CFCC, but claimed censorship was not the issue. "We want to help you avoid hot spots and trouble and to make suggestions that will actually save you money." Accordong to Deadline though, Zhang said too much violence, "slights against 'the feelings of a third country'" and negative depictions of religion would count against a film.
Earlier this year China became the largest film market outside the US, worth around $1.7bn (£1.06bn).
www.theguardian.com/film/2013/nov/06/china-hollywood-positive-images-movies
August 8, 2013, 11:02 p.m. ETChina's Gleaming Ghost Cities Draw Neither Jobs Nor People
http://online.wsj.com/article/SB10001424127887324412604578515382905495900.html
Chinese Investors Pursue U.S. Property Deals

Tina Fineberg for The New York Times
Zhang Xin, a Chinese business magnate, joined forces with the Safra family of Brazil to buy a large piece of the General Motors Building in Midtown Manhattan.
By JULIE CRESWELL
Published: June 25, 2013
First, it was the Japanese. Moneymen from Tokyo blew into the United States to buy famous pieces of the American landscape, from Rockefeller Center in New York to the Pebble Beach Golf Links in California.
Now, about a quarter-century later, another set of deep-pocketed foreign buyers is pushing ever deeper into United States real estate: the Chinese.
Undaunted by Japan's real estate misadventures in the 1980s — some Japanese investors wildly overpaid for United States property, and Japan eventually suffered one of the biggest property market collapses in history — Chinese investors are fanning out in the United States.
What began with a few isolated purchases two years ago has become a hunt for trophy properties and billion-dollar deals. So far, the kind of fears that arose in the 1980s — unfounded talk that Japan was "buying up" America — have not surfaced this time. To the contrary, the Chinese, or at least their money, are being welcomed, even celebrated.
Some caution that China could quickly retreat, as Japan did, if its economy worsens. Signs of economic weakness in China have been mounting, and the country's financial system has recently come under stress. Those concerns could dissipate if Beijing steps in to ease strains in the nation's banking industry and to spur growth, but many economists see real and growing dangers within China's economy.
And yet in recent weeks, several big deals in New York City have set real estate circles abuzz. Zhang Xin, a Chinese business magnate and chief executive of the largest commercial real estate developer in Beijing, joined forces with the Safra family of Brazil to buy a large piece of the General Motors Building in Midtown. Dalian Wanda Group, a big Chinese developer, said it intended to build a luxury hotel in Manhattan . (Wanda is also planning to build a hotel in London.)
The deals go beyond shimmering glass-and-steel towers: Chinese and Hong Kong investors have also become the second-largest foreign buyers of United States homes, after the Canadians.
"They're just getting started," said Steve Collins, the international director at Jones Lang LaSalle Capital, a real estate services firm that recently held conferences for potential buyers in Shanghai and Beijing. "There's just been some incredible wealth creation there."
For the moment, the Chinese government is encouraging the investments and even helping to finance them. The state-owned Bank of China has become the largest foreign lender in commercial real estate deals in the United States, replacing big European banks. Beijing is eager to diversify its investments. The Chinese government owns more than $1 trillion of United States Treasury securities, but those investments generate little return given how low interest rates are.
"The political support for investments beyond U.S. Treasuries has increased significantly over the last couple of years and that has encouraged Chinese investors to look at real estate in big, stable markets like New York or other big cities," said Thilo Hanemann, a research director the Rhodium Group, a firm that analyzes global business and economic trends.
The Chinese aren't limiting themselves to megadeals. Some purchases have been relatively small by the standards of commercial real estate. Ms. Zhang, who is the chief executive of SOHO China and one of the richest women in the world, paid about $600 million in 2011 for a 49 percent stake in the Park Avenue Plaza, a Midtown Manhattan skyscraper. That same year, the real estate arm of the HNA Group, a Chinese airline company, saved an office building at 1180 Sixth Avenue from foreclosure for $265 million. HNA also bought the boutique Cassa Hotel in Times Square.
Chinese investors or firms have also bought large hotels in California, including the Sheraton Universal in Universal City; the Crowne Plaza in Burlingame, near the San Francisco airport; and the Hilton Ontario in Ontario. They have also purchased a riverfront parcel in Toledo, Ohio, and, earlier this year, an office building in Morristown, N.J.
Chinese firms and investors are also betting that the potential returns in American commercial property markets will be higher than in other areas of the world. The market for office, industrial and retail property appears to have bottomed out. Office vacancy rates have fallen and rent prices have stabilized amid signs of economic improvement. And while competition is heating up — three Manhattan office buildings have sold for more than $1 billion so far this year — many of the big bidders and lenders from Europe have pulled back as their home economies struggle.
In addition to buying commercial real estate, China is emerging as a powerful force in financing other players' deals. In particular, the Bank of China, China's premier lender and one of the country's four major state-run banks, has assumed an increasingly large role. "A few years ago, the U.S. branches of German banks were the top three or four foreign lenders for commercial property deals, now it's the Bank of China," said Matthew Anderson, a managing director at Trepp L.L.C., a data and analytics firm that tracks bank lending.
Chinese development firms are also lining up large United States commercial real estate projects. In February, China Vanke, a development company, made its first North American investment when it formed a joint venture with Tishman Speyer to build luxury condominiums in San Francisco. Another Chinese developer has agreed to provide funding for a $1.5 billion project that will transform 65 industrial acres in Oakland, Calif., into a waterfront neighborhood with 3,100 homes.
And the Chinese have even arrived in hipster central: Williamsburg, Brooklyn. A Chinese firm has purchased a site and plans to build a 216-unit condo project there.
Some analysts say the Chinese money flowing directly into real estate pales in comparison with the money that is moving through private investments or real estate funds.
In recent years, China's State Administration of Foreign Exchange, which manages foreign exchange reserves, agreed to invest $500 million in a $13 billion real estate fund overseen by the Blackstone Group, a Wall Street investment firm.
China's main sovereign wealth fund, the China Investment Corporation, has taken direct stakes in properties but has also invested more billions of dollars in real estate funds overseen by large private investment funds.
"The overwhelming majority of Chinese capital is getting into the commercial property market through third parties," said Dan Fasulo, a managing director at Real Capital Analytics. "They're getting billions of dollars into the system almost unnoticed."
www.nytimes.com/2013/06/26/business/global/chinese-investors-pursue-us-real-estate-deals.html
Why China is stepping up its presence in Detroit auto industry
Detroit auto know-how, as well as the city's cheap real estate, is a draw to Chinese investment. The amount is relatively modest, and Chinese companies aren't talking yet about making cars here. But that could change.

www.csmonitor.com/USA/2013/1225/Why-China-is-stepping-up-its-presence-in-Detroit-auto-industry
In Blue-Collar Ohio, a Windfall of Chinese Investments
Joshua Lott for The New York Times
Over the past seven years, the ties between Toledo, Ohio, shown here, and China have grown numerous.
By TIMOTHY WILLIAMS
Published: December 26, 2013
TOLEDO, Ohio — The realization was as surprising as it was momentous. Toledo, long known as Glass City, needed glass, and it could no longer be manufactured here quickly enough.
So Toledo turned to China to make the 360 panels, 1,300 pounds each, needed for an extension to the Toledo Museum of Art. Some here resented the move after China supplanted the United States as the world's top glass producer. But in the process, city leaders began an improbable and remarkable relationship.
Over the past seven years, the ties between Toledo and China have grown numerous. Chinese companies have paid more than $10 million in cash for two local hotels, a restaurant complex and a 69-acre waterfront property. Mayor Michael P. Bell has taken four trips to China in four years in search of investors. His business cards are double-sided, in English and Chinese.
Huaqiao University, one of the largest higher-education institutions in China, recently signed an agreement to open a branch in Toledo. There have also been preliminary talks between local officials and a Chinese company about an arrangement in which industrial tools would be produced in China, shipped for assembly in Toledo and labeled "made in the U.S.A.," which would allow them to be sold at a premium.
Toledo has also reached a deal for rarely seen Chinese antiques to be shown at the museum next year, and there are plans for the city to host a Chinese technology trade fair at its convention center. In all, more than 100 Toledo business people have traveled to China in recent years, and hundreds of Chinese investors have been welcomed in return, treated to special performances by members of the Toledo Symphony Orchestra.
"For little old Podunk, Ohio, it's been pretty phenomenal what we've been able to do," said Dean Monske, president and chief executive of the Regional Growth Partnership, a local economic development group.
Toledo is hardly the only American city to make common cause with China.
Chinese companies made $12.2 billion in direct investments in the United States during the first nine months of 2013. That is up from $7.1 billion in all of 2012, which was itself a record at the time, according to the Rhodium Group, a New York-based consulting company. Chinese investors have been buying commercial and residential real estate in Detroit, inexpensively because of the city's financial troubles, and have agreed to finance a $1.5 billion waterfront development in Oakland, Calif. Earlier this year, on a trade trip to China, Gov. Jerry Brown of California discussed Chinese investment in the state's troubled $91 billion bullet train project.
Oklahoma, South Dakota and Tennessee have also increased their push for Chinese investment.
But Toledo, a largely blue-collar city of about 280,000, appears to be punching well above its weight at a time when mayors from Philadelphia to San Francisco are returning from China empty-handed.
"They looked on a map, figured out where we were sitting and saw the benefit," said Mayor Bell, a gregarious former University of Toledo defensive lineman, referring to Toledo's location near a number of large cities in the United States and Canada. "They could see that this town needed to be helped a little bit and that it could be on the upswing — that there was potential, that they could do something, that it could be incredible and it would not probably take a whole lot to do."
After their initial approaches — "Nobody had heard of Toledo," Mr. Bell said — the city's government and business leaders began pitching the feng shui of Toledo, where wind meets water. The city is a major transit hub, crossed by railways and highways, and has the busiest general cargo port in the Great Lakes region. Housing is affordable, and the abandoned factories, including those where windows, bottles and windshields were once made and shipped around the world, mean there is plenty of space.
The city's informal "handshake culture" has also helped, Chinese and American business officials said, as deals that might unravel amid the bureaucratic machinations of a bigger city can be completed in Toledo in a matter of weeks.
Zhixin Guo, known as Simon, who recently moved here with his family and owns the Park Inn Toledo hotel and other properties around town, has been instrumental in introducing Toledo officials to influential counterparts in China. His long résumé includes stints working for Rong Yiren — the former vice president of China credited with opening the economy to Western investment in the 1990s — and as a translator for government and business officials including Henry A. Kissinger.
"When you think about the U.S., you can't just think about New York and L.A.," Mr. Guo said recently as he sat in a conference room at the offices of his company, Five Lakes Global Group. "Don't get me wrong, L.A. is fabulous. New York is great. But if you want to connect with American life, it's Toledo."
Mayor Bell said he had tried to educate residents about the need for foreign investment and the importance of building personal relationships.
During one of his visits to China, Mr. Bell said, he and other officials were enjoying an evening gathering at which the drinks flowed freely. At one point, his hosts presented him with two more glasses of baijiu, a potent liquor, but this time they came with something extra. One glass contained snake blood; the other a snake's gallbladder.
With a potential investment on the line, the mayor recalled, he grabbed the glass with the gallbladder and nudged the snake blood over to Mr. Monske, the economic development official, who was a deputy mayor at the time. Each swallowed his drink in a gulp, leaving the hosts with mouths agape.
"The guy sitting on the other side of the table said, 'I've lived in China all my life and I've never done that one,' " Mr. Bell said. The mayor, who has a habit of sealing friendships with a bear hug, became an instant celebrity as news of his exploit preceded him from city to city on his tour of China.
"The people traveling with me told me at the end of the 10-day trip, 'You know, giving hugs — that's not protocol,' " Mr. Bell said. " 'Then why did you let me do it?' "
Mr. Bell paused before adding that his aide had responded, "Because it was working."
"The interesting thing," Mr. Bell said, "is they'd started hugging me back.

www.nytimes.com/2013/12/27/us/in-blue-collar-ohio-a-windfall-of-chinese-investments.html
China's rich fleeing the country—with their fortunes
Chinese buying up California housing
Cash-Strapped Nations Race to Attract Chinese Immigrants
Best Deals Come From Countries in Caribbean and Southern Europe
http://online.wsj.com/article/SB10001424127887324809004578636962203195522.html
Science fiction fantasy: The futuristic-looking Pudong district is made up of dozens of skyscrapers, each more modern and ambitious than the last
Small-scale: Shanghai's Pudong district (seen across the river) is an area of warehouses and factories. Some greenery from the district's farming roots remain

www.dailymail.co.uk/news/article-2384438/The-photographs-Shanghai-mega-city-Images-taken-just-26-years-apart-reveal-Chinese-powerhouses-transformation.html
Associated Press
A newly constructed government office building in Anhui Province in 2007. China has ordered a halt to similar projects for the next five years.
By KEITH BRADSHER
Published: July 23, 2013
HONG KONG — China issued a directive on Tuesday banning the construction of government buildings for the next five years, the latest in a series of initiatives by President Xi Jinping to discourage corruption and foster frugality at a time of broad popular resentment against high-living bureaucrats.
The central government authorities in Beijing have periodically tried to rein in the widely mocked penchant for grandiosity among local officials who order offices for themselves. A few of these projects have been slowed or stopped, including the nearly Pentagon-size headquarters started by a local government several years ago in an impoverished corner of Anhui Province in central China.
But until now, such isolated cases have done little to dissuade other local officials from their own pharaonic ambitions. The government of Jinan, the capital of Shandong Province, attracted critical attention across China last fall after beginning construction of what was initially planned as Asia's largest government building.
But Tuesday's joint directive by China's cabinet and the Chinese Communist Party went much further than prohibiting the construction of buildings: it also banned a long list of strategies that local leaders have used to circumvent previous, more informal efforts to discourage them.
Expanding or restoring existing government compounds in the name of street repairs or urban planning? Not allowed. A new training center or hotel? Also forbidden. Multiple offices for the same official? Prohibited.
Since taking over as general secretary of the Chinese Communist Party in November, Mr. Xi has tried to discourage lavish spending and gift giving by the party's cadres and rein in opulent lifestyles among senior military officers. His campaign temporarily emptied many luxury restaurants over the winter, although there have been recent signs of a revival of behind-the-scenes extravagance.
The new directive showed clear signs of being a continuation of the anticorruption campaign, describing the ban as "important for building a clean government" and improving the ties between the party and the people.
Yet the prohibition on new buildings also comes as the government is starting to round up and prosecute activists who called on officials to disclose their wealth and the wealth of their families. In the most celebrated case, Xu Zhiyong, a prominent human rights activist, was charged last week with "assembling a crowd to disrupt order in a public place" — even though, according to his wife, he had already been under informal house arrest for three months.
Debt-fueled spending by local governments, partly for new buildings but also for roads, sewers, water systems and other projects, has been a growing worry in recent years for Beijing policy makers, as well as for economists and credit-rating agencies around the world. Most tallies of total local government debt in China tend to be in the vicinity of $2 trillion, equal to three months of China's entire economic output, but some estimates are even higher.
Cheng Li, the China research director at the Brookings Institution, said the construction restrictions would do little to assuage broader worries about the Chinese economy.
"We should put into perspective that the problem of local government spending on buildings is not the most serious problem facing China's economy," Mr. Li said in a telephone interview from Beijing. "The property bubble, shadow banking and the state-owned enterprise monopolies are far more risky."
Prime Minister Li Keqiang vowed on coming to office in March that there would be no more new government buildings during the current five-year term of the government, and the new decree follows through on that promise. But the decree also acknowledges that similar efforts to halt profligate spending on such buildings in recent years have not worked as intended, and that the buildings have "harmed the image of the party and government."
A clear loophole in Tuesday's directive is that it does little to rein in spending by enterprises partly or entirely owned by government entities. State-owned enterprises have been very active builders of hotels, providing free luxury suites to local officials for their meetings and all too often for assignations with mistresses, according to hotel industry executives.
Mr. Li of the Brookings Institution predicted that Mr. Xi would seek greater austerity at state-owned enterprises next.
One persistent feature of Chinese political life, the retired official who continues to haunt his former agency or even the entire government by wielding influence from behind the scenes, will not be eradicated by the directive.
Former officials who left or retired years ago are supposed to give up their offices, the directive said, but they are not required to do so immediately. These offices "should be returned in time," a statement on a government Web site said.
www.nytimes.com/2013/07/24/world/asia/china-orders-halt-to-construction-of-government-buildings.html
After years in which Communist Party officials were considered untouchable, evidence of their foibles now regularly spills onto the Internet. Government censors often try to stamp out the news, but officials plagued by sex scandals — usually at lower levels of the party — are also being pushed out as the country's new leaders try to prove they're serious about punishing misconduct.
www.washingtonpost.com/world/ji-yingnan-and-other-jilted-mistresses-expose-chinese-officials-corruption/2013/07/25/8d8d35f6-eb02-11e2-aa9f-c03a72e2d342_story.html
China arrests anti-corruption activists even as it pledges to oust dishonest officials
www.washingtonpost.com/world/asia_pacific/china-arrests-anti-corruption-activists-even-as-it-pledges-to-oust-dishonest-officials/2013/07/23/f74d1cfa-f376-11e2-a2f1-a7acf9bd5d3a_story.html
China's great economic leap forward hits the wall
This was supposed to be the Asian century, but the Eastern boom is dying of exhaustion
For many Chinese the promise of industrialization and prosperity is turning into a nightmare of ill health and curtailed life expectancy
Photo: Getty Images
By Jeremy Warner
8:20PM BST 11 Jul 2013
So here's how it looks. Years of unsustainable, credit-fuelled growth are brought to a halt by a crushing financial crisis which exposes deep structural flaws at the heart of the economy. Rarely has the assumption of ever-rising living standards looked so vulnerable, with younger generations forced to pay not just for the crippling legacy of debt their parents leave behind, but for the mounting costs of an ageing population and the consequences of decades-long environmental degradation. Economic decline, austerity and inter-generational recrimination seem to beckon as populations adjust to the true mediocrity of their circumstances.
I'm referring to the tired old "developed" economies of the West, right? Actually, no: it's China where these observations seem more appropriate, and perhaps other emerging market economies said to be about to eclipse the hegemony of the old world, with its lazy ways and sense of entitlement.
Western "declinism" of the sort described by Dambisa Moyo in her book How the West was Lost, and more recently by Stephen King, chief economist at HSBC, in When the Money Runs Out, is still the narrative of our times. But sometimes a sense of perspective is demanded; compared with the challenges faced by China and the rest of the developing world, the relatively minor adjustment to expectations that needs to be made in the West is a stroll in the park.
Forecasts that China will overtake the US as the world's largest economy over the coming years already look like yesterday's story as once-explosive development in the East slows to a stall amid growing fears of a Chinese credit crunch. The Asian boom is dying of exhaustion.
As ever, public perceptions trail the reality. For the first time in more than a decade, international investors and business leaders are regularly heard referring to the US as a more attractive proposition than China. Investment flows are going into reverse, and while the US banking system is reviving fast, China's is heading in the other direction after a period of credit expansion that makes our own look positively pedestrian.
Nor is it just the economics of unbridled, politically directed development that are beginning to fracture; for many Chinese the promise of industrialisation and prosperity is turning into a nightmare of ill health and curtailed life expectancy. The social deprivations of China's one-child policy meanwhile threaten a demographic time-bomb of far worse proportions than that of the supposedly bankrupt West. There is now every likelihood that China will indeed grow old before it gets rich. One shocking story from the past week vividly demonstrates the massive costs that China's centrally directed dash for growth is fermenting for the future. According to a study in The Proceedings of the National Academy of Sciences, air pollution has caused an average five-and-a-half year reduction in life expectancy for the 500 million people living north of the Huai River, where use of coal in the home and for electricity generation is most prevalent.
The latest study, pretty much undisputed by the Chinese authorities, adds to mounting evidence of industrial poisoning on a hitherto unimaginable scale. The 2010 Global Burden of Disease Study found that outdoor air pollution caused 1.2 million premature Chinese deaths in 2010, or nearly half the global total.
The fumes are so bad that a growing number of Chinese emigrate, setting in train a potentially devastating brain drain. In a recent interview in the New York Times, the mother of a child made sick by the smog refers to the difference between Britain, where she had studied as a student, and China as heaven and hell.
All industrialization exacts a heavy human toll in its early years. The miseries of Britain's industrial revolution are well chronicled. But the speed and scope of China's attempted catch-up are in a league of their own.
There is also a world of difference between the market-determined development that drove the British and American economic miracles and the state-directed variety of China's great leap forward.
Politically sponsored advancement rarely occurs without gross misallocation of capital, and in China it seems to be happening on an epic scale. The latest example of China's capacity overhang is Rongsheng Heavy Industries, the world's largest private shipbuilder. The collapse in the market for new ships has forced Rongsheng to go cap in hand to the government for a bail-out. It's said to be an important test of China's resolve to move from the old, unsustainable, investment-led model of economic development to a more balanced form of advancement, but it is almost certainly one that China will fail. Political connections will ensure Rongsheng survives, and the resulting capacity glut will, in time-honoured fashion, simply be dumped on the rest of the world.
On a global scale, the resulting imbalances require that the deficit nations of the West keep spending to absorb the Chinese surpluses, even though they can no longer afford it. The tragedy for China is that when countries and individuals spend beyond their means, it is always the creditor, and not the debtor, that ends up paying. China's vast, accumulated surplus of foreign exchange reserves will simply be devalued to oblivion.
By relentlessly pursuing the goal of industrial supremacy, China has made itself into the world's environmental waste dump, and a hostage to back-door default by Western debtors to boot. Once admired for its dynamism, state-directed capitalism is turning out to be a monstrous anomaly. Chances are that this will be another American century, not the much-predicted Asian one.

www.telegraph.co.uk/news/worldnews/asia/china/10173773/Chinas-great-economic-leap-forward-hits-the-wall.html
Pitfalls Abound in China's Push From Farm to City
Articles in this series look at how China's government-driven effort to push the population to towns and cities is reshaping a nation that for millenniums has been defined by its rural life.

Built by the government over the past two years, the new Qiyan is a showpiece in the Chinese authorities' plans to move millions of rural citizens out of the mountains and into apartment blocks in urban centers. Sim Chi Yin for The New York Times

www.nytimes.com/2013/07/14/world/asia/pitfalls-abound-in-chinas-push-from-farm-to-city.html
Trade Schools Offer Hope for Rural Migrants in China
BN Vocational School
Uniformed students trained to be electricians at the BN Vocational School in Beijing.
www.nytimes.com/2013/06/03/world/asia/trade-schools-offer-hope-for-rural-migrants-in-china.html
Gazing into the future of American business in China
www.washingtonpost.com/blogs/on-leadership/wp/2013/07/22/gazing-into-the-future-of-american-business-in-china/
Jason Lee/Reuters
Lei Jun, the Steve Jobs-mimicking chief of Xiaomi, introduced a new smartphone last summer in Beijing.
By DAVID BARBOZA
Published: June 4, 2013
BEIJING — China is notorious for its knockoffs. But now comes a knockoff of one of the gods of American ingenuity: Apple of the East."
The title is a stretch, by almost any measure. But Mr. Lei nonetheless is carefully cultivating a Jobsian image here, right down to his jeans and dark shirts. He is also selling millions of mobile phones that look a lot like iPhones. Chinese consumers — and deep-pocketed investors overseas — seem to be believers.
And yet Mr. Lei's biggest believer may be himself. He bounds onto podiums to introduce new cellphones. He proclaims things that may, to many, sound outlandish. For instance:
"We're making the mobile phone like the PC, and this is a totally new idea," Mr. Lei, Xiaomi's chief executive, said during an interview at the company's spacious, high-rise headquarters here. "We're doing things other companies haven't done before."
That might come as a surprise to Apple and Samsung Electronics, the twin giants of smartphones. But Xiaomi (pronounced SHAO-mee) did sell $2 billion in handsets in China last year. It is emerging as a force in China, the world's largest mobile phone market, and it expects its revenue to double this year.
Mr. Lei, for his part, hardly discourages comparisons to Apple and Mr. Jobs. And why would he? Founded by a group of Chinese engineers three years ago, his company sold seven million mobile phones last year by using designs that mimic the look and feel of the iPhone and using marketing that seems right out of Apple's playbook.
It's no surprise that entrepreneurs aspire to create a Chinese Apple. Many talk about moving China beyond the dead end of assembling devices for other companies.
So far, however, true innovators have been scarce. At best, they have adapted others' technology to the Chinese market.
Mr. Lei has attracted believers because no company's annual revenue has reached the $1 billion mark in China faster than Xiaomi, not even Amazon, which took five years to get there. Xiaomi did it while earning a profit.
Its backers include Qiming Venture Partners, the venture capital arm of Qualcomm and Digital Sky Technologies, an investment firm run by Yuri Milner, an early backer of Facebook, Groupon and Zynga.
Xiaomi, which is privately held, says an initial public offering is years away. But the company is worth $4 billion, according to its latest round of financing last June.
If that valuation holds up, it would make Xiaomi one of China's most valuable technology companies, behind Alibaba, Baidu, Tencent and Netease.
The company caters to young, college-educated people who want a smartphone but cannot quite afford one, people like Lu Da, a 26-year-old education consultant in Shanghai.
"I chose Xiaomi because it's good value for the money," he said.
Skeptics say the company produces low-price iPhone imitations with no significant software or hardware advantages. They also say the company faces stiff challenges from Apple and Samsung, which are in a position to offer low-price smartphones.
The marketing power of bigger local handset makers like Lenovo, Huawei and Taiwan's HTC, which together recently sold about 25 percent of all smartphones in China, cannot be discounted either.
Whether the company succeeds, its rise has solidified Mr. Lei's reputation as a start-up wizard. Part entrepreneur and part start-up investor, he spent more than a decade at the Chinese software company Kingsoft and took it public in 2007. (He remains chairman and holds a $300 million stake.)
He also invested in a string of successful software and Internet companies, including YY, an online social platform that went public on the Nasdaq stock exchange in the United States last year and is now worth about $1.5 billion. One of Mr. Lei's earliest successes came in 2004, when Amazon paid $75 million to acquire his e-commerce company Joyo.com.
"Lei Jun is a phenomenal entrepreneur," said Kai-Fu Lee, the former Google executive who now runs Innovation Works, a Beijing-based firm that invests in Chinese start-ups. "He's insightful about user needs and markets, and now he has this incredible desire to create a household brand in technology."
Mr. Lei has revealed little about his personal life, but he has nearly five million followers on Sina Weibo, a sort of Chinese Twitter, and is treated like a celebrity in technology circles.
He grew up near Wuhan, a gritty industrial city in central China, and studied computer science at Wuhan University. It was during college, in 1987, he says, that he read a book about Mr. Jobs, and decided to emulate him.
"I was greatly influenced by that book, and I wanted to establish a company that was first class," Mr. Lei said. "So I made a plan to get through college fast."
After finishing his coursework in two years, he joined Kingsoft, a Chinese software company. A talented engineer with sharp marketing skills, he worked his way up into the executive ranks, and was named chief executive in 1998.
At Kingsoft, he also found time to set up Joyo.com and to become an angel investor in dozens of other companies.
"He has vision," said Liu Ren, a longtime friend who runs an investment fund. "He sees trends earlier than others and is always ready to adjust. For instance, Joyo started as a downloading platform and at the beginning YY was just doing RSS subscription."
With $41 million in initial financing, Mr. Lei teamed up with a former Microsoft and Google engineer, Bin Lin, and five other engineers to set up Xiaomi in a small office on the outskirts of Beijing.
Work began in 2010 on a software platform for the phone adapted from Google's Android system. The company also sought out many of the same suppliers and contract manufacturers that worked with Apple, including Qualcomm, Broadcom and Foxconn.
In August 2011, Xiaomi introduced its first smartphone, the Mi-1, which sold out in two days. The Mi-2 was released last August, and sold out so quickly that some analysts claimed Xiaomi was creating artificial shortages to generate buzz through "scarcity marketing."
To lower costs, the company cut out middlemen and distributors, selling directly through its Web site. The marketing was not just innovative for China, the company said, but allowed Xiaomi to sell smartphones for just half the price of the iPhone or Samsung Galaxy phones.
Xiaomi also outsources designs and features online from its so-called Mi-Fans, and releases a new version of the operating system every Friday, to add new features and keep the Mi-Fans excited.
"For a start-up it's quite impressive what they've achieved," Sandy Shen, an analyst at the research firm Gartner, said. "But the question is: how are they going to grow their market share beyond the narrow segment they've targeted?"
Many technology analysts and investors in China say that the company's valuation is a bubble and that it will be difficult for Xiaomi to maintain its growth.
Mr. Lei insists his company could sell more than 15 million phones this year. Xiaomi — like Apple — is also looking at television.
Mr. Lei, listed by Forbes as one of China's wealthiest entrepreneurs, worth $1.7 billion, has already helped create three multibillion-dollar start-ups in the last decade. Little wonder, then, that he comes across as confident, even a little cocky.
"We're not just some cheap Chinese company making a cheap phone," he said. "We're going to be a Fortune 500 company."

www.nytimes.com/2013/06/05/business/global/in-china-an-empire-built-by-aping-apple.html
Chinese citizen sentenced in military data-theft case
NEWARK, N.J. — Measured in millimeters, the tiny device was designed to allow drones, missiles and rockets to hit targets without satellite guidance. An advanced version was being developed secretly for the U.S. military by a small company and L-3 Communications, a major defense contractor.
On Monday, Sixing Liu, a Chinese citizen who worked at L-3's space and navigation division, was sentenced in federal court here to five years and 10 months for taking thousands of files about the device, called a disk resonator gyroscope, and other defense systems to China in violation of a U.S. arms embargo.
www.washingtonpost.com/world/national-security/chinese-citizen-sentenced-in-military-data-theft-case/2013/03/25/dc4567fa-9593-11e2-ae32-9ef60436f5c1_story.html
In China and U.S., Mutual Distrust Grows, Study Finds
www.nytimes.com/2013/07/18/world/asia/in-china-and-us-mutual-distrust-grows-study-finds.html
Global China