Hong Kong's South China Morning Post presented a dark picture of the situation, writing: "Ten Chinese generals issued a joint statement yesterday warning that the People's Liberation Army is 'ready to take Japan on'," and citing an editor of a Communist Party-run magazine, the Central Party School's Study Times, Deng Yuwen, that there was a chance of armed clashes after the party's 18th congress, which will probably be held next month.

http://rendezvous.blogs.nytimes.com/2012/09/14/rising-tension-and-stakes-in-japan-china-island-dispute/
"The President sits with President Xi Jinping of China on an inscribed redwood park bench at the Annenberg Retreat at Sunnylands in Rancho Mirage, Calif. The two leaders spent two days in bilateral talks at Sunnylands."
China's isolation: Beijing has no friends
Posted by Craig Hill⋅ May 16, 2014⋅ 1 Comment
China has become a global power with extensive outreach to all continents. But it has never been so isolated.
Beijing, perhaps blindsided by its military buildup and a perceived decline in U.S. military capabilities, has revived fear and loathing among several of its 14 bordering neighbours, as well as a host of offshore countries.
China is engaged in tense and frequently armed clashes with countries such as Japan, India, Vietnam, and the Philippines as a result of Beijing's unyielding territorial claims disputed by its neighbours — claims that had been dormant for decades.
In addition, latent and potential clashes could involve other nations that have territorial disputes with China — such as Malaysia, South Korea, Bhutan, Indonesia, and Brunei.
Of course, China claims all of Taiwan as its own, and the communist mainland and democratic island governments technically still conduct business as adversaries.
Even North Korea has disputes with China over the border region of Baekdu Mountain; and South Korea has challenged Beijing over the Gando [Jiandao] region that covers China's Yanbian Korean Autonomous District.
China has border agreements with Russia, Mongolia, Kazakhstan, Kyrgyzstan, Tajikistan, and Myanmar. But governt-lednationalistic calls for regaining "lost Chinese territories" in those countries have flared increasingly in online media.
China's strategy to end its isolation appears to blame its regional troubles on Japan and its pre-1945 colonial and wartime atrocities, which Beijing presents as moral justification for getting nasty with Tokyo.
But Japan-bashing is not helping China because most of the territorial disputes have less to do with Japan's pre-1945 history than with China's postwar geopolitical calculations.
Few are buying China's argument that today's free and democratic Japan is endeavouring to revive its pre-1945 militarism and expansionism. China, not Japan, is widely viewed as a destabilising source in the region.
So far, the strategy has backfired.
It has strengthened conservative forces in Japan led by Prime Minister Shinzo Abe, whose tough stance in rebuffing China's propaganda onslaught has made him one of the most popular politicians in postwar Japan. It has forced Washington to officially vow to defend the Japan-administered Senkaku islands should China launch an attack.
And it has driven Japan and India, the two oldest and largest Asian democracies, much closer as allies in a bid to fend off China's aggressive territorial demands.
More ominous for Beijing is the ascendance of Hindu nationalist Narendra Modi, who is openly hostile to China and is set to become India's next prime minister.
Other regional players also are aligning themselves against China, such as the Association of Southeast Asian Nations, the Philippines, Vietnam and Myanmar, which has been slipping away quickly from China's influence in recent years.
China's remedy for the current embarrassment is to drag Russia into the fray to demonstrate some degree of brotherhood against Japan.
But Russia, ostracised in the international community due to its gambit in Ukraine, has refused to play along with China in toto because it wants to befriend some of China's adversaries, including Vietnam, India, and likely Japan.
While selling a great deal of arms to India and Vietnam for their defence buildup against China, Moscow has refused to take China's side in the Senkaku dispute. Russia rejected China's request and public announcement to hold upcoming Sino-Russian naval exercise next to the Senkaku Islands.
Steeped in one of its famed 36 ancient military strategies that dictates "Befriend those at a distance, attack those nearby," China may have found itself the victim of its own ancient wiles.
http://chinadailymail.com/2014/05/16/chinas-isolation-beijing-has-no-friends/
In Philippines, banana growers feel effect of South China Sea dispute

China, Philippines dispute ownership of shoal: A territorial dispute between China and the Philippines raises issues of sovereignty.
www.washingtonpost.com/world/asia_pacific/in-philippines-banana-growers-feel-effect-of-south-china-sea-dispute/2012/06/10/gJQA47WVTV_story.html
China Losing 'South China Sea Battle'
"A close scrutiny of the breadth and width of the South China Sea territorial claim of China will show an irregularly shaped nautical line that encloses the Republic of China or Taiwan and extends to the front yards of the Philippines, Vietnam, Malaysia and Brunei."
www.manilatimes.net/index.php/opinion/columnist1/22850-china-losing-south-china-sea-battle
The islands that divide superpowers
Japan's purchase of these uninhabited, barren rocks has enraged China and the US. Why? Peter Popham reports on a battle for influence – and oil
Peter Popham THURSDAY 06 SEPTEMBER 2012
Japan sensationally raised the stakes in its long-running territorial dispute with China yesterday, reportedly agreeing to buy three of the disputed Senkaku islands south-west of Okinawa from their private Japanese owners for 2.05 billion yen ($26m).
The islands, which the Chinese call Diaoyu, form part of a series of barren and largely uninhabited clumps of rock south of China which have assumed an importance out of all proportion to their modest size and unimpressive appearance as China and the US jockey for power and influence in the region. Arguments over the claims and counter-claims have overshadowed a visit to China by the US Secretary of State, Hillary Clinton, which concluded yesterday with both sides admitting their differences with unusual frankness.
Jorge Luis Borges famously described the Falklands War as "two bald men fighting over a comb." The South China standoff may look like more of the same: none of these arid atolls have anything to offer tourists or hoteliers. But the stakes are far larger than they appear – connected in some cases to reportedly vast quantities of untapped oil and gas, and in all to strategic control of the surrounding waterways. And everywhere, these disputes are feeding into a dangerously febrile nationalistic mood throughout the region.
Senkaku is a case in point. The islands reverted to Japan in 1972 in the treaty signed with the US which also returned Okinawa to Japan. Gas reserves had been identified nearby in 1968, but it was not until a visit to Japan by Deng Xiaoping in 1978 that China staked a claim to the archipelago, which is much closer both to Taiwan and the south China coast than to the Japanese mainland.
The issue has steadily risen in importance since then, with firebrands on both sides using it to urge their governments to stand up to claimed humiliations by the other side. The issue came to a head in August when Chinese demonstrators landed on one of the islands, Uotsurijima. They were arrested by Japanese authorities stationed on the island and deported. A few days later Japanese nationalists hoisted the national flag on the same island, sparking protests in China, in one of which the Japanese flag was torn from the bonnet of the ambassador's car.
Yesterday's agreement by the Japanese government to purchase three of the islands, including Uotsurijima, provoked an immediate and furious Chinese reaction. A Chinese Foreign Ministry spokesman said: "In disregard of China's solemn representations and firm opposition, Japan single-mindedly pushes forward the island purchase process, which severely harmed China's territorial sovereignty and hurt the feelings of the Chinese people. We cannot help but ask where is Japan trying to lead China-Japan relations?"
The spat left Ms Clinton high and dry at the end of a bruising visit to Beijing which was dominated by similar tensions over other little spots in the ocean.
After a marathon negotiating session, Ms Clinton tried to put the best face on her visit at a news conference yesterday. "Our two countries are trying to do something that has never been done in history," she said, "which is to write a new answer to the question of what happens when an established power and a rising power meet." She did not go so far as to say they had succeeded.
Prime Minister Wen Jiabao spoke more plainly. "Generally speaking, our relationship has been moving forward," he said, "but recently I am more or less worried. I feel that our two countries should maintain political mutual respect and strategic mutual trust. The United States should respect China's sovereignty and territorial integrity."
As any Tibetan could point out, the People's Republic has shown a repeated tendency to claim as its own since time immemorial territories whose histories are far more complex than that. On Monday, for example, a Chinese Foreign Ministry spokesman said that the Senkaku islands had been "inherent" parts of China since "ancient times."
The islands which are under dispute in the South China Sea include the Scarborough Shoal (named after an East India Company ship of that name which sank here with all hands in 1784), claimed by China, Taiwan and the Philippines, and the Spratly Islands, variously disputed by these countries but also by Vietnam, Brunei and Malaysia. Yet as the regional giant, China has no hesitation about insisting on the pre-eminence of its own rights. And to increase the likelihood of its claims winning the day, it also insists on negotiating each individual case bilaterally. It has refused to allow ASEAN, the Association of South-East Asian Nations, to play a part.
The reason is clear – and if it wasn't, Wen Jiabao's blunt rebuff to Ms Clinton yesterday made it clearer: although none of these issues involves territory claimed by the US, China is in no doubt that it is America that stands behind China's adversaries, using them as proxies.
It was last November that President Obama spelled out the new foreign policy doctrine which is keeping the Chinese leadership awake at nights. Addressing Australia's Parliament, he said he had "made a deliberate and strategic decision" that the US "will play a larger and long-term role in shaping this [Asian-Pacific] region and its future…I have directed my national security team to make our presence and mission in the Asia Pacific [region] a top priority." He went on, "we will allocate the resources necessary to maintain our strong military presence in this region. We will preserve our unique ability to project power and deter threats to peace."
President Obama backed up his rhetoric with the announcement that at least 2,500 US Marines would be stationed in Darwin, in Australia's Northern Territory. The US is also said to be planning to fly long-range surveillance drones from Australia's remote Cocos Islands, and to be dusting off bases in Thailand abandoned after the Vietnam war.
Underlying this so-called 'pivot' in American priorities is the belief, first spelled out in an internal Pentagon report in 2005, that China is "building strategic relationships along the sea lanes from the Middle East to the South China Sea in ways that suggest defensive and offensive positioning to protect China's energy interests but also to serve broad security objectives." These "strategic relationships", described by the US as a "string of pearls", includes the disputed islands in the South China Sea as well as new ports being developed by China in Bangladesh, Burma, Sri Lanka, and Pakistan.
A still rampant China is in this way seen to be expanding helter-skelter into its surrounding oceans. The determination to secure its vast and rapidly growing energy needs is the clearest motivation. Meanwhile the US, with a military that still dwarfs those of all its friends and enemies combined, refuses – for the time being – to allow the logic of economic decline to dictate either its rhetoric or its strategies.
In the midst of stresses such as these, and with governments on both sides that are rapidly approaching the end of their mandates, it is not surprising that the latest attempt by the US and China to thrash out a bilateral agreement was so fraught. Their failure to do something "that has never been done in history" will leave the new administrations in both Washington and Beijing with problems that are rapidly growing toxic.

www.independent.co.uk/news/world/asia/the-islands-that-divide-superpowers-8107033.html
The U.S. statement called for resolving disputes peacefully. China saw it, quite accurately, as a challenge on behalf of the weaker states in the region and insisted the United States "respect China's sovereignty and territorial integrity." What exactly does that entail? China has a very expansive claim to the sea, based on nine dashed lines sketched in a very imprecise fashion on a map six decades ago. The claim encroaches on some of the 200-nautical-mile exclusive economic zones granted to other countries by the United Nations Convention on the Law of the Sea.

www.washingtonpost.com/opinions/us-is-right-to-assail-china-on-its-sea-claims/2012/08/15/75cf50e2-e195-11e1-ae7f-d2a13e249eb2_story.html
"China's approach to the rest of the world has also been characterized by increasing uncertainty. Neighbors and others are bewildered by the abrupt shifts in Chinese foreign policy in the past few years. Beijing seems to have forsworn the nearly decade-old mantra of " peaceful rise-peaceful development" in favor of far more assertive rhetoric, announcing, for example, a move from a "near seas" to a "far coastal" defense. In the absence of China's previous "win-win" diplomatic efforts, regional conflicts have escalated quickly. Beijing is battling with the Philippines and Vietnam over sovereignty issues in the South China Sea, and China and Japan are engaged in an increasingly vitriolic gambit overuninhabited islandsin the region — known to the Japanese as the Senkaku and to the Chinese as the Diaoyu — that may sit atop oil reserves."
www.washingtonpost.com/opinions/the-world-hedges-its-bets-through-chinas-transition/2012/09/28/081cc5a6-097d-11e2-a10c-fa5a255a9258_story.html
Japan, China foreign ministers meet in New York over island dispute

www.washingtonpost.com/national/japan-china-foreign-ministers-meet-in-new-york-over-island-dispute/2012/09/25/5dada59e-0784-11e2-9eea-333857f6a7bd_story.html
Biggest anti-Japanese protests in 40 years sweep China as Xi Jinping reappears

www.kentucky.com/2012/09/15/2337866/xi-jinping-reappears-in-public.html
Chinese government both encourages and reins in anti-Japan protests, analysts say
www.washingtonpost.com/world/chinese-government-both-encourages-and-reins-in-anti-japan-protests-analysts-say/2012/09/17/53144ff0-00d8-11e2-b260-32f4a8db9b7e_story.html
The dispute over the Senkaku/Diaoyu islands in fact dates back to the first Sino-Japanese war of 1894-5; it was in 1895 that Japan took control of the rocky outcrops, which lie close to Taiwan rather than mainland China (let alone Japan). While I was in Tokyo I had the benefit of discussing this issue with Professor Shinichi Kitaoka, the former Japanese ambassador to the United Nations, who as an eminent academic historian was the Japanese chairman of the Japan-China Joint History Research Committee which investigated the Nanking Massacre.

Kitaoka pointed out what is not in dispute: that the islands had long been administered by Japan and that they had never physically been occupied by China. He added that it was only in 1968 when it was discovered that the seabed around the islands could contain oil reserves that China raised the issue of sovereignty. He observed that Taiwan also lays claim to the islands; and, with a smile, added that the People's Republic of China makes its own claim precisely through the belief that Taiwan is itself wholly and indivisibly part of its rightful territory.

www.independent.co.uk/voices/comment/china-is-flexing-its-muscles-time-to-worry-8145073.html
Six Chinese ships enter Japanese waters near disputed islands

www.washingtonpost.com/world/china-sends-six-ships-into-japanese-waters-as-feud-over-islands-intensifies/2012/09/14/a5acda8a-fe2a-11e1-b153-218509a954e1_story.html
China sends patrol boats to contested islands, Chinese state media says


Ng Han Guan/AP – Chinese protesters gather outside the Japanese Embassy in Beijing, China, Tuesday. Chinese government ships are patrolling near contested East China Sea islands in a show of anger after Tokyo moved to assert its control in the area.
http://www.washingtonpost.com/world/china-sends-patrol-boats-to-contested-islands-chinese-state-media-says/2012/09/11/83f491ba-fbf2-11e1-8adc-499661afe377_story.html

www.washingtonpost.com/hillary-clinton-top-chinese-officials-air-some-differences/2012/09/05/78487e86-f746-11e1-8253-3f495ae70650_story.html

Fear: There is concern across east Asia over China's growing military strength

www.dailymail.co.uk/news/article-2181626/Chinese-military-chiefs-shaping-countrys-foreign-policy-claims-concerned-Japan.html
Japan concerned by Chinese naval activity, lack of transparency in decision-making process

Jason Lee/Reuters – Chinese People's Liberation Army navy sailors wait to attend a July 19 ceremony at the Great Hall of the People in Beijing. Japan raised concern Tuesday about China's growing assertiveness in regional waters

www.washingtonpost.com/world/asia_pacific/japan-concerned-by-chinese-naval-activity-lack-of-transparency-in-decision-making-process/2012/07/31/gJQAx7VIMX_story.html
With China's rise, Japan shifts to the right

www.washingtonpost.com/world/asia_pacific/with-chinas-rise-japan-shifts-to-the-right/2012/09/20/2d5db3fe-ffe9-11e1-b257-e1c2b3548a4a_story.html
Letter to the Editor
A non-myth about China's power
Published: February 3, 2012
Minxin Pei ["5 myths about China's power," Outlook, Jan. 29] set about dispelling "several misconceptions that dominate Western thinking" about China's power — diluted American influence in Asia, leverage from ownership of U.S. debt, a controlled Internet, a bought-off middle class and a constantly growing economy.
But the real problem is not that some in the West think China is 10 feet tall in those areas; Mr. Pei correctly showed it is not. The danger lies in what important elements in the Chinese political and military establishment think about their own power — what Henry A. Kissinger has called a growing "triumphalism."
Mr. Pei's assessment of China's rise as largely benign does not address the threat of a major miscalculation and confrontation, though he acknowledged that China's "military modernization has made the People's Liberation Army a more lethal fighting force." China's potent new anti-access/area-denial weapons systems, such as attack submarines and anti-ship ballistic missiles, complicate a U.S. response to Chinese aggression in the South China Sea or Taiwan Strait. A downsizing U.S. Navy could tempt Beijing into dangerous adventurism.
James R. Clapper, the director of national intelligence, has said that China poses a "mortal threat" to the United States. And that is not a myth.
Joseph A. Bosco, Washington
The writer was China country desk officer for the office of the secretary of defense from 2005 to 2006.

www.washingtonpost.com/opinions/a-non-myth-about-chinas-power/2012/02/01/gIQATMXtnQ_story.html
Op-Ed Contributor
The Predicaments of Chinese Power

Feng Li/Getty Images Prime Minister Wen Jiabao of China.
By MINGHAO ZHAO
Published: July 12, 2012
BEIJING — To be a very powerful state in world politics does not make for an easy life. China increasingly realizes the predicaments it faces while its power has been growing rapidly. Indeed, the disturbance of China's regional diplomacy in recent years suggests that it is encountering daunting challenges on exercising and securing power.
The re-emergence of China as a global power does raise a number of questions on what grand strategy China may chose, how China's power is managed, and what the consequences may be. Against a backdrop of intense, often quarrelsome debate about these issues, five power predicaments facing China must be acknowledged.
First is how to evaluate its power accurately.
China is still a conflicted country since how people define, measure and observe "rising" would lead to their different conclusions about the existence and pace of China's rise.
The country is the world's most populous nation, the biggest trader, the biggest recipient of foreign direct investment, and the second largest economy (in gross domestic product at purchasing power parity per capita). Nevertheless, its G.D.P. per capita and human development level (a United Nations ranking of standard of living) are respectively 120 and 101 in the world.
China has limited resources on a per capita basis, and a rapidly aging population, with more than 700 million living in rural areas and 150 million under the poverty line (people living on less than $2 per day account for 36 percent of the overall population).
Second is how to translate its power resources into real power and influence.
Power resources are one thing, power and influence are another. Due to its population size, growing G.D.P. and military spending, China does possess vast power resources, but it still has a long way to go to equal those of the United States, especially in "soft power" — the attractiveness of political values and civil society.
In the coming decade, the mechanism of translating power resources into real power should be much more complicated. Moreover, most assessments of Chinese power resources are based on linear projections, while China's growth is unbalanced and unsustainable in the long term, and environmental and social factors could considerably hinder its future development.
Third is how to exercise power properly and effectively.
We are living in an era of great change, in a remarkably "plastic" moment of world history, due to the ongoing power shift and power diffusion. The nature of power is evolving and shifting. One country cannot be truly powerful unless it becomes the hub of networks and skillful in forging connections with relevant players.
China is still unfamiliar with these new power games.
The complex web of national security threats facing China underscores the need for greater efforts to integrate the strategic tools of diplomacy, defense and development. What is more, China has not yet found a way of utilize "civil power" in achieving sustainable diplomatic successes.
Fourth is how to share power and reassure other countries.
It is inevitable that China's military power will increase so long as its economy and global interests grows, and this will make China appear more dangerous. That in turn could prompt the formation of countervailing coalitions, which would undermine China's power position.
Indeed, the Middle Kingdom is at a disadvantage geopolitically and lacks the historical experience of sharing power and practicing multilateralism.
While the Chinese truly believe in their declared peaceful intentions, they have yet to convince others, especially the United States and Asian neighbors. China needs to boost its participation in multilateral forums and readjust its approach to stress the sincerity of its commitment to peaceful development.
The fifth and final predicament is how to conserve power and avoid strategic myopia and exhaustion.
The biggest temptation for a powerful country is to use power, or rather squander power. For China, it is necessary, albeit challenging, to maintain a strategic restraint over the coming years in light of its territorial disputes with neighboring countries, rising nationalism and growing diversity in foreign policy making.
A successful strategy for China ought to be milieu-oriented rather than position-oriented. It would be costly and self-defeating if China mistakenly came to regard any one country as the overarching threat and focused on competing for primacy instead of investing in a favorable external environment.
If China is to accept that "more is not always better" in terms of power accumulation, it needs to change its behavior, values and policies to handle its growing power capabilities and curb its imperialistic impulses.
China needs to learn to listen and to do more to embed itself in the open and rule-based world order, to which there is no alternative.
At the same time, the international community should better understand China's anxieties, aspirations and difficulties in keeping itself fed and modernized, as well as its complex power predicaments.
An exaggerated fear of China's capacities and intentions can itself become a cause of conflict and lead to tragic results. China's entry into the world must be accompanied by a new dynamic of mutual accommodation with that world.
Minghao Zhao is a research fellow at the China Center for Contemporary World Studies, the think tank of the International Department of the Central Committee of the Communist Party of China. The views expressed in this article are his own.
http://www.nytimes.com/2012/07/13/opinion/the-predicaments-of-chinese-power.html
Changing of the Guard
Party Bristles at Military's Push for More Sway in China
By EDWARD WONG and JONATHAN ANSFIELD
Published: August 7, 2012
BEIJING — During a holiday banquet for China's military leadership early this year, a powerful general lashed out in a drunken rage against what he believed was a backhanded move to keep him from being promoted to the military's top ruling body.
The general, Zhang Qinsheng, vented his fury in front of President Hu Jintao, according to four people with knowledge of the event. At the banquet, he even shoved a commanding general making toasts; Mr. Hu walked out in disgust.
The general's tirade was one of a series of events this year that have fueled concerns among Communist Party leaders over the level of control they exercise over military officials, who are growing more outspoken and desire greater influence over policy and politics.
With China's once-a-decade leadership transition only months away, the party is pushing back with a highly visible campaign against disloyalty and corruption, even requiring all officers to report financial assets.
"Party authorities have come to realize that the military is encroaching on political affairs," said one political scientist with high-level party ties. "Although the party controls the gun, the expression of viewpoints from within the military on political issues has aroused a high level of alarm." He, like others who agreed to discuss internal party affairs, spoke on the condition of anonymity because of fear of reprisals.
Some generals and admirals have loudly called for the government to assert control over the South China Sea, the focus of increasingly rancorous territorial disputes between several Southeast Asian countries and China, where nationalist spirits are on the rise among the public and politicians as well. And earlier this year, leaders in Beijing became alarmed over ties between generals and the disgraced Politburo member Bo Xilai.
The party's need to maintain stable rule over an increasingly vocal military is one reason Mr. Hu, its top civilian leader, is expected to hold on to his position as chairman of the Central Military Commission for up to two years after he gives up his party chief title in the fall, according to people briefed on political discussions. His anointed successor, Xi Jinping, would still take over Mr. Hu's posts as head of the party and head of state, but would have to wait to become China's military boss.
Mr. Hu's two predecessors both exercised control of the military after they gave up their other civilian titles. But some party insiders have argued that a staggered handover can lead to rival centers of power, splitting generals' loyalties. No final decision has been made on whether Mr. Hu will stay on. But if he does, then Mr. Xi could find himself with limited room to expand his power base, even though he has more of a military background than Mr. Hu.
Mr. Hu has been building a network of army loyalists by promoting generals in waves. At least 45 officers have been promoted to full general by Mr. Hu since September 2004, when he became head of the military commission. Just over half the promotions have taken place since July 2010. Four of the 45 are now among the 10 generals who sit on the commission. One officer who rose quickly with Mr. Hu's support was General Zhang, who could still be in contention for a commission seat despite his drunken tantrum.
When Mr. Hu's predecessor, Jiang Zemin, held on to his military post from 2002 to 2004, factional enmity arose over many issues. The same could happen with Mr. Hu and Mr. Xi, who was promoted to a vice chairmanship of the military commission in 2010. Mr. Jiang yielded his post to Mr. Hu only after conflicts between the two had intensified.
"The way it goes in the military is: whoever promotes me is my daddy," said one member of the party elite who meets with generals regularly.
Such divisions need not be debilitating in an increasingly professional military, analysts say.
"They prefer to work out these differences in a consensus-building process," said Dennis J. Blasko, a retired United States Army intelligence officer and former military attaché at the American Embassy in Beijing. "I see the P.L.A. leadership as rational, pragmatic and realistic," he added, referring to the People's Liberation Army.
Nonetheless, conversations with officers suggest that some may feel an affinity for the incoming Mr. Xi they do not share with Mr. Hu, a tea trader's son who has struggled in Mr. Jiang's shadow to win respect. Mr. Xi, 59, is the "princeling" son of a revered Communist guerrilla leader who grew up in Beijing with military families. He is stepping into the leadership role with closer military relationships than anyone since Deng Xiaoping.
"When those from the 'red second generation' move up, there will be a personal feeling, a traditional bond," a senior officer said.
Mr. Xi's first job was as an aide to Geng Biao, a guerrilla comrade of his father's who became China's defense minister in 1981. Mr. Xi later held political command offices over military units while serving as a civilian leader in Fujian and Zhejiang Provinces opposite Taiwan, which China still considers part of its country. And he is married to Peng Liyuan, a celebrity singer from an army performance troupe who holds the equivalent rank of major general.
Even before taking his post on the military commission, Mr. Xi had occasional informal meetings in Beijing with several generals, including the outspoken princelings Liu Yuan and Liu Yazhou, according to Li Mingjiang, an expert in Chinese politics now in Singapore.
When it comes to ideology, Mr. Xi is a cipher. But with China's rise has come a growing assertiveness in the region, and Mr. Xi will feel pressure to go in that direction. He will be "tougher in terms of protecting China's interests," Mr. Li said. "The fact that he does have some military background gives him more confidence in decision making."
There are signs that some generals believe they have Mr. Xi's ear. Last year, Gen. Liu Yazhou, political commissar of the National Defense University, sent a famously bellicose major general, Zhu Chenghu, to Singapore to lead a study on that tiny nation's more flexible authoritarian system. General Liu, who was promoted to full general by Mr. Hu on July 30, planned to present it to Mr. Xi to make the case for a more liberal one-party system as a means toward strengthening the state, said one scholar who met with the group.
Liu Yuan (no relation to Liu Yazhou), another powerful figure in Mr. Xi's network of princeling generals, is the son of Liu Shaoqi, who had been picked by Mao to take over the post of supreme leader before being purged and left to die in prison. In an essay published in 2002, Mr. Xi reminisced about how he bonded with Liu Yuan when they were both given county-level civilian postings in 1982.
"We agreed with each other even before we talked," Mr. Xi wrote. "Both of us wanted to take the road of integrating with workers and peasants."
Despite his favored position, Gen. Liu Yuan came under pressure this year from party authorities because of his connections to Mr. Bo. Indeed, the Bo affair put civilian officials on heightened alert for such collusive links. When the scandal began to unfold in February, Mr. Bo alarmed some party leaders by flying to Yunnan Province to visit the headquarters of the 14th Group Army, the unit once commanded by his father.
Some say that the scandal damaged Gen. Liu Yuan's prospects for promotion. But his popularity was evident in April, when he earned top marks in a poll of senior officers, according to a party intellectual close to him. To guard his career, the general distanced himself from Mr. Bo and made a declaration of support to Mr. Hu, who had earlier promoted him to full general.
It was one of many ways that Mr. Hu, analysts say, has tried to corral officers from elite families and that could allow him to extend his influence into retirement.

www.nytimes.com/2012/08/08/world/asia/chinas-military-seeks-more-sway-worrying-communist-party.html
MILITARY EXPERT: CHINA SHOULD REPLACE THE UNITED STATES TO DO THE WORLD'S NO. 1 MILITARY POWER
6:12:00 PM ZHAO YAN

Data Figure: China's "waves -2″ submarine-launched ballistic missile was launched from underwater
According to British media reports, China's National Defense University professor Liu Mingfu in his new book "China Dream" proposed that China should build the world's most powerful military power, [to] compete with the U.S. "champion country."
http://wuxinghongqi.blogspot.com/2010/03/military-expert-china-should-replace.html
Asian Leaders at Regional Meeting Fail to Resolve Disputes Over South China Sea
By JANE PERLEZ
Published: July 12, 2012
PHNOM PENH, Cambodia — Disputes in the strategically important South China Sea proved so contentious here that an annual regional gathering has ended without even a basic diplomatic communiqué, which appeared to have been blocked by China.
The host for the conference of the Association of Southeast Asian Nations, Cambodia, a close ally of China, refused to play the customary role of seeking agreement among the 10 participating countries, thus undermining the possibility of an accord, a senior diplomat from the association said Thursday.
"China bought the chair, simple as that," said the diplomat, who declined to be identified publicly according to usual protocol. The diplomat pointed to an article on Thursday by China's state news agency, Xinhua, in which the country's foreign minister, Yang Jiechi, was quoted as thanking Cambodia's prime minister for supporting China's "core interests."
Secretary of State Hillary Rodham Clinton, who met with foreign ministers at the conference of the Southeast Asian group, said in remarks clearly aimed at China that it was important that the disputes be resolved "without coercion, without intimidation, without threats and without use of force."
A last-ditch effort to reach agreement on a watered-down communique failed after Cambodia, backed by China, refused to agree, the senior diplomat said. The foreign ministers of Indonesia and Singapore tried to persuade the Cambodian foreign minister, Hor Nam Hong, to go along with a compromise, the diplomat said. But the Cambodian declined, saying it was a "matter of principle" for the association not to take sides in bilateral disputes.
Vietnam and the Philippines, the two nations with the current disputes with China over the South China Sea, had agreed to the compromise, the diplomat said. After some additional efforts at persuasion by the Singaporean and Indonesian foreign ministers, the Cambodian picked up his papers, and stormed out of the room, the diplomat said.
The influence of China, which was represented here by Mr. Yang, hung over the behind-the-scenes deliberations on the South China Sea in many respects, dividing countries that are beholden to China and those that are willing to stand up to the Chinese.
Cambodia receives large amounts of assistance from Beijing, including new military aid that it got a few months ago.
Indonesia, which has no territorial claims in the South China Sea, tried to forge a last-minute consensus at the meeting but without success. The Indonesian foreign minister, Marty Natalegawa, praised Mrs. Clinton for "showing interest but giving space" in the effort to reach an agreement.
The Foreign Ministers of Indonesia and Singapore tried to persuade the Cambodian Foreign Minister, Hor Nam Hong, to go along with a compromise, the diplomat said. But the Cambodian declined, saying it was a "matter of principle" for the association not to take sides in bilateral disputes.
Vietnam and the Philippines, the two nations with the current disputes with China over the South China Sea, had agreed to the compromise, the diplomat said. After some additional efforts at persuasion by the Singaporean and Indonesian foreign ministers, the Cambodian picked up his papers, and stormed out of the room, the diplomat said.
Territorial disputes in the South China Sea have increased in the last several months between the Philippines and China, and between Vietnam and China. One conflict, which lasted for months, involved a standoff between lightly armed vessels belonging to China and to the Philippines at the Scarborough Shoal off the coast of the Philippines. Another dispute centered on a law enacted in Vietnam claiming sovereignty over the Paracel and Spratly Islands, which China also claims.
As the long-dominant United States and the fast-growing China both seek to increase their naval power in the Asia-Pacific region, the disputes have become more threatening.
China has repeatedly told American diplomats that the energy-rich South China Sea is none of Washington's business.
But the Obama administration has made clear that freedom of navigation is at stake in one of the world's most important bodies of water for commerce.
In her statement to the news media, Mrs. Clinton said, "The United States is a resident Pacific power," a term intended to signal to China and the countries of the region that the United States is staying, and even increasing its presence.
"No nation can fail to be concerned by the increase in tensions, the uptick in confrontational rhetoric and disagreement over resource exploitation," Mrs. Clinton said.
"We have seen worrisome instances of economic coercion and the problematic use of military and government vessels in connection with disputes among fishermen," she said. The mention of economic coercion appeared to be a reference to China's decision to stop importing Philippine bananas and to clamp down on Chinese tourist groups.
China has made clear that it wants to deal with the South China Sea disputes with each country individually, and not through any regional forum. That stance has made the future of a code of conduct to resolve disputes in the South China Sea unclear.
Asian diplomats said Thursday that the main elements of a code of conduct, which the United States has urged the Southeast Asian group to adopt, had been agreed upon at this week's gathering. The diplomats declined to specify the content of the proposed code.
The spokesman for China's Ministry of Foreign Affairs has repeatedly said that China is willing to discuss a code of conduct only "when conditions mature."
Last Sunday, Mrs. Clinton began a tour of Asia that is intended to show that the administration's shift to that region reaches beyond military engagement.
The trip drew negative coverage in the Chinese press on Thursday. People's Daily wrote that a trade agreement that Washington is seeking, called the Trans-Pacific Partnership, which excludes China, was an effort to weaken Asian integration. China Business News referred to "those hyping up the South China Sea issue," a veiled reference to the United States.
The meeting here was held in a white-pillared conference hall, called the Peace Palace, that was built for the occasion by the Chinese government. When a Cambodian reporter asked Mrs. Clinton about American assistance to Cambodia, she made a reference to the difference between Chinese aid and that provided by the United States.
"We can't point to a big building," she said, indicating that American aid was directed at feeding people in need, ensuring the survival of women who give birth and trying to improve people's lives, especially those of children.

www.nytimes.com/2012/07/13/world/asia/asian-leaders-fail-to-resolve-disputes-on-south-china-sea-during-asean-summit.html
In Asia, a wave of escalating territorial disputes
By Chico Harlan, Published: August11
TOKYO — The disputed islands and islets in Asia are, on the whole, an unimpressive bunch. Most are rocky, windswept outcroppings far from any mainland. One has a lighthouse but no people.
But these tiny territories, sweeping from southeast to northeast Asia, are fiercely contested among countries that are buoyed by nationalism and by a growing thirst for the natural resources off their shores. At a time when the United States has promised to play a greater role in Asia, some security experts say the territories represent the region's greatest potential flash point aside from North Korea.
The territorial disputes involve nearly a dozen countries in at least three major seas, and they have set off a chaotic crisscross of conflict in some of the world's most trafficked shipping lanes. The disputes are not all connected, but analysts say that several of Asia's key countries — China, Japan, South Korea and the Philippines — have in recent months followed a similar pattern, turning old historical squabbles into national priorities, escalating tensions and raising the chances of a small-scale armed conflict.
The countries are driven to claim these far-flung offshore territories in part because of their growing need for the oil and gas reserves in the waters around them. Japan fears prolonged energy shortages as it turns from nuclear power, and China, already responsible for one-fifth of the world's energy consumption, is racing to increase its share as its economy modernizes.
"Energy resources are increasingly a critical issue here," said Rory Medcalf, director of international security at the Sydney-based Lowy Institute. "Particularly from a Chinese and Japanese point of view, there's a new sense of the need for energy security. None of these countries want to categorically give up claims to territory where there could be large hydrocarbon deposits."
The countries are also driven by fierce, though sometimes small, nationalist movements in their own back yards. The nationalism has been intensified by social media, some analysts say, particularly in China, where hundreds of millions of Internet users can share their opinions and public sentiment is harder than ever to ignore. Countries such as South Korea and China are set for leadership changes this year, making government officials wary of backing off claims and appearing weak.
"We've seen over history countries go to war over territory — area that seems to be meaningless, but it's the soil of the country," said Bruce Klingner, a senior researcher and a Northeast Asia expert at the Heritage Foundation. "Even if it would appear illogical for countries to risk conflagration over rocks. . .that is what is occurring."
Tenuous relationships
The most notable current disputes involveJapan and South Korea, China and Japan, and China and a host of southeast Asian countries, most vocally the Philippines and Vietnam.
China, with its increased military spending and naval might, is often pinpointed by foreign leaders as the regional bully, pushing its boundaries and intimidating smaller neighbors. But other countries have responded with shows of force of their own. Several southeast Asian countries have tightened alliances with Washington and conducted joint military drills. Japan realigned its Self-Defense Forces with the aim to better defend disputed waters. In July, Philippine President Benigno Aquino III asked his country's congress to approve a massive military upgrade involving new planes and combat helicopters that could be used to defend contested areas in the South China Sea.
"If someone enters your yard and told you he owns it, will you allow that?" Aquino said. "It's not right to give away what is rightfully ours."
Managing the territorial disputes has become a fraught issue for Asian leaders. One much-criticized move came Friday when South Korean President Lee Myung-bak, in an apparent ploy to boost his low support ratings, traveled by helicopter for a 70-minute visit to the Dokdo (or Takeshima) islets, also claimed by Japan.
"Dokdo is genuinely our territory," Lee said on the island, where he laid flowers in front of a monument commemorating Koreans who died defending the territory.
"Why did he visit there at a time when we need to consider issues from a broad viewpoint?" Japanese Foreign Minister Koichiro Gemba said soon after. "It is extremely regrettable."
Security experts say the Japan-South Korea dispute has little chance of escalating into violence, because the two countries — Washington's closest allies in Asia — are mostly cooperative economic partners, despite lingering animosities from Japan's 35-year occupation.
Disputes with China
But other areas in the region are more troubling, particularly those claimed by China. A recent report from the Brussels-based International Crisis Group described how China is patrolling the sea with "nine dragons," a tangle of conflicting government agencies, many of them trying to increase their power and budget.
The People's Liberation Army Navy tends to take a background role in sea disputes, the report said, allowing a greater role for civilian law enforcement or paramilitary agencies. An increasing number of rogue Chinese fishing vessels are also operating in contested areas, as seen in an April standoff between Beijing and Manila that started when Chinese fishermen were caught poaching near the disputed Scarborough Shoal.
Eventually, China won the standoff and the fishermen made off with their catch.
Washington has tried to stay neutral in the various disputes but has emphasized the importance of freedom of navigation. During a June meeting with Aquino, President Obama urged Asian countries to settle on a "strong set of international norms and rules governing maritime disputes in the region."
Regional leaders, though, have failed to agree on any set of rules, and at a July foreign ministers' meeting in Cambodia, conflicts about the South China Sea prompted the leaders to walk away without even a basic communique.
A recent Pentagon-commissioned proposal by the Center for Strategic and International Studies, a think tank in Washington, pointed out that "stakes are growing" in the region because of China's aggressive maritime activities.
The think tank's proposal on U.S. strategy in Asia raised the possibility of basing a nuclear-powered aircraft carrier on the Australian coast, allowing the U.S. a second carrier strike group in the region.
But Australia's defense minister quickly rejected the idea, and analysts in Australia suggested the country was unwilling to antagonize China, its largest trading partner.
www.washingtonpost.com/world/asia_pacific/in-asia-a-wave-of-escalating-territorial-disputes/2012/08/11/1ff82fea-e38e-11e1-a25e-15067bb31849_story.html
China lambasts US over South China Sea row
Beijing accuses Washington's intervention in the region of 'fanning the flames and provoking division'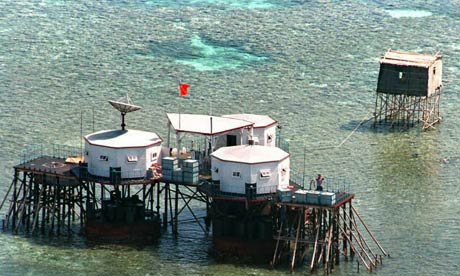 South China Sea row intensifies as China expands territorial claims in regions such as Spratley Islands. Photograph: Romeo Gacad/AFP/Getty Images
China's state-run media has lambasted the United States over its intervention in the South China Sea row, highlighting the alarming escalation of a long-running dispute.
Furious commentaries ordered Washington to "shut up" and accused it of "fanning the flames and provoking division" in the region. The foreign ministry in Beijing called in a senior US diplomat at the weekend over the State Department comments.
Analysts fear the South China Sea has become a major potential flashpoint, as tensions have risen sharply between China – which claims almost all the sea – and Vietnam and the Philippines. Brunei, Taiwan and Malaysia also lay claim to parts of the sea, which contains valuable energy reserves and fisheries and sees an estimated $5 trillion of cargo – half the world's shipping tonnage – pass through its sea lanes annually.
"While the likelihood of major conflict remains low, all of the trends are in the wrong direction, and prospects of resolution are diminishing," theInternational Crisis Group warned in a recent report on the six-party dispute.
Beijing's most recent moves include offering oil and gas exploration blocks for bidding and establishing a new city, Sansha, which boasts at most a few thousand residents and 5 square miles (13 square kilometres) of land spread over several tiny islands – yet lays claim to 772,000 square miles (2 million square kilometres) of sea and its own military garrison.
It prompted the US to publicly reenter the row, with a statement expressing concern at the growing tensions and singling out Beijing's role. The city and garrison "run counter to collaborative diplomatic efforts to resolve differences and risk further escalating tensions in the region," said Patrick Ventrell, acting deputy spokesperson at the State Department.
Beijing responded by calling in the US deputy chief of mission and state media ran a spate of hostile pieces. "We are entirely entitled to shout at the United States, 'Shut up'. How can meddling by other countries be tolerated in matters that are within the scope of Chinese sovereignty?" asked a commentary in the overseas edition of the People's Daily, the official Communist party newspaper.
The domestic version accused Washington of "fanning the flames and provoking division" in the region.
State media say Beijing's moves are a response to the actions of Manila and Hanoi, such as a new law requiring all foreign ships passing through the disputed waters to notify Vietnamese authorities.
In Chinese eyes, it is – as deputy foreign minister Cui Tiankai recently described it – a "victim", not the instigator.
Though its far smaller neighbours bristle at such a description, the new ICG report notes: "China is not stoking tensions on its own. South East Asian claimants … are now more forcefully defending their claims – and enlisting outside allies – with considerable energy."
Shading the row is concern about the Obama administration's refocusing of foreign policy in a "pivot to Asia". The US says it has no territorial ambitions in the Sea and no position on the competing claims to land features, but has a national interest in freedom of navigation and maintaining peace and stability.
But Chinese hawks warn of an attempt to encircle and contain China while others argue that, at a minimum, its rivals are exploiting the US shift.
A Xinhua commentary this weekend accused the US of double-dealing and urged Washington to show it was not seeking "to clip China's wings and shore up the United States' cracking pedestal in the Asia-Pacific".
In a speech quoted by the Global Times, Zhou Fangyin of the Chinese Academy of Social Sciences noted: "Countries with territorial disputes with China believe that the costs and risks of provoking China have largely dropped … China's rapid rise may also make [them] realize that their chances of reaping and consolidating benefits by encroaching upon Chinese territories would be smaller in the future."
In any case, argues Rory Medcalf of Australia's Lowy Institute, "It has become academic to ask who started it … What we see now is an action-reaction cycle."
The multitude of Chinese agencies involved has stoked tensions, the ICG has argued, with poor coordination and some actors seeing it as a way to increase their power and budget.
Increasing militarisation of the dispute makes it harder to resolve skirmishes, but could also raise the threshold for armed conflict, it noted.
"More immediate conflict risks lie in the growing number of law enforcement and paramilitary vessels playing an increasing role in disputed territories without a clear legal framework", it added.
Domestic nationalism in other claimant countries adds to the difficulties.
No one wants military conflict, not only because of the inevitable disruption of trade. The smaller countries would have to take on mighty China, while such a conflict "would undermine [Beijing's] peaceful rise thesis, cause irreparable damage to its image and foreign policy in Asia and push other countries far closer to the US.
Clearly none of that is in China's interests," said Ian Storey, of the Institute of South East Asian Studies in Singapore.
Yet should it come to an exchange of fire, even the US could feel compelled to become involved – with great reluctance – to defend its credibility as an ally not only to the Philippines but countries across Asia, argued Medcalf.
Analysts see little hope of resolving the dispute and say the best-case scenario is now the agreement of measures to handle clashes.
"I don't think any of the claimants have any good options. They have all painted themselves into a corner," said Storey.

www.guardian.co.uk/world/2012/aug/06/china-us-south-china-sea
Protests in Vietnam as anger over China's 'bullying' grows
Tensions rise after Beijing declares city, which Vietnam lays claim to, its newest municipality
Esmer Golluoglu in Hanoi and Ho Chi Minh City
guardian.co.uk, Monday 6 August 2012 14.01 EDT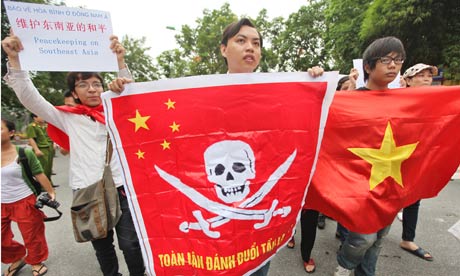 Vietnam demonstrators in Hanoi rally against China's territorial claims in South China Sea. Photograph: Luong Thai Linh/EPA
The banners, T-shirts and handwritten posters said it all. China! Hands off protesters had only China on their mind. After detaining a group of Vietnamese fishermen near disputed islands this year, Beijing announced that the state-backed China National Offshore Oil Corporation was seeking bids for oil exploration in what Vietnam deems its own sovereign waters.
It also declared Sansha City – on tiny Yongxing in the Paracel islands, which Vietnam lays claim to – China's newest municipality. The anti-China protest was the third of its kind in Hanoi in one month. "The territorial ambition of China is a common threat – not only for the Philippines or Vietnam but for countries all over the world," said leading economist Le Dang Doanh, a former government adviser who recently signed an open letter calling for China to abandon its "absurd maritime claims" in the region. "China's territorial claims are now bigger than China itself."
Hanoi, 125 miles from the Chinese border, knows it must play a delicate game. Trade between the two countries reached an estimated $40bn last year, and analysts say that ties between the authoritarian, one-party states are considerably closer than either government would like to admit.
The seeming standoff has pushed the US into the game, with recent visits by the secretary of state, Hillary Clinton, and the defence secretary, Leon Panetta, highlighting America's interest in its former foe. Panetta's visit to Cam Ranh bay, a US naval base during the Vietnam war, sparked particular curiosity over the US's intentions to "protect key maritime rights for all nations in the South China Sea" as it moves 60% of its naval ships to the Pacific by 2020.
Carlyle Thayer, a Vietnam expert at the Australian defence academy, said Vietnam was likely to maintain its sovereignty by co-operating – but not aligning itself – with the US, but warned the situation in the South China Sea could worsen before it improved. "Most likely an incident will occur from a misadventure of two opposite boats trying to be in the same place at the same time," he said. "At the moment there's enough control [on both sides] but the analysis is that a lot of China's agencies are acting independently, and the central government is having a hard time asserting authority … the problem is that [neither country's] crisis management techniques are very good."
The protests in Hanoi come at a time of uncertainty over Vietnam's political and social future. Its economy has followed a remarkable trajectory from colonialism and communism through to the doi-moi ("socialist-oriented market economy") capitalism of the 1990s and beyond. Art-deco villas have been razed for multi-storey office blocks, and gaudy mansions dwarf the shady avenues of Ho Chi Minh City and Hanoi, where men in slacks and women in short shorts and stilettos skittle past in glossy Mercedes and 4×4 BMWs.
Here, the rich have become so rich that a Vietnamese businessman recently purchased an entire American town for sale in Wyoming. But Vietnam is running a huge trade deficit with China ($1.85bn in the first two months of the year alone) and its three million-member Communist party is struggling to maintain control over its population of 90 million, 70% of whom were born after 1975, and one-third of whom have internet access.
Protesters are not just angry about China's territorial ambitions, but about the gaping rich-poor divide, increasing accounts of police brutality, widening crackdowns on dissent, and growing numbers of land evictions and human rights abuses. Reporters without Borders declared Vietnam an "enemy of the internet" as a decree aimed at making it illegal to post anonymously online means that bloggers particularly are under attack. Facebook is blocked, as are many blogs, and activists claim emails, phone calls and whereabouts are routinely monitored. TheCommittee to Protect Journalists cites Vietnam as the fourth-worst jailer of journalists in the world. "Vietnam really is the new Burma," said Phil Robertson of Human Rights Watch.
"We're seeing more of a crackdown on freedom of expression, a growing lawlessness in terms of the way police interact with people, a continued effort to go after prominent bloggers, to identify activists and jail dissidents. They're trying to prevent any Arab spring-type event where a mixture of information on the internet combined with people being angry and protesting ignites into something more. It's very embarrassing for Vietnam, because previously they were the influential ones giving advice to Burma, which was the basket-case."
Now that Burma is no longer a pariah — thanks to the election of Aung San Suu Kyi to parliament and a slew of reforms initiated by reformist President Thein Sein — the shining star that was once Vietnam has waned considerably, says one local analyst. "Foreign direct investment is flowing into Burma and declining in Vietnam. The government knows it is losing credibility. Vietnam allowed its private sector to develop, but it did not reform its political system. It was a fatal mistake."
Dissident lawyer Le Quoc Quan, one of Vietnam's most prominent human rights activists who has been repeatedly jailed and beaten for his democracy efforts, said Vietnam was fighting a losing battle. "More people know more about their rights, so the more they fight for their rights, [the] more repression, more arrests," he said. "But an optimistic sign is that people are not afraid."
While it is hoped a diplomatic resolution over the South China Sea will soon be reached – the Association of Southeast Nations agreed last week to a "code of conduct" that may see negotiations begin with China in September – it is just as likely that tension will continue. "The problem of China and Vietnam has been a problem for 2,000 years," says Le Dang Doanh. "If China keeps up the aggression, one million [Vietnamese] will take to the streets to protest. You'll see."

www.guardian.co.uk/world/2012/aug/06/protests-vietnam-china-bullying-grows
U.S. model for a future war fans tensions with China and inside Pentagon

Philippine military western command/AFP/Getty Images – A newly constructed radar dome on Chinese-controlled Subi Reef, around 15 nautical miles northwest of the Philippine-controlled Pag-asa Islands on the disputed Spratly Islands.

www.washingtonpost.com/world/national-security/us-model-for-a-future-war-fans-tensions-with-china-and-inside-pentagon/2012/08/01/gJQAC6F8PX_story.html
Analysis: New China landing vessels point to Pacific rivalry

By David Lague
HONG KONG | Wed Feb 15, 2012 9:58am EST
(Reuters) – As looming budget cuts force the Pentagon to plan for a smaller U.S. Navy, China is accelerating the launch of new, increasingly capable warships as part of a sustained drive to become a major maritime power.
Shanghai's Hudong Zhonghua Shipbuilding Company late last month launched the fourth of China's new 071 amphibious landing ships according to reports carried by Chinese military web sites and the state-controlled media.
While most attention has been drawn to the ongoing sea trials of China's first aircraft carrier, military analysts say the expanding fleet of 20,000 tonne landing ships, the biggest domestically designed and built vessels in the Chinese navy, delivers a far more immediate boost to Beijing's global influence.
"Having a significant fleet of large amphibious assault vessels clearly suggests a desire for power projection," says Christian Le Miere, a maritime security researcher at the International Institute for Strategic Studies in London.
"If you want the surgical insertion of forces, for a range of reasons, then you need amphibious response ships."
MILITARY RIVALRY
China's naval buildup comes amid mounting maritime tensions in the Asia-Pacific region, which is likely to be one of the main geopolitical stress points in the coming decade.
Military planners previously had focused mainly on a potential conflict in the Taiwan strait. More recently, however, Japan and China have locked horns over islands each claims in the East China Sea; Vietnam, the Philippines and other nations are disputing territorial claims with China over parts of the South China Sea thought to be rich in oil and gas.
The U.S. Navy has announced it will deploy its own new amphibious assault vessels, the Littoral Combat Ships, to the "maritime crossroads" of the Asia-Pacific theater, stationing them in Singapore and perhaps the Philippines.
Xi Jinping, the man destined to become China's new president later this year, called for enhanced military cooperation between the Pacific powers during a meeting with U.S. Defense Secretary Leon Panetta on Monday in Washington.
Xi, the son of a famous guerrilla commander from the 1930s, also met with President Barack Obama and was treated to a rare show of honors at the Pentagon, including on a 19-gun salute.
But Panetta, alluding to the strains in the relationship, called for more transparency from Beijing about its military build-up.
LARGEST SHIPBUILDER
The Chinese navy is expected to deploy up to eight of the type 071 ships that can carry up to 800 troops, hovercraft, armored vehicles and medium lift helicopters. The first of the class launched in 2006, the Kunlunshan, has already deployed with Chinese naval forces to the Indian Ocean and the pace of construction appears to have quickened with the third and fourth vessels completed within the last five months.
And, military commentators and retired Chinese naval officers say, early design work has already started on a bigger, more capable landing ship.
For the Chinese navy, the country's thriving commercial shipbuilding industry is providing a springboard for further improvements in the size and sophistication of new classes of warships, military experts say.
China in 2010 overtook South Korea to become the world's biggest shipbuilder and industry experts say the leading state-owned shipyards are steadily improving skills and technology with the launch of bigger and more complex oil tankers, container ships and other, more specialized vessels.
Along with more than two decades of rapid growth in military spending, this shipbuilding expertise has transformed the Chinese navy from an obsolete, coastal defense force to a blue water fleet that is expanding its influence into the Pacific and Indian Oceans.
China's best warships and submarines are now armed with advanced air defense weapons and long range, anti-ship missiles.
In its annual report to Congress on the Chinese military, the Pentagon last year said the People's Liberation Army (PLA) navy now has about 75 major warships, more than 60 submarines, 55 medium and heavy amphibious ships and about 85 smaller, missile-armed fast attack craft.
As a major trading power with a growing dependence on imported energy and raw materials, this naval expansion is crucial for the country's security, according to Chinese military planners.
"The safety of China's personnel, assets and shipping lanes is very important for its economy," wrote Senior Captain Wang Xiaoxuan, the director of the PLA's Naval Research Institute, in the official China Daily newspaper last month. "To guarantee this, it needs a strong navy."
SHRINKING US NAVY
Military strategists dismiss crude comparisons between navies based on the number of ships alone and most experts agree that the U.S. navy with its 285-strong fleet including 11 aircraft carriers, more than 70 nuclear powered submarines and 22 cruisers remains the world's overwhelmingly, dominant navy.
In size, firepower, integration with other important weapons systems and battle experience, the best U.S. warships enjoy a clear advantage over those of China and most combatants from other navies.
However, it is also clear that under the Obama administration's plan to shave almost $487 billion from the Pentagon budget over the coming decade, the U.S. navy will shrink as China's fleet continues to grow in size and quality.
To meet its budget target, the U.S. navy proposes to retire seven cruisers and two amphibious vessels, delay work on new ships and submarines and scrap some programs which could see the fleet shrink to less than 250 ships, according to senior Pentagon officials.
These cuts come as the Obama administration mounts a "pivot" to Asia following the U.S. withdrawal from Iraq and anticipated exit from Afghanistan.
As part of this effort to boost defense cooperation in Asia, the U.S. military is now holding its annual Cobra Gold joint exercises which run until February 17 in Thailand with troops from the host country, Indonesia, Malaysia, Singapore, South Korea and Japan. It will hold joint naval exercises next month with the Philippines near the disputed Spratly islands.
SECOND-RANKED SPENDER
This shift of military firepower to Asia and renewed emphasis on building closer ties with traditional, regional allies is partly aimed at countering the rapid growth of Chinese military muscle.
After more than two decades of double digit growth, the annual expansion of China's official military outlays dropped to 7.5 per cent in 2010 in the aftermath of the global financial crisis but spending bounced back last year with a 12.7 per cent increase to $91.5 billion.
Most foreign analysts believe China understates its defense budget.
The Pentagon estimates total Chinese military outlays in 2010 were more than $160 billion which would easily make it the second ranked defense spender behind the US.
The Obama administration is proposing to spend $525 billion on the military in 2013.
For the expanding Chinese navy, the widely publicized deployment of the refurbished, former Ukrainian aircraft carrier, the Varyag, on its sea trials last year was seen as an important milestone in China's bid to become a major sea power.
However, most Chinese and foreign experts believe it will be years before the carrier will be operationally ready with aircraft, weapons and supporting vessels.
PROTECTING OVERSEAS NATIONALS
In contrast, military analysts say the amphibious landing ships already provide Beijing the option of deploying troops and their equipment in wartime or in response to less serious peacetime contingencies, including operations to protect the more than 800,000 Chinese nationals working overseas.
"In non-combat roles, they are more meaningful than an aircraft carrier," says Gabe Collins, an Ann Arbor, Michigan-based specialist on maritime affairs for the China SignPost research group.
"They are geared to using choppers, troops, hovercraft and even armored vehicles. Now they can say: 'We've just had three people kidnapped here, let's go and do something about it'."
More ominously for smaller regional powers, these ships could also be used to land Chinese troops on disputed territory in the South China Sea, analysts say.
However, it is in so-called "soft power" that the amphibious landing vessels could make their initial contribution as China attempts to reassure regional nations that its growing military might poses no threat.
The Chinese military clearly recognized that the U.S. was able to gain substantial goodwill from its effective response to the 2004 Indian Ocean Tsunami with its aircraft carriers and amphibious assault ships ferrying supplies, medical teams and rescue crews ashore, according to Chinese and Western commentators.
Some analysts believe this experience was a factor in Beijing's decision to launch its first, large, military hospital ship that could be deployed to assist other nations in times of crisis as well as support Chinese amphibious forces in combat.
The hospital ship, launched in 2007, was late last year deployed on a humanitarian medical mission to Latin America and the Caribbean.

www.reuters.com/article/2012/02/15/us-china-navy-idUSTRE81E19L20120215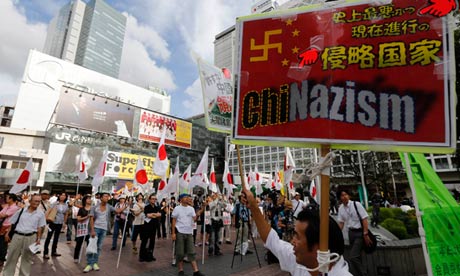 Japanese protesters at an anti-China rally in Tokyo – relations have deteriorated since Japan bought the East China Sea islands. Photograph: Kim Kyung-Hoon/Reuters
www.guardian.co.uk/world/2012/sep/25/china-aircraft-carrier-japan
China says first aircraft carrier entering service, although not ready for combat or planes


China's first aircraft carrier, the Liaoning: China formally entered its first aircraft carrier into service on Sept. 25, underscoring its ambitions to be a leading Asian naval power, although the ship is not expected to carry a full complement of planes or be ready for combat for some time.
By Associated Press, Updated: Tuesday, September 25, 10:15 AM
BEIJING — China formally entered its first aircraft carrier into service on Tuesday, underscoring its ambitions to be a leading Asian naval power, although the ship is not expected to carry a full complement of planes or be ready for combat for some time.
The Defense Ministry's announcement had been long expected and was not directly linked to current tensions with Japan over a disputed group of uninhabited islands in the East China Sea.
In a brief notice on its website, the ministry said the carrier's commissioning significantly boosted the navy's combat capabilities and its ability to cooperate in responding to natural disasters and other non-traditional threats.
"It has important significance in effectively safeguarding national sovereignty, security, and development benefits, and advancing world peace and common development," the statement said.
China had partly justified the launching of a carrier by pointing out that it alone among the five permanent United Nations Security Council members had no such craft. That had been particularly glaring given the constant presence in Asia of carriers operated by the U.S. Navy, which maintains 11 worldwide.
President Hu Jintao, also chairman of the commission that controls the military, presided over a ceremony Tuesday morning at the ship's home port of Dalian, along with Premier Wen Jiabao and top generals. Hu "fully affirmed" the efforts of those working on the ship and called on them to complete all remaining tasks according to the highest standard, the Defense Ministry said.
The carrier is the former Soviet navy's unfinished Varyag, which was towed from Ukraine in 1998 minus its engines, weaponry and navigation systems. Christened the Liaoning after the northeastern province surrounding Dalian, the ship began sea trials in August 2011 following years of refurbishment.
So far the trial runs of the aircraft carrier have been to test the ship's propulsion, communications and navigation systems. But launching and recovering fixed-wing aircraft at sea is a much trickier proposition. It will take years to build the proper aircraft, to train pilots to land in adverse weather on a moving deck, and to develop a proper carrier battle group.
China is developing a carrier-based fighter-bomber, the J-15, derived from Russia's Sukhoi Su-33, along with a prototype stealth carrier fighter, the J-31.
Beijing hasn't said what role it intends the carrier to fill other than helping safeguard China's coastline and sea links. The Liaoning has also been portrayed as a kind of test platform for the future development of up to five domestically built Chinese carriers.
Writing in Tuesday's China Daily newspaper, retired Rear Adm. Yang Yi said the carrier will be used to master the technology for more advanced carriers. He said it also will be used to train in how to operate such a craft in a battle group and with vessels from other nation's navies.
Without specifically mentioning China's territorial disputes, Yang acknowledged other countries' concerns about its growing military might, but said Beijing wouldn't shy from flexing its muscles.
"When China has a more balanced and powerful navy, the regional situation will be more stable as various forces that threaten regional peace will no longer dare to act rashly," Yang wrote.
Whatever its practical effects on China's global status, the carrier embodies huge symbolism for China's political and military leaders as a totem of their country's rise from weakness to strength, according to Andrew S. Erickson, a China naval specialist at the U.S. Naval War College.
"While (Chinese navy) acceptance of this 'starter carrier' is the first step in a long journey, it is a journey that will take place in full view of the world, and one that will ultimately take Beijing to a new place as a great sea power," Erickson wrote on his blog.
The carrier's political importance was highlighted in Wen's remarks to the ceremony, in which he said it would "arouse national pride and patriotic passion."
"This has mighty and deep significance for the opening of a new facet in our enterprise of socialism with Chinese characteristics," he said.

www.washingtonpost.com/world/asia_pacific/china-says-first-aircraft-carrier-entering-service-although-questions-linger-over-planes/2012/09/25/f266f50e-06d1-11e2-9eea-333857f6a7bd_story.html
"But despite the triumphant tone of the launch, which was watched by President Hu Jintao and Prime Minister Wen Jiabao, and despite rousing assessments by Chinese military experts about the importance of the carrier, the vessel will be used only for training and testing for the foreseeable future."
www.nytimes.com/2012/09/26/world/asia/china-shows-off-an-aircraft-carrier-but-experts-are-skeptical.html
Military conflict 'looms' between China and Japan
War between China and Japan looms, with neither power willing to back down over a disputed chain of islands, expert warns.
3:16PM BST 27 Sep 2012
www.telegraph.co.uk/news/worldnews/asia/china/9571032/Military-conflict-looms-between-China-and-Japan.html
Yttrium
China Consolidates Grip on Rare Earths
By KEITH BRADSHER
Published: September 15, 2011
BEIJING — In the name of fighting pollution, China has sent the price of compact fluorescent light bulbs soaring in the United States.
By closing or nationalizing dozens of the producers of rare earth metals — which are used in energy-efficient bulbs and many other green-energy products — China is temporarily shutting down most of the industry and crimping the global supply of the vital resources.
China produces nearly 95 percent of the world's rare earth materials, and it is taking the steps to improve pollution controls in a notoriously toxic mining and processing industry. But the moves also have potential international trade implications and have started yet another round of price increases for rare earths, which are vital for green-energy products including giant wind turbines, hybrid gasoline-electric cars and compact fluorescent bulbs.
General Electric, facing complaints in the United States about rising prices for its compact fluorescent bulbs, recently noted in a statement that if the rate of inflation over the last 12 months on the rare earth element europium oxide had been applied to a $2 cup of coffee, that coffee would now cost $24.55.
A pack of three 11-watt G.E. compact fluorescent bulbs — each the lighting equivalent of a 40-watt incandescent bulb — was priced on Thursday at $15.88 on Wal-Mart's Web site for pickup in a Nashville, Ark., store. The average price for fluorescent bulbs has risen 37 percent this year, according to the National Electrical Manufacturers Association.
Wal-Mart, which has made a big push for compact fluorescent bulbs, acknowledged that it needed to raise prices on some brands lately. "Obviously we don't want to pass along price increases to our customers, but occasionally market conditions require it," Tara Raddohl, a spokeswoman, said. The Chinese actions on rare earths were a prime topic of conversation at a conference here on Thursday that was organized by Metal-Pages, an industry data firm based in London.
Soaring prices are rippling through a long list of industries.
"The high cost of rare earths is having a significant chilling effect on wind turbine and electric motor production in spite of offsetting government subsidies for green tech products," said one of the conference attendees, Michael N. Silver, chairman and chief executive of American Elements, a chemical company based in Los Angeles. It supplies rare earths and other high-tech materials to businesses.
But with light bulbs, especially, the timing of the latest price increases is politically awkward for the lighting industry and for environmentalists who backed a shift to energy-efficient lighting.
In January, legislation that President George W. Bush signed into law in 2007 will begin phasing out traditional incandescent bulbs in favor of spiral compact fluorescent bulbs and other technologies. The European Union has also mandated a switch from incandescent bulbs to energy-efficient lighting.
Representative Michele Bachmann of Minnesota is running for the Republican presidential nomination on a platform that includes strong opposition to the new lighting rules in the United States and has been a leader of efforts by House Republicans to repeal it.
China says it has largely shut down its rare earth industry for three months to address pollution problems. By invoking environmental concerns, China could potentially try to circumvent international trade rules that are supposed to prohibit export restrictions of vital materials.
In July, the European Union said in a statement on rare earth policy that the organization supported efforts to protect the environment, but that discrimination against foreign buyers of rare earths was not allowed under World Trade Organization rules.
China has been imposing tariffs and quotas on its rare earth exports for several years, curtailing global supplies and forcing prices to rise eightfold to fortyfold during that period for the various 17 rare earth elements.
Even before this latest move by China, the United States and the European Union were preparing to file a case at the W.T.O. this winter that would challenge Chinese export taxes and export quotas on rare earths.
Chinese officials here at the conference said the government was worried about polluted water, polluted air and radioactive residues from the rare earth industry, particularly among many small and private companies, some of which operate without the proper licenses. While rare earths themselves are not radioactive, they are always found in ore containing radioactive thorium and require careful handling and processing to avoid contaminating the environment.
Most of the country's rare earth factories have been closed since early August, including those under government control, to allow for installation of pollution control equipment that must be in place by Oct. 1, executives and regulators said.
The government is determined to clean up the industry, said Xu Xu, chairman of the China Chamber of Commerce of Metals, Minerals and Chemicals Importers and Exporters, a government-controlled group that oversees the rare earth industry. "The entrepreneurs don't care about environmental problems, don't care about labor problems and don't care about their social responsibility," he said."And now we have to educate them."
MORE

www.nytimes.com/2011/09/16/business/global/china-consolidates-control-of-rare-earth-industry.html

www.telegraph.co.uk/finance/china-business/9377535/China-stockpiling-rare-earths-for-strategic-reserves.html
http://www.washingtonpost.com/world/asia-pacific/china-rich-with-coal-seeks-more-next-door-in-mongolia-to-meet-its-energy-needs/2011/07/01/gIQADIncII_story.html
Land disputes in Cambodia focus ire on Chinese investors
www.washingtonpost.com/world/asia_pacific/land-disputes-in-cambodia-focus-ire-on-chinese-investors/2012/09/24/1e64dce6-fd9c-11e1-98c6-ec0a0a93f8eb_story.html
China's Interest in Farmland Makes Brazil Uneasy
China professes a policy of never interfering in the internal affairs of foreign lands. But in Cambodia, growing public fury over land grabs to make way for development projects involving Chinese investors has pushed Beijing to the center of one of this Southeast Asian nation's most sensitive social and political issues.

www.nytimes.com/2011/05/27/world/americas/27brazil.html
Dark clouds gather over China's once-booming solar industry
China's push into solar energy was supposed to be a proud example of how the country was advancing into hi-tech manufacturing. But now the whole sector is on the brink of bankruptcy.

Solar power, along with biotechnology and aerospace, was declared a "strategic emerging industry" and was given grants and low-cost loans.Photo: Getty Images

www.telegraph.co.uk/finance/newsbysector/energy/9506945/Dark-clouds-gather-over-Chinas-once-booming-solar-industry.html
Conflict South China Sea