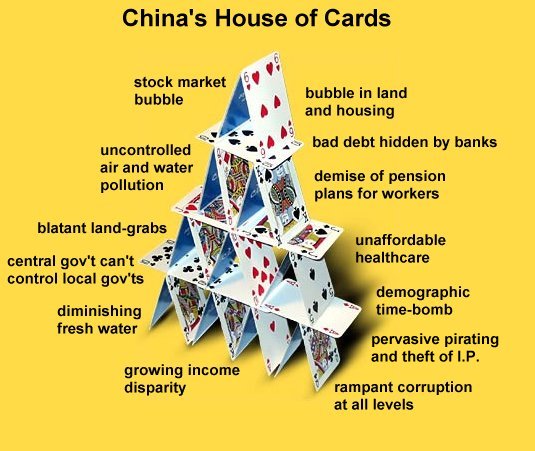 China's economic transformation from a central-planning economy to national capitalism has changed history. Beijing's economic muscle and cash reserves are unprecedented in world history; China's economic development has impacted every continent. Oil price increases are based on voracious Sino demand, which raises gas prices in the US. The denouement of China's course has yet to be determined.
Japan transformed itself from an insular society into a world power in fifty years. Communist China achieved the status of a global player within a generation.
China's billions reap rewards in Cambodia
By John Pomfret
Washington Post Staff Writer
Saturday, November 20, 2010; 11:40 PM
IN KOH KONG, CAMBODIA Down a blood-red dirt track deep in the jungles of southwestern Cambodia, the roar begins. Turn a corner and there is the source – scores of dump trucks, bulldozers and backhoes hacking away at the earth. Above a massive hole, a flag flaps in the hot, dusty breeze. The flag of the People's Republic of China.
Here in the depths of the Cardamom Mountains, where the Chinese-backed Khmer Rouge communists made their last stand in the late 1970s, China is asserting its rights as a resurgent imperial power in Asia. Instead of exporting revolution and bloodshed to its neighbors, China is now sending its cash and its people.

www.washingtonpost.com/wp-dyn/content/article/2010/11/20/AR2010112003850.html
Fears of Chinese land grab as Beijing's billions buy up resources
By Sarah Arnott
Saturday, 2 October 2010
China is pouring another $7bn (£4.4bn) into Brazil's oil industry, reigniting fears of a global "land grab" of natural resources.
State-owned Sinopec clinched the deal with Spain's Repsol yesterday to buy 40 per cent of its Brazilian business, giving China's largest oil company access to Repsol Brasil's estimated reserves of 1.2 billion barrels of oil and gas. The whopping price tag for Repsol Brasil – which values the company at nearly twice previous estimates – is a sign of China's willingness to pay whatever it takes to lock in its future energy supplies and avoid social unrest. It will give the company enough cash to develop all its current oil projects, including two fields in the Santos Basin.
The Repsol deal is not China's first in Brazil. In February last year, Sinopec stumped up a $10bn loan to Petrobras, the state-owned oil company, in return for guaranteed supplies of 10,000 barrels of oil every day for the next 10 years.
It also follows a slew of similar deals across the world. While much of the developed world is baulking at its debts in the aftermath of the financial crisis, China has continued a global spending spree of unprecedented proportions, snapping up everything from oil and gas reserves to mining concessions to agricultural land, with vast reserves of US dollars.
This year alone, Chinese companies have laid out billions of dollars buying up stakes in Canada's oil sands, a Guinean iron ore mine, oil fields in Angola and Uganda, an Argentinian oil company and a major Australian coal-bed methane gas company.
"China is rich in people but short of resources, and it wants to have stable supplies of its own rather than having to buy on the open market," Jonathan Fenby, China expert and director of research group Trusted Resources, said.

www.independent.co.uk/news/world/asia/fears-of-chinese-land-grab-as-beijings-billions-buy-up-resources-2095451.html
China Quietly Extends Footprints Into Central Asia

www.nytimes.com/2011/01/03/world/asia/03china.html
`Coupon generation' wields consumer power in China

www.washingtonpost.com/wp-dyn/content/article/2011/01/02/AR2011010202523.html
The 1.3 billion question in the 21st century concerns the "peaceful rise" of China. North Korea's belligerency depends on the fact it is a Chinese client state and its neighbor to the north views with disfavor the unification of the Koreans because of perceived American influence. China intervened in the Korean War because historically it feared a foreign presence on the peninsula.
Taiwan is also a serious point of contention. The communist government demands that the global community adhere to the "one China policy" which treats Taiwan as part of the mainland, a "lost province". American arms sales to Taiwan infuriates the Chinese. China also has territorial disputes with India and Japan. The issue of Tibet vexes many in the West. China also has a dispute with the Vatican concerning the appointment of bishops, reminiscent of the 11th century investiture controversy between Pope Gregory VII and Henry IV, the Holy Roman emperor.
America's confusion extends to [President] Hu [Jintao] himself, who stands at the apex of a highly centralized party structure but is sometimes kept in the dark and even defied by those he nominally controls, particularly the People's Liberation Army. In a meeting last Tuesday with visiting Defense Secretary Robert M. Gates in Beijing's Great Hall of the People, for example, Hu seemed unaware that his military had just tested a stealth fighter jet. "Is this true?," he asked Defense Minister Liang Guanglie, according to a senior U.S. official.
http://www.washingtonpost.com/wp-dyn/content/article/2011/01/15/AR2011011504028.html
Like the American military establishment in the 1950s which warned of a bomber gap with the Soviet Union in the 1950s and a missile gap in the 1960s, the People's Liberation Army could lobby the politburo to increase its budget. Greater perceived military capability within the PLA establishment will render miscalculation and brinkmanship more likely followed by a serious clash of arms.
China's 'rise': How 'peaceful'?
"A more aggressive China could still emerge, but the country's leaders — wary of taking risks and obsessed with economic growth — don't appear prepared for that just yet."

www.washingtontimes.com/news/2010/dec/30/chinas-rise-how-peaceful/
China, Shy Giant, Shows Signs of Shedding Its False Modesty
http://www.nytimes.com/2006/12/09/world/asia/09china.html
How to Stay Friends With China
By ZBIGNIEW BRZEZINSKI
Published: January 2, 2011
www.nytimes.com/2011/01/03/opinion/03brzezinski.html
Chinese Supercomputer Wrests Title From U.S.
By ASHLEE VANCE
Published: October 28, 2010
A Chinese scientific research center has built the fastest supercomputer ever made, replacing the United States as maker of the swiftest machine, and giving China bragging rights as a technology superpower.
The computer, known as Tianhe-1A, has 1.4 times the horsepower of the current top computer, which is at a national laboratory in Tennessee, as measured by the standard test used to gauge how well the systems handle mathematical calculations, said Jack Dongarra, a University of Tennessee computer scientist who maintains the official supercomputer rankings.
Although the official list of the top 500 fastest machines, which comes out every six months, is not due to be completed by Mr. Dongarra until next week, he said the Chinese computer "blows away the existing No. 1 machine." He added, "We don't close the books until Nov. 1, but I would say it is unlikely we will see a system that is faster."
Officials from the Chinese research center, the National University of Defense Technology, are expected to reveal the computer's performance on Thursday at a conference in Beijing. The center says it is "under the dual supervision of the Ministry of National Defense and the Ministry of Education."
The race to build the fastest supercomputer has become a source of national pride as these machines are valued for their ability to solve problems critical to national interests in areas like defense, energy, finance and science. Supercomputing technology also finds its way into mainstream business; oil and gas companies use it to find reservoirs and Wall Street traders use it for superquick automated trades. Procter & Gamble even uses supercomputers to make sure that Pringles go into cans without breaking.
And typically, research centers with large supercomputers are magnets for top scientific talent, adding significance to the presence of the machines well beyond just cranking through calculations.
Over the last decade, the Chinese have steadily inched up in the rankings of supercomputers. Tianhe-1A stands as the culmination of billions of dollars in investment and scientific development, as China has gone from a computing afterthought to a world technology superpower.
"What is scary about this is that the U.S. dominance in high-performance computing is at risk," said Wu-chun Feng, a supercomputing expert and professor at Virginia Polytechnic Institute and State University. "One could argue that this hits the foundation of our economic future."
Modern supercomputers are built by combining thousands of small computer servers and using software to turn them into a single entity. In that sense, any organization with enough money and expertise can buy what amount to off-the-shelf components and create a fast machine.
The Chinese system follows that model by linking thousands upon thousands of chips made by the American companies Intel and Nvidia. But the secret sauce behind the system — and the technological achievement — is the interconnect, or networking technology, developed by Chinese researchers that shuttles data back and forth across the smaller computers at breakneck rates, Mr. Dongarra said.
"That technology was built by them," Mr. Dongarra said. "They are taking supercomputing very seriously and making a deep commitment."
The Chinese interconnect can handle data at about twice the speed of a common interconnect called InfiniBand used in many supercomputers.
For decades, the United States has developed most of the underlying technology that goes into the massive supercomputers and has built the largest, fastest machines at research laboratories and universities. Some of the top systems simulate the effects of nuclear weapons, while others predict the weather and aid in energy research.
In 2002, the United States lost its crown as supercomputing kingpin for the first time in stunning fashion when Japan unveiled a machine with more horsepower than the top 20 American computers combined. The United States government responded in kind, forming groups to plot a comeback and pouring money into supercomputing projects. The United States regained its leadership status in 2004, and has kept it, until now.
At the computing conference on Thursday in China, the researchers will discuss how they are using the new system for scientific research in fields like astrophysics and bio-molecular modeling. Tianhe-1A, which is housed in a building at the National Supercomputing Center in Tianjin, can perform mathematical operations about 29 million times faster than one of the earliest supercomputers, built in 1976.
For the record, it performs 2.5 times 10 to the 15th power mathematical operations per second.
Mr. Dongarra said a long-running Chinese project to build chips to rival those from Intel and others remained under way and looked promising. "It's not quite there yet, but it will be in a year or two," he said.
He also said that in November, when the list comes out, he expected a second Chinese computer to be in the top five, culminating years of investment.
"The Japanese came out of nowhere and really caught people off guard," Mr. Feng said. "With China, you could see this one coming."
Steven J. Wallach, a well-known computer designer, played down the importance of taking the top spot on the supercomputer rankings.
"It's interesting, but it's like getting to the four-minute mile," Mr. Wallach said. "The world didn't stop. This is just a snapshot in time."
The research labs often spend weeks tuning their systems to perform well on the standard horsepower test. But just because a system can hammer through trillions of calculations per second does not mean it will do well on the specialized jobs that researchers want to use it for, Mr. Wallach added.
The United States has plans in place to make much faster machines out of proprietary components and to advance the software used by these systems so that they are easy for researchers to use. But those computers remain years away, and for now, China is king.
"They want to show they are No. 1 in the world, no matter what it is," Mr. Wallach said. "I don't blame them."
See also:
www.atimes.com/atimes/China/LK25Ad01.html
China passenger train hits 300 mph, breaks record
Dec 3, 4:18 AM (ET)
By ANITA CHANG
BEIJING (AP) – A Chinese passenger train hit a record speed of 302 miles per hour (486 kilometers per hour) Friday during a test run of a yet-to-be opened link between Beijing and Shanghai, state media said.
The Xinhua News Agency said it was the fastest speed recorded by an unmodified conventional commercial train. Other types of trains in other countries have traveled faster.
A specially modified French TGV train reached 357.2 mph (574.8 kph) during a 2007 test, while a Japanese magnetically levitated train sped to 361 mph (581 kph) in 2003.
State television footage showed the sleek white train whipping past green farm fields in eastern China. It reached the top speed on a segment of the 824-mile (1,318-kilometer) -long line between Zaozhuang city in Shandong province and Bengbu city in Anhui province, Xinhua said.
The line is due to open in 2012 and will halve the current travel time between the capital Beijing and Shanghai to five hours.
The project costs $32.5 billion and is part of a massive government effort to link many of China's cities by high-speed rail and reduce overcrowding on heavily used lines.
China already has the world's longest high-speed rail network, and it plans to cover 8,125 miles (13,000 kilometers) by 2012 and 10,000 miles (16,000 kilometers) by 2020.
The drive to develop high-speed rail technology rivals China's space program in terms of national pride and importance. Railway officials say they want to reach speeds over 500 kph (312 mph).
http://apnews.myway.com/article/20101203/D9JSBBLG0.html
Down From The Pedestal
Americans no longer think the U.S. economy is No. 1, a new Allstate/National Journal Heartland Monitor poll shows.
By Ronald Brownstein
Wednesday, December 8, 2010 | 6:10 a.m.
http://nationaljournal.com/magazine/americans-no-longer-think-u-s-economy-is-world-s-strongest-20101209
Top Test Scores From Shanghai Stun Educators
By SAM DILLON
Published: December 7, 2010
With China's debut in international standardized testing, students in Shanghai have surprised experts by outscoring their counterparts in dozens of other countries, in reading as well as in math and science, according to the results of a respected exam.
American officials and Europeans involved in administering the test in about 65 countries acknowledged that the scores from Shanghai — an industrial powerhouse with some 20 million residents and scores of modern universities that is a magnet for the best students in the country — are by no means representative of all of China.
www.nytimes.com/2010/12/07/education/07education.html
China's Army of Graduates Struggles for Jobs
By ANDREW JACOBS
Published: December 11, 2010
BEIJING — Liu Yang, a coal miner's daughter, arrived in the capital this past summer with a freshly printed diploma from Datong University, $140 in her wallet and an air of invincibility.
Her first taste of reality came later the same day, as she lugged her bags through a ramshackle neighborhood, not far from the Olympic Village, where tens of thousands of other young strivers cram four to a room.
Unable to find a bed and unimpressed by the rabbit warren of slapdash buildings, Ms. Liu scowled as the smell of trash wafted up around her. "Beijing isn't like this in the movies," she said.
Often the first from their families to finish even high school, ambitious graduates like Ms. Liu are part of an unprecedented wave of young people all around China who were supposed to move the country's labor-dependent economy toward a white-collar future. In 1998, when Jiang Zemin, then the president, announced plans to bolster higher education, Chinese universities and colleges produced 830,000 graduates a year. Last May, that number was more than six million and rising.
It is a remarkable achievement, yet for a government fixated on stability such figures are also a cause for concern. The economy, despite its robust growth, does not generate enough good professional jobs to absorb the influx of highly educated young adults. And many of them bear the inflated expectations of their parents, who emptied their bank accounts to buy them the good life that a higher education is presumed to guarantee.
"College essentially provided them with nothing," said Zhang Ming, a political scientist and vocal critic of China's education system. "For many young graduates, it's all about survival. If there was ever an economic crisis, they could be a source of instability."
In a kind of cruel reversal, China's old migrant class — uneducated villagers who flocked to factory towns to make goods for export — are now in high demand, with spot labor shortages and tighter government oversight driving up blue-collar wages.
But the supply of those trained in accounting, finance and computer programming now seems limitless, and their value has plunged. Between 2003 and 2009, the average starting salary for migrant laborers grew by nearly 80 percent; during the same period, starting pay for college graduates stayed the same, although their wages actually decreased if inflation is taken into account.
Chinese sociologists have come up with a new term for educated young people who move in search of work like Ms. Liu: the ant tribe. It is a reference to their immense numbers — at least 100,000 in Beijing alone — and to the fact that they often settle into crowded neighborhoods, toiling for wages that would give even low-paid factory workers pause.
"Like ants, they gather in colonies, sometimes underground in basements, and work long and hard," said Zhou Xiaozheng, a sociology professor at Renmin University in Beijing.
The central government, well aware of the risks of inequitable growth, has been trying to channel more development to inland provinces like Shanxi, Ms. Liu's home province, where the dismantling of state-owned industries a decade ago left a string of anemic cities.
Despite government efforts, urban residents earned on average 3.3 times more last year than those living in the countryside. Such disparities — and the lure of spectacular wealth in coastal cities like Shanghai, Tianjin and Shenzhen — keep young graduates coming.
"Compared with Beijing, my hometown in Shanxi feels like it's stuck in the 1950s," said Li Xudong, 25, one of Ms. Liu's classmates, whose father is a vegetable peddler. "If I stayed there, my life would be empty and depressing."
While some recent graduates find success, many are worn down by a gauntlet of challenges and disappointments. Living conditions can be Dickensian, and grueling six-day work weeks leave little time for anything else but sleeping, eating and doing the laundry.
But what many new arrivals find more discomfiting are the obstacles that hard work alone cannot overcome. Their undergraduate degrees, many from the growing crop of third-tier provincial schools, earn them little respect in the big city. And as the children of peasants or factory workers, they lack the essential social lubricant known as guanxi, or personal connections, that greases the way for the offspring of China's nouveau riche and the politically connected.
Emerging from the sheltered adolescence of one-child families, they quickly bump up against the bureaucracy of population management, known as the hukou system, which denies migrants the subsidized housing and other health and welfare benefits enjoyed by legally registered residents.
Add to this a demographic tide that has increased the ranks of China's 20-to-25-year-olds to 123 million, about 17 million more than there were just four years ago.
"China has really improved the quality of its work force, but on the other hand competition has never been more serious," said Peng Xizhe, dean of Social Development and Public Policy at Fudan University in Shanghai.
Given the glut of underemployed graduates, Mr. Peng suggested that young people either shift to more practical vocations like nursing and teaching or recalibrate their expectations. "It's O.K. if they want to try a few years seeking their fortune, but if they stay too long in places like Beijing or Shanghai, they will find trouble for themselves and trouble for society," he said.
A fellow Datong University graduate, Yuan Lei, threw the first wet blanket over the exuberance of Ms. Liu, Mr. Li and three friends not long after their July arrival in Beijing. Mr. Yuan had arrived several months earlier for an internship but was still jobless.
"If you're not the son of an official or you don't come from money, life is going to be bitter," he told them over bowls of 90-cent noodles, their first meal in the capital.
As the light faded and the streets became thick with young receptionists, cashiers and sales clerks heading home, Mr. Yuan led his friends down a dank alley and up an unsteady staircase to his room. It was about the width of a queen-size bed, and he shared a filthy toilet with dozens of other tenants and a common area with a communal hot plate.
Mr. Li smiled as he took in the scene. Like most young Chinese, his life until that moment had been coddled, chaperoned and intensely regimented. "I'm ready to go out into the world and test myself," he said.
The next five months would provide more of a test than he or the others had expected. For weeks Mr. Li elbowed his way through crowded job fairs but came away empty-handed. His finance degree, recruiters told him, was useless because he was a "waidi ren," an outsider, who could not be trusted to handle cash and company secrets.
When he finally found a job selling apartments for a real estate agency, he left after less than a week when his employer reneged on a promised salary and then fined him each day he failed to bring in potential clients.
In the end, Mr. Li and his friends settled for sales jobs with an instant noodle company. The starting salary, a low $180 a month, turned out to be partly contingent on meeting ambitious sales figures. Wearing purple golf shirts with the words "Lao Yun Pickled Vegetable Beef Noodles," they worked 12-hour days, returning home after dark to a meal of instant noodles.
"This isn't what I want to be doing, but at least I have a job," said Mr. Li, sitting in his room one October evening. Decorated with origami birds left by a previous occupant, the room faced a neighbor's less than two feet across an airshaft. The only personal touch was an instant noodle poster taped over the front door for privacy.
Because he had sold only 800 cases of noodles that month, 200 short of his sales target, Mr. Li's paltry salary was taking a hit. And citing the arrival of winter, "peak noodle-eating season," his boss had just doubled sales quotas.
Mr. Li worried aloud whether he would be able to marry his high school sweetheart, who had accompanied him here, if he could not earn enough money to buy a home. Such concerns are rampant among young Chinese men, who have been squeezed by skyrocketing real estate prices and a culture that demands that a groom provide an apartment for his bride. "I'm giving myself two years," he said, his voice trailing off.
By November, the pressure had taken its toll on two of the others, including the irrepressible Liu Yang. After quitting the noodle company and finding no other job, she gave up and returned home.
That left Mr. Yuan, Mr. Li and their girlfriends. Over dinner one night, the four of them complained about the unkindness of Beijingers, the high cost of living and the boredom of their jobs. Still, they all vowed to stick it out.
"Now that I see what the outside world is like, my only regret is that I didn't have more fun in college," Mr. Yuan said.

www.nytimes.com/2010/12/12/world/asia/12beijing.html
Chinese endure power shortages as coal runs short
By ELAINE KURTENBACH
The Associated Press
Sunday, December 19, 2010; 11:22 PM
SHANGHAI — Power cuts and rationing are hitting parts of central and northern China as winter coal supplies fall short of surging energy requirements due to extreme cold and transport disruptions.
China's State Grid, the government power provider, said in reports seen Monday on its websites that recent winter storms had pushed demand higher while causing traffic disruptions that have hindered coal deliveries.
Phone calls to the State Grid's branches in central China's Henan, Shanxi, Shaanxi, Chongqing and Hubei provinces – the areas reportedly worst affected – rang unanswered Monday.
China depends on coal for more than three-quarters of its electricity and also to fuel centralized winter heating systems in northern cities. Spates of unusually cold weather often strain supplies, with power rationing not uncommon.
About 620,000 households were left without power due to bad weather in Zhejiang, a province west of Shanghai, a report on the State Grid website said. It said power was being restored.
Some coal suppliers are reportedly holding back on shipments to power companies because contract prices for coal were below market prices, a chronic problem in China's state-dominated economy.
"There are troubles with resources but also with the market," Han Xiaoping, an official at energy information provider China Energy Net, said in a report posted on its website. "Costs are rising daily, but coal prices are strictly controlled, so suppliers cannot cover their costs."
In Henan, 40 percent of coal-fired power plants had fuel reserves equivalent to no more than three days of demand, according to a report on the State Grid's website.
State-run China National Radio reported the province was imposing power cuts and rationing since it is unable to use about 40 percent of its power generating capacity.
Likewise, neighboring Hubei province was stopping some generators, citing an urgent need to conserve coal supplies, it said.
The entire region has just over two weeks worth of coal, with many power generators having stockpiles equivalent to less than three days worth of demand.
Coal supplies also are being stretched by closures of smaller coal mines as part of a restructuring of the industry aimed at improving safety and increasing efficiency.
Meanwhile, unusually dry weather is also hitting hydroelectricity plants, with water levels on average 10 percent below normal.
At China's Three Gorges dam, the world's biggest hydroelectric dam, the water flow was 26 percent below normal, the State Grid reports said.
With China's economy booming at a rate of about 10 percent, and demand from residential customers surging, electricity consumption has recently hit record highs in eastern China's Jiangsu and Zhejiang provinces, though coal supplies were still sufficient, said the state-run newspaper Oriental Morning Post.
Sitting Out the China Trade Battles
By KEITH BRADSHER
Published: December 23, 2010
HONG KONG
No American company would seem to have more to gain than General Electric from the Obama administration's decision on Wednesday to accuse China, in a World Trade Organization case, of providing illegal subsidies to Chinese wind turbine makers.
Like other multinationals, G.E. acquiesced a few years ago to the Chinese government's demand that it build a large wind turbine factory in China — only to then watch its market share plummet as China's state-owned power companies steered contracts to homegrown wind turbine manufacturers. And now G.E. faces growing competition from those Chinese upstarts in its home market, the United States — even as a crucial G.E. wind turbine patent is about to expire.
But with so much to potentially gain from the administration's W.T.O. case, what was G.E.'s reaction? Total silence. The company said it would have no comment on the matter.
G.E.'s silence is part of a broader Western corporate reluctance to criticize Chinese policies, particularly in public. So eager are multinationals for continued access to the world's fastest-growing market that they are loath to cry foul even amid evidence that China may be flouting international trade laws.
That reticence has long characterized foreign companies' dealings with the ascendant China. But last winter and spring, there were signs of a new willingness by American and European multinationals to speak out.
Google said in March that it would shut down its China-based Internet search engine, rather than continue allowing Chinese censorship. The leaders of big companies like G.E., as well as the German giants Siemens and BASF, voiced concerns in early summer about access to the Chinese market.
It briefly seemed that Western companies might take a more coordinated and more assertive position.
But that season of outspokenness seems to have passed, and virtually no companies are now willing to discuss the Chinese trade barriers publicly, executives and lobbyists in Beijing, Hong Kong and Washington said.
"We're seeing a lowering of the volume — that doesn't mean the concerns have gone away, but the volume has come down," said Christian Murck, the president of the American Chamber of Commerce in China.
China's solid rebound from the global economic downturn, compared with continued malaise in the West, has made the Chinese economy look like a much better place for Western companies to pursue near-term opportunities — instead of fighting drawn-out trade and regulatory battles. It can take up to three years for a W.T.O. case to wend its way through a dispute resolution panel and any appeals.
Moreover, assurances from Chinese leaders that they will give equal treatment to foreign enterprises, although not yet backed up with specifics, have also persuaded some foreign companies that conditions will eventually improve. This has eroded whatever fragile consensus that had been starting to form in favor of speaking out against Chinese policies.
In fact, corporate leaders like G.E.'s chief executive, Jeffrey R. Immelt, have taken a more conciliatory public stance toward China in recent months, saying that they would fine-tune their competitive tactics to adapt to Beijing policy. Experts on Chinese business culture say that Chinese regulators like to see such statements.
"It's communicating, 'I understand my place' — that's very Confucian," said Judy Lam, a lawyer at Rutter, Hobbs & Davidoff in Los Angeles who specializes in deals spanning the Pacific. The statements show, she said, that "the big American giant" is "willing to suck it up — that will win them points."
After the Obama administration announced its decision to pursue the trade case, the Chinese Ministry of Commerce denied in a brief statement on Thursday that the country's wind energy policies had violated W.T.O. rules.
Many countries help their clean energy industries, usually by subsidizing consumers who buy solar panels and other renewable energy equipment. Beijing's approach to clean energy subsidies has drawn criticism from trade experts because it is based on helping manufacturers localize production in China and begin exports.
And yet, no Western company was willing to file a trade case. It was the United Steelworkers, an American labor union with no sales to lose in China, complained in September to the Obama administration, which opened a formal investigation in October.
G.E. and other American clean energy companies have avoided taking positions on that investigation. The only big company to step forward and strongly endorse it has been SolarWorld, a German company with solar panel manufacturing sites in Oregon and California, but not in China.
The United Steelworkers' trade case alleges dozens of violations by China.
The Obama administration filed a W.T.O. case on only one of those issues on Wednesday, and said that it was still investigating the rest but needed more time to do so, partly because it had not yet been able to gather all the information it needed.
"The pace and content of our investigation will depend in part on the role played by stakeholders, including manufacturers and service providers in the green technologies sector, in sharing evidence and other relevant information," said Nefeterius Akeli McPherson, a spokeswoman for the Office of the United States Trade Representative.
A Washington lobbyist for a wide range of corporations said that with sales barely growing in the United States and Europe, Western companies were particularly dependent on China for growth and inexpensive manufacturing. Retail sales in China are climbing nearly 15 percent a year. "At the end of the day, they have to make their numbers," said the lobbyist, who insisted on anonymity because of the wariness of companies he represents.
The lobbyist added that many companies also feared retaliation by Chinese regulators. Chinese laws are often just a few pages in length, even on complex industrial or financial subjects. That leaves broad discretion to regulators on enforcing regulations that may help some companies and penalize others.
Regulators also have the authority in every industry to approve foreign investments, and even demand a say in details like what equipment will be purchased by foreign investors for their factories. Regulators have long used their involvement in the minutiae of corporate management, and their ability to delay even minor decisions, as a way to discipline companies for taking stances at odds with Chinese policy.
"They have shown themselves to be retaliatory, and it really has the intended effect," said a Western lawyer who advises many multinationals in China, and who insisted on anonymity because he said that he feared retaliation.
American policy makers almost never have the same discretionary powers to reward or penalize companies based on their cooperation or lack of it.
Some executives in China working for Western multinationals advocate taking a tough line in their negotiations with Chinese officials. But they say that the reluctance of other companies to take public positions means that united action is difficult.
A result, one senior Western executive said in an e-mail, is "everybody eating bitterness in solitude."
Military strength eludes China, which looks overseas for arms
By John Pomfret
Washington Post Staff Writer
Saturday, December 25, 2010; 12:00 AM
MOSCOW – The Moscow Machine-Building Enterprise Salyut on the east side of town has put up a massive Soviet-style poster advertising its need for skilled workers. The New Year's party at the Chernyshev plant in a northwest suburb featured ballet dancers twirling on the stage of its Soviet-era Palace of Culture.
The reason for the economic and seasonal cheer is that these factories produce fighter-jet engines for a wealthy and voracious customer: China. After years of trying, Chinese engineers still can't make a reliable engine for a military plane.
The country's demands for weapons systems go much further. Chinese officials last month told Russian Defense Minister Anatoly E. Serdyukov that they may resume buying major Russian weapons systems after a several-year break. On their wish list are the Su-35 fighter, for a planned Chinese aircraft carrier; IL-476 military transport planes; IL-478 air refueling tankers and the S-400 air defense system, according to Russian news reports and weapons experts.
This persistent dependence on Russian arms suppliers demonstrates a central truth about the Chinese military: The bluster about the emergence of a superpower is undermined by national defense industries that can't produce what China needs. Although the United States is making changes in response to China's growing military power, experts and officials believe it will be years, if not decades, before China will be able to produce a much-feared ballistic missile capable of striking a warship or overcome weaknesses that keep it from projecting power far from its shores.
"They've made remarkable progress in the development of their arms industry, but this progress shouldn't be overstated," said Vasily Kashin, a Beijing-based expert on China's defense industry. "They have a long tradition of overestimating their capabilities."
Ruslan Pukhov, the director of the Center for Analysis of Strategic Technologies and an adviser to Russia's ministry of defense, predicted that China would need a decade to perfect a jet engine, among other key weapons technologies. "China is still dependent on us and will stay that way for some time to come," he said.
Indeed, China has ordered scores of engines from the Salyut and Chernyshev factories for three of its new fighters – the J11B, a Chinese knock-off of the Russian Su-27; the J10, which China is believed to have developed with Israeli help; and the FC1, which China modeled on an aborted Soviet design. It also told Russia that it wants a third engine from another factory for the Su-35.
How China's military is modernizing is important for the United States and the world. Apart from the conflict with radical Islamism, the United States views China's growing military strength as the most serious potential threat to U.S. interests around the world.
Speaking in 2009, Liang Guanglie, China's minister of defense, laid out a hugely ambitious plan to modernize the People's Liberation Army, committing China to forging a navy that would push past the islands that ring China's coasts, an air force capable of "a combination of offensive and defensive operations," and rocket forces of both "nuclear and conventional striking power."

www.washingtonpost.com/wp-dyn/content/article/2010/12/24/AR2010122402788.html
China has carrier-killer missile, U.S. admiral says
By Bill Gertz The Washington Times 2:26 p.m., Monday, December 27, 2010
China's military is deploying a new anti-ship ballistic missile that can sink U.S. aircraft carriers, a weapon that specialists say gives Beijing new power-projection capabilities that will affect U.S. support for its Pacific allies.
Adm. Robert F. Willard, commander of the U.S. Pacific Command, disclosed to a Japanese newspaper on Sunday that the new anti-ship ballistic missile (ASBM) is now in the early stages of deployment after having undergone extensive testing.
"An analogy using a Western term would be 'initial operational capability (IOC),' whereby I think China would perceive that it has an operational capability now, but they continue to develop it," Adm. Willard told the Asahi Shimbun. "I would gauge it as about the equivalent of a U.S. system that has achieved IOC."
The four-star admiral, who has been an outspoken skeptic of China's claims that its large-scale military buildup is peaceful, said the U.S. deployment assessment is based on China's press reports and continued testing.
The new weapon, the "D" version of China's DF-21 medium-range missile, involves firing the mobile missile into space, returning it into the atmosphere and then maneuvering it to its target
Military officials consider using ballistic missiles against ships at sea to be a difficult task that requires a variety of air, sea and space sensors, navigation systems and precision guidance technology – capabilities not typical of other Chinese missiles.
Asked about the integrated system, Adm. Willard said that "to have something that would be regarded as in its early operational stage would require that system be able to accomplish its flight pattern as designed, by and large."
The admiral said that while the U.S. thinks "that the component parts of the anti-ship ballistic missile have been developed and tested," China's testing has not gone as far as a live-fire test attack on an actual ship.
"We have not seen an over-water test of the entire system," he said.
Adm. Willard said he did not view the new missile as a greater threat to U.S. and allied forces than China's submarine forces, which also have been expanded greatly in the past decade.
"Anti-access/area denial, which is a term that was relatively recently coined, is attempting to represent an entire range of capabilities that China has developed and that other countries have developed," he said.
"It´s not exclusively China that has what is now being referred to as A2/AD capability. But in China´s case, it´s a combination of integrated air-defense systems; advanced naval systems, such as the submarine; advanced ballistic-missile systems, such as the anti-ship ballistic missile, as well as power-projection systems into the region," he said.
The new weapons can threaten "archipelagos" in Asia, such as Japan and Philippines, as well as Vietnam and other states that "are falling within the envelope of this, of an A2/AD capability of China," Adm. Willard said.
"That should be concerning – and we know is concerning – to those countries," he said.
Adm. Willard said the new weapons are "an expanded capability that ranges beyond the first island chain and overlaps countries in the region."
"For that reason, it is concerning to Southeast Asia, [and] it remains concerning to the United States."
Andrew S. Erickson, a professor at the U.S. Naval War College, said the admiral's comments on the missile deployment confirm earlier reports that the Chinese are moving ahead with the DF-21D missile.
"China must have conducted a rigorous program of tests, most likely including flight tests, to demonstrate that the DF-21D [missile] is mature enough for initial production, deployment and employment," Mr. Erickson said in an e-mail.
Mr. Erickson estimates that at least one unit of China's Second Artillery Corps, as its missile forces are called, must be equipped with the road-mobile system.
"While doubtless an area of continuous challenge and improvement, the DF-21D´s command, control, communications, computers, information, surveillance, and reconnaissance infrastructure must be sufficient to support attempts at basic carrier strike group targeting," he said.
Mr. Erickson said, based on Chinese missile-deployment patterns, that the new missile system likely will be fielded in "waves" at different units to meet deterrence objectives.
Military specialists have said the DF-21D deployment is a potent new threat because it will force U.S. aircraft carrier strike groups to operate farther from hot spots in the western Pacific.
Currently, U.S. military strategy calls for the Pentagon to send several strike groups to waters near Taiwan in the event China follows through on threats to use force to retake the island. The lone U.S. aircraft carrier strike group based permanently in the region is the USS George Washington, whose home port is inYokosuka, Japan. A second carrier is planned for Hawaii or Guam.
Carrier forces also provide air power in the event of a new war in Korea and are used to assure freedom of navigation, a growing problem as the result of recent Chinese military assertiveness in the South China Sea, East China Sea and Yellow Sea.
Adm. Willard did not discuss what U.S. countermeasures the Navy has taken against the new anti-ship missile. U.S. naval task forces include ships equipped with the Aegis system designed to shoot down ballistic missiles.
Wallace "Chip" Gregson, assistant defense secretary for Asian and Pacific security affairs, said in a speech earlier this month that China's new anti-access and area-denial weapons, including the DF-21D, "threaten our primary means of projecting power: our bases, our sea and air assets, and the networks that support them."
He warned that China's military buildup could "upend the regional security balance."
Richard Fisher, a China military-affairs specialist, said the new ASBM is only one part of a series of new Chinese weapons that threaten the region.
"When we add the ASBM to the PLA's [People's Liberation Army's] growing anti-satellite capabilities, growing numbers of submarines, and quite soon, its fifth-generation fighter, we are seeing the erection of a new Chinese wall in the western Pacific, for which the Obama administration has offered almost nothing in defensive response," Mr. Fisher said.
"Clearly, China's communist leadership is not impressed by the administration's ending of F-22 production, its retirement of the Navy's nuclear cruise missile, START Treaty reductions in U.S. missile warheads, and its refusal to consider U.S. space warfare capabilities. Such weakness is the surest way to invite military adventurism from China," he added.
Mr. Fisher said the Pentagon should mount a crash program to develop high-technology energy weapons, like rail guns and lasers in response to the new ASBMs.
Mark Stokes, a retired Air Force officer who has written extensively on the new missile, said the new deployment is a concern.
"China's ability to place at risk U.S. and other nations' maritime surface assets operating in the western Pacific and South China Sea is growing and closer to becoming a reality than many may think," Mr. Stokes said.
www.washingtontimes.com/news/2010/dec/27/china-deploying-carrier-sinking-ballistic-missile/
By most accounts, China remains a generation or more behind the United States in military technology, and even further behind in deploying battle-tested versions of its most sophisticated naval and air capabilities. But after years of denials that it has any intention of becoming a peer military power of the United States, it is now unveiling capabilities that suggest that it intends, sooner or later, to be able to challenge American forces in the Pacific.

www.nytimes.com/2011/01/06/world/asia/06china.html
Rapid growth in China's Hainan province worries residents, environmentalists
By Keith B. Richburg
Washington Post Foreign Service
Sunday, December 26, 2010; 7:59 PM
WANNING, CHINA – One year ago, China's ruling State Council laid out a plan to transform its southernmost province into an international tourism destination, or "the Hawaii of the East," as Hainan island was dubbed.
The result has been a 12-month frenzy of construction – lavish resorts, seaside villas, spas and a helicopter landing pad, still being built, for well-heeled visitors with no time to waste.
And then there are golf courses – plenty of them. By one local estimate, as many as 300 golf courses are being planned for the tropical island about the size of Belgium. Twenty-six are complete, and 70 others are underway. They include the Mission Hills resort, which will boast 10 courses and 162 holes, spread over more than six square miles.
"Nearly every city and county is engaged in development of a golf course," said Liu Futang, 63, a former chief of Hainan's Forest Fire Prevention Bureau. "No golf course has actually earned money. Few of them have people coming to play."
The dizzying pace of construction has forced thousands of indigenous farmers off their land, driven property prices up tenfold and higher, and has many residents asking the question: How much development is too much?
"Hainan is a real-life example of that film 'Avatar,' " said Liu, who moved here 22 years ago to work in the island province's forestry ministry. "Except in Avatar, they could organize together to fight back." On Hainan, he said, "I don't have much hope – nothing can stop this change."
Exposed to nature's fury
Hainan residents and environmentalists say the rapid development is damaging the island's ecosystem, and they are mostly concerned about the destruction of the coastal forests, which for centuries has served as a natural bulwark against typhoons, tsunamis and soil erosion. They are particularly worried about the mangroves of Australian pine and rare indigenous Vatica mangachapoi, which has been a protected resource since the Qing dynasty.
"They never cut these trees down because they protect the people from typhoons," said Chen Zuming, 63, who grew up in the coastal forests in Shimei village on Hainan's east coast.
Chen, a farmer from the indigenous ethnic Li minority, recalls how these mangrove forests also played a role in China's recent history, providing a redoubt for the guerrillas battling the Japanese occupation during World War II and later for the Communist forces battling the Chinese Nationalists.
Now, huge tracts of the mangroves have been chopped down, to make way for seaside hotels and apartments and the paved highways to connect them. Three thousand villagers, including Chen, have been told that they have to relocate to a town more than 18 miles away, giving up their homes, their farmland, even the burial grounds of their ancestors. As farmers and fishermen, they worry that they won't be able to make a living in the town.
Chen becomes animated, and visibly emotional, when talking about the trees he has been working to protect since 1970. "I grew up on this land, and my father, and my grandfather," he said. "They are destroying the area and turning it into roads."
The Beijing office of the environmental group Greenpeace has warned of an increase in natural calamities because of the destruction of the mangrove forests. Of Hainan's 950 miles of coastline, Greenpeace forest campaigner Yi Lan said, more than 621 are being developed.
www.washingtonpost.com/wp-dyn/content/article/2010/12/26/AR2010122601476.html
Suspicious Death Ignites Fury in China
By XIYUN YANG and EDWARD WONG
Published: December 28, 2010
BEIJING — The photograph is so graphic that it appears cartoonish at first glance.
A man lies on a road with his eyes closed, blood streaming from his half-open mouth, his torso completely crushed under the large tire of a red truck. One arm reaches out from beneath the tire. His shoulder is a bloody pile of flesh. His head is no longer attached to the flattened spinal cord.
The man in the photograph, Qian Yunhui, 53, has become the latest Internet sensation in China, as thousands of people viewing the image online since the weekend have accused government officials of gruesomely killing Mr. Qian to silence his six-year campaign to protect fellow villagers in a land dispute. Illegal land seizures by officials are common in China, but the horrific photographs of Mr. Qian's death on Saturday have ignited widespread fury, forcing local officials to offer explanations in a news conference.
It is the latest in a string of cases in which anger against the government has been fanned by the lightning-fast spread of information online. In late October, the son of a deputy police chief in central China drunkenly drove his car into two college students, killing one and injuring another. His parting phrase as he drove away from the scene of the crime — "Sue me if you dare, my father is Li Gang!" — has since become a byword for official corruption and nepotism.
Officials in the city of Yueqing in Zhejiang Province, which supervises Mr. Qian's home village, insist that the photographs show nothing more than an unfortunate traffic accident. They made their case in a hastily arranged news conference on Monday afternoon, as the images of Mr. Qian's death continued proliferating on the Internet. Mr. Qian's family, some Chinese reporters and residents of Zhaiqiao Village cite the photographs as proof of foul play and a sloppy cover-up.
It is unclear who took the photographs, but they first appeared Sunday afternoon on Tianya, a popular online forum for discussing Chinese social issues.
Within 36 hours, the initial post attracted nearly 20,000 comments. It has since been deleted. Tianya and two other Web sites that reported on the case together got 400,000 hits, according to Xinhua, the state news agency. The Chinese government goes to great lengths to block servers here from accessing information it deems harmful to political stability, but censors have apparently failed to keep up with the proliferation of blog posts related to Mr. Qian. Once the information had spread, higher authorities apparently found it necessary to show the public they were looking into the matter — officials from the nearby city of Wenzhou ordered police officers from there to go to Yueqing to assist the investigation, Xinhua reported.
Chinese Internet users were drawn not only to the gruesome images, but also to the fact that the land dispute involving Mr. Qian is a common narrative in China.
In 2004, the city government approved construction of a power plant in Zhaiqiao Village. The company building the plant got virtually all the arable land in the village, and the 4,000 or so villagers received no compensation, according to a blog post on Tianya that was written four months ago under Mr. Qian's name. At the time, Mr. Qian and other villagers went to government offices to protest the land grab, and riot police officers beat more than 130 people and arrested 72, the post said.
Mr. Qian, the former Communist Party representative in the village, traveled to Beijing to file a petition with the central authorities. In the news conference on Monday, city officials said that Mr. Qian had been arrested, found guilty of criminal conduct and imprisoned at least twice. Mr. Qian continued his crusade after recently being released from prison. Before his death, he was the overwhelming favorite of the villagers in a coming election for village chief, according to local media reports.
Around 8:30 a.m. on Saturday, Mr. Qian received a call on his cellphone and walked out as he was talking, according to a report by Chinese Business News that cited Mr. Qian's wife, Wang Zhaoyan.
An hour later, he was run over by the red truck, his body crushed beneath the left front tire. The driver, Fei Liangyu, has been detained, according to a statement on the Yueqing city government Web site.
Chinese news reports said another villager, Qian Chengwei, told people that he had watched as the victim was held down in the road by several men wearing security uniforms. One of the men waved his hand, and a truck then drove slowly over Mr. Qian, the reports said. Villagers arriving at the scene were immediately suspicious. They refused to allow the police to remove Mr. Qian's body, and a scuffle ensued.
The witness and the victim's family members were detained, according to Southern Daily, a newspaper based in Guangdong Province. Government officials told the newspaper that the witness was a drug user.
Local news organizations reported Tuesday that Mr. Qian's family members have been released. Phone calls to Mr. Qian's home were not answered.
Internet users and Chinese reporters have continued to question the explanation by city officials, pointing to discrepancies revealed by the photos. Why does the front of the truck show little sign of impact or blood? Why, if Mr. Qian had been accidentally hit while walking upright, is his body lying completely perpendicular to the truck's tire? Why was a brand-new security camera at the intersection where Mr. Qian killed not working on Saturday? Who called Mr. Qian on that fateful morning?
"A few years ago, there were other people petitioning with my dad," one family member, Qian Shuangping, told China Business Daily. "Some of them were bought off. Some of them got scared. We said: 'Just take some money and forget it. What if something happens to you?' My father wouldn't listen to us."
www.nytimes.com/2010/12/29/world/asia/29china.html
Despite anti-corruption drive, scandals plague Communist leaders in China
By Keith B. Richburg
Washington Post Foreign Service
Friday, December 31, 2010; 8:01 PM
BEIJING – If some of the headlines from the past few weeks in China were turned into a reality television show, the result might merit the title "Communist Officials and Rich Kids Behaving Badly."
Extremely badly, in some cases, and with tragic consequences.
On Dec. 8, Zhang Hongbin, a 44-year-old married deputy mayor of a district in Anhui province, allegedly strangled his 26-year-old mistress, then drove more than 300 miles to another province with her body in the back seat before turning himself in to police.
On Dec. 16, Li Guangsheng, a local party official in Hubei province who is 46 and married, allegedly argued with his 34-year-old mistress, who was pregnant with twins and had demanded that Li marry her. According to police, Li strangled the woman, put her body in a leather bag filled with stones and dropped it off a bridge into a river. He then allegedly used the woman's cellphone to text fake messages to her boss saying she needed some time off.
Just a few months earlier, in July, Xie Zaixing, 48, a local Communist Party chief in Zhejiang province, was sentenced to death for fatally choking his young mistress, chopping up her body and dumping her remains into a river.
And on Dec. 5, Gu Qingyang, a county postmaster in central Henan province, was driving drunk late at night on the wrong side of the road when, police say, he plowed into a group of seven teenagers walking along the road, killing five of them instantly.
Such incidents have deeply embarrassed China's ruling Communist Party, which promotes itself on its Web site as the "faithful representative" of the Chinese people. In several of the cases, the mistresses had threatened to expose the officials for corruption.
Critics, including academics and the growing community of online activists, say the incidents illustrate a widespread sense of impunity among powerful local party officials. The rising public anger over official misdeeds, some add, threatens the leadership's goal of maintaining "social harmony."
"These incidents weaken the government's credibility little by little," said Li Datong, a social commentator and former editor of the China Youth Daily's weekly supplement. "It's like a fire in a wood pile: A small incident can easily trigger a big mass incident during a time of social unrest. It's a very dangerous situation, which is why the government spends heavily to maintain social stability by paying large sums of hush money to the victims' families."
On Wednesday, in an apparent bid to stay ahead of the problem of vice in its ranks, the party issued its first white paper on corruption, saying graft remains "still very serious," despite the punishment of 113,000 officials in 2010 through November. It said the party would not cede the anticorruption fight to anyone.
As bad as the behavior of some local Communist officials has been, other recent incidents involving young people and their fast-driven cars have also put a media spotlight on China's growing income disparity and the widely held view that the children of the new elite think they are above the law.
The case of Yao Jiaxin, 21, a student at the Xi'an Conservatory of Music, inspired particular outrage. In late October, Yao, driving a Chevrolet Cruze, knocked down a woman on a bicycle and kept going. But when he saw the woman was still alive and looking at his license plate, police said, Yao got out of his car and stabbed the woman until she died. When he was caught later, he allegedly told police that "the peasant woman would be hard to deal with."
Also in October, a 22-year-old student, Li Qiming, hit two female students, killing one, while driving his Volkswagen Magotan through the campus of Hebei University. Li jumped out of his car and tried to flee, and when police captured him, he began shouting, "My father is Li Gang!" Li Gang is a senior public security official in the district where the campus is located.
Both cases have attracted widespread attention on Internet forums, and "My father is Li Gang!" has become a favorite online catchphrase to denote the spoiled children of China's new rich flaunting their sense of privilege.
Liu Junning, an outspoken academic and government critic, said that ordinary people seize on these traffic incidents in online forums and chat groups because they offer an opportunity – rare in China's closed political system – to vent their frustration.
"These young princelings are so arrogant, and they don't know why people are unhappy with them," Liu said of the rich youths. "People have no chance to express their unhappiness, except when a car accident happens."
Posting grievances online
Chinese Internet users have also used online forums, with the anonymity they afford, to document cases of corruption and abuse by local officials. In some instances, it was the spurned mistresses who posted their grievances online.
In October, party officials in Guangdong province said they began investigating Chen Yachun, the married vice mayor of Maoming city, after a woman claiming to be his longtime mistress posted photographs of a naked, pudgy, middle-aged man who appeared to be Chen, along with an account of how he had duped her with a fake divorce certificate. The woman said Chen began an affair with her in 2003 while they were attending a party training session. He was 51 and she was 27.
In March, Han Feng, who was head of sales for the tobacco monopoly in the Guangxi autonomous region, was arrested in connection with taking bribes, after purported excerpts from a racy sex diary he kept were posted online.
Hu Xingdou, a professor at the Beijing Institute of Technology who researches social issues, said the string of incidents has made the party a "national laughingstock" and undercut the government's ongoing efforts to curb pornography and public indecency.
"The recent cases show Chinese officials' ethics and moral principles have nearly collapsed," Hu said. "Officials embezzling and keeping mistresses are the problems that people hate most. That's why people don't support or have any interest in responding to the government's anti-pornography campaign, because the officials themselves have more serious problems."
Hu Jintao Visits Poor Beijing Families, Vows to Narrow China's Wealth Gap
By Bloomberg News – Dec 30, 2010 9:07 PM ET
Chinese President Hu Jintao visited low-income families in Beijing yesterday in a gesture to show the government is trying to narrow the widening wealth gap in the world's fastest-growing major economy.
"The party and the government attach high importance to the issues of people's welfare," Hu said on the 7 p.m. news on state-run China Central Television last night, "There will be more measures to improve the lives of the people in difficulty."
The government's effort to provide better social welfare to low-income people comes as China's Gini coefficient, a measure of inequality, reached 0.47 in 2009, exceeding the 0.4 mark used as a predictor for social unrest, according to World Bank data.
The Beijing Human Resources and Social Security Bureau said yesterday that it will raise the minimum wage by 20.8 percent in 2011 to 1,160 yuan ($175) a month and increase pension and unemployment benefits. Inflation reached 5.1 percent in November, the highest in 28 months.
The program also showed Hu asking Guo Chunping, a woman living in low-cost government housing, whether she can keep up with the 77 yuan rent a month for a two-bedroom apartment.
Hu urged the government to boost capital investment and land supply in the building of affordable and low-rental housing to "ensure the supply of practical and cheap housing for low- income people," CCTV said.

www.bloomberg.com/news/2010-12-31/hu-jintao-visits-poor-beijing-families-vows-to-narrow-china-s-wealth-gap.html
02/01/2011
Beijing launches car quota to counter gridlock
K J M Varma
Beijing, Jan 1 (PTI) Thousands of residents submitted their applications to snap up car license plate numbers for Beijing as a new quota system meant to reduce traffic in the notoriously gridlocked capital came into effect from today.
Under the new system, the city will only allow 240,000 new car registrations in 2011, two-thirds less than last year, and is parcelling them out via a monthly online lottery.
Beijing municipal government said it received nearly 40,000 online applications for car license plates in the first 11 hours of the New Year.
The website for application of license plates, had successfully accepted 36,138 applications, an official with the city"s transportation committee told official Xinhua news agency.
The applicants were competing for the first batch of 20,000 plates, which are to be awarded by lottery on January 25.
Private car buyers will receive 88 per cent, or 17,600 plates per month on average, of the city"s new license plates.
Those who are not get the number will be automatically included in the following month"s draw The new rules already sparked off speculation that car sales in China which surpassed that of US this year will be come down drastically.
Netizens believe the traffic-control measures are the "toughest congestion-tackling measures in history," the agency reported.
The city now has 4.76 million vehicles, up from 2.6 million in 2005.
Earlier, the government also had withdrawn incentives to buy cars given as part of s stimulus measures in 2008 to cope with the global economic crisis.
China"s total vehicle sales surged to 16.4 million in the 11 months through November, according to the China Automobile Industry Association.
Whole-year sales are expected to hit 18 million units in 2010, making the nation the world"s largest auto market for a second year.
The market increased by almost 30 per cent this year, but analysts have predicted that it will slow to 10 to 15 per cent or even lower in 2011, after Beijing launched a strict policy to curb car consumption.
The Ministry of Finance on Tuesday announced that China will stop the two-year consumption-tax cuts for smaller cars.
http://news.in.msn.com/international/article.aspx
Georgie Anne Geyer
12/30/2010
OUR FUTURE DOES NOT HAVE TO BE ONE OF DECLINE
WASHINGTON — As we march to uncertain trumpets into 2011, we consider more and more a word that has been, during all of our national life, at the far end of our conception of ourselves.
The ugly word is "decline." Remember how it sprang to life this last year, as we proud Americans realized how we are essentially owned by China, how we are slipping down the scales of national excellence, and how we are endangered by foolish military overreach.
This New Year will be the historic moment when we either grasp the realities behind that word and begin to battle our decline, or slip even more treacherously behind. That makes 2011 one of the most important in our entire 235 years of national life.
Other important years — say, 1775, 1861, 1917 and 1941 — all marked the beginning of wars; the decline America faces today is more complex and more poisonous than fighting wars.
Most Americans, when and if they think about decline at all, see it in their mind's eye as a slow and gradual process, something you barely notice, if at all, from year to year — sort of like the price of tomatoes going up, or your rent increase being a little larger than you expected.
But that's not the way it is, because that is not the way it has ever been.
John Glubb Pasha, the great 20th-century British military historian of the Middle East and specialist on the death of empires, writes in his book "The Course of Empires" that every empire has died within 50 years of its height. He characterizes the last years of their cities as filled with foreign immigrants with no devotion to the state and with popular entertainers having taken over from the great generals as heroes of the people.
Decline, in fact, becomes a kind of social hurricane, breaking down carefully constructed social structures and mores with a rapidity that comes to feed upon itself.
As people become poorer, and education fails, and the stability carried through always by the middle classes trickles away, there is chaos in the streets; new homespun military groups take over from the traditional armies; secret societies grow in the shadows; the state wastes itself away in foreign adventures; and the social rules of behavior gradually begin to fade away as anarchy pervades the old traditions.
Borders become porous, as the nation-state means less and less, and its original principles fade into misty irrelevance.
Sen. Tom Coburn, R-Okla., recently has become a voice in the nation's capital on the subject of national decline.
"The history of republics is that all decline happens within 200 years," he says, and always because of fiscal problems. "The rot always comes from within, before they collapse or are attacked." There could be 15 to 18 percent unemployment and the death of the middle class. The poorest of the poor are hurt most. The government prints money — it has no other option except living within its means and paying its debt. (And it won't do that.)
What we need, Coburn avers, "are not so many professional politicians but real-world people coming into the Congress and politics to bring common sense to it."
Almost always, the process of decline starts with fiscal irresponsibility and proceeds to conducting fruitless wars around the world, thus wasting both treasure and blood.
In fact, in all of the "small wars" since 1945, the guerrilla or militia or mujahadin armies have shown how easily they can either stymie or defeat big national armies. Particularly dangerous at times like these are volunteer armies with lesser ties to the general population than the old traditional drafted armies.
If this, then, is what indeed is happening, isn't it strange that the United States, which still has time on its side, is not acting to reduce its deficit, to reform its education system and to withdraw from its hundreds of military bases across the world? Economists say, for instance, that even as small an act as providing for a 5 percent sales tax would solve our deficit problem — and yet, we do not act, because we still believe, despite all the evidence, that we are the "greatest power on Earth."