Chinese have no conception of moral absolutes. Their worldview is cyclical, with the forces of yin and yang, light and darkness, positive and negative rebalancing themselves across time and space.
207
The Chinese will never spend freely. Saving rates will always be higher than in the West.


30
In China, a Confucian society torn between stifling regimentation and relentless ambition, consumers regard brands as tools for success.


43
In China, an ambitious, anti-individualistic, and morally relativistic society, integrity is often perceived as a luxury.


56
In China, bigger is better, because it elicits trust.
76
It is difficult to overstate the primacy of the clan, driven by a profound sense of mutual obligation, obedience to natural hierarchial order, and protective bulwark against contemporary economic realities.


146
But the Chinese, are first and foremost, reliant on the Communist Party to maintain order.
151
The government, it is hoped, will someday realize that its fundamental, institutionalized lack of accountability precludes the nation from evolving into a truly modern society, a goal cherished by both rulers and the ruled.


162
The Chinese value system is a quixotic combination of regimentation and ambition. The clan, not the individual, is considered the basic building block or productivity, and human rights are either a theoretical abstraction or, even in good times, luxuries to be sacrficed to pragmatism.


197
If, in the words of Teddy Roosevelt, the American people and politicians are wise enough to 'speak softly and carry a big stick,' the world will be a more stable place and China will be a more accountable, more noble, global competitor.


205


China was founded to ensure survival, not as an earthly manifestation of God's moral covenant with humans, the latter blessed with a divine right to pursue happiness.


236
China and the U.S., Frenemies Forever
By Clive Crook Nov 13, 2012 6:30 PM ET
This week China's ruling elite appoints new leaders for the next decade. The incoming president, Xi Jinping, and his colleagues face such fearsome challenges that, in their moment of victory, one almost sympathizes. Understanding their difficulties and calibrating U.S. policy accordingly will be among the biggest tests for the new Obama administration. For everybody's sake, Beijing and Washington both need to do some rethinking.
China's leaders have grasped the scale of their problem, even if not the means to solve it. In his outgoing address as president, Hu Jintao referred directly to the scandals roiling the Communist Party. "Combating corruption and promoting political integrity, which is a major political issue of great concern to the people, is a clear-cut and long-term political commitment of the party. If we fail to handle this issue well, it could prove fatal to the party, and even cause the collapse of the party and the fall of the state."
Whether or not Hu actually believes it, he might be right. The seemingly endless pliability of the Chinese populace may be approaching its limit.
Tainted Loyalties
According to the Pew Global Attitudes Project, 50 percent of Chinese now regard corrupt officials as a "very big problem," up from 39 percent four years ago. If you take concerns about food safety as a measure of distrust in government, the picture is worse. Four years ago, 12 percent said tainted food was a very big problem; now it's 41 percent.
The people of China understand they're much better off than they used to be: 70 percent say their living standards are higher than five years ago, and a remarkable 92 percent say they're more prosperous than their parents. But, as you might expect of good communists, they're increasingly preoccupied with inequality: 81 percent agree (either "mostly" or "completely") with the view that "Today, it's really true that the rich just get richer while the poor get poorer."
What the Chinese call "mass incidents" — strikes and protests of one kind or another — are on the rise. Sun Liping, a sociologist at Beijing's Tsinghua University (and one of Xi's former university tutors, according to some reports) keeps track: The number doubled between 2006 and 2010 to 180,000 a year. China is a big country. Even so, that's a lot.
Socialism with Chinese characteristics is beginning to meet consumer resistance.
Responding effectively to these discontents will be fiendishly difficult. The government must fear — and if it doesn't, it should — that starting to unpick the fabric of the state will cause the whole garment to unravel. State-owned enterprises are the crux of the matter. That's where many of the well-connected have enriched themselves. The SOEs are also a main channel of implicit taxation, via monopoly profits, helping both to finance the state and to fuel China's development model of overinvestment and underconsumption.
This, too, is understood by China's leadership. Hu again: "We should … speed up the establishment of a long-term mechanism for increasing consumer demand, unleash the potential of individual consumption, increase investment at a proper pace, and expand the domestic market." The question is, where to start? The network of power and privilege, with SOEs at the middle, may be unsustainable, but reforming it piecemeal, without disturbing the stability that China's leaders have made their totem, looks close to impossible.
Dangerous Pride
The danger in all this for China's neighbors and hence, directly or indirectly, for the U.S. is obvious. When domestic stresses mount, China's leaders turn up the nationalist pride and draw fresh attention to what they see as the West's centuries-long project to keep China in its place — not that many Chinese need reminding of that plan. Only 39 percent view their country's relationship with the U.S. as one of cooperation — down from 68 percent just two years ago.
Nothing matters more for the well-being of the world than peaceful and productive relations between China and the U.S. Both have a compelling interest in getting along well — and both have governments apt to succumb to the political temptation of saber-rattling. Leading up to the U.S. election, the two candidates confined their discussion of China to competition over who intended the toughest reprisals. Talk like that is absurdly shortsighted.
Certainly America's military strength shouldn't be compromised. China's and America's largest interests, peace and commerce, may be well-aligned, but points of contention exist and conflict is possible. The worst-case possibility needs to be planned for. American diplomacy should nonetheless strive to make it less likely.
To avert catastrophe, Americans must pay closer attention to two points. First, they must keep in proportion America's legitimate grievances with China over issues such as currency policy and theft of intellectual property. Such disputes shouldn't be escalated for domestic political purposes. They're best resolved calmly in the multilateral forums that exist for the purpose, notably the International Monetary Fund and the IWorld Trade Organization, in which China submits to the rules like everybody else (i.e., when it has to) and is recognized as a full and equal partner.
True, China has an instinct for abrupt unilateral action when its pride is bruised. In that regard, it's just like the U.S. A little self-restraint on both sides would go a long way.
Second, the U.S. needs to control its disgust for China's intolerance of political dissent. China's record on civil liberties is indeed lamentable (and in the end likely counterproductive, even from the regime's own point of view). But lecturing China on the subject — let alone folding this issue into broader strategic calculations — won't advance the cause. America could moderate its appetite for laying down the rules for everybody else by reflecting on the complexity, let's call it, of its own approach to civil liberties when it sees vital national interests at stake.
Above all America and the West should keep in mind what China has achieved for its people in recent decades. What's that? Merely the biggest and fastest rise out of poverty the world has ever seen. No, that doesn't make it all right to put pro-democracy activists in prison. It's nonetheless a stunning achievement, one to respect and admire.
(Clive Crook is a Bloomberg View columnist. The opinions expressed are his own.)
www.bloomberg.com/news/2012-11-13/china-and-the-u-s-frenemies-forever.html

Jiang Zemin, 86
Leader from 1989 to 2002
China's chief before Hu Jintao, Jiang oversaw China's economic expansion in the 1990s. Rumors last year led to speculation that he had died. But Jiang has been asserting his influence leading up to the transition to get his allies into new positions of power.

Hu Jintao, 69
Current president
Hu is scheduled to hand over the top spot to successor Xi Jinping at the party congress. One unanswered question is whether he also will give up his post as head of China's military or hold on to it for two more years as past leaders have done.

Xi Jinping, 59
Presidential favorite
Xi is one of China's most prominent "princelings," a group of officials who are descended from the Communist Party's early founders and senior leaders. His father was famous for drawing attention to possible political reform at a time when China was facing serious social and economic crises.

Wen Jiabao, 70
Current premier
Wen has portrayed himself as a populist and a reformer. But he has been criticized for failing to promote real reform in China. A recent New York Times report on the huge wealth his family has amassed may undercut his legacy and his influence in the coming leadership transition.

Li Keqiang, 57
Premier favorite
Li is regarded as one of Hu's close allies. Some thought he had a shot at becoming the next president, but he was blocked by Jiang and his allies and promised the second most prominent position instead. Unlike previous premiers who had engineering diplomas, Li will be the first coming in with law and economics degrees.

www.washingtonpost.com/wp-srv/special/world/china-leaders/index.html
Changing of the Guard
Amid Calls to Open China's Politics, Party Digs In
With China at a critical juncture, there is a rising chorus within the elite expressing doubt that the 91-year-old Communist Party's authoritarian system can deal with the stresses bearing down on the nation and its 1.3 billion people. Policies introduced after 1978 by Deng Xiaoping lifted hundreds of millions out of poverty and transformed the country into the world's second-largest economy. But the way party leaders have managed decades of growth has created towering problems that critics say can no longer be avoided.

www.nytimes.com/2012/11/11/world/asia/chinese-communist-party-faces-calls-for-democracy.html
Preparing to Step Aside, Chinese Leader Warns of Challenges
By IAN JOHNSON and KEITH BRADSHER
Published: November 8, 2012
BEIJING — Capping 10 careful years at the helm of the Communist Party, China's top leader, Hu Jintao, on Thursday boasted of successes during his tenure while issuing a blunt warning against unrest and political reform.
Mr. Hu, 69, is to step down as the party's general secretary next week, handing over power to his designated successor, Xi Jinping. His speech at the opening here in Beijing of the Communist Party's 18th Congress was likely to be his last major address — a chance to write his own eulogy while also setting the course for Mr. Xi.
"He's worried about how history will view him," said Qian Gang, who works with the China Media Project of Hong Kong University. "On the whole, he is against reform."
Formally, Mr. Hu nodded to almost every manner of reform: economic, social, political and environmental. But, in the fashion of his predecessors, this was balanced with warnings of the need to guard against a rise in unrest. It was an unusual admission for a man whose signature slogan is creating for China a "harmonious society."
"Social contradictions have clearly increased," said the formal 64-page document issued at the congress. (Mr. Hu's speech, even at 100 minutes, was only a summary.)
"There are many problems concerning the public's immediate interests in education, employment, social security, health care, housing, the environment, food and drug safety, workplace safety, public security and law enforcement."
The solution, Mr. Hu said, was "reform and opening up," a policy initiated by the man who chose him for the job nearly two decades ago, the paramount leader Deng Xiaoping.
Mr. Hu also lauded his own contribution to Communist Party ideology: "Scientific Development." Most of his predecessors have had their own ideologies enshrined as guiding state doctrines. His repetition of the phrase — which means that the party should be pragmatic and follow policies that are demonstrably effective — implied that he, too, would be so honored.
But his caveats to reform were many.
According to Mr. Qian, a leading expert on textual analysis of Chinese leaders' speeches, Mr. Hu's speech hit on almost every anti-reform phrase used by Chinese Communist leaders.
He referred to Communist China's founder three times with the phrase "Mao Zedong Thought," and said the party must "resolutely not follow Western political systems," something not mentioned at the last party congress five years ago.
"They don't say these terms lightly," Mr. Qian said. "When they mention it, it matters."
Mr. Hu also coined a new term, pledging that the party will not to follow the "wicked way" of changing the party's course.
Mr. Hu's speech is thought to have been drawn up in cooperation with his successor, Mr. Xi. While Mr. Xi is widely thought to be consulting with liberal members of China's intelligentsia, he either did not oppose Mr. Hu's direction or was not able to change it.
That is important, observers say, because Mr. Xi will not exercise unrestrained power when he takes over. Besides the other half-dozen members on the Standing Committee of the party's Politburo, he will also have to listen to the advice of Mr. Hu, Mr. Hu's own predecessor, Jiang Zemin, and an estimated 20 other "senior leaders." As if to emphasize their role, these men were seated on the dais next to Mr. Hu. Many of them are in their 70s and 80s and have exercised power for decades.
"Xi Jinping certainly won't be a Gorbachev," said Yao Jianfu, a former official and researcher who closely follows Chinese politics and advocates democratic change. "Every aspect of reform has an important precondition — that the Communist Party remains in charge."
Even though Mr. Hu's speech was broadcast live on national television and on screens in Beijing subway cars, gauging popular opinion was difficult.
Microbloggers, who are mostly urban and fairly well educated, at times cast scorn on the rhetoric. One blogger listed the Marxist terminology that Mr. Hu used and wrote simply "madness." Others used laughing emoticons, while some delved closely into the speech for clues to new policies — some noted his fleeting mention of China's unpopular single-child policy.
Mr. Hu's tough language on social issues contrasted with his strong reaffirmation of the Communist Party's commitment to the economic policy mantra of "reform and opening up," a policy that has produced soaring trade and economic growth over the past three decades.
Many economists have begun to question, however, whether Mr. Hu's tenure has amounted to a "lost decade" for refashioning China's investment-driven economy into a broader, more stable system. State-owned enterprises have gradually strengthened their roles in the economy through a combination of monopoly power and access to cheap loans from state-owned banks.
Mr. Hu offered some encouragement for changes along that front by calling for narrowing the government investment in state-owned enterprises to a few industries "that comprise the lifeline of the economy and are vital to national security." It was one of the strongest hints to date that the government is mulling whether it should play less of a role in managing enterprises in many other industries.
Mr. Hu also paid heed on Thursday to complaints from entrepreneurs that regulators, loan officers of state-owned banks, local zoning officials and other government representatives discriminate against them in favor of state-owned enterprises.
China must "ensure that economic entities under all forms of ownership have equal access to factors of production in accordance with the law, compete on a level playing field and are protected by the law as equals," he said.
He also endorsed a series of other economic liberalization moves that have been discussed for years, although their progress has sometimes been slow during his tenure.
Mr. Hu endorsed making interest rates and the exchange rate of the renminbi more dependent on markets and less on government fiat. The People's Bank of China, the central bank, has already begun doing this by gradually broadening the range of interest rates that banks can charge based on the credit worthiness of borrowers and by widening the daily range in which the currency can trade against the dollar.
Another frequent complaint of foreign governments and foreign businesses, China's lax enforcement of copyrights and patents, drew at least an acknowledgment from Mr. Hu, who promised greater protection of intellectual property as a way to foster innovation in China.
There was one perhaps unintentional sign at the party congress that China remains enthusiastic about foreign brands — at least if they are manufactured in China.
A special parking lot for officials on the north side of the Great Hall of the People, across the street from the walled residential compound where the country's leaders live, was full of German, American and Japanese cars, with no sign of any Chinese models.
The lot held at least a dozen black Audi A8 sedans and several dark-blue Buick GL8 minivans — both are assembled in China — and even a white Toyota Highlander crossover utility vehicle. Sales of Japanese-brand models have plummeted about 40 percent in each of the past two months compared with a year ago after a territorial dispute between China and Japan in the East China Sea led to rioting and the destruction of around 100 Japanese-brand cars.

www.nytimes.com/2012/11/09/world/asia/hu-jintao-exiting-communist-leader-cautions-china.html
China's new leaders ban red carpets, pomp and 'empty speeches'
China's new leaders have promised a dramatic overhaul of how the Communist party behaves, responding to growing public criticism of imperious and lavishly rich officials.

www.telegraph.co.uk/news/worldnews/asia/china/9722125/Chinas-new-leaders-ban-red-carpets-pomp-and-empty-speeches.html
China's Hu Jintao warns congress corruption could cause fall of state
Outgoing leader begins farewell to power with speech to 2,200 delegates that sharply criticises official abuses
http://www.guardian.co.uk/world/2012/nov/08/china-hujintao-warning-congress-corruption
China's Hu Jintao clings to socialist economy in Mao nostalgia speech
China's Communist Party is to stick "unswervingly" to state control over Asia's largest economy, dashing hopes for deep free-market reform over the next decade.

www.telegraph.co.uk/finance/china-business/9665384/Chinas-Hu-Jintao-clings-to-socialist-economy-in-Mao-nostalgia-speech.html
China's Hu seeks to exert influence long after he leaves power
Hu's recent moves fit a familiar pattern in China, where top leaders don't simply retire. They linger behind the scenes, exerting powerful but often unseen leverage until death. How successful Hu and his supporters are in these remaining days could affect the direction of the country's leadership for years to come.

Feng Li/Getty Images – Chinese President Hu Jintao (C) and Chinese Vice Premier Li Keqiang (L) attend the banquet marking the 63th anniversary of the founding of the People's Republic of China on September 29, 2012 at the Great Hall of the People in Beijing, China.

www.washingtonpost.com/world/chinas-hu-seeks-to-exert-influence-long-after-he-leaves-power/2012/11/05/4df5c190-1c24-11e2-ba31-3083ca97c314_story.html
BEIJING — In a year of scandals and corruption charges at the commanding heights of the Communist Party, a retired party chief some had written off as a spent force has thrust himself back into China's most important political decisions and emerged as a dominant figure shaping the future leadership.
The resurgence of Jiang Zemin, the 86-year-old former leader, is all the more striking because he was said last year to be near death. But over recent months, Mr. Jiang, who left office a decade ago, has worked assiduously behind the scenes, voicing frustration with the record of his successor, Hu Jintao, and maneuvering to have his protégés dominate the party's incoming ruling group. He even weighed in on how to deal with Bo Xilai, the populist political figure who was caught up in a major scandal and was investigated after his wife was accused of murdering a British businessman.
That Mr. Jiang has been able to insert himself so boldly shows how diluted power has become at the apex of the Communist Party, just as policy makers and intellectuals from all quarters say the nation needs strong leadership to guide it through a period of a slowing economy and rising social discontent.
Some supporters of Mr. Jiang say his involvement might give greater confidence to policy makers who could prove more amenable than Mr. Hu to loosening the hold of state-owned conglomerates in some crucial sectors, like finance and transportation, and also more inclined to establish a credible legal system that operates with a degree of autonomy from the party.
Such steps could inject vigor into the economy, while also signaling modest steps toward accountability demanded by China's expanding middle class.

www.nytimes.com/2012/11/08/world/asia/jiang-zemin-ex-leader-of-china-asserts-sway-over-top-posts.html
China's new Politburo: Leader of China Communist Party Xi Jinping (centre), (clockwise from top left) Zhang Dejiang, Li Keqiang, Yu Zhengsheng, Liu Yunshan, Wang Qishan, Zhang Gaoli (Reuters)
China's new leader Xi Jinping warns Communist Party faces 'severe challenges'
Xi Jinping has stepped forward as China's new paramount leader with a remarkable speech that shattered Communist party convention.
By Malcolm Moore, Great Hall of the People, Beijing and Tom Phillips
7:48AM GMT 15 Nov 2012
The 59-year-old son of one of the Party's revolutionary heroes walked out, just before noon on Thursday, onto a red-carpeted dais in the Great Hall of the People, fulfilling a destiny that some had predicted since his youth.
He was anointed the head of the Communist party and the head of the military as Hu Jintao relinquished all his roles, and will be rubber-stamped as China's president next March at the annual meeting of the country's parliament.
Standing at the head of a slimmed-down, seven-man ruling council, Mr Xi then signalled that his era would be different, breaking with "formalism" and "bureaucracy" to deliver a "better life" for the Chinese people.
Appearing entirely at ease in front of hundreds of television cameras, a relaxed Mr Xi was a stark contrast to his predecessor, Hu Jintao, whose final addresses as president were stiff, interminable, and packed with repetitive Soviet-style jargon.
Mr Xi's speech was confident and eloquent, without any slogans or the customary hat tips to the leadership and wisdom of Chairman Mao, Deng Xiaoping, Jiang Zemin or Mr Hu.
"Our people love life and yearn for better education, stable jobs, more satisfactory income, greater social security, improved medical and health care, and a more beautiful environment," he said, simply.
"We want our children to grow up well and have better jobs and more fulfilling lives. The people's desire for a better life is what we shall fight for. Every bit of happiness in the world is created by hard work," he added.
He outlined a vision of a more co-operative China on the world stage. "We will make the Chinese nation stand rock-firm in the family of nations," he said. "China needs to understand the world better, and the world needs to understand China better too."
And while he said the Party had "every reason" to be proud of its "world-renowned achievements", he added that its 82 million members must conduct themselves "honourably".
"Our Party faces many severe challenges, and there are also many pressing problems within the Party that need to be resolved, particularly corruption, being divorced from the people, and going through the formalism and bureaucracy caused by some Party officials," he said.
"We are well aware that the capability of one individual is limited … One can only work for a limited period of time, but there is no limit to serving the people with dedication. Our responsibility is weightier than Mount Tai, and our road ahead is a long one," he said.
Mr Xi's grand entrance won instant plaudits. "He looks confident, self-composed and the logic of his speech is clear. His wording is unpretentious," said Li Weidong, a liberal former editor of China Reform magazine.
"The most impressive thing is that he did not mention Maoism, Marxism and Leninism," said one well-connected commentator in Beijing, who asked not to be named. "He spared us the routine rubbish that the former leaders used to spout, although of course they may have just changed his speech writer."
In an optimistic signed editorial in Caixin, Hu Shuli, a well-connected Chinese journalist, said the Party Congress, which closed on Wednesday, had given "more substance" to hopes of further reforms.
"China as a country in transition bears signs of an authoritarian society. This makes it all the more crucial to have clear checks on power," she wrote.
However, while many are hopeful that Mr Xi may usher in a fresh era, the line-up of men alongside him in the Politburo Standing Committee appears relatively conservative.
Aside from Li Keqiang, the 57-year-old number two, the other five men on the ruling council are aged between 64 and 67, suggesting they will all have to retire in five years time, according to the Party's rules.
Jean-Pierre Cabestan, a political scientist from Hong Kong's Baptist University, warned that despite Mr Xi's speech, the "rather conservative" Politburo Standing Committee are unlikely to push for major change.
"The big question ¨C the big elephant in the room ¨C is the need to revive political reform and I don't see this leadership as united or courageous enough to revive political reform," he said.
Instead, Prof. Cabestan said he envisaged the new leadership "muddling through for as long as possible with one-party rule and giving the hot potato to the next [group of leaders]".
Standing in matching suits, and all exactly the same height, the new leaders each stepped forward in turn to greet the media. Only one man, 64-year-old Wang Qishan, broke the dress code, wearing a blue rather than a red tie.
After Mr Xi spoke, the seven men exited stage left, without taking any questions from the press.
Additional reporting by Valentina Luo

www.telegraph.co.uk/news/worldnews/asia/china/9679608/Chinas-new-leader-Xi-Jinping-warns-Communist-Party-faces-severe-challenges.html
Ending Congress, China Presents New Leadership Headed by Xi Jinping

'Princelings' Reshape China: China's "princelings" are emerging as an aristocratic class with an increasingly important say in ruling the country.

www.nytimes.com/2012/11/15/world/asia/communists-conclude-party-congress-in-china.html
China wants no surprises at Communist Party congress
The tightly scripted 18th party congress, set to begin Thursday, will bring together 2,270 delegates from across China and a new lineup of leaders.

Portraits of late Chinese leaders Chou En-lai, from left, Mao Tse-tung and Liu Shaoqi attract the attention of a passerby in Beijing. China's Communist Party will be announcing its next leaders at its weeklong congress. (Wang Zhao / AFP/Getty Images / November 6, 2012)
By Barbara Demick and Julie Makinen, Los Angeles Times
November 7, 2012
BEIJING — A popular joke making the rounds in Beijing touts the superiority of China's political system to that of the United States. .
After all, while the race betweenPresident Obama and former Gov. Mitt Romney went down to the wire, the Chinese have known for years the outcome of the 18th Communist Party congress that opens Thursday in Beijing.
Vice President Xi Jinping has been groomed since the last congress in 2007 to replace President Hu Jintao (first as secretary-general of the Communist Party), with Li Keqiang as Premier Wen Jiabao's successor.
If all goes according to protocol — and the Chinese government has put the country under virtual lockdown to ensure no deviation from the script — Hu will open the session at Tiananmen Square's Great Hall of the People with a sleep-inducing speech replete with communist jargon. The last time, he droned on for 2 1/2 hours.
Then, about a week later, Xi, Li and other members of the new senior leadership team — the Politburo Standing Committee — will march onstage, according to rank, in matching dark suits and nearly indistinguishable haircuts. They will applaud themselves for the successful conclusion of the event, but they are not expected to lay out a fresh agenda.
"It is all empty speech," said Li Datong, a former editor of the China Youth Daily, who recalls that some journalists have tried to wriggle out of covering the party congress. To the extent there is any suspense, it is whether the Standing Committee will remain at nine members or, as many analysts believe, be reduced to seven to streamline decision making.
Yet beneath the placid surface, political intrigue is roiling like at no other time in recent Chinese history. This year saw the downfall of Bo Xilai, a telegenic Maoist whose wife was recently convicted of fatally poisoning an English businessman; and the forced resignation of Hu's chief of staff, Ling Jihua, whose son was killed in a fiery Ferrari crash.
The cascading scandals have served to strengthen and weaken various contenders for the Politburo Standing Committee.
"There's no difference, in the gossip and the intensity of the U.S. and the Chinese transition: One is played out 24 hours on cable TV, the other is played out in breakfast, lunch, dinner, of anybody involved with the government," said Robert Lawrence Kuhn, an expert in Chinese politics who is in Beijing to offer commentary on state-run CCTV.
The party congress brings together 2,270 delegates from across China, from senior leaders such as Xi and Hu to a teacher from Tibet, an airport information-desk clerk, a 97-year-old former mayor of Beijing and a 22-year-old Olympic swimmer. Delegates represent different blocs within the party, such as provinces, the military and state-owned enterprises. All must be party members with "a firm political stand, virtue, fine working style and excellent achievements," as the official New China News Agency put it.
Though they will attend speeches and cast ballots, their role is that of window dressing, said Kerry Brown, executive director of the China Studies Center at the University of Sydney in Australia.
"These people are there as physical bodies, to hold a space, to show that a meeting has been held," he said. "There's no drama. But in this system, the less drama there is, the better." .
Indeed, in recent decades, party congresses have had a Groundhog Day-like repetition.
A Hong Kong newspaper on Monday compared the communique from the plenary session preceding the congress this year and the one from the 2007 and found the wording virtually verbatim. (For example: "The Political Bureau has comprehensively pushed forward the socialist economic, political, cultural, social and conservation culture construction and the great new party-building project, with various causes achieving remarkable results.")
The self-plagiarism is something of a point of pride for the Communist Party, which likes to congratulate itself on the decorum and stability of its system, especially next to the perceived messiness of Western democracies.
The primary tasks of the gathering are to make amendments to the party's constitution and elect about 200 members to the party's Central Committee. There are a few more candidates than there are positions, but hardly enough to add excitement. From the Central Committee members, people are chosen for two higher bodies, the Politburo (about 25 members) and the elite Politburo Standing Committee.
Although this structure makes the leadership transfer appear to be the result of a series of bottom-up decisions, Xi and the other incoming senior leaders have in fact been selected through secret negotiations among senior officials and party elders. Although elders have called in recent years for "intra-party democracy," the votes are conducted in closed sessions, the results a state secret.
"The aura of secrecy is comparable to the College of Cardinals choosing the next pope, except you don't have smoke signals," said Patrick Chovanec, a professor at Beijing's Tsinghua University.
When senior leaders were beginning to think about selecting a successor to Hu, one of the things they did was poll 300 to 400 elite party members, according to Dali Yang, a China politics expert at the University of Chicago. Xi came out on top.
Among the reasons he was favored, Yang said, were his performance as an official in Shanghai and Zhejiang province; his experience with the military; and the fact that his father, a party official, was well-regarded among the reformist camp. "He's very well-liked," said Yang. "He doesn't have a lot of enemies."
Still, this year's transition makes party elites particularly nervous because it is seen as the first that has not been orchestrated by party founders from the era of Mao Tse-tung. The late paramount leader Deng Xiaoping selected Hu to succeed Jiang in 2002, but today, no figure in the organization has the same clout as Deng.
"Before there was more certainty, because Deng mandated who would succeed Jiang," said Brown, of the University of Sydney. "Jiang is still around, but he's a much weaker figure…. Questions will hover around the new leaders: Who chose them, how did they get into the sort of positions they got into?"
Perhaps more interesting than the congress itself will be an economic meeting later this month, when Xi debuts in his leadership position. Technically, he will not become China's president until March, but he will be named secretary-general of the Communist Party during the congress and in that capacity serve as the most powerful person in China because the party trumps the government.
Xi may be well-liked, but it remains to be seen what policies he will pursue, and how quickly he is willing, or able, to push his agenda. A key question is whether Hu will stay on as head of the Central Military Commission; if he does, that could limit Xi's room to maneuver.
Although the Communist Party's creaky stage management and pageantry appears stuck in a time warp, China, outside the Great Hall of the People, is galloping forward. It now boasts the world's second largest economy, yet the growth is slowing, the gap between rich and poor is widening, and the public is increasingly frustrated by issues such as graft and environmental degradation. These are issues the party has to contend with.
"It's trying to refurbish its mission. Like any party, Democrats or Republicans, it needs to be renewed, it needs spirit and vitality and leadership succession is part of that," Yang said.
www.latimes.com/news/nationworld/world/la-fg-china-party-congress-20121107,0,202396.story
Deng's China
By EZRA F. VOGEL
Published: November 7, 2012
After months of political turmoil, China's leadership is gathering this week for its once-in-a-decade conclave to transfer power to the next generation. In charting a course for China's future, the new leaders would do well to master the lessons from Deng Xiaoping, the bold reformer who set China on its path to success after the tumult of the Mao years.
Deng took power in 1978, when China was in dire poverty. By the time he stepped down 14 years later, over 200 million people had been lifted out of poverty, and the policies he introduced set China on the path to become an economic powerhouse.
But in recent years China has lost its way. The public has become fed up with rampant corruption, the extravagant lifestyle of party leaders, the lack of full freedom and the inadequate procedures for correcting leadership abuses. Economic growth is slowing down while over a 100 million people still remain below the poverty line.
China badly needs political and social reform. To Deng, reform was a continuing process, and he would have moved boldly forward. Among the lessons from Deng:
In introducing bold reforms, experiment first. Deng thought it wise to try new ideas in areas where leaders supported reforms and conditions were favorable. When new programs worked, Deng brought in leaders to observe the successes and sent those who led the experiments around the country to explain how they succeeded. In Guangdong Province — including Shenzhen and other "special economic zones" — businessmen from Hong Kong flowed in to establish new enterprises and set new standards for efficient management. When they worked, lessons were extended elsewhere.
Support meritocracy. Deng believed only the best students should be asked to join the Communist Party. To reach the higher levels of the party, cadres had to prove themselves at the lower levels. Leaders were retired at a certain age.
Avoid polarization. In 1978, many officials opposed ending rural communes, even though the system had proven inadequate at feeding the population. Instead of confronting the opponents of change head on by abolishing communes, Deng told local leaders that if peasants were starving farmers should be allowed to adapt. Some villages then permitted farmers to provide for their own families after meeting production targets. Farms flourished. Surplus food was sold on the market. Deng invited journalists to report on the successes and within a year most of the country had chosen to end communes.
Establish good relations with all major countries. Deng had pleasant discussions with foreign leaders but was honest about differences. He believed the Soviet Union made a grave mistake by making enemies. He was the first leader in Chinese history to go to Japan, where he met the Japanese emperor. He negotiated and signed a treaty of peace and friendship with Japan, promoted people-to-people exchanges, and expanded imports of Japanese movies, TV programs and novels. He completed the normalization of relations with the United States. He made a triumphant visit to America, where he donned a cowboy hat, demonstrating that it was all right for the Chinese to imbibe American culture. In 1989, he welcomed Mikhail Gorbachev to Beijing to show the world that Sino-Soviet relations, broken since 1963, were back on track.
Deng presided over a far different China than the one the new leaders are inheriting, and it is not likely they will ever match his prestige and authority. He was part of the original generation of Communist revolutionary leaders who fought together, and a close comrade of Mao and Zhou Enlai. In many ways, today's Communist Party is still working out the complex consequences of the prosperity and power that Deng brought to the country.
Where the next generations of leaders can draw a lesson is in Deng's openness to risk and change, in his rejection of xenophobia, in his pragmatic view of the world, and in his support for meritocracy over privilege.
Ezra F. Vogel is the Henry Ford II Professor of the Social Sciences Emeritus at Harvard and the author of "Deng Xiaoping and the Transformation of China."

www.nytimes.com/2012/11/08/opinion/china-changes-leaders-deng-xiaopings-china.html
China's congress reveals 'an elite from another planet'
Despite problems of party corruption and rapid economic growth, the leadership handover looks unlikely to bring political change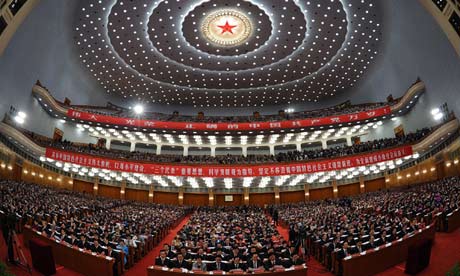 The 18th national congress of the Communist party of China opens at the Great Hall of the People in Beijing. Photograph: Li Xueren/Xinhua Press/Corbis
Beneath the glowing red star, and in front of a giant hammer and sickle, China's Communist party delegates gathered on Thursday to begin handing over control of the country that is home to a fifth of the world's population.
…Outgoing leader Hu Jintao, general secretary and China's president, outlined the broad course for the new team: above all, it seemed, maintaining the party's tight grip on power. His report to the 18th party congress stressed staying in charge, not embracing change.
He warned that failing to tackle corruption " could prove fatal to the party and even cause the collapse of the party and the fall of the state", adding: "Leading officials… should both exercise strict self-discipline and strengthen education and supervision over their family and staff."

www.guardian.co.uk/world/2012/nov/08/chinas-congress-reveals-elite-another-planet
China's economic destiny in doubt after leadership shock
The forces of reaction and economic folly threaten to prevail in China. The long political arm of Jiang Zemin has reached out from the shadows to thwart reform, with huge implications for Asia and the world.

www.telegraph.co.uk/finance/comment/ambroseevans_pritchard/9654300/Chinas-economic-destiny-in-doubt-after-leadership-shock.html
China prepares for power handover but reverberations will be felt worldwide
The world's second-biggest economy will see power shift to Xi Jinping, but its population has no real role in choosing a leader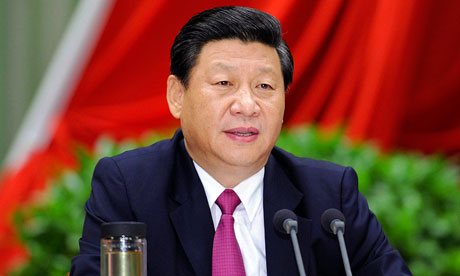 China's power handover – Xi Jinping has been chosen by the current leadership, with input from Communist party elders. Photograph: Li Tao/Associated Press

www.guardian.co.uk/world/2012/nov/01/china-prepares-power-handover
China 2030: Building a Modern, Harmonious, and Creative High-Income Society
www.worldbank.org/en/news/2012/02/27/china-2030-executive-summary
Conference Edition
www.worldbank.org/content/dam/Worldbank/document/China-2030-complete.pdf
Li Keqiang, China's next premier, carries reformers' hopes
By Keith B. Richburg, Published: November 10
BEIJING — Li Keqiang, the man slated to become China's next premier, is described by several former classmates and associates as a cautious political climber who moved up slowly through the Communist Party's bureaucracy while quietly maintaining friendships with pro-democracy advocates.
Li's ties to known reformers have given some people here hope that once installed in the Chinese government's No. 2 position — a promotion that is expected to be formalized at the conclusion of the party congress next week — he might become an inside advocate for changing the country's autocratic, Leninist system.
But friends and former associates also said that Li was always reticent when speaking, rarely revealing much about his personal views — leaving them to only guess that he shares the reform agenda. "He's the kind of person whose mind you can't really read," said Dai Qing, a democracy activist who was jailed for nearly a year after the 1989 student protests.
China's outgoing premier, Wen Jiabao, also was seen by many here as a reformer who in recent years began publicly advocating for more accountability and less corruption in China's Communist-run government. But without allies, Wen became an increasingly isolated voice for reform, unable — or unwilling — to push through his agenda. Some of Li's friends and associates now wonder if he will suffer the same fate.
Li is described as an extremely intelligent self-taught speaker of English and a loyal Communist Party member who gave up a rare opportunity to study abroad when the party asked him to stay in China to work organizing students at Peking University as a top official in the Communist Youth League. It was at the university that Li made friendships with many outspoken pro-democracy advocates, some of whom were jailed or went into exile after the 1989 military crackdown at Tiananmen Square.
But some said he is not ruthless enough for the party's internal maneuverings — a fact that some colleagues said may have relegated him to the No. 2 job, and not the presidency, which will go to the current vice president Xi Jinping.
From student to party leader
Unlike Xi, a so-called princeling whose father, Xi Zhongxun, was a Mao-era military hero and later a governor and vice premier, Li comes to the top of China's power structure without a revolutionary pedigree.
Li's father was a mid-level county official — "a small potato," said one classmate — in Anhui province, one of China's poorest areas. And unlike Xi and the other princelings, whose upward path was eased by family connections, Li was admitted to Peking University on the basis of his scores on the national entrance exam, or "gaokao," when it was first reinstated in 1977 after being suspended during the Cultural Revolution.
Li entered Peking University, China's most prestigious, in February 1978. Yang Baikui, who was an international politics student there, worked with Li for one year while at the school, translating an English book, "The Due Process of Law," by British jurist Lord Denning. The book was brought to China by a professor, Gong Xiangrui, then one of China's few British-trained lawyers, who inculcated his students in the ideas of Western-style liberalism and constitutional law.
"He learned a lot from the book he and I translated," Yang recalled. "I'm not sure about democracy. But I'm sure he believes in constitutional government. And also the rule of law."
Li had little formal English training. But Yang and others recall how Li diligently carried a stack of small notecards, held together with an elastic band, with English words on one side and the Chinese translation on the other. He would study the cards while waiting for the bus or standing in line at the school cafeteria. He became so proficient that in 2011 he stunned listeners at a Hong Kong University event by breaking protocol and speaking for two minutes in fluent English.
After finishing Peking University, Li began working in the Communist Youth League while Yang became active in the pro-democracy movement that swept through China in the 1980s. The movement was crushed when Deng Xiaoping ordered troops to disperse students from Tiananmen Square on June 4, 1989, killing hundreds, if not thousands, of protesters. Yang was jailed for 11 months and then expelled from the Communist Party.
Yang said he has not spoken with Li since they met at the Communist Youth League office a few days before the 1989 crackdown. But he said Li always "asks about my situation" and has other mutual friends from their school days convey his greetings.
"Some of his friends can still be regarded as liberal. Li Keqiang will still discuss politics with them," Yang said. "The main difference between him and the 1980s dissidents is how fast or how slow China's democratization should be. And how many steps it should take before China is democratized."
'How far Li can go'
Li Datong, who was fired as an editor of a China Youth Daily supplement for pushing the boundaries of official censorship, met Li Keqiang in the '90s and considers him a reformer — even though, like others, he said the incoming premier's hands may be tied by the system.
"Li Keqiang is a product of the early 1980s, which was the era of enlightenment in China," Li Datong said. "I always have high expectations for Li Keqiang, but his power is also very limited."
Several other of Li's former colleagues and classmates agreed with that assessment.
"If we can expect any democracy, it will be democracy within the system, and Li will help Xi in doing this," said Yan Huai, a former official with the Communists' now-disbanded Young Cadres Bureau, who joined the 1989 protests and then left for the United States. "How far Xi walks will determine how far Li can go. He won't walk in front of Xi. And neither will he lag behind him."
He Qinhua, another law school classmate, said Li was likely to understand better than other Communist stalwarts the growing public demands for more accountability.
"Li is not a conservative guy," He said. But he added, "On political reform, the premier is not the one that can make the final decision. It's the party general secretary." Li, he added, "can do more in economic reform."
'Great expectations'
Li's doctoral thesis is in economics, and he has written more recent articles focused on China's industrialization and how the shift to urbanization would improve agricultural conditions, leaving fewer farmers who were more productive. He has also written about the importance of building a stronger social welfare system.
Li is also a realist. According to confidential U.S. diplomatic cables published by the group WikiLeaks, in 2007 he told then-U.S. Ambassador Clark T. Randt Jr. that economic figures coming out of China were mostly "unreliable."
Li's rise has not been without controversy. In Henan, where Li became governor in 1998, he has been criticized for not taking steps to prevent the spread of the AIDS epidemic to hundreds of thousands of villagers who were contaminated after donating blood through a government program.
Most of the infections happened before Li was governor. But one critic, Chen Bingzhong, a 79-year-old former head of China's National Institute of Health Education, wrote an open letter that appeared on overseas Chinese Web sites in September calling Li "unsuitable to be the leader of a country."
Tao Jingzhou, another Anhui native and law school friend of Li's who now works for an American law firm in Beijing, recalls sending a half-joking note to Li after his appointment as Henan governor. "Now you can take care of Middle China," he wrote. "I hope one day you will take control of the Imperial state."
Now with his friend being elevated to premier, Tao said, "A lot of people have great expectations that things will change."

www.washingtonpost.com/world/asia_pacific/li-keqiang-chinas-next-premier-carries-reformers-hopes/2012/11/09/126800fc-29a3-11e2-aaa5-ac786110c486_story.html
There was something reassuringly conservative about the seven members of the Chinese Communist Party's Politburo standing committee who were presented to the world in Beijing yesterday. Soberly kitted out in regulation-issue dark blue suits, there was little likelihood that China's new rulers would go tie-less in order to demonstrate their modernity. In fact, despite their unfeasibly jet black hair, with hardly a hint of grey in sight, their average age is 63 – older than the group of "big bosses" they have replaced. Needless to say, they are all men – although two women are included on the wider 25-member Politburo for the first time since Chairman Mao's wife was appointed in 1969.

Appearances can be deceptive; but in this instance they almost certainly are not. The new elite running the world's second biggest economy and would-be superpower is just as it seems: cautious, conformist and circumspect. The Chinese Communists have watched with alarm the collapse of the Soviet Union and the Arab Spring and – as was brutally evident in Tiananmen Square in 1989 – are determined to quash anything that smacks of reformist enthusiasm or democratic ambition.

Yet the party's tentative approach might be its undoing. China has seen a remarkable transformation since Deng Xiaoping unravelled the lunacies of Mao and set the country on the path to rapid industrial expansion and urbanisation. With the economy slowing, however, and corruption rife, more of the same may not be a particularly sensible policy. A decade from now, when the next transition is due to occur, bespoke suits and dyed hair will be less important leadership characteristics than an ability to respond to the political and economic demands of a growing middle class and still impoverished peasantry.
www.telegraph.co.uk/comment/telegraph-view/9680522/No-change-in-China.html
China's new leadership team not expected to push drastic reform

18th Chinese Communist Party Congress: Officials are meeting in Beijing ahead of a once-in-a-decade power transition.

www.washingtonpost.com/world/asia_pacific/chinas-new-leadership-team-not-expected-to-push-drastic-reforms/2012/11/15/6cfe8b9a-2f29-11e2-9f50-0308e1e75445_story.html
www.nytimes.com/video/2012/11/07/world/asia/100000001889842/chinas-18th-congress-.html
At Estée Lauder, a Brand Is Developed Just for China

www.nytimes.com/2012/09/25/business/estee-lauder-develops-a-brand-just-for-china.html
Rich Chinese want to buy happiness — by emigratingWealthy Chinese look to the U.S., Australia and Canada in search of less stress, cleaner air, better schools and a more stable political climate.

Leon Zhong, an emigration consultant in Beijing, is planning his own retirement in Australia. He says the rich have myriad reasons for leaving. "The environmental hazard is a factor: the air, the poisoned foods," he said. (Barbara Demick / Los Angeles Times / October 15, 2012)
www.latimes.com/news/nationworld/world/la-fg-china-emigration-20121102,0,7989771.story
The country's wealthiest citizens scurry to obtain foreign passports as a hedge against future uncertainty.
232

The burgeoning city of Suzhou, the Venice of China Photo: Zhang Kechun/mostartists.com
www.telegraph.co.uk/news/worldnews/9663863/Chinas-love-affair-with-England.html
"It's hard to get ahead these days, people kept saying, no matter how hard you work. The gap between rich and poor is widening. The education system is begging for an overhaul. The government is corrupt and needs massive reform.
…A joint survey released in April 2011 by China Merchants Bank and Bain & Co. showed that almost 60 percent of wealthy Chinese were considering emigrating, had begun taking steps to do so or had emigrated already.''

www.washingtonpost.com/opinions/if-china-is-doing-so-well-why-do-so-many-chinese-want-to-move-here/2012/11/16/b139e2e2-284d-11e2-96b6-8e6a7524553f_story.html
www.nytimes.com/2012/11/11/world/asia/chinese-communist-party-faces-calls-for-democracy.html
China Changes Leaders