www.nytimes.com/interactive/2013/06/02/sunday-review/chinas-global-reach.html
…By buying companies, exploiting natural resources, building infrastructure and giving loans all over the world, China is pursuing a soft but unstoppable form of economic domination. Beijing's essentially unlimited financial resources allow the country to be a game-changing force in both the developed and developing world, one that threatens to obliterate the competitive edge of Western firms, kill jobs in Europe and America and blunt criticism of human rights abuses in China.
…It is important to remember what is really behind China's global economic expansion: the state. China may be moving in the right direction on a number of issues, but when Chinese state-owned companies go abroad and seek to play by rules that emanate from an authoritarian regime, there is grave danger that Western countries will, out of economic need, end up playing by Beijing's rules.

www.nytimes.com/2013/06/02/opinion/sunday/chinas-economic-empire.html
Vladimir Putin rolls out the red carpet (and guards on horseback) for visit of President Xi Jinping
Russian premier gives unprecedented welcome to new Chinese leader as relations thaw
China's new leader began his first overseas trip as president with a much anticipated visit to Russia today – a symbolic trip that underlines China's desire to ensure its energy supply while showing defiance in the face of US influence in Asia.
A grand reception was held to welcome President Xi Jinping upon his arrival in Moscow, with guards riding on horseback brought out to greet a foreign leader for the first time. Kremlin guards snapped to attention as Mr Xi and his long retinue walked into the gilded, chandeliered Grand Kremlin Palace, where they met members of official delegations in the ornate St George Hall before sitting down for talks.
"China and Russia are the main and most important strategic partners," Mr Xi told Russian media upon his arrival. He said he was eagerly anticipating his meeting with Russian President Vladimir Putin. "In many ways we speak a common language," he said.
The grand welcome was a clear indication of the importance placed on the visit by Moscow. Russia is one of the world's biggest energy producers, and China is the top energy consumer. These realities tend to outweigh the traditionally tense relations between the two neighbouring giants, who were bitter rivals during the Soviet era despite their ideological links.
Russia has watched China's rise with concern, anxious that it might someday threaten its dominance on its eastern borders. But a bigger concern for the Kremlin, one that it shares with China, is blunting US influence in the region. At the start of talks, Mr Putin described the ties between the two countries as an "extremely important factor of global politics."
Ahead of Mr Xi's arrival, he said: "We are working together, helping to shape a new, more just world order, ensure peace and security, defend basic principles of international law."
Mr Xi said that the relations between the two countries are the best ever.
In recent years, the need to counterbalance the growing might of the US has led to the two to set aside some  differences. Strong trade links have also smoothed some of the wrinkles in the interim, with bilateral trade soaring to a record £58bn last year.
Beijing and Moscow have taken similar stances on some of the biggest geopolitical issues of recent years, from North Korea to Iran to Syria, often voting in concert to veto punitive sanctions by the UN Security Council.
Many analysts believe their relationship is likely to strengthen, especially as the United States tries to expand its influence in Asia, and both countries are firm in rejecting Western criticism of their human rights records.
The two leaders are expected to discuss Syria and North Korea, but the economy is likely to dominate.
Shortly before Mr Xi arrived in Russia with first lady Peng Liyuan, a £1.3bn deal was announced by Russian and Chinese companies to develop coal resources in eastern Siberia. Russia also sees China as a way to diversify its energy markets away from Europe and it is keen to tie up a potentially enormous gas deal which could eventually see almost 70 billion cubic metres of gas pumped to China annually for the next 30 years.
Mr Xi's tour continues until March 30 and he will also visit Tanzania, South Africa and the Republic of Congo. In South Africa he will attend the fifth BRICS summit.
The five key emerging economies that make up BRICS – Brazil, Russia, India, China and South Africa – have become an increasingly important channel for China and Russia to counter growing US influence.
BRICS countries hold reserves totalling £3 trillion, most of them held by China, and China now accounts for 20 per cent of Africa's exports.
China surpassed the US and Europe as Africa's largest trading partner in 2009 and has maintained its leading place in the years since.
In China, the big news about Xi Jinping's first trip as president has not been about energy, investment or BRICS, but rather about his wife Peng Liyuan's first public appearance as first lady.
Ms Peng is a hugely popular figure in China, indeed, she was probably better known than him until recently, and adored by millions for her stirring renditions of folk tunes in army uniform or ethnic costume.
"Peng Liyuan has a very positive meaning for China. China needs a female role-model. Imagine what would it be like if China had a First Lady like Michelle Obama?" wrote one online fashion commentator.
Since the cult of personality that built up around Chairman Mao Zedong, the Communist Party has sought to avoid making its leaders too personal. Solid, dull technocrats have run the show, and their wives have been even less visible.

www.independent.co.uk/news/world/asia/vladimir-putin-rolls-out-the-red-carpet-and-guards-on-horseback-for-visit-of-president-xi-jinping-8546512.html
Three Faces of the New China
Susan Walsh/Associated Press
DEFLECTION
Wen Jiabao fended off President Obama's pleas on currency.
By DAVID E. SANGER
Published: September 25, 2010
UNITED NATIONS — In a blur of headlines over the past few days, Americans have been surprised with brief, seemingly contradictory glimpses of how China is wielding its newfound power.
There was China the neighborhood bully, cutting off Japan's access to rare-earth minerals unless Tokyo folded in a minor, but longstanding, territorial dispute. (The Japanese folded.)
There was China the schmoozer, with its prime minister, Wen Jiabao, trying his hardest on Thursday to deflect President Obama's pressure over the value of China's currency — really a battle over whether jobs go to workers in Seattle or Shenzhen. The two leaders talked for two hours at the United Nations. The outcome was left unclear.
And there was China the classic realist, opting for convenient inconsistency on sanctions against North Korea and Iran in efforts to balance its competing national interests. (The first is to engage the West on the Security Council. The others include securing oil and protecting a client-state from collapse.)
In one sense, there's nothing surprising about a rising power finding subtle ways to handle complex problems. But before China's breakout from poverty to arguably the world's No. 2 economy, its default position on foreign policy was to restate the principle of non-interference in other nations' affairs and focus largely on its neighborhood.
That was before it had the military resources and the incentive to start thinking of how to secure and defend interests around the globe. Today, its interests include access to oil in places like Sudan and Iran, safe shipping around the Horn of Africa, the ability to manipulate its currency for its own gain.
And for the first time, the world is seeing a distinct range of behaviors, from aggressive to passive-aggressive to diplomatic, in places that 20 years ago China's leaders rarely thought about.
What American diplomats and analysts now have to figure out is what drives China's actions and responses, how to try to shape them and, some would argue, what limits to try to set.
"The China that President Obama hoped he was getting a year ago, the one that becomes this great cooperative global power on the biggest issues of the day — that's not the China he's dealing with today," said David Shambaugh, director of the China policy program at George Washington University.
A senior administration official who often deals with the Chinese leadership said: "As they begin to manage their many constituencies, their politics is looking more like ours."
Here's a scouting report so far on China's style of muscle-flexing:
THE NEIGHBORHOOD: TIME FOR THE BIG STICK
For decades countries around Asia have been wary of China's resurgence — tracking how many ships and missiles it was acquiring, and how it was using its influence as an investor. A decade ago, as President Bush took power, a number of neoconservatives urged him to "contain" China's presumed ambitions.
But containment would have probably been impossible and it proved, at least in the past decade, unnecessary. So far Beijing has not pressed new territorial claims; it has simply begun to defend old ones in sparsely inhabited places.
The Japanese stepped into one of those when they arrested the captain of a Chinese trawler near a group of islands in the East China Sea, called the Senkaku by the Japanese and the Diaoyu by China. The Japanese said the trawler rammed a Japanese coast guard vessel. A few years ago this might have been sorted out quietly as a consular issue. Not this time.
The Chinese — perhaps driven by the People's Liberation Army, perhaps eager to begin to declare their equivalent of the Monroe Doctrine — demanded the captain's return. Japan refused. Pushed by a nationalistic groundswell, China started blocking shipments of the rare earths, an act that threatened Japan's electronics industry.
"This played to the Asia First crowd in China," said Mr. Shambaugh, referring to a faction in China's establishment that says the wise course is to dominate the region while avoiding tussles with great powers. In recent months there have been disputes over American exercises in nearby waters and over the border with India.
"We've begun pushing back," said a senior administration official, explaining why the United States is sending an aircraft carrier to the area.
But the Japanese, after 20 years of recession, had no push left in them. The prosecutor dropped charges on Friday.
WASHINGTON: THE ART OF DEFLECTION
If China's strategy with Asia is all sharp elbows, with the United States it is largely politeness and deflection — most of the time.
When Mr. Obama first encountered Hu Jintao, the country's president, a fire was threatening to consume both their economies, and they pursued the common strategy of massive stimulus. For most of 2009, one of Mr. Obama's top aides noted, "everything else was set aside."
Then they narrowly skirted clashes on environmental policy at Copenhagen, and a cyber attack on Google was traced to China. But it is China's foot-dragging on its promise to gradually let the market determine the value of its currency that has really strained relations. In Congress, rightly or wrongly, China is often accused of manipulating its currency to keep its factories humming, at the expense of American workers. Democrats and Republicans are calling for tariffs.
So far China's strategy appears to be to maintain the trappings of routine diplomacy while dragging its feet. Prime Minister Wen used the word "cooperation" or "cooperative" six times in just a few minutes when standing beside Mr. Obama here. But when the doors closed, America pressed for immediate action, and, a witness said, Mr. Wen "dodged and weaved," restating arguments that it takes generations to build an economic powerhouse.
Jeffrey Bader, the National Security Council's Asia director, said the president noted he was "disappointed that there had not been much movement" since they last met. But his leverage was scant, which is why the White House threatened to to take other steps. Now the Chinese are gauging what he meant.
SPECIAL CASES: NORTH KOREA AND IRAN
North Korea and Iran are where China's local imperatives and great-power interests collide.
If America's No. 1 goal is a stripping North Korea of its nuclear weapons, China's is keeping North Korea stable. Should it collapse, the Chinese suspect, South Korea (and its American allies) will move in, perhaps up to China's border. As one American intelligence official put it recently, "if the choice is between living with a half-crazed nuclear North or with us on top of them, the Chinese are choosing the first option."
That doesn't mean they are happy about it. James Church, pen name of the author of "The Man With the Baltic Stare," his latest spy novel about North Korea, learned about the country as an intelligence officer. He said in an interview: "The Chinese may not like the North Koreans much. But there is too much geography, history and emotion tying them together and shaping Chinese thinking" for Beijing to jettison its long-time client, particularly if it means North Korea's absorption by America's ally, the South.
So in 2009, after the North's second nuclear test, it suited China's interests to join sanctions against Pyongyang. This year, when the United States again tried sanctions over the North's presumed role in sinking a South Korean warship, the situation had changed: Kim Jong Il, the North's dictator, was ill, and China needed to gain influence over his son and presumed heir, Kim Jong Un, to keep the lid on the North. So the Chinese watered down the sanctions effort here, and, foreign diplomats said, held a small victory party with the North Korean delegation.
Iran is another special case. Twelve percent of China's oil comes from the country; while it has gone along with sanctions, it has also made sure that energy imports and exports were kept off the United Nations list. There is constant talk of new, long-term energy investments by the Chinese in Iran. But so far, few of those deals have been consummated. And when American officials point out that a confrontation with Iran over its nuclear ambitions would disrupt the flow of oil out of the Persian Gulf, the Chinese say they are certain it won't come to that.
It is the ultimate three-dimensional chess board, played Chinese style.

www.nytimes.com/2010/09/26/weekinreview/26sanger.html
It may turn out to be an empty slogan: After all, the content of the China Dream — what it is, how to get there — is still vague. It might have something to do with fighting corruption. It clearly has to do with building support for the increasingly distant and elitist Communist Party. But according to the People's Daily, achievement of the China Dream also includes the reversal of the "humiliation" China has long suffered at the hands of foreign powers. Xi seems to be calling for renewed patriotism, and maybe more: "Revitalization" appears to apply to not only the nation but also to its military power and international position.
Which is all fair enough: China is a large and rapidly growing economic power. It's only natural that China should begin to play an important international role. But if that's what Beijing wants, why doesn't it seize the opportunity? The Chinese could begin to play a valuable and prominent international role right now, one that would win their government friends and admirers and might even, over time, reduce the U.S. military presence in North Asia by eliminating one of the region's most serious potential conflicts: Starting today, the Chinese could put an end to the grotesque farce that is the North Korean regime and, together with the United States, usher in the reunification of the Korean peninsula.

www.washingtonpost.com/business/economy/as-chinese-capital-moves-abroad-europe-offers-an-open-door/2013/02/25/72a31eda-7f6f-11e2-b99e-6baf4ebe42df_story.html
Chinese President Xi Jinping no reformer so far, analysts say
China's President Xi Jinping, right, watches a folk dance presentation as his wife, Peng Liyuan, takes a photograph near the Mayan ruins of Chichen Itza in southern Mexico.
(Eduardo Verdugo / Associated Press / June 6, 2013)

www.latimes.com/news/world/worldnow/la-fg-wn-china-xi-20130607,0,515108.story
Writing in Foreign Policy magazine last week, Robin M. Mills, the head of consulting at Manaar Energy, noted that "according to preliminary figures reported this week, China has overtaken the United States as the world's largest net oil importer." Mills described this as a "shift as momentous as the U.S. eclipse of Britain's Royal Navy or the American economy's surpassing of the British economy in the late 19th century. …The United States is set to become the world's biggest oil producer by 2017."

www.nytimes.com/2013/03/13/opinion/friedman-mr-obama-goes-to-israel.html
China's Xi Jinping to party officials: Simplify
By Keith B. Richburg, Published: December 5
BEIJING — Just three weeks after taking over as his country's top leader, Xi Jinping is trying to give Chinese communism a more common touch.
Out are the tedious discourses laden with Marxist-Leninist cliches and clunky references to "Deng Xiaoping thought" and "the Three Represents." In are short, punchy statements marked by plain language and an informal style.
Xi personally signaled the change at a news conference Nov. 15, his first as the Communist Party's general secretary, with brief prepared remarks that stood in sharp contrast to the lengthy, theory-heavy statement delivered by his predecessor, Hu Jintao, when he took the top job in 2002. Among the differences: Xi introduced his fellow Standing Committee members as "my colleagues," where Hu had used the old revolutionary term "comrades."
The more down-to-earth style, which is already affecting the way meetings are run, has now been codified in a set of eight new rules released Wednesday.
"Official meetings should be shorter and to the point," reads one of the new rules, "with no empty rhetoric and rigmarole."
The change also appears directed at the state-run media, which have long inclined to exhaustive, jargon-ridden coverage of even the most mundane activities of senior officials. Reporting on the activities of Politburo members "should be decided by its newsworthiness and should be kept as simple and clear as possible," another new rule says.
Also targeted are the familiar ostentatious displays by officials, whether at home or abroad, that have become a source of derision among the public.
Top-level meetings involving official motorcades should be curtailed in the traffic-congested capital, the rules say. During local inspection tours in the provinces, "extravagant measures are strictly forbidden" and "visits should be made as simple as possible," with "no welcome banner, no red carpet, no floral arrangement or grand receptions."
Foreign trips also should be reduced to those absolutely necessary and include smaller entourages, the rules continue, and "there is no need for a reception by overseas Chinese, institutions and students at the airport."
The new guidelines were greeted positively, to judge by reactions in Wednesday's newspapers and on weibo, China's Twitter-like microblog sites. A People's Daily weibo report on the development was retweeted some 5,700 times within three hours of being posted, according to the official Xinhua News Agency.
The new style is already being felt — or heard — in official meetings.
On Nov. 21, Li Keqiang, China's second-ranked official and expected next premier, hosted a conference on agrarian reform. When local leaders began to read their statements, according to the usual practice, Li interrupted them, according to CCTV and a separate account by Xinhua. "I've read all the reports," he said. "You don't need to read them again." Li then peppered the attendees with specific questions on issues not covered in the written reports.
On Friday, Wang Qishan, the new Standing Committee member in charge of party discipline, held a meeting with anti-corruption experts that left at least one participant with "a brand-new and fresh impression."
First, said Ren Jianming, a professor, Wang chaired the meeting himself, a task that an underling would have taken on in the past. Then, Ren noted, "he asked us to say whatever was on our minds and not just read the notes." Finally, "he gave us time to exchange opinions."
Wang spoke without notes or jargon, Ren said, and told the group that he was introducing the more open, free-flowing meeting style at the behest of Xi.
The new leader has already put the new style on display in public, favoring a casual look and sprinkling his official statements with everyday rhetoric. During a U.S. tour in February, when he was vice president, Xi appeared tieless at a Los Angeles Lakers basketball game and included an advertising jingle and a line from a pop song in speeches.
Touring an exhibition in Beijing last week with several of his new Standing Committee colleagues, Xi wore an open-collared shirt and casual zippered jacket. In a speech on renewing "the Chinese dream," he warned, "Making empty talk is harmful to the nation."
To some outside observers, the changes represent an effort to repair the Communist Party's battered public image.
"It's encouraging to see these kinds of measures," said Cheng Li, an expert on China's elite politics with the Brookings Institution in Washington, adding that the leadership appears determined to restore public confidence. "We should give them credit," he said. "This is not superficial."
The state-controlled media seemed to agree Wednesday.
"These are not hollow slogans," the China Daily newspaper said in its lead editorial. "They point directly at problems that estrange officialdom from the public."

www.washingtonpost.com/world/asia_pacific/chinas-xi-jinping-to-party-officials-simplify/2012/12/05/27df9710-3ef2-11e2-8a5c-473797be602c_story.html
Elite in China Face Austerity Under Xi's Rule
Sim Chi Yin for The New York Times
A branch in Beijing of Xiang E Qing, a restaurant chain popular with government officials, was quiet at lunchtime recently.
By ANDREW JACOBS
Published: March 27, 2013
BEIJING — Life for the almighty Chinese government official has come to this: car pools, domestically made wristwatches and self-serve lunch buffets.
In the four months since he was anointed China's paramount leader and tastemaker-in-chief, President Xi Jinping has imposed a form of austerity on the nation's famously free-spending civil servants, military brass and provincial party bosses. Warning that graft and gluttony threaten to bring down the ruling Communists, Mr. Xi has ordered an end to boozy, taxpayer-financed banquets and the bribery that often takes the form of a gift-wrapped Louis Vuitton bag.
While the power of the nation's elite remains unchallenged, the symbols of that power are slipping from view. Gone, for now, are the freshly cut flowers and red-carpet ceremonies that used to greet visiting dignitaries. This month, military officers who arrived here for the annual National People's Congress were instructed to share hotel rooms and bring their own toiletries.
"Car-pooling feels so good because it provides a way to bond and chat with each other while saving money and increasing efficiency," one senior military official told the People's Liberation Army newspaper.
Not everyone has been so embracing of the change. Last Tuesday, the country's top disciplinary body dismissed six functionaries, including a neighborhood party chief who spent $63,000 to entertain 80 colleagues at a seaside resort, and a county official who marked the opening of new administrative offices by throwing a feast for 290 people.
The crackdown appears to be real, as far as it goes, which may not be very far. After a year of scandal that led to the toppling of a member of the Politburo, Bo Xilai, and numerous reports of widespread official corruption, Mr. Xi's highly public campaign seems aimed at curtailing the most conspicuous displays of wealth by people in power. He has done little to tackle the concentrations of money and power in China's state-directed economy that have allowed numerous members of the Chinese elite and their extended families to amass extravagant fortunes.
Some analysts note that even a modest first step toward reducing corruption, a proposed regulation that would require top officials to disclose their personal assets publicly, appears to be stalled, highlighting the elite's resistance to real change.
Wu Qiang, a political science professor at Tsinghua University in Beijing, expressed cynicism about the moderation campaign, saying it distracted attention from the kinds of political reform necessary to make government more accountable and transparent. "More than just restricting people's eating habits, we need to restrain the party's power, otherwise this is just political farce," he said.
Even so, Mr. Xi has garnered attention and some praise for his eight-point guide for official conduct, which he issued in January. Mr. Xi warned that his administration would swat both "tigers and flies" in the anticorruption drive, which he said was vital for winning back public trust.
"If we don't redress unhealthy tendencies and allow them to develop, it will be like putting up a wall between our party and the people, and we will lose our roots, our lifeblood and our strength," Mr. Xi said.
Mr. Xi's campaign even has a new catchphrase, based on his vision of gastronomic self-restraint: "Four dishes and a soup."
So far, most victims of the frugality drive have been purveyors of the good life: high-end caterers, abalone wholesalers, five-star hotels and makers of Yellow Pavilion cigarettes, the $300-a-carton brand coveted by up-and-coming bureaucrats.
The ripple effects have reached all corners of the economy. First-class airline ticket sales have dropped by a tenth in recent months, and luxury goods dealers have reported a 20 percent to 30 percent decrease in sales. Moutai, the $600-a-bottle gut-searing grain alcohol that is an omnipresent intoxicant at official banquets, has also seen its growth slow recently.
The China Cuisine Association said that 60 percent of restaurants surveyed last month had experienced a drop in reservations, with government-sponsored banquets down by nearly a third compared with the same period last year.
Shen Danyang, a Ministry of Commerce spokesman who in normal times champions consumer spending, seemed to relish this particular slowdown. During a news conference last month, he noted that sales of shark fins had dropped more than 70 percent, and sales of edible swallow nests, the main ingredient of a $100-a-bowl delicacy, were down 40 percent.
To ensure compliance, government investigators have descended on restaurants to comb through receipts in search of large tabs suggesting abusive spending. "Even the big bosses are staying away from fancy restaurants and switching their expensive European wristwatches for Chinese brands until things calm down," said one administrator from China's southwestern Yunnan Province.
Those who sell cigarettes and alcohol say the drop in business has been painful. "I don't know how much longer I can survive," said Li Liuyuan, the owner of a liquor store close to a number of government offices in Beijing, who is going to give over half his business space to a fruit salesman.
Not surprisingly, the campaign is winning high marks from a citizenry long disgusted by the outlandish spending and other acts of arrogance. "It awakens the faith of the masses," said Wang Yukai, a professor at the Chinese Academy of Governance.
In the meantime, restaurants like Xiang E Qing, a chain once popular with government employees, have been left to figure out a way to survive.
At the headquarters for China's armed police, where two branches of the restaurant face each another across a courtyard packed with government-issued Audis, business was down by a third, restaurant executives said. The drop in revenue prompted the company to mothball one of the two restaurants, cut prices on some dishes and start offering half-size dishes to show the company's dedication to Mr. Xi's moderation credo.
To drive home the point, LED screens at the entrances to the restaurant's 35 private dining rooms admonish patrons to "Order according to your needs."
Waiters, whose salaries are partly based on commissions, have seen their salaries drop by a third, forcing many to quit. But many remaining employees say they support the new frugality. "I'd rather see our tax dollars being spent on the poor than paying for government banqueting," Cui Fei, 24, said, standing in a nearly empty dining room one recent afternoon.
Those on the receiving end of socially obligated self-indulgence are also feeling some relief. One entrepreneur, who dines almost nightly with government officials and business associates and did not want to be identified as a result, said such invitations had dropped by half.
"The nightly drinking takes a serious toll," the entrepreneur said, expressing no regret at forgoing the mandated Maotai toasts.
But old ways die hard.
In its investigation into continued abuses, the state-run Xinhua news agency denounced "double-dealing officials who chant frugality slogans but secretly hold extravagant banquets."
Xinhua also discovered a new catchphrase popular among government officials: "Eat quietly, take gently and play secretly."
http://www.nytimes.com/2013/03/28/world/asia/xi-jinping-imposes-austerity-measures-on-chinas-elite.html
Changing of the Guard

Signals in China of a More Open Economy
Carlos Barria/Reuters
The recent Chinese Communist Party conference has laid down the touchstones which will define China's future, says Liu Xiaoming.

www.nytimes.com/2012/12/10/world/asia/chinese-leaders-visit-to-shenzhen-hints-at-reform.html
Openness, reform and peacefulness is transforming modern China
The recent Chinese Communist Party conference has laid down the touchstones which will define China's future, says Liu Xiaoming.
By Liu Xiaoming
4:15PM GMT 10 Dec 2012
The recent National Congress of the Communist Party of China has laid down guidelines for the country's future growth
Photo: REX
Eight years ago, an American scholar tried to explain China's growth with the concept "Beijing Consensus", in a paper published by the Foreign Policy Centre in London. But it doesn't tell the whole story. Recently, I attended the 18th National Congress of the Communist Party of China in Beijing. This historic event made me feel that the congress was getting the entire Chinese society behind a China Consensus. This consensus will draw up the blueprint for China's development and bring together the whole nation. This consensus will lead China to a better future.
"China Consensus" runs through Mr Hu Jintao's report at the congress. There are five key aspects to it.
First, scientific development. China is now at a critical juncture. We need to build on the past and plan for the future. We face both opportunities and challenges. What kind of development does China want? How should China achieve it? This is a major subject China needs to think hard about. The answer produced at the congress is as follows.
China will continue to focus on economic development. But there is strong stress to secure sustainable development with heavy investment in education and science. A core objective is to improve people's lives. This will be done by adjusting China's economic growth model, continuing with political reform, strengthening core values and protecting the environment. What we aim for is not only a prosperous China, but also a beautiful China. This approach that puts people first and stresses comprehensive, holistic, coordinated and sustainable development is what we call a "scientific outlook on development". It is a basic guideline for China's future development.
Second, a policy of reform and opening up. China owes its remarkable growth over the past three decades to such policies. We need to press ahead further, to turn China into a well-off society by 2020 and make China a modern country that is rich, strong, culturally advanced and harmonious by the middle of this century. Moreover, China's reform will be comprehensive, including both economic and political reforms. Its opening up will be all dimensional. In the coming years, reform will be in the foreground of China's governance and statecraft. Innovation will be order of the day.
Third, stability and harmony. In the past two centuries China lost much time to constant foreign aggression, civil wars and turmoils. It did not concentrate on economic development until the launch of its policies of reform and opening up in 1978. Yet in these roughly 30 years of stability, unmatched changes took place in China. Over 600 million people have been lifted out of poverty. This tells that stability and reform go hand in hand. The 18th Congress symbolised this stability, with China delivering an orderly change of leadership that has become institutionalised. At the same time China aims to uphold social equity and justice through its form of democracy and rule of law particularly to fight against corruption. This will in turn help maintain social stability.
Fourth, peaceful development. China wants to see less conflict, more peace, less confrontation, more cooperation, less poverty, more prosperity. China is committed to a path of peaceful and sustainable development. We oppose hegemony in any form. China will not interfere in internal affairs of other countries. We will neither compete with others for dominance nor pose a threat to others. In its opening up, China always seeks win-win situations. We want to contribute our share to strong, sustainable and balanced growth of the world economy through greater cooperation with others. We want friendly cooperation with all countries. We want to build a new type of relationship with developed countries like Britain, the relationship that is long, stable and healthy.
Fifth, Chinese characteristics. Every country has its own national realities. In China's case, it has a history of 5,000 years. It is a socialist country. It has 1.3 billion people. It is also the world's largest developing country. These are the parameters that define China. They decide that China cannot copycat the social system and experience of other countries. Recent history proves China's system works well because we have drawn on strengths of others and adapted it to China's national conditions. As a large country, China must have confidence in its development path, system and theory. In practice, we will further enrich and calibrate them. We want them to bear the hallmark of China and catch the beat of the times.
These five points embrace the spirit of the China Consensus, and this was at the core of the deliberations of the 18th congress. The "China Consensus" built at the 18th CPC National Congress holds the key to China's many successes.
Liu Xiaoming is China's ambassador to Great Britain

www.telegraph.co.uk/news/worldnews/asia/china/9734322/Openness-reform-and-peacefulness-is-transforming-modern-China.html
Chinese Officials Find Misbehavior Now Carries Cost
By ANDREW JACOBS
Published: December 25, 2012
BEIJING — The Chinese have become largely inured to tales of voracious officials stockpiling luxury apartments, $30,000 Swiss watches or enough stolen cash to buy their mistress a Porsche.
But when images of a bulbous-faced Communist Party functionary in southwest China having sex with an 18-year-old girl spread on the Internet late last month, even the most jaded citizens took note — as did the local party watchdogs who ordered his dismissal.
These have been especially nerve-racking times for Chinese officials who cheat, steal and bribe. Since the local bureaucrat, Lei Zhengfu, became an unwilling celebrity here, a succession of others have been publicly exposed. And despite the usual cries of innocence, most have been removed from office while party investigators sort through their bedrooms and bank accounts.
In the weeks since the Communist Party elevated a new slate of top leaders, the state media, often fed by freelance vigilantes, have been serving up a head-spinning collection of scandals.
Highlights include a deputy district official in Shanxi Province who fathered 10 children with four wives; a prefecture chief from Yunnan with an opium habit who managed to accumulate 23 homes, including 6 in Australia; and a Hunan bureaucrat with $19 million in unexplained assets who once gave his young daughter $32,000 in cash for her birthday.
"The anticorruption storm has begun," People's Daily, the party mouthpiece, wrote on its Web site this month.
The flurry of revelations suggests that members of China's new leadership may be more serious than their predecessors about trying to tame the cronyism, bribery and debauchery that afflict state-run companies and local governments, right down to the outwardly dowdy neighborhood committees that oversee sanitation. Efforts began just days after Xi Jinping, the newly appointed Communist Party chief and China's incoming president, warned that failing to curb corruption could put the party's grip on power at risk.
"Something has shifted," said Zhu Ruifeng, a Beijing journalist who has exposed more than a hundred cases of alleged corruption on his Web site, including the lurid exertions of Mr. Lei. "In the past, it might take 10 days for an official involved in a sex scandal to lose his job. This time he was gone in 66 hours."
The licentiousness of Qi Fang, the public security chief of a small city in the far west, probably deserves a prize for originality. This month, an Internet sleuth revealed that Mr. Qi was maintaining two young sisters as mistresses. The sisters, as luck would have it, had also landed police department jobs and shared an apartment bankrolled by the city.
Mr. Qi lost his post, but not before denying any mischief and correcting one detail of the story: the sisters, contrary to earlier reports, are not twins.
Still, for all the salaciousness associated with the latest scandals, analysts say it is too soon to know whether Mr. Xi and other senior leaders have the stomach to wage a no-holds-barred war on the party's pervasive corruption.
They point out that most of the recent scandals were uncovered by journalists, anonymous citizens or disgruntled colleagues who posted photographs and other damning allegations on the Internet, forcing the authorities to respond. Also significant is that most of those ousted were relatively minor officials.
The manager of a major Chinese Internet company said the party was effectively abetting the anticorruption free-for-all by declining to pull the plug on the online denunciations. But he said there was an implicit understanding that high-ranking officials were off limits.
"For now it's spontaneous," said the manager, who asked that the name of his company be withheld because of the political sensitivities involved. "But we also understand the parameters."
This month, Luo Changping, deputy managing editor at the enterprising newsmagazine Caijing , published accusations on his microblog about improper business dealings by Liu Tienan, the director of China's National Energy Administration. The postings, which also included charges that Mr. Liu had fabricated his academic qualifications and had threatened to kill his mistress, have caused something of an earthquake, given that they targeted such a high-level official. Just as astonishing, many say, is that Mr. Luo's claims remain undeleted by censors despite Mr. Liu's denials of wrongdoing.
Mr. Zhu, the online journalist who exposes official impropriety, has also been surprised to find his Web site untouched a month after he ran five-year-old images of Mr. Lei engaged in lusty acrobatics with the 18-year-old in a hotel room. In the past, Mr. Zhu said, his site was often blocked after each revelation, usually followed by a menacing visit from security officials.
"This time, I received a call from the Beijing police saying that they had received instructions to protect me," he said in amazement.
With four more damning videos in his possession, Mr. Zhu has promised encores — once he can verify the identities of the main actors.
In the absence of any new policies from the central government, many Chinese have been left to parse the words of Mr. Xi and Wang Qishan, the new head of the central agency that investigates misconduct among party members.
"In recent years," Mr. Xi said during his inaugural speech on Nov. 15, "some countries have stored up problems for a long time leading to public anger and outcry, civil unrest and regime collapse. Corruption has been a very important factor in this."
Even more telling are reports that Mr. Wang has been urging officials to read Alexis de Tocqueville's "The Old Regime and the Revolution," a 19th-century analysis of the unbridled excess among French aristocrats that ended with the guillotine. Gao Yi, a history professor at Peking University, said Mr. Wang's message was clear: "The biggest failing of the old regime was the corruption of the rulers," he told the 21st Century Business Herald.
The warnings appear to be having some impact within the party hierarchy. Real estate brokers in at least two provinces say they have been inundated by anxious government officials desperate to unload property they fear could attract unwanted scrutiny, The Oriental Morning Post reported Monday.
Wang Baolin, a former lowly official in the southern city of Guangzhou, provided a glimpse of the pervasive culture of corruption during his recent trial on charges that the $3.3 million in his bank account was of dubious provenance. Seeking to explain his behavior, Mr. Wang said he had no choice but to take bribes. "If I didn't take them, I'd offend too many people," he said.
Mr. Xi is not the first Chinese leader to rail against official vice and venality. Hu Jintao, China's departing president, called graft a "time bomb buried under society." Former Premier Zhu Rongji vowed to give his life in the fight against official malfeasance. "I'll have 100 coffins prepared," he said after taking office in 1998. "Ninety-nine are for corrupt officials, and the last one is for myself."
Mr. Zhu is still around; his son, Zhu Yunlai, became head of one of China's biggest investment banks shortly after his father left office.
Critics say members of the party elite fear that any far-reaching crackdown might hit too close to home, given how many of their relatives have profited from the proximity to power. Immediate family members of Wen Jiabao, China's departing prime minister, have controlled assets worth at least $2.7 billion, The New York Times revealed in October, even as he projected an image of frugality.
Many of Mr. Xi's relatives, especially his older sister, have also done well in recent years, with hundreds of millions of dollars in corporate holdings and at least a half-dozen high-end properties in Hong Kong, an investigation by Bloomberg News found in June.
There is no indication either Mr. Xi or Mr. Wen benefited from the business dealings of his relatives. But the perception that family members of ranking officials have grown rich from their connections has long angered many Chinese.
A businessman who knows several senior leaders said they had been taken aback by the rash of Internet-based denunciations. "There will be less waste and graft for a while," he said. "But that was true when Hu Jintao came in, and then look how things turned out by the time he left."
Already, the state media have begun to urge caution, and one newspaper editor in Beijing said propaganda officials had been seeking to impose some restrictions on exposés. And experts note that Chinese leaders have so far refused to even consider the key ingredients needed to root out corruption: governmental transparency, a system of checks and balances, a free press and an independent judiciary.
"Without effective institutions," said Li Xinde, who runs a Web site that exposes corrupt officials, "anticorruption campaigns can just become a tool for settling scores."

www.nytimes.com/2012/12/26/world/asia/corrupt-chinese-officials-draw-unusual-publicity.html
Chinese official sacked after 'citizen journalists' expose extravagant banquet
Video and pictures of lavish dinner emerge after campaigners gatecrash event hosted by Communist boss in Jiangsu province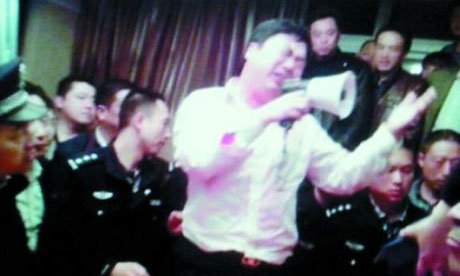 A video grab by the Chinese news site Sina shows Zhang Aihua pleading for forgiveness on a table after hosting an opulent party.
Photographs: Sina Weibo

www.guardian.co.uk/world/2013/apr/25/china-official-sacked-extravagant-banquet
China bans 'gift' ads in effort to curb corruption
By Simon Rabinovitch | Financial Times, Published: February 6
BEIJING — China has banned television advertisements touting expensive watches, gold coins and other luxury items as "gifts for leaders" because of concerns that they will undermine public faith in government.
The country has been hit by a wave of corruption scandals in recent months, with a string of officials exposed as owning vast numbers of homes, luxury watches and other trappings of illicit wealth.
Xi Jinping, who will become president in March, has launched a campaign to clean up the system, vowing to target the "tigers and flies" — both the high- and low-ranking officials — who have benefited from graft. Amid growing public anger over inequality, Xi has warned that corruption could "lead to the ruin" of the ruling Communist Party and the nation as a whole.
The new advertising rules issued by the State Administration of Radio, Film and Television (SARFT), a censor-cum-regulator, are the latest in Xi's austerity drive. He has ordered civil servants to spend less on banquets; the military has barred soldiers from drinking liquor at official meals; and state-owned companies dramatically scaled back the parties they threw ahead of the Chinese New Year holiday, which begins next week.
SARFT, which regularly bans television shows seen as too racy or politically subversive, said broadcasters have a responsibility to support Xi's efforts to stamp out ostentatious displays of power and privilege.
"Some television and radio stations have broadcast advertisements with 'gift giving' slogans such as 'premium gift choice,' 'a gift for leaders' and 'giving honor to your superiors,' and the ads have been for a wide range of products including famous watches, rare stamps and commemorative gold and silver coins," it said in a statement published on its Web site Wednesday.
"These ads transmit an incorrect value system and can easily foster a harmful social atmosphere," it added.
The regulator ordered broadcasters to stop such ads from reaching the nation's airwaves.
It was not clear how strictly it would enforce the new rules — whether it would interpret them literally, barring only ads that use the forbidden phrases, or whether it would take aim at any ad that carries the insinuation of gift-giving.
"As a cosmetic exercise, it's all about pleasing a group of people who are never going to get given a gift," said Paul French, chief China market strategist at Mintel, a market research firm. "The trouble with this advertising is that lots and lots of people who are never going to be able to afford one of those watches get to see it."
The steady drumbeat of anti-corruption messages from Beijing has already had a chilling effect on the market for luxury products, from jewelry to high-end liquor, in recent months. However, some analysts believe the dip in sales might prove short-lived, as has happened when previous campaigns against graft have ended.
Gift-giving is seen as an integral part of building successful work relationships in China, and it can be a practiced art. China Central Television, the main state-run broadcaster, has devoted entire business programs to guiding people through the complex process of figuring out what are appropriate gifts to give bosses.
Scores of Web sites also provide a similar service. One site, lingdao.liyi99.com, offers tailored selections of jade, gold, tea and ceramics depending on whether one is buying a gift for a male or female leader, and whether the occasion is a holiday, a promotion or a wedding.

www.washingtonpost.com/world/asia_pacific/china-bans-gift-ads-in-bid-to-curb-graft/2013/02/06/fd98295a-707d-11e2-a050-b83a7b35c4b5_story.html
Vows of Change in China Belie Private Warning
By CHRIS BUCKLEY
Published: February 14, 2013
HONG KONG — When China's new leader, Xi Jinping, visited the country's south to promote himself before the public as an audacious reformer following in the footsteps of Deng Xiaoping, he had another message to deliver to Communist Party officials behind closed doors.
Despite decades of heady economic growth, Mr. Xi told party insiders during a visit to Guangdong Province in December, China must still heed the "deeply profound" lessons of the former Soviet Union, where political rot, ideological heresy and military disloyalty brought down the governing party. In a province famed for its frenetic capitalism, he demanded a return to traditional Leninist discipline.
"Why did the Soviet Union disintegrate? Why did the Soviet Communist Party collapse? An important reason was that their ideals and convictions wavered," Mr. Xi said, according to a summary of his comments that has circulated among officials but has not been published by the state-run news media.
"Finally, all it took was one quiet word from Gorbachev to declare the dissolution of the Soviet Communist Party, and a great party was gone," the summary quoted Mr. Xi as saying. "In the end nobody was a real man, nobody came out to resist."
In Mr. Xi's first three months as China's top leader, he has gyrated between defending the party's absolute hold on power and vowing a fundamental assault on entrenched interests of the party elite that fuel corruption. How to balance those goals presents a quandary to Mr. Xi, whose agenda could easily be undermined by rival leaders determined to protect their own bailiwicks and on guard against anything that weakens the party's authority, insiders and analysts say.
"Everyone is talking about reform, but in fact everyone has a fear of reform," said Ma Yong, a historian at the Chinese Academy of Social Sciences. For party leaders, he added: "The question is: Can society be kept under control while you go forward? That's the test."
Gao Yu, a former journalist and independent commentator, was the first to reveal Mr. Xi's comments, doing so on a blog hosted by Deutsche Welle, a German broadcaster. Three insiders, who were shown copies by officials or editors at state newspapers, confirmed their authenticity, speaking on the condition of anonymity because of the risk of punishment for discussing party affairs.
The tension between embracing change and defending top-down party power has been an abiding theme in China since Deng set the country on its economic transformation in the late 1970s. But Mr. Xi has come to power at a time when such strains are especially acute, and the pressure of public expectations for greater official accountability is growing, amplified by millions of participants in online forums.
Mr. Xi has promised determined efforts to deal with China's persistent problems, including official corruption and the chasm between rich and poor. He has also sought a sunnier image, doing away with some of the intimidating security that swaddled his predecessor, Hu Jintao, and demanding that official banquets be replaced by plainer fare called "four dishes and a soup."
Yet Mr. Xi's remarks on the lessons of the Soviet Union, as well as warnings in the state news media, betray a fear that China's strains could overwhelm the party, especially if vows of change founder because of political sclerosis and opposition from privileged interest groups like state-owned conglomerates. Already this year, public outcries over censorship at a popular newspaper and choking pollution in Beijing have given the new party leadership a taste of those pressures.
Some progressive voices are urging China's leaders to pay more than lip service to respecting rights and limits on party power promised by the Constitution. Meanwhile, some old-school leftists hail Mr. Xi as a muscular nationalist who will go further than his predecessors in asserting China's territorial claims.
The choices facing China's new leadership include how much to relax the state's continuing grip on the commanding heights of the economy and how far to take promises to fight corruption — a step that could alienate powerful officials and their families.
"How can the ruling party ensure its standing during a period of flux?" asked Ding Dong, a current affairs commentator in Beijing. "That's truly a real challenge, and it's creating a sense of tension and latent crisis inside the party."
Mr. Xi and his inner circle have about 18 months to consolidate power and begin any big initiatives before preparations for the next Communist Party Congress and leadership reshuffle in 2017 start to consume elite attention, said Christopher Johnson, an analyst on China at the Center for Strategic and International Studies in Washington.
"For now, he's a guy who's trying to be two things at once," said Mr. Johnson, formerly a senior China analyst for the C.I.A. "The question is: How long will they be able to get by with gestures like four dishes and a soup before they have to make the hard choices?"
So far, Mr. Xi has been busy distinguishing himself from his predecessor through an energetic succession of visits and speeches. Mr. Hu, who formally remains state president until next month, when Mr. Xi will take over that post, also came to power accompanied by widespread expectations of change. But he proved to be a rigidly unadventurous leader.
In recent weeks, Mr. Xi has promised to clean up Beijing's noxious smog and make it easier to hail a cab on the city's congested streets. Before that, Mr. Xi also vowed that the party would allow "sharp criticism" of its failings, and said "power must be held in an institutional cage."
Censors have allowed photographs showing Mr. Xi as a relaxed man of the people to spread on the Internet, including one of a jolly encounter with a man in a Santa Claus costume during a trip overseas.
Mr. Xi "doesn't want to be known as Hu Jintao is known, as someone who didn't make much progress," said Ezra Vogel, an emeritus professor of social sciences at Harvard University who recently visited China, a country he has studied for decades.
Yet Mr. Xi has qualified his promises in ways that have already disappointed some proponents of faster market-driven change and political liberalization. In one speech, Mr. Xi said that change must be piecemeal, citing Deng's dictum that progress is made "crossing the river by groping stones." In another, he said Mao Zedong's era of revolutionary socialism should not be dismissed as a failure.
He has also repeatedly demanded that the military show unflinching loyalty — a principle that, in his view, the Soviet Communist Party under Mikhail S. Gorbachev fatally failed to uphold.
Mr. Xi, 59, is the son of a revolutionary who worked alongside Mao until he was purged and jailed. A senior commentator for a major Chinese newspaper said that political patrimony had made Mr. Xi even more sensitive to showing that "while talking about reform, he also wants to tell the party that he won't become a Gorbachev."
Unlike the former Soviet leader, Mr. Xi presides over an economy that, for all its hazards, has grown robustly over three decades, propelling China to greater international influence. But Chinese officials have warned that rising stature is also generating external rivalries and domestic demands that would magnify the damage from political missteps and schisms.
"We're a major power, and we absolutely cannot allow any subversive errors when it comes to the fundamental issues," Mr. Xi told party officials in Guangdong. "If that happens, there's no going back."

www.nytimes.com/2013/02/15/world/asia/vowing-reform-chinas-leader-xi-jinping-airs-other-message-in-private.html
China curbs use of coveted military license plates in latest anti-corruption move

www.washingtonpost.com/world/asia_pacific/china-curbs-militarys-luxury-cars/2013/04/01/264d2eba-9ac0-11e2-9a79-eb5280c81c63_story.html
New traffic rule deems yellow the new red on China's rules, confusing and angering drivers

www.washingtonpost.com/world/asia_pacific/new-traffic-rules-deem-yellow-the-new-red-on-chinas-rules-confusing-and-angering-drivers/2013/01/02/ce358b68-54bb-11e2-89de-76c1c54b1418_story.html
In China, Power Is Arrogant
By YU HUA
Published: May 8, 2013
BEIJING

In late 2010, Chinese customs officials imposed an import tax of 1,000 yuan (about $150 then) on every iPad brought into the country. Ignoring the fact that iPads differ in features and prices, officials set a single tariff: 20 percent of the tablet's listed 5,000-yuan value. People who paid 3,000 yuan for an iPad in Hong Kong — where smartphones and other electronics are much cheaper than on the mainland — were charged the same tariff. Even Chinese tourists returning home with their own iPads, bought in China, were taxed!
This levy, imposed without prior warning, provoked a torrent of criticism. Even the Commerce Ministry registered disapproval, fearing that the levy would violate China's commitments as a member of the World Trade Organization, which it joined in 2001.
As I set off for an overseas trip in January 2011, I asked the staff at the Beijing airport how to report that I would be leaving the country with an iPad, so as to avoid being taxed when I returned.
The first four people I asked said they didn't know; the fifth told me the levy had been revoked. (In fact, the tax was cut in half, but not rescinded entirely.)
"Why hasn't this change been publicized?" I asked.
"Why should it be?" he retorted. "When first implemented, it wasn't publicized, either."
If the central government's decrees are opaque, local authorities' can be downright ridiculous. In 2001, hospital officials in the southern city of Shenzhen specified that nurses should show precisely eight teeth when smiling. In 2003, Hunan Province, in central China, stipulated that the breasts of female candidates for civil-service positions should be symmetrical. The next year, public safety officials in the northern city of Harbin ruled that policemen whose waistlines exceeded 36 inches had to go. In 2006, transportation officials in Zhejiang Province, just south of Shanghai, banned employees from sporting facial hair. The following year, in an effort to reduce the school-dropout rate, Pinghe County in Fujian Province, on the southeast coast, decreed that a junior high school diploma was required to marry.
Several of these rules have since been revoked, but their wacky and arbitrary nature demonstrates the arrogance of power in China. One can imagine all too easily their creators — sitting in comfortable armchairs, drinking high-grade tea and smoking fine cigarettes — discussing the issues at hand as if they were purely intellectual abstractions, never considering how ordinary people might react. That people will be unhappy is no cause for concern because, for so long, the power of the state has trampled on individual rights. Only when rules are so onerous that they stir actual protest do higher-ups take notice: "You guys are just making a mess of things," they'll tell their bureaucrat underlings. "This is not good for social stability." The rules are then quietly rescinded — sometimes.
Often, regulations are even inconsistent with national laws. Take, for example, revised driving regulations that went into effect on Jan. 1. To reduce the accident rate on Chinese highways, the Public Security Ministry came out with what have been called particularly harsh rules. The imposition of a six-point penalty for running a yellow light produced howls of protest. (In China, a 12-point penalty leads to revocation of a license.)
To many, the yellow-light rule seemed certain to cause an increase in rear-end collisions. Even the official media raised questions. "According to Clause 26 of China's traffic safety law, signals consist of red, green and yellow lights," the state-controlled Xinhua News Agency patiently explained. "The red light prohibits passage, the green light allows it, while the yellow light signifies warning. Each signal has a separate function, and now to nullify the distinction between yellow light and red light is not only unfeasible but also in conflict with current law." The ministry backed down and downgraded the penalty to a warning.
During all the kerfuffle, a joke began to circulate:
A man fails to return home one wintry night. When he shows up the next morning, his wife demands an explanation.
"The traffic light at the corner kept blinking yellow," he says, "and it didn't go back to operating normally until just now. I would have been docked six points if I'd run the yellow light — or nine if I'd tried to make a U-turn at an intersection."
"Why didn't you at least call me?"
"You get docked three points if you use a phone while driving."
The man is shivering uncontrollably. His wife asks: "How did you get this cold, just sitting in the car?"
"It was snowing so hard I had to keep clearing off the license plate — you're docked a full 12 points if the number is obscured."
Yu Hua, the author of "China in Ten Words," is a guest columnist. This column was translated by Allan H. Barr from the Chinese.
www.nytimes.com/2013/05/09/opinion/yu-in-china-power-is-arrogant.html
Particularly in comparison to ex-president Hu, who is known for his diffidence and indecisiveness, Xi has striven to strike the pose of a gung-ho strongman who does not mince words. Immediately upon becoming Chairman of the Central Military Commission, he told different units of the People's Liberation Army "to be ready when called upon, to fight effectively and to win wars." On improving party discipline, Xi indicated that "to forge iron, you need a strong hammer." Regarding his favorite concept of "self-confidence in the road [of the party]," the party chief laid down this down-to-earth aphorism: "Where is the road? It's just under our feet." While late patriarch Deng advised his colleagues "to cross the river while feeling out for the boulders," Xi's recommendation as bold as it is straightforward: "Open up a road if you are blocked by mountains; build a bridge if you come across a river" (Apple Daily, April 16; Xinhua, November 14, 2012; People's Daily, December 5, 2012).
Over at the revamped Defence Ministry — no longer the meek Self-Defence Force — a top military planner showed me maps detailing the movement of Chinese DDG warships and Yuan-class submarines through Japanese waters. The pressure point is Okinawa, a fresh source of controversy as Chinese academics start laying claim to that island as well. "If they can build a radar site in the Senkakus, it would be major strategic asset," he said.
"What we don't know is whether Chinese officers follow any international code of conduct? Do they understand what is banned and not banned?
"Does the Communist Party control their own military? Two thousand years ago under the Han Dynasty, the emperor put his right hand on the wheel of his chariot and told his general that everything inside the borders was the domain of the emperor, and everything outside was left to the commander. That has plagued China throughout its history, and it is the delicate issue we now face," he said.
I pass these comments on to readers with a health warning since I have not heard the Chinese side of the story, at least not in such intimate detail, but what is clear is that trust between China and Japan has almost completely broken down. The East China Sea has become the most explosive fault-line in the world.
www.telegraph.co.uk/finance/comment/ambroseevans_pritchard/9950791/The-dangerous-drift-towards-world-war-in-Asia.html
March 12, 2013, 10:31 p.m. ET
For Xi, a 'China Dream' of Military Power
By JEREMY PAGE
BEIJING—Soon after taking over as Communist Party and military chief, Xi Jinping launched a series of speeches referring to "The China Dream."
Xinhua/ Zuma Press
Chinese Communist Party leader Xi Jinping visited the destroyer Haikou in December and spoke of the 'dream of a strong military.'
It was music to the ears of Col. Liu Mingfu of the People's Liberation Army.
Three years ago, the former professor at its National Defense University wrote a book of the same name, arguing that China should aim to surpass the U.S. as the world's top military power and predicting a marathon contest for global dominion. The book flew off the shelves but was pulled over concerns it could damage relations with the U.S., according to people familiar with its publication.
The day after Mr. Xi's first "China Dream" speech, however, Col. Liu's publisher called to say he had gotten approval to launch a new edition. Now, it is on display in the "recommended books" section of a state-run bookstore.
"I don't know if he read the book, but he has sent a strong message," Col. Liu said in an interview at his apartment here, leaping to his feet with excitement to leaf through letters of support. "He could have grasped the economy, or some social issues, but instead he grasped the military."
Xinhua/Associated Press
China's first aircraft carrier, Liaoning, which was launched last year
As Mr. Xi prepares to add Chinese president to his other titles on Thursday, during a parliament meeting that caps a once-a-decade leadership change, "The China Dream" has become his signature. Officially defined as the rejuvenation of the Chinese nation, it in some ways echoes previous leaders dating back to the Qing Dynasty's collapse in 1912. But Mr. Xi is making the idea his own by giving it a strikingly military flavor.
"This dream can be said to be the dream of a strong nation. And for the military, it is a dream of a strong military," Mr. Xi told sailors in December on board the Haikou, a guided-missile destroyer that has patrolled disputed waters in the South China Sea. "To achieve the great revival of the Chinese nation, we must ensure there is unison between a prosperous country and strong military."
Mr. Xi has also made high-profile visits to army, air force, space program and missile command facilities in his first 100 days in office, something neither of his two immediate predecessors did. He has taken personal control of China's military response to a newly inflamed territorial dispute with Japan. And he has launched a campaign to enhance the armed forces' capacity to "fight and win wars."
All this leads many diplomats, party insiders and analysts to believe Mr. Xi is casting himself as a strong military leader at home and embracing a more hawkish worldview long outlined by generals who think the U.S. is in decline and China will become the dominant military power in Asia by midcentury.
In doing so, they say, Mr. Xi is setting the stage for a prolonged period of tension between China and its neighbors, as well as for a potentially dangerous tussle for influence with a U.S. that is intent on reasserting its role as the dominant Pacific power.
He has even set a precise date for the fulfillment of his dream: 2049, the 100th anniversary of the Communist takeover of China.
No doubt Mr. Xi has a domestic political agenda. As the son of a revolutionary leader, he has strong family ties to the military and a keen appreciation for its role in elite Chinese politics. In another speech, he made clear he believes the Soviet Union collapsed largely because the Soviet Communist Party lost command of the military.
Some believe Mr. Xi is trying to build support among China's powerful generals as a prelude to launching potentially disruptive economic and other reforms, including moves to curb corruption within the military itself. Others suspect he is trying to distract attention from problems that could derail Chinese growth, especially official corruption and abuse of power, an issue highlighted by the Bo Xilai scandal last year.
More broadly, Mr. Xi is determined to set himself apart from his predecessor, Hu Jintao, who was popularly viewed as relatively weak and colorless, say party insiders, family friends, diplomats and analysts.
Whatever his domestic goals, Mr. Xi's military posturing represents a clear break with the past that has potentially profound implications for China's foreign and defense policies.
"I think this reflects Xi's mind-set, his view of China's strength and relations with the outside world," said Li Mingjiang, an assistant professor and China security-policy expert at Nanyang Technological University in Singapore. "Given his close personal ties, a lot of the information and policy suggestions he gets come from the military."
For three decades, the foundation of China's international relations has been the principle of taoguang yanghui—"hiding capabilities and biding one's time"—which was promoted by the late leader Deng Xiaoping.
Jiang Zemin, who became party and military chief in 1989 but had little authority over the generals until Mr. Deng's death in 1997, eventually won them over with defense-spending increases but kept them focused on building the capacity to defend borders and retake Taiwan.
After Mr. Hu became party chief in 2002, he kept a low military profile, not least because Mr. Jiang remained commander-in-chief until 2004. He focused on China's "peaceful rise," a term later toned down to "peaceful development." Although Mr. Hu encouraged the military to take on broader responsibilities, such as cybersecurity, he stressed their defensive nature.
By contrast, Mr. Xi has quickly asserted his authority over the 11-man Central Military Commission, on which he is the sole civilian. Among his first moves was to issue orders for the armed forces to focus on "real combat" and "fighting and winning wars," suggesting to many observers preparation for conflict beyond China's borders.
Mr. Xi also has added a qualification to Mr. Hu's signature foreign-policy idea: "We will stick to the road of peaceful development," he recently told the Politburo, according to the Xinhua news agency, "but we absolutely will not abandon our legitimate rights and interests, and absolutely cannot sacrifice core national interests." In China, the "core interests" term is taken to mean issues of sovereignty over which China would be prepared to go to war.
Mr. Xi has backed up his words with actions, overseeing a military response to the territorial dispute with Japan that included scrambling Chinese fighter jets and, according to Japanese and U.S. officials, locking weapons-guiding radar onto a Japanese ship and helicopter. Chinese officials deny those incidents.
"The Chinese are making up their own rules," said one U.S. military official, who described the radar incidents as "a serious escalation."
Mr. Xi's words and actions have played well with the Chinese public, as well as with military hawks like "China Dream" author Col. Liu. He and other outspoken officers don't reflect official policy but play an important part in molding public opinion, and do reflect the mind-set of more senior commanders, analysts say.
Col. Liu's book has a preface by Gen. Liu Yazhou, the political commissar of the National Defense University. "In my opinion," the general writes, "the competition between China and the U.S. in the 21st century should be a race, that is, a contest to see whose development results are better, whose comprehensive national power can rise faster, and to finally decide who can become the champion country to lead world progress."
Gen. Liu is among a small group of officers who have met regularly in private with Mr. Xi and helped to shape his strategic worldview, say people familiar with the matter.
For three years or so, many U.S. and Asian officials have attributed China's more assertive behavior, especially on territorial issues, partly to military hawks exerting pressure on a weak civilian leadership through the media, academia and informal lobbying channels.
Now those U.S. and Asian officials' concern is that Mr. Xi, while establishing clear authority over China's generals, has endorsed the more muscular approach to international relations, and a more prominent role for the military in China's development. Since his speech aboard the destroyer, China's military newspapers have been peppered with references to the "dream of a strong military" and the need for "combat readiness."
The PLA's General Staff Office published an article in Qiushi, the official journal of the party's Central Committee, in February that said: "History and reality show us that what determines the political and economic pattern of the world is, in the final analysis, a comparison of great powers' strength, and ultimately depends on force."
The PLA has also issued instructions for training to focus on real combat. Recently it for the first time published a schedule of exercises for the year, which will consist of 40 drills involving joint air-land combat and live fire operations on the open sea.
"Make no mistake, the PRC Navy is focused on war at sea and about sinking an opposing fleet," said Capt. James Fanell, deputy chief of staff for intelligence and information operations for the U.S. Pacific Fleet, at the U.S. Naval Institute in January. "In terms of their ultimate goals, they write a lot about national rejuvenation—restoration of China's rightful place. Well, we have to say: What does that mean? Where were they when they were back in their rightful place?"
For PLA commanders, according to many analysts, the dream of a strong military means securing the defense-spending increases needed to fund costly weapons programs such as aircraft carriers and stealth fighter jets, even as economic growth slows over the next decade.
The PLA has been focused for much of the past decade on developing and deploying the weapons it believes it needs to deny U.S. forces access to waters around China's shores. But while wary of entering an arms race with the U.S., it is increasingly preoccupied with enhancing capabilities to operate farther afield and establishing China as a maritime power.
"Even a blind man could see there is going to be a butter-versus-guns debate not far down the road," said Kenneth Lieberthal, an expert on Chinese politics at the Brookings Institution in Washington.
Many Chinese and foreign analysts see Mr. Xi's military stance, especially regarding the territorial dispute with Japan, as a direct response to the U.S. "pivot" toward Asia.
The short-term aim, those analysts say, is to discourage countries that have territorial disputes with China from feeling emboldened by the U.S. strategy of focusing more on Asia. Longer term, the goal is to convince the U.S. that the strategy is unsustainable, given financial pressures on the Pentagon and China's expanding power.
"China's strength can play a positive role in the region," said Xu Guangyu, a retired PLA general and now a senior researcher at the China Arms Control and Disarmament Association. "It's a strategic mistake for the U.S. to rely on Japan for its rebalancing in Asia."
One U.S. military adviser said Chinese military strategists see China becoming the dominant power in Asia by midcentury, by which time they believe the world will be divided into spheres of influence dominated by at least four great powers: China, the U.S., the European Union and Russia.
That view also appears to be reflected in Mr. Xi's main foreign-policy initiative, which is a proposal to redefine China's relationship with the U.S. as one between equal "great powers."
U.S. officials and analysts are still waiting for details about the proposal. But many foreign governments fear it is an attempt to curb U.S. influence in Asia, in much the way the U.S. sought to restrict European meddling in the Americas with the Monroe Doctrine in the early 19th century.
War remains an unlikely prospect, say most observers. Even Col. Liu, whose next book is titled "Why the People's Liberation Army Can Win," didn't predict war in "The China Dream," seeing instead a protracted competition that Beijing is destined to win.
Lee Kuan Yew, the former Singaporean leader, has said that Chinese leaders recognize they can't confront the U.S. militarily until they have overtaken it in terms of the development and application of technology. Nonetheless, he says he is sure they aspire to displace the U.S. as the leading power in Asia.
"The 21st century will be a contest for supremacy in the Pacific because that is where the growth will be," Mr. Lee was quoted as saying in a recently published book. "If the U.S. does not hold its ground in the Pacific, it cannot be a world leader."
http://online.wsj.com/article/SB10001424127887324128504578348774040546346.html
China Channels Billy Mitchell: Anti-Ship Ballistic Missile Alters Region's Military Geography
Publication: China Brief Volume: 13 Issue: 5March 4, 2013 02:11 PM Age: 8 days
By: Andrew S. Erickson

www.jamestown.org/single/?no_cache=1&tx_ttnews%5Btt_news%5D=40542&tx_ttnews%5BbackPid%5D=13&cHash=16af62d10679bcd122c4bffdd93c8667
America's China mistake
As Beijing becomes more bellicose, Washington clings to the hope that military-to-military relations will somehow relieve tensions. They won't.
China's navy has been invited to participate in the 2014 Rim of the Pacific naval exercise to be held off Hawaii.
(Andy Wong / Associated Press / May 29, 2013)
By Gordon G. Chang and James A. Lyons Jr.
May 30, 2013
This spring, China's navy accepted the Pentagon's invitation to participate in the 2014 Rim of the Pacific — RIMPAC — naval exercise to be held off Hawaii. This will be the first time China takes part in the biennial event.
Our allies should signal their intent to withdraw from the exercise if China participates. Failing that, the invitation should be withdrawn. RIMPAC is for allies and friends, not nations planning to eventually wage war on the United States. Russia sent ships in 2012, but while its senior officers may occasionally utter unfriendly words, they are not actively planning to fight the United States. Analyst Robert Sutter was surely correct when he wrote in 2005 that "China is the only large power in the world preparing to shoot Americans."
That assessment, unfortunately, remains true today. Beijing is configuring its forces — especially its navy — to fight ours. For instance, China has deployed along its southern coast its DF-21D, a two-stage solid-fuel missile that can be guided by satellite signals. The missile is dubbed the "carrier killer" because it can be configured to explode in midair, raining down sharp metal on a deck crowded with planes, ordinance, fuel and sailors. Its apparent intent is to drive U.S. forces out of East Asia.
A pattern of aggressive Chinese tactics also points in that direction. Especially troubling is the harassment in international waters of unarmed U.S. Navy reconnaissance vessels for more than a decade, most notably the blocking of the Impeccable in the South China Sea in 2009. And there was the 2001 downing of a Navy EP-3 and the surfacing of a Song-class attack submarine in the middle of the Kitty Hawk strike group near Okinawa in 2006.
Since then, we have been hearing bold war talk in the Chinese capital, from new leader Xi Jinping to senior officers and colonels who say they relish combat — a "hand-to-hand fight with the U.S.," as one of them put it in 2010.
Why do China's officers want to go to war? There is an unfortunate confluence of factors. First, there is a new Chinese confidence bordering on arrogance. Beijing leaders, especially since 2008, have been riding high. They saw economic turmoil around the world and thought the century was theirs to dominate. The U.S. and the rest of the West, they believed, were in terminal decline.
The Chinese military also has gained substantial influence in the last year, perhaps becoming the most powerful faction in the Communist Party. Beginning as early as 2003, senior officers of the People's Liberation Army were drawn into civilian power struggles as Hu Jintao, then the new leader, sought their support in his effort to shove aside Jiang Zemin, his wily predecessor who sought to linger in the limelight. Last year, the civilian infighting intensified as the so-called Fifth Generation leadership, under the command of Xi, took over from Hu's Fourth. Like a decade ago, feuding civilians sought the support of the generals and admirals, making them arbiters in the party's increasingly rough game of politics.
The result of discord among civilian leaders has been a partial remilitarization of politics and policy. Senior officers are now acting independently of civilian officials, are openly criticizing them and are making pronouncements in areas once considered the exclusive province of diplomats.
The remilitarization has had consequences. As Huang Jing of Singapore's Lee Kuan Yew School of Public Policy said: "China's military spending is growing so fast that it has overtaken strategy. The young officers are taking control of strategy, and it is like young officers in Japan in the 1930s. They are thinking what they can do, not what they should do."
What do China's admirals want? They are supporting their nation's territorial ambitions to close off the South China Sea to others. This brings them into conflict with nations surrounding that critical body of water and pits them against the U.S. If there has been any consistent U.S. foreign policy over the course of two centuries, it has been the defense of freedom of navigation.
According to a white paper it issued in April, China is building a navy capable of operating in the ocean's deep water, and has 235,000 officers and sailors. Its navy last year commissioned its first aircraft carrier, and it is reportedly building two more. China has about a dozen fewer submarines than the U.S., but the U.S. has global responsibilities. The Chinese, therefore, can concentrate their boats in waters close to their shores, giving them tactical and operating advantages.
While the Chinese plan to dominate their waters and eventually ours, we are helping them increase their effectiveness with invitations to RIMPAC and other exercises and by including them in joint operations like the one directed against Somali piracy. The U.S. Navy at the same time is continuing to reduce its fleet, currently at 283 deployable ships. As Beijing's behavior has become more troubling, the Pentagon has clung to the hope that military-to-military relations will somehow relieve tensions with the Chinese.
Yet as Ronald Reagan taught us, the nature of regimes matter. We are now helping an incurably aggressive state develop its military — to our peril. There is something very wrong at the core of the Obama administration's and the Pentagon's China policies.
www.latimes.com/news/opinion/commentary/la-oe-chang-chinese-navy-20130530,0,7560801.story
Work With China, Don't Contain It
By JOSEPH S. NYE Jr.
Published: January 25, 2013
CAMBRIDGE, Mass.
CITING an escalating dispute over islands in the East China Sea, The Economist warned last week that "China and Japan are sliding toward war." That assessment may be too alarmist, but the tensions have bolstered the efforts of some American analysts who have urged a policy to "contain" China.
During a recent visit to China, I was struck by how many Chinese officials believe such a policy is already in place and is the central purpose of President Obama's "pivot" toward Asia. "The pivot is a very stupid choice," Jin Canrong, a professor of international relations, declared publicly. "The United States has achieved nothing and only annoyed China. China can't be contained," he added.
Containment was designed for a different era, and it is not what the United States is, or should be, attempting now. At the start of the cold war, containment meant economic isolation of the Soviets and regional alliances like NATO to deter Moscow's military expansion. Later, to the chagrin of George F. Kennan, the father of containment, the doctrine led to the "domino effect" theory behind the escalation of the Vietnam War.
Cold war containment involved virtually no trade and little social contact. But China now is not what the Soviet Union was then. It is not seeking global hegemony, and the United States not only has an immense trade with China but also huge exchanges of students and tourists.
When I worked on the Pentagon's East Asia strategy in 1994, during the Clinton administration, we rejected the idea of containment for two reasons. If we treated China as an enemy, we were guaranteeing a future enemy. If we treated China as a friend, we kept open the possibility of a more peaceful future.
We devised a strategy of "integrate but hedge" — something like Ronald Reagan's "trust but verify." America supported China's membership in the World Trade Organization and accepted Chinese goods and visitors. But a 1996 declaration reaffirmed that the postwar United States-Japan security treaty was the basis for a stable and prosperous East Asia. President Clinton also began to improve relations with India to counterbalance China's rise.
This strategy has enjoyed bipartisan support. President George W. Bush continued to improve relations with India, while deepening economic ties with China. His deputy secretary of state, Robert B. Zoellick, made clear that America would accept the rise of China as a "responsible stakeholder."
Mr. Obama's "rebalancing" toward Asia involves moving naval resources to the Pacific, but also trade, human rights and diplomatic initiatives. As his national security adviser, Thomas E. Donilon, said in November, the American-Chinese relationship "has elements of both cooperation and competition."
Asia is not a monolith, and its internal balance of power should be the key to our strategy. Japan, India, Vietnam and other countries do not want to be dominated by China, and thus welcome an American presence in the region. Unless China is able to attract allies by successfully developing its "soft power," the rise in its "hard" military and economic power is likely to frighten its neighbors, who will coalesce to balance its power.
A significant American military and economic presence helps to maintain the Asian balance of power and shape an environment that provides incentives for China to cooperate. After the 2008-9 financial crisis, some Chinese mistakenly believed that America was in permanent decline and that this presented new opportunities. A result was that China worsened its relations with Japan, India, South Korea, Vietnam and the Philippines — a misstep that confirmed that "only China can contain China."
But America's rebalancing toward Asia should not be aggressive. We should heed Mr. Kennan's warning against overmilitarization and ensure that China doesn't feel encircled or endangered. The world's two largest economies have much to gain from cooperation on fighting climate change, pandemics, cyberterrorism and nuclear proliferation.
With China becoming more dependent on Middle Eastern energy, we should discuss maritime regulations to ensure free passage of ships and include China in Pacific naval exercises. We should help China develop domestic energy resources like shale gas and encourage China and Japan to revive their 2008 plan for joint undersea gas exploitation. And we should make clear that if China meets certain standards, it can join the negotiations over the Trans-Pacific Partnership, a proposed free-trade agreement around the Pacific Rim.
Containment is simply not a relevant policy tool for dealing with a rising China. Power is the ability to obtain the outcomes one wants, and sometimes America's power is greater when we act with others rather than merely over others.
Joseph S. Nye Jr., a professor at the Harvard Kennedy School and a former Pentagon official, is the author of the forthcoming book "Presidential Leadership and the Creation of the American Era."

www.nytimes.com/2013/01/26/opinion/work-with-china-dont-contain-it.html
The challenge from China

www.washingtonpost.com/opinions/fareed-zakaria-the-challenge-from-china/2013/02/27/debceef6-8100-11e2-b99e-6baf4ebe42df_story.html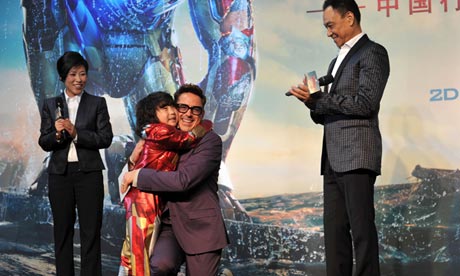 Robert Downey Jr at the Iron Man 3 premiere in Beijing. The film added pro-China scenes for its Chinese version.
Photograph: HAP/Quirky China News/Rex Features

www.guardian.co.uk/film/2013/may/30/hollywood-china-film-industry
Why Hollywood kowtows to China
Films set in Shanghai, Chinese scientists saving the day, Beijing portrayed as the promised land … US film-makers are flattering their way into the world's fastest-growing movie market
www.guardian.co.uk/film/filmblog/2013/mar/11/hollywood-kowtows-to-china
Europe and China Trade Talks End Bitterly
By KEITH BRADSHER
Published: May 27, 2013
HONG KONG — Trade negotiations between the European Union and China ended on Monday with mutual recriminations. China called on the European Union to refrain from imposing tariffs on solar panels, and the European trade commissioner complained that China was pressuring individual countries to prevent Europe from reaching a consensus.
The European Union accuses Chinese firms of selling solar panels below cost in Europe, a practice known as dumping, and has already proposed antidumping tariffs of nearly 50 percent on Chinese solar panel shipments. That is one of the largest categories of Chinese exports to Europe and worth about $27 billion a year.
But Germany's economy minister said that his country had informed the European Commission, which is the executive branch of the European Union, that it opposed proceeding with the solar panel tariffs. If a majority of the European Union's 27-member states oppose tariffs during the current consultation period, then the commission could be forced to abandon the tariffs. But that could risk undermining the commission's long-term ability to negotiate trade deals on behalf of the bloc.
Zhong Shao, China's vice minister of commerce and chief international trade representative, denounced the European Commission for not reaching a deal at the talks, which were held in Brussels.
The commission's plan to impose tariffs on Chinese solar panels starting on June 6, together with the commission's preparations to begin a similar trade case against Chinese exports of wireless communications gear, "would seriously hurt the Chinese industries and workers concerned and seriously sour the climate on bilateral trade and economic engagement," he said in a statement.
He added, "Such practices of trade protectionism are not acceptable to China," and asked that the European Union to delay the tariffs.
European officials have said repeatedly that they face statutory deadlines for actions in trade cases and have little or no discretion to delay action.
The commission has been discussing the tariffs with member governments; Germany, with large exports to China that could be vulnerable to retaliation by Beijing in any broader trade conflict, has been particularly vocal in calling for a negotiated deal.
Karel De Gucht, the European Union's trade commissioner, issued an unusually blunt complaint late Monday that China was bypassing the European Union's leaders by going to member governments. Mr. De Gucht, "also made it very clear to the vice minister that he was aware of the pressure being exerted by China on a number of E.U. member states," said John Clancy, Mr. De Gucht's spokesman.
Mr. Clancy added, "It is the role of the European Commission to remain independent, to resist any external pressure and to see the 'big picture' for the benefit of Europe, its companies and workers based upon the evidence alone."
The United States has already imposed anti-dumping and antisubsidy tariffs totaling about 30 percent on Chinese solar panels. The Obama administration has recently decided to seek its own negotiated settlement with China to replace the tariffs. Such a settlement could take the form of setting high minimum prices for Chinese exports to the United States, a ceiling on the volume of exports, or both.
While Washington, Brussels and Beijing are all saying now they want a negotiated settlement, Chinese solar companies and their many local government patrons are divided on what a settlement should look like.

www.nytimes.com/2013/05/28/business/global/europe-and-china-trade-talks-end-bitterly.html
EU slaps levies on Chinese solar panel imports

www.denverpost.com/nationworld/ci_23383834/eu-poised-impose-anti-dumping-levies-china
China to Investigate E.U. Wine After Subsidy and Dumping Complaints
By KEITH BRADSHER
Published: June 5, 2013
HONG KONG — China's nouveau riche millionaires, affluent princelings and bribe-giving business executives may soon find their wallets a little thinner: The price tag for French Champagne, Italian Barolos and other European wines may soon rise in mainland Chinese stores.
China's Ministry of Commerce announced Wednesday that it had begun an anti-dumping and anti-subsidy investigation of wines imported from the European Union, which could lead to the imposition of steep tariffs.
The decision came quickly after the European Union's trade commissioner, Karel De Gucht, announced Tuesday in Brussels that he was imposing preliminary tariffs of 11.8 percent on solar panels imported from China. But the Chinese ministry carefully avoided linking the solar panels to the wine dispute in its announcement, saying instead that it was acting in response to a complaint from Chinese wineries.
The ministry issued a separate statement to express its "resolute opposition" to the solar panel decision. "We hope the E.U. will further show their sincerity and show flexibility, through consultations to find mutually acceptable solutions," the statement said.
The ministry did not indicate the possible level of import duties on European wines.
The solar panel tariffs imposed Tuesday were about a quarter of the 47.6 percent tariffs that Mr. De Gucht had planned to impose until Prime Minister Li Keqiang began lobbying Germany and the European Commission heavily in the past week. Mr. De Gucht imposed the lower tariffs as a compromise but warned that they would rise to the originally planned level in two months if no deal could be negotiated before then to offset the effect of possible Chinese dumping and subsidies.
Some in China may be able to avoid the higher price tags for wine if they are imposed. Hong Kong eliminated taxes on wine several years ago in a fairly successful bid to become a wine-trading hub, and the nearly autonomous territory has become a popular place for many mainlanders to drink and to buy a bottle or two to take home.

www.nytimes.com/2013/06/06/business/global/china-to-investigate-eu-wine-after-subsidy-and-dumping-complaints.html
Leader's Visit Lifts a Village, Yet Lays Bare China's Woes

A Village in the Spotlight:
A remote mountain hamlet in China draws attention after a visit from Xi Jinping, the new Communist Party chief.
By ANDREW JACOBS
Published: January 26, 2013
LUOTUOWAN, China — Never before has grinding poverty had such a shiny silver lining. At least that is how the 600 corn farmers who inhabit this remote mountain hamlet in north China are feeling in the weeks since Xi Jinping, China's new leader, dropped by to showcase their deprivation.
With a gaggle of local party chiefs and photographers in tow, Mr. Xi ducked into ramshackle farmhouses, patted dirt-smudged children on the head and, with little prompting, nibbled on a potato plucked from Tang Rongbin's twig-fueled cooking fire.
"It was as if we had met Mao," said a still-incredulous Mr. Tang, 69, who shares a bed with five family members.
The visit to this village in Hebei Province, television, was meant to highlight Mr. Xi's concern for China's rural poor. But it was also an important propaganda flourish intended to burnish the new leader's bona fides as an empathetic man of the people.
"I want to know how rural life is here," he said at one point as the camera lingered on the unvarnished details of the Tang family's poverty: a single light bulb, a tattered straw ceiling, a huddle of grimy pots and mounds of detritus. "I want to see real life."
But for all Mr. Xi's celebrity wattage, the real manna began to rain down on Luotuowan after he and his entourage left. Money, quilts and pledges of government help have been pouring in from across the country. The government arranged for each household to receive $160 in cash, a bottle of cooking oil and a sack of rice, a precious commodity where corn gruel and corn cakes are often the main course.
That was just the beginning. A businessman from China's northeast was so moved by Luotuowan's suffering that he drove 500 miles with more cash and a carload of flat-screen televisions. A government work crew whitewashed the village's stone walls, adding a band of turquoise paint for good measure.
Then came the government researchers, who were instructed to solve Luotuowan's intractable poverty, perhaps by pursuing Mr. Xi's suggestion that, with outside expertise, "the people can make yellow soil into gold."
But whether the official visit by Mr. Xi, who was recently named Communist Party secretary and scheduled to be anointed president in March, will have a lasting impact on this isolated community — much less others like it — remains to be seen. The average per capita income here, about $160 a year, is less than half the official threshold for poverty, and it is a tiny fraction of the average urban income of slightly less than $4,000. Most young people have long since fled for jobs in distant cities.
The challenge to lift up impoverished backwaters like Luotuowan is a daunting one for the Communist Party, which has vowed to address a yawning wealth gap that some experts say threatens social stability, perhaps even the party's hold on power. Although official statistics released this month suggested that income inequality has eased in recent years, many outside analysts say it has actually gotten worse, making China among the world's most unequal societies.
In China's rural hinterland, where half the nation's 1.3 billion people live, incomes are, on average, less than a third of those in cities. During the 18th Party Congress in November that elevated Mr. Xi, Chinese leaders pledged to double per-capita incomes by 2020.
"The most arduous and heavy task facing China in completing the building of a moderately prosperous society is in rural areas, especially poverty-stricken regions," Mr. Xi said during his visit to Luotuowan, which is 180 miles from Beijing.
Mr. Tang, at least, seemed convinced that Mr. Xi's visit would somehow drastically improve their lives. "We have to believe something good will come of this," Mr. Tang said. "Otherwise, why would the party secretary have come all the way here?"
Asked what the government had done before Mr. Xi's visit, he paused and shook his head. "Not much," he said.
Indeed, given China's rampant corruption, another big question surrounding the antipoverty campaign, announced a few days after Mr. Xi's visit, is how much of the additional $40 million that provincial authorities will funnel to Luotuowan and other villages in the surrounding county of Fuping next year will actually reach those in need.
While Chinese leaders certainly inhabit a cosseted world, tradition — and the tenets of good public relations — dictate that they occasionally mingle with the masses. According to popular lore, emperors would remove their dragon robes and venture out of the Forbidden City to see how their subjects were faring.
Mao's choreographed rural tours were less successful, in part because the officials who arranged them often shielded him from peasant suffering, most notably during a famine, the result of an ill-conceived industrialization push, that began in the late 1950s and killed tens of millions.
"Every leader has their own way of doing it, but these days, they are surrounded by TV cameras," said Lei Yi, a historian at the Chinese Academy of Social Sciences.
Wen Jiabao, the departing prime minister who is affectionately known as Grandpa Wen, played well to the cameras as he consoled victims of natural disasters or donned an apron to stuff dumplings alongside ordinary Chinese during the Lunar New Year holiday.
In contrast, President Hu Jintao, who leaves office in March, often comes off as wooden. It did not help that some of his encounters were poorly planned or clumsily staged. Two years ago, after he sought to spotlight the nation's low-income housing program by visiting the apartment of a beneficiary, Internet sleuths accused the woman of living elsewhere and renting out the apartment for a $300 monthly profit. Despite her tearful denials to the state news media, the episode proved to be a public-relations debacle for Mr. Hu.
Mr. Xi, who is known as a princeling because of his pedigree as the son of a revolutionary hero, often displays a natural ease in the company of farmers and factory workers. Recently, party propagandists have worked hard to polish his image as a "secretary of the people."
In a lengthy profile published last month, the state-run Xinhua news agency lingered on his years as a "sent-down youth" during the Cultural Revolution, when he lived in exile among the cave-dwelling inhabitants of a village in Shaanxi Province.
Once he became inured to the fleas and the arduous labor, Xinhua said, Mr. Xi helped transform the villagers' lives by organizing a cooperative for blacksmiths and building a methane collection tank. "He arrived in the village as a slightly lost teenager and left as a 22-year-old man determined to do something for the people," Xinhua wrote.
Mr. Xi's arrival here in late December appears to have been relatively impromptu. Mr. Tang said he got only a half-hour warning that China's most powerful official was arriving, although the village party chief, Gu Rongjin, said he had a week's notice.
A jovial, gravel-voiced man, Mr. Gu, 60, says he lost count of the Chinese journalists, agricultural advisers and antipoverty specialists who have descended on the village in recent weeks. "In the beginning, I was getting calls at 2 in the morning," he said over dinner at the large guesthouse he and his wife operate during the summer.
Some of the experts have proposed turning Luotuowan's stony fields into walnut groves or ginseng farms; one ominously suggested that residents clear out so the area, which is surrounded by breathtakingly craggy mountains, can be developed as an eco-tourist destination.
"Once the weather warms up, the development will begin," Mr. Gu said with gusto.
Down the road, Mr. Tang and his wife, Gu Baoqing, proudly re-enacted how Mr. Xi sat on their communal bed, legs crossed, and asked about their daily struggles, including details of Mr. Tang's untreated ailments, including circulation problems and heart disease. "He had none of those officialdom airs," his wife said.
To their surprise, a doctor from Beijing arrived a few days later and drove Mr. Tang to a hospital in the capital. He returned home with a bottle of medication, which he boasted costs about as much as he makes in a year.
But one detail tempered Mr. Tang's elation: the complimentary pills would last only a month. Asked what he would do when they ran out, he seemed perplexed. "I guess I'll just go without," he said.
www.nytimes.com/2013/01/27/world/asia/chinas-xi-jinping-faces-problem-of-rural-poverty.html
February 9, 2013, 2:00 pm
In China, a Vast Chasm Between the Rich and the Rest
By SIM CHI YIN
Zhang Kuan, 32, founder of the Beijing Sports Car Club, in front of his new $870,000 sports car, a McLaren MP4-12C.
…With the "rats" and "ants," the trash collectors, cobblers and couriers, it took time to build rapport and trust. But it was even harder to get wealthy Chinese — perhaps like rich people everywhere — to open up. Most live in gated, guarded communities on the outskirts of the city, and socialize behind closed doors. A few months ago, I was granted rare permission to photograph inside an exclusive club in Beijing for high rollers, and only at a party where some members were in costume.
The migrant workers and the poor mostly accept that life is unfair, at least for now.
"There is no difference between me and the people who live in the posh condominium above," Zhuang Qiuli, 27, a "rat tribe" pedicurist who lived in a basement apartment, told me in Beijing. "We wear the same clothes and have the same hairstyles. The only difference is we cannot see the sun. In a few years, when I have money, I will also live upstairs."
http://opinionator.blogs.nytimes.com/2013/02/09/in-china-a-vast-chasm-between-the-rich-and-the-rest/
Struggling: There are 18 shipping container homes in this 'village' on the edge of Shanghai

www.dailymail.co.uk/news/article-2300153/The-forgotten-families-migrant-workers-forced-live-shipping-containers.html
For China, overhauling nation's economy is the big focus

www.washingtonpost.com/business/economy/the-most-important-project-in-china-right-now/2013/03/21/0a80080e-9239-11e2-bdea-e32ad90da239_story.html
Investment from China rises amid concern
China Daily/Reuters –
A bicyclist rides past the entrance to Wanxiang Qianchao Co. Ltd, a subsidiary of Wanxiang Group, in Hangzhou, Zhejiang province, Jan. 31, 2013. China's largest auto parts maker Wanxiang Group won U.S. government approval to buy A123 Systems Inc, a maker of electric car batteries.

www.washingtonpost.com/business/economy/investment-from-china-rises-amid-concern/2013/01/30/c46b9868-6af3-11e2-af53-7b2b2a7510a8_story.html
The iEconomy
Signs of Changes Taking Hold in Electronics Factories in China

www.nytimes.com/2012/12/27/business/signs-of-changes-taking-hold-in-electronics-factories-in-china.html
IMF sees 140m jobs shortage in aging China as 'Lewis Point' hits
China's vast reserve of cheap workers in the hinterland is vanishing at a vertiginous pace.

www.telegraph.co.uk/finance/comment/9845959/IMF-sees-140m-jobs-shortage-in-aging-China-as-Lewis-Point-hits.html
China unveils major tax reforms to make rich pay more
Sweeping tax changes will also cut power of state-owned firms and narrow gap between urban elite and rural poor

www.guardian.co.uk/world/2013/feb/06/china-tax-reforms
Why China won't act against a nuclear North Korea
By John Pomfret, Published: March 22
John Pomfret, a longtime Post foreign correspondent and editor, is the author of George W. Bush recounts a story about North Korea and China. In October 2002, he invited China's then-president, Jiang Zemin, to his Texas ranch. North Korea was developing nuclear weapons, and Bush wanted China's help. According to Bush, Jiang told him that "North Korea was my problem, not his." China did nothing.
A few months later, Bush tried a different tack. He told Jiang in January 2003 that if North Korea's nuclear weapons program continued, the United States would not be able to stop Japan from developing its own nuclear arsenal. Still nothing. A month later he warned China that if the problem was not solved diplomatically he would consider a military strike against North Korea. Only at that point did China react. Talks with North Korea were commenced, but the hermit kingdom continued its nuclear program and last month conducted its third nuclear test.
Bush's memoirs provide a lesson to those who believe that China holds the key to the North Korean nuclear problem — an issue that could turn northeast Asia into the most dangerous region on Earth. From the start, Beijing has been a reluctant partner with the United States on this crisis and has shown little interest in making the hard decisions needed to force Pyongyang to give up the bomb.
To be sure, China worked closely with the United States in drafting the latest U.N. sanctions on North Korea, and some top officials, including the grandson of Chairman Mao Zedong, have openly criticized Kim Jong Un's regime. China's new president, Xi Jinping, is rumored to be open to different tactics, but that doesn't change the basic issue as far as Beijing is concerned. Simply put, China's leaders don't buy the U.S. argument that it is in Beijing's interests to work with Washington to solve the North Korean nuclear mess. And if you were a Communist Party boss in Beijing, you might not either.
The reasons are both ideological and historical. First, China's main interest in North Korea is not denuclearization; it is ensuring that the North Korean government does not fall. While Beijing might be exasperated with the Kim dynasty's uncanny ability to wag China's dog, China will support Pyongyang because the alternative, a North Korean collapse, is worse. While many South Koreans fear the cost of unification with their brothers to the north, China opposes that even more stridently.
Hundreds of thousands of refugees would pour into neighboring China. Then China would have to determine how to deal with South Korean and U.S. troops who would move to secure the North's nuclear weapons. Beijing would also be faced with millions of Korean-Chinese inspired by a new, united homeland. The issue of a potential North Korean collapse is so sensitive that Chinese officials have declined repeated U.S. entreaties to discuss scenarios of how to avoid clashes when and if it happens.
Clearly for Beijing, the presence of a Communist buffer state, even an irritating one, between China and South Korea remains critical. A Korean Peninsula united under the South would pose a huge challenge to China's political system. East Germany is the parallel some Chinese use when asked why China won't squeeze Pyongyang: The Soviet Union collapsed when the Berlin Wall fell. If the no-man's land separating North and South Korea were breached, could the same thing happen to Beijing?
China has also always believed it necessary to control at least a part of the Korean Peninsula. In 1894, China's last dynasty, the Qing, fought its first war with Japan over who would lead the Korean kingdom. China lost. Obviously, China doesn't call all the shots in North Korea today, but its influence over Pyongyang is significantly larger than it would be over a united Korea with its capital in Seoul.
Finally, there's an unstated reason for China's reluctance to squeeze North Korea, underscored by Jiang's comment to Bush that Pyongyang's bomb was America's problem, not China's. Parts of the Chinese Communist Party-state believe that a nuclear North Korea complicates U.S. security calculations more than it does China's. And to them, that is not a bad thing.
U.S. officials have beseeched their Chinese counterparts for years to get tough with North Korea, arguing that Beijing's policy is not in China's long-term interests. But the Chinese think two things when they ponder more pressure and the specter of unification on the Korean Peninsula — neither of them good. They recall the fall of the Berlin Wall and the Sino-Japanese War. Communism lost the first, and China lost the second.

www.washingtonpost.com/opinions/why-china-wont-act-against-a-nuclear-north-korea/2013/03/22/ac65d3e8-8cd9-11e2-b63f-f53fb9f2fcb4_story.html
BEIJING — Responding to regional worries over North Korea's bellicose threats, China expressed concern and what appeared to be veiled criticism Sunday of its long-time ally.
"No one should be allowed to throw a region and even the whole world into chaos for selfish gains," said Chinese President Xi Jinping at an economic forum in Hainan Province. Avoiding a mention of North Korea by name, Xi said, "While pursuing its own interests, a country should accommodate the legitimate interests of others.
Xi said that the international community and its collective scrutiny should act as a platform for common development rather than an "arena where gladiators fight each other."
On Sunday, China's foreign ministry also issued a statement saying it was "seriously concerned" about the "continuously escalating tensions."

www.washingtonpost.com/world/china-expresses-concern-over-north-korea-tensions/2013/04/07/ffa01ea6-9f62-11e2-9c03-6952ff305f35_story.html
China must act on North Korea if it wants respect

www.washingtonpost.com/opinions/anne-applebaum-china-can-no-longer-ignore-north-korea/2013/04/03/7b3fdb2e-9c92-11e2-9a79-eb5280c81c63_story.html
China's Massive Water Problem
By SCOTT MOORE
Published: March 28, 2013
This month, a hundred years after the completion of the Panama Canal, China is expected to finish the first phase of its gigantic South-North Water Transfer Project, known in Chinese as Nanshui beidiao gongcheng — literally, "to divert southern water north." The phrase evokes the suggestion, attributed to Mao, that "since the south has a great deal of water, and the north very little, we should borrow some of it."
In realizing Mao's dream of moving huge quantities of water from areas of plenty to those of want, Beijing is building a modern marvel, this century's equivalent of the Panama Canal. But whereas the canal inaugurated a century of faith in the ability of human ingenuity to reshape the natural world, the South-North Water Transfer Project is a testament to the limits of engineering solutions to problems of basic environmental scarcity.
China is one of the most water-rich countries in the world. But as Mao observed, its water resources are unevenly distributed and overwhelmingly concentrated in the south and far west. Water scarcity has always been a problem for northern China, but shortages have reached crisis levels as a result of rapid economic development.
For most of the 1990s, northern China's major river, the Yellow, failed to reach the sea, and the water tables around Beijing and other major northern cities have dropped so low that existing wells cannot tap them. In response, the government has tried to promote water conservation and limit water use. But these measures have had little impact, and there simply isn't enough water to satisfy growing demands for drinking water, irrigation, energy production and other uses.
Rather than face the political challenge of allocating water resources among these competing interests, Beijing has placed its faith in monumental feats of engineering to slake the north's growing thirst. The South-North Water Transfer eventually aims to pipe 45 cubic kilometers of water annually northward along three routes in eastern, central and western China. All three pose enormous technical challenges: The eastern and central routes will be channeled under the Yellow River, while the western route entails pumping water over part of the Himalayan mountain range.
The estimated cost of $65 billion is almost certainly too low, and doesn't include social and ecological impacts. Construction has already displaced hundreds of thousands, and issues the like possible increases in transmission of water-borne diseases have not been properly studied. But Beijing's calculus is political: It is easier to increase the quantity of water resources, at whatever cost, rather than allocate a limited supply between competing interests.
For an authoritarian regime with weak institutions of governance, this reluctance is understandable. But it also puts China's economic and ecological future at risk, because Beijing cannot keep increasing supplies of water indefinitely. Already, the southern regions slated to pump water northward are facing water shortages themselves. In the long run, warming in the Himalayas is likely to reduce the flow of China's major rivers, increasing water scarcity throughout the country.
Further feats of engineering can help China manage some of these impacts, but will not solve the underlying problem of water scarcity. Doing so requires contentious reallocations of water, including by dramatically increasing the cost of water for farmers — something the Communist Party is loath to do.
Ultimately, China needs significant political reform to meet the challenge of water scarcity. In order to make difficult decisions about who gets how much water, the country needs robust, transparent and participatory decision-making mechanisms. Moreover, in order to make policy ideas like water-rights reform work, the legal system and the rule of law must be strengthened. Finally, Beijing needs to stop relying on technology to avoid making hard choices about scarce resources. The United States and the rest of the world need to push the Chinese government to make its development more sustainable through political reform, lest China's economy and social stability be endangered.
The architects of the Panama Canal overcame the inconvenient separation of two oceans by a narrow strip of land with a gigantic feat of engineering. But solving the problem of water scarcity in China is not so simple. Beijing will find that simply adjusting the supply of water, or of any other critical resource, is not enough: At some point it has to decide who gets how much. And that is a process that, without dramatic reform, is likely to leave the party high and dry.
Scott Moore is Giorgio Ruffolo Doctoral Research Fellow in Sustainability Science at the Harvard Belfer Center for Science and International Affairs, and a doctoral candidate at Oxford University, where he studies Chinese environmental politics.
http://www.nytimes.com/2013/03/29/opinion/global/chinas-massive-water-problem.html
China struggles to tap its shale gas

www.washingtonpost.com/world/china-struggles-to-tap-its-shale-gas/2013/04/30/33f8c19a-b0f1-11e2-9fb1-62de9581c946_story.html
Change in China